This is a collection of best-classified WordPress themes. We have collected the top classified themes in these posts that are created with modern, engaging design and mobile-friendly layout.
WordPress is currently the most common content management system on the market. And classified Ad sites account for one of the most common types of websites out there.
Naturally, WordPress has a lot of tools and utilities to help you build a powerful classified ad site.
WordPress has a large group of contributing developers who actively build third-party themes which can turn your WordPress site into a professional Classified site with all the necessary features and functionalities.
There are so many options to choose from; you might find it difficult to find the right theme for you. For that reason, we have taken the liberty to come up with a list of the best WordPress themes that can help you build a classified ad website.
So without further ado, here is a collection of Best Classified Ad Site WordPress Themes
Top Classified WordPress Themes
---
FiverrWP
FiverrWP is a Fiverr clone WordPress theme that you can use to create a website like the Fiverr.
Fiverr is the most popular micro-job marketplace where the service providers and the business owners meet to hire freelancers for a limited amount.
This theme will save hundreds of dollars that you have to spend if you go for custom development of a site like Fiverr, while this theme offers you all those features and options for a very limited amount to money.
The theme comes with a great looking, very professional design where the users' are able to create their profile and publish their gigs.
The users who are looking for freelance professionals can check the gigs, the clients' reviews and hire them.
So, overall the FiverrWP is a high-quality micro job marketplace WordPress theme that you can use.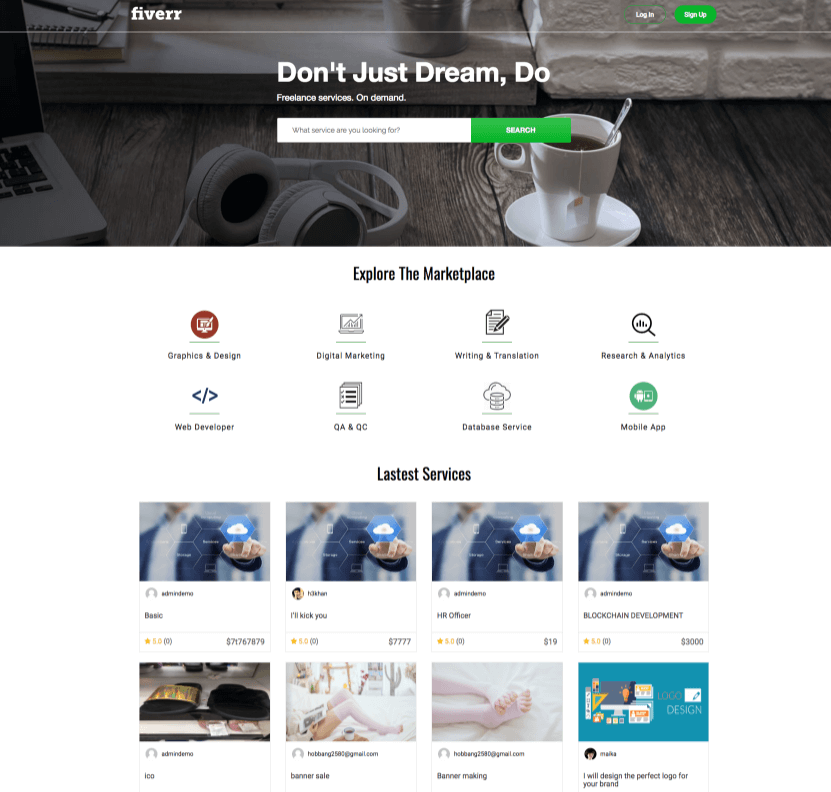 Classified Engine Theme – Classified WordPress Theme
Classified Engine WordPress theme is designed to help you make a classified ads website and monetize it by posting ads.
The theme has been extensively praised by its users for its stunning design. However, it also doesn't lack in the feature aspect either.
There are options to let you create your pricing plans with a time duration. You can allow users to post a review, share an ad or exchange messages on your platform.
It is also very easy to use as many of the options are available on the front end itself. There is also support for Google Maps, all the popular payment gateways and many customization options to tweak the appearance of your website.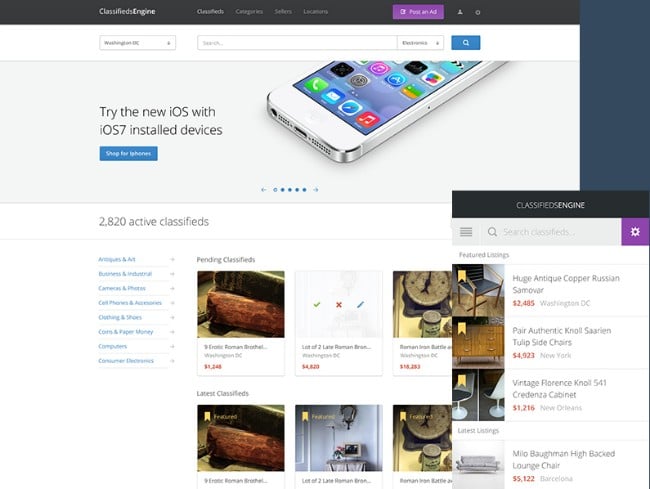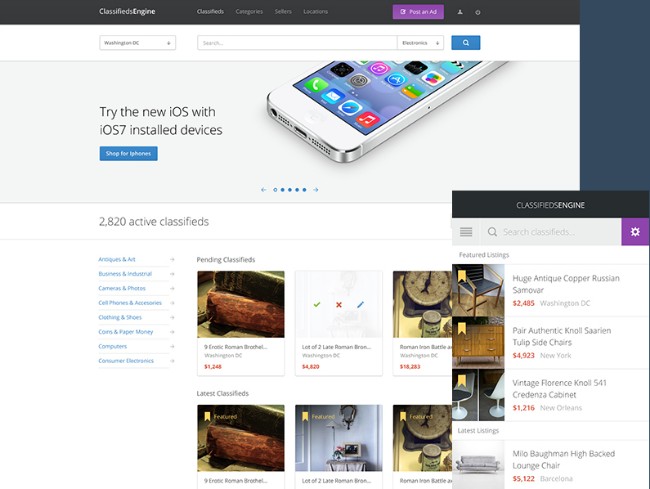 CarSpot 
As the name suggests, this theme is created for the car created classified websites. If you use this theme to create any kind of car dealership WordPress site.
The theme comes with ready to use homepage and single detail pages that will make the process of creating your site quick and simple.
As a review and rating system is an integral part of any classified listing site, the theme makes the option available for you so that your users can rate the listings.
As the admin, you can take payment for the listing on your site or you can free package to list the cars on your site to increase the number of listing.
You also have the option to feature a listing to make some extra money. You can offer an option to your users to advertise on your site and you have built-in ad expiry option so that you don't have to keep looking at each ad separately.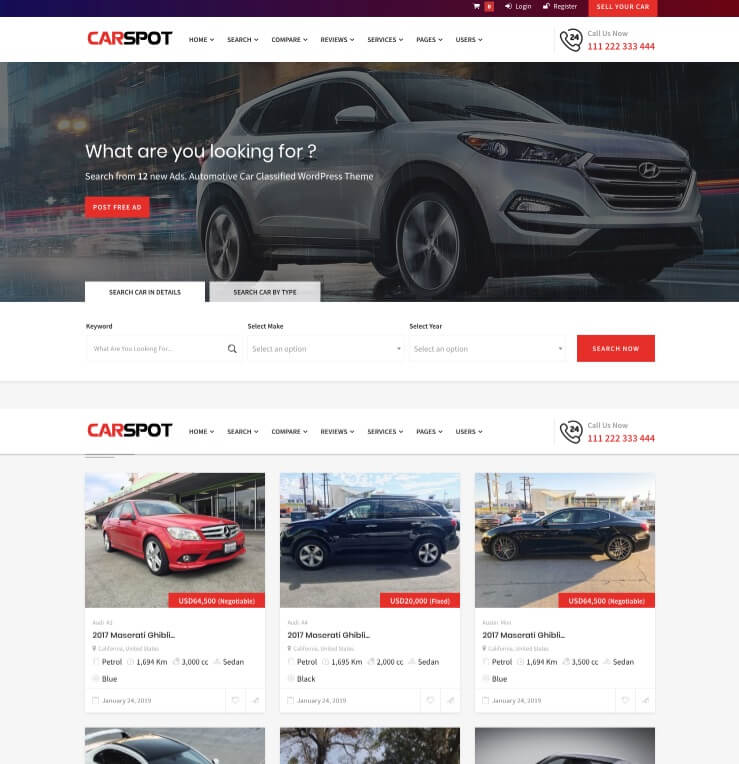 Auction Theme
Product auction is one of the best and evergreen business model that can bring you recurring revenue for a very long time.
This action theme from Sitemile is one of the best WordPress themes to create an auction site; you can use this theme to create an auction site as well as a simple classified business site.
The theme comes with the perfect design that is suitable for classified sites. It gives you the option to create a great looking header hero section with the user-friendly search bar so that your users can find ads on your site easily.
It is a fully responsive mobile-friendly design to make your site look great on all devices.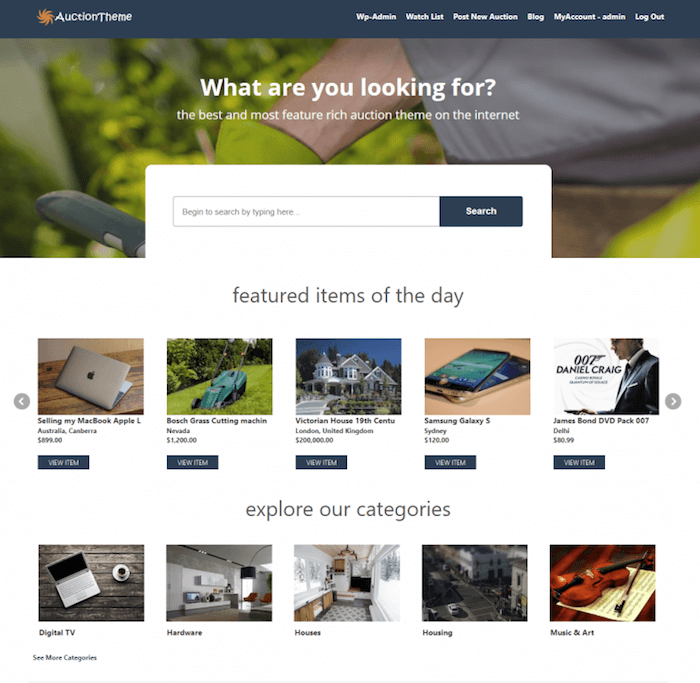 Pricerr Theme
Pricerr is a great looking and fully optimized Fiverr clone micro job WordPress theme. You can use this theme to create your own marketplace where you can allow your users to submit their gigs.
You can use this theme to create any other niche specific classified site as well. The theme comes with a beautiful modern design that is perfectly optimized for mobile devices as well.
As this theme is created for the user-driven ad site, the theme comes with ready payment gateway integration and works with most of the leading payment gateways.
The theme offers you the private messaging option so that the users are able to easily manage their job on the site. As the admin, you can make a recurring revenue from the transactions happening on your site.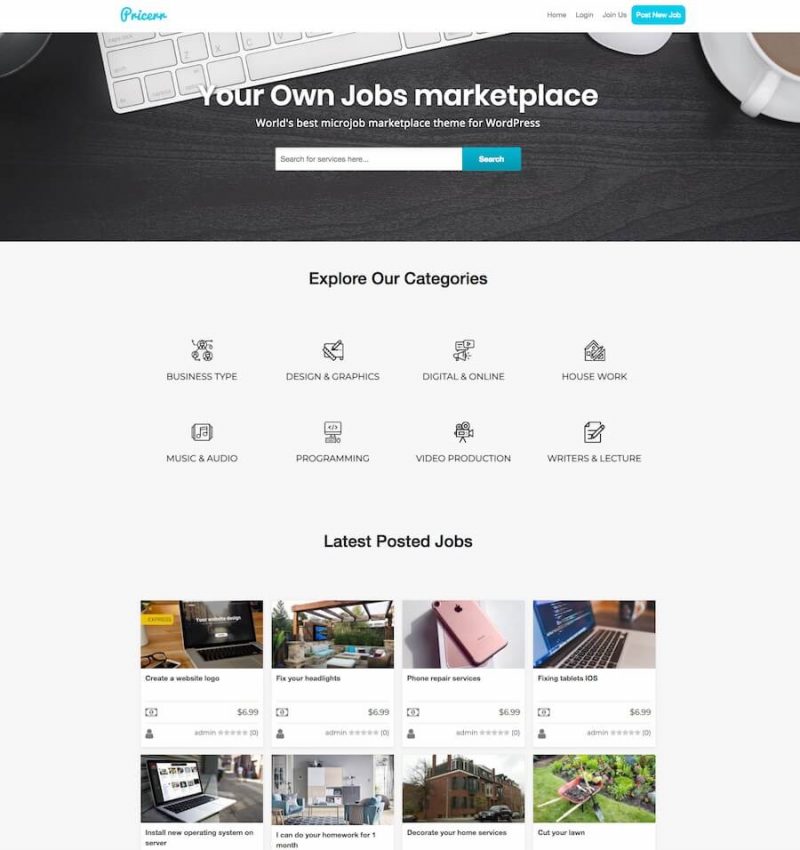 AdForest
This is one of the most comprehensive classified ad WordPress themes in this list. It is a modern and feature-rich design that offers you everything you will need to create a successful classified ad business.
When you buy this theme, you will get access to 16 different readies to be used in detailed ad designs, and all of them look stunning.
This theme offers you all those features that you can find on the top classified sites. So, in a way, this is a multipurpose WordPress theme that is dedicated to classified sites.
Front-end multi-currency system, complete chat and messaging system on the listing, payment options, great looking header styles to choose from, powerful search system, geo targetting option, radius search option so that you can localize it completely.
The list of features is very long for this theme; we recommend you to have a look at this theme before you decide your option.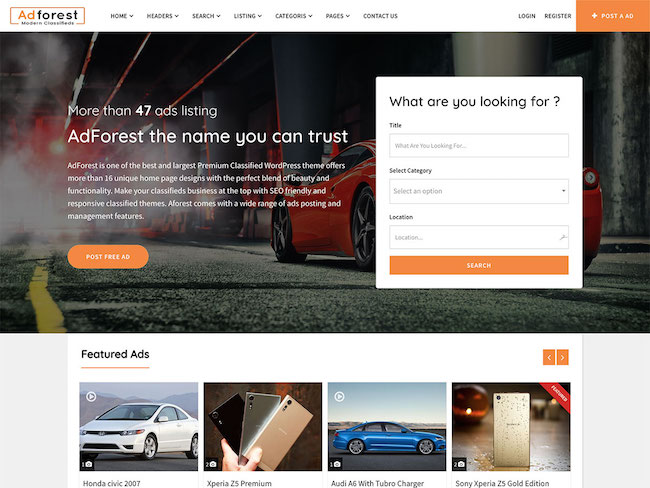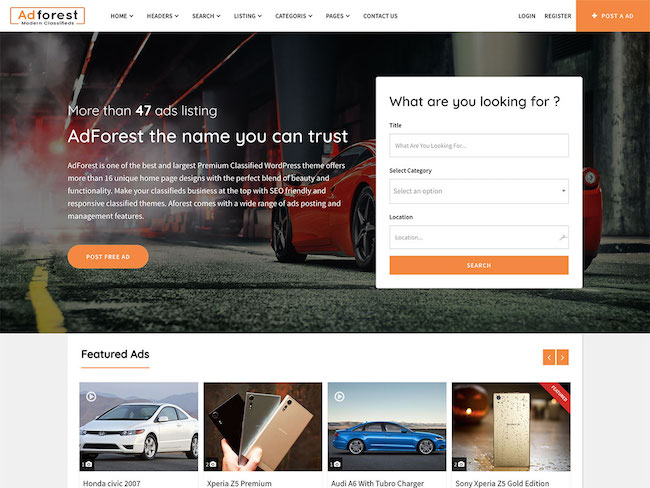 Classifieds
Classifieds is a simply named WordPress theme designed for classified websites. It is one of the most feature centric themes on the list guaranteed to give you all the necessary tools to make your site functionally rich.
It is also super easy to set up, and even nontechnical users can start building their website in no time.
Notable features of the theme include a category page list filter, homepage slider, a contact seller option, category icons, multiple classifieds status tags with different colors and so on.
The theme is also compatible with Visual Composer, offers multiple numbers of payment gateways, a decent number of customization options, and also supports most of the popular plugins in the WordPress market.
It also comes out of the box with the powerful WooCommerce Booking plugin to help integrate a reservation and booking system into your site.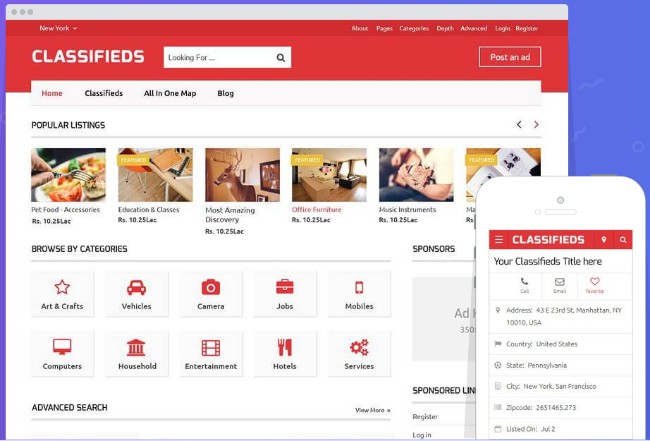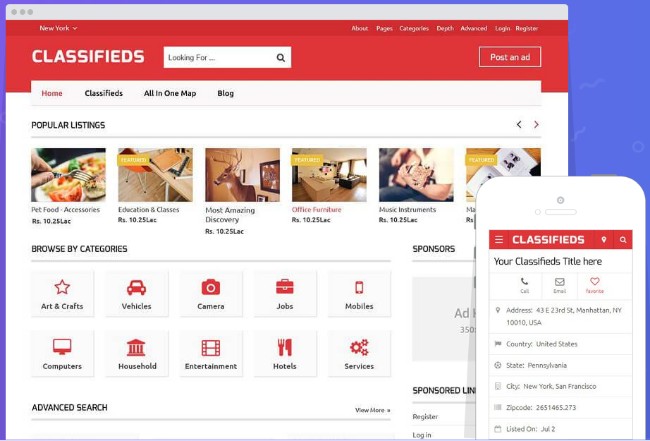 Knowhere Pro
This is an amazing classified directory site WordPress theme. This theme offers you a modern design and tons of options that will surely help you to grow your business.
This theme comes with the video background option to make your site look modern. You have a custom design for a job portal which is another very popular classified niche.
You have a travel guide version, buy and sell the version, job portal, property version as well as old classified ad version of the design.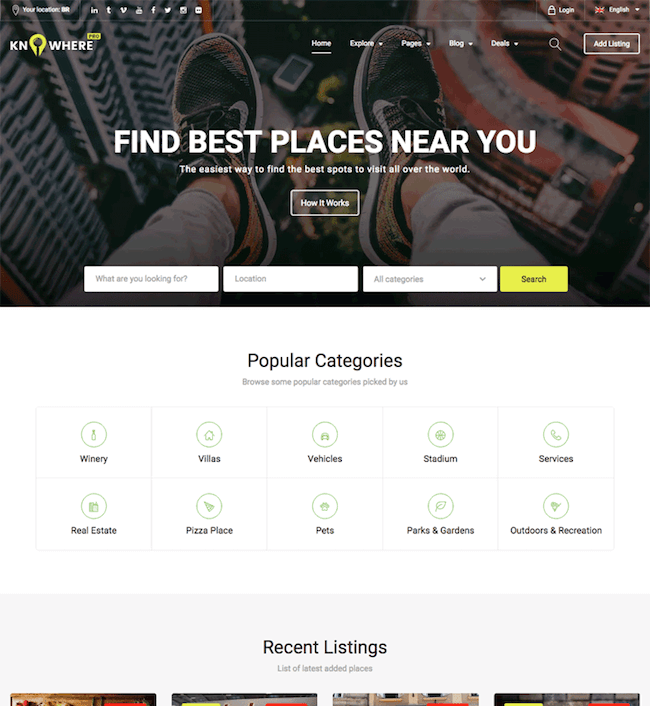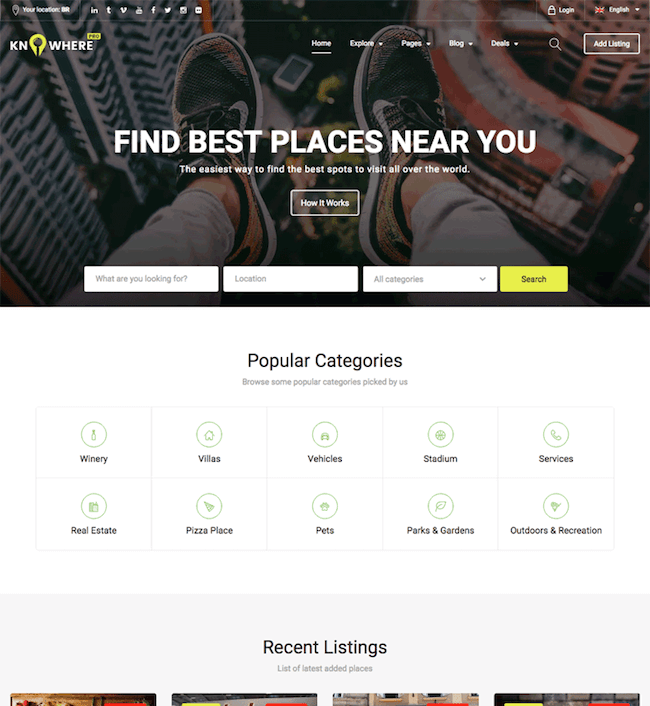 WordPress Classified Ads
WordPress Classified Ads theme is by far, one of the easiest to use themes we have listed here. If you are just starting out and this is going to be your first website, go ahead with this one.
The theme is fitted with all necessary functions in an intuitively designed UI for ease of access. You won't even have to think about additional plugins as it encompasses everything you will need for such a niche website.
The theme uses custom post types which are then used in classified ads. It supports email notification to customers, blog support, social media integration, blog support, PayPal integration, multiple currency support, ads expiration feature, user profiles and so on.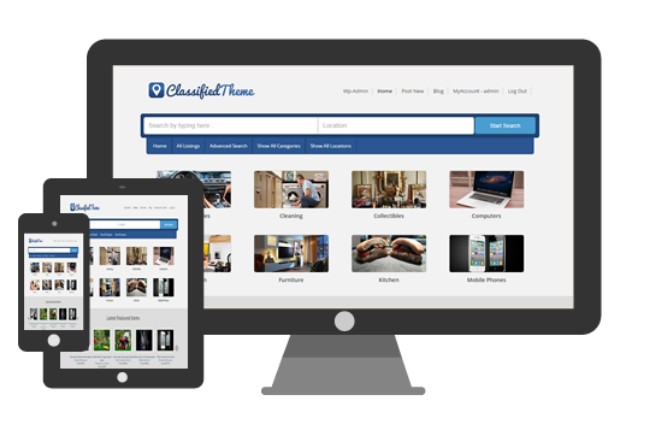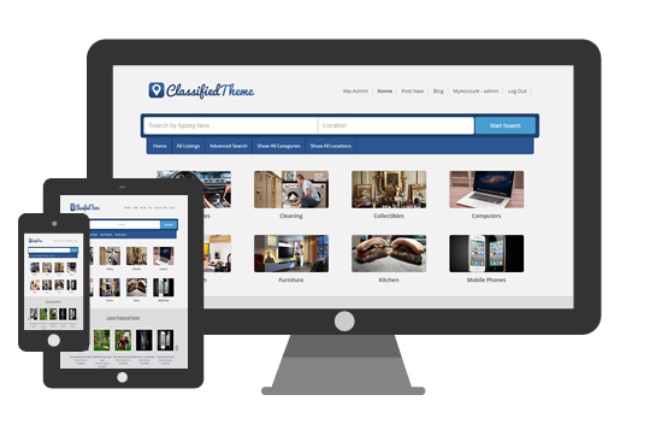 Classiera – Classified Ads WordPress Theme
Classiera is one of the new classified ads WordPress themes, but it is taking the market by storm. The theme is built on top of the Redux Framework and Bootstrap Framework and comes with a front-end user panel.
You get access to over seven layout design styles, unlimited color schemes, and many more customization features to help build a beautiful classified ad site.
Besides customizability, the theme also comes with a host of other features such as an intelligent search bar, WooCommerce shop pages, Advanced Search Filters, multiple unique header styles and pricing table styles, and much more.
It also supports list and grid views, blogging templates, a homepage layout manager and many more useful options.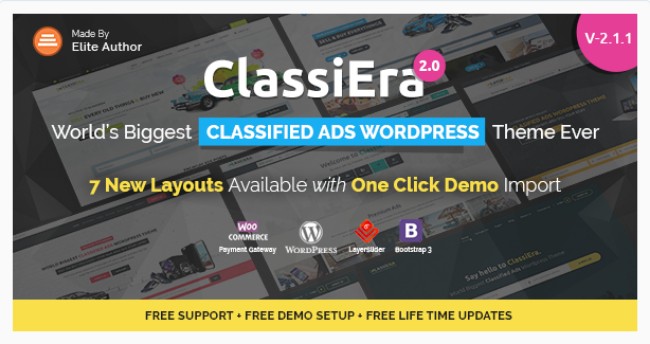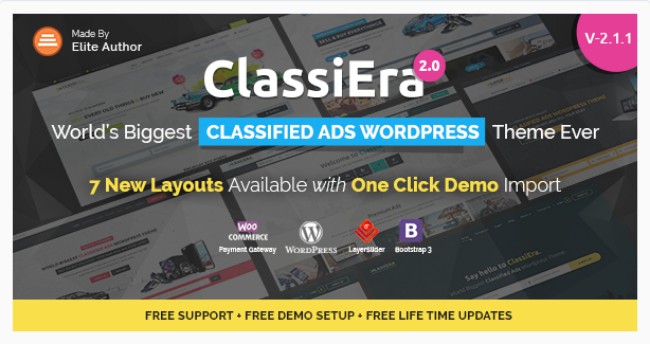 CouponHut
As the name suggests, this is a theme created for the coupon sites. So, the coupon site is one type of classified site a huge potential to make money.
You can partner with different product or service companies as an affiliate and show discount coupons on your site to make money.
This is a beautiful modern theme with great design to show all the important coupons on your homepage along with other important call to actions.
The theme offers you the option to show dedicated ad placements to make sure that you can drive a lot of traffic to your important coupons.
The theme offers you a one-click demo installation helping you get started on your site quickly. The theme offers you amazing typography options, over 700 Google Fonts, Rich Snippet option and more.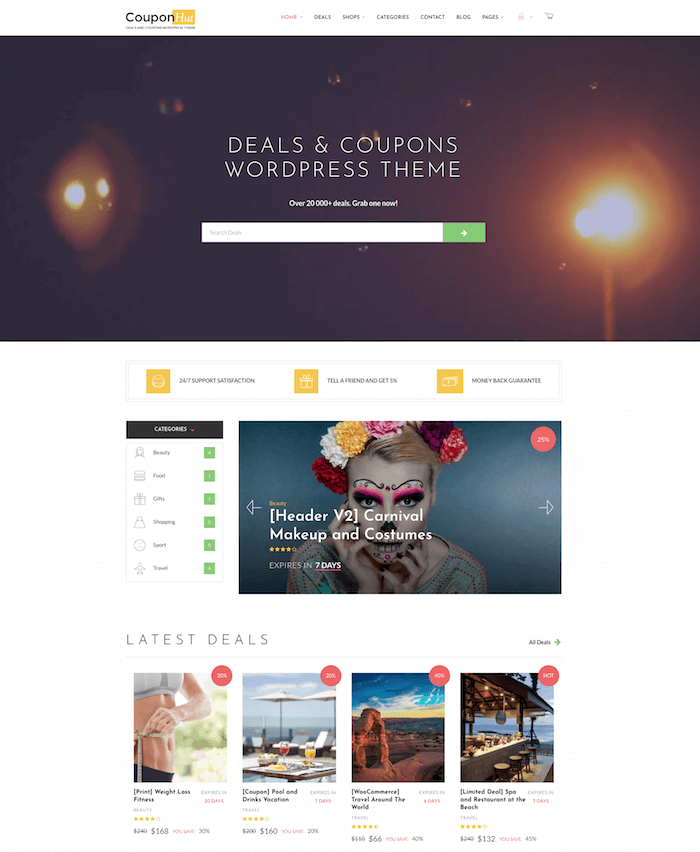 FlatAds – Classified AdsWordPress Theme
Up next we have FlatAds WordPress theme. It is a premium directory and listing WordPress theme with a super flexible and responsive design built on HTML5 and CSS3.
Besides giving you all the necessary functionalities to run your site, though was also given to make the UI more user-friendly.
Important features of the theme would include its clean and modern design language with the option to have custom fields, unlimited colors, an unbranded advanced theme options panel, and its strong focus on typography and usability.
The theme is built on top of the Redux framework and Bootstrap Framework and is also compatible with plugins like WooCommerce, bbPress, PayPal, Google Maps and much more.
You also get the premium LayerSlider plugin free with the theme.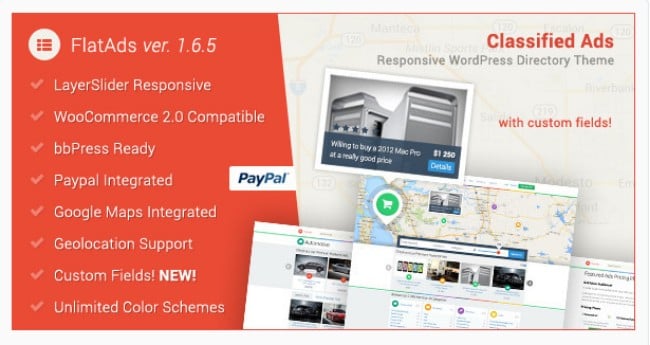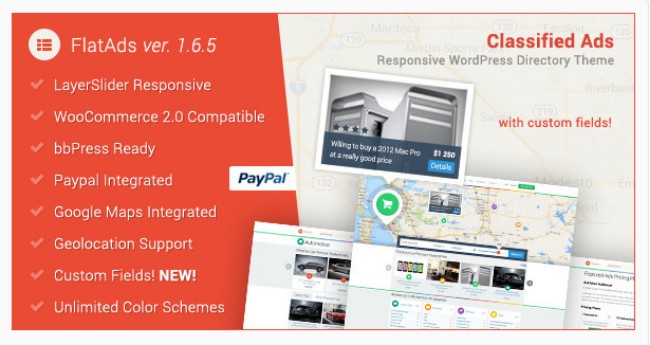 Price Compare
The name says it all; it's a product comparison theme that you can use to make money. The product comparison sites are very popular these days, and it will continue to do well.
The theme comes with a great looking design with very quick loading speed making it an SEO friendly theme.
The theme is created with mobile users in mind, it is fully responsive and works perfectly on the small screen devices.
As it is a classified theme at its core, this theme offers you the option to allow your users to create their store from the front-end of the site.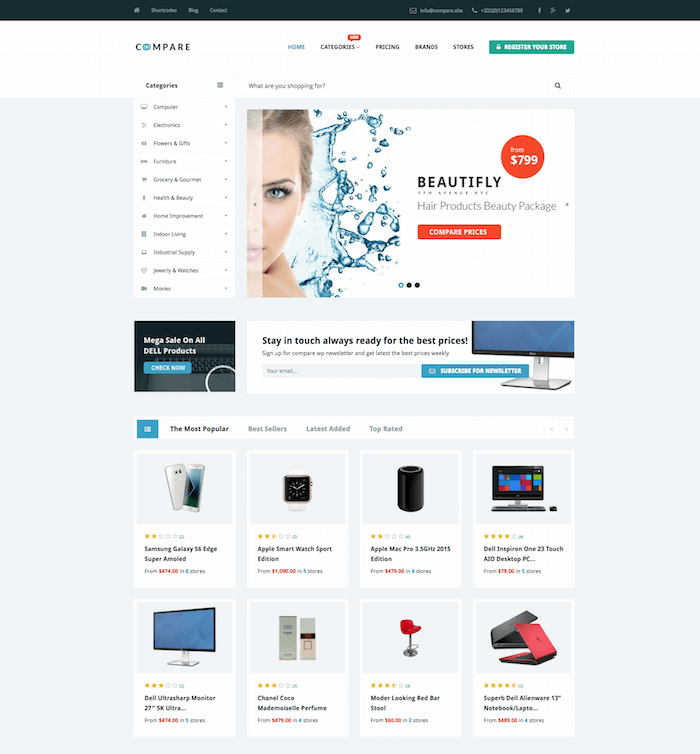 Classiads – Classified Ads WordPress Theme
Classiads WordPress, Classified ads themes, is one of the most diverse themes on the list as far as designs are concerned.
It theme comes with over fifteen premade classified marketplace websites and plenty of customization to tweak them the way you like.
In fact, with Visual Composer coming out of the box with the theme, you can pretty much change the entire layout by simply dragging and dropping.
Feature highlights of the theme would be its arsenal of premium plugins like Visual Composer, Ultimate Addons, Slider Revolution, and Layer Slider that it offers right out of the box.
There is also compatible with many other WordPress plugins and multiple modes of payment options. The theme supports front-end ads posting, front-end social logins, an advanced membership system, a plethora of listing styles, and much more.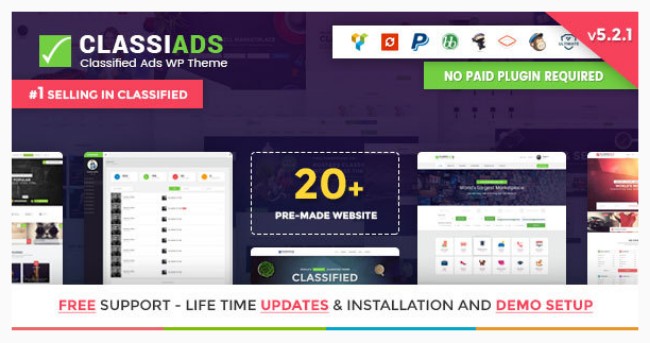 Classify – Classified Ads WordPress Theme
Classify WordPress Classified Ads theme has been designed to be super flexible, easy to use, and offer a complete solution to all your necessities for hosting a classified ads website.
The theme is built with HTML5, CSS3 and on top of the Bootstrap Framework which is always a positive thing.
The theme supports Directories, Classified listings, Video ads and then there is the support for many types of Custom Fields.
There is also support for multiple user logins for a simplified login experience, WooCommerce integration, different ads pricing plans, and many more of the necessary options.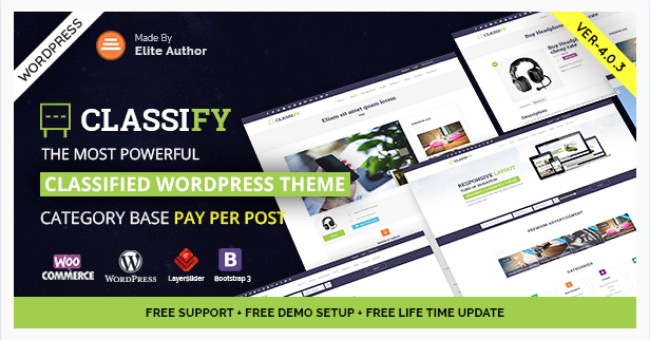 Classifieds Theme
Classified Theme, as the name suggests is a classified ad WordPress theme. This is a parent theme and allows for creating different types of classified sites by using child theme functionalities. The theme/template can create twenty potential listing sites.
Noteworthy features of the theme include options such as responsive design, Google Maps integration, Geolocation, easy drag and drop homepage layouts, advanced search options and much more.
You can also enable a free package or a premium listing package with enhanced features as a means for monetizing your website.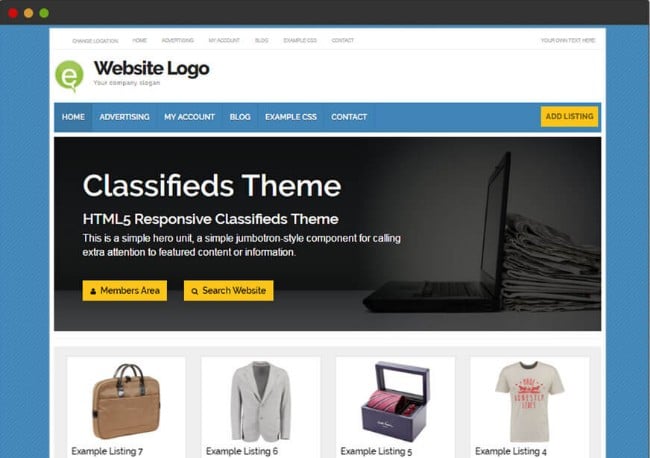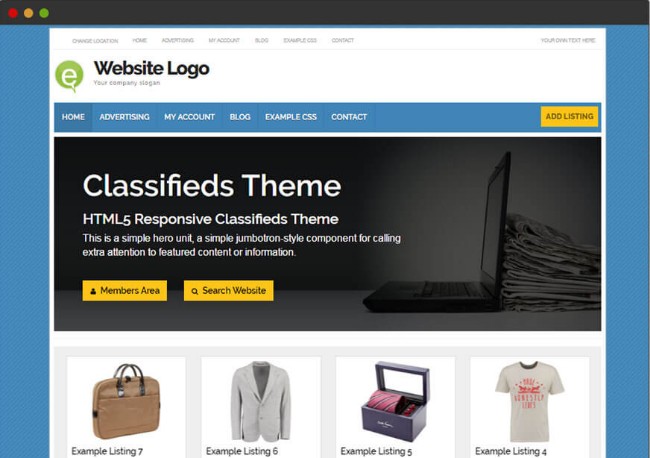 CLASSICRAFT – WORDPRESS CLASSIFIED AD LISTING THEME
Classicraft is one of the most popular themes used by people looking to make a passive income using classified ads websites.
The design language used by the theme is very modern, clean and minimal. Also, care has been taken to make the user experience as intuitive as possible.
Notable features of the theme include options to define multiple pricing plans, custom widgets for sidebar area, a proper call to action button to help generate leads, a homepage slider to display all your premium listings and so on.
This is, in fact, one of the best themes that manage to balance all the necessary features without making the website seem cluttered and chaotic.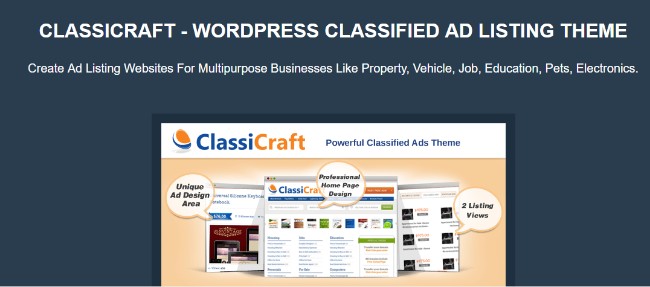 Directory
Directory WordPress theme gives you the power to create, manage and monetize local or global directory sites with ease.
Now even though it can't be used right out of the box to make your classifieds ads site up and running, it can help to mold such a site with a bit of tweaking and time.
It is in fact, a very powerful theme and comes with all the necessary features to help build such a site.
Some of its feature and functionalities include custom post types with unique fields, ability to accept submissions under different fields, a multitude of directory extensions, support for all popular payment gateways, SEO friendly design and much more.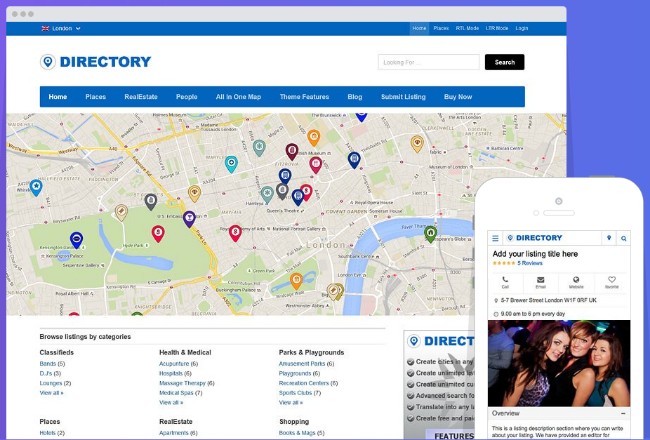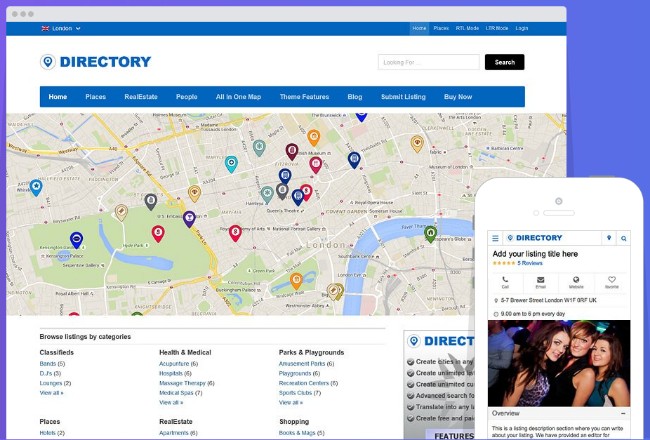 Globo – Directory Listings WordPress Theme
Globo also falls under the Directory listing WordPress themes category. But it comes with all the necessary tools and options to build a working classified ads website.
Main feature highlights of the theme include super-fast data filtering options, blogs, portfolios, and deals for members, custom tabs that allow for any type of content using shortcodes and so on.
Other than this, the theme is also compatible with some popular payment gateways, has a front end dashboard, a recurring billing function, WooCommerce integration, Google Maps integration, reviewing, claim available listings, and much more.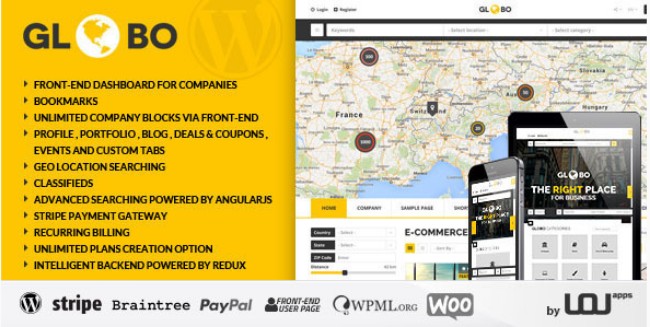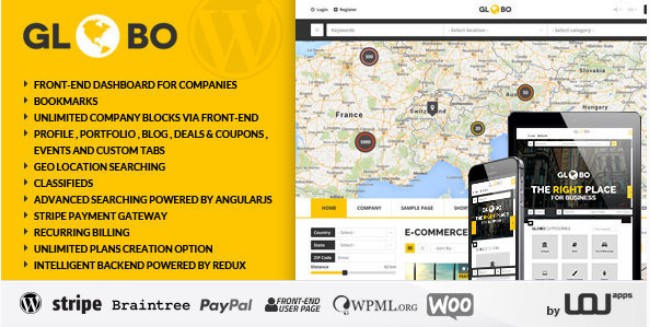 Listify – WordPress Directory Theme
Listify is another directory WordPress theme. But you can make use of it as a classified ads website as it comes with all necessary bells and whistles to do so.
However, this is one of those themes whose primary focus is on design and appearance. You will get access to an abundance of lovely demo sites and access to the Beaver Builder for designing layouts with ease. There are also style kits which can help to brand your site in under a minute.
Feature-wise, the theme gives you access to wonderful plugins like Gravity Forms, Ninja Forms, Contact Form 7, FacetWP, WooCommerce, and many premium WooCommerce plugins.
The entire site is also SEO friendly so getting up the search engine ladder will be a whole lot easier.
Other features of the theme include an option to add, claim, view listings, as well as make reservations, book appointments, location-based searches, make submissions without logging in, and much more.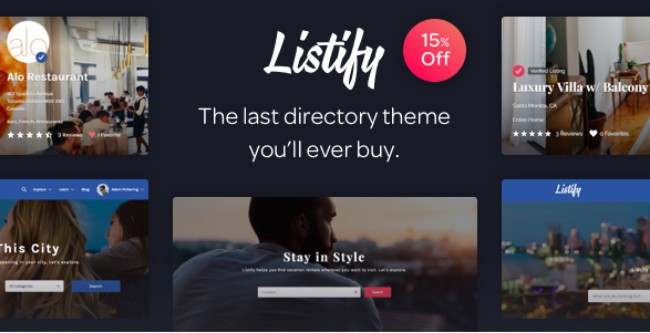 Jobify – The Most Popular WordPress Job Board Theme
Jobify is a WordPress job classified theme which does deserve mention on this list. This one also comes packed with everything you might need to create a professional job board.
However, besides features and functionalities, the theme also focuses on design layout and site aesthetics. It comes loaded with a lot of demo content and pre-designed site templates.
So you will be able to set up your website in a matter of minutes, but customization options are somewhat limited.
Now coming to the functions and functionalities of the theme, you will get WP Job Manager, an advanced search feature, location filtering, drag and drop WordPress editor and much more.
Other than this, you get access to some useful plugins like Contact Form 7, NinjaForms, Apply with Xing, Apply with Facebook, Indeed Integration, Gravity Forms and many more.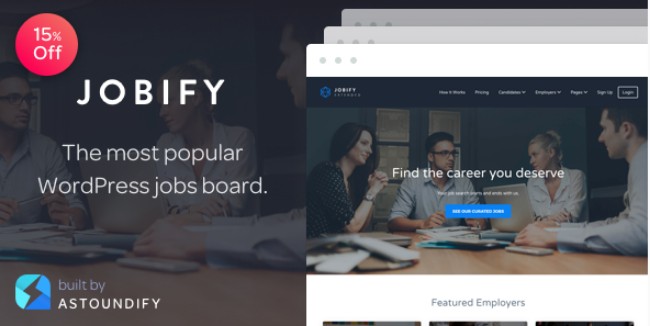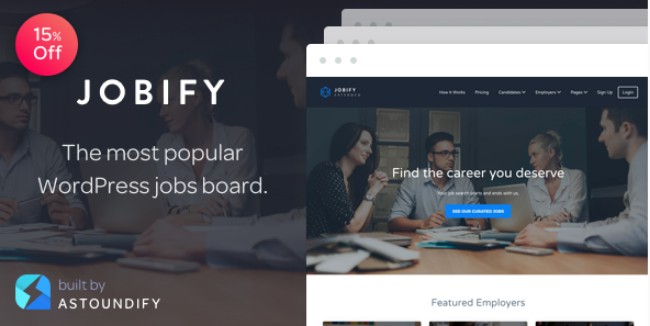 ClassiPress
ClassiPress is one of the most popular WordPress Classified ads themes. It will ready you to come online and start selling classified ads in a matter of minutes.
The theme is filled up to the brim with useful features and functionalities that make for tight integration with the WordPress platform.
Some of the notable features of the theme include support for multiple pricing models, custom fields and forms, membership packs, customer advertisement management, SEO friendly design and so on.
You can also fully customize the front page, add an autocomplete function to the search bar, integrate social network logins and much more.


In Conclusion
So this was our list of the Best Classified Ad Site WordPress Themes. I hope you liked it, and if you decided on using one of these then do let us know which one and what caught your eye.
Also, as we said earlier, the list of great themes available for WordPress is unending, so if you know such a theme, then do mention them down in the comments section. Your fellow readers will appreciate your contribution.