Best Free WooCommerce themes collection that you can use to create your online shop free of cost.
With the advancement of technology and the easy accessibility of the internet in all spheres of life, most of our daily routine tasks can be completed online.
From ordering food to buying groceries, there has been a steep rise in the ways people use the Internet to shop for their daily needs products, and services.
And when we talk about shopping, it occupies a prominent place in the list of things that people do on the Internet.
Online shopping has made everything easy. People no longer want to spend hours in traditional shops and stores searching for a good product when they can find everything online.
Along with offering thousands of handy choices, online shopping helps you in comparing different products and services and getting genuine reviews before actually buying something.
With such a huge increase in the number of online shoppers, the right time to set up your e-commerce store is now!
Creating an e-commerce website for your business involves setting up everything right from user registration to order placement to other important steps that your visitor will go through on the website.
Unlike usual blogs and websites, an e-commerce website is a complete virtual replica of your business and requires you to work out on many different aspects; but with WooCommerce, everything becomes easier.
WooCommerce is one of the major e-commerce technologies used by people. It is a well-known and extensively used online store platform for WordPress that makes setting up and managing an e-commerce website easy.
The plugin is widely used because of its vast range of add-ons that help you in adding any feature you like to your online store.
Owing to the increasing need for an e-commerce website that is user-friendly and well-designed, several WooCommerce-integrated WordPress themes have come up, and you can use any of these to create your e-commerce platform.
We have already listed the best WooCommerce themes here. You will find some amazing online store themes for the WordPress platform on that site.
Also, don't forget to check this article about the best WooCommerce plugins that you must use on your online store site.
The cherry on the cake is that you get an amazing collection of WooCommerce-integrated themes for free. That's quite great, isn't it?
Read on for a comprehensive list of free WooCommerce themes that can be used into building a full-fledged e-commerce platform:
Top Free WooCommerce Store Themes
---
Astra Theme
Astra is an exceptionally popular free WooCommerce theme. It has been designed specifically to be powerful and easy to use, flexible and reliable and to be the only WordPress theme you'll ever need.
Astra has several readymade WooCommerce templates you can import in seconds and customize as you see fit. It is compatible with most drag-and-drop page builders and makes customizing your new store as easy as possible.
The theme works seamlessly with WooCommerce and is also fully compatible with SureCart, Sure Members and other leading eCommerce plugins too!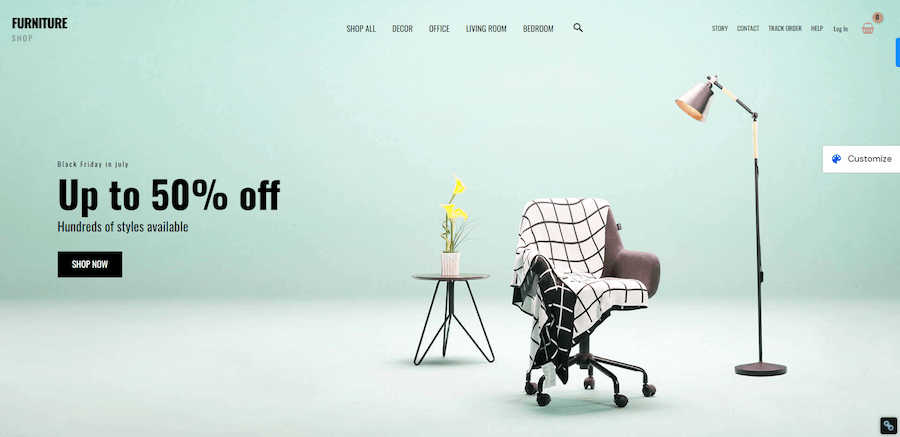 The Shop
The Shop offers a clean interface for selling both physical and digital products. There are plenty of useful color options in the theme which help you in branding your site properly.
Further, a wide list of Google fonts assists in generating fonts that enhance the visual appeal of your website.
The theme is easy to setup and comes with multiple options to choose from as per your page's layout. The theme also comes with several widget choices that you can use for integrating premium WooCommerce features such as contact information, top products and recent reviews on your website.
All in all, The Shop equips you with everything you need to set up an amazing e-commerce store.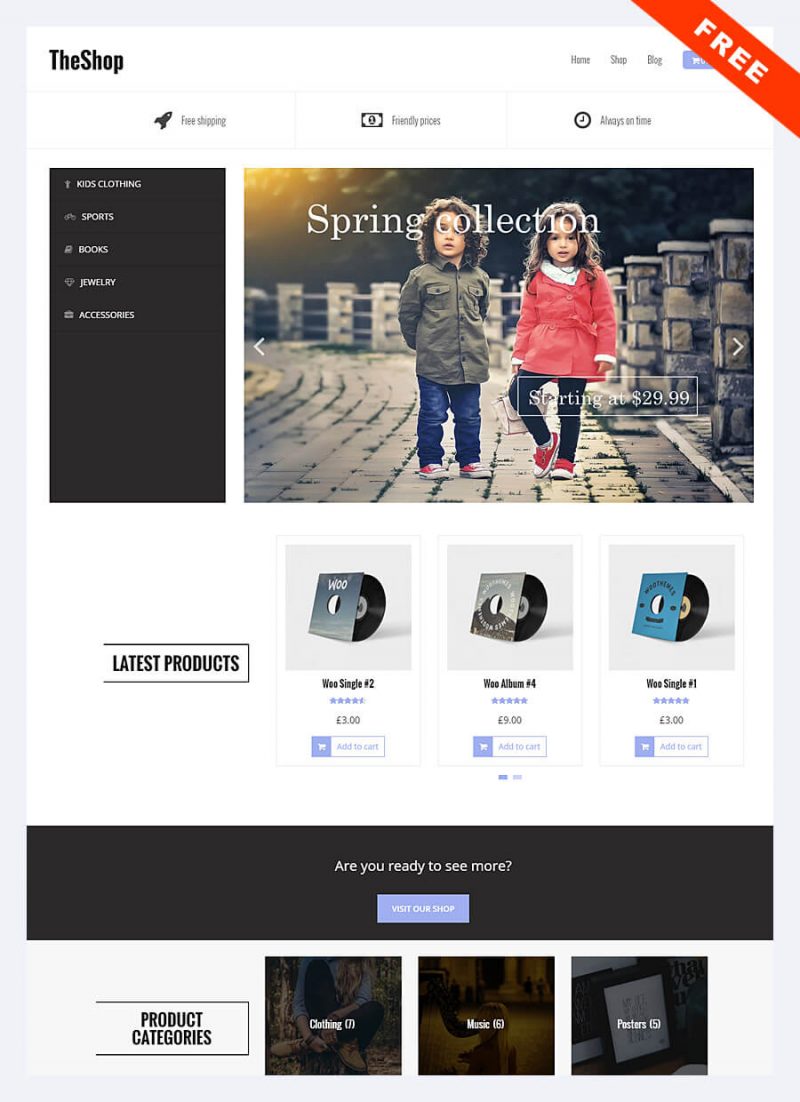 e-STORE
This theme helps you in making your online brand a stunning reality. The e-Store is one of the most renowned WooCommerce themes and offers everything that you would need to set up an online store.
Some of its amazing features include easy access to contact details, multiple slots to promote different sales, ample space for ads, and an option to offer great deals on your products and services.
The theme also includes a user-friendly search option to help the users navigate easily through your website. With e-Store, you can also let your customers review the products they have purchased and provided them with a membership option for the more loyal ones.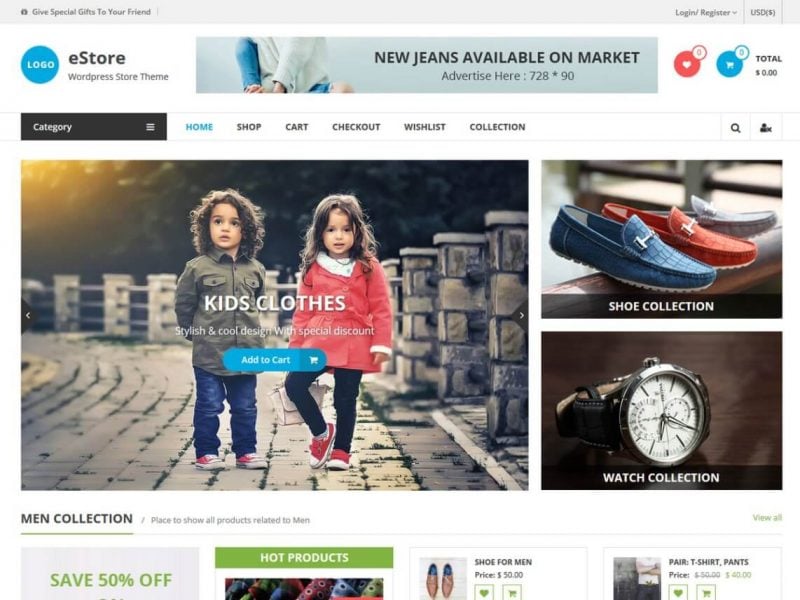 Storefront
Want to set up your e-commerce site in a very short span of time? Well, Storefront is the theme for you! The theme is highly customizable in every aspect, and you can choose from several layout options, and color combinations as well as place widgets in different sections of your website.
The responsive design and easily customizable layout of the theme speak for themselves. One of the most stunning features of this theme is that it was created by WooCommerce itself and hence it offers the utmost compatibility with WooCommerce. Woah! Need we say more?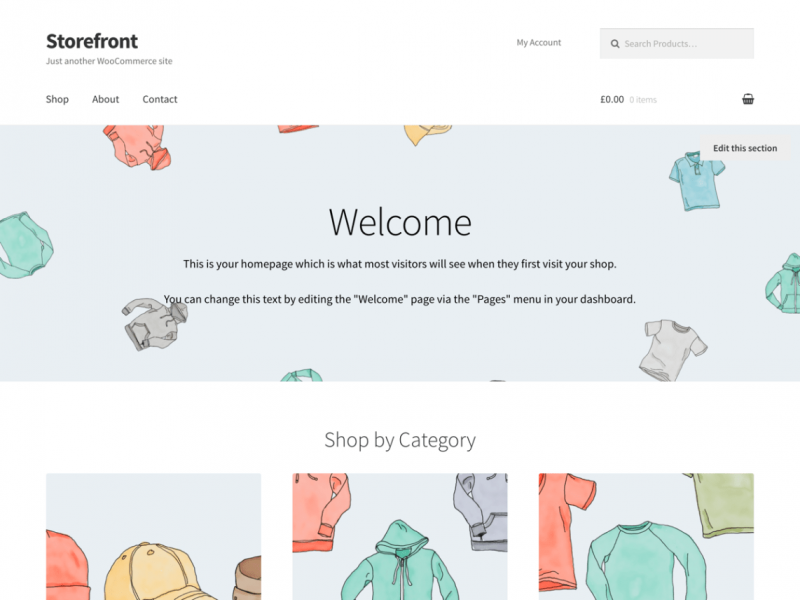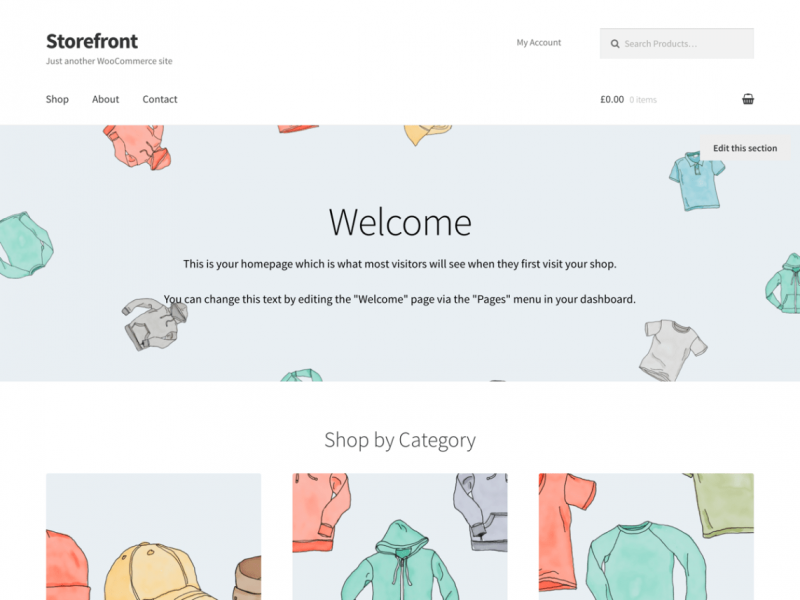 Easy Commerce
Are you a beginner in the world of e-commerce? Don't worry! Easy Commerce will make everything easier for you! This is a modern and elegant theme that can be customized according to your needs.
One of the many good features of this theme includes a price filter in the sidebar of your website. The gallery even features the best products on the site or the best-selling products in your store.
The most amazing thing about this theme is that it can be transformed to make it suitable for any niche or business type. It doesn't matter if you'd like to sell jewelry or women's fashion clothing, this theme will help you anyway. Sounds amazing, right?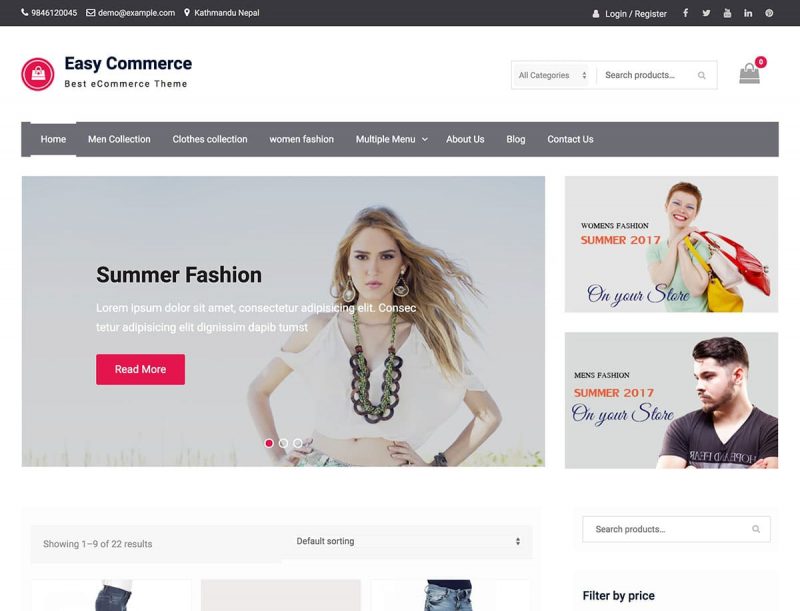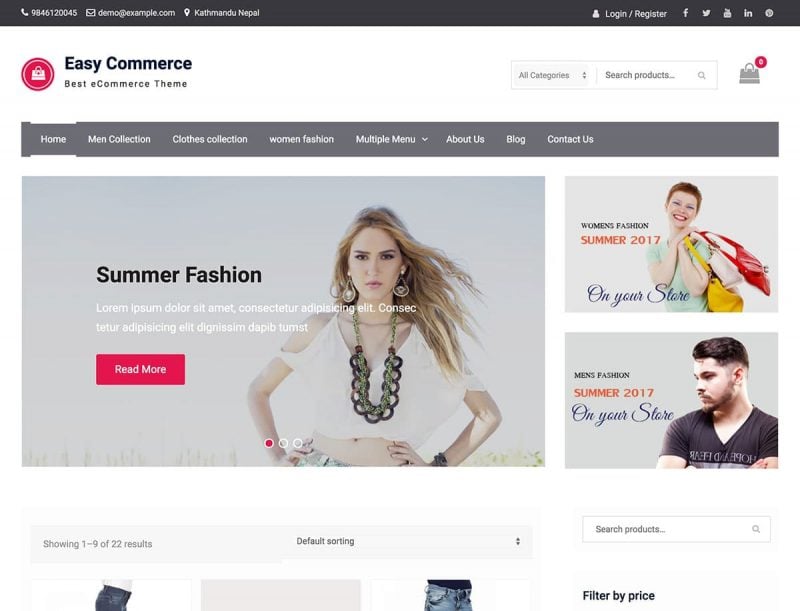 Zerif Lite
Zerif is one of the most popular business themes for WordPress, and you have the lite version of the theme that you can use for free.
Zerif is quick, minimal and SEO friendly to make sure that your content gets a much better ranking in the search results.
The theme is perfectly compatible with the WooCommerce plugin, and you can have a design that is suitable for online shop sites.
The theme is as good as any top-quality premium theme. You have a one-click demo update option so that you can get started on your site quickly.
You have an amazing custom background option, a powerful live customizer, and may include other styling elements.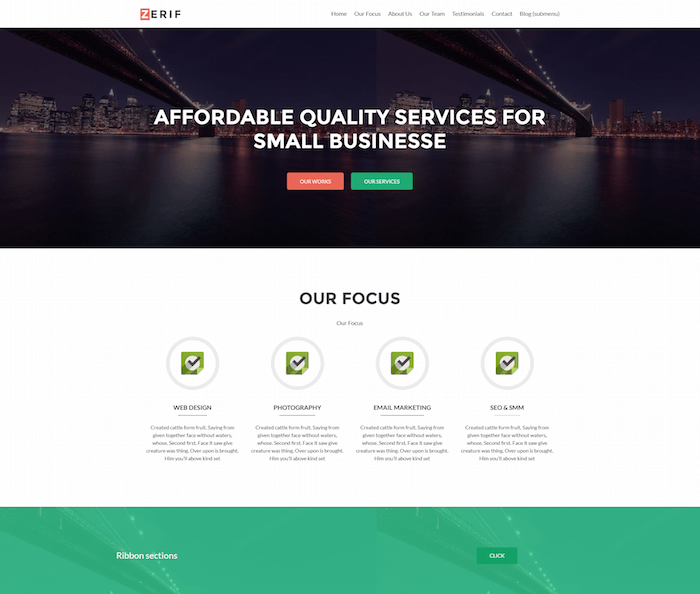 Discover
Are you looking for something simple and professional for your online store? Then Discover is the ideal theme choice. The well-organized layout of the theme exudes a positive business vibe, and it would surely be loved by your website's visitors.
Few of the many great features of this theme include threaded comments, multi-level drop-down menus, custom menus, backgrounds, header images, etc. The orange and white color combination might be an off for some but the endless list of features that it offers works well with most of the websites.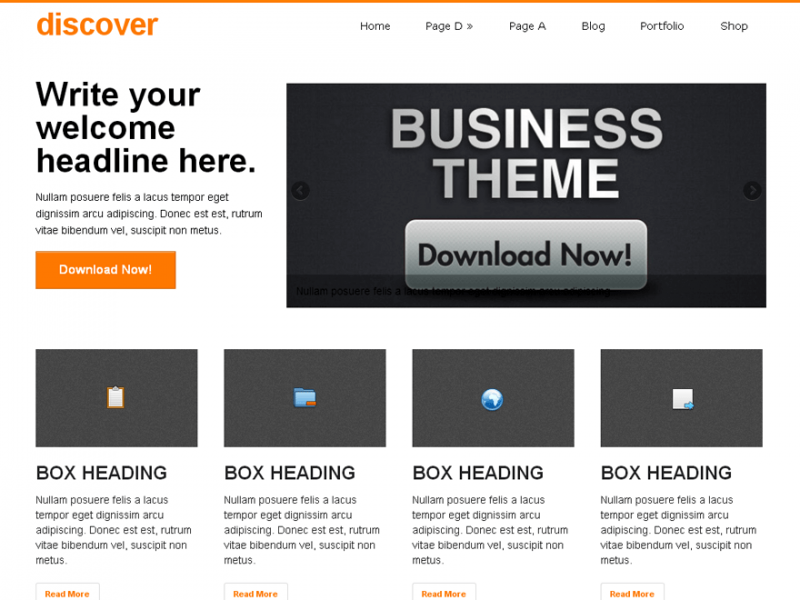 Shopstar
Shopstar is a minimalist yet highly responsive theme. It is best suited for a fashion website as you can efficiently highlight your fashion promotions in the large header.
The white space available in the blog is very well used to make room for your products and helps you in showcasing the most important aspects of your company.
The theme integrates well with SiteOrigin's Page Builder thus allowing you to drag and drop certain page elements without messing with the code.
This full-width template with translational tools and two columns enables your site to skyrocket your conversion levels.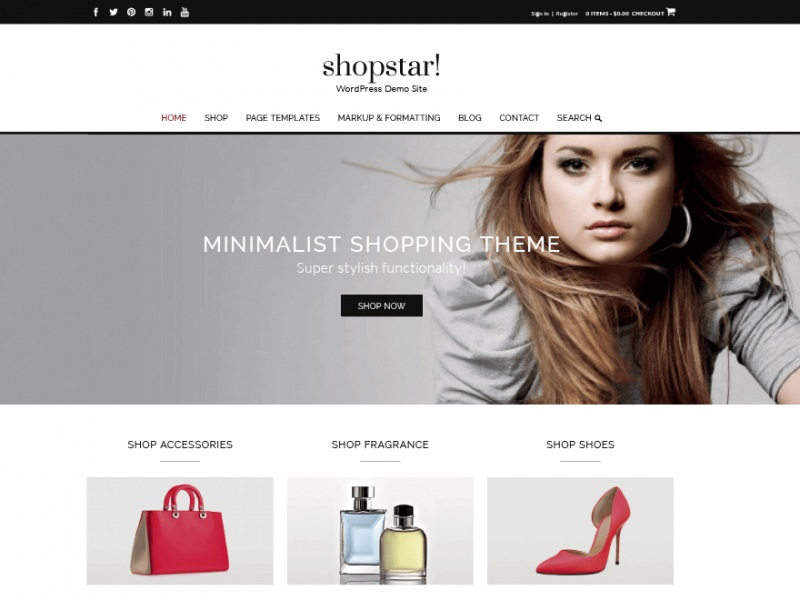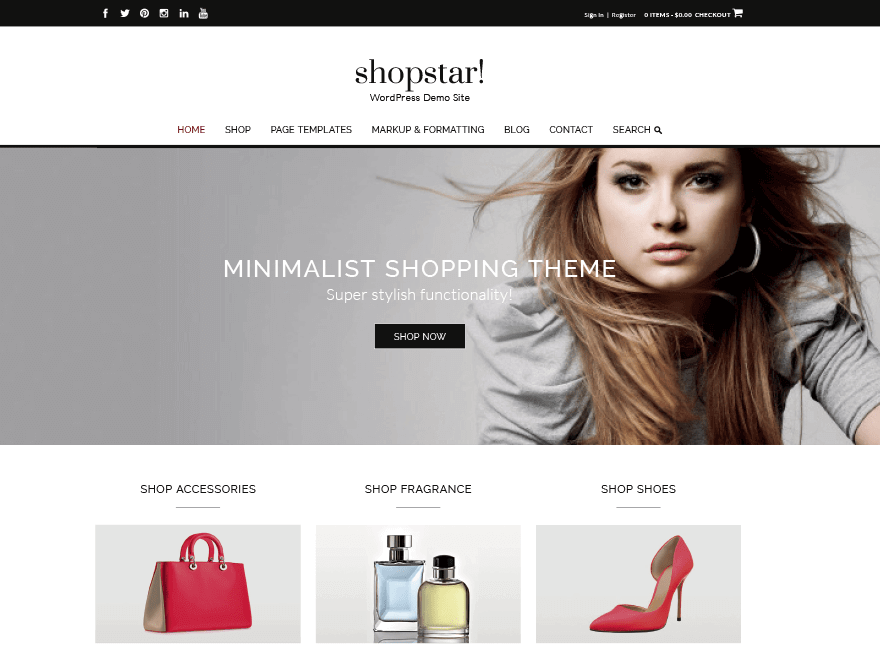 Klasik
The Klasik theme is quite 'classic' in every sense. This theme is usually referred to as a starter theme that helps people quickly make a WooCommerce website. The theme can be used to create any type of business, blog, or portfolio site that you wish to create.
It has eight widget areas, four custom widgets, and plenty of customization features. The framework of the theme is retina ready, responsive and it is compatible with WooCommerce making it an ideal choice for anyone who is planning to step into the field of e-commerce.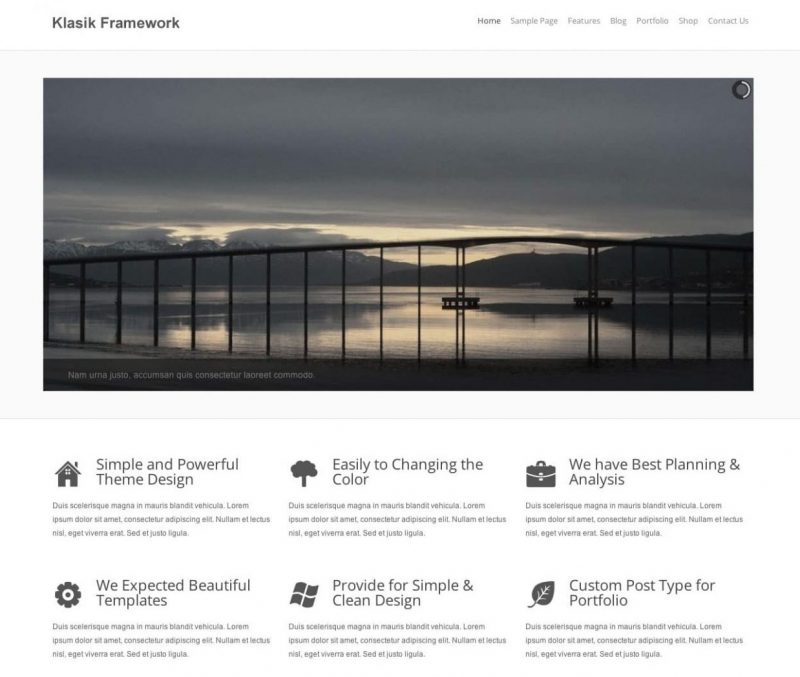 Virtue
Do you want to create an out-of-the-box online store? This theme with a responsive and modern design can help you in creating one. Virtue is compatible with WooCommerce and comes with portfolio pages as well making it suitable for any business website.
The theme is equipped with easy-to-use features and allows you to customize the page layout, slider content, fonts and many other things with just a few clicks, as per your requirements.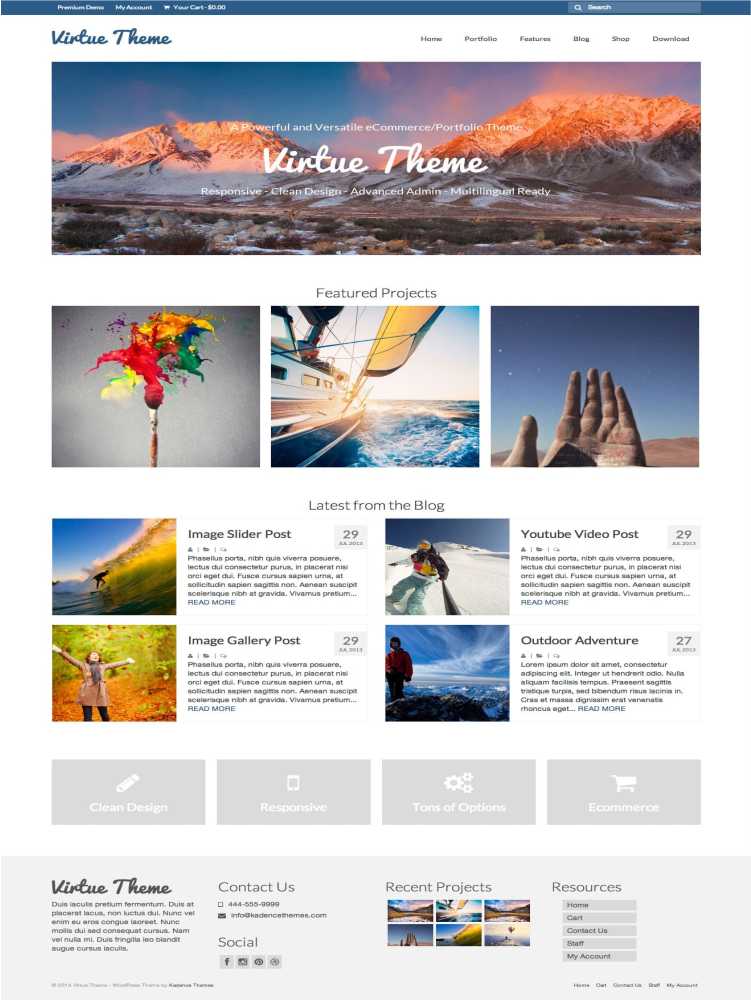 Vantage
The theme 'Vantage' has a really simple and clean layout that complements any online store. The theme is compatible with WooCommerce, but it also works well with Page Builder and Meta Slider which can further help you in building responsive layouts and custom sliders respectively.
Vantage enables you to have complete control over your website and with the easily sorted transactions; it will make your journey toward e-commerce easier.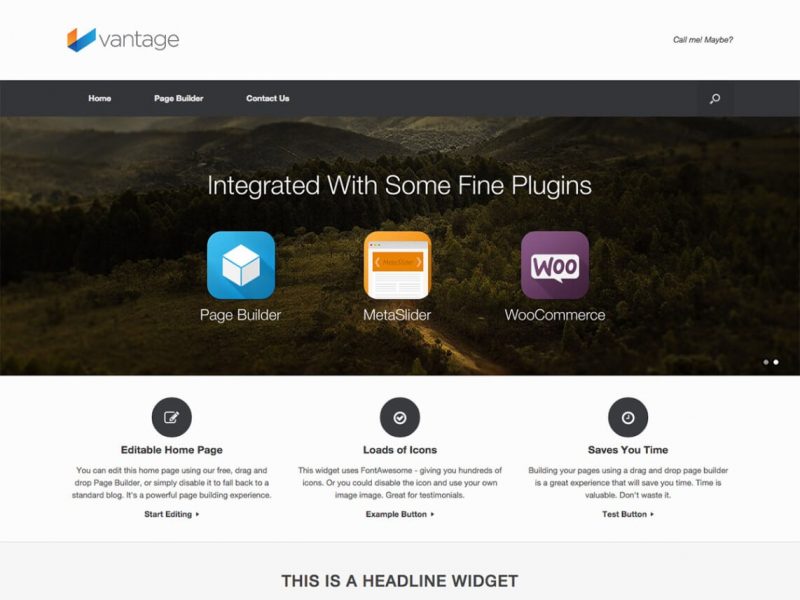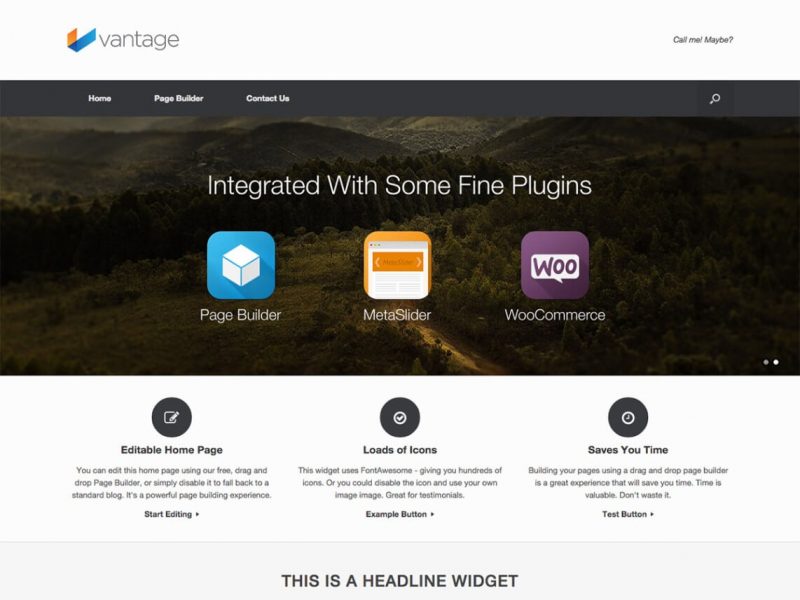 Terrifico
Terrifico is loaded with a multitude of features that can help you in building a website in a simple and hassle-free manner. It comes with an advanced admin panel that enables you to customize it just the way you like.
You can add a custom background, add your logo, select a boxed or wide layout, configure your social icons, select from a wide variety of typography options and much more. Is there anything that this theme can't do? Probably not! Getting it all for free is indeed amazing!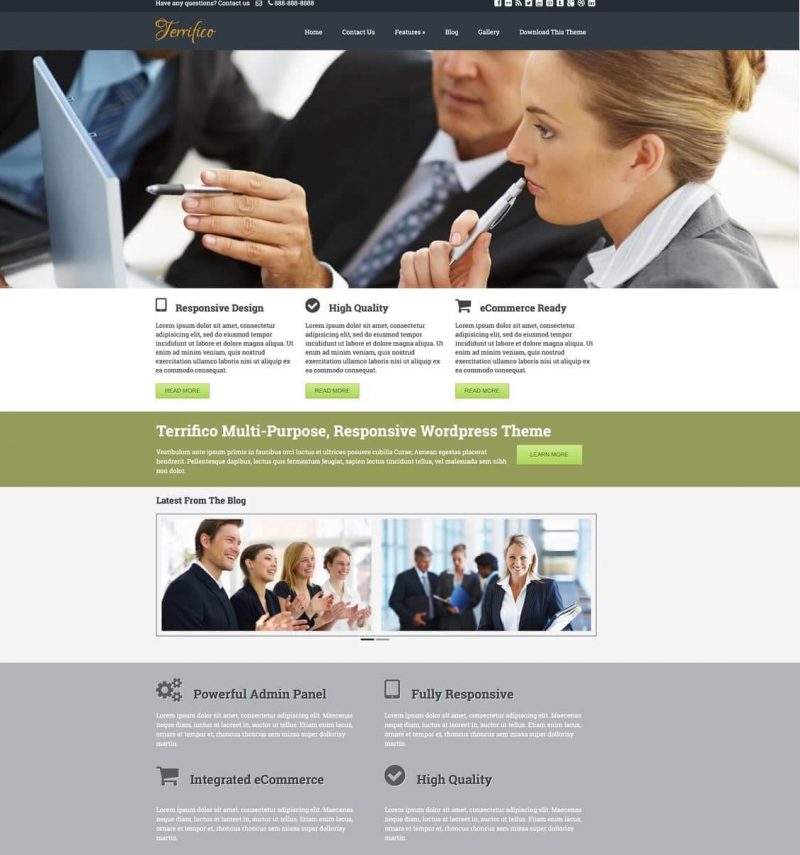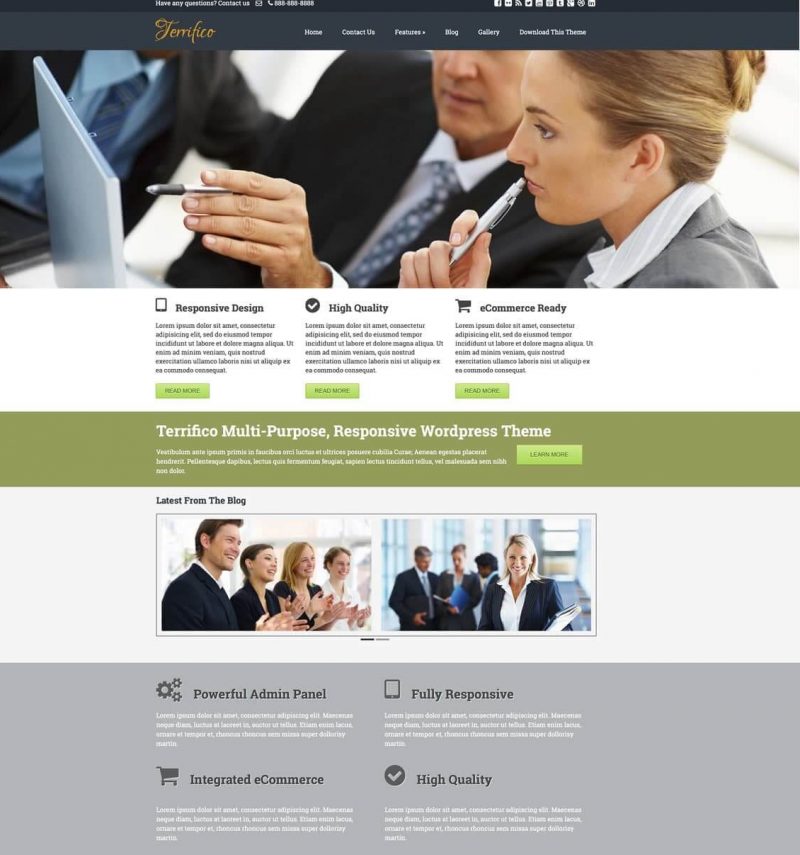 Affluent
Affluent is a great-looking modern and trendy WordPress theme that offers you free as well as the pro version. The theme is highly responsive to make sure that your site looks great on all devices.
You have the option to add a different section on the homepage of the site to make it look custom and trendy. You have the option to style your site with unlimited color options.
The theme is perfectly compatible with the WooCommerce plugin, so you can use the theme to create your online shopping site.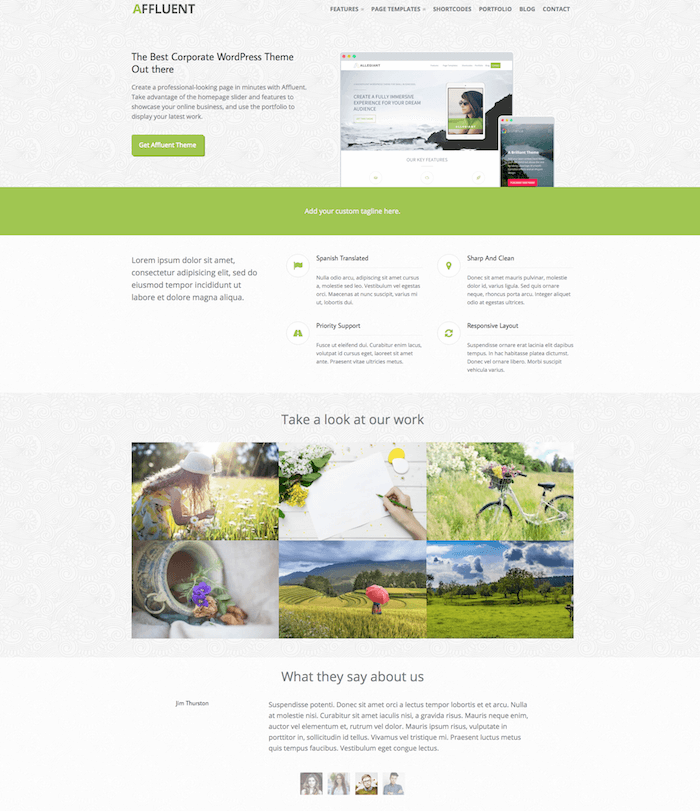 Smartshop Lite
Smartshop Lite is a responsive theme that is specifically designed for use with WooCommerce. With a single click, you can display your featured products on your homepage; all thanks to the feature-rich WooCommerce plug-in.
And with a wide variety of color schemes and fonts, you can customize your site just the way you like it. The most amazing feature of this theme is the live customizer. It lets you preview the changes on your site or blog as you make them.
All in all, Smartshop Lite is a really smart theme for setting up an online store.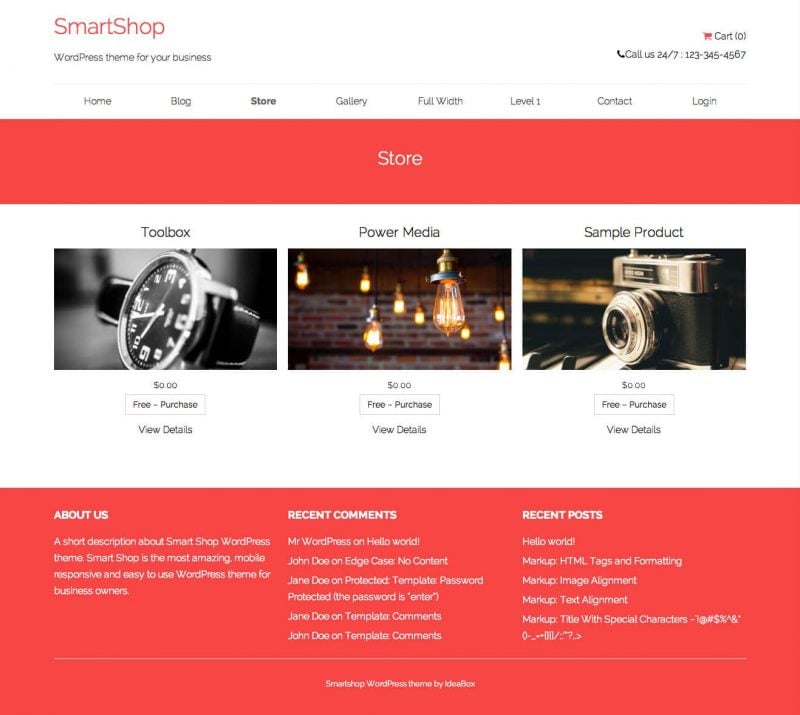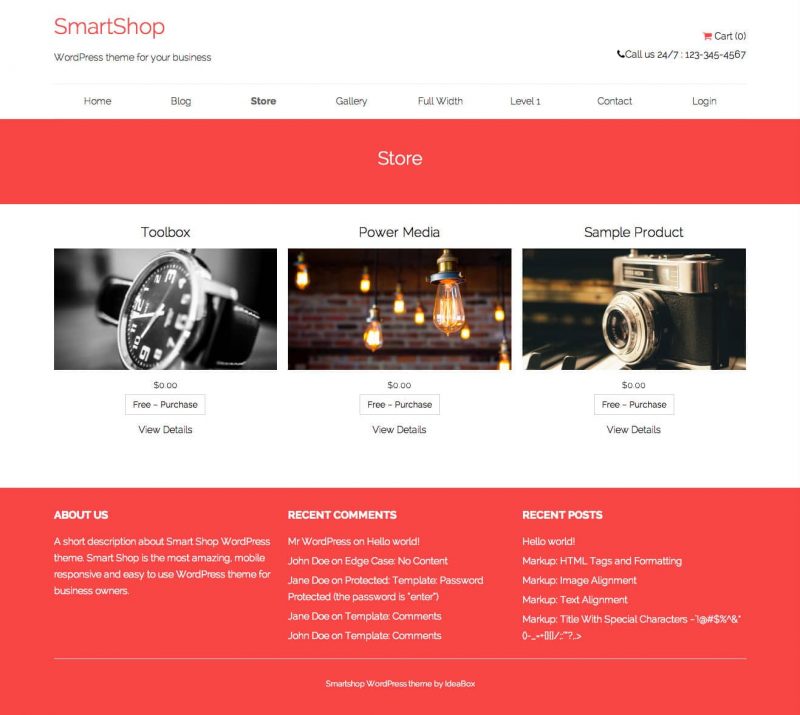 Wooshop Lite
Wooshop Lite name itself justifies the compatibility of this theme with WooCommerce. The theme features a responsive layout, a homepage slider, and a featured products slider powered by Flexslider to show off your top-selling items.
Other advanced features of this theme include shortcodes for homepage layout, sub-menu drop-downs, and social media icons among many others. The free version surely provides many premium services.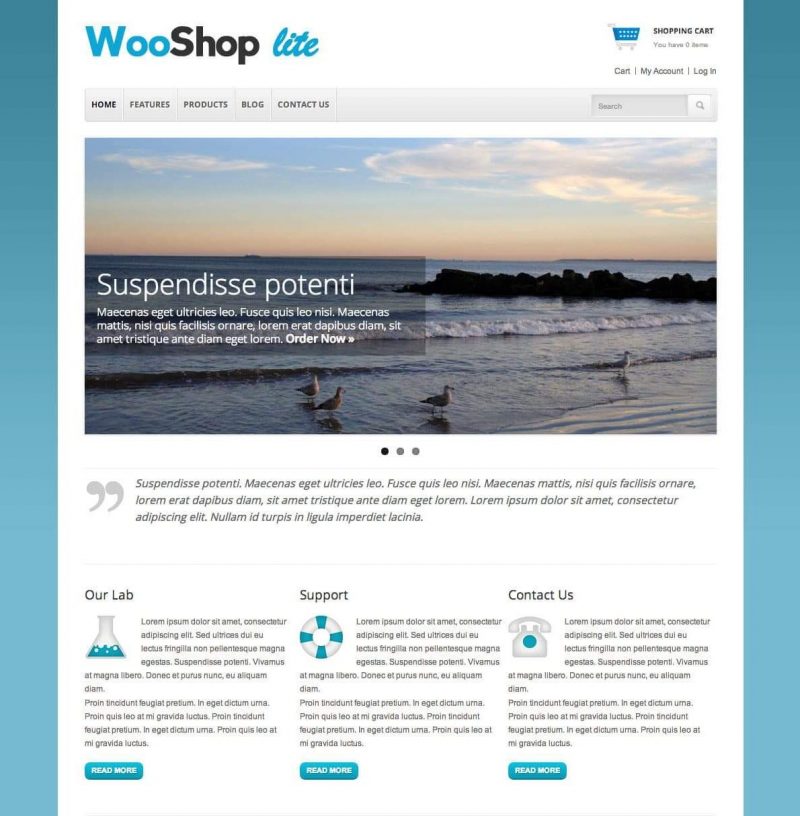 SKT Biz
Looking for a professional theme that's easy to set up and use? SKT Biz is an ideal choice. It is a multipurpose theme and is fully compatible with every device.
The theme works well for all kinds of businesses, but it is a perfect fit if you are looking for a theme that provides a sleek and professional look to your site.
The theme comes with a ready slider, works with Contact Form 7 and also includes a theme options panel to enable easy customization.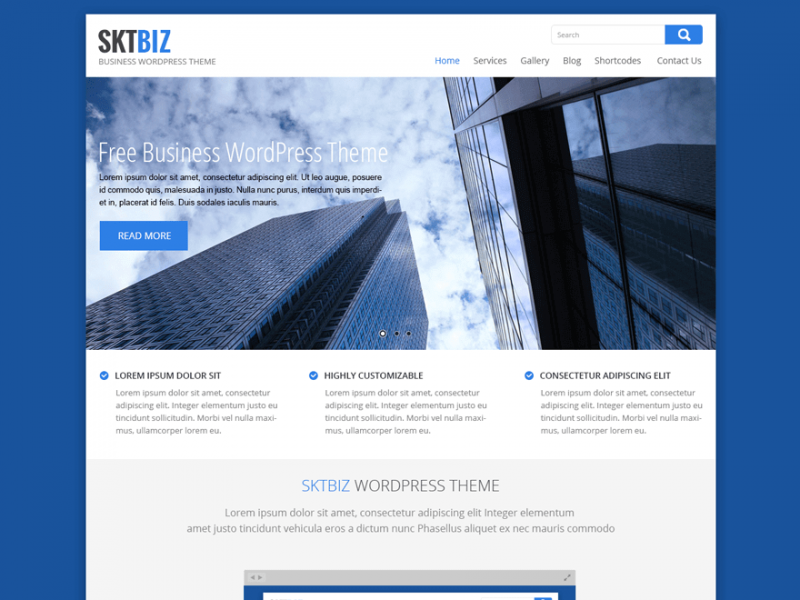 Seller
Seller has a responsive and professional-looking layout that keeps your website clean and prevents it from being too stuffy.
The best thing about this theme is that it provides all the premium-level features for your online business free of cost.
Some of the most impactful features of this theme include header and footer widgets, multiple page layouts, a showcase area, custom widgets, and much more. And not to forget, this theme looks amazing!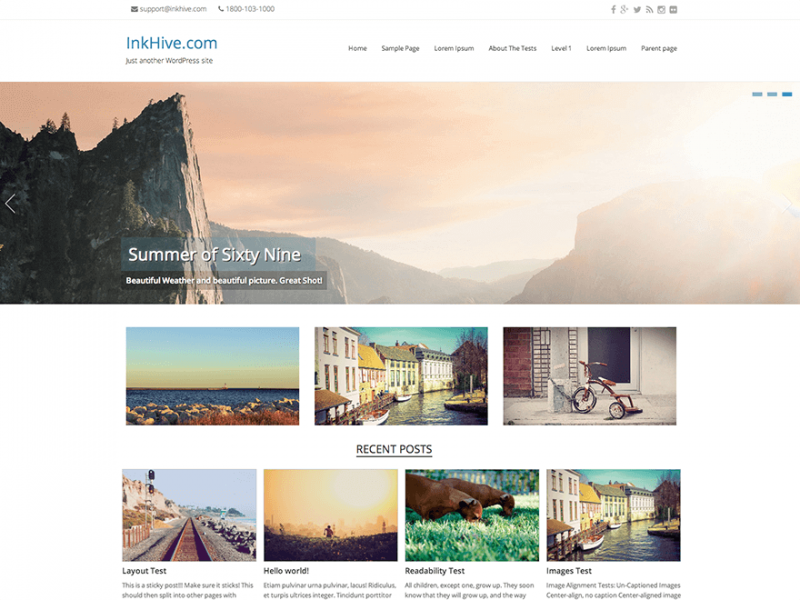 The Skeleton
The Skeleton is a clean, sober, and straightforward theme that is highly compatible with WooCommerce and bbPress. The theme features around 12 widget areas, three spots to put menus, customization widgets and much more.
You can select from one or two-column posts, filter the homepage contents category wise and you can also have your featured products show up on the homepage. The theme might look simple but has great styling and a highly user-friendly interface.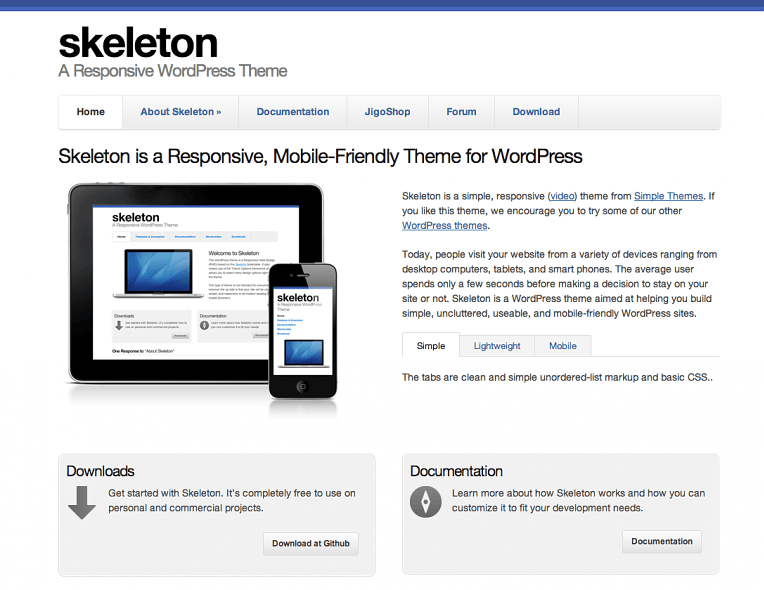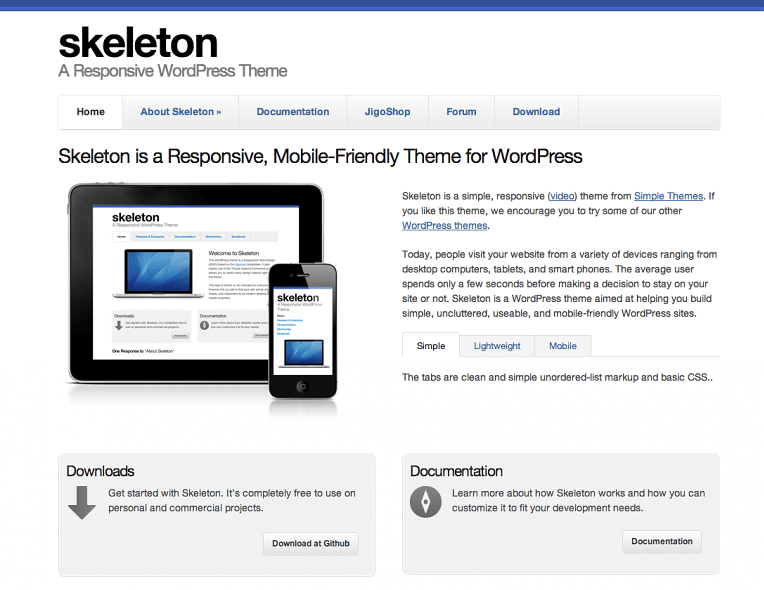 Shopping
The name itself suggests that this is a theme for those who want to set up an online store. This is a child theme specifically designed for WooCommerce. It is well compatible with all kinds of screen be it a computer screen or the screen of a mobile phone.
The theme has a simple yet stylish layout that can make your products the star of the show. If you want to create a basic yet elegant website for your e-commerce store, Shopping will probably be a good fit for you.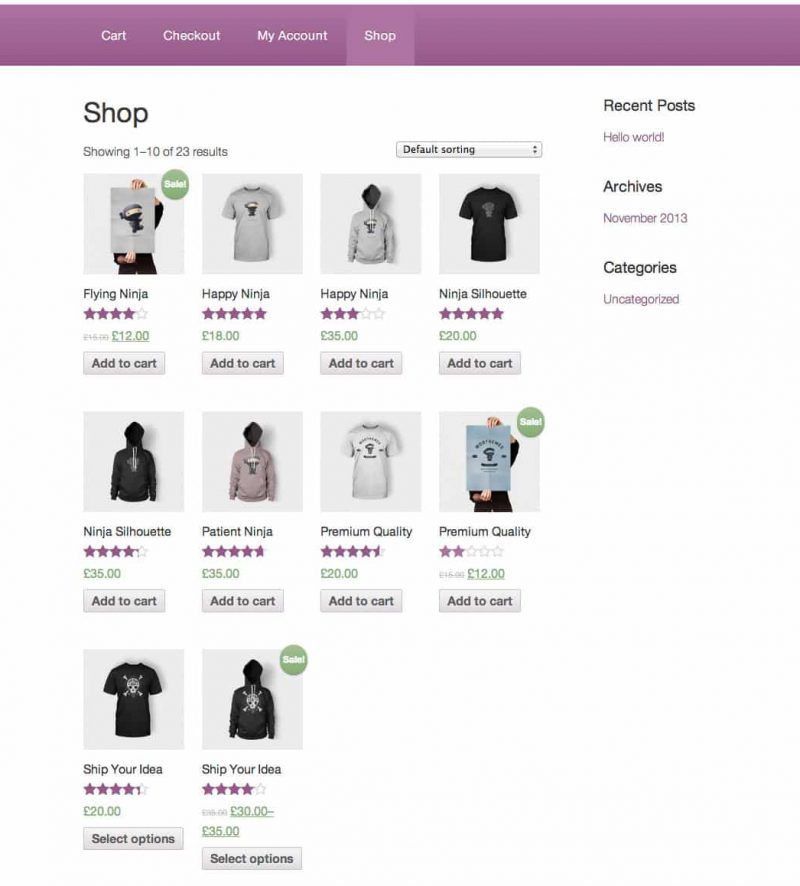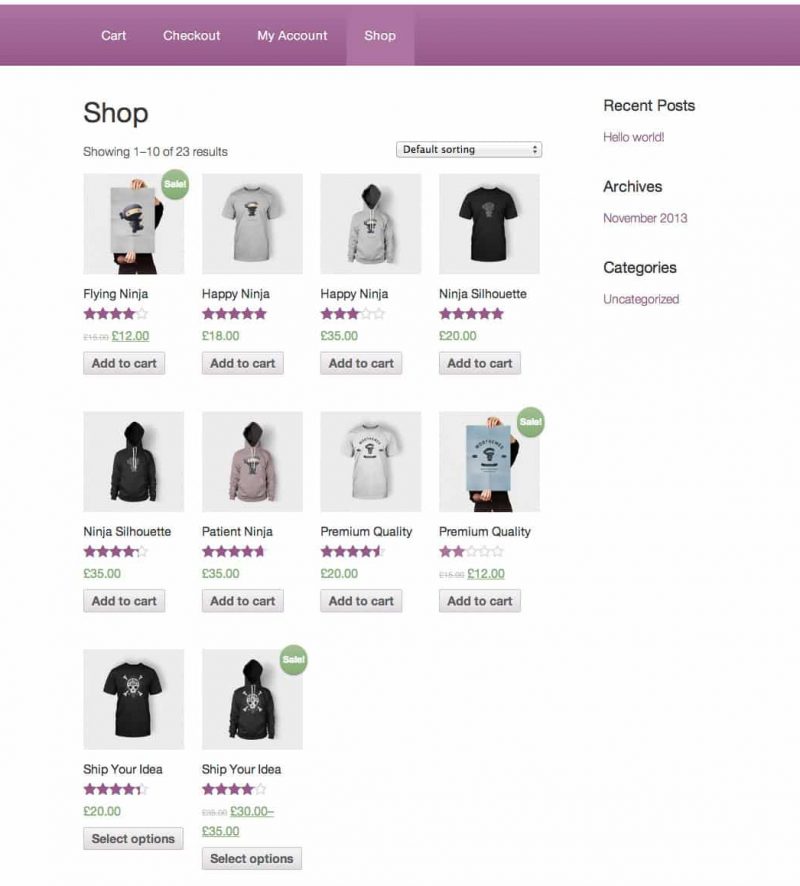 Simpleo
Designed intricately to simplify your online store business, Simpleo offers a really attractive and responsive design for any online store.
It has a lot of amazing features like custom backgrounds and images, logos, Google Fonts support, a large color scheme, social media icons, and much more.
The theme comes with two sliders and a variety of blog post formats to show off your products better. All this is for free, isn't that amazing?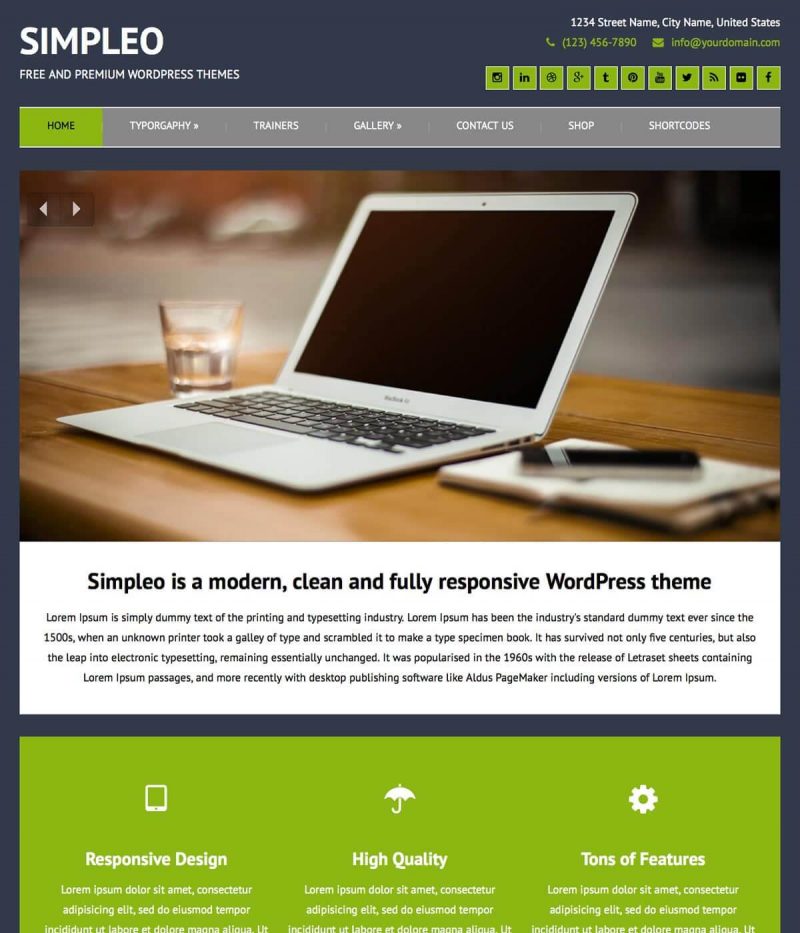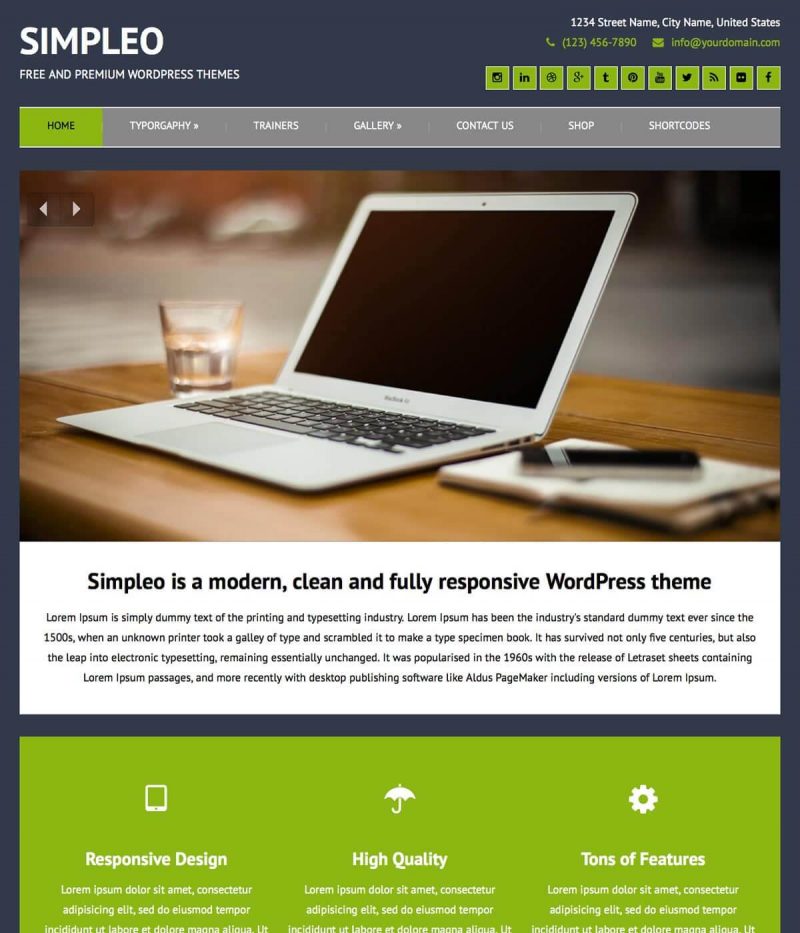 Nanoshop Lite
Nano means small. This theme helps you to create your big online store on a screen as small as that of a mobile phone. Nanoshop Lite theme is responsive and retina ready which makes all your photos highly dimensional.
The structure of the theme is SEO optimized and compatible with WordPress and WooCommerce. The theme does not occupy much space, is built with Bootstrap compatibility, and features a responsive slider. Want to know how much it costs? Well, all this is for free!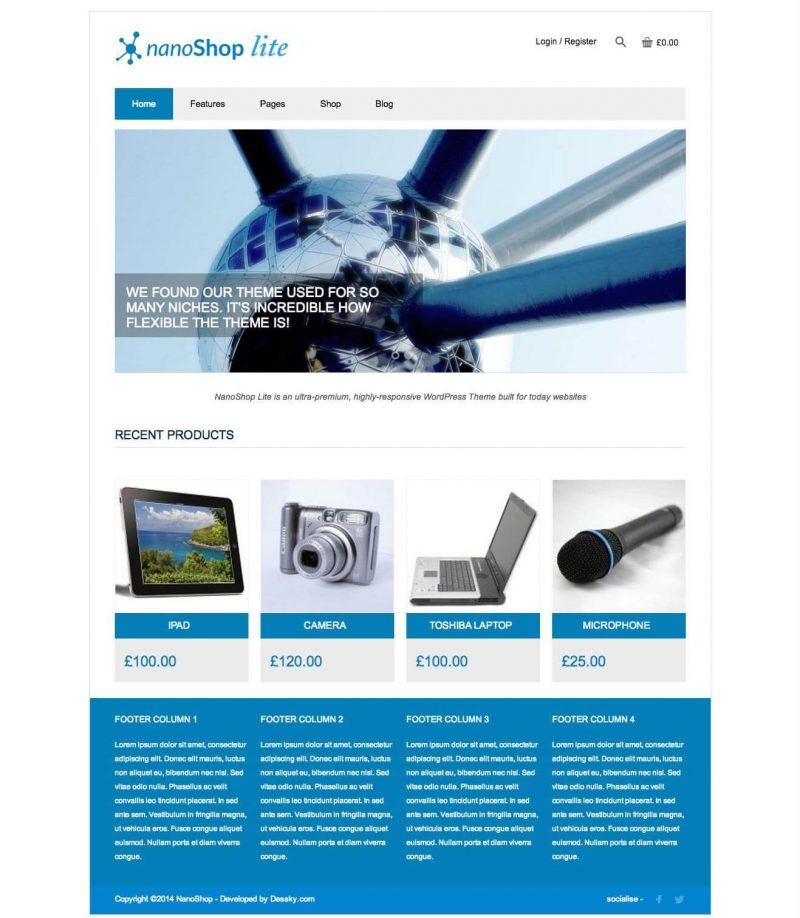 Market
This theme was developed to enable you to present your products for sale in a simpler way. Market theme is fully integrated with WooCommerce but can also be used for any other kind of site. Sounds good, right?
A few of the many good features of this theme include custom widgets, social icons, SEO optimization, a full-width layout, an extensive options panel for easy customization and much more.
Doesn't this straightforward theme look like a solution to all the e-commerce site-related problems?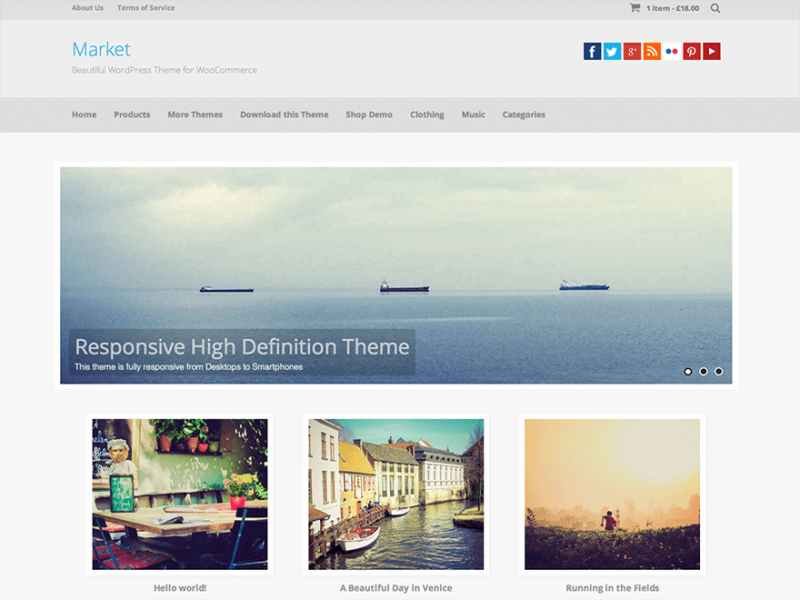 Ayoshop
Ayoshop relies on WooCommerce and helps you in managing and display your products with ease. The design of the theme is minimalistic enough to look good for any store, and its streamlined structure enables it to load your website quickly within seconds.
The theme also has unlimited color schemes, child theme options, and custom widgets. And of course, it is highly responsive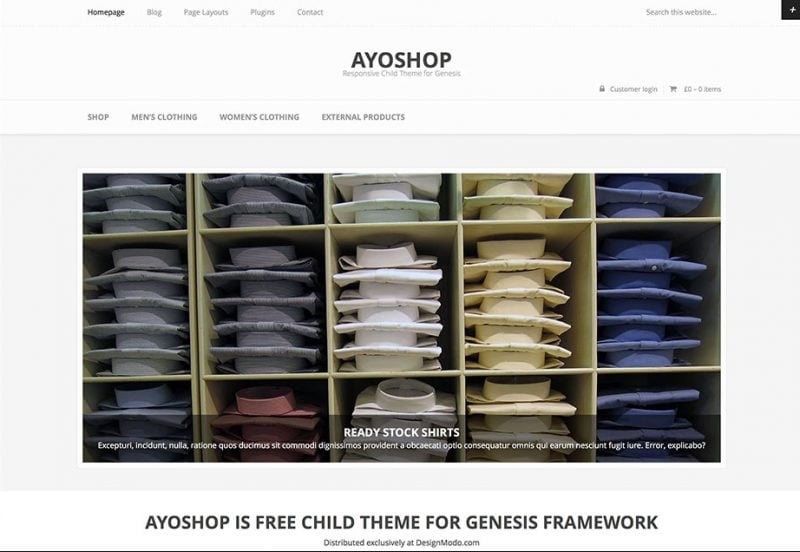 e-Sell
The name of the theme itself hints at what it is designed for. e-Sell has all that you will need to set up your online marketplace.
It is also compatible with bbPress and is search engine friendly and comes with an easy-to-use format to provide a pleasant user interface.
The theme has a popular post widget, the latest post widget, multiple drop-down menus, advertisement management, a custom background, a header and a footer, and many more such exciting features.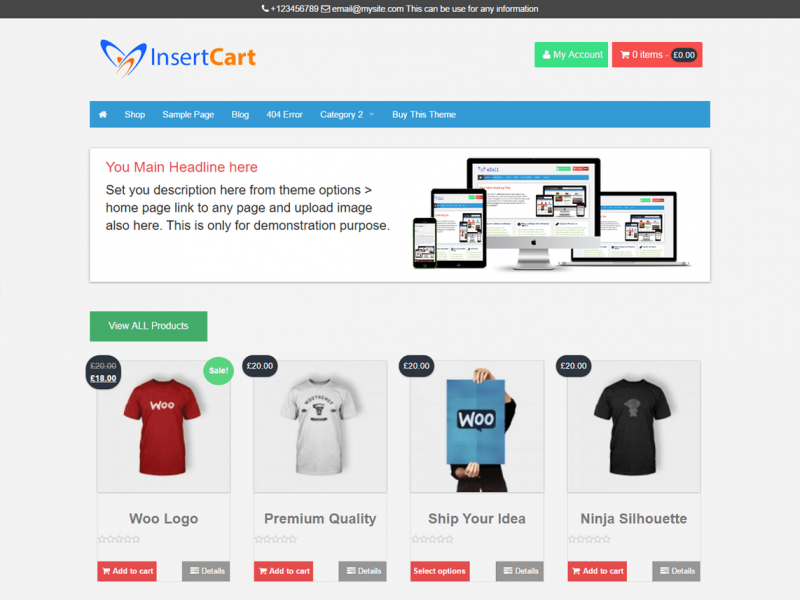 Base WP
This free WooCommerce website is packed with exciting features. It is a simple theme with a grid-based design framework.
It is compatible with all kinds of devices, is SEO optimized, has multilingual support, custom widgets, many color schemes, and sidebars, etc.
Use the sidebar to move contents and highlight the useful elements of your website such as recent posts, category modules, etc. If you are looking for a highly functional theme with a clean design, Base WP is the theme for you.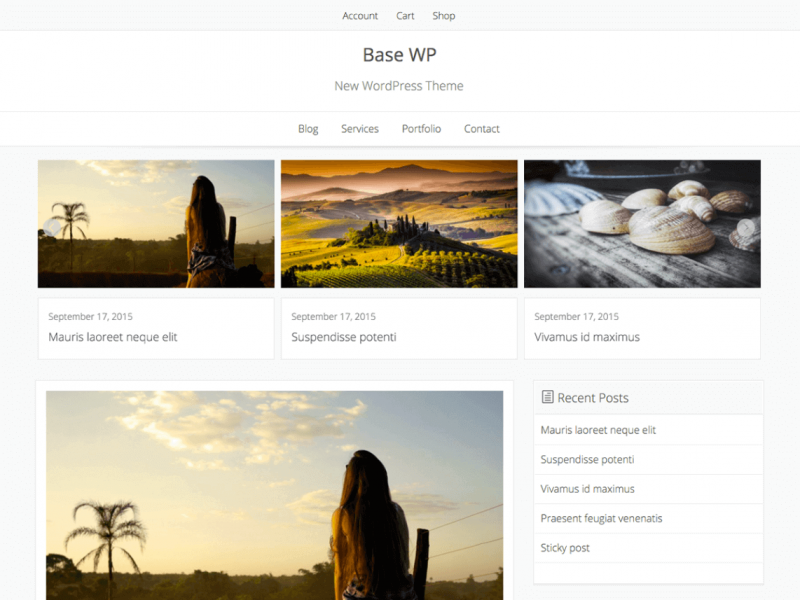 Make
Make is quite a different theme that has flat and modern social media buttons at the top of the page. The drag-and-drop editor makes this theme one of the best themes with premium features and the theme is mobile-friendly, so your users can operate it anytime anywhere.
You can also integrate a photo gallery or portfolio with WooCommerce for sharing your products without distracting users.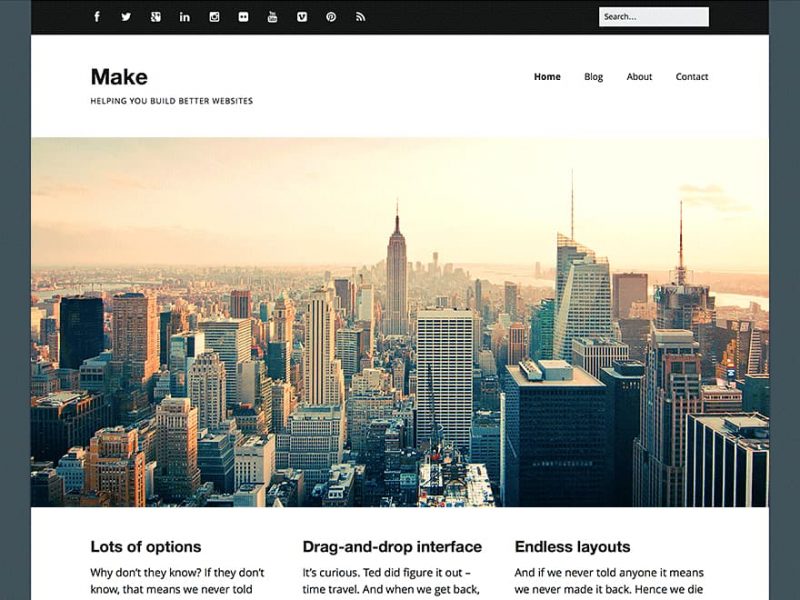 Responsive
When it comes to Responsive, not just the name but the entire theme is highly responsive. The fluid grid system of the theme makes it easy to fit your website into any kind of screen.
Nine different page templates, 11 widget areas, six template layouts, four different places to put the menu, and an efficient theme options panel; the list of features can just go on.
This retina-ready, SEO-optimized, and well-equipped WooCommerce themes can be chosen for your e-commerce venture any day.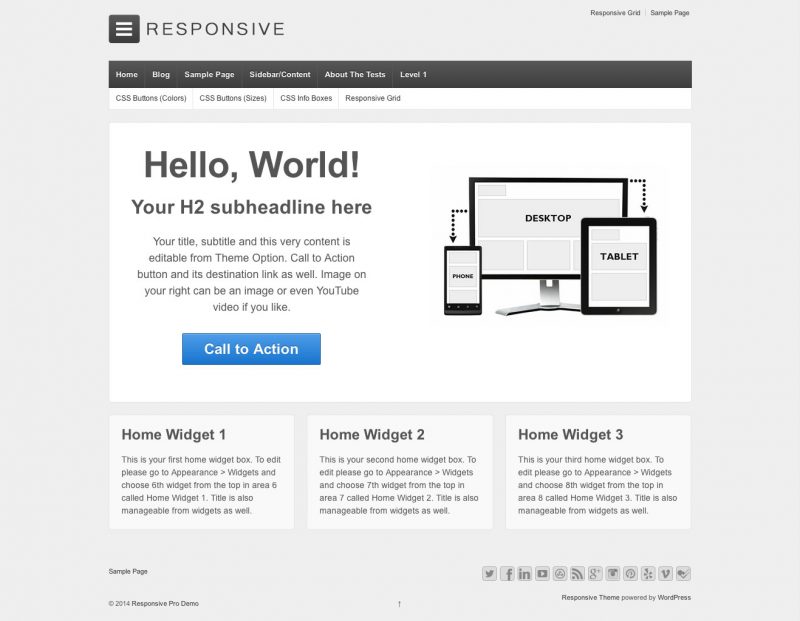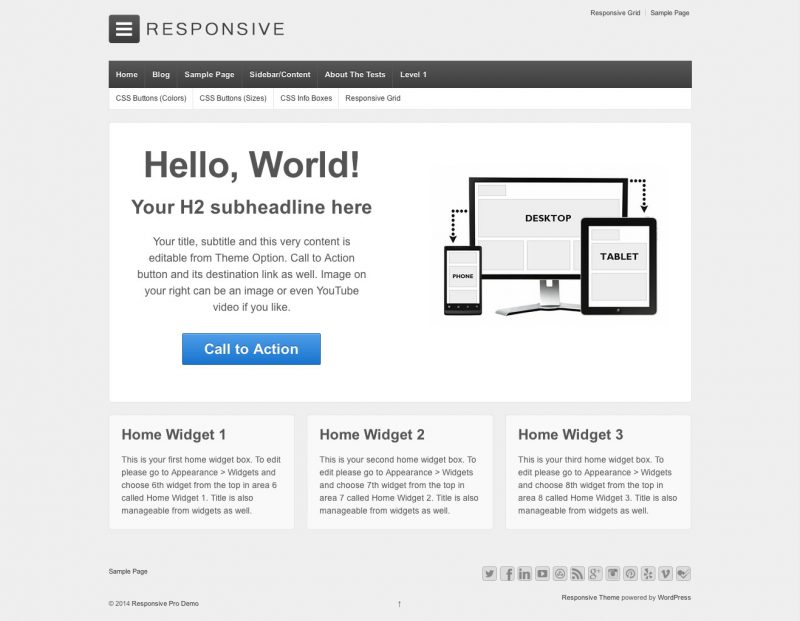 i-Transform
i-Transform is a power-packed theme that comes with various features like custom blog posts, testimonials, sliders, portfolios, etc.
It is a good choice for your e-commerce business and has an amazing admin options module, custom widgets, multiple color schemes, social media integration, and lots of other features which enable you to have complete control over your e-commerce site.
The appropriate use of white space keeps the interface clean, so nothing looks cluttered or intimidating. Ideal for an upcoming online store!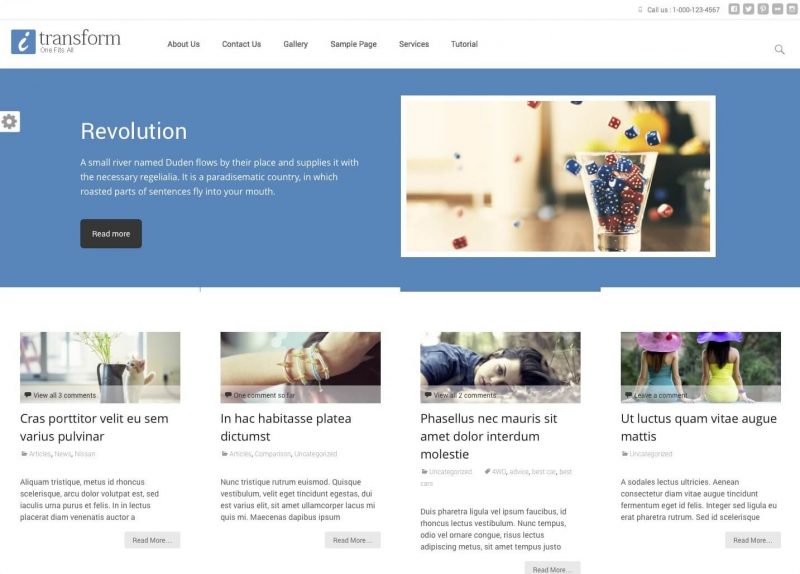 Intuition
This theme has a responsive layout that shows off your products and services in style. It features an animated slider on the homepage and featured content blocks so you can easily showcase your company's best products and features in style.
Intuition comes with numerous different shortcodes, custom colors, custom typography, SEO optimization, layout control, custom widgets, and the list is endless. Need we say more?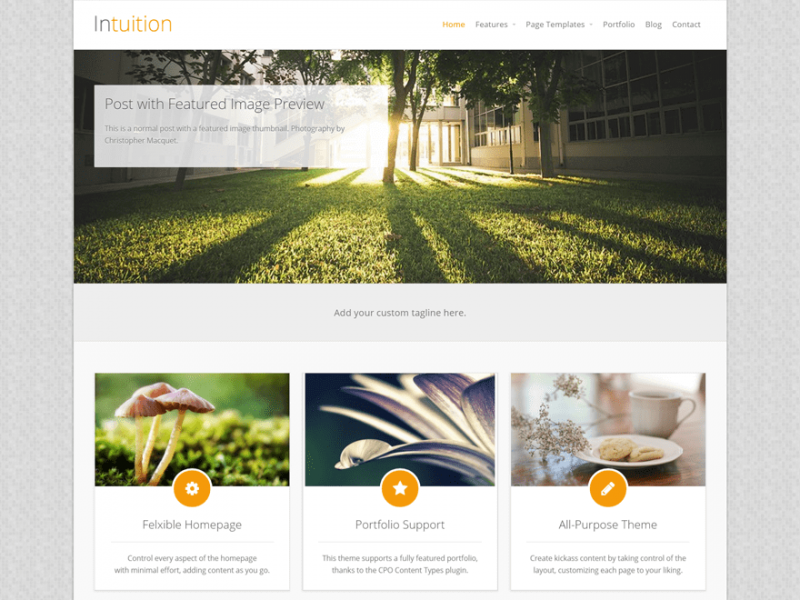 Accesspress Store
Do you want to create an e-commerce site that does not involve many hassles and can be set up within minutes? Well, the Access Press store is the perfect theme for you!
This stylish theme is highly appealing that can leave a great impression on the minds of the visitors to your site.
The front page of the theme has space for anything and everything that your store might need: Youtube videos, wish list creation, category spotlight, etc. For a free WooCommerce theme, this theme steals the show!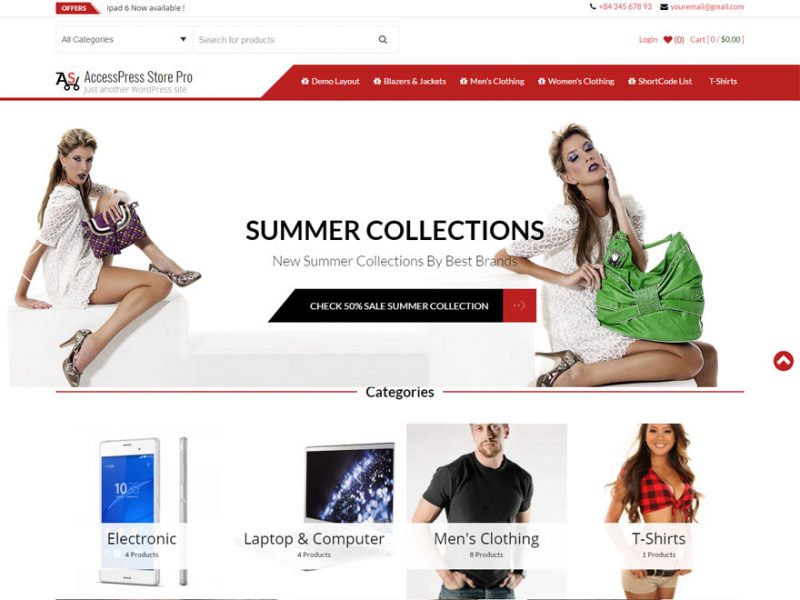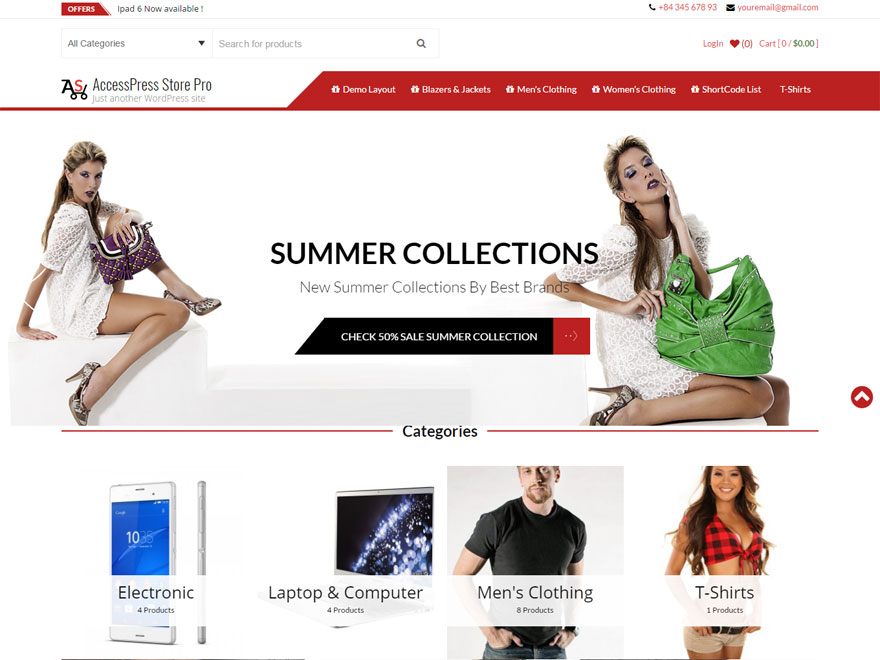 Shopisle
With a stunning layout, Shopisle has a beautiful header area that supports retina-ready high-resolution images and a slider effects for the contents of your site. The parallax effect between the text and buttons will indeed grab the attention of your visitors.
With all the important features, this theme is a complete blend of style and function. And yes, the best part is that it is free of cost!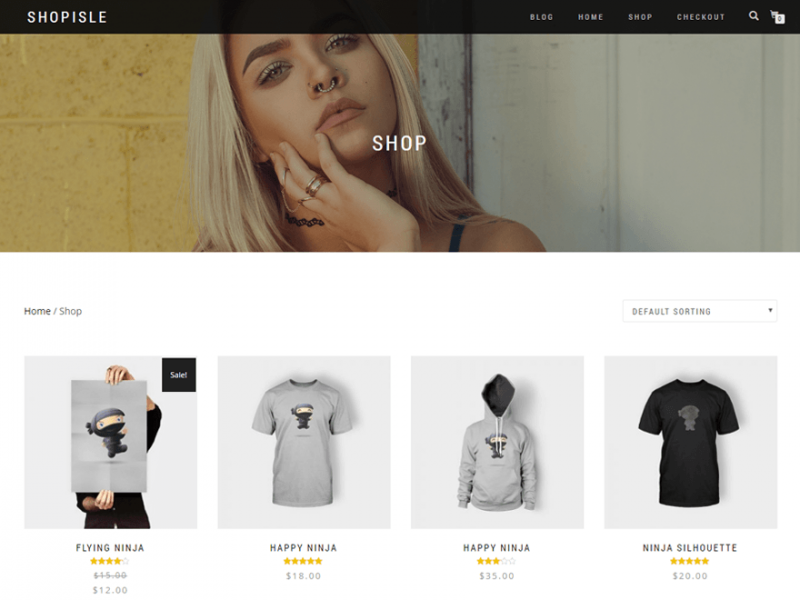 High Wind
The theme is very lightweight and does not take up much space on any device that you use- be it a mobile phone or a laptop.
High Wind theme is so designed that it displays the contents- whether an online store or a blog- in the most attractive way possible. The responsive design and custom widgets are other amazing features of this straightforward theme. Worth a try!