A collection of best pricing table WordPress plugins that will help you to create great-looking pricing tables for your products or services.
Pricing tables are a very important part of any service provider's site. If you are selling any digital or physical product the pricing tables will let your users know about the prices and what they are going to get in a nicely laid-out manner.
If you provide an online service, then it will be a wise decision to incorporate a price table into your WordPress website.
But don't worry, you won't have to sink your arms into an arsenal of complicated codes.
If you are providing any service online or selling any products, the pricing tables make it super easy for your potential customers to find the best features of your products, you can also highlight the best plans in the table to increase your revenue.
In fact, getting a price table incorporated into your WordPress website will be as simple as installing a plugin. But which one? And with this question, let's start with our list of the Best Pricing Table WordPress Plugins
Top WordPress Pricing Table Plugins
---
Spectra is much more than a pricing table plugin. It's a fully featured page builder that integrates into the WordPress block editor. Pricing is just one of the 28 new blocks. You also get numerous block patterns, wireframes and full web templates.
Spectra has been designed to work within the block editor so there's nothing new to learn and nothing to slow down page load times.
It's easy to use the pricing block. Simply open the page, select the Price List block from the menu on the left and drag it into place on the page.
You can customize everything you like using the block controls. It's so simple!
You can set price, currency, payment type and term, typography, colors and everything you see on the page. It takes very little effort to bring your price list on brand which is why we like it so much.
Go Pricing
Go Pricing is one of the most popular pricing table plugins in the market with over 24000 active users. With that being said, it is clear that it is filled with a lot of useful features. But at the same time, it is also a premium plugin and comes with a price tag.
Here are some features that you will be getting if you buy into Go Pricing. For starters, there are over two hundred and fifty types of different pricing table templates. This is then coupled with over nineteen hundred types of fonts.
You will also be getting PayPal integration and compatibility with Visual Composer. There is also a live preview mode that will let you see what you are building in real-time.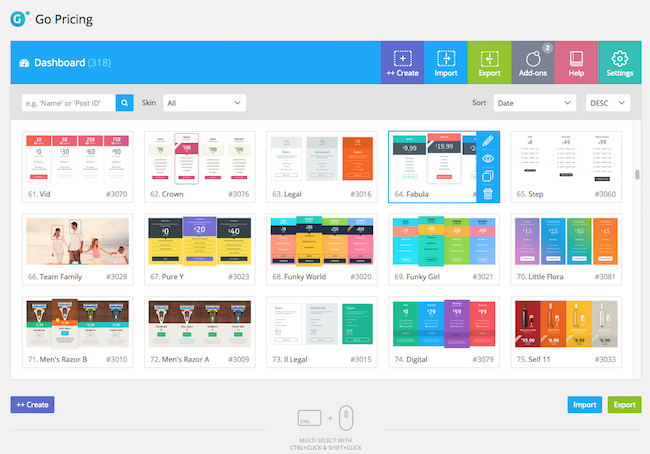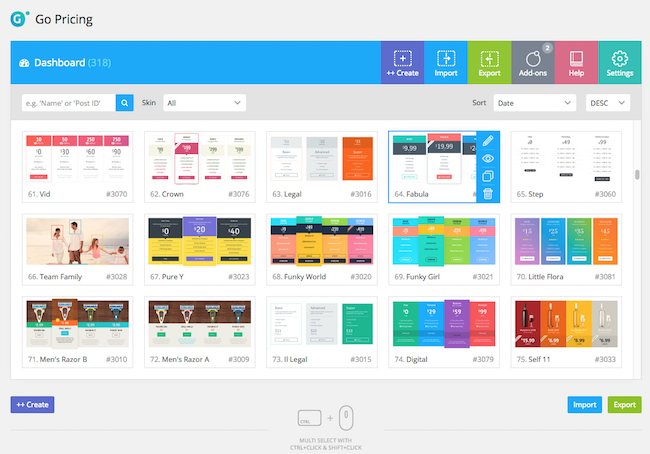 ARPrice
ARPrice is a responsive pricing table plugin for WordPress that you can use for your agency site. This plugin also offers you extensive features and options to customize the look and feel of the pricing tables.
It offers you over 200 different table templates which is a huge number. Moreover, you can just drag-and-drop and customize the template you select, so in a way, the possibilities are unlimited with this plugin.
This plugin comes with some amazing modern features such as a real-time template editor, responsive design, great-looking animations, over 2400 different icons, and a lot more.
WordPress Pricing Table Plugin
Another amazing pricing table plugin will help you to create a great-looking design for your pricing table.
The plugin is clean and professional, and you will surely love the way it makes your table look. You have the option to add any number of columns depending on your packages.
This plugin will surely help you to increase conversion to a great extent. It offers you the option to create a custom pricing table and highlight the best deals so that you can make more from the available packages.
Add a beautiful-looking call-to-action button to your pricing table and make your blend perfectly with your site's skin and maintain the overall branding of your site.
This plugin will work perfectly with any WordPress theme and it is a GDPR compliance plugin, so you don't have to worry about the compliances as well.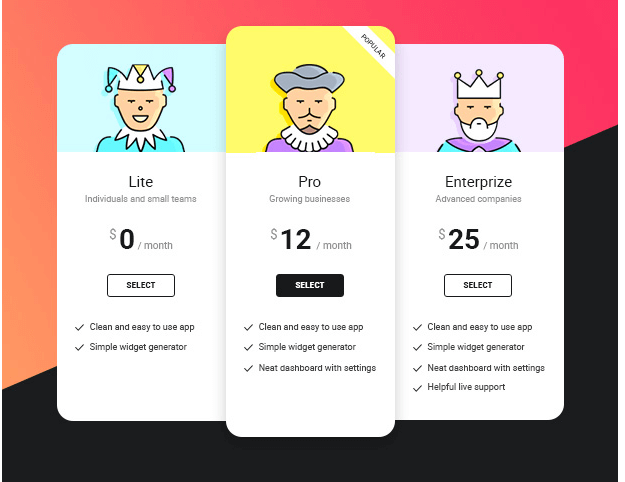 WRC Pricing Tables
WRC Pricing Tables is a highly customizable WordPress plugin for creating price tables on your website. The plugin is filled with a plethora of options, but at the same time, it is also extremely user-friendly.
Some notable features of the plugin include a multitude of customization menus that let you tweak every single option in your tables.
Then there is the option to include a tooltip for every single feature on your package coupled with animation support and icons for ticks and crosses.
You also have the freedom to include an unlimited number of rows and columns into your tables, and that is always a plus.


Kento Pricing Tables Free
Kento Pricing Tables is a high-quality free(evident from the name) pricing table plugin for WordPress with beautiful tables created with CSS3 and HTML.
The plugin provides you with all the necessary tools you will need to create a pricing table that works and also matches the look and feel of your current WordPress theme and the color scheme being used.
The plugin also allows for easy adding of background images onto the pricing tables which can make things more engaging.

Responsive Pricing Tables
The Responsive Pricing Tables is another user-friendly WordPress plugin used for pricing table creations. It has an extremely Intuitive panel with all the options, and you will immediately know how to use it to set up a wonderful price table.
In a matter of moments, you will have a simple pricing table created with all the necessary fields like title, description, prices, period, icons, payment buttons and so on.
Some of its notable features include options to highlight a specific and the liberty to include the tables into any posts through the use of shortcodes.


CSS3 Responsive WordPress Compare Pricing Tables
The CSS3 Responsive WordPress Compare Pricing Tables is another very powerful premium pricing table plugin for WordPress. Besides being a mouthful, the plugin is also feature-filled, which makes up for the time it takes to pronounce it.
The plugin is in totality built using HTML and CSS. You will get over 20 different responsive tables with the plugin which are made with variations on two basic styles.
The notable features of the plugin include an option to include hover state animations with all the columns, toggle between regular and sliding columns, expandable rows and highlighted columns.
You can then complement all of these with over 40 icons and then implement the table that you just created through shortcodes.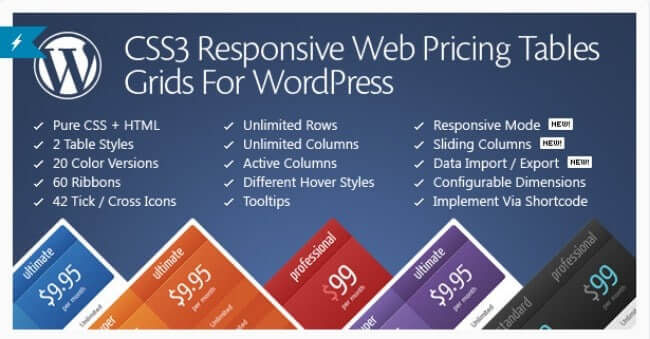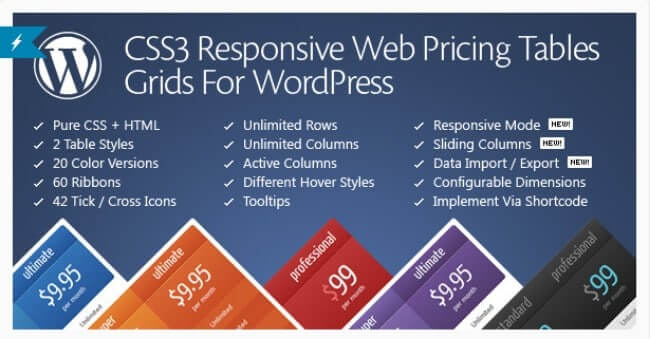 Easy Pricing Tables
Easy Pricing Tables comes packed with ten fully responsive templates for price tables which you can set up on your WordPress website in under 2 minutes.
And if you don't like the templates that you are giving, you can always customize them, although the customization options are not plenty.
The ready-made templates also have built-in tooltips that you can use to display information in detail without having to clutter the price table itself.
Now it is a premium plugin in, and they have pricing plans like Business and Agency. The plans that are available at a higher price also come with features like pricing toggles and Google Analytics add-on.
Overall, if you don't want to hassle too much and just want a good-looking functional pricing tables plugin, then go with this one. Also, there is a 60-day money-back guarantee, so there isn't much to lose here.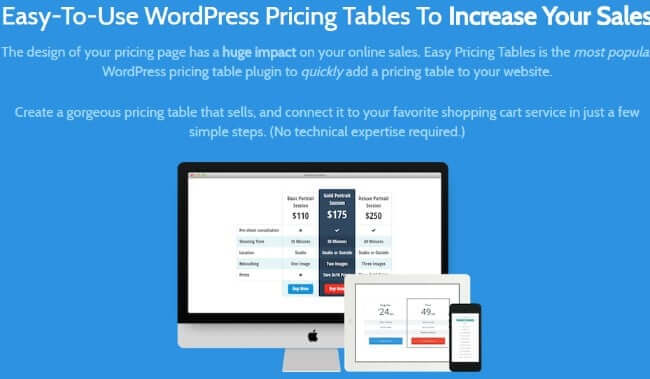 Pure CSS Pricing Table
Pure CSS Pricing Table is a very powerful plugin as far as pricing table creation is concerned. There are a lot of great designs that you get with the plugin, and all of them can be styled as per your requirements.
The entirety of the plugin is based on Bootstrap and built using CSS and HTML.
Some of its notable functionalities include a feature to drag and drop the columns and rows to sort them, which makes the process extremely easy and simple.
You also get control over color combinations and hands on a variety of button styles. There is also PayPal integration provided which can be very helpful in receiving money from your clients or customers.
However, if you are looking for some heavy-duty pricing table plugins with a plethora of features, then take a look at these two alternatives.
They are costlier but can be used as a total solution for all your problems relating to creating a table for your WordPress website.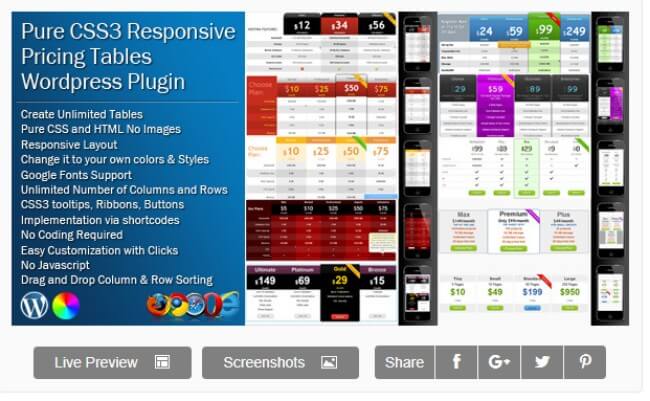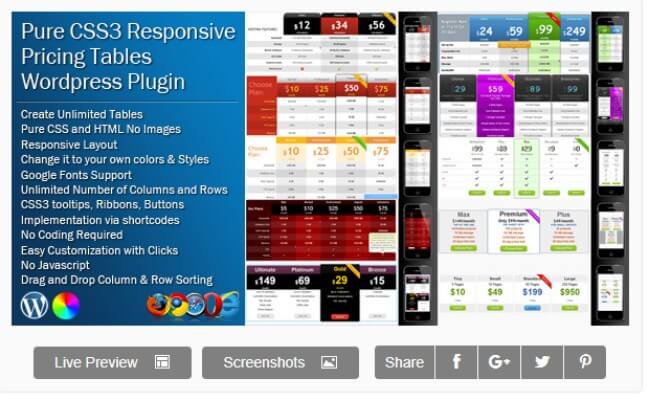 AP Pricing Tables
This pricing table plugin gives you the option to create an unlimited number of tables with unlimited columns. AP Pricing Tables plugin comes with 35 ready-to-be-used templates that you can use to create your pricing tables.
It is a very flexible plugin and you can add audio, video as well as Google Maps on your pricing tables which will undoubtedly enhance the user experience.
wpDataTables
If you want to be immaculate about detailing your content tables, then look no further than wpDataTables. The comprehensive list of options provided by the plugin can be so large that it can even intimidate some people.
Hence it goes without saying, choose this plugin if you have had some experience with WordPress. Or else, you might be able to get the full flavor.
Now one thing to note about wpDataTables is that it won't give you the freedom to create content tables from within your WordPress Dashboard.
In fact, all the input you would use to create your tables has to be imported from data sources like Excel, CSV, MySQL queries, XML, and JSON.
So by no means is this plugin user-friendly. But if that is something you don't mind and want something that gives you an extreme level of control over the data tables then go ahead and install the plugin.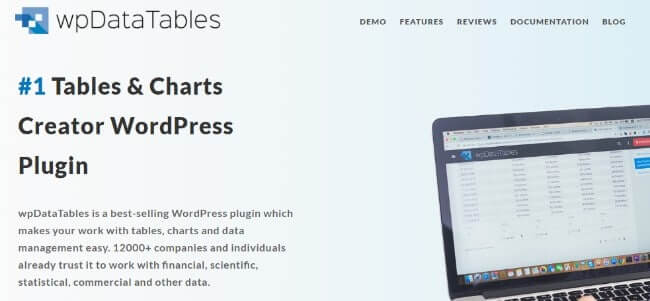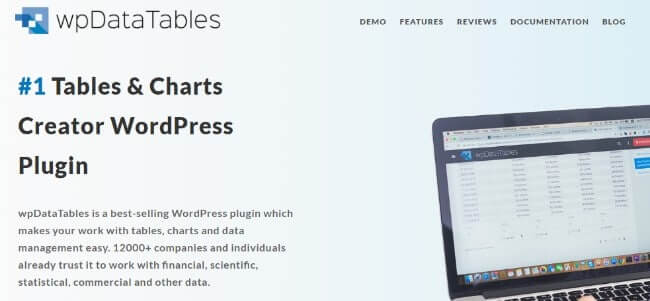 League Table
League Table is curated with sports-based websites in mind but can be used by sites representing other niches.
It is an awesome table creator plugin, and unlike wpDataTables, it is extremely easy to use. However, there is significantly less control offered by this plugin in comparison to the above. But it is still an excellent choice for average users.
Tables can be very easily created. You will have to set up the number of columns and rows, provide a table heading and then input the data into the cells. The plugin also allows you to sort the tables according to specific columns.
Some notable features of the plugin include alternating row coloration, to-the-pixel table dimensions, logo display, and even the ability to incorporate a sort of responsive design to your tables.
After creating a table, the plugin will provide a shortcode which you will have to insert into a post and voila, have your table inserted into your post.
With all these being said, one downside of the plugin would be the fact that there is the capability for exporting or importing data.
Pricing Table by Supsystic
A drag-and-drop free pricing table plugin for WordPress that will allow you to create modern tables to showcase your pricing plans.
You have the option to add column images or videos to make it look trendy. You have complete flexibility to create an unlimited number of columns and rows as per your requirements.
You have the tooltip support, button text, and CSS styles for your pricing tables.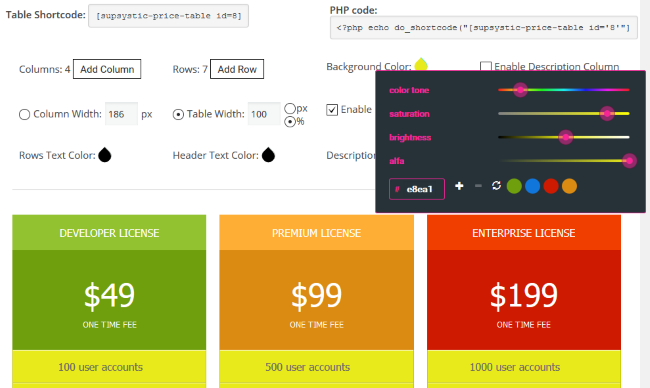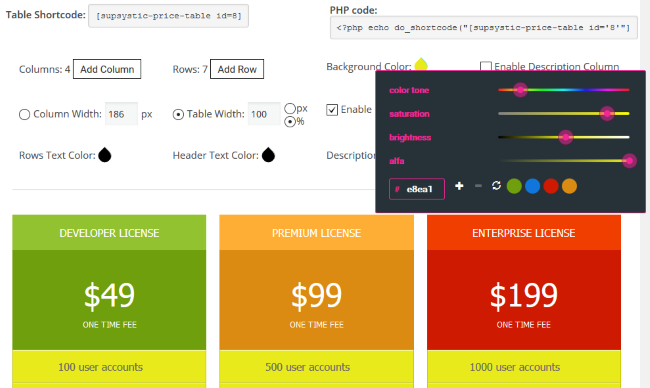 Pricing Tables For Visual Composers
If you are using the Visual Composer website builder for your site and looking for a free pricing table add-on option, this is the plugin you need.
As the name suggests, this plugin is created for the Visual Composer builder. You can use this plugin to add great-looking pricing tables to your site.
It's a fully responsive plugin with complete control over the customizations that you wish to do on your site.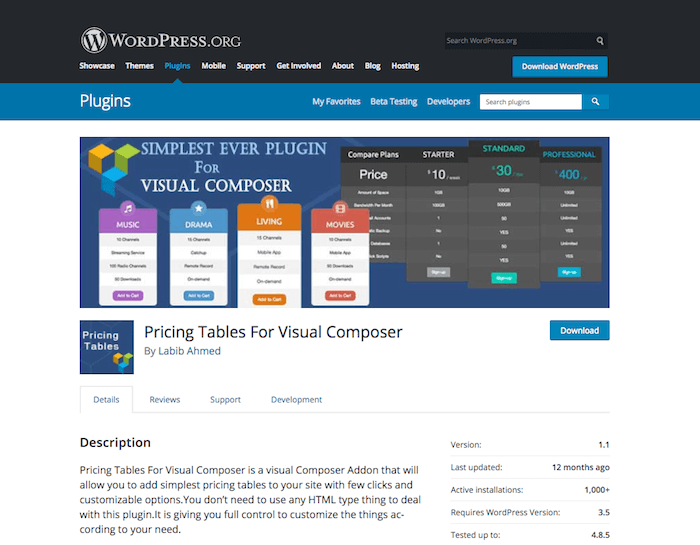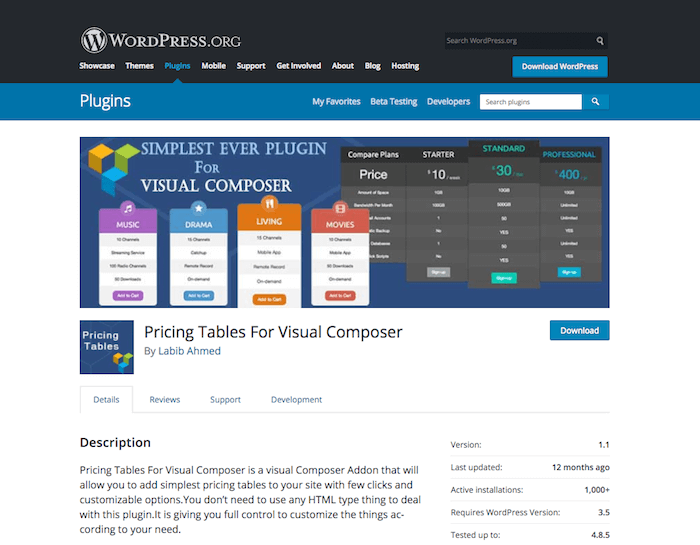 In Conclusion
Hope you liked the list and its content. If you are considering creating a pricing table for your WordPress website, then one of these plugins should suit your requirements perfectly.
Also, if you think that we have left some good alternatives which you believe should be in the top tier then do mention them down in the comments sections.
Your fellow readers will love to get more alternatives, and you will also be adding more scope to this read. So thanks in advance.