Sometimes having an appointment booking functionality installed onto your WordPress website can improve the user experience by ten folds. It might also be one of the important decisions you make that puts you one step ahead of your competitors.
Now if you are using a WordPress based website then booking appointments functions can be integrated by installing a plugin onto your site.
In fact, there are hundreds of such plugins out there for you to choose. Now to make you work simpler, here we have curated a small list of plugins that we consider to the best amongst the masses. So without further ado, let's get the Best Appointment Booking WordPress Plugins:
Best Plugins for Appointment Booking Forms
Bookly: Appointment Booking WordPress Plugin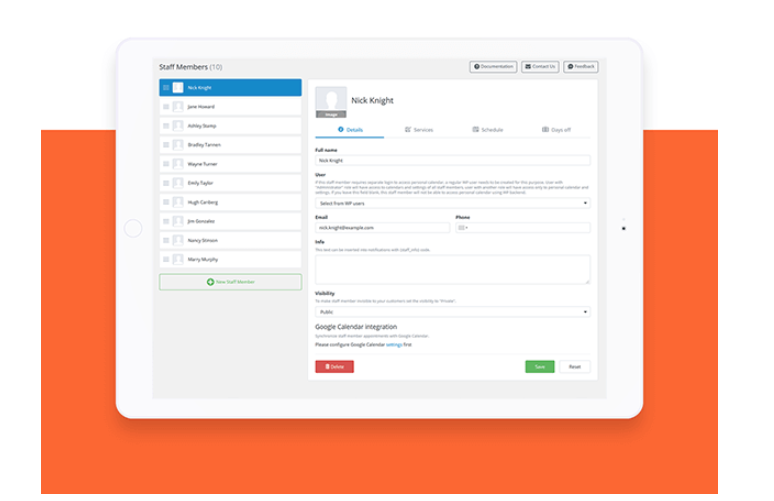 Bookly is one of the most premium and comprehensive solutions for your appointment booking dilemmas revolving around your WordPress website. The plugin is fully responsive and has a beautiful and premium booking interface which your client will find delightful.
The admin interface of the plugin is also featured heavy and allows you to multiple options. The plugin also supports front-end styling which lets you immerse yourself as you pick colors and form fields to create the best booking interface. There is also a form builder if you ever need it.
Besides all these, there is support for SMS and email notifications, compatibility with Google Calendar and also integrated with WooCommerce system. Your clients can easily pay you through PayPal, Authrize.Net, and Stripe while you have the plugin installed.
Team Booking WordPress Booking System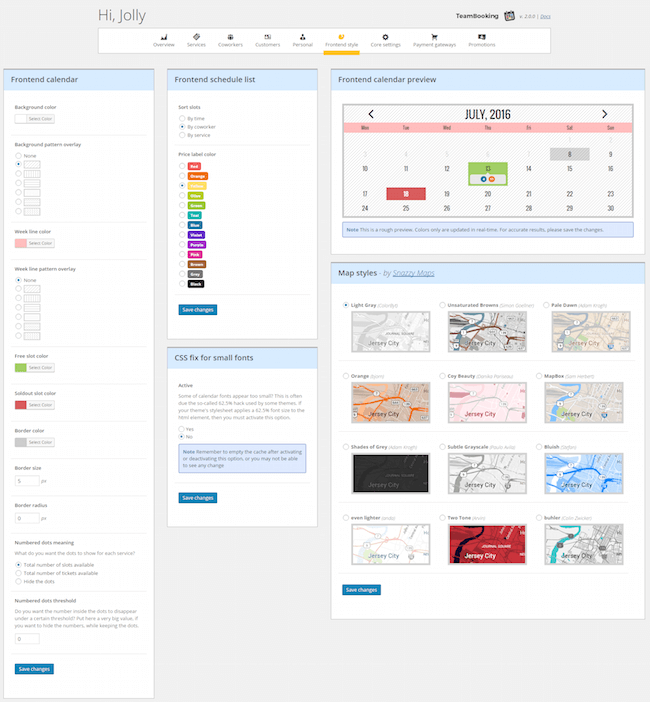 A fully responsive booking WordPress plugin that will help you to create a complete event booking site. You have custom styled Google Map option to make your booking form look comprehensive.
It's a fully responsive appointment booking plugin that will make your booking site look great on a mobile device as well.
As this is a team booking form, this can be used by many users of your team at teh same time. It's a hassle free easy to use booking plugin with integrated payment system like PayPal, Stripe etc.
Pinpoint Booking System Pro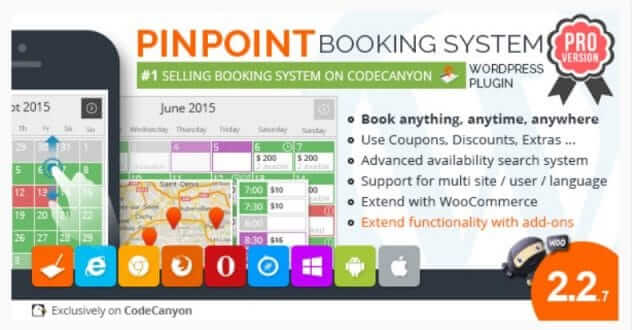 PinPoint Booking System Pro allows you to integrate a booking system into your WordPress site where your clients can book appointments or any other reservations for that matter.
The plugin also supports WooCommerce integration which can increase its usability even further. Other features of the plugin include stuff like coupons, discounts, deposits and a few more options which will attract your clients to your site/service.
Multi Scheduler
Multi Scheduler is among the futuristic and stylish booking system with a plethora of features. The plugin apart from acting as an appointment booking system will also help your site with scheduling tasks as well as a reporting system.
The plugin is also very user-friendly, couples in ready to use shortcode generated and is fully customizable. Within minutes, you can have it setup and make the design the same as your theme.
Booker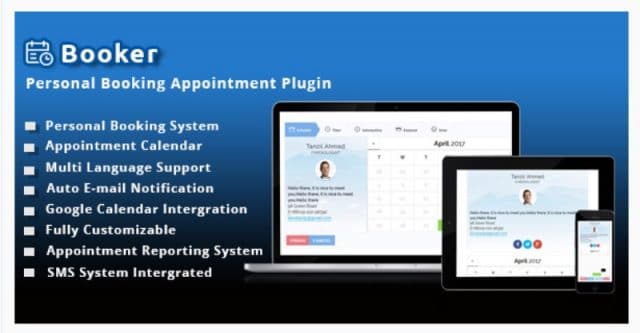 Booker is yet another complete WordPress booking system. It is not only user-friendly for you but also for your users who will be able to make an appointment very seamlessly.
There are plenty of advanced options with the plugin which offers you a great deal of customization. Additional features that it brings to the table includes an Appointment calendar, auto email notifications, Google Calendar integration, Appointment reporting system, and even an integrated SMS system.
vCita

vCita is one of the most downloaded free plugins for appointment booking necessities. So if you are on a budget, then you can give this baby a try.
The plugin allows you to make bookings for one on one appointments as well as for group events and classes which can be very handy, however, depends on your necessities.
Another impressive aspect of the plugin is that it offers a Mobile app supported by Android as well iOS. You can respond to your clients in real time through the use of this app, and this is a handy feature.
BirchPress
BirchPress is a total booking management system for your WordPress website. After you have installed the plugin, you can have your users make appointments through your site and even use PayPal or credit cards to pay you.
The Plugin can also synchronize with your booking calendar or any other calendar like Google Calendar, iCal, Outlook and so on.
You can also set up email notifications and reminders with the plugin. This can be very helpful to keep you and your clients informed about all the bookings.
Booking Calendar
Booking Calendar WordPress plugin is available for free and has been around for a long time. In fact, it is one of the oldest appointment booking plugins for WordPress, showcasing the fact that it has stood the test of time.
The plugin is straightforward to use and also comes packed with a lot of features. For example, there is one calendar view feature for both you and your clients. Then there is the ability to add bookings or appointments into your WordPress posts or pages.
There are also a bunch of advanced features which the more veteran users of WordPress will like. For example, there is a built-in captcha that helps to prevent spams a there are also features like email notifications, jQuery effects and many more options tucked away inside the settings page. You can also use custom fields to customize the booking app.
Appointment Calendar
Appointment Calendar is another complete appointment booking management system for your WordPress website. It is also one of the more easier alternatives.
All you have to do is tell the plugin about all the services you provide and then the plugin will automatically generate corresponding shortcodes which you can add to any WordPress post or page.
The plugin also gives you the control to set the available time slots when the users can book appointments. You can also add business hours, lunch breaks, meeting hours and so much more which can help your users to book accordingly.
There is also support for email notifications and the option to export all your appointments in the form of a CSV file.
WP Simple Booking Calendar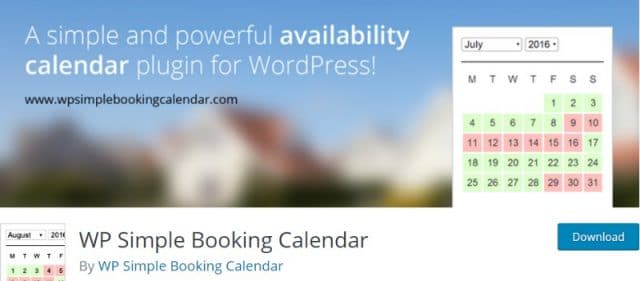 WP Simple Booking Calendar, as the name suggests is a simple and appointment booking plugin. It can be used to create a calendar which you can then add to a post or page using shortcodes.
Now one thing to note here is that it allows the users to book an entire day and just a particular section of the day i.e hourly slots. So if that is something you have been looking for and don't want your head inside a variety of settings and options then this is one of the best plugins for your need.
Gravity Forms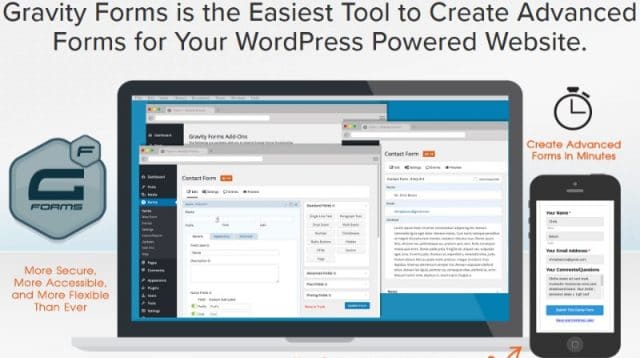 Gravity Forms is one of the best contact form plugins for WordPress which can also be used as an appointment booking plugin. So if you need contact form and appointment booking plugins then go for Gravity Forms; you will be hitting two birds with one stone.
The plugin is extremely easy to use thanks to its drag and drop interface. You will also have inbuilt support for email notifications and have the option to seamlessly integrate all your form data with your appointments.
Acuity Plugin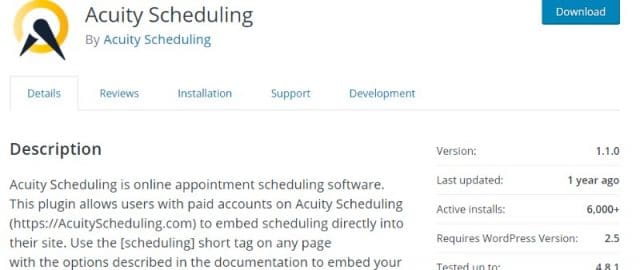 Acuity is basically a scheduling service but it also comes with a calendar which you can integrate into your WordPress website. There are in fact a variety of features offered by acuity including having a client and class booking, email, and text notification support, two-way synchronization with your Google Account, Multiple locations and staff management and so on.
You will also get custom intake forms, payment acceptance and similar features which really make the plugin quite handy for your website.
The only complaint or rather nitpicking that can be done with the plugin is about its aesthetics which might not suit your site's design site. But you be the judge of that!
WordPress Booking Calendar

WordPress Booking Calendar is another free and easy to use the plugin which you can use to add a booking framework to your site. You can easily make a booking date with the plugin in less than a minute. This can be considered one of the highlights of the plugin.
Other than this, you will get features like the ability to send email notice after receiving a booking from the client and a few more. Overall it is a very simple plugin without a multitude of options. If you just(emphasis on just) want to incorporate an appointment booking mechanism onto your site, then this is a worthy choice.
Webba Booking Lite
Webba Booking Lite is a WordPress primarily targeted at service suppliers to advance their timings for their clients. You can use it to set up reservations effortlessly and rapidly.
It will also let your clients make bookings and can even be used for organization of major events. You can use the plugin to set the span of time between arrangements as you like which are a useful feature.
In Conclusion:
So these have been a short description of some of the best Appointment booking plugins for WordPress. If you choose to use any one of them, then do comment to us about your experience using the plugin.
Also if you want to share other solid alternatives that we missed on this review then feel free to use the comments section. It has been provided for your disposal.