Sometimes having an appointment booking functionality installed on your WordPress website can improve the user experience by ten folds.
It might also be one of the important decisions you make that puts you one step ahead of your competitors.
Now if you are using a WordPress-based website, then booking appointments functions can be integrated by installing a plugin onto your site.
In fact, there are hundreds of such plugins out there for you to choose from. Now to make your work simpler, here we have curated a small list of plugins that we consider the best amongst the masses.
So without further ado, let's get the Best Appointment Booking WordPress Plugins:
Best Plugins for Appointment Booking Forms
---
JetAppointment
If you are looking for easy-to-go appointment functionality, try our JetAppointment with the guided wizard.
Launching the appointment website has never been easier. Enjoy a guided wizard. Here are a few easy steps: customize the services and the providers, add the new fields to your form (comments, phone numbers, etc.), set the company's schedule, and get the ultimate premade forms.


This appointment plugin helps to make your website customer-friendly to book your service. Just add the essential features to the form: business days, days off, working hours, and services you provide. Effortlessly set up working hours and buffer time before and after the service for all of the services.
Clean dashboard assists your employees with the user-friendly interface: edit or add new appointments, filter and search easily, and manage multi-booking.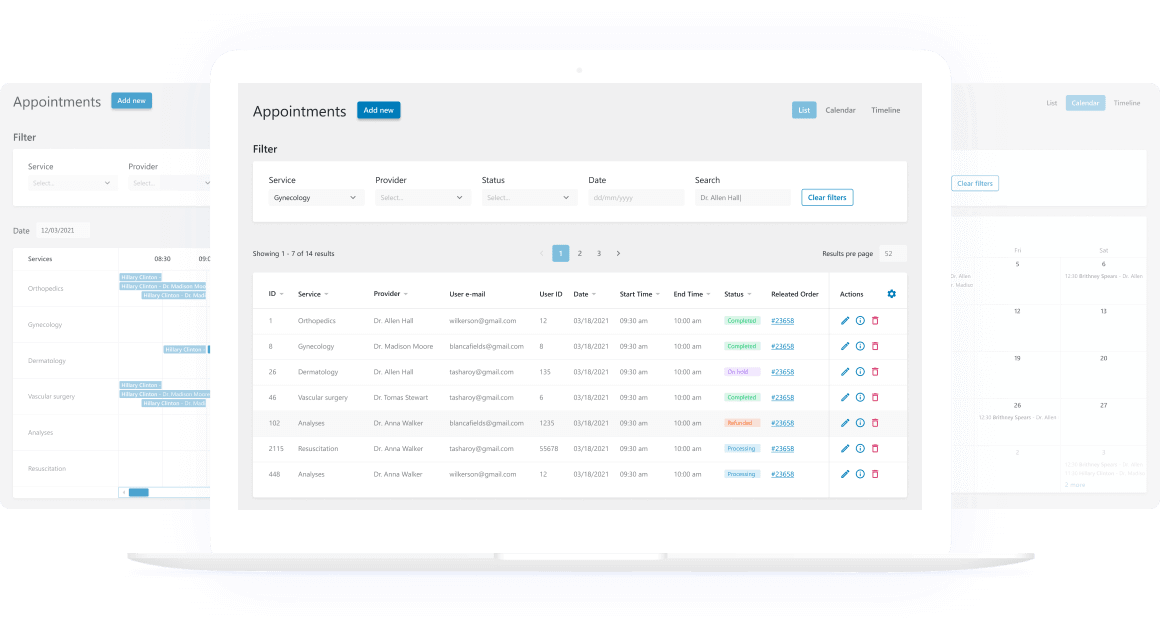 Extend your booking form functionality with JetAppointment plugin using appointment layouts, 12 field types, setting up smart notifications, custom breakers, single-page booking, and more.
It doesn't matter how many services you provide; add them to the JetAppointment plugin and configure individual price, duration, etc.
JetAppointment integrates with WooCommerce, so you get all payment systems available PayPal, Stripe, or cash.
The good thing about this appointment plugin is that you can customize the forms a lot beyond the internal configuration, thanks to the fact that they are integrated into Elementor.
Sagenda
Sagenda is one of the most comprehensive solutions when it comes to the online booking system.
This booking system is available for all kinds of websites along with WordPress. If you are using any other CMS platform like Joomla, Wix, Drupal, Weebly, or even a custom website; you can integrate this system without any hassle.
In fact, you can use this booking system on your Facebook business page as well. So, there is no limitation as far as the usability of this system is concerned.
As we are talking about WordPress here, you can download the free Sagenda plugin from the WordPress plugin directory and start using it.
You can seamlessly integrate the booking form on your WordPress site. In fact, the plugin offers you a shortcode that you can use to place the booking option anywhere on your post or page.
You have the option to receive payment from your clients by using PayPal or a credit card.
The plugin offers you a few paid but very important modules, you can have a look at the modules and the pricing on the Sagenda pricing page.
Though the plugin is very simple and easy to use, you will get all the required support from the developer if at all you need help.
So, if you are looking for a top-quality booking system for your business, look no further.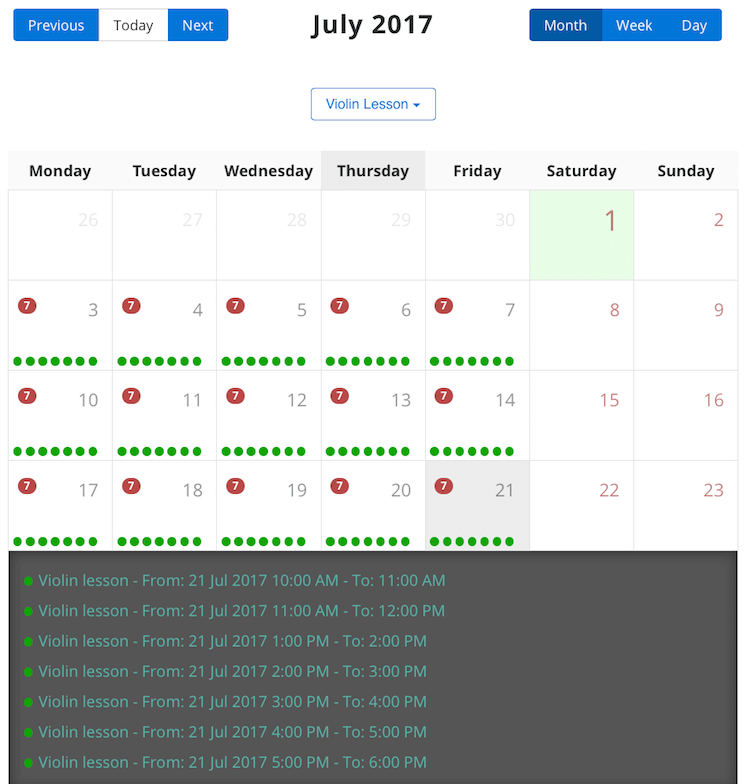 Amelia
If you wish to make your business look professional in front of your customers, you need to use the best tools and services for your business.
This appointment booking plugin is just that. It will make sure that your business looks very professional and make the entire process of managing your business smooth.
It is one of the most comprehensive booking plugins that are good enough to manage your business. You can use this plugin for multiple employees with different timings, amazing calendar options, multiple location options, multiple service categories, and complete graphs and stats to analyze your business.
No matter what kind of business you are in, this plugin is the perfect self-help tool. You will not need an assistant to manage your appointments anymore.
First of all, your customers will be amazed at the amazing presentation of the appointment system. You can completely customize the design of the forms as per your requirement, add your own color, fonts, etc.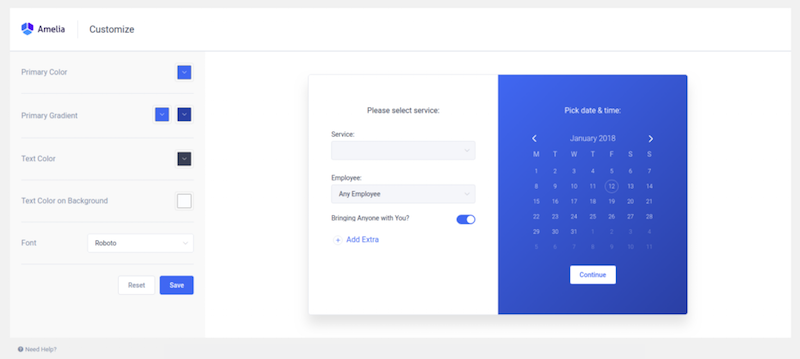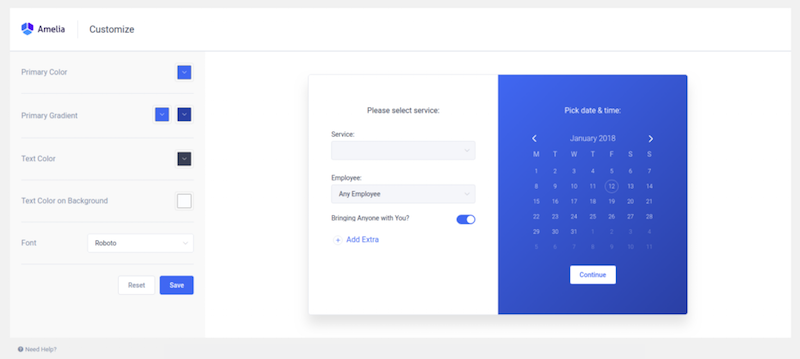 You can manage your financial details, and packages, you can add custom discount coupons to attract more customers to take action and join your services.
Another advantage of this plugin is that it offers you a comprehensive role management system, which means the employees will have custom permissions and restrictions depending on their role in your company.
As the admin, you can search through the bookings with easy to use search panel.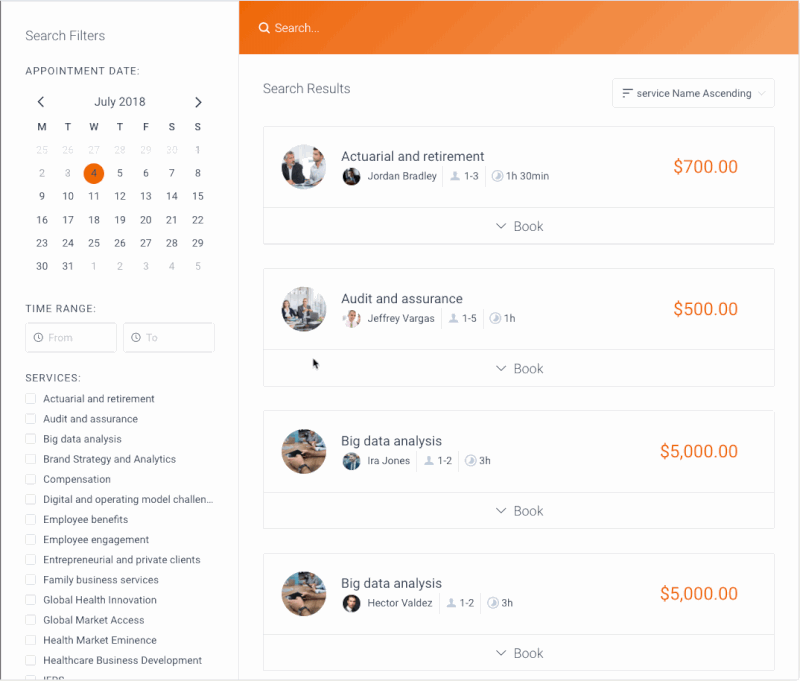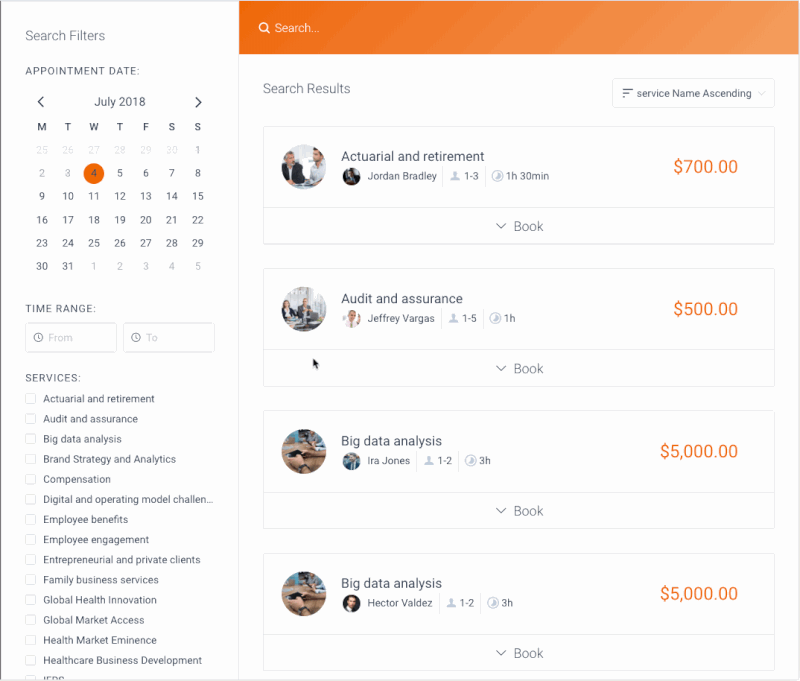 Amelia is a lot more than just a simple booking plugin. You can use this plugin to manage your complete business, from creating your packages, and displaying all the services you have to offering coupons managing discounts and coupons for your services.
The plugin will help you to display all the services you have to offer in a great-looking modern interface.
The users can quickly select the service they wish to go for and proceed with the bookings.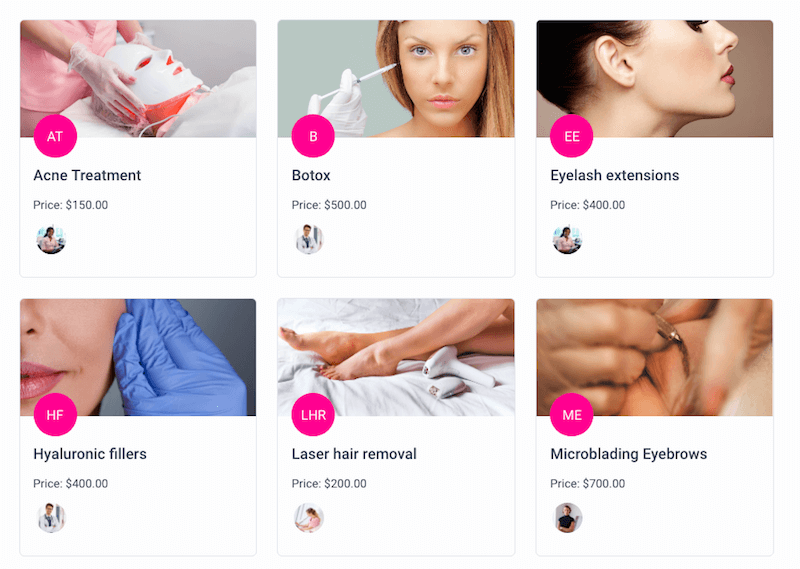 As already mentioned, the plugin offers you comprehensive statistics so that you can analyze the performance of your business over time to make your decisions.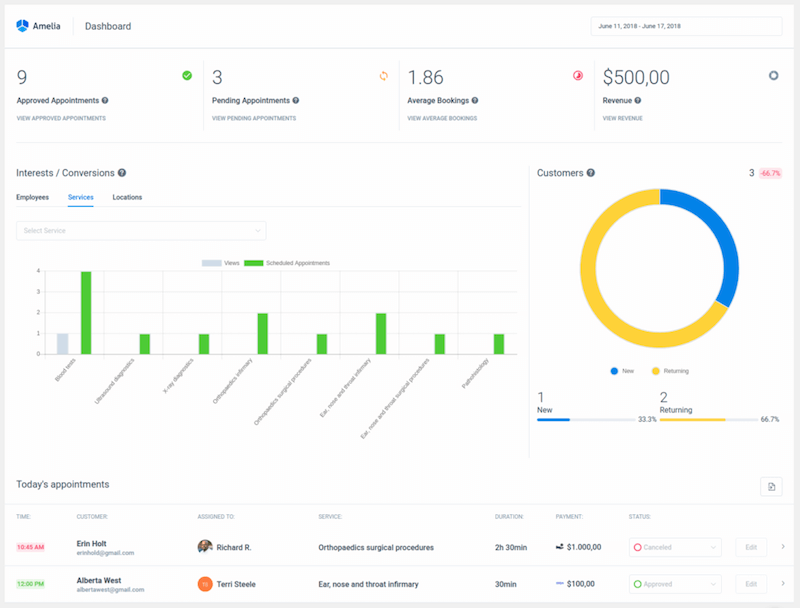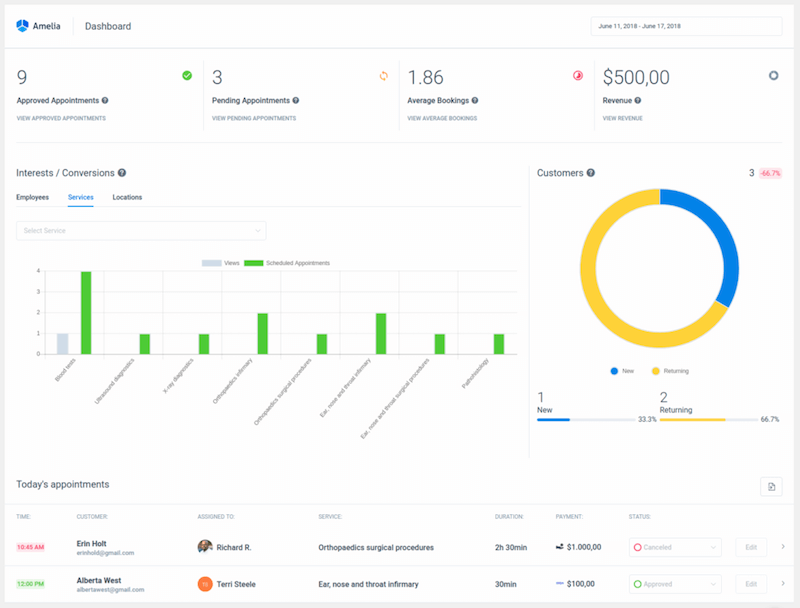 Bookly: Appointment Booking WordPress Plugin
Bookly is one of the most premium and comprehensive solutions for your appointment booking dilemmas revolving around your WordPress website. The plugin is fully responsive and has a beautiful and premium booking interface that your client will find delightful.
The admin interface of the plugin is also featured heavily and allows you multiple options. The plugin also supports front-end styling which lets you immerse yourself as you pick colors and form fields to create the best-looking interface. There is also a form builder if you ever need it.
Besides all these, there is support for SMS and email notifications, compatibility with Google Calendar and also integration with the WooCommerce system. Your clients can easily pay you through PayPal, Authrize.Net, and Stripe while you have the plugin installed.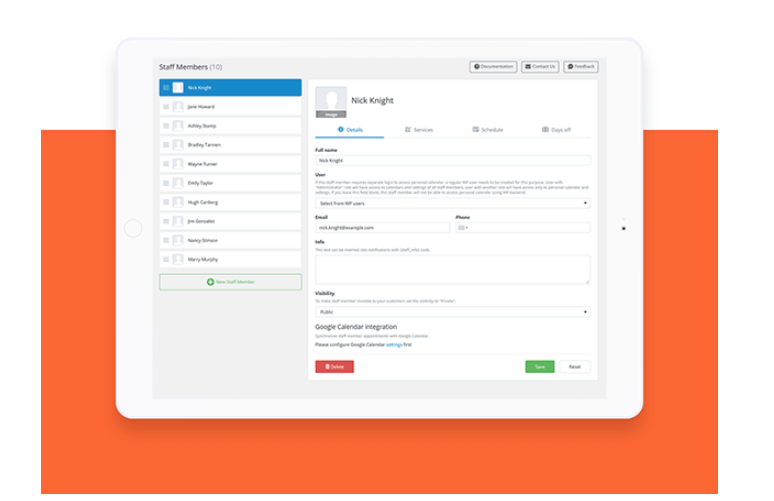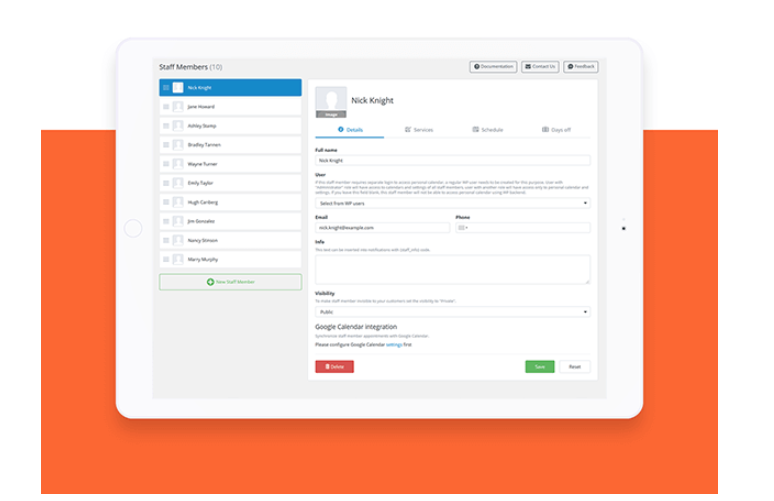 Team Booking WordPress Booking System
A fully responsive booking WordPress plugin that will help you to create a complete event booking site. You have a custom-styled Google Map option to make your booking form look comprehensive.
It's a fully responsive appointment booking plugin that will make your booking site look great on a mobile device as well.
As this is a team booking form, this can be used by many users of your team at the same time. It's a hassle-free easy-to-use booking plugin with an integrated payment system like PayPal, Stripe, etc.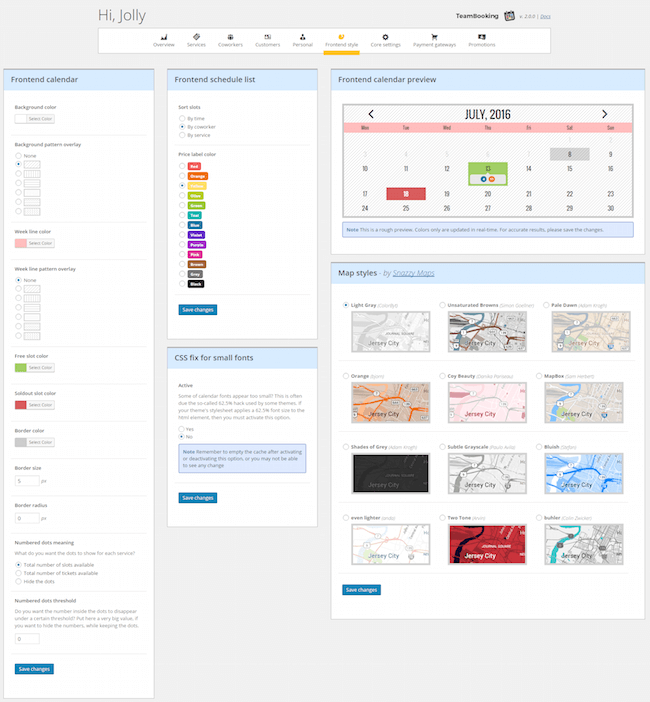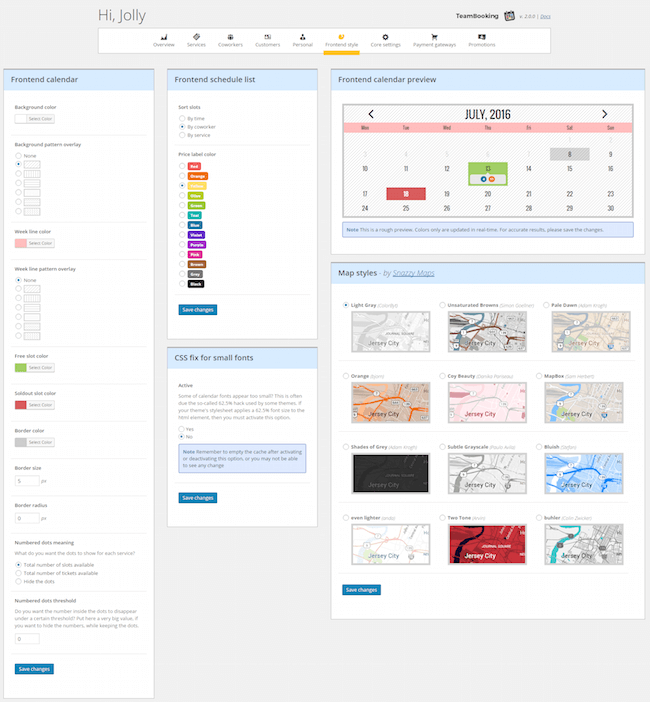 MotoPress Appointment Booking Plugin
The MotoPress Appointment Scheduling Plugin is universal for all business niches based on hourly appointments. The plugin supports custom booking slots and lets users add buffer times between appointments (for clean-ups, breaks, etc.).
The MotoPress AB supports a limitless number of services, employees, and locations, which suit service companies of different sizes.
For customers, the plugin offers a 4-step booking calendar. They select the service, employee, and location, proceeding with choosing the date and time. Users can add more appointments because they can pay in one sitting. Finally, they confirm the checkout and make a payment via any suitable payment system or upon arrival.
Best Features:
Flexible schedules
Custom time slots
Single & recurring services
Single & group bookings
Automated confirmation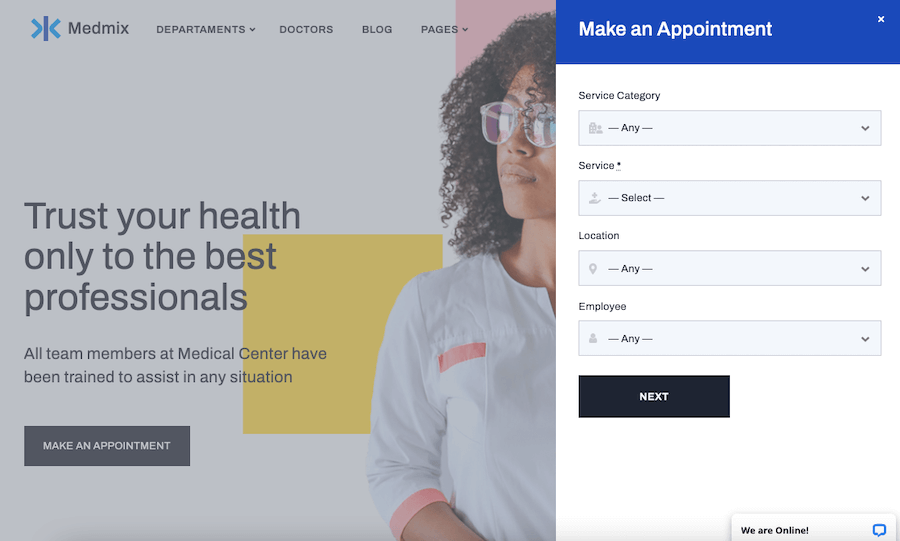 Pinpoint Booking System Pro
PinPoint Booking System Pro allows you to integrate a booking system into your WordPress site where your clients can book appointments or any other reservations for that matter.
The plugin also supports WooCommerce integration which can increase its usability even further. Other features of the plugin include stuff like coupons, discounts, deposits and a few more options that will attract your clients to your site/service.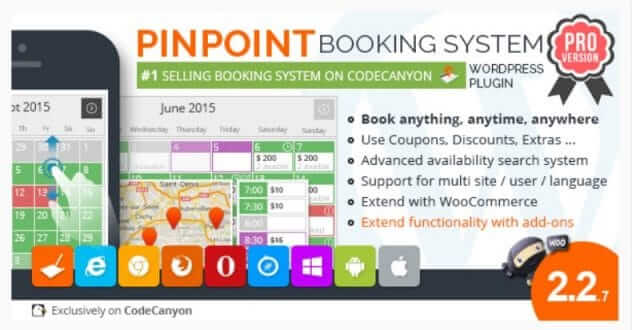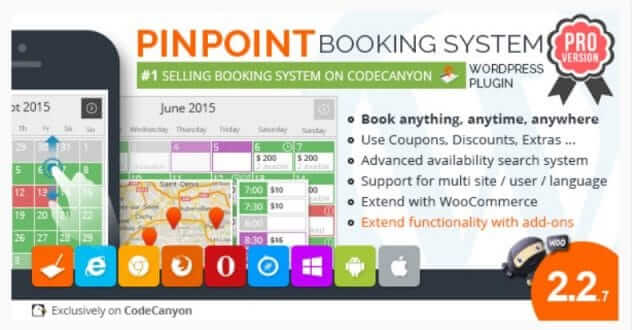 Booki
Booki is a powerful reservation calendar and appointment booking WordPress plugin. No matter what your business is, from a hair salon to a taxi business, you can use this reservation plugin to make things easier for you.
The plugin offers you a number of different placement options for your reservation form to make sure that your users don't face any difficulty.
The users will get the confirmation after the booking and they can also cancel the booking if they wish to.
The plugin offers you payment options as well. You can make the customers pay later or you can also make payment with PayPal Express.
You can seamlessly sync your booking system with the Google calendar as soon as you create the system on your site.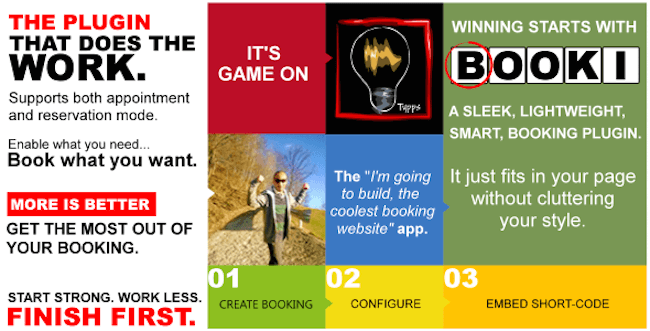 WPForms
WPForms, a popular form builder WordPress plugin with an amazing drag-and-drop form builder and a super flexible interface.
Be it a simple contact form and a fully flexible appointment booking form, this plugin will fulfill your need completely.
You can also use this plugin to create engaging surveys on your site which is one of the proven and popular content type on the internet.
You can use WPForms to create multi-page forms as per the requirement of your business. It comes with PayPal integration to make sure that you are able to collect money from your users.
You can also use the plugin to create email subscription forms that will help you to collect emails for your visitors, you can integrate the form with MailChimp, AWeber, GetResponse, and a few other popular email marketing platforms.
Overall, this is a handy plugin that will take care of all the form-related requirements on your WordPress site.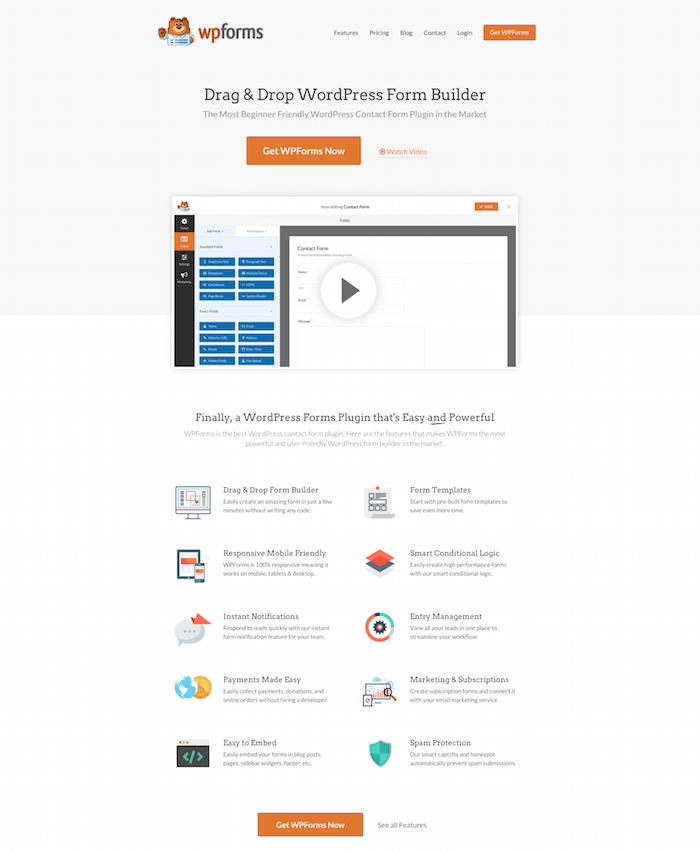 Multi Scheduler
Multi Scheduler is among the futuristic and stylish booking systems with a plethora of features. The plugin apart from acting as an appointment booking system will also help your site with scheduling tasks as well as a reporting system.
The plugin is also very user-friendly, couples in ready-to-use shortcode generated and is fully customizable. Within minutes, you can have it set up and make the design the same as your theme.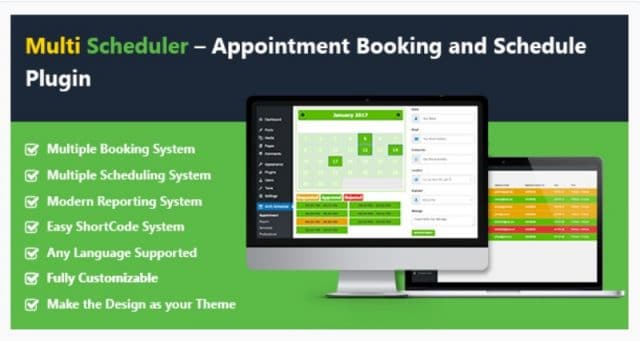 Booker
Booker is yet another complete WordPress booking system. It is not only user-friendly for you but also for your users who will be able to make an appointment very seamlessly.
There are plenty of advanced options with the plugin which offers you a great deal of customization. Additional features that it brings to the table include an Appointment calendar, auto email notifications, Google Calendar integration, an Appointment reporting system, and even an integrated SMS system.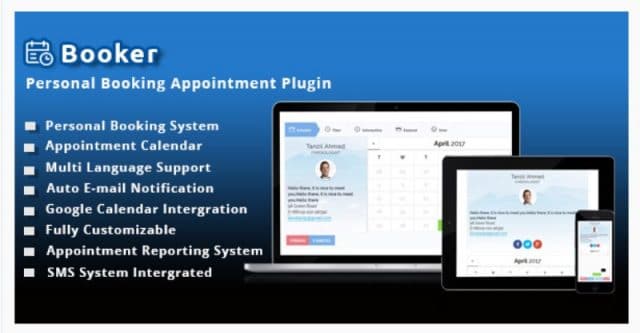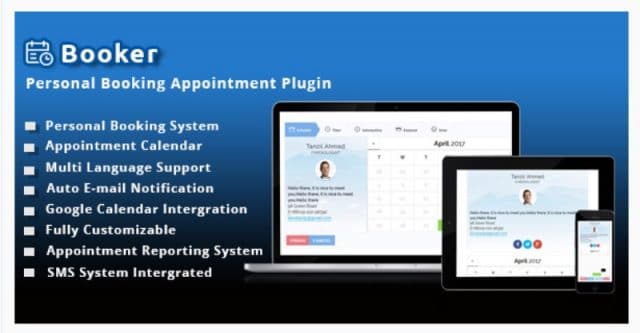 Booked
Booked is another comprehensive appointment booking WordPress plugin that you can use for your business. This is a feature-rich plugin and offers you all the options that you will need to automate your booking system completely.
The plugin allows users to register on your site and create their own profile, all the users will have their own profile page. It has the option of guest booking as well so that the users can quickly book an appointment without registration.
You have the option to create multiple calendars for your business and assign the calendar to different agents so that they can handle all the customers effectively.
The plugin offers you a calendar view as well as a list view option so that you can fine-tune show you wish to show it on your site.
The plugin also gives you the option to manage payment by using the WooComerce plugin along with this booking plugin.
You have amazing design possibilities, unlimited color options, showcase and widget placement options and a lot more.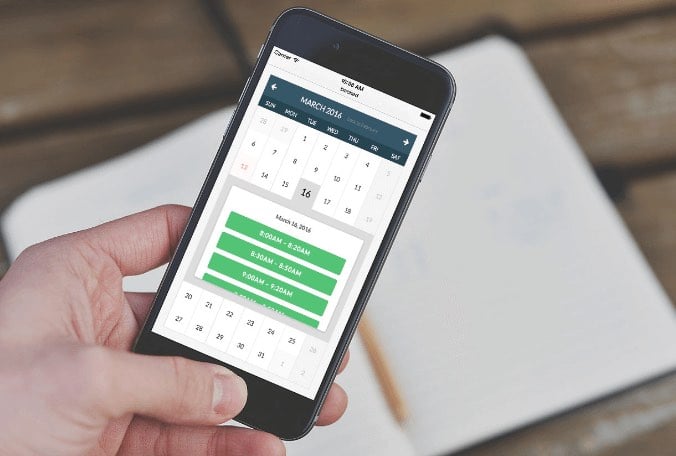 Start Booking
A fully featured appointment booking calendar plugin that you can use free of cost. It's a simple booking system that will surely help your business.
This plugin offers you an amazing customization option to make the system part of your site. Now, you don't have to present and manage your system manual because this booking system will do the task for you.
You can showcase all your bookable time slots on your site so that the users can easily select their time slots and book appointment.
You have the option to store the appointment data for your perusal. You can retrieve the data and use it for your business use. You have the option to assign an executive to each appointment so that they can take care of each customer well.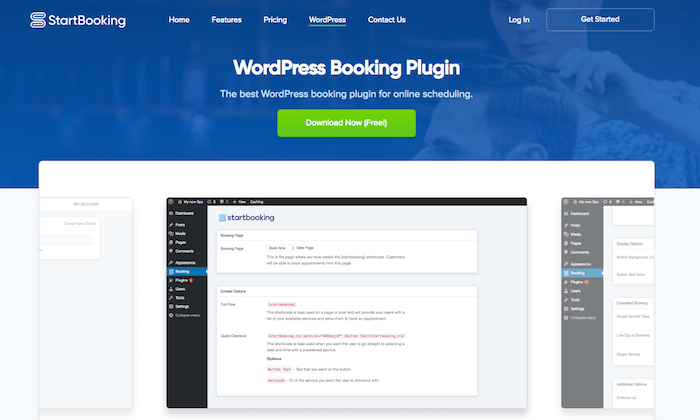 Calendarize it
Another popular calendar plugin for WordPress that you can use to create your appointment booking system.
It is a highly flexible and fully customizable plugin that integrates perfectly with the popular WPbakery website builder so that you can use the amazing drag-and-drop system to create your booking site.
The plugin offers multiple different views for the calendar to make sure that you get the flexibility that is required to create a perfect management platform for your services.
The plugin offers you a visual CSS editor to make sure that you are able to style your booking system as per your need and make it integrate perfectly with your website.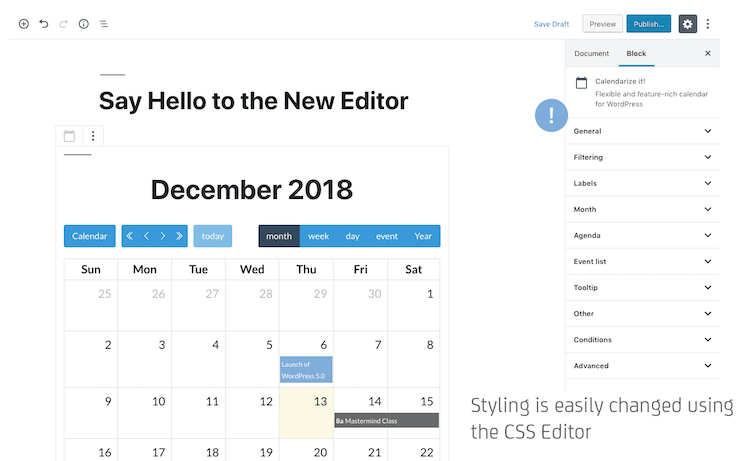 vCita
vCita is one of the most downloaded free plugins for appointment booking necessities. So if you are on a budget, then you can give this baby a try.
The plugin allows you to make bookings for one on one appointments as well as for group events and classes which can be very handy, however, depends on your necessities.
Another impressive aspect of the plugin is that it offers a Mobile app supported by Android as well as iOS. You can respond to your clients in real-time through the use of this app, and this is a handy feature.


BirchPress
BirchPress is a total booking management system for your WordPress website. After you have installed the plugin, you can have your users make appointments through your site and even use PayPal or credit cards to pay you.
The Plugin can also synchronize with your booking calendar or any other calendar like Google Calendar, iCal, Outlook and so on.
You can also set up email notifications and reminders with the plugin. This can be very helpful to keep you and your clients informed about all the bookings.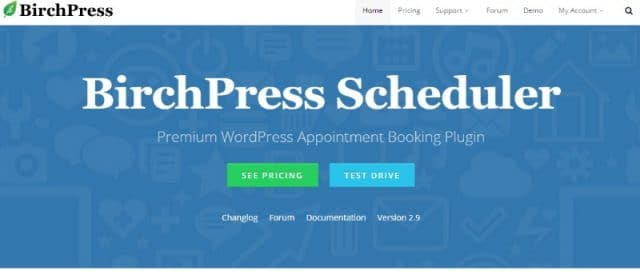 MotoPress Hotel Booking plugin
Managing a hotel or a vacation rental business? If yes, this plugin is for you. With this plugin, you will be able to create a powerful automated booking system for your business.
This plugin will save a lot of time for you so that you can focus on offering a great service to incoming guests. This is a perfect booking plugin for hotels, rentals, vacation rentals or any other related hospitality industry.
It's a powerful booking system with an online and offline payment system that you practically automate the whole process.
You can create an unlimited number of property listings and upload all the details such as the property details, photos, bed types, occupancy details, and more.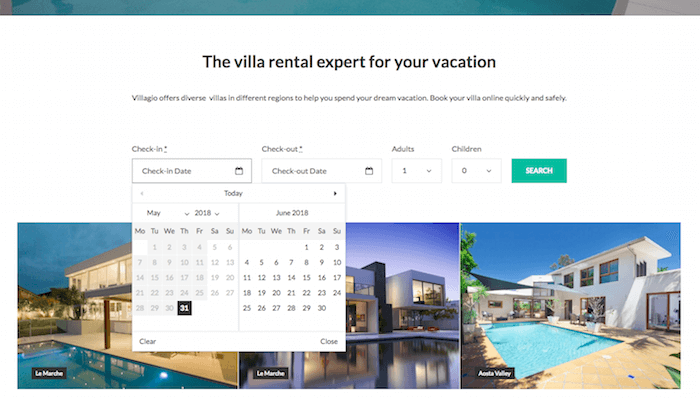 Booking Calendar
Booking Calendar WordPress plugin is available for free and has been around for a long time. In fact, it is one of the oldest appointment booking plugins for WordPress, showcasing the fact that it has stood the test of time.
The plugin is straightforward to use and also comes packed with a lot of features. For example, there is one calendar view feature for both you and your clients. Then there is the ability to add bookings or appointments to your WordPress posts or pages.
There are also a bunch of advanced features that more veteran users of WordPress will like.
For example, there is a built-in captcha that helps to prevent spam there are also features like email notifications, jQuery effects and many more options tucked away inside the settings page. You can also use custom fields to customize the booking app.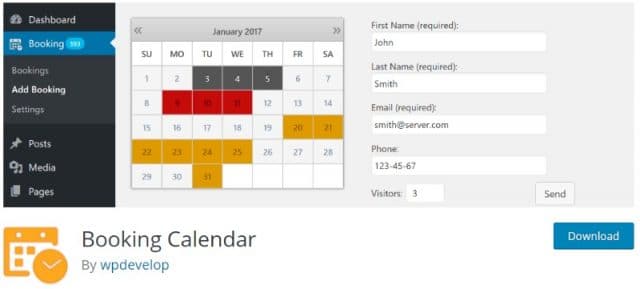 Appointment Calendar
Appointment Calendar is another complete appointment booking management system for your WordPress website. It is also one of the easier alternatives.
All you have to do is tell the plugin about all the services you provide, and then the plugin will automatically generate corresponding shortcodes which you can add to any WordPress post or page.
The plugin also gives you the control to set the available time slots when the users can book appointments. You can also add business hours, lunch breaks, meeting hours and so much more which can help your users to book accordingly.
There is also support for email notifications and the option to export all your appointments in the form of a CSV file.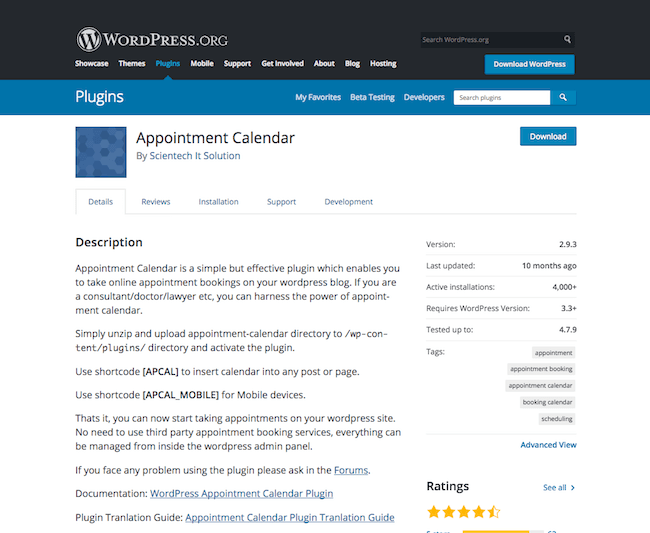 Gravity Forms
Gravity Forms is one of the best contact form plugins for WordPress which can also be used as an appointment booking plugin.
So if you need a contact form and appointment booking plugins then go for Gravity Forms; you will be hitting two birds with one stone.
The plugin is extremely easy to use thanks to its drag and drop interface. You will also have inbuilt support for email notifications and have the option to seamlessly integrate all your form data with your appointments.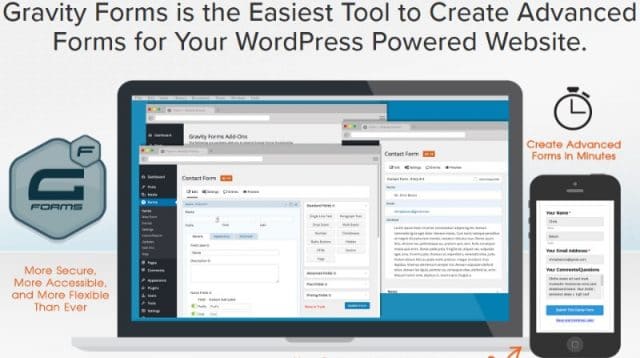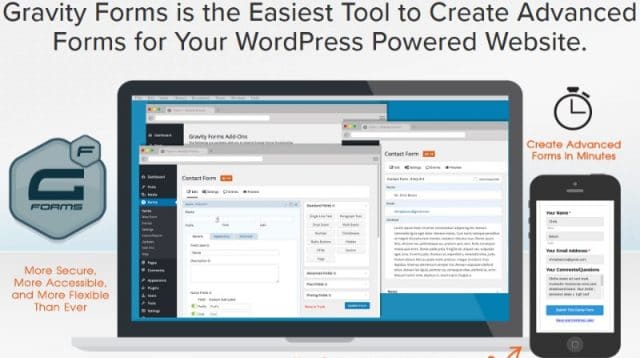 All In One Reservation
Another comprehensive solution is to create reservation forms. This WordPress plugin offers you all the important features that you will need for your appointment booking system.
You will be able to add the front-end appointment reservation form, use custom messages, reservation confirmation, reservation cancellation option, show differently available time slots, email notification to users, reCaptcha option to protect from spam and a lot more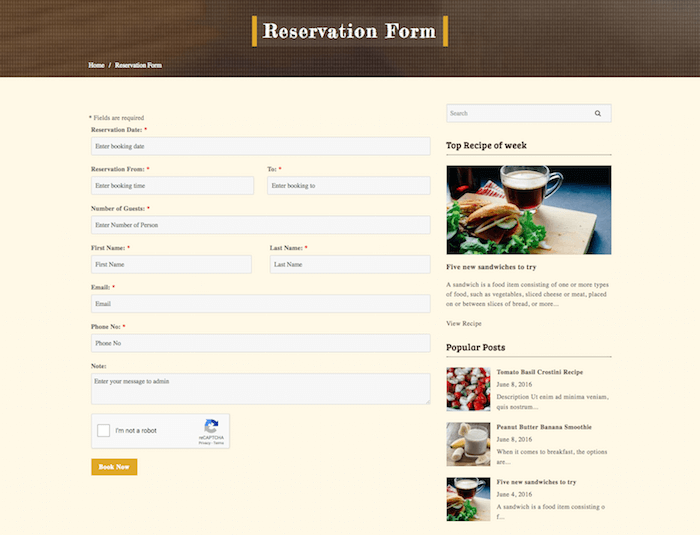 WordPress Booking Calendar
WordPress Booking Calendar is another free and easy-to-use plugin that you can use to add a booking framework to your site.
You can easily make a booking date with the plugin in less than a minute. This can be considered one of the highlights of the plugin.
Other than this, you will get features like the ability to send email notices after receiving a booking from the client and a few more.
Overall it is a very simple plugin without a multitude of options. If you just(emphasis on just) want to incorporate an appointment booking mechanism onto your site, then this is a worthy choice.


Webba Booking Lite
Webba Booking Lite is a WordPress primarily targeted at service suppliers to advance their timings for their clients. You can use it to set up reservations effortlessly and rapidly.
It will also let your clients make bookings and can even be used for the organization of major events. You can use the plugin to set the span of time between arrangements as you like which is a useful feature.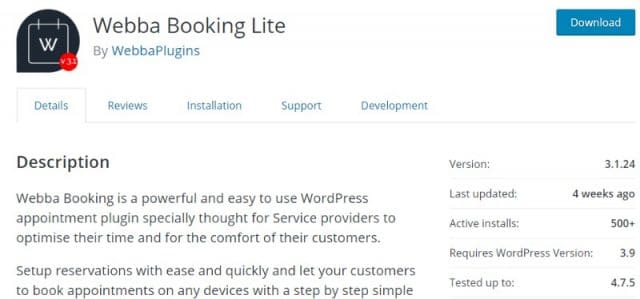 Calendly
One of the best tools to schedule meetings, the Calendly tool offers you all the important features and options required to book an appointment.
It comes with a number of important customizations and improvisations such as adding buffer time before and after the meeting, cap on daily meeting numbers, notifications to reduce the no-show rate and more.
Calendly offers an easy option to the invitees to schedule meetings with relevant persons or events. You will have a detailed report of all the meetings so that you can do your analysis for the week or the month.
Calendly gives you the option to integrate with a number of popular tools such as Paypal for receiving payments, ZOOM for video conferencing, Salesforce CRM, HubSpot, Intercom and more.
Also, as we are talking about the WordPress appointment booking here. The Calendly tool gives you a quick and simple option to add the booking form just by embedding the form using the HTML block.
Also, if you want to know about more tools like Calendly, here is a Calendly alternative.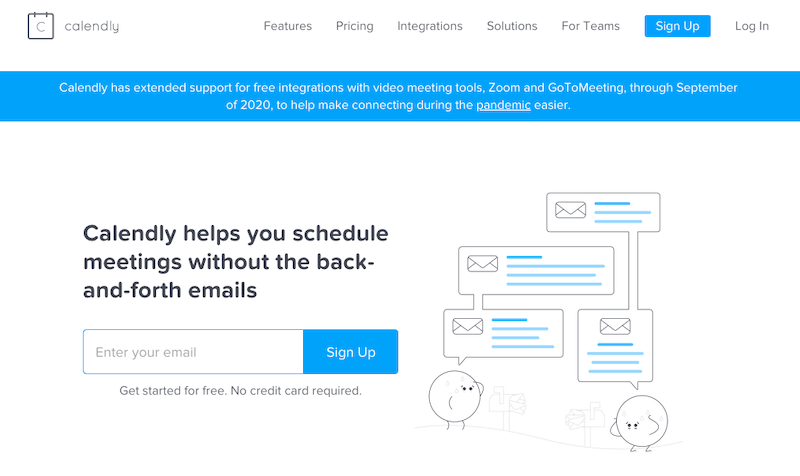 Simply Schedule Appointments
As the name suggests, Simply Schedule Appointments is a WordPress plugin to book appointments. You can install the plugin and use it for free.
Add a fully-featured appointment booking system to your WordPress site in just 5 minutes. It is a flexible, easy-to-use booking system that will make your site look professional and it will eliminate the need for any email or phone calls to make you more productive.
You can focus on your core business while this free booking system will do the job to capture all the appointments for your business.
This system will keep all the custom data on your own site and you don't have to connect it to any third-party system.
Overall, this is a comprehensive yet free system that you can use to add the appointment booking feature to your site.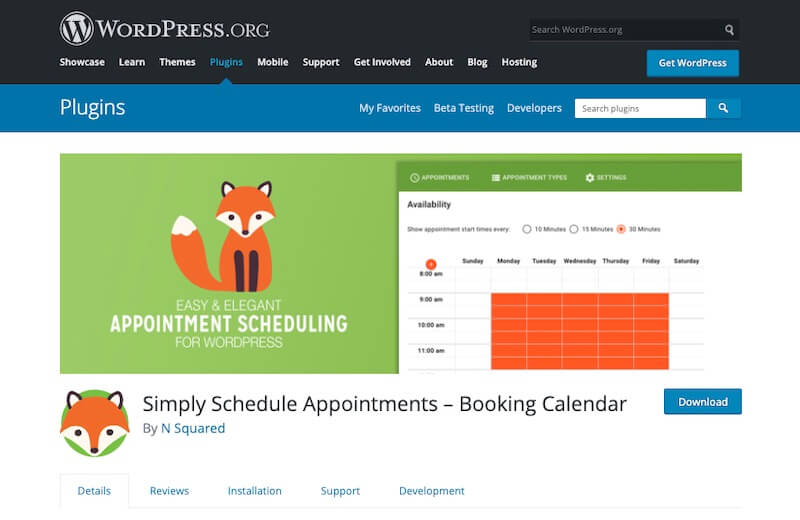 FAQs About Appointment Booking Plugins
01. Can I add Appointment Booking System Without a Plugin?
Yes, you can. However, you will have to go for custom development for that. If you are not good at coding, you will have to hire a developer and spend money. the process is going to take time and cost you money. Using a ready plugin is a much better way to go about it.
02. Which is the Best Appointment Booking Plugin?
There are a number of high-quality appointment booking plugins in the market. It is difficult to pinpoint one as the best. It depends on your requirements as well. You can find all the top options in this article and you can make your choice accordingly.
03. Is there a Good Quality Free Appointment Plugin?
We have included a number of free appointment booking plugins in this article. The Booking Calendar plugin with over 60k active downloads is a good free option to go for.
04. Can I use a Content Form Plugin as Booking From?
It will depend on how comprehensive your content form plugin is and what all the features it offers. for a booking form, you will need a few custom options like calendar option for date and time selection, so it is better to go for a custom solution created for appointment booking.
In Conclusion
So these have been a short description of some of the best Appointment booking plugins for WordPress. If you choose to use any one of them, then do comment to us about your experience using the plugin.
Also if you want to share other solid alternatives that we missed on this review then feel free to use the comments section. It has been provided for your disposal.