If you wish to create a job board site, you will need a specific design that is suitable for a job-related website. In this article, we have listed the best job and employment-related WordPress themes for you.
If you are an employer, a job board is a place to advertise and publicize your company's job openings. And if you are a candidate, a job board is a place to find a job.
A job board serves multiple functions. Some of the basic job board functions include traffic acquisition from branding to purchasing on Google, traffic retention to maintain traffic/candidate relationships, traffic refining for data collection and sorting, customer acquisition, and sales, among others.
The job board for your company needs to be responsive and highly functional to drive traffic. There are many WordPress themes that help you do so. Some of the most advanced Job Board WordPress themes are listed in this article.
Creating a job search website can be a profitable business because it's an evergreen business model. And with time the use of online portals to find jobs will go further up.
So, grab any of the WordPress themes listed in this article and start your job site.
Let's have a look at the best job search WordPress theme options
Best Job Portal WordPress Themes
---
Job Monster
This is easy to install and even easier to use a job board theme which makes it easy for even the ones who don't know much about technology.
Job Monster has a highly practical yet aesthetic-looking design that facilitates the interaction between employers and potential employees.
To provide easy access to users, this theme provides regular access to the users regardless of their whereabouts.
The theme comes with two home variations: one features a map search function, and the other offers a job search feature.
As a customer, you can decide the number of potential job posting plans. All the payments and other transactions are well taken care of by WooCommerce plugins. Isn't that great?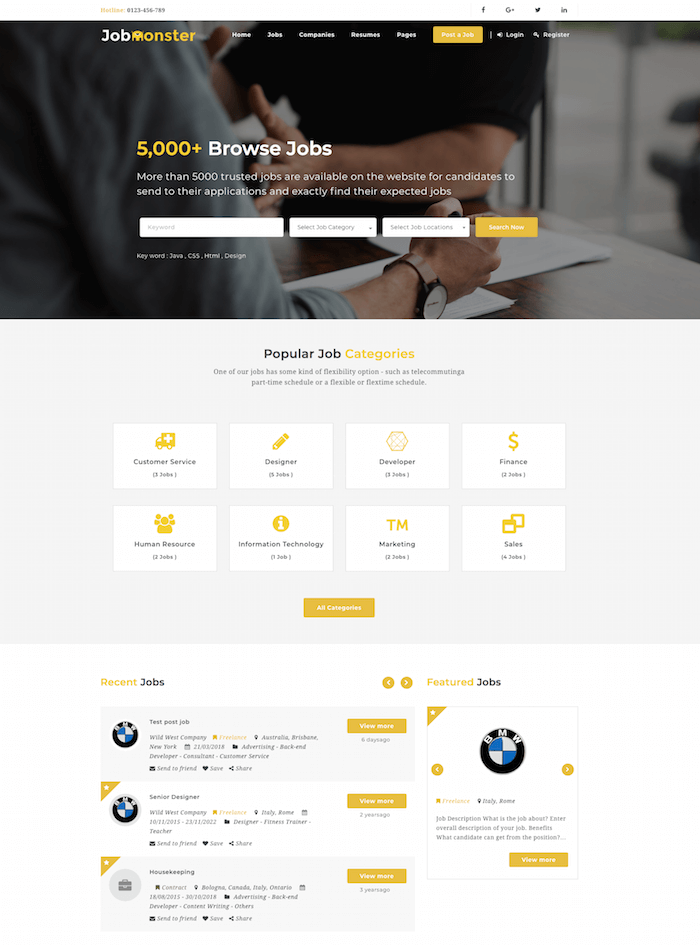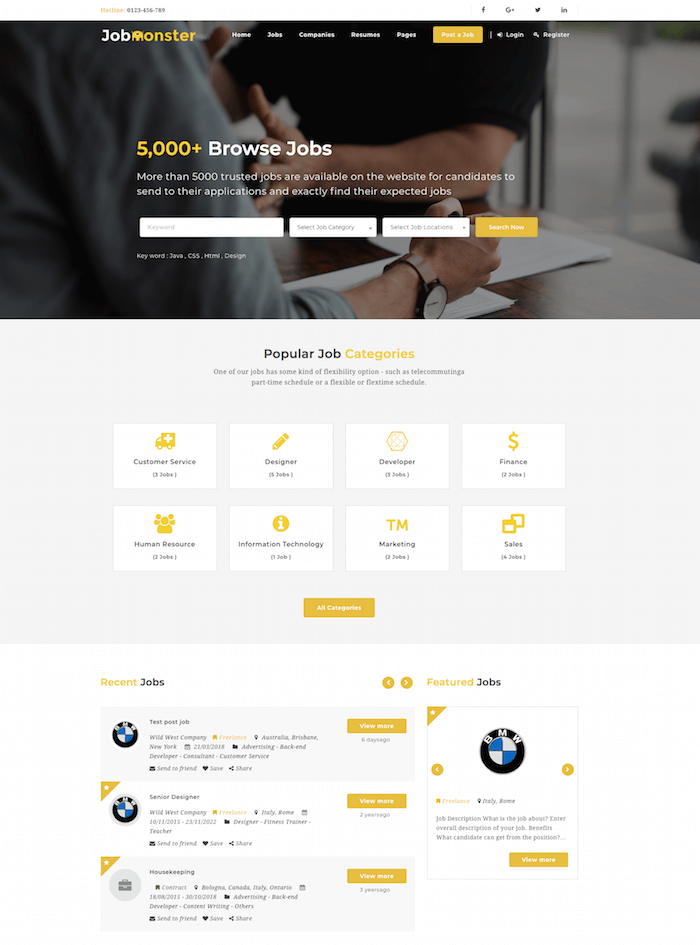 Job Seek
If you want a professional job board website, then Job Seek can be a great choice. This theme has a charming design and an easy-to-use interface.
In the Admin UI, jobs will appear in an organized manner.
This theme lets you display the employer's company along with providing certain actions such as delete, edit, and mark as filled. Employers can find their available jobs on the page's front end, and the employees can bookmark offers that they like.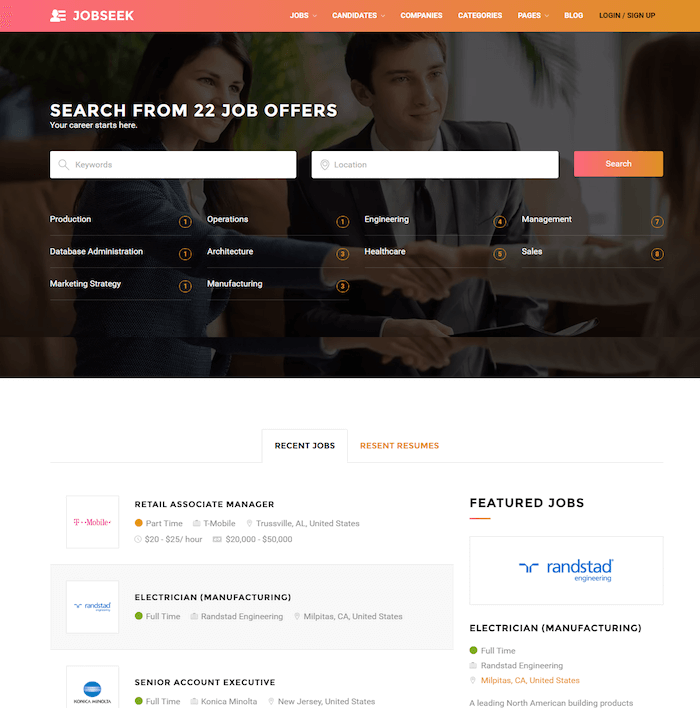 Freelance Engine
This is another job board WordPress theme for the sites that list freelancing work. The theme starts with an attractive homepage banner which is divided into two sections, one for freelancers and others for the project postings.
The site is fully responsive and works well on all kinds of screens. And by using the drag and drop feature, you can create unique layouts for your site from the front end itself. All this comes at a very nominal price and is worth every penny.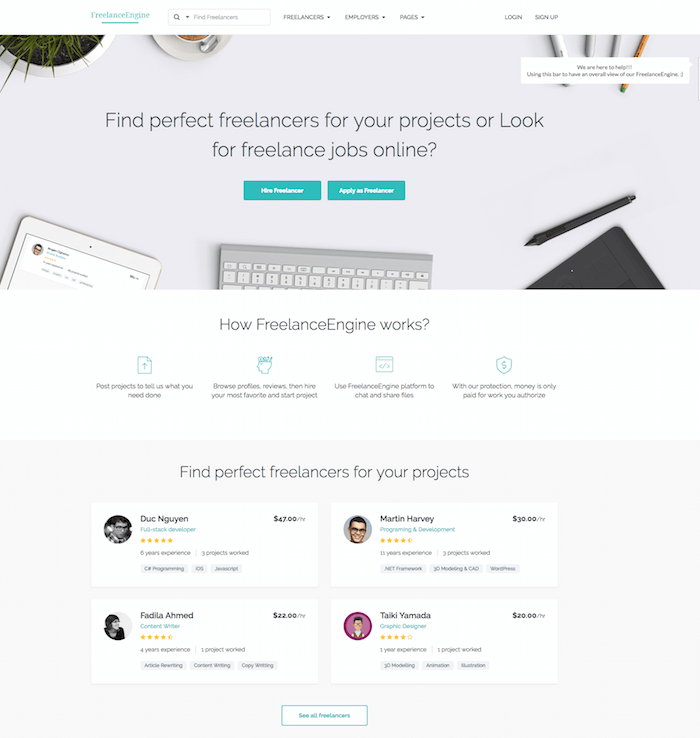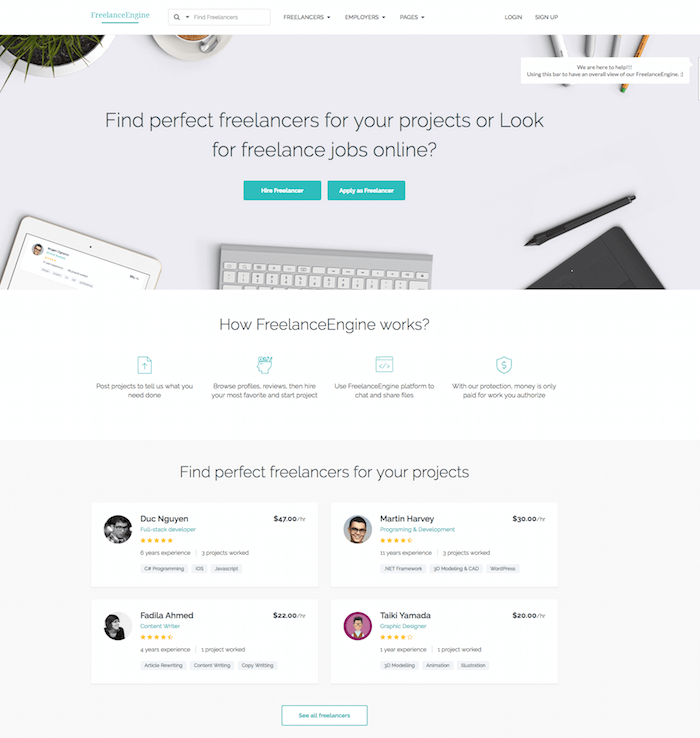 Job Engine
Powerful tools along with simple and easy user experience; this is what JobEngine has to offer. The theme is packed with simple job management tools like location, job type, category, etc. which are also well sorted in this theme.
It is SEO optimized and is also well optimized for multiple payment options and currencies. The multiple customization options and inbuilt plug-ins make it an ideal theme. See their demo, and you will see how well crafted this theme is!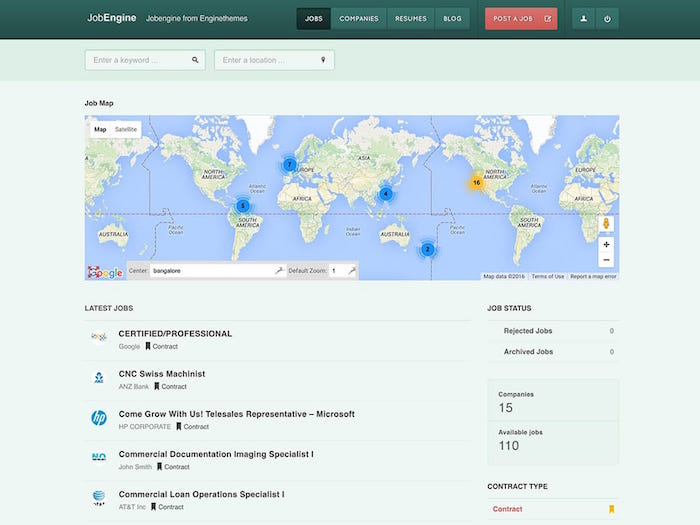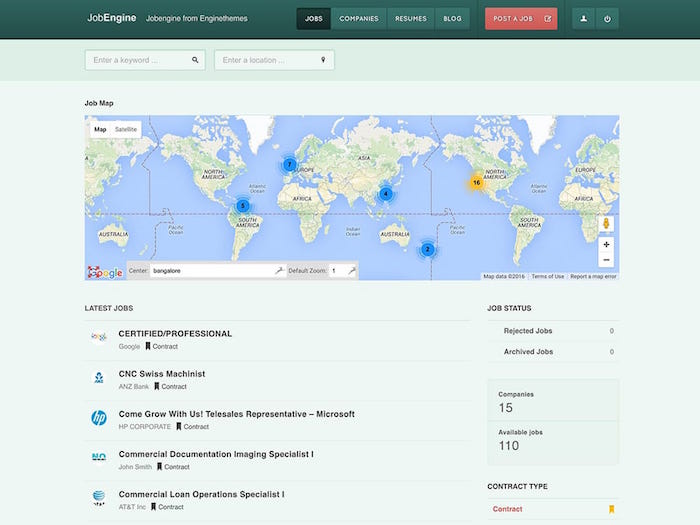 Jobs Directory
Are you looking for a beautiful theme for your recruitment website to attract job seekers? Try Jobs Directory! The theme is SEO optimized and hence is not overlooked by Google.
With the help of this theme, you can feature a fully functional sitemap, a city-wise banner, and a slider on the site.
To match the vision of the users, color customization is also available. Since a major chunk of people uses mobile phones for everything, Jobs Directory is fully responsive to that and can be used properly on all screens and devices.
This job board theme enables you to create an online directory of jobs. The theme lets users create free job postings as well as premium ones and is a great way for employers and employees to advertise their jobs online.
The theme is loaded with features for performance as well as monetization. The monetization feature helps you in maximizing your earning potential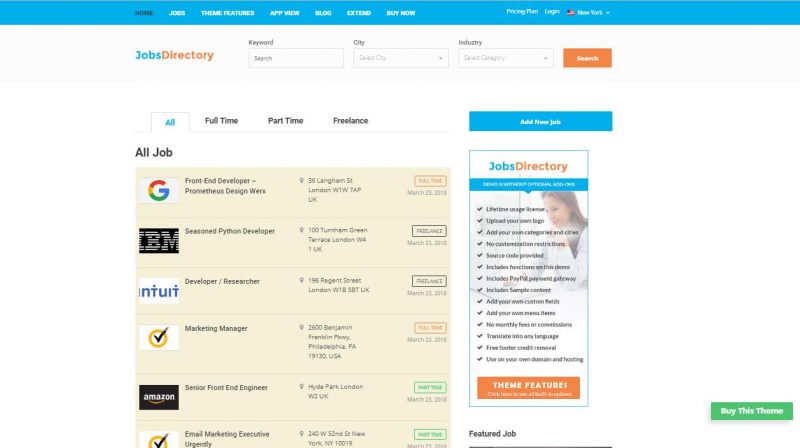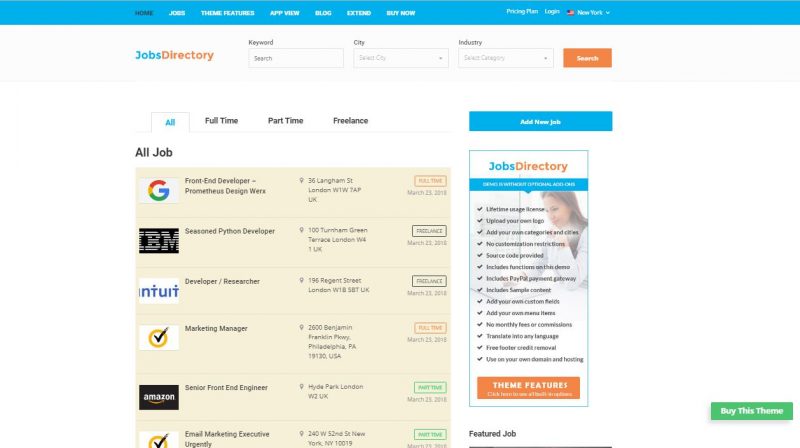 WorkScout
This is a WordPress theme particularly designed for employment agency recruiters and is extremely user-friendly as no advanced programming knowledge is required. Making a page is easy and intuitive as all you need to do is drag and drop which saves a lot of time.
The theme works seamlessly on various devices of different screen sizes, and job posts can be viewed on tablets, smartphones, laptops, and desktop computers.
For new users, an explanatory note is available which is regularly updated. It explains every feature in detail, offering to guide you through the setup process.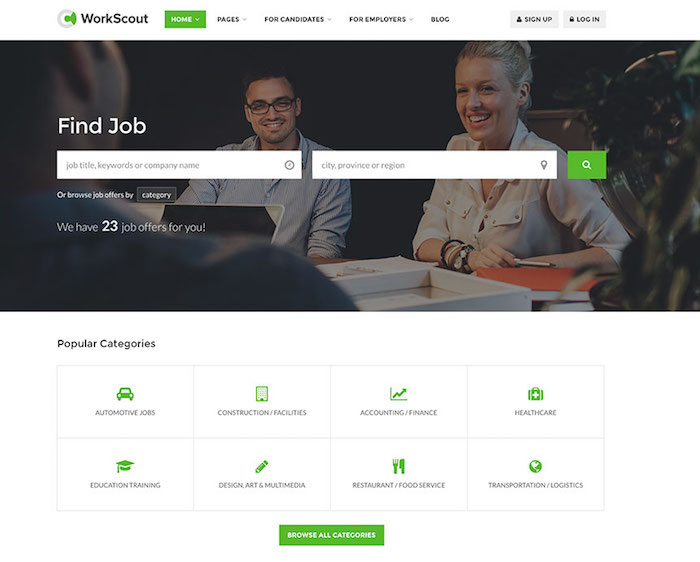 Jobify
Jobify is a clean, modern minimalistic WordPress theme designed for job boards. It is very easy to use the WordPress theme, and you can get started almost instantly.
Jobify is a great-looking and highly customizable WordPress theme with unlimited color options and font options as well as other styling options that you can use for your website. And the theme is incredibly popular as well. A good pick!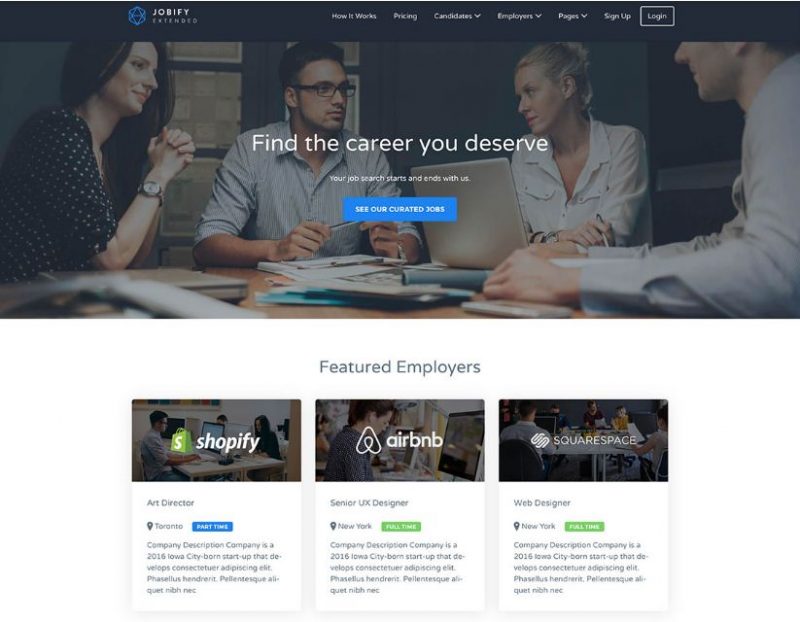 Superio
Superio is a fresh new job WordPress theme that comes with all the modern features and options. If you are managing a job-related business or HR business, this can be a very handy theme for your website.
To start with, the Superio theme offers you multiple homepage designs to choose from. You can select any of the ready designs and make your site ready within a few minutes. All these demo designs are created with the latest design trend in mind.
There are a number of small useful features that make Superio a great choice such as powerful job search options. Your users can search your job listing based on geolocation and other variations.
Users can apply to any job without even log in to make the process quicker for them. The theme comes with front-end job listing options so that any company can come to your site and list their job openings.
As the admin, you can create job listing packages. You can allow users to list their jobs for free as well as you can charge for features listing.
And the theme gives you the option to display the featured jobs about all other listings so that the companies who paid for the job listing get more views.
Another important future is the job alert option. You can keep sending your users new job listing alerts, this will help you to bring more users to users to your site.
Overall, Superio is one of the most comprehensive job listing themes that you can use to create your website.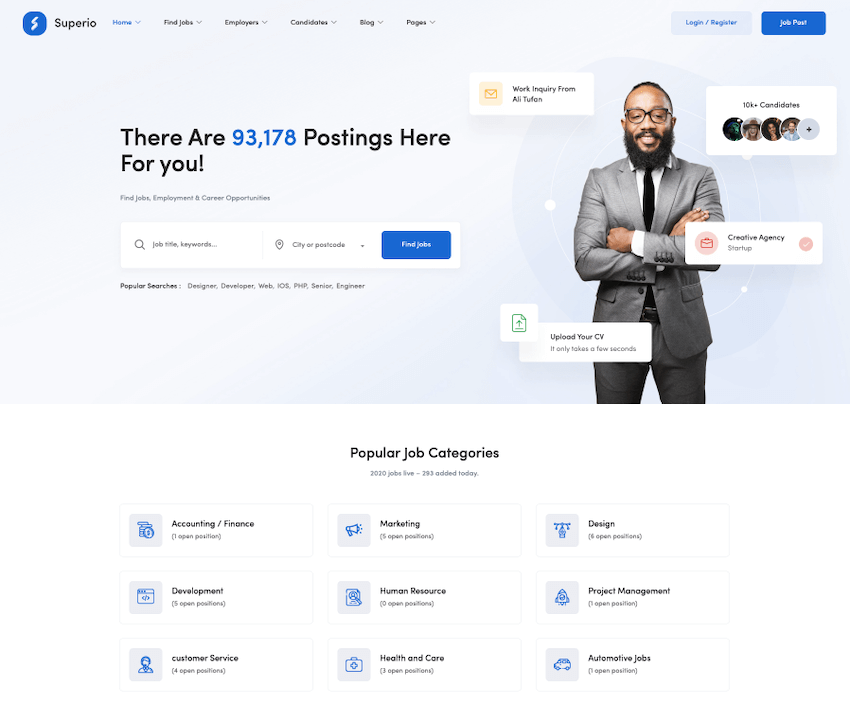 Jobmate
JobMate Theme is a smart option that allows you to create a WordPress Job Board website with advanced job listing features. This WordPress Job Board Theme has in-built support for WP Job Manager Plugin.
By integrating BuddyPress plugins, you can extend your job portal website into an interactive community of employers and employees.
Its simple live searching and filtering make it easier to find relevant jobs for candidates. Besides, it provides you with a fully customizable homepage the layout of which you can design with the help of dynamic widgets.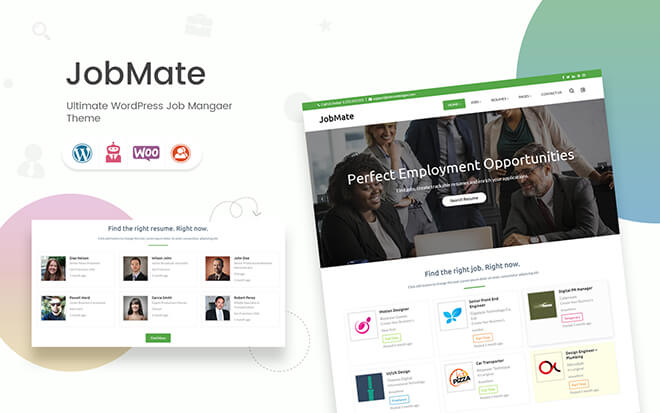 Job Portal Responsive WordPress Theme
The professional yet attractive layout of this job board WordPress theme is going to take you by surprise. The stunning homepage gives you the option to post a job, and the applicants can submit their resumes in a hassle-free manner.
Further, the theme is nicely divided into all the sections required for a job portal to run smoothly. It even offers custom post types for portfolios, testimonials, and the service section which are must-haves for any job portal.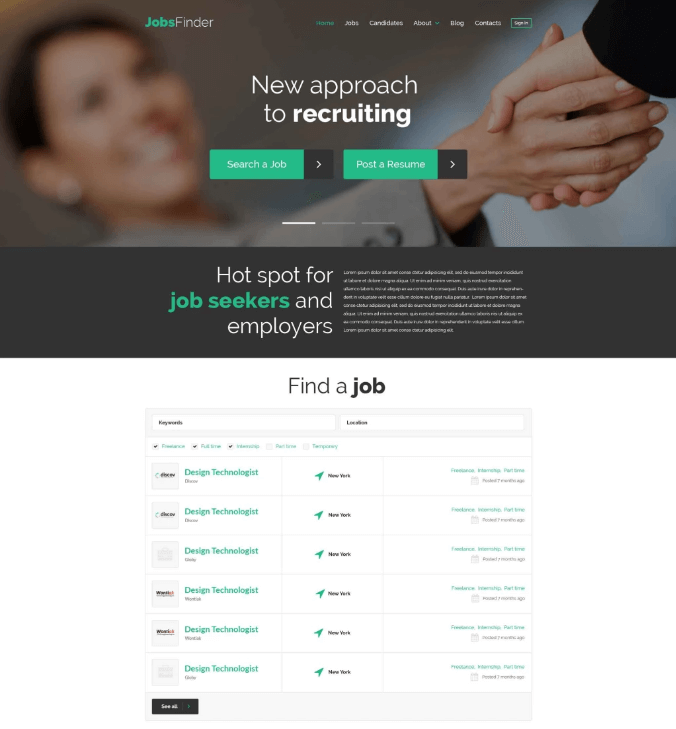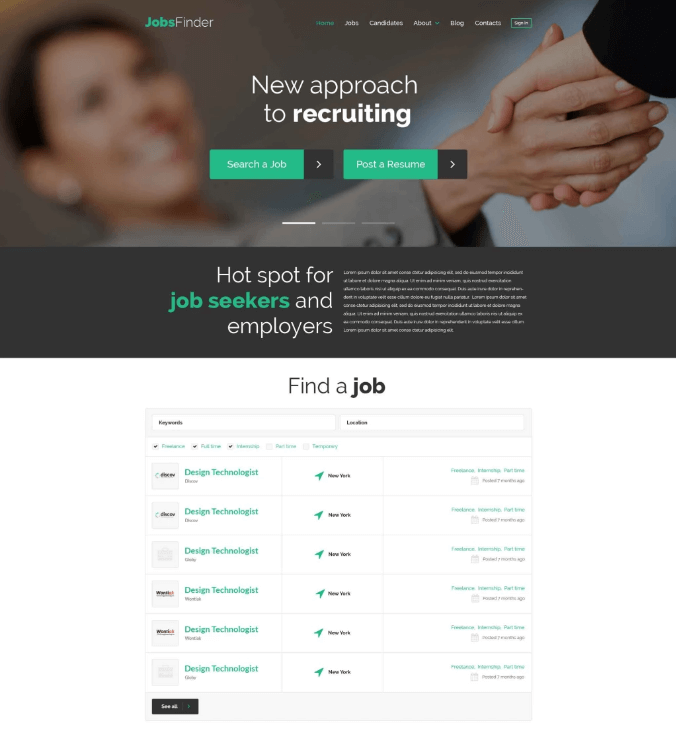 Project Bidding
So far, we have discussed job board themes for employers and employees. However, project bidding is one for freelancing jobs.
The theme is performance-optimized and can also be used as a simple job website. In this theme, project developers post their projects and freelancers make bids to get to work on that project.
You can lay the pricing plan for your website and charge money. The payments are done via safe payment gateways. You can even exchange digital files with this theme. That's quite useful, isn't it?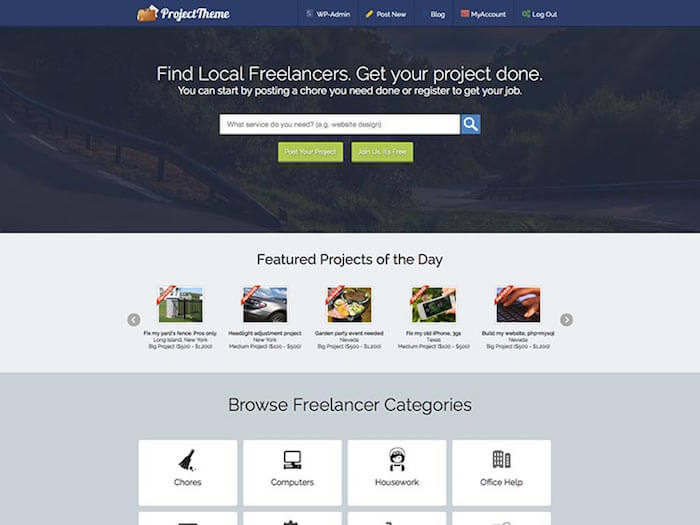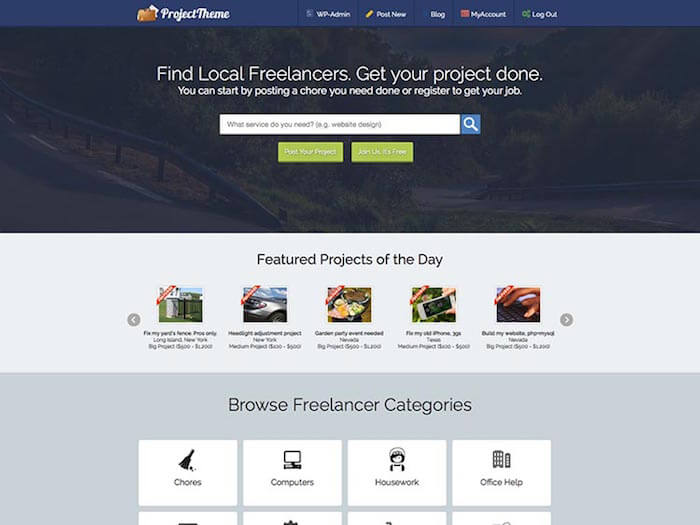 JobCareer Job Board WordPress Theme
JobCareer is a perfect theme for job sites; it comes with hundreds of advanced options to choose from without having to write a single line of code.
This theme provides you with helpful plug-ins and professional quality template pages and makes the website creation, design, and set up easily with the built-in drag and drop builder.
Plus, features such as Resume Manager, Profile Completion, and Indeed job importation make it a piece of cake to work with.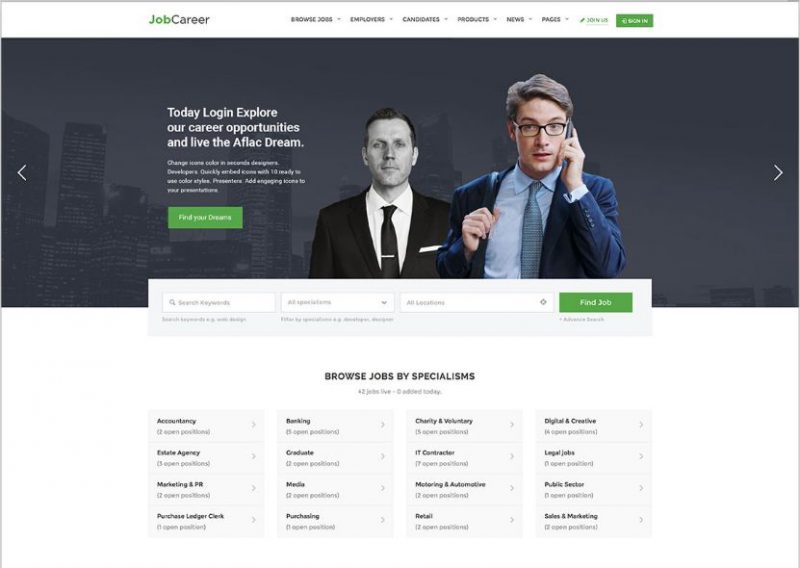 Entaro – Job Portal WordPress Theme
One of the most comprehensive Job Board WordPress themes that offer a great-looking design. You have two different homepage design options to choose from.
The Job directory section is managed by the amazing WP Job Manager plugin. For designing purposes, you get the premium Visual Composer plugin in the theme bundle for free so that you are able to create a completely unique design for your site easily.
You also get the premium Slider Revolution plugin for free in the theme bundle, so you can create great-looking slides for your site easily.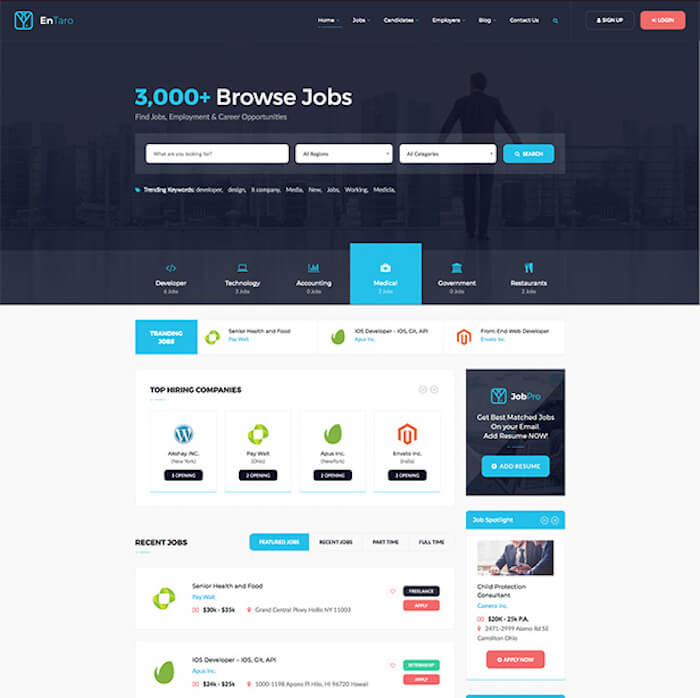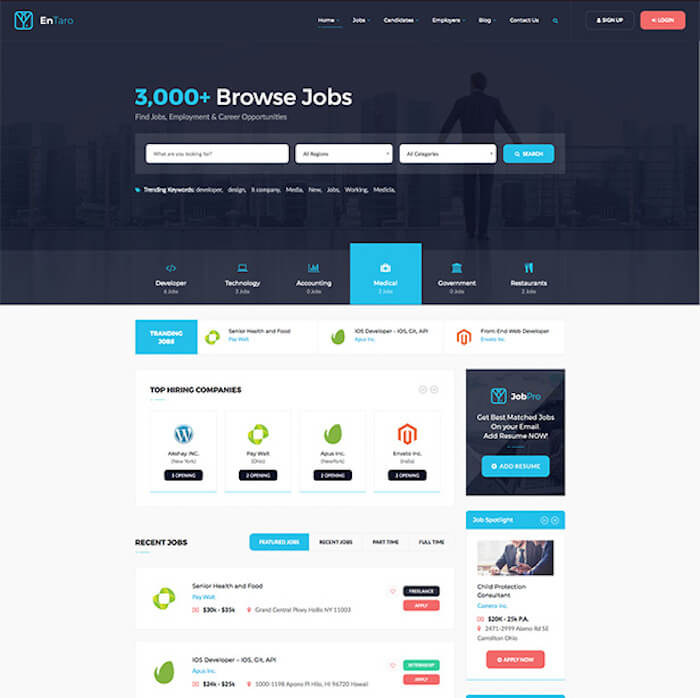 WPJobus
WPJobus is a 3 in 1 WordPress theme that apart from building job portals also helps to build personal resumes or company profiles.
It is fully responsive and includes brilliant features such as Google Maps and AJAX search. With WPJobus, your website's visitors can browse and filter the different job postings, careers, and resumes.
You can use this theme as a single-page resume where you can present your professional background, education, skills, and a lot more. On the other hand, you can also use WPJobus as a website template for the company profile website.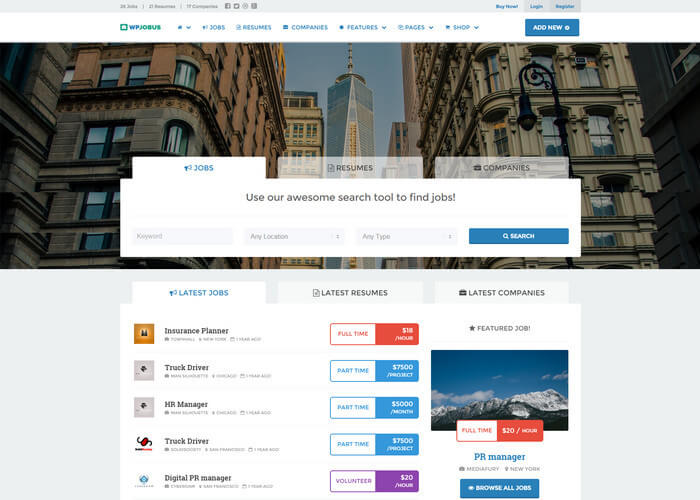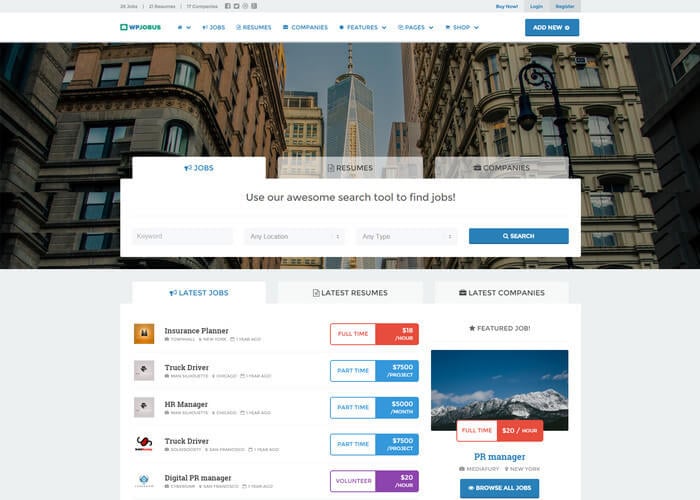 Recruitment Agency
Recruitment Agency is a responsive and adaptable WordPress theme. A recruitment agency works best for businesses and individuals that need their profiles displayed.
It is a mix between a directory and an application system. Recruitment agency divides pages into lists according to what you look for to hire or to apply.
It has a highly professional look that's task-oriented and easy to understand and has unlimited portfolios and blog layouts.
Files such as CV or resume, other documents, and such, can be uploaded in different formats. The layout can be set in either boxed or full-width design. The list of features of the Recruitment Agency can go on!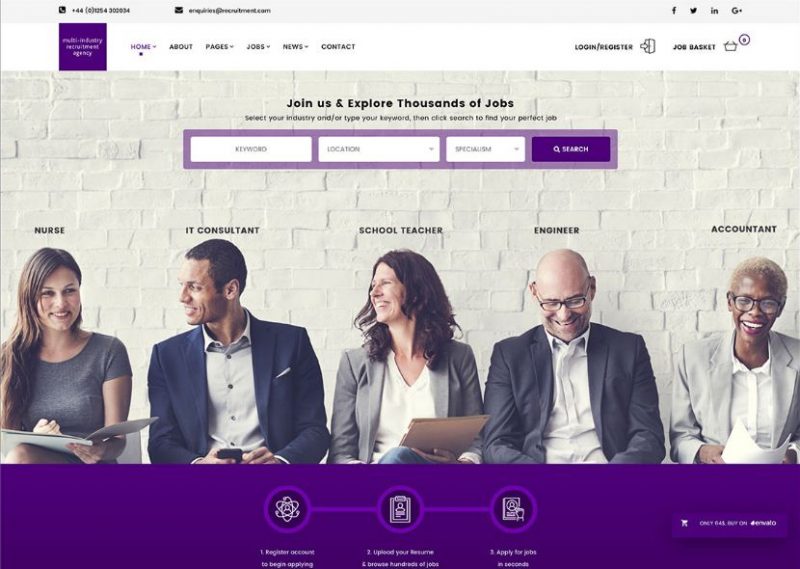 Cariera
Cariera is a fast and responsive WordPress theme that is SEO optimized and works amazingly well for job boards. To facilitate all types of job seekers, this theme works well with all kinds of screens, be it the mobile screen, laptop or desktop.
You can customize your site using this theme as it comes with a large number of color combinations, moveable sidebars, multiple headers and footers, and whatnot.
Additionally, it also offers job search filters and CV submissions and has the child theme in operation. So for making a professional job search website, go for Cariera!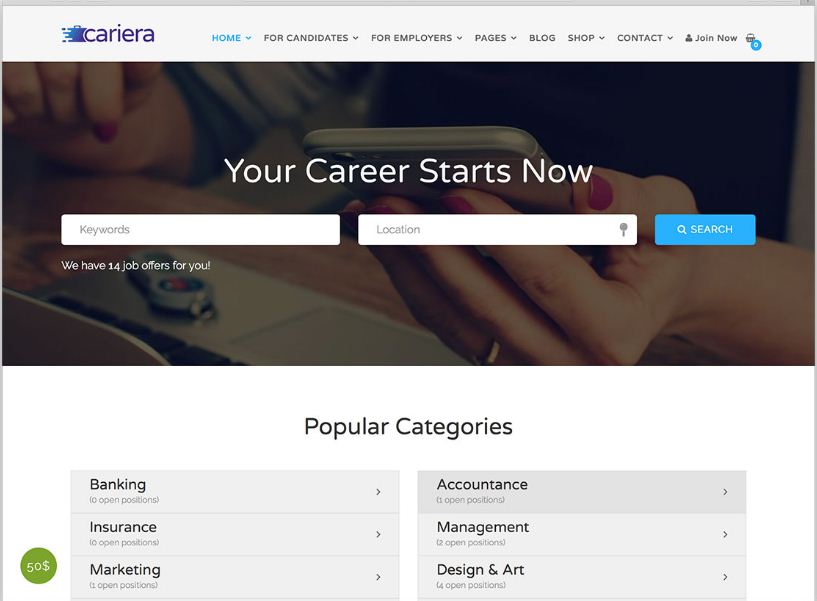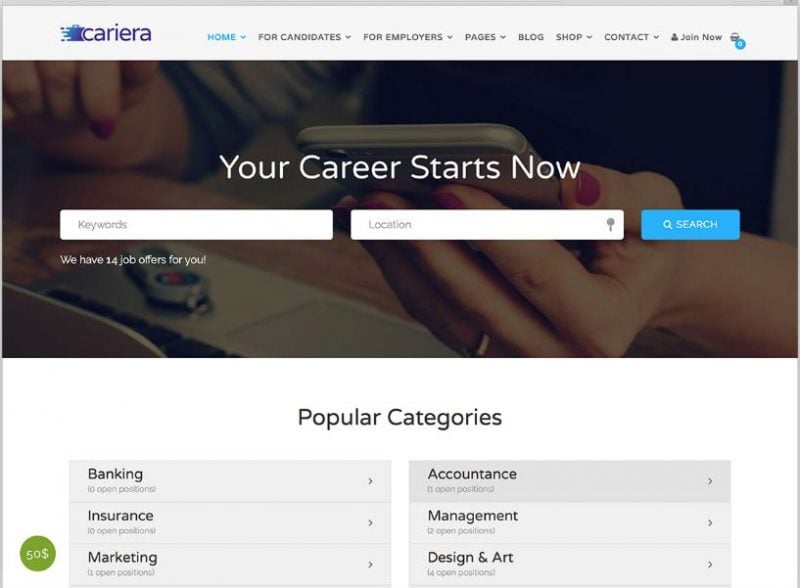 Injob
To help people get in a job, go Injob! This theme is specifically made for job search platforms and comes with SEO optimization and screen compatibility.
Injob has a plethora of features such as a Visual composer, multiple color schemes, and hundreds of Web Font Icons.
It even offers social media login buttons to keep you connected to social media 24×7. Options like front admin reviews, email notifications, etc. are also available.
The theme surely gives a professional feel to visitors, and its unique features can make them give a 5-star rating to your job board website. So what are you waiting for? Go Injob!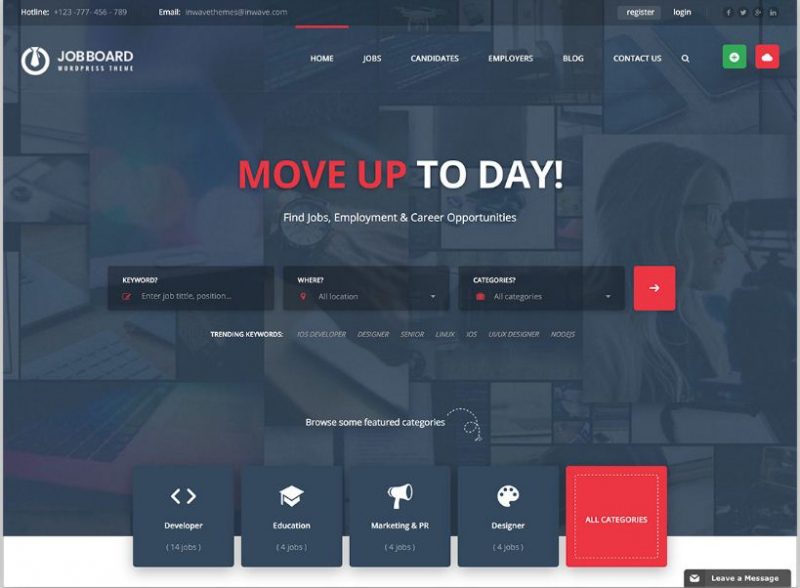 JobsApp
Are you looking for a theme that is chic and elegant and yet helps to create a professional job board? Then JobsApp might be the one for you.
It is a clean and professional job board theme that is built over the grid systems to make it fully responsive on all devices.
It is packed with features like the slider, advertising modules, multiple homepage layouts, and much more. For all the recruiters, HR professionals, and hiring agencies, this theme is a great pick.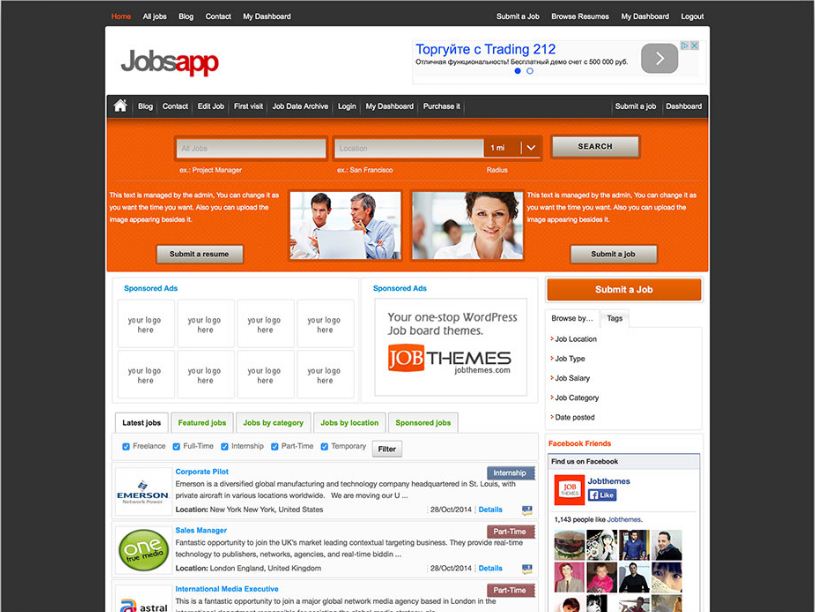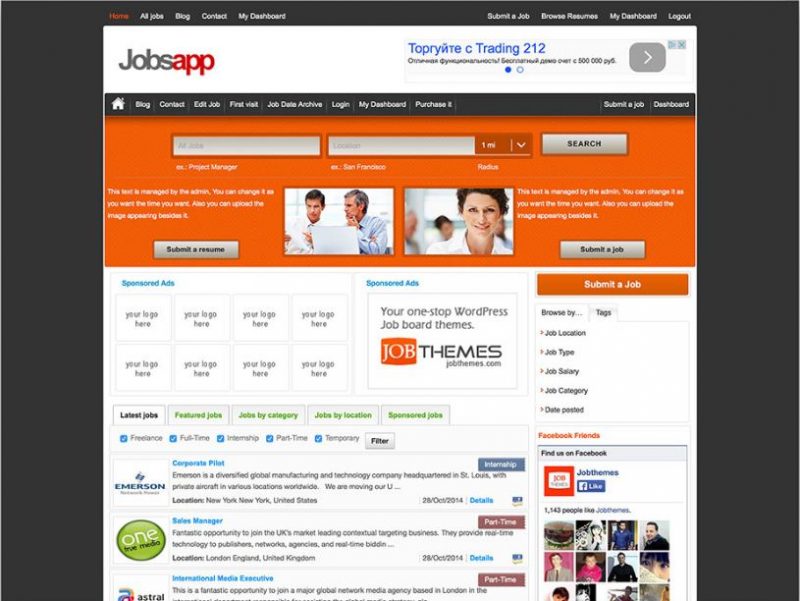 Job Board
This is a clean and minimalistic job board WordPress theme. It is fully responsive and SEO optimized. Whatever you need for your job board, be it the front-end submissions, automated payments, multiple pages, email templates, or Google maps integration, this theme has it all!
Further, it also has a coupon system integrated into it for special promotions. The powerful themes option lets you customize these features just the way you want!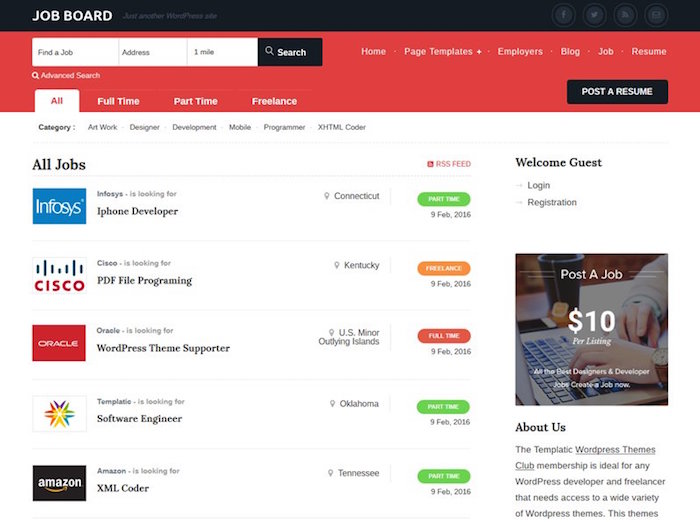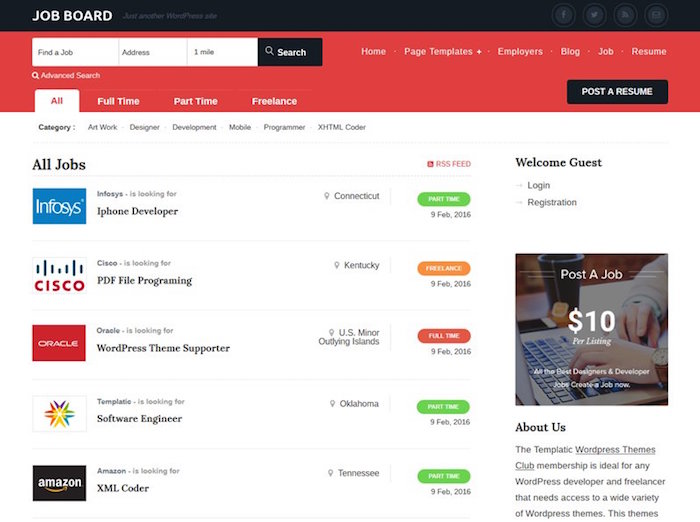 Job Roller
To roll out a professional-looking job board, all you may need is Job Roller. It is an elegant and minimalist job board WordPress theme that comes with ease of use. The theme is SEO optimized and fully professional.
It is loaded with features that make it one of the best picks for recruiters and job seekers as well. The one-click installation and detailed documentation make its use hassle-free. For all job listing sites, this theme is indeed a one-stop solution.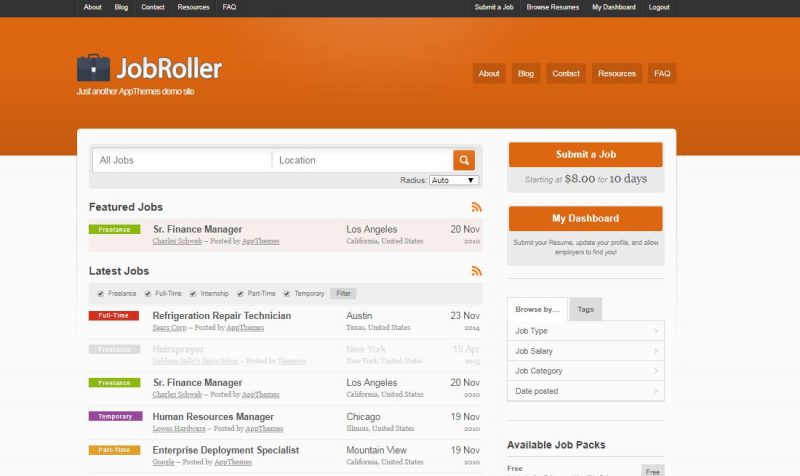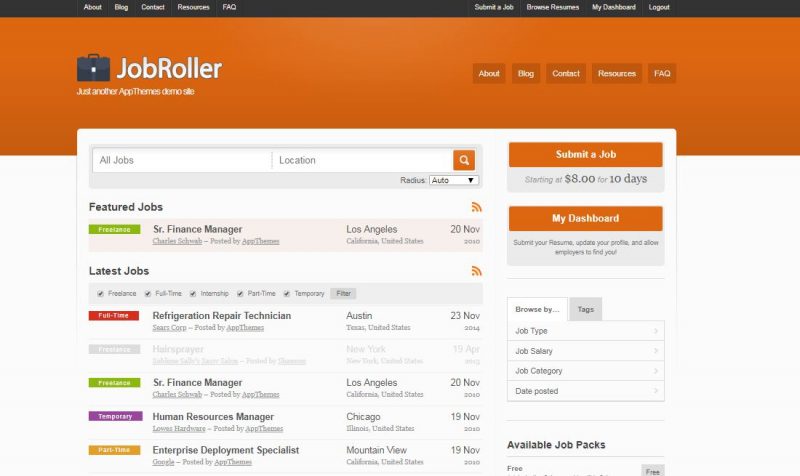 Hire Bee
A unique crowdsourcing marketplace, Hire Bee helps you in creating your job board or a freelance business website. The distinguishing feature of this theme is that it comes with a bidding system. You can now post projects to have companies and freelancers bidding on them.
Quite interesting! You can easily customize the theme, change the look of your website, integrate your social media handles, organize projects, manage notifications, and every other thing using this theme.
This is a power-packed theme and a one-stop solution for your job board.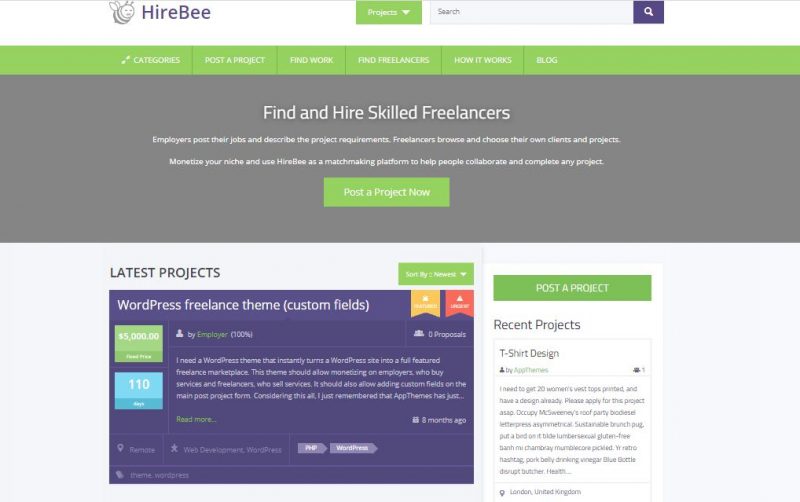 PetSitter
PetSitter is the perfect job board theme for people who want to create a website with unique job postings. This theme is integrated with WordPress 4.1 and has a multitude of features thus making it a perfect job board theme.
It can work on all types of devices, have both in-the-box and full-width layouts, header, footer, slider, unlimited color and font options, and many more exciting features.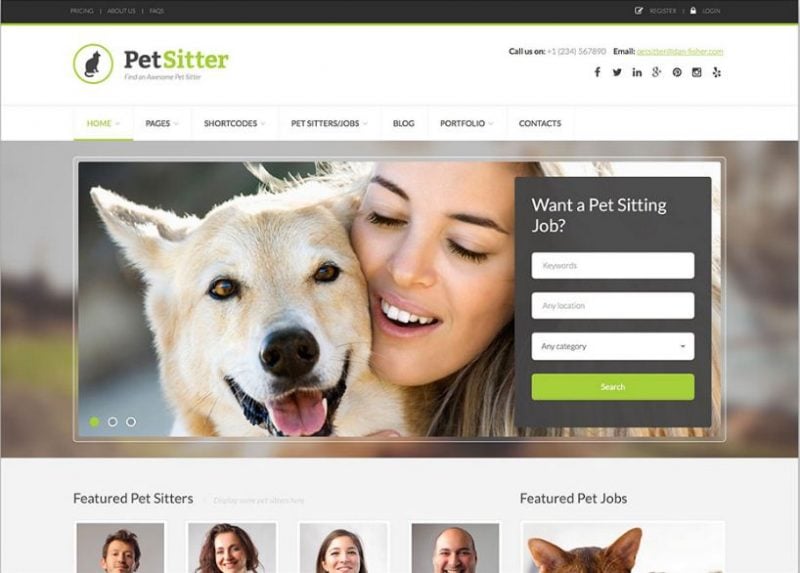 JobsDojo
This is one of the best job board WordPress themes. The theme allows front-end submission of jobs as well as a resume. The theme is bi-functional, that is, it has a double function.
One function is working on behalf of job seekers while the other function is working on behalf of candidate seekers.
If you wish to monetize through this theme, you can integrate WooCommerce plug-ins and payment methods. It is easy and less time-consuming.
Taskerr
This is a theme for a micro jobs site. Taskerr is a simple and intuitive theme that comes with flexible and easy customization options. The theme efficiently connects employers and potential employees and also comes with awesome and powerful monetization options.
Simply create a pricing plan for your website, and you're good to go. Additionally, it is also child theme friendly and SEO optimized. What else do you need?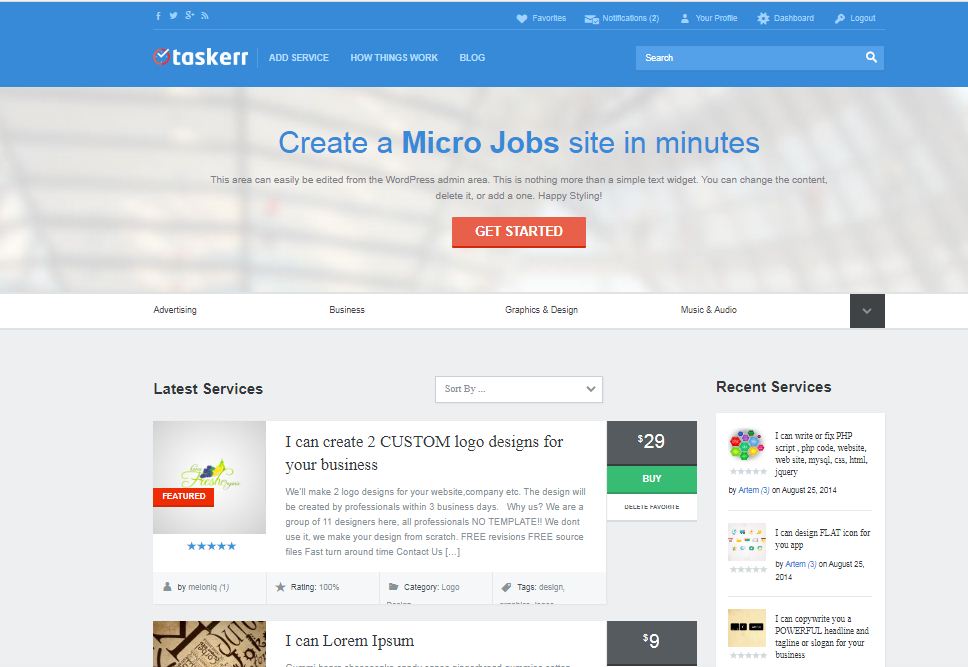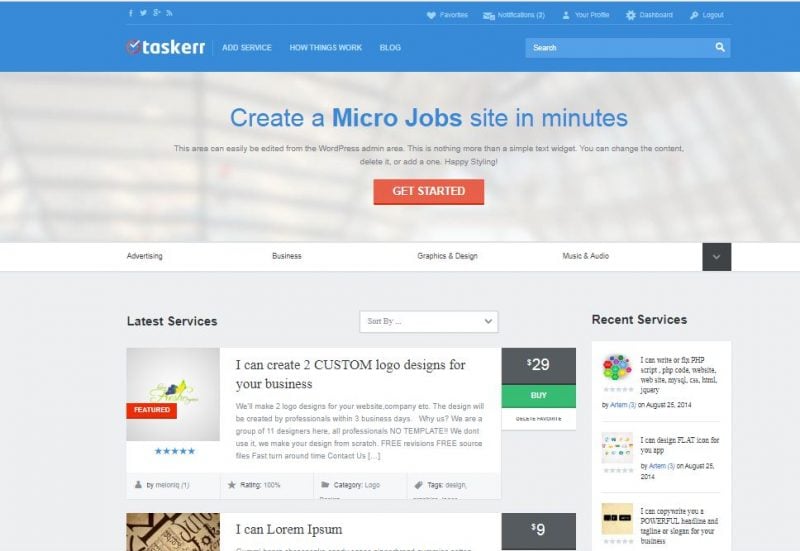 Jobs Finder
For the ones looking for jobs and also the ones looking for candidates, this is a great theme. The theme is highly flexible and loaded with features. It also has an advanced theme options panel to make it easy for you to manage all site-related options.
The theme comes with bootstrap compatibility, SEO optimization, and a nice parallax feature thus making it look highly professional.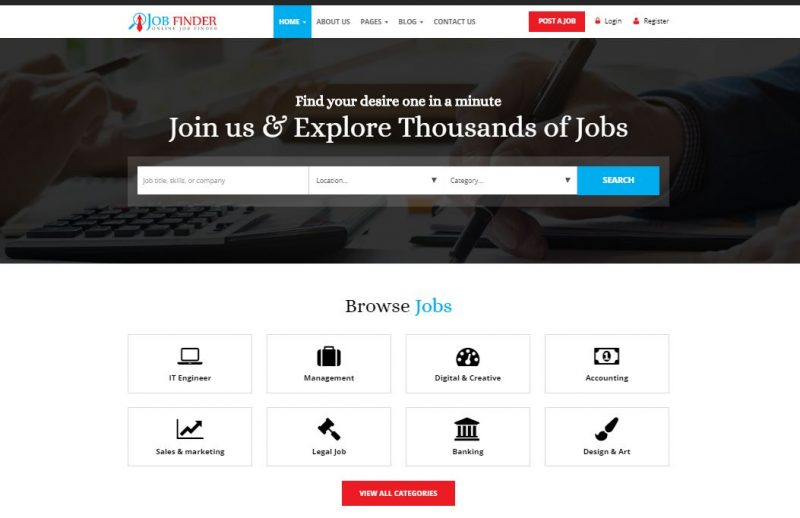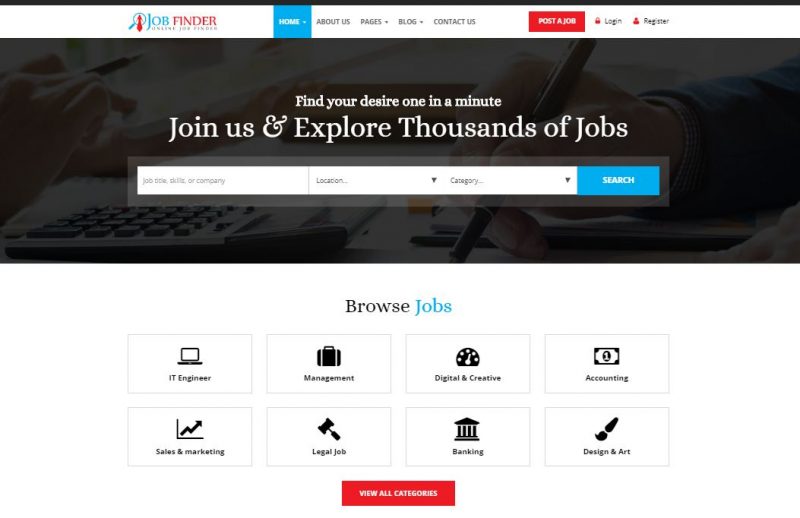 Careerfy
This is a stunning and professional job board WordPress theme. The theme is very quick and easy to get started with. It comes with a one-click installation option that helps you in creating your job board website almost instantly.
And the powerful admin interface of the theme helps you customize things just the way you like. It even helps you in managing the site effectively. What else can you ask for?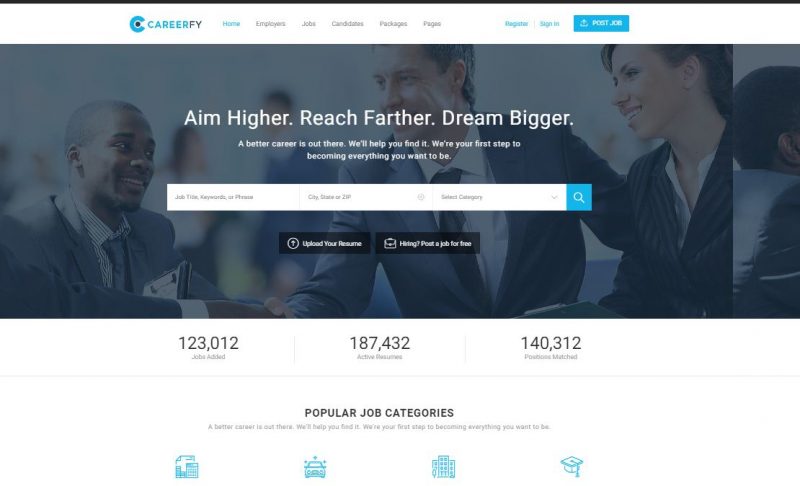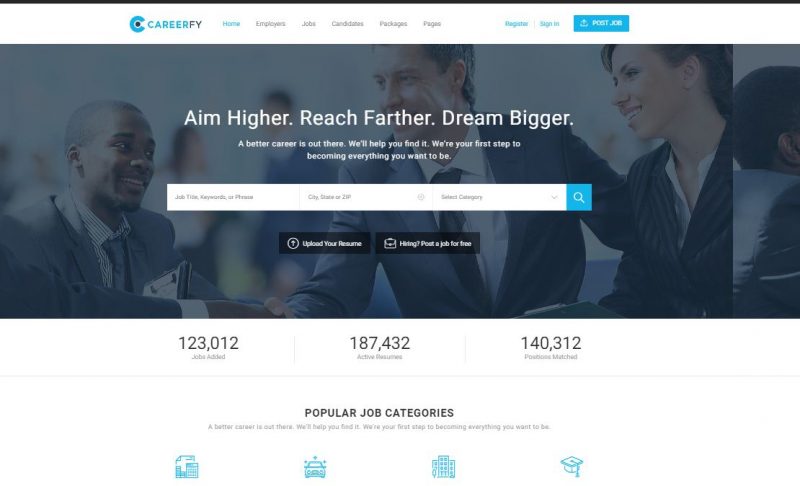 Meshjobs
As is evident from the name, this is a custom-made WordPress theme for job boards and job portals. This theme can be used to list jobs as well as for listing the candidates available for the job. The design of the theme is modern and highly responsive.
It offers front-end support to the employers as well as employees which makes it easy for them to manage the job listings and job applications respectively.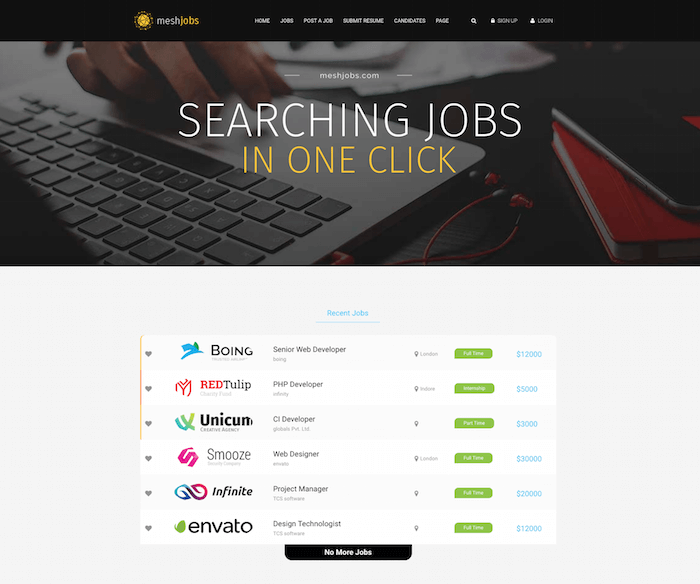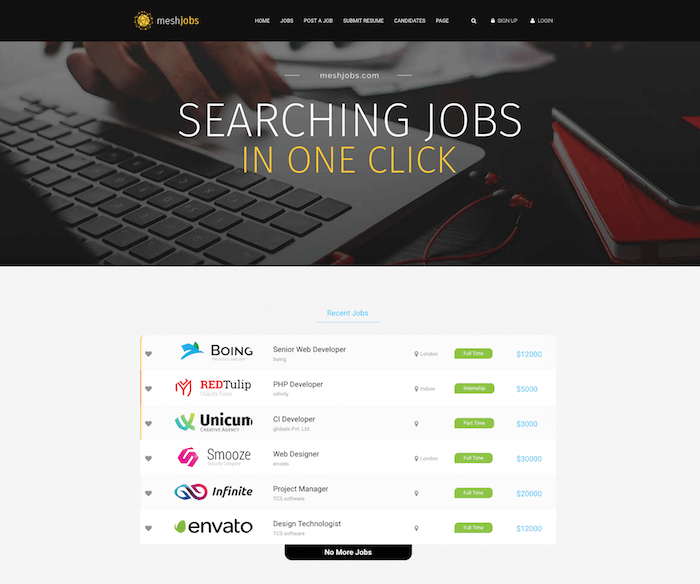 Final Word
We will be adding more job board WordPress themes to this collection, so don't forget to bookmark this article.
If you are planning to create your job search website, you can get started with any of these themes. All the themes listed in this article are fully responsive and work perfectly on the mobile phone device as well.