If you are looking for the best WordPress hotel booking system plugins, we have included the best options available for you in this article.
The list will help you choose the best plugin for your website and ensure that your users have the best possible experience when booking a room.
WordPress has grown tremendously in the past decade or so. It evolved from a simple blogging system to a content management system where almost every type of website can be created.
The biggest reason for its growth is its ecosystem and the community.
As a user, you will find almost every plugin you will ever need. However, choosing the best one can become a daunting task. That's where we come in.
Hotel booking system plugins help you ensure that a user not only can book rooms or services but also do it in a systematized manner.
The plugins that we are going to discuss are all high-quality plugins that offer tons of features. So, without any delay, let's get started.
Also Read:
Top WordPress Hotel Booking Plugins
---
HBook: Hotel booking system
Our first plugin is the HBook hotel booking system. It is a premium plugin that is suited for anyone who wants a booking system on their website.
For example, you can use it on any business website, hospitality industry, campsite and much more. At the time of writing, it is currently trending. It also has a high rating from its users.
When it comes to features, it has almost everything that you will, starting from front-end functionality to backend management.
Features
The plugin offers good UI which in turn offers the ability to add hotel data and other important details easily

Manage your hotels according to different rates and seasons.

Offers shortcode driven calendars.

Completely responsive and multi-language support.

Admin panel is feature-rich and lets you set automatic emails

The major payments model supported.
Price: $50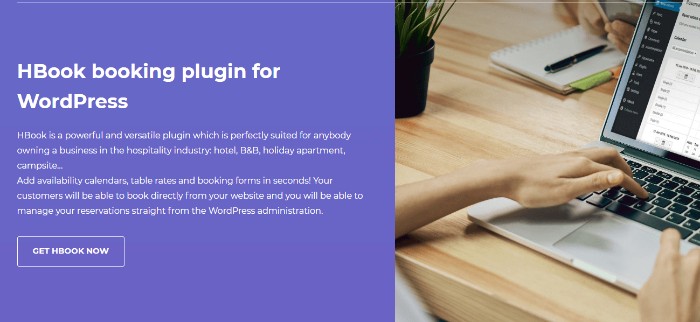 Online Hotel Booking System
If you are looking for a plugin that lets you book hotel rooms, then the Online Hotel Booking system plugin is for you. It works well if you have the only hotel though.
This means that you shouldn't use it for other booking related websites such as rental, etc. The plugin lets you cover all the issues that a hotel might go through.
You can set rooms and their types. Moreover, you can select room parameters and ensure that the user has multiple choices.
Features
You can add as many unlimited types of rooms, prices and seasons.

It is completely responsive

Admin tool is pretty comprehensive.

The owner can create managers for different tasks such as booking manager, etc.

Popular payment methods such as PayPal, Credit card, etc. are supported.
Price: $30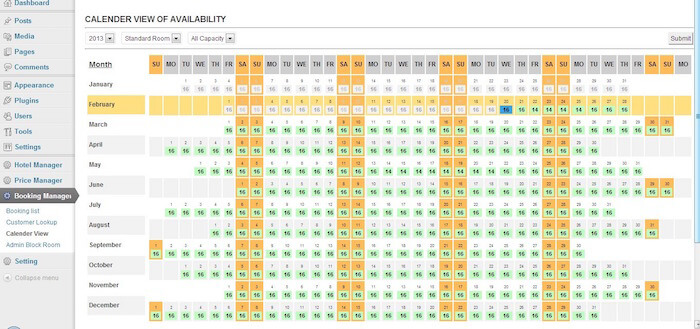 Pinpoint Booking System WordPress Plugin
If you are looking for a complete package, then Pinpoint Booking system is for you. The plugin can be used for diverse booking requirement including hospitality needs.
With a booking calendar, users can quickly set the date, room and complete the booking process. The plugin also has good feature-set and improves on the free plugins out there.
Features
Supports AJAX loading so that the page doesn't load twice

The calendar view is minimalistic

Complete set of admin tools. He can add, remove or reject a booking request

Extra services can be added during the checkout

It supports multi-currency and online payment methods.
Price: $70

Booki
Booki is a premium booking plugin that is lightweight, sleek and smart in its way. It is entirely compatible with WordPress and can be used with all the popular themes.
Also, it is not limited to just hotel booking. You can use to book anything including lessons, events, meetings, tickets and much more. This means all the important hospitality functions can be served without any issues.
It is also feature-rich and modern in its outlook.
Features
Create as many booking calendars as you want.

It also offers different calendar options such as inline, pop-ups, etc.

Comes with holidays and seasons rate so that you can customize the packages as you want.

Popular payment solutions such as Stripe, PayPal, Credit Cars are supported out of the box.

Both registered and unregistered users can book using the plugin
Price: $29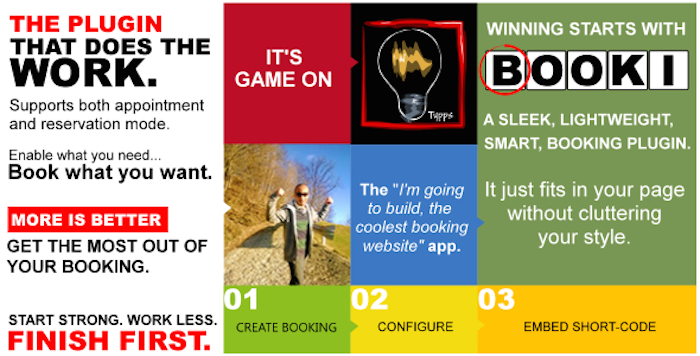 WP Booking Calendar
A good booking system starts with a simple calendar and ends with a proper checkout. WP Booking Calendar understands that and provides a solution that works perfectly for the hospitality business.
Also, it works for other business booking requirements. It can be a sports center booking, a chef on-demand or a bike rental business. With this tool, you don't have to write a single line of code.
Features
Users can preview slots before booking

Calendars are easy to use and enable days and months surfing

Easy to use interface

Admins can set an unlimited number of calendars, timeslots, and services.

Proper PayPal integration for faster checkout

Reservation confirmation can be done in multiple ways.
Price: $19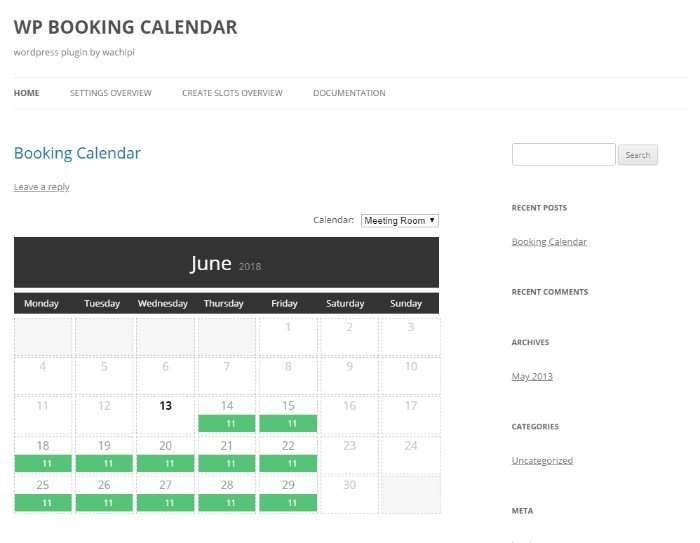 MotoPress Hotel Booking
MotoPress Hotel Booking plugin aims to solve the problem of booking with their plugin solution. With the plugin, you can set any number of services and accommodation.
Also, you can accept an online direct booking and then synchronize it with other systems. This makes it a perfect fit for hospitality-related websites.
It can work for vacation rental, hotel, hostel or apartments agency. It can be used for both single-site and unlimited sites. It comes with tons of features, let's discuss them below.
Features
Easy reservation form that makes booking easy in just three steps.

Offers online search availability form

Customize the room types the way you want. Choose room size, bed size and put any number of variables.

Offers easy-to-use bookings calendar and also seasonal pricing
Price: $49(single site), $149(unlimited site)

Bookme
Bookme is a multipurpose booking plugin that you can use for all different types of booking requirements.
The plugin can be customized according to your business and make sure that things are taken care of perfectly.
This plugin primarily works as a reservation plugin that makes it simple for the users to reserve time slots.
However, you can use this as a hotel booking system as well. If you are not managing a big hotel with a lot of rooms, this plugin will manage it nicely.
Features
Comprehensive plugin with high customization options
Event scheduling and management option
Booking for specific days option
Great styling options, unlimited color options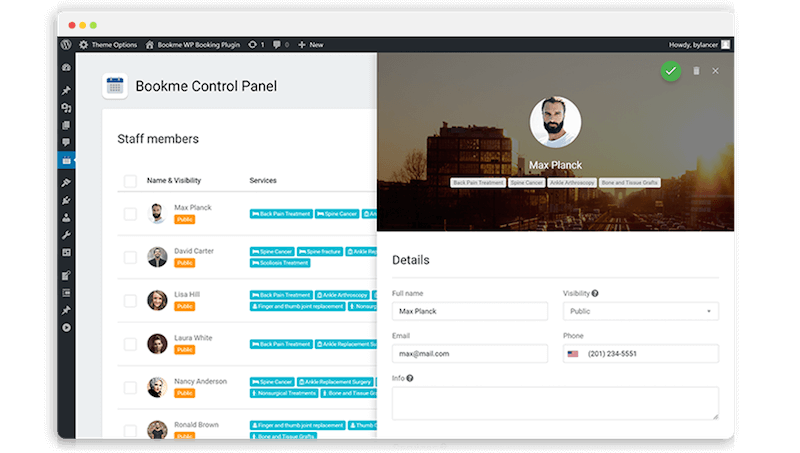 Booking Calendar
Booking Calendar is a free-to-use plugin with over 50,000+ installations. It is compatible with the latest WordPress and offers a great set of features for a free plugin.
It is also the first plugin for WordPress that got more than 1,000,000 downloads in the "Booking System" category. Feature-wise, it is rich.
Users can check availability, request services or make a booking in just a few steps. Also, it comes with all the features that businesses will ever need.
Features
Completely customize and easy to use.

The functionality is flexible and hence can be used by diverse businesses.

No need for 3rd party accounts to work. All the data is stored in DB.

Completely responsive.

Easy to install.

Admin panel is super-rich that offers great
Price: Free

Easy Reservations
Our next plugin, Easy Reservations is also a free-to-use plugin. It is created to handle bookings easily and ensure that you can handle events without any issues.
It also works perfectly for hotels or other hospitality-related tasks. The plugin is entirely responsive and supports 15 languages out of the box.
Features
Take complete control of the reservations. You can edit, add, reject, approve and trash reservations as you like.

Offers great flexibility and interactivity from the onset

Offers invoice generation

Property can also be managed from the backend

Offers flexible billing and statistics
Price: Free

Opal Hotel Room Booking
Opal Hotel Room Booking is a fairly new plugin. It is a user-friendly plugin that works well with WooCommerce.
So, if you are selling the property or renting it using WooCommerce, this plugin is for you. It is small, and you can install it in a matter of minutes.
It can be used for different businesses including five stars, Resort, Villas or any other hospitality-related activities. It is also created for ease of use. Admins also have full control over the plugin.
Features
Easy to install and setup

Offers room and booking management

You can do template overriding if needed

It is SEO optimized and completely responsive

Provides API so that developers can integrate it with 3rd party

Supports shortcodes, revolution sliders, and multi-language
Price: Free

WP Hotel Booking
Our last plugin is also a free plugin. It is a complete hotel booking plugin. It also comes with free add-ons that further improve its functionality. The plugin works well with its premium theme plugins.
However, that doesn't mean it won't work with other themes. It is also full of features that you won't expect from a free plugin.
Features
Offers bookings, customer, coupon and room management

It is a complete hotel booking system with free add-ons

Supports 4 payment gateways: Paypal, Authorize.net, Offline Payment and Stripe

Supports multilingual and reports.
Price: Free

Flutter Hotel Booking Apps
A complete hotel search system app that you can use to create your own hotel search and hotel discount offer system.
If you wish to cut out the process of creating an app, this is the system you need. Once you have this system, you can invest your money in promoting the booking app and make money.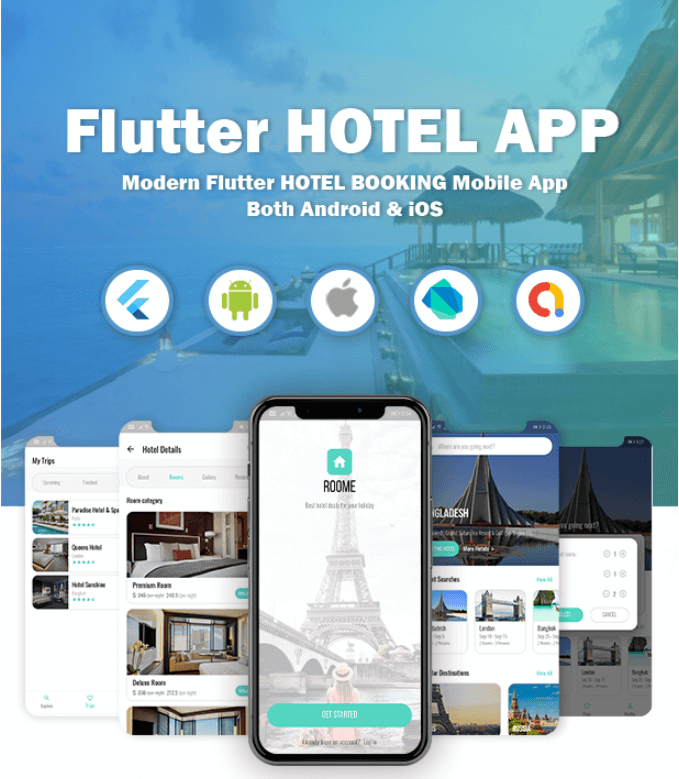 Conclusion
This leads us to the end of the ten best WordPress hotel booking system plugins. All the plugins that we shared have a unique aspect associated with it.
We covered both free and paid plugins. If you are not sure which one is good for you, we recommend using the free plugin before jumping into any of the premium plugins mentioned in the listicle.
So, which plugin did you like? Are you going for a free or paid plugin? Comment below and let us know.