Best automobile WordPress themes that you can use to create your automobile site.
There is a huge section of passionate people who like to get regular updates from the automobile industry, so why not create a blog and target that section.
When it comes to online business, finding a niche for yourself is a vital step. From travel to food, from technology to healthcare, there are numerous niches that are used by entrepreneurs who are driven by the passion for that specific niche and if you are driven by the passion for automobiles, you've come to the right place.
The automobile is a highly result-oriented niche owing to its reach across various countries and having a powerful WordPress theme for your Automobile website is highly important.
There are many automobile site WordPress themes that can be used for building a website that attracts traffic and provides your audience with the information that they're looking for. Choosing the right one is the key!
This is a collection of some of the best WordPress themes made exclusively for automobile sites. Choose the correct pick that'll satisfy your needs and kickstart your online business.
Car WordPress Theme FAQs
---
How to Select a Quality Theme for My Automobile Site?
When it comes to a car-related website, you need some custom features. If it is a simple car blog then you can use any theme. However, if you wish to create a car directory site or a site where you list an old car for sale, you need to have those features in the theme.
Can I Create a Car Related Site Using Website Builder Like Elementor?
Yes, you can create any kind of website using the Elementor website builder. We have used Elementor Pro for this site (BeginDot). You can completely customize the design of your site using the popular drag and drop website builder.
Do I need Specific Plugins for an Automobile Site?
It depends on what kind of site you wish to create and what all features your theme provides.
Where Can I Buy a Quality Car Theme?
You can check the collection of car themes below. If you don't find one that fits your needs, you can search for more on a theme marketplace like ThemeForest.
Divi Theme
Divi is one of the most popular multipurpose WordPress themes that you can use to create any kind of website you wish to create.
Divi comes with great flexibility and all the modern features that will help you to create the perfect design for your site that you are looking at.
The core power of the theme is in the Divi Builder which is one of the most popular drag-and-drop website builders for WordPress.
The builder comes with a huge list of modules that you can use to create your pages. You can create a complete custom design for your site without writing a single line of code.
In fact, the Divi Community is already sharing a lot of information about how to customize and get things with this amazing theme, they are also sharing custom templates that you can use on your site.
The theme readily offers you a number of great-looking design options that you can choose and customize according to your needs.
You also have a number of different header design options to choose from. If you wish to have a vertical header on your site, you have that option with Divi.
As Divi is the flagship product of the ElegantThemes store, the product is constantly getting new features added, so you can expect the best with this theme.
You will be able to create great-looking rich design pages with the Divi Theme. Another best part of this deal is that you get access to other 87 themes and some very useful plugins like the Bloom plugin when you go for the Divi Theme.
Also, you will get an extra 20% off if you are using our ElegantThemes discount deal.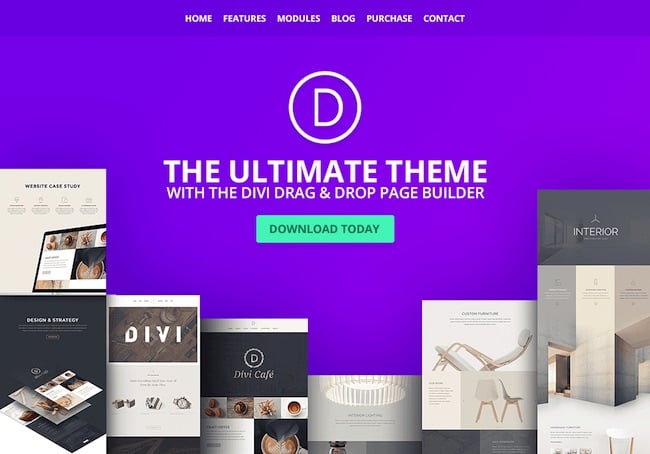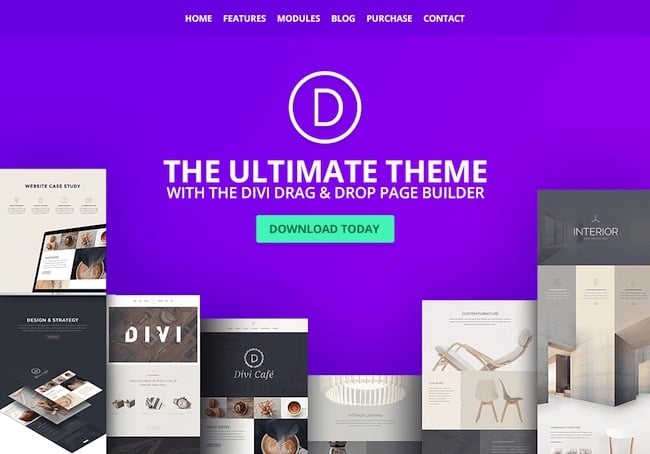 Astra Theme
Astra has a few readymade templates ideal for an automotive website. From car detailing to auto showrooms, there's a template that should suit any type of business.
Astra has been designed to deliver beautiful pages fast. It scores well on GTMetrix, is impressively easy to use and includes all the tools you need to make your site unique.
It is compatible with leading page builders, WooCommerce, SureCart and most WordPress plugins.
You can change everything you see on the page from the header all the way to the footer using built-in tools. Customization is about as easy as it gets for a theme!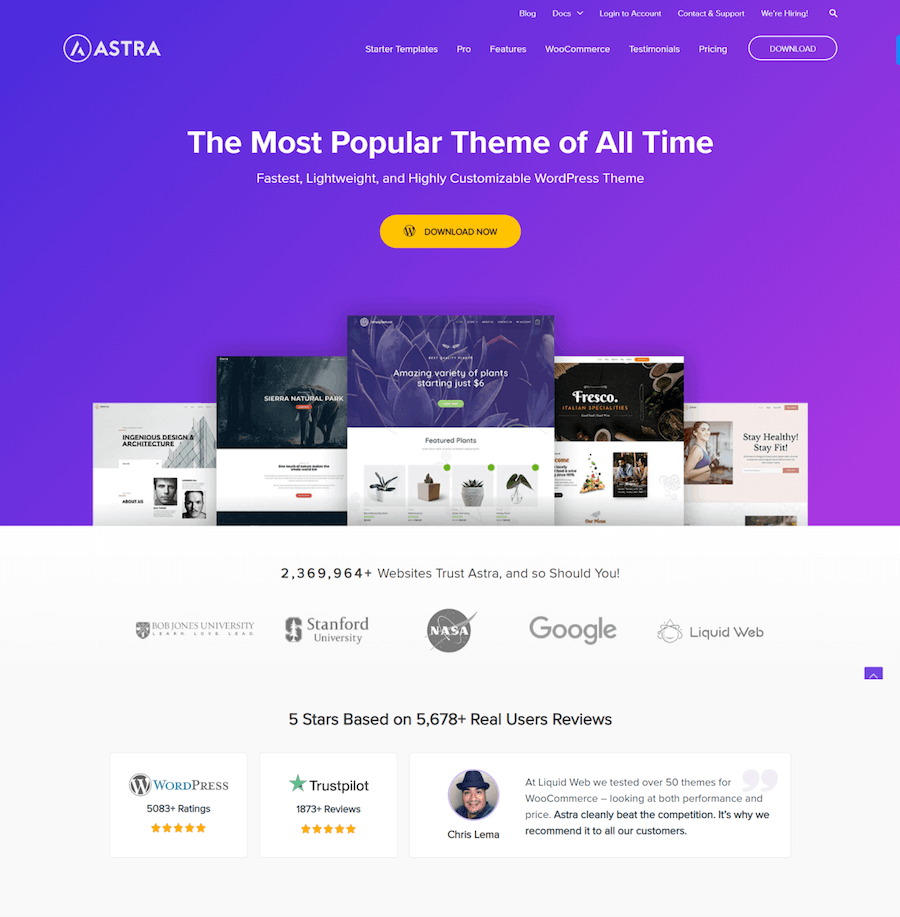 Carspot
It's a powerful WordPress theme designed exclusively for car dealers. This responsive automotive theme helps you create a responsive website no matter whether you own a small car dealing shop or a large car dealer business.
Some of the attractive attributes include comparison, search filter, modern gallery, review system, default layout, Bump up Ads, and many more in the list. It comes with some exceptional features that are just perfect for your website.
The theme is available with multi-color options and customizable widgets that'll do well for your business requirements.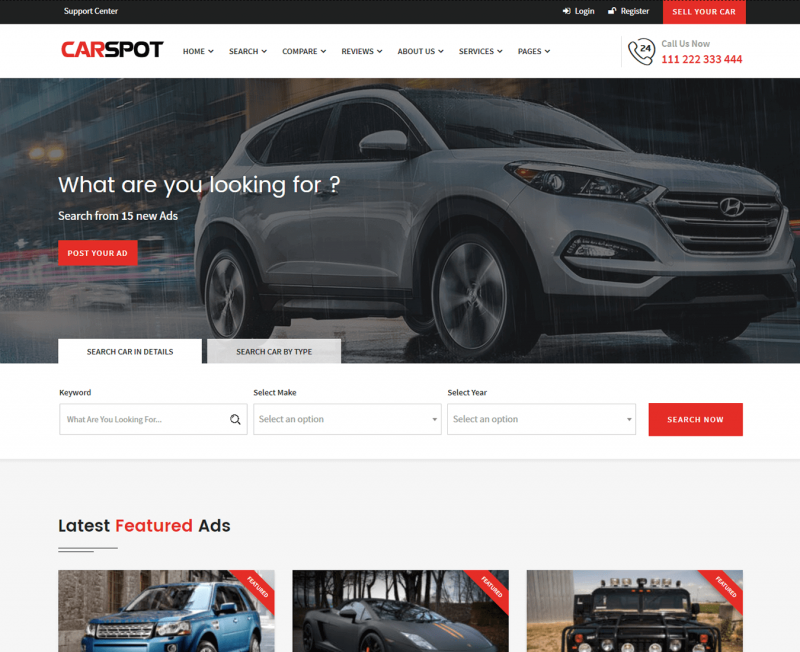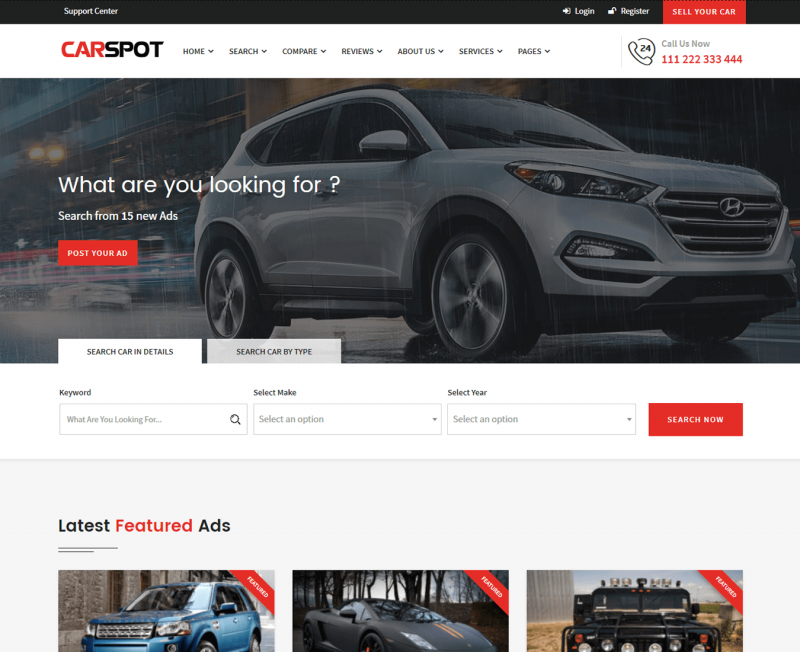 Autozone
It's a one-page WordPress theme built with modern designs. It suits the needs of a car dealership, auto dealers, automotive websites, or any other related business. The key features of the theme include visual composer, revolution slider, and yellow pencil for editing.
The RTL-supported theme is easier to customize. Autozone is quite creative and it's suitable for automobile dealership websites. It's a versatile theme that comes with unlimited color schemes.
The theme is pretty easy to install and provides many astounding attributes. Every content is SEO optimized and quick support is provided 24/7.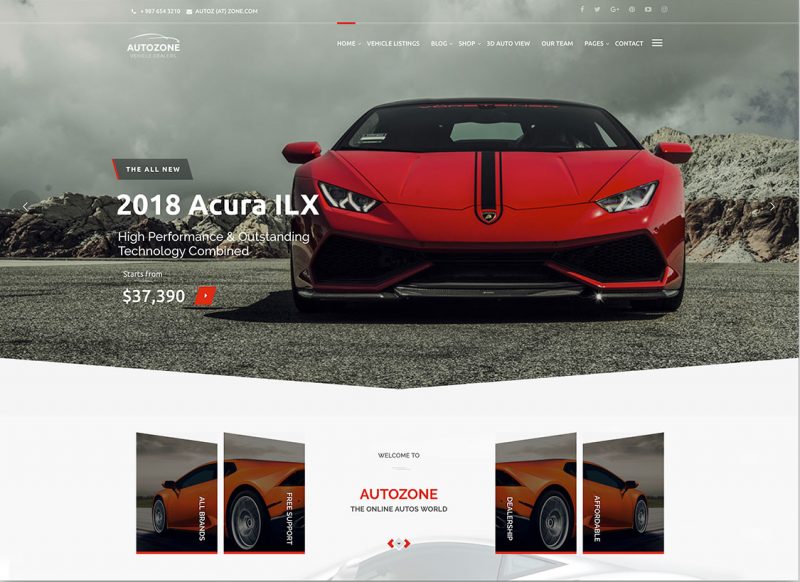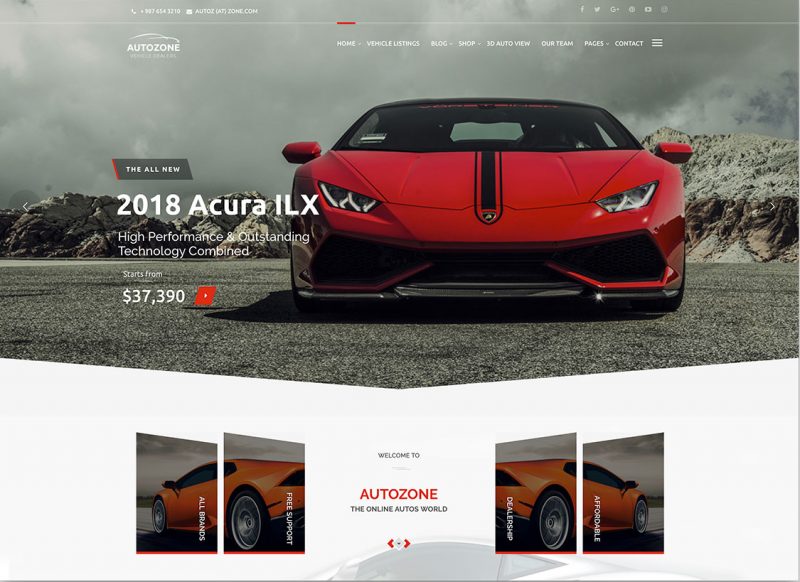 Exper Auto
This good-looking theme is fully responsive and is a perfect fit for your car service website. You can avail of a different layout with multiple pages that'll make your website look unique from others. The theme offers endless website customization facilities with various widgets.
These widgets help the customers to easily pick out the product they are looking for. You can even set up a blog about your company news and updates through the theme. By installing the theme, you get access to tons of quality images and services.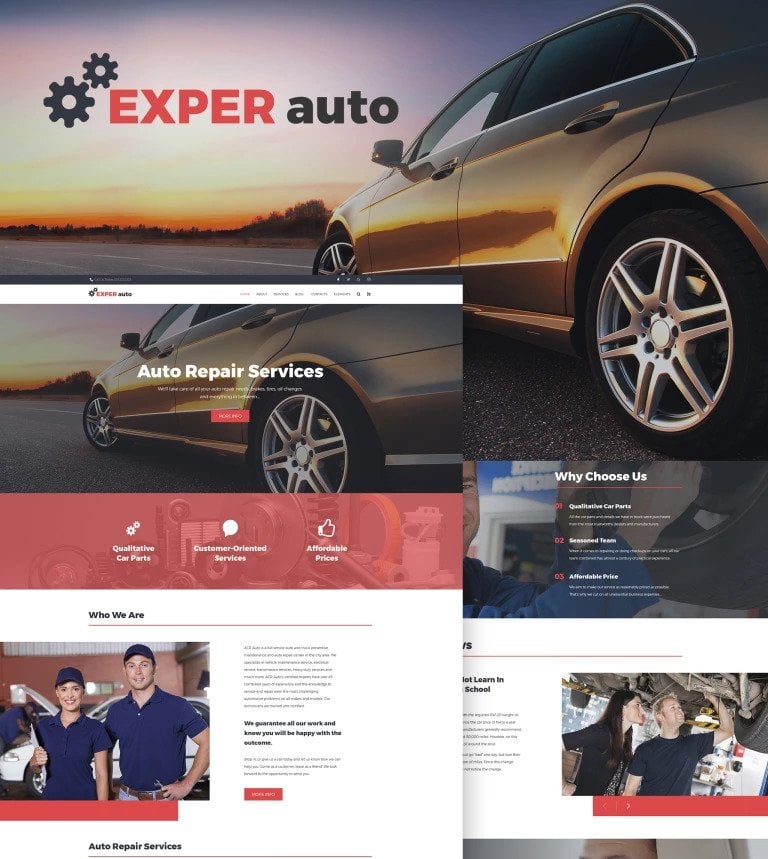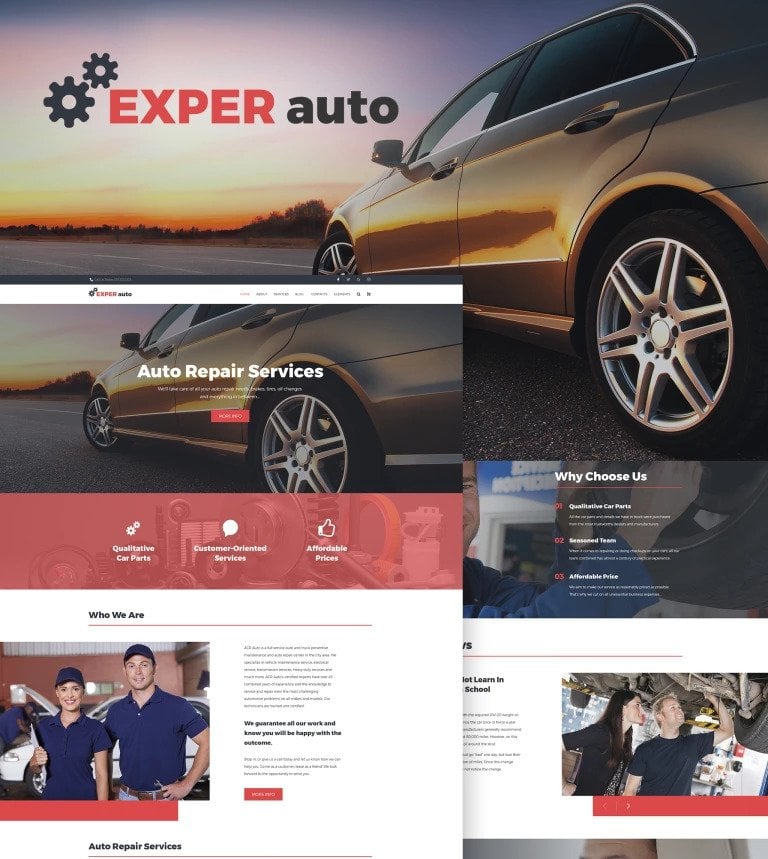 CityMotors
It's a very responsive SEO-friendly WordPress theme created by Towing company. The theme provides the necessary spaces to provide detailed information about the services you provide.
Testimonials, appointment booking facilities, etc are incorporated into the theme to make the site reliable.
The theme is very easy to use with a big variety of header and footer styles to highlight your services. There's 24/7 support provided for your theme for proper run and management of the website.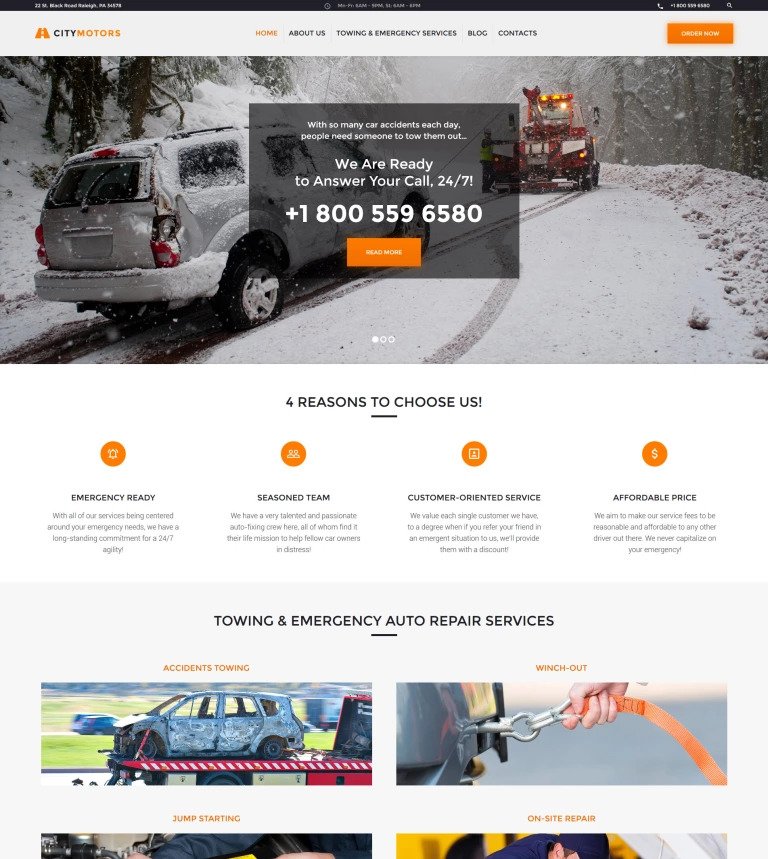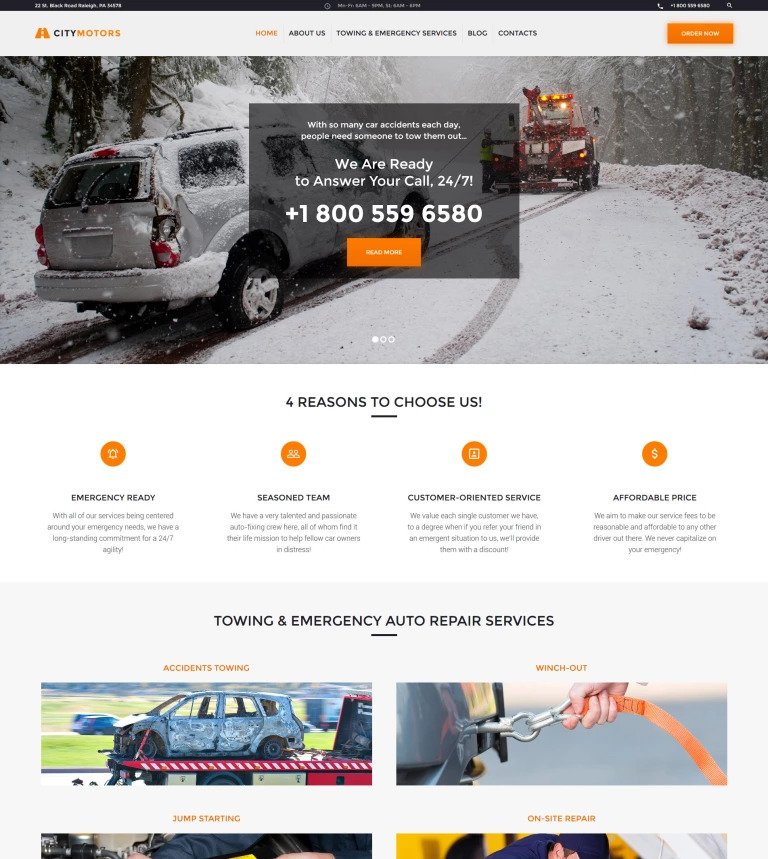 Transitec
The theme comes in blue and white color schemes and provides unlimited opportunities to showcase your brand. The creative loading widget will make your website unique from other websites.
A search bar is built into the theme of giving the viewers an opportunity to get the necessary information about your website. A responsive testimonial with honest reviews from the clients will help the viewers a great deal.
The theme is very easy to install and sufficient documentation details need to be provided while setting up the theme.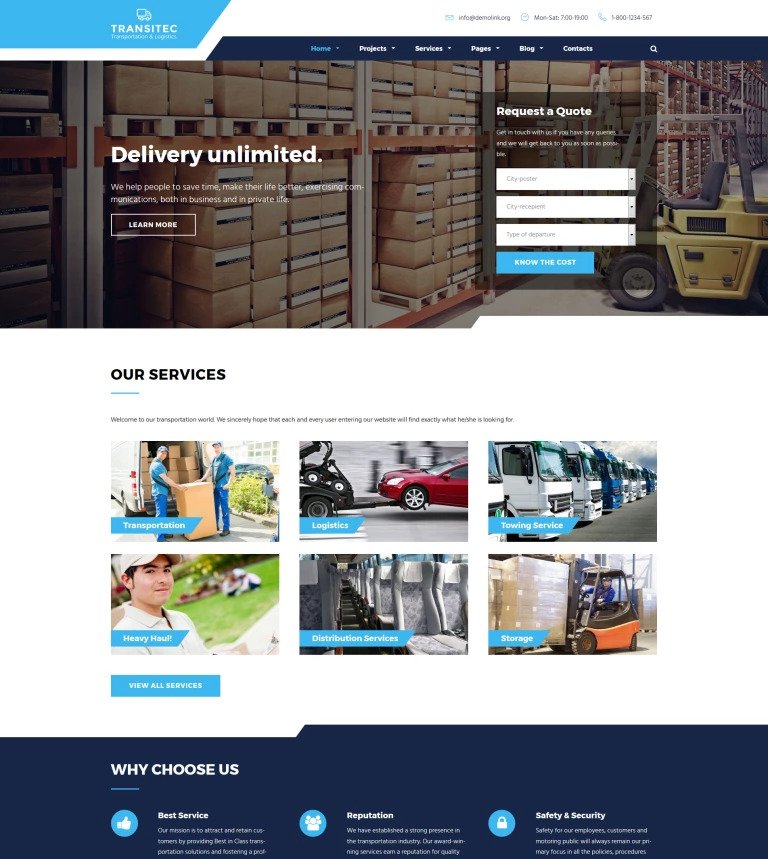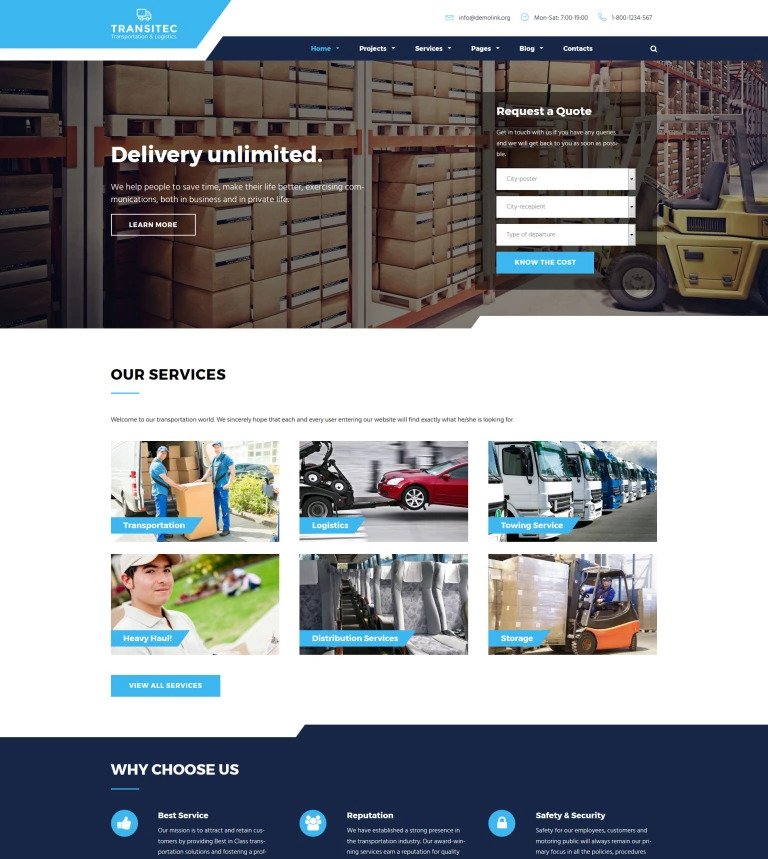 AutoClean
The theme provides impeccable functionality and responsive outputs. It's created exclusively for car maintenance, auto cleaning, and car repair services.
The neat design will give a splendid look and capture the attention of visitors landing on the website. There are many tools that'll help the viewers to know more about the services.
The website slider displays top offers and special discounts in an impressive way which will surely drive traffic to the website. You can provide all the types of services on the service page to give a clear image of the website to clients.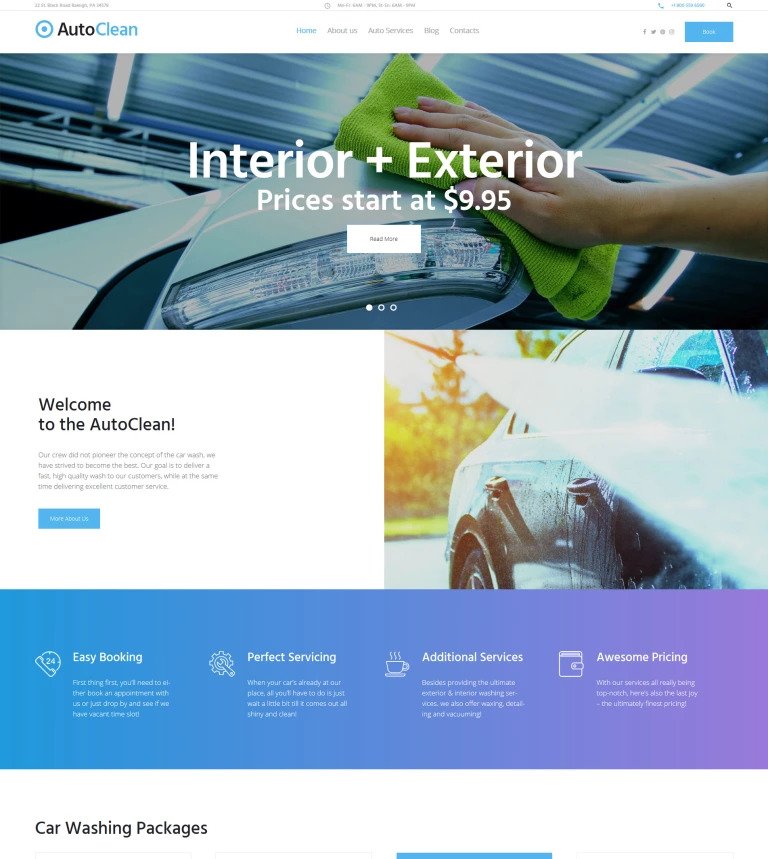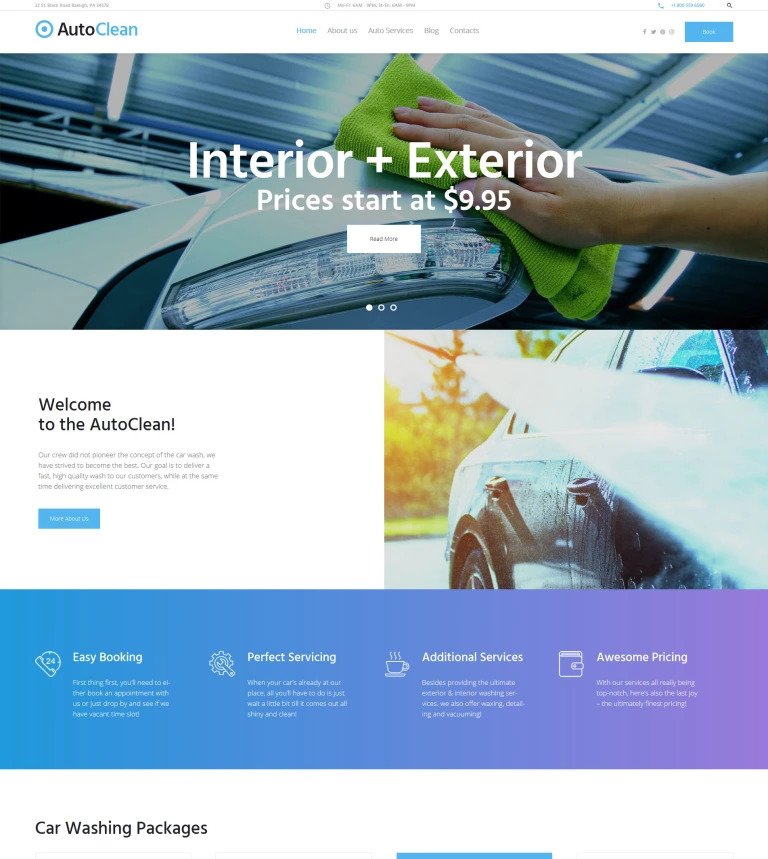 BookaRide
This one is a premium product crafted with care and attention to serving the needs of the limo services website. The users can find the desired page with a live search option.
The future clients can stay updated by the newsletter subscription form enabled. Related post widget provides features for promoting your blog and services.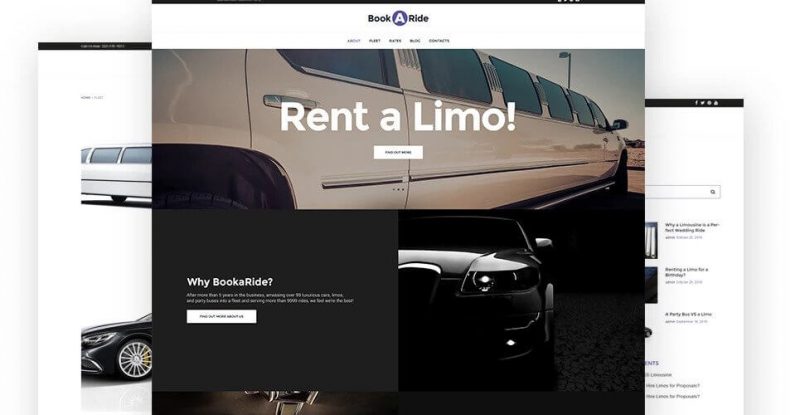 Bennet
It's a fully responsive mechanic WordPress theme crafted for car repair service websites. It's made out of the cherry framework. With the theme, you can customize your automotive site according to your interests and tastes.
Multiple blog layouts help to update the news and service related to your business. The appointment booking form helps in coordinating all the meetings with the clients.
Cool garage designs with elegant backgrounds can impress your clients. The 24/7 support system clears all doubts and queries.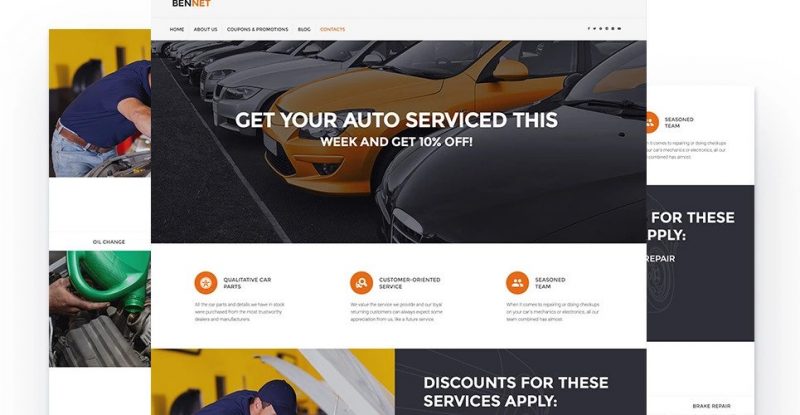 Motors
Motors help you create a feature-packed website for any automobile business. There are 8 premade demos to satisfy business needs.
These are Car Dealership Demo, Directory & Listings Demo, Car Repair/Mechanics Service Demo, Car Rental, Boat Dealership Demo, Car Magazine & Motorcycle Dealership Demo.
The intuitive website design allows you to update and manage your classified listings. You can import an inventory database into the WordPress theme very easily.
Make your website stand out from others using this flexible and smart theme that comes with various options. Multiple filters and comparison tools boost your user experience.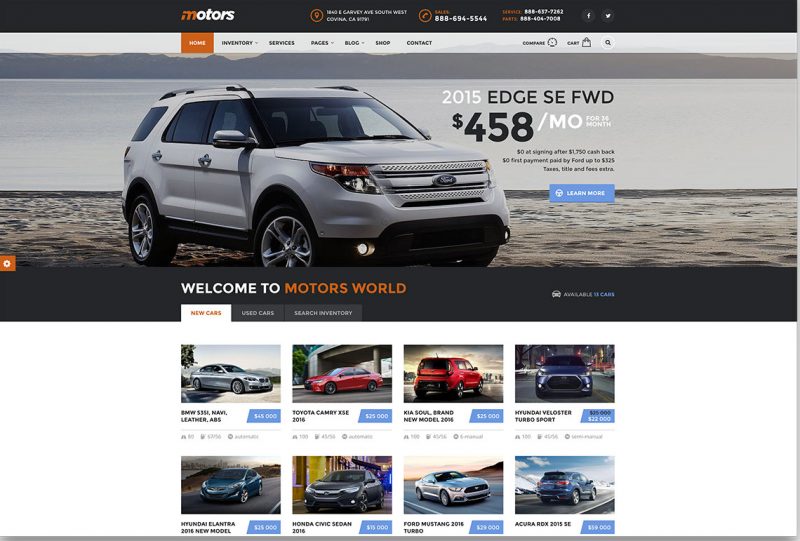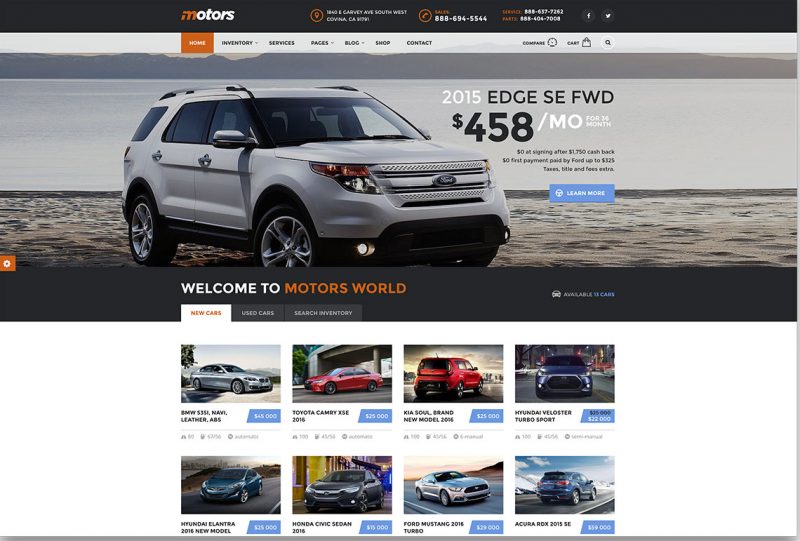 Automotive
The theme has been built on an impeccable design for automotive car websites. The flexible admin dashboard makes it suitable for motorcycles, trucks, vans, boat and other related classifieds.
The ad submission options can be disabled so that front-end listing submission can be made not possible. The responsive theme makes sure that it looks good irrespective of what screen size the visitors use for viewing the website.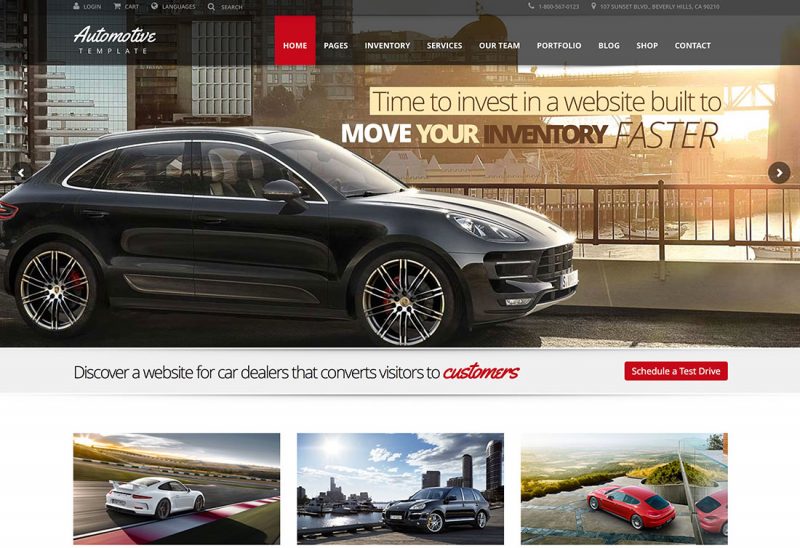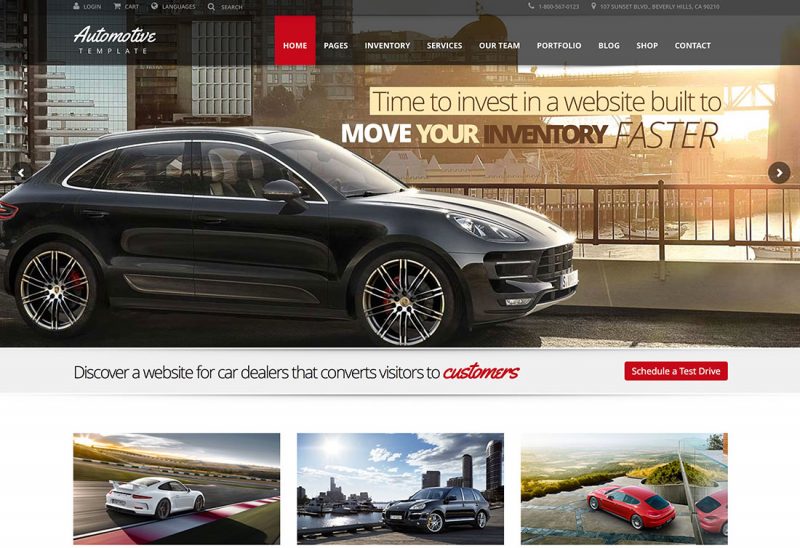 Car Dealer
This theme was created for car dealership companies who want to sell, buy or lease their vehicles. Many stunning features have been incorporated that will satisfy the need of the website.
The website theme is quite flexible and can be used by huge vehicle dealership companies as well as by individuals who want to sell their cars.
It offers an option to brand the images of your vehicle by using the theme logo. The theme features are very user-friendly in nature and it's compatible with any device.
The theme components can be easily modified and the color schemes can be changed with only a few mouse clicks.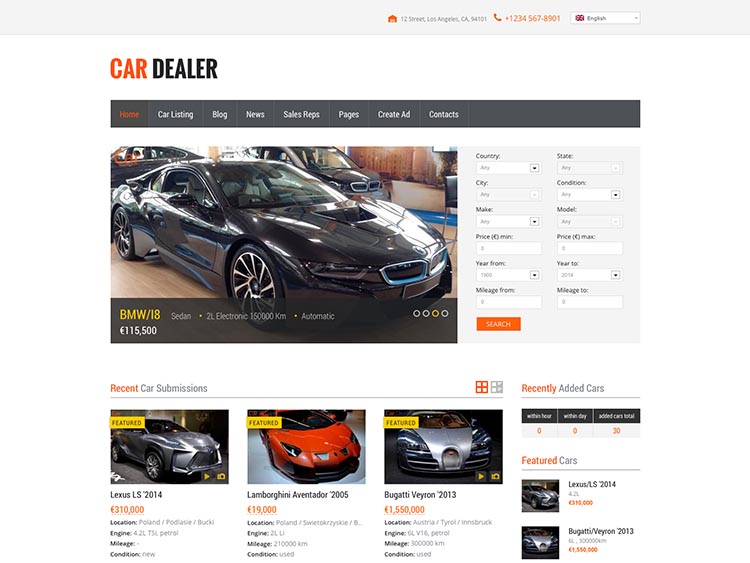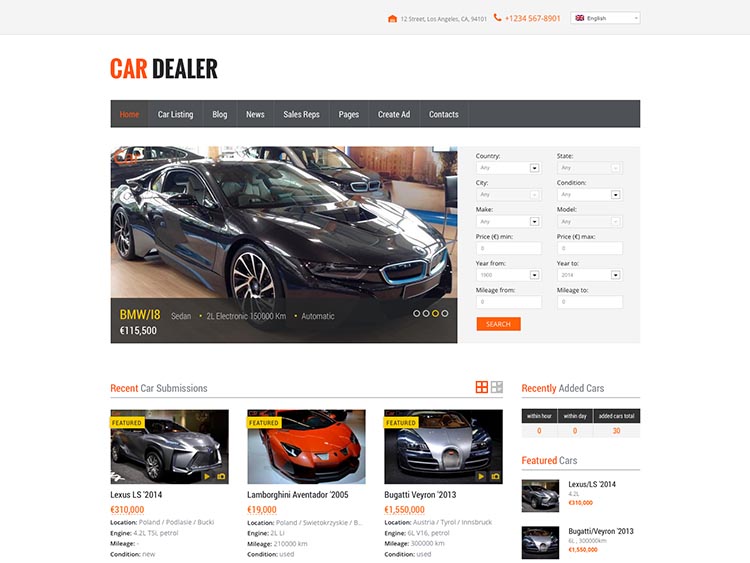 Carutos
Carutos is a WordPress theme designed for car dealerships. It is packed with features that will help you showcase your inventory and sell more cars.
The theme includes a powerful search engine that lets visitors search for the exact vehicle they are looking for. You can also add additional fields to the search engine, such as body type and engine type, to make it even more powerful.
Carutos also includes a built-in inventory management system. This system lets you keep track of your vehicles and their prices, so you can always offer the best deals to your customers.
The theme is fully responsive, so it will look great on any device. It is also retina-ready, so it will look sharp on high-resolution screens.
Carutos is easy to use and comes with detailed documentation. If you need any help, our friendly support team is always happy to assist you.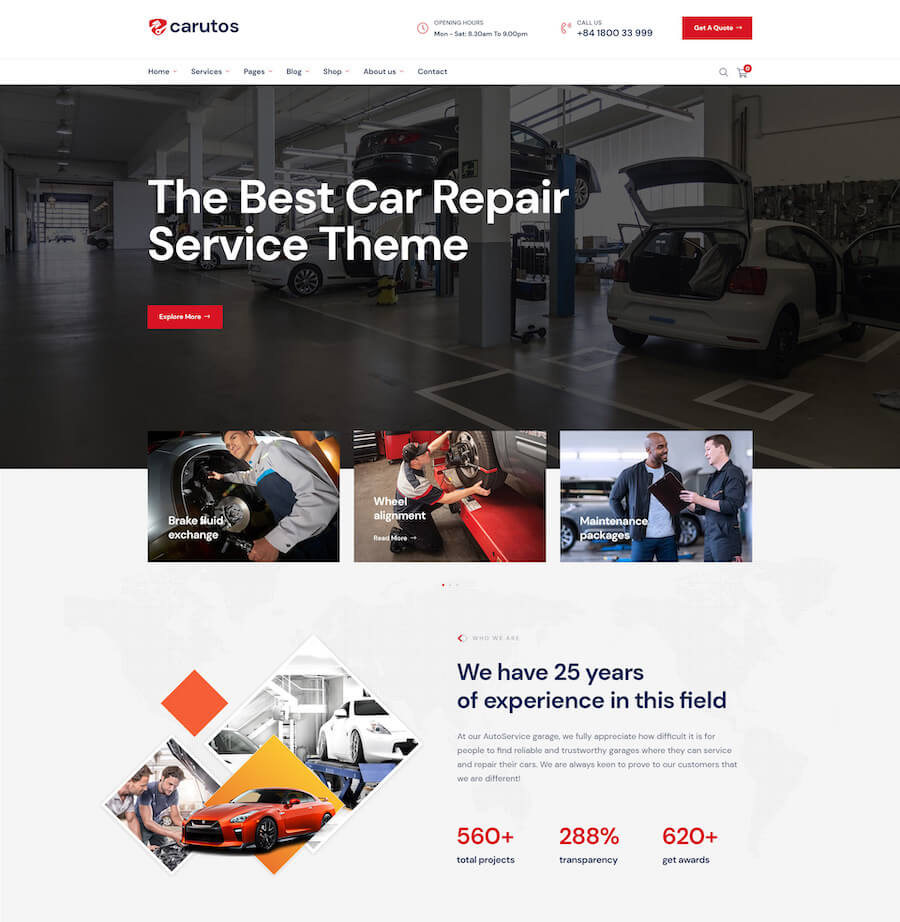 Harrier
Harrier is a custom-created Car Dealership site theme that you can use to create your automobile-related site. It is a fully responsive theme that will make your site look great on all devices.
The theme works perfectly with the WPBakery website builder to make sure that you are able to customize the design of your site as per your need.
It is compatible with the WooCommerce plugin so that you can sell your services with ease.
The overall design of the theme is created to be perfect for a car-related site. You get a number of design options and advanced search features so that users can easily make a search on your site.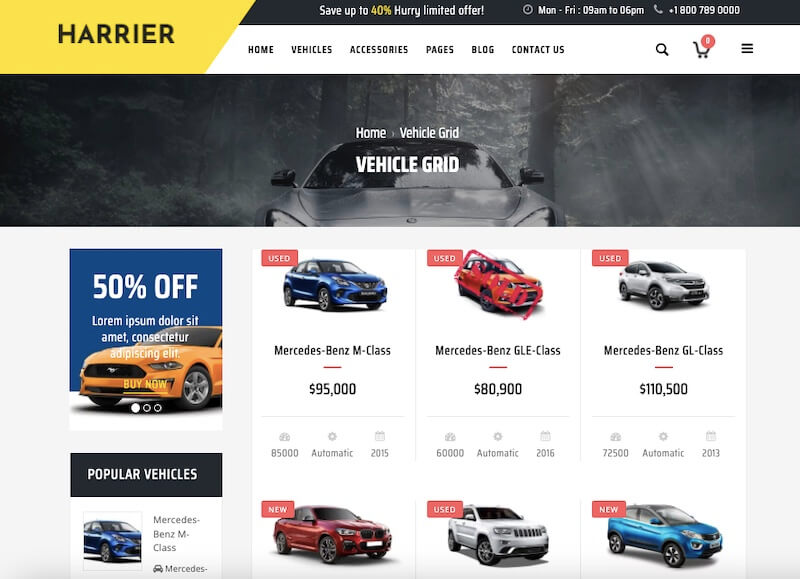 CaLeader
If you're looking for an automotive WordPress theme, the CaLeader is a great option. This theme is designed specifically for car dealerships, and it includes all the features and functionality you need to run a successful website.
The CaLeader WordPress theme includes a responsive design, meaning it will look great on all devices, including smartphones and tablets. It also includes a powerful search engine optimization system, making it easy for potential customers to find your website.
This theme also includes a built-in lead capture form, so you can easily collect leads and contact information from potential customers.
The theme is perfectly compatible with the Elementor website builder, so you can create a completely custom design for your site without any coding.
If you with to create a car or car part buying and selling website, the theme works with the WooCommerce plugin.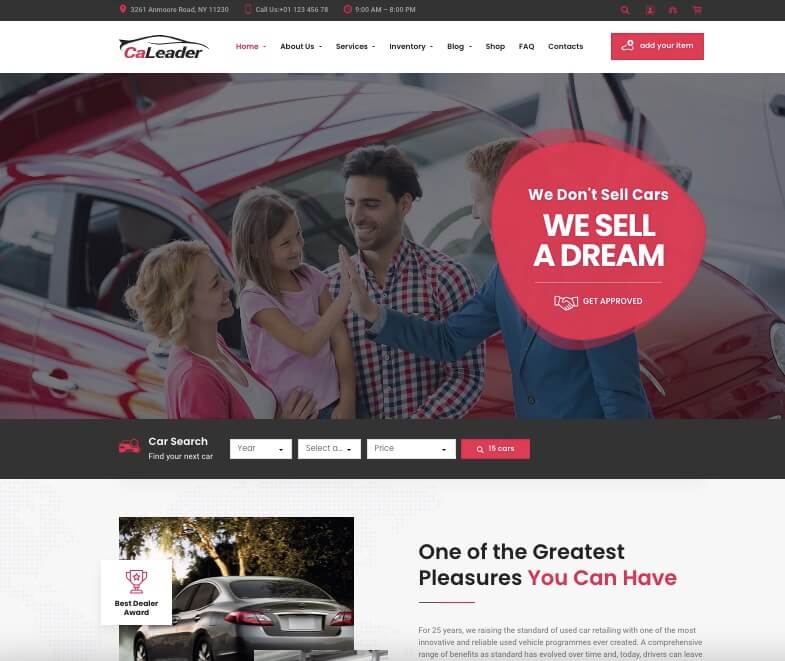 Auto Stars
Autostars is just perfect for car dealership businesses, auto listing websites, and any kind of listing website like real estate, courses, etc. Additionally, the listing form provides options on how to sell your products. You can manage the saved listings and searches using a personalized dashboard.
Many versatile tools make it easier to view saved listings and compare them effortlessly. The theme boasts of an exclusive page for the dealers to showcase their social profiles and other information to attract potential customers.
The search engine helps to search for dealers near you and contact them directly.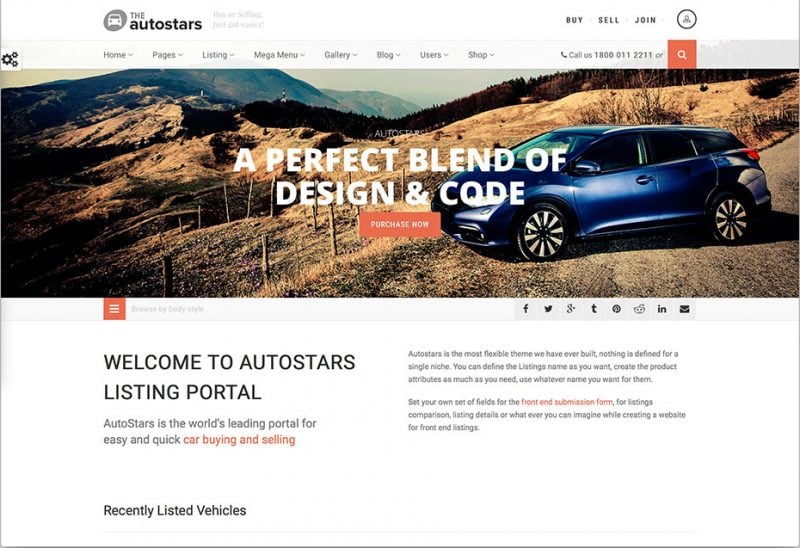 Car Zone
It's a strong and responsive theme that comes with much-advanced features that work exceptionally well for car repair service centers. The theme has all the right elements needed for a powerful automobile service-related theme.
The theme offers more than 500 Google fonts and you can edit the elements in unlimited combinations of colors. You can change the background image at any time of the day. You can easily change the texts in the theme options panel and can customize the widgets.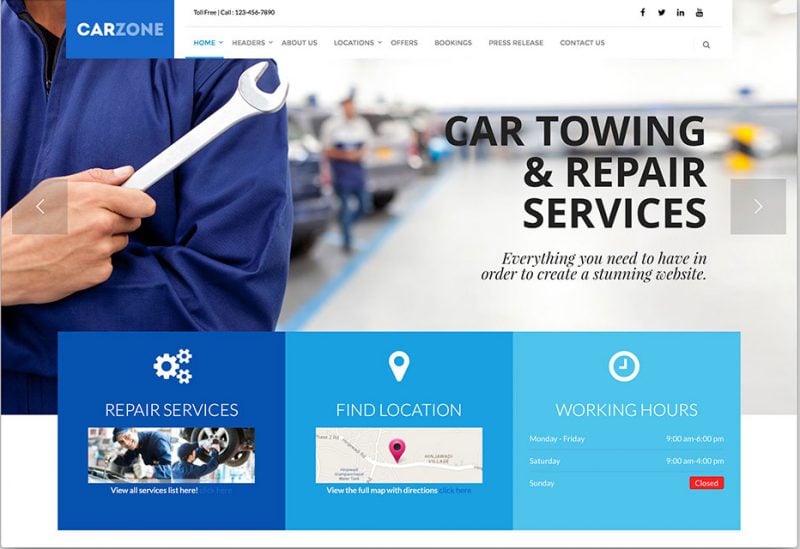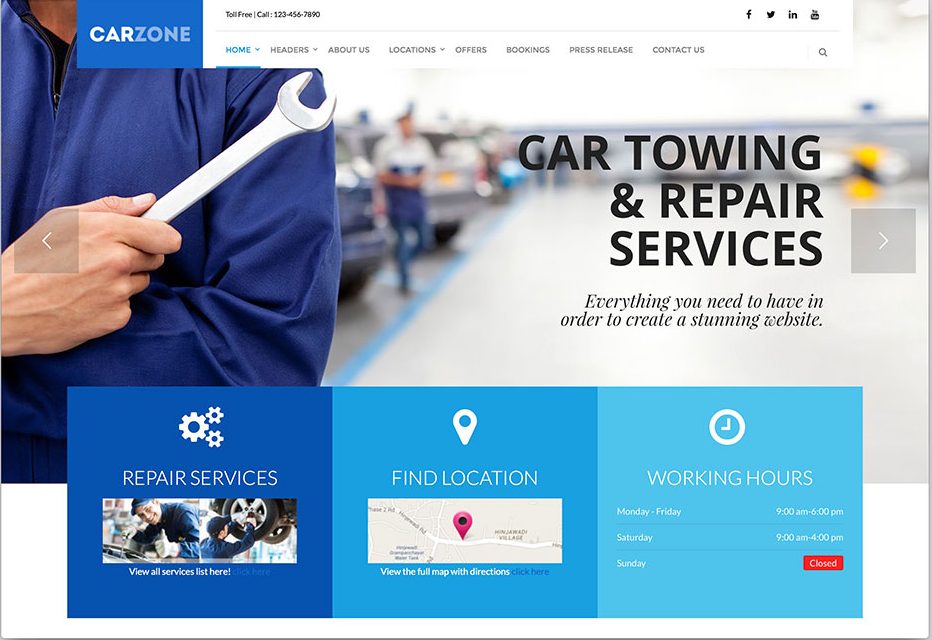 AnyCar
It's a custom-made WordPress theme with a multipurpose layout. The theme is made dedicatedly to meet the requirements of automotive, car, business, or repair service websites.
With a one-click installation, you can avail a variety of design styles that'll assure the highest quality through the theme.
The theme also boasts more than 8 homepage options, and many splendid gallery styles and blog pages. The theme simply fits into any type of online webpage.
If you are a beginner, the import button does all the work for you. The theme is a visual treat and works great on any device, from mobile to desktop.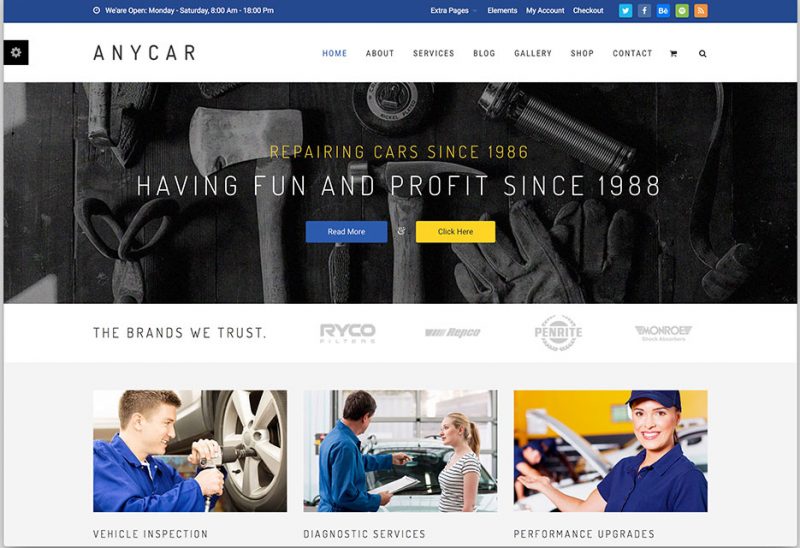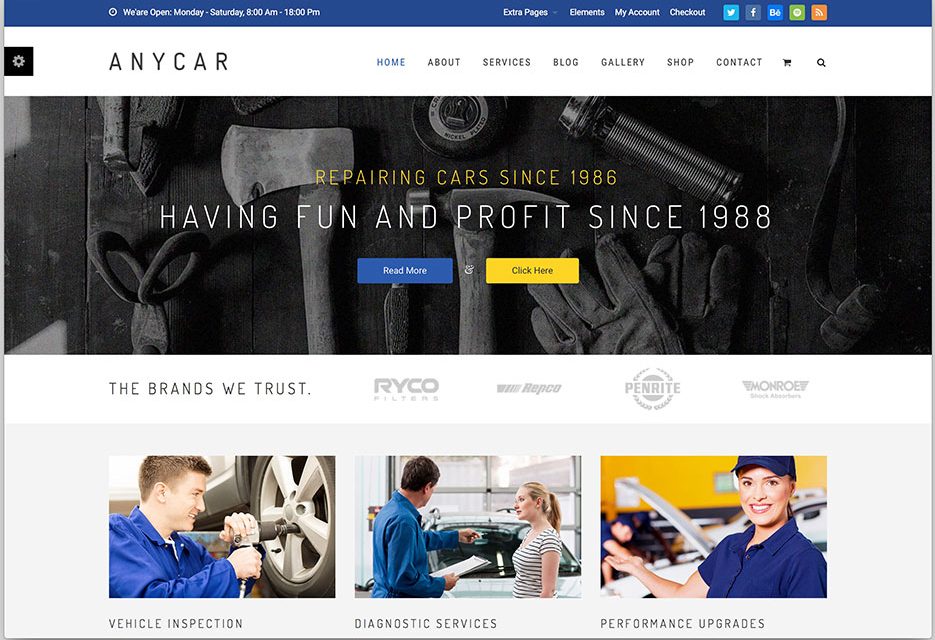 AutosMart
The theme helps you create a feature-packed website suitable for automotive and boat selling the business. It's quite responsive and gives an incredible user experience on all devices.
There are 2 layouts to choose from, boxed or full width.
The theme is built on Twitter Bootstrap and you can support a range of shortcodes. All the designs can be customized.
The portfolio layouts and blog layouts are unlimited. Video tutorials and detailed documentation are included for a perfect user experience.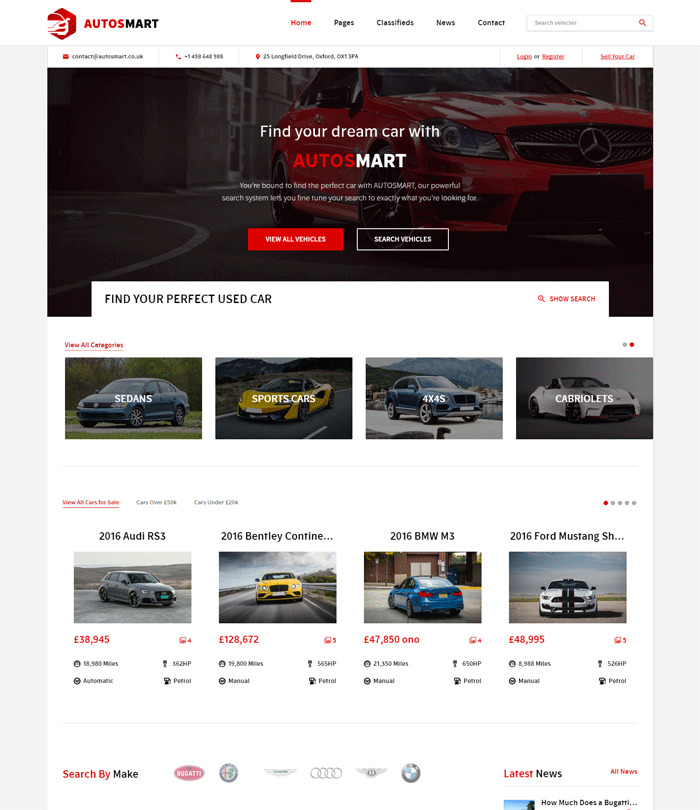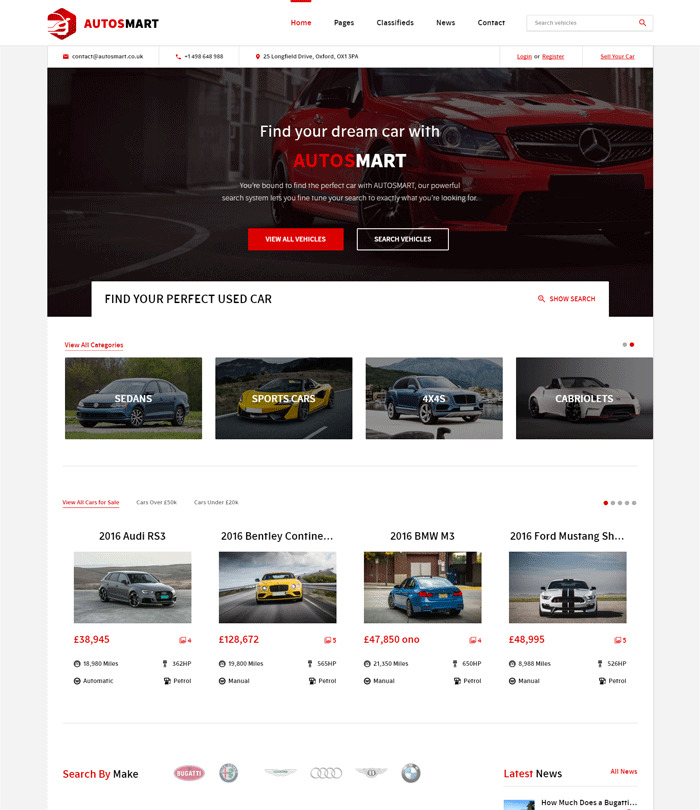 AutoTrader
It's a stunning and responsive automobile WordPress theme that is perfect for an online vehicle marketplace or an automobile blog or magazine. The highlight colors can be easily modified with a single click. The theme is optimized for an incredible user experience.
Responsive web design is incorporated into the website which aims at creating sites that provide an optimal experience with the least effort. The theme comes with a lot of features and module that works exceptionally well for the website.
All the themes are customized and very flexible to use. You can easily modify the colors, background, and other features directly from the WordPress admin page.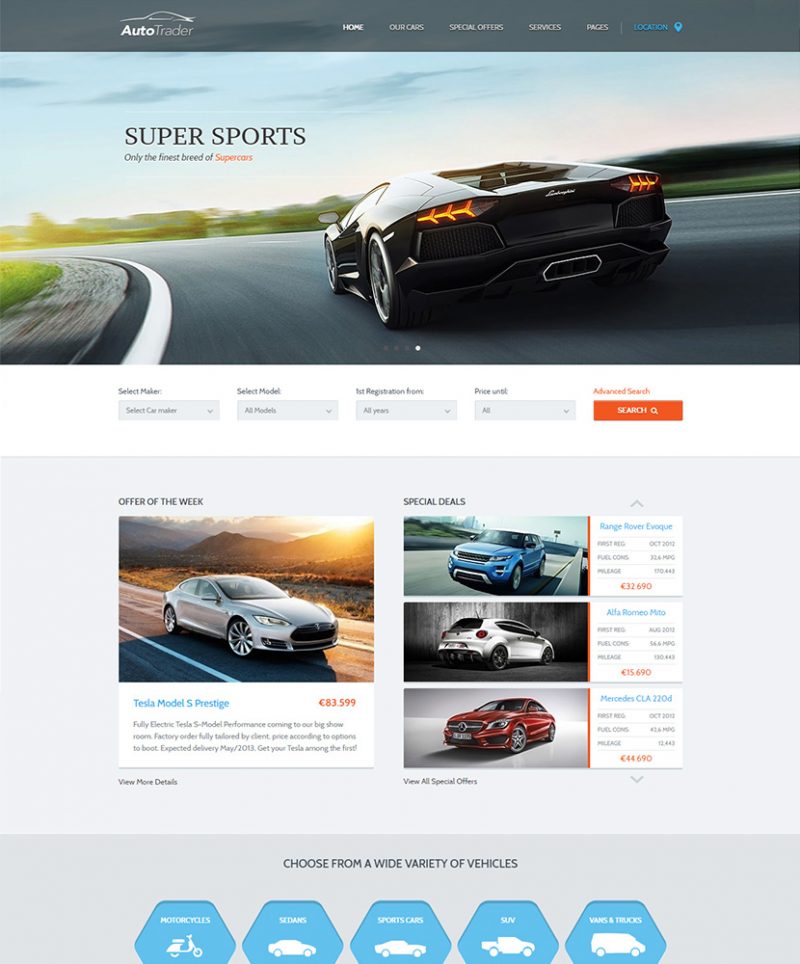 Auto Showroom
It's a clean theme created in modern design which is suitable for car dealers, auto dealers. The theme is indeed a stunning beauty with a clean look and proper execution. You can easily customize each and every page easily.
You can either use google fonts or standard fonts, the font options are available in the theme options panel. You can set size preferences for fonts, and can choose different color schemes for fonts. Parallax background can be set with a custom background image.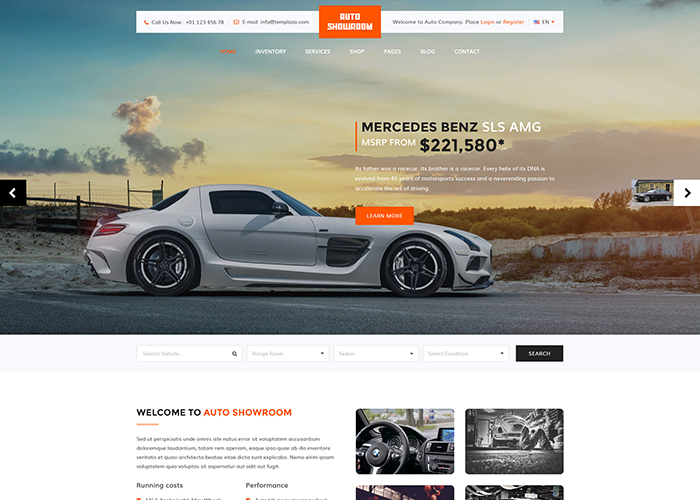 Car Service
Car Service is a retina-ready automobile theme that's perfect for auto mechanics or car repair workshops. It's also suitable for small businesses like car rental, repair services, etc. Each and every page featured in the theme is fully responsive and adapts perfectly to any device.
All the sliders can be easily customized and the site looks crisp on every platform. You can change the whole color setting with just a single click of a mouse. You can import the demo pages and other widgets by pressing the appropriate buttons.
With 'Theme options panel', you can import themes, customize the logos and attract traffic.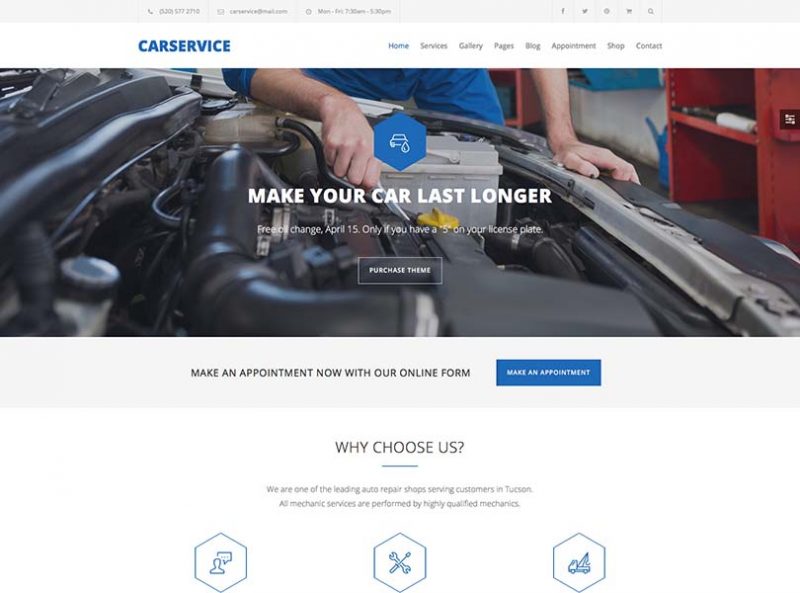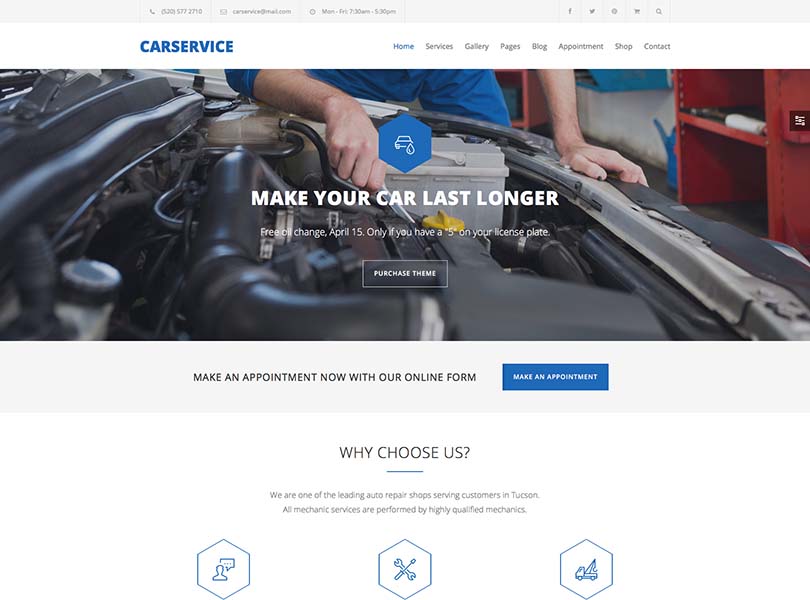 Drift
Yet another WordPress theme created for car service websites, this exquisite theme will help you to highlight all your automobile services in an appealing way. The theme boasts multiple blog layouts and stunning header and footer styles.
The theme makes the website more user-friendly with trustable features and widgets. Cool backgrounds are incorporated into the design which will captivate the audience for sure.
Drag and drop interface is quite easy to use and it is composed of multiple layouts. Impressive contact forms help the clients to reach out to you.
The social options make the services spread to a great extent. A new version of the GPL license is added which makes it all the more desirable.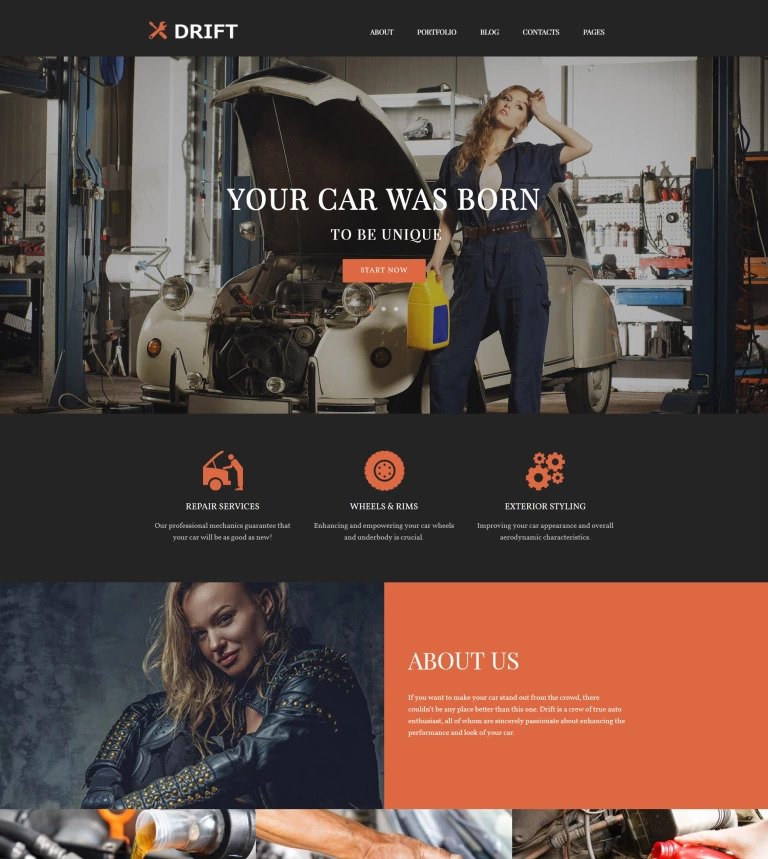 Use these reliable themes and increase the traffic and authenticity of your website. The distinct variety of features provided in the themes will definitely make your website stand out amongst the crowd.