Are you new to the WordPress platform? Well, this article will make things easier for you; a step-by-step guide to creating a website with WordPress here. This article will help you to get started on your site quickly.
And there are thousands of themes available that you can use to create your site, which will save hundreds of dollars that you have to otherwise to your developer.
However, not all the themes are great, and searching for the perfect one for your website can be tedious as well as frustrating.
For that reason, we have taken the liberty to create a list that encompasses some of the best Directory themes for WordPress websites.
Not only will these themes offer the necessary aesthetic and design layouts, but it also delivers all the necessary features and functions that you will need for the success of your website.
So without further ado, here is our list of the Best Directory WordPress Themes
---
Also, don't miss these articles
DirectoryEngine
DirectoryEngine is easy to use, and a super user-friendly directory theme for WordPress. There is even an integrated quick start walkthrough guide to help users get started with the theme.
In a matter of minutes, you will get a complete overview of all features offered and how to use them to their maximum potential. This makes the theme ideal for anybody starting out with WordPress for the first time.
For site building purposes, the theme offers modular content blocks with drag and drop support. Then there are plenty of customization options to tweak the theme to your envisioned perfection.
Next up, to help increase traffic so that more people can see your wonderfully designed website, the theme offers complete built-in Schema support.
Other than this, there are options to create engaging event listings, a nearby smart place suggestion system, multiple payment gateways, option to allow users to save their favorites, write comments and give ratings, and so on.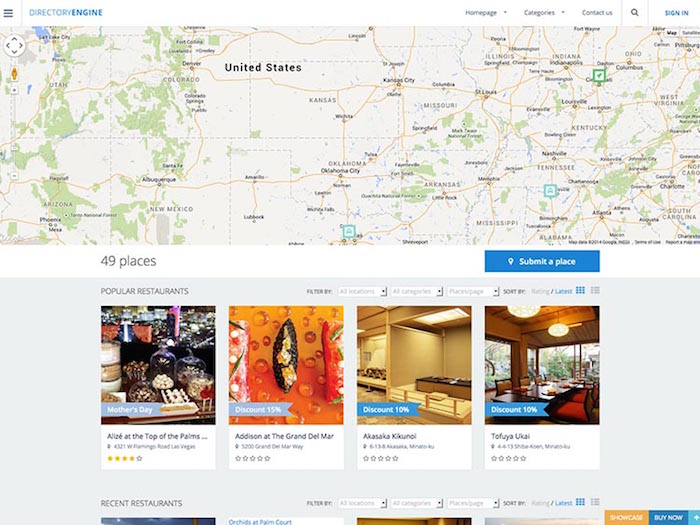 Service Finder
Service Finder is a top quality premium business listing WordPress theme. This theme will completely automate your business.
The service providers can create their accounts and list their business and the general users can quickly book services easily.
The users will be able to make their payments as the theme offers you the option to have Stripe and Paypal payment system integrated.
Another useful feature offered by the theme is the option to ask questions to the providers directly, the users can log in to their account to visit any service provider and ask them any question. So, you are creating a complete platform that will streamline the whole process.
Like many other prominent sites in the world, this theme also offers you the option to allow your users to add money to their wallet and use it later when they need it.
Ther are so many other great directory features such as an easy option to add date and time for services availability, option to see the total earning, amazing search option, Google map integration and a lot more.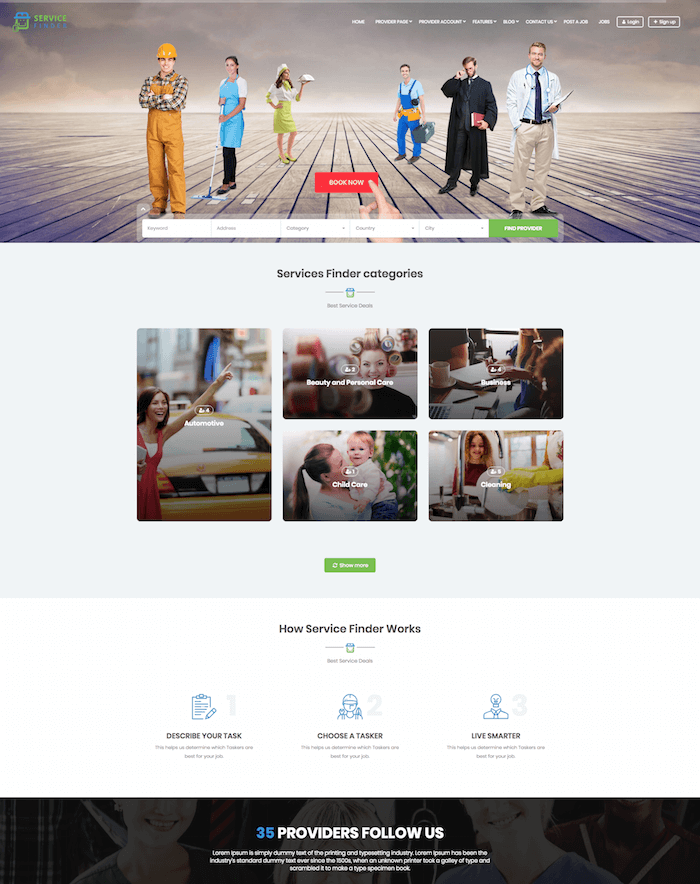 SpotFinder
SpotFinder is a beautiful looking, minimal and professional directory WordPress theme. This theme offers you all the options that you expect in your directory site.
If you ever wanted to create your own AirBnB type of site, here is the design you need. This theme gives you the option to showcase your listing in the most elegant way.
You get the parent Directory Theme for free when you buy this theme. It offers you an amazing custom design for your homepage as well as internal pages so that your site looks great.
You have different view options for the listing page, for example, have a look at the following options.
Here is a listing page with the beautiful grid view option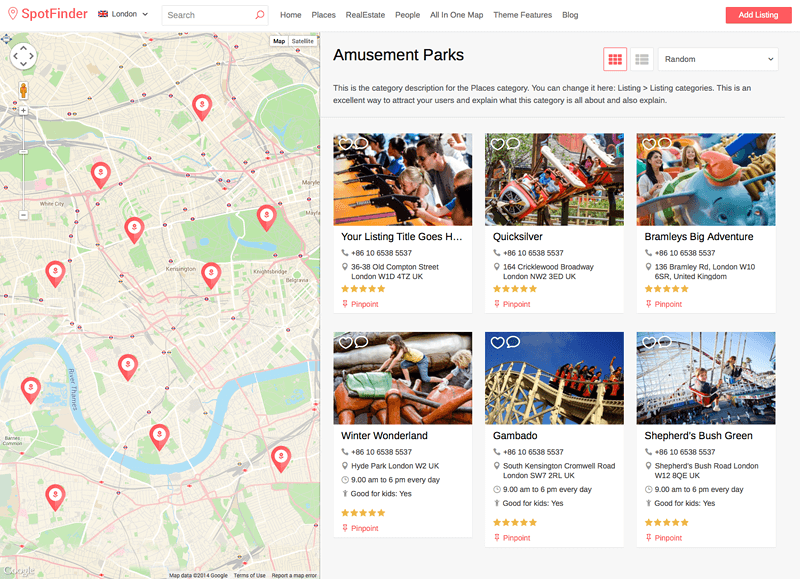 And here is another listing page with the list view option.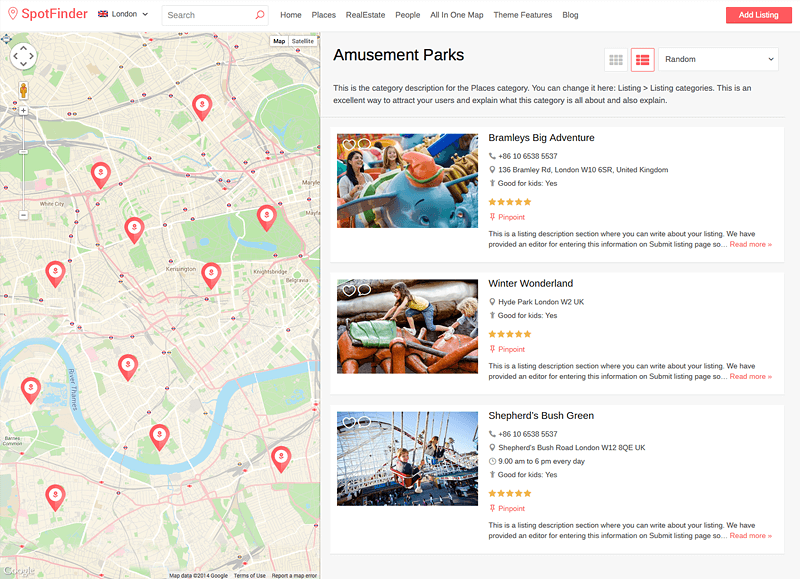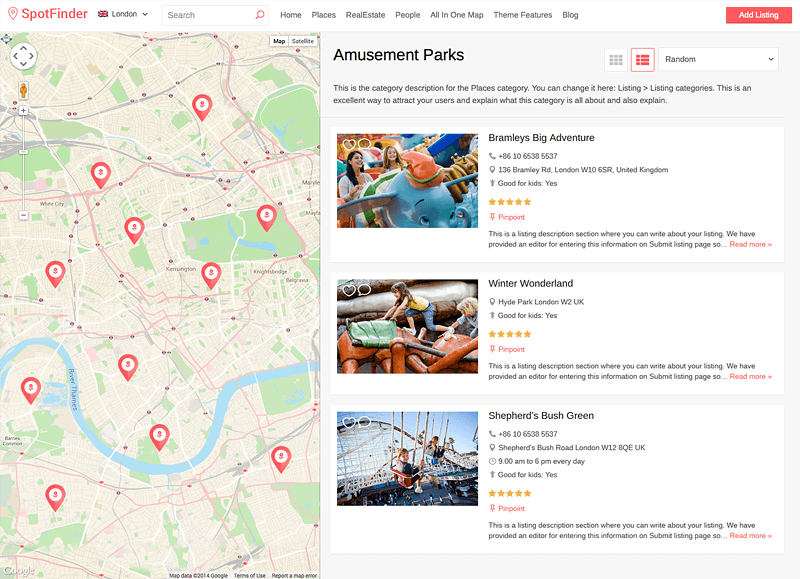 You have amazing design options for the other pages as well. The SpotFinder theme is perfectly optimized for the small screen devices, so you will get all the advantages of being mobile-friendly.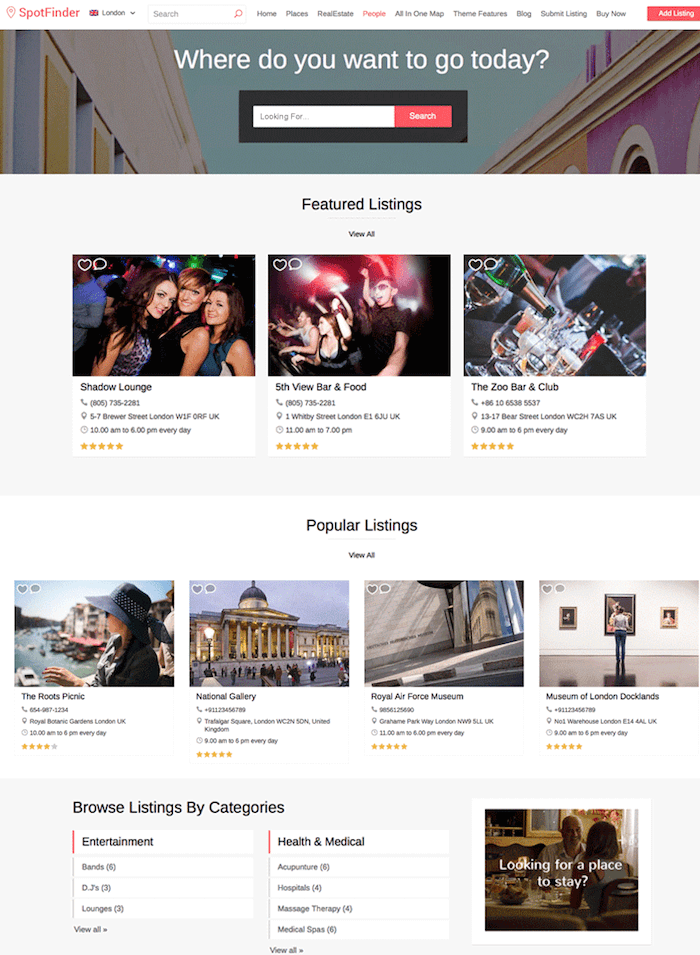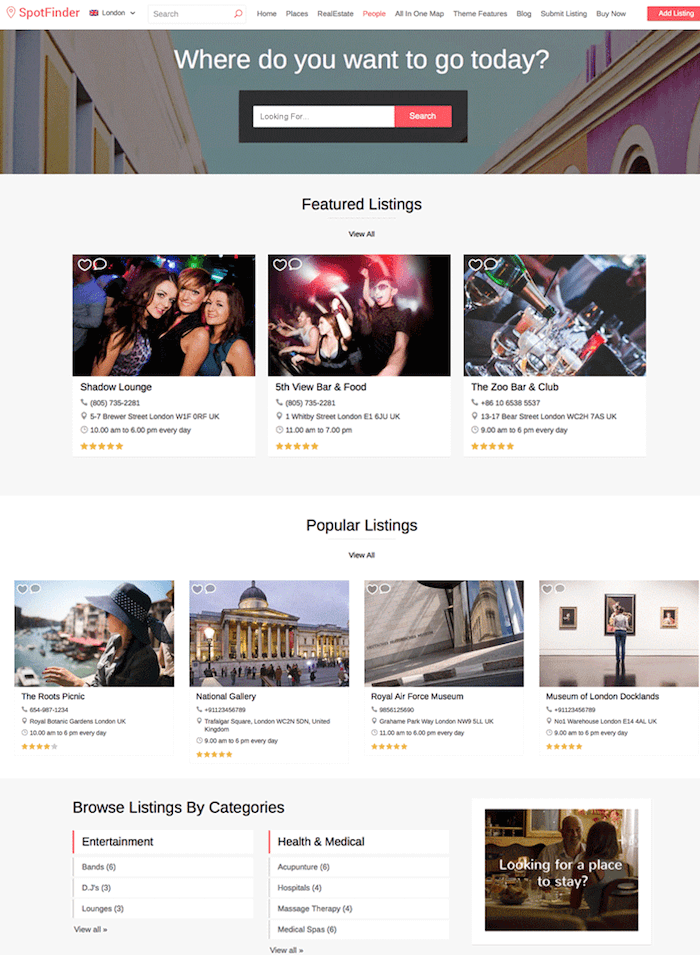 Bello
A modern and powerful directory theme that you can use to create your directory site. The theme offers you everything that is needed to create a successful business listing site.
The theme is fully responsive and retina ready design that will make your site look and perform perfectly in the mobile devices.
As we are talking about the directory theme, the search option becomes very important. The Bello theme comes with powerful search option that you can completely customize as per your need.
The theme is created to work perfectly by applying Google AMP, the theme readily offers the option to make sure that your site loads quickly on the mobile devices.
The theme is WooCommerce compatible so you can easily integrate the eCommerce features to the theme.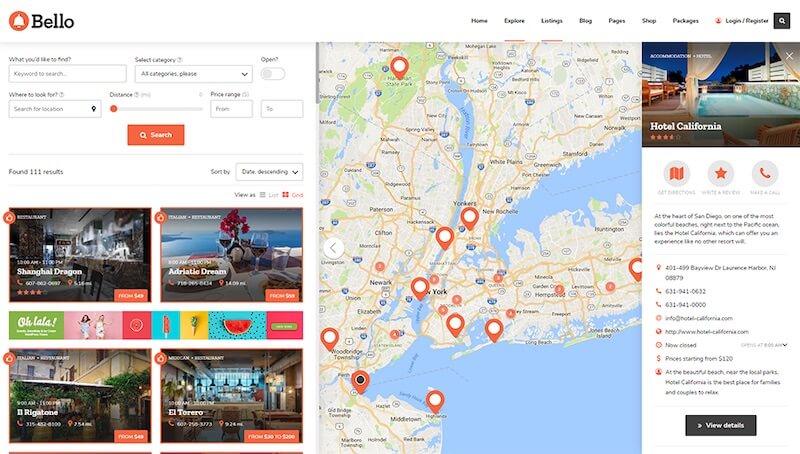 Directory by Templatic
One of the most comprehensive directory WordPress plugins, the Directory theme by the Templatic team offers you all the features and options that you will need to create a perfect business listing site.
The theme is well optimized for search engines to make sure that your listing ranks well in the search engines like Google.
The theme comes with amazing flexibility as far as the design is concerned. You can fine-tune the design of your directory site as per your requirement.
You can use this theme to create any niche directory site be it a Car directory, travel and anything else.
This directory theme is created with the mobile phone traffic in mind and it looks like an app when you open it on a mobile phone.
As the owner of the directory site, you have the option to create an unlimited number of listing packages as per your need.
The users will have the option to select a package and list their businesses. You can also set a recurring payment option to make a regular revenue stream.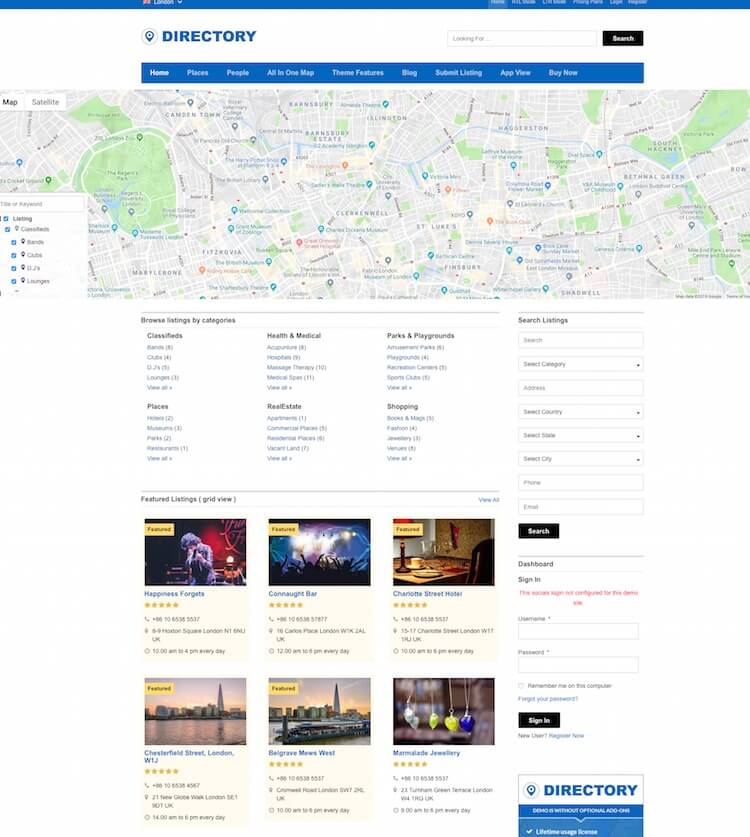 ListGo – Directory WordPress Theme
ListGo is a fully featured directory and listing theme for WordPress websites. The theme comes out of the box with over 16 wonderful demo homepages and over seven listing details demo pages, all of which you can import with ease via the 1-click demo importer.
Design-wise, it has a very modern and minimal style accompanied by the trending flat design layout.
Notable features of the theme include Mega Menus, the Wiloke Design tool which can help you create listing boxes, a bunch of design elements to tweak with the styling, shortcode support for adding listings and much more.
As far as features are concerned, to make your site more functional there is an awesome map page, a user-friendly dashboard, Auto detects location, recurring payment mode, events, and much more.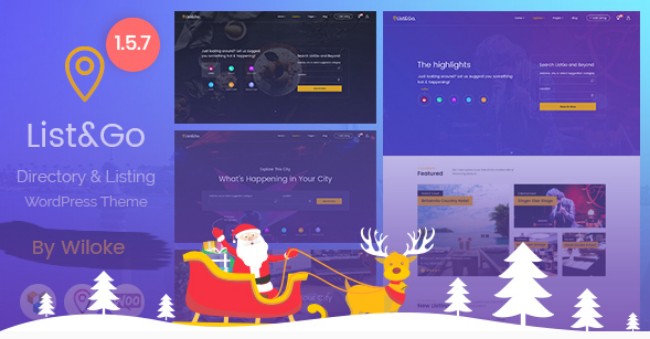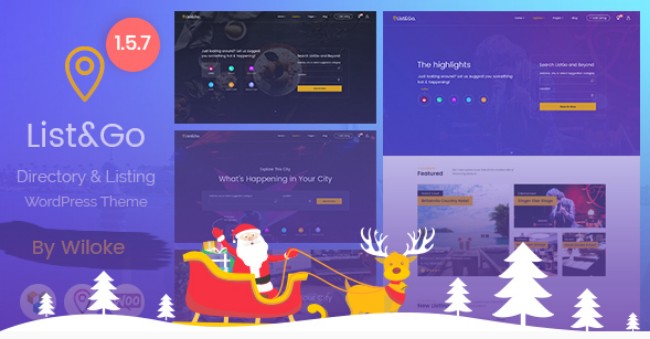 Vrooom
Vrooom is a comprehensive auto dealer WordPress theme that you can use to create an automobile directory site to list vehicles. It's a fully responsive mobile frindendly design that will make your site look great on all devices.
It is a highly customizable theme and fully compatible with the Elementor website builder so that you can create a completely custom design for your site without any coding.
The theme comes with a number of important pages such as the login/signup page, inventory listing page and others to make the process easier for you.
The theme offers stunning ready design option to help you get started with your site quickly.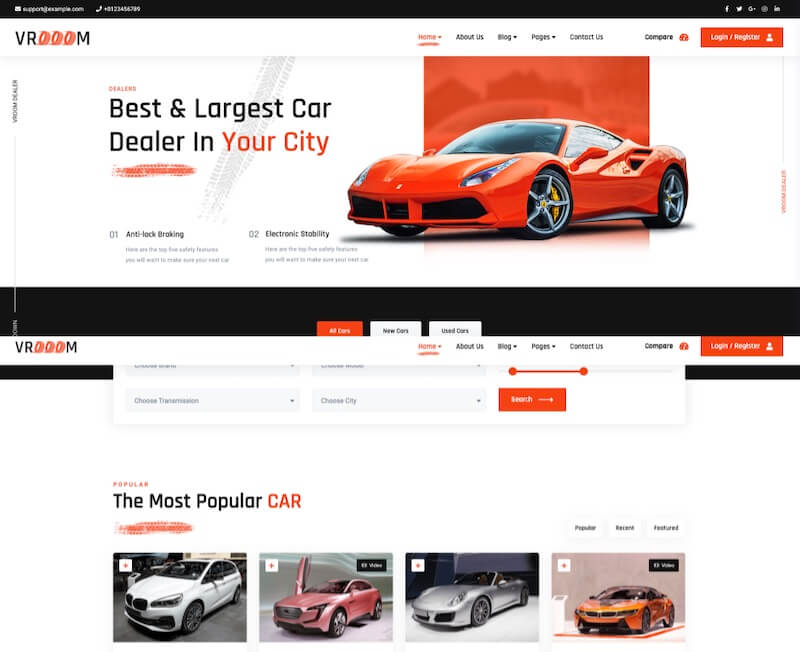 ListingPro – Directory WordPress Theme
ListingPro is one of the best selling directory and business listing themes on ThemeForest.
It comes with all necessary features and functionalities to run a powerful end to end directory website without the need for any third-party plugins. As far as fixing the look and feel of your website, you will get access to a handful of niche demos.
There are also customization options as well as a drag and drop page builder to help you mold them into your desired styling.
However, the list of features is the theme's highlight. For starters, you will get features like multi-location and multi-category during the front end submission.
Then there are options which allow users to set multi-operational hours along with smart hours and status, a user-centric WP dashboard, sectionalized based listing submission, and support for popular payment gateways.
Then for your site visitors, there is a 'near me' function with a distance radius selector, suggested listings, advanced filters, a powerful search algorithm, a review and rating system, and so much more.
You can also make more money by using the built-in Ad express feature which can help you sell specific multi-ad spots.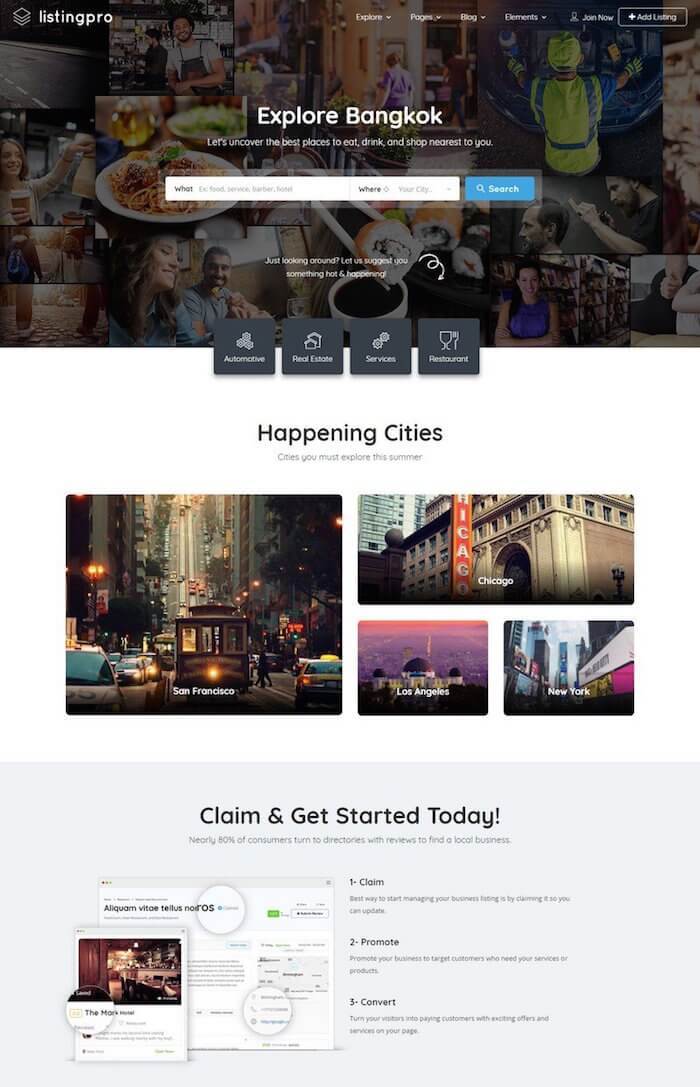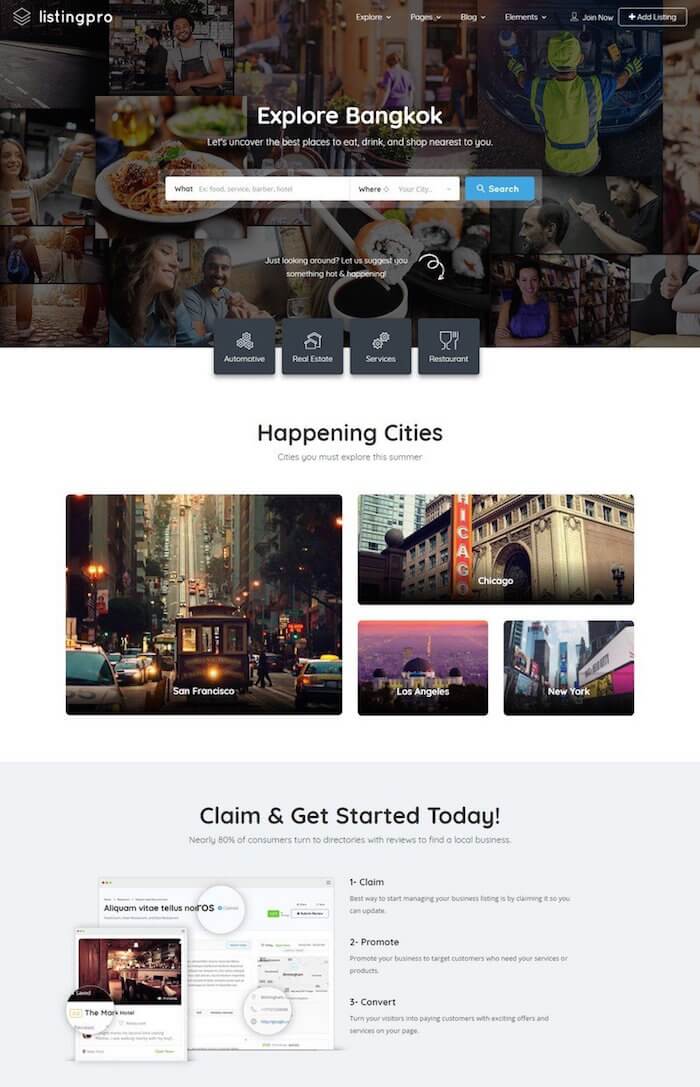 DiningEngine
As the name suggests, this theme is created for food and restaurant-related websites. The theme comes with a beautiful, clean design that will make your directory site look great.
Be it an app or a website, the food and restaurant directories are very popular among users because it gives the users a quick option to check the best options and order food quickly.
DiningEngine theme comes with powerful advanced search options depending on many different parameters to make it simple for the users to search for restaurants.
The restaurant listing page looks quite impressive; it is clean and nicely designed. The theme is powerful and comes with amazing customization options.
You have the option to edit the design from the front-end of the site which is quick and simple. The theme offers you a comprehensive admin panel where you can set up everything perfectly.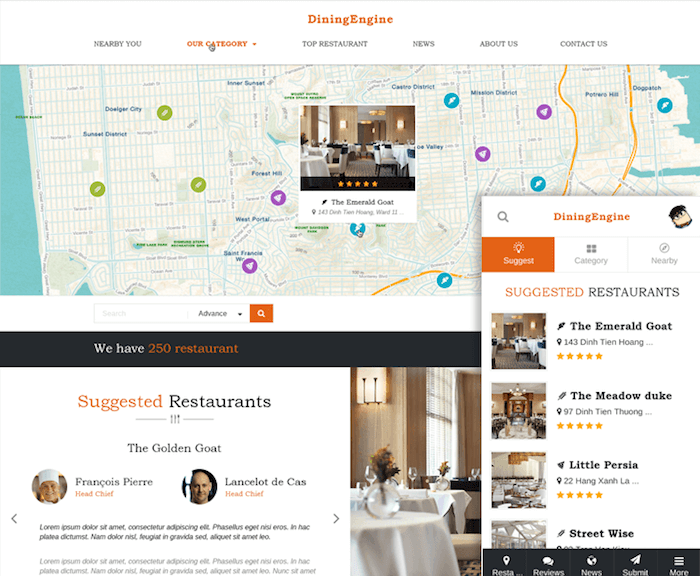 Findus
If you want to have the power of Elementor website builder for your directory site, here is a theme that is created to work perfectly with the popular Elementor builder.
Findus is a business directory WordPress theme that comes with all the features and options required in a directory site.
The theme comes with different demo design options that you can use to create your site but, you don't need to stick to the demo design as you can easily create your own unique layout for your site without writing any code.
The theme is perfectly compatible with the WooCommerce plugin to make sure that you are able to have the eCommerce features on your site.
Features like claim a listing on the site will be available for the users just like any popular directory site.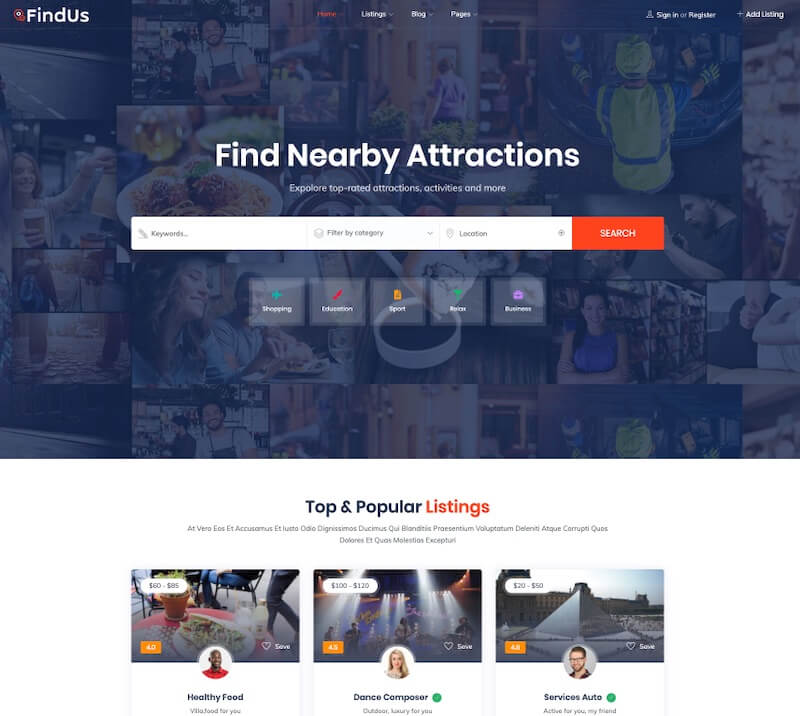 Directory+ WordPress Theme
Directory+ is another one of the popular directory WordPress theme boasting a boatload of features. The theme is high on customizability, features, and the design quality, all of which have also gotten a thumbs up from its huge user base.
All the web pages are built using beautiful elements, custom post types, and all details and advanced tools are available right from the WP admin panel.
There are also plenty of customization tools and the drag and drop ATI page builder. There are also plenty of icon sets to make things even more personal.
Feature-wise; the developers have taken into consideration every feedback provided by its user base and came out with a theme that satisfies all.
Currently the theme packs in over 30-page builder elements, option for video header, 3D maps, a business view and a street view of your items, and loads more.
On top of that, the theme is updated on a regular basis making which comes in with new features.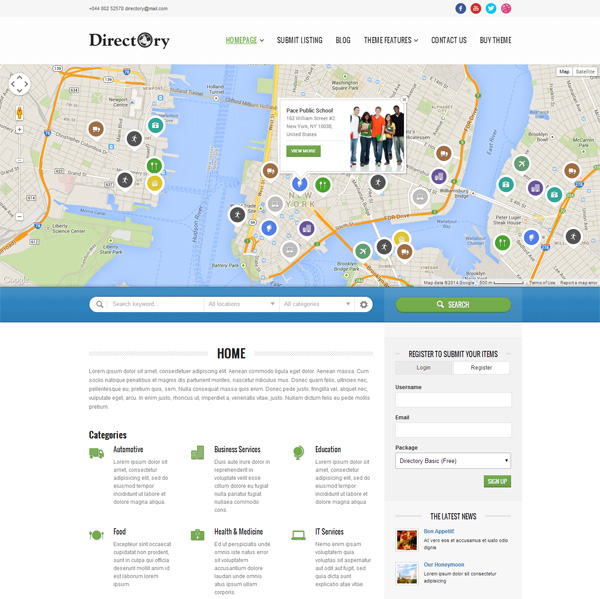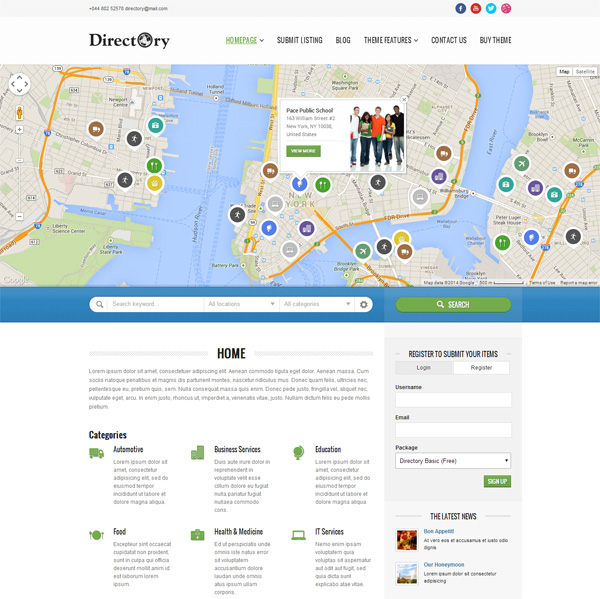 LISTABLE – A Friendly Directory WordPress Theme
Listable WordPress theme offers a smart directory system which is easy to use and can help you manage a local or global scale directory website.
You will be able to create, manage and monetize your website with a user-friendly system. However, don't be fooled by its ease of use and simplicity, as the theme packs a lot of impressive features under the hood.
First of all, to help you create your desired website layout, the theme packs in all of the famous page builders including Visual Composer, Beaver Builder, SiteOrigin, and others.
Your front page and listing layouts can be easily customized via a drag and drop interface. Then comes the abundance of styling presets and customization options to tweak your site's appearance.
Besides this, the theme provides plenty of free plugins that you can install depending on your necessity. WooCommerce support is also available to help you start monetizing your website, and then there is an advanced filtering system.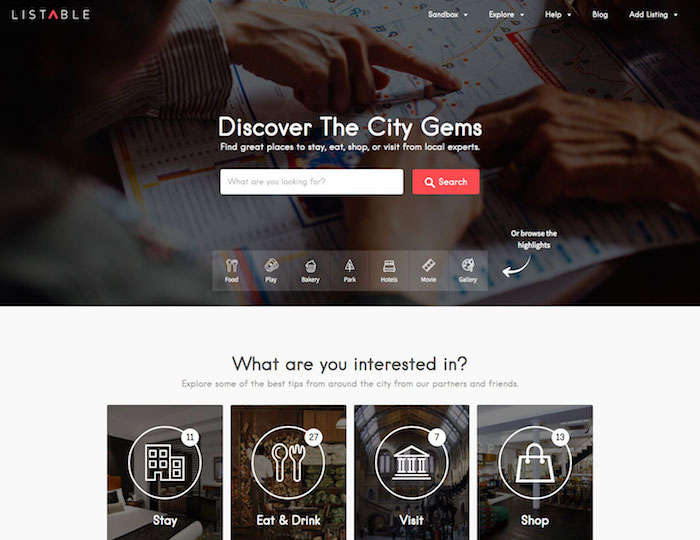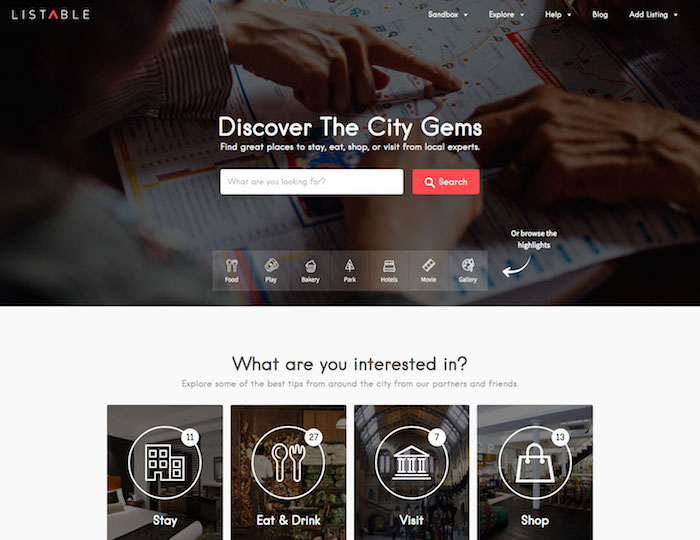 Eve
If you wish to create an event directory site, here is the theme you need. This theme is specially created for the event listing site.
Event listing sites are very popular among the city users to find the best events happening around the city.
The theme comes with a very clean and professional design that will make your site look great across all devices.
The Eve theme uses the SiteOrigin website builder to make it easier for users to create custom designs quickly.
The theme is created with complete WooCommerce support to make sure that you have the eCommerce features on your site.
As it is a directory theme, the front-end submission feature is very important and the Eve theme offers easy to use front-end submission options.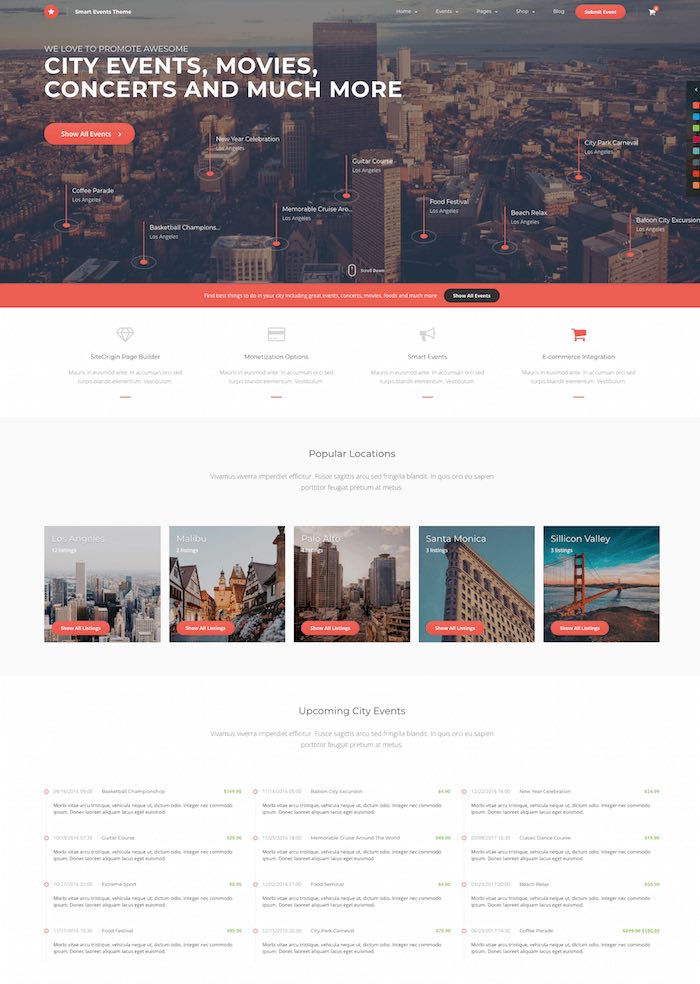 Superlist – Directory HTML Template
Superlist is a feature-packed directory HTML template It is however catered to the more tech-savvy developer's community who likes to tweak around with stuff.
Developers will find it easy to build on the theme. That being said, the theme is equally usable by the non-coders, and all of its features will be accessible to them.
Now speaking of features, the theme comes with a listing type manager, options for front-end submissions, a pricing plan package system, predefined post types, multiple color variations, and so much more.
Other notable features include support for multiple currencies, coupons, Google reCaptcha, display opening hours, sorting options, pricing tables, reviews, and ratings. The theme is also compatible with Stripe and PayPal, two of the popular payment gateways.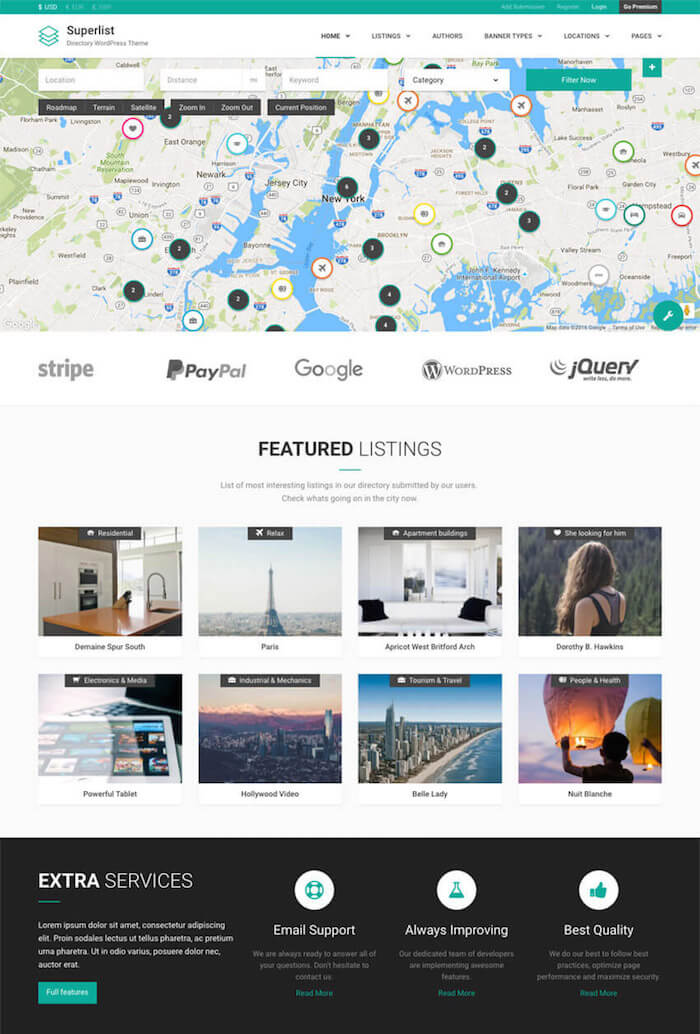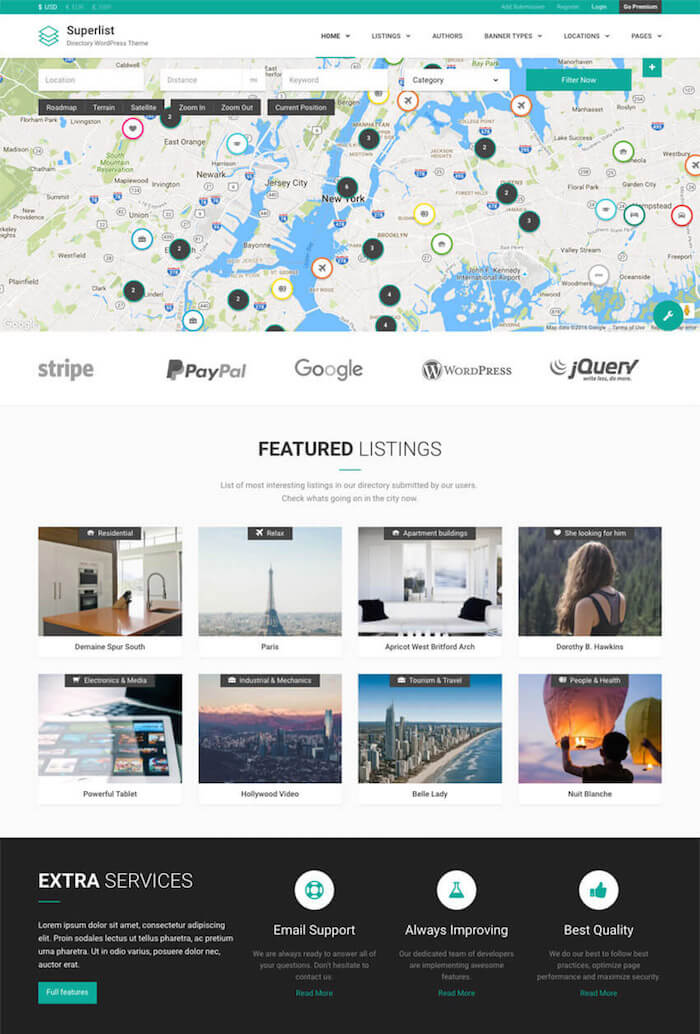 MyListing – Directory & Listing WordPress Theme
MyListing WordPress directory theme offers you easy to use tools that can help you set up a professional-looking world-class directory website in a matter of minutes.
You will also get the complete freedom to create any directory or listing website you want.
In fact, you will be able to do so right from the front end of the Elementor page builder.
The theme comes with over fifty different drag and drops elements that you can maneuver with Elementor, as well as over 20 premade fields that can be tweaked to help create your custom fields.
Other features of the theme include an advanced listing type creator, an explore page that can be customized, customizable single page listings, option to monetize listing submissions or sell advertising spots and so on.
There is also an instant ajax searching feature, taxonomy specific listing types, Shortcodes and way lot more.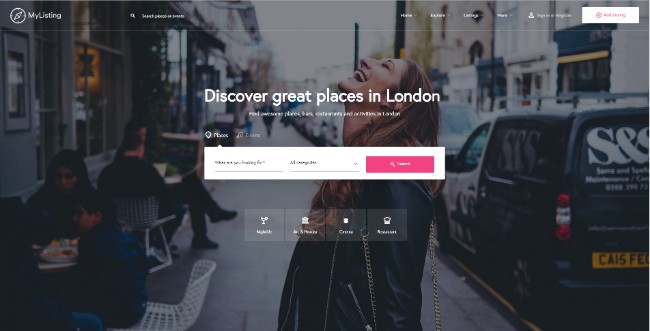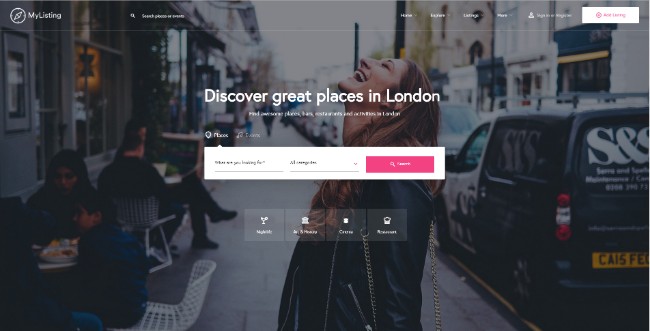 Javo
Javo is a great looking directory WordPress theme that comes with 16 different design options to choose from.
You have the option to import any of the demo designs with just one click so that you can get started quickly. Along with the homepage designs, the theme offers you multiple design options for the listing pages, blog pages to make your site look beautiful.
The theme comes with an advanced theme options panel where you can set all the options for your site according to your needs.
You get the premium Visual Composer plugin in the theme bundle for free that you can use to create any custom layout for your site using the drag-and-drop interface.
You also get the premium Slider Revolution plugin, the Ultimate Add-On plugin, the Grid plugin free of cost with the theme.
As it is a directory theme, the map is an integral part of it, and the theme offers you advanced integration of Google Map to make the best of it.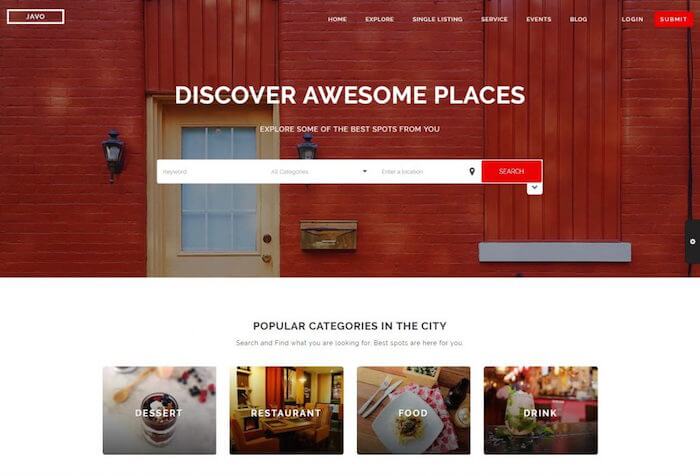 Listify – WordPress Directory Theme
Listify the directory WordPress theme offers a highly functional, and beautifully designed solution to create any listing website you want.
It helps you get started quickly, offers SEO ready features, so you start to rank quicker, powerful plugins come built-in with the theme to help in multiple situations, and then there are multiple ways to help you monetize your site.
First up, there is a drag and drop page builder coupled with style kits to help you quickly brand your website and customize it to your likings.
Then you will get access to some awesome plugins like Reviews, Regions, Favorites, Labels Contact Listing, and Statistics.
Other features include a locate me an option for your visitors, monetization options on claiming a listing, submitting a listing, or subscription plans.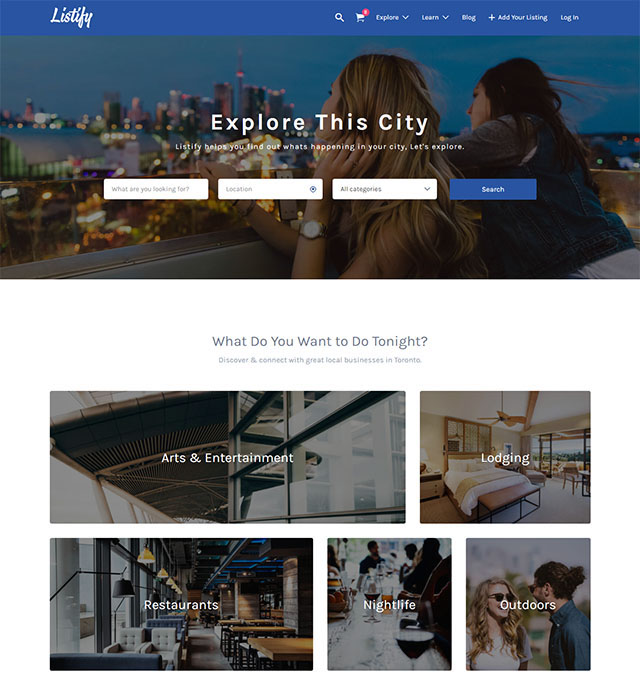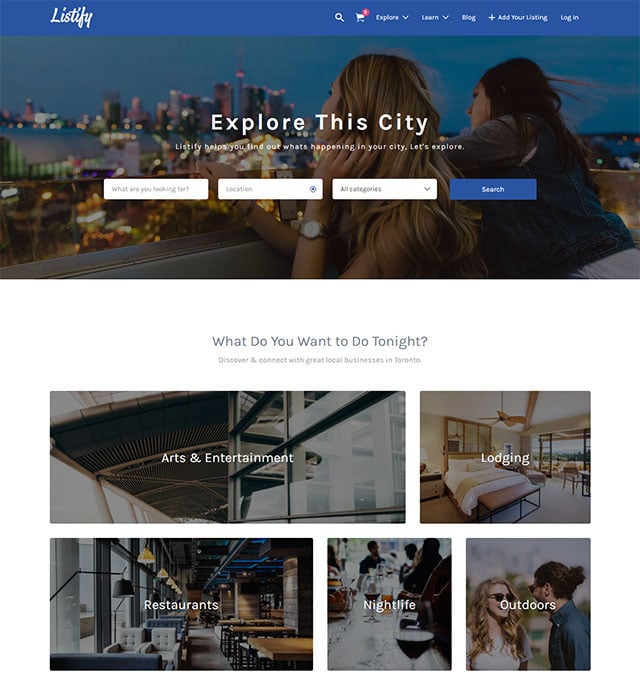 Search & Go – Modern & Smart Directory Theme
Search & Go Directory WordPress theme is aimed at modern users with features that will appeal to your modern visitors.
A few of its highlighted features include social network-based user logins, booking functionalities, Advanced listing search, and PayPal integration. Customization options and designing elements are also plentiful to help you tweak the design style of the theme.
Other impressive features of the theme include user wishlists and claim listing options, ability to add specifications and amenities for each type of listings, custom pricing packages, a stunning masonry blog list, and much more.
Overall if your target demographics are the millennials, then this theme will help you to attract and engage them over at your site.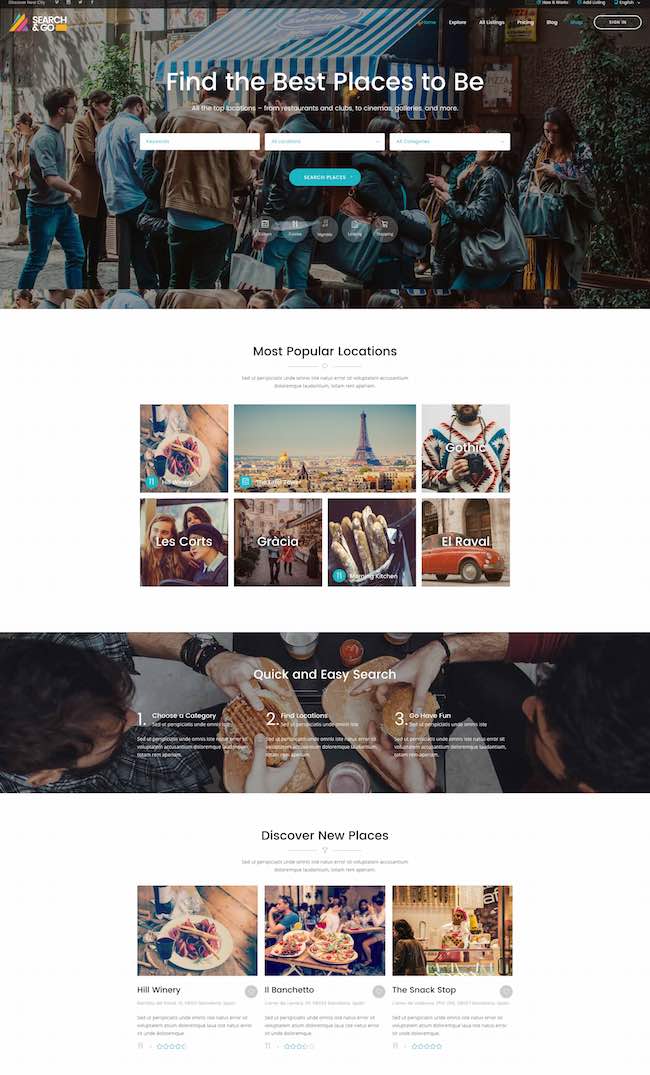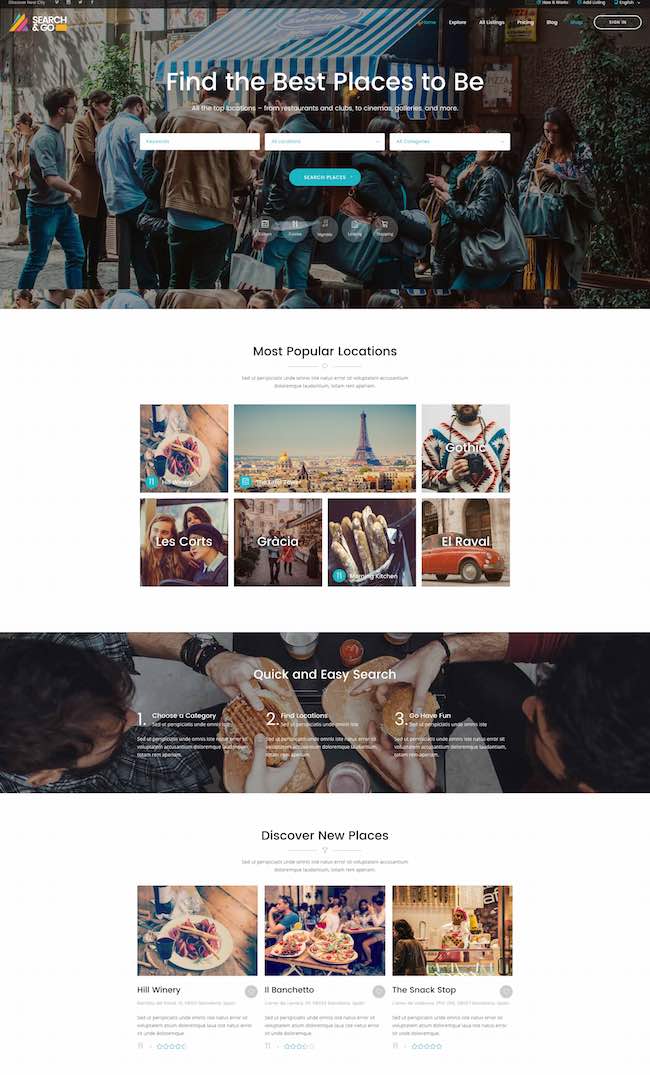 Business Finder
Business Finder is another beautiful modern directory WordPress theme. This theme offers you a modern and user-friendly layout to showcase all the listing on your site properly.
The theme customizer is loaded with amazing features so that you can change anything in the theme with ease. You can customize the look and feel of the theme completely to make it look unique.
You have multiple header design options such as a video header, slider with the amazing Slider Revolution plugin that you get free with the theme, a single image or no image at all.
This theme used Google Map perfectly and offered you an easy option to showcase any business location with the map.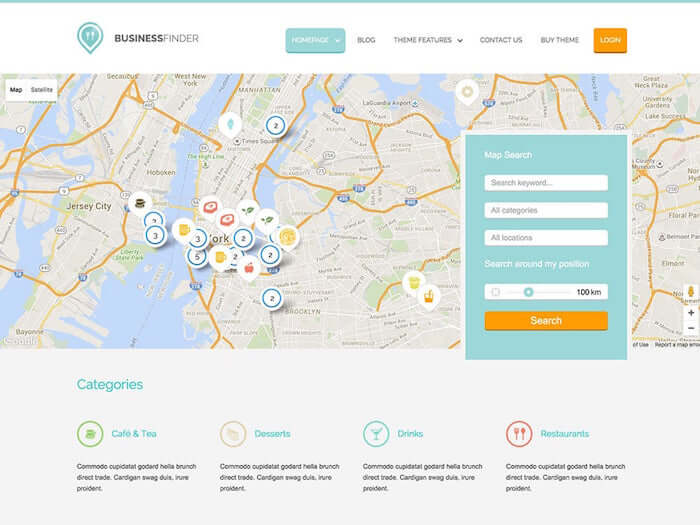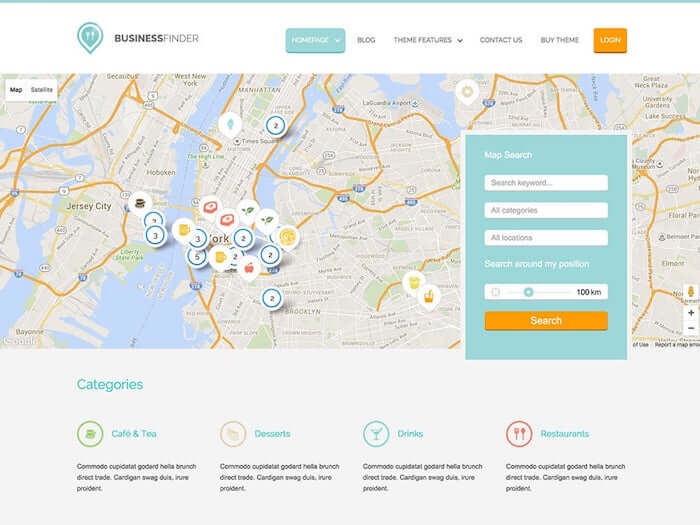 Vantage
Vantage is powerful, robust and easy to use Directory WordPress theme. The theme is loaded with an array of useful features that will help you to create a highly functional and feature-rich website.
The best feature of the theme would notably be its supper accurate location search system which is precise to the exact longitude and latitude.
Then there are options to offer a variety of pricing plans to attract different types of users. Custom fields and forms are also available to make your website even more flexible and offer specific information.
Other than these, you will get an option to have user-generated listing reviews, a dedicated blog to offer more content as well as perform better with SEO, then there is social media integration, many child themes, recurring Payments option, AppThemes APIs, a bunch of plugins, and loads more.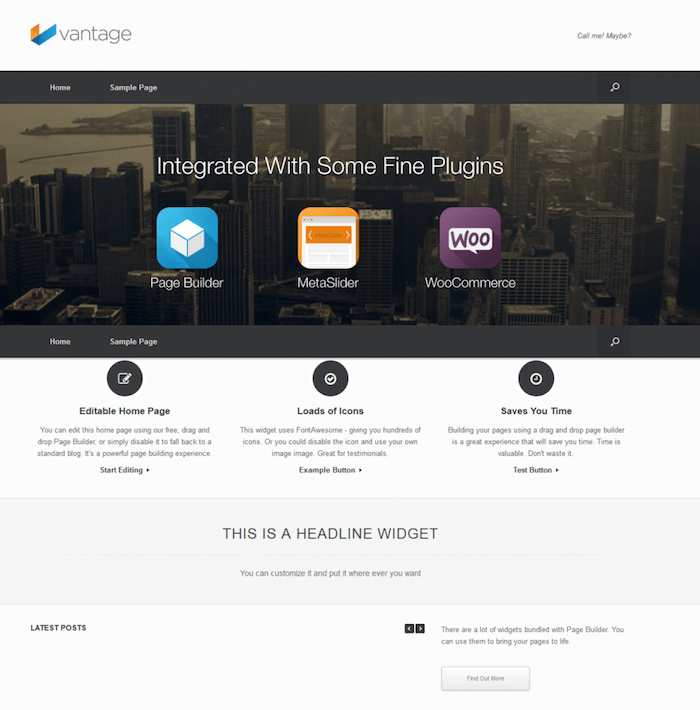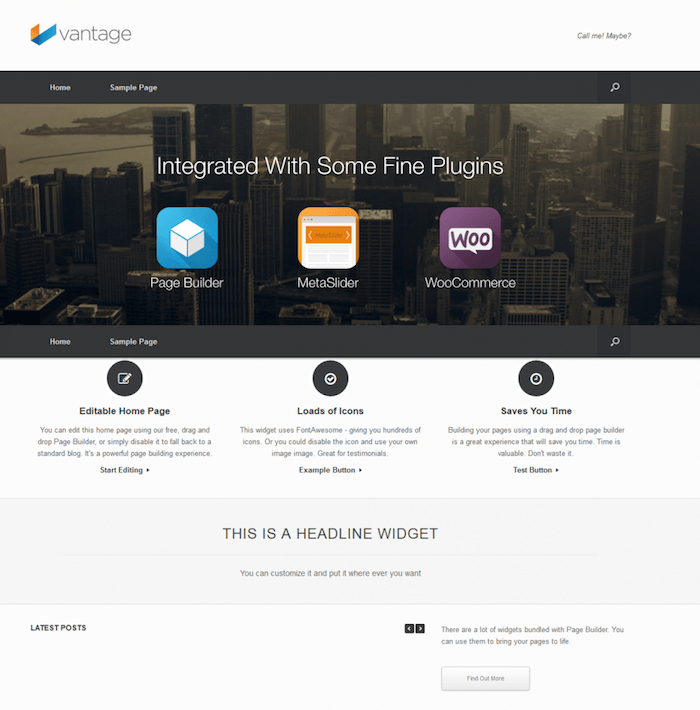 KUPON
KUPON is a great looking modern classified WordPress theme that you can use to create any kind of daily deal site, product listing directory site.
You will love the attractive design of the theme; it is loaded with all the modern features that you need to create a high-quality directory site.
This theme works perfectly with the WooCommerce plugin, and you can place amazing product sales countdown timer to increase the overall sales and revenue for your site.
You have the option to have dynamic product pricing and discount option so that you can feature the best discounts which are another perfect trick to increase sales.
The theme comes with a front-end designer that you can use to design your site with a real-time preview of the changes you are making.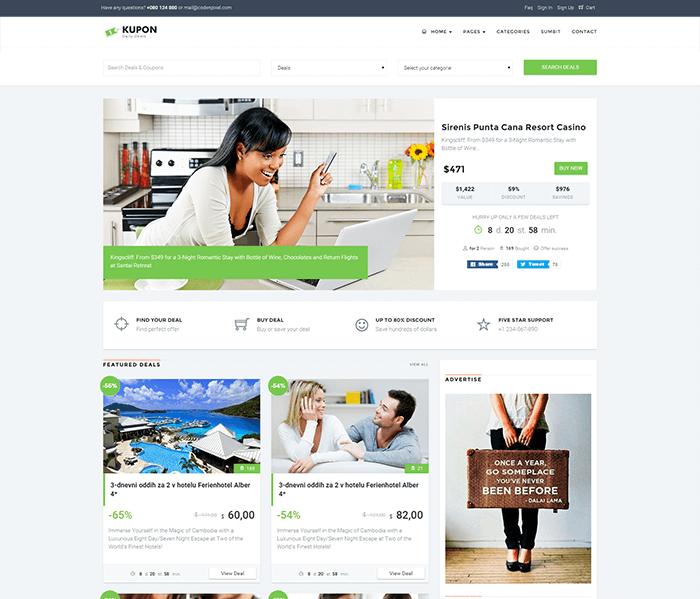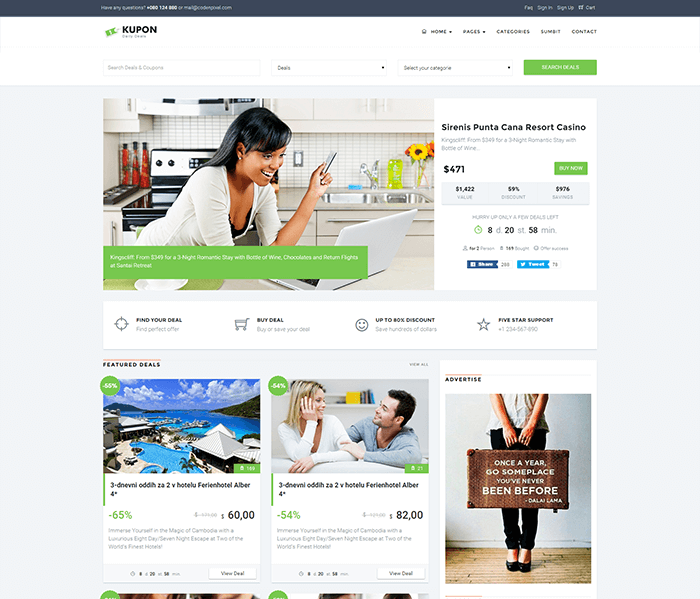 In Conclusion
So these were our picks for the top directory WordPress themes. Do let us know if this was helpful and positively remember to leave a comment if you decided to use any of the mentioned themes. Write about how your experience was using the theme.
Fellow readers will find your insight very helpful.
Also, as stated earlier, there are many directory themes in WordPress and covering all of them isn't within the scope of this read.
So if you happen to know or use an excellent directory WordPress theme which we left out, then also add it in the comments sections. The more, the merrier, right?