Are you looking for the best WordPress product comparison plugins? Then look no further, because here we bring you a detailed list of the best WordPress product comparison plugins that will help you make a mark on your customers easily.
Regardless of the size of your business, you do need a comparison section on your website to help your customers understand why your product is better than the competitors.
Check it out on the list below and get ready to leave a mark on your customers.
Content Egg
Content Egg is undoubtedly one of the best options that you can go for. The plugin is designed and created especially for websites with a large number of products to compare.
The plugin is packed with a ton of additional tools along with all the must-have features and tools that a comparison plugin should have.
The offered tables and designs in Content Egg are very simple. No overuse of colors and no confusing pattern. But having said that, you do get options like a feature to include logo, price table and a "Buy Now" button for each and every product in the table list.
But Content Egg is packed with a ton of other amazing features like integration of Amazon API, additional option to add price drop notification at the bottom of your product listings and so on.
And not just Amazon, you get to include around 20 affiliate systems along with this product comparison plugin.
Other major features include price alters, auto blogging apps, and auto price updates. And the best part? The plugin now supports WooCommerce, which makes it even more powerful to grow your business.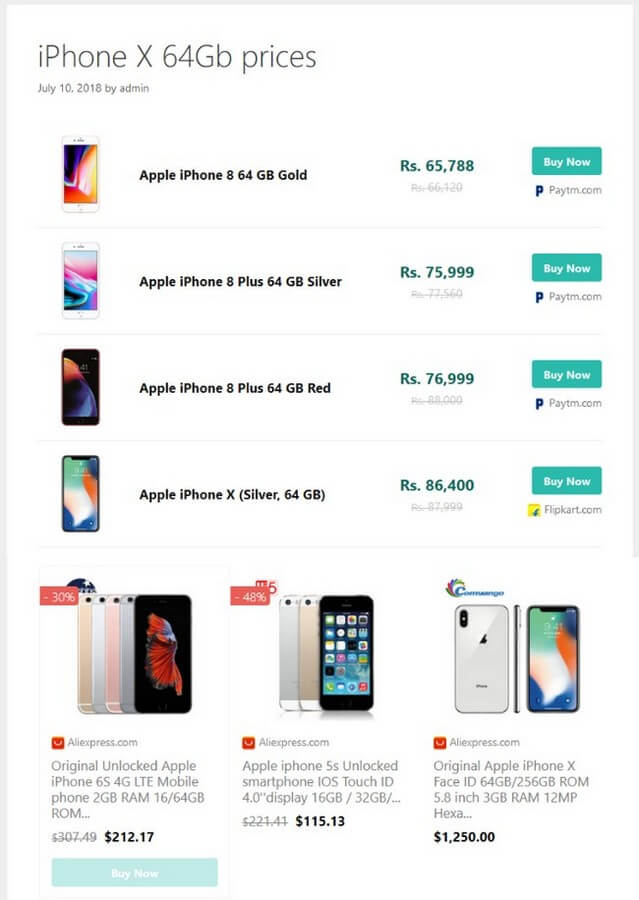 Go Pricing
One of the best premium and ultra-responsive plugin in this list is this Go Pricing plugin, which is packed with a ton of amazing features.
The flexibility and ease of use provided in this plugin is the reason why the popularity of this plugin is on a constant rise.
The theme here offers a lot of ready to use themes and templates using which you can customize your pricing table with a lot of ease.
The editor provided inside the plugin is super responsive and its admin panel is regarded as one of the best in the premium plugin category.
You get a full-fledged library having over 2000 free icons from which you can choose items from. You can also add an innovative ribbon along with the comparison table to additional information and offers on the table.
You also get custom table animations, live previewing features and access to multiple Google Fonts.
So overall a very innovative and easy to use WordPress comparison plugin, that lets you customize and play with your comparison table a lot.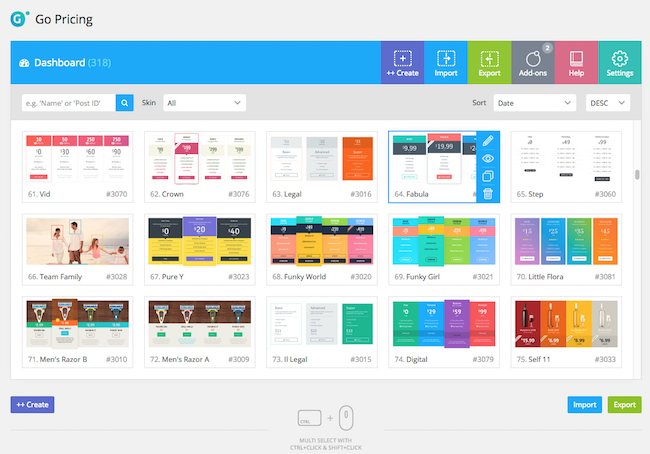 AAWP
AAWP is one of the most popular Amazon affiliate plugins that you can use to create your Amazon affiliate store. It offers all the important features that will help you to create the perfect store and make money.
You can use the plugin to create great-looking product boxes on your site. You can create a single product box as well as multi-product boxes with title, description, call to action, etc.
Now, as we are talking about the comparison plugins, you can create a beautiful and user-friendly product comparison table using this plugin.
You can compare different Amazon products to send users to the right product and make an affiliate commission.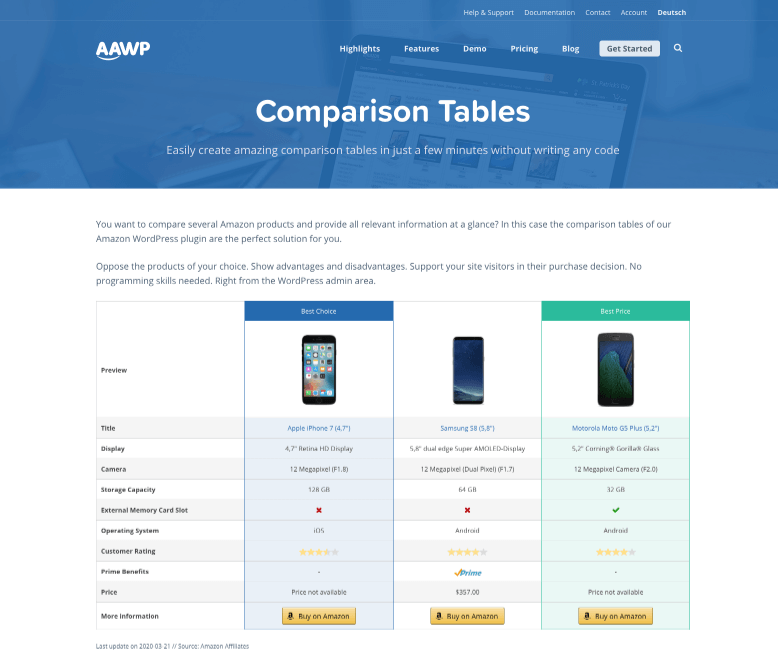 WordPress Pricing Tables
One of the easiest to use in this list, WordPress Pricing Tables is designed and created especially for business owners looking to create a comparison table, especially in the case of affiliate marketing.
This WordPress plugin is filled with a ton of amazing features, which help you display the major details of all the products quite nicely.
The comparison tables produce the data and information in quite a detailed and well-organized manner. The tables and display are very much clear and hassle-free, just the way it should be.
You get to compare your products on as many custom benchmarks or features you want to. This is particularly a very amazing feature that helps you detail down the in-depth analysis of comparison benchmarks.
One of the striking features of this comparison plugin is that you get to choose from more than 50+ designs, all of which are very creative and professional.
Overall a very good option for people looking for a simple and easy to use comparison plugin.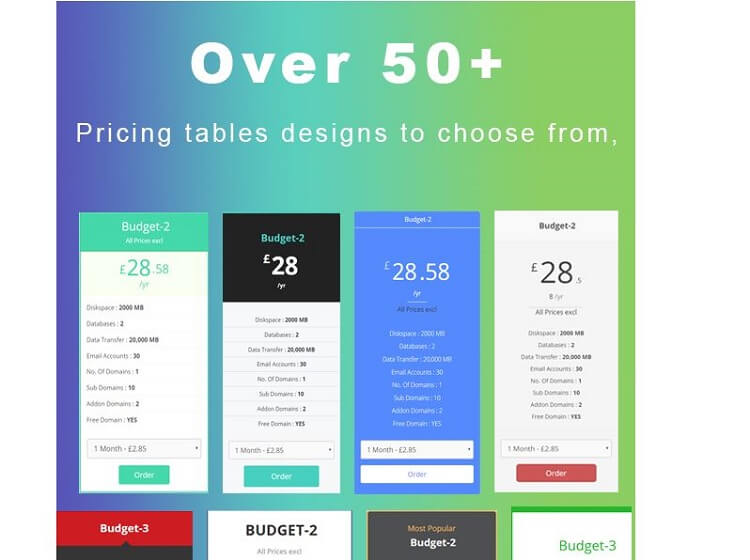 WP ComPEAR
WP ComPEAR is a full-fledged premium WordPress plugin that is used by a large number of business professionals all around the world. The best part here is that this plugin helps you create interactive product comparison tables, unlike in any other plugin.
This plugin actually offers you a built-in drag and drop builder, using which you can customize your comparisons very easily.
The plugin offers you a number of easy to use features, which gives your customers easy search, filter and sorting options, that eases your product search.
Another very interesting feature of this plugin is that you can add a drag and drop customization feature at the very front-end of your website. This allows the customers to customize their comparison table very easily and as per their choices.
Although you do have the choice to create a simple and static comparison table as well. And that's not it, you also get to add comparison slides, which is not offered in many other comparison plugins.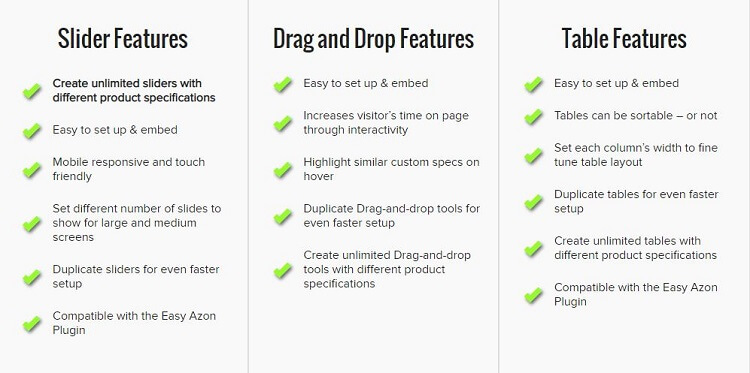 TablePress
TablePress is one of the most used and famous WordPress table integration plugins that allows you to add all kinds of tables on your website, including comparison tables as well.
Along with the ton of features available, the plugin offered for absolutely free.
The best part here is that the interface is very easy to use and has a similar outlook of that of MS Excel's. The plugin allows you to add as many numbers of rows and columns as you need.
Your tables can contain absolutely any type of data, including pictures, buttons, HTML codes and so on. Another very interesting feature here is that you can add formulas, similar to that in Excel, making TablePress a great option for pricing tables.
Also, this plugin allows you to add styling and sorting options, as well as you can allow your customers to add filtering and pagination options in the table.
The plugin also allows you to add custom CSS code, which can be used to add extra functionality to your pricing table.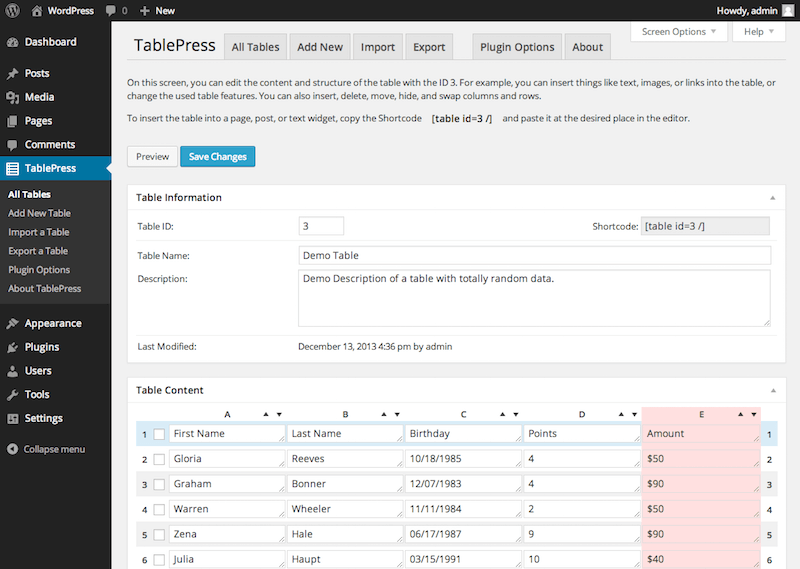 POWR Plan Comparison
Another very innovative and easy to use WordPress plugin, that has made quite a good name for itself is the POWr Plan Comparison plugin.
The best part here is that the plugin claims that you can completely customize your table right from the very front end if you are logged in correctly with your credentials in WordPress.
The plugin is available in both free and premium versions, with the free version offering you a lot of good and must-have features, while the premium version offers you a ton of additional features that are just too good.
You get full visual editor support, custom themes options, and minor additional features that help you better customize your table and comparison columns in the free version. Whereas in the premium version, you get features, such as analytics and expedited customer support.
The theme and design offered are pretty ordinary, but still, look professional and appealing.
Overall, the ability to edit tables from the front end and features making such as analytics make this theme a very dependable option.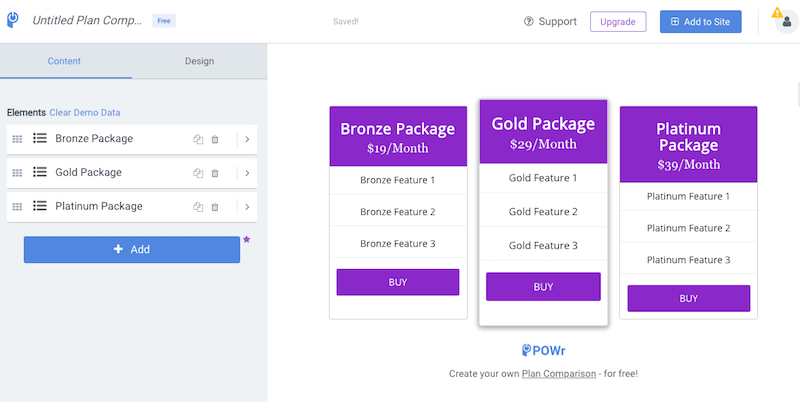 Elementor Addon Elements
Eliminator is the most popular website builder for WordPress, you can use this builder to create any kind of design for your site without writing a single line of code. It offers you the most intuitive front-end drag and drop builder.
There are a number of add-ons that you can use with the Eliminator website builder to add different functionalities to your site. Elementor Addon Elements is one such free plugin that you can use to add a number of different functionalities.
Here we will stick to the comparison table element. You can create great looking modern comparison table that will let your users know about the different features of products or service packages.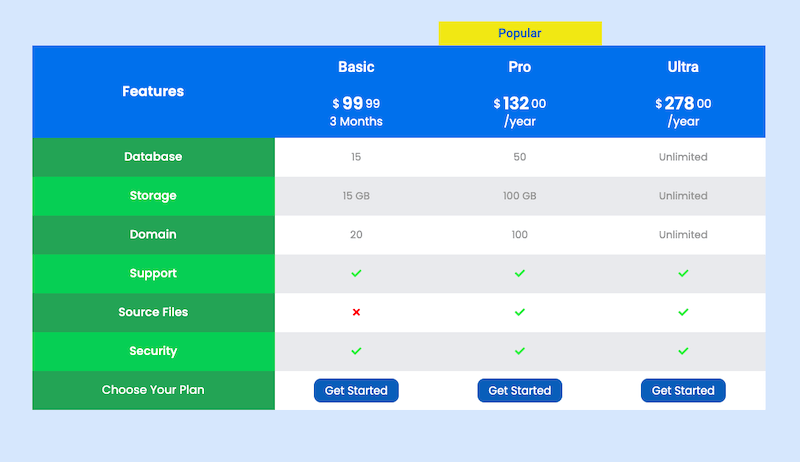 Plugmatter
If you are more into the design and look part of your comparison table, then Plugmatter is a good choice for you.
The plugin is packed with dozens of themes and styles, not just for the overall looks, but for the design of the buttons and headers as well.
You can use buttons and support your comparison table with custom icons and additional underneath buttons. You can heavily customize your buttons for CRO and can even add additional gradient colors.
You get a lot of ready to use colors, fonts families and size options that can add tons of functionality and looks to your overall design.
Overall a great option for designers and marketers with specific needs of colors and designs.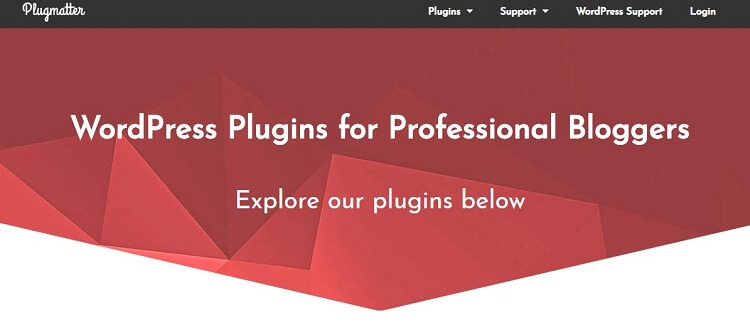 Conclusion
The list of the 8 best WordPress product comparison plugins ends here. The list is highly detailed and we wish your choice becomes easier. Don't forget to tell us your favorite in the comments below!