A collection of the best social sharing WordPress plugins that will help you to optimize your website to get more social sharing.
We have listed some plugin in this post that will offer the highly optimized placements and great design for your buttons.
We have collected the best social media plugins from the available to make sure that you can are to make the best out of the popular social media sites.
Besides being a source of gaining publicity for your services or products, social media platforms are also a great source of traffic as well.
So if you own a website or blog, it is important that you understand the necessity of an effective social media integration on your website.
Now if you own a WordPress website, then all these can be handled by simply downloading a plugin. The WordPress market is filled with a variety of plugins build.
Now, with so many options; there is a possibility that you will find yourself at a loss searching through a plethora of social media plugins to find the one that best suits your needs.
Now, to help you out of this problematic situation, here we have made a comprehensive list of the best Social Media WordPress plugin available on the market.
So without further ado, here are the Best Social Media WordPress Plugins:
Best Premium Social Media WordPress Plugins
---
Social Snap
Social Snap is a new modern social media WordPress plugin that offers you amazing features to help you drive more traffic to your website.
Social media is an integral part of any business these days and you must make the best out of social media and try to drive as much traffic as possible.
Social Snap is an all in one social media plugin that offers you all the options like the following.
So, as you can see, this single plugin will take care of all your social media related needs on your site. The plugin offers you the option to select from a large number of social media sites.
You will have complete freedom to use and customize the different designs for the social buttons. Also, the feature like Click to Tweet is one of the important and best practices used by all the leading markers sand pro bloggers.
Another important aspect to look at the impact on the loading speed of your site, many social media plugin slow down WordPress sites, but not Social Snap.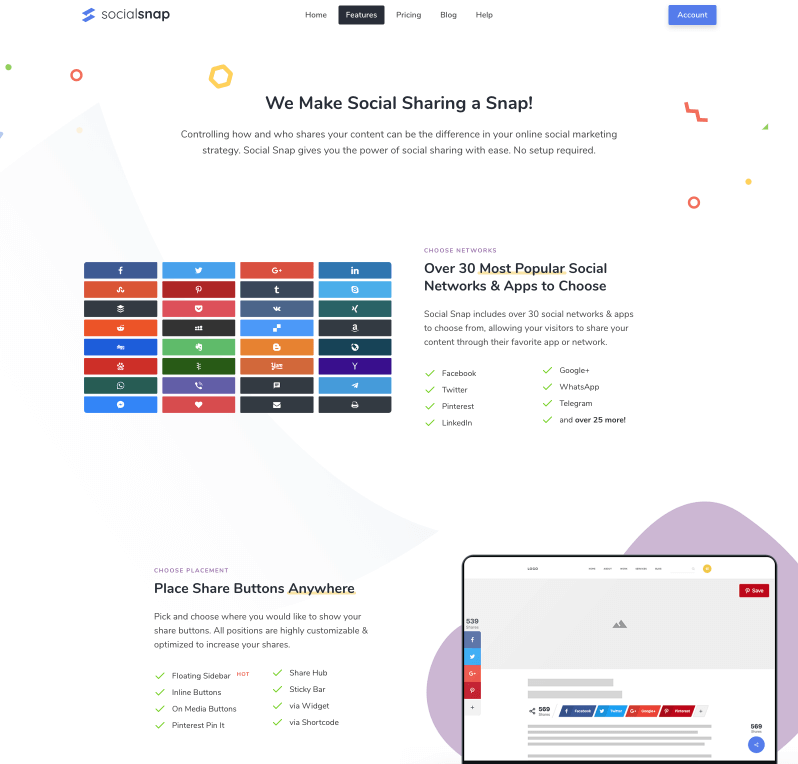 Social Warfare
Social Warfare is a fully responsive social share plugin for WordPress. It comes with a plethora of beautiful social share buttons which are also customizable to make for the best aesthetics for your website.
Using Social Warfare, you can make in-post tweetable quotes which make it very easy for your users to share something they liked on your blog/site. And this is important – you want to make the process simple for your users.
Some notable features of the plugin include the option to upload Pinterest specific images, widgets that showcase the most popular content with respect to social shares and comprehensive analysis of social data by automatically adding UTM tracking to shared links.
The Social Warfare plugin offers you an option to retrieve the old social sharing counts when you change the domain structure, or you move your site from HTTP to HTTPs.
We have reviewed the Social Warfare plugin in detail here.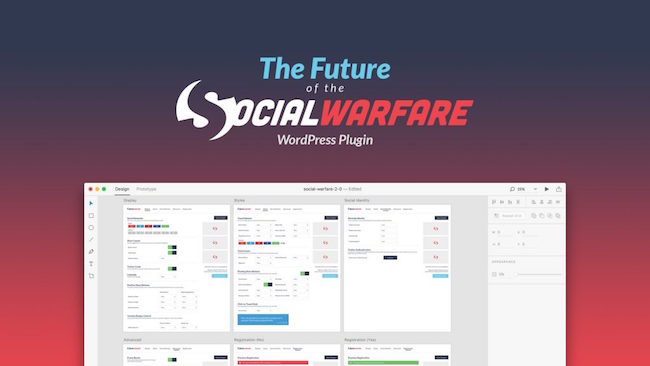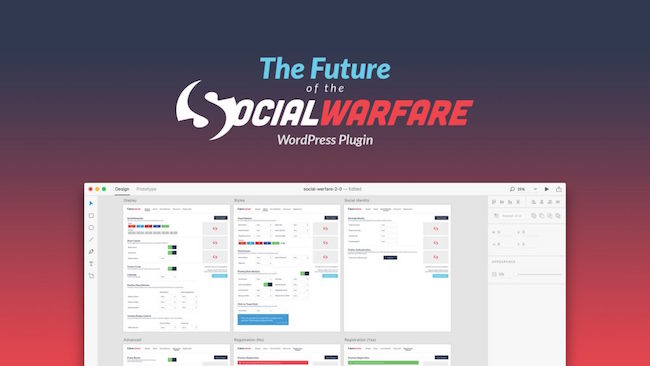 Monarch Social Sharing
Monarch Social Sharing WordPress plugin is another very popular social sharing plugins for WordPress. With Monarch, you will be able to add social sharing buttons at many different locations of your site.
With the plugin installed and activated on your website, you can start to add social share icons on your floating sidebars, above or below your content, on your images or videos, automate them as fly-ins and pop-ups, and much more.
Overall you are getting about 20 social share networks to display on your site in several locations. This gives you a whole new level of control which can help you to orient a better content marketing strategy.
Furthermore, you can customize the icons to appear alluring so that your visitor is bound to make that click.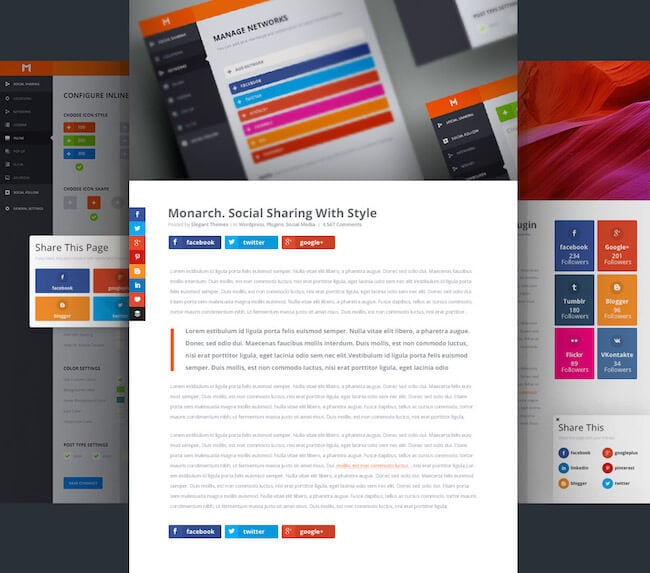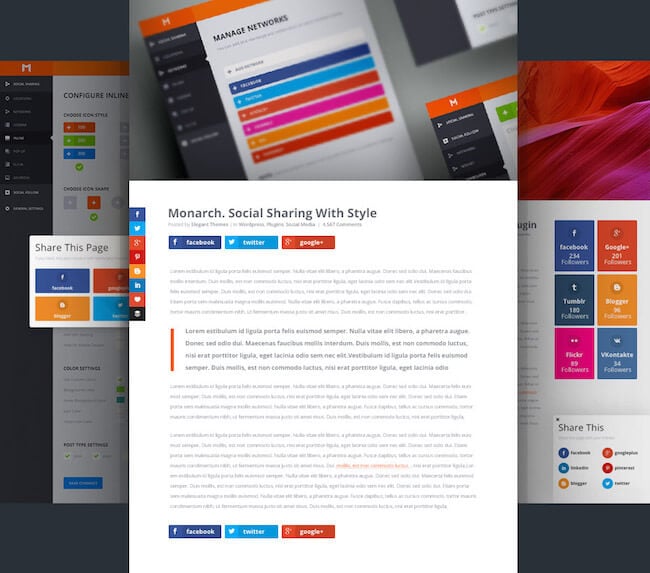 Revive Old Posts
Revive Old Posts is arguably one of the most popular Social media plugins on the market. As per the naming implies, the plugin helps to get all your older posts shared on Social Media Platforms regularly, and that too automatically.
Now you might be wondering what is so great about sharing your older posts? Well, as you keep on publishing newer content, your old materials get sidetracked and get reduced traffic.
So, sharing them on social media networks would be like the phoenix rising from the ashes.
After installing the plugin, all you are required to do is set the time interval and the networks it should post, and leave the rest to the plugin. It is easy to use, and also gets the job done efficiently.
Here is a detailed article about how to get regular traffic to old posts.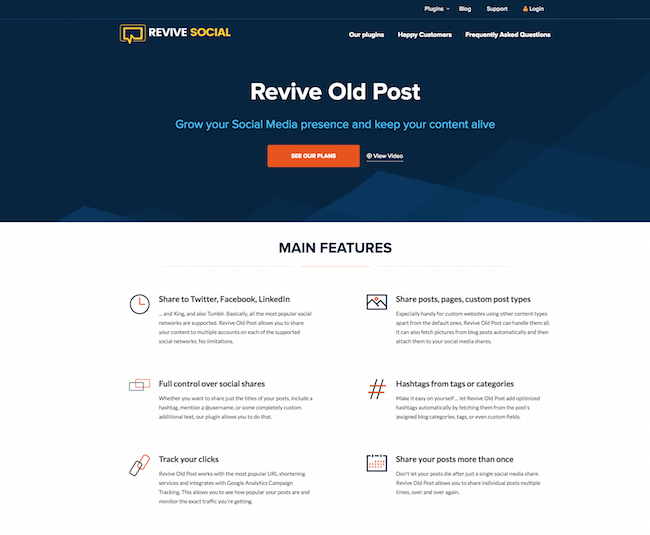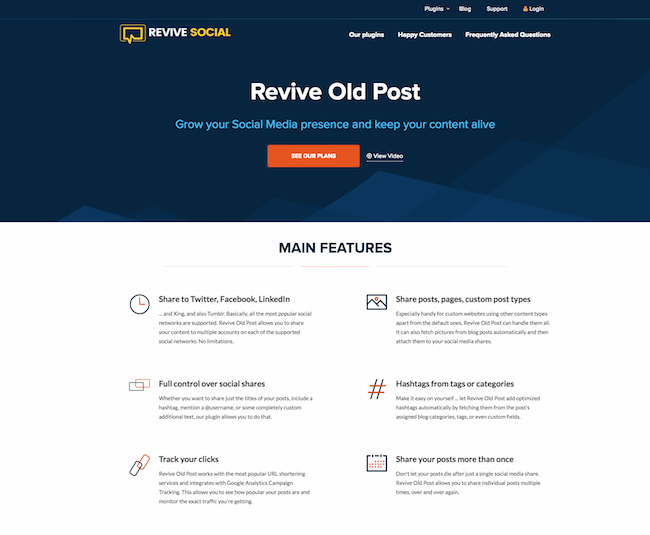 Super Socializer
Super Socializer WordPress plugin is available from the WordPress repository and is one of the popular social sharing plugins for the platform. The plugin allows you to integrate social media networks with your site in some unique and different ways.
For example, you have the option to add social logins, social comments, custom social menus, and even a like button.
This can prove to be helpful, as through the use of the plugin you would somewhat create an atmosphere for your visitors which is quite similar to the social media platforms they visit on a day to day basis.
This can make interactions on your website much more smoother and intuitive.
Another impressive feature is that the plugin supports all social networks that are operational in today's day and age. So you get the icons for every network imaginable.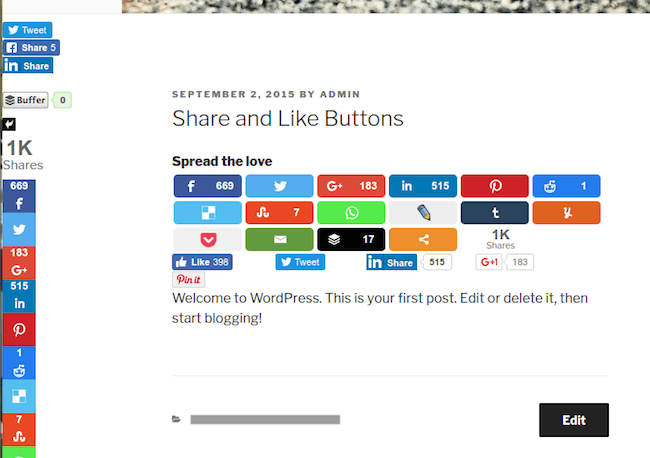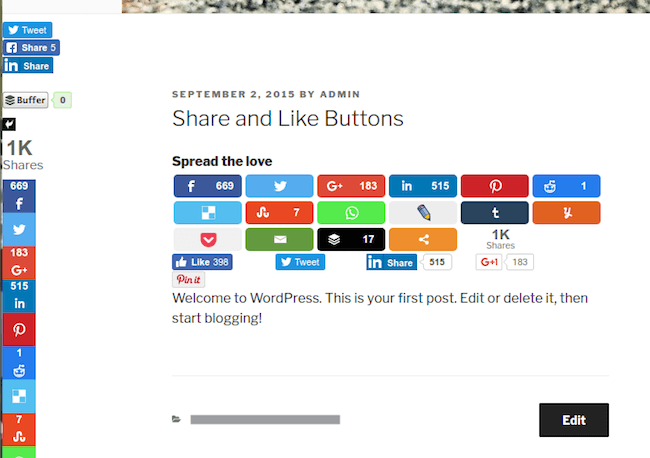 Easy Social Share Buttons
Easy Social Share buttons are the ideal plugin for you if you want social sharing features enabled on your website which is easy for both you and your visitors.
The plugin is very light and won't affect the load time on your website. Besides this, you can seamlessly integrate the social share buttons on your website header or footer and have them integrated into your posts with the help of shortcodes.
Then there are different styles to choose from like the minimal share buttons or the ones which come with the added share count. The later does require javascript, however.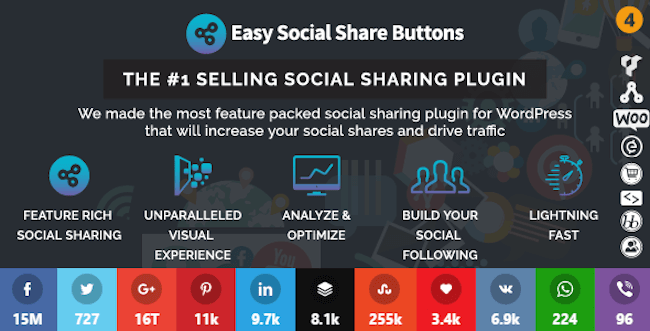 Sumo
Sumo is not just a social sharing WordPress plugin, but a complete solution to increase the overall conversion rate of your site.
The plugin came into existence as an email opt-in plugin that changes how the email subscription forms are shown on a site. It is still one of the leading email list builder plugins for WordPress users.
Sumo will make sure that you can increase the overall revenue of your site by increasing the customer base.
Sumo offers you a perfectly optimized social sharing option as well. So, you can use this multipurpose plugin to increase the customer and revenue of your site.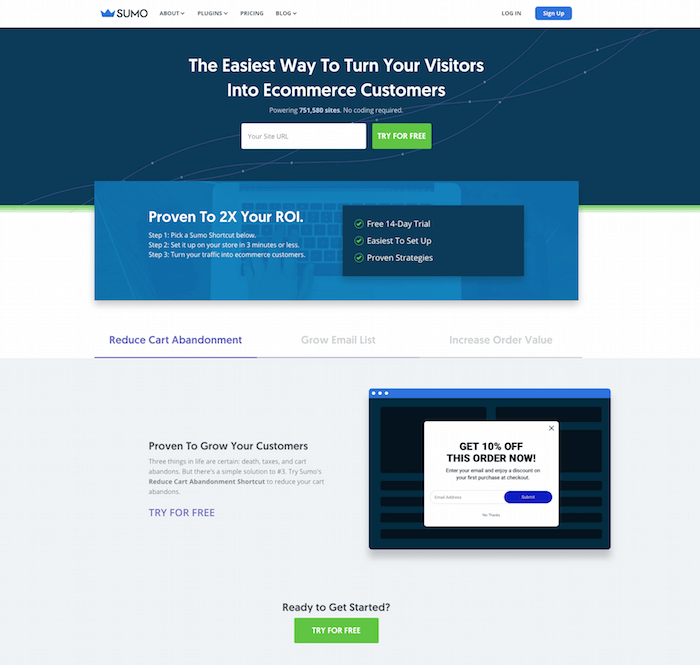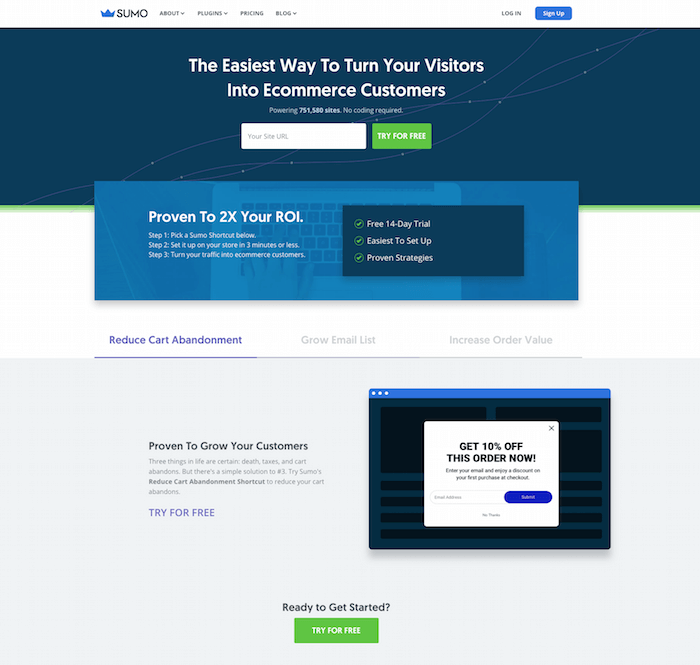 Social Fans
Social Fans is another one of the most popular social share plugins with aesthetically pleasing social share icons. The plugin is also responsive and retina ready making the icons appear perfectly irrespective of user's screen size or quality.
Some impressive features of the plugin include that fact that it is built using Bootstrap 3, comes with CSS fancy animations, caching enabled, and support for over 30 popular social networks.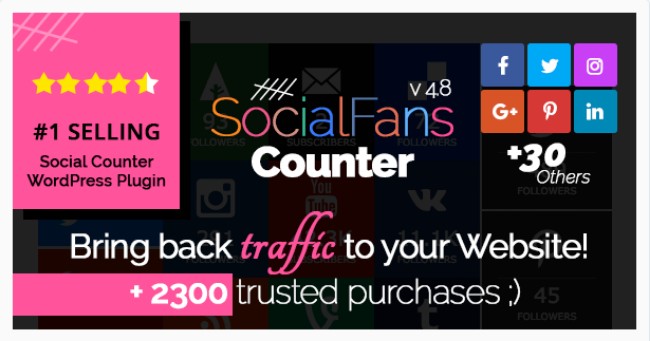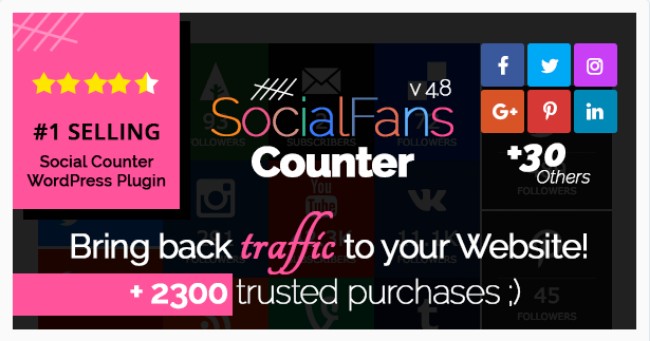 Kiwi Social Sharing
Kiwi Social Sharing WordPress plugin is one of those rare pieces of tools that combines a comprehensive list of features with ease of use.
The plugin supports all the leading social media platforms and provides you with a multitude of social media sharing options. And not only are all these options easy to use, but they also don't hamper your site's load speeds.
Everything is also super simple to set up with simple drag and drop set up options. And on the customization end, the plugin comes with a variety of button designs and unlimited colors to help you style your buttons.
There are options which help you to set the social share icons above or below the content, and also allows for floating icons as well. Then there are the tweet features which your users can use to tweet something they liked on your content.
Now the plugin is available with a paid and a free option. So it gives you the freedom to try out for free, and if you like it and want more features, then go ahead with the paid alternative. It won't disappoint.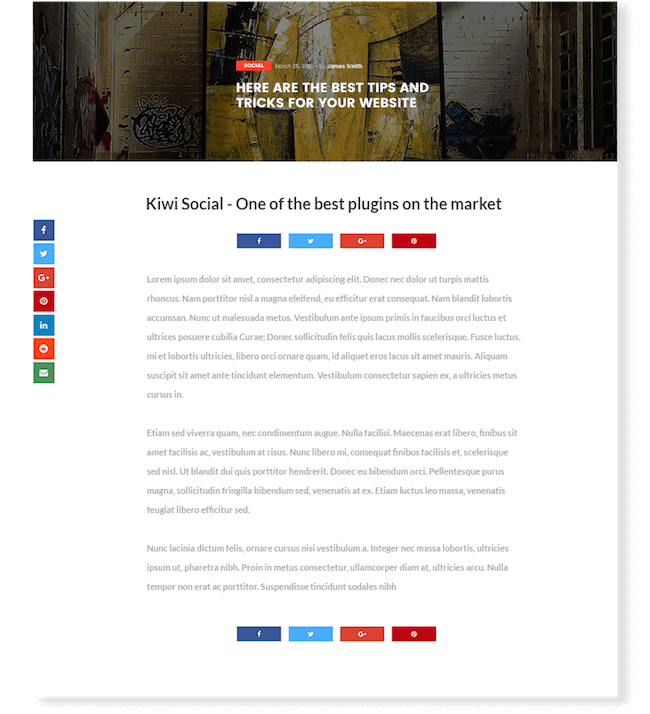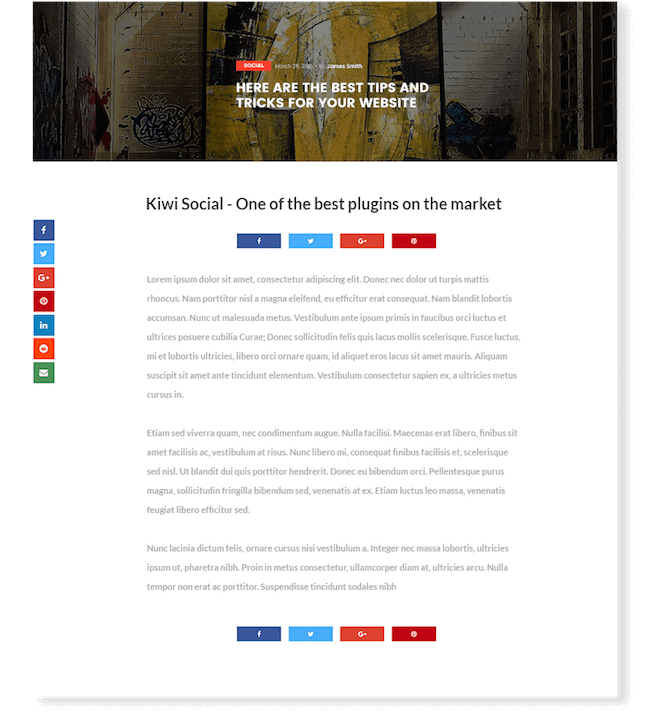 Social Media Auto poster
The name of the plugin says it all. This is an auto-posting plugin to help you grow your social traffic on automation.
Planning your content strategy, doing keyword research, creating high-quality posts takes a lot of time and once your content is published, the marketing of your content takes even more time.
So, automating as much as possible will help you to save a lot of your time. And this plugin will help you to auto-post your content to Facebook Page, Facebook Groups, Instagram, Twitter, etc.
So, this is a very important social media plugin for any WordPress site. It will help you to save a lot of your time automating the complete social media marketing process.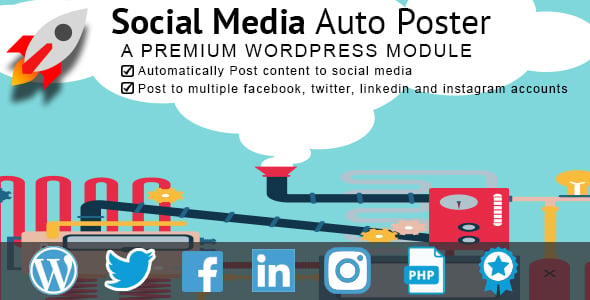 ARSocial
ARSocial WordPress plugin is a total package as far as social media integration is concerned. It gives you all the features of social sharing, social like fan counter, social locker, etc. to help you get started with your social media marketing strategy.
With the plugin, you will be getting support for over 42 different social media sites and corresponding social share icons which you can place sidewise or section-wise on your website.
Apart from this, there is also a content locker feature that locks your content until your users share it on their social media accounts.
Apart from this, there are also many built-in styling options and analytics, all of which can help you to get a detailed insight into your social media campaign.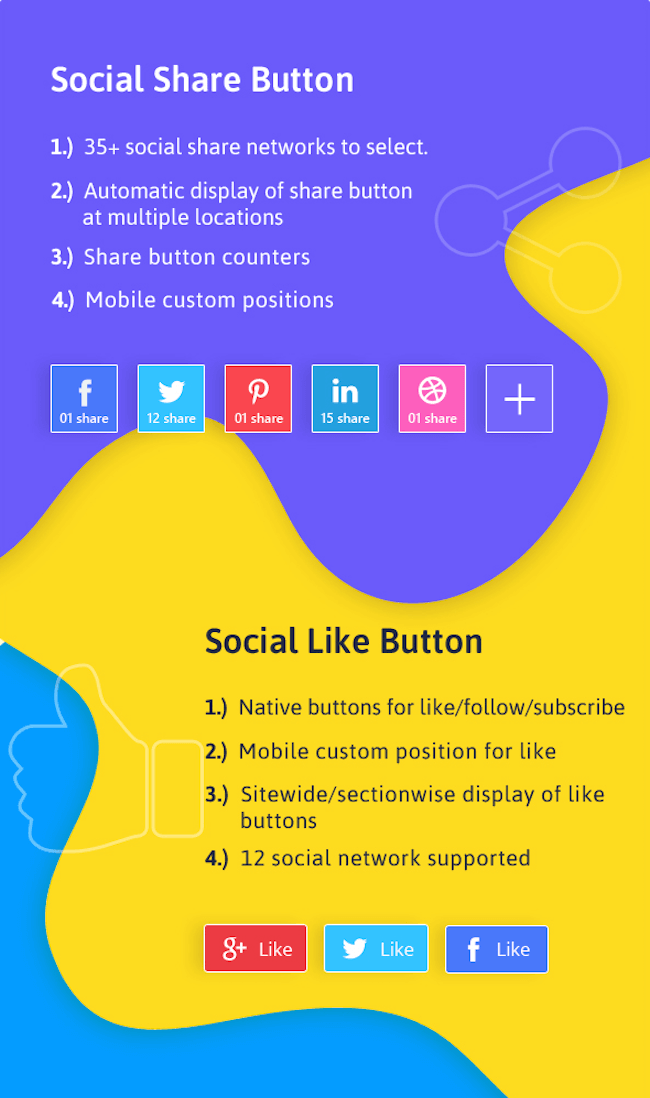 AccessPress Social Icons
AccessPress Social Icons WordPress Plugin is the way to go if all you want is a simple and easy means to integrate social share icons, and that's it. This is the best plugin if you simply want to include some quality social share icons on your webpage.
Keeping the features to a minimum, you will also like to know that the plugin is freely available from the WordPress Repository.
However, despite being a free plugin, there is a multitude of customization features that allows you to tweak around with different designs for the icons, incorporate funny colors, make it look elegant or something with vintage aesthetics.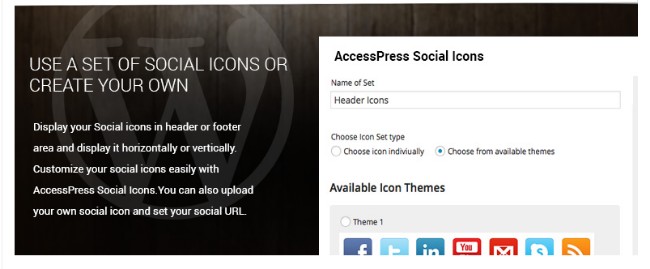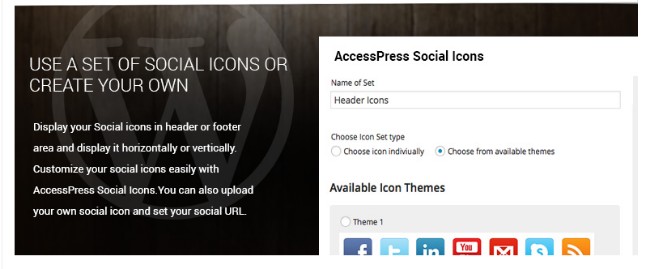 Social Buzz
Social Buzz is an amazing visual way of getting your audience to gasp at your content. When your visitors see how many times all your posts have been shared, not only will they have a positive bias to your articles or posts, they will also have a higher tendency to share your work.
And With Social Buzz, you can showcase how many times all your content is shared through the use of the share graph feature.
Now besides this outstanding feature for incorporating amazing social graphs to your content, Social Graph also gives you plenty of beautiful share buttons, Works for posts, pages, and your blog page, three built-in styles, responsive CSS, and much more.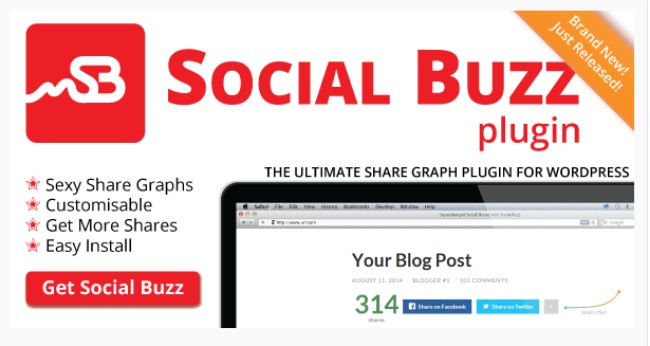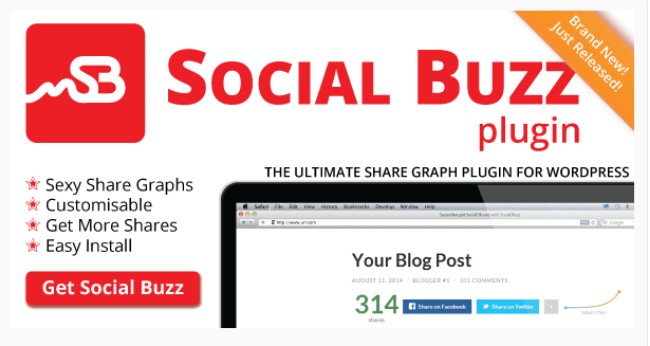 WordPress Social Media Icons
Another beautiful set of social sharing buttons. This plugin offers you over 50 different social media platforms to choose from.
It is a simple yet powerful social media plugin that offers you a user-friendly interface to edit the social buttons for your site. You can fine-tune the design of the social buttons as per your requirement.
This plugin offers you the option to choose from six predefined styles. And you can select the shape of your buttons, make it round or square as per your choice.
You can easily place the sharing buttons anywhere on your site by using the shortcode offered by the plugin, you can also place it using the native widget option, or if you are using Visual Composer on your site, you can place the buttons using the composer component.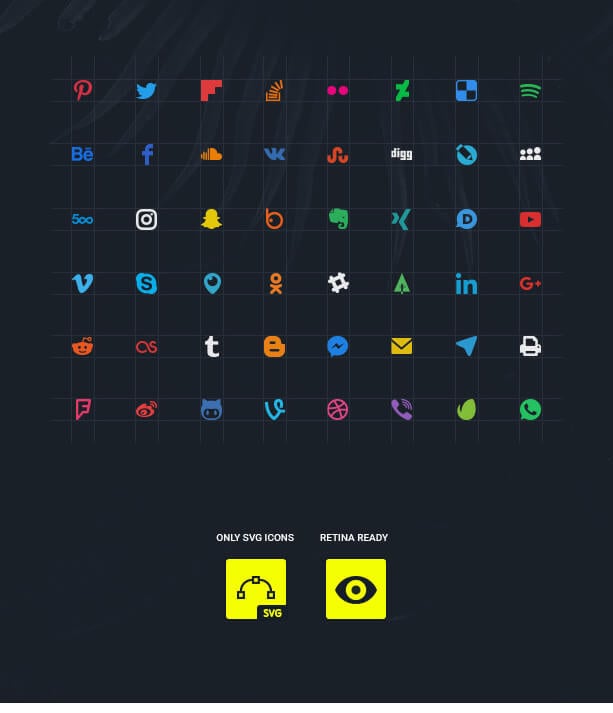 Mashshare
Mashshare is another WordPress Social Share plugin which gives you social media icons, Share buttons, total share counters, and a subscribe button.
Apart from all these, there is also an add-on for the plugin which you can use to integrate YouTube share pop-ups, sticky share bar, Google Analytics, Social Share optimization and much more. Apart from all these the plugin also shares wise appearance similarity with the social media modules you will find with Mashable – hence the naming.


Social Network Tabs
Social Network Tabs is a WordPress social sharing plugin that comes with 16 social networks and 69 feed options. If you want your site to have the state of the art appearance with quick loading times, then this is a great option.
The plugin allows you to create a slide-out tab and also a static tab. You can place these inside your post content which you can then use to make your posts look great and rich.
Apart from this, the plugin also comes with options that allow you the ability to get a live view of Facebook and RSS snippets.
There is a lot of flexibility as per the design of the site is concerned. And on top of all these, the plugin also has a responsive design and allows you to disable the slide-out tabs for mobile devices.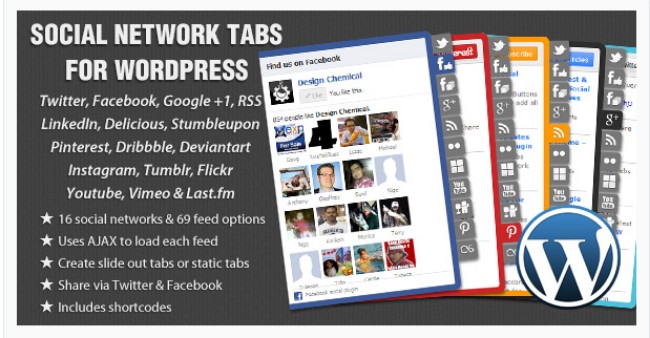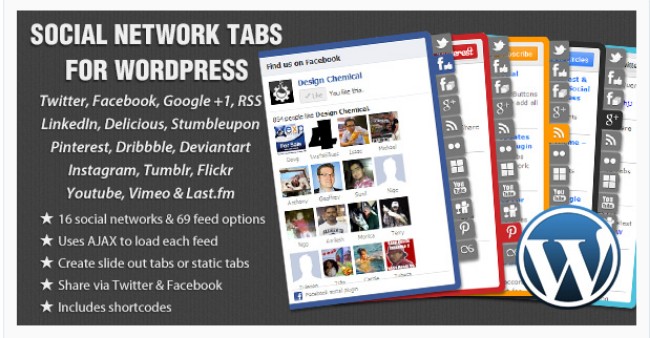 Maria
Maria is one the best Social sharing WordPress plugin if you are looking for something that gives you stunning social share buttons and icons.
The plugin comes with HD, retina-ready social icons to make for alluring icons which in turn should increase the conversion rates of your website.
You will get support for all of the top social media sites with special and attractive icons for all of them. Furthermore, you won't have to worry about how they will appear on different screen sizes as all these icons are responsive.
On top of these, the icons are fully customizable via the Visual Composer plugin as well as other WordPress page builders.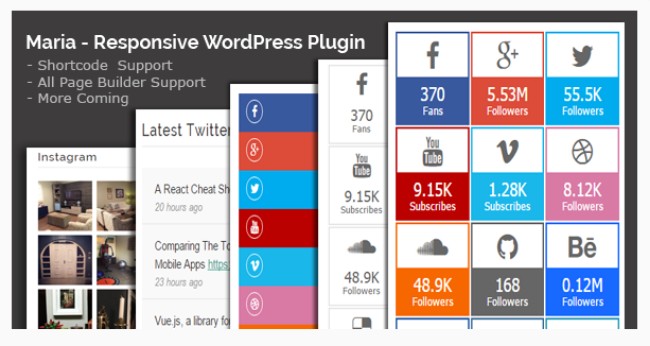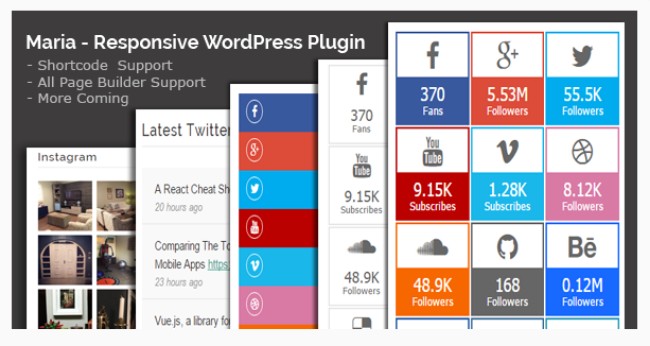 ShareGrapes
ShareGrapes is another social networking sharing plugin for WordPress, with icons that allow content to be shared on social media pages along with some customization features and options.
The plugin gives you access to over 80 social networking buttons, a multitude of button designs, floating or inline social sharing buttons, custom buttons for mobile social icons, a plethora of options and an intuitive, user-friendly options panel.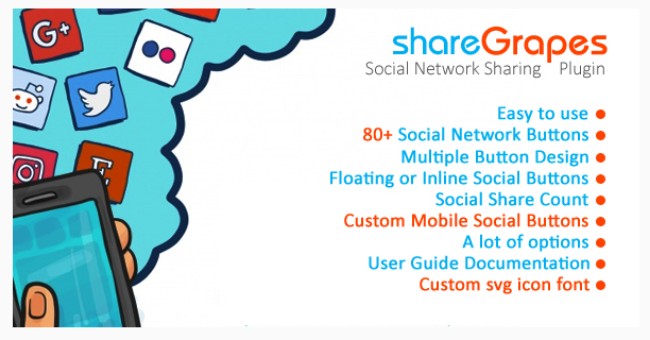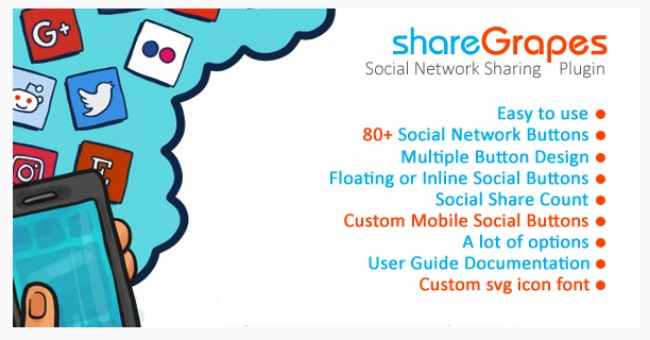 WordPress Social Stream
WordPress Social Stream is another social streaming plugin for WordPress which helps you to combine all your social network feeds into one place for multiple social network profiles.
All of these feeds can be displayed using a filterable jQuery isotope powered Social Network Wall or with a rotating feed list.
The plugin includes 15 social networks with 60 feed options to make your social network streams to be more interactive and boost traffic.
If your social media profile is just as important as your website, then using the plugin you can leverage the power of your website to make your social network accounts a huge success.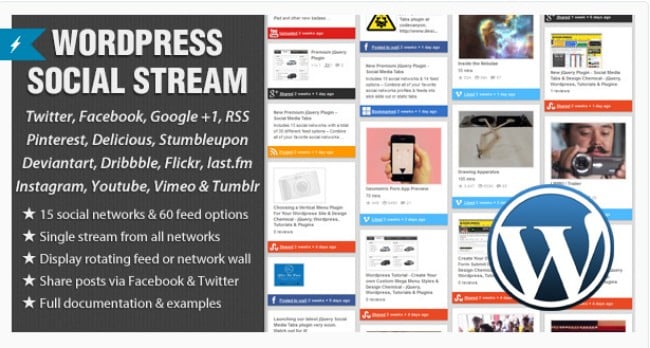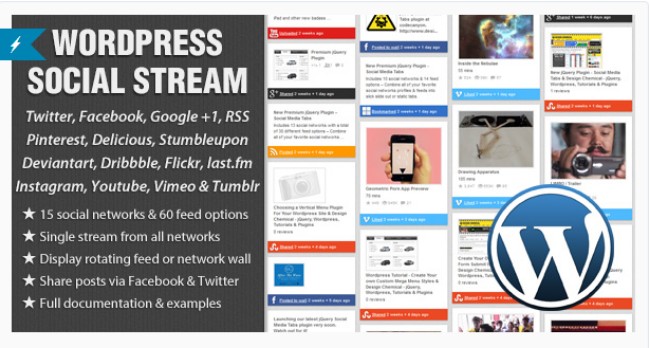 SharePlus(+)
SharePlus is another powerful social share plugin for WordPress websites. The main selling point for the plugin would be its large collection of customizable features which can help to create a new social sharing experience for your site users.
Another thing to note is that the plugin is made using jQuery, CSS3, and HTML5 which makes it future proof.
Some of the main highlighted features of the plugin would be its one-click setup, five themes, custom-built admin panel, ability to track social shares with the help of Google analytics, free updates, and much more.
There is also the option to have auto-open Shareplus buttons when the user finished reading a page. This can be cleverly used to increase your social share counters to high figures.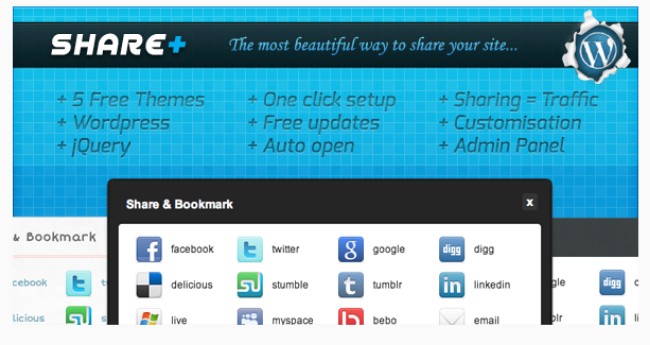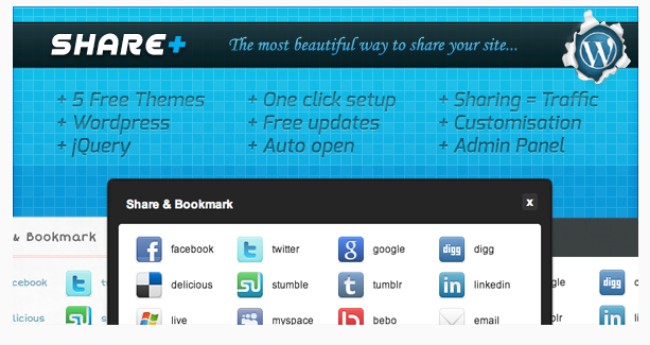 WordPress Social Board
WordPress Social Board is another social networking streaming much like a few others mentioned above. As with all social streaming plugins, it helps you to combine all your social networking activities into one single page.
However, the differentiating point for the plugin would be the 35 + unique feed options it brings to the table. It also supports 17 of the most popular and growing social networks, so that all your users can find the ones that they use and share likewise.
Some notable features of the plugin include things like six different display modes, four built-in templates along with a theme manager, custom layouts with CSS stylesheets, social media share buttons, full-screen slideshows for presentations and much more.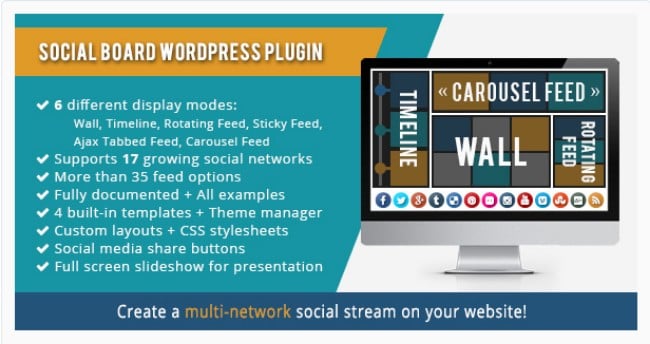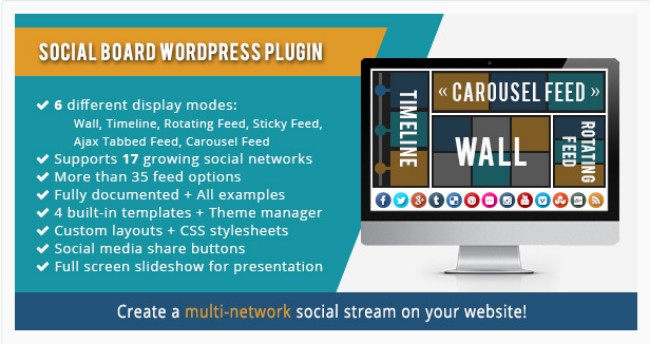 Instagram Theater
Instagram Theater is the ultimate WordPress plugin to help you integrate Instagram with your website. The plugin allows you to easily pull in pictures from your Instagram account and display them on to your website in amazing fashion.
The plugin gives you features like full-screen layout mode, Thumbnail layout mode, list layout mode, Popular Instagram feed mode, tag Instagram feed mode, and much more.
Customization options are also plentiful which gives you control over things like affect speed, delay intervals, alternate layouts and so on.
There is also a fullscreen gallery integration along with jQuery animations and effects, three site template and much more.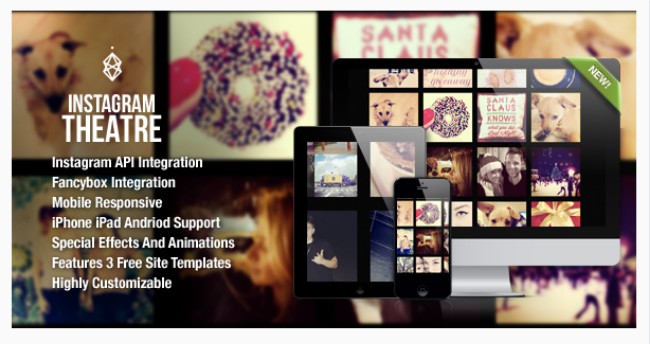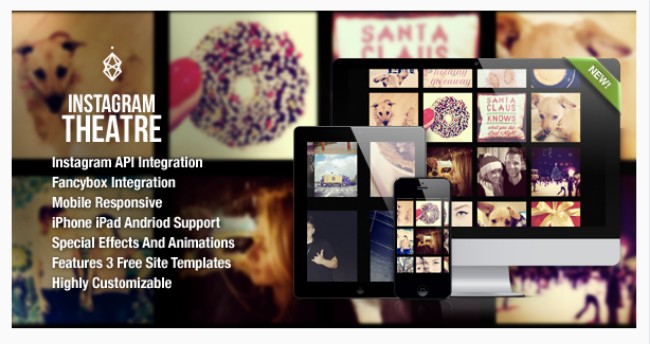 Socializor
Socializor WordPress plugin is a floating social media bar on your WordPress website. The plugin helps to integrate a social media bar into your web pages with an email and feed subscription option.
The plugin has been developed keeping in mind the necessity of social media sharing and email subscriptions.
It also offers plentiful customization options and can match your WordPress theme of any color. There are a plethora of color schemes with unlimited color options.
Besides this, you can also tweak around with the bar position and icon shapes, all of which can be handled through the intuitive and easy to use admin panel.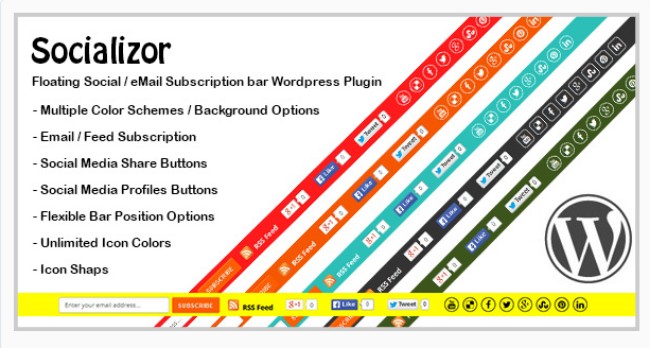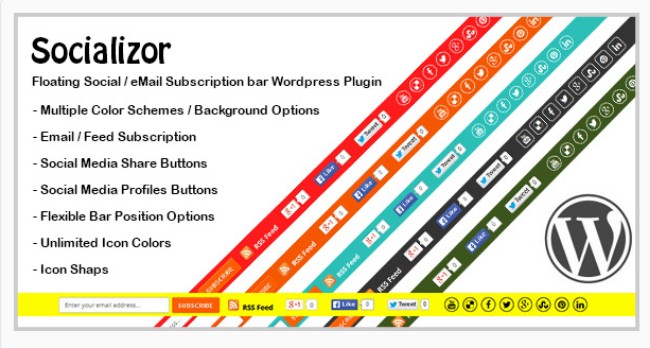 Ultimate Social Deux
Ultimate Social Deux is one of the powerful social share plugins for WordPress. It comes packed with over 25 social buttons, over 22 fan counters, eight-plus awesome skins, over 20 display locations and a bunch of intuitive shortcodes.
The plugin is the answer to your need for a sleek, user-friendly, customizable option to include social sharing buttons on your WordPress website. The plugin is also well optimized ensuring that the load speed of your website doesn't get hampered at all.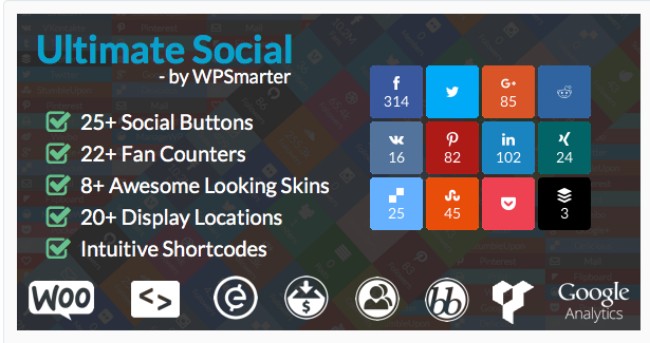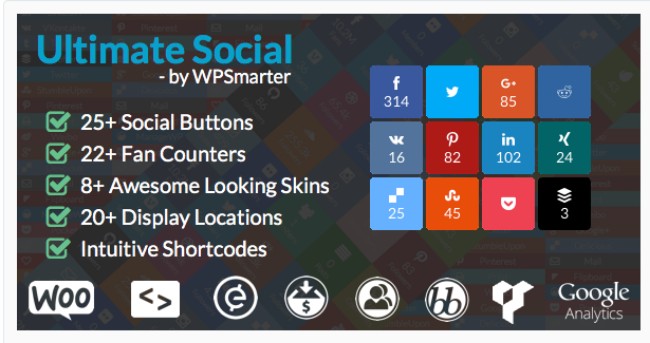 WP Flat Social Profile Blocks
Businesses are spending thousands of dollars every month to increase their social media following because it not only increases the customer base, but it helps you to improve the overall standing of your brand.
You don't have to spend much money, but at least you can make it easier for the incoming traffic to follow your brand on social media sites.
This plugin offers you the option to showcase your social profiles and followers count on a great looking flat design.
It is a fully responsive and retina ready design that will surely make your social profile look good on all devices.
The plugin offers you a drag-and-drop interface to place and arranges your social profiles easily. The plugin offers you unlimited color options to style your icons and great looking modern flat designs.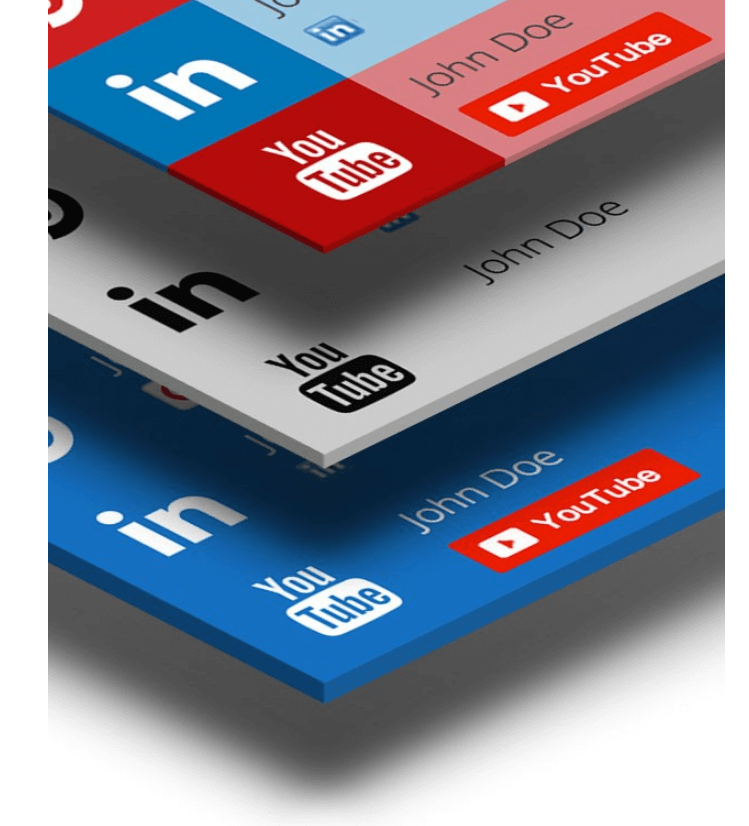 Instagram Theatre
If you want to spice up your Instagram profile pics on your website, this plugin is for you.
Now, we all know that showing your Instagram pictures on your site can increase your followers dramatically; and if you work around how you display those can increase it further.
With this plugin, you can pull your pictures from any Insta account and display them on your site in the various layout such as grid, list, and full-screen
We have already listed some of the best Instagram WordPress plugins here in this post in case you need more options.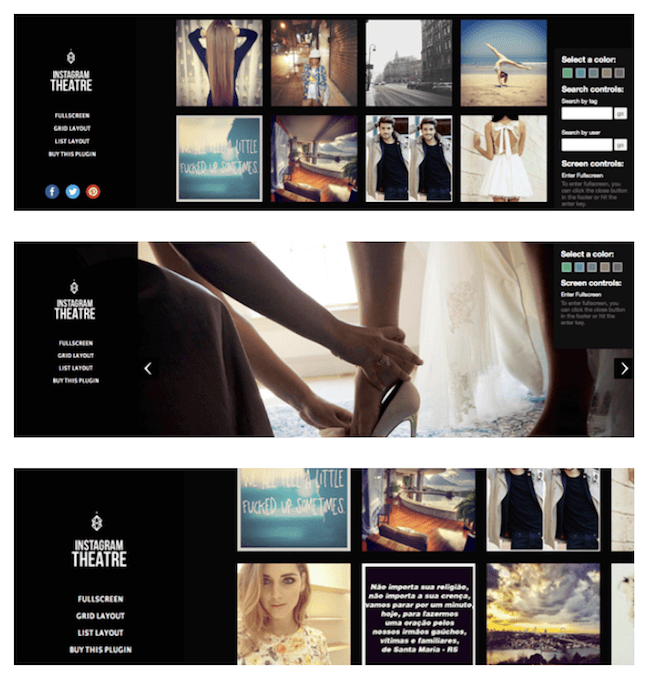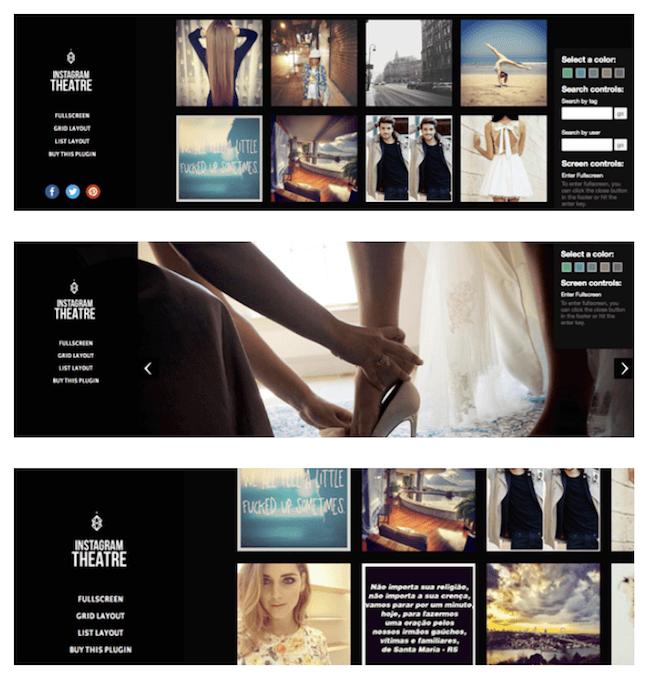 Exit Through Social Share
You must have seen popup appearing to like Facebook pages or asking you to share the post on social media sites many of the viral content sites which are a proven method to increase the number of pages like and social sharing.
This plugin does that perfectly. Once any of your visitors click on any of the outgoing links on your site, this plugin will show them a popup asking them to like your page or share your content on social media sites.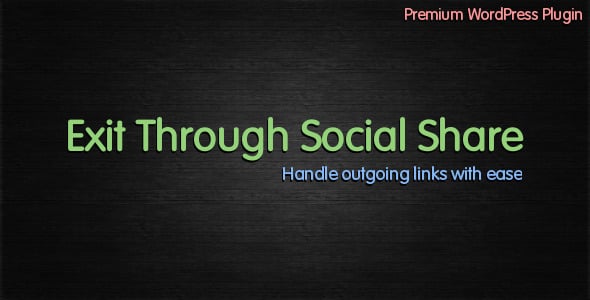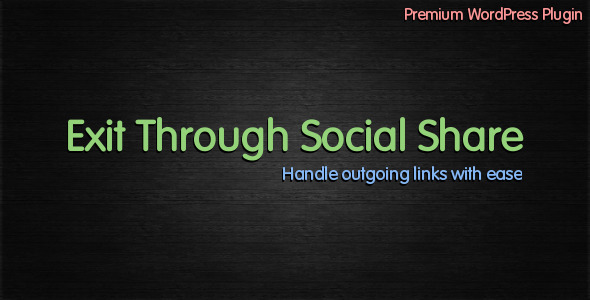 Flexi Instagram Feed
A beautiful Instagram plugin that will help you to showcase your Instagram feed on your WordPress site. If you are managing a site that revolves around a lot of images, this is a great plugin for you.
This plugin offers you a great looking grid layout to showcase your feed content, and you have the option to change the styling of the feed according to your needs.
There are some ready to be used to design templates to choose from, and all of them look stunning. The plugin offers you a powerful admin panel where you can manage everything for your site quickly.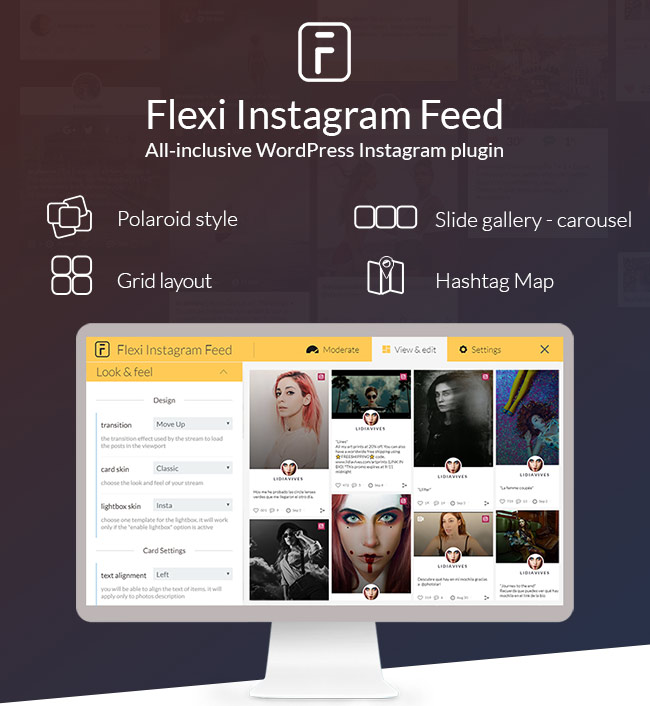 Share This Image
Share This Image plugin is for WordPress bloggers and website owners who are looking forward to using image sharing social media plugins on their WordPress website. This is an ideal tool for image bloggers.
The plugin is very simple, yet flexible, and gives you the flexibility to promote your content on 11 of the most popular social networking websites.
Some notable features of the plugin include its rich, customizable content, powerful admin panel, auto-scrolling, dynamic content, and loads more.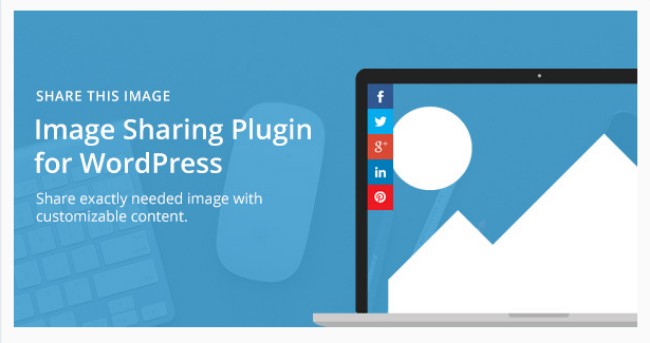 Best Free Social Media WordPress Plugins
---
Share Buttons by AddThis
AddThis is one of the most popular and widely used WordPress social sharing plugins available in the market. This plugin offers you the option to share your content with over 200 different social media sites; that's a huge number.
This is very easy to use WordPress plugin and works perfectly with all free or premium WordPress plugins, just install activate, and you are good to go.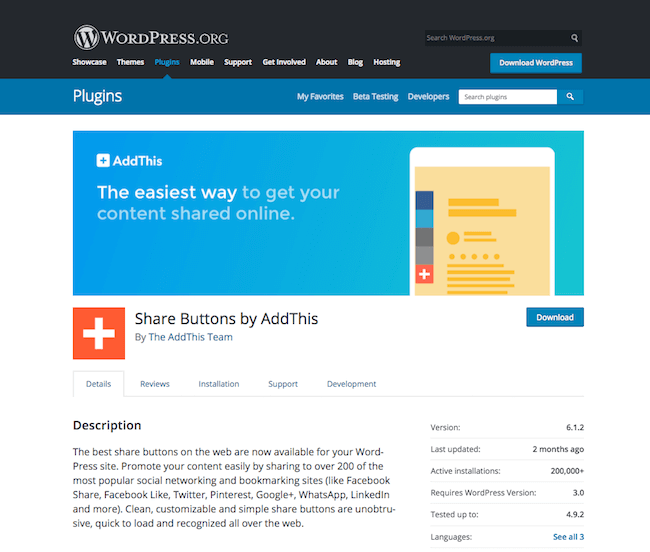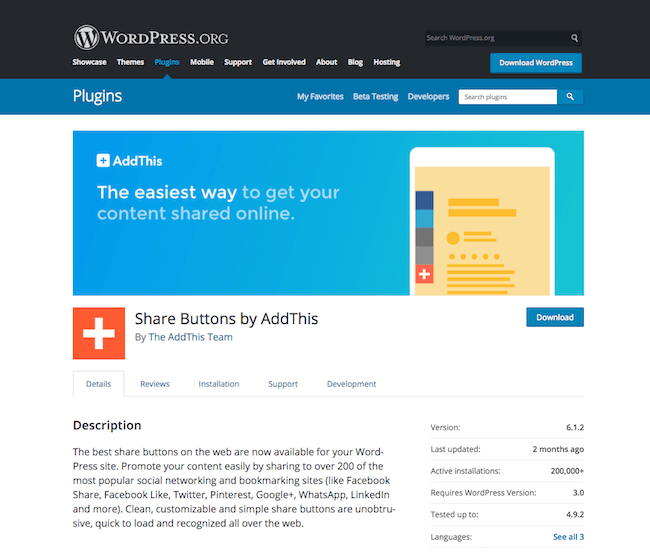 Shared Counts
This is a quality free social sharing plugin for the WordPress sites. As the name suggests, you can showcase your social proof to create your brand with this plugin.
It supports both HTTP and HTTPs version of the URL to accumulate the share counts. This plugin was created with large websites in mind, so it will not affect the performance of your site in any way.
Also, this plugin is made GDPR compliant. It doesn't store any cookie, unlike many other leading social sharing plugins.
If you are a developer and looking for a quality social plugin to plugin it with your design, this is one of the top options for you.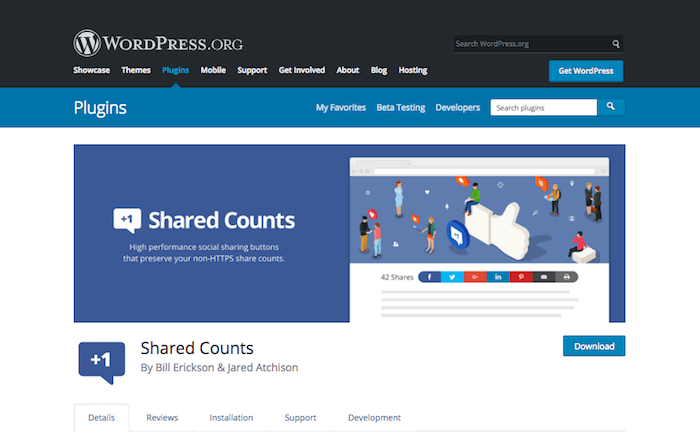 Sassy Social Share
Sassy is another popular social sharing WordPress plugins with over 60k active installations. The plugin comes with great-looking vector social sharing icons that will surely help you to make your site look great.
If you are looking for a free social plugin with an extensive list of options, this plugin offers you over 100 different social media and social bookmarking sites.
The plugin also supports share counts from most of the prominent social sharing platforms so that you can showcase the counts to your visitors.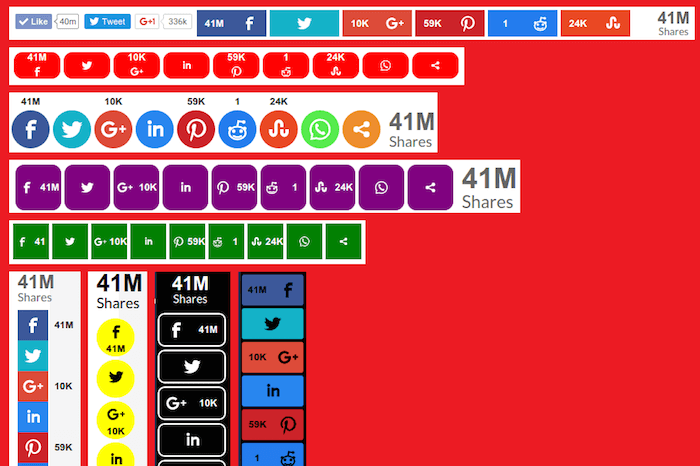 Social Media Flying Icons
The floating social media icons are always been effective. It works because the buttons are visible to the users all the time.
This plugin has been a popular choice among bloggers because of how it works. The floating social media icons instantly attract the visitors' attention and the probability of conversion increase to a great extent.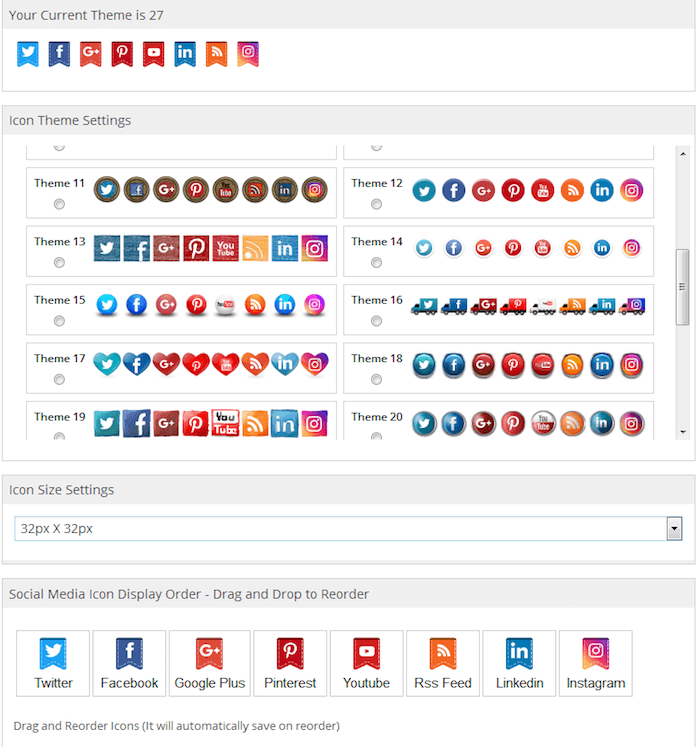 AddToAny Share Buttons
With over half a million active installations, you can think of the effectiveness of this social media plugin. The number talks for itself.
This free social sharing plugin offers you multiple options regarding placement and design. It is a fully responsive and retina ready WordPress plugin that is active since 2006.
It offers you over 100 different social media sites where you can submit your content right from your website.
It comes with some different placement options such as vertical floating share bar, and horizontal floating share bar, as a shortcode, or a widget within a theme's layout.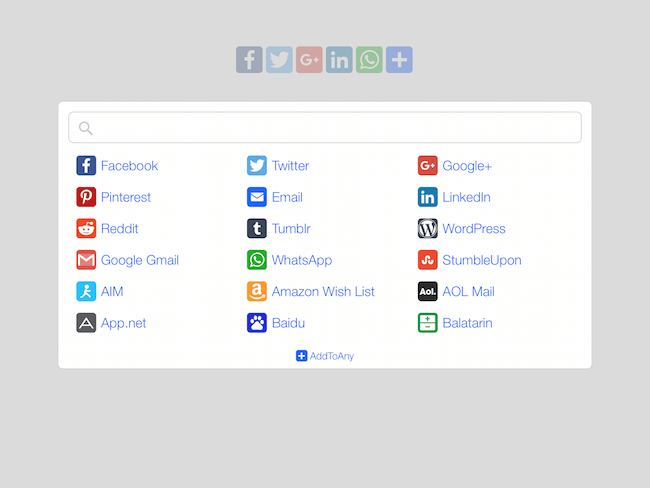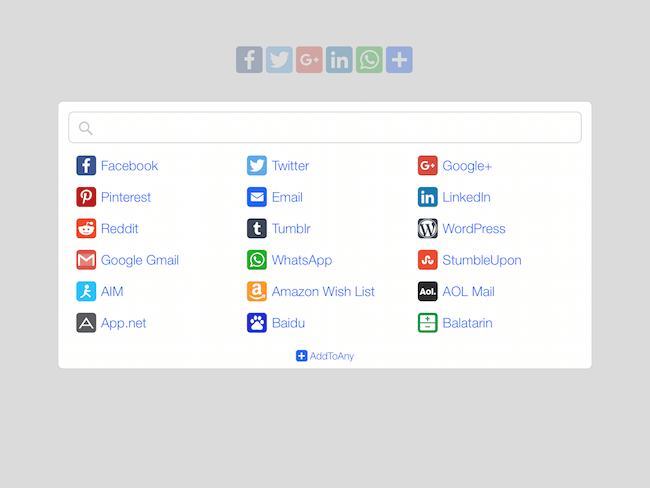 WordPress to Buffer
If you are a regular user of Buffer, this is a very effective plugin for you. You can use this plugin to send your content to Buffer automatically to schedule it for posting on social media sites like Facebook, Twitter etc.
The plugin uses the API of Buffer to send your content over to the social post scheduling platform.
Jetpack Social Sharing Module
If you are using WordPress, you must have come across this plugin already. There are some different modules in this plugin, and social sharing is one of them.
It offers you nice looking minimal social sharing buttons that you can use on your site.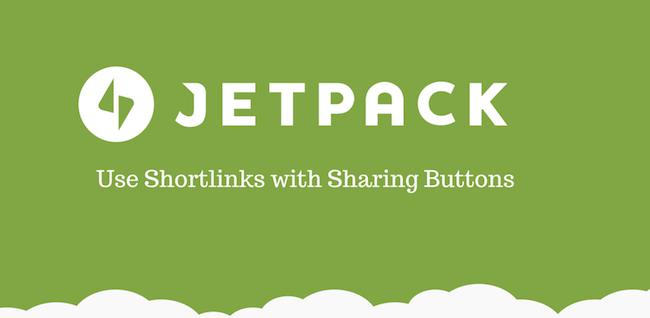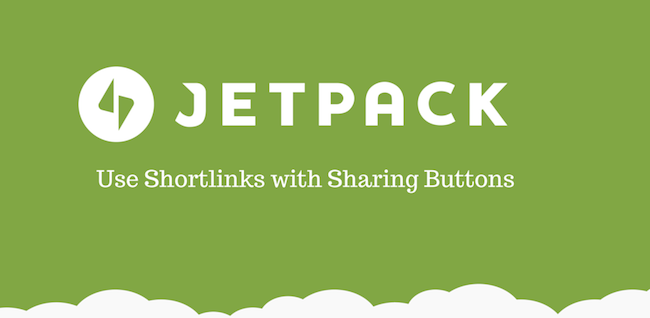 Simple Social Icons
A simple social media WordPress plugin created by the StudioPress team. You can use this plugin to showcase the social media link on the sidebar of your site.
Though the plugin is very simple, it offers you a few options to customize the look and feel of the social media icons.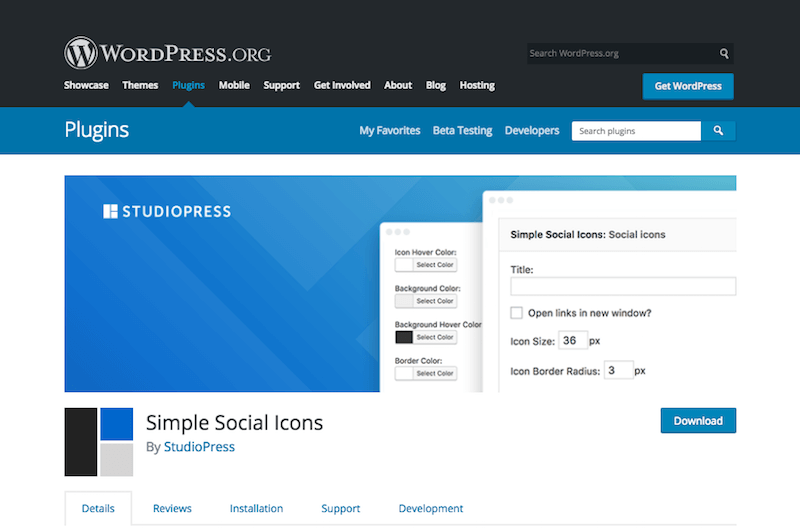 Shareaholic
One of the most popular free social sharing plugins, the Shareaholic platform is not only for social sharing anymore; they offer some other services like native ads, all the required social media options and more.
Other than the normal post social sharing buttons, follow buttons, this plugin also offers you the browser sharing options to make sure that it is comprehensive and takes care of all the social media needs on your site.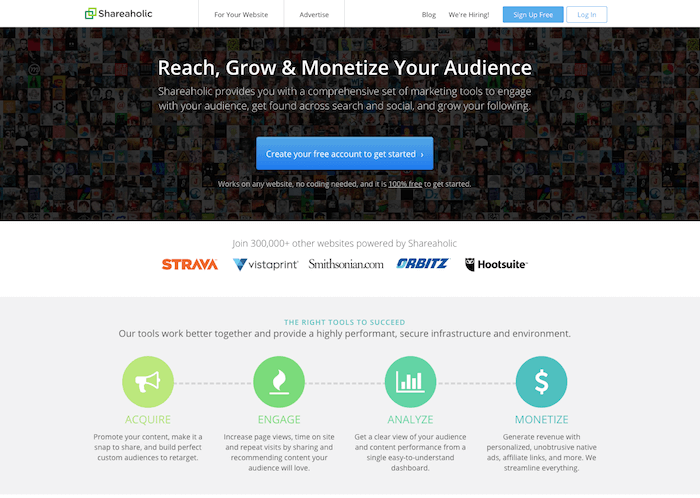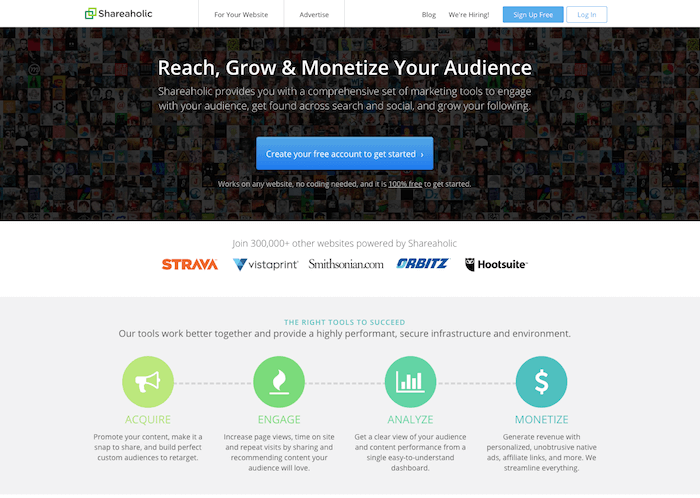 Social Media Share Buttons & Social Sharing Icons
A comprehensive free social media management plugin for your WordPress site. This plugin offers you trendy designs for your social sharing and follows buttons.
You have the option to choose from sixteen different design options as far as the button designs are concerned. Your site will make modern and engaging social media options as soon as you start using this plugin.
You can make your social media icons float pr sticky as per your requirement and you can get amazing animation effects that will quickly enhance the overall look and feel of the social buttons.
The plugin comes with easy to use admin panel where you can choose the social profiles that you wish to use on your site, and you can decide what action the button should perform.
This is a GDPR compliant plugin; you can move over to the GDPR setting option to and set it up for your site.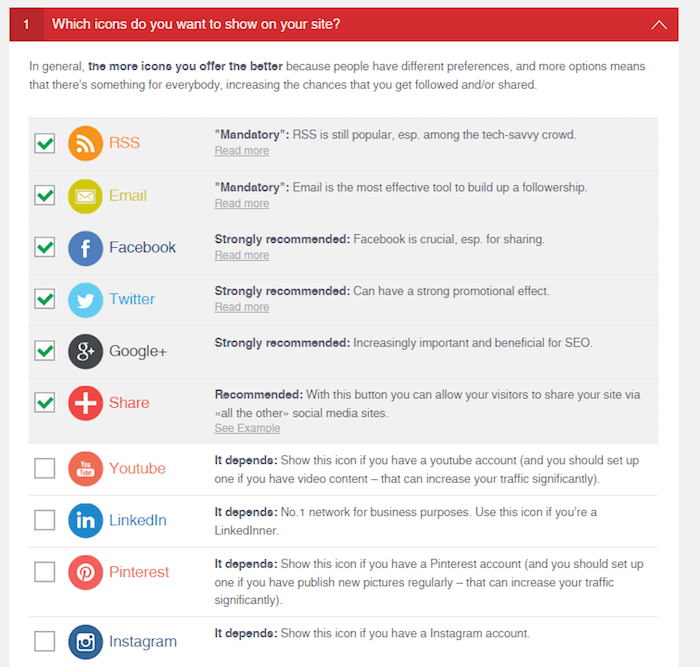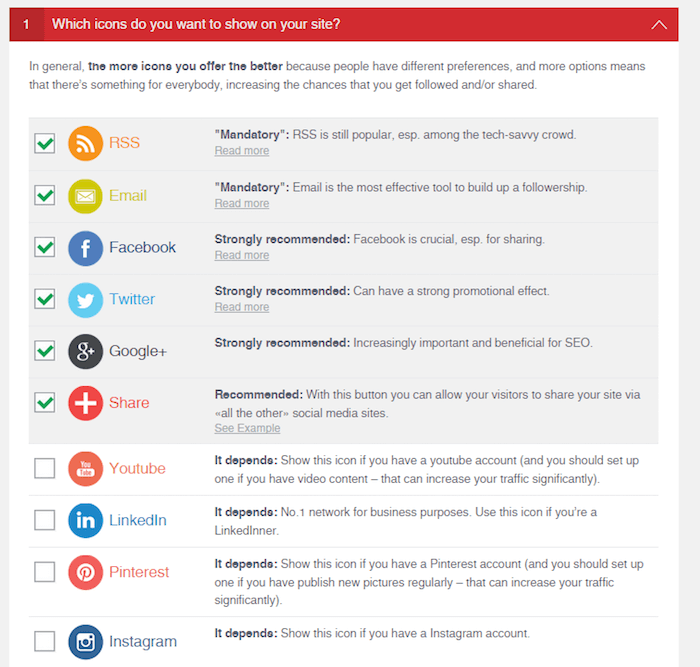 Blog2Social
Do you want to set everything on autopilot? Here is the plugin you need; this social media plugin will help you to share your blog posts on your social media pages.
Now, there are some such platforms where you can schedule and plugin your content to the social media sites, but this plugin can do all those for free.
You can auto-publish your posts on social sites; you can re-publish your content and schedule your blog posts to maximize traffic to your blog.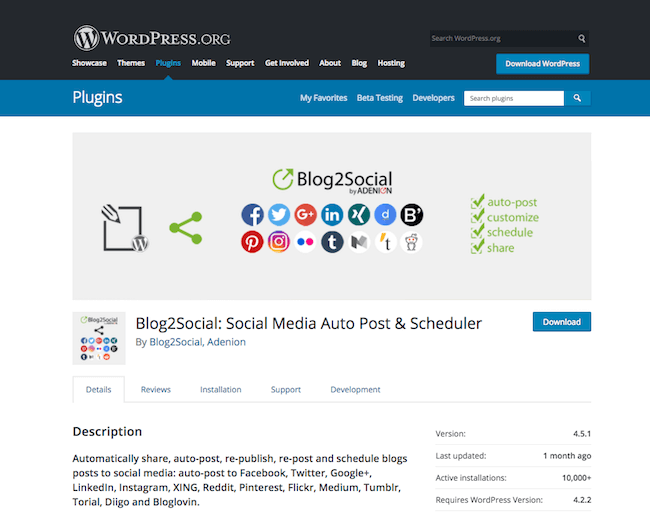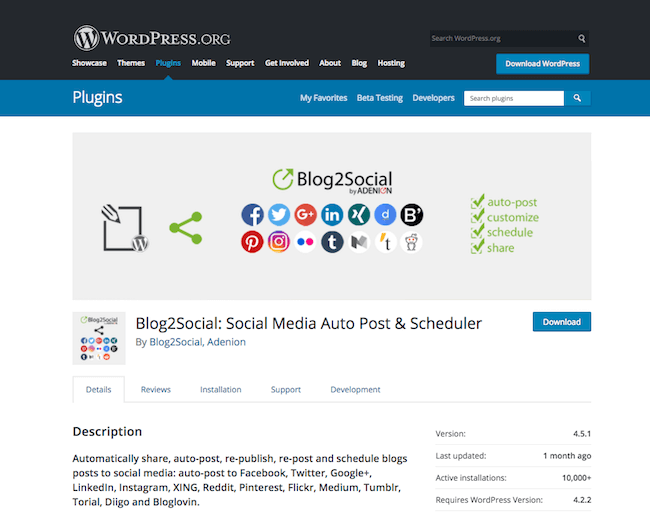 In Conclusion
So this was our list of the Best Social Media Plugins for WordPress. If you choose to try these out, then do let us know of your experience using them.
Also if you happen to have a favorite Social Share plugin which we happened to miss in this list then do mention so in the comments section. Your fellow readers would love to have more options on the table.