A collection of best BuddyPress themes that you can use to create a social community site. If you are already managing a site, you can use these themes to have a community around your niche business.
BuddyPress is the most popular WordPress community plugin; you can use this plugin to create a social network site quickly and with minimum investment.
This plugin brings in all the important community features to your WordPress site such as the status update option, groups, forums, blogs and can use it as a messaging tool too.
BuddyPress is an open source plugin which is free to use; you can install and get started with your community site quickly. However, before you start you have to make sure that the theme you are using is compatible with the BuddyPress plugin because all WordPress theme doesn't work with this plugin.
There is a huge collection of WordPress theme which is custom created for the BuddyPress community sites, or the theme is made compatible with this plugin along with all other activities it is capable of.
This article will list down the best BuddyPress themes that are best suitable for the community site.
Best BuddyPress Community Themes
Boss – BuddyPress Theme
Boss is one new way of experiencing BuddyPress. The layout is very responsive and flexible in such a way the user can switch to fluid design style or the standard design style. The admin panel is designed with the aim of being user-friendly and simple to manage.
Here, the management level extends to managing layouts, fonts, colors, logos, images, sliders, etc. Boss is a great platform to connect your blog with social network such as Facebook, Twitter, Pinterest and so on.  And it is multi-language supportive.
The key features include WooCommerce compatible, One-click installer, Custom logos, Sitewide search, Shortcodes, Live Notifications, SEO Friendly, Font Icons, bbPress friendly, Retina Ready and so on.  Boss is a paid plugin.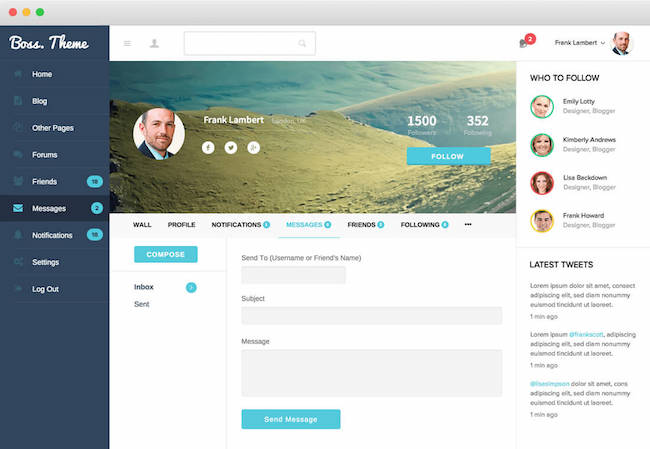 Social Learner
Social Learner is an awesome BuddyPress theme for the education-related sites. This learning website will provide relevant information to those who seek anything related to studies. Since Social Learner is a WordPress theme, and you can create a custom learning community with BuddyPress plugin.
Social Learner is highly responsive, and SEO optimized which ensures that this site will be ranked high in search engines like Google.
The key features here include:
More than 500 distinct high-resolution fonts
Live Notifications
Regular updates
WooCommerce supported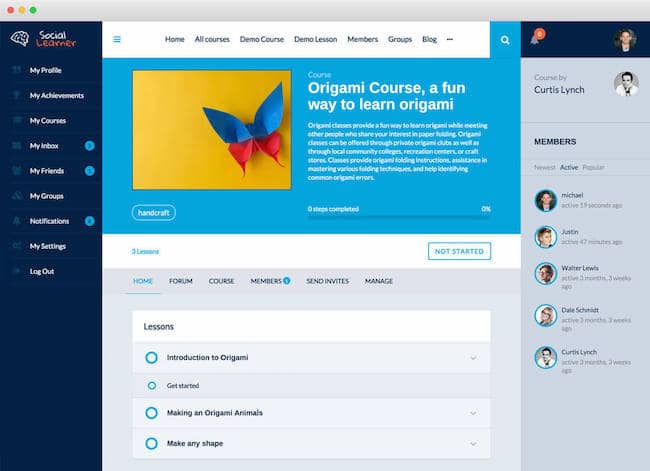 OneSocial
OneSocial is suitable for all kinds of communities. This highly responsive BuddyPress theme aims mainly at ease of use. With this theme, you can manage your layouts, widgets, logos, sliders, colors and much more. OneSocial also allows the user to extend his website functionality to e-commerce. The key features include WooCommerce support, translator, live notifications, SEO Optimization, Social Network Integration, etc.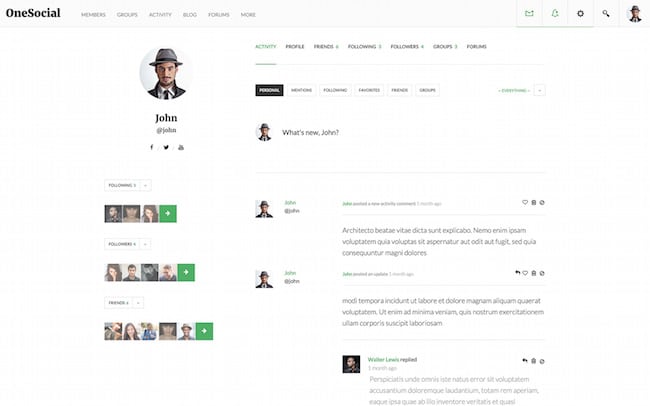 Social MarketPlace
As the name suggests, this theme is created for online shopping community. You can create your own store and have a community around your products which can be a great business model as your users will always be aware of the upcoming products and the engagement will be high.
This theme is a perfect combination of WordPress, WooCommerce, WP Vendor and BuddyPress that will help you to create a cutting-edge marketplace.
With this theme, you can allow your users to create their own online store and have so that they can make money and as admin, you will have full control over the entire setup.
It comes with complete product management system, order tracking for vendors, coupon management, automated commission feature will help you to run the show like a pro. To make it easy for your visitors, you will have a powerful search option to check for different stores, favorite store option and more.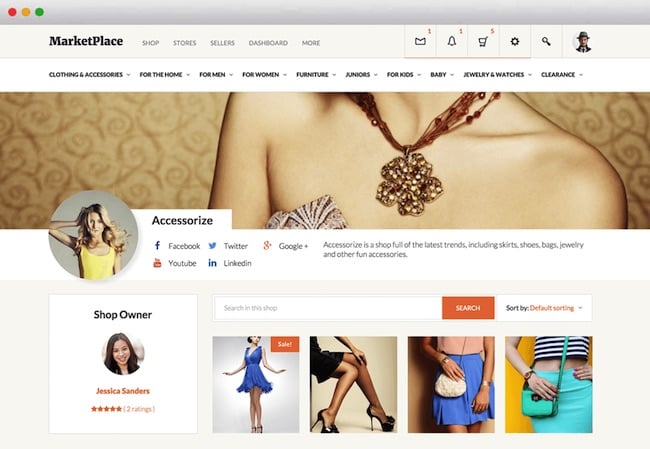 Woffice
Woffice is an excellent intranet/extranet Best Buddy WordPress Theme. This multi-purpose theme is essentially designed for the convenience of the users which has made the usage easy with highly customizable layout and design. The design gives a modern feel and easily adaptable to various applications such as School Networks, Business & Government, Associations, and Charities.
The feature like One click installation, built-in web app, 20+ built-in extensions, Multilingual compatibility, WooCommerce supported, BuddyPress friendly, Slider Revolution makes it more wanted Plugin and has reached nearly 4000 intranet and extranet communities. Apart from the features mentioned above, Woffice has numerous other traits which make it a great product.
It comes with the demo content that will help you to make your site look like the demo theme within a couple of minutes which you can take forward with your own customization. This theme has all the small but important features like chat functionality, Google map, custom user role etc.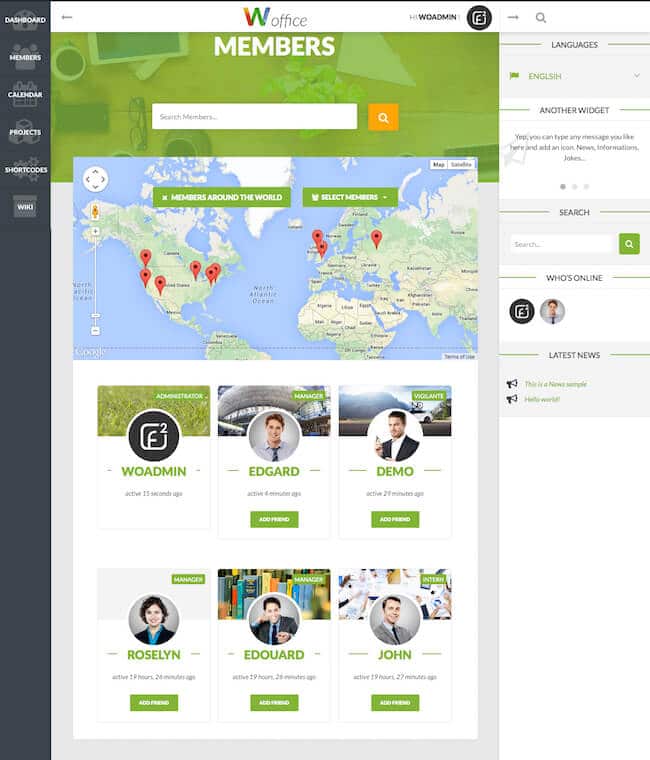 Thrive
Thrive is a great looking modern community WordPress theme powered by BuddyPress. This theme is created to fit into the latest trend of social sites, very professional looking light color combination, beautiful wide layout to help you quickly start your community site.
You have a few ready to be used demo designs to choose from. This theme is perfect for different niche community sites that you can easily modify and make it perfect.
Thrive theme is perfectly optimized for the small screen devices so that your visitors have the best experience irrespective of the device used. It offers you drag-and-drop Visual Composer plugin in the theme bundle for free which you can use to create any layout you wish to create.
The design of this theme is extremely engaging and I'm sure your visitors will like your social community site. This theme offers you the option to create wiki pages, polls and other engaging content so that you have a complete social site.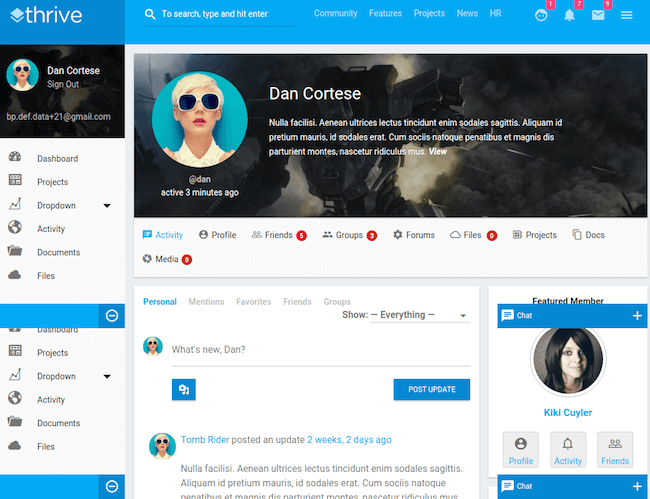 Social Portfolio
If you are a creative person and wish to create your work showcase community, you can use this theme. This theme is created for the portfolio site and BuddyPress platform to push in the community features.
You must have come across sites like Behance or Dribbble which are some of the most popular creative portfolio communities that attract millions of users every month. This theme offers you all the features to help you create similar kind of portfolio community.
This theme is powered by the amazing Portfolio Pro that offers you features like Projects, Works In Progress and Collections which are some of the important features of portfolio communities. All your users will have their own page, own portfolio and will be able to upload images, videos to showcase their work
This kind of business model is always popular because of the win-win situation. You are offering a platform to all your users to display their work and you can monetize the site easy to make recurring revenue.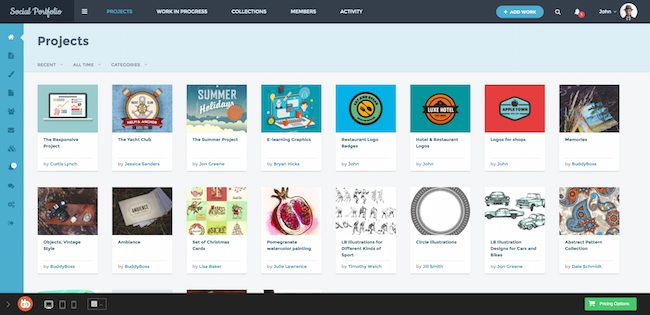 SweetDate
SweetDate is a perfect choice for the dating community. All the things that needed to be on the website for dating will be available in this bbPress compatible theme.
Even then, the primary motto of this site regarding dating; it can be very well suitable for all other business niches too. SweetDate is extremely customizable and excellent support.
It is compatible with the latest version of WordPress, BuddyPress, and bbPress. The layout fits itself to any device, any screen resolution, which gives the user the same experience, wherever they are.
SweetDate is also compatible with all kinds of browsers like Firefox, Chrome, Safari, Internet Explorer, etc. You can also register or login with Facebook. The layout is designed elegantly in such a way it attracts the user.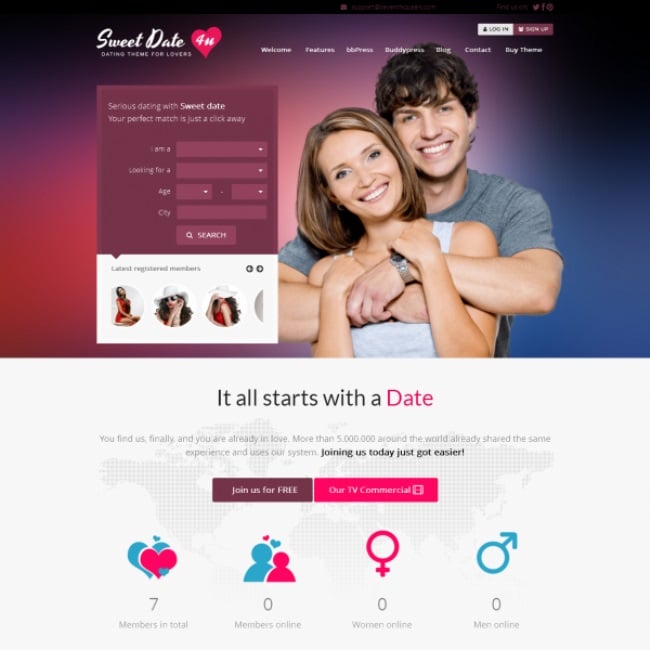 BuddyBoss Mobile Only
If you wish to have your social community only for the mobile users, this is the theme you need. Also, if you are using the BuddyBoss theme and wish to have the perfect version for the small screen devices, you can use this mobile version.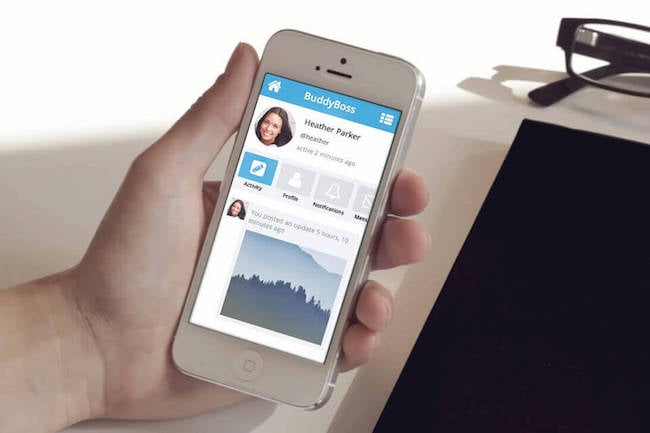 BuddyApp
If you want a completely modern app kind of feel for your community site, this is the theme you need. This theme is created for the modern social sites with all the required features and options it.
Features like live notification, live customizer makes it one of the best solution for BuddyPress based sites. The design of the theme looks great, and it has all the options you will need to create a successful community site.
The mobile first approach of the theme will help you to design a perfect intranet or open community site with ease. As the theme is compatible with the WooCommerce plugin, you will be able to create your online shop using this theme.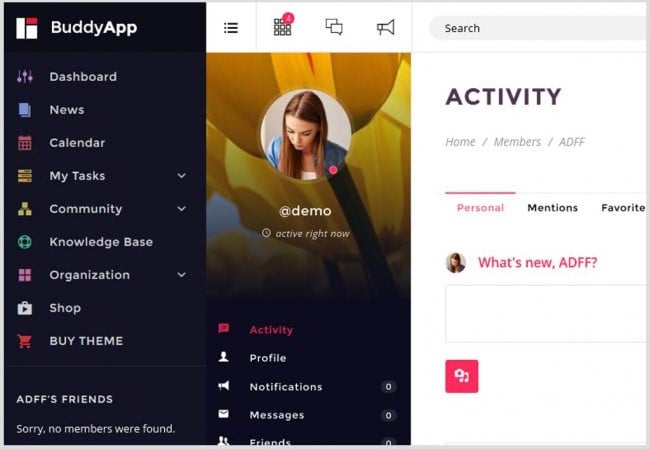 Kudos BuddyPress Theme
Kudos BuddyPress theme is highly compatible with all kinds of browsers. And it is a handcrafted BuddyPress theme is bbPress friendly, and a great WordPress plugin. Kudos has been designed well with the team of experts which will meet the current trend.
The layouts provided will give the website and user a classy and professional look and feel. The highly responsive design is the main attraction of this theme. Apart from these, Kudos have more and more interesting features such as
Step by Step Tutorial
Integrated search Functionality
Inclusive Admin Panel
Fully optimized SEO
Social Media Integration
Cross Browser Compatibility
Retina Ready Screens
Custom Shortcodes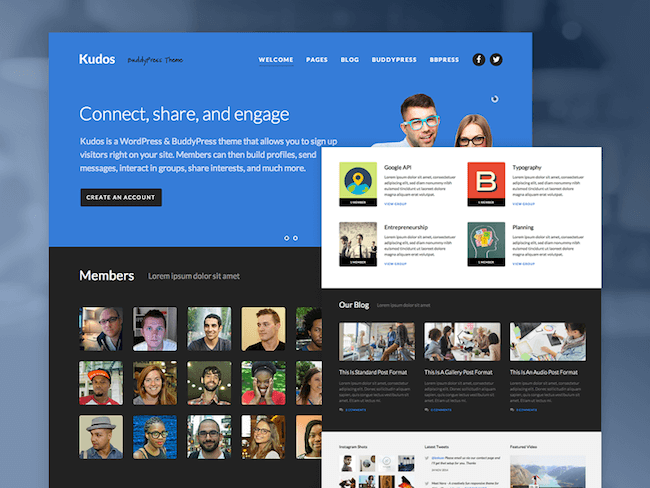 REHub
Pricing comparison sites are very popular these days and there are examples of sites who created million dollar business with the pricing comparison model. So, if you want to into this niche in a big way, this is the best theme you can use.
This theme is created with a completely modern design that is perfect for your business. It has everything that will ever need to create a successful business with the pricing comparison model.
The REHub theme comes with membership model, comparison modules, coupon option and other details for you to create a site with affiliate model. So, if you are looking for a business model that can help you to make huge money with third-party products, look no further.
REHub theme comes with some great looking ready to be used the template, and you can select the one you like and according to your niche. Once you select the template you can have your own customizations done as per your requirement.
No only a pricing comparison site, this theme can be effectively used for a business directory site, coupon site, a classified business site or a complete WooComerce store. So, this is a multipurpose theme that can be used for almost all kinds of niche business sites.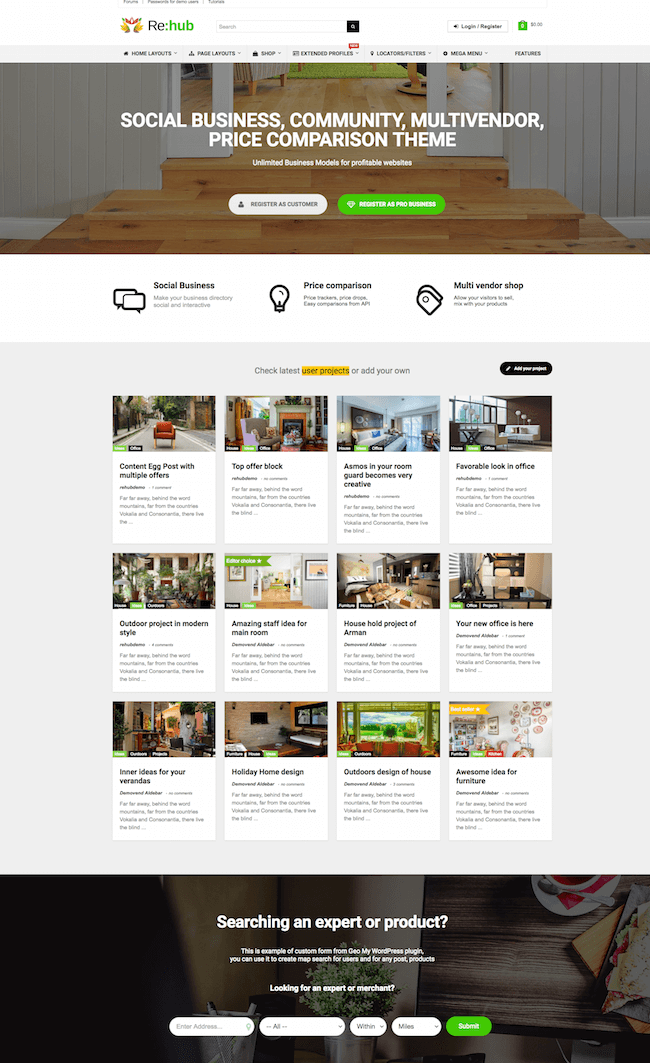 Mingle
Mingle is a BuddyPress WordPress theme that is an ideal companion for social network community. This social network plugin is of great help to the blogger to make their website a fully functional portal. It also allows you to build groups, forums, and a platform to interact with your friends and close ones through messaging, status and updates.
Some of the best features of Mingle Best Buddy theme are Drag and Drop layout manager, Contact Form Builder, administrative interface, Sidebar generator, SEO friendly and lot more. And most of all, Mingle is compatible with all major browsers like Internet Explorer, Firefox, Safari, Chrome, Edge, etc.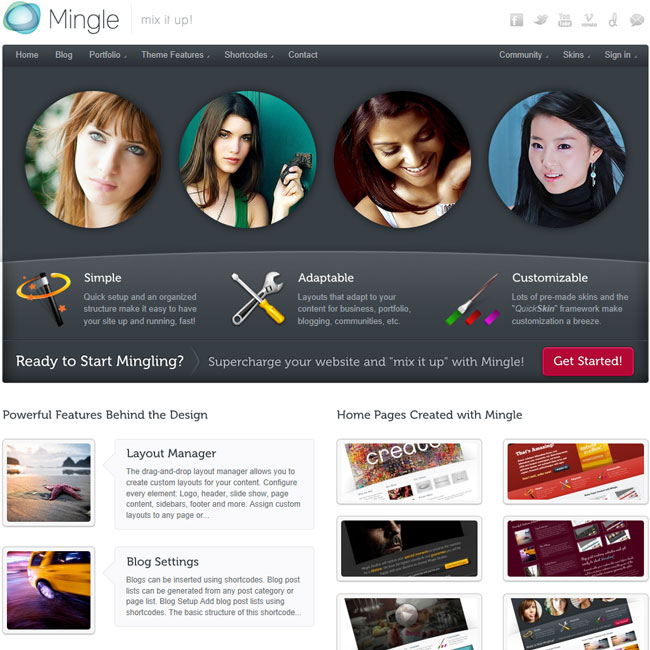 KLEO – BuddyPress Theme
KLEO is a fully responsive design with the retina-ready feature, and this WordPress theme is best compatible with BuddyPress. KLEO has won the Envato's BuddyPress Most Wanted contest. It is so definite that KLEO is the best platform to create community, blog, portfolio, and e-commerce store.  1click installation is one of the attractive features of this theme.
Make use of KLEO to build your community and blog to write and share your thoughts. The user can customize the site as per their wish with the numerous available features and options like 3-level drop down menu, Icon fonts, custom tabs, widget ready, unlimited colors, 600+ google fonts, etc.
Socialize – Multi-Purpose BuddyPress Theme
As the name implies, Socialize is a great platform for socializing with people. This multi-purpose theme is an ideal choice for creating community and social networking. Also, Socialize will be sufficient for creating social groups and interacting with your close ones via messaging and sharing your posts.
Some of the key features of Socialize:
BuddyPress Integration
Multiple Layouts
Fully responsive
AJAX Filtering
Visual Composer
Events Calendar
One Click Installation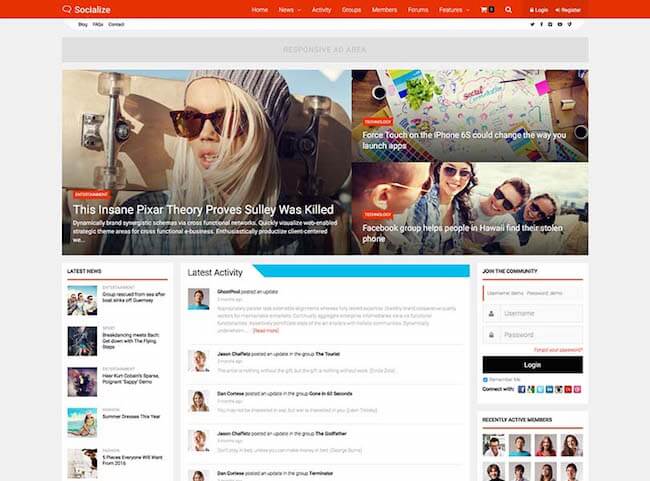 Eonet
Eonet is a beautiful modern social community WordPress theme that you can use to create amazing niche social communities. This theme comes with a great flexible design which can be turn around as you wish.
This is a fully customizable multipurpose WordPress theme that you can use for all different niche sites. This social networking theme comes with some unique modern social features such as member map to show the members on your site in a great looking interface.
Features like amazing user dashboard, private and protected pages, great user control, connections directory, the dynamic blog make this theme stand out. As chat is a very important functionality in any social networking site, this theme offers you modern chat option with great looking emojis.
Flocks Social Networking Theme
As the word "Flock" describes of being together or bringing together, this WordPress theme also helps you to be in contact with your friends and dear ones. Flocks is an incredibly responsive and can adapt to any screen and any device such as mobile phones, tablets, and desktops. It is highly compatible with browsers like Internet Explorer, Chrome, Edge, Safari, etc.
Flocks have interesting features like BuddyPress integration, highly customizable layout, private messaging option, multilingual facility, WooCCommerce setup, One-click installation, four unique header styles, three unique footer styles and so on.
Salutation – Community Theme BuddyPress
The Salutation is among the best of BuddyPress WordPress Themes. This bb familiar theme is built with web standards like HTML5 and CSS3. Salutation allows the user to find the people of common interests and make them meet each other by creating a group. Also, it is a great place to start a blog and share your valuable thoughts with others by posting articles, videos, images, etc.
Salutation theme has featured Styles, Frames, Shortcodes, etc. And it has Slider Revolution with powerful admin panel and contact form generator. The customization is so easy with drag and drop layout manager and numerous features.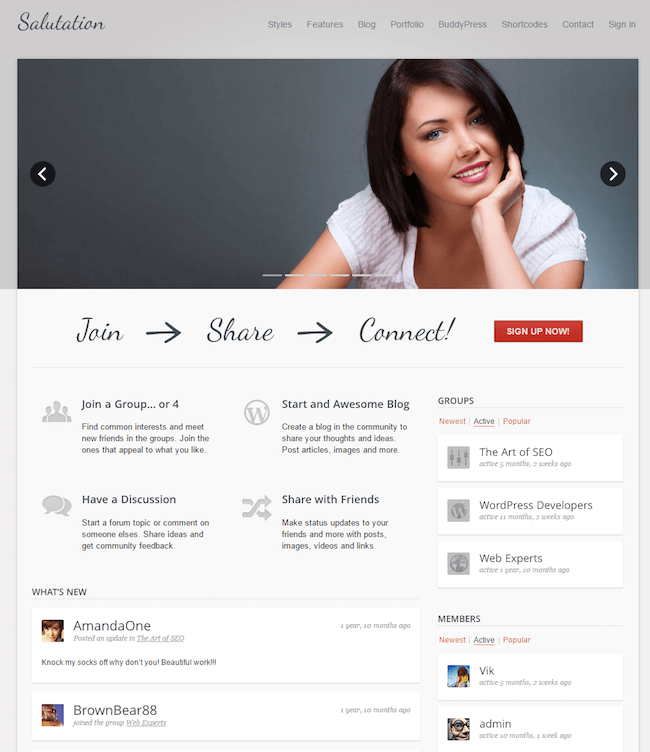 OneCommunity
Are you a great fan of creating an online community? Then this is the right place for your choice. One Community is considered to be the important and outstanding modular design.  Here, you can build the front page of the website as per your wish.  Drag and Drop option facilitates the user to create a slider.  And no coding skill is required as the theme is pre-built with shortcodes.
Nine color schemes, three blog layouts, nine color variants, Wider design, various inner pages, 3 level drop-down menu, multi-language adaptability are the key features of One Community.  It is compatible with all major browsers such as Internet Explorer, Safari, Chrome, Opera, etc.  One Community is WooCommerce supported and highly responsive.
Buddy
Buddy is a multi-purpose serving BuddyPress theme which is suitable for any website, business, magazine, portfolio, etc.  Since Buddy is bbPress friendly, you can use it without BuddyPress Theme also.
Buddy is designed in such a way it is well suitable for all devices, and it is highly responsive. The installation part is also made easier for the user with One step.  Some of the key features of Buddy are:
Shortcodes
Retina Ready
Search Engine Optimization
Translation Ready
Icon Font
United Community BuddyPress theme
United Community works with the latest version of 2.7 of BuddyPress. It is designed with the primary objective of being user-friendly. The user can install United Community BuddyPress theme with a single click.  It is integrated with rtMedia and compatible with BuddyPress.
The inner pages include forums, groups, user panels, etc. Also, this helps in having a live chat with your friends and others. The three-level drop-down menu, Google fonts, responsive layout are some of the key features of United Community BuddyPress theme. It is also compatible with IE 10, IE 11, Opera, Chrome and all the main browsers.
Wild Community: BuddyPress theme
Like the other BuddyPress themes, the Wild Community is also integrated with BuddyPress which allows the user to register, create profiles, post messages, create groups, etc. This is an ideal choice for fields like school, company. Sports and so on.
The Wild Community is the bbPress friendly plugin that has a lot of inner pages like forums, groups, user panels, etc. One-click installation is one of the attractive features of Wild Community.  Other than this, the theme has various other traits that make us feel that Wild community is the best choice.
Like, Live chat, Unique Comments design, responsive layout, Woocommerce integrated, pop-up window with member notifications, SEO friendly, Google fonts, 3 level drop down and much more
Since the Wild Community is compatible with all leading browsers, it is liked by most bloggers and website creators.
Gone – BuddyPress theme
Gone is the only "All in one" WordPress theme that is BuddyPress compatible with Visual Composer and Slider Revolution. Gone is one of the best travel community creating a website.  The layout is 100% responsive, so it adapts to all screen size and device.
It is interesting to see the tag "Tons of it" under Features column, as it is most expected and likable feature of the WordPress theme.  Since we have numerous options; the users have a wide choice to select as per their wish.  Gone is also an ideal blog stage and Portfolio builder.
Find some of the key features of Gone BuddyPress theme as follows:
Custom Post Types provided with Translation ready feature, and BuddyPress Integration makes it more easy to create Social Network group.  The Visual Composer and custom widgets with Slider Revolution makes the Layout more flexible.  Gone is WooCommerce supportive – it is a great tool for E-Commerce plugin.  Google Fonts makes the website look more elegant.
Every page has a unique logo and background slider, three different Blog Layouts and Mega Menu.  And it is compatible with IE 9, 10, 11, Chrome, etc.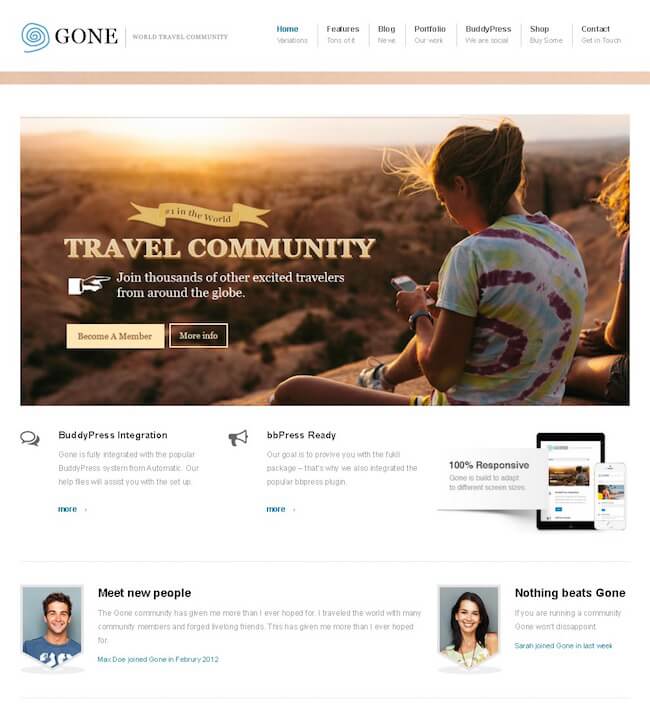 Blackfyre – Gaming Community BuddyPress Theme
Balckfyre is the perfect theme for Gamers and Game lovers. The layout is designed in such a manner it makes us feel the game world. The users are allowed to create a huge base (community) for their fellow gamers and can create clans by challenging each other.
You can also track the match, share your progress with others and so on!  Blackfyre BuddyPress theme is highly compatible with IE9, IE10, IE11, Firefox, Opera, etc.  The responsive layout is the main attraction of this plugin.
As we already said, Clan War system enables the user to create matches between the team and watch it.  Not only that they can set up and manage clans as well.  The predefined page layout makes it easy for group creation.  And the key features of Blackfyre includes:
One click installation
WooCommerce support
Parallax blocks
Unlimited colors
Translate ready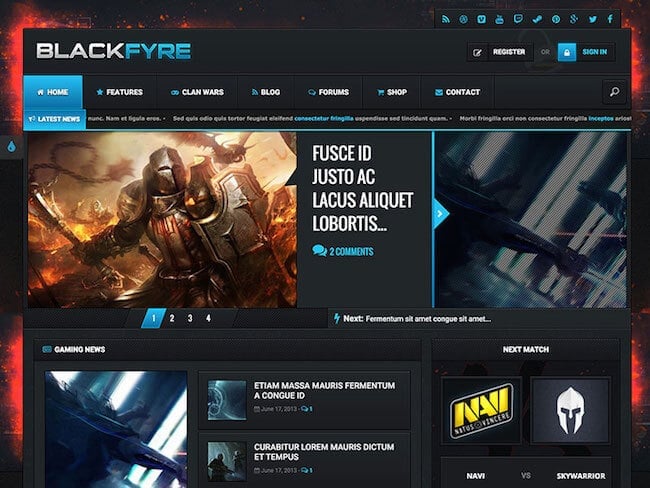 Jannah
If you are planning to create a news magazine site and have a community around it, look no further. Jannah News theme is the perfect design for you to create a great looking modern news site and engage your users with the community features.
Jannah News theme offers you multiple ready demo design options to choose from and all of them looks stunning. This theme offers you multiple header design options to choose from, amazing built-in mega menu option so that you can create a header section look great.
It works perfectly with bbPress and BuddyPress plugin so that you are able to create a social community around your news site easily. Some of the modern day features such as live notification is well integrated with the theme, that's a plus point for the newbie users who don't want to keep looking for external plugins.
As you have a very strong page builder with the theme, you will be able to create unlimited number of design layouts. Great looking slider designs, amazing color layovers makes this theme perfect for all media sites.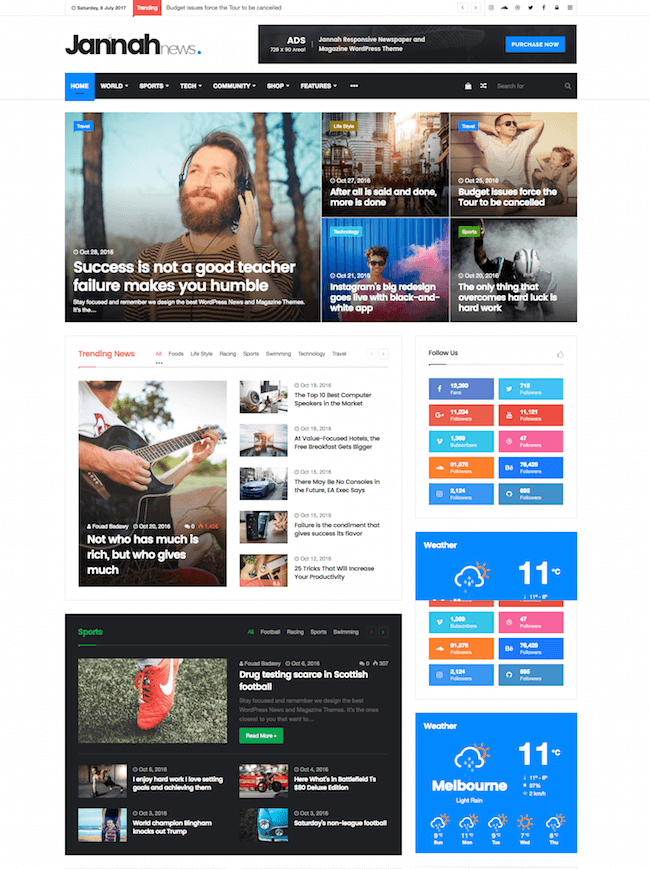 Anybuddy – Multi-Purpose BuddyPress Theme
Anybuddy is a multi-purpose BuddyPress News theme. This WooCommerce supported theme is built with language translator, RTL language support, Customised layout and much more. Since this is an ideal news community theme, it helps well in creating groups and brings users together with the flexible news feed.
Anybuddy has key features like many inner pages, responsive layout, theme customization, Google fonts, three level drop down menu, theme installation instructions and so on.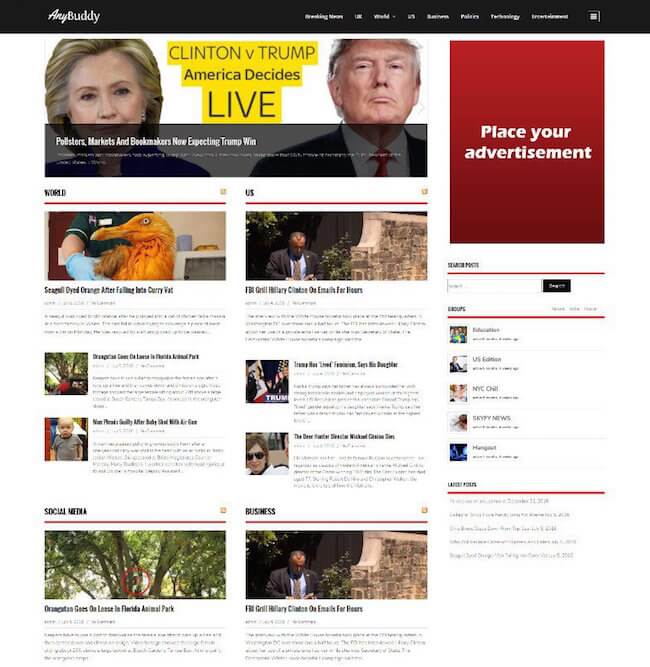 CommunityJunction – BuddyPress Theme
Community Junction is one of the best BuddyPress themes which allows the users sign-up and create a profile, post a message, create a group and much more. It is an easy way of building a community for the company, sports team, school, etc. Community Junction works with the latest version of BuddyPress version 2.7. It is also compatible with all browsers IE9, IE10, IE11, Chrome, etc.
Key Features:
Compatible with WPMU
Pre-built Shortcode
Easy Installation
Blog Section
3 level drop-down menu
Translation ready
Google Fonts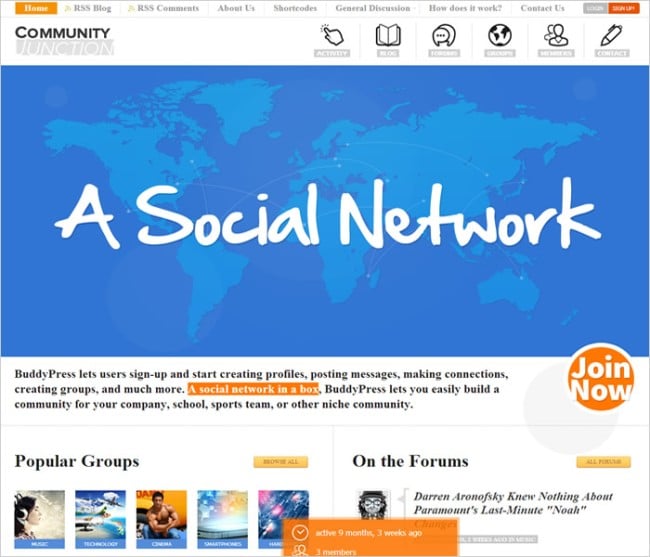 Engage – BuddyPress Theme
Engage is an easily customizable theme with options panel, color changing links, heading, and backgrounds. It is a community-based theme built on WordPress. Users are enabled to build profile, messages, share the post and so on.
Features include Beautiful Design, Compatibility with the Latest Version of WordPress (3.5+), Full integration with bbPress BuddyPress, Shortcodes, Dropdown Menus, Contact Form, Theme Colors Selectors, Custom Backgrounds and so on.
Slimvideo
Slimvideo is created by one of the WordPress developers. This is an ideal stage for developers and users to customize their website with numerous available options with regards to posts, video, gallery, layout, etc.
Slimvideo has seven distinct post views, fully responsive layout, four built-in sliders, and many other key features, along with WooCommerce support. Slimvideo is language translator highly compatible with browsers like IE9, IE10, IE11, Chrome, etc.
Cardinal
Cardinal is a fully responsive theme. The website offers a quick demo of the content and precision built with the latest technology. Cardinal is not an ordinary theme; it has high resolution, and widget ready settings.  The crystal clear icons and images make the theme retina ready and avoid
The crystal clear icons and images make the theme retina ready and avoid the need for a plugin. Since the BuddyPress theme is SEO optimized it makes it easy for the user to rank his website high in the search engine tools. Unlimited Portfolio, Unlimited Sidebars, Child Theme, Translation, WPML compatible is some of the attractive features of Cardinal.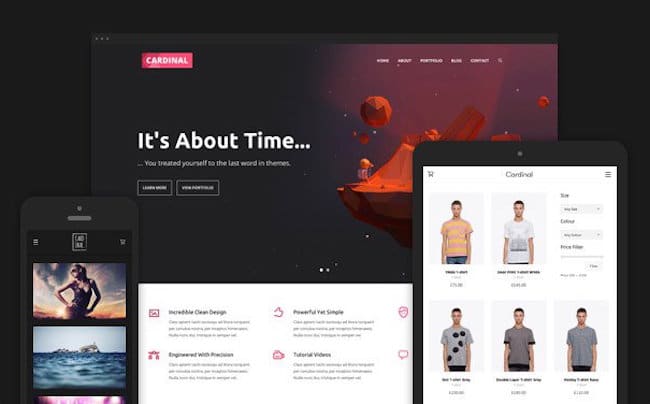 Xphoria
Xphoria is compatible with WPMU and incorporated with Ajax Search. It is theme integrated and BuddyPress compatible. Create your profile, post messages, get connected with your best ones and create a social network and much more.
Xphoria as the name looks has a unique style and nature. However, this theme is very suitable for any business field such as school, company, sports team, etc. It works with the latest version of BuddyPress 2.8.
It is compatible with WPMU.  More than 40 inner pages available which make it more flexible for the user to make use of it. And moreover, Xphoria is compatible with all leading browsers such as Internet Explorer 9, 10, 11, Firefox, Chrome, Opera, Safari, Edge, etc.
Wide layout
Widget Ready
Popup window with member notifications
Responsive layout
Shortcodes
Easy Installation
Google Font replacement
Blog Section
3 level drop-down menu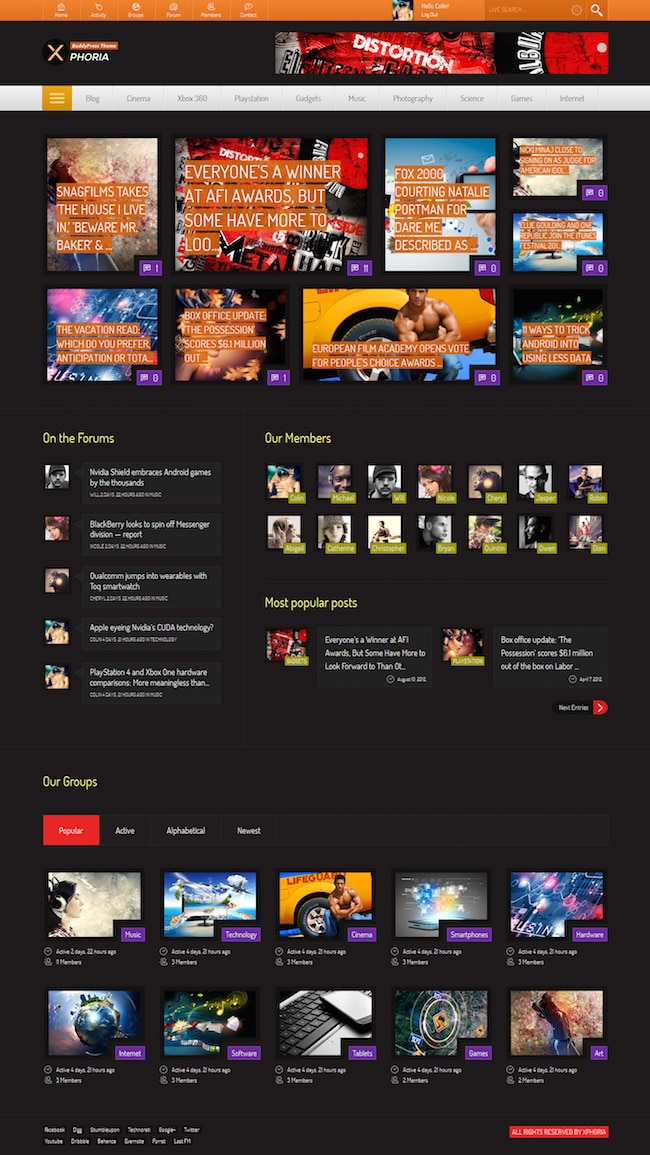 SocialChef
SocialChef is a clean WordPress theme that is highly responsive and comes with advanced SEO optimization. The users are enabled to create their community, groups of the same interest. Anyone who is interested in being a great chef can share their talents and experiences with their followers and friends on this theme.
Recipe submission becomes an easy task here, and the users can upload steps for cooking, upload photos, list ingredients and more. Also, the Social chef is being a good platform for selling anything.  The below listed are some of the key features of SocialChef:
Integrated Advanced Search
Step by Step Instructions
Flexible Rating system
Nutrition facts data
Share recipes on social media
Unlimited recipes
Schema.org compatible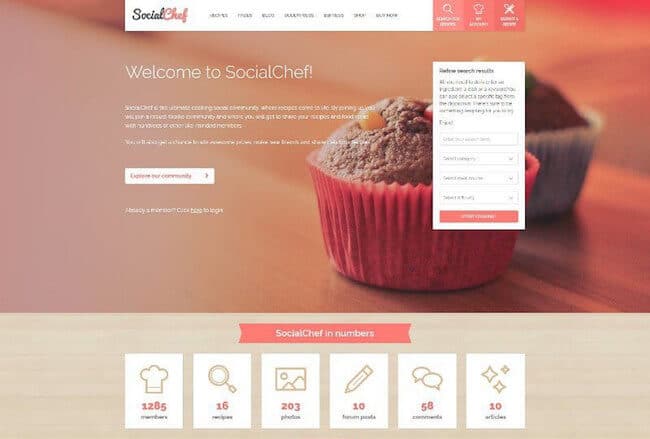 Engine
The Engine is a well-known drag and drop news magazine theme which is BuddyPress, bbPress compatible. The engine is a drag and drop enabled magazine theme. It is the best option for blog, news and magazine theme. It also suits gaming, gadgets, gear, gossip, news, video, technology and much more. Some of the main features of Engine are:
Smart Sidebars
Drag and Drop
Minisites
Mega Menus
Trending Topics
Responsive Layout
WooCommerce Supported
650+ Google fonts
Savvy
Savvy is a creative magazine theme which is very suitable for blog magazine with Drag and Drop page builder, review system, ultra responsive, color scheme, demo data, custom shortcodes, sticky sidebars, Google fonts more than 500, three cover styles, social media counter, translation and much more.
The theme works well with Internet Explorer, Chrome, Opera, Edge and all leading browsers. Savvy is a fully responsive layout which is highly compatible with WordPress, and it is an ideal partner for any business niche. Create groups, forums, and social networking groups, have a chat and private messaging with the help of Savvy.
Also, share your thoughts and posts with the help of Social Networking sites such as Facebook, Twitter, Pinterest and so on.
Final Word
The above listed BuddyPress themes are not ranked by their performance; however, they all fall under the category of Best BuddyPress/WordPress themes. People who are into various business fields prefer to grow it through the current trend.
Likewise, creating a website is one form of promoting a business, and it takes various forms like social networking, blogs, etc. It is because the modern era has evolved in such a manner we have got various platforms to express our views and share anything we want.
To make use of it wisely, we can adopt any one technique and shine through. Hope the above niche brings you the best of BuddyPress themes that are suitable for any business stand.