Gutenberg editor is the next big discussion in the WordPress community. The Gutenberg editor will change the decade-long WordPress editing experience.
Gutenberg is a complete page builder in many ways that help you to create rich page designs to engage your users.
This new editor will focus predominantly on post-editing and implementation of blocks.
Gutenberg ensures many big relevant changes that are beneficial for any website and helps developers to a greater extent.
It allows you to add blocks and change multimedia content without any requirement of coding skills. Gutenberg editor works perfectly on mobiles, desktops, and other popular devices.
If you have not come across the discussion yet and don't have enough knowledge about the upcoming new editor, read this article about how to use Gutenberg editor, and here is another article about how to disable the Gutenberg editor.
Below given are some of the best Gutenberg WordPress themes that support Gutenberg blocks editing experience.
Also Read: Best Gutenberg Block WordPress Plugins
Top Gutenberg WordPress Themes
---
Divi Theme (10% Discount)
Divi is one of the most popular multipurpose WordPress themes in the market. You can use this theme to create any kind of website you wish to create.
The theme comes with the powerful drag-and-drop Divi Builder which is one of the top website builders for WordPress.
The builder brings in a number of amazing modules that you can use to create your pages. Divi theme is now Gutenberg ready.
As the theme is backed by a huge community and one of the best WordPress product teams, you can expect a number of amazing features related to the new block-based editor in the future.
As far as the ready designs are concerned, Divi offers you multiple demo design options to choose from. You can select any of the demo templates and create your site.
The builder works as a front-end editor, just drag any module to any section of your page and start editing right on the front-end of the site.
As mentioned in the title, you will receive a 20% discount with our link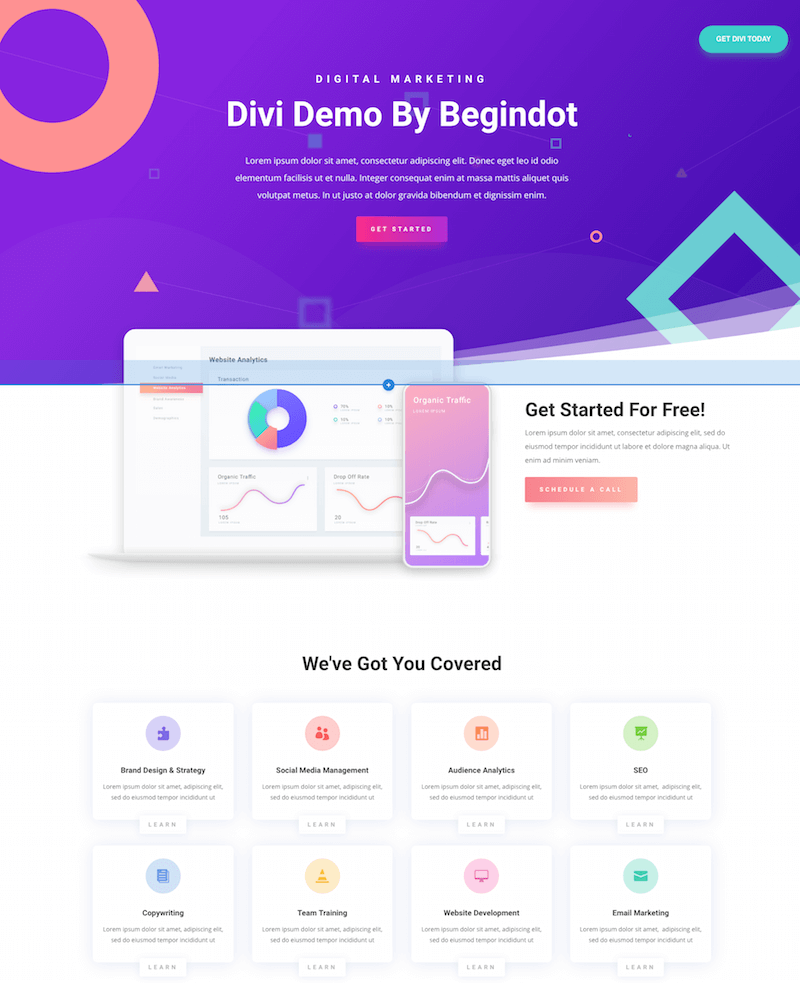 Blocks
Blocks a new Gutenberg special WordPress theme by the MyThemeShop team is created with great looking minimal design.
If you are looking for a top-quality theme for your blog, look no further. MyThemeShop is well known for creating high-quality, SEO-friendly WordPress themes with very fast loading times.
The Blocks theme is no different. It loads within 500 milliseconds. So, it will surely offer a great user experience and as the theme is created with the best SEO practices, you can expect great performance in the search engine as well.
To start with, you will love the clean design of the theme. It is just the perfect theme for a blog. You have multiple layout options for the homepage and it offers you a different ready section to make your homepage unique.
The theme comes with a powerful theme options panel where you can set up everything for your site quickly and change things around whenever you need.
The theme is optimized for Google AdSense ads and other ad types so that you are able to monetize your site easily.
It comes with Schema integrated to make sure that the search engines can read your content easily and rank them accordingly.
Through the theme looks simple, it is very powerful and you have a comprehensive option to style your site according to your requirement.
The theme comes with unlimited color options, background options, sidebar options. You can easily change the face of the theme even if you are a complete newbie user.
Blocks offer you comprehensive typography options and the entire set of Google fonts to make sure that you can improve the readability of your site easily.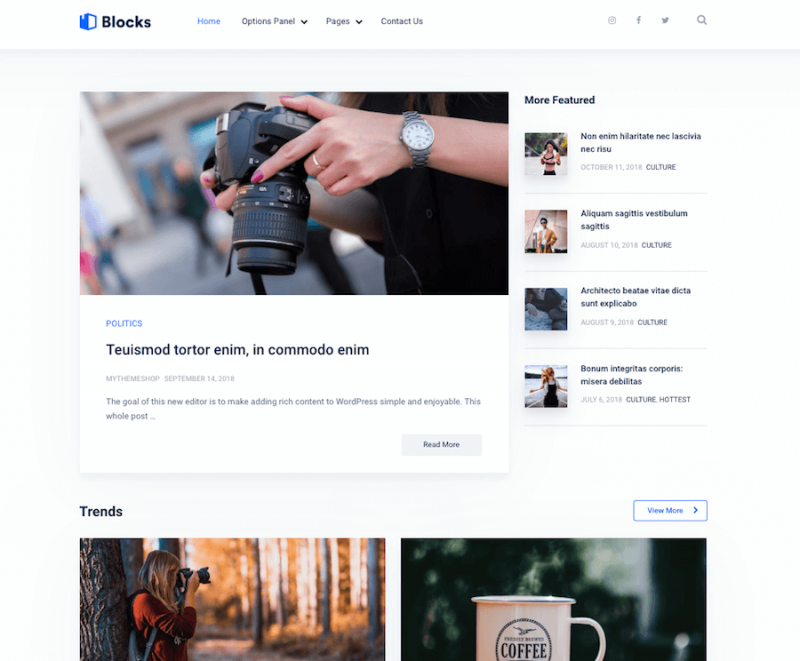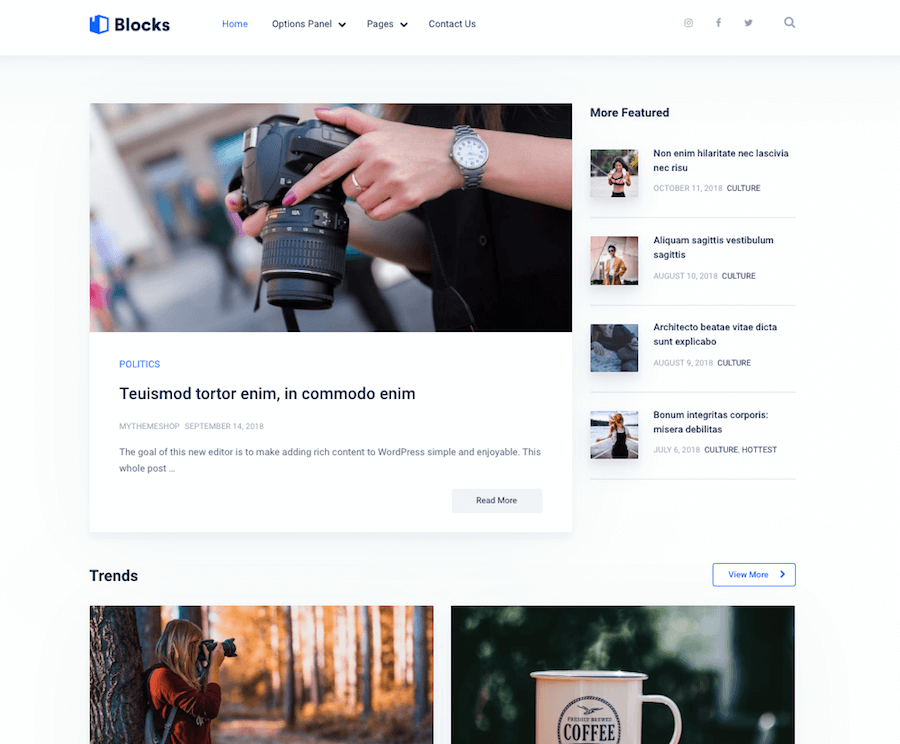 Gutentype
A custom-created theme to work perfectly with the new Gutenberg editor. As the name suggests, it is worked around the new editor and it will have everything perfectly set as the new editor becomes mandatory.
You will love the design of this theme. It is clean and minimal yet very attractive. The theme offers a number of amazing demo design options to choose from; you can quickly choose any of the demos and get started on your site.
The Gutentype theme is perfectly responsive to make your site look great on all devices. As the theme is compatible with the WooCommerce plugin, you can use it to create your online store; a demo design is included for the store as well.
You have boxed and fullwidth design options and you have Crypto design option which is a popular niche currently.
The theme is perfectly optimized for search engines and offers a great loading time. Overall, this is a top option on this list.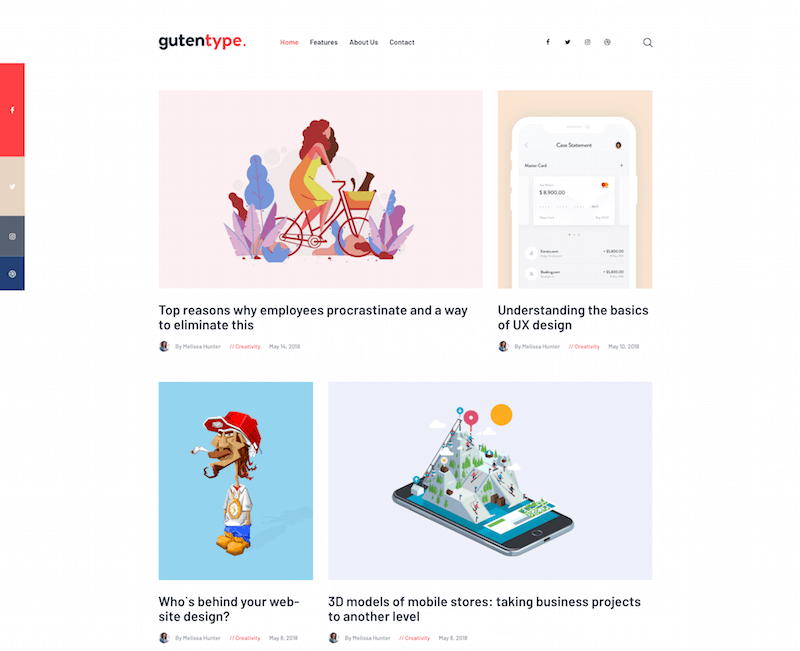 Contentberg
Contentberg is a clean and minimalist WordPress theme that you can use to create your website. You have the option to customize the design that you can change according to your requirements.
The theme customizer is a loaded option so that you are able to make your website ready in a couple of minutes. You can also use the WPBakery website builder to customize your design without writing a single line of code.
You get the premium drag-and-drop website builder free of cost with the team.
The Contentberg theme is perfectly optimized for the Gutenberg editor so that you can use the new editor to create creating a blog post on your site.
The theme offers you different demo design templates that you can import with just one click and use them on your site.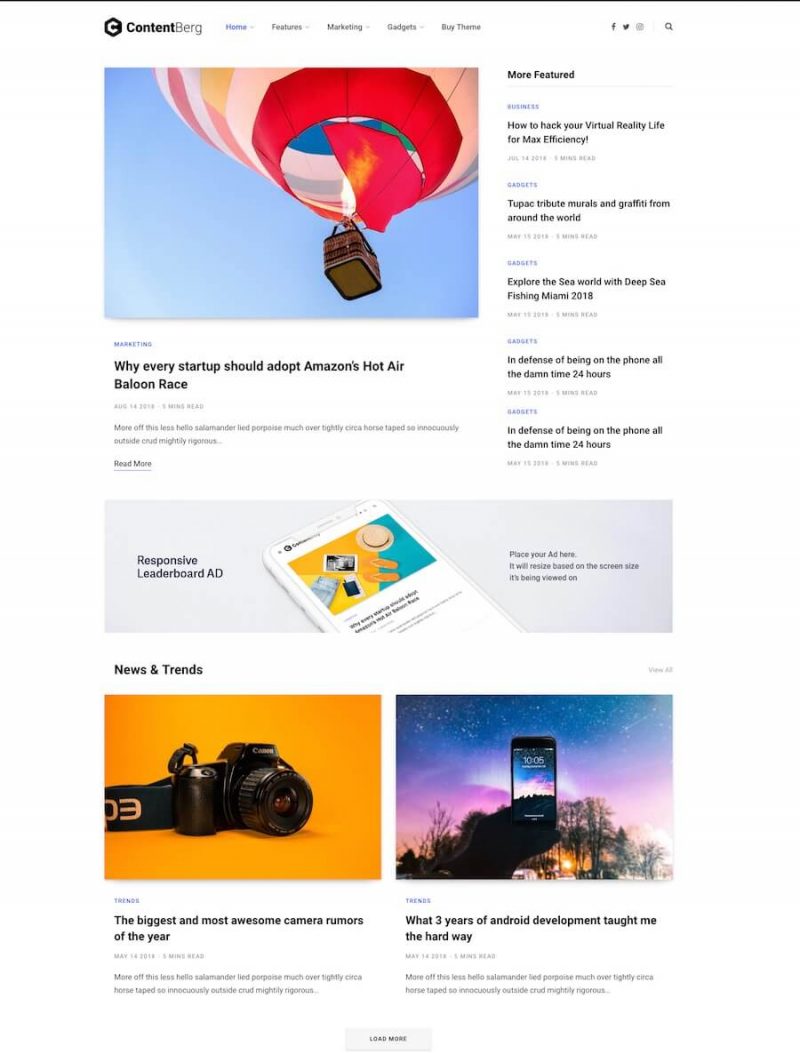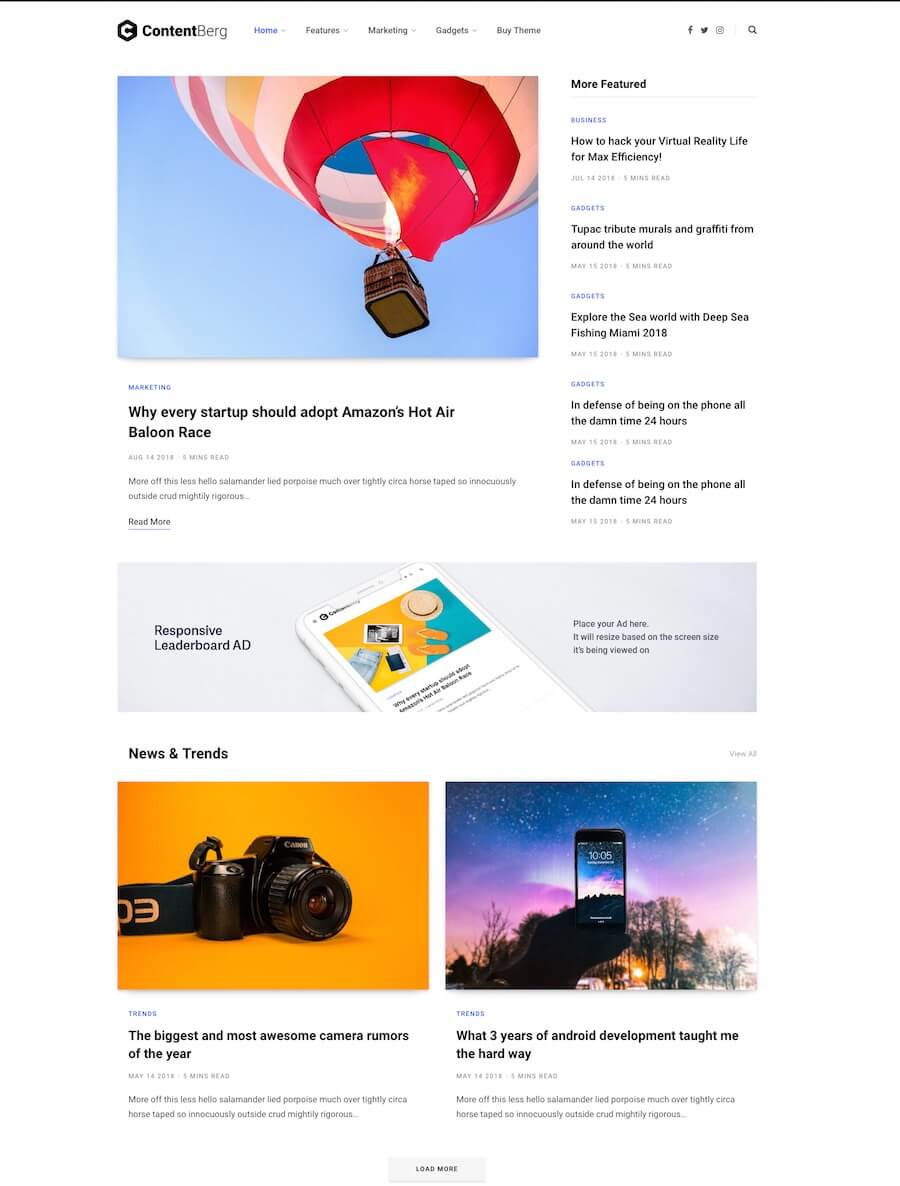 Astra Theme
Astra is one of the most popular WordPress themes, it recently crossed over 1 million active users making it a very popular choice when it comes to WordPress themes.
We have been using the Astra theme with its pro-add-ons on all of our sites. The popularity of the theme is because of the great performance capability it brings.
It is one of the fastest-loading WordPress themes. In a way, the Astra theme is a framework that you can use to build on.
Astra is considered as come of the top WordPress themes to work with a page builder like Elementor. It comes with deep integration with the popular website builder.
Astra is also a perfect theme to build on using the Gutenberg editor. You can completely customize your site using the Astra theme and Gutenberg add-on plugin.
As the Astra theme is created for great performance, your audience will have a great experience on your site.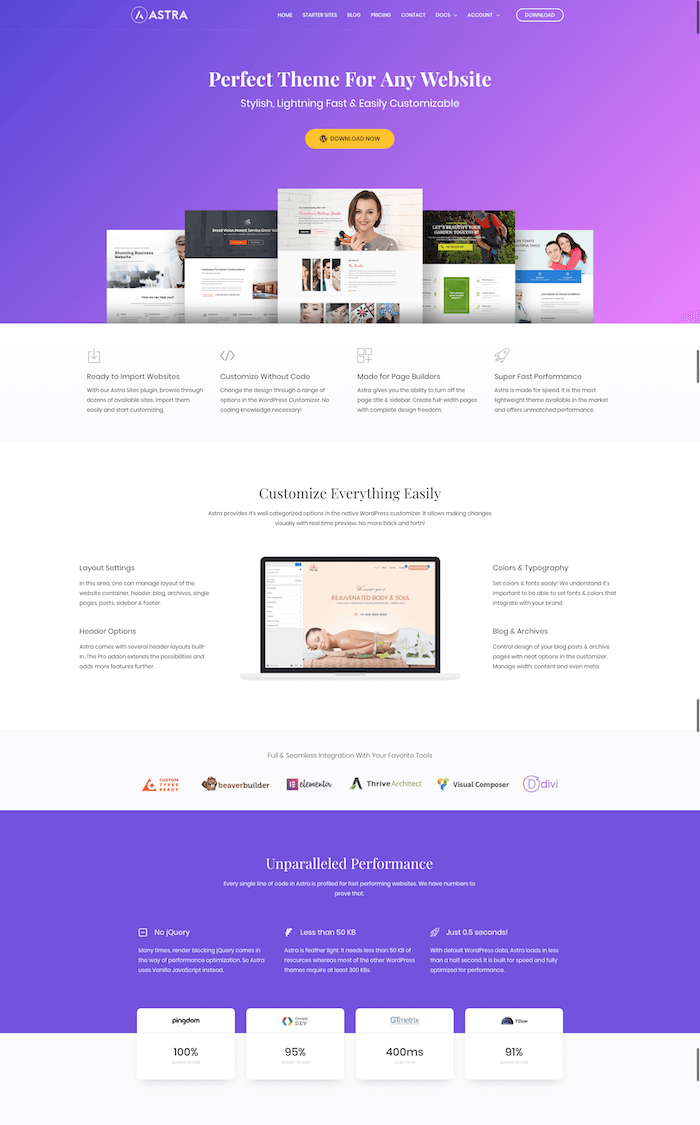 Neve
Neve is a powerful and highly recommended WordPress theme that works out of the box with Gutenberg, Elementor, Brizy, Beaver Builder and other page builders.
So, in a way, this theme will offer you a complete solution to create a custom design for your site without any coding.
In fact, the Neve theme offers you over 80 demo design templates that you can use to create your websites. These are called starter sites that you can use as the foundation of your site.
The theme brings along a number of powerful customization features to fine-tune every section of your site is it the header, footer or blog section.
Another advantage of the Neve theme is that it is a very fast-loading theme making sure to offer a great experience to your visitors.
Neve is highly optimized for mobile devices which is very important these. You need to make sure that your site loads quickly on mobile devices as most of the traffic comes through the small screen devices.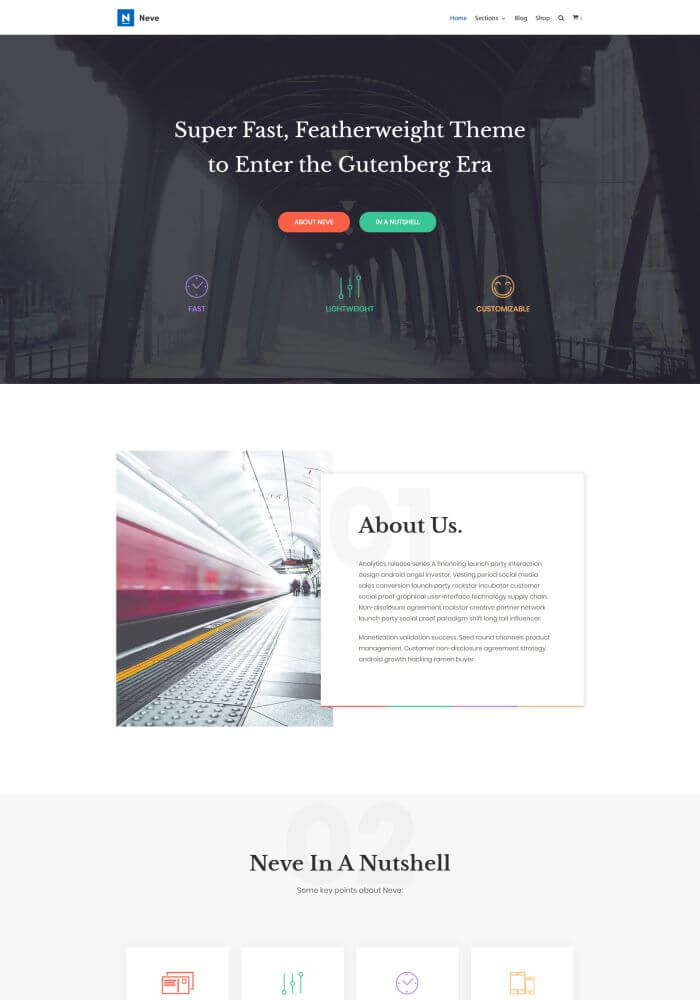 Typograph
If you are looking for content-focused, clean and minimal design for your blog, have a look at Typograph.
Though the theme looks very simple, it is powerful in terms of design and features. The theme offers you multiple homepage design options to choose from.
It is a very quick loading fully responsive design to make sure that your site looks great on all devices.
With Typograph, you can create a great-looking story-style design that will easily engage your visitors.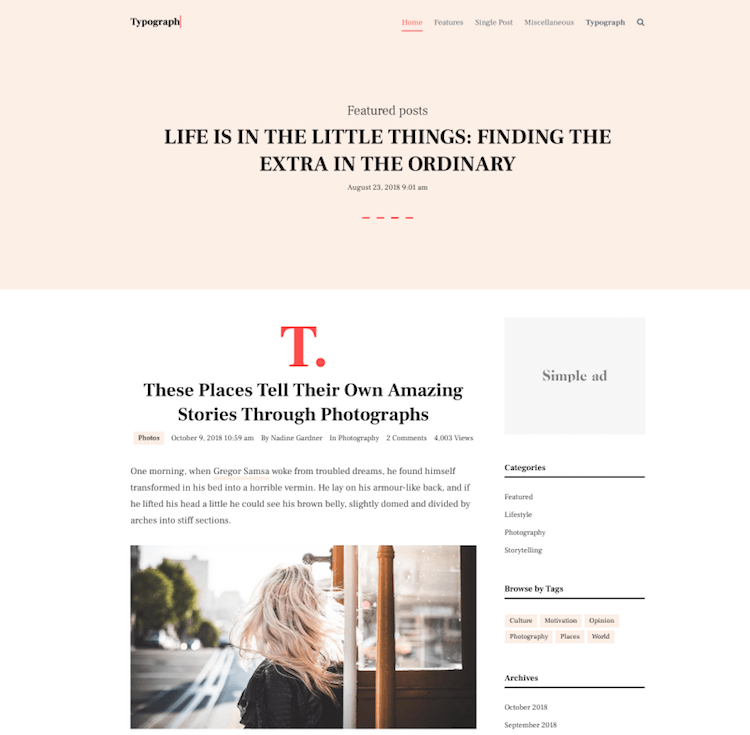 Authentic
Authentic is a great-looking Lifestyle WordPress theme that you can use to create any niche blog. The theme offers you a very clean and minimal design that looks beautiful.
The theme doesn't use any website builder and keeps things very simple. However, WordPress live customizer is loaded with features. The theme will offer you amazing options to style your site.
The theme is very quick, and it will offer a great experience to your visitors. The theme is created with the best SEO practices in mind to make sure that your content gets the advantage.
The Authentic theme comes with some ready-to-use demo design templates that you can import in just one-click.
You can check this live site about digital media marketing created with the Authentic theme.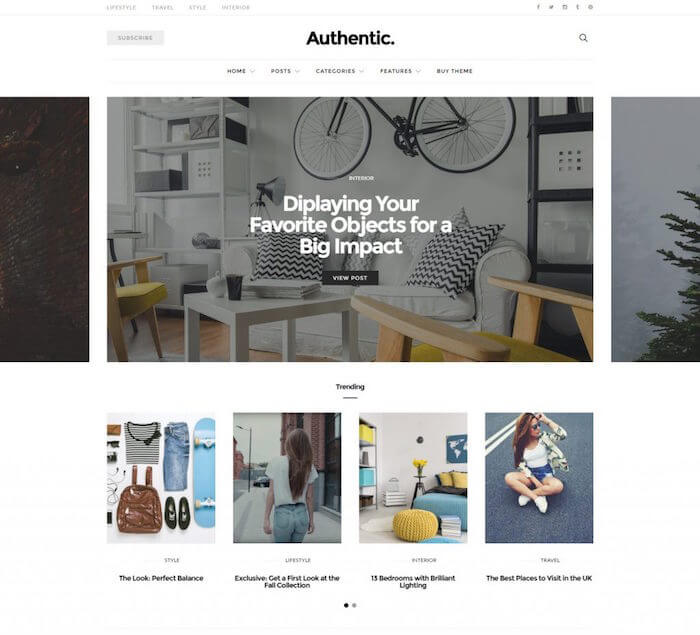 Hestia PRO
Hestia PRO is a beautiful modern WordPress theme for business-related websites. The theme is completely compatible with the Gutenberg editor for seamless content creation.
The theme comes with a very attractive design that is perfectly optimized for search engines. The theme will make your site look great on all modern devices including mobile phones.
The theme customizer is loaded with features and easy-to-customize options so that you are able to create your website without any hassle even if you are a complete newbie.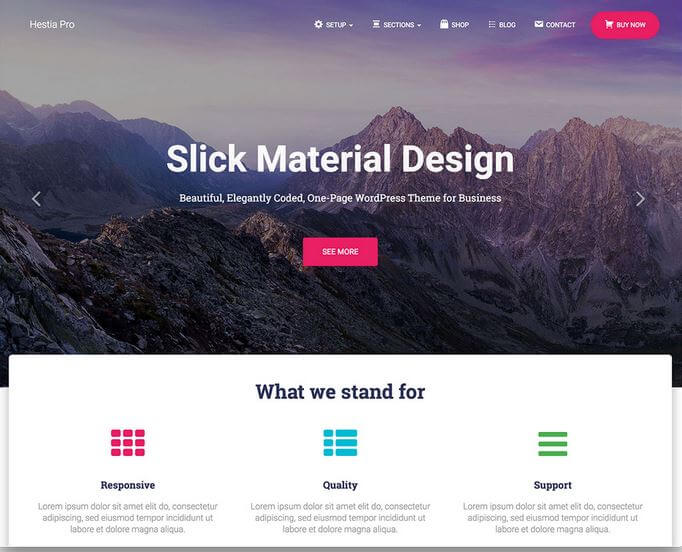 Gutenberry
Gutenberry is a minimalist Gutenberg-based theme that allows bringing a brand-new blogging experience.
Thanks to this editor, you will not have any complications connected with website building. It will improve your content editing experience and save you time.
The package also has six homepage variations to choose from. There are also six unique blog layouts that will showcase your posts in the best possible light.
In general, you will get extra flexible options that allow boosting your blog and make it look unique.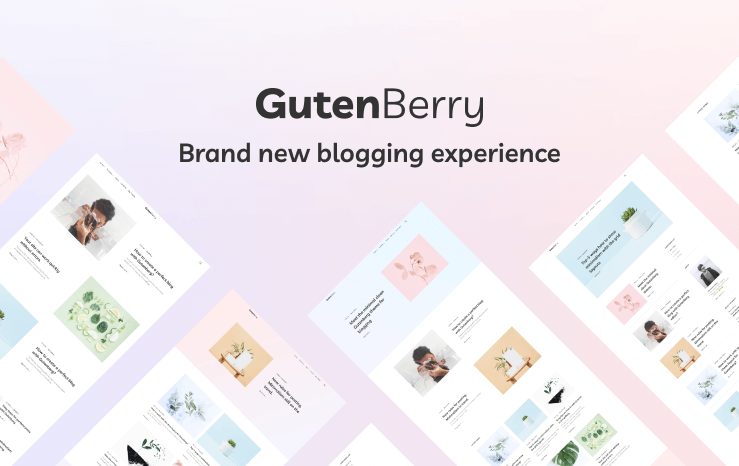 Essence Pro
Essence Pro is one of the top Genesis Child themes that you can get from the StudioPress site. This theme is created with a great-looking design and tight security features of Genesis.
The elegant design of the theme will offer a distraction-free reading experience to your visitors.
This theme is created to work perfectly with the Gutenberg editor. It is a Google AMP-ready theme to make your site load super quick on mobile devices.
You will get all the latest and important features so that you are able to create a great-looking website for your business.
You have easy to use a theme options panel, a theme customizer to make sure that you are able to do any changes that you need on your site easily.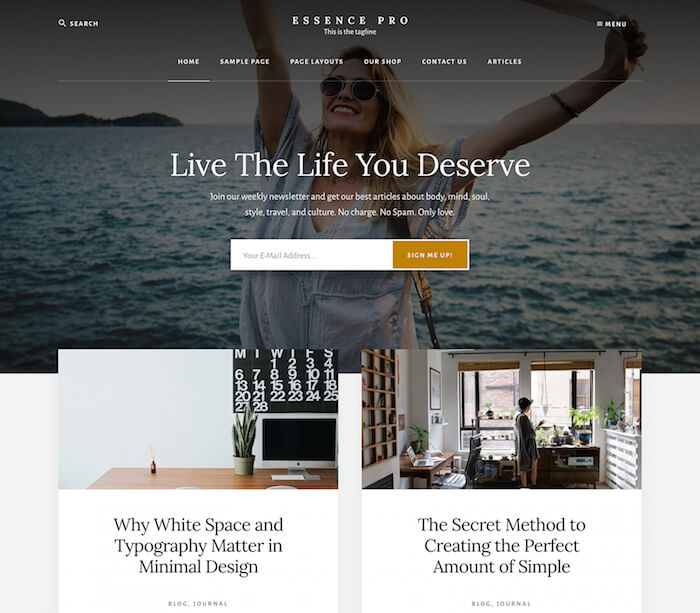 Mai Lifestyle Pro
Mai Lifestyle Pro is a great-looking Genesis theme created for lifestyle-related blogs.
You can use this theme to create any kind of blog to promote your content with a top-quality, secured and fast design.
The theme looks beautiful on all devices be it a desktop or a mobile phone. It is also optimized for search engines to make sure that your content gets a much better ranking in the search results.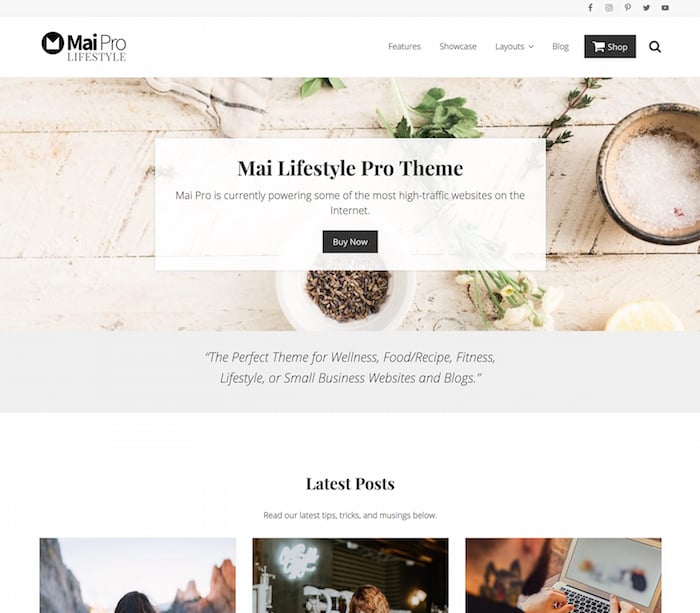 Once
Once is a beautifully clean and minimal WordPress theme for bloggers and news sites.
The theme will make your content stand out and make sure that your visitors are able to enjoy your content without any distractions.
The clean design of the theme brings a refreshing feel to the overall site. It offers you six different demo design options to choose from.
Other than the homepage design, the theme offers you a number of different archive layout concepts, page layout options, and single post layouts.
To keep your users engaged on your site, it offers you the autoload next post option.
The theme comes with all the other important options such as mega menu option, slide-out menu design, option to create an online shop and more.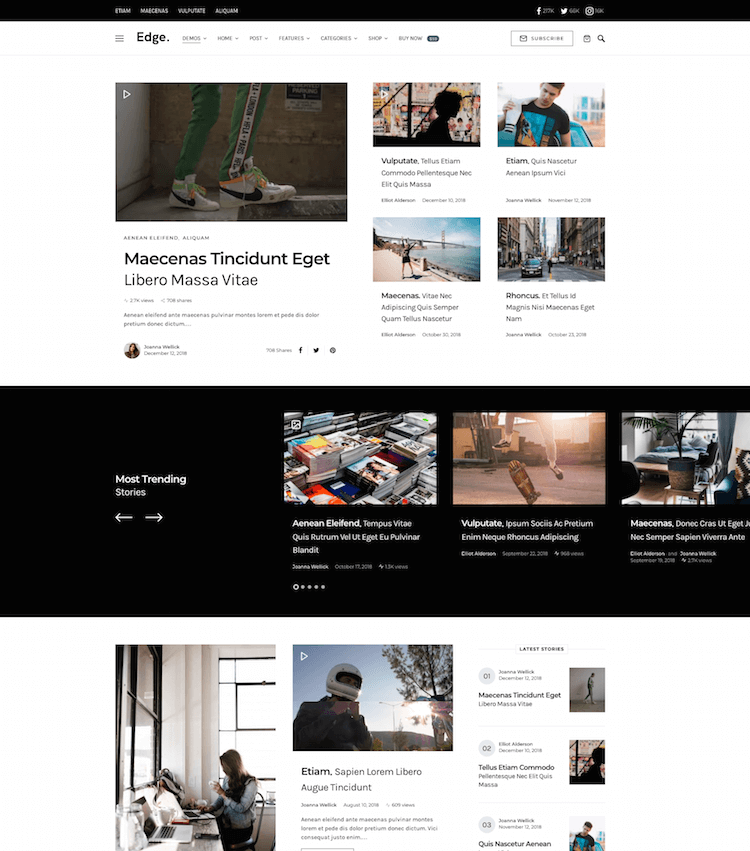 Deviox
It's a very responsive business WordPress theme which is an ideal solution for any corporate or business blog.
With its solid design and wonderful layouts, it's the perfect choice for law firms, creative agencies, advertising services, website designs, creative bureaus, mobile development companies, etc.
It's also handy for all those who are involved with coding and technology, video production, app development, project management, publishing services, printing and many more.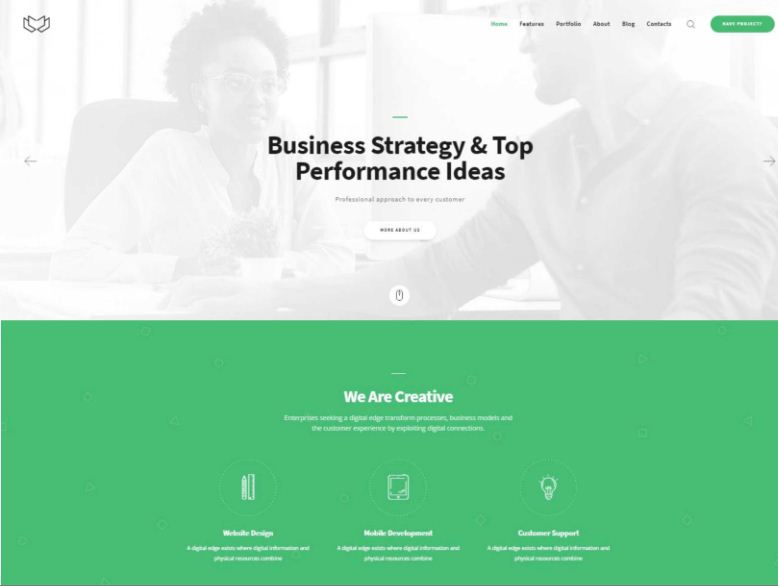 Lymcoin
An incredible cryptocurrency WordPress theme, it's best suited for cryptocurrency blogs, bitcoin blogs, cryptocoach, online magazines, financial advisor, miners, bitcoins, ICO agency, cryptocurrency trading market. It makes use of the WPBakery page builder which showcases a better performance than Elementor.
The theme meets the needs of anyone who's familiar with video cards, graphics card, asics, and accelerator cards.
The Gutenberg-compatible theme is quite modern and flexible and comes in a variety of customizable options. It supports retina images and is made compatible with browsers like Firefox, Safari, Chrome, IE10+.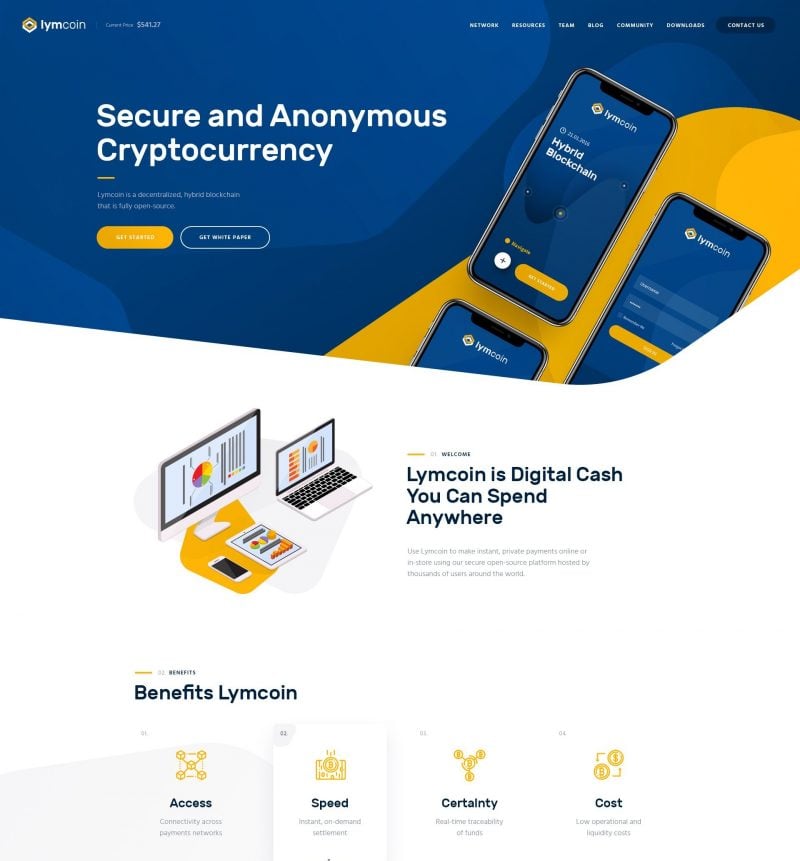 LeGrand
It's a clean and refined business WordPress theme that can be used for multi-purposes.
The flexible and splendid layouts are just perfect for law firms, financial companies, tax consulting bureaus, accounting services, strategy planning, web and creative agency, economist analytics, a startup company, business coach, marketing and advertising services and analytics, financial consulting and other services.
WPBakery compatible theme has a strong business design that displays the main tasks and offers in a splendid way. It simply works well for business and financial blogs, non-profit organizations, etc.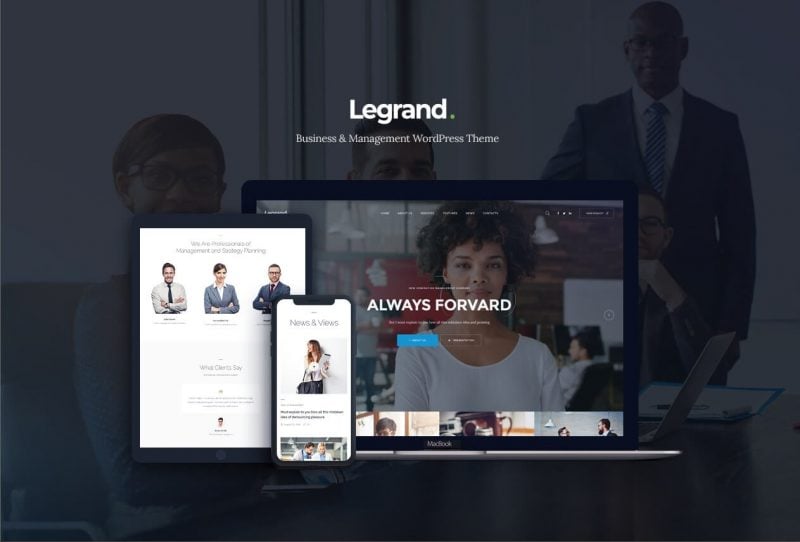 Alliance
It's a fresh intranet or extranet WordPress theme which offers high performance and flexible usability. The versatile theme improves communication vital for your company and provides user-friendly access to all your corporate data.
Some of its awesome features include credible dashboards that allow you to post your events and other important news, and file sharing which enables all the users to share documents, and reports using the powerful BuddyDrive plugin.
The theme also allows for building an active community of employees to organize departments and groups efficiently.
The internal polls and researches help to focus on the goals in a more determined way. The theme guarantees online courses for employees for better performance.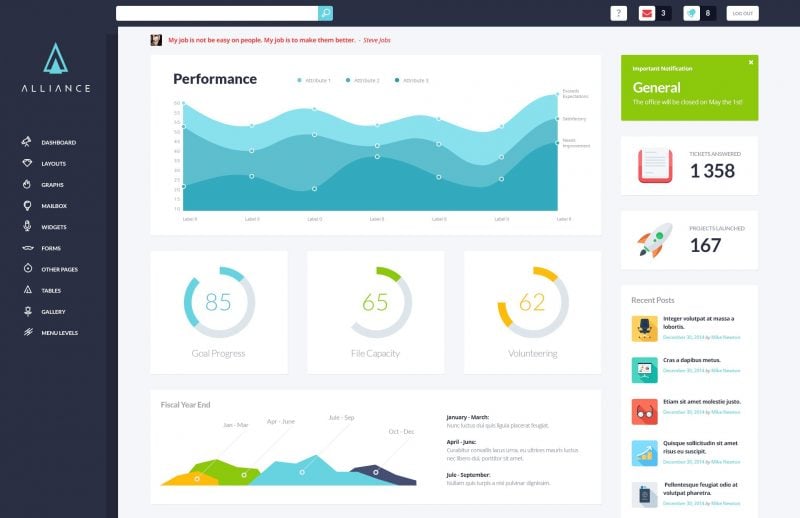 Gutenix
Gutenix multipurpose WordPress theme is a top-rated competitor to all similar top-leading solutions.
Gutenix is a perfect alternative for users craving more starter themes of that kind. It's not only universal, minimalist, lightweight, and super fast but also, compatible with both Gutenberg and Elementor.
The theme was created and optimized primarily as a Gutenberg-based solution. Now it offers 18 ready-to-go skins with highly-editable designs available in multiple categories (food, medical, fashion, construction, business & services, etc), improved accessibility, global customization, WooCommerce & extra plugin support.
The ability to support third-party plugins gives Gutenix advanced functionality on top of the basic Gutenberg blocks set. The Getwid collection consists of 40+ dedicated Gutenberg blocks and 35+ unique pre-made block templates for the Block Editor – all of it for free.
On top of that, Gutenix has an implemented Preview Customizer with 650+ fonts & unlimited color and design. It's SEO-optimized and retina & translation-ready.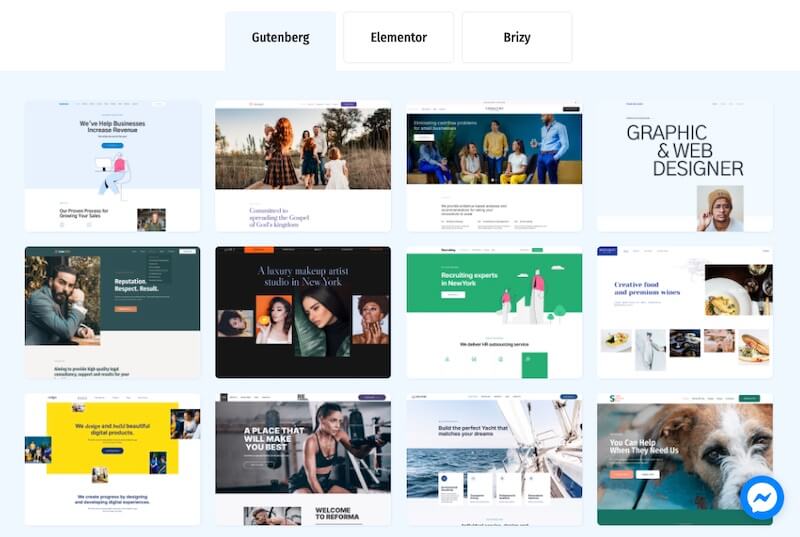 Refer
It's a modern, sales-centric WordPress theme that works for any business niche. Its powerful e-commerce features are custom-built with unlimited portfolio designs.
Some of its key features include retina-ready components, fully SEO optimized elements, blog variants, multi-portfolio gallery displays, a variety of color options, google rich snippets ready options, custom menus, post sliders, post grids, custom widgets, post carousels, post formats supported options, unlimited sidebars, splendid icon fonts, and icon boxes, google maps with directions, product images, etc.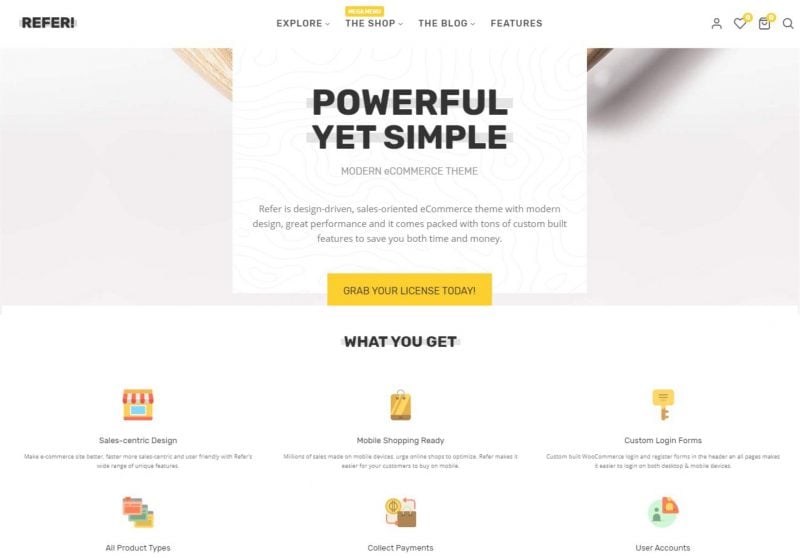 Blocklite
The free WordPress theme designed especially for the Gutenberg editor is built using a responsive framework.
It works seamlessly with the editor and is compatible with the organic builder widgets plugin that builds exquisite and unique pages.
It provides various color options for backgrounds, navigation, and links, icons for changing title fonts and body fonts, attractive layout options and page templates, and features to remove ads and notifications.
Some of its responsive features are optimized retina elements, custom menu, custom logo, widget ready, featured images, custom page templates, logo resizer.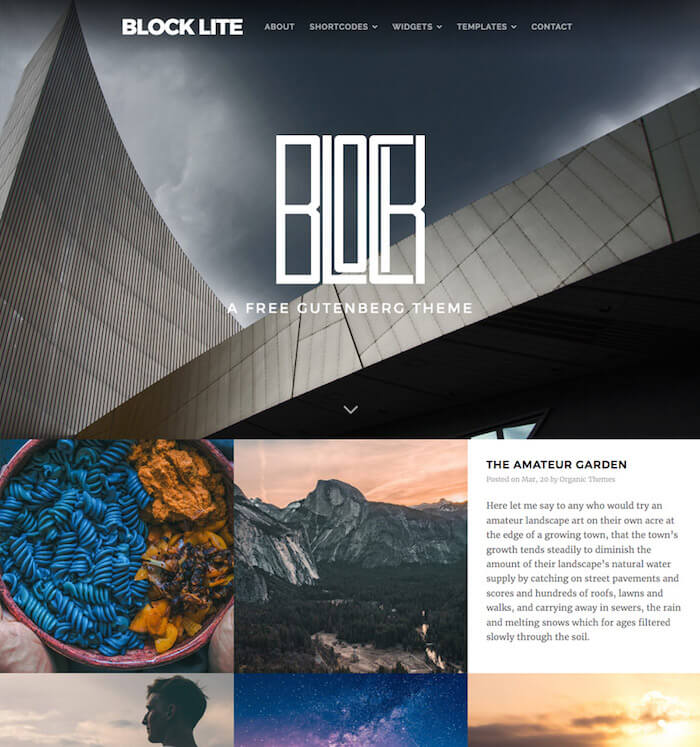 Horizon
This new theme makes use of CSS columns for displaying the web content in a horizontal fashion and provides a unique user experience.
It's an excellent theme for advertising products, and services and is a brilliant solution for bloggers and authors to cast a lasting impression on readers.
The layouts are more traditional ones and are compatible with organic customizer widget plugins for crafting custom pages. Horizon with its stunning features makes your website stand out from the crowd for sure.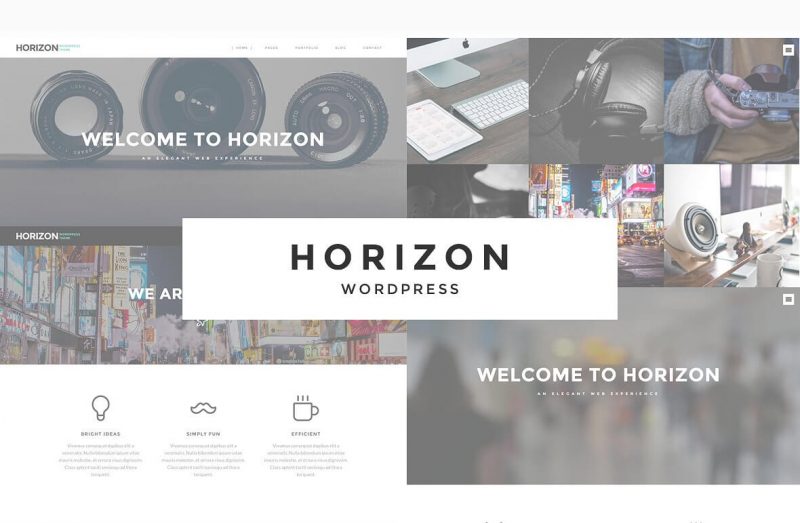 Adventure 3.0
The theme displays a modern and stylish design that showcases your web content. The responsive layout is crafted beautifully to display the articles across any device. The content slideshows with an elegant theme are perfect for sharing your stand-out adventures.
The theme features a homepage that's just perfect for any business. The flexible theme offers many advantageous features that are designed to meet the needs of businesses as well as bloggers.
The theme allows you to add a custom logo, a video header, multiple sidebars, and change colors, fonts, and layouts thereby making customizing and branding an easy process. The Gutenberg-optimized theme works incredibly well with the new WordPress editor.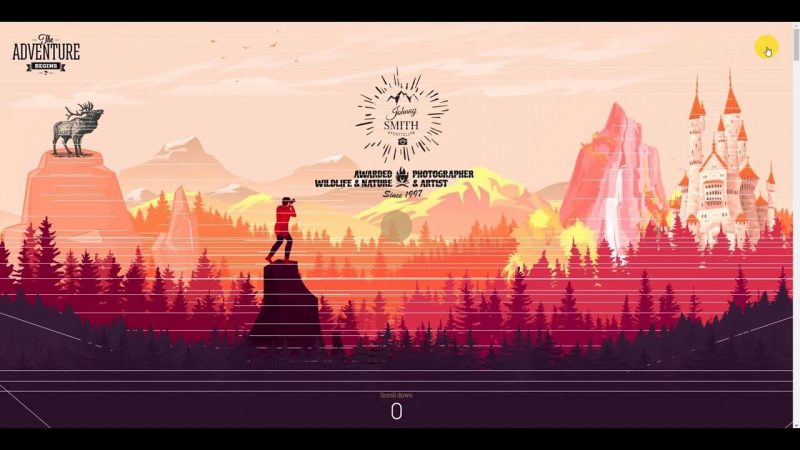 Profile
Profile theme is undoubtedly the first and last choice for speakers, coaches, personal trainers, therapists, and any other professionals striving to showcase their skills. The home page of the theme includes a social media menu that displays icons in circular layouts.
A Twitter feed put right beneath your profile picture ensures that your activities stay updated across your followers.
The theme is quite flexible and helps you change colors, fonts, and layouts with so ease. This wonderful theme is compatible with many popular plugins such as WooCommerce, gravity forms, WPML.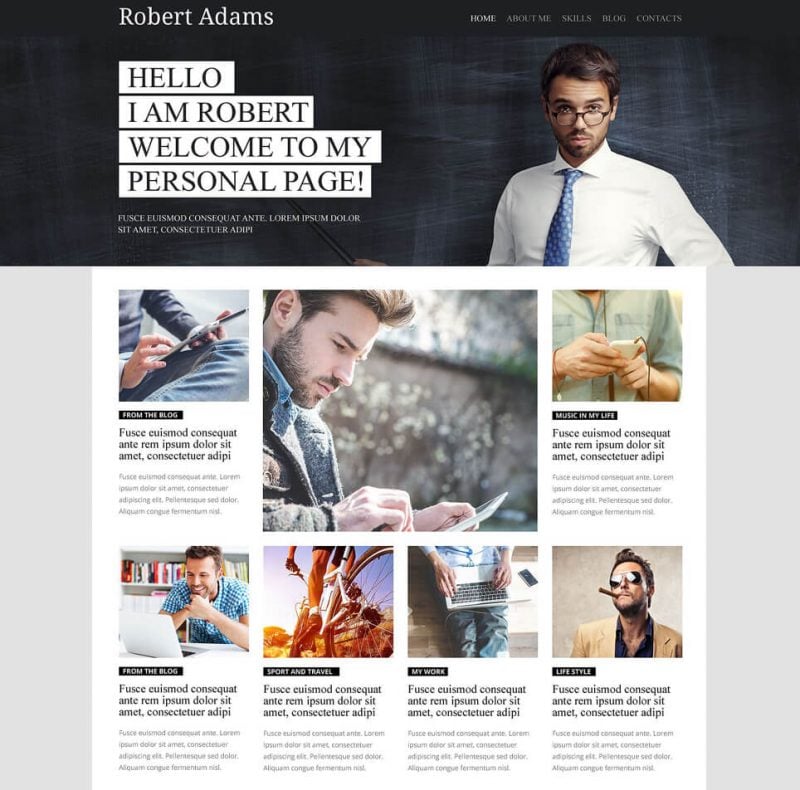 Min
This minimal theme is an excellent choice for designers and bloggers who crave simplicity. There are no confusing frameworks or never-ending options integrated into the theme. It offers a few customization options that are vital for any website.
The theme contains stylish designs for Gutenberg blocks. Compatible with popular plugins like WooCommerce or gravity forms, the theme allows us to create flexible posts in no time.
The theme boasts spectacular features such as organic shortcodes, google fonts, custom menu, custom logo, color change options, custom page templates, landing page templates, custom header image, custom background, responsive framework, gravity form styling, photoshop design file, numbered pagination, etc.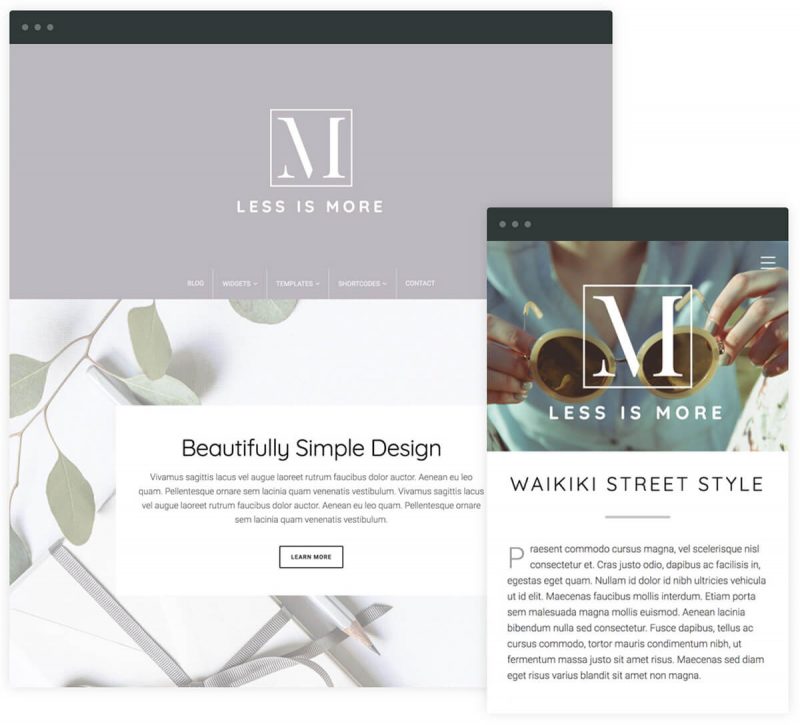 Florian
Florian is a highly responsive WordPress blog theme that comes with advanced features to make your blog simply impressive among the crowd. It helps your content to speak for itself in sheer style.
The theme works amazingly well for blogs featuring photography, fashion and beauty, interior design, health and spirituality and guarantees an incredible browsing experience.
Other worth features include restyled Gutenberg blocks, post-reading progress bar, popular posts, editor's picks, powerful theme options, also providing a live preview in real-time.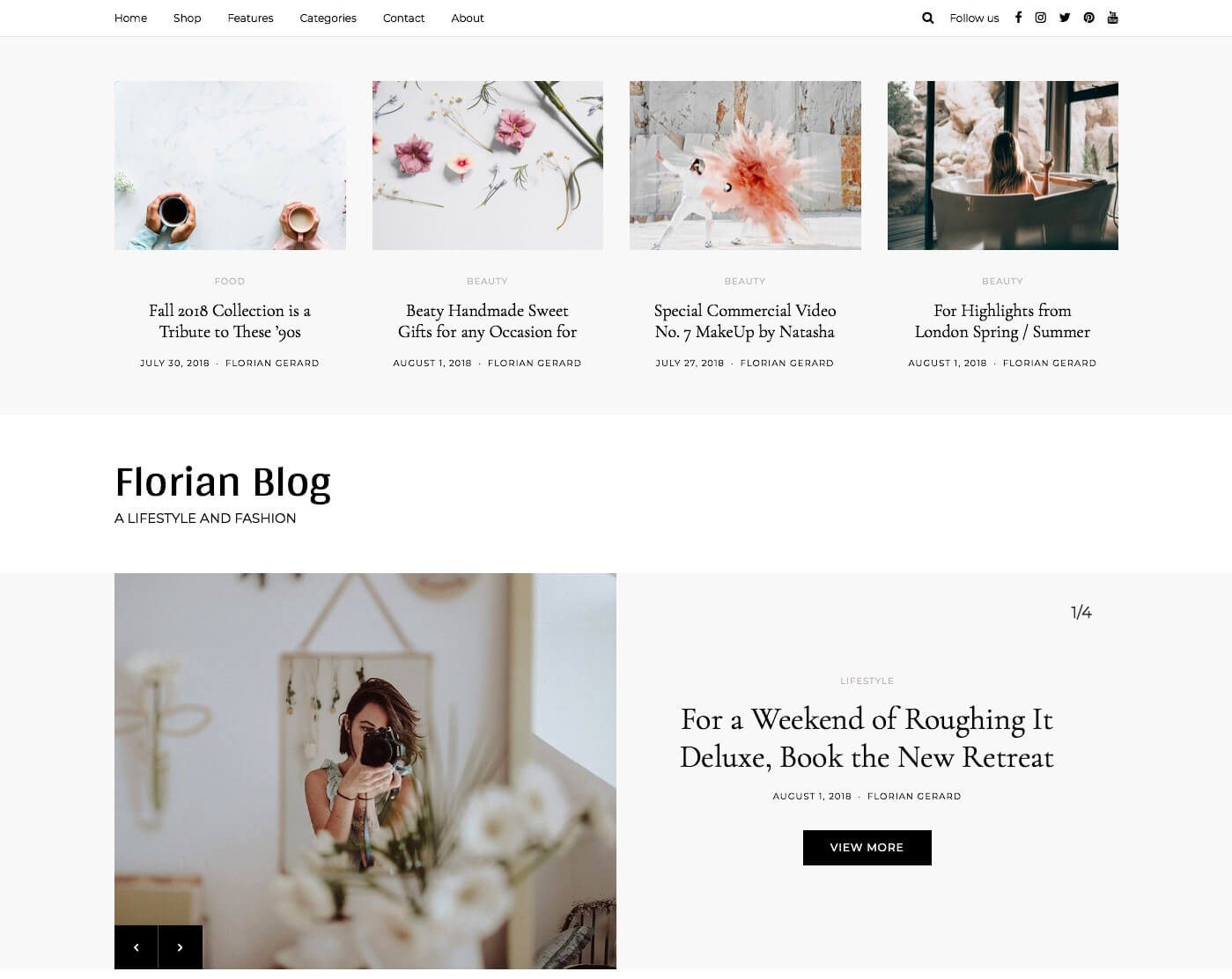 Final Word
WordPress is one of the most popular CMS platforms and the themes featured over there have garnered as much popularity in the market.
Finding quality themes that'll work extraordinarily well on your website is indisputably a tedious task. This guide featuring a list of the best Gutenberg themes for WordPress will make the task easy.