This is a collection of the best forum WordPress plugins that will help you to create a great-looking modern forum on your WordPress site.
Do you own a Personal or Corporate WordPress website and you wish to provide your members with a professional-looking forum where discussions can be held for communities, and active support is provided for your business platform?
In fact, creating an independent forum can also be a great business model if you can be active on the site initially and do some marketing.
Driving traffic to the forum is not as hard as other niche sites because the users who visit your forum also get an opportunity to drive traffic back to their site; so it's a win-win situation for both.
Recently we have created an article about how to drive traffic from forums the right way. This article will help you to understand what to do and what not to do on a forum site.
The online forums have been one of the top traffic-driving sources for many webmasters and this business model will always remain evergreen.
Here are some of the best forum plugins that you can use on your WordPress website to provide users with an enriched forum experience!
Before you proceed with this theme, you have created a complete collection of the best wiki plugins that bring in a modern feel to the question-and-answer session.
Also Read: Best Question & Answer WordPress Themes
bbPress
bbPress is hands down the best forum plugin ever made for WordPress. Not only it is equipped with all the features that a standard forum should have, but it's also available for free!
This plugin can work smoothly without slowing your WordPress website unlike other forum plugins and features a user-friendly interface that easily integrates with most WordPress themes.
Although this plugin only consists of standard forum features, its functionality is increased by installing extensions. If you just need to manage a simple forum without hassle, you can go ahead and install bbPress without a second thought.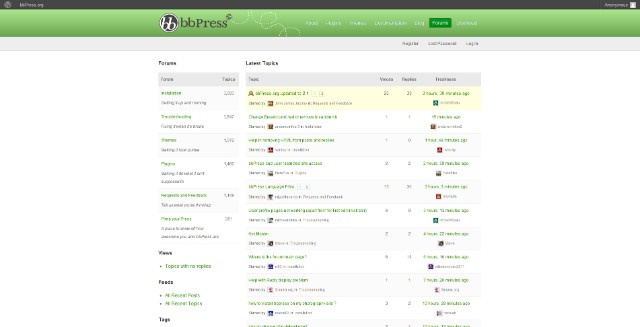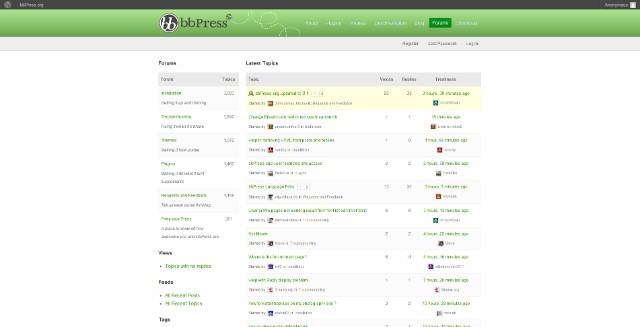 Youzer
Youzer is a very powerful social plugin that will bring tons of amazing features to your social or forum site. This is one of the must-have plugins if you wish to have social features around your forum.
To start with, the plugin offers you a comprehensive admin panel where you can manage everything for your site with ease.
If your site has a user profile section, this plugin offers you tons of amazing features to enhance the profile section with custom designs, header options, and a lot of other features.
The plugin offers you over 15 great-looking header design options that will give a custom look to your site making it look very attractive.
Here are some of the design options from the available lot.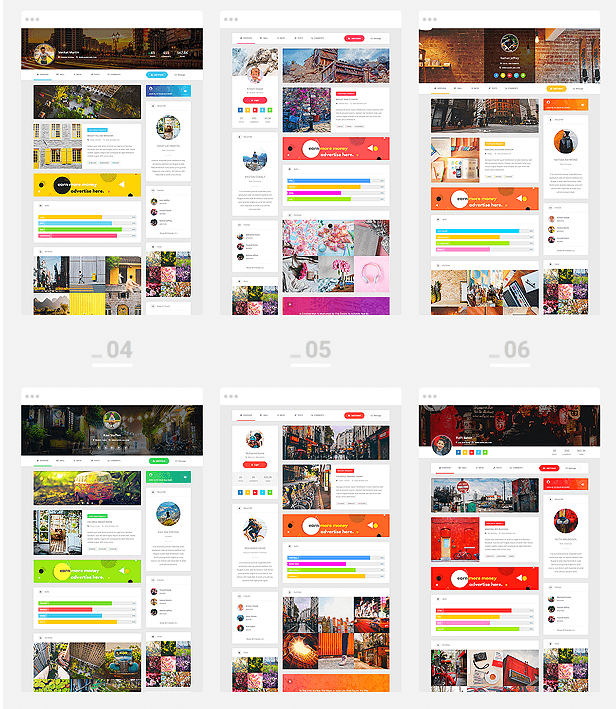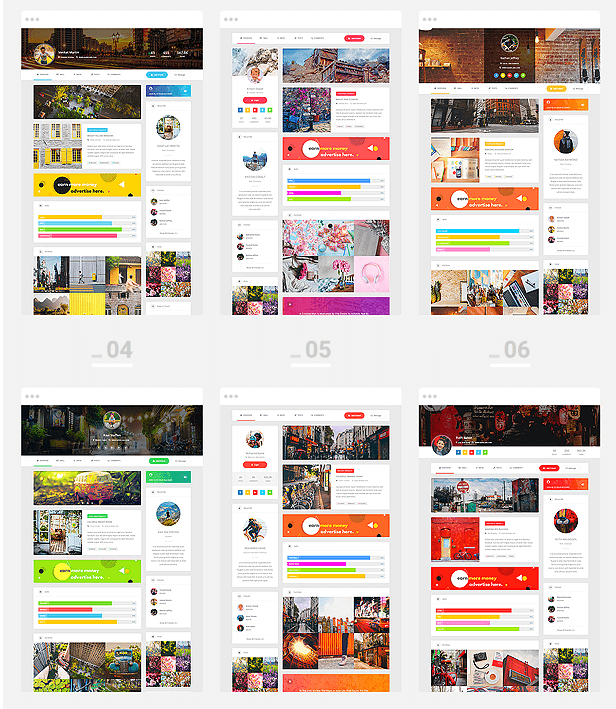 The plugin offers some amazing social features such as groups, messaging options, friendships, emotions, social login options, notification options and more.
The plugin settings are easy to understand and you will have a beautiful dashboard to manage your forum with a lot of ease.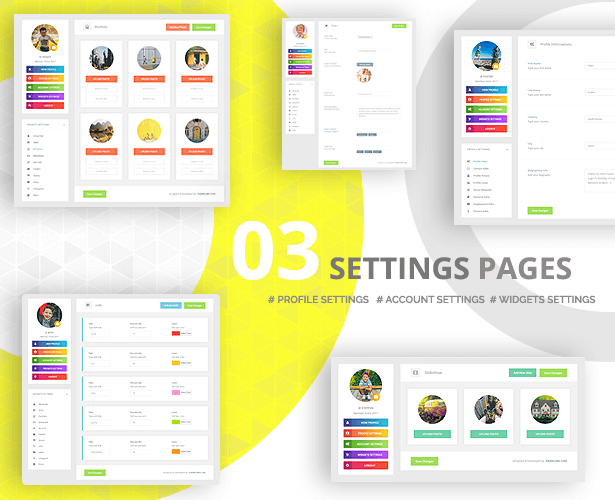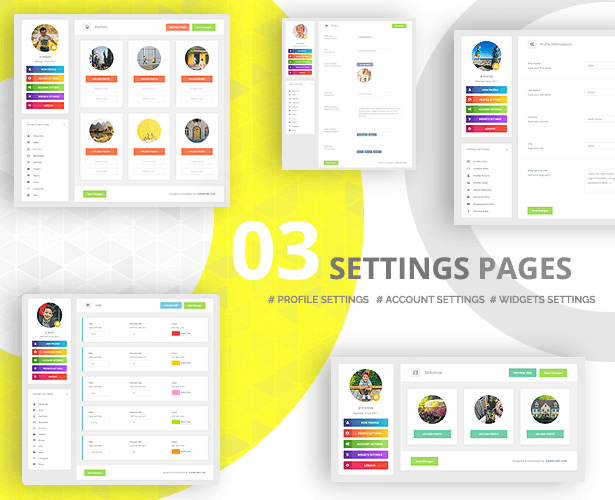 BuddyPress
BuddyPress is not exactly a forum but a complete social community plugin that you can use to create your own social networking site.
This is the most popular and widely used social community plugin for WordPress. However, you will need a BuddyPress-compatible theme to make this plugin work perfectly.
Also, you will need the support of some other BuddyPress plugins that enhance the functionality of the main plugin and brings in different social modules to your site.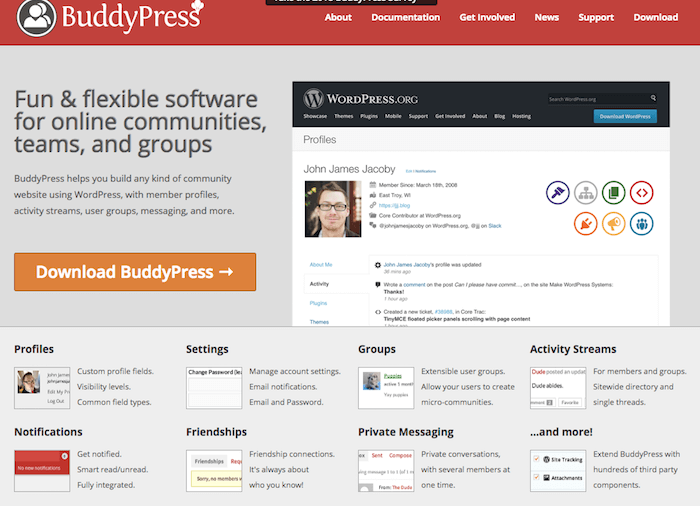 Forum Engine
Though we are talking about the best forum plugins in this post, here is a theme that can do an amazing job while creating your forum.
Forum Engine is a premium WordPress theme that has an inbuilt forum inside it, which comes with a hefty price tag.
The theme looks stunning with a minimalistic design and features a fully responsive design with a crazy amount of customizable options that would make you want more.
It supports many languages, is SEO-friendly, and features unique options like sidebars to add customized widgets.
It also features a very user-friendly interface both on the front and back end and is suitable for any WordPress Website.
Create a quality form website with the Forum Engine plugin. Just get a suitable WordPress hosting plan for your form and get started.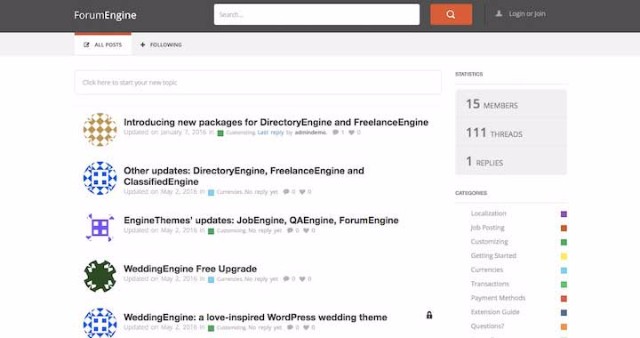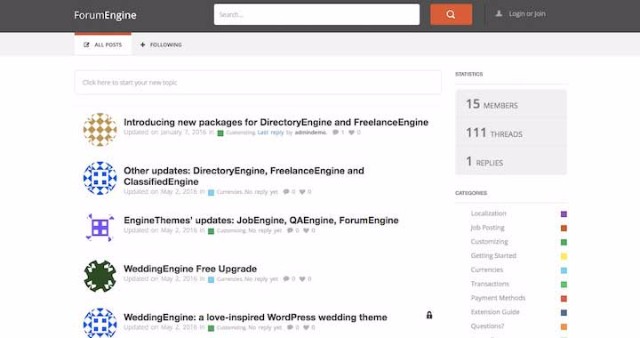 Discourse Platform
Discourse is not a forum WordPress plugin but a forum software that can be integrated with WordPress perfectly.
This forum platform is used by many leading websites to power their forum sections. This software is user-friendly and looks great.
The neat and professional design of the forum software makes it one of the top choices while creating a forum site.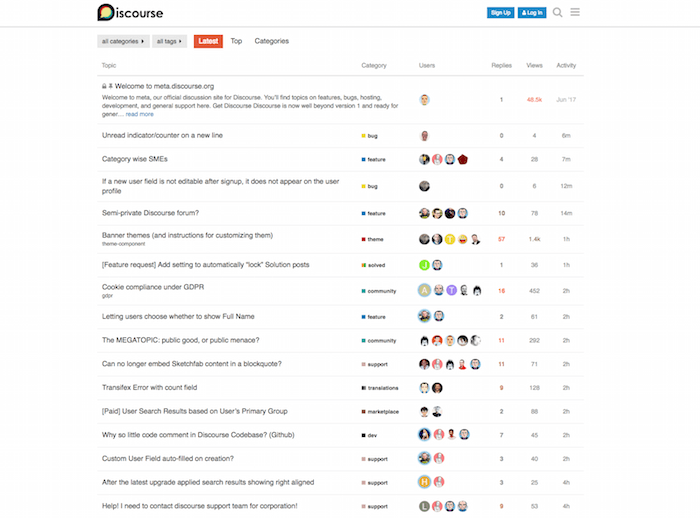 ForumWP
A new but promising forum plugin for WordPress, the ForumWP plugin comes with a refreshingly modern design to offer a great experience to your forum members.
The ForumWP plugin gives you a much-needed break from the old outdated style. The clean and elegant design of the plugin will make your forum look very professional.
The plugin is light and loads very fast, so your audience will be happy with the overall performance and it will have a positive impact on the overall SEO of your site as well.
Another advantage of the plugin is that it inherits the styling of your main site, the button text color, etc to make it look like an integral part of the site.
All the users will have their own profile section where they can check all the topics that the user has contributed to.
The fully responsive design of the plugin will make sure that your forum looks great on all modern devices including mobile phones.
Knowledge Base Wiki WordPress Plugin
As the name suggests, this is a wiki support plugin that you can create to offer information about your product or services to your customers and potential customers.
You can also create a discussion around your product to engage your visitors. You can use this plugin with any WordPress theme and quickly add the knowledge section to your site.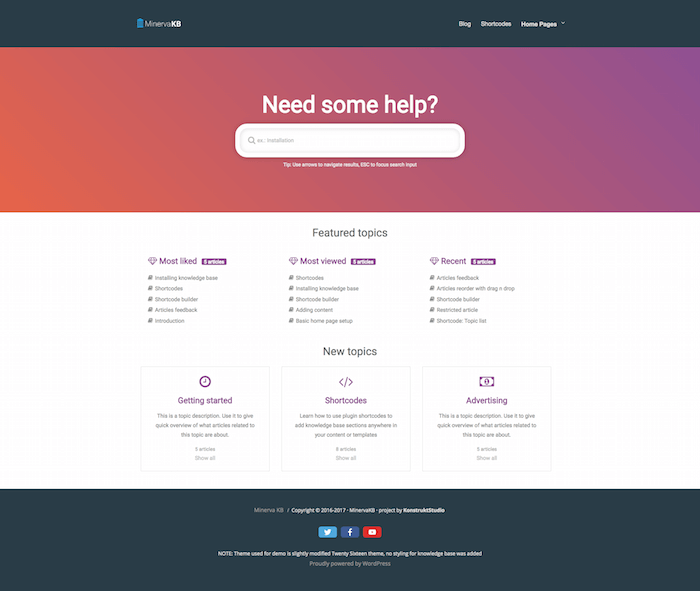 AnsPress Question and Answer Plugin
As the name suggests, this is a free WordPress question and answer plugin that will help you to create the community forum section on your site.
This is a complete forum plugin that will help you to create a site like Quora or StackOverflow using any WordPress theme.
The plugin comes with multilanguage support, a shortcode option, and email and push notifications to keep your users engaged and bring them back to your site.
The plugin offers you a beautiful clean design and user-friendly interface to make it a tool that is helpful to create any Q & A forum, company update board, product support portal, etc.
This plugin brings in all the important features that you expect in a top-quality Q & A site. Features like Push Notifications, Public and Private Questions, Voting and Best Answer features, Sticky Features Question, etc.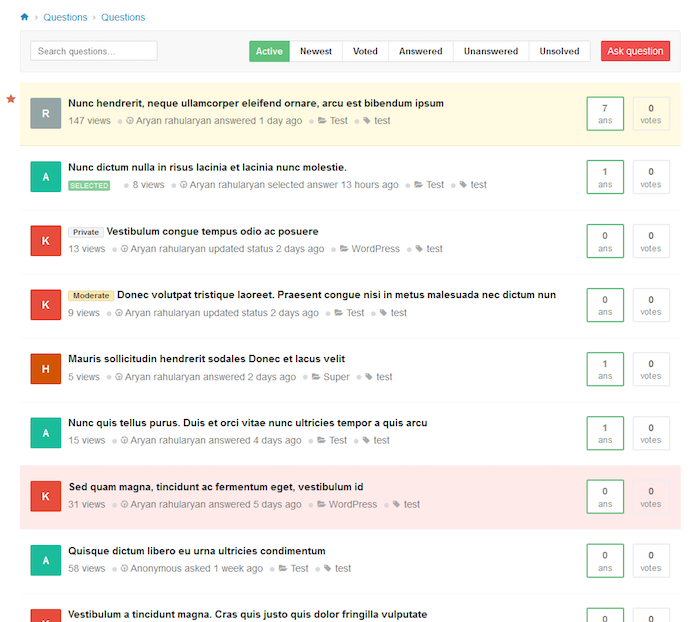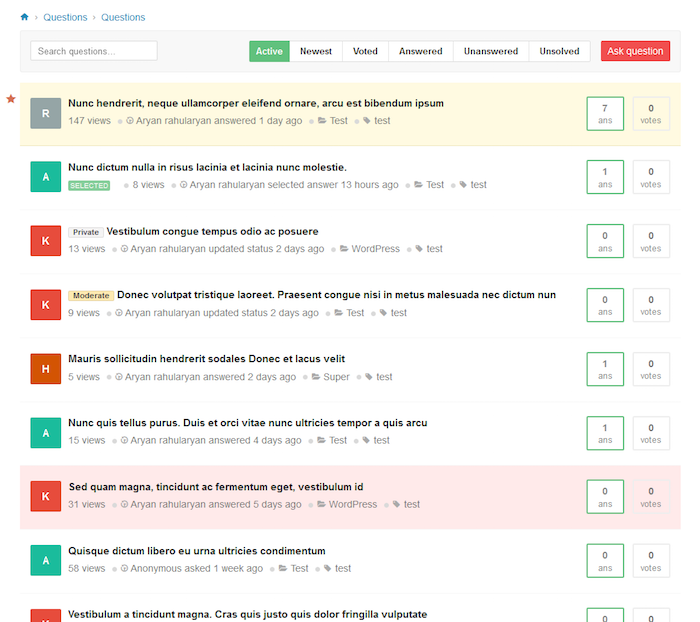 SimplePress
Another very popular plugin that doesn't need much introduction is SimplePress. This plugin consists of all the features that you need to run a forum including an extendable architecture with vast accessibility to match your expectations.
The Documentation of this plugin has been done very well making it an excellent choice even for a new WordPress user willing to run a forum on their website.
If you are looking for a very elementary but feature-packed forum plugin for your WordPress website, SimplePress is a great choice.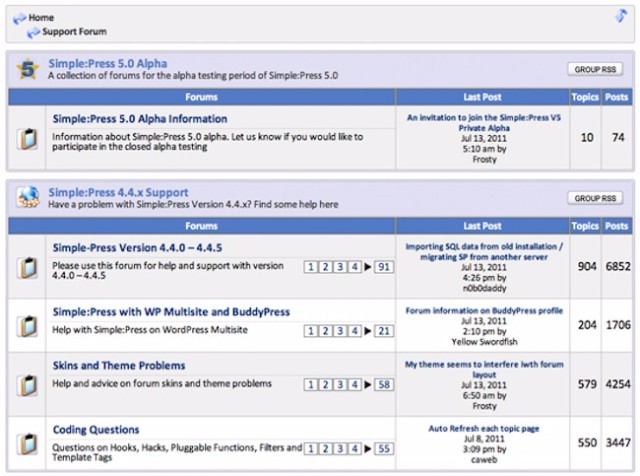 PeepSo
PeepSo is a free solution to create a complete community site on WordPress. You can use this plugin to add all the features and options required in a social community site right inside your WordPress setup.
Complete user profile, frontend user registration, option to create posts, reactions on user posts, and all other features offered by this plugin make it a good choice to create a discussion forum with strong community-based features.
It will have an activity stream like all top social media sites so that all the members on the site can see all the latest posts on the site and get into the discussion.
While the basic plugin is completely free to use and you can download it from the WordPress repository, the plugin comes with a premium version with a lot more features to help you create the perfect community site.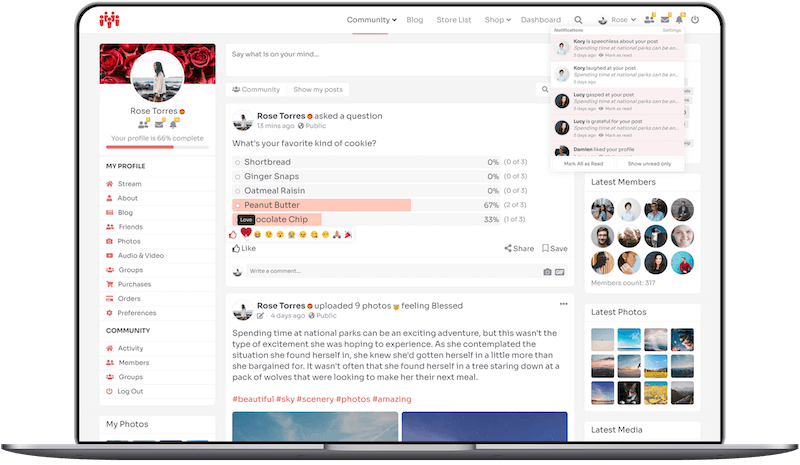 Forums by Website Toolbox
A free forum plugin that embeds a custom-made forum into any WordPress theme of your choice.
The best part of using this plugin is it uses the same user data of your existing WordPress account and will sign you up on the forums automatically making it a smooth plugin for your forum users.
This plugin can be installed free of cost and features some unique utilities like user reputation, polls, and theme editor making it a suitable choice for new WordPress users.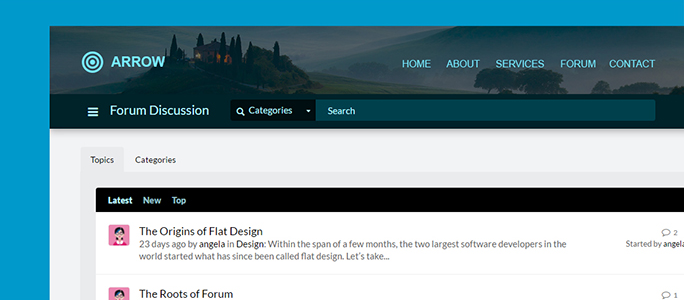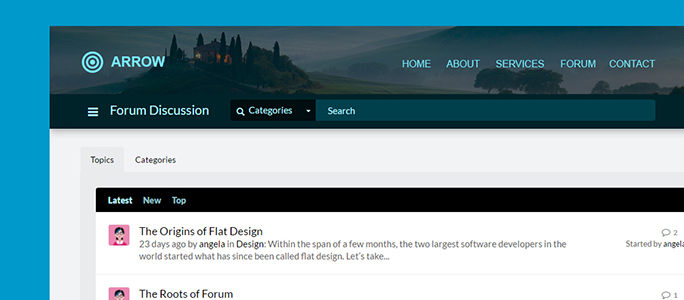 Forym
If you are looking for a plugin and willing to spare some bucks for some unique additional features, then this plugin will give you more than what you need.
The admin options for this plugin will help you to manage everything you need to make a perfect forum.
The interface and front-end are minimalistic, clean and user-friendly packed with essential features. The developers of this plugin provide you with regular updates and premium support making it one of the best premium forum plugins for the price.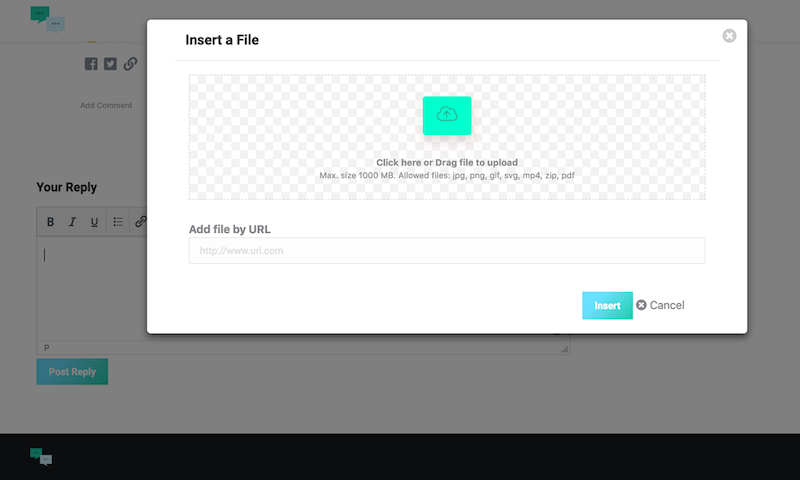 WP Symposium Pro
A unique plugin that converts your WordPress site into a social network instead of a forum; it does have most of the functionality that any other forum plugin possesses, although the interface is a bit different.
It is compatible with any WordPress theme, and internal plugin options can be managed by admins without breaking a sweat.
This plugin is great if you are planning to build a big community without the standard forum interface and bring uniqueness to your WordPress website.


WP-Foro
This plugin lets you create the perfect forum with multiple customizable layouts including a small bulletin board, a large bulletin board, and question-answer layouts.
It is responsive with SEO built-in featuring caching system ensuring faster page load speeds.
Unlike other WordPress forum plugins, WP-Foro has a unique feature of Migrating forums which will help you migrate your existing forum into a newly installed forum you have created with WP-Foro.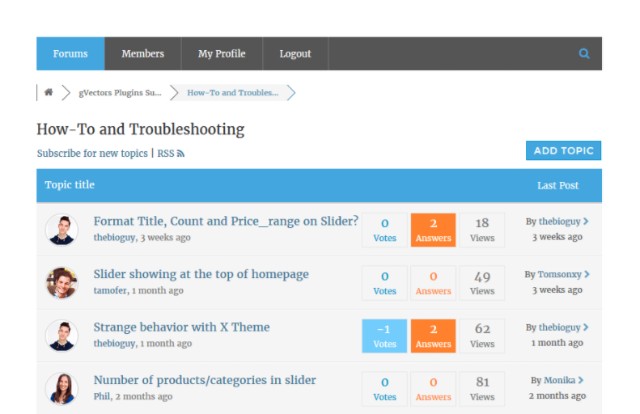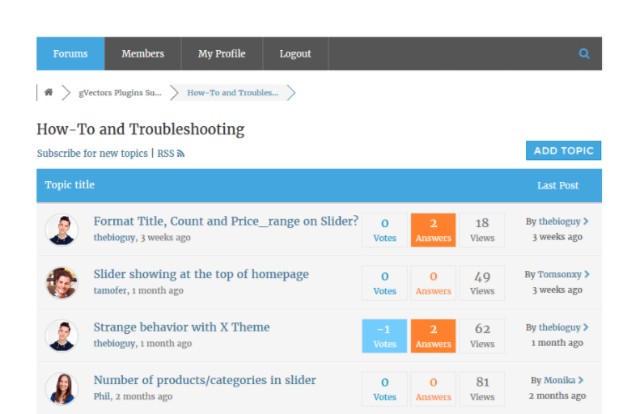 The bulletin boards can be customized to match your requirements and also features a drag-and-drop editor for every section which will help any new user to build a perfect forum without putting in much effort.
CM Answers
CM Answers is another useful forum plugin for WordPress that comes with all the forum-related functionalities such as posting questions and answers, post voting, post moderation, notifications, etc.
This plugin also enables you to upload files, private messaging, and the ability to subscribe to categories, and certain topics making it useful for the users.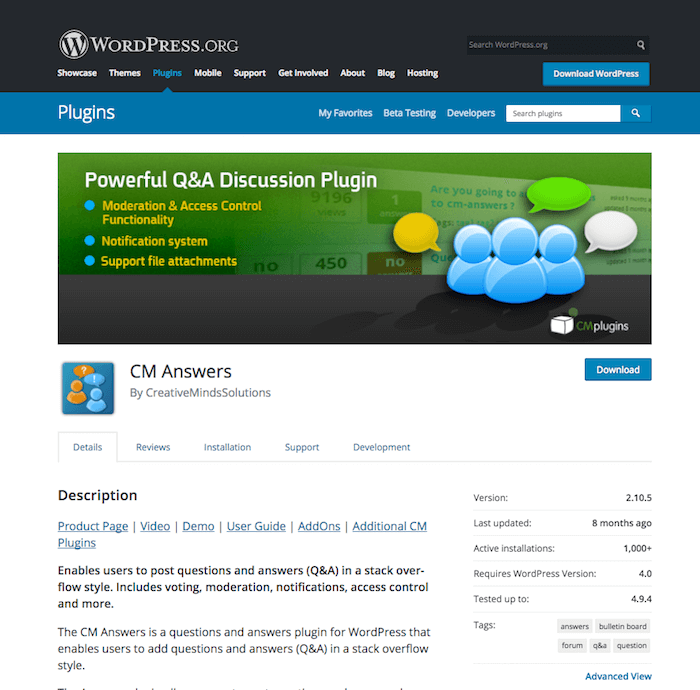 Cinnamon Boards
A wonderful-looking responsive-design forum plugin that will make your forum stand out from the crowd.
The plugin features a responsive design that looks great on any device including an easy-to-use registration system and a very user-friendly interface.
One of the great features of this plugin is it integrates itself into any WordPress theme and still does not lose any functionality.
Cinnamon Boards is one of many premium plugins that come with a small price tag and is sure to meet your expectations in building a professional-looking forum.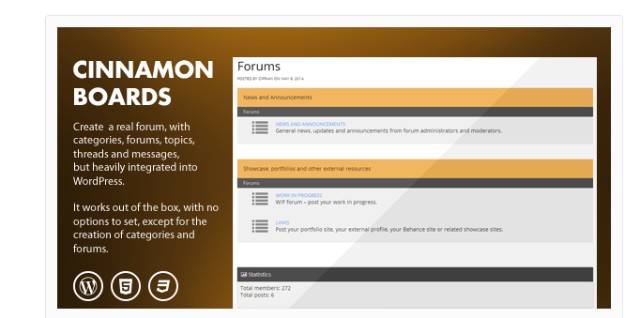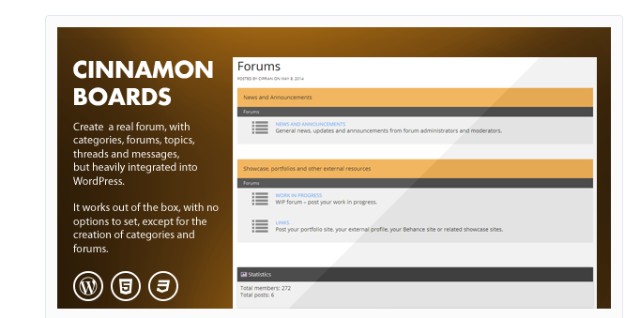 Discussion Board
If you are planning to create a community forum for schools, offices, enthusiasts, etc. then the Discussion board will surprise you with its feature-packed user interface some of which being shortcodes and member access roles.
A premium version of this plugin is also available with features such as multiple discussion boards, individual members' statuses, WYSIWYG editor, and much more. Spending a few bucks will get you all these extra features.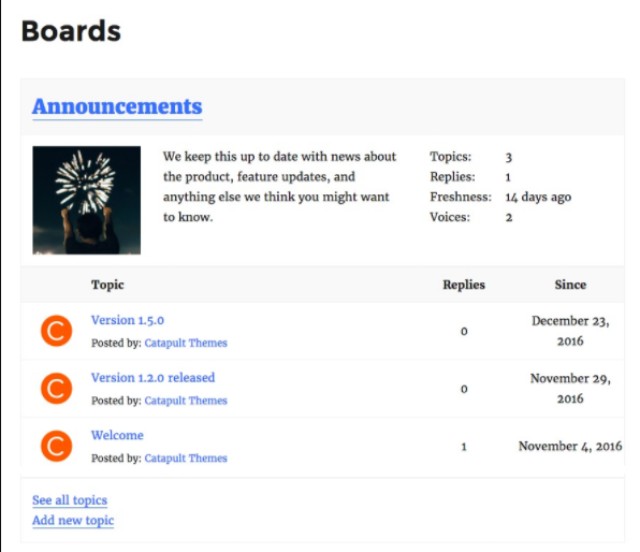 Asgaros Forum
Last but not least, another lightweight and the simple forum plugin is installed easily on your WordPress website.
The best thing about using this plugin is that it supports WordPress shortcodes which helps in creating a forum within minutes just by creating a new page and adding shortcodes one after the other.
You can manage users of the forum directly from your WordPress dashboard. This plugin is multilingual, and it supports filters and hooks thus making it very developer-friendly.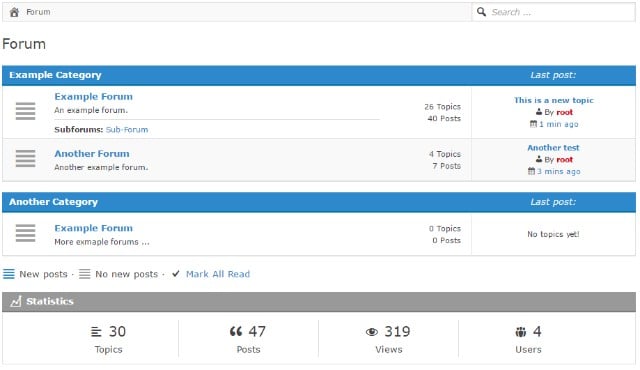 Conclusion:
The above-mentioned plugins are no doubt the best hand-picked and popular plugins for building up a professional forum that would aid your WordPress website in reaching more audiences.
Let us know which plugin you have used from our list to build up your forum in the comment section below!