Best education WordPress themes that will help you to create the perfect education, learning, tutorial site within a couple of minutes.
A couple of decades ago, if students wanted to get admission to an educational institution, they had to go to that particular institution to get handed their curriculum.
Now, if they liked that at first chance then great, or they would go about searching more until they found the school or college that offered an environment they wanted.
However, this didn't always happen as searching for a school isn't trick or treating and most people ended up not even knowing a school existed offering a perfect environment suited for their specificity.
But alas, now is the age of the internet. People are getting information and reviews of all sorts of things they want to do just by googling them.
So suppose your educational institution offers a great sports team and you want to advertise yourself as the haven for jocks.
So to get yourself out there so that most of the people can see your amenities, having a website can be helpful.
Also having a website will help the students that are currently in your school. Their parents can see the latest happenings, and you can provide your students with other features and functionalities through your website.
So here we are going to be talking about how you can use WordPress and themes to build yourself a fully featured and functional website to help attract students.
Now, WordPress is a CMS or content management system which currently powers over 25% of the entire World Wide Web.
It is very popular and has a large community of developers who build WordPress themes. A theme can be used to change the entire aesthetics of your WordPress website and add some necessary features.
We have listed the best tutorial WordPress themes here in this post, don't miss.
Therefore, if you want to promote training among your visitors, you need to create your website. The optimal solution to this problem will be WordPress templates on the topic of education!
They are fully adaptive, cross-browser, SEO-optimized and equipped with detailed documentation. Templates are easy to install and easy to use. Any element you can change by yourself using a convenient admin panel.
We are going to look into some education WordPress themes which you can use to build yourself a great website for your school, college or university.
What Exactly is a Theme?
If you already know a little more about WordPress you can skip this section, but if you are starting it will be useful to know that a theme is basically a design template that you apply to your website created in WordPress.
The theme has absolutely nothing to do with the content of your website: that is, you can change the theme or appearance but that does not mean that you are going to lose the entries or pages that you have created.
The free themes provide a technical service almost exclusively through the WordPress forums, while the payment themes have a much more personalized service through support tickets, tutorials or support via email.
What are the Best Educational Templates for WordPress?
Many websites are the ones that are going to offer you many WordPress templates. ThemeForest is one of the best known.
Moreover, sites like Smile tutor which is one of the best sites for home tuition in Singapore comes with an educational template that is worth looking.
So without further ado, here are theBest Education Themes for WordPress.
Top Education WordPress Themes
Divi
Divi the ultimate multipurpose theme for WordPress that you can use for any niche website. If you go for Divi, you are not buying a theme, but a full-fledged website builder loaded with super easy to use options which you can use effectively without any prior coding knowledge.
The real power of Divi is in the Divi Builder which is one of the best drag-and-drop website builders. The plugin brings some amazing modules that you can use to create your site.
The theme and the Divi Builder is continuously getting evolved with time, and now it is one of teh top themes with front-end editing option.
You just have to drag and module to the section where you wish to place it and start editing without going to the back-end of your site.
There are also over 20 pre-designed layouts which you can use as a point for a start. There are also plenty of demo contents including an education website demo which you can use to build your site or customize the laundry list of options available.
However, you don't have to stick to the demo designs because you can create your custom design for your site without any coding.
If you are using this theme for any product or service related site, you have some stunning rich page design options that you can use to create a great looking landing page for your site.
We have created an article to showcase the best Divi Site examples for your inspiration.
You will be pleased to know that you will get an amazing 20% discount by using the link below.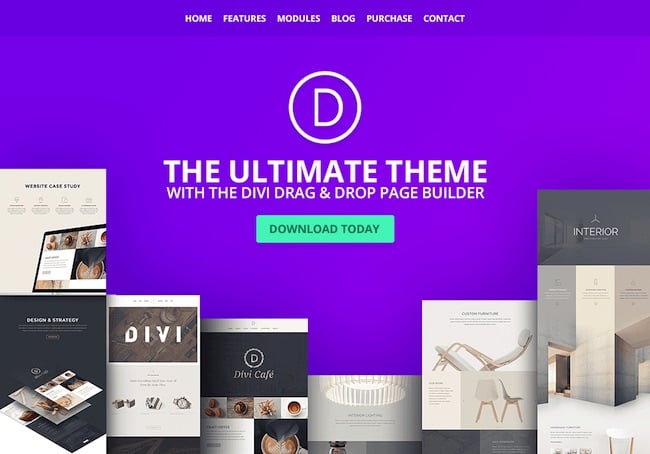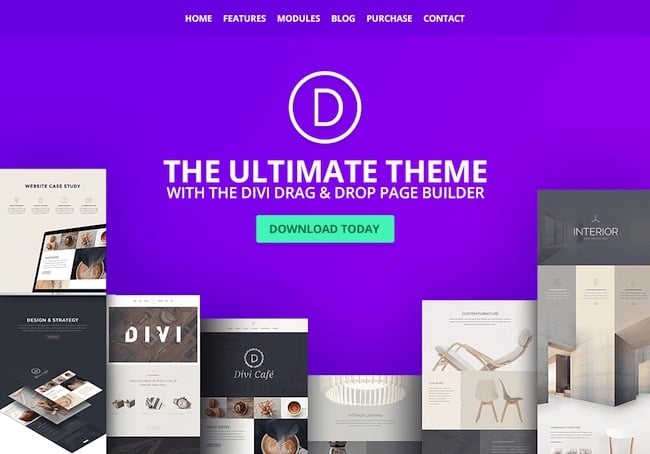 Education WP
Education WP comes with a clean and beautiful, welcoming design language perfectly suited to an educational website. The design boasts a yellow accent color which breathes warmth and brings back a quite nostalgic feeling.
Now the theme offers nine different demos, and all of them can be customized with the SiteOrigin Page Builder which comes included. Then there are features which are particular to an educational institute website like the LearnPress plugin.
This can help you to assign co-instructions to your courses, issue certificates and many more things which your students will find very helpful.
There are also plenty more features which also makes the theme viable for an online education website.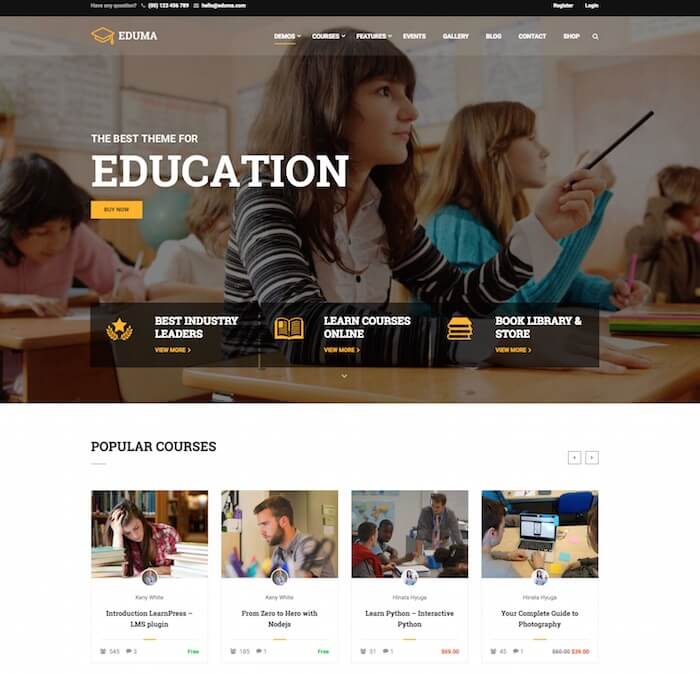 School
School WordPress theme indicated the demographic it is targeting. It comes with all the necessary features and design style that caters to the needs of any school website.
However, if you like, you can also use the theme for universities, elementary schools and all kinds of educational institutions.
As for the design, it has a very clean and minimal style with a lot of room to help you post all the relevant information you want your visitors to have access.
There are also custom post types specific to galleries and events which can help you enhance the overall appeal of your website.
On the feature side, you get customization options like unlimited colors, beautiful blog layouts, a performance optimizer, custom gallery posts, event posts, a testimonial section, an array of useful widgets, mega menus and so on.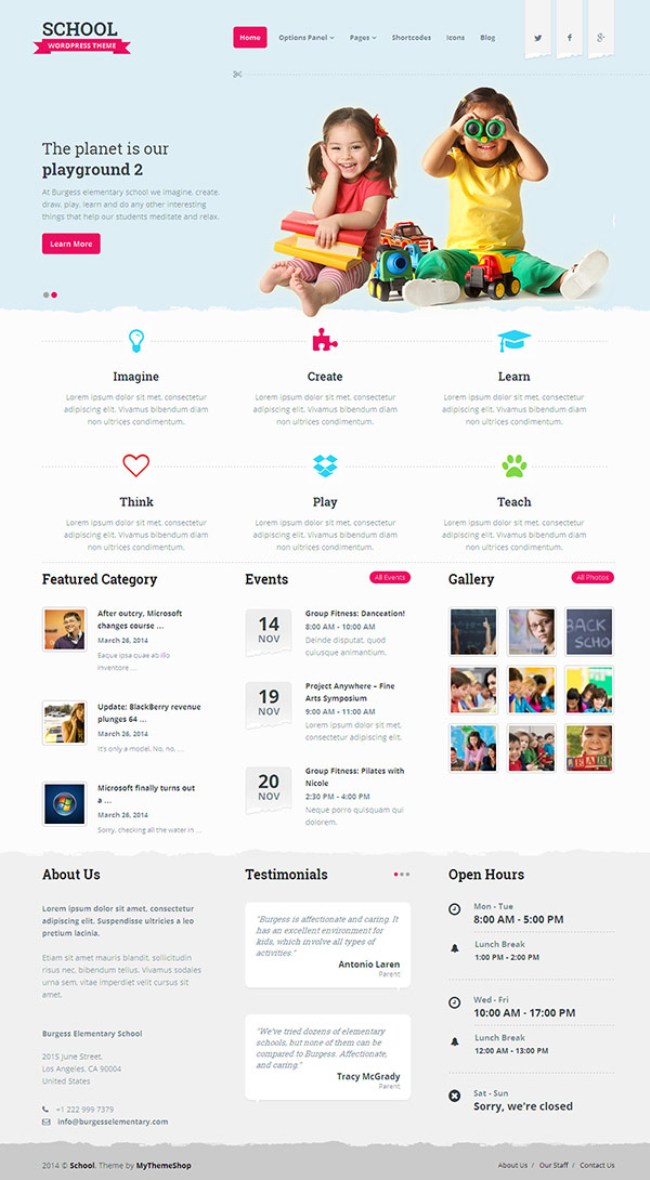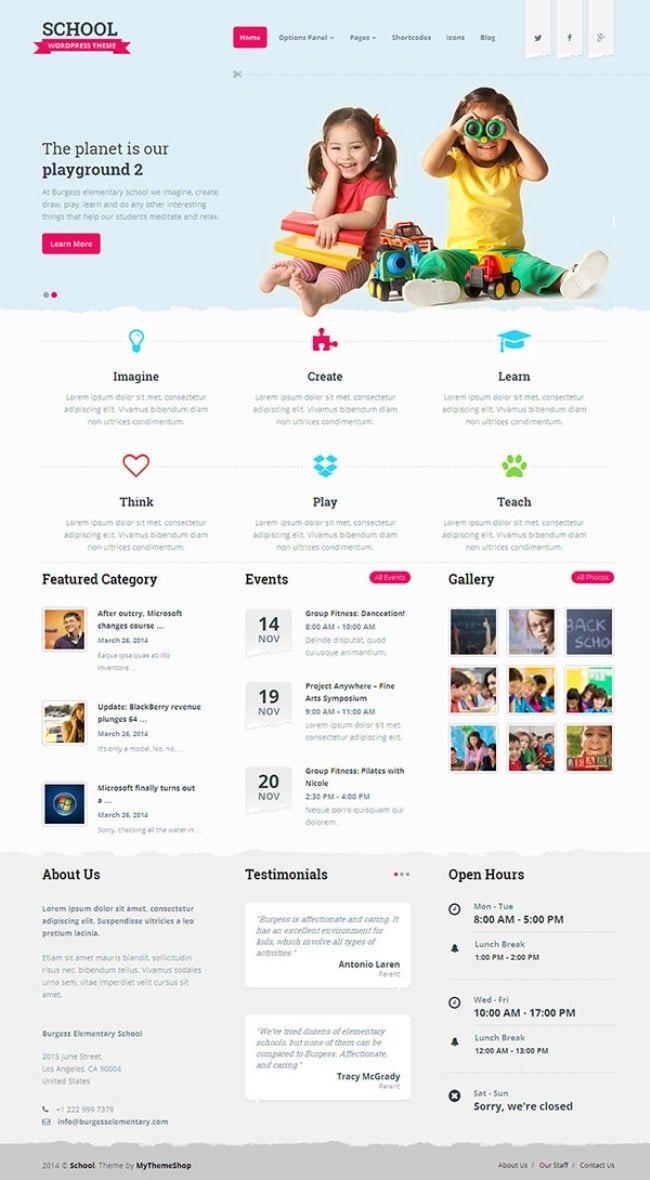 University
As the name of the theme suggests, this is a theme created for the universities and colleges. This theme comes with a beautiful, modern minimal design that will surely make your site look like a professional site.
This is not only an educational design but a complete event theme as well. So, you can use this theme for creating an event site related to education, or if you have an educational site and want to have the event feature along with it, this is the perfect theme for you.
This theme comes with tons of features like course management, event management, slider management with Slider Revolution plugin which is free with the theme, seven different homepage demo design options.
You can play around with the design of your site and make sure that you have the perfect layout as per your requirement. You will get the drag-and-drop Visual Composer plugin in the theme bundle for free.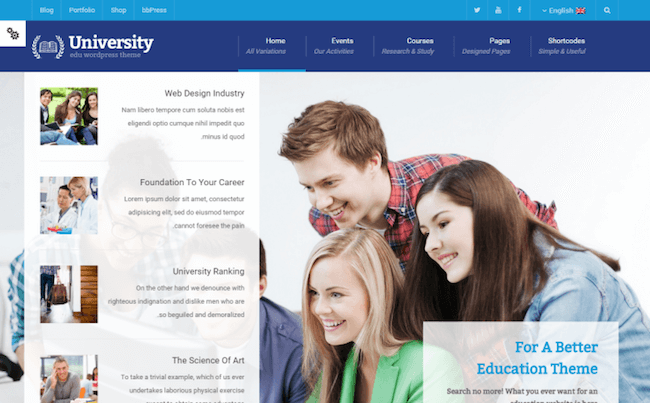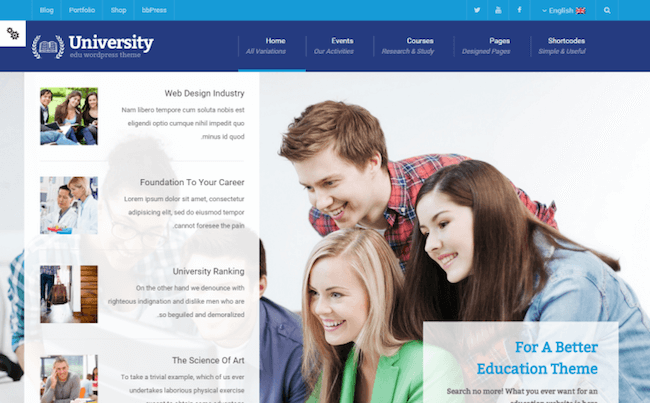 Capital
Capital offers a more traditional design aesthetics that match the needs of an educational institution that has been present for a long time.
The design itself will showcase that you value traditions and your students get an honest education. As far as features are concerned, the theme is very modern and highly flexible.
It is built upon the Zoom framework which gives technically sound people a great control over the website. Also, there are plenty of options to help beginners get there way around the theme.
For building the layout design of your site, you get the handy Dynamic Homepage Builder which supports drag and drop gestures to help you build your website.
Other than this you get an event calendar, a full-width slideshow and much more to help your students.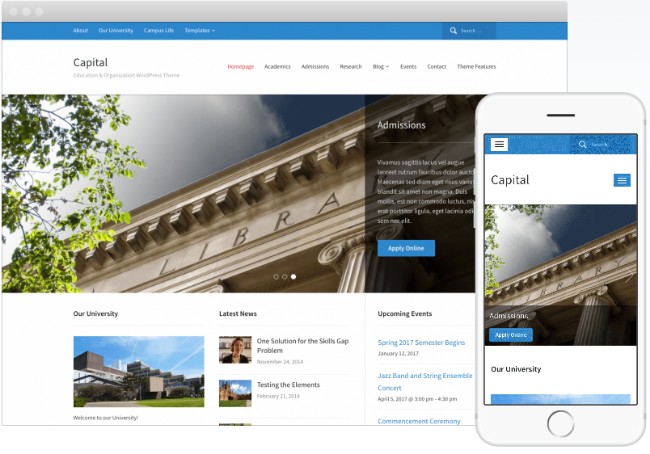 Lincoln
Lincoln WordPress theme offers the ideal choice for educational institutes to make a website which is flamboyant and engaging. It offers a lot of features to help you make a dynamic and functional website.
The theme is packed with all sorts of features that are focused on content and retaining user's attention. You will also get tools like Visual Composer to help you build your website layout, and revolution slider to help you incorporate sliders on your site.
Then there is a Parallax Scrolling option which can help you build a visually appealing website.
Apart from this, there are features centered around an educational website, like an event calendar, an about page for all the teaching staff, a dedicated page where you can upload all the syllabus, reading materials, quizzes, grades and lots more.
The theme is also suited for creating an online education portal if that is what you want.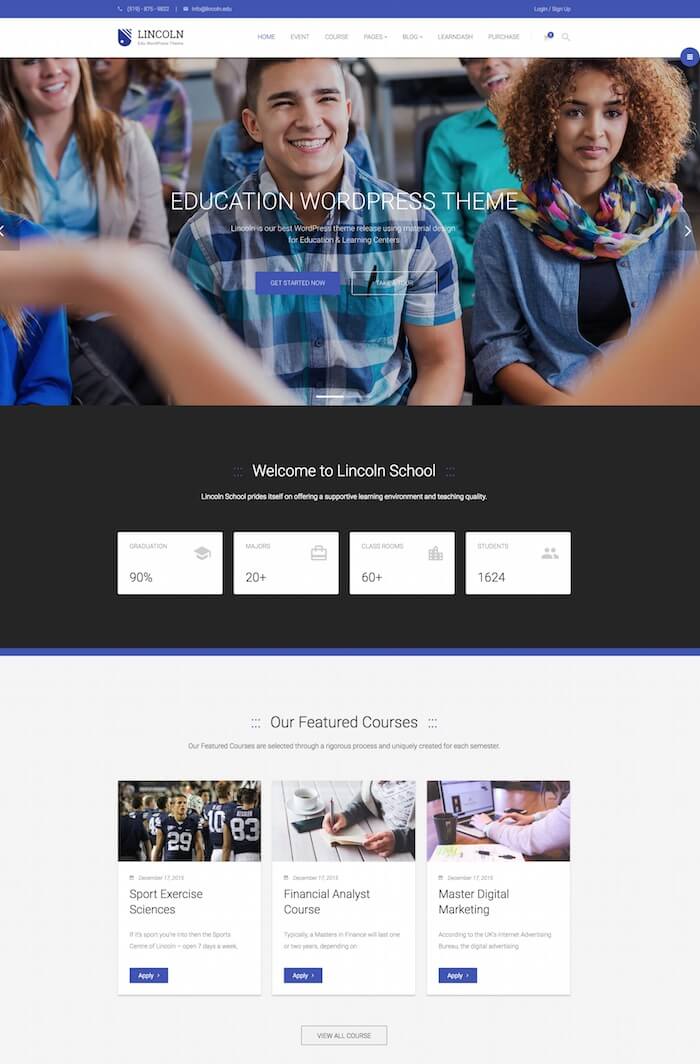 MasterStudy
MasterStudy WordPress theme is highly featured packed and comes with a lot of plugins to help you make a powerful website.
Most of the plugins here are focused on providing features that help you offer online courses to students, but it can also be used effectively by physical education institutions as well.
As far as design is concerned, the theme offers a modern and elegant outlook. There are four different blog post layouts, three different photos and video galleries, three kind of event templates, and a whole lot of options to customize every single one of these.
There is also WooCommerce integration, so if you want to sell some school merchandise through your website, you can easily handle that too.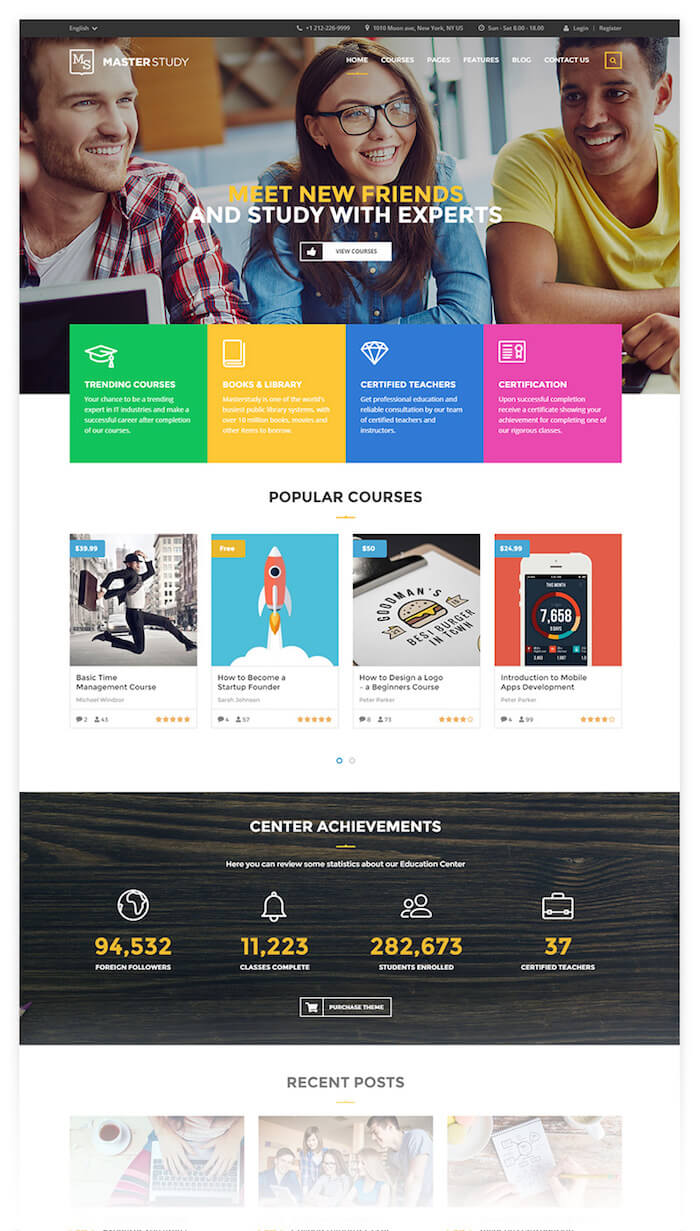 Campus
Campus WordPress theme comes with a very stereotypical college website design. However, you can use it for schools and another kind of educational centers as well.
You will get a decent array of functionalities all of which revolves around the necessities of an educational website. There is also a handful of customization option so you can properly brand the website.
The theme is built on top of the SuperSeleton framework which gives you access to an intuitive admin panel and a powerful drag and drop page builder.
There are also plugins such as Revolution Slider, JetPack Carousel, and others. On top of this, if you want to sell stuff on your website, you can do that too thanks to WooCommerce integration.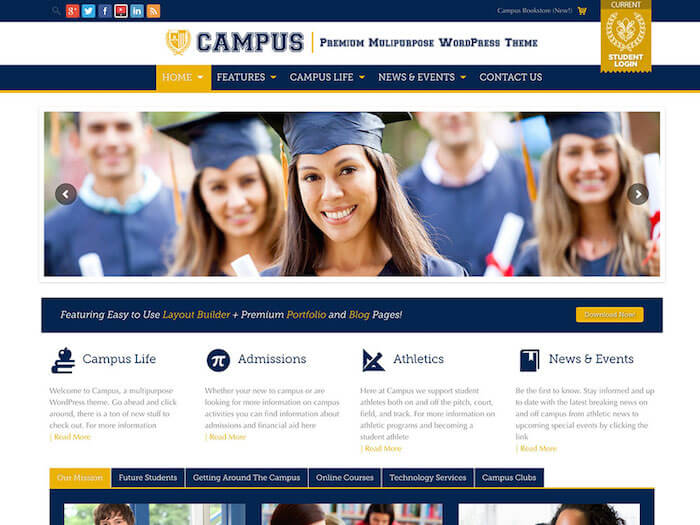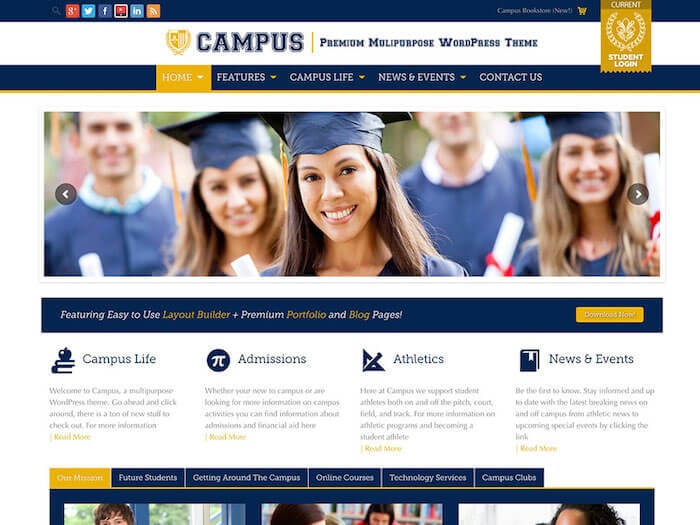 CaresLand
Caresland WordPress theme is another one which caters to kindergarten websites. The theme is filled with design choices and aesthetic styling which leaves a positive vibe with the parents that visit your site.
One of the key features of the theme is the ability to include a blog on your site through which you can share all the day to day activity in your kindergarten.
This will bring about a sense of trust with new parents who want to enroll their kids in your institute. The feature can also be helpful to the parents whose kids go to your schools, as now they are always informed.
Besides this, you get a special event page, a central theme options panel, unlimited color option, content widgets and much more.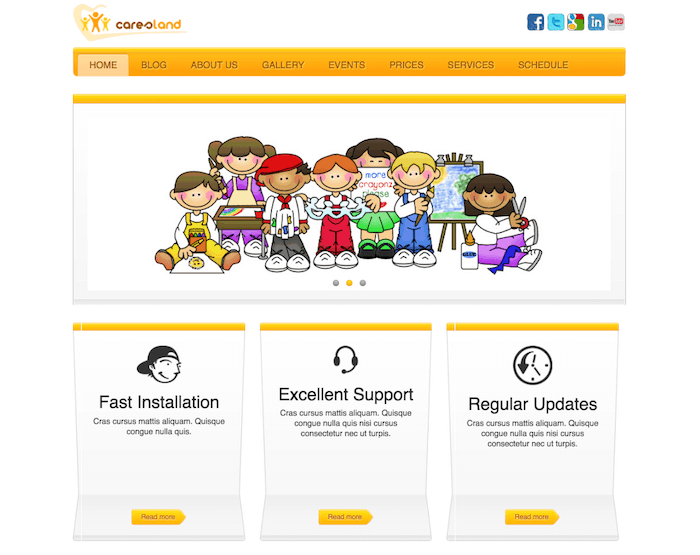 Stratfor
Stratfor WordPress theme is primarily curated for university websites, college websites and the same. It offers a clean and professional design with a layout style that helps you showcase all the merits of your institution.
The notable feature of this theme would be its interactive menu which links together all featured categories, and a powerful slider which displays all the recent headlines.
You can also tweak the layout of the site with all the options that you get. You can choose to display news stories, or professor profiles or course titles and any other thing you want.
There are also ten per designed color variations and the option to create your color scheme. A PayPal gateway is also included to help you accept donations or other forms of payment.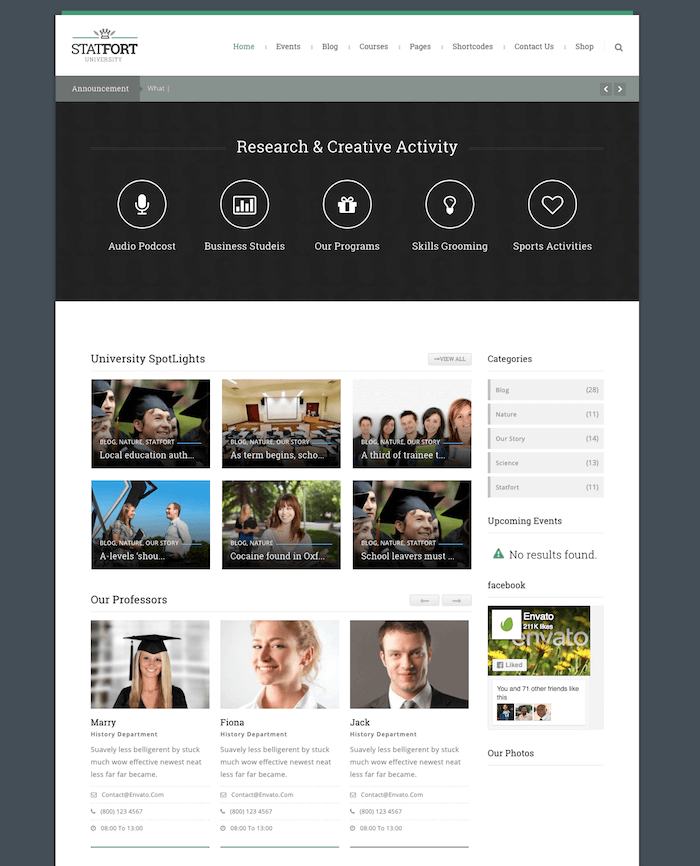 Education Press
Education Press WordPress theme offers you access to the CoursePress Pro plugin which will cost you $228 on its own.
Once you have Education Press installed, you have a learning management system to assist your website.
Apart from this, the theme offers about seven homepage variations, bbPress and BuddyPress integration, WooCommerce integration, 13 payment gateways, and much more.
There are also different demos pages for universities as well as kindergartens.
Other features of the theme are centered on helping you share video, audio, text and another type of course file.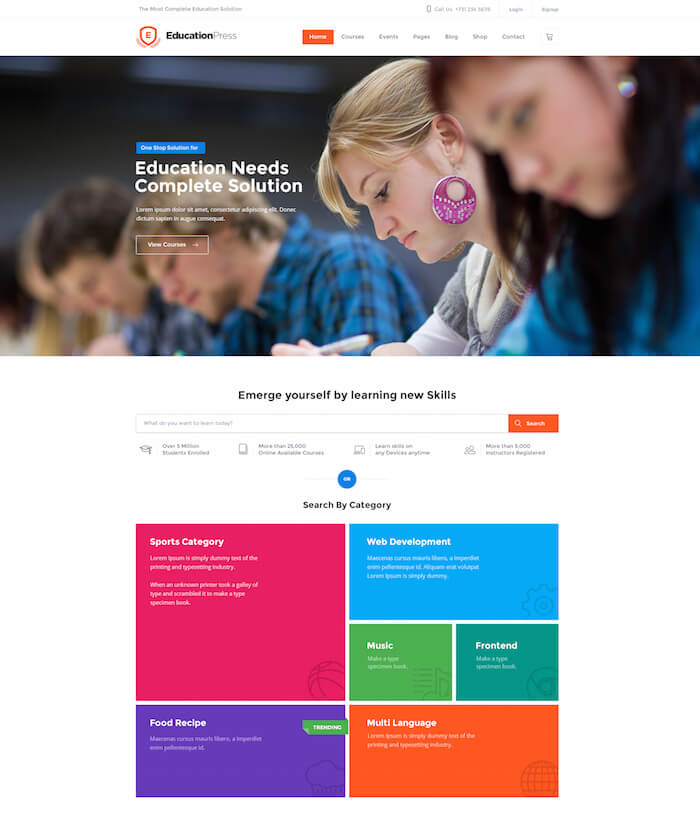 Edu
Edu WordPress Theme puts a rather fun and energetic twist with its design choices making your website less traditional or stereotypical as far as aesthetics is considered. This is, in fact, one of the best themes if you are running a kindergarten based websites.
The homepage of the theme boasts a large animated slider with a mega responsive menu. You also get access to stToolKit Smart Page Builder with which you can tweak the layout of your site. Then there is the LayerSlider plugin which will help you make amazing sliders.
There are also other features to improve the user experience and WooCommerce integration to help you sell stuff on the site.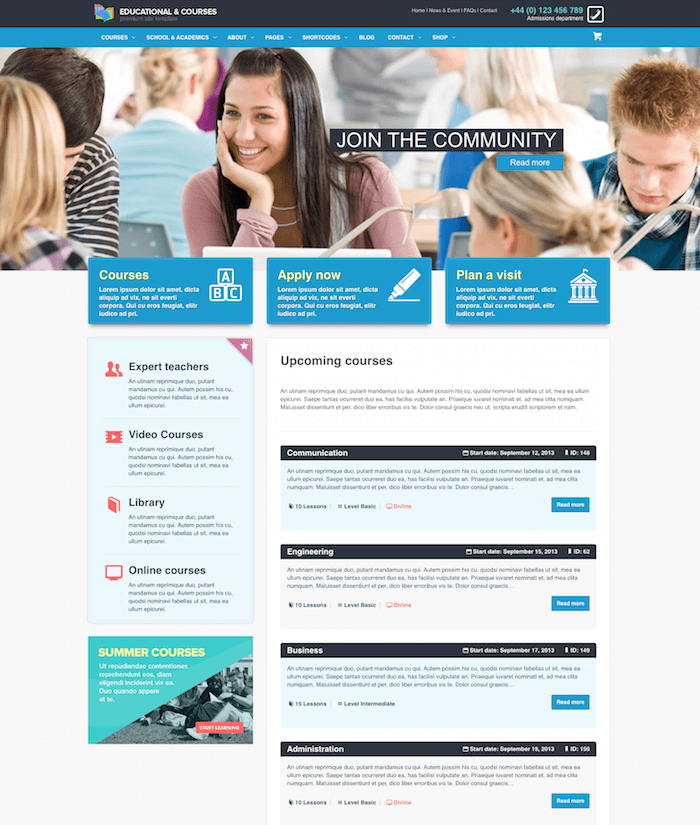 WPLMS
WPLMS is a WordPress theme rich in features and functionalities to a level that it can be considered as a Learning Management System, an LMS, rather than just a theme.
The theme comes with a responsive and intuitive interface which enables easy navigation through the website. Then there is the list of premium plugins like WooCommerce, BuddyPress, Layer Slider and Visual Composer.
But the key selling point of the theme is a custom learning management system which can help you manage courses, instructors students and the ability to sell as well as create courses for online.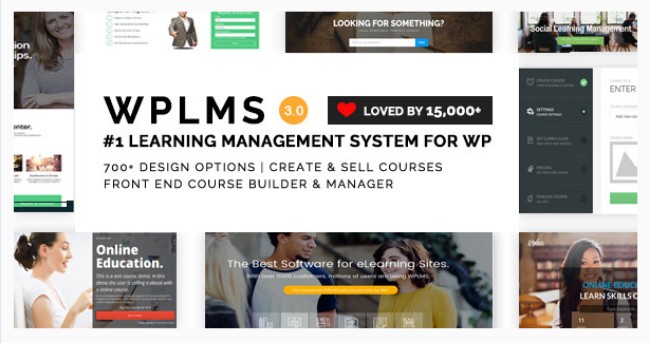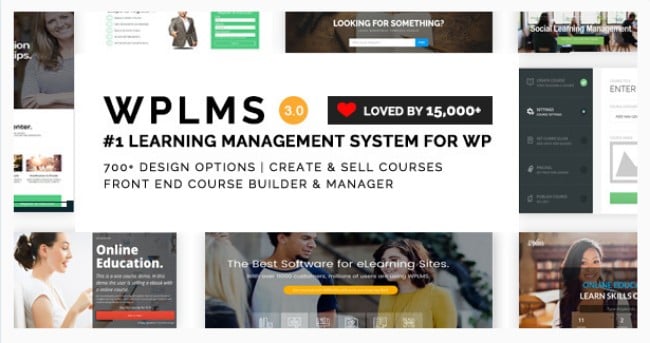 Eikra: Education WordPress Theme
Eikra is a great looking multipurpose WordPress theme created for educational sites. This theme offers you some great looking demo design templates that you can use to create your site.
This can a perfect design for any school, college, training center, and other related websites. This theme uses LearnPress which is one of the top learning management WordPress plugins that you get free with the theme.
It also offers you the premium Visual Composer plugin which is a top website builder plugins for WordPress. You will be able to create stunning pages for your site without writing a single line of code.
It offers the users a quick option to enroll for free as well as paid courses, great looking course page designs, teacher's profile pages, great looking event and blog pages so that you can keep your students updated about all the upcoming events.
As far as the design is concerned, Eikra theme is loaded with options. You have some great looking header design options to choose from, amazing demo design templates, pre-built custom add-ons for your site that will help you to bring in amazing functionalities into your site quickly.
Even the live customizer is loaded with features to make it easier for the users to change anything on the site quickly.
This theme is WooCommerce ready so that you can create your online shop related to your educational niche without any other external support.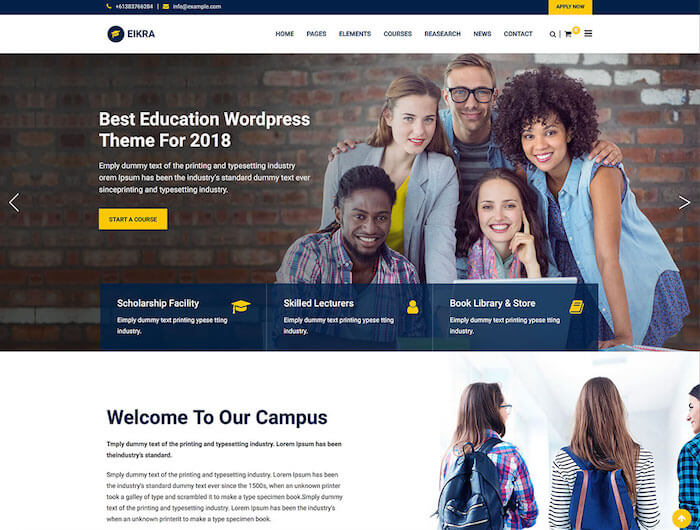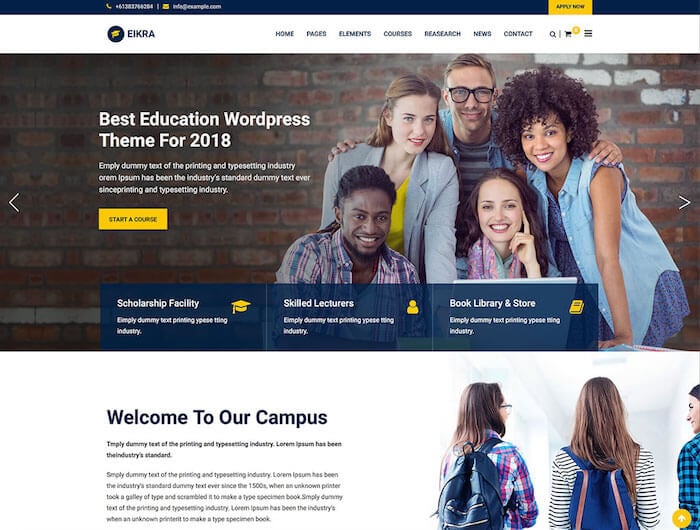 Kalium
Kalium is a multipurpose WordPress theme that you can use to create any niche site. It's a beautiful creative design that will surely make your site look modern and professional.
The theme comes with a number of great looking demo design options to choose from and one-click demo installation options to make sure that your site is up and ready in no time.
The premium WP bakery website builder is included in the theme bundle for free which is one of teh top drag-and-drop website builders for the WordPress platform.
So, you will be able to create a completely custom design for your site without writing a single line of code. You also get the premium Slider Revolution plugin, the Layer Slider for free with the theme.
The theme offers you extensive typography options which is better than any other premium themes on the internet.
The Kalium theme is fully customizable and loaded with amazing features to style your site and make it look perfect as per your requirement.
The theme offers you over 30 amazing portfolio styles to choose from so that you are able to showcase your work in the most beautiful way.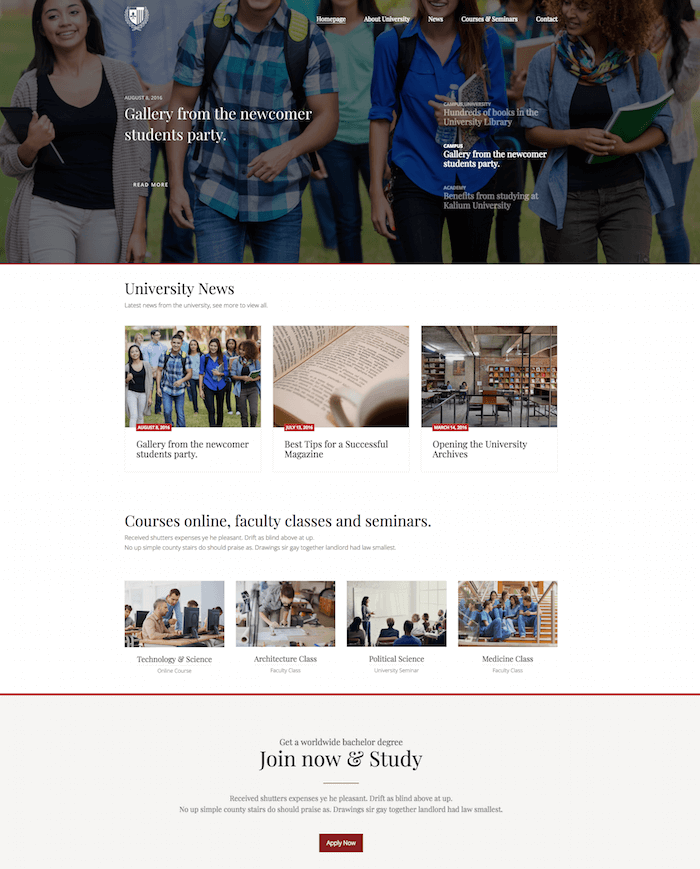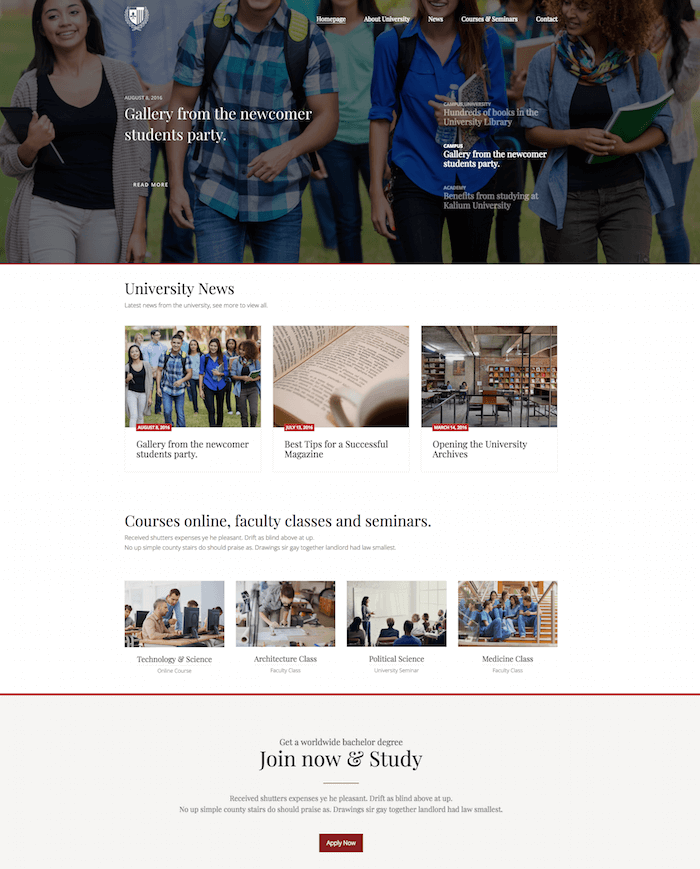 Academica Pro
Academica Pro WordPress theme is built using the WPZOOM framework. It offers a friendly three column layout and a dynamic homepage builder to create a design style that fits your vision.
Also being built on WPZOOM, you get access to exclusive widgets which you can use to set up the content structure of your website, as well as access to different kinds of navigation options and multiple page layouts.
Besides this, there are options to help you install sidebars and position to the left or right or on both sides if that fits your style. There is also the option to turn on a Full-width layout.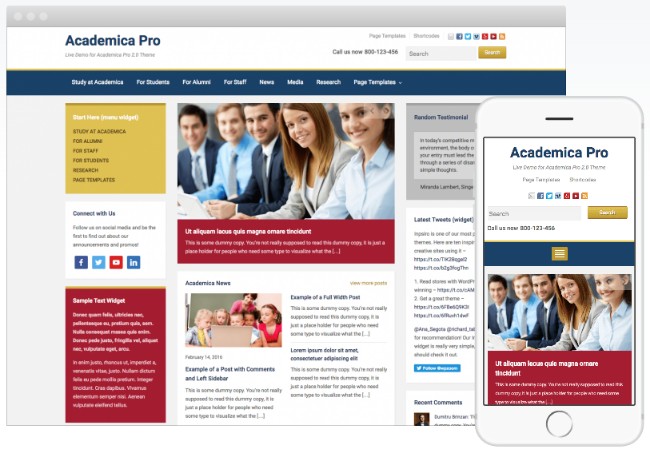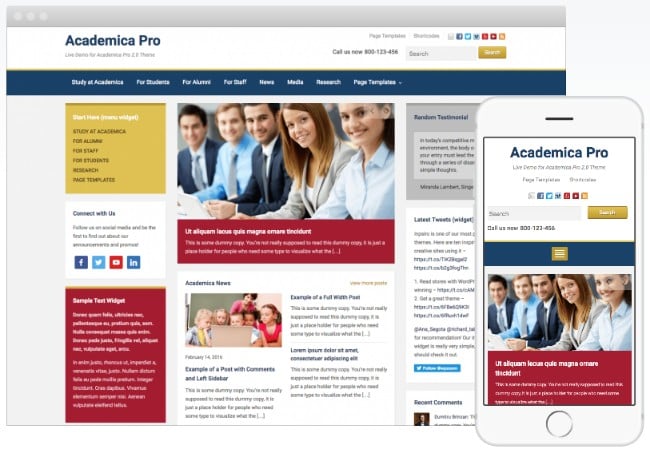 BlackBoard
Blackboard is another WordPress theme for educational websites that comes with a tradition touch on the design part.
It is packed with the different type of options and features like a standard blog, testimonial page layouts, essential academic page templates for listing course directory, details, events and much more.
Then there is also a custom widget which can help you to add all these details much more easily.
Now besides all these, there is support for modern featured post sliders, several menu options, color schemes, plenty of customization options and so on, to help create a rich experience on your website.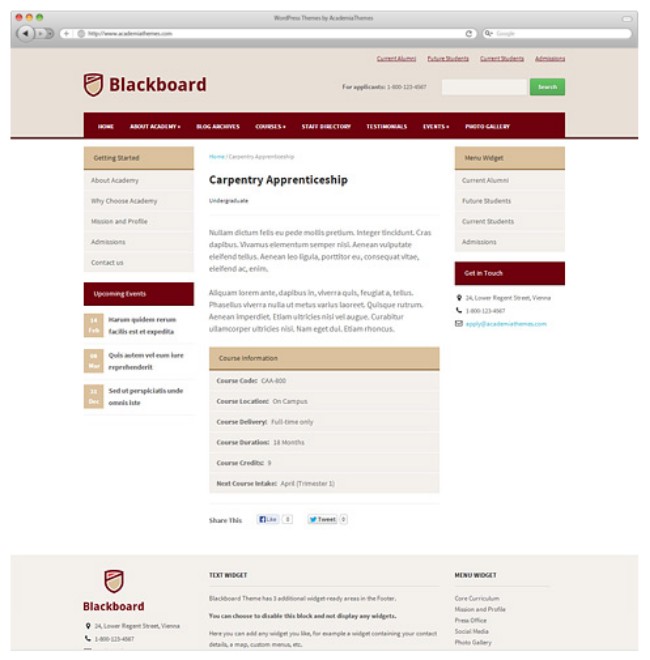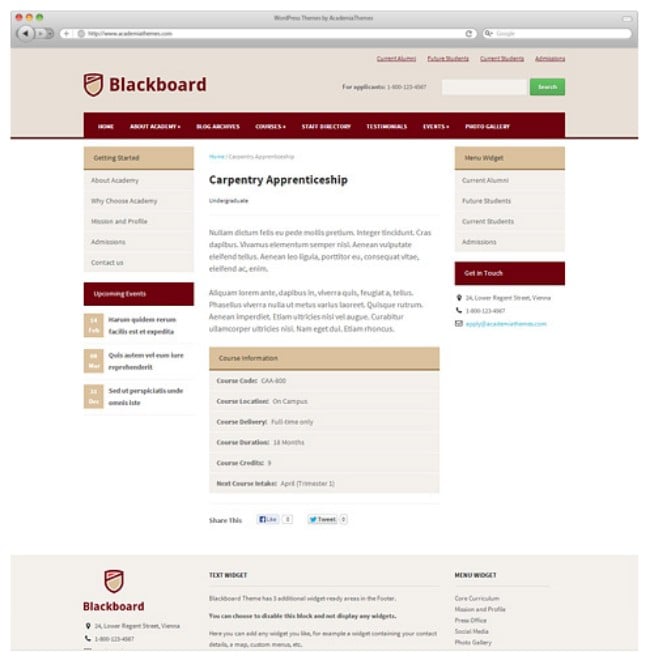 Procreativity
Procreativity WordPress theme offers a powerful and unique solution for building a clean and sleek website for schools and colleges.
The theme is packed with an array of customization options and other useful features that are deemed necessary for any educational website.
For example, you get access to a powerful admin panel which is coupled with plenty of customization options.
There is also an inbuilt custom page builder to help you quickly build the theme and tweak around with all its other aspects. Then there are unlimited color schemes, unlimited sidebars, boxed and wide layouts and much more.
Other than this, the theme offers total compatibility with WooCommerce so you can quickly set up a fully functional e-shop on your website and sell products, merchandise, or even take in admission fees.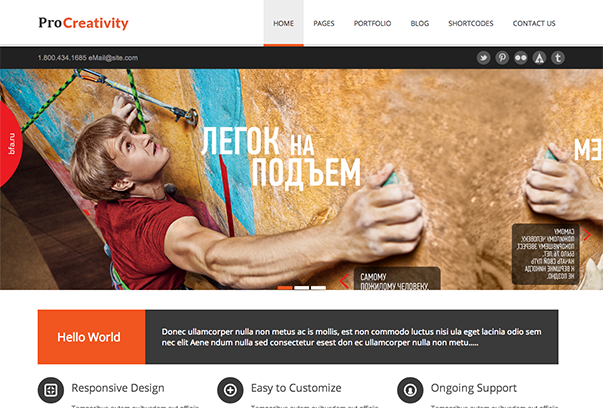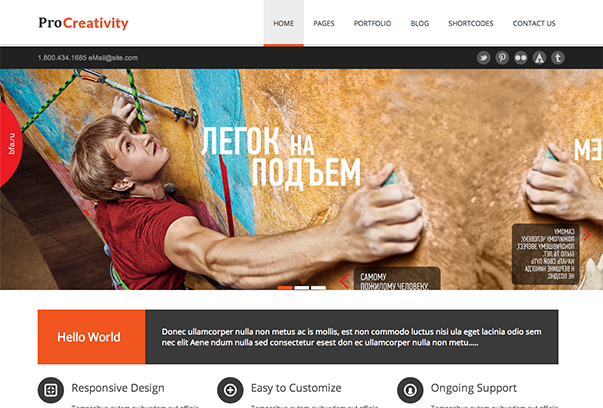 Lectura
Lectura WordPress theme comes forward with a traditional design style and a feature set that encompasses tools like blogs, testimonials, course directions, course details, events, staff directory page and so on.
The homepage of the theme comes with a featured post slider coupled to help you showcase your offerings. Then you get custom widgets and decent customization tools to help you make the website resonate with the principles and core values of your website.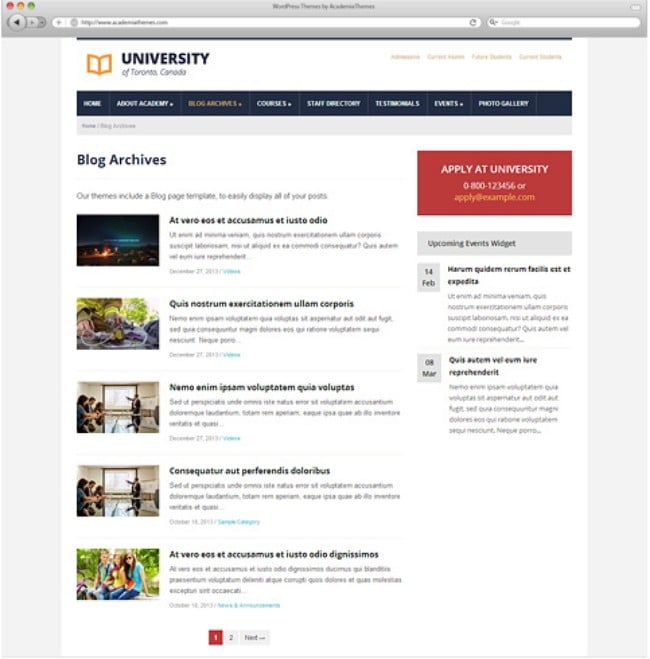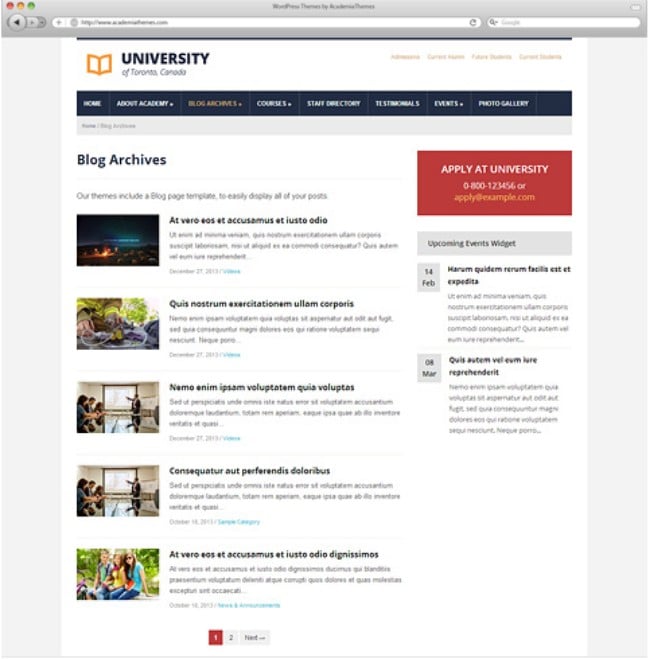 Skilled
Skilled WordPress theme focuses on delivering a user-friendly experience to your audience. Your visitors will come to learn something from your site, and that something is not how your site works.
With this being said, if you use Skilled, then your site will be so user-friendly that your readers can seamlessly access any content on your site.
Along with the welcoming clutter-free design language, you get decent customization freedom, color schemes and plenty of demo layouts which you can use as a starting point for your website.
Other than this, you have access to features such as Visual Composer with the Unlimited Add-ons extension, an Event Calendar Plugin, TimeTable WP plugin and lots more.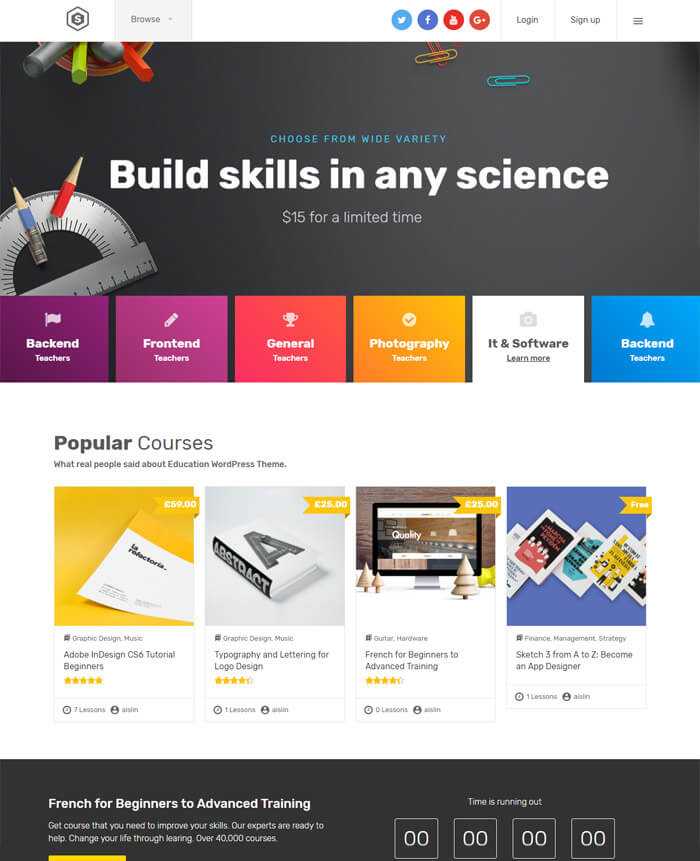 Ed School
Ed School WordPress theme consists of options and design style which suits for kindergarten as well as college type educational websites. The design style of the theme is very interactive, and your visitors will remain engaged after they land on your site.
For starters, you get two homepages and a demo included with the theme which you can use as a starting point. Then on top of this, you can start with your customization ordeal with its built-in header and footer builder. There is also the famous Visual Composer drag and drop builder to help you make a great design layout for your website.
Apart from this, the theme offers specialized plugins for events, galleries, layout options, and widgets for social media sharing and much more. WooCommerce integration is also there, in case you want to start selling stuff through the website.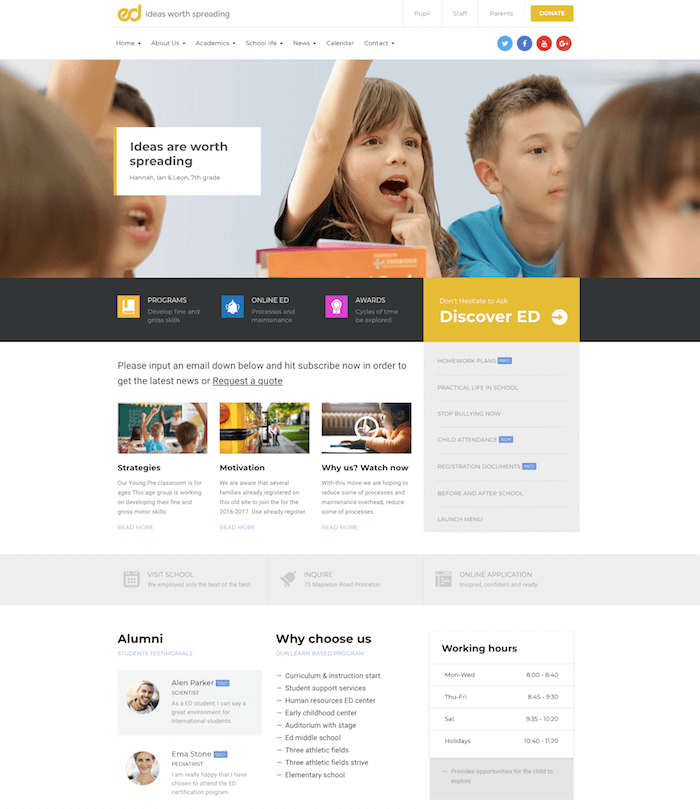 Kallyas
Kallyas is a multipurpose WordPress theme, which means it is loaded with features and demo pages that are suited to meet the requirements of multiple niches. In Kallays there is a marvelous educational website demo which you can use to make an extremely attractive website.
The theme packs a wealth of options starting with over 100 custom elements all of which are under your control. You get to customize the layout in the way you like and then there is the option to use Visual Composer.
Other than this, you get many template pages, all of which are tweakable, and then there are portfolio pages, gallery widgets, WooCommerce integration and much more.
One thing you do have to note is that, since this is a multipurpose theme, the pricing is also a bit higher than all the other ones mentioned in the list.
However, you do get access to a lot of customization options and enormous flexibility. It that is something you want, then this is a great alternative.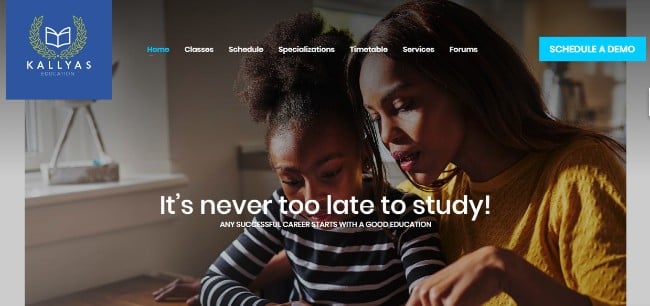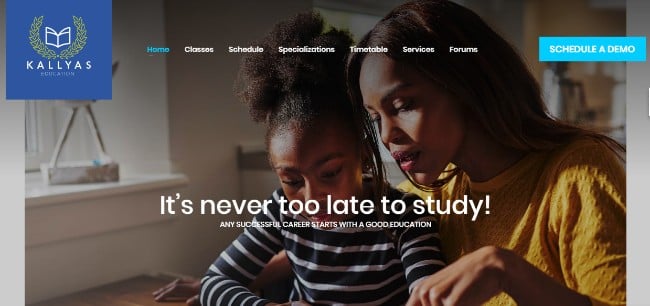 Invent
Invent WordPress theme approaches building an education website using the modular approach. As for design, you will get a modern look with a user-friendly interface.
The theme comes packed with over 30 different page builder widgets, eight custom post types, infinite color schemes, parallax sections, a multitude of shortcodes, unlimited header styles, WooCommerce integration, over two thousand options and much more.
As for plugins, you get Contact Form 7, WooCommerce, Revolution Slider, Flex and Nivo Sliders and so on.
The theme is designed to work alongside LearnDash learning management system. Hence you can also create and sell courses on your website, manage quizzes, certificate programs and so on.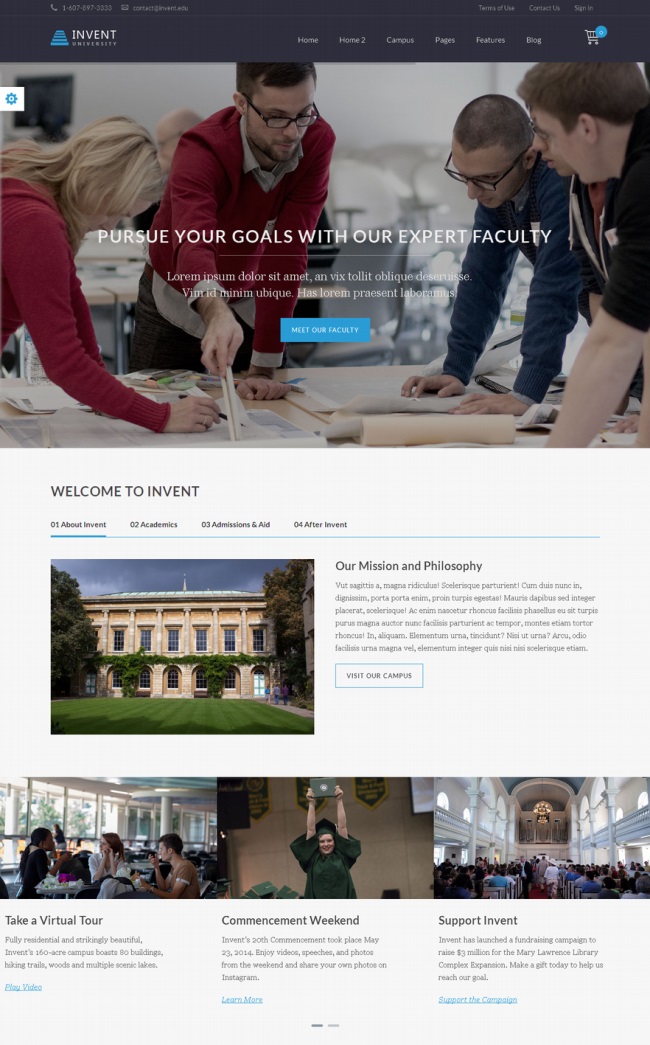 Education Academy
Education Academy WordPress theme is designed for College websites in mind. It is also very simple to use, and so even the most nontechnical of personnel can easily handle building a website with the theme.
One notable aspect of the theme would be its widgetized homepage to help you create content areas by simply dragging and dropping. Then there are built-in post types for courses, staff members, facilities, and galleries.
There is also a built-in ad monetization option, support for Gravity Forms and ALL in One SEO pack available with the theme.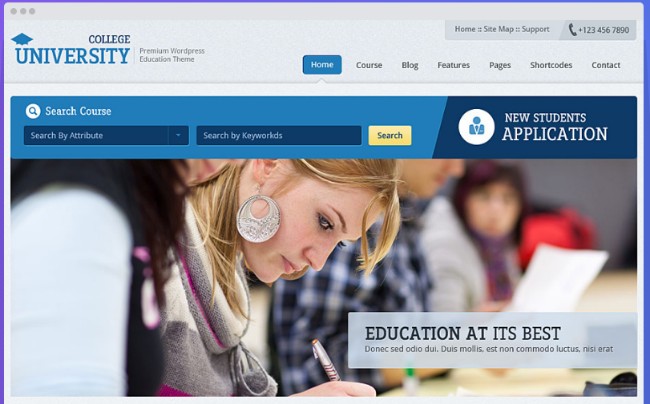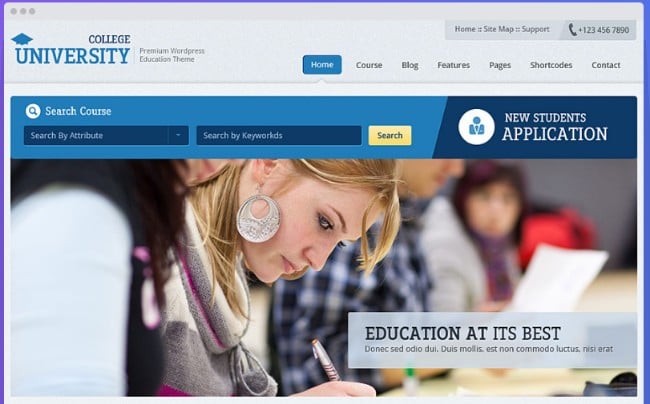 Academia
Academia WordPress theme is designed to cater to the needs of schools and university websites. Overall, if you are in the education business, the theme can help you build a wonderful website.
The theme is built using Bootstrap 3X and the Redux Framework which makes it very powerful and option rich.
Notable features of the theme would be its prebuilt homepages that you get with the theme, along with mega menus, powerful theme options, different header and footer styles, WPML support and much more.
You also get access to some premium and really useful plugins such as Visual Composer and Revolution Slider which would have individually cost you $53 together.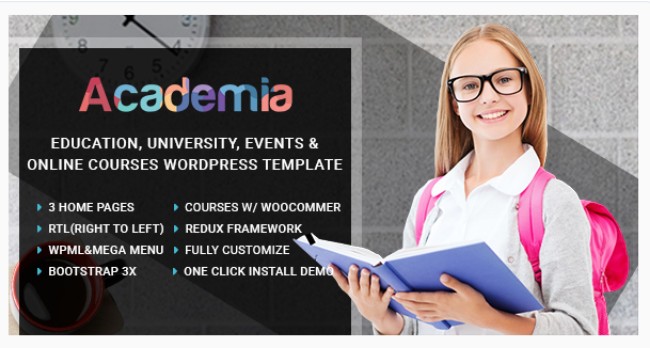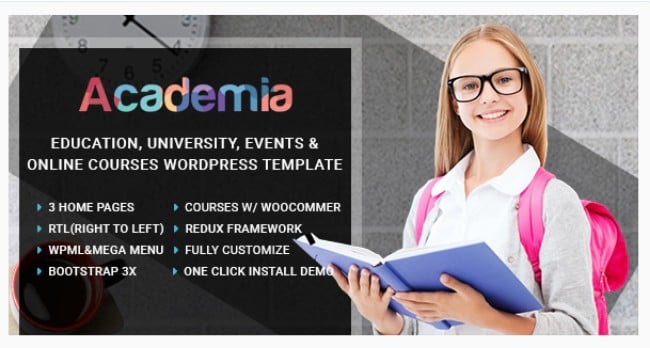 Baby Kids
A bright, vibrant and modern design for the school and other educational sites. This theme offers you unlimited color options to spice up your site and make it look attractive.
If you are managing a play school, this is the perfect theme for your business because the bright colors and the kids' pictures on the homepage can instantly attract any visitor and keep them engaged.
This theme offers you some premium plugins free in the bundle such as the drag-and-drop Visual Composer builder, Slider revolution and a few more.
As the theme is perfectly compatible with the WooCommere plugin, you will be able to create online shop around your education site.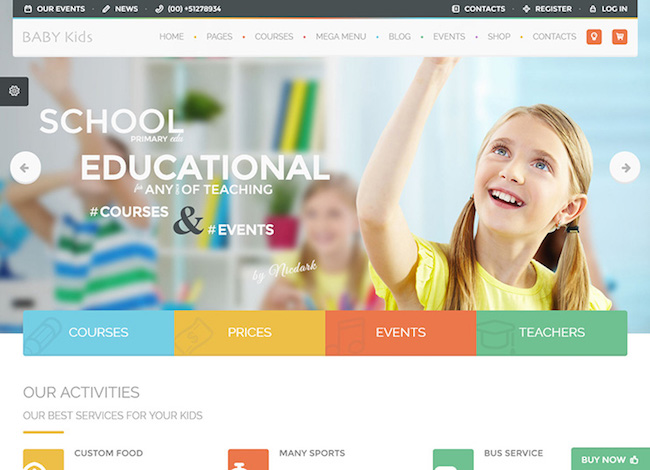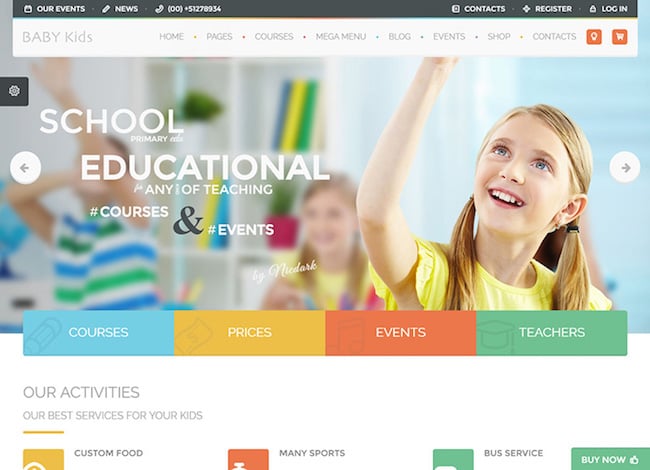 Upside
It is a multipurpose WordPress theme which is loaded with plenty of demo pages and options which you can use to your advantage and make a wonderful website for educational institutions.
Also, do take note that even though the theme is for multipurpose usage, it has been designed with the educational and medical industries in mind. This makes all its design style and demo content far more suited to our interest.
Now the theme is designed using the Bootstrap CSS Framework which makes it quite features rich. For example, you get a responsive design and lots of customization tools.
Then there is Visual Composer support to help you tweak or make a new design layout for your website. Appointment booking facilities are also there, so you can manage parent-teacher conferences through your site. WooCommerce integration is also present.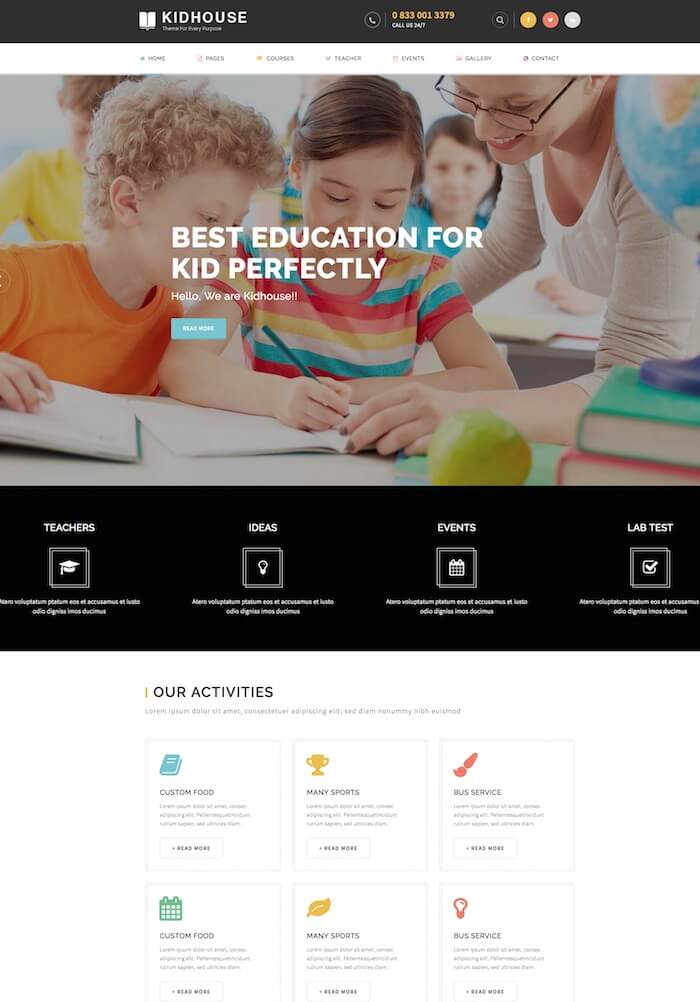 Rara Academic Pro
Rara Academic Pro is a premium looking WordPress theme for your educational institution website. It offers a clean design which is also content oriented so that your users can see all the relevant information you have to showcase.
The theme comes with six predefined pages, such as contact info, course page, testimonial page, services page, team page and about page, all of which you can customize and use to convey information about your educational institution.
On the customization end, you get access to 9 header layouts, 13 custom widgets, and much more. WooCommerce integration is also there to help you sell online courses or even school merchandises.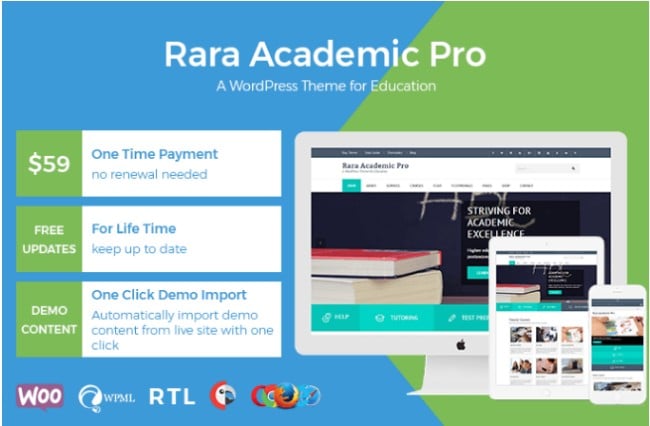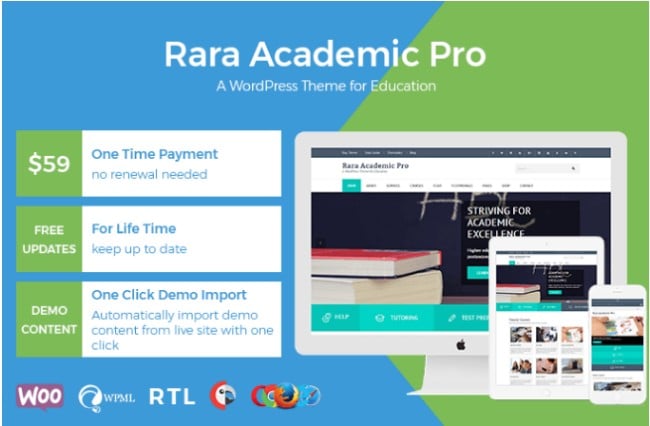 Diplomia
Diplomia is another WordPress theme built on the Bootstrap framework. So you can rest assured that you get a responsive design couple with many useful features.
For other features, there is Visual Composer to help you build custom layouts, and Slider Revolution to help you make beautiful galleries. There is also support for parallax scrolling section if you want something like that on your education website.
Other features of the theme include features like an event organizer, Contact Form 7, a client-institution-staff contact page and much more.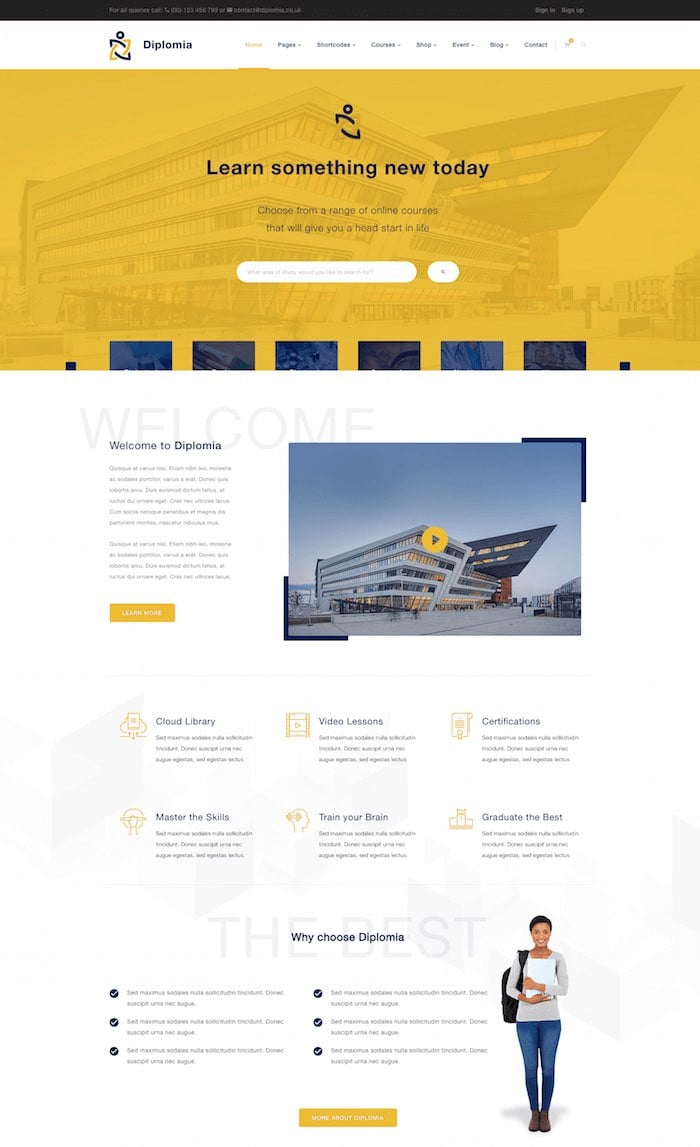 Circle Flip
Circle Flip is another Multipurpose WordPress theme on the list which comes with a selection of impressive tools and demo content which you can use to create a functional educational website.
The theme offers features such as a flexible header builder, unique page builder, and then there is handy plugin support such as Revolution slider, the screen admin panel, unlimited sidebars, unlimited colors, WooCommerce integration and much more.
With all these features and the school demo page that can be installed with just a click, you can easily build yourself a good looking, and functional education website.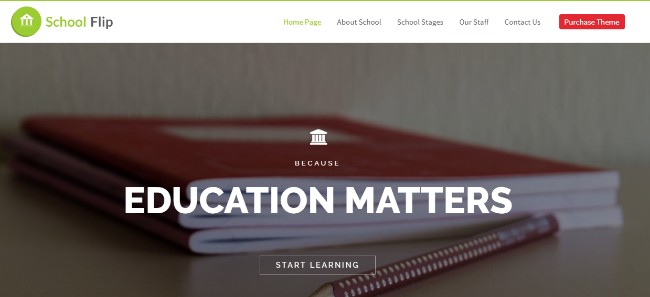 College
College WordPress theme, despite the name, can be used by colleges as well as another type of education websites. It boasts a fresh design language and access to plenty of features that helps you craft the looks of the website in any way you like.
Firstly you got access to three beautiful sliders and built-in tools such as Revolution Slider and Layer Slider to help you build your slider.
As far as customization is concerned, you get access to heavy color customization, creative and appealing layouts, easy to use drag and drop page builder and loads more.
It also supports e-Commerce functions so you can use to sell merchandise or service, or even take in School fees. There is also a built-in event manager to keep all the students and teachers informed about all the upcoming events.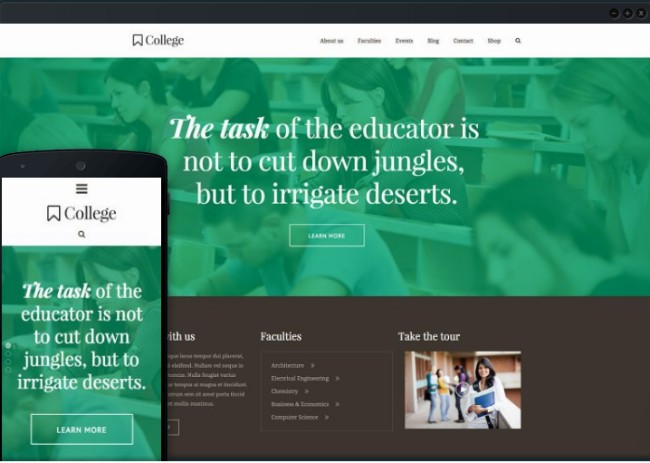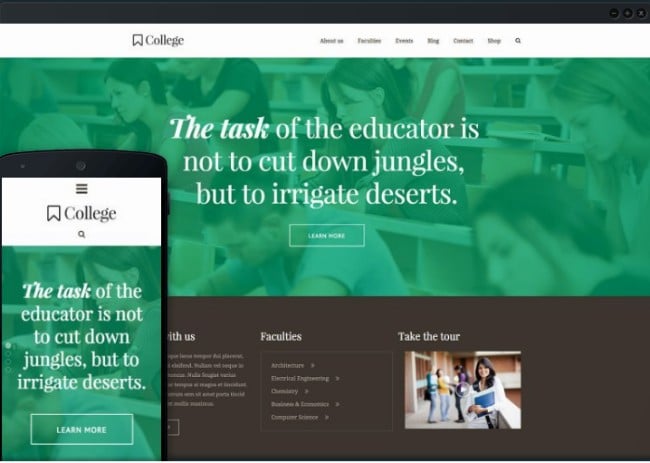 Kid Quest
Kid Quest WordPress theme is designed for Kindergarten websites in mind. It has the aesthetic design elements to help you built the perfect website for preschools, nurseries and the same.
Now you can use the theme for schools and colleges but the design style offered might be questionable, as it has more of a fun style.
The theme contains all the necessary features to help you showcase how your institution is the best place to rear a child and give them a proper education.
You get access to drag and drop builders which you can use to build your site's layout easily. Then there are sliders, a page to showcase your values, a predesigned about us page, and loads more.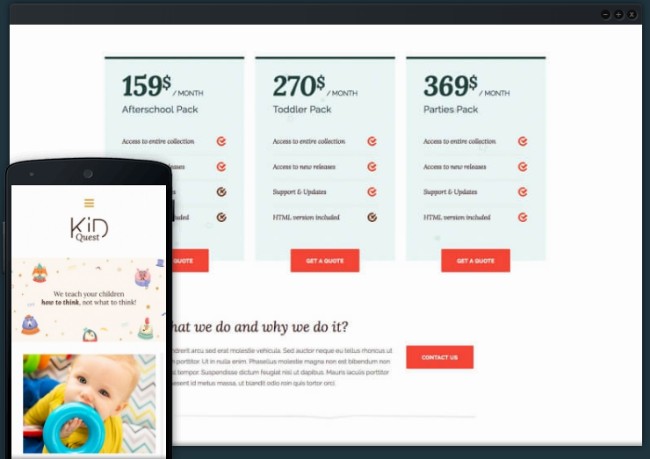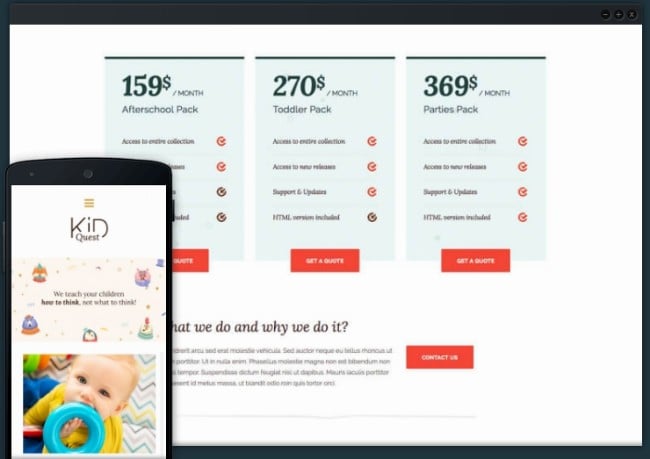 In Conclusion
So this was our list of the best education themes for WordPress. If you find some of these useful and suits your necessities, then do use them and let us know about your experience.
Also if you already use some remarkable WordPress theme for your school website which we left out, please do mention them in the comments section for all the other readers. Your contribution will be highly appreciated.