The Angular Material Design as a focus area is increasingly becoming popular among web designers. We have collected some of the best HTML CSS-based Material Design admin templates most of them are created on the Bootstrap platform.
With an increasing demand that shows no signs of slowing down anytime soon, there are plenty of templates that you can use for this purpose.
Most of these are free downloads with high-quality templates. All of them are mobile-friendly and will provide a good material design look to your panel.
Ease of customization is one of the features that you should look for while selecting an HTML5 template.
Here are some of the best Material design HTML5 templates that you will find online. These templates will save a lot of your time while you work on your project.
All these designs are created with the latest design practices and modules. So, select the template you like and move ahead with your development.
Top Angular Bootstrap Material Design Admin Templates
---
Material Dashboard Pro Angular
This pack of 7 templates is created by Creative Tim, one of the best teams to create a design around Bootstrap. They are the go-to place to find the best design templates and creative tools for designers.
This template pack comes with stunning handcrafted design components. It is based on Bootstrap 4 and loaded with a number of additional plugins to make it unique and a top-quality product.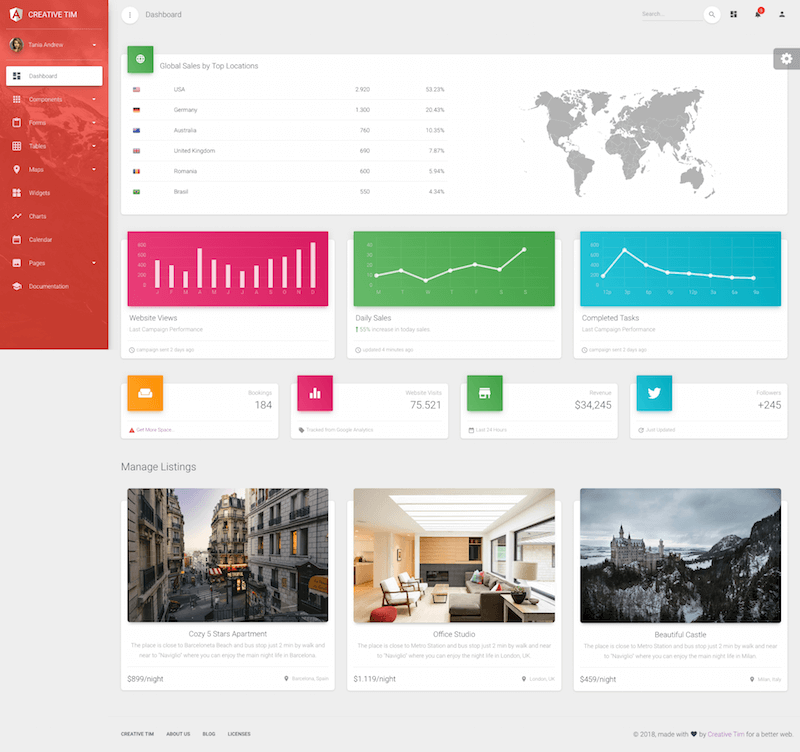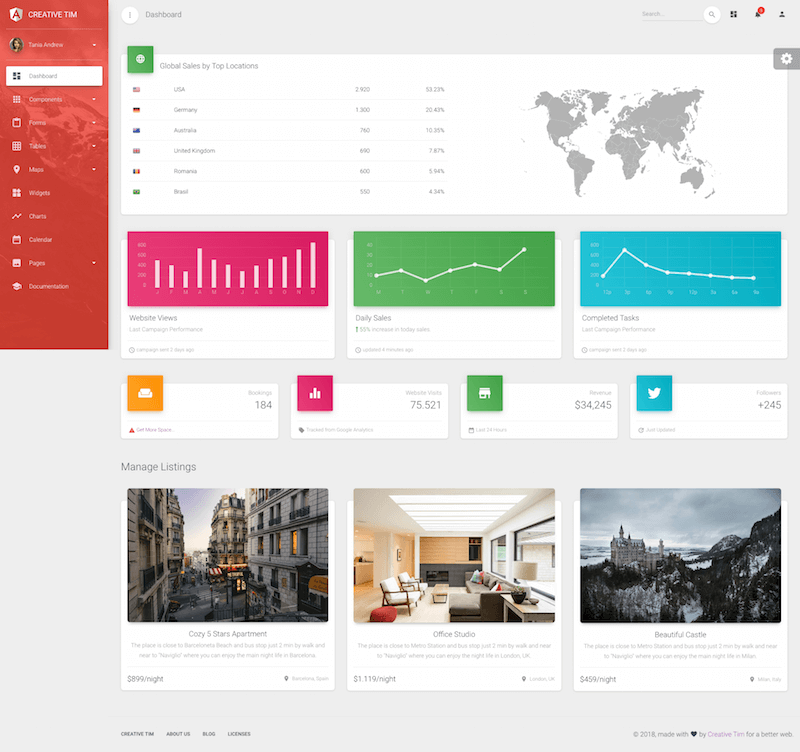 Paper Dashboard Pro Angular
The Paper Dashboard Pro Angular is a product that will help you to create the perfect project for your client. This template is designed with beautiful colors, typography, cards and design elements that are visually perfect.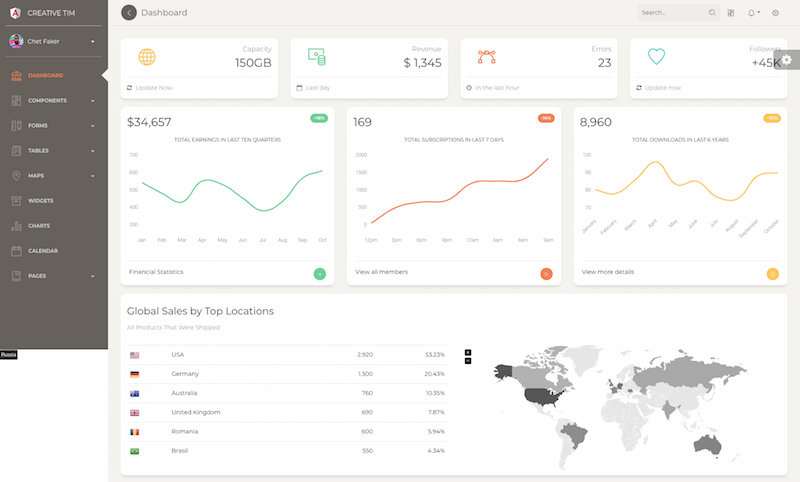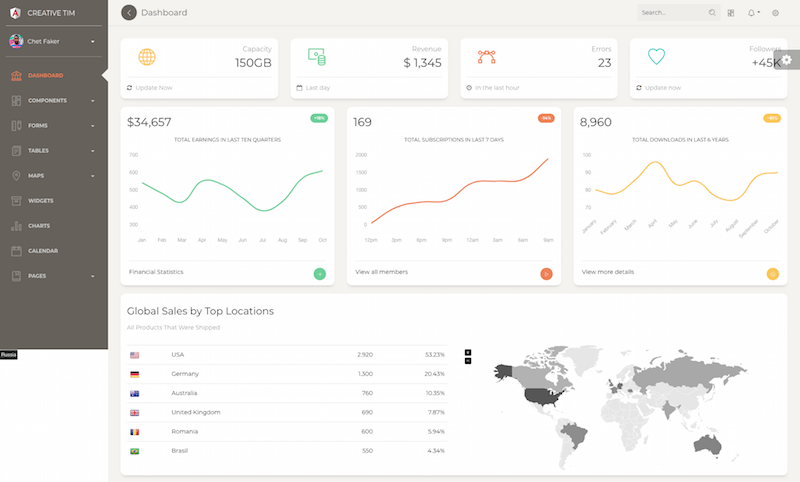 Paper Kit 2 PRO Angular
A high-quality comprehensive angular design pack that contains a number of amazing design elements that will help you throughout your design process.
This is a creative Bootstrap 4 UI Kit with over 1000 design components, 9 customized plugins and a lot more.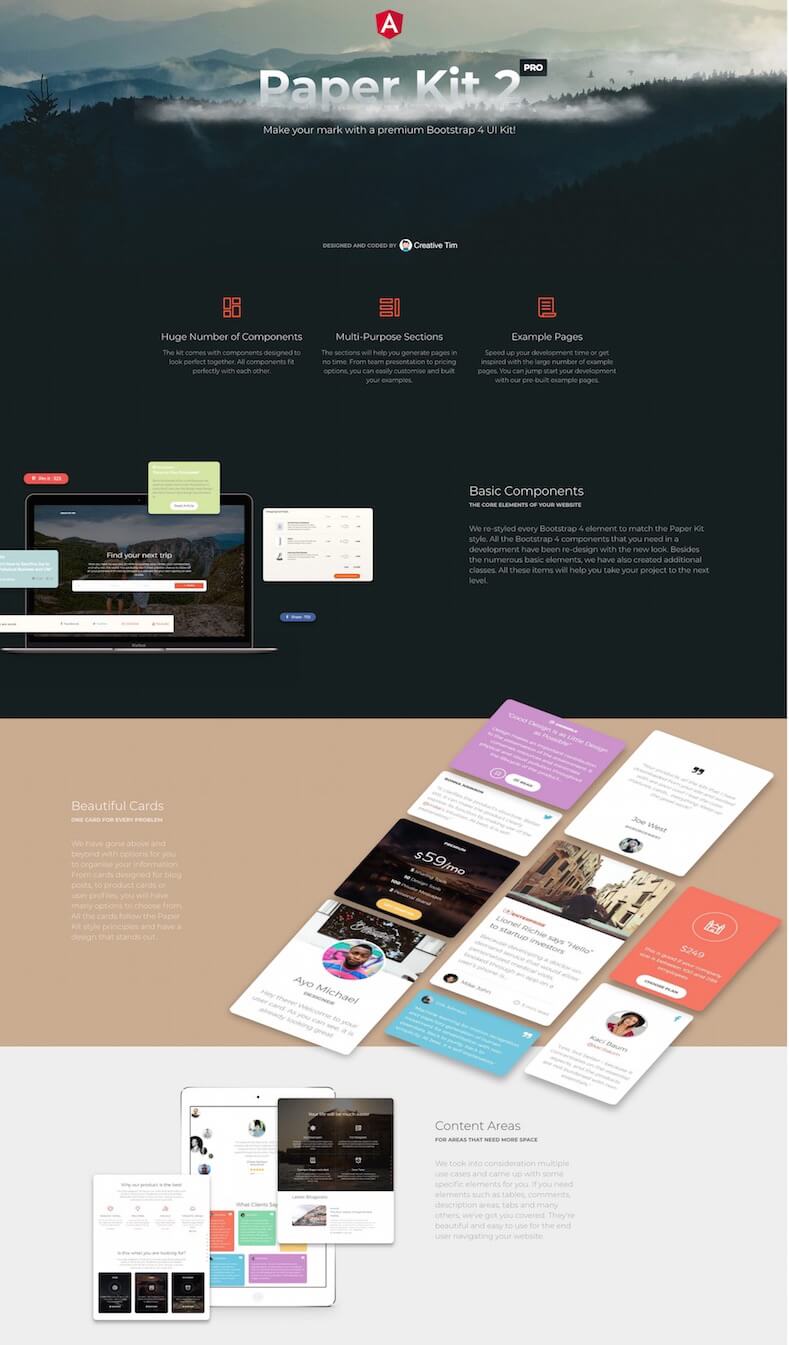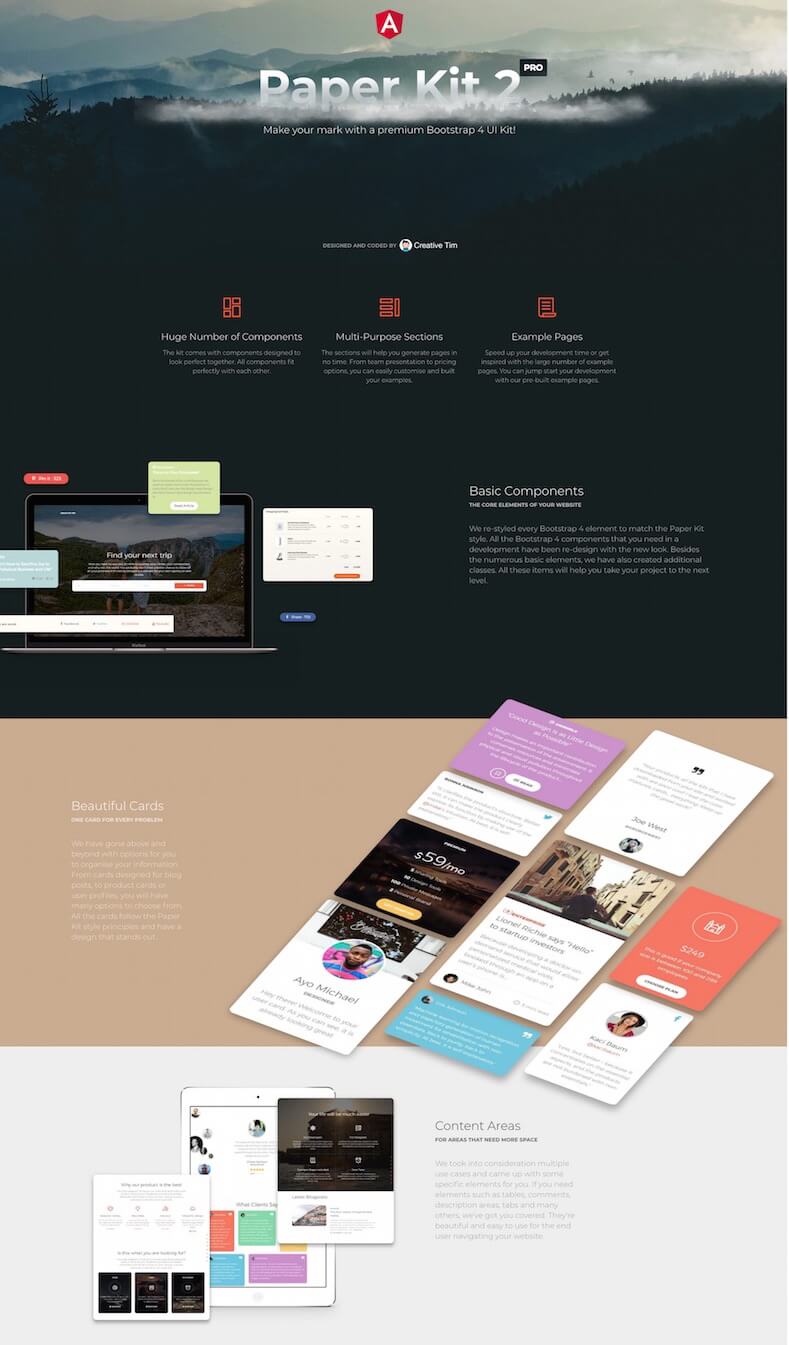 Con
Con is a template that is based on HTML, CSS3 standards. You also have AngularJS version for free. It is fully responsive and will give you the flexibility of operating it on every device and every modern browser.
Since it is customizable, you can easily change the template source code if you know how to work with Gulp.
Con has over two thousand one hundred icons and allows you to use font awesome, material design and weather icon packs.
It is based on a modern design technique and gives your admin panel a clean look. Plus, you will be pleased to know it has free updates.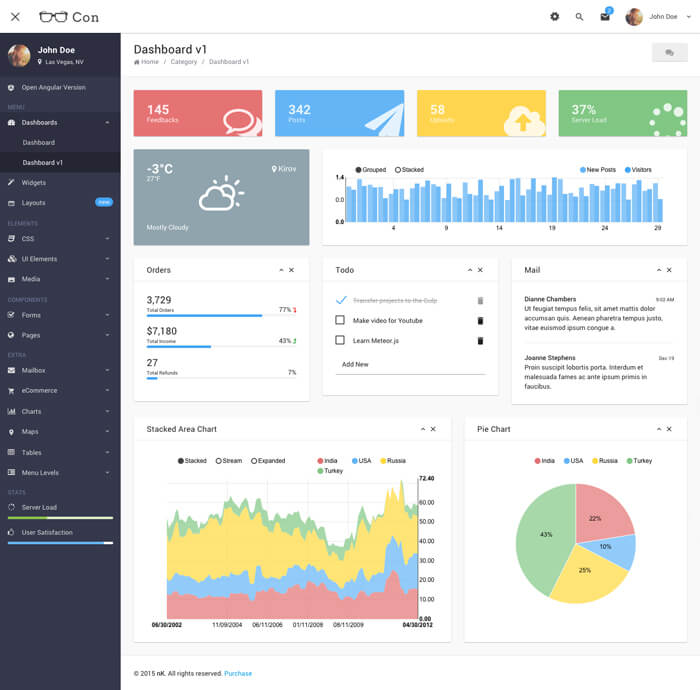 Material Wrap
Do you want a modern admin template with sophisticated tools for your project? If yes, then go for Material Wrap. The template is built on HTML5, Bootstrap and angular.
It contains a lot of options that you can choose as per your requirements, and you can even add to them as per your needs. The template is appealing to the eye, and the features are user-friendly.
Managing it is quite fun and maintaining the web application with Material Wrap is very easy. The Material wrap provides you eight built-in web applications, more than twenty inner pages, and over nine hundred material design icons. Phew. That is a lot, isn't it? Hold on; there's more.
Material wrap also includes a seed project, a variety of color skins and NMP package management. Users are treated with free updates and have excellent expert support to back them up. Recommended!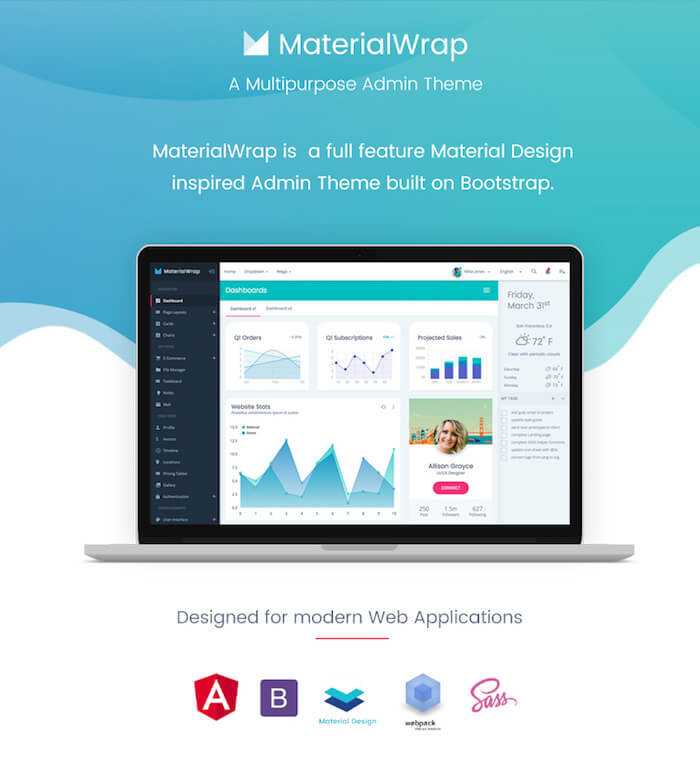 Clip-Two
Looking for a highly advanced, technologically sound, well-integrated and powerful admin template for your business? You're looking for Clip-two.
This admin template which is compatible with angular router UI, CSS3 and HTML5 is simple to use and learn, powerful, popular and renders your admin panel a very appealing look.
It has a series of brilliant JQuery plugins that have been built for responsiveness across devices and platforms.
Clip-Two covers you in all areas. This admin panel template will surprise you and your team, in a good way, of course!
Altair
Altair is a gorgeous material design admin template with plenty of personalized components available for all customers.
The product works well across platforms and is easy to use. And with the many elements and options, you can design something that matches your preference.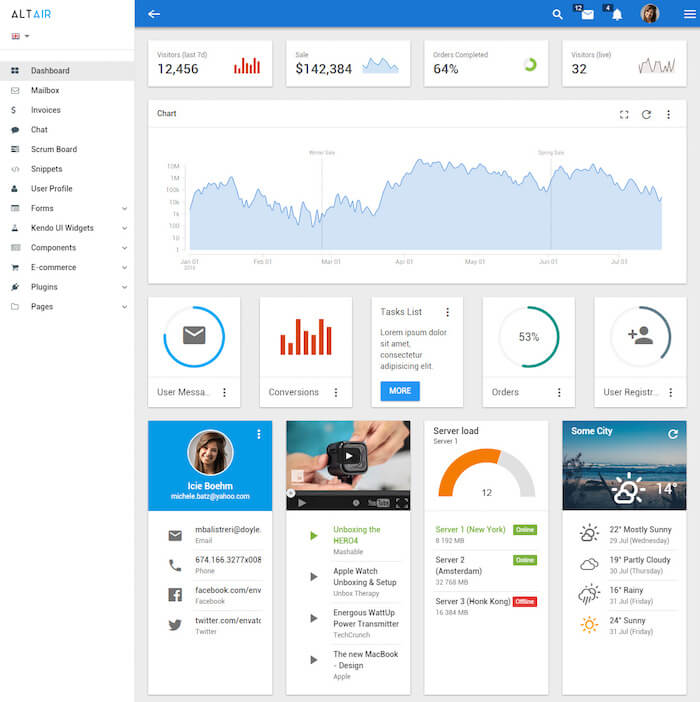 Remark
Your search for a premium admin dashboard theme ends if you stumble upon Remark. The product offers a responsive layout and works across tablets, laptops, smartphones, and computers.
The interface is streamlined and flat. You will have over a thousand UI elements and more than a hundred widgets. Remark also has a multi-lingual option which gives it an advantage.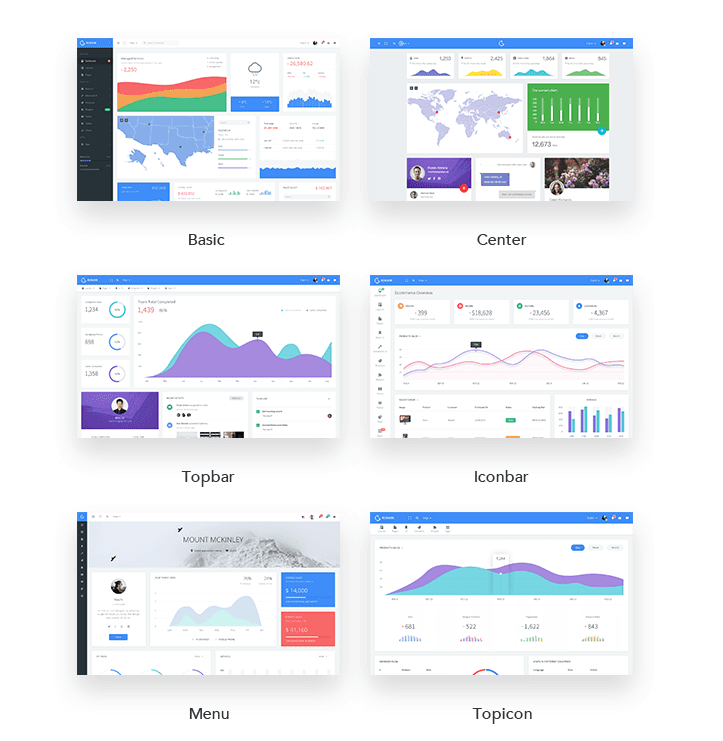 Able Pro
Able Pro is an admin template that is built on HTML5 with a material look and feel. It is fully responsive, and its layout will allow you to use it for different screen sizes.
Your website will be compatible with any device such as smartphones, tablets or desktop computers. If you are looking for something innovative, modern and prefer HTML5 as your CMS, then Able Pro pretty much fits the bill.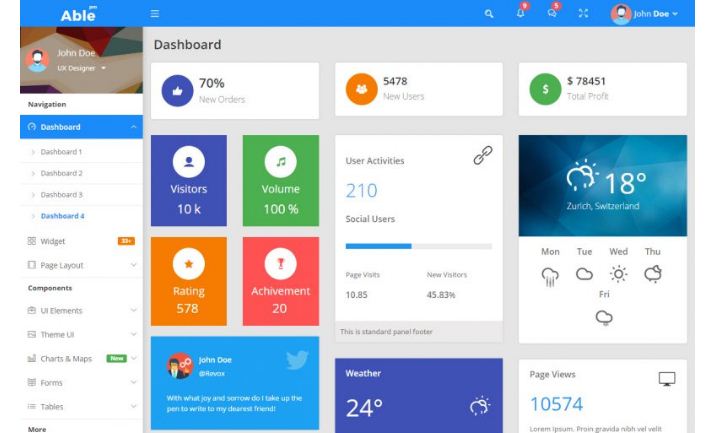 Backend
Backend is a multipurpose admin dashboard HTML5 template built on Bootstrap 4 template. It is fully responsive, and you will have feature-packed admin templates providing you maximum capabilities.
Backend gives you more than two thousand six hundred UI elements, over two thousand five hundred pages, one hundred plus jQuery plugins, and over fourteen hundred icons.
You can create your web application with dark and light skins. If you love to use HTML5 as your CMS, then Backend is a must-try for you.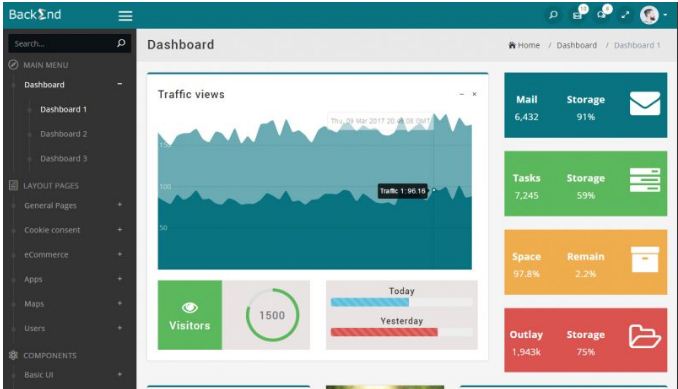 Upcube
Upcube is sophisticated and top-class with great features and characteristics. The reusable UI elements are tailor-made to suit your needs.
It combines practical widgets, mobile-ready web design and the latest web technologies to form a superb template.
Two samples of vertical navigation and horizontal menu are provided for you to choose from and you should choose the one that gives your workflow a strong and professional outcome. Upcube puts numerous instruments at your disposal.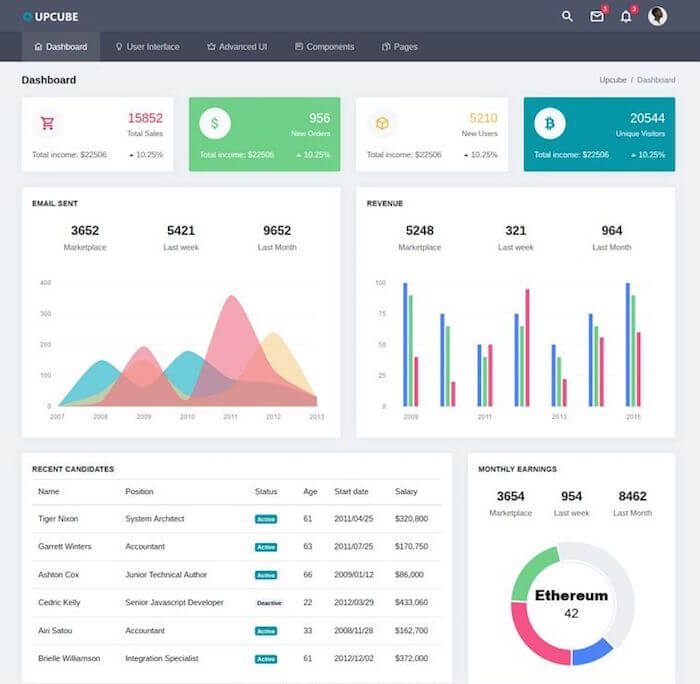 Apex
Apex is not just an HTML admin template but is in a league of its own. It has a four-in-one template and is both an Angular admin as well as a Bootstrap version with an angular starter kit and even a front-end landing page.
Apex comes loaded with a lot of stuff including a variety of layouts, audio and video players, different menus, lazy loading, date and time pickers, and eye-grabbing gradient color presets that give you a lot more than you could have wished for.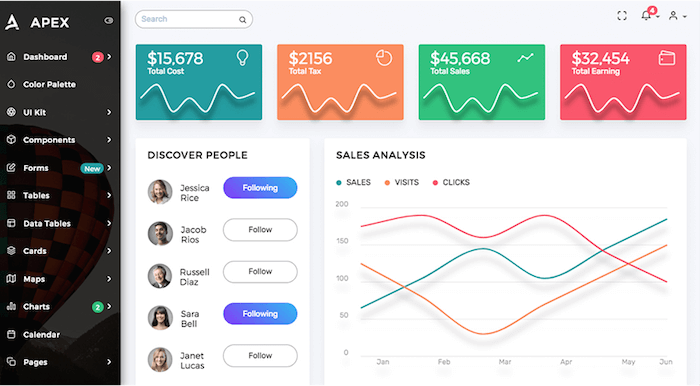 Gretong
If you are looking for a template suited for eCommerce websites, then Getting can be a good choice.
Designed with the frameworks of HTML5, CSS3, and Bootstrap, Greeting is highly responsive and gives you a minimalistic and simple metro-styled design If you are looking for a responsive and cross-browser supportive website template, then Gretong is the one you should be zeroing down on.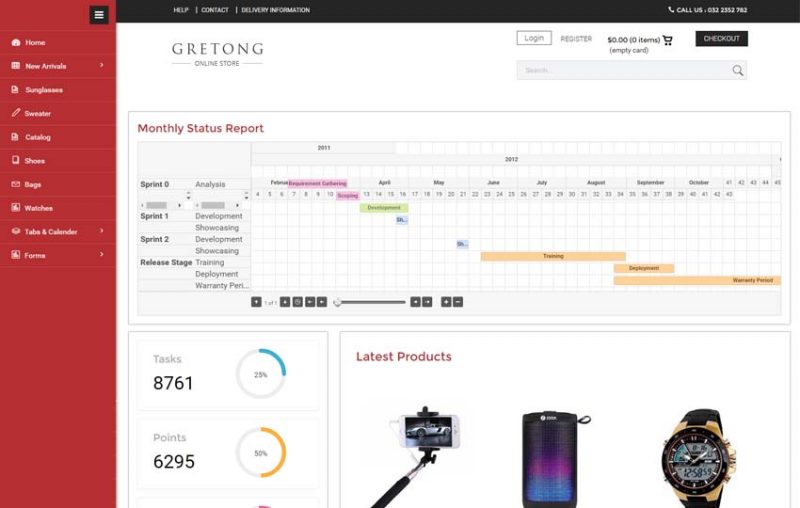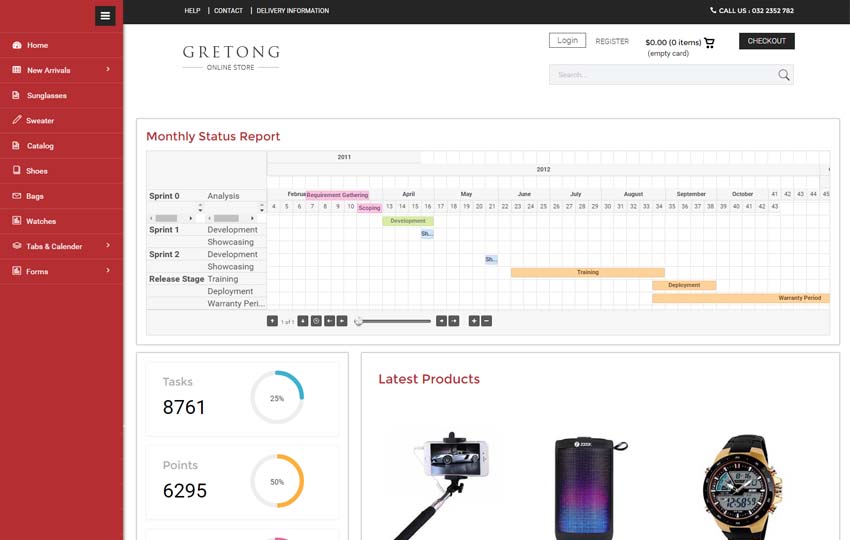 Shoppy
If your project requires a flat, responsive, colorful, clean and pristine admin panel category web template that is built on the HTML5, CSS3 and Bootstrap framework, Shoppy is one that you should definitely consider.
It comes with components like grids, portlets, elements, numerous animated buttons, and default glyph icons. It gives you different maps, sign-up, and log-in pages, bar charts, pie charts, polar and line charts, circular chats, and mailbox.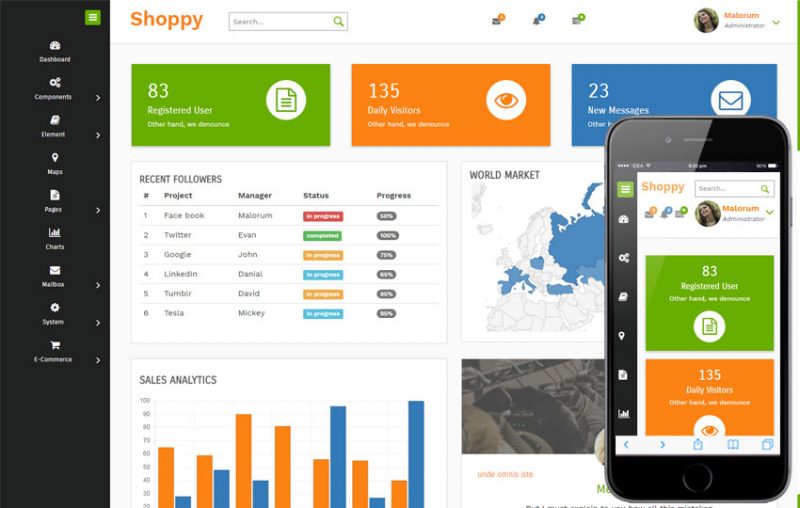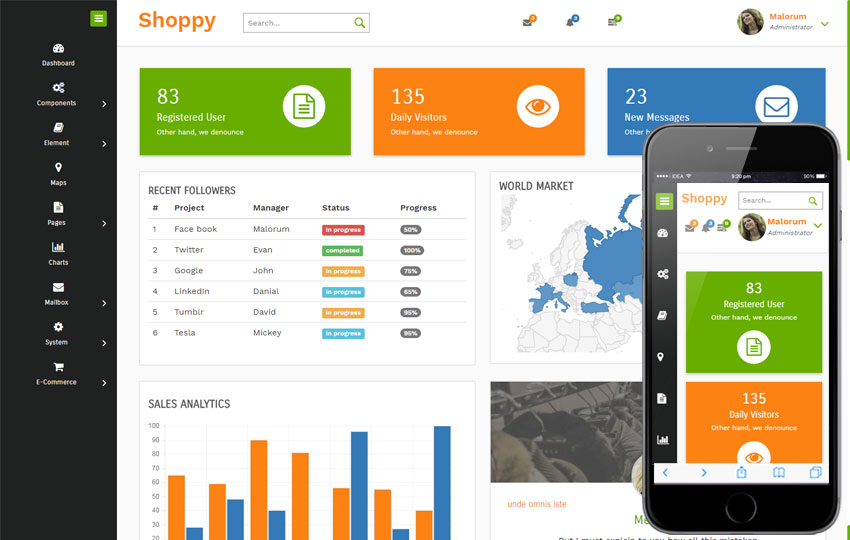 Bluebox Admin Template
Bluebox bootstrap template offers you a flat design that is easy to use and responsive. It is based on HTML5 and powered by jQuery with a wide range of attractive charts and graphs that will make it easier for you to present your data with beautiful visualizations.
It is completely flexible, user-friendly and works across all browsers and on multiple devices. Need we say more?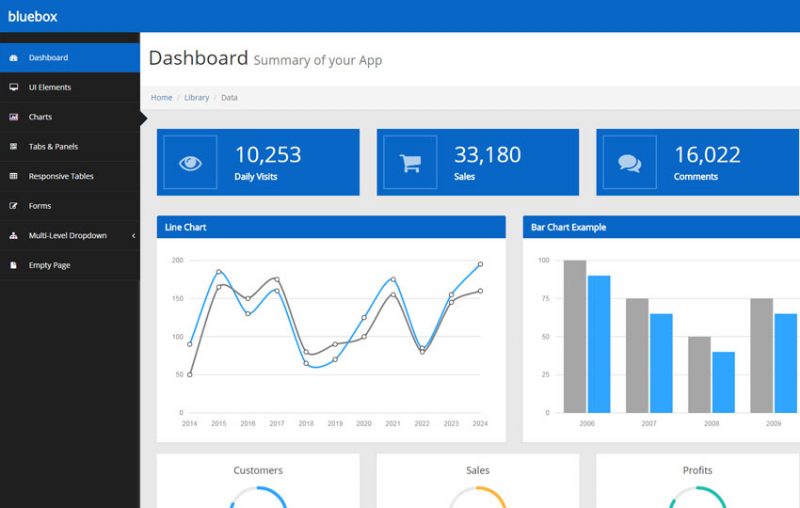 Angular Dashboard
Angular dashboard is a web-based admin dashboard application that gives you components that have the potential of HTML5 and a set of new features like JS and CSS.
These features make it quite ideal to select this as your next dashboard admin theme or web app project.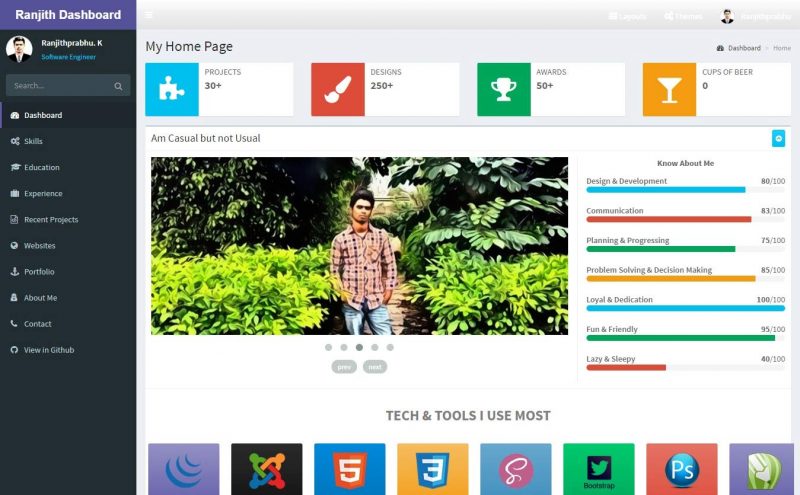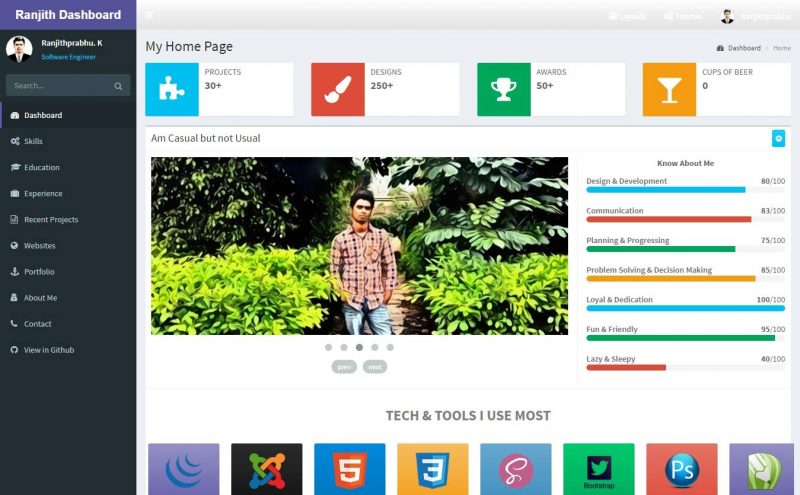 Hybrid Bootstrap Admin Template
Hybrid is a modern, clean and flat-designed template that is based on HTML5 and powered by jQuery. It equips you with amazing charts and graphs that come in handy if your project requires visualization tools to depict your data.
It is very user-friendly and responsive across all browsers and flexible on all devices.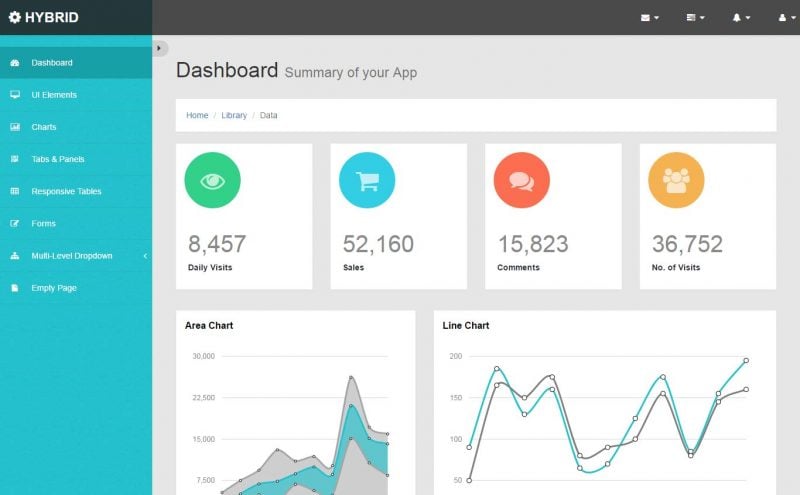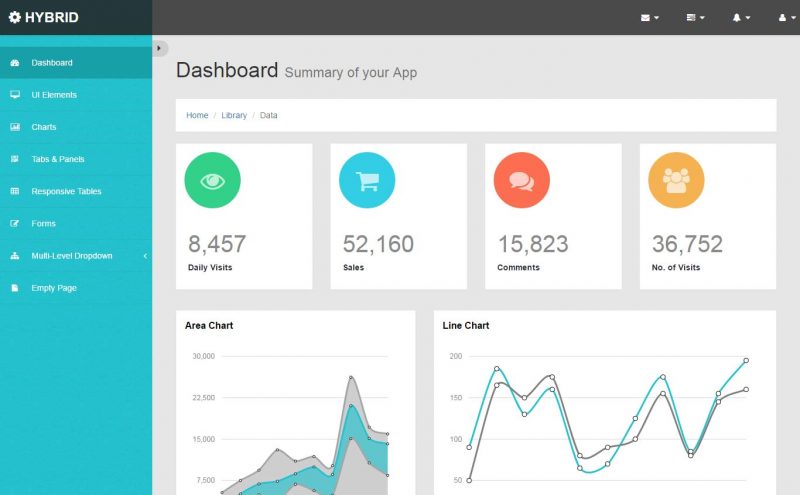 Lumino
Lumino is a clean admin panel template built on the Bootstrap framework. This is a fully responsive HTML5 template that gives you everything you may need to take care of your backend administrator panel.
You get access to features like a dashboard overview page, various widgets, advanced data tables, forms, sample login page, charts and a host of other UI elements.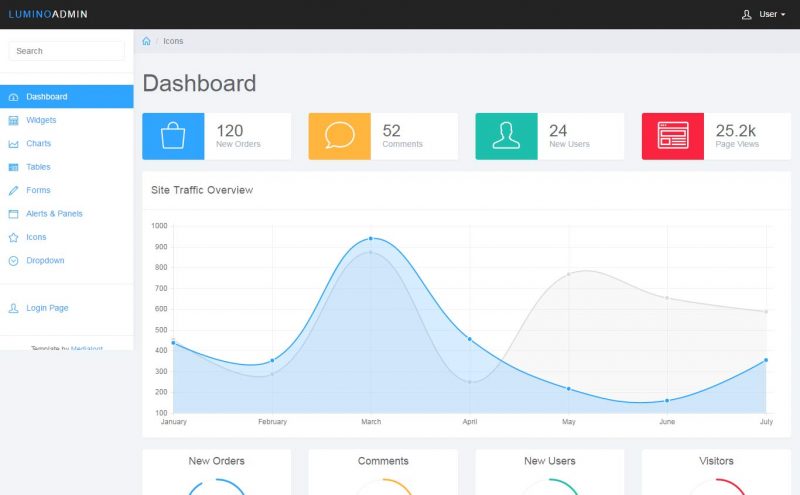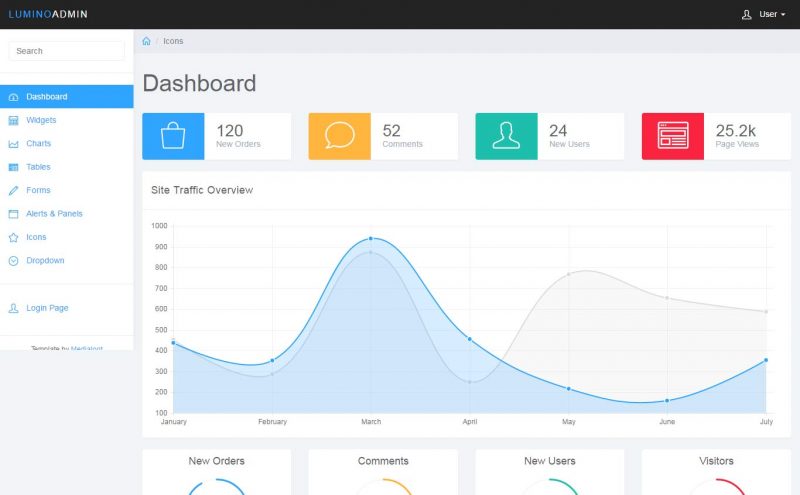 Kosmo
Kosmo is a multi-functional admin template that is responsive and has a flexible design, adapting smoothly to any device. You can easily investigate the platform by accessing this on your desktop or your mobile phone.
It comes with six layouts and one thousand HTML pages with even more useful UI components and elements. Kosmo gives you over one hundred plugins and an entire starter kit to learn from. If you use Kosmo, you will surely get smooth results.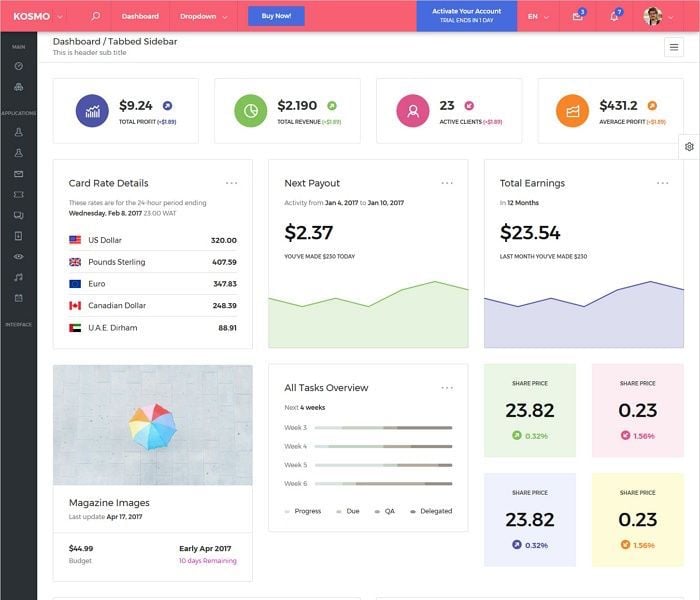 Dream Admin
Dream admin is an admin template that is built using Bootstrap framework along with HTML5 CSS3. It has jQuery plugins that help you to create amazing admin panels, web app dashboards with a multipurpose theme.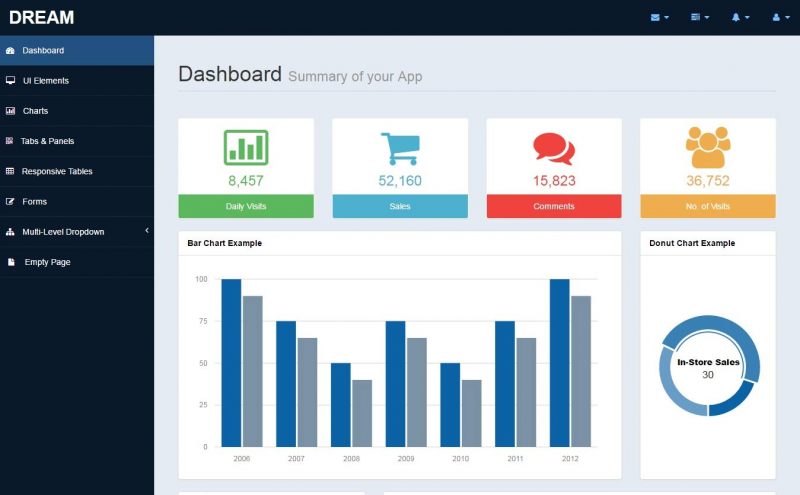 Insight Bootstrap HTML5 Admin Template
If you want a free, clean, flat and ready-to-use admin dashboard that is highly responsive, then you could go for Insight Bootstrap HTML5 admin template.
This is built on Bootstrap with HTML5 and powered by jQuery. And what's more, if your project requires data to be presented, then this template is the one you could surely consider as it provides you with graphs and charts.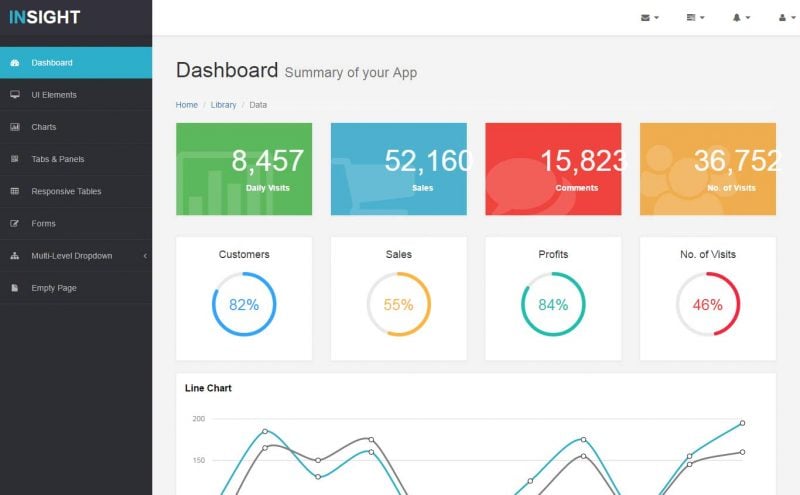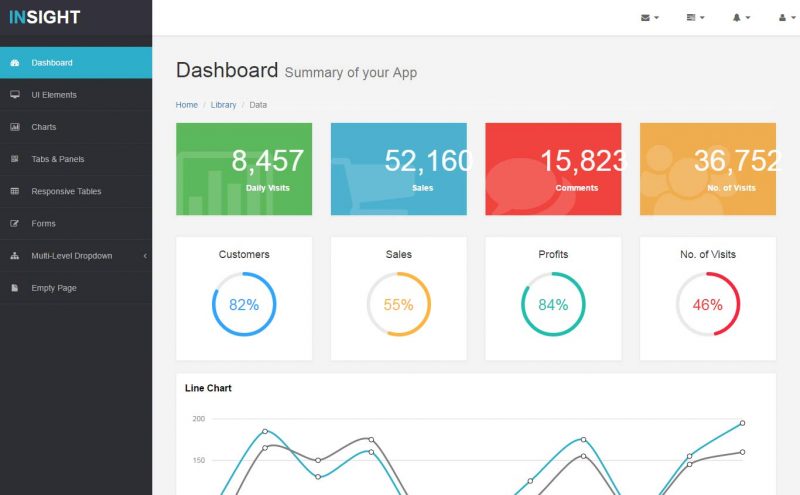 Monarch
Monarch is a minimal bootstrap-based admin template that comes in HTML version and AngularJS. It is highly customizable and can be used as an admin dashboard, user dashboard or anything in between.
It is very popular and used by thousands of users worldwide. If your project requires an all-rounder, then go for Monarch as it can handle everything for you.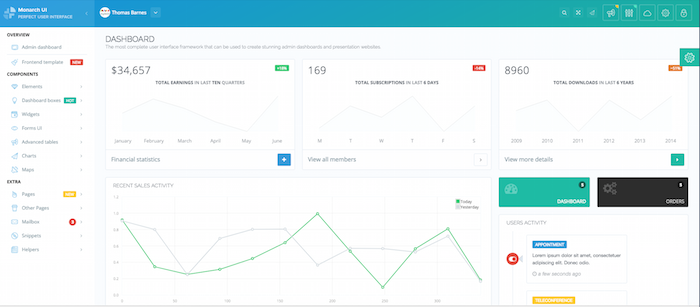 Triangular
If you need a strong admin panel in Material design style, then Triangular is one of your best bets. It combines AngularJS framework with Google's visionary material design philosophy.
You will have brilliant colors, a customizable, multi-level and grid-like user interface at your disposal.
Triangular is visually appealing and intuitive. You will gain access to over seven hundred material design icons and more than five hundred font awesome icons and unlimited hierarchical menu levels with just a few clicks.
A superior set of tools, libraries and readymade code allows for the creation of brilliant client-side web applications. Triangular is an extremely innovative, technologically powerful, stylish and stunning admin panel template.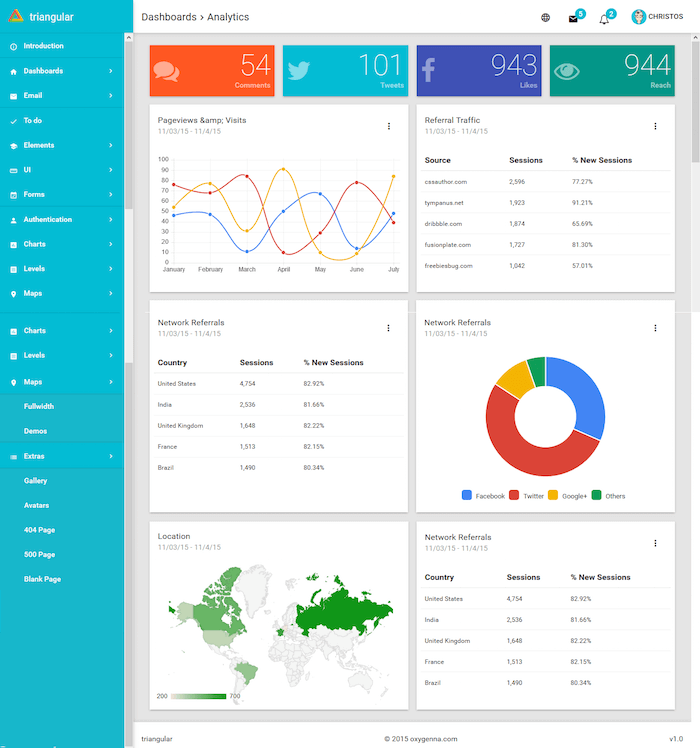 Gene Angular 5 Admin Template with Material Design
Gene is based on Angular as well as material design and is a superb admin template. It gives the users a very natural feel and is simple enough to work on, even for a school kid!
The features of Gene allow for the creation of first-class applications and using the template will not cause any difficulties.
It is a combination of thrill and adventure. You need to invest a little time in it and yet draw out the most professional outcome.
Gene provides everything integrated ranging from the text editor, maps, charts, tables of forms. Inner pages are predefined for a sensational gallery and pricing tables. Gene is indeed an explosive package!
Egret Angular 5+ Material Design Admin Template
Egret is rich in features and is an angular material design admin template. It is built on Angular CLI and the official Angular Material design package.
It is equipped with a storehouse of responsive and reusable UI components that gives you everything you require to start your next ERP, CRM or CMS-based project. It has plenty of features such as lazy loading, dynamic breadcrumb and page title.
With Egret, it is very easy to create your theme and sufficient instructions is provided to create a new theme in Egret documentation.
Apart from these, features also include model-driven navigation and multi-language support. Add to it that, Egret has excellent customer reviews, and you have a winner
Espire
With Espire you can easily determine your project requirements and demands. It is a template with a fully responsive layout and a pixel-perfect design.
You get three versions; Angular 5, Angular JS and static HTML. Espire is marvelous and easy to use which allows you to have a clearer overview of your web application.
You do not have to dive deep into it as Espire is to the point and doesn't demand too much out of you. It is cross-browser compatible and can be updated on a regular basis at no additional cost.
It has dedicated support, and you can use the included widgets and edit codes which won't require you to tax your brains too much. Espire is well structured and an organized website skin, especially for nifty panel admins.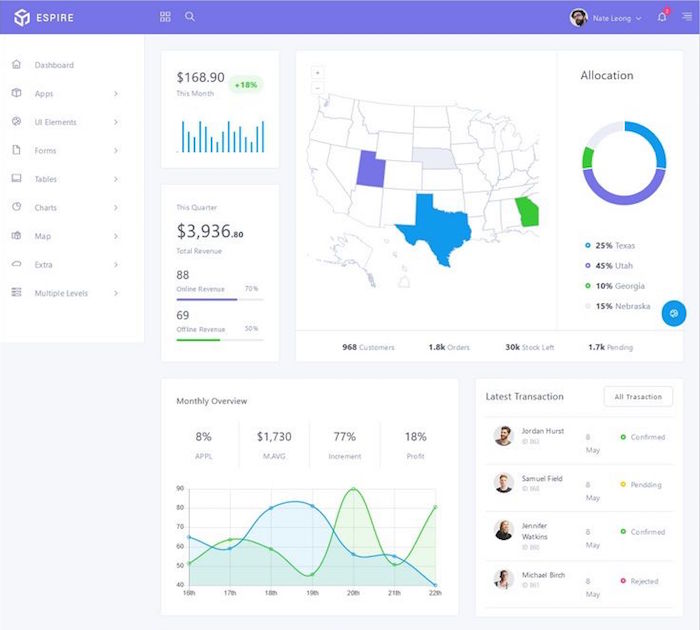 Codebase
Codebase is an HTML admin template that will empower you with unlimited options and features. A good selection of demos for the cryptocurrency, e-Commerce, corporate, social and other niches yet versatile pages are available.
You can use Codebase's template elements as they have been provided or edit it as per your needs and convenience.
Layouts and UI components work together ensuring a brilliant overall user experience. Some of Codebase's features that need extra shine are smooth animations, color schemes, modular design, and organized code.
Codebase offers significant benefits to expert developers as well as beginners. Codebase indeed elevates your web applications to higher standards.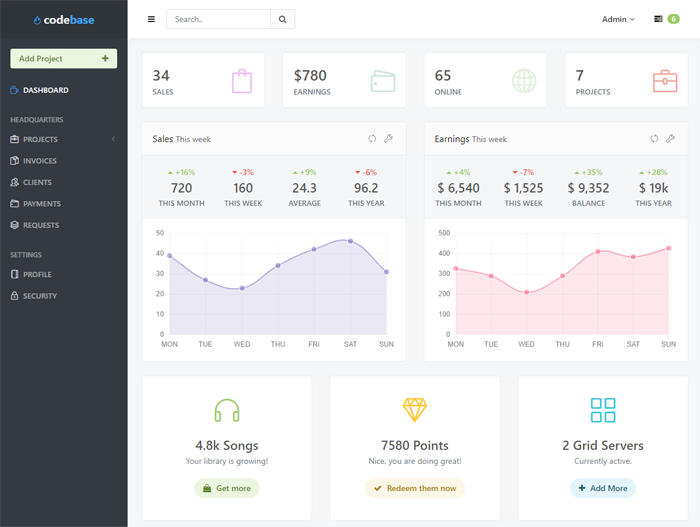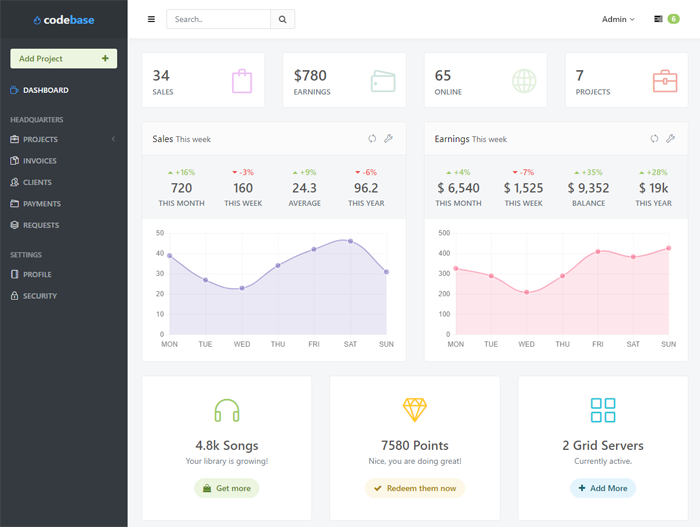 Stack
Stack may be only one admin template, but there are eight of them with each being well organized for a trouble-free web application building process.
There's an awful lot more that Stack brings to your table. It gives you over fifteen hundred pages, more than five hundred components and numerous charts with advanced widgets. There is an additional starter kit for learning developers.
Given that Stack is armed with Jade Builder, it allows you the freedom to create a layout of your choice.
It is quick, effective and user-friendly even for rookies and gives you the feel of a skilled coder and designer even when you may be light years away from being one.
Monster Complete Bootstrap 4 Admin Template
Hold on, don't press the panic button just yet! There's nothing actually monstrous about Monster. Monster is loaded with six demos, five dashboards, more than a hundred plugins and a total of over a hundred pages per demo.
With so much content at your fingertips, you will surely feel confident to take on any project.
Add to those twelve colors, dark and light sidebars, amazing charts, mail and chat apps, and it makes up as an exciting admin template that you can use for your projects.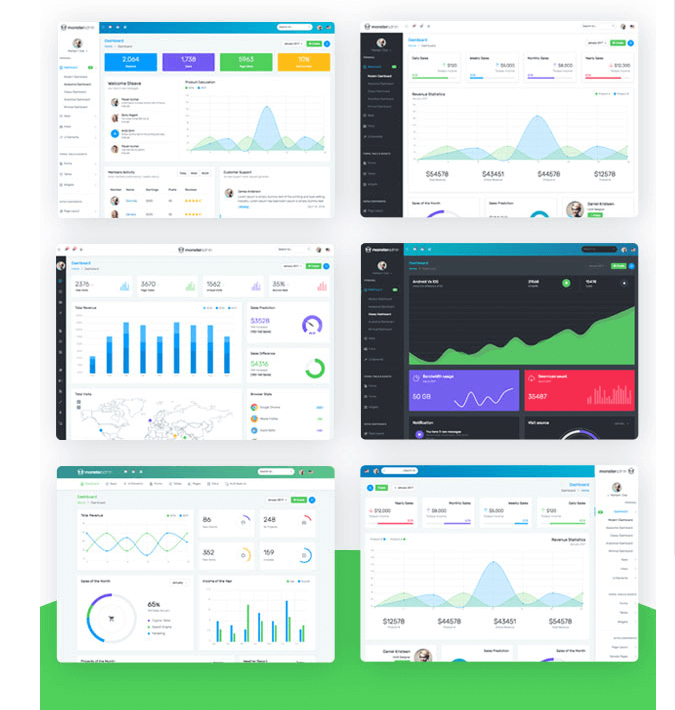 Flat Able
Flat Able as the name suggests is a contemporary flat UI design admin template. It is a robust tool that comes into use for a variety of web projects.
It provides numerous features and key attributes. Not only will this give your admin page a gorgeous look but it also incorporates all the goodies. Flat Able is a template to consider as it will illuminate your admin section.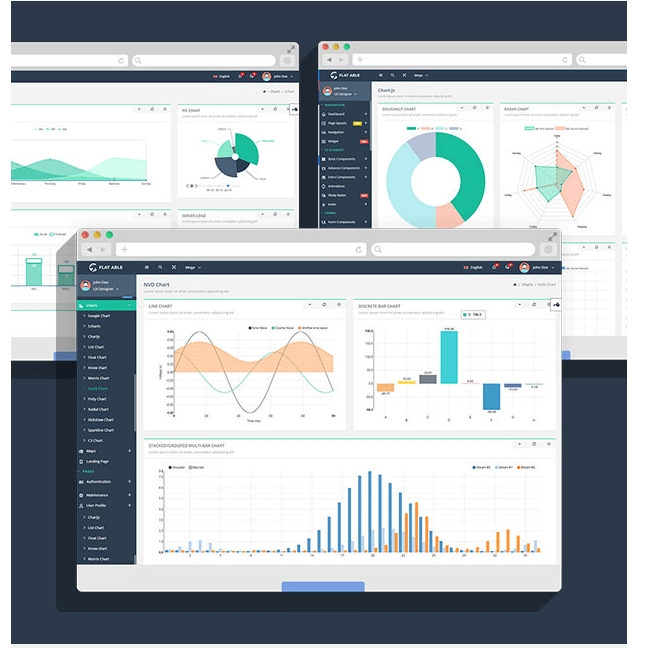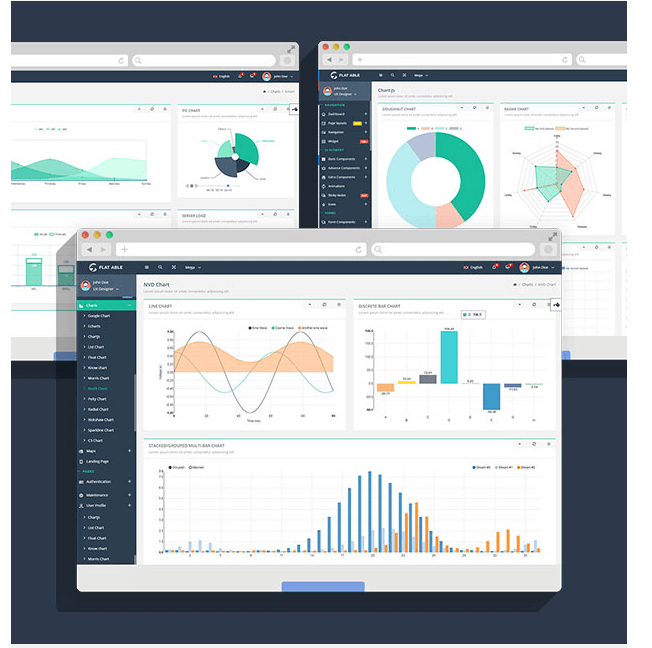 Clean UI
There are a lot of things that you need to keep a check on when using the Clean UI admin template. You will need to pause and look at the tool, otherwise, you may drown in the information.
But you can rest assured that you need not come up with anything on your own. With Clean UI, you will be required to combine the needed, remove the unnecessary and you are ready to cruise.
It is non-complex, straightforward and the outcome matches the highest standards. Clean UI equips you with a total of eighty-four layout variations, more than six hundred UI elements and has static HTML and Angular versions.
Phew! With cutting-edge tools at your fingertips get ready to take your admin page to the next level.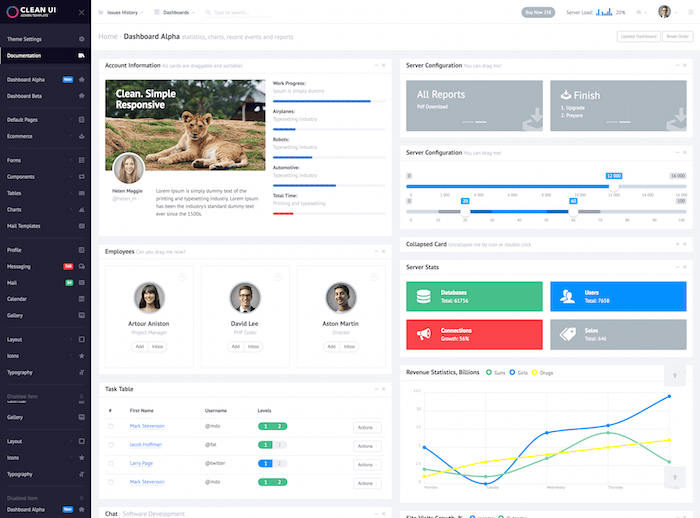 Fuse Admin Template
Fuse is a high-quality template that is flexible, clean and unique. It gives you multi-lingual options to make things even more convenient for you. Fuse is a good choice for international customers.
It comes along with twelve pre-designed pages and twelve pre-built layouts, so you will never run short of variety.
Fuse has four built-in apps available in addition to the twenty PSD files and three distinct dashboards. Prompt support service is available at your disposal should you face any issues with Fuse.
The support executives are polite, well versed and will solve your problems. Free updates are beneficial and will assure you that you are not far behind concerning the latest technological developments.
The calendar feature enables your followers to keep track of upcoming events. You can get feedback or send newsletters out via the mail function.
Custom themes can be made thanks to the personalized theme generator. Unique color schemes and other elements help you to be different.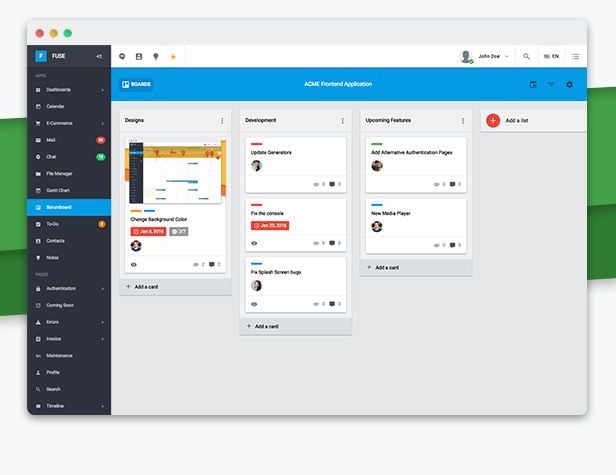 Dash Plus
DashPlus admin is a full-featured premium admin dashboard that is built on HTML5, CSS, JQuery and Bootstrap framework.
It allows you the luxury to use a huge collection of UI components and plugins. Some of the uses of
DashPlus admin includes building admin dashboards, and backend of web and eCommerce applications, CRM, CMS or SAAS, among others. Further, the template works across all types of major web browsers and devices.