If you are looking for a Tumblr style WordPress theme, here is the collection you need. We have listed some of the best Tumblr type WordPress themes in this collection.
Tumblr is one of the most popular microblogging platforms on the internet. And if you have arrived at this post, then you will most likely be aware of its ease of use as well as its simplicity.
Over the years, this 'microblogging' platform has built up quite a following throughout the world what with millions of people sharing posts including text, photos, links, music, and videos.
Owing to the popularity of Tumblr, users increasingly want to style their websites like it leading to a demand for Tumblr style WordPress themes.
We have recently created articles about the best Pinterest style WordPress themes as well as the Facebook timeline style WordPress themes that you can use to create your site.
There are plenty of Tumblr style WordPress themes from the most renowned designers. And if you are looking for a Tumblr Style Word Press theme, then you have arrived at the right destination.
The themes listed below are not just easy to install and smooth to use but will give your website a Tumblr style makeover that your website's audience will love.
If you wish to create your blog on the Tumblr platform rather than WordPress, we have already listed two collections of some amazing Tumblr themes that will surely help you to choose the best design for you.
Here are Some Beautiful Tumblr Style WordPress Themes That You Can Use on Your Website.
Skilt
Skilt is a modern tumblog-style WordPress theme that you can use to create your blog. It is a really good option for content-rich sites as it keeps the focus on the content of your site.
Ready for the Gutenberg editor, the Skilt will offer a great reading experience to your audience. The theme is created with the best SEO practices and optimized for the small screen devices so that the users through mobile device also gets a great experience.
It supports multiple post formats like article, video, audio, quote, link and more.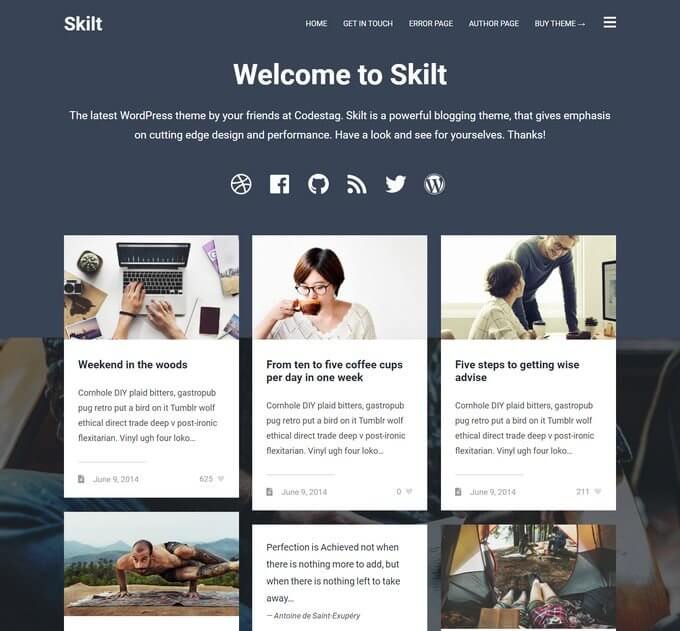 Logger
Logger is a trendy Tumblr style WordPress theme that offers you multiple design options to choose from.
It's a mobile-friendly and retina ready WordPress theme, and it will make your site look great on all devices. You can easily set up the theme and get started on your site.
This theme comes with a comprehensive admin panel where you can manage all the details related to your site with ease.
You can have a fully customized homepage design to make your site look unique. It offers you multiple post type and widget options.
This can do everything that you expect in a Tumblr type theme; it offers you multiple formats like Video, Audio, Quotes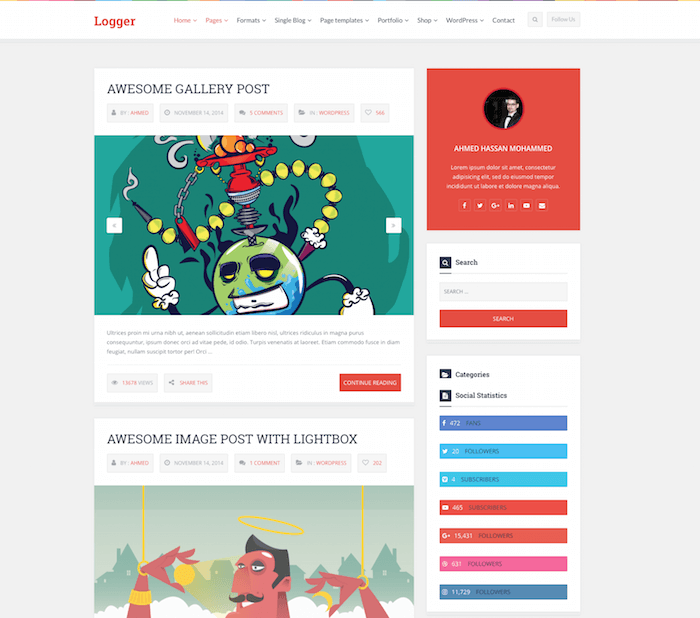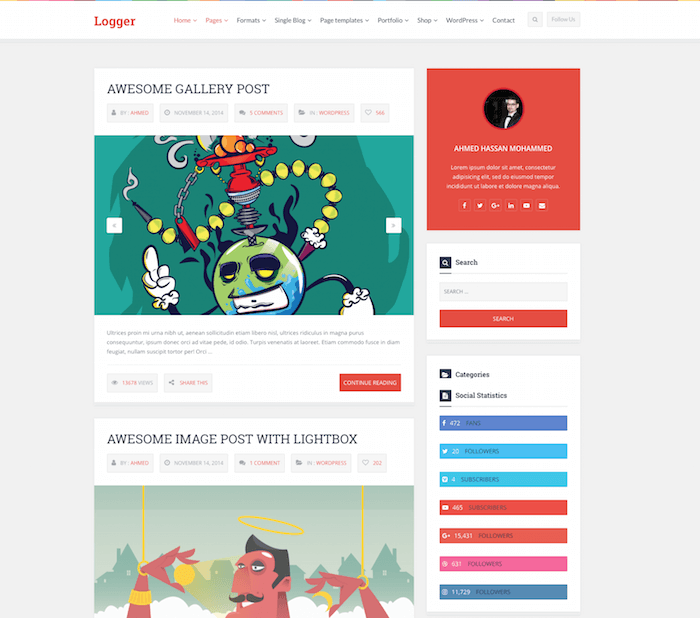 Soledad
A beautiful, minimal and modern WordPress theme that offers you some amazing designs. It's a multi-concept WordPress theme with over 2000 ready to be used design demo template with one-click installation feature.
In fact, the design possibilities are unlimited with this theme. You can create a unique design for your site without any coding.
It's a high-performance theme that will make your site load quickly which is very important for the SEO as well as user experience point of view.
No matter what the niche of your site, you will get a template for your site that is readily created. This magazine-style theme offers you numerous minimal designs that are created with very professional feel.
The WordPress customizer is loaded with over 400 customization options, so you can understand the kind of flexibility this offers you.
Your site will never look like any other site because creating a unique look is a child's play with this theme.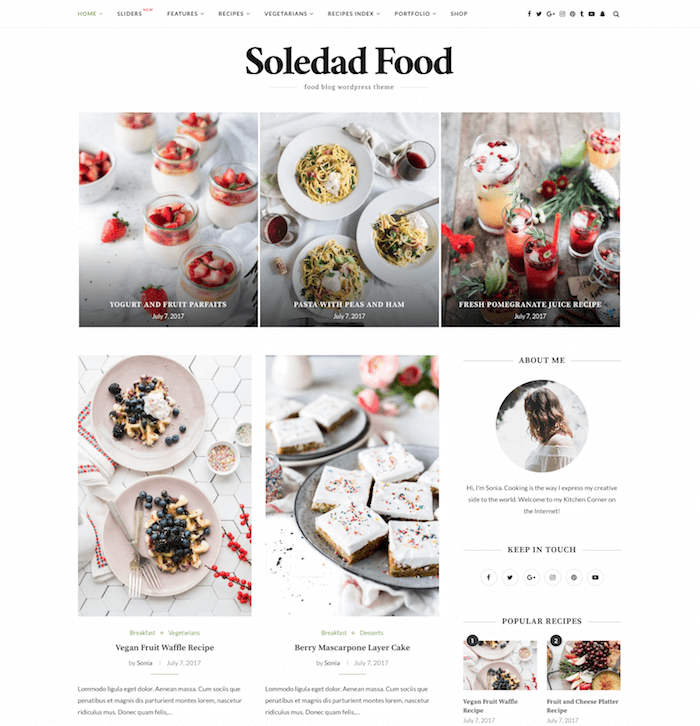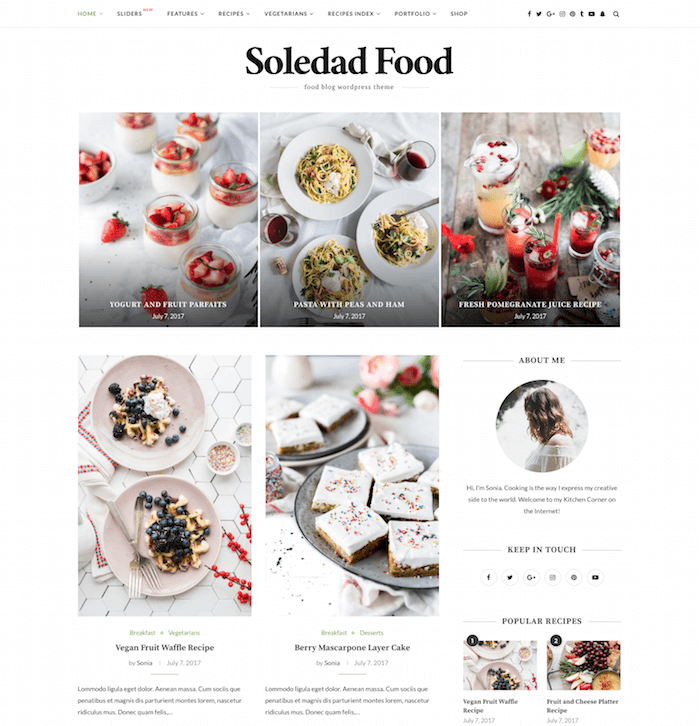 BuzzBlog
If you are looking for a clean, minimal Tumblr style WordPress theme, here is a great option for you. This theme comes with a great looking minimal design that will surely help your blog to offer a nice reading experience.
The theme offers you some different homepage design options and all of them look great. The theme is fully responsive and retina ready to make sure that your site looks perfect on any modern device.
You have powerful theme options panel that you can use to update all the details of your site perfectly and change them whenever you need it.
The BuzzBlog theme offers you a variety of different header design to make your header section look modern and trendy; it also offers you some great looking blog design options.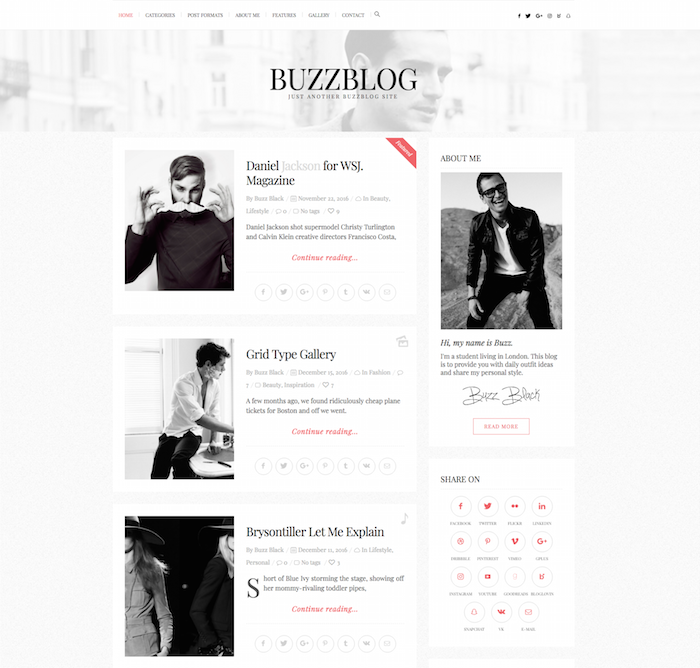 Dulce
A perfect Tumblr style WordPress theme that you can use to create a site that your readers will like. The theme is simple and attractive.
The theme offers different post format options so that you are able to create different types of content on your site.
However, please note that this theme is not yet compatible with the Gutenberg editor which is a recommended design format for WordPress themes.
Florence
Florence is a beautiful, clean design that will help you to create a very professional looking blog. The design is focused on offering you a clean and minimal feel so that your visitors have a great experience on your site.
The elegant design of the theme will help you to optimize your content both for the users as well as for the search engines.
The Florence theme is fully responsive and perfectly optimized for the mobile devices to make sure that your blog looks great on all devices.
The theme supports some different post formats, so you can experiment with different content types to drive as much traffic to your site.
You have amazing customization possibilities to make sure you can easily fine-tune the design of your site according to your need.
You can have a full-width design as well as with sidebar where you can place your widgets. The theme offers you beautiful classic layout, modern grid layout, list layout with and without sidebar.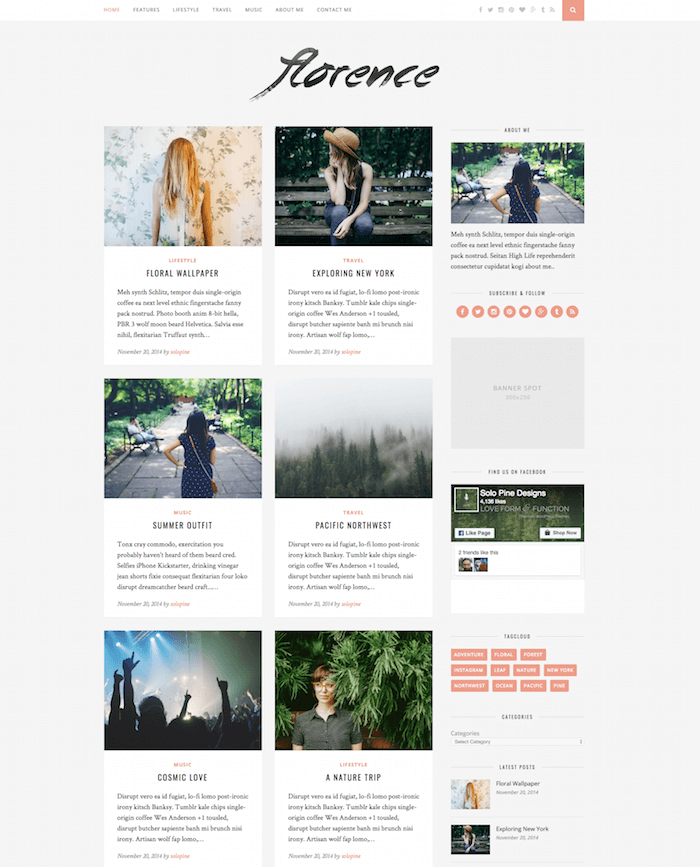 Notio
A beautiful creative portfolio design that resembles the Tumblr portfolio design. The theme comes with four different design options to choose from.
It's a lightweight theme that is designed for high performance on all devices. The theme is loaded with a number of design elements.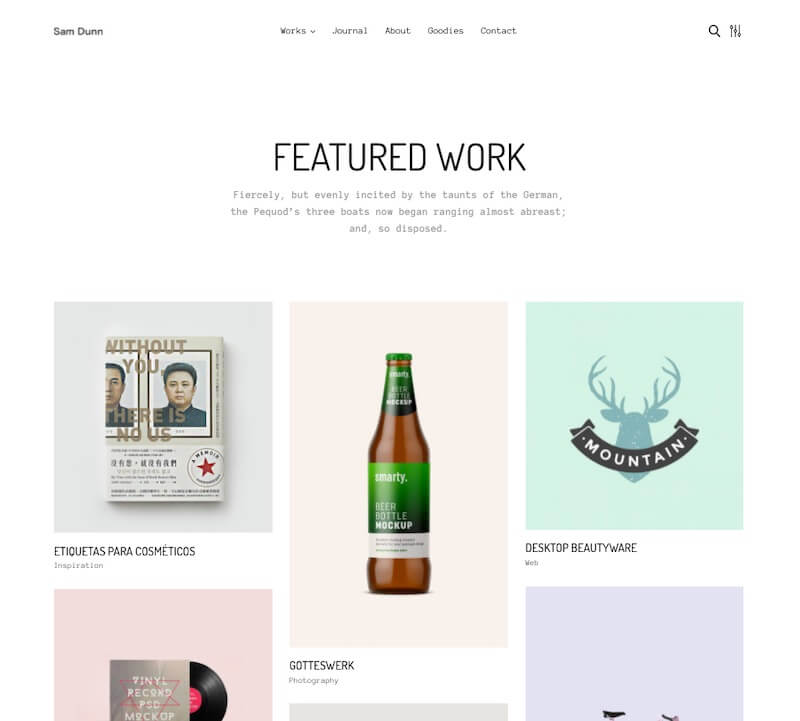 Semantic
Semantic is a simple, responsive, beautiful design that you can use to publish your content. If you manage a heavy content site, this theme will offer a great reading experience to your visitors.
This theme offers you a few different homepage design options, and there is always the option to customize it and make it look unique.
It comes with a quick option to change the overall skin color of the theme; you can make it dark, white as well as brown as per your requirement.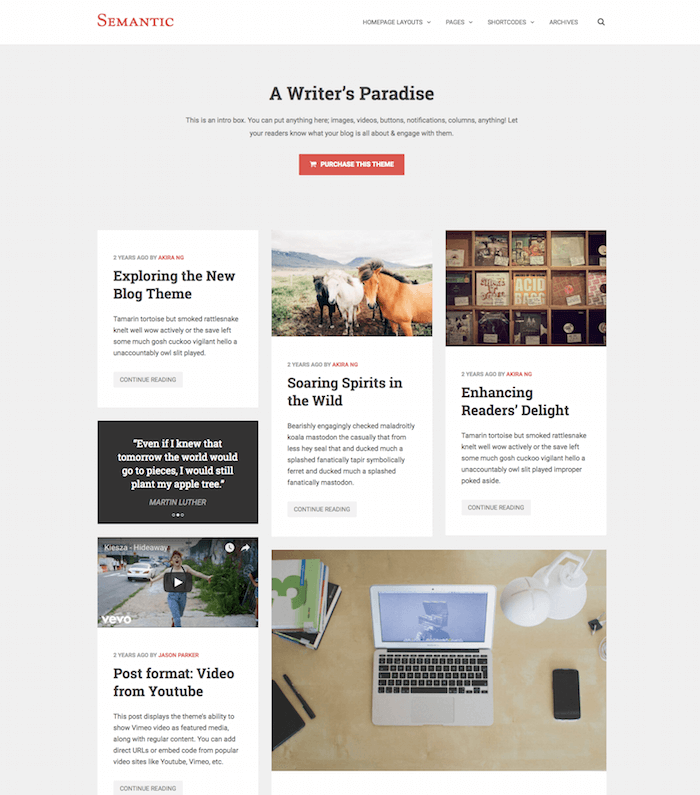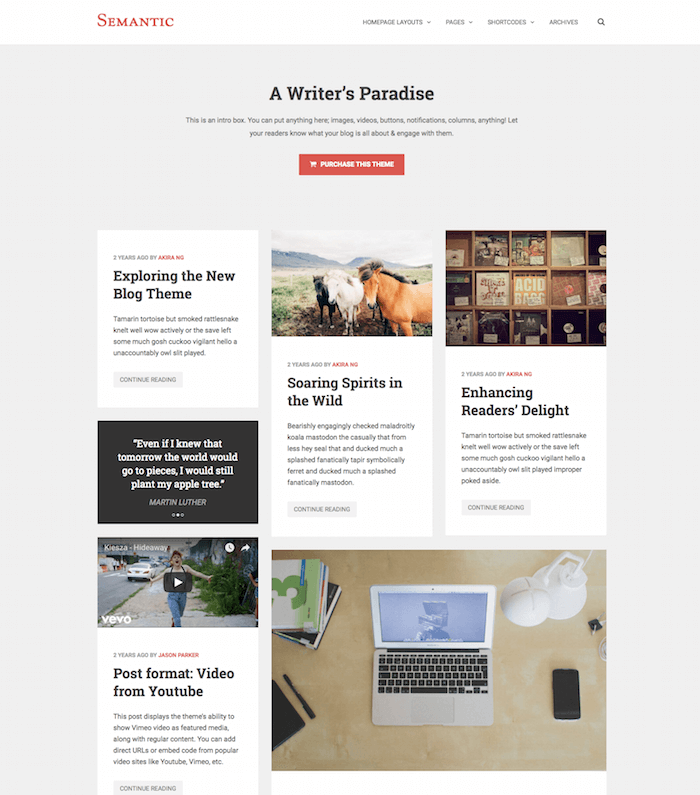 Simple Article
A very simple and elegant design with a very clean and professional looking design. The theme comes with a fresh feel that will offer a great reading experience to your visitors.
This theme is designed for bloggers, and you have amazing home and blog page designs that you can choose from. The theme offers you page builder so that you can customize and create your pages easily.
The theme is fully responsive and retina ready so that your site stand out in the modern devices. You get the premium Master Slider plugin for free with the theme that you can use to create beautiful slides on your site.
You can design and optimize the navigation section of your site with the amazing mega menu option provided by the theme.
You have beautiful shortcode option, beautiful parallax color section, unlimited color options, unlimited sidebar options, different post formats and more.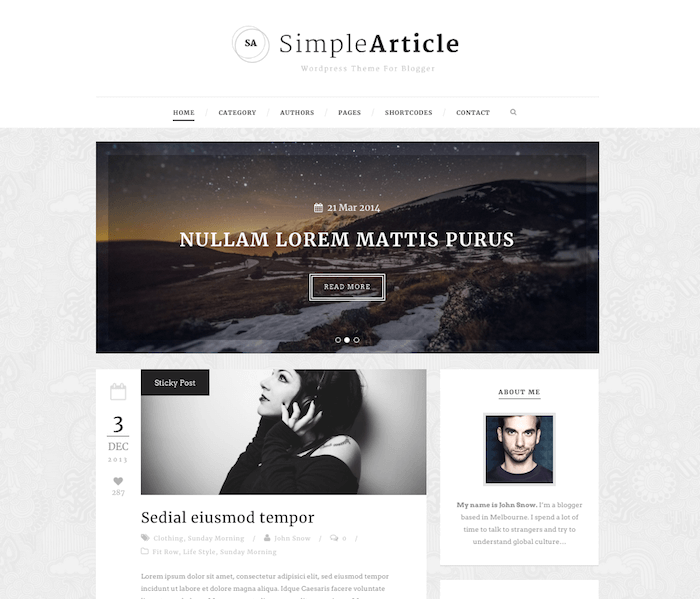 Minblr
Minblr is an inspiring theme built for WordPress that provides a liquid and responsive layout with its sharp design. The theme lets you create a user-friendly experience immediately after installation with its easy to customize the interface.
This feature-rich theme comes with cross-browser compatibility, ten color schemes and support for child themes to get you started on your own Tumblr styled website in no time.
To ease your task of creating and presenting beautiful layouts, Minblr comes with Themify'spage builder that is highly user-friendly.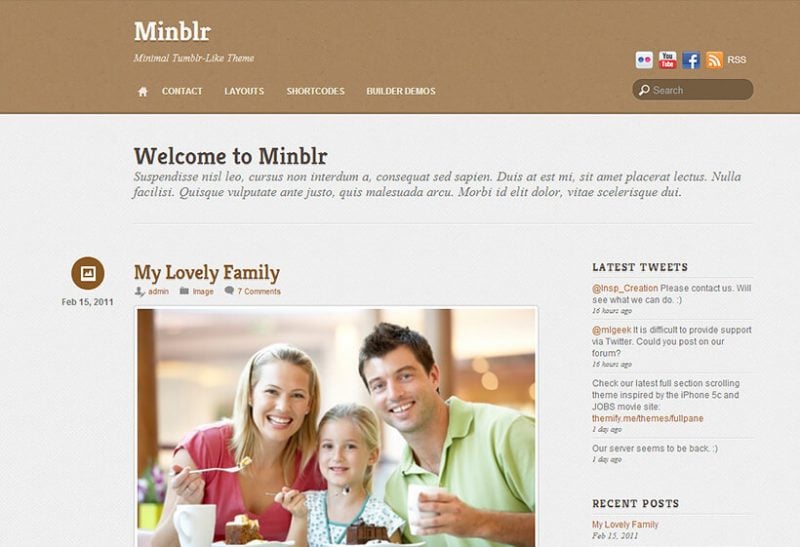 Troy
Troy is extremely easy to use Tumblr styled WordPress theme that lets you get started with your website. Coming from a renowned name, CSSIgniter, Troy comes with a five-color scheme and built-in shortcodes to take your website design to a whole new level.
A special feature where Troy surpasses the competition is the customer support provided by its makers. The instant solution to all your queries combined with the sleek design makes Troy worth a try.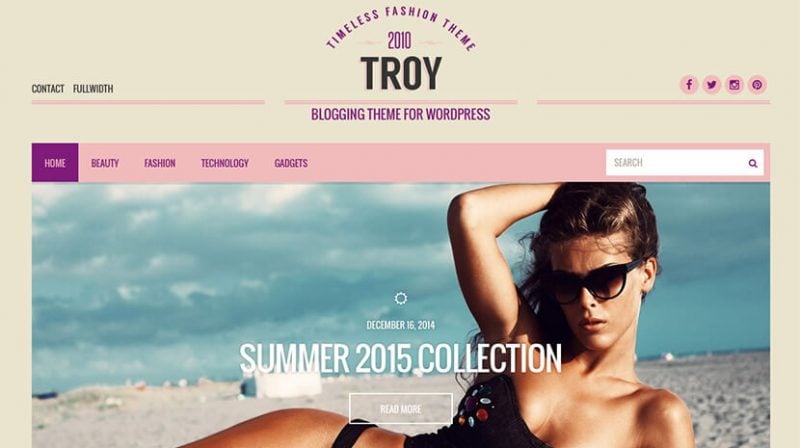 Memoir Tumblog Style WordPress Theme
Memoir has been created and designed specifically taking into consideration the needs of bloggers. The theme helps you put the spotlight on your content with its minimalist design. Memoir helps you make the most of that design with its impactful typography and two color schemes that are light and dark.
It also lets you highlight your featured content and social media links with the help of 3 footer expansions. If you are looking for a theme that will help you in doing simple yet impactful blogging, then Memoir is the one you should go for!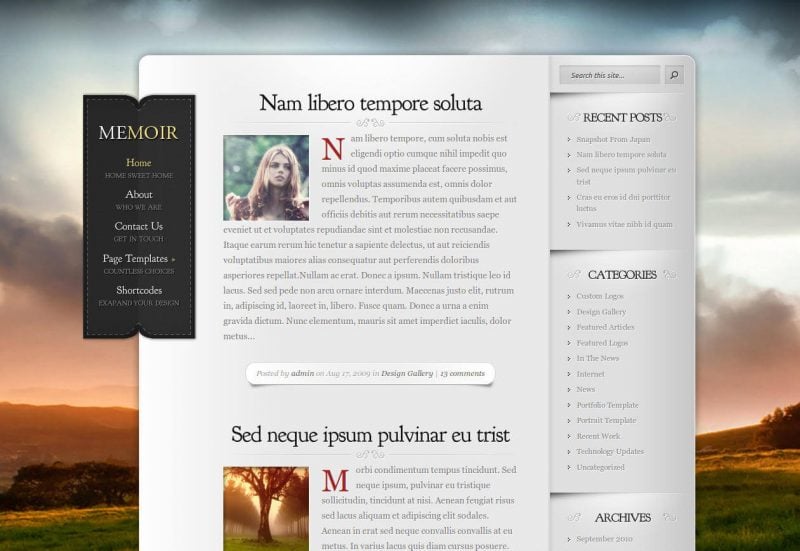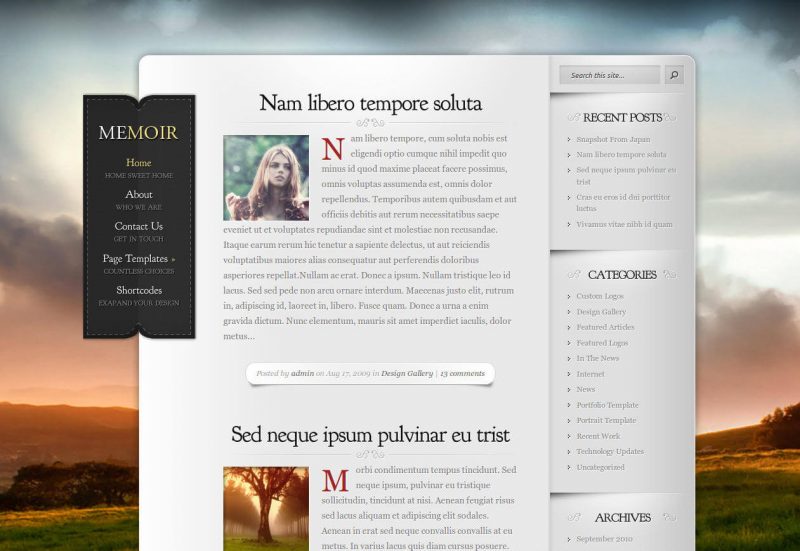 Notebook
Notebook is an elegant Tumblr styled theme with a Pinterest like a design. The theme comes from Elegant Themes, and the left sidebar with the main menu gives it the minimalist design like a notebook.
Notebook lets you add numerous types of content including audio, video, and the standard blog posts. The theme comes with endless color options, and the numerous texture layouts will make your website standout.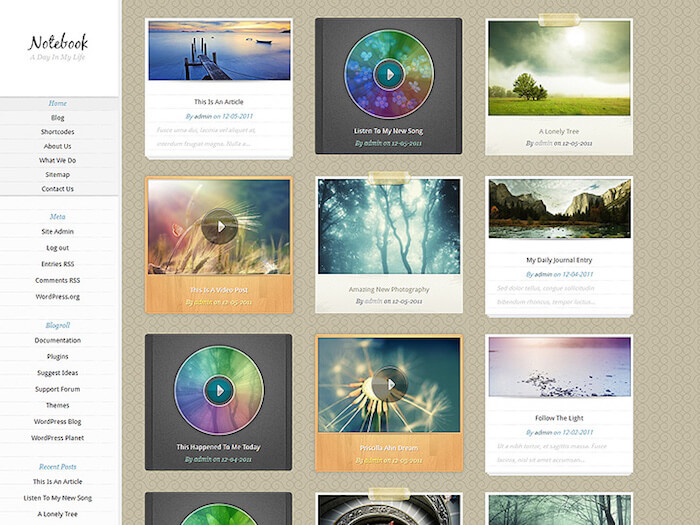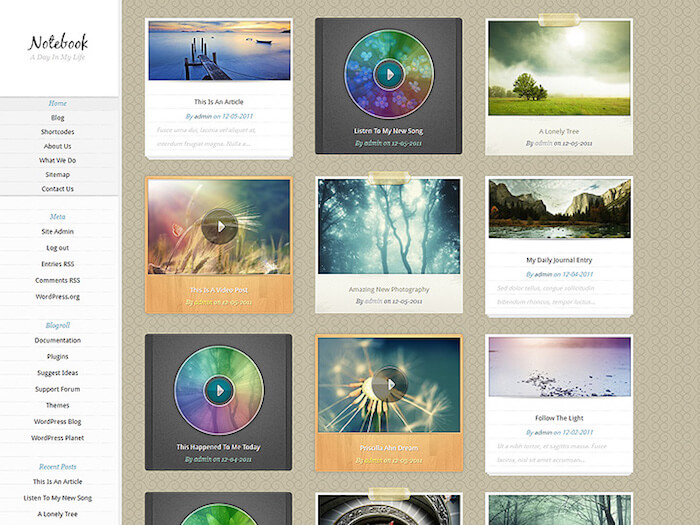 Daily Notes
The aim of Daily Notes is to bring in flexibility and elegance in the way professional bloggers want to present their content. Daily notes come with minimal design along with four enticing color schemes to make your website look attractive.
This feature-rich theme comes with many other customization options such as three, page templates, and shortcodes. If you want a dynamic theme experience to create your blog, go for Daily Notes.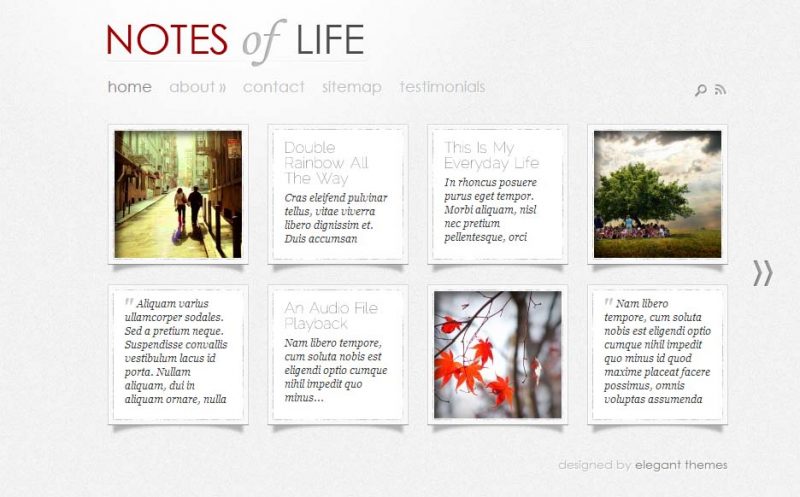 TinyBlog
Don't get mistaken by the name; Tiny Blog has a huge list of features to get you started with your Tumblr Styled website.
The theme comes with a clean design that along with the power packed features provides you a complete package of everything that you need to create an attractive website.
TinyBlog makes use of the WooTumblog plug-in to give your website an elegant Tumblr style makeover. It is one of the most organized and clean themes out there that has features that will woo you instantly after you install it.
The theme's minimal design lets you play with social media links and provides a three layer layout that gives you the single, double and triple column orientation.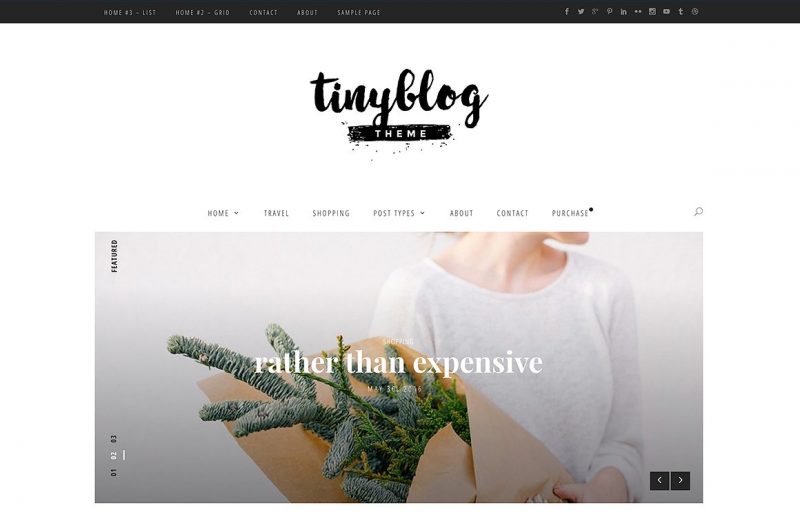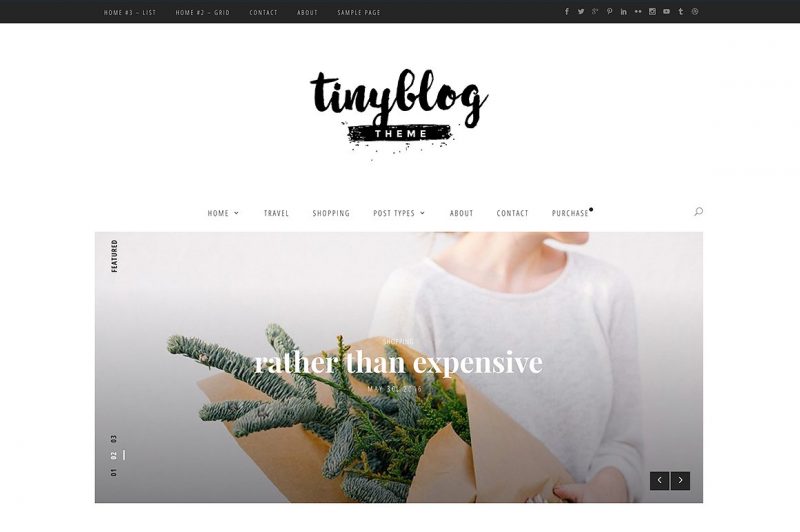 Fable
Fable is an overall good looking theme that doesn't exactly have a Tumblr styled layout but is an ideal choice for blogging websites.
You can customize the minimalist design as per your needs and transform your website into a professional looking blog in no time.
Fable lets you choose from the endless color choices and helps you customize your website's layout with different page templates like gallery layout, portfolio layout, etc. Plus, the posts are laid out in an organized manner which greatly enriches the user experience.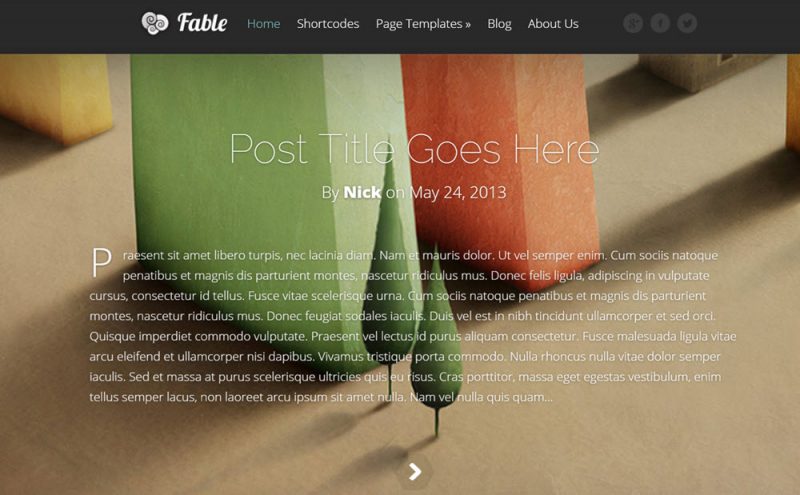 Light Bright
Light bright is a Tumblr styled WordPress theme that comes with a user-friendly and elegant design. The theme is equipped with a full-width template and a sitemap template to help you create an elegant design with drop–shadow edge and gradient background.
Coming from Elegant Themes, Light Bright will help you get automatic access to all the 87 themes by Elegant Themes once you purchase it. Highly recommended!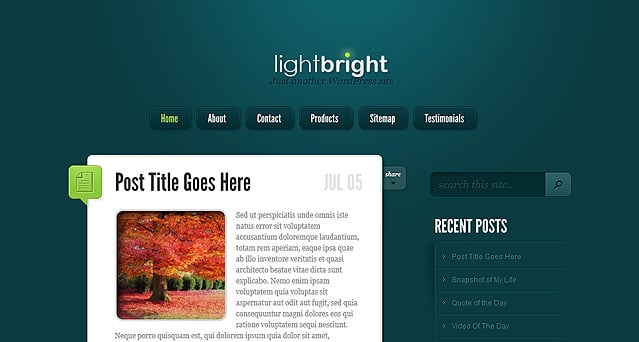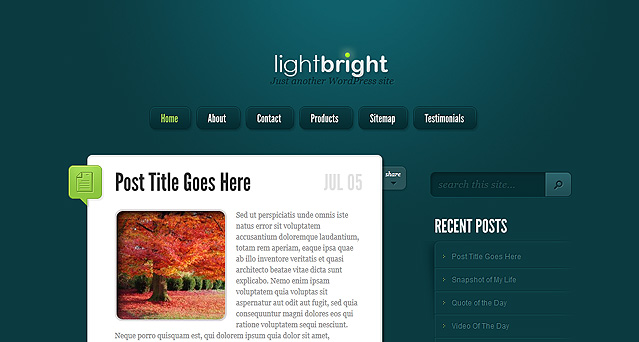 These elegant Tumblr styled design can transform any dull-looking blog into an exciting one in no time.
The above-mentioned themes have been created to provide you with delightful blogging experience and at the same time provide your audience with a user-friendly navigational experience.
So choose a Tumblr Style design and get, set, blogging!