If you are a WordPress user, then BuddyPress offers the best means to create a social community on your website.
However, BuddyPress isn't fully featured-packed and it needs support from a few more plugins to create a complete social networking site.
You will need to install a couple of BuddyPress plugins on your site to get all the features that you need.
So in this post, we have put together a list of the best BuddyPress plugins to help you create a social networking community that you dreamed about.
So without further ado, here are the Best BuddyPress Plugins
Note: All WordPress themes are not compatible with the BuddyPress plugin, so if you are running a BuddyPress community, we suggest that you install a BuddyPress theme as well. This will make sure that all listed are compatible, and will also help you to make a better community website for your users.
We have created this detailed guide for newbie bloggers to select the top WordPress hosting
Why Not Use BuddyBoss Instead of BuddyPress: A Modern Solution?
If you are not aware of BuddyBoss Platform yet, it is a modern solution for creating a social community site on the WordPress platform.
be it the design or the overall features it offers, the BuddyBoss platform is the best solution for WordPress to create a very attractive and professional-looking social site like Facebook or any niche community site.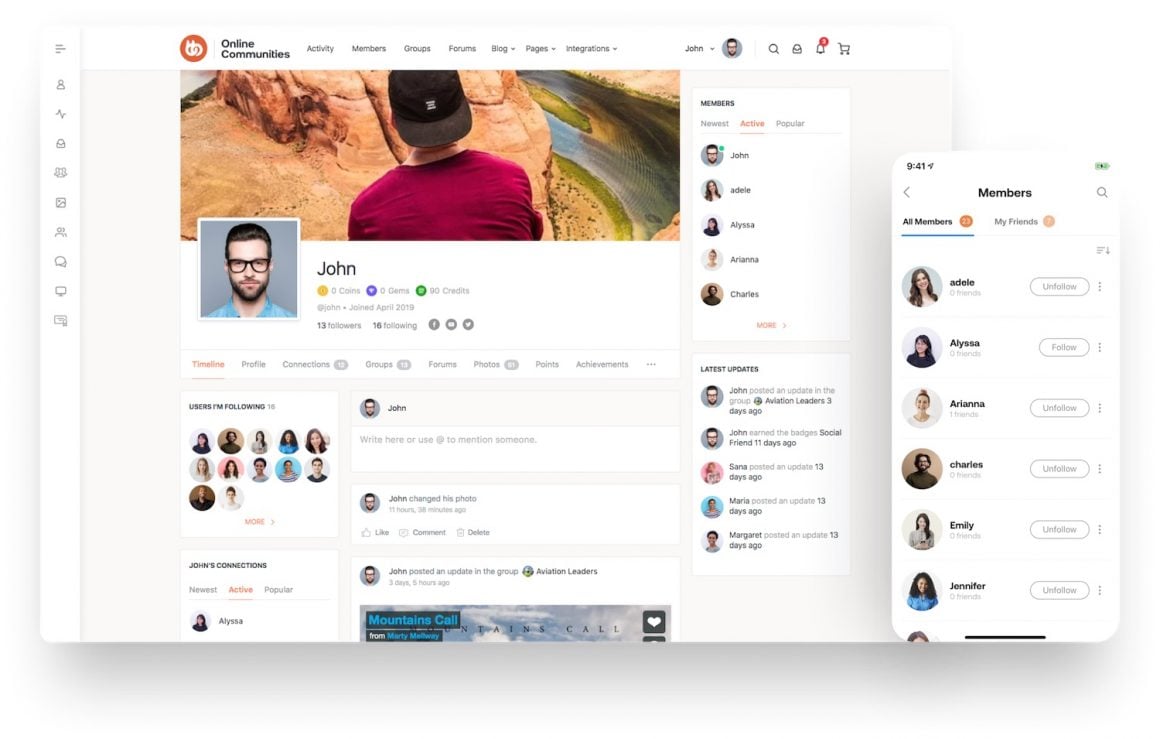 BuddyBoss is highly customizable to make the design perfect as per your need. In fact, you can use the Elementor website builder to change things around and create the unique design for your site.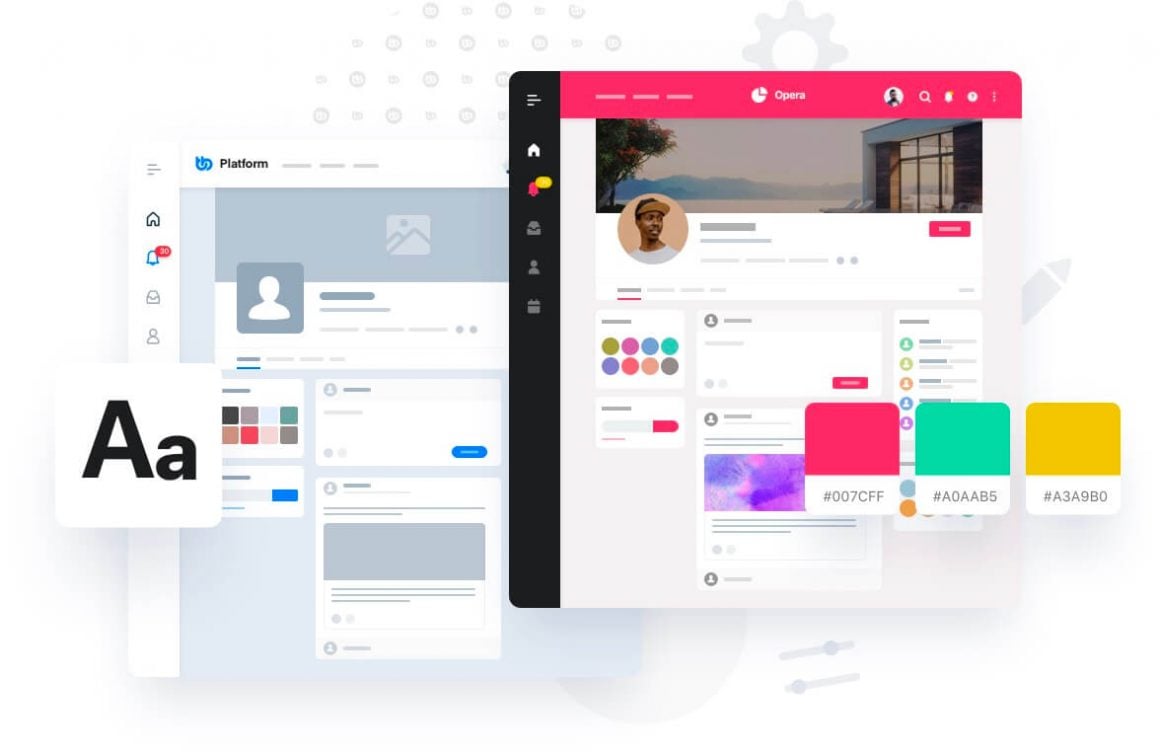 For more information about the BuddyBoss Platform, you can read our detailed BuddyBoss review.
Youzer
One of the best BuddyPress plugins on this list. This plugin can do a lot more than you expect, it will bring in tons of amazing community features to your site.
Youzify is a plugin that will take your BuddyPress site to the next level. This single plugin can do a number of different tasks on your BuddyPress community site.
The plugin comes with a very powerful admin panel where you can manage everything for your site without any hassle.
It is a plugin that will retire a number of plugins that you are using on your BuddyPress community as it can do all those tasks perfectly.
Youzify is one of the most comprehensive social plugins that will change how your site looks and perform.
The plugin brings a huge change to your user profile page and makes it modern. The plugin comes with over 14 different header design options for the profile page, over 20 profile widgets, profile privacy, unlimited custom tabs, etc.
Check a few of the header design options from the available lot in this image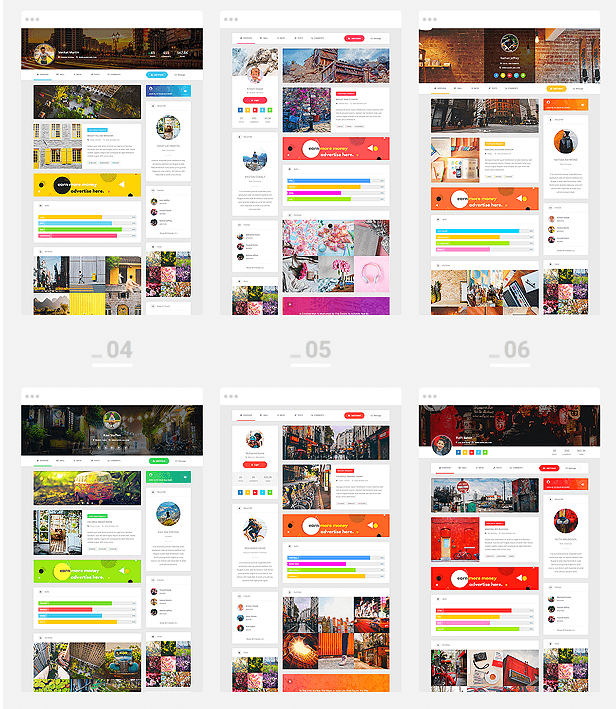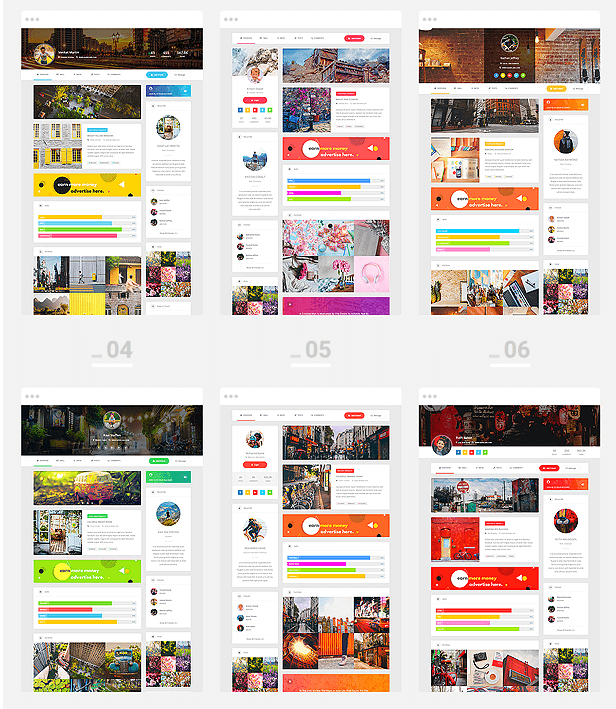 The Youzify plugin comes with a powerful admin interface with over 700 amazing options that will enhance the experience of your community site.
In fact, it is probably the only plugin you need to create a successful community because it can handle most of the features that you expect on your social site.
It's a fully responsive mobile-friendly plugin that will make your community site look great on all devices.
The plugin offers you the option to create unlimited tabs, unlimited profile structures, and unlimited color schemes.
The Youzify plugin comes with an amazing settings page that is modern and user-friendly. You have the option to have unlimited registration fields, and creative design options to make it completely custom and great looking.
Let's start with the admin panel.
As mentioned above, the plugin comes with over 700 options that will supercharge your community site. And the admin panel makes it very easy for the users to get started and setup the features as per requirement.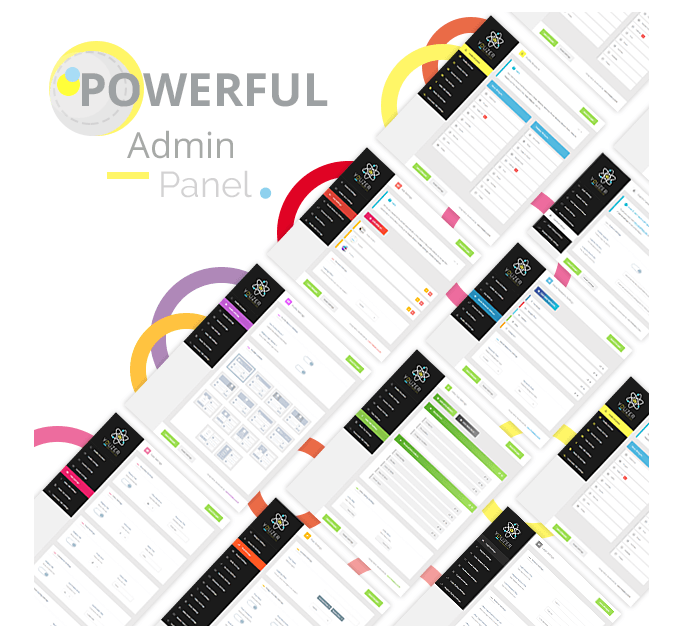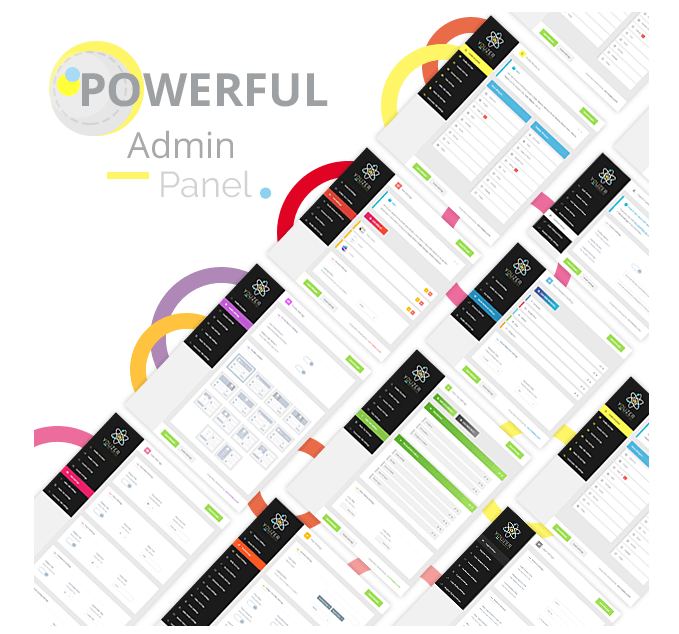 This is a complete social and membership plugin that will make sure that you have all the latest important features.
Social Features
The plugin is packed with tons of social features such as the social wall, messages, notifications, verified badge, mentions, emoticons, social login and registration, friendships, members directory, and more.
Profile Features
Profile features like unlimited custom profile tabs, unlimited custom links, color schemes, different header styles, unlimited ads, amazing effects and more.
Membership Features
The plugin offers you a number of amazing membership features, so even if you are not creating a BuddyPress site and want to have membership features on your WordPress site; you can use this plugin.
Membership features such as social login and registration, unlimited registration fields, manage user signups, profile and site protection, hide dashboard toolbar, secure password system, customized notification emails,
Comprehensive Settings
The plugin offers you a great-looking advanced settings page to make things easier for you.
The plugin theme offers you the option to create unlimited tabs, unlimited profile structures, and unlimited color schemes.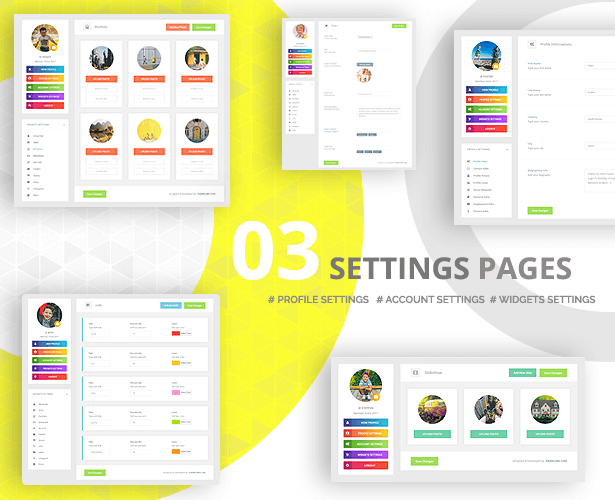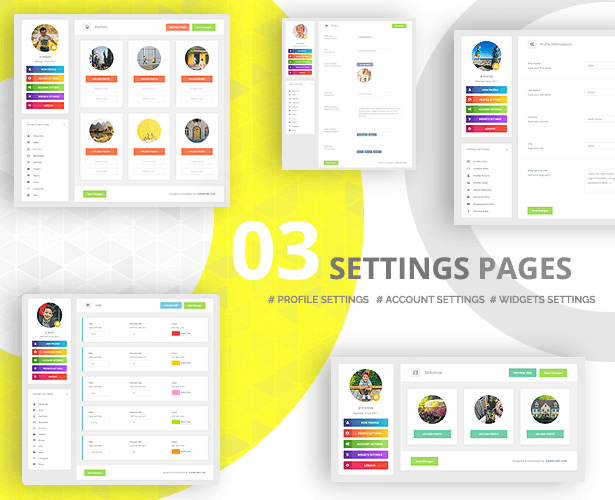 Ultimate Membership Pro
The top-selling membership WordPress plugin in the Envato marketplace, Ultimate Membership Pro is a must-have plugin for any community or membership site.
As the admin, you will be able to create multiple different packages from free to paid packages and you can define the level of access depending on the packages.
As you purchase the plugin, you will get a plugin with 40 different add-ons to boost your membership site.
Over 10k sites are already using this membership plugin.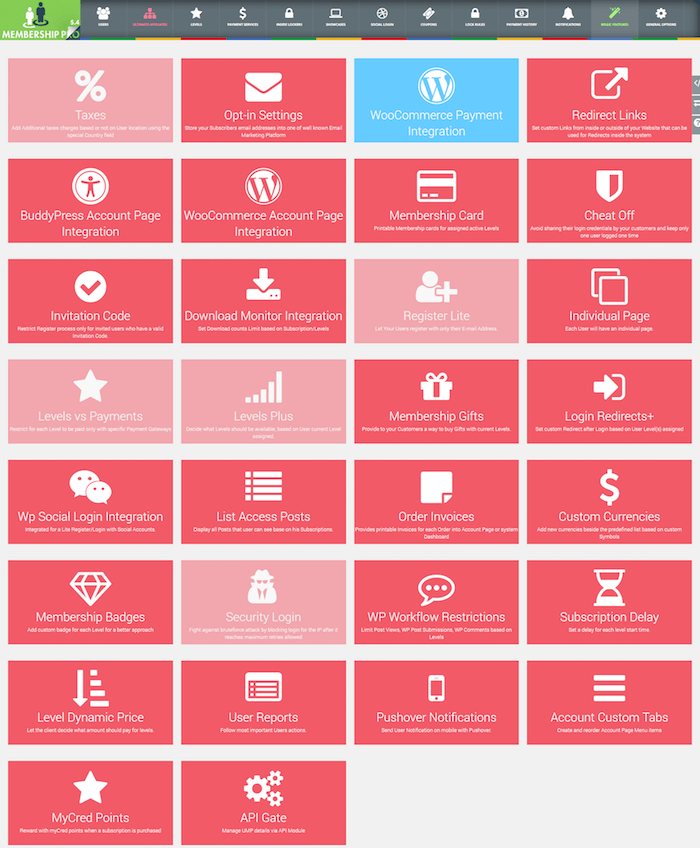 BuddyBoss Wall
BuddyBoss Wall allows you to add a Facebook-like wall to your BuddyPress site. This can be helpful as most of your users will instantly know how to interact with your website. Your users will be able to add posts, like other people's posts, comment on posts and all the familiar stuff.
The plugin can also be used to add a news feed to highlight everything new that is happening on a user's friend list or groups. There is also an abundance of privacy options that users can take advantage of to get the most out of your website.
BuddyPress Inbox
BuddyPress Inbox adds many necessary features and functionalities to the default messaging feature present in BuddyPress.
Once installed and activated, the plugin will allow users to use functions like WYSIWYG text formatting, drafting and auto-save options, labeling, and much more.
While sending an attachment through messages, the recipient will also be able to get an image preview of the received file.
BuddyPress Inbox will spice up your BuddyPress inbox with additional features. The native BuddyPress messaging system is limited and this plugin will add attachments, labels, drafts, auto-save, and a visual editor right in your BuddyPress Messaging system.
With the help of this plugin, you will be able to add images, and other attachments to your messages which I think is a great addition to your site.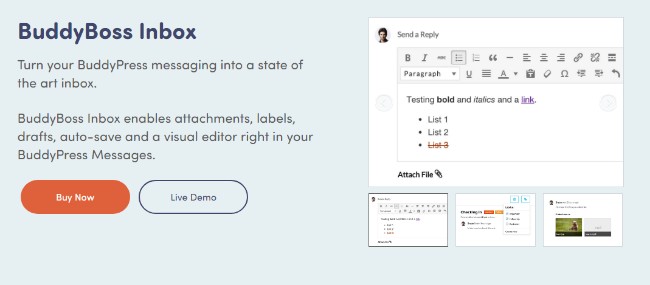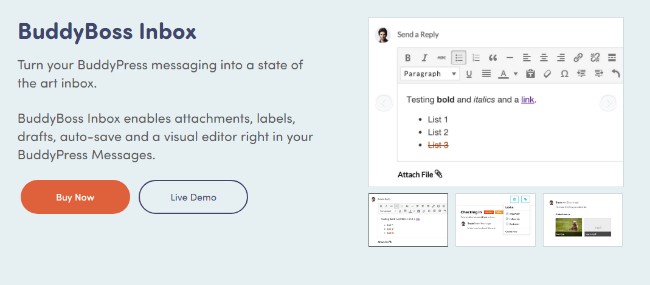 BuddyPress User Blog
BuddyPress User Blog comes from the same people behind the BuddyBoss Wall. The plugin is designed to offer blogging abilities to members of your website. It can be very helpful if you are looking for ways to turn your website into a content-producing machine.
Users will get all the necessary abilities to run and maintain a blog. The interface provided by the plugin is also very easy to use and comes packed with many options.
Location Autocomplete BuddyPress Plugin
When you are creating a social community site, I'm sure you would like it to be user-friendly. This is a plugin that understands your users perfectly and helps them update their details with the location autocomplete feature.
This plugin will help the users to update their location accurately and in their profile and groups. The location data is one of the very important aspects of any social community site because in the future if you would like to target any specific location for any kind of promotion this plugin will be very handy at that time.
So, I would suggest you use this plugin from the very beginning.
BuddyBoss Reply by Email
Another very useful BuddyPress plugin, this reply by email plugin will offer you the option to reply to the notification from your email and the reply will show up on the website. In a way, this plugin completes the loop of communication required in a social community site.
Whenever there is a communication to you from the forum, group, or activity section, this plugin will help the users to reply directly from email increasing the overall engagement on your site.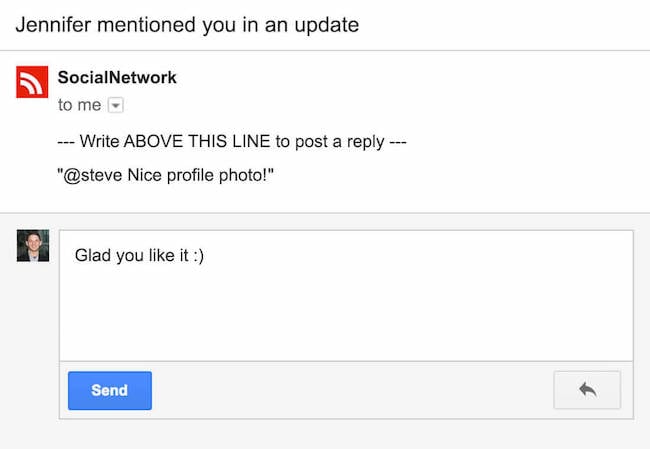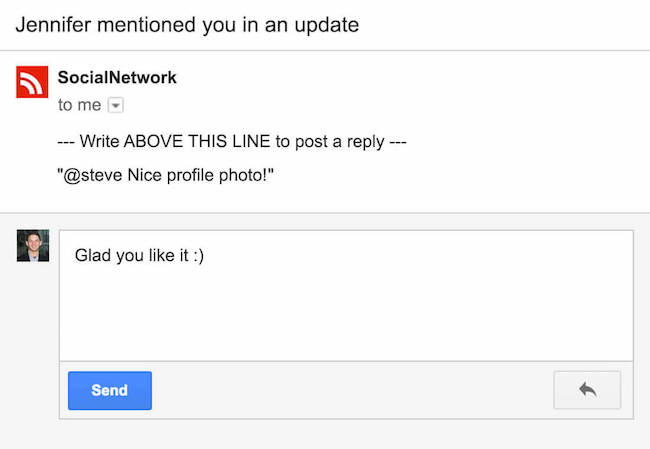 ProfilePress
When we talk about a social networking site, the login registration page becomes very important. The WordPress setup doesn't offer you an exclusive and good-looking page for the login process.
The ProfilePress plugin makes it simple and easier for BuddyPress users to create custom login and registration forms as well as forget the password page.
Not only BuddyPress, but you can also use this plugin for bbPress and WooCommerce-related sites as well.
You can create custom AJAX login and registration forms with unlimited fields, tabs as per your requirement. It also offers you quick social login options to make the process easier for your users.
You have custom options to redirect users to your desired pages before and after login.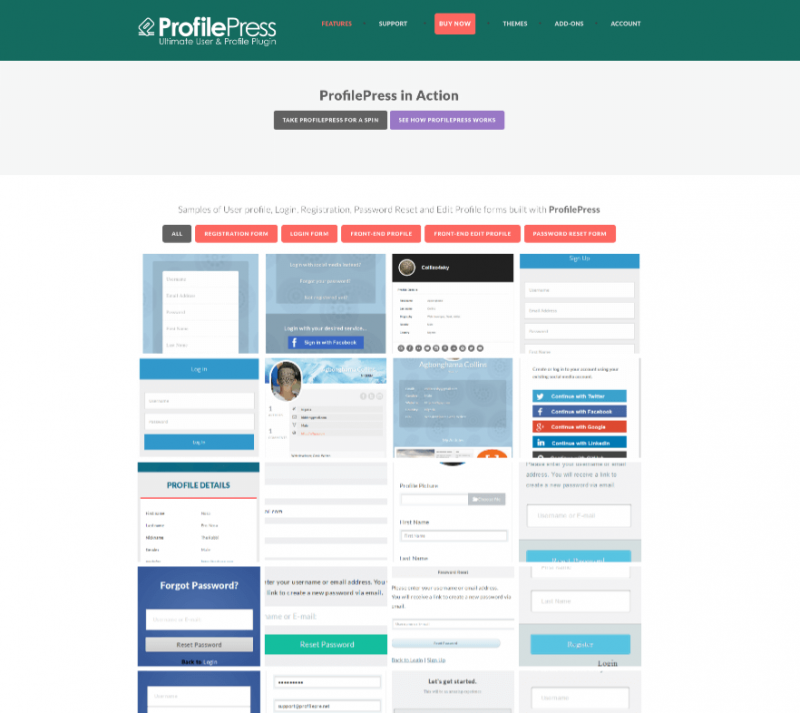 Elementor
Elementor doesn't need any introduction to WordPress users. One of the most popular website builders for WordPress with over 10 million active users, Elementor can help you create any kind of design for your website.
Elementor is perfectly compatible with the BuddyPress plugin. So, you can take the advantage of this powerful website builder to create a custom design for your community site.
You can select a theme that is compatible with both BuddyPress and Elementor and take it ahead from there.
With Elementor, you will have complete control over each and every element on your site and make sure that you can change things around as per your need.
We have a detailed review of the Elementor website builder that article will help you understand the product better.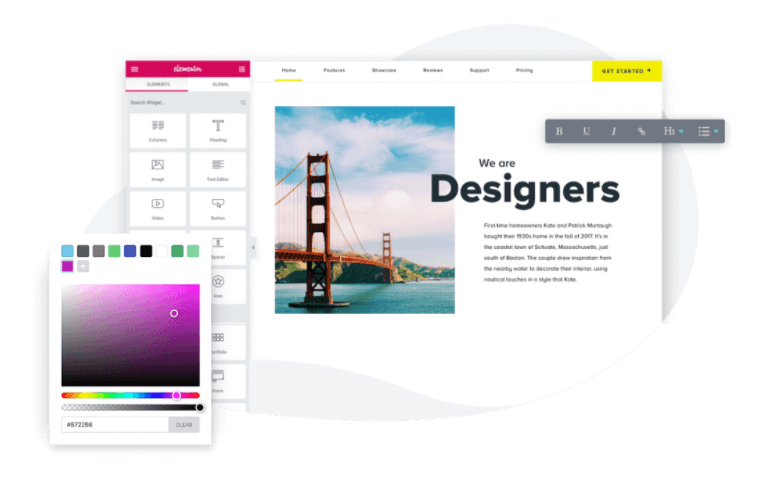 BuddyPress Follow
BuddyPress Follow allows you to add something similar to a Twitter follow button on your community website. So if Facebook isn't your go-to style, you can use this one.
Or you can use both this and the previous plugin, to create a unique experience for your users.
The plugin is straightforward to use and will add a follow and unfollow button to user profile pages. It works just like Twitter, so your users won't have much trouble using it – unless they have never used Twitter.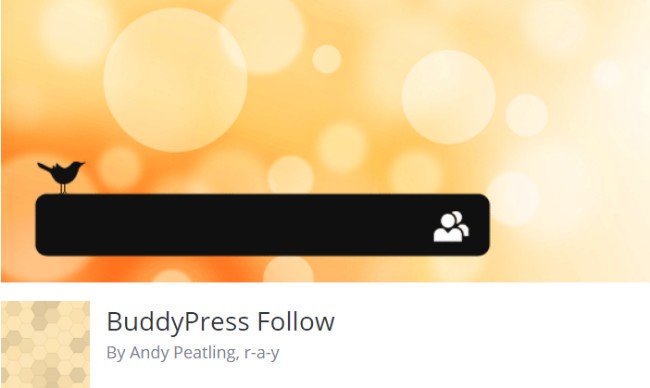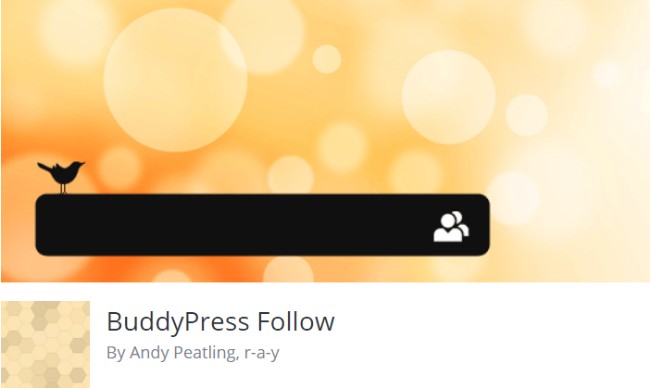 UserPro
UserPro allows your users to log in to your community through their social profiles. It also gives the option to manage their account on your site.
This feature is essential because many users find it irritating to go through a long registration process. Using their existing social media profiles to login can make things easier and secure.
The plugin also provides you with a beautiful front-end registration screen if needed, and login system. You can add unlimited custom fields to the registration process. Besides these, the plugin also gives you features such as publishing options, badges, and achievements.
BuddyPress Member Types
BuddyPress Member Types gives you options to add different types of roles to your community members. It can be necessary if your community has different types of members, each contributing differently.
For example, if you are running an online learning community, then you can assign specific members to be teachers and others to be students.
The plugin allows you to manage and assign all the different member types right from the wp-admin panel. It will also make up separate registration forms and profile fields for each member type. You can also add exclusive tabs to different member pages.
BuddyPress Featured Members
Rewarding the most active members of your social community site is a great way to keep them motivated to continue their support.
This plugin gives you the option to showcase selected members with shortcodes or widgets in any section of your site.
This plugin offers you the option to select multiple members and place multiple widgets as per your choice. So, you can select the members who are most active in the forum, in the groups or overall on the site.
This action will help them to showcase their work and keep them motivated to be active on the site so that your site has engagement all the time.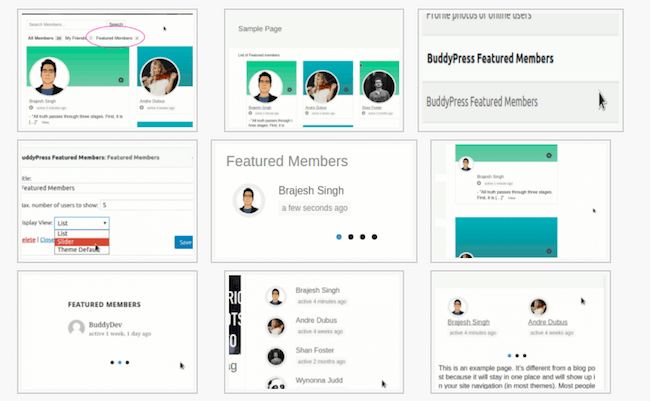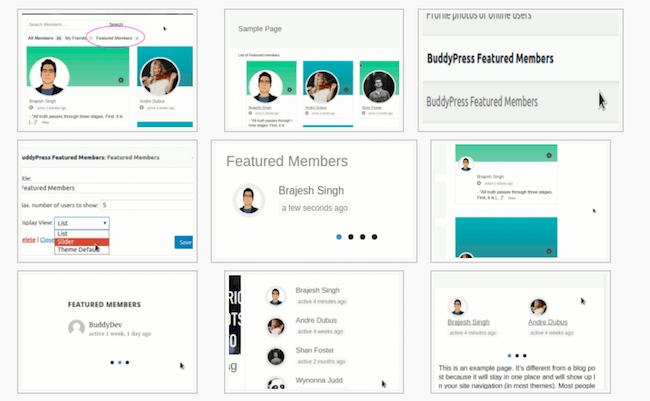 Premium SEO Pack
There have been questions about the best SEO solution for the BuddyPress sites and there is no perfect solution for that so far.
Popular SEO plugins like Yoast SEO don't support BuddyPress by default and you have to add additional code and modify the plugin to WordPress with the BuddyPress setup.
However, the Premium SEO pack is a good enough solution for the BuddyPress site as well. It is perfectly compatible with the latest version of the BuddyPress plugin.
This plugin is a complete solution for any WordPress site as far as the SEO requirements are concerned. In fact, it goes beyond general SEO needs and it offers you some amazing additional features to make your site stand out.
You can track the position of the keyword in the SERP. You have the option to add keywords, upto 5 competitor sites, and select the search engine you wish to track, this plugin will help you to get the perfect report.
Hide My WP
The safety and security of a site are of paramount importance, and when we talk about a social networking site it becomes vulnerable to possible threats.
This plugin will make sure to secure your site by removing all WordPress-related details. Also, if you wish to create a big brand it is good to remove the WordPress details so that it looks like a fully customized design and unique.
BuddyPress for LearnDash
BuddyPress for LearnDash allows you to connect LearnDash with your BuddyPress community. LearnDash a premium Learning Management System WordPress plugin.
So if you are thinking of creating a community education website, then utilizing this plugin will help you to combine the LMS features provided by LearnDash with your BuddyPress community.
You will be able to create a private group of course participants. You will also be able to monitor group interactions through an optional activity stream, as well as control course inception and completion, grading, and comments moderation.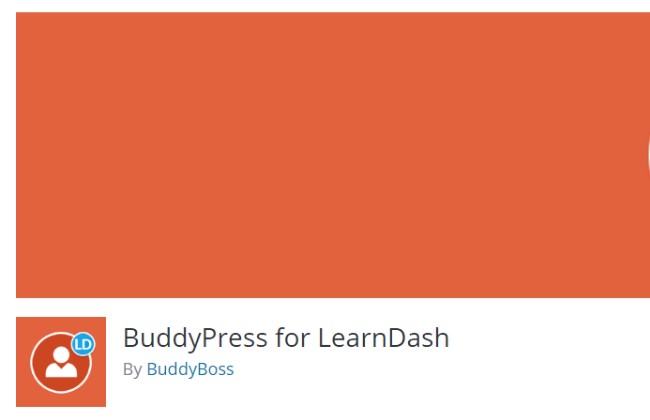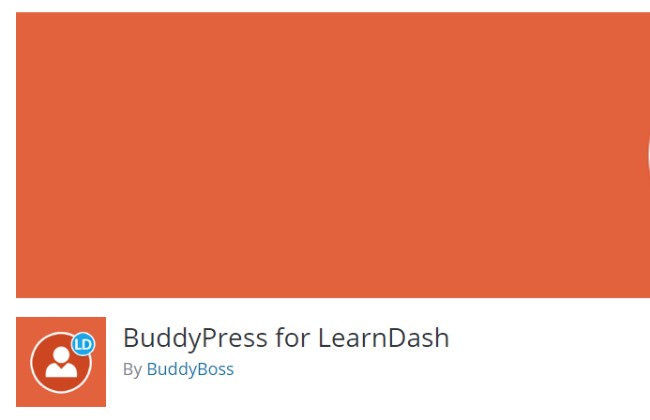 MediaPress
MediaPress allows your users to upload documents and other media files to your online community. This can be helpful in scenarios where you want your users to share information with one another or yourself.
Users will be able to share their uploaded media files within a group or to specific individual profiles. The plugin also conveniently creates a tab in the user profile or group pages from where all these uploads can be easily accessed.

BuddyPress Registration Options
When it comes to managing a social community site security and managing spam is the top priority because these kinds of sites are more vulnerable to attacks and spamming.
This plugin will help you to fight spam to a large extent. It will fight spam by restricting access to important areas of your site.
It will restrict users and bots until they are approved by the admin.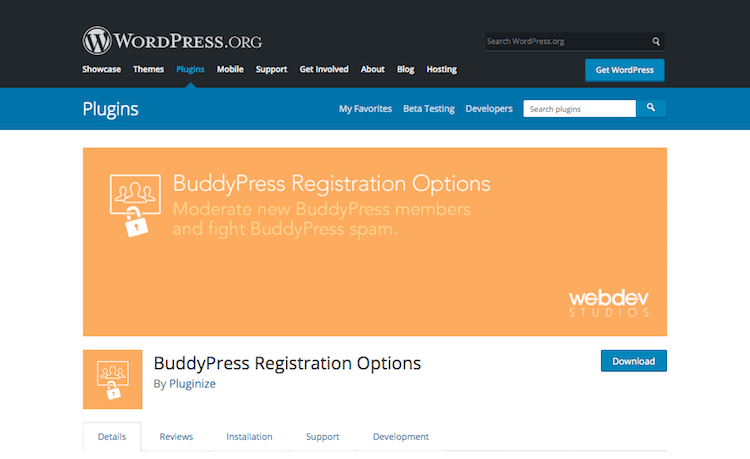 BuddyPress Profanity
When you manage a community site, it becomes very difficult at times to keep a track of all the submissions on your site. As the traffic grows, it becomes even more difficult.
The BuddyPress Profanity plugin will help you to keep your site's content clean to a great extent, that too on autopilot.
You can set the keywords that you want to censor on your site and the plugin will do the rest. The BuddyPress Profanity plugin will censor the words in the BuddyPress activities and even in private messages.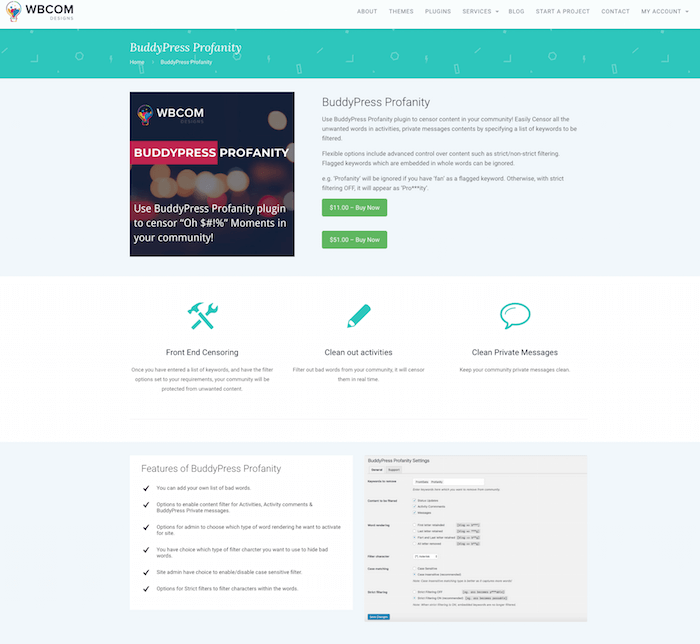 BuddyPress Polls
As the name suggests, this plugin will offer you the option to create engaging polls on your BuddyPress sites. We have already listed some of the best WordPress polls plugins here.
But not all the poll plugins are compatible with the BuddyPress plugin. You can use the BuddyPress Polls plugin if you are managing a BuddyPress community.
With this plugin, you will be able to create polls on your BuddyPress activity feed as well as in groups.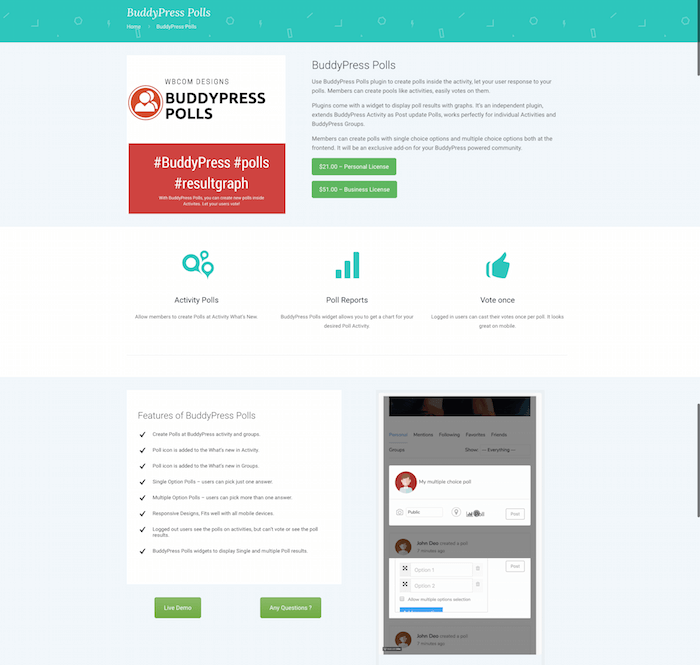 BuddyStream
This is another great plugin for BuddyPress sites because, with this plugin, you will be able to synchronize all the important social networking site activities in your BuddyPress site activity stream.
Each social network site will have its own admin panel where you can finalize the setup. The best part is that with so much data flowing constantly on your site, it will look extremely engaging which will motivate other users also to participate.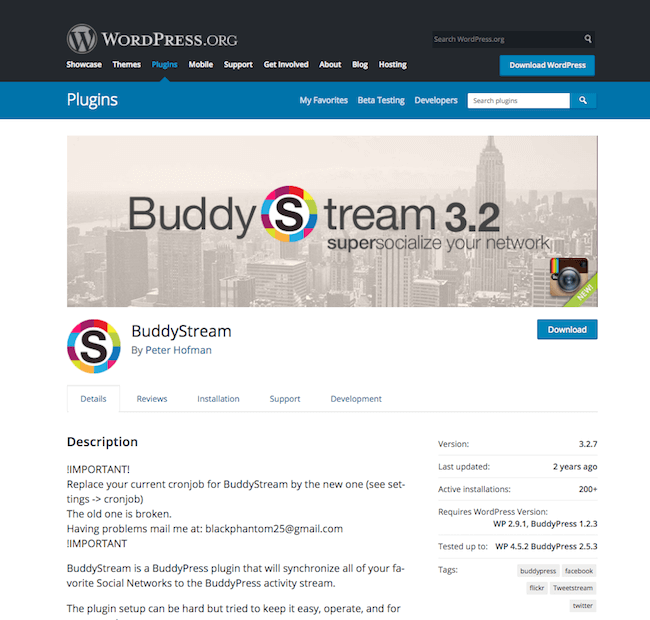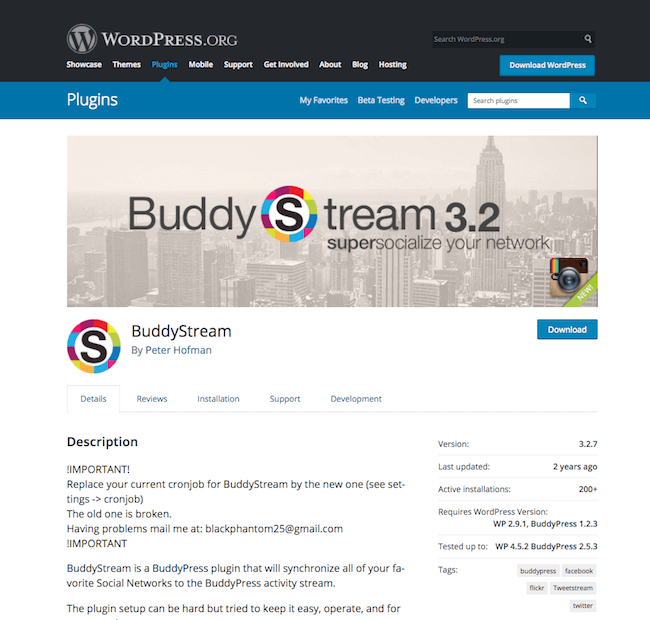 Invite Anyone
Invite Anyone is another self-explanatory BuddyPress plugin. It allows your community members to invite anyone of their friends/ community outsiders to come and join your site.
A 'Send Invite' tab will be added to the existing members' profile page which they can use to send an email invitation to their friends. Also, there is an auto-suggest feature that can make the finding people process, even faster.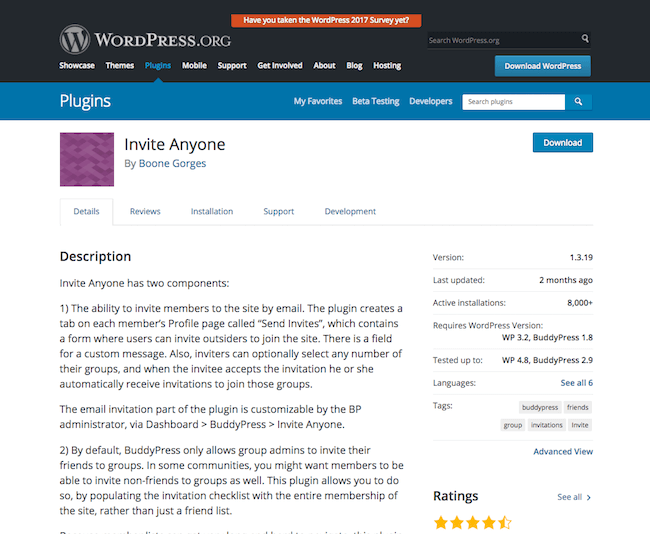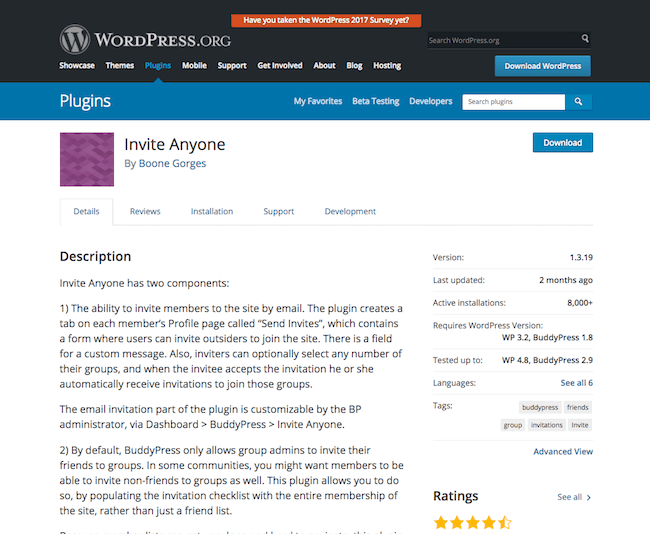 BuddyPress Security Check
BuddyPress Security Check allows you to keep a check on any spam registrations that are troubling your website.
The plugin cleverly adds an additional field on your registration form which will ask users to calculate and enter the appropriate answer to gain access.
Don't worry though, the questions are easy addition and multiplication problems that are easily answerable by humans, but not spambots.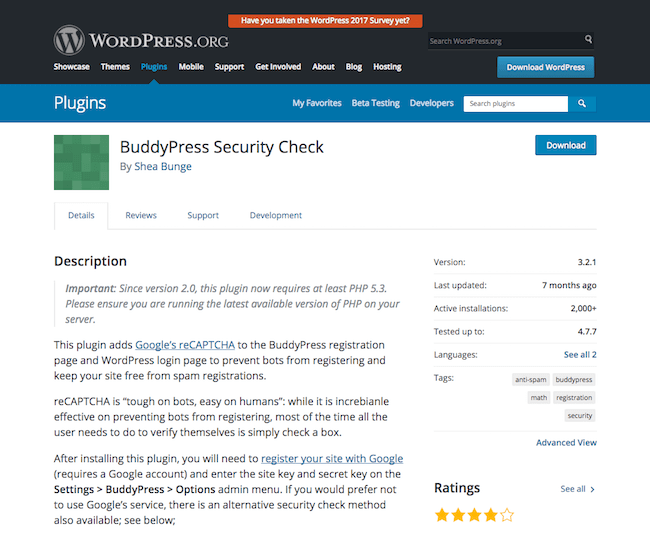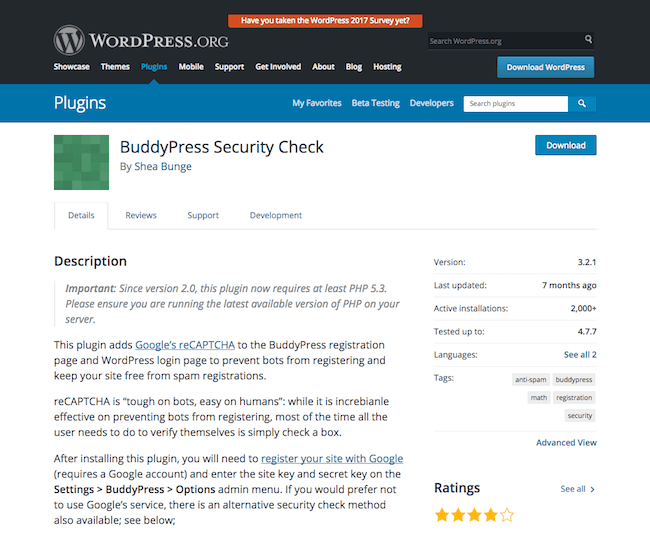 BuddyPress Default Data
BuddyPress Default Data is another very important free plugin that will help you during the setup process of your community site.
As you install and activate this plugin, it will bring in a number of users, messages, friends connections, groups, topics, activity items, profile data so that you can do detailed testing of your site before it goes live.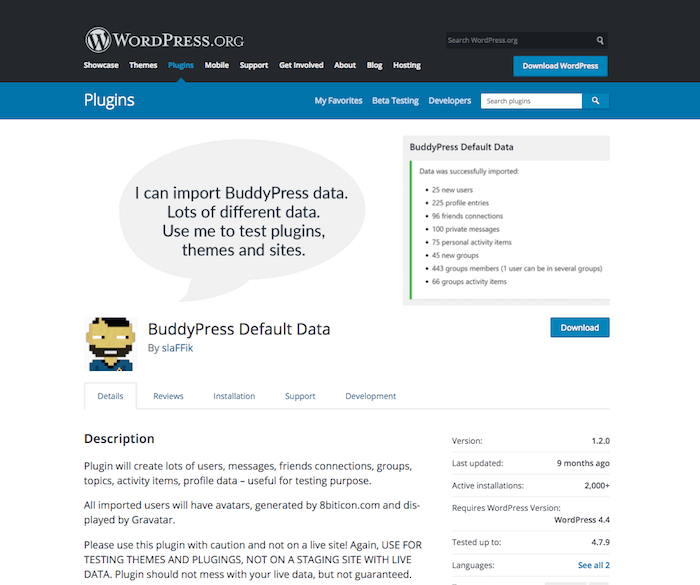 BuddyPress Better Registration
The BuddyPress Better Registration plugin will replace the default BuddyPress registration form and make it super simple and quick for the users.
This is a very useful free plugin that will make it simple but comprehensive. Like all other leading social sites, this plugin will take your users through a multi-page registration process with the option to skip the options.
The activation process walks the users through some important pages such as providing a profile photo, joining groups, and finding friends.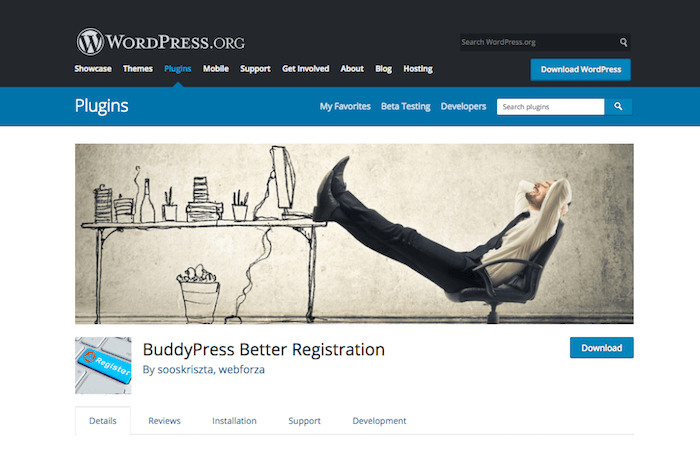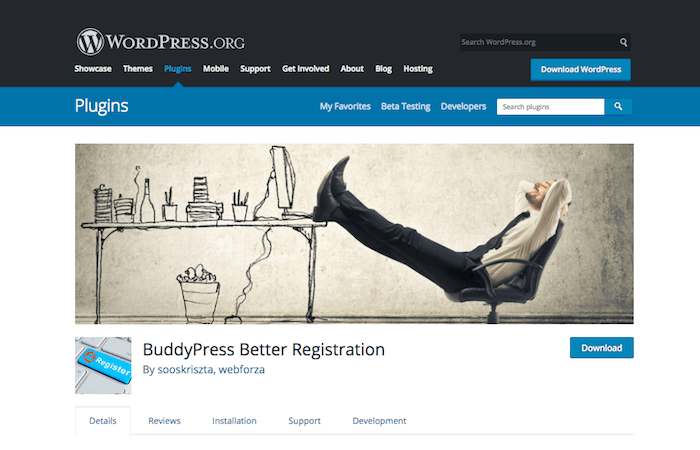 BuddyPress Group Email Subscription
This plugin will be extremely effective and useful as your BuddyPress community grows. As we are talking about a community site the groups are a very important part of it and there will be different groups with different interests.
With this plugin, your users will have the choice to get an update from their groups at intervals of their choice. The users of a group will always be updated about what's going on in their group.
Users can get daily activity details in a group, weekly activities, or all activities in a group. So, if there are a number of different groups on your community site this plugin will help you to bring back the users to your site.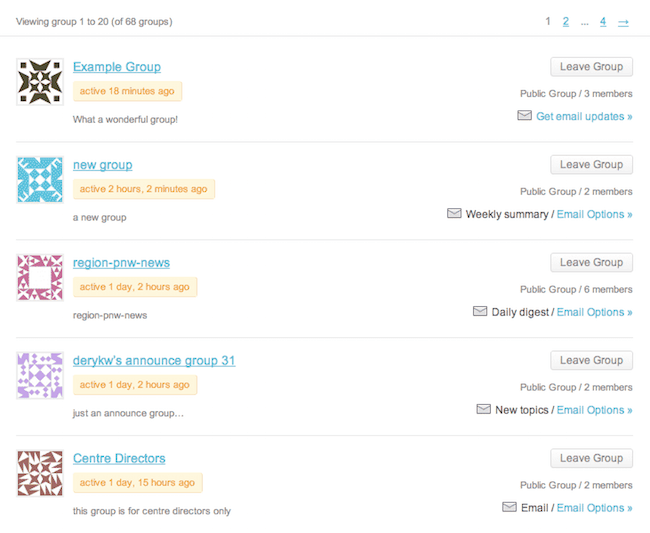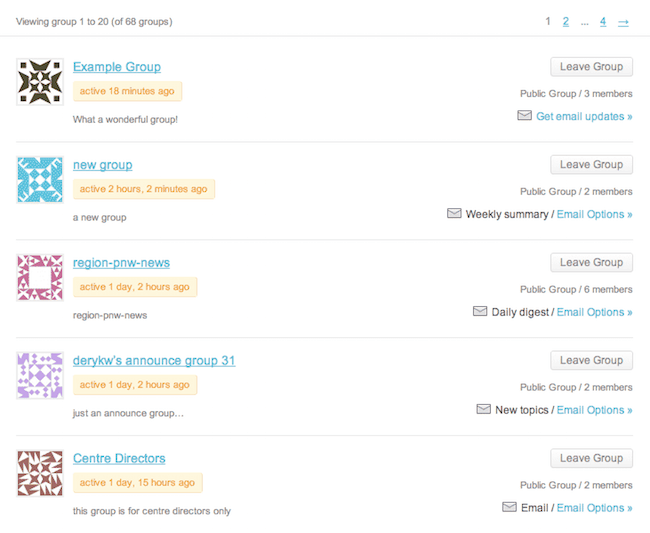 BuddyForms
Another really useful BuddyPress plugin, with this you will be able to create custom forms for your community site.
You will need a customs form for login and registration page through BuddyPress comes with a default option for all these, you can customize it as per your requirement with this plugin.
Another important job that you can do with this plugin is you can create a user-submitted content form on your site so that you can allow your users to submit content from the front-end of your site.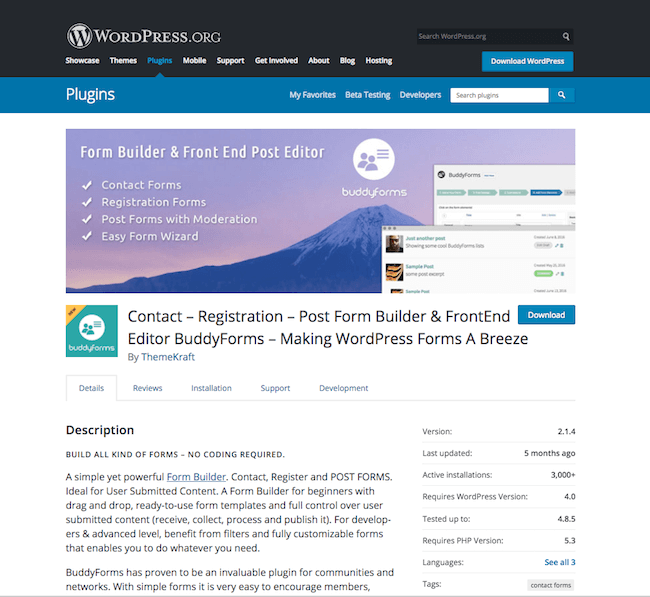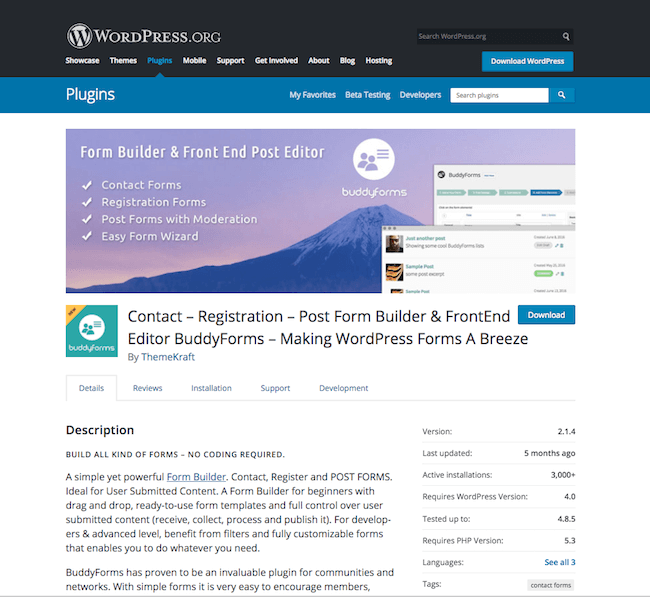 BP Member Reviews
If you have managed any community site before or managing a community site right now, I'm sure you are aware of how difficult it is to protect your site from spammers and bad members that can ruin your community.
This plugin brings in the star rating for the BuddyPress members, your users, or you as the admin can rate the members depending on the quality of their activities in the community.
It will surely help you to differentiate between the good and helpful members and other members of the site. So, if you are looking for a quality start rating plugin, this is the one for you.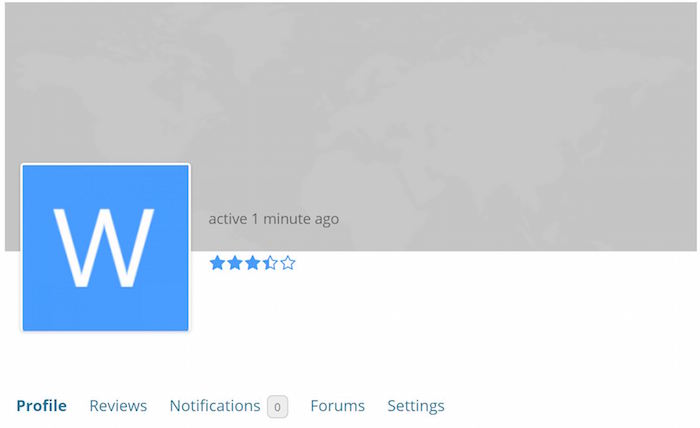 Verified Member for BuddyPress
All the top social media platforms come with a verified profile badge these days. You must have seen that on Facebook, Twitter or even Instagram where all the celebrities and other verified have a tick near their profile name.
With this plugin, you can bring the same profile verification feature to your social community site created using BuddyPress.
This plugin will give you the option to add the verified tick next to the profile name and the manual verification option. This will make your community site look more premium and authentic.
The plugin comes with its' own settings and you can choose where you wish to display the verification badge.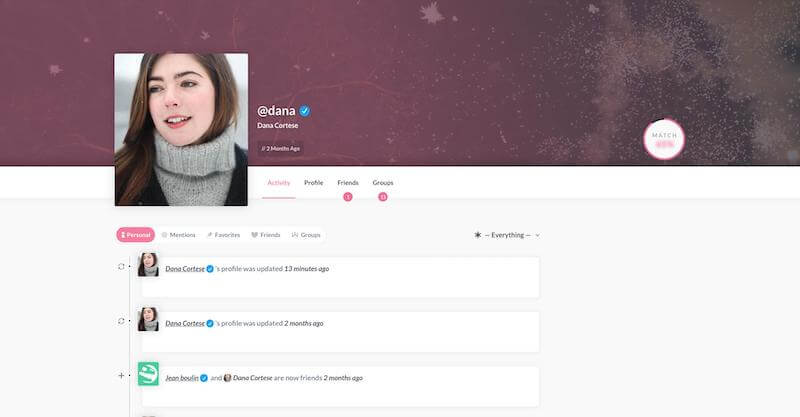 FAQs About BuddyPress Plugins
Q1. What is BuddyPress?
BuddyPress is a WordPress plugin that is used to create a social community website. As you install the plugin, it will add all the important features that are required in a social community site. You will need to use a BuddyPress compatible theme in order to make the plugin work.
Q2. Is BuddyPress Plugin Enough to Create a Social Community Site?
The BuddyPress plugin will add the basic social community features. You will need to install other relevant plugins as per your requirement. You can check the list of plugins that we have added to this article.
Q3. Can I use BuddyPress With Any Theme?
No, you can't. BuddyPress needs a compatible theme to make it work. We have listed the best BuddyPress themes in this article that you can check.
Q4. Is BuddyPress Secure?
BuddyPress has improved itself over the years and it is a much better product than it ever used to be. However, you need to add your own level of security by hosting your site in a well-secured server, taking regular backup, using a quality security plugin, etc.
Q5. Is BuddyPress The Best Solution to Create a Social Site on WordPress?
BuddyPress has been around for years and it has been the top solution to create a social community site using WordPress. However, there are a few new products like BuddyBoss Platform that offer a much better interface and solution to create a community site these days.
Q6. Is BuddyPress Free?
Yes, BuddyPress is a free-to-use open-source plugin that you can add to your site and start using without any payment.
In Conclusion
This has been our list of the best BuddyPress plugins on the market. You might not need all of these on your website, but depending on the style you're going for, some of these will come in really handy.
So do tell us which plugin you chose and what type of community you are running.
Now if you are already a BuddyPress user and have some other favorite plugins that we forgot to mention, then let us know in the comments section. Your contribution will be highly appreciated, and your fellow readers will get even more options to choose from.