If you are a WordPress user, then BuddyPress offers the best means to create a social community on your website. However, BuddyPress isn't fully feature packed in and as of itself.
You will need to install a couple of BuddyPress plugins on your site to get all the features that you need.
So in this post, we have put together a list of the best BuddyPress plugins to help you create a social networking community that you dreamed about. So without further ado, here are 12 Best BuddyPress Plugins:
Note: All WordPress themes are not compatible with BuddyPress plugin, so if you are running a BuddyPress community, we suggest that you install a BuddyPress theme as well. This will make sure that all listed are compatible, and will also help you to make a better community website for your users.
Top BuddyPress Plugins
BuddyBoss Wall
BuddyBoss Wall allows you to add a Facebook like wall to your BuddyPress site. This can be helpful as most of your users will instantly know how to interact with your website. Your users will be able to add posts, like other people's posts, comment on posts and all the familiar stuff.
The plugin can also be used add a news feed to highlight everything new that is happening on a user's friend list or groups. There is also an abundance of privacy options which users can take advantage of to get the most out of your website.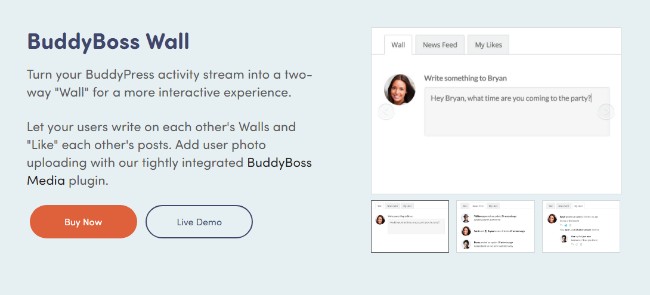 BuddyPress Follow
BuddyPress Follow allows you to add something similar to a Twitter follow button on your community website. So if Facebook isn't your go-to style, you can use this one. Or you can use both this and the previous plugin, to create a unique experience for your users.
The plugin is straightforward to use and will add a follow and unfollow button to user profile pages. It works just like Twitter, so your users won't have much trouble using it – unless they have never used Twitter.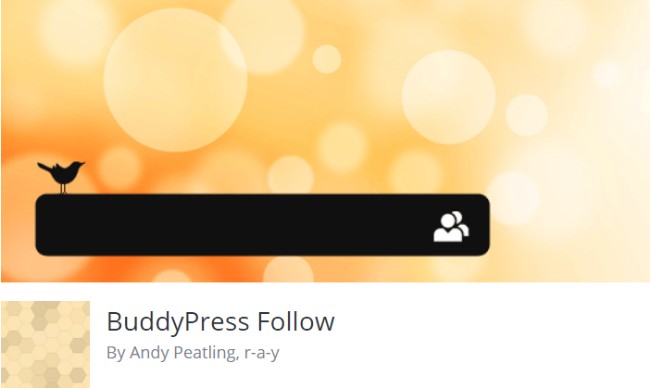 WPMU Dev Chat Plugin
WPMU Dev Chat Plugin adds the most crucial feature necessary to maintain a thriving community – the ability to chat. BuddyPress does come with a message component, but it is very lacking. This plugin allows your users to engage in conversation with one another, and also gives you the ability to use it as a customer support tool. Other features include the option to assigning roles, avatars, archiving chats, polling users, and more.
The plugin gives you the option to add a bottom corner chat window to your pages as well as posts. Users will be able to join chats using their social media accounts. The size and color of the chatbox are also customizable.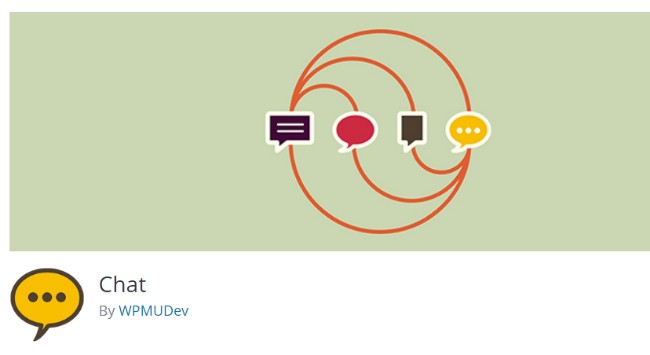 BuddyPress Inbox
BuddyPress Inbox adds many necessary features and functionalities to the default messaging feature present in BuddyPress. Once installed and activated, the plugin will allow users to use functions like WYSIWYG text formatting, drafting and auto-save options, labeling, and much more. While sending an attachment through messages, the recipient will also be able to get an image preview of the received file.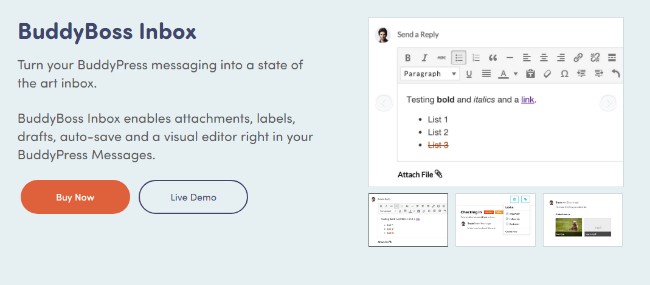 BuddyPress User Blog
BuddyPress User Blog comes from the same people behind BuddyBoss Wall. The plugin is designed to offer blogging abilities to members of your website. It can be very helpful if you are looking for ways to turn your website into a content producing the machine.
Users will get all the necessary abilities to run and maintain a blog. The interface provided by the plugin is also very easy to use and comes packed with many options.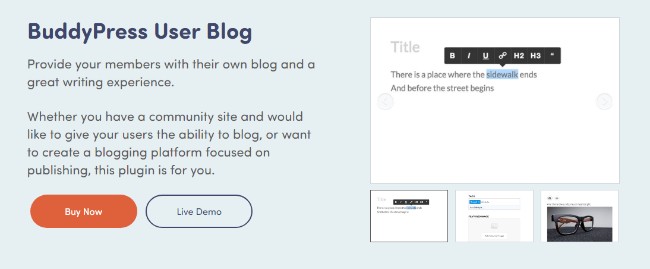 BuddyPress for LearnDash
BuddyPress for LearnDash allows you to connect LearnDash with your BuddyPress community. LearnDash a premium Learning Management System WordPress plugin. So if you are thinking of creating a community education website, then utilizing this plugin will help you to combine the LMS features provided by LearnDash to your BuddyPress community.
You will be able to create a private group for course participants. You will also be able to monitor group interactions through an optional activity stream, as well as control course inception and completion, grading, and comments moderation.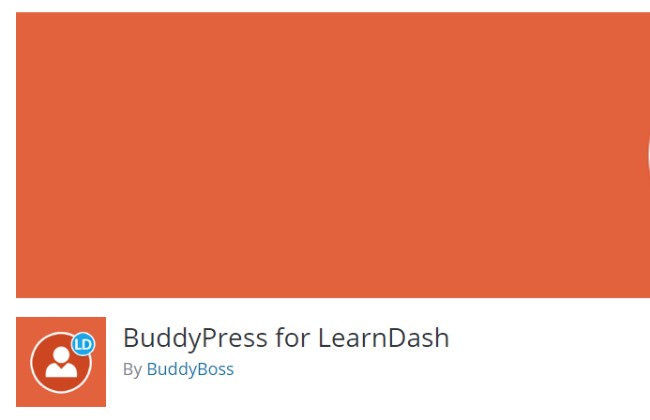 UserPro
UserPro allows your users to log in to your community through their social profiles. It also gives option to manage their account on your site. This feature is essential because many users find it irritating to go through a long registration process. Using their existing social media profiles to login can make things easier and secure.
The plugin also provides you with a beautiful front end registration screen if needed, and login system. You can add unlimited custom fields to the registration process. Besides these, the plugin also gives you features such as publishing option, badges, and achievements.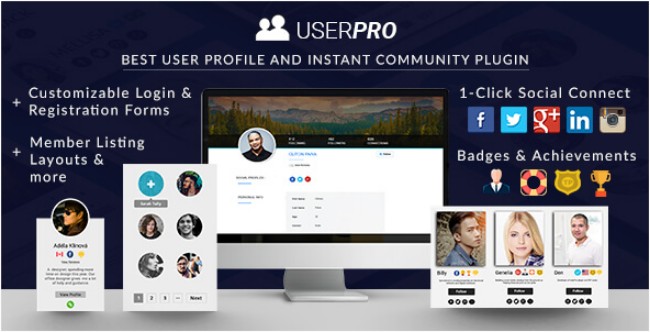 BuddyPress Member Types
BuddyPress Member Types gives you options to add different types of roles to your community members. It can be necessary if your community has different types of members, each contributing differently. For example, if you are running an online learning community, then you can assign specific members to be teachers and other to be students.
The plugin allows you to manage and assign all the different member types right from the wp-admin panel. It will also make up separate registration forms and profile fields for each member type. You can also add exclusive tabs to different member pages.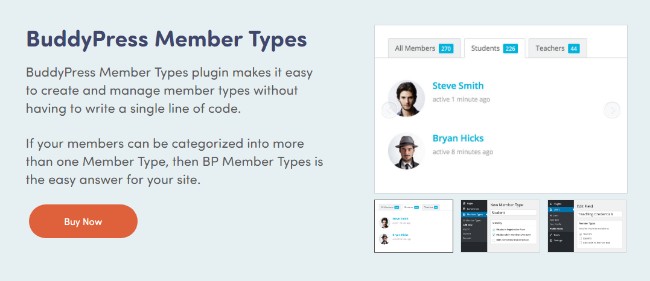 MediaPress
MediaPress allows your users to upload documents and other media files to your online community. This can be helpful in scenarios where you want your users to share information with one another or yourself. Users will be able to share their uploaded media files within a group or to specific individual profiles. The plugin also conveniently creates a tab in the user profile or group pages from where all these uploads can be easily accessed.
BuddyPress Group Calendar
BuddyPress Group Calendar helps you add an event calendar to your community website. Once activated, a calendar tab will show up on the group page from where members will be able to see all upcoming events. The plugin can also be configured to allow both admin and users of a group to add events, edit event details, notify group members, and easily see upcoming events via an interactive calendar.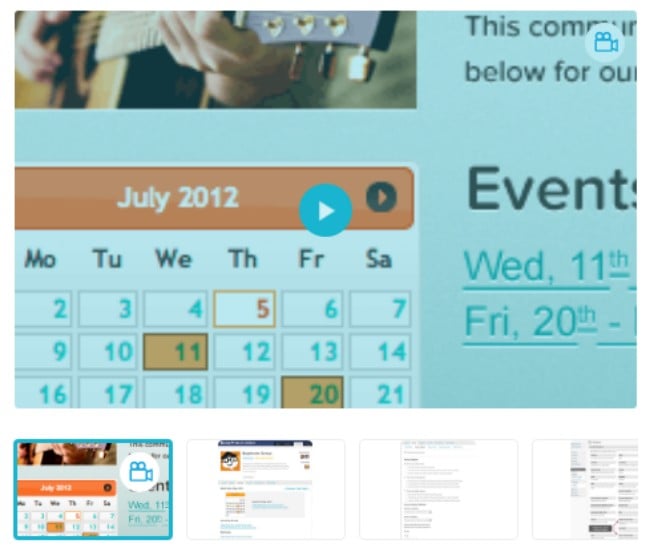 MarketPress eCommerce
MarketPress eCommerce allows you to include product selling options on your community website. Starting from digital download to material goods, you will be given all necessary options to guide customers through finding the needed product, adding it to their cart, and then on checkout and delivery. The plugin comes with over 15 payment processing options and an option to provide updates on the status of your customer's orders.
FundRaising Plugin
FundRaising Plugin for BuddyPress does what it is called. You can use the plugin to collect donation or even start a crowdfunding campaign. You will be given options to set the time frame for the fundraising event, track progress, generate a custom thank you note to contributors, send email confirmations for payment and much more.
Also if you don't want to handle the process all alone, you can assign roles to your community members as well. There are even options to set up incentives to reward donors according to their contribution and set up a goal accomplishment display, so everybody and see the progress achieved.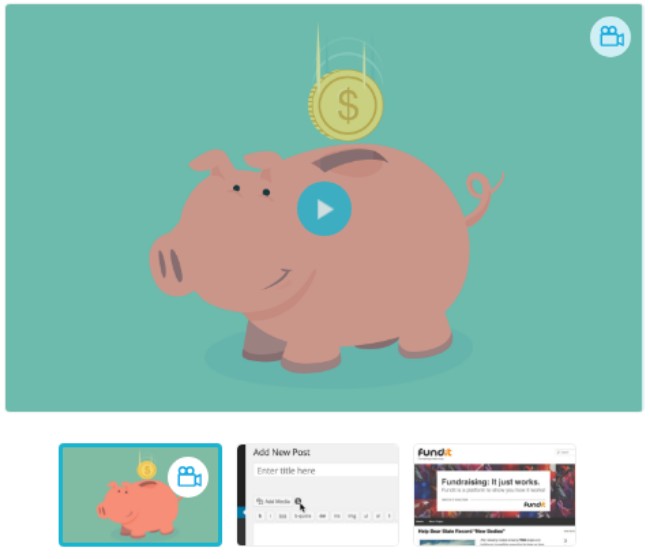 Invite Anyone
Invite Anyone is another self-explanatory BuddyPress plugin. It allows your community members to invite anyone of their friends/ community outsiders to come and join your site. A 'Send Invite' tab will be added to the existing members' profile page which they can use to send an email invitation to their friends. Also, there is an auto-suggest feature which can make the finding people process, even faster.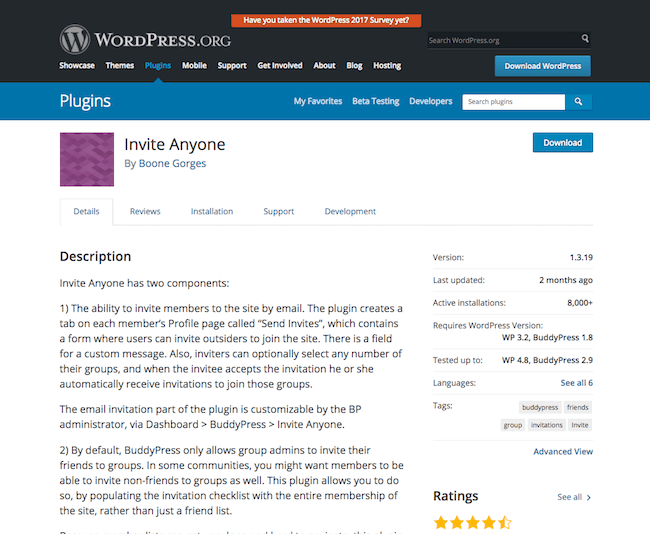 BuddyPress Security Check
BuddyPress Security Check allows you to keep a check on any spam registrations that are troubling your website. The plugin cleverly adds an additional field on your registration form which will ask users to calculate and enter the appropriate answer to gain access. Don't worry though, the questions are easy addition and multiplication problems which are easily answerable by humans, but not spam bots.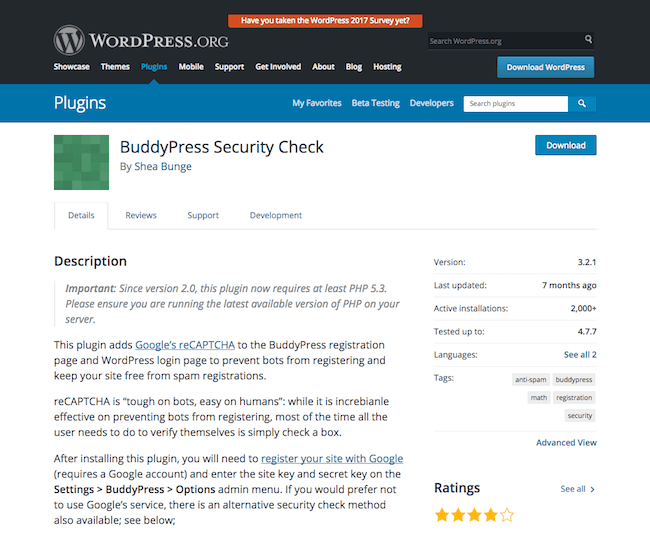 WangGuard
WangGuard is a security plugin for your BuddyPress website that will help you keep it safe from security threats and malicious attacks. You might know of the many security plugins out there that are for protecting your WordPress site. But BuddyPress has its separate set of security issues which can be taken cared by this plugin.

In Conclusion
This has been our list of the best BuddyPress plugins in the market. You might not need all of these on your website, but depending on the style you're going for, some of these will come in really handy. So do tell us which plugin you chose and what type of community you are running.
Now if you are already a BuddyPress user and have some other favorite plugins that we forgot to mention, then let us know in the comments section. Your contribution will be highly appreciated, and your fellow readers will get even more options to choose from.