If you are a freelance content writer, productivity is an important aspect to look at. The more content you can produce, the more money you can make.
How can I be the most productive on Freelance Content Writing projects?
The thought must have crossed your mind many times.
You'll find your answers right here, as this article discusses some of the best productivity tools for Freelance Content Writers.
Why do you need them?
Whether to keep track of the time for personal accountability or to communicate billable hours to be paid, a freelance writer is under constant pressure to manage many things at once.
To find the right balance between freedom and stability, you need these tools to handle your day-to-day job and keep you focused.
In this article, we will introduce you with 10 productivity tools that as a Freelance Content Writer, you should definitely consider checking out.
Let's get started!
Toggl
If you want to turn yourself on productivity as a Freelance Content Writer, Toggl is a perfect place to start. You don't need any previous experience or expertise to use this effective time-tracking device.
Depending on the duration of the project, it helps you to build tasks and upload a list of responsibilities under them. By breaking down your hours to projects and clients, it will help you estimate how much your time is worth. You can also allocate billable rates to your projects.
What if you actually forget to track your time?
The best feature of this tool is that the Toggl button and Toggl desktop apps will put a reminder for you whenever you're not tracking. Also, it will detect idle time if you somehow forget the stop the timer.
Benefits:
Provide useful data visualization to check the profitability of the tasks.
All your data is synced with the Toggl Mobile app, desktop app, and browser.
It allows you to integrate more than 100 apps for fewer distractions.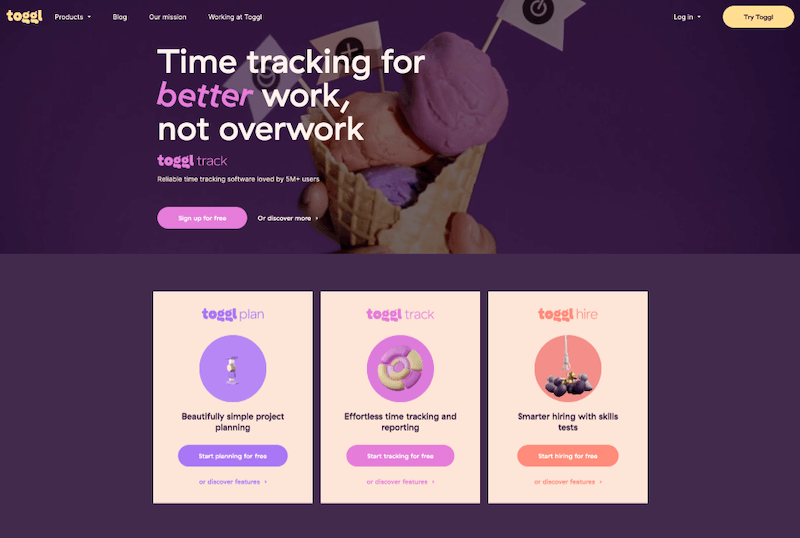 RescueTime
Looking for an app that shows you how you spend your time online?
RescueTime monitors and stores the time you spend on each task you set, such as emails, social media, and writing. It is where you can take more control of your productivity.
Let's just say if you create a goal that you'll spend only one hour a day for emails and half an hour on Facebook, it will notify you once you have worked a certain amount of time on these tasks. Moreover, to avoid distractions, it controls the website you're allowed to access.
Benefits:
This powerful time management tool can also be used by a team.
You can also add offline tracking with a single click.
It allows you to integrate your favorite apps.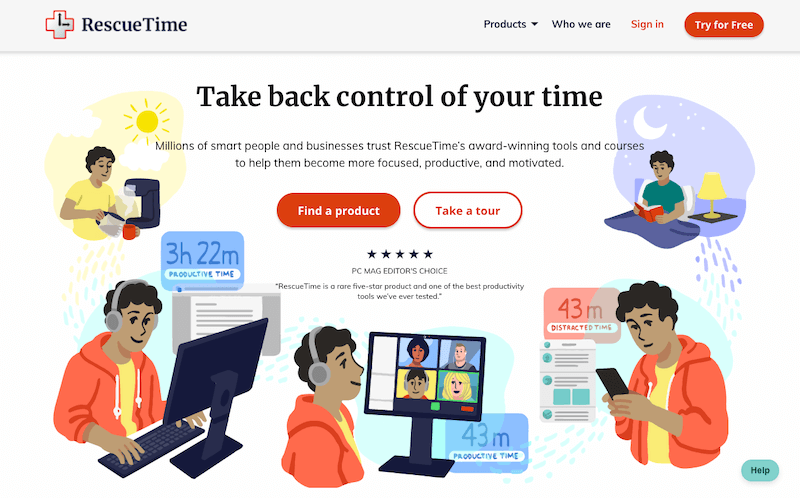 Timely
Another similar tool that works by tracking everything that you do during the day and then giving you a summary so that you can change and strengthen your time management.
Trusted by more than 5000 customers worldwide, Timely eliminates the need for timelines to be reset, as the entire time tracking is taken away from your hands. This also helps you to envision and schedule project resources that will allow you to see how much time you spent on your client portfolio.
The best feature of this tool is that it connects with every popular work-app such as Trello and Asana that would add more features to its list.
Benefits:
Your tracked data is kept completely secure from any third-party interventions.
It also allows you to enable location tracking to get a detailed report of the day.
Real-time dashboards and synchronized scheduling keep the teamwork visible.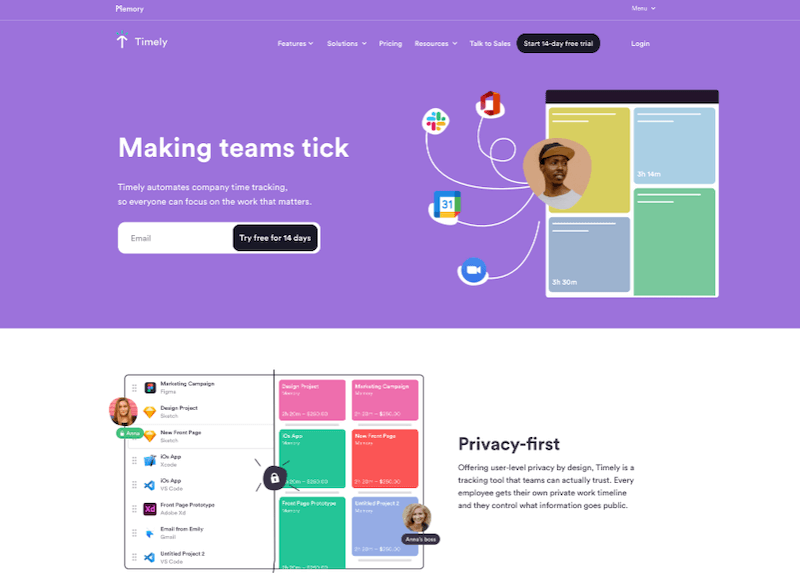 Trello
Trello has certainly been the assistant that any freelancer wants. From generating all the ideas that you would like to build in the future to provide access to a dedicated board where you can coordinate and prioritize your work, Trello is a must-have content writer tool.
Through attaching attachments, due dates, checklists, comments, or your Trello card, you can quickly see all the details at a glance.
Not only it is ideal for a solo freelancer but also if you're looking forward to work in a team.
Benefits:
With the help of Butler, you can unleash the power of automation and remove tedious tasks from your to-do list.
It allows you to integrate all your work-apps directly into the workflow.
You can color code the tasks depending on their status.
Also, if you wish to check similar tools like Trello, here is a list of best alternatives to Trello.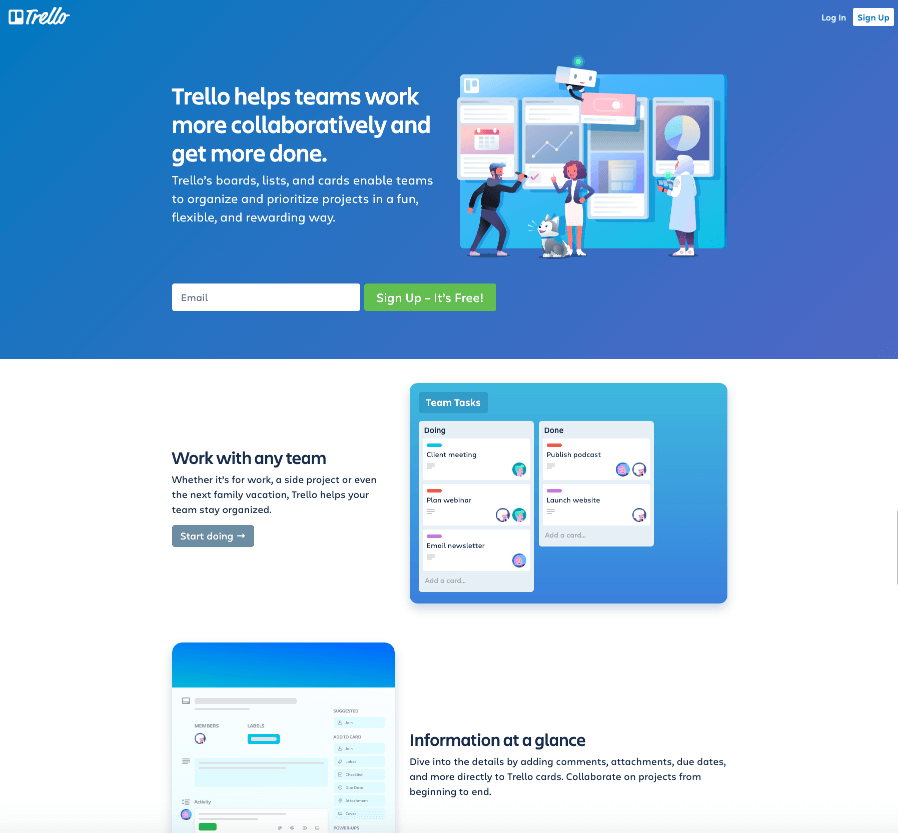 Asana
Every Freelancer struggle with keeping their tasks in order. Asana is one of the best planning resources on the internet to organize and arrange your work in a way that's best for you.
Asana develops visual project plans to see how each step maps overtime to remove roadblocks and improve productivity. For Freelance Content Writer, Asana will act as an alternative to email as you can ask your client to communicate and exchange all essential documents in one location.
If you are handling a multi-page project, you'd want this efficient management system to avoid errors and missing important documents.
Benefits:
To track all of your work in one place, Asana allows you to integrate all the other essential apps.
You can use repeatable processes to automate recurring projects.
It sends you notifications to your email and phone to avoid missing deadlines.
Also, here is a detailed review of Asana, and if you wish to know about similar software like Asana, here is a list of top alternatives to Asana.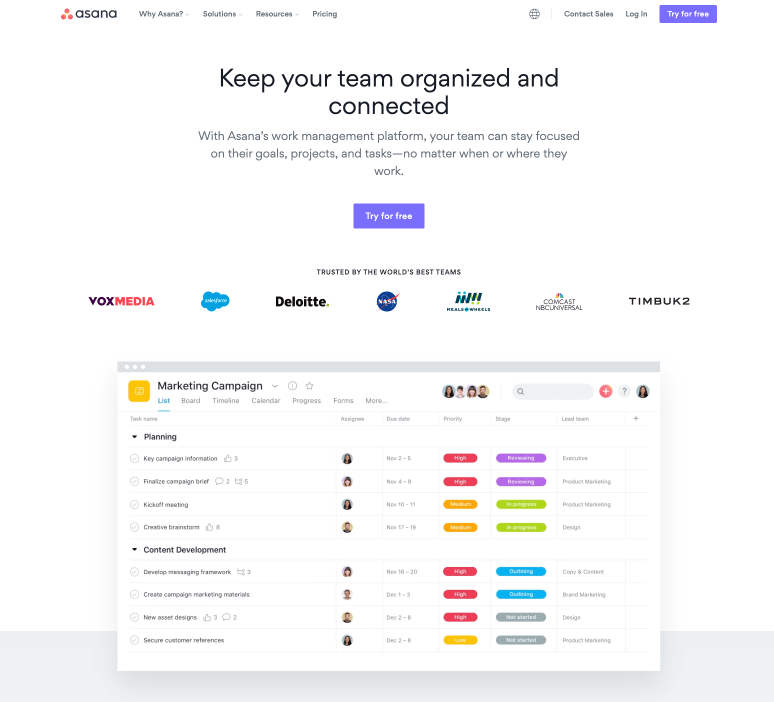 Harvest
In business for a decade, Harvest harnesses the power of time tracking to make it easier than ever to get answers to productivity problems.
As far as accessibility is concerned, Harvest is a simple winner, promising to provide easy and fast time tracking on your laptop, iPhone, Android, and even on your Apple Watch. It's very impressive!
Harvest's timesheet not only helps you but also lets the team handle the time more effectively. In addition, intuitive visual updates from your timesheet will make sure that you're on the right track for your projects.
This doesn't end here, because it also lets you turn your billable time into professional invoices and sends them directly to your customer.
Benefits:
Harvest works amazingly well with all the other apps with seamless integration.
Harvest enables you to see your team's time with a quick glance.
The easy editing of time tracking mistakes and automatic reminders makes Harvest worth every single penny.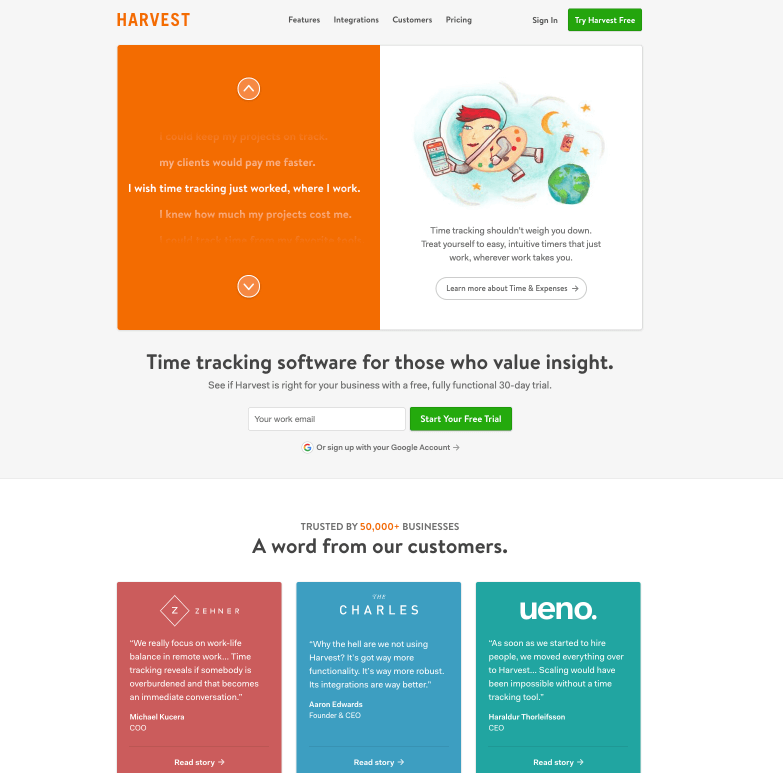 Focus Booster
Just as the name suggests, Focus Booster, based on the "Pomodoro technique," helps you to complete your tasks while taking regular breaks. To improve productivity, your dashboard will show you the progress that will help you prepare better in the future.
This simple time tracking tool enables you to stay focused on your task and complete it on time. Further, if you have an unavoidable interruption, Focus Booster allows you to save the incomplete session.
Without creating any fuss, your timesheets are created automatically.
Benefits:
It not only allows you to share your time reports but also to create invoices for them.
You can easily customize your time preferences according to your workflow.
It is available on windows, mac, online, and mobile.
Time Doctor
Another cure for time-wasting habits, Time Doctor is more than just a remote time tracking tool. To see what's done throughout the day, it creates a summary of the time spent on each project and client.
To work smarter, it creates seamless timesheets for you to manage. If you find an error, you can easily edit the time manually. The project management and budgeting feature of this tool allow you to analyze the project reports to see what takes up the most time and improve your efficiency at every level.
Moreover, if you've gone off-track, the distraction alerts will come to your rescue.
Benefits:
Screenshots of the users' computer screens are taken every few minutes to show that they are operating.
From desktops, chrome extensions to mobile phones, you can use this tool on all devices.
It also allows you to integrate over 32 popular work-apps.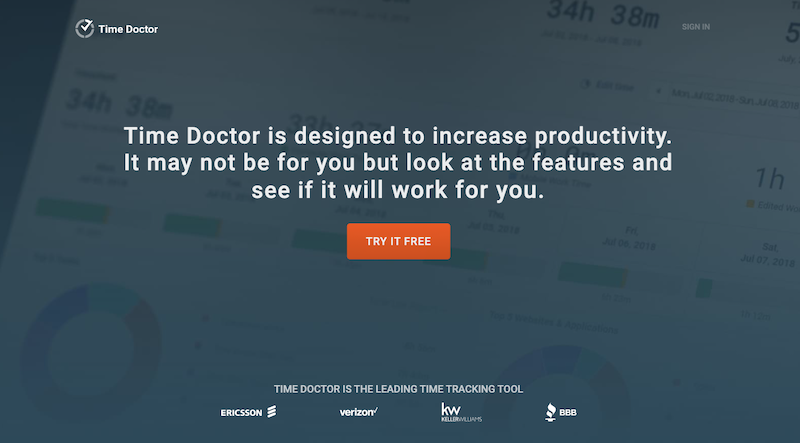 Ulysses
Ulysses can prove to be a blessing for every freelance content writer who is working on Mac, iPad, and iPhone. In fact, it is their first choice in most cases.
With a clean, distraction-free interface, Ulysses offers a full suite of organizational tools to keep everything you write in one place. Moreover, iCloud helps in synchronizing all your work on all your connected devices.
In addition, Ulysses's versatile export function enables you to export your files in various formats.
Benefits:
To have a beautiful and focused experience, Ulysses provides you customizable workplace.
It enables you to search your required projects through various search filters.
To be even more productive, it allows you to set writing goals and helps you track your progress.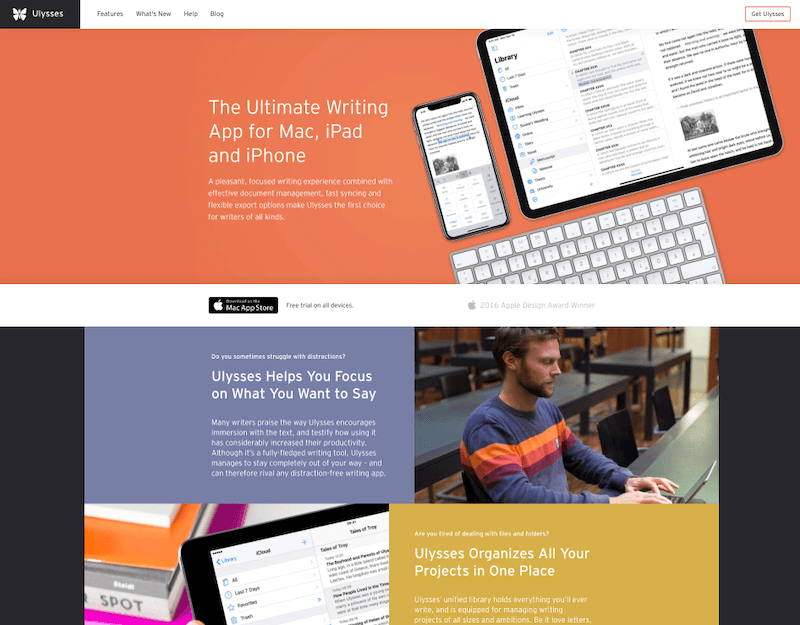 Ayoa
Previously known as Droptask, Ayoa is definitely not a new player in the market. In fact, Ayoa has every possible feature that will help you deliver your work on time.
Ayoa has managed to establish itself as one of the best tools to coordinate your daily tasks. Not only does it make you more efficient by bringing responsibility to your job, but it also helps to collaborate with others and connect to social media.
Ayoa's Mind Maps feature encourages you to be at your best as it helps you explore your best ideas with unparalleled ease.
Benefits:
It seamlessly syncs with Google, Evernote, and other popular apps.
To focus on the progress, it will update you with the progress percentage to inform how close a task is to completion.
It also provides tons of visual boards to choose from.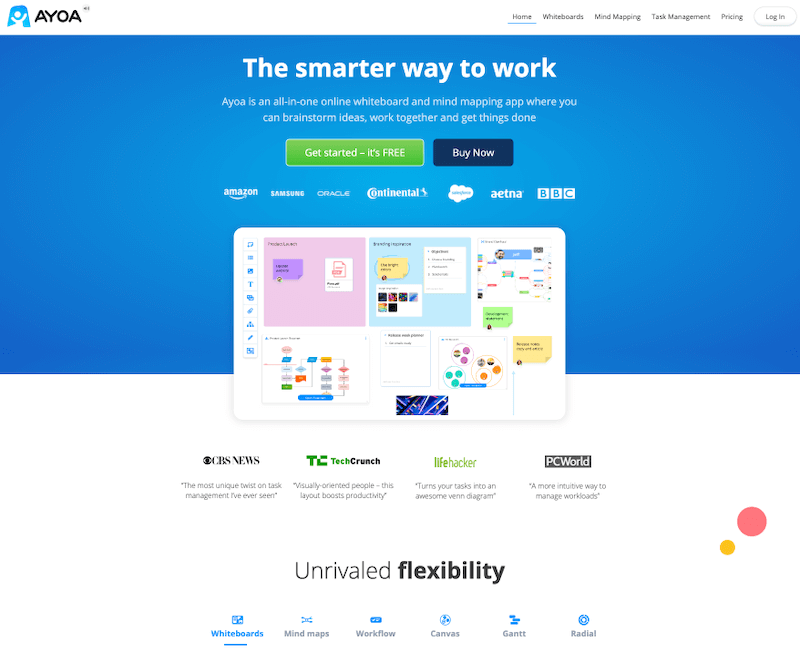 Conclusion
While you can not use all the above-listed tools, you must pick the right tool that would work for you and increase your productivity.
No one understands the proverb "Time is money" than the freelance content writer and depending on the kind of projects you'll be working on, these tools will keep you as productive with your time as possible.
Don't miss these articles