Are you looking for the best websites to create a blog for free? Well, we have listed the top platforms to create a free blog in this article.
In the late 1990s, the first blog appeared and since then, the evolution of the blogging world continues. Just like social media platforms like Facebook and Twitter, blogging helps in reaching the audience and becoming more visible in the virtual world.
Sometimes before starting a blog, people are often confused about the platform they should use to blog. There are many options available.
Blogs can be categorized into various types, such as Personal, Business, Professional, Niche, Reverse, Affiliate, Media, and Freelance. There are many free blogging platforms and each one is unique in its own way.
One must choose the platforms carefully before creating an account and starting to write blogs.
In this post, we bring you the best websites to create a free blog.
Before creating a blog with free blog sites, one must understand that they have a shared domain or subdomain. Also, they don't own the domain and won't be able to make a profit from the blog the way they have planned.
However, I would personally like to advise you to create a self-hosted blog that will cost you to manage $4-$5 a month but you will have full control over it and it will make your blog look a lot more professional.
Here is a post that will guide you to create your blog with a step-by-step process and we have published a number of articles to help you scale up your blog.
Also, we have listed some of the best free hosting services where you can host your site for free in this post.
01

.

Wix
Just like Weebly, in Wix also, the users are not required to have knowledge about website design and HTML coding. With the available user-friendly features, people can make changes to the look of the websites.
Also, this is one of the best platforms to start a business blog. There are plenty of tools offered by Wix to assist growing businesses. In recent times, Wix became one of the most preferred blogging platforms due to impressive results with simple and user-friendly tools.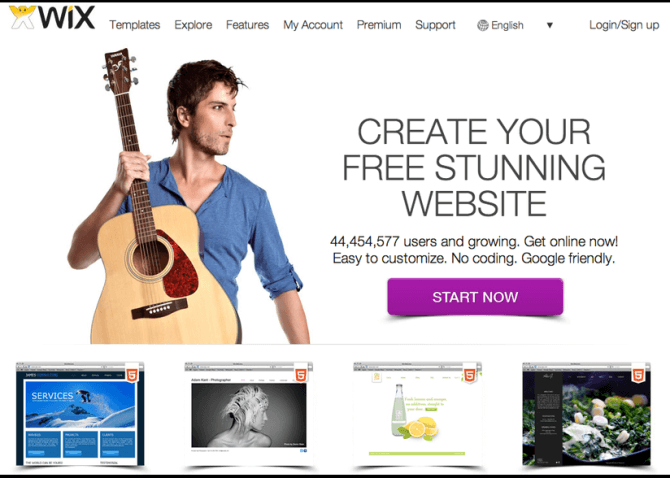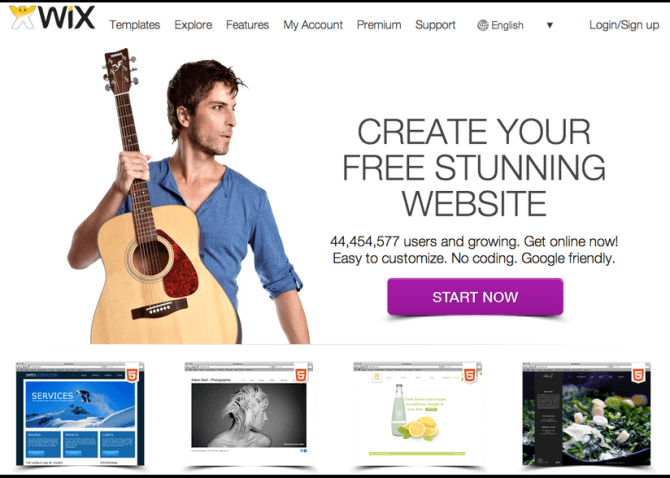 02

.

WordPress
One of the most popular sites for bloggers and web designers across the world is WordPress because of its unique features and flexibility. There are more than 76 million blogs in WordPress.
WordPress is completely modifiable and controllable by the user. You have access to tons of plugins that help to enhance the site's design and functions.
Now, if you are starting a new site and don't have much knowledge about WordPress; you need to understand there are 2 different WordPress that you will find when you make a search.
The first one is WordPress.com where you can start a blog for free and the other options are WordPress.Org where you can download the software and use your custom domain and hosting.
Self-Hosted WordPress Blog
When we talk about self-hosted WordPress blogs. This blog you are reading right now (BeginDot.com) is a self-hosted blog. We have purchased hosting and used WordPress blogging software to build our site.
There are a number of advantages to a self-hosted blog. The first one is the ownership of the blog. You will be the owner of the domain name, all the content, and the overall brand of your site.
You can monetize your blog as per your wish. You have multiple ways to monetize a self-hosted blog by using AdSense ads, affiliate marketing, creating online courses, or any other way.
In a self-hosted blog, you will have complete flexibility in terms of the design of your site. You can use the most popular WordPress themes like the Divi Theme or any other theme from thousands of options available.
You can add almost any feature by using the top WordPress plugins like Elementor, Yoast SEO, or any other plugin according to your need.
You can create any kind of website on a self-hosted website, not just a simple blog. For example, if you wish to create a social community site like Facebook or Twitter, that is possible on a self-hosted blog by using a product like the BuddyBoss platform.
If you are a complete newbie and have no clue about how to create a blog, you don't have to panic because the process is very simple.
To start a blog, you will need a domain name (domain.com), and a hosting account where you will host your blog. You can go for Bluehost as it is extremely affordable, offers high-performance, and is used by millions of users.
You can check our step-by-step guide with images to create a blog with Bluehost. If you are still confused, you are free to contact us by using our content form and we will help you to set up your first blog.
Even the cheapest Bluehost plan will offer great performance 24×7 support, free SSL certificate, unlimited bandwidth, and of course a free domain name for your blog. So, you don't have to look for any other option.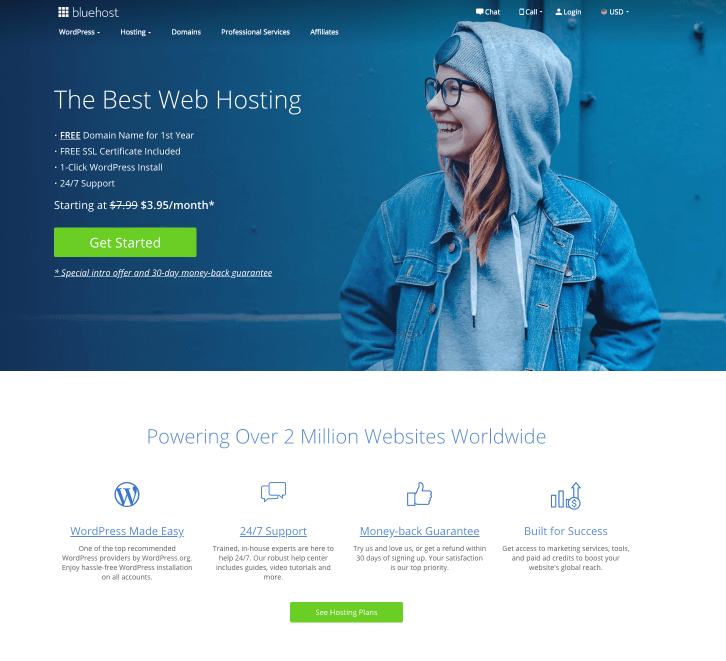 Create a Free Blog on WordPress
The second option is to create a completely free blog on the WordPress platform. Now, you need to remember that the option to create a free blog on WordPress is on the WordPress.com extension. and the self-hosted option that we discussed above is in the WordPress.Org extension.
You can create a completely free blog on the WordPress platform. However, you will not be able to use your own domain name in the free blog options, you will have to use the subdomain with the main WordPress.com domain attached to it.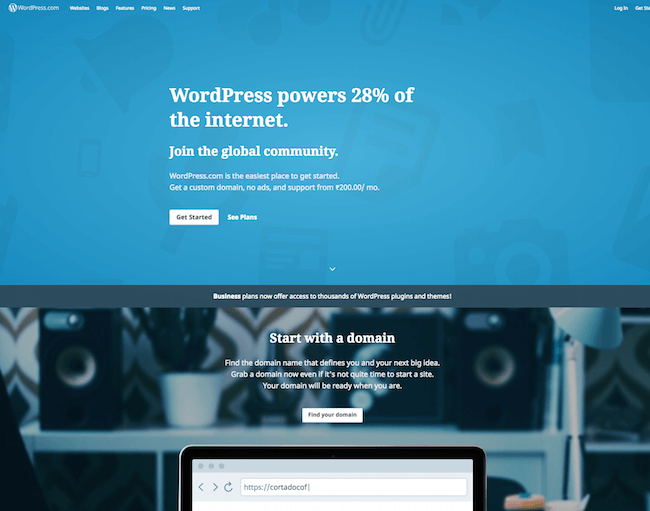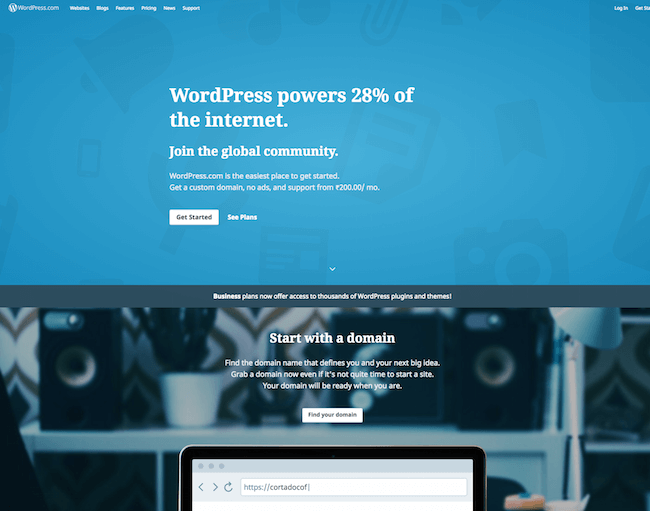 03

. Site123

Site123 is one of the best platforms to create a free website. And if you wish to grow your website and go for the premium plan, they have some really affordable plans with amazing features.

This is a newbie-friendly platform to create a website. You don't have to be an expert to create your first website on Site123. Your site will be ready in just 3 simple steps.

You can choose your website type in the first step and proceed. As we are talking about a blog in this article, select a blog and proceed.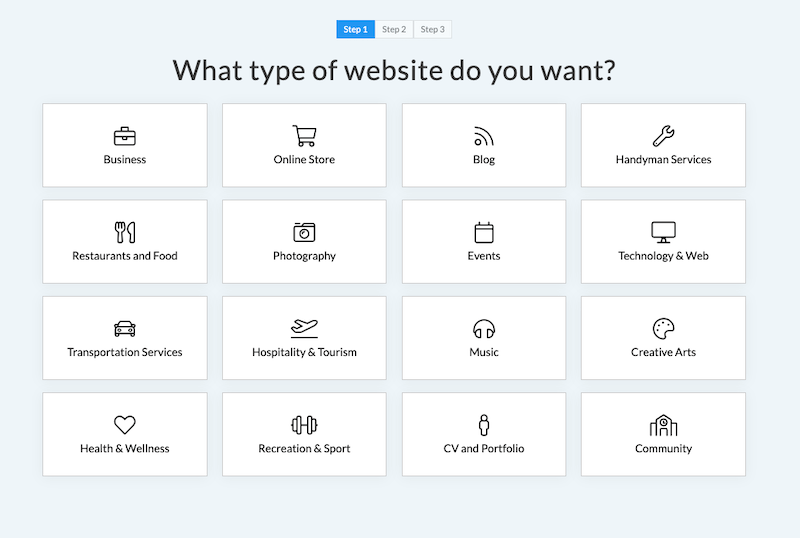 Site123 comes with easy to use drag and drop website builder so that you can create a professional-looking website for your business without any coding. It is a lot easier on Site123 to create a website than any other traditional website builder.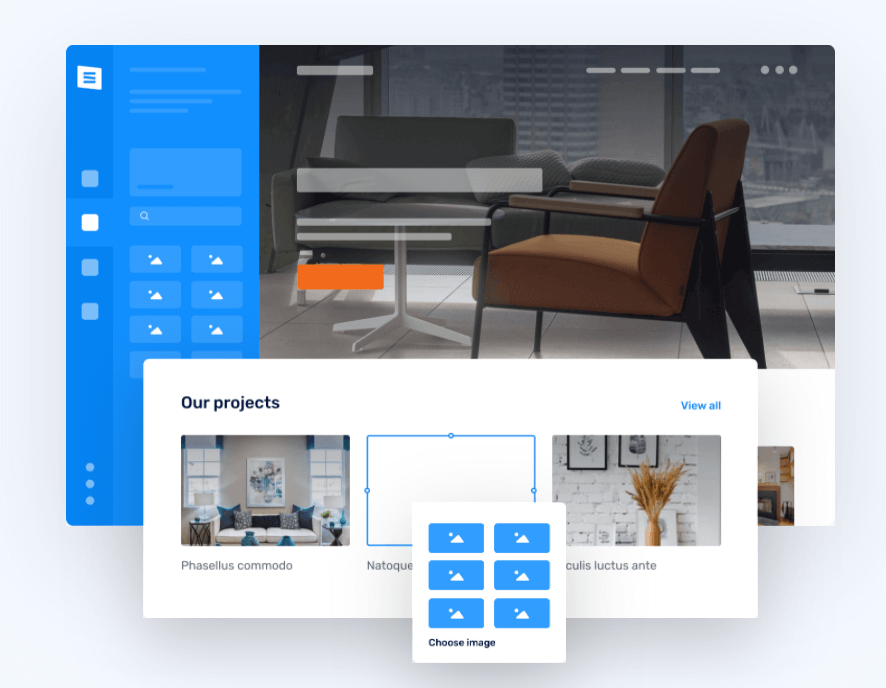 Another advantage of using Site123 is that it comes with some great-looking modern website templates to create your website without any technical knowledge.
Other than a simple website, you can use the Site123 website builder to create a comprehensive eCommerce site with all the important features.
04

.

Blogger
For a quick and simple Blog, the Google-owned Blogger is the best in the market. Blogger is user-friendly, and one can understand the setup within minutes. However, this site is for only beginners and hobby bloggers who just want to write content to document their thoughts.
Though you can create a professional blog using Blogger, the customization possibilities are limited as compared to other popular blogging platforms like WordPress.
You can easily monetize your blog created on Blogger by using AdSense. However, if you don't own the site hosted on Blogger, Google will have the right on your site and they can shut down your site or the entire platform if they do not want to continue for any reason.
If you want to use Blogger to create your blog. We have listed over a hundred different blogging templates for the Blogger platform that you can use on your blog.
05

.

Ghost
This is an open-source platform where one can find advanced-level bloggers. It is just like WordPress, where bloggers can have complete control over the look of the website.
However, some features like split-screen, multiple users, and others make Ghost different from the others and more advanced.
Unlike many other platforms that offer the option to create a blog and all different types of websites, Ghost is focused on blogging and publishing content.
Like WordPress, Ghost is also an open-source platform which means you can use their platform for free to create your blog. They also offer premium plans that you can use if you wish to have more control and better features.
There are a number of well-known businesses that are already using Ghost for their blogs. They offer built-in SEO options, Google AMP support, and all the features that you may need to create a quality blog.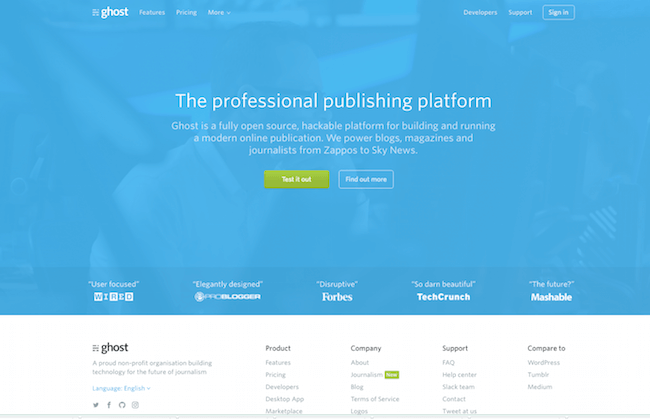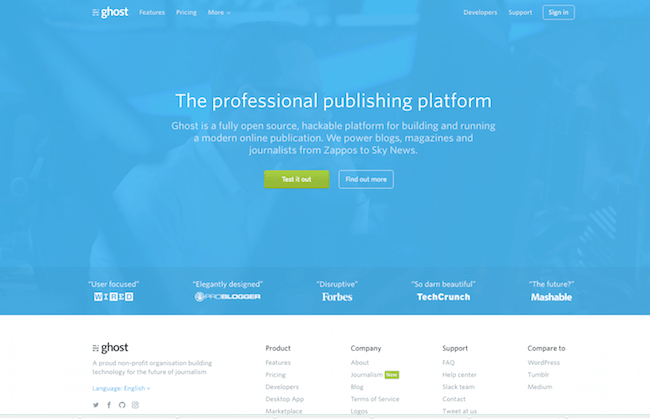 06

.

Tumblr
This blogging site entered late into the arena with a unique feature and approach focusing on microblogging. With this feature, Tumblr has its own charm through short little blogs and animated GIFs. On this site, one will publish short write-ups instead of 2000 words blog.
If you are planning to create a photography-related blog or any other blog such as a food, lifestyle, or entertainment-related blog, Tumblr could be a great option to go for.
If you need a good-quality free theme, here is a list of the best free Tumblr themes that you can use for your blog.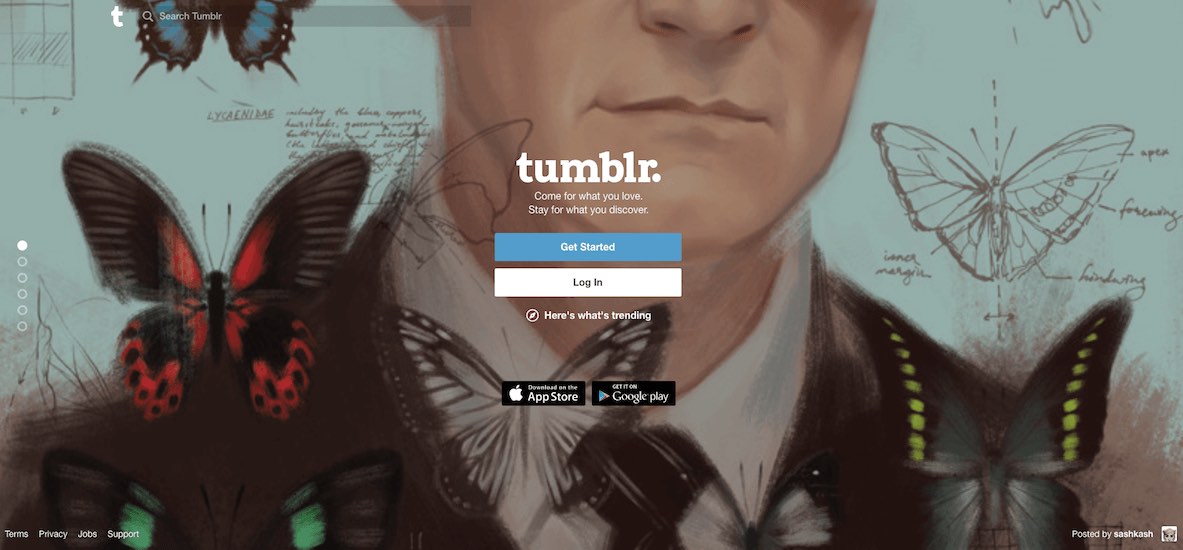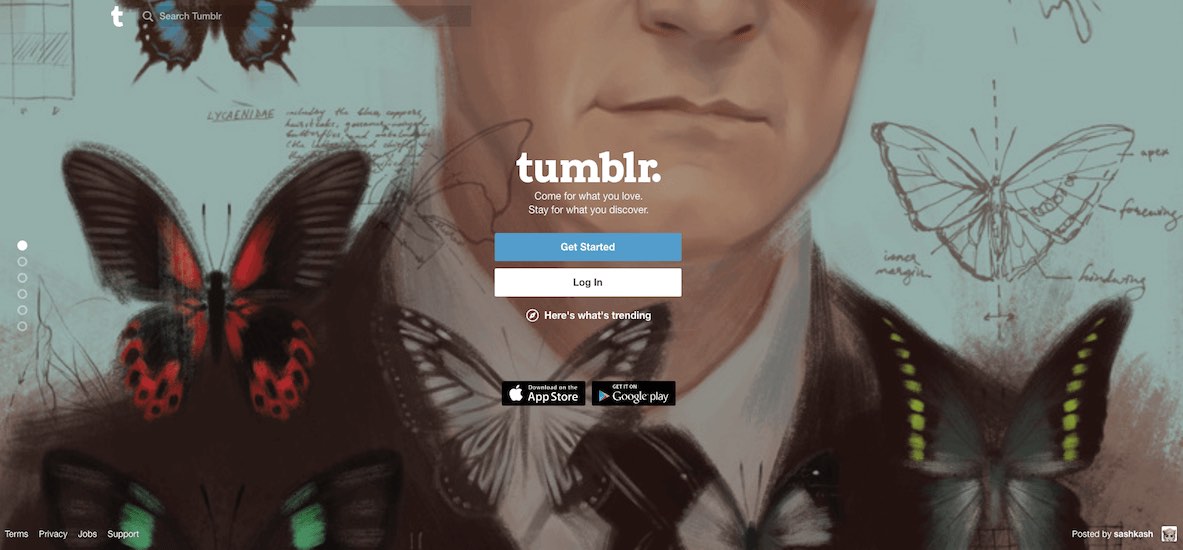 07

.
Medium
One of the best features of this blogging site is that users can join a community that shares blogs on a particular genre. Medium helps users to share their thoughts with people from all walks of life. It is not necessary to be a full-time blogger to share your thoughts or voice through Medium.
Here, you can create your account, and share the thoughts that you are passionate about. Also, after joining a community, one can read other blogs to improve their thoughts and understanding regarding a topic.
Unlike, the there blogging platforms mentioned in this article; Medium is a community-focused platform where you can create your account and start writing. If you are good on any topic and you are able to create high-quality engaging content you will get a ready audience for your content.
While there are benefits of using Medium, there are cons as well. You can't design your blog on the Medium platform like other platforms, there is almost no customization possibility.
Also, monetization is another issue with Medium. If you want to create your blog and make money, Medium is probably not the platform for you.
However, if you are passionate about writing and you have stories to say, Medium can do wonders for you. You can create your authority as a content writer on this platform.
Another advantage is that you can share your content that is already published on your blog on Medium. It is safe from the SEO point of view, so you can share the best content you publish on your blog with the audience on medium.
Medium is free to create a blog. You can signup and start creating your best content. But you must understand that you will have limited control over your content, unlike a self-hosted WordPress site.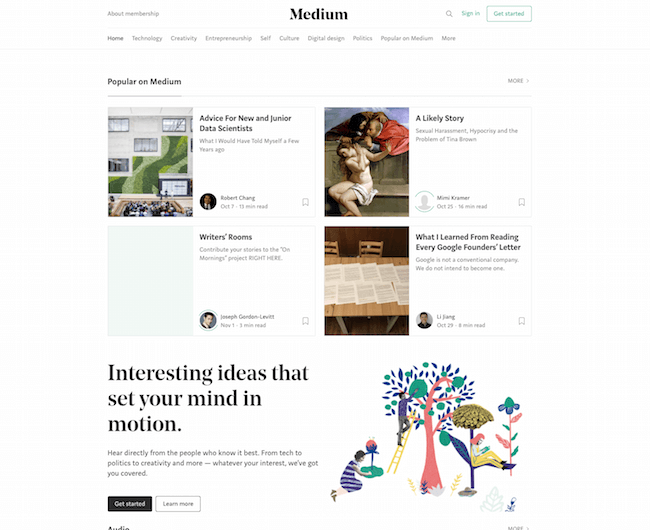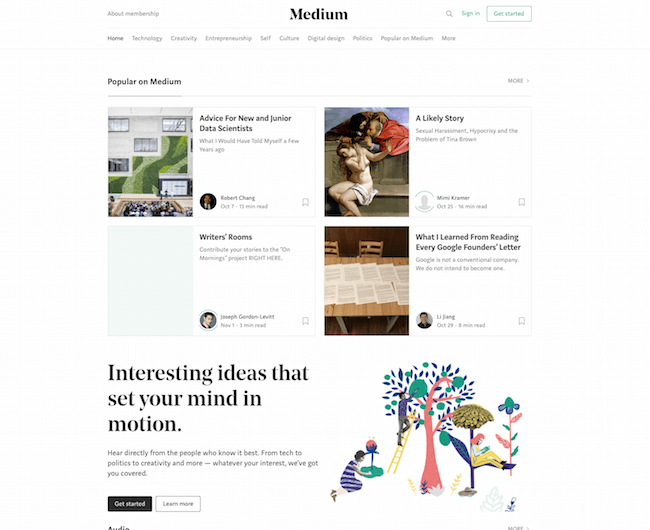 08

.

Weebly
If users are new to blogging and are unaware of web designing, then Weebly is the perfect platform for them. There are various features in Weebly that help to drag-and-drop new elements to the themes.
The coding and compilation of the website are automatically done in the background so that the user can focus on the writing and presentation of the website.
Also, users can create professional-looking websites that will help them to rank their blogs on Google or other search engines. One of the best features of Weebly is that users can download the site's code so that they can keep the formatting if they move to another platform.
Here is a list of some beautiful sites created with Weebly for your inspiration.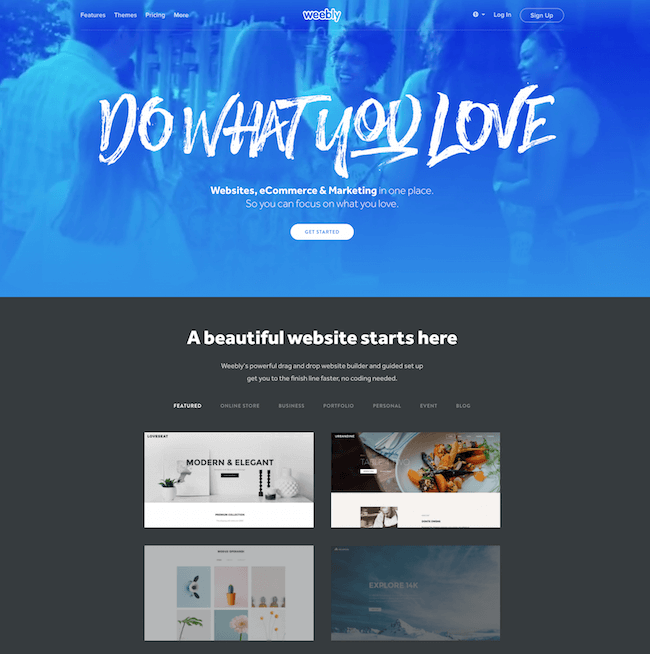 09

.

Squarespace
Through this platform, users can create a polished and attractive website without spending a single penny. If a user also wants to focus on the look and layout of the website, then Squarespace is a great option for them.
Just like most blogging platforms, for Squarespace, the users are not required to have knowledge about website design. One of the unique features of Squarespace is the Cover Pages that enable bloggers to create scrolling layouts.
Every template of Squarespace is responsive, which means, both on desktops and mobiles, the blog will appear properly. This helps in boosting the search rankings and attract customers.
Also, just for your inspiration, we have listed over 50 Squarespace site examples with great-looking designs.
Get a discount on Squarespace.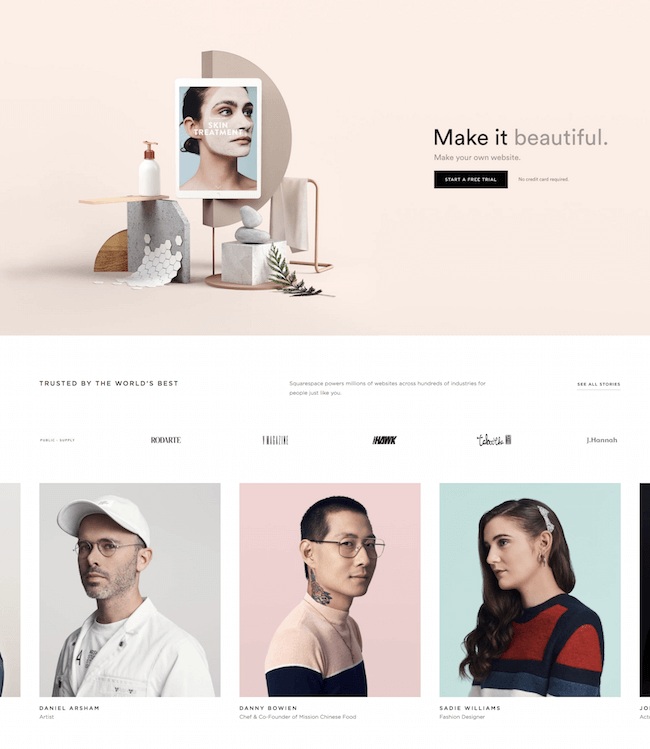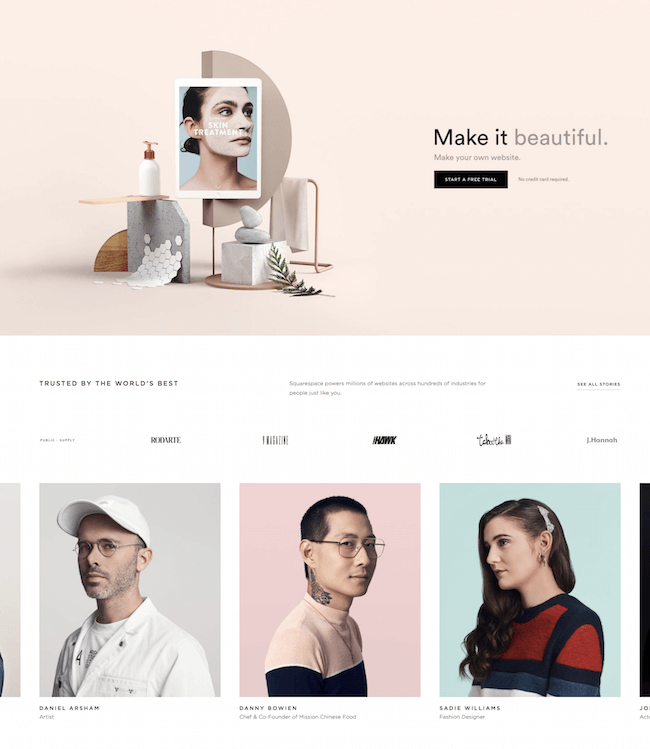 10

.

Penzu
If a user wants his/her blog to be viewed as a private online journal, then Penzu is the best blogging platform. One can sign up for free and start choosing from different platforms.
Also, Penzu offers a feature that helps users to receive email reminders regarding the publishing of posts. The journals are private by default; however, one can make them public. Also, users can modify the font and background accordingly.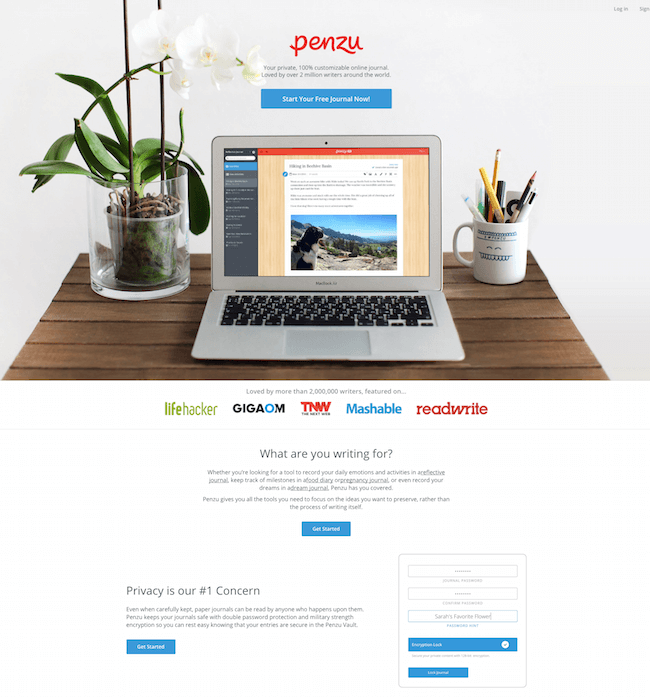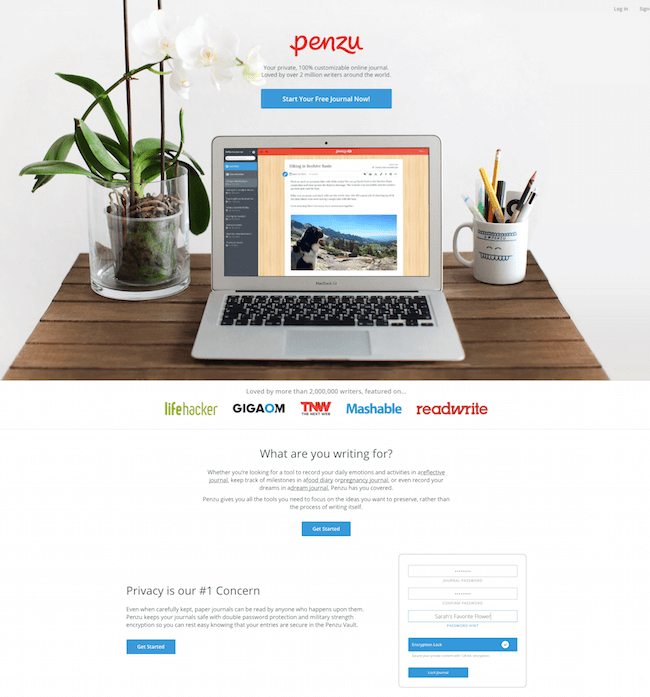 11

.

SVBTLE
According to many bloggers, this platform thinks like a human brain. Apart from blogging, SVBTLE will help users to come up with innovative ideas and thoughts. With the specially designed dashboard, this platform helps in providing ideas and guiding users throughout the process.
Also, SVBTLE promises that the blogs will never be taken down. The text editor is designed to provide a distraction-free experience that will help users to focus on their work so that the blogs are in easy language and attract new readers with all the latest ideas provided by SVBTLE.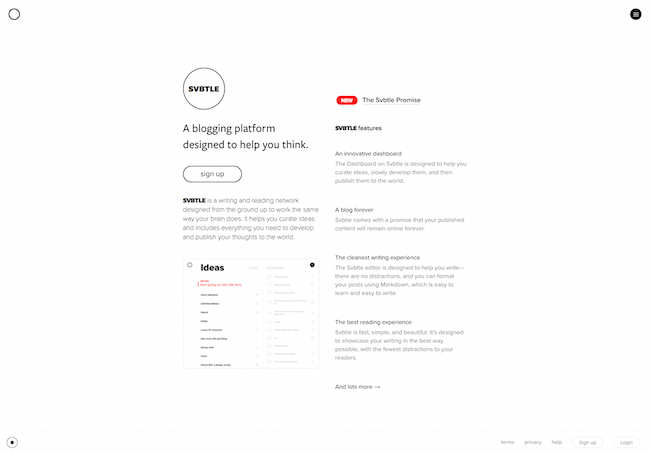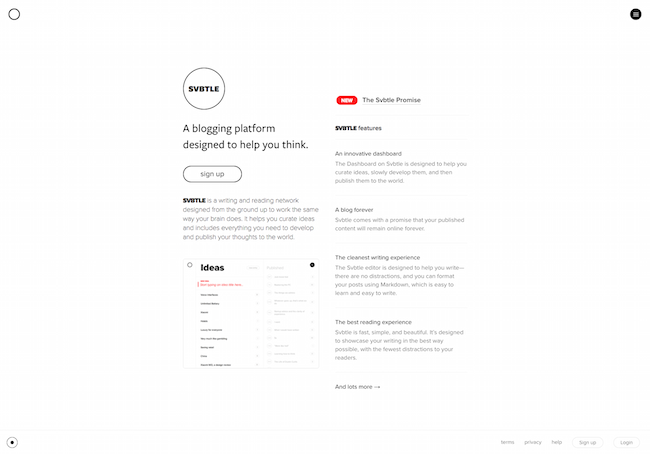 12

.

Jimdo
Jimdo has been around for years offering free website-building options. You can use this platform to start your own blog in a few minutes.
It is a freemium platform which means you will have premium packages to choose from along with the free version. You can use this platform to create your business site or even an online store.
As we are talking about the best platforms to create a free blog, you can use Jimdo to create your blog but you must know that the free version doesn't allow you to use a custom domain. That means you will have to go for their domain extension.
Your site will have a domain name in this format (yourdomain.jimdosite.com) and you will get 500MB of storage space.
This is a good enough option for hobby bloggers who want to publish some poems or start an online journal to write daily stories.
However, I will not recommend you use the free Jimdo option if you intend to make money through your blog.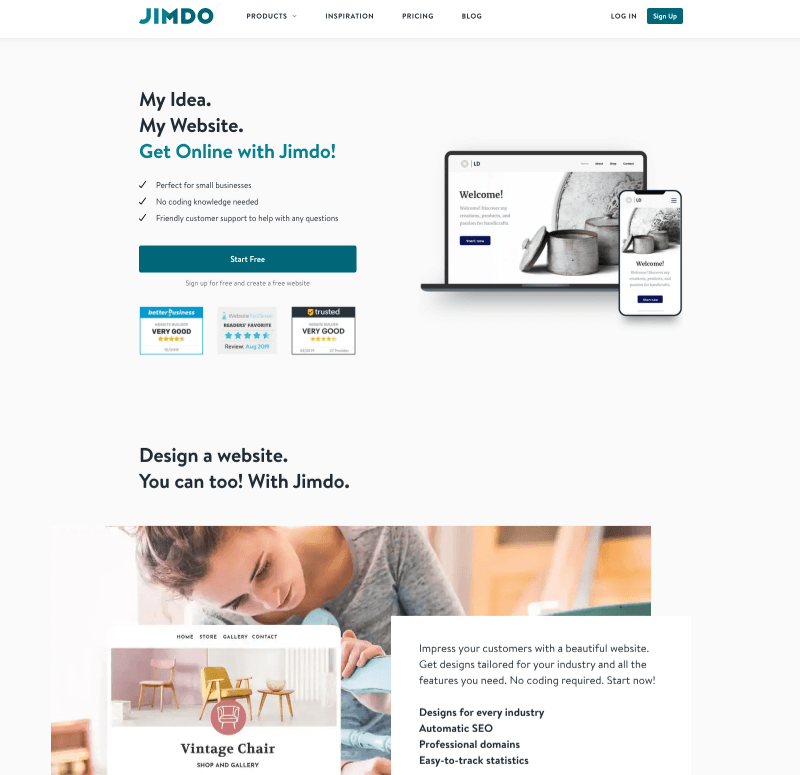 13

. Strikingly

Strikingly is another site where you can create a blog for free. It is a simple code-free platform where you can start your own website without any prior knowledge of website building.

The platform is simple and easy to use, and it offers hundreds of ready-to-use templates that you can use to create your site. You can select a template that is close to your requirement and make your site ready within a few minutes.

You will get a free SSL certificate to secure your site. Strikingly is a great platform for completely new users as it offers a very easy solution to create your first blog or a product landing page.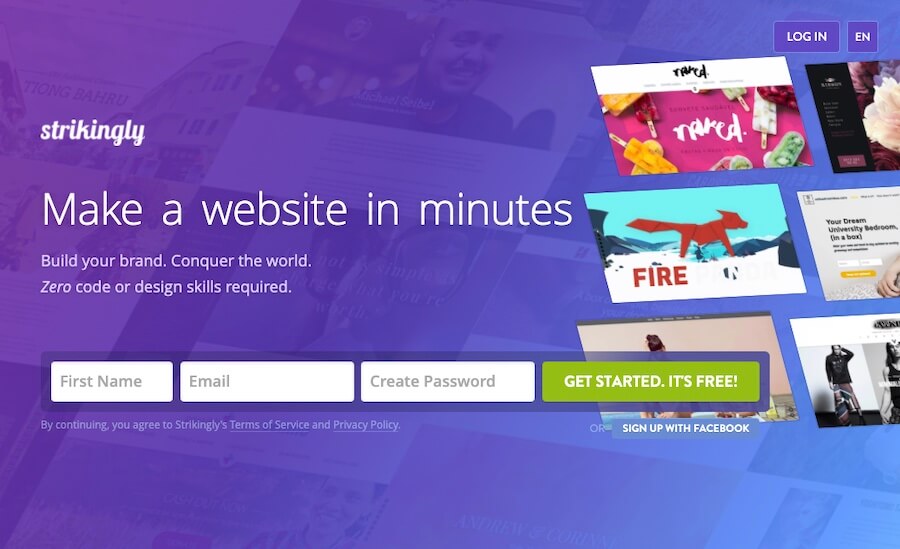 14

. LinkedIn

While LinkedIn is the most popular social networking platform for professionals, it gives you the option to write your own blog posts.

While it may not be as good as WordPress when it comes to controlling everything for your blog and growing it to make regular income, the LinkedIn blog section is good to get attention right away.

While a custom blog created on a custom platform may need months or years to build an audience base, LinkedIn already has millions of users. So, you get access to a ready audience base and if you can create in-depth content, you will surely get attention.

when you visit your feed on LinkedIn, you will see the option to write a blog post at the top. And needless to say, it is completely free.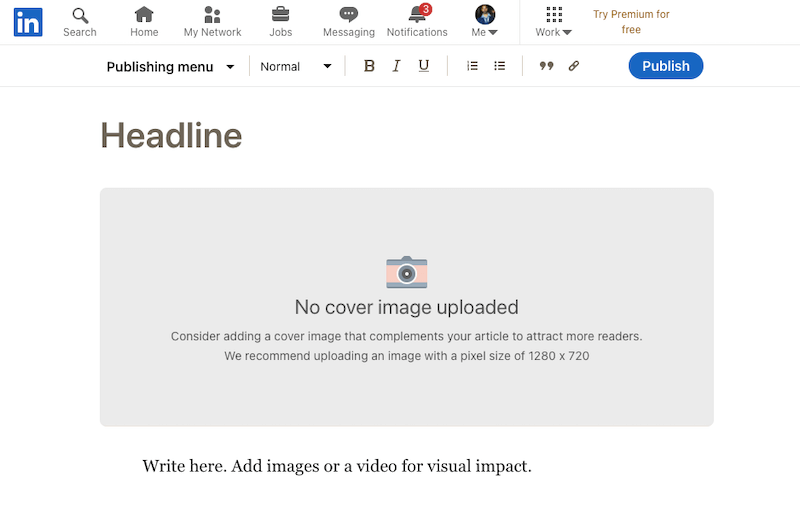 15

. Joomla

Similar to WordPress, Joomla is also an open-source CMS that you can use to create your blog. You install the Joomla software, install and template and make your blog ready.

Like WordPress.org, Joomla is completely free-to-use software. However, you will need your own hosting account to host your blog.

Joomla can be used for a simple blog as well as a complex custom website. When it comes to the user interface, you can find Joomla a little more complicated and outdated when you compare it with WordPress.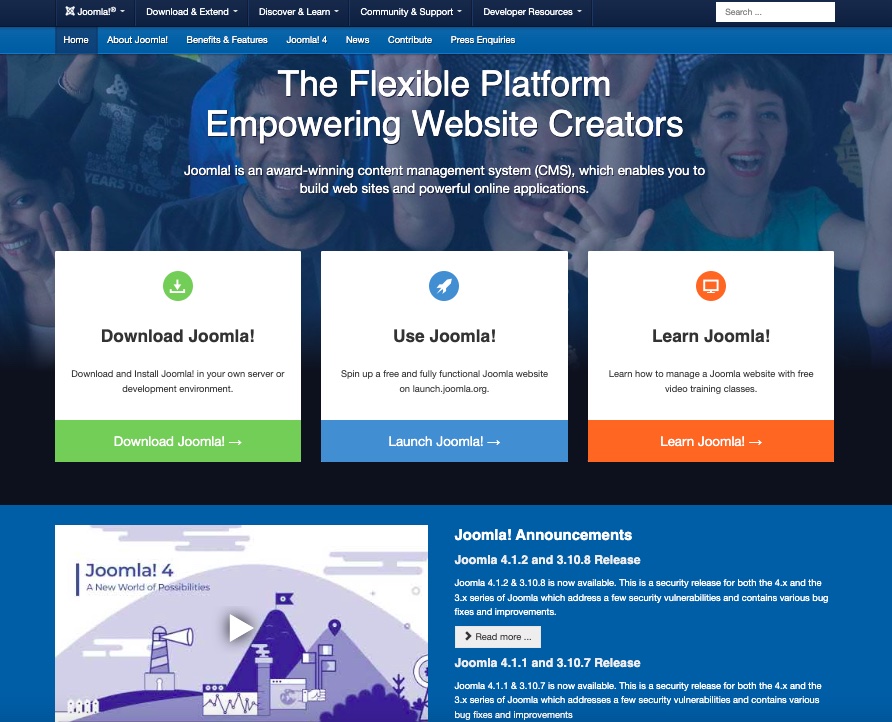 Endnote
Blogging is in trend because people can express themselves, boost their business, or share their pleasure activities. Blogging can range from poetry to cookery, war journals to personal diaries.
To start with a blog, one must make sure what they want to write about i.e. the genre of their blog. After that, they can go through the above-mentioned blogging platforms and start with blogging.
While the above places to create a free blog are recommended, you would need a custom domain and blogging platform to become a professional blogger.