If you are looking for the best blogger outreach tools, we have listed some of the best options for you.
It is always a great idea for bloggers to take a look at how they can reach out to more people.
This listing of the best blogger outreach tools includes many solutions that will help you with finding ways to make the most out of your work.
Most of these blogger outreach tools can do for you focuses on finding unique ways to interact with others and share ideas that aren't too complex.
The things that you can do with each of these blogger outreach tools will vary based on where you go.
You'll have to look at how all of these choices work if you're going to find something that is helpful and easy to use in any case.
Be sure to see how each option works, and look at the links on this site to help you identify many things of note.
Top Blogger Outreach Tools
If you are looking for the best blogger outreach tools, here is a list of top tools that you can use to grow your business.
01

. SEMrush
SEMrush is a very popular SEO and marketing toolkit that you can use to do a complete analysis of any domain. You can use this platform to do detailed research on your competitors and find their best-performing pages.
You can start with their domain overview tool that will give you a quick glimpse of any website, data like overall backlinks, keywords, etc.
SEMrush gives you complete access to the backlink profile of any website so that you can find new prospects to create backlinks.
There are multiple ways SEMrush can help you in designing successful outreach campaigns.
You can use the Link Building Tool to find new link prospects, you can send emails and track the progress of your campaign.
You can analyze the link profile of your top competitors, the anchor used, and target similar links for your business.
SEMrush is a single solution for everything around SEO and marketing needs for your business. From keyword research to creating SEO-friendly content templates, you can do everything around organic research, social media management, paid traffic analysis, and more.
Read this detailed guide on SEMrush to know more about the tools it offers.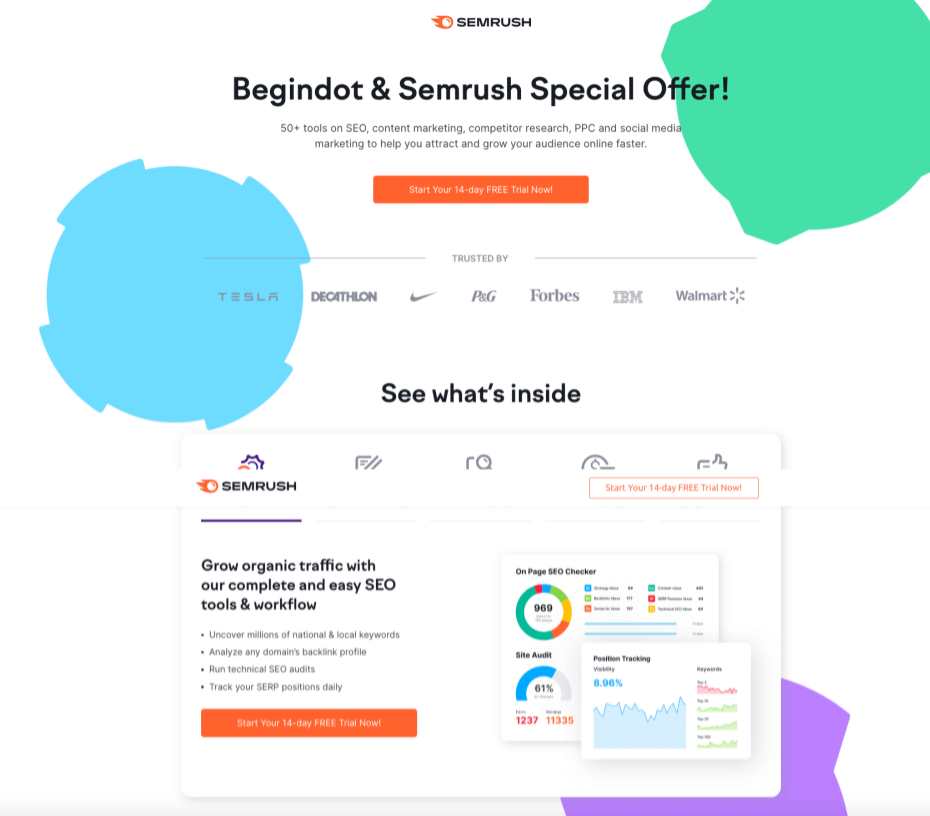 02

. Snov.io
Snov.io is a tool that allows you to find email addresses and other contact information for the people you want to reach out to. It's a great way to build your list of contacts, and it's also a valuable research tool.
You can use Snov.io to find email addresses for potential customers, partners, or suppliers. You can also use it to find contact information for business owners and use it as an outreach platform. Snov.io is a great way to stay in touch with the people you need to reach.
Snov.io Email Drip Campaigns
Once you find the emails to reach out to, you can use the Email Drip Campaigns option to reach those contacts and try and convert them to customers.
The email automation tool will let you send a series of emails to your contacts over time. You can set up your drip campaign to send new contacts a welcome email, followed by a series of educational emails over the course of several weeks or months.
Manage Sales Process
With Snov.io, you can manage your sales process and keep track of your customers in one place. It's a great way to keep your customer base organized and to make sure that you're following up with the right people.
Snov.io is a great tool for small businesses and startups that need a simple way to manage their sales.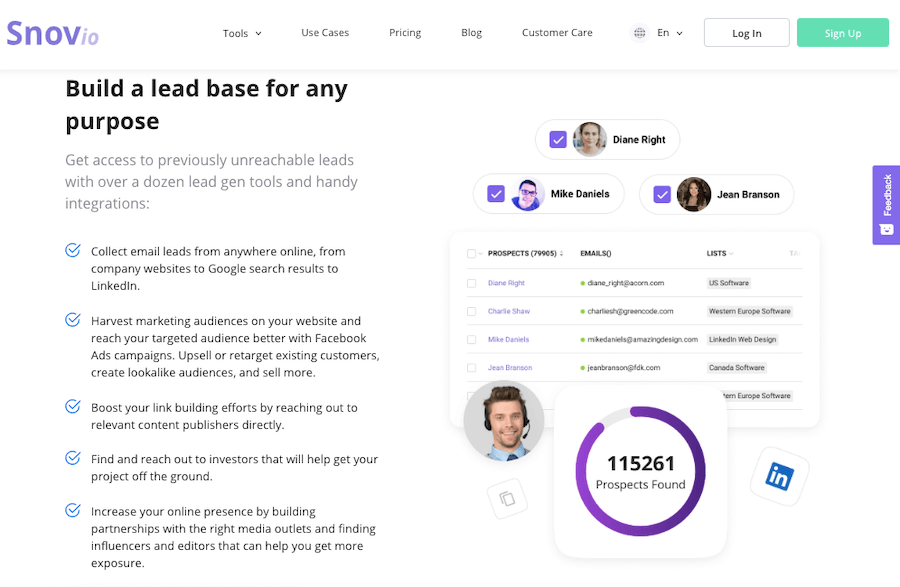 03

. NinjaOutreach
Your next choice for a quality blogger outreach tool is NinjaOutreach, a tool that monitors business email accounts based on what they are sending out to people and how they market businesses.
You can use this to find distinct teams that you can reach for things like guest posts or product and content promotion purposes. The sponsored post outreach feature on NinjaOutreach provides you with a helpful design for managing your content.
You can review the posts that influencers post on other sites
Includes help for podcast outreach
Track your conversation history and any click or open rates for interactions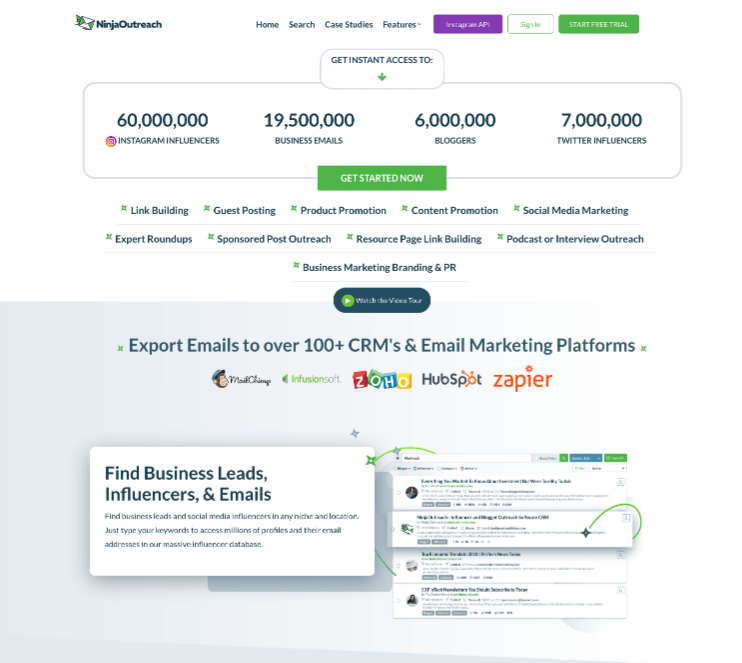 04

. BuzzSumo
Sometimes you need help with finding out what platforms are best for your marketing needs. BuzzSumo helps you find different opportunities for promoting your content.
You can enter your domain and use BuzzSumo to find unique pages or platforms that you can target. The content is based on the keywords you use and the popularity of whatever you have to offer.
The simple arrangement of BuzzSumo provides you with more control for finding things to highlight in your work.
If you need more of this kind of tool, we have a list of top BuzzSumo alternatives.
Find information on what social media interactions are coming on a site
Review individual sections of a site to figure out what gets the best audiences
Sort based on parameters like word count
05

. OSI Affiliate
OSI Affiliate, as the name suggests is affiliate software that you can use to manage your affiliate business. You can use the rich affiliate management software to recruit affiliates and influencers who will promote your brand.
This is indeed a great way to promote any brand. The influencers who will promote your brand will also be benefited to promote your brand through your affiliate program.
Once you have the affiliate program in place, you can start recruiting influencers who will be promoting your brand without any additional fee that you need to pay.
OSI Affiliate will enable you to create pro codes that you can offer to your top influencers to increase sales.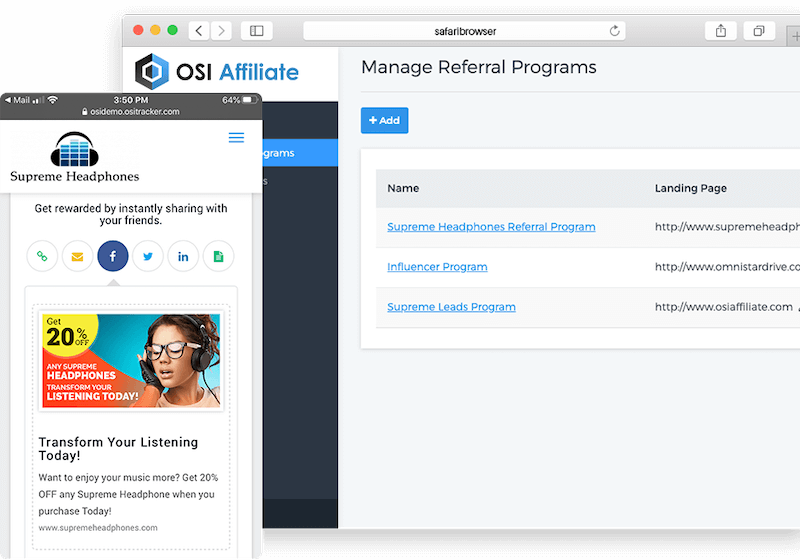 06

. BuzzStream
The helpful layout of BuzzStream makes it an ideal choice for link-building purposes. This blogger outreach tool concentrates on establishing relationships through links.
You can create a new site by providing details on unique gaming sites and what you want to highlight on your own.
The influencer research system also helps you with managing your relationships and conducting thorough research that creates a personalized setup for your use.
Track your conversations with individual parties
Automatic research identifies influencers based on the most common trends
Analytics cover all members of your team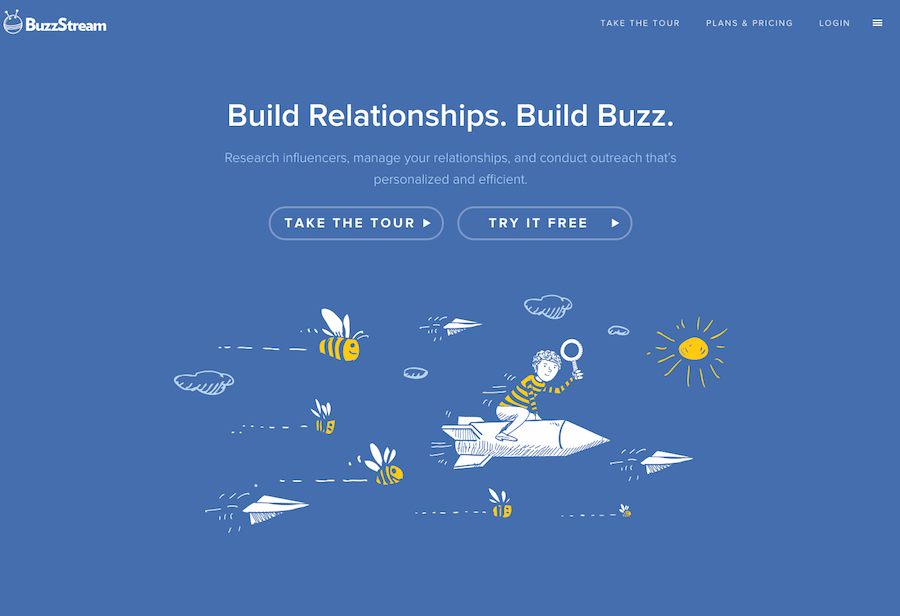 07

. Mailshake
Formerly known as Content Marketer, Mailshake helps you promote emails and prevent cold emails from coming about in your work. You can use multiple channels to highlight the content you want to share.
You can produce different pages and layouts based on who you want to reach and how you will handle the content. You can also use multiple templates for pitching PRs, building links, or otherwise working with basic outreach activities.
Get automated suggestions for your campaigns based on what you type
The analytical feature of Mailshake ensures your emails won't be flagged as spam
Track how many people are opening your emails and how long it takes for them to open
08

. Pitchbox
Pitchbox operates as an outreach and content marketing platform. The detailed analytics features that you'll get from Pitchbox are more thorough than what you might get out of an official social media support setup.
You'll review how well people interact with emails based on the subject matter and when you send them. The analytics lets you identify content based on what it involves and lets you see what you need to place a greater focus on.
You may also use Pitchbox to find extra information on specific people that you would want to highlight your work to.
Analyze the followup emails you produce
Create data reports for team review
Check on the words that people respond to the most within your messages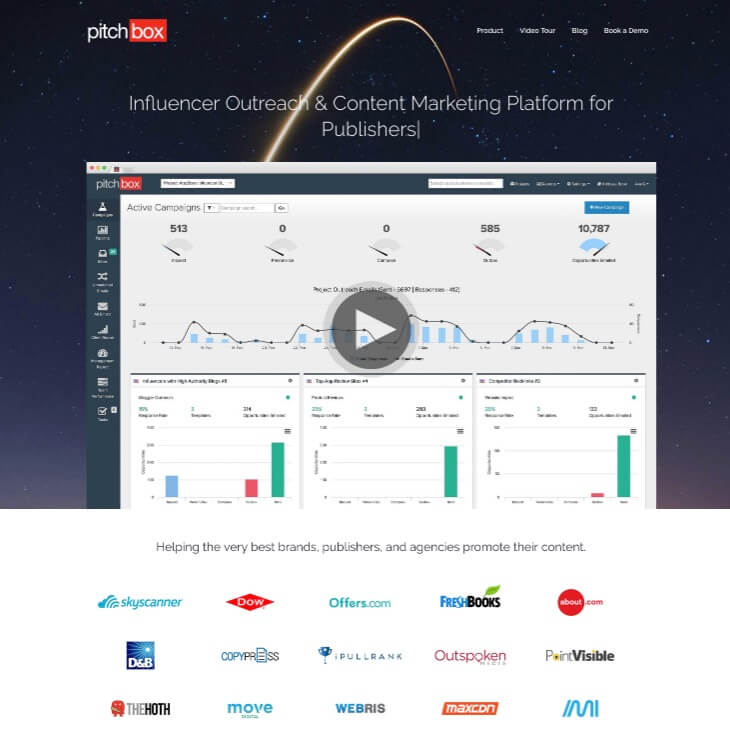 09

. Follow Up Then
You will not have to struggle with handling your content when you use Follow Up Then. The scheduler helps you to get in touch with regular clients and influencers.
You can send emails to bloggers and also schedule them based on different parameters. This includes getting messages out at specific times or based on any keywords that people might send out to you.
The convenient design of Follow Up Then confirms what you will use when getting your content ready.
Lets you work with as many influencers as needed
You can use this to produce distinct emails
Check on how long it takes for people to get emails ready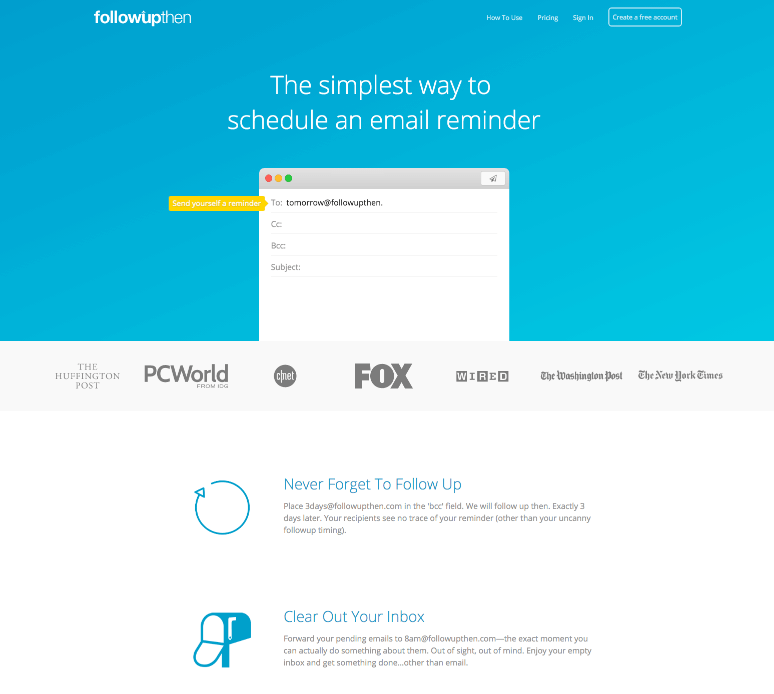 10

. MuckRack
The frustration that comes with trying to monitor your public relations doesn't have to be a hassle when you look at what MuckRack can do for you.
You can review what bloggers, influencers, and freelancers are writing about different bits of content.
The MuckRack tool will review many things about different topics, but it can also work well if you need help with identifying what your business is doing at a time.
Track things based on fields of work
You can use MuckRack to track mentions of your business
You can search for journalists and other parties based on their lines of work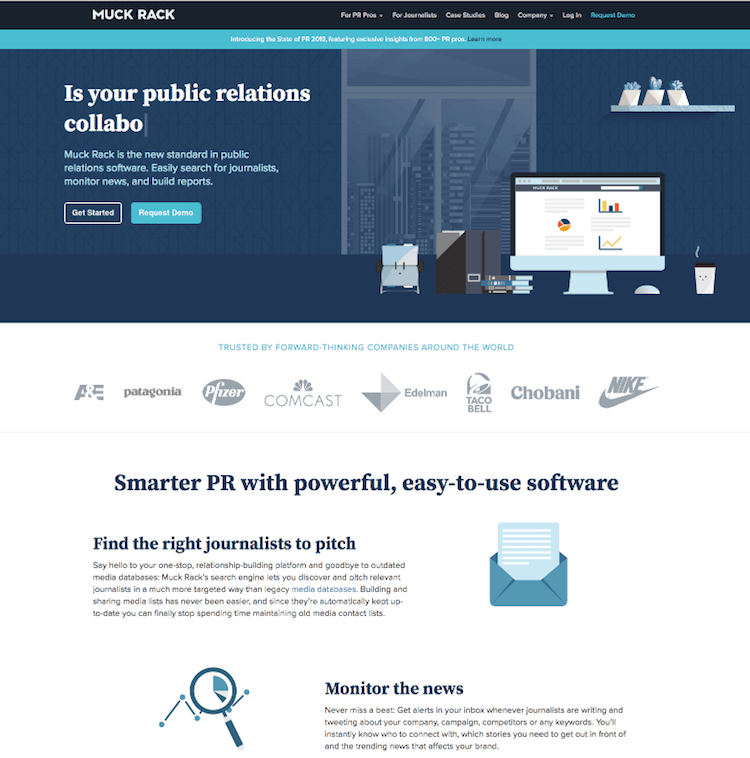 11

. YesWare
Many of the top tools for blogger outreach purposes are ones that focus on emails. YesWare is one such tool that is effective for reaching many audiences.
With YesWare, you can find details on your connections and how well the people who reach your inbox are interacting with you.
You can review the messages of each party in your inbox to identify trends surrounding how people are talking with you and what they might be expecting out of you.
The design of YesWare helps you to save time and effort when it comes to handling your content.
You can personalize the emails you want to send to your targets
Measure the engagement rates of different works of the content
Establish multi-touch campaigns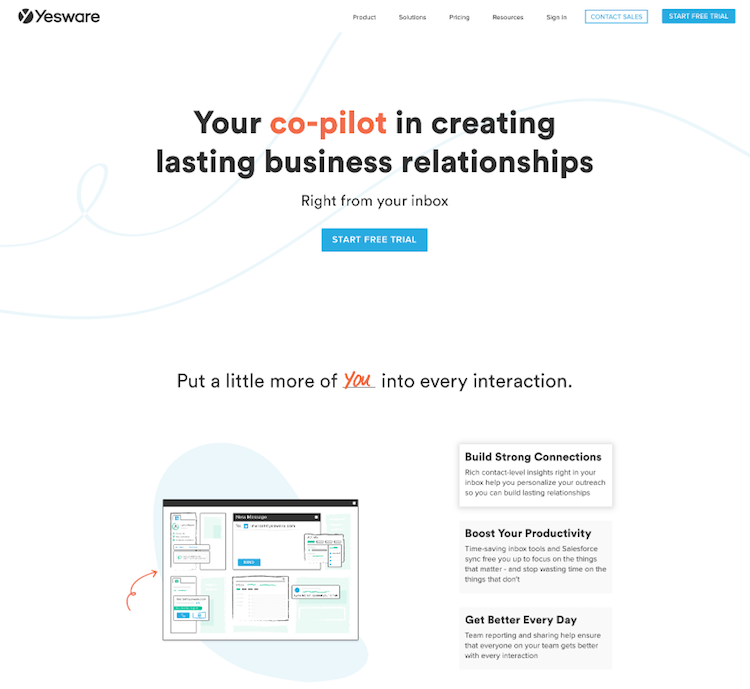 12

. Klear
Klear promotes itself as a service that helps you to reach influencers because they are often trusted by the public more than ads.
The Klear tool helps you find influencers, analyze what they do, and manage the people you're getting in touch with. Separate inboxes can be established for every single influencer that you want to target.
The individual approach provided by Klear sees that you've got enough of a reach for all the people you want to interact with when online.
Provides a convenient layout of statistics
Track mentions, engagements, and general reach statistics for what you review
You use different markers for identifying opportunities for use or what to avoid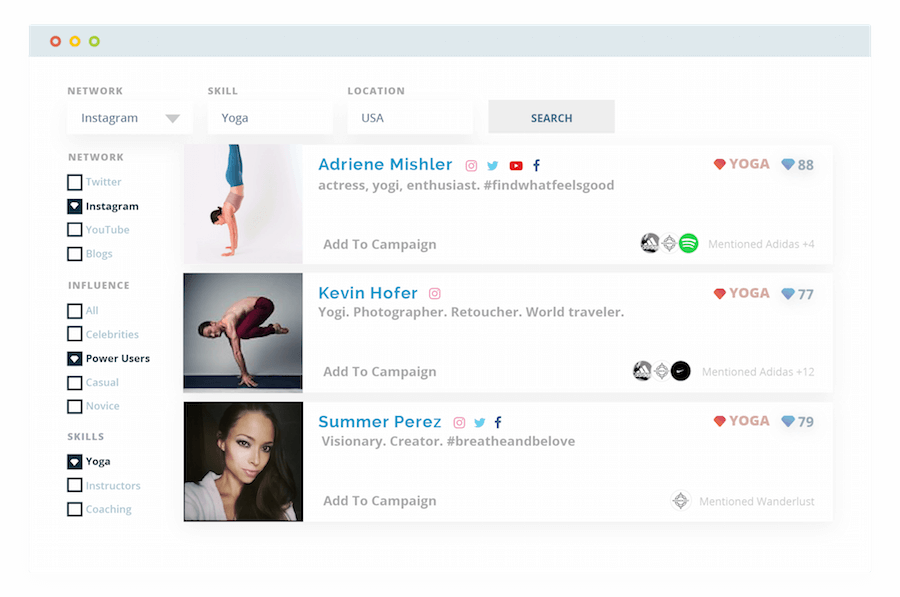 13

. Traackr
Finding quality influencers is critical to the success of your site. Traackr helps you to find quality influencers and also get in touch with them.
You can find partners based on the things that you want to highlight on your site. The key to what Traackr offers is to confirm plenty of helpful details that are easier to review and read.
You can import and export contacts and use them to figure out which influencers are working the best when getting your content out there.
You can filter the influencers based on exposure and niche
Conversions are easy to track
Find information on the newest recommendations for your use.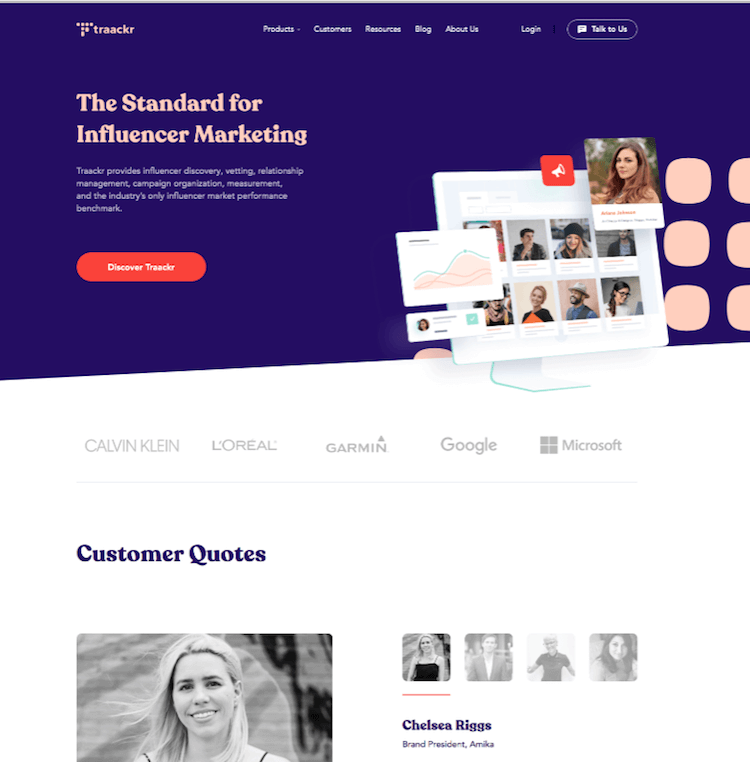 14

. Tomoson
With tens of thousands of influencers available for you to utilize, Tomoson will help you to figure out what works for your site.
Tomoson uses a content crawler that monitors your social posts and how you're creating content. The details can be used to monitor feedback, clicks, blog posts, videos, and photos among other bits of media content you want to produce.
Find unique brand campaigns of value
Review specific details on each of the influencers you can find online
You can get an idea of what it might cost to hire certain influencers of note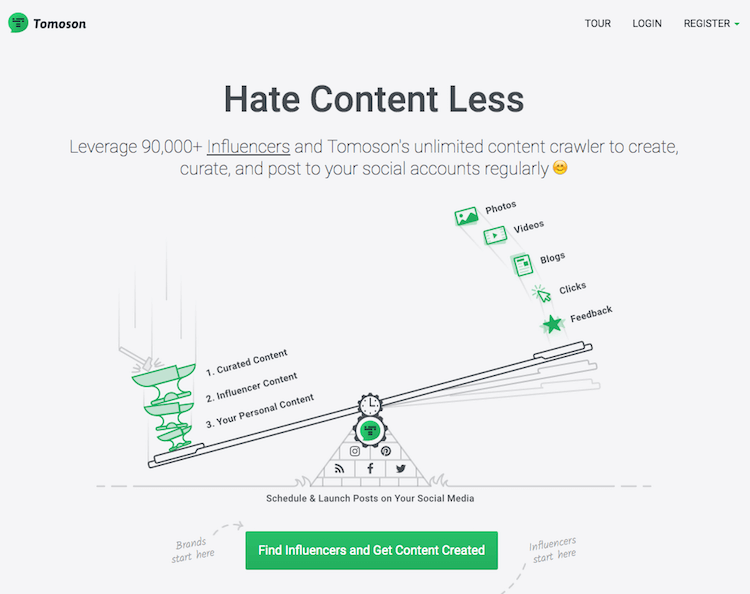 15

. GroupHigh
You can use GroupHigh for helping you to manage your outreach efforts well. With GroupHigh, you can reach people through automation.
The design that GroupHigh has focuses on managing your content based on how much data you have. The best part of what GroupHigh offers is that it entails a large blogger database that is easy to follow.
You can use this quickly when figuring out your influencer campaigns and identifying what works best where you are.
Sort your influencers out based on the platform
Check on Pinterest and Facebook activity
Work with organic search data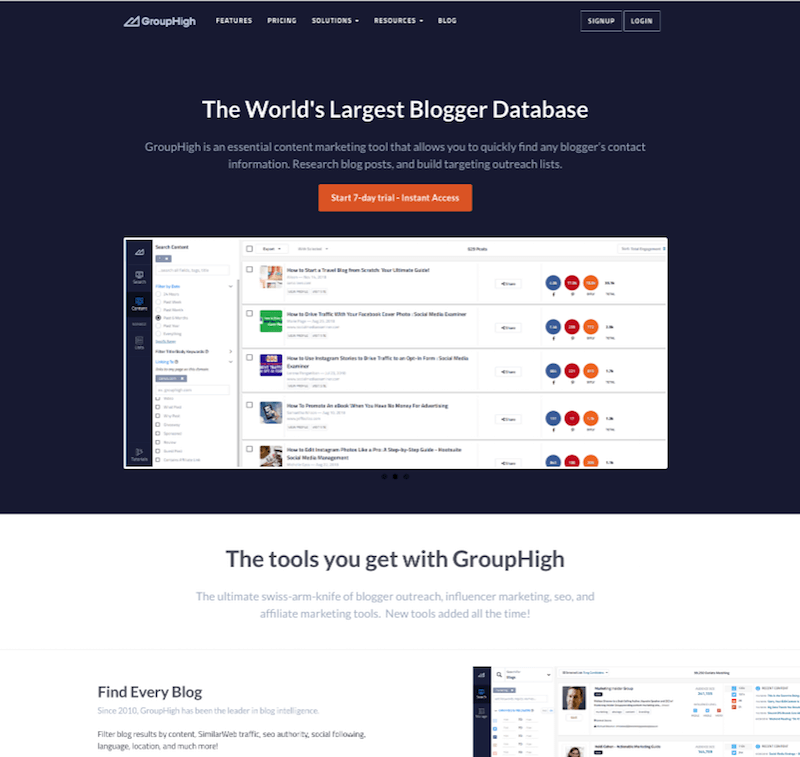 16

. Right Relevance
Sometimes it becomes really difficult and time-consuming to find good quality blogs around a topic. A tool like Right Relevance makes the process simple and easy.
Right Relevance is a content discovery platform that will help you to find the best content around any niche. All you have to do is it makes search with any keyword.
Once you find the best blogs and make your list, you can start your research on those blogs by using tools like SEMrush to know more about the kind of traffic they receive and the overall authority of the site before you approach the team.
You have the option to select a location and find influencers around any topic making it super simple for you to approach the right people for your marketing.
Easy to use platform
Search blogs and influencers around any niche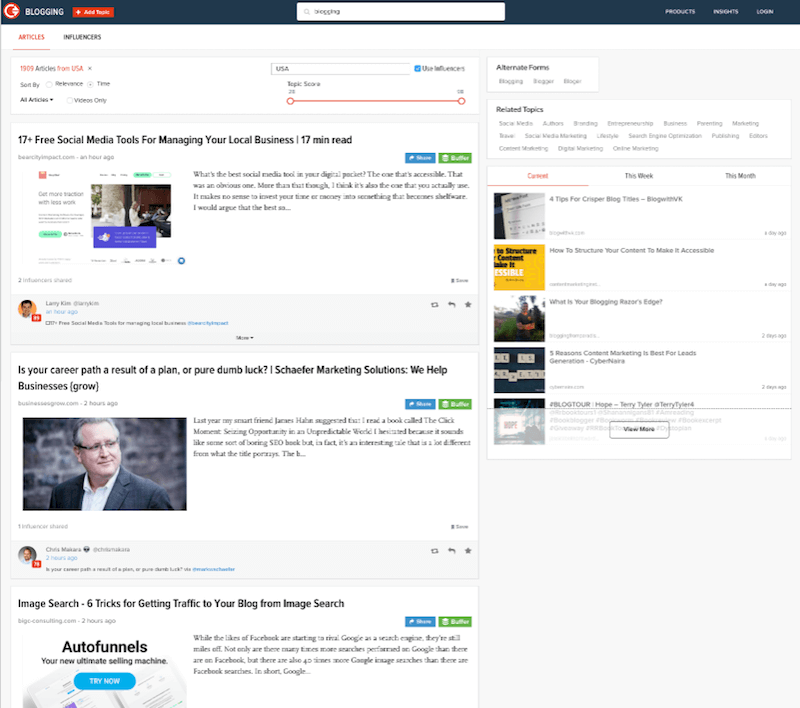 You've got many choices to work with as you aim to find the best solutions for your blogger outreach needs. Take a look at all of these choices as you aim to find options that fit your distinct needs.
FAQs About Blogger Outreach
01. What is blogger outreach?
Blogger outreach is the process of reaching out to the relevant and authority bloggers with your product or services to help you grow your business by using their influence.
02. Which one is the best blogger outreach tool?
NinjaOutreach is considered one of the top platforms by bloggers and marketers to reach relevant influencers in any niche.
03. How to design a perfect blogger outreach campaign?
A perfect blogger outreach campaign starts with proper research. You have to be ready with all the required materials. Read the top blogs in your niche to understand what works and plan accordingly.
04. Where to find potential link opportunities?
You can use platforms like SEMrush to find potential link opportunities. It will help you to do a deep analysis of all the backlinks of your competitors. Once you have all the data, you can make your own list of those you want to reach out to.