Secure Sockets Layer (SSL) is a computer protocol that helps secure communications over computer networks.
It is used to establish links between a web server and browser and ensures that all your data and information is private.
Typically, an SSL helps in securing credit card transactions or any other activity that requires keeping some information private.
Having an SSL certificate is a mandatory requirement for Google. So, if you wish to rank your blog posts on Google, you must have a certificate installed on your blog.
You must have seen that green security lock that shows an SSL certificate is installed and properly set for a site to make it secure.


If your site doesn't have an SSL certificate installed, it will show a broken kind of image on the browser especially on Google Chrome.
So, it's an important step for any site to install an SSL certificate on every site these days, when there are so many free SSL certificate options available why not go ahead and install it.
Owing to the increasing information collection and transaction rate on websites, integrating an SSL certificate has become a vital aspect for the websites.
An SSL certificate is a text document with encrypted data which is installed on your server so as to encrypt sensitive communication between your website and your customers.
Usually, the websites offering domain and hosting services provide SSL certificates and charge somewhere around 40-60$ for a yearly subscription.
But what if you can get an SSL certificate for your website without any charge?
Yes, you read that right! There are various sources from where you can get a free SSL certificate for your website.
Few reasons why you must install an SSL certificate on your site
It makes your site look secure to the users
It is a mandatory requirement from Google which is the top source of traffic for most of the sites.
Adds that extra layer of security for the sites dealing with financial transactions.
Get better ranking in search engines.
You get it free of cost
Potential disadvantages of free SSL certificates
Generally, when you get anything for free, you need to check if there is any disadvantage. The free SSL certificates from many sources may not be trusted in all browser. So, when you install the certificate on your site, you need to check it properly on all browser.
We have been using the free certificate provided by Let's Encrypt for all our sites and we have not faced any issue as of now.
Here are some of the best sources to find free SSL certificate for your website.
What Are The Best Free SSL Certificate Providers?
In this article, we have listed the best free SSL certificates that you can get for your site.
01

. Bluehost

Bluehost is one of the most popular web hosting solutions that offers you a completely free SSL certificate for your website. You also get a domain name for your business free with your hosting plan.

Bluehost offers all types of hosting option. Starting from shared hosting plans to dedicated servers to fully managed hosting solutions, you get all different types of hosting options to choose from as per your budget and requirement.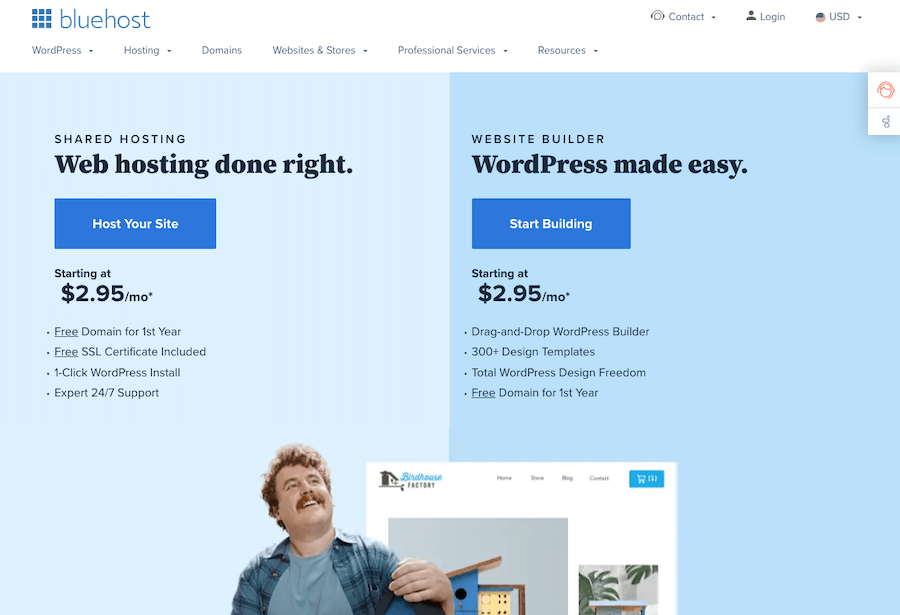 02
. Let's Encrypt
Let's Encrypt is an open and automated certified authority. It follows the same encryption algorithms and security protocols as the commercial certificate authorities.
This free of cost security certification comes with a simple configuration and automates the process of CSR creation, eliminating the time spent on getting it signed by a CA authority.
Let's Encrypt verifies the domain ownership and is the best bet for blogs and small personal sites.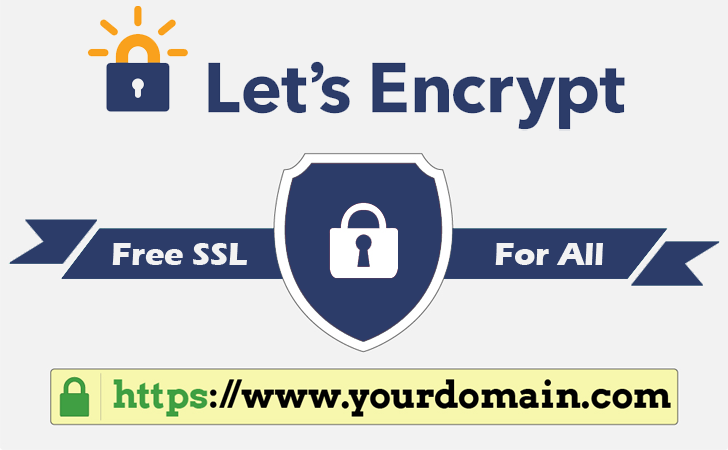 03

. CloudFlare

CloudFlare is a security and content delivery network service (CDN) that provides a free SSL certificate to its clients.

You can get SSL protection for your website by logging into CloudFare. Just enter your website, click on the crypto icon and you can configure your certificate in the next step. It's that simple!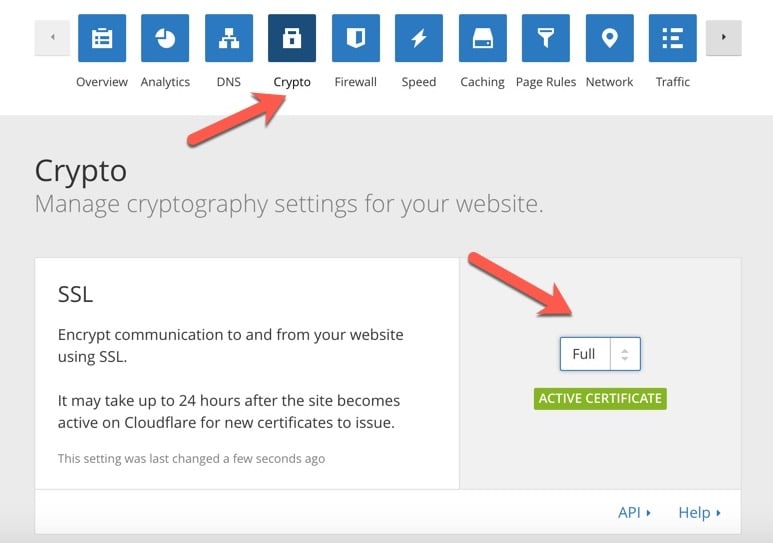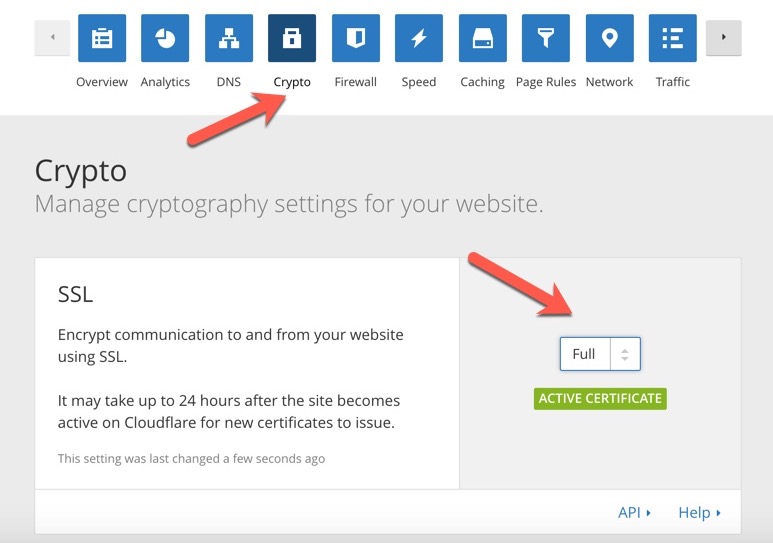 04

. SSL For Free

As the name suggests, SSL for free is one of the most widely trusted free SSL certificate providers.

The platform generates certificates using the ACME server by Let's Encrypt and secures your online information by generating a private key in your browser.

Unlike many other SSL certificate providers, SSL for free truly justifies its name and offers lifetime security for free.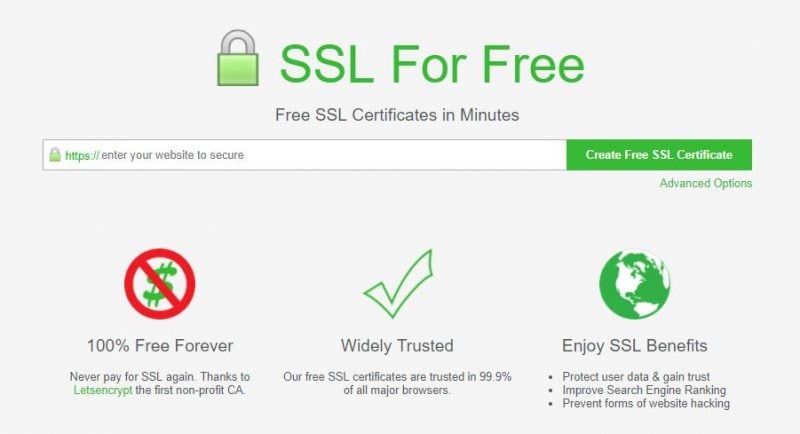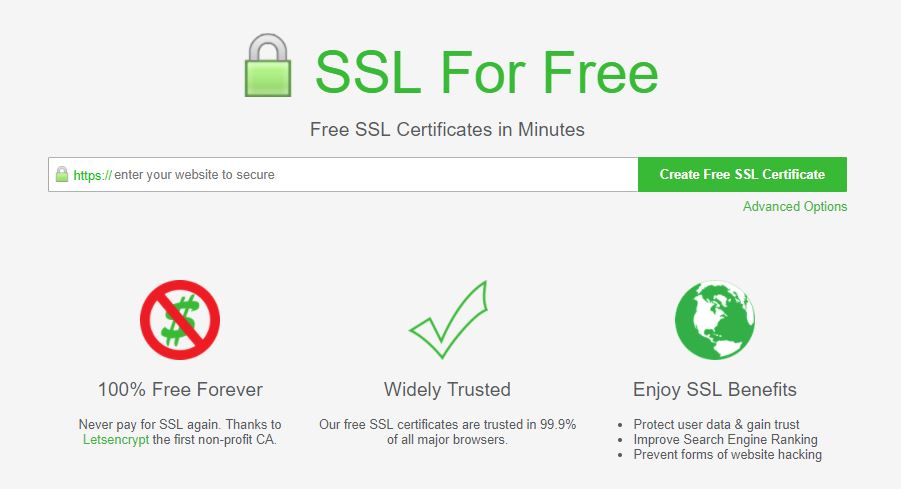 05

. GoGetSSL

GoGetSSL is another prominent and leading SSL certificate provider. In fact, they are in this niche business of providing all types of SSL certificates.

Starting from domain level SSL to enterprise-level, SSL you will get all types of options on this site. If you wish to get into SSL business, this site offers you the options to become a reseller and start your own SSL certificate selling business.
You get 90 days free trial option
Super quick issuance
30 Days money-back guarantee
All types of SSL certificates available
Great support from the team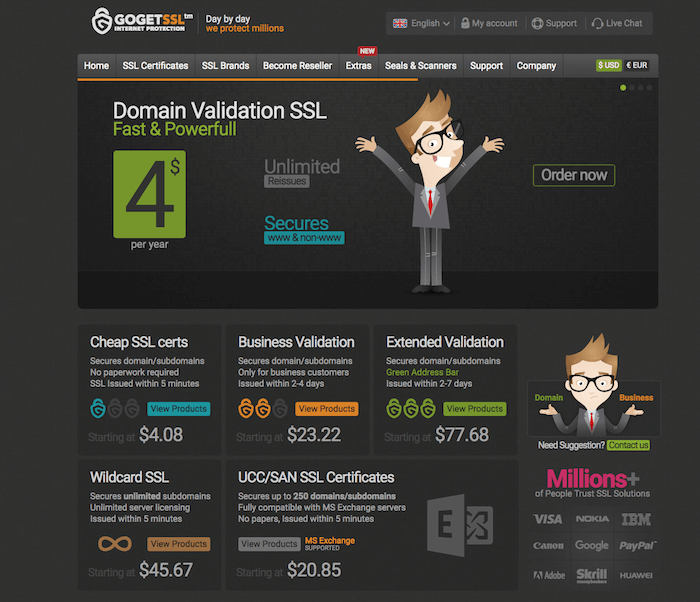 06

. Comodo

Como provides a fully functional SSL certificate and is a certified SSL certificate best seller.

Comodo is an ideal choice for small business websites and basic websites as it is issued in no time. It comes with a free 90 day period and is highly compatible with all major browsers.

Once the trial period gets over, you can either continue using the paid version of the existing certificate or switch to a newer one.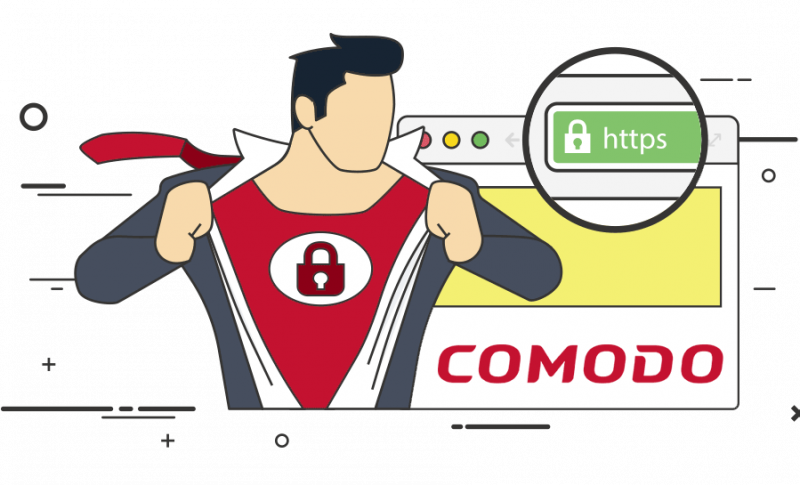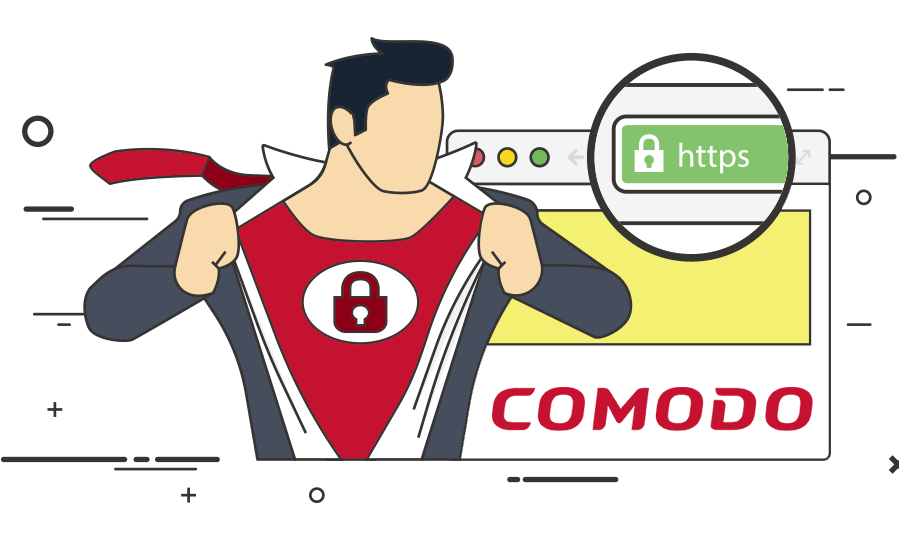 07. GoDaddy
Well, GoDaddy offers paid SSL certificates, but it also provides free versions of the certificate. Although GoDaddy is a leading SSL certification authority, it offers free of cost SSL certificates if you have an open-source project.
The free SSL offered by GoDaddy is valid for one year and is an ideal option for securing your website's private information.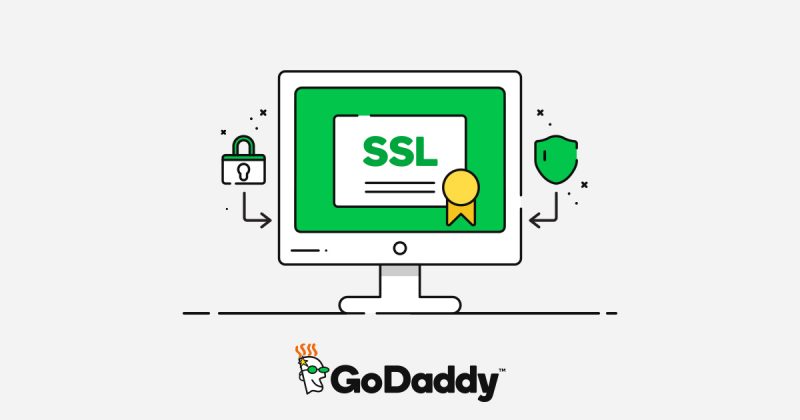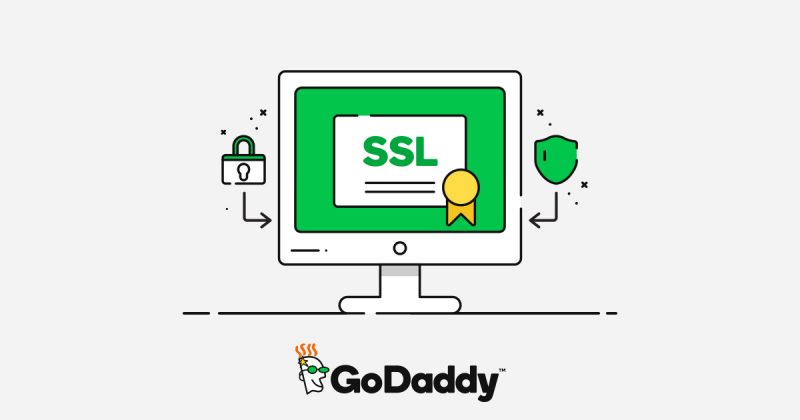 08

. GeoTrust

GeoTrust provides a completely free SSL certificate valid for 30 days. The 30 day period is like a trial version and equips your website with 256-bit encryption.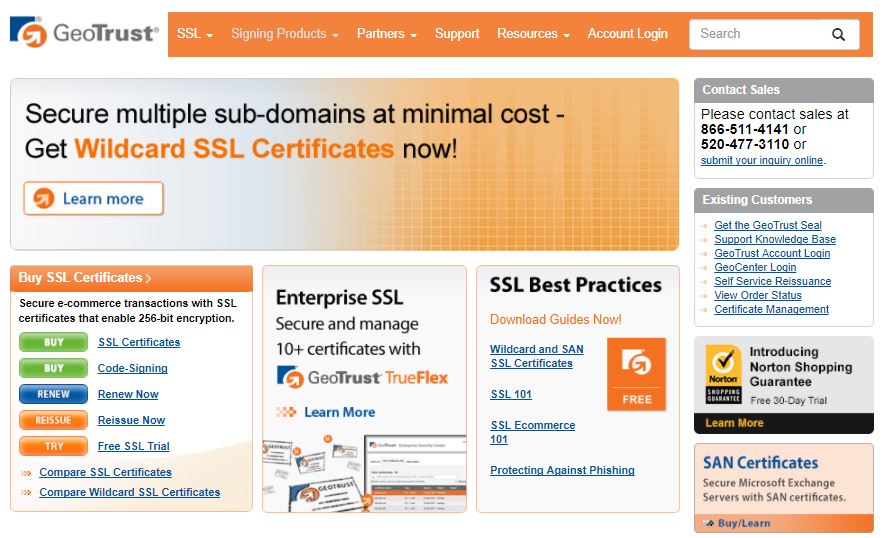 The GeoTrust platform offers an automated validation of your domain name and offers a security certificate that is compatible with all leading browsers and devices.
09

. Cheap SSL Shop

Cheap SSL Shop as the name suggests is a place where you can get SSL certificates for a cheaper price.

Cheap SSL Shop is a globally authorized SSL reseller of Certificate Authorities (CAs) such as Comodo, RapidSSL, GeoTrust, Thawte, Symantec, and GlobalSign.

Hence, you can find different types of SSL certificates at the lowest price. Cheap SSL Shop offers trusted CA SSL for free 30 days trial option.

As 30 days validity comes to the end, you can upgrade SSL certificate with 1 or 2 years validity at just $7/yr.
RapidSSL and GeoTrust SSL certificate on 30 Days Free Trial
Domain Name Validation
256-bit Encryption, which means the same level of security as Paid SSL
More than 90% browser compatibility
Instant SSL certificate issuance
Dedicated SSL installation support team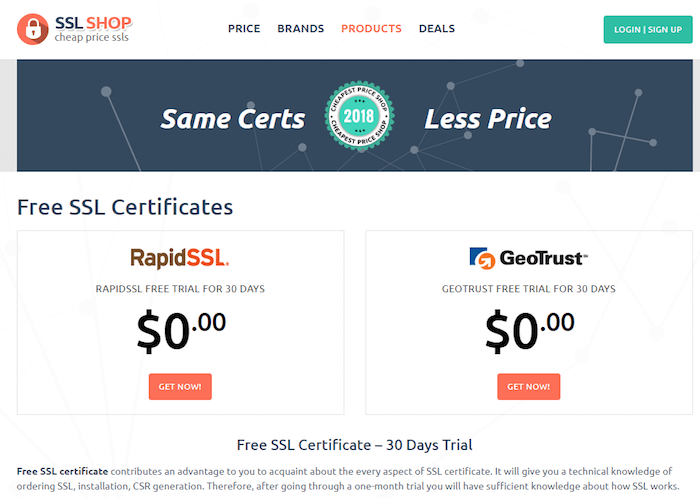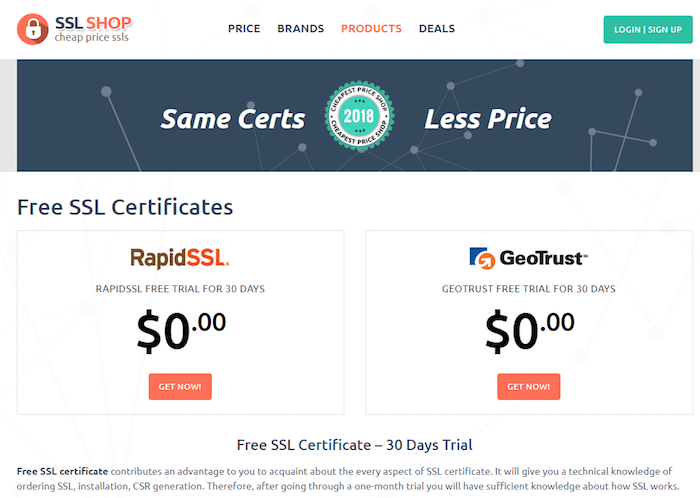 10

. Instant SSL

Instant SSL is another very good option to try your site to get free SSL for your site.

The certificate is free to use till 90 days, so you can use it as a trial version for your site before going for a long-term commitment.
Very quick issuance
Trusted by all major browsers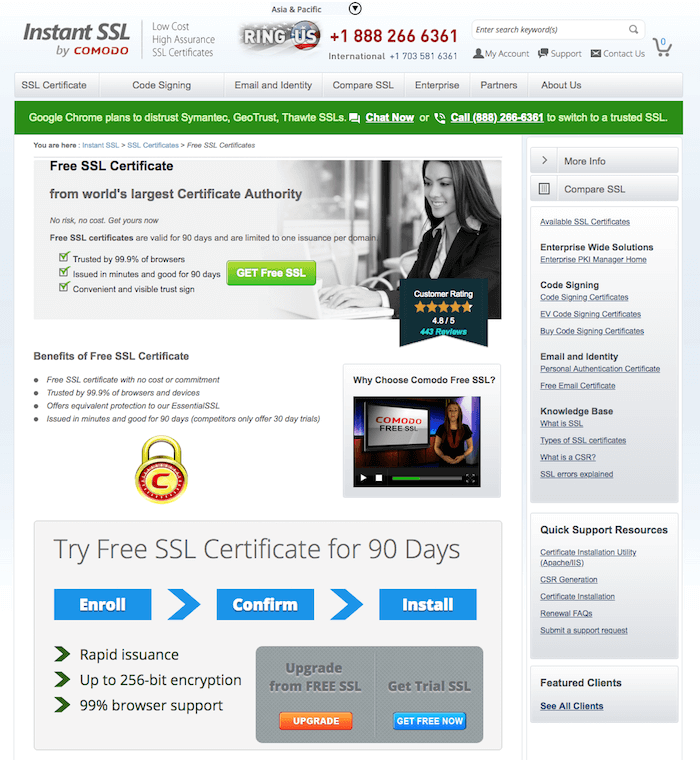 11

. SSL

Another popular choice to get SSL certificates for your site, the SSL provider offers you a free SSL certificate trail for 90 days which is a good enough period to try their certificate before you wish to move with better protection.

Secure your eCommerce site with the best certificate with a fully protected certificate. The issuance process is quite simple and quick and it is trusted by all leading browsers.

Your site will have the security mark and HTTPS lock to bring in the trust factor to your eCommerce or content site.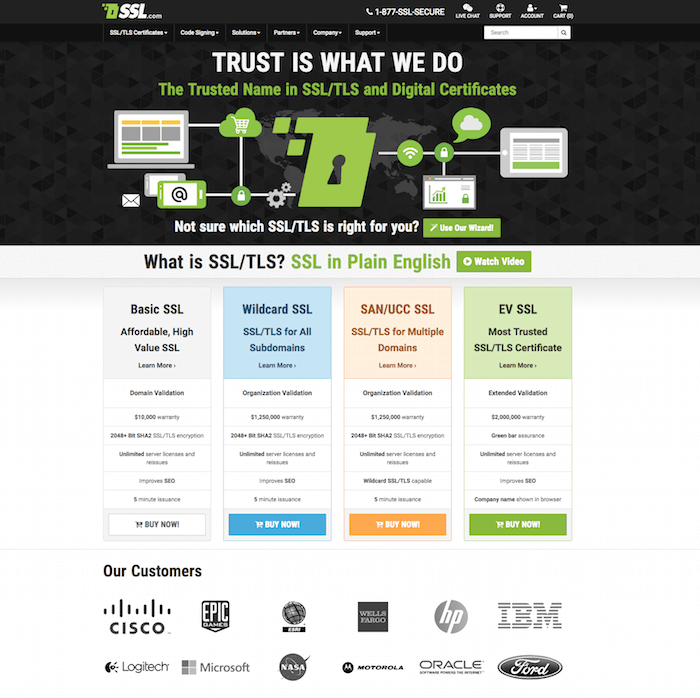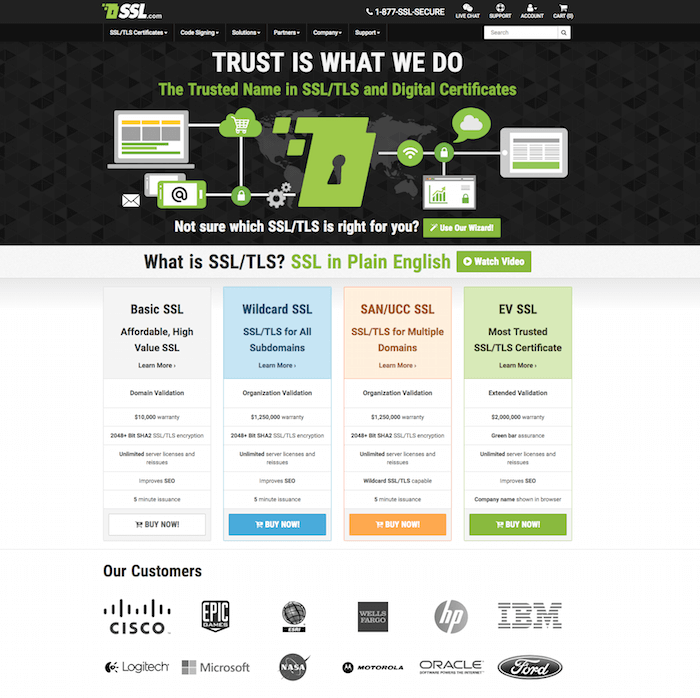 12

. Hostinger

These days the SSL certificate talks about the quality of a site. If you see a site without the SSL, it is not recommended to even a link from that site because that site is not probably maintained anymore.

Any serious business or blog will consider installing the certificate as one of the first things to do before even the site is launched.

Ever since Google made it mandatory to have the certificate installed for the sites, all the websites welcomed it and got it done.

So, if you are starting a new site make sure to install a certificate before the site goes public otherwise no one will take it seriously.

Hostinger is a service that provides cheap web hosting for websites. You can get an SSL certificate for free if you go for their business plan.

Also, if you are looking for free WordPress hosting, you can get it on the Hostinger site.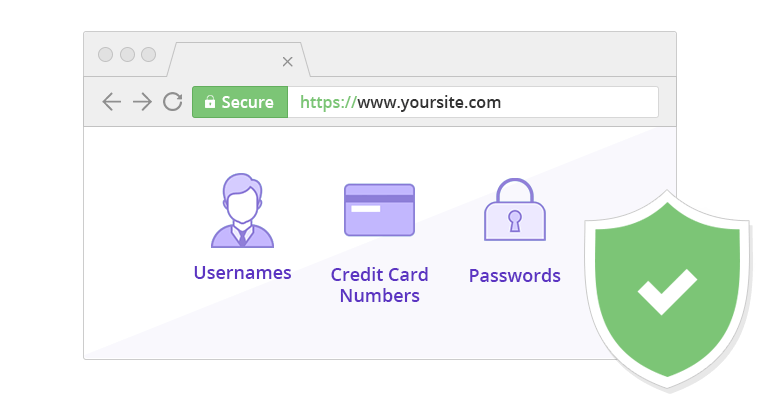 Final Word
Just like your home, your website too requires security from potential threats. An SSL certificate keeps the authenticity of your website alive and helps build the trust of visitors as well as search engines.
Whether you're going for a free SSL certification services or a paid one, choose the one that suits your website's needs and you'll be good to go!