There are many SEO experts out there writing SEO-related blogs that you can follow to learn SEO. We have got you the list of the best SEO blogs to follow.
These blogs will surely help your website rank better in search results and in targeting better traffic.
We all know the importance of keeping up with the trend. You just can't afford to lag behind. The fact is no different for SEO.
The blogs on this list are followed by millions of people worldwide. These blogs are very well written and designed especially for people looking to generate genuine traffic on their website.
Also, most of the SEO methods being talked about in these blogs are frequently tried and tested.
So, without any further ado, let's begin the list of the best SEO blogs to follow. Check it out.
Don't Miss These SEO Related Articles
01. The Moz Blog
The Moz Blog is one of the most popular SEO blogs available on the internet, that has been offering amazing SEO-related blogs for quite a while now. Since 2004, Rand Fishkin and his team of SEO experts are working intensely in keeping up with the latest SEO trends.
Rand is not part of the team anymore, but the site still continues to be one of the top sources for SEO-related information.
The blog has some very engaging content, such as the famous "Whiteboard Friday" weekly blog which talks about everything SEO.
The Moz Blog is a household name when it comes to SEO how-tos. The easier readability and frequent guest postings make this blog worth following.
Provides simple instructions on various concepts
The community at Moz is always likely and supportive
Individual posts concentrate on many unique ideas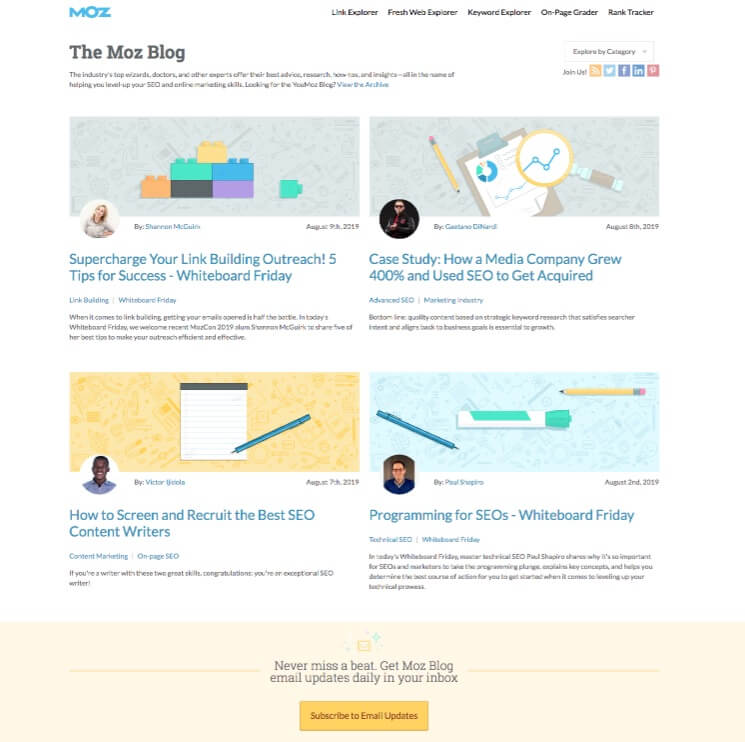 02. Search Engine Watch
Search Engine Watch is one of the most famous multi-author search marketing blogs that offer a wide variety of SEO sub-categories, such as
Image SEO, International SEO, Social Media SEO, and Google Algorithm Updates.
The content is very grounded and simple. Overall, this blog can be a great source of learning for people having absolutely no SEO knowledge.
Includes discussions on local and mobile search functions
Learn the latest SEO and social marketing trends
Covers all the aspects of digital marketing news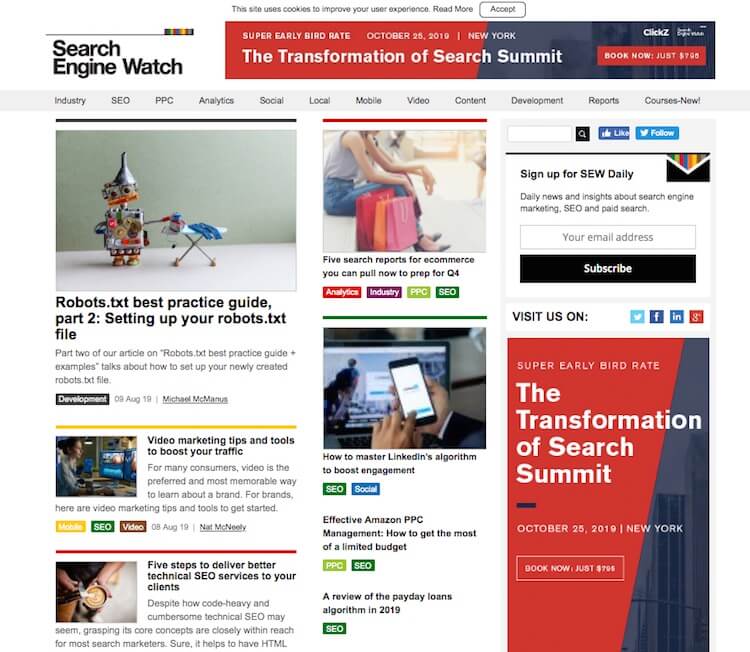 03. SEMrush Blog
SEMrush needs no introduction. One of the best SaaS-based SEO tools, SEMrush's blog is also considered one of the best in the business.
From social media SEO to voice search optimization, Semrush's blog offers a lot for all kinds of SEO enthusiasts.
So, if you are looking to upgrade your SEO knowledge, Semrush blog is definitely a good blog to follow.
Features general lists highlighting the best strategies for the use
Coverage of big SEO events are included online
Includes work from many of the top writers and analysts in the SEO field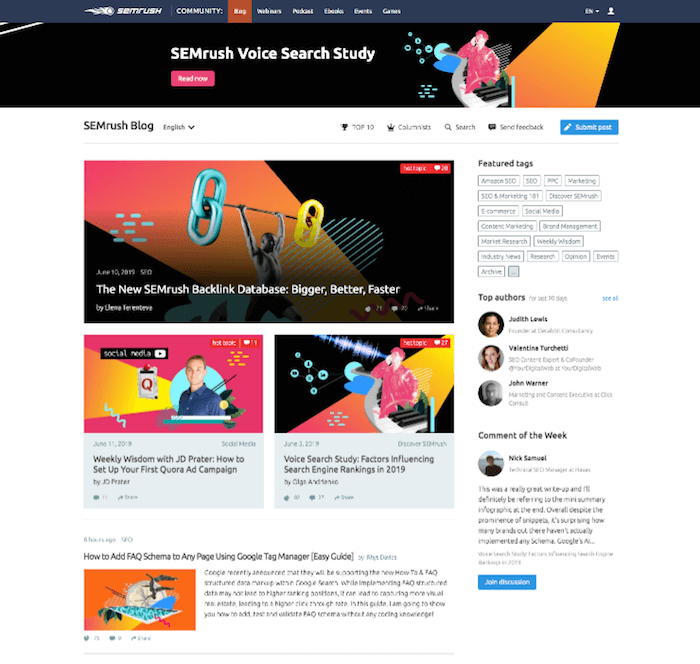 04. Search Engine Land
If your ideal SEO blog should be talking greatly about the latest SEO news and expert opinions, then this is the one for you.
Search Engine Land is one of the most famous and trusted SEO blogs. The blog is quite popular for publishing the latest SEO trends and news.
The trends and news related to SEO and digital marketing are published on a daily basis. You also get a good amount of analysis of the latest SEO changes and PPC trends.
Updates on the latest algorithms and changes to search engines are highlighted here
Learn about new points surrounding SEO software here
Features details on apps that link to the top search engines, including Google Maps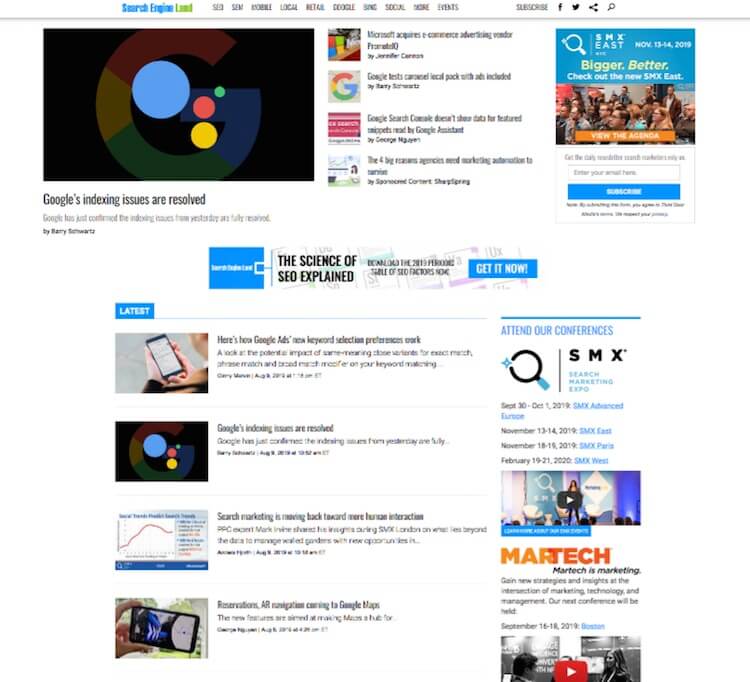 05. Backlinko
Brian Dean's famous SEO blog, Backlinko is being followed by hundreds of thousands of people worldwide.
One of the most noticeable things about the articles is the heavy use of images and videos. This simplifies the SEO guides and engages more readers on the blog.
All the articles are written by Brian himself and are packed with his expertise. Famous business magazines, such as Forbes, Entrepreneur, and Business.com have appreciated Brian and his SEO blog on many different platforms.
Includes various detailed posts surrounding all aspects of SEO work
Covers points on social media, SEO, etc.
Written by Brian Dean, an SEO expert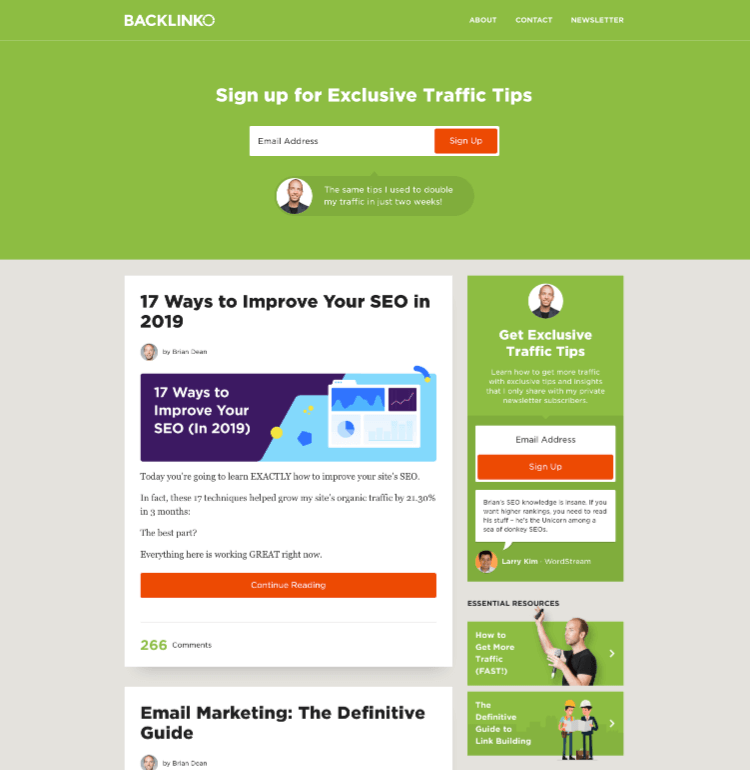 06. Neil Patel's Blog
If you haven't yet read Neil Patel's blog or if you don't know who Neil Patel is, then you've definitely got many things to learn about SEO. Neil Patel is one of the leading names in the SEO industry.
Neil Patel's blog has everything an SEO enthusiast needs. The simple and grounded writing, along with the rich use of images and videos makes this blog engaging and fun to read.
This blog has got many different video tutorials for beginners, as well as for professional marketers.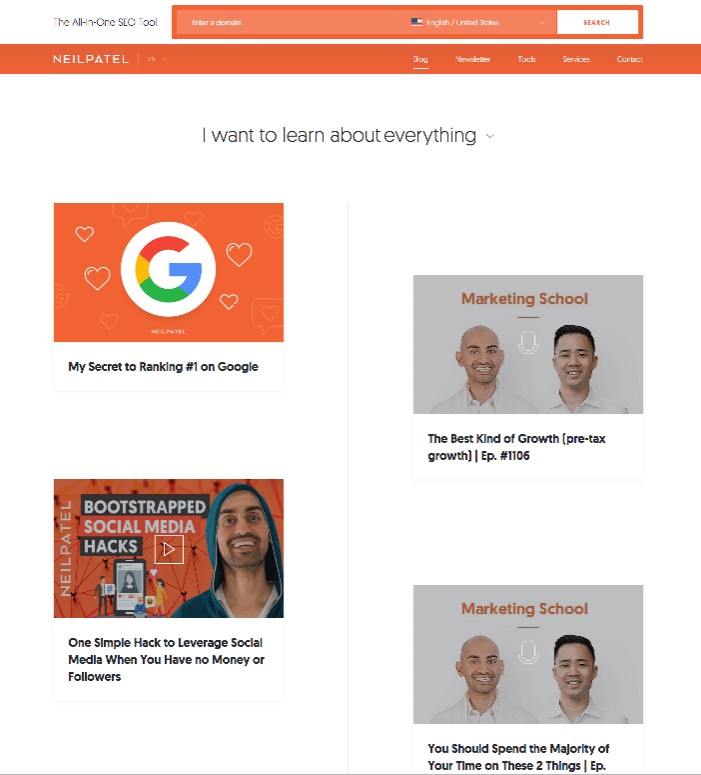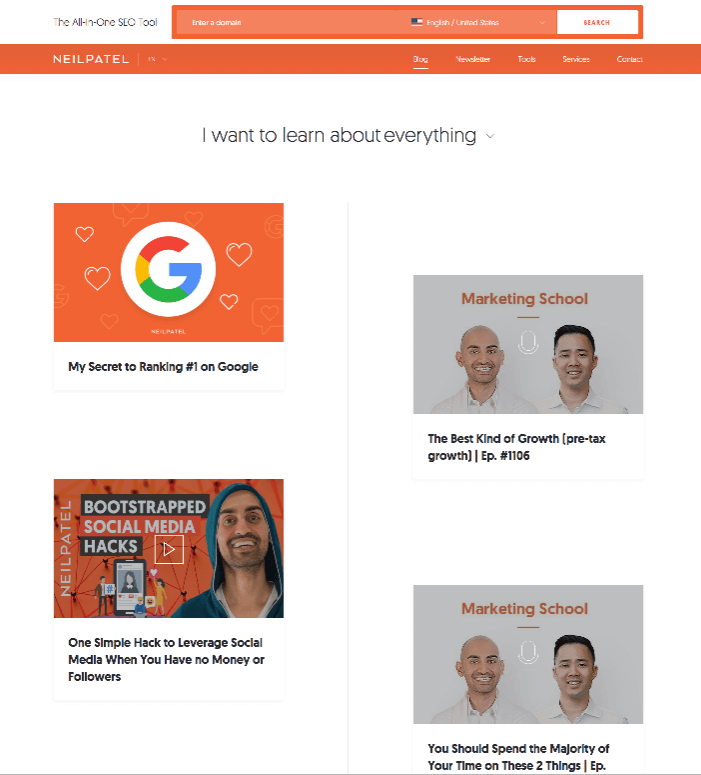 07. Google Webmaster Central Blog
Google Webmaster Central Blog is a great option for keeping yourself updated with the latest updates to Google. You might also get insights into the changes in Google's search algorithms.
This multi-author blog is being followed by many different kinds of marketers and is definitely a good choice.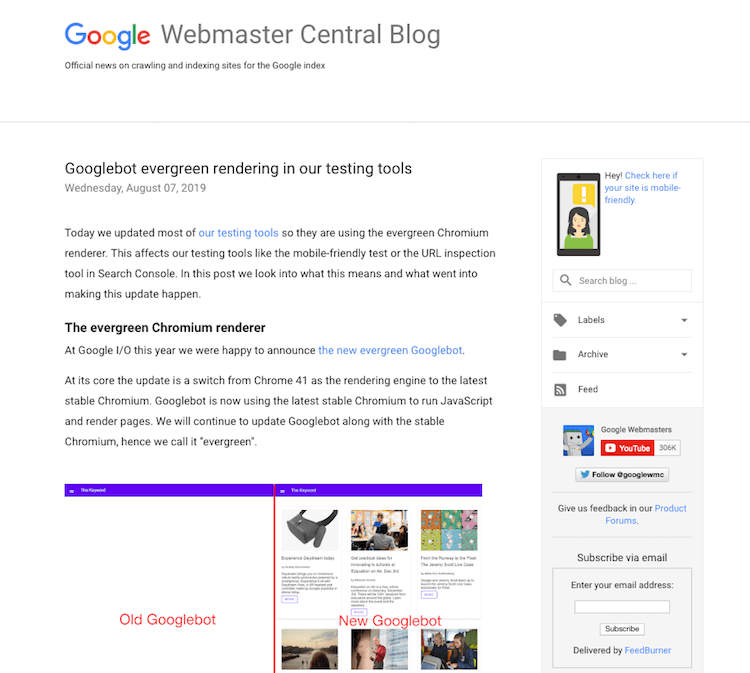 08. Yoast SEO Blog
Yoast is a world-famous WordPress Optimization tool that helps you in optimizing your website for better search result page ranking. You get to add meta tags and titles to your website through Yoast.
Yoast's SEO blog offers you a great number of how-to guides and information about SEO. Not just that, you also get a ton of information on how to improve your website's overall user experience.
Simplified information is included on the site
Get new information on WordPress SEO details
Figure out how you can use many plugins for your benefit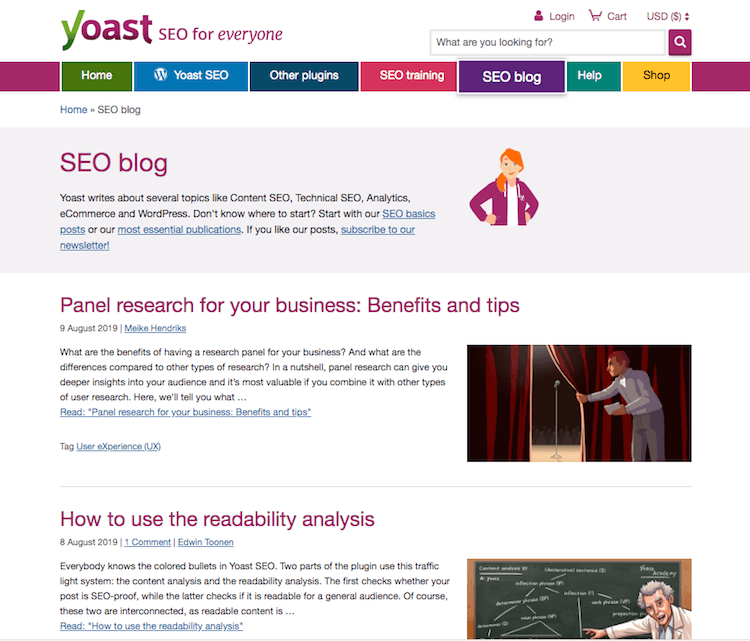 09. Ahref Blog
Ahref Blog is one of the most popular and top-ranking SEO blogs available these days. You get a ton of opinions and case studies from many different SEO experts.
The articles are highly detailed and straightforward. Some of the articles in the Ahref blog are specially written for beginners.
Tim Soulo, the author behind this blog, is one of the most experienced and top-rated SEO experts in the industry, surely making this blog a good choice.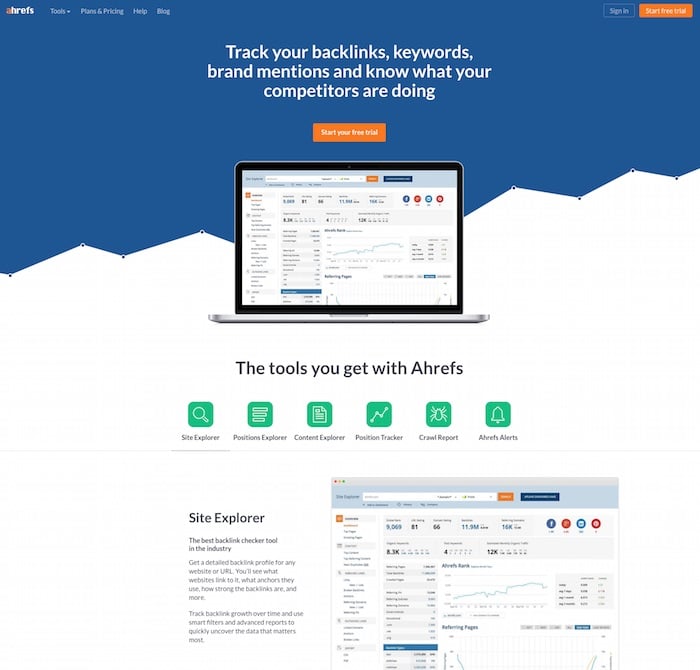 10

. Search Engine Journal
As the name suggests, Search Engine Journal offers you the latest news and trends being introduced in the SEO market.
The blog has been providing SEO marketers SEO and social media-related news for over 16 years now.
The blog offers around 3 to 4 articles each day. You get articles and tutorials from different SEO experts, which are sure to help both experienced and beginner bloggers.
Every major social media site is included on the site
Various webinars and ebooks surrounding SEO efforts are included
Figure out strategies on how to spend money on search engine ads through the site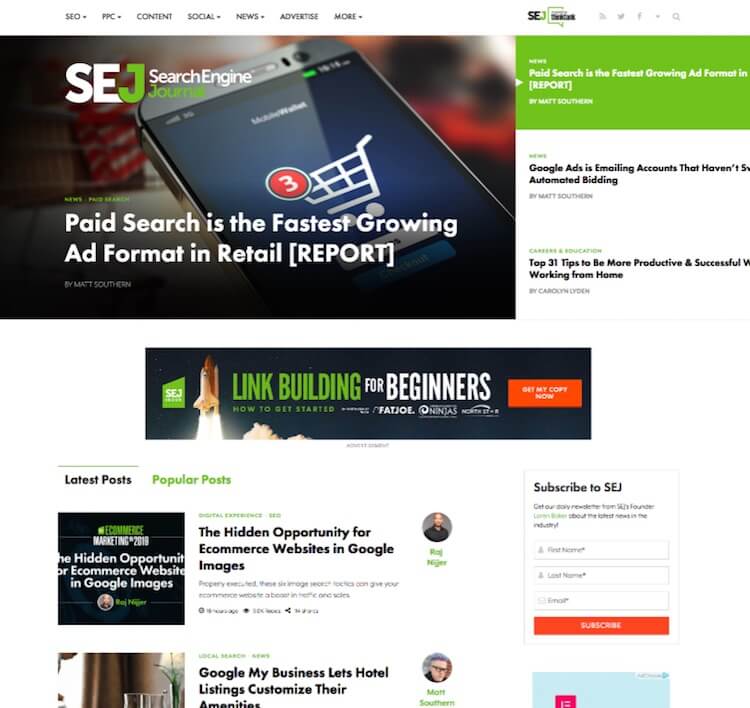 11

. SEO Book
SEO Book is a complete SEO guide for all kinds of marketers. The blog is very simple and on-point. You get a lot of unique SEO-related categories, such as videos, SEO tools, and community.
SEO Book is also very popular for its SEO training program. So all in all SEO Book is simply a great option for all SEO beginners.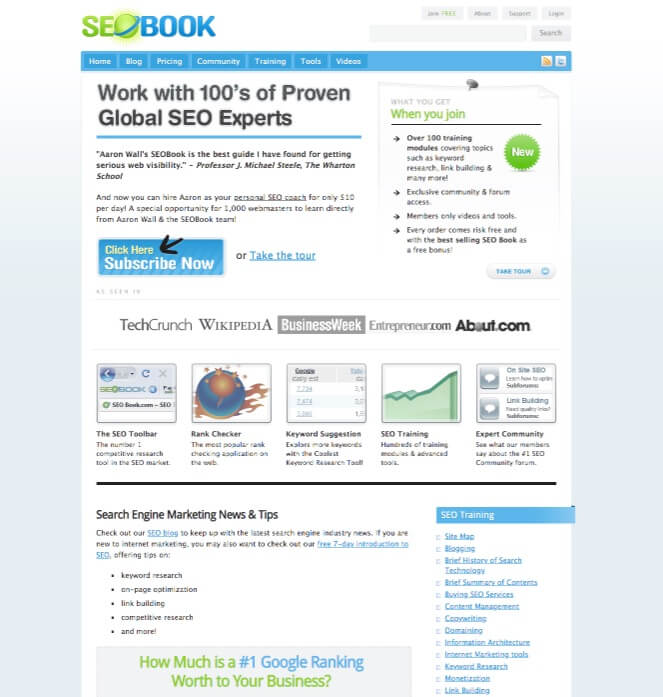 12

. SEO By The Sea
SEO by the Sea is one of the few SEO blogs that are totally written and managed by an individual SEO expert. In this case, Bill Slawaski is the author and brain behind this blog.
Bill has been involved in SEO since search engines actually started. SEO by the Sea talks everything about SEO, keeping the algorithms of search engines in mind.
See what goes into an SEO audit
Link-building strategies are provided
Tips on how to find the best keywords for your SEO efforts can be found on the site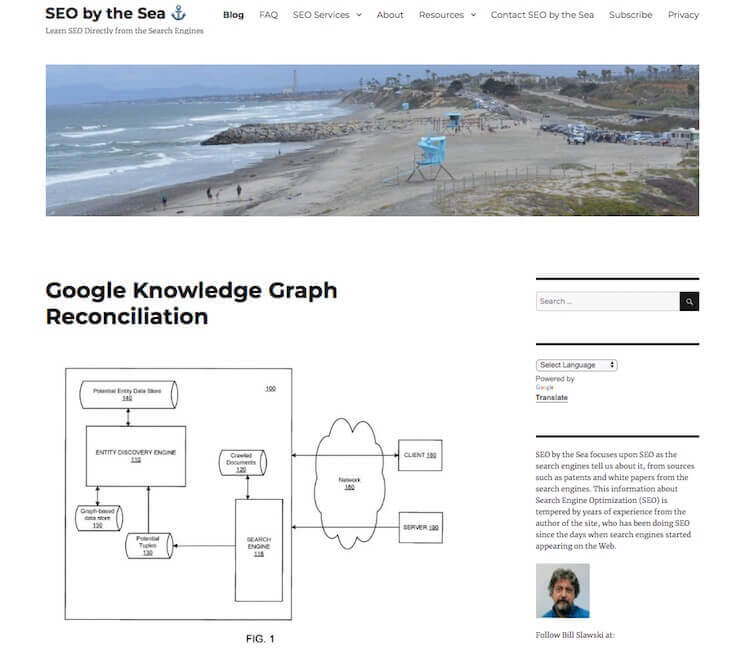 13

. CopyBlogger
CopyBlogger has a team of experienced and certified writers who have there in the SEO business for quite a while now. The blog has a lot of useful guides to offer for all kinds of marketers.
Since 2006, CopyBlogger has been offering many useful resources for free. The how-tos and tips provided are a must to follow.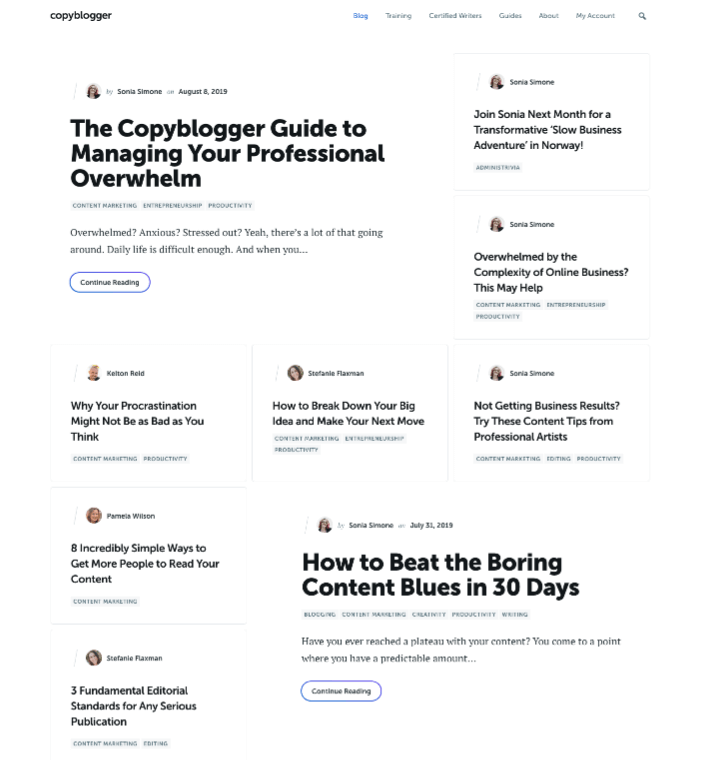 14

. Content Marketing Institute Blog
Content Marketing Institute's blog is a multi-author blog that has a lot of how-to and guides to offer. The high-quality and tips rich content of the articles in this blog is the USP.
The simple & hassle-free articles and no overuse of images make this blog a great one to follow.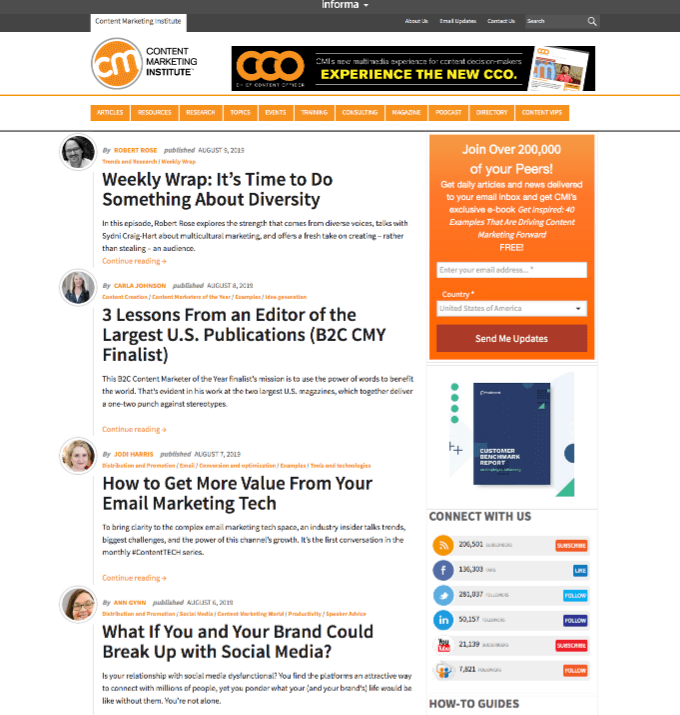 15

. CrazyEgg
CrazyEgg's SEO blog is one of the most popular SEO blogs available on the internet. The simple and easy-to-understand articles are packed with a lot of on-point images and screenshots.
CrazyEgg is a simple and straightforward blog, which might not offer a large amount of SEO and marketing articles, but surely can give a lot of important SEO knowledge.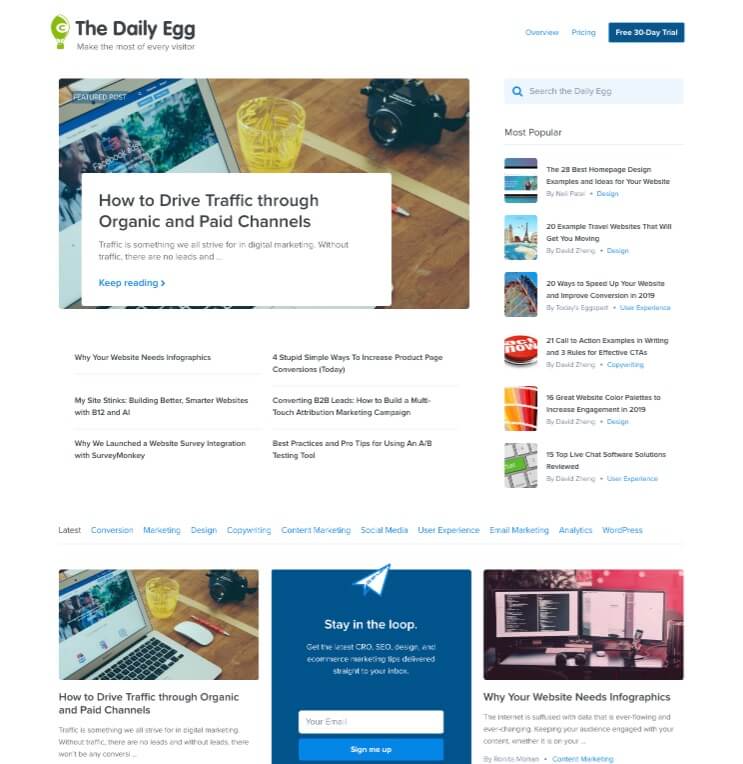 16

. QuickSprout
QuickSprout has a lot to offer for entrepreneurs, digital marketers, and anyone seeking help in growing traffic on their website.
Started by Neil Patel in the year 2008, QuickSprout's blog is packed with tons of how-to and guides for all kinds of online marketers.
The blog is packed with a lot of deep insights and examples, which can surely help you grow traffic on your website.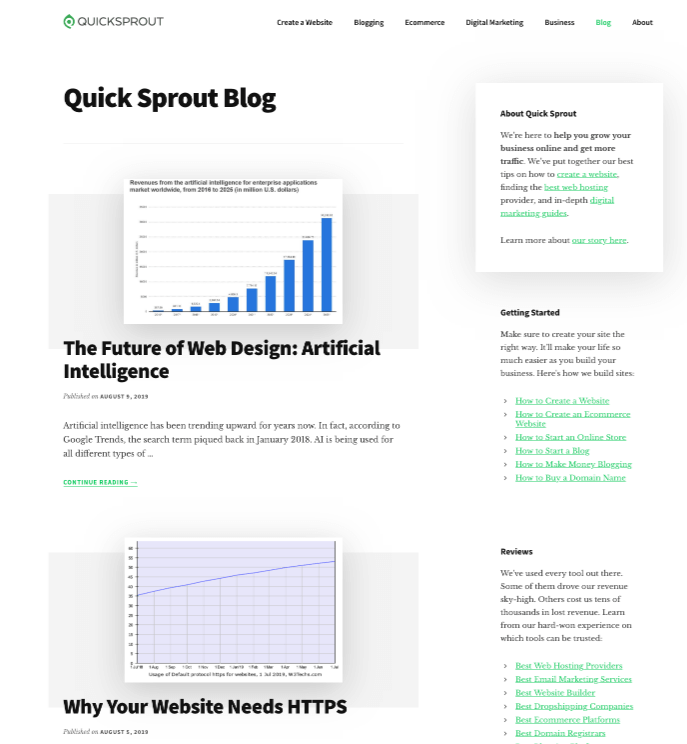 17

. Search Engine Roundtable
Another very popular single-author blog, Search Engine Roundtable is founded by another very popular SEO expert Barry Schwartz.
You get a lot of important SEO categories, such as SEO copywriting, Dynamic Site SEO, and Google Trends.
Discover how to work with different ads
Learn about SEO strategies based on the newest developments in each field
Get the latest news around search algorithm updates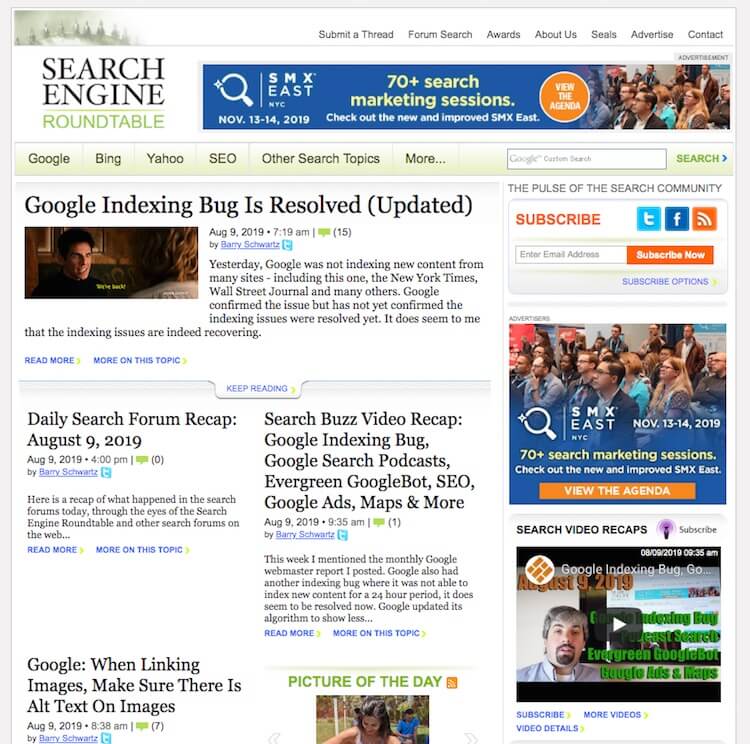 18

. CognitiveSEO
Cognitive SEO is one of the easiest to understand and helpful SEO blogs on the internet. The blog is popular for providing cost-efficient and cheap SEO and marketing solutions.
The use of screenshots and images in this blog is very convincing and helpful.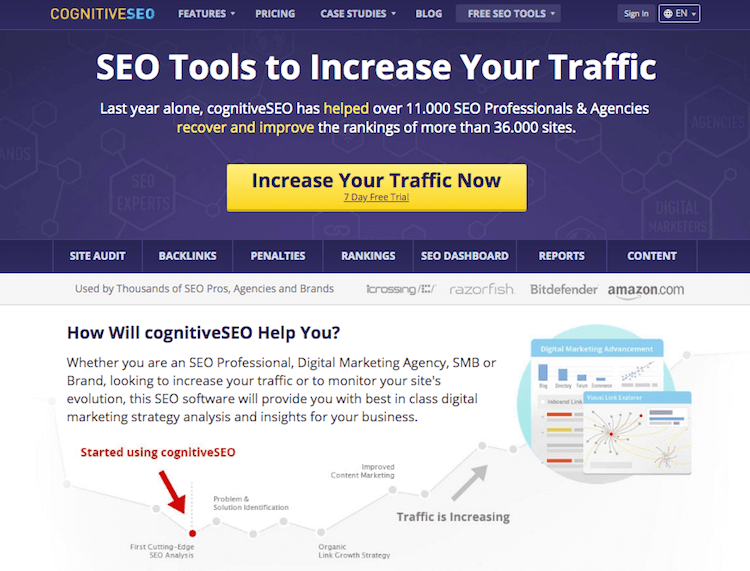 19

. Raven Tools Blog
Raven Tools blog offers SEO articles packed with a lot of tried and tested SEO techniques and methods. The blog offers a lot of beginners and expert guides for SEO enthusiasts.
The blog has been guest-posted by a lot of different and famous SEO experts and is surely a nice choice.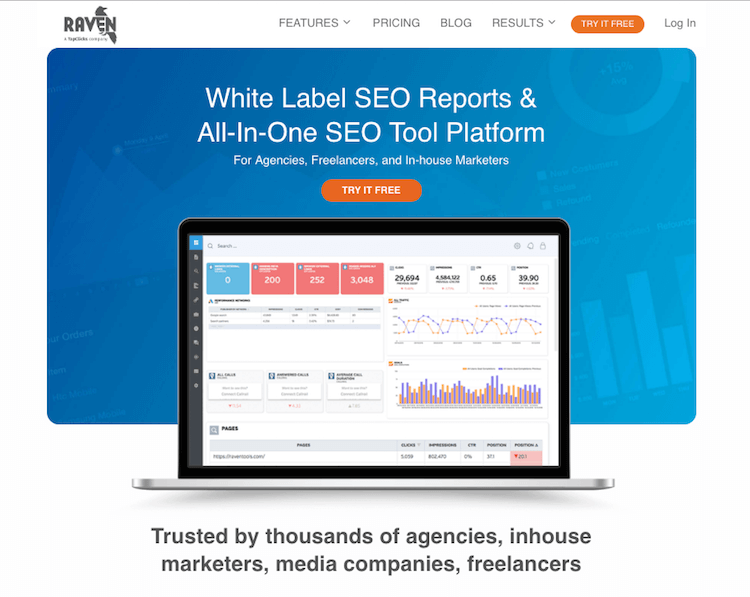 20

. Gotch SEO Blog
GotchSEO founded back in 2013, is yet another very popular single-author blog, published by SEO expert Nathan Gotch.
Gotch offers many in-depth guides and knowledge on his SEO blog. You get a lot of how-to and tips from Gotch's own expertise.
Although Nathan Gotch only publishes his article once a month, GotchSEO's SEO blog is also a decent pick.
The massive guides on the site include ones designed by Gotch himself
The video content includes visual details on how you can improve upon your work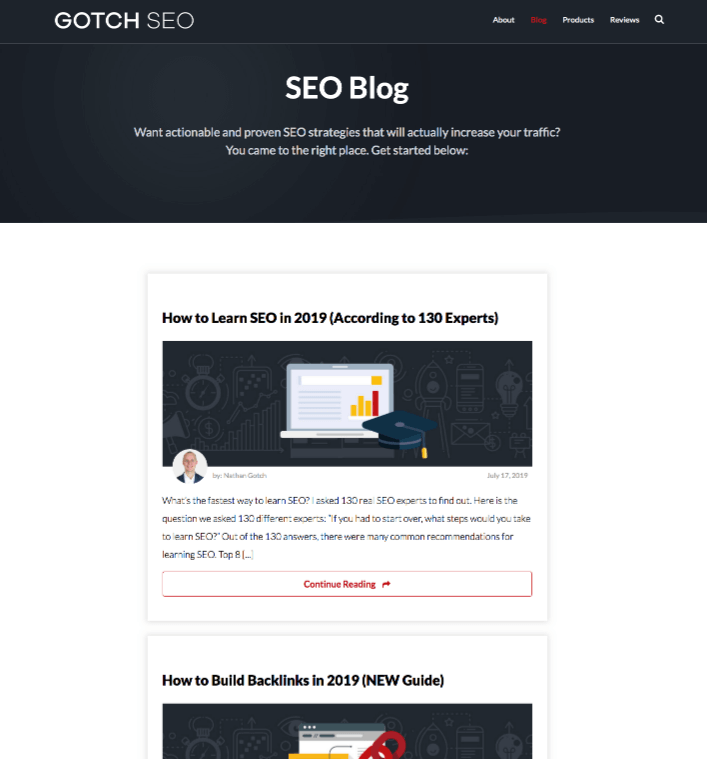 21

. Ahrefs
Ahrefs is one of the most popular SEO analysis, digital marketing tool that you can use to analyze any website.
This competitor research tool is perfect to go through the details of any website to find the traffic, backlinks, anchor text, and all other important details which in turn will help you to grow your business.
You can use Ahrefs to get details of all the referring domains, backlink pages of your competitor site so that you are able to replicate those for your business as well.
Other than that, you can use the tool to do detailed keyword research to plan your content strategy. You can get the details of related keywords, and difficulty levels to rank them on the top ten results.
Ahrefs has a very active blog that you can follow to know more about the changing digital marketing trends, SEO related articles. Other than that you can also get to know more about YouTube SEO which is very important for brands these days.
Features basic stories to help you get used to specific activities
Regularly updated with two to three posts a week
Includes clear descriptions of complicated terms that people might not be familiar with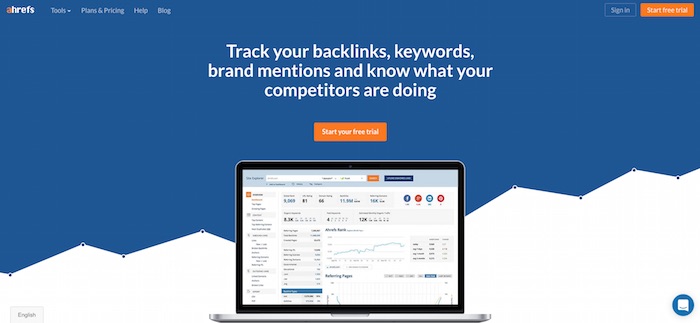 22

. Builtvisible Blog
Builtvisible is another hub for top-notch SEO-related content. You can learn basic to advanced level SEO on this blog.
Learn about SEO, content marketing, mobile SEO, and all the other important aspect that will help you to grow your business and make sure that you are on top of your business.
Includes points for beginners as well as experts
Comes with details on how to use analytics to your SEO advantage
The posts on the site aren't too long, but they are filled with more detail and data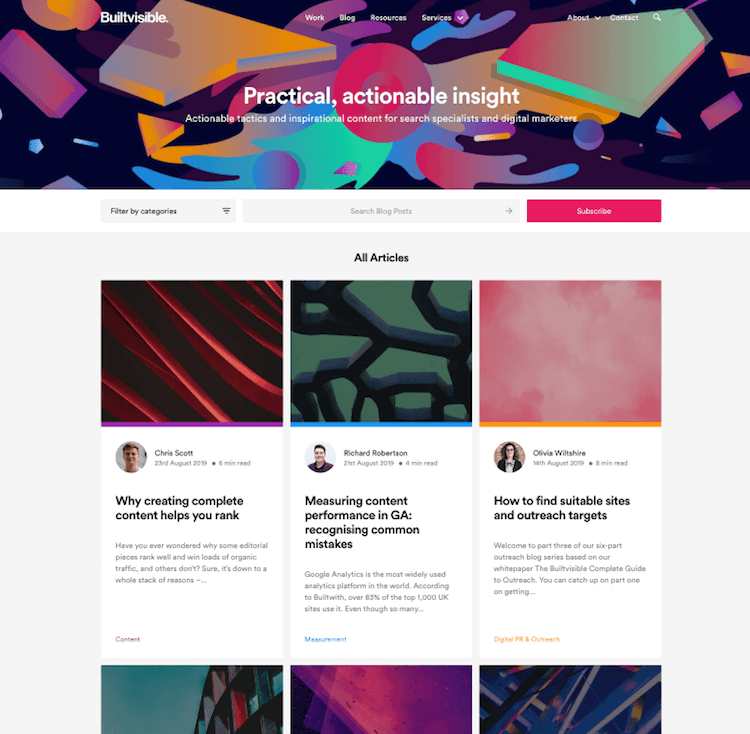 23

. SEER Interactive
SEER Interactive is a comprehensive resource to learn about SEO, content marketing, paid traffic generation, social media marketing, and all other related topics that can help you to grow your business.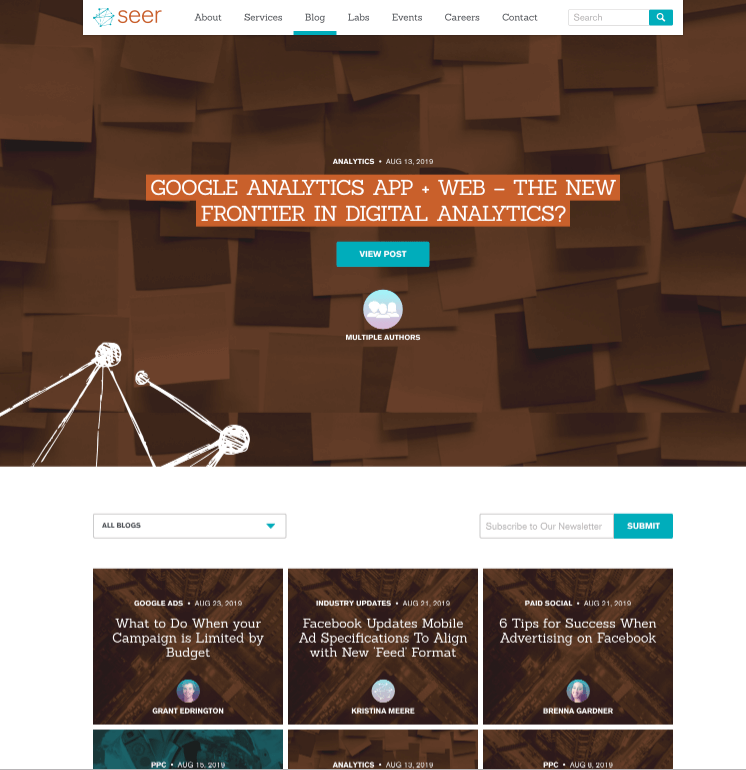 24

. Reliablesoft
Reliablesoft is another good resource to learn the basics of SEO. If you are just getting started and want to learn SEO, head over to Reliablesoft blog.
You can read topics like how to write for SEO, the basics of keyword research, Google best practices, online marketing strategies, etc.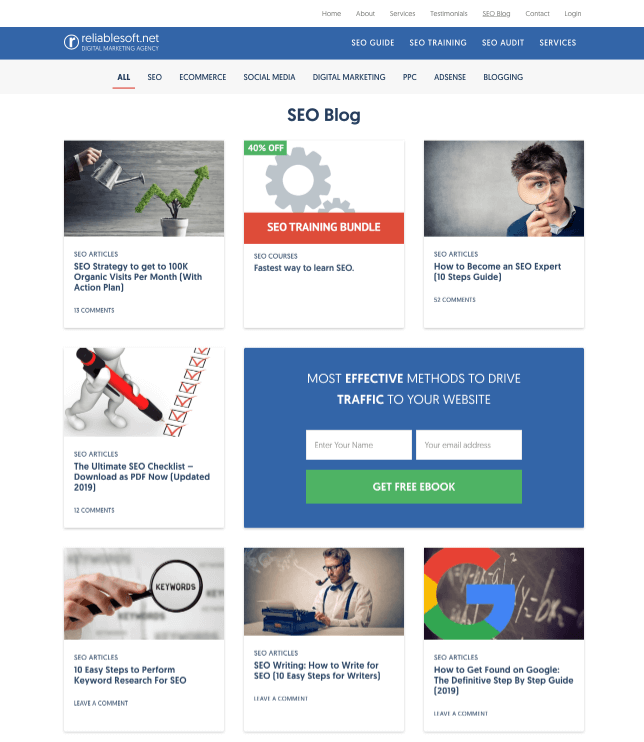 25

. TopRank Marketing Blog
TopRank Marketing Blog is the place where you can get the latest industry news, SEO and social media marketing-related content.
They have a very active blog around SEO and related topics. You can get fresh new content every day around SEO, social media, content marketing, industry news, etc.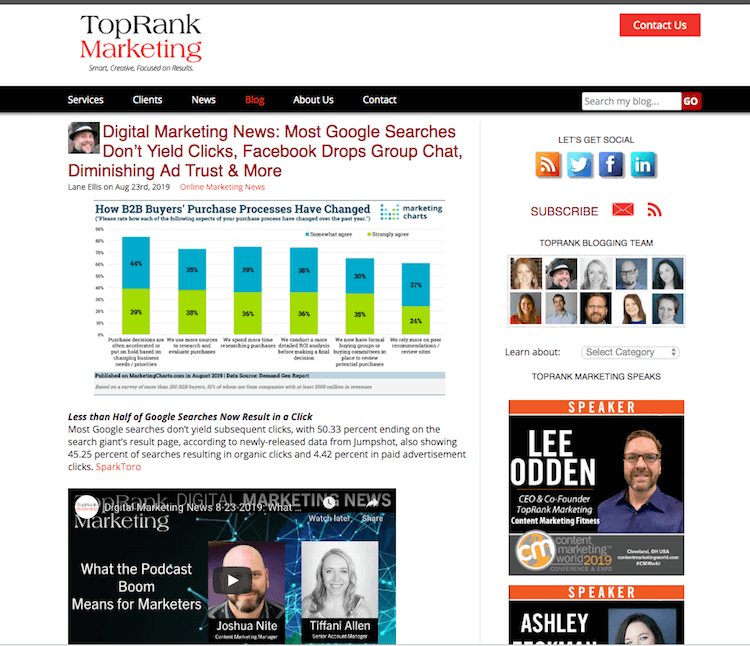 26

. Robbie Richards SEO Blog

While it is true that Robbie Richards' SEO site only updates about once a month on average, the site provides a comprehensive look at everything you need surrounding your SEO work.

Richards' content includes points on everything from strategies surrounding new links to how content works. You can even review the sample scripts and posts to see how well these SEO strategies can work for you.
Every aspect of SEO work is covered here
You'll find additional points on how to produce a site through the blog
The conveni8ent design helps you find posts from the past and present alike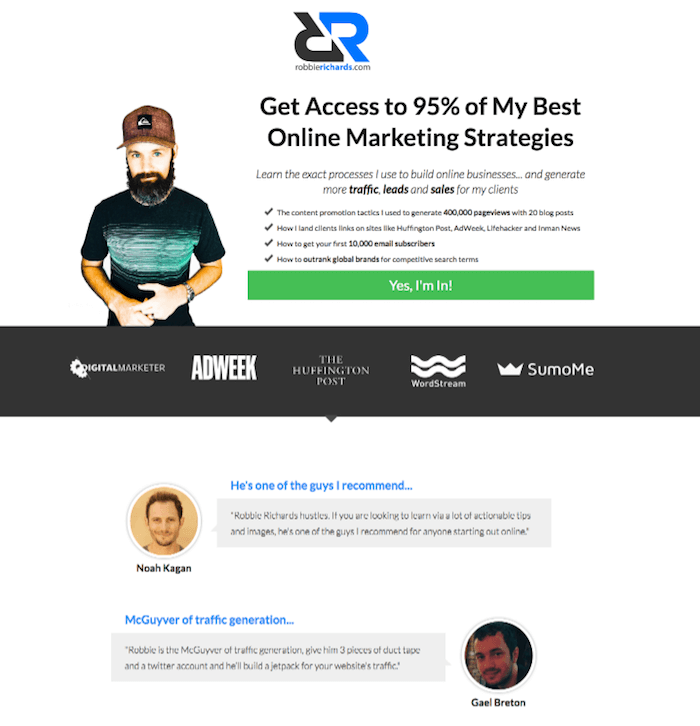 27

. Hobo SEO

The Hobo SEO blog has useful information, but the tutorials on the site are what make this blog a must-follow. The tutorials cover aspects of running a site from being a webmaster to handling a domain name to working on duplicate content among other things.
Includes free ebook downloads
Covers internal and external SEO work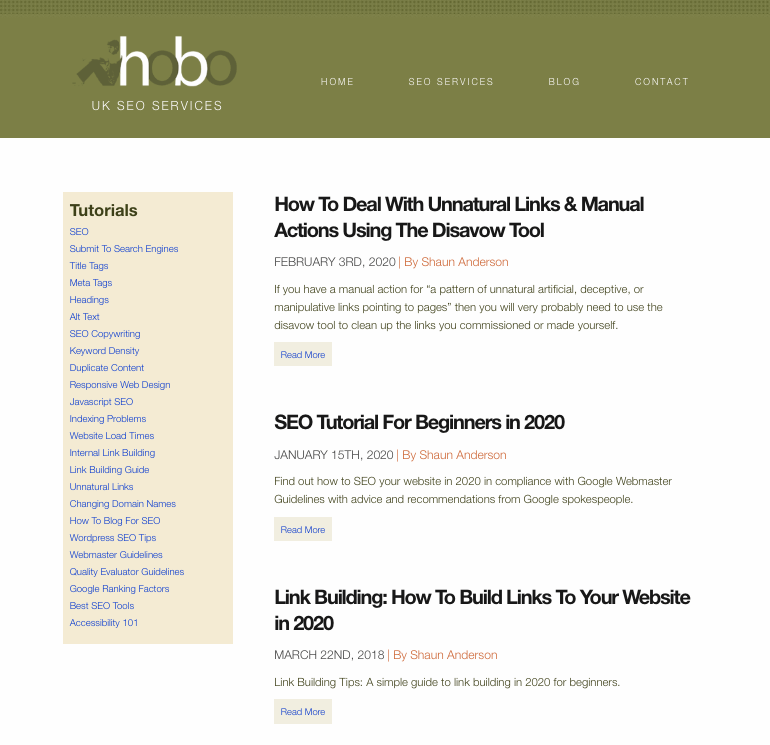 28

. MatthewWoodward.Co.Uk

Matthew Woodward has been writing about SEO work since 2012 and continues to be one of the most trusted writers in the SEO field. He publishes detailed tutorials on all the important aspects of SEO. You can find actionable SEO tips on his blog.
Regularly updated
Keyword research is a major topic
Detailed actionable SEO tips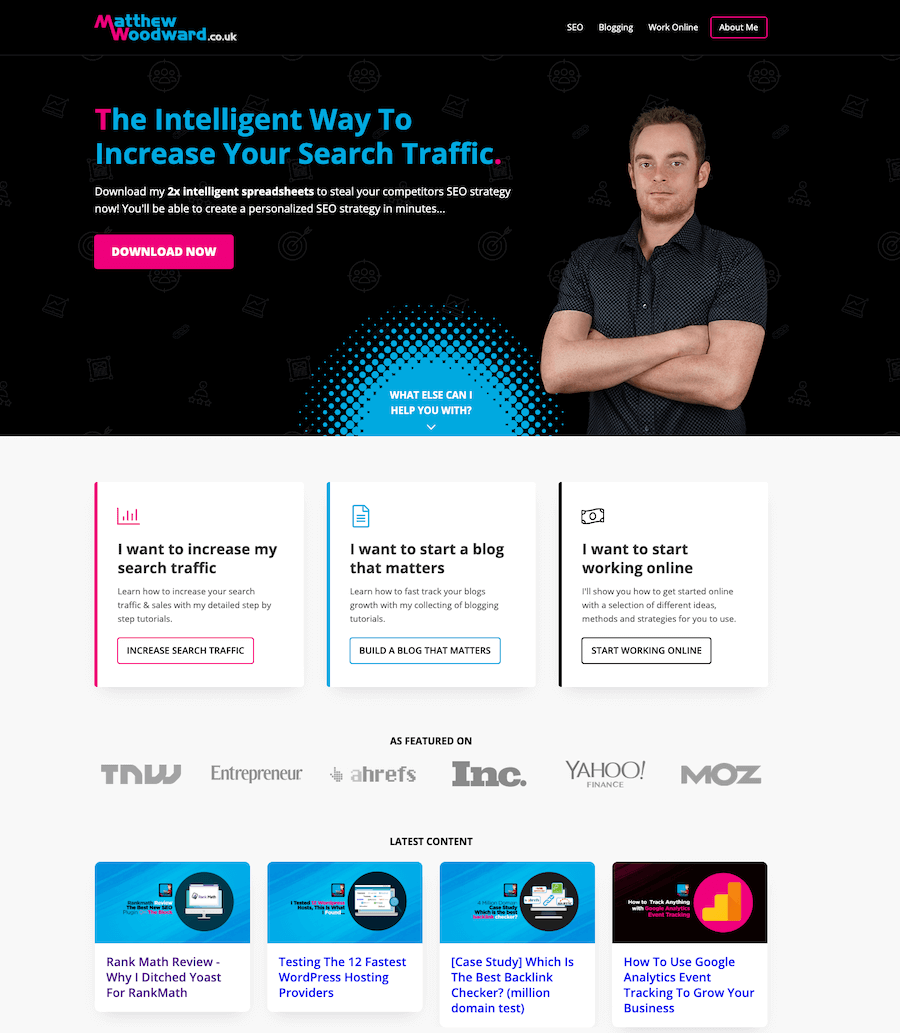 29

. Lion Zeal

Lion Zeal provides courses for people who want to learn about attractive SEO strategies of note. Lion Zeal includes additional details on its work through a thorough blog.

You can learn about selecting niches through the site as well as how you're going to target individual audiences of note.
Client acquisition is a critical tenet of what Lion Zeal covers
Has details on local SEO work
You can use this to figure out how to manage affiliate sites, including affiliate marketing pages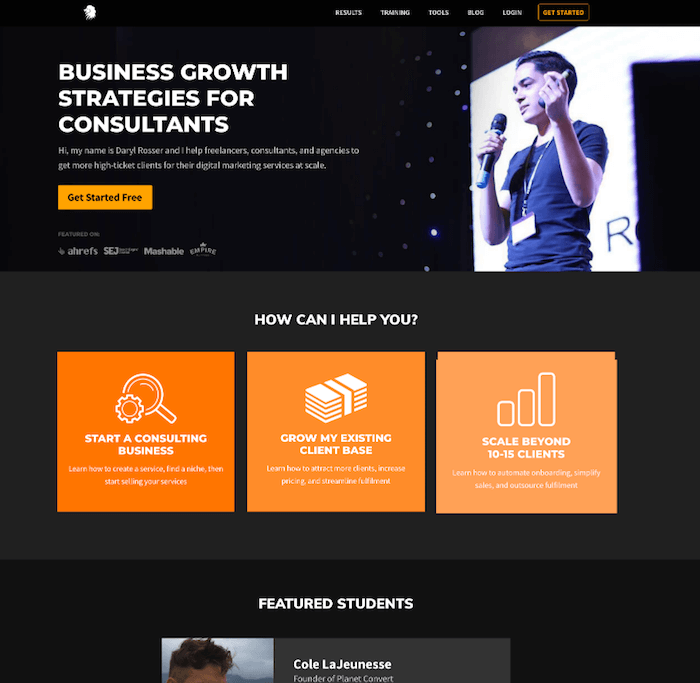 30

. Kaiser The Sage

The interesting part of Kaiser the Sage is that Jason Acidre, the founder of the site, focuses mainly on link-building strategies.

Acidre concentrates on working with unique link acquisitions and on producing intriguing pages that add a better touch to one's SEO campaign.

The designs that Acidre promotes focus on many ideas for making sites go forward and be easy to follow.
Covers details on inbound marketing efforts
Discover how you can build content and make it more viable for promotional purposes
The page is regularly updated with the newest data on SEO work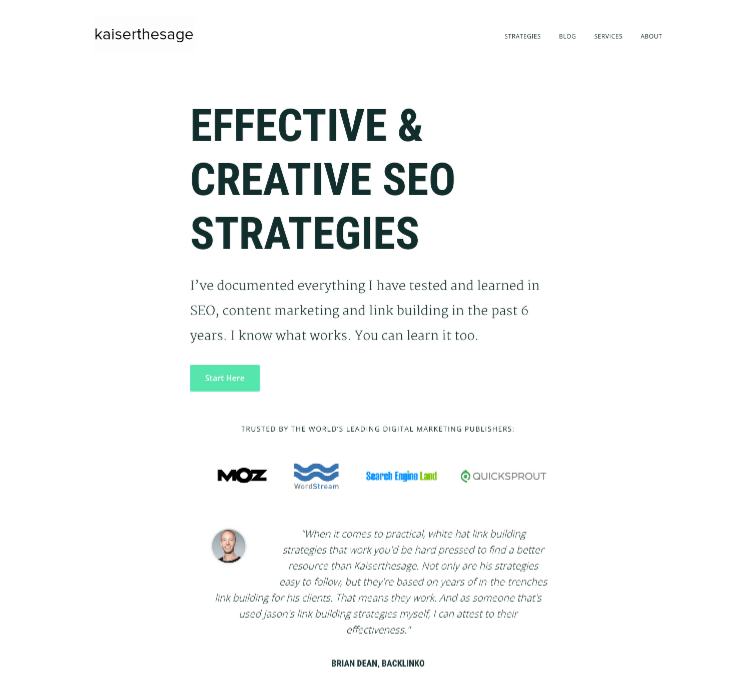 31

. Marie Haynes

Marie Haynes runs her own SEO consulting agency and has introduced a blog highlighting her work and points on what people can do for their SEO needs.

You can learn about many things surrounding your work, although the site does particularly well with details on Google penalties. You can learn about what you need to avoid through Haynes' blog, thus keeping you from losing out on the best results.
Each report is simple and easy to figure out
The guides on the site cover the latest search engine algorithms
Find details on what changes are coming about on today's top search engines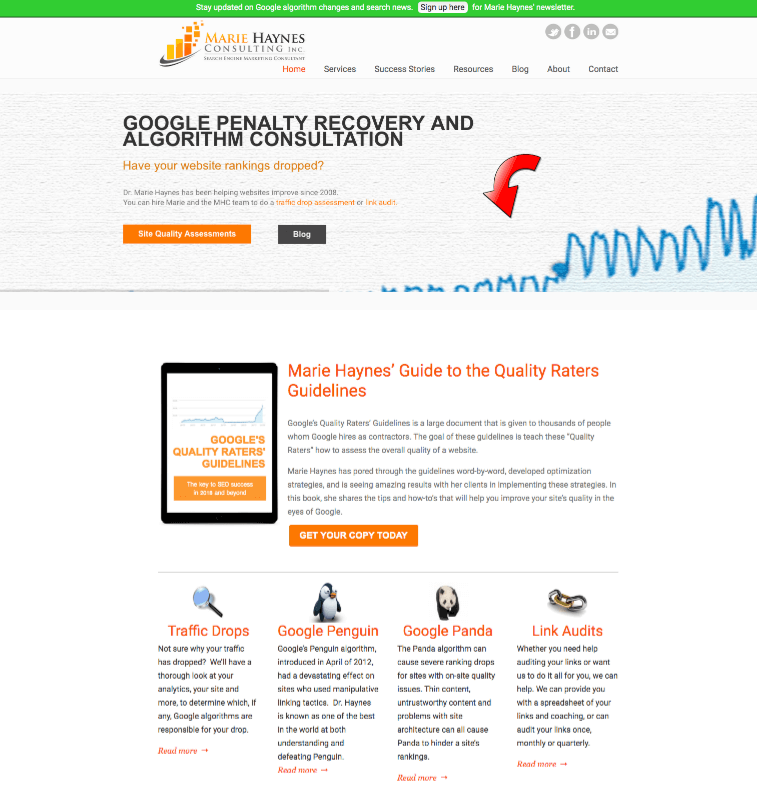 32

. Diggity Marketing

Diggity Marketing helps people with many promotional projects, but the detailed blog on the site is particularly helpful for those who want to go forward with their work.

SEO expert Matt Diggity focuses on ideas for SEO work that are based on actual results. The direct and honest work that Diggity puts in focuses on finding accurate and correct results.

In fact, he only focuses on points that actually work when it comes to handling many search engine efforts, even if it entails things that he wasn't directly responsible for.
Posts regular updates on news surrounding the latest trends in SEO work
Incorporates unique case studies
Offers examples of SEO ideas that will not work alongside ones that do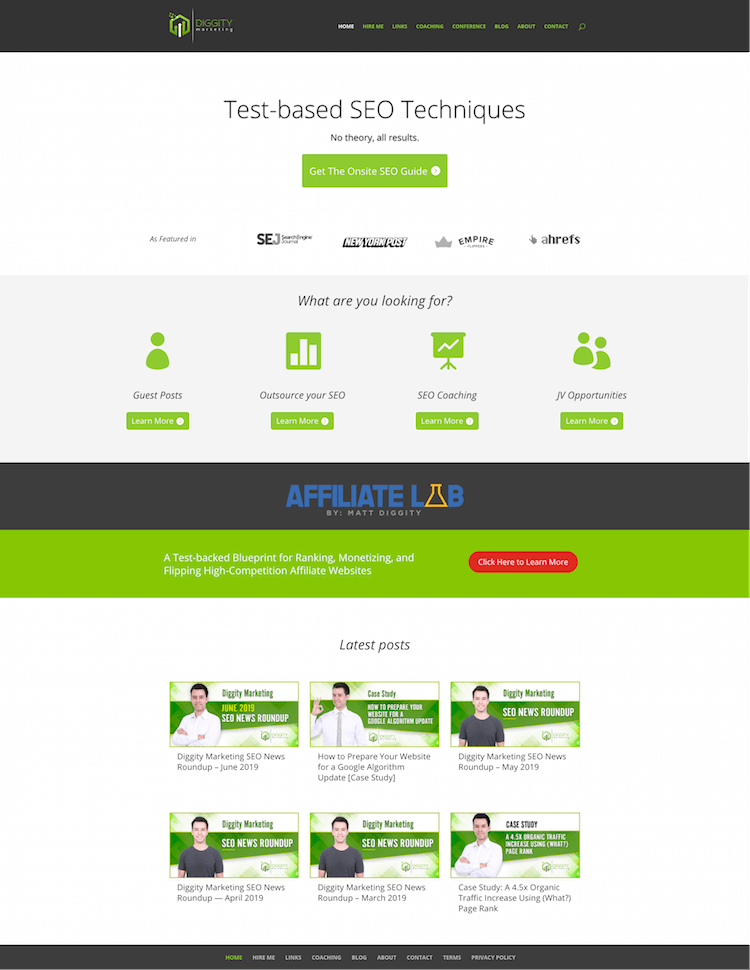 33

. Bright Local

If you wish to know more about Local SEO, here is a great site for you to learn about local SEO and optimize your business for maximum exposure.

Along with the blog, Bright Local offers you a number of other resources to learn local SEO through a knowledge base, webinars, and research materials.

Also, if you need local business services; Bright Local is a great platform to start with. They offer custom services to optimize your business for local search.
One of the most comprehensive platforms to learn local SEO
Find useful research materials on local SEO
Custom services around local SEO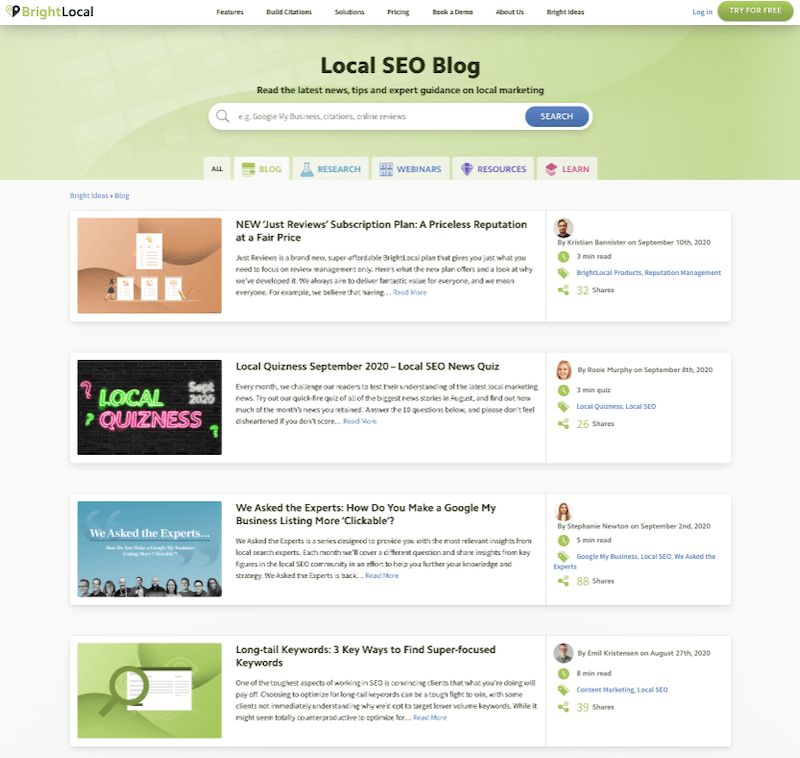 34

. Niche Pursuits

Managed by Spencer Haws, Niche Pursuits revolves around finding the right niche for your site and how to grow it. Here has published a number of high-quality detailed articles about making money online.

So, if you wish to find a profitable niche and create a business around it; Niche Pursuits can be a great guide for you.
Great resource to find a profitable niche
Detailed guide about making money online
Detailed case studies to learn from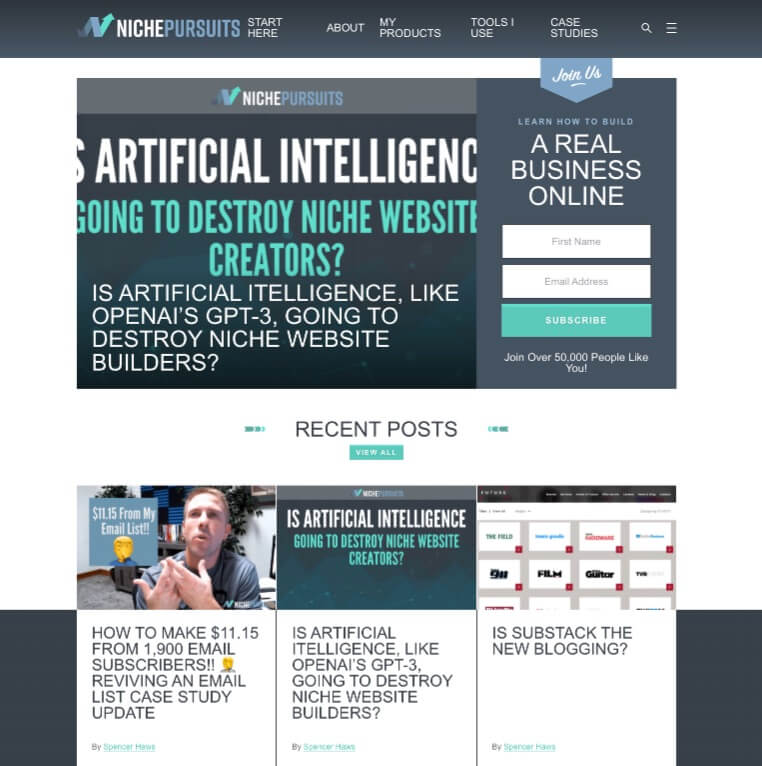 35

. Rank Math

Rank Math by MyThemeShop is a popular WordPress SEO plugin. Now, if you want to learn WordPress SEO or SEO in general, Rank Math has a resourceful blog to learn from.

They create content around SEO topics and how you can improve your site powered by Rank Math SEO plugin in order to get more organic traffic.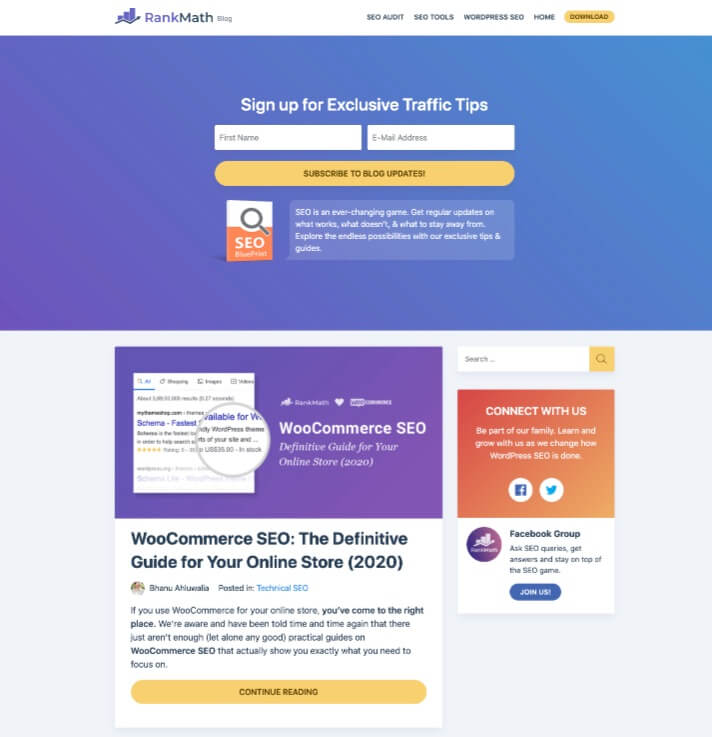 36

. HubSpot Blog

While HubSpot is known as one of the leading CRM platforms that offer amazing tools to manage your business and your marketing process, they have a very active blog section that produces tons of content around marketing and SEO.

You can learn marking skills on this platform that can help you to grow your business.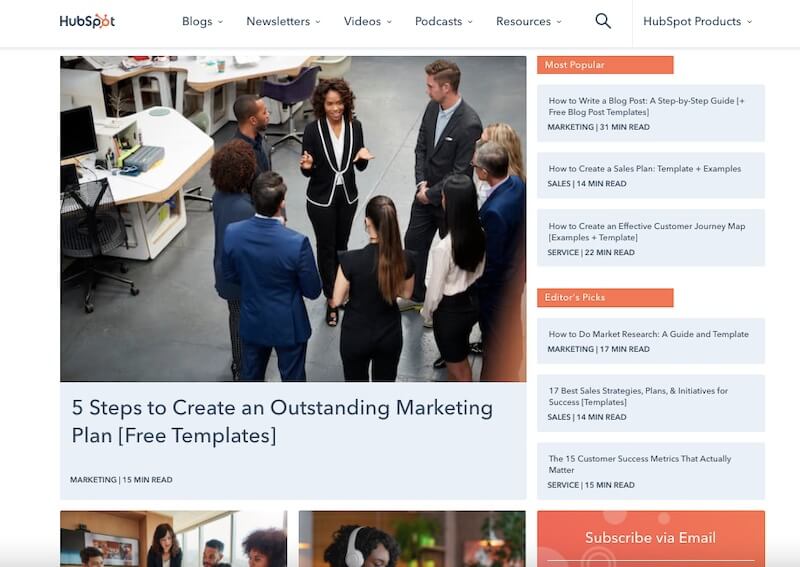 37

. Searchmetrics

Searchmetrics blog is another great resource to get SEO-related updates and an in-depth guide to improving overall SEO for your business.

You will find a number of top-quality articles in the blog section to learn from the experts. They cover search engine algorithm update-related topics as well as general SEO-related guides and content.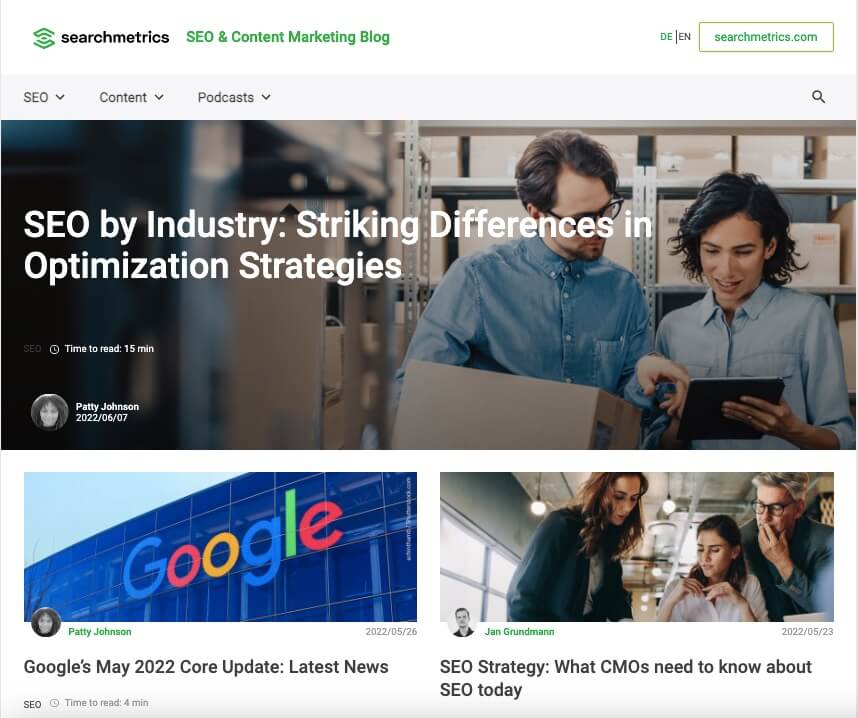 Signing Off
The list of best SEO blogs to follow ends here. All of these blogs are packed with tons of SEO guides and insights that will surely help you generate more traffic on your website.