This is a collection of best free Tumblr themes to make your Tumblr blog modern, minimal and user-friendly.
Tumblr, as you may already know, is one of the world's popular microblogging service/social media network which makes it easy for users to share short form and media type content.
You can use the platform to easily share images, text, links quotes, videos, and music.
You can also customize your blog and give it a personal touch to provide a better experience for your users as well.
Now, for the customization part, Tumblr themes are the best way to go.
A Tumblr theme will help you to improve the experience of your Tumblr blog. These free Tumblr themes bring in a lot of features, design styles, responsive interface, and much more.
You can also go about and edit the themes by adjusting the raw HTML codes that go into building them.
Now for this read, we have taken together a bunch of Tumblr themes that are available for free and can give your blog the desired makeover.
So without further ado, here is our pick of the Best Free Tumblr Themes:
Don't miss our article about the best Tumblr backgrounds and wallpapers that you can use to style your Tumblr blog.
Free Responsive Tumblr Themes
Yuki
Yuki is a grid-based Tumblr theme designed for photographers and people who love photography in general. You can use the theme to create a home page filled with photographs thumbnails. A user can come in and click on one such photo to know more about it.
This is the ideal theme for people who use Tumblr mostly for the purpose of sharing pictures and photography content.
Sugar
Sugar Tumblr theme takes advantage of a Variable Grid Layout to showcase your content. If you want something that works just like your Lookbook, then this will be a nice pick.
The theme supports all six Tumblr post types, offers you beautiful color schemes, and then there are options for custom fonts, slideshows, profile cards, over 120 theme options, accent photo post, pagination format, date formats and much more.
You even get access to features like Google Analytics, Disqus comments, Tag links, social links, social sharing and so on.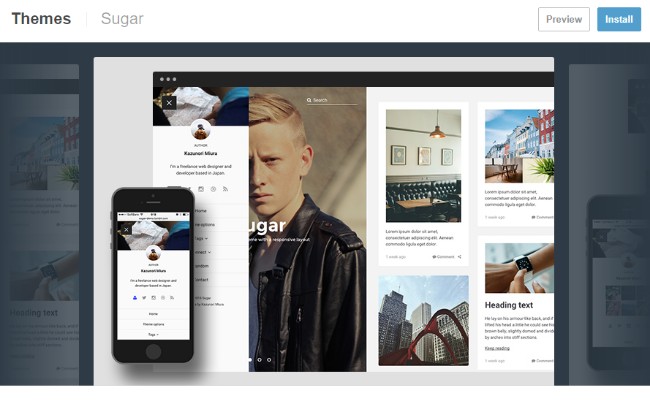 Pop Gallery Lite
If you wish to showcase your work in style, here is a great looking free Tumblr theme with an option to showcase your work portfolio.
Though this is a free theme, you have the necessary options like mobile responsive, option to change the color scheme, infinite Scrolling, social links, etc.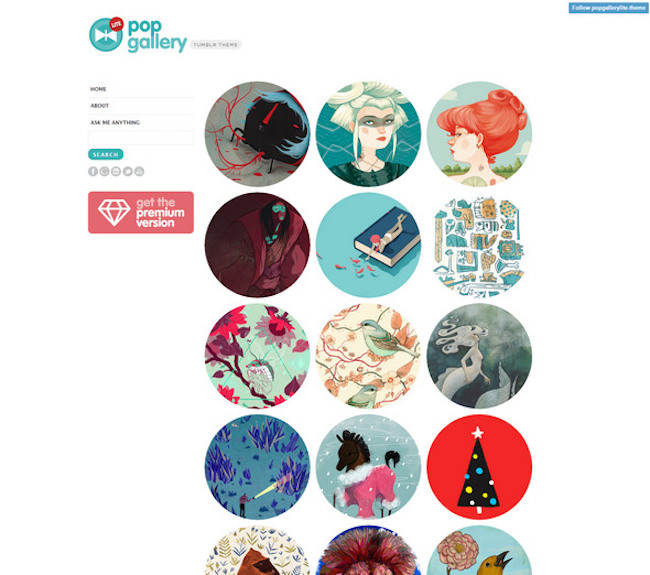 Verse
Verse Tumblr theme gives you the ability to set a header image which will appear on all your pages and posts. You also get a custom sidebar which you can use to customize the images or any other type of content that you post on your site.
Other than this, the theme offers Google Analytics integration, Disqus comment system, and social media integration so that you can link your Facebook, Twitter, Google+, and Instagram profiles with your blog.
Ashley
Ashely is a responsive Tumblr theme with a minimal design. The features offered in the theme are all content-oriented, and you also get access to a lot of customization features to help you with how the theme looks and feels.
The theme supports all six Tumblr post types, so you will not be restricted on that end. Overall, this is a nice multipurpose theme for your Tumblr blog if you are looking for customization and minimalist design as a priority.
Cosmic
A fully responsive, great looking, Bootstrap based Tumblr theme that offers you all post formats option, Instagram feed option, classic single layout option, custom images, Infinite scrolling and a lot more.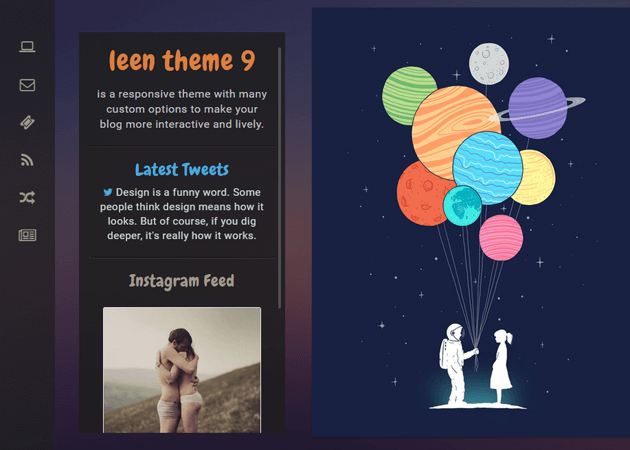 Optica
It's a beautiful flat design that you can use for your Tumblr blog. It offers you huge customization possibilities to make sure that you can style your blog the way you like it. From color, fonts to the header image; you can change as per your requirement.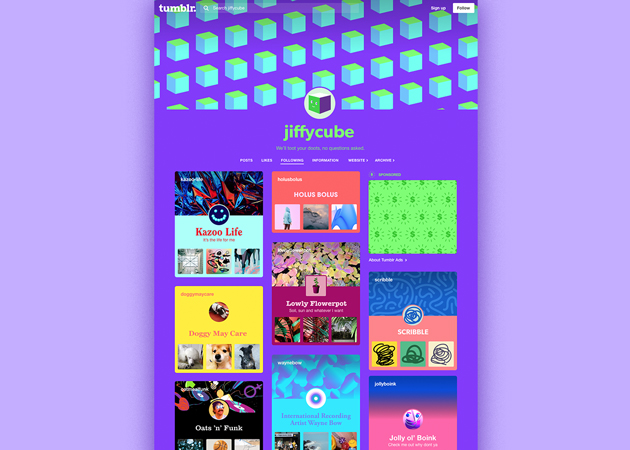 Svbtle
Svbtle, if you remember well, was one of the major players in blogging platforms if you were one of those elegant types.
However, their free services have been terminated, so if you still want that look and feel for free, you will have to use Tumblr and install this wonderful theme.
The main features that you get include a responsive design, custom logo, a custom navigation menu, fluid embedded media like photos, videos, presentations, custom colors and Google Analytics integration.
You also get Disqus comments; Facebook likes and Twitter shares, Socialico font for social links and Google web fonts support.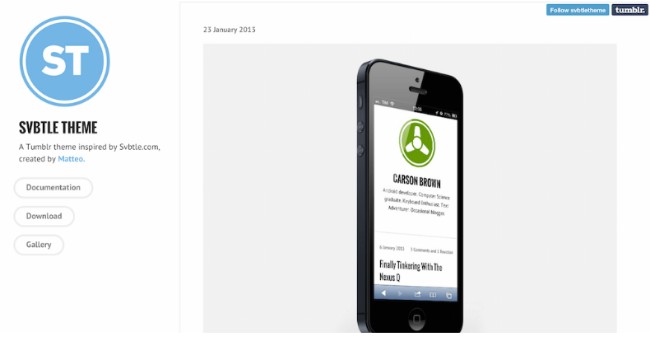 Effector Theme
A super flexible Tumblr theme with customizable sidebar & top bar options. You can also have the font of your choice so that you can fine-tune the look and feel of your site according to your niche.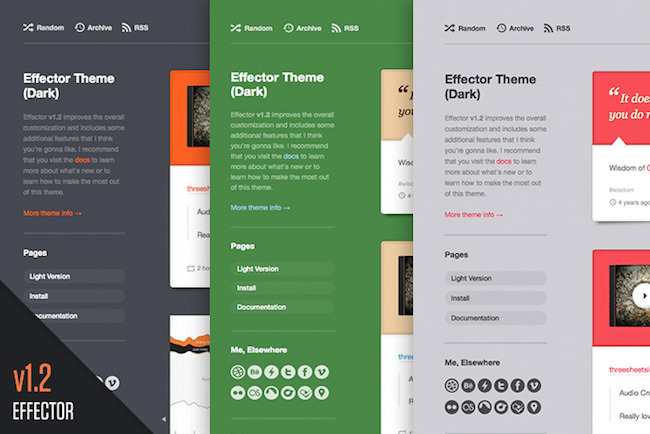 Material Designed
Material Designed Tumblr theme is built to look like a web-app abiding by the Material Design standards set by Google. Now the theme is more of a template in a sense.
What you will be getting is simply a great looking material design template which you can use as a starting point to build your theme. Naturally, this is a theme for users who have a grasp of their HTML and CSS knowledge.
Laser
If you are a photo blogger, you will love this theme. This theme is custom created for the photographers to showcase their work in the most elegant and presentable way.
This theme offers you a number of amazing features that will highlight the work of photographers. You have the horizontal scroll option to make it easier for the visitors to check out your work.
The theme offers you Google & Typekit font support, beautiful slider option for all photo sets, different post format support and more.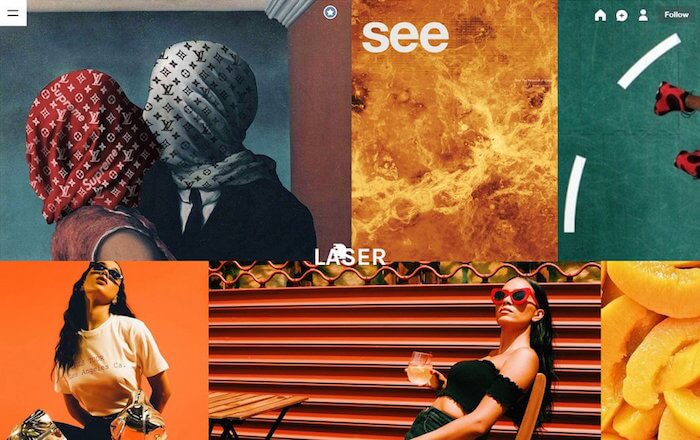 Spire
This is a very flexible Tumblr theme that is ready to be used, just install it, and your site is ready. The fancy header image makes this theme look great; you can use your custom image and brand your site accordingly.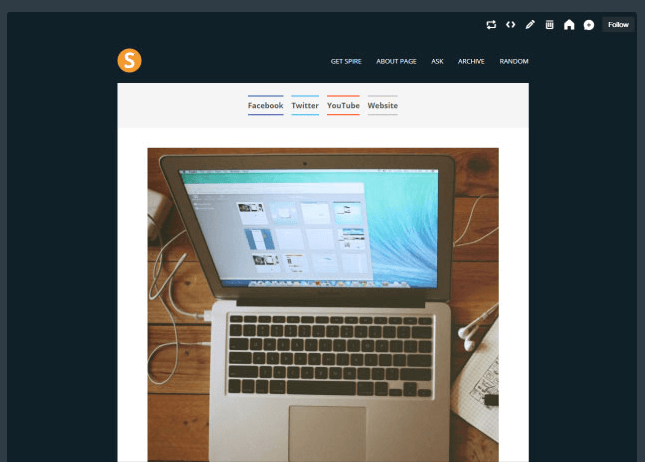 Impulse
Impulse is a three column Tumblr theme designed for Writers, Photographers, and people in need of an online portfolio. You will get a responsive layout with the theme, and support for infinite scrolling.
Also, you will be getting plenty of theme options to help you customize most of the things. You will also be able to set custom post backgrounds if you want.
You can choose to show or hide archive links or any other random links on your site. Then you can also hide the description, title or global avatar if you want.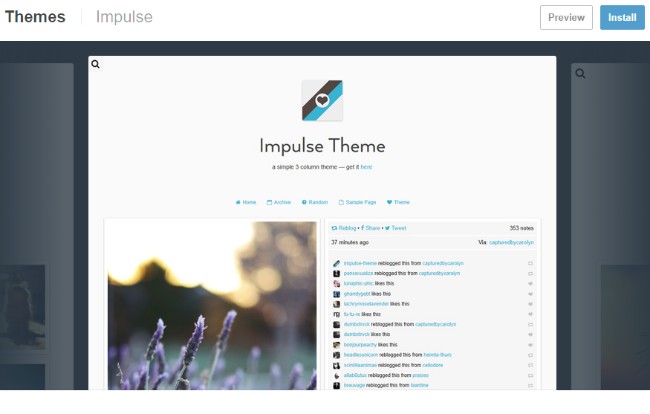 Astoria
A top quality free Tumblr theme which is as good as a premium Tumblr theme. It comes with beautiful layout design and attractive presentation.
It's a fully responsive and mobile friendly design that will help you to make your site look great on all devices. You have multiple column options in this theme that you can choose according to your requirement.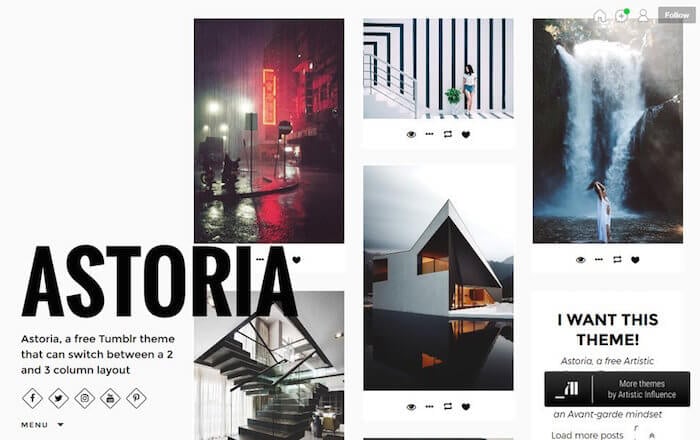 Hipster
Hipster is a free premium theme to help out Tumblr bloggers looker for something professional and polished. It should be easily understood that you will get a set of premium level features here.
Some of its notable features include sticky content, keyboard navigation for page content, Instagram integration and ability to show your latest pics, a sidebar to show important details and much more to your viewer.
However, there is also a premium version to this which packs in a lot of other features as well.
Three Tumblr Theme
A beautiful, premium quality Tumblr theme with flexible column options. You can choose up to four column for your site.
The theme also offers you the sidebar options if you wish to show any widget. You have eight custom color options to choose from.
You have the post permalink options to make your posts SEO friendly. You have infinite scroll option, super quick loading time and more.
Pation
Pation theme comes with a beautiful minimal design that will be perfect to keep the focus on your content. This theme comes with a great looking grid layout where you can show random posts.
Featured like sticky navigation, amazing font options, great looking hover styles and social links makes it a nice option for your content publication.
Belfort
Another beautiful free Tumblr theme with amazing customization options. You can change the layout, font, color options and more to change the overall look of the theme.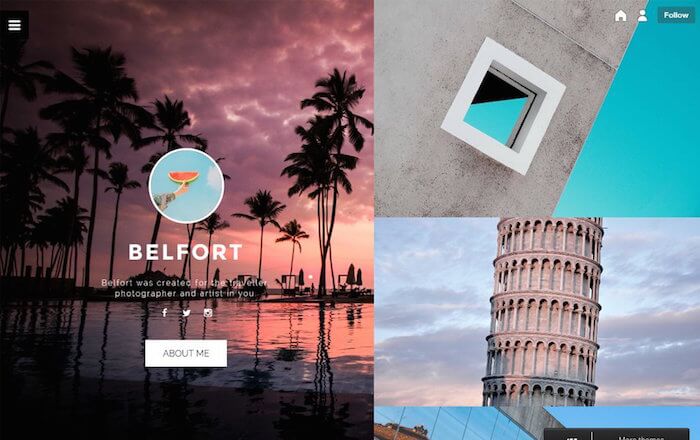 Juggernaut Free Tumblr Theme
Display your images and other content in a great looking modern grid style. It comes with a great Pinterest style design, and when you click on the images, it enhances the experience with the amazing bigger version of the image.
Wordy
A beautiful, simple and elegant Tumblr theme that you can use to create your blog free of cost. This theme offers you options such as social icons, infinite scrolling to make it engaging.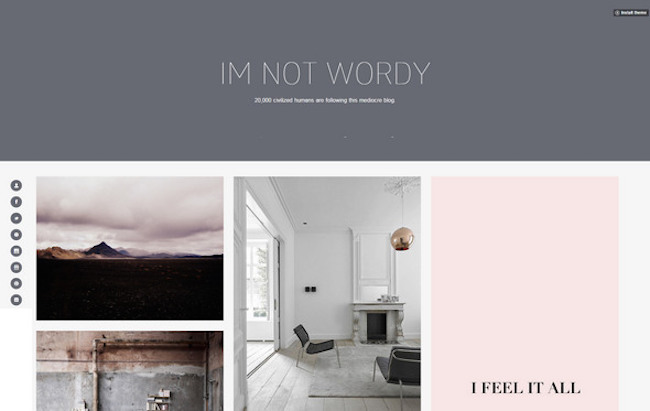 Void
Void is another great looking grid style Tumblr theme that you can use to showcase your content in style. It is a minimal modern design that will surely enhance your user's' experience.
Telpher
Telpher is a free Pinterest style Tumblr theme that you can use to create your blog. The theme is modern and trendy and it offers you a very attractive layout to showcase your content.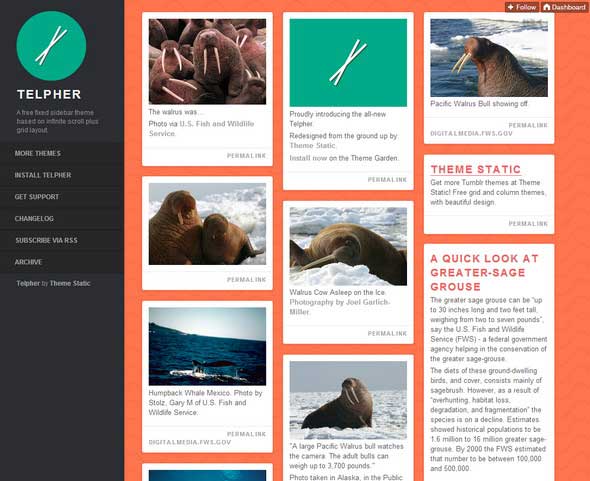 Empire
With Empire theme, you can create a site with up to six columns. You have seven color combination to choose from, beautiful modern layout, fixed or moving header option.
It's a great looking Pinterest style design that will allow your content to show in a flexible and responsive grid layout. You also have the full-screen layout option to make things simpler.
This theme offers you some amazing community feature such as like option, reblog option. It's a very quick loading Tumblr theme offering a great experience for your visitors.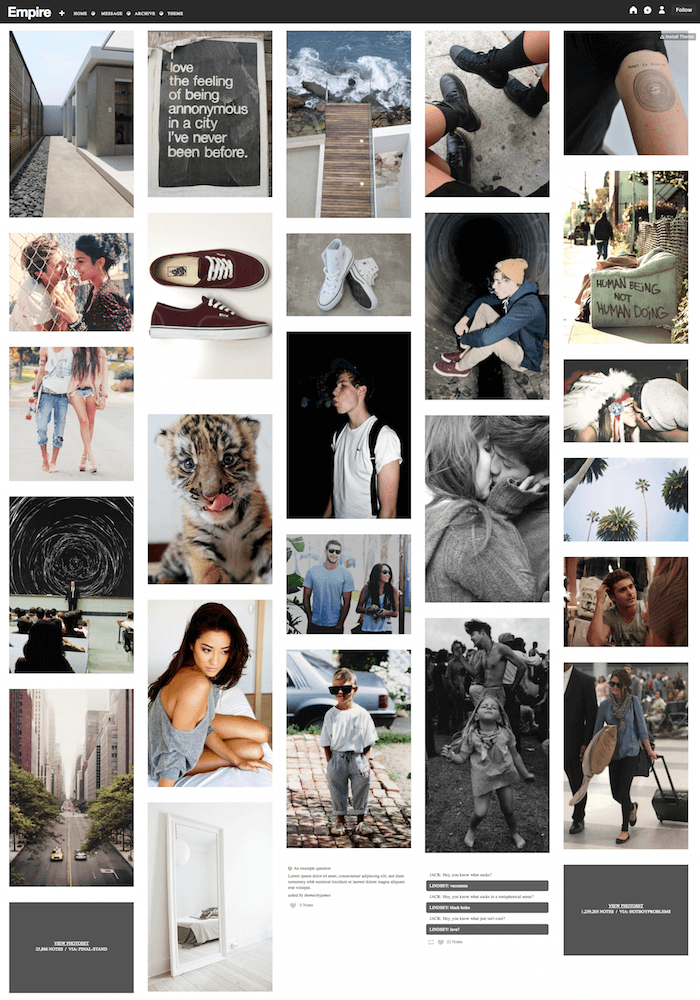 Candice Free Tumblr Theme
Another beautiful free Tumblr theme that comes with a full-width as well as the boxed layout option. It is a great theme for an image as well as text content that you can show a great looking layout.
Your users will have a great experience on your site with the Candice theme as it offers you rich typography option with built-in fonts as well as Google Fonts (over 600 options to choose from).
Candice is a fully responsive design making sure that your site looks great on mobile devices as well along with the desktops.
You can incorporate different commenting system such as Facebook, Disqus, etc. to improve the overall experience. Social media is readily integrated into the theme to help you drive traffic.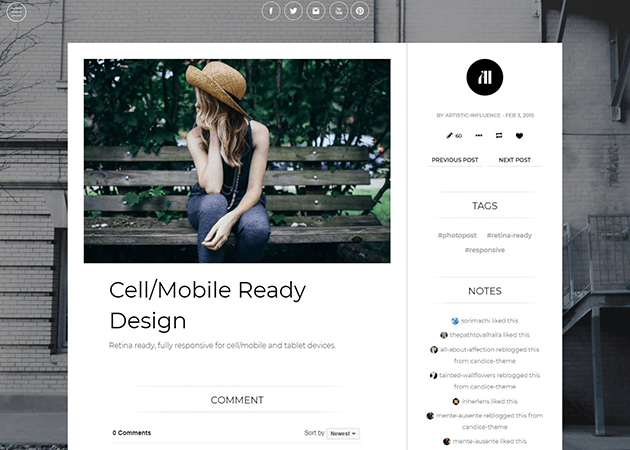 Indy
A modern, elegant and minimal Tumblr theme that you can use to create your site. If you wish to create a product showcase blog, this theme is one of the best options for you.
It's a fully responsive design with an option to select your font from a wide range of Google Fonts.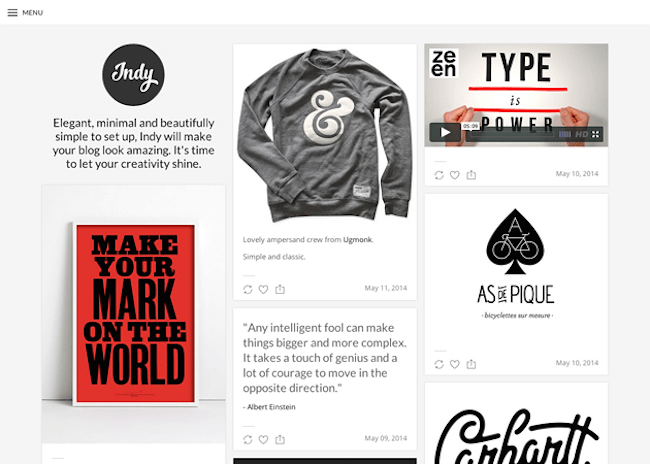 Chale
A great choice for the content rich and image heavy sites. The theme offers you infinite scrolling feature so that your users keep engaged with the endless content.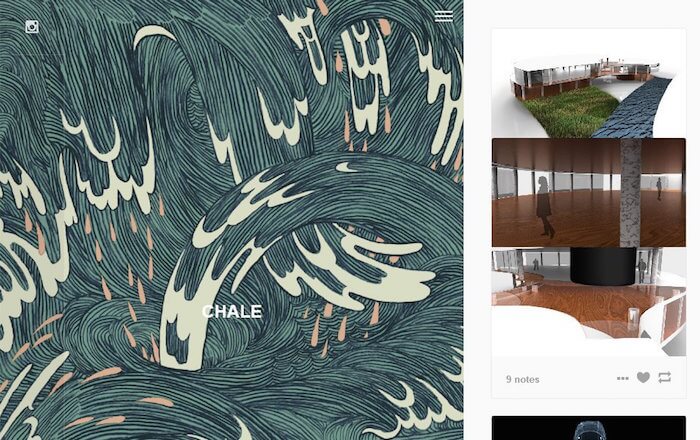 Queis
A powerful modern free Tumblr theme with a great design. The theme offers you header slider option with the caption to attract your visitor's attention immediately.
It's a fully responsive modern design that is perfectly optimized for the mobile devices.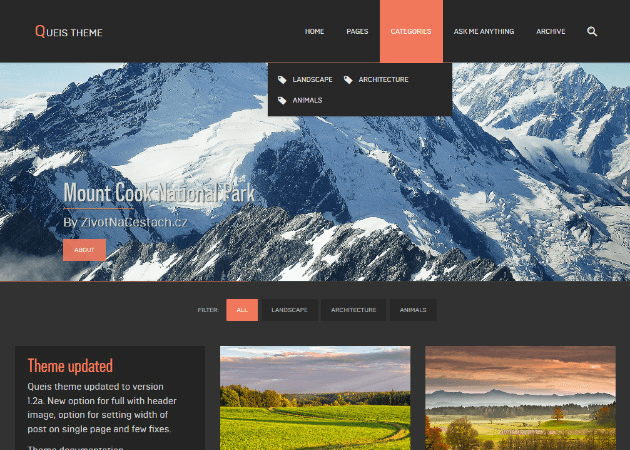 Liberation
Liberation is a minimal grid Tumblr theme that you can use for image-based blogs. It's a very simple yet powerful Tumblr theme with over 75k active install.
So, the number says it all. You can use this theme for your site and publish your content in style.
You can customize the look and feel of your site by changing the number of column for your site; you have seven color options to choose from.
It's a very quick loading SEO friendly design that will surely enhance the user experience on your site.
Eclipse
A beautiful minimal Tumblr Theme with a modern and mobile friendly layout.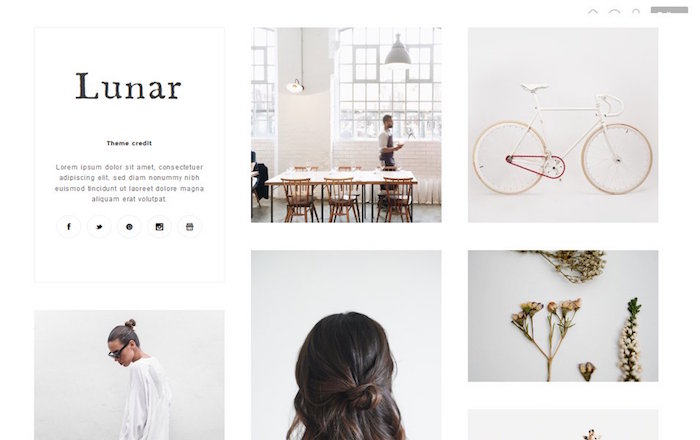 Verbage
Verbage is a minimal and clean design for the content creator. If you wish to have complete focus on your content, this is a great theme option for you.
You can use this theme for photo blogging as well as high text content rich blogs. It will make sure that your content is perfectly optimized for best results.
The theme offers you social media option, Google Fonts, custom image for the footer, header and background to make sure that you are able to style your site easily.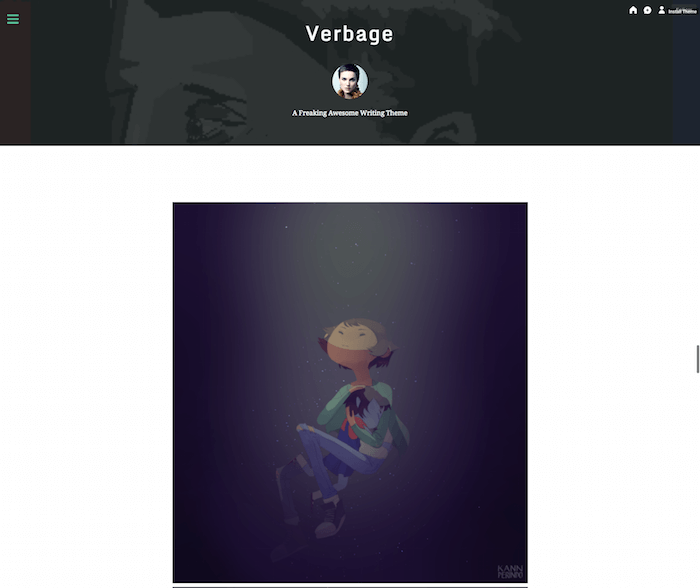 Simplify
Simplify Tumblr theme is targeted towards startups who are looking towards Tumblr to help them announce new features, new products, and other general announcements.
The theme has a very sleek and modern feel to it, making it the perfect go-to for writing, news, and similar information.
Apart from this, you get other options such as a cool navigation menu button to the righter corner of every page which translates well on both mobile and desktop version of your website. You also get Disqus comment and Google Analytics integration.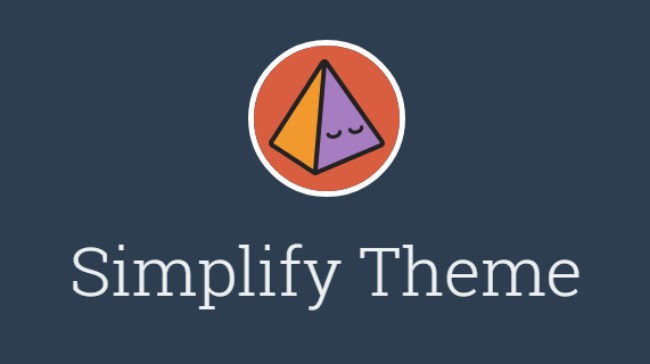 Syndex
Syndex is a highly optimized Tumblr theme to make sure that your content becomes viral easily. The users can reblog and like your content right on the homepage of the theme making sure to drive a lot of traffic back to your site.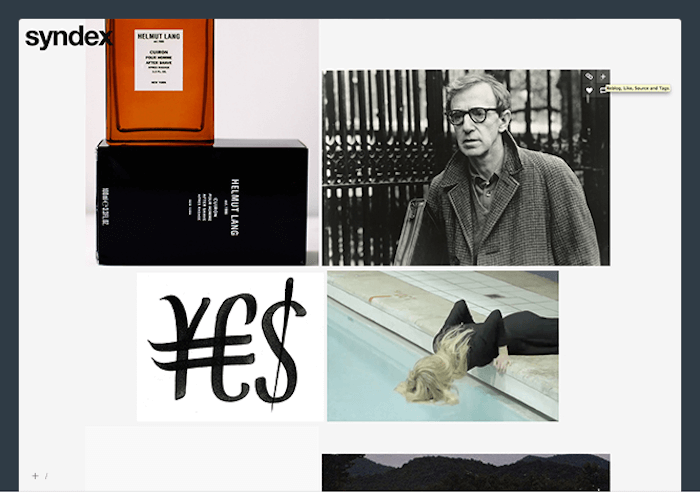 OhMyGrid
A great looking grid based Tumblr theme that you can use for your site. It's a very attractive yet simple and minimal design.
No matter what your content type is, this theme will surely do a great job and optimize your content for maximum viewership.
This theme can be a great design option for the viral content sites that are created to display amazing funny images and drive tons of traffic.
Retrospective Grid layout Theme
Another great looking clean and minimal design. This theme is a perfect fit for the photoblogs that will offer a great experience to your visitors. The grid layout of the theme is user-friendly and the single pages are also nicely created.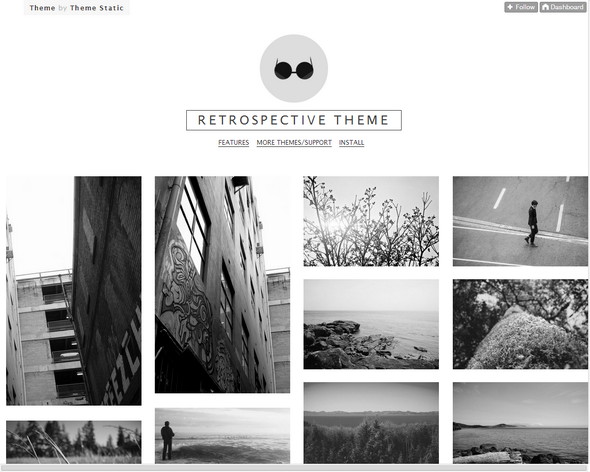 Persona
Persona is a beautiful personal blogging theme for the Tumblr users. This theme comes with an elegant design and clean interface.
The theme comes with nice customization options, you can change the font of the theme. Everything is minimized and well-optimized to make sure that your users have a distraction-free experience on your site.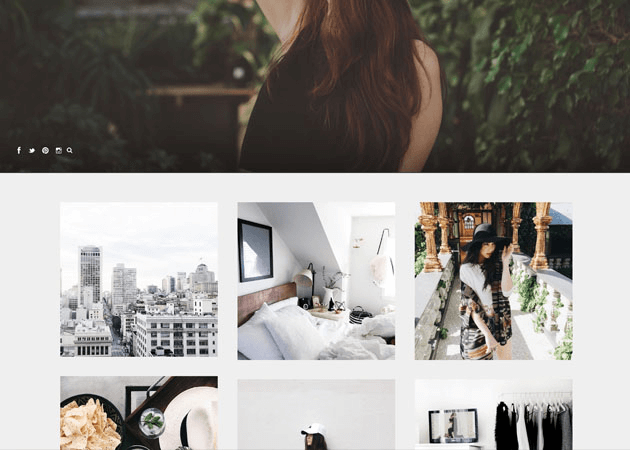 Infinity
Infinity is a modern grid-based design with highly customizable features. You have eight custom color options to choose from.
you can completely customize the look and feel of your site. You can choose the number of columns, you can add a sidebar, optional border for your images and other content.
Salvia
Salvia is a very professional looking Tumblr theme. It is a well designed, clean and minimal Tumblr design that will enhance the overall reading experience.
This is a feminine theme that is a great option for the female bloggers who wants to publish their content on the Tumblr platform.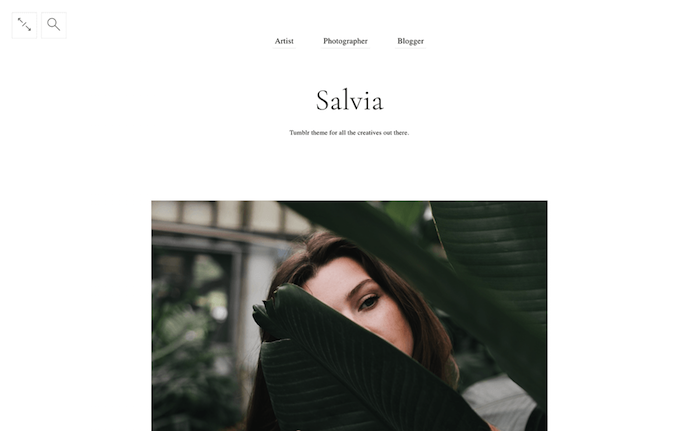 Logbook
A beautiful, clean and minimalistic Tumblr theme that you can use to post your content in a professional design. The modern grid design of the theme will help you to showcase your content in an attractive design.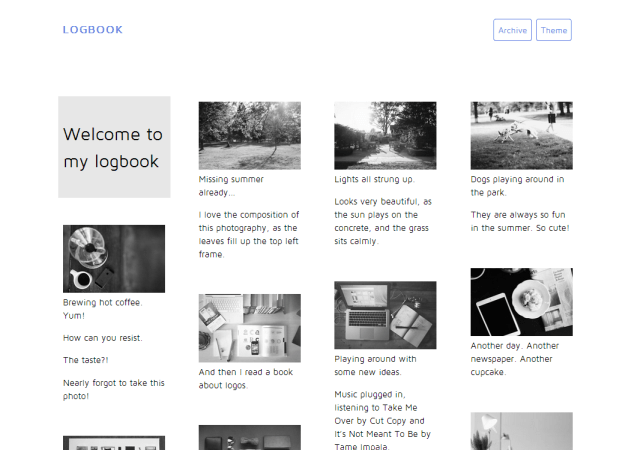 Oscar
Oscars is the ideal Tumblr theme for freelancers. You can use it as a simple blogging theme or a personal blog to share some thoughtful stories and articles.
Everything you put on your blog will not go unnoticed as the theme brings in modern design coupled with high customizability to help you make your blog as visually appealing as possible.
All the basic features that one comes to expect from a Tumblr blog are all bundled in with the theme of a comments section, analytics integration, social media integration, and much more.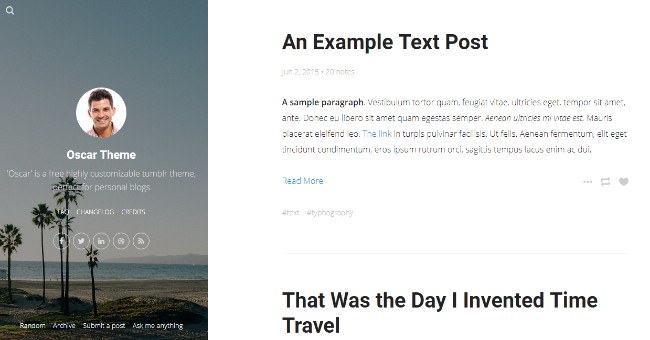 Minimalism
Minimalism Tumblr theme offers a high-quality option for brands, individuals and other creatives looking forward to expanding their online presence. You will get to share your image based content in a minimalistic and professional approach.
Notable features of the theme include features such as a content grid management, custom header, custom background color and image options, a mobile-ready layout, social media images, infinite scrolling, a sticky sidebar navigation menu and much more.
Elise
The Elise Tumblr theme offers you multiple layout options to choose from. You can showcase your content in the most elegant way with this theme.
Illustfolio 4
A simple yet attractive Tumblr theme for the illustrators and photos. Though the theme is clean and minimal it does offers you customization possibilities.
You can change the color, font to style your site. The theme supports all types of posts to make sure that you can quickly add your content and publish it.
The theme is fully responsive and offers you social sharing buttons to maximize your reach.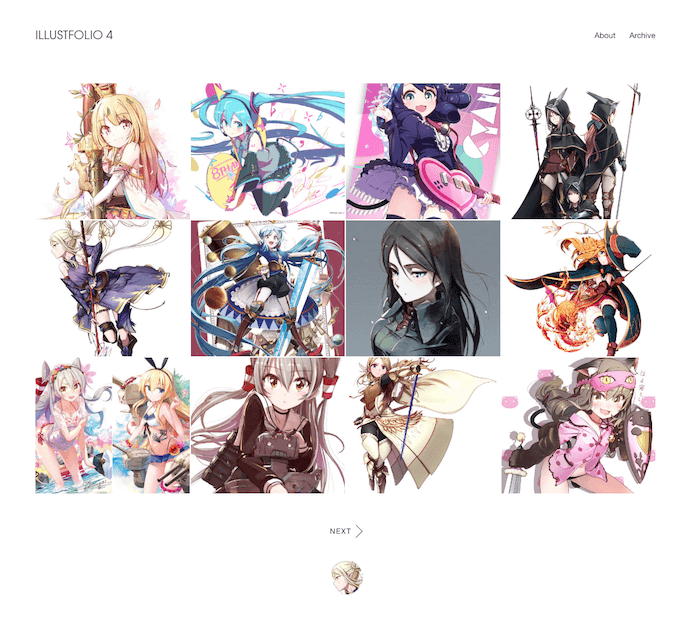 Flare
Flare is one of the most popular Tumblr themes which you can use to set up your own interactive content sharing blog in a matter of moments.
The theme is catered to blogs which concentrate more on sharing animated visuals, videos and pictures on their blog.
It comes with a five-column masonry grid which makes content browsing a breeze. Since media based sites have a lot of content in the form of thumbnails, this is a very important feature.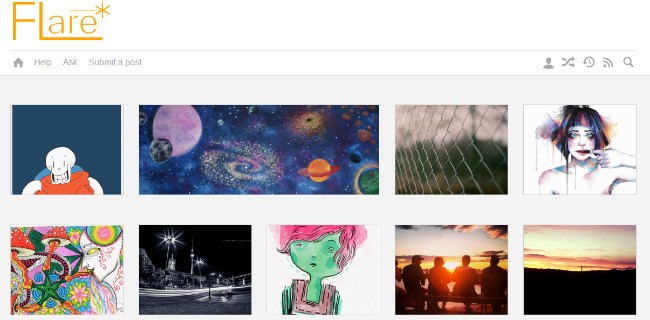 Osprey
Osprey is a great looking free and highly customizable Tumblr theme. You can customize the look and feel of the theme with seven different color options to choose from.
You can set the design by changing the design between two or three columns. It's a fast loading Tumblr theme with infinite scroll option.
It offers you permalink option, amazing border option for the post, image border option, optional multi-size posts.
Shiyori
If you need an attractive free theme, here is Shiyori Tumblr theme, a multi-layout design to make your site look more interactive and trendy.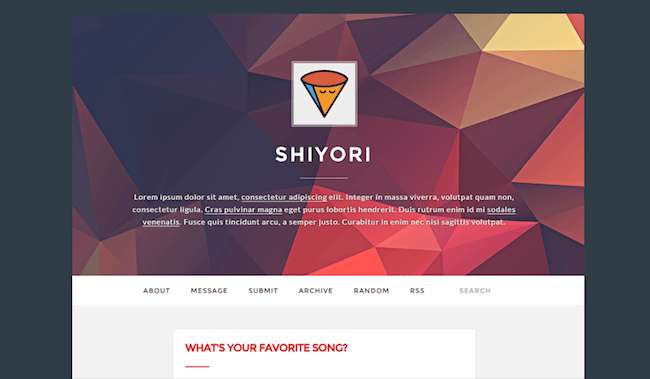 Skyfall
Skyfall Tumblr theme is another one for the photographers. It transforms your blog into a beautiful and high featured gallery of sorts to help you display your latest works quickly.
The front page will showcase only image posts which if clicked will display the corresponding content through a lightbox.
Also, if more than one item has been uploaded to the post, then users can also have access to browse through them from the home page.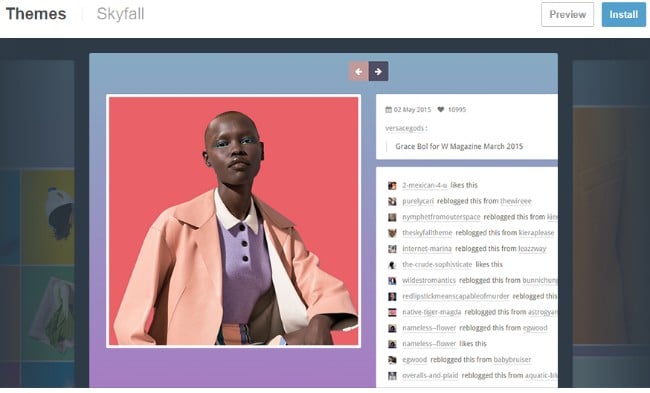 Maximize
This is a great Tumblr theme option for the photo blogs. The theme comes with a nice layout that will highlight each of your photos perfectly.
It's a fully responsive design and your site will look beautiful on all small screen devices along with regular desktops.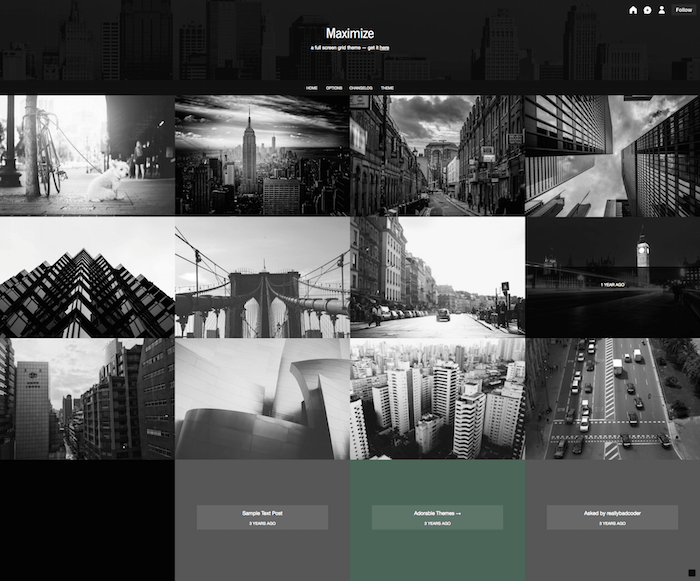 Writing Pad
Writing Pad, as the name implies is a Tumblr theme targeted towards writers looking to use their blog to showcase their work. It comes with design and aesthetic appeal which makes it ideal for writing based content.
Design wise it offers a grunge like a background with typography running a slight tilt as if resembling an entry form journal. You can easily transform this into your online journal.
Ten Toes
Another beautiful, minimal free Tumblr theme that you can use on your blog. The theme is clean and attractive.
The interface is user-friendly and you can quickly click on any image and start browsing more by just clicking on the right or left arrow.
You can easily increase your share content as the users will be able to share your images right from the homepage of your site.
Copycat
Copycat is a great looking modern responsive Tumblr theme with an amazing grid layout. The theme is minimal yet very attractive.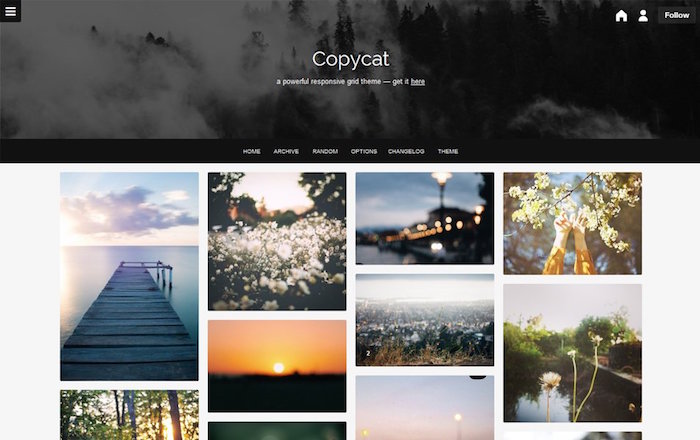 Harbour
And finally, an ending of our list is Harbour, a sort of multipurpose theme for Tumblr which supports all post types and lots of user interfaces and customization options.
It also comes with a responsive design making it mobile friendly. The design quality of Harbour is so good that often people confuse it with a quality WordPress blog.
Overall, if you want to have a blog which showcases a different type of content and also looks very much professional and polished, then this is an excellent option to consider.
ImNotWordy
An amazing Tumblr design for the image-rich sites. If you are a photographer, this theme will make your work stand out.
It comes with a big grid system that makes each image look stunning. This theme is fully responsive making it super attractive on the small screen devices.
It's a very lightweight and SEO friendly design that will surely put your content perfectly on the search engines.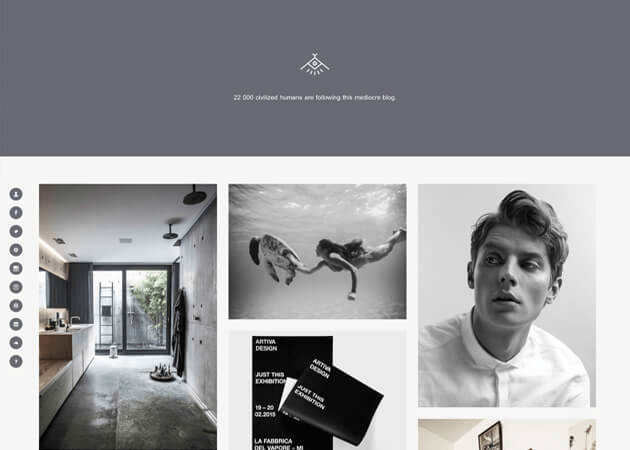 Editorist
A clean and minimal Tumblr theme with a beautiful interface to highlight your content perfectly. This is a fully responsive Tumblr theme that will make your blog look great on all devices.
Wallstocker
Tumblr is all about minimal designs and designs that give the users to consume your content without any distraction. Here is a theme for photobloggers that offers a great looking clean layout that showcases your content the most elegant way.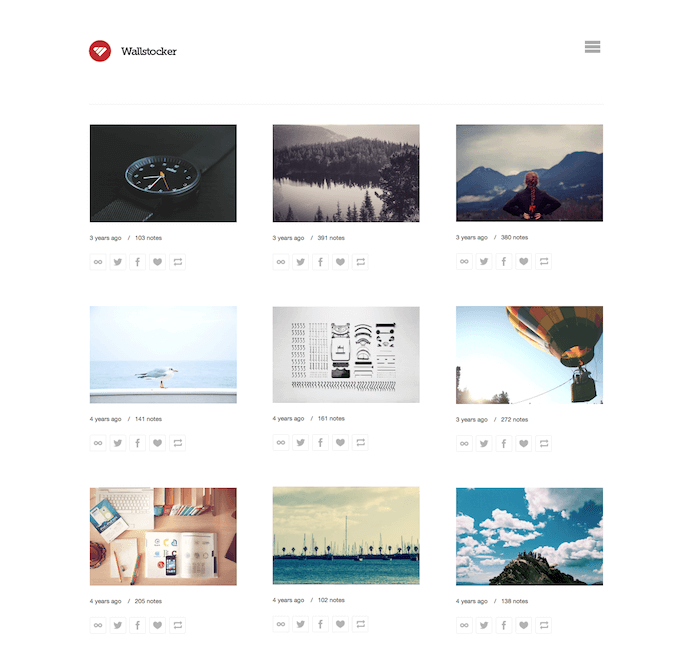 Other Basic
If you are looking for a very basic design for your Tumblr site, here is a great option for you. This theme doesn't offer any fancy elements, you only have a beautiful clean interface to highlight your content.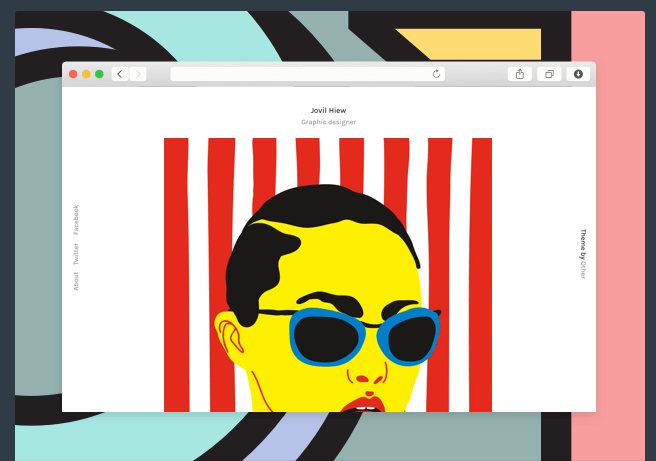 Fireheart
Another beautiful, clean and highly optimized Tumblr design that you can use to create your content. The theme comes with the modern and trendy navigation option.
You also have the option to have a menu in the sidebar of the theme if you need. You have a normal pagination as well as infinite scrolling option.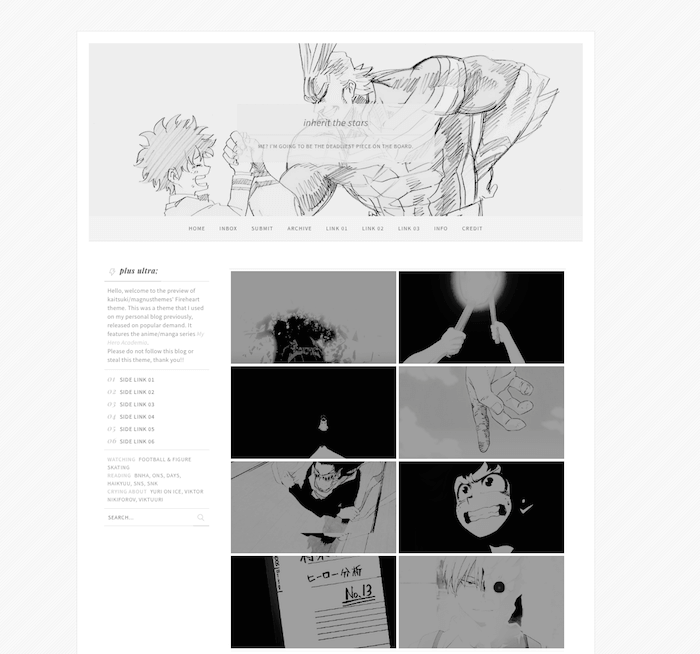 In Conclusion
So this was our list of some of the best Tumblr themes you get for free. Do let us know which ones you liked here.
And also, if you happen to know some other great theme which got left out then do let us know in the comments section.
You will be helping out your fellow readers with more options in the process.