This is a collection of best free WordPress hosting services that will help you to get started with your site quickly for free. Once your site starts getting good traffic, you can consider moving it to a powerful paid hosting.
If you are serious about that plan of yours, to build a website, then there are two things you need to sort out first.
Number one would be if you want to use WordPress, and since you are here, the answer is likely to be yes! And the second thing to consider would be which hosting service to choose.
Now picking WordPress as the CMS for your website, is not a hard decision. It is popular, flexible, and has a huge community.
However, picking up a good service provider does require proper thought. Your website's speed, server uptime, and multiple other factors all depend on the hosting service provider.
Now, as you can deduce from the title, here we are going to be covering some free WordPress hosting provider solutions.
However, you should note that a free solution is not recommended as there are lots of restrictions.
You should only choose the free alternatives if you are trying to build a website for a project or similar instances. These free solutions should not be adopted for serious use.
Another thing which you might be wondering – how do these people offer hosting solutions for free? Well, these guys are going to litter your website with ads. So this is also something which you should take due note of.
With that being said, let's cut the introduction, and let's get going on our list. So without further ado, here are Best Free WordPress Hosting Services:
Also, don't miss our detailed comparison of the best WordPress hosting providers article here and a 50% discount on WPX Hosting.
Top Free WordPress Hosting Services
Site123
If you don't want to go through the process of creating a WordPress site scratch and have no or very limited budget for hosting, you may consider Site123 to create your website.
It is a very simple platform to create a blog or an eCommerce site with ease. You will get access to a large collection of ready website templates and free website hosting.
It also offers you a simple website builder to make your site unique.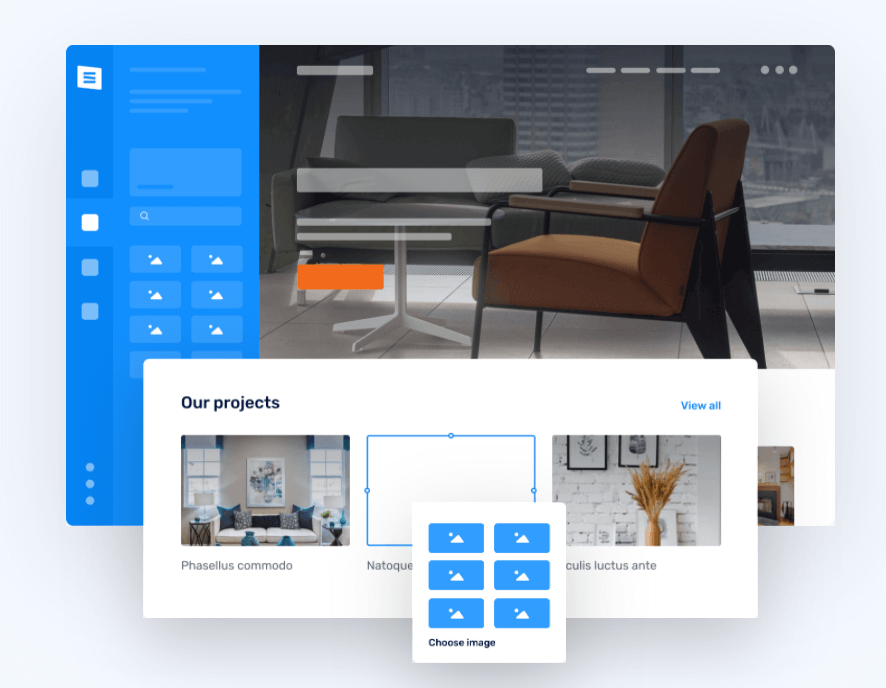 01

. Hostinger

Hostinger is one of those rare free web hosting offerings that also packs a punch in its game. The hosting service provider delivers many features available with paid options, even though there are certain limitations involved.

The resources that you will be getting include 100GB of Bandwidth, 2GB Diskspace, WordPress and Joomla Auto installation, Support for unlimited domains, and also support for MySQL.

And with all these, you get access to your cPanel, and the customer support is top-notch, even though everything is free.

Such an offering is hard to come by and is something you should consider for project purposes or websites that you know won't gain much traffic.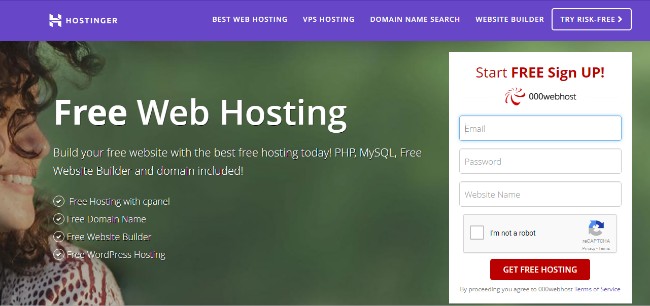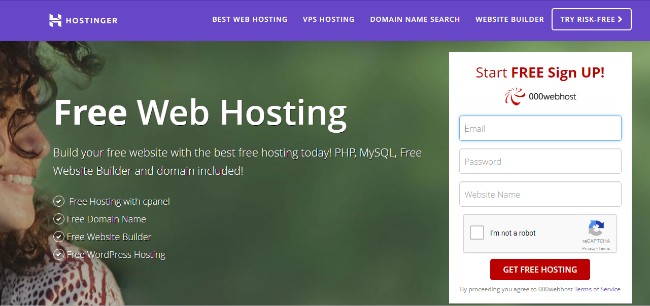 02

. WPMU DEV

WPMU Dev is one of the most popular names in the WordPress community. The company has been around for a long time and has been offering some great products.

They have started their own managed hosting service with different packages.

You get a free SSL certificate, a choice of different data centers, CDN, and more.

Now, as we are talking about the free hosting providers in this article, they have a great offer for all their members.

Please note that WPMU Dev started with a plugins and themes membership program. They are still offering some amazing plugins that are very useful and WordPress sites.

As you get WPMU Dev membership, you get the option to host your site for free.

We have reviewed WPMU Dev managed hosting here, read that article to know more about what they have to offer.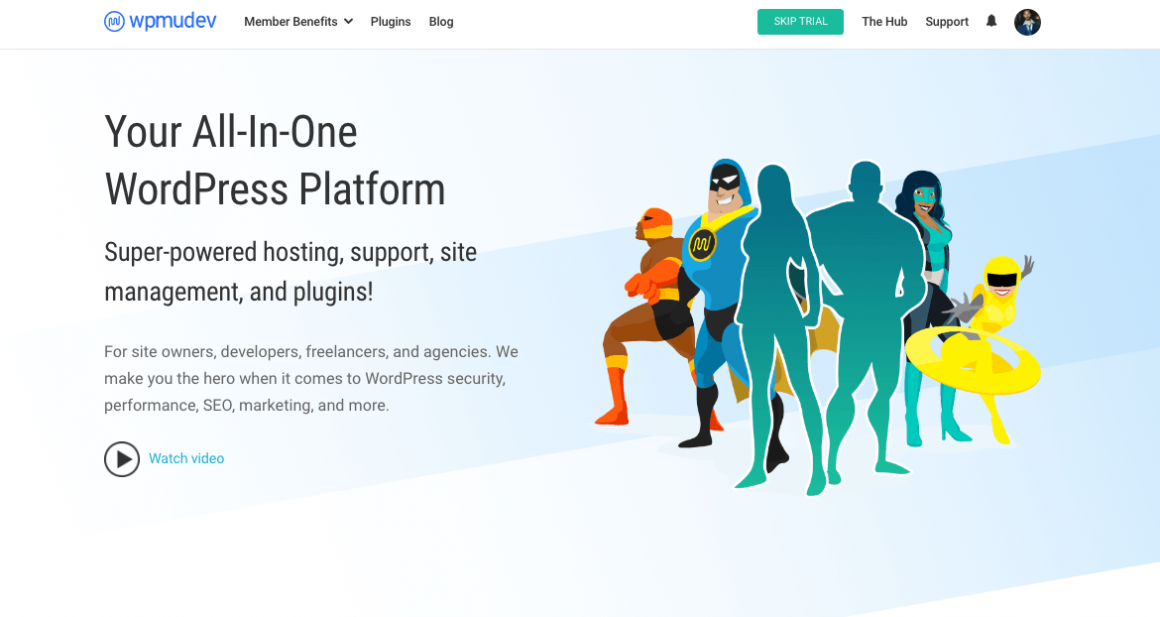 03

. AccuWeb Hosting

If you are looking for top-quality WordPress hosting for free, AccuWeb Hosting is one of the best options you have. You will get lifetime hosting free of cost.

Most of the time, when you go for free hosting you don't get many resources for quality hosting. However, with AccuWeb Hosting you will get a fast-loading hosting option even in the free plan.

You will get Pure SSD Drives, Blazingly fast hosting to offer a great experience to your visitors. It will get cPanel control panel, PHP7 and HTTP/2 support.

You can create your own website with a custom domain name without any ad on the free hosting option by AccuWeb Hosting.

Here're the top features of the free AccuWeb Hosting plan.
Easy to use cPanel
SSD Drives for fast loading
Multi Layer DDos Protection
Backup of your website
Perfectly optimized for WordPress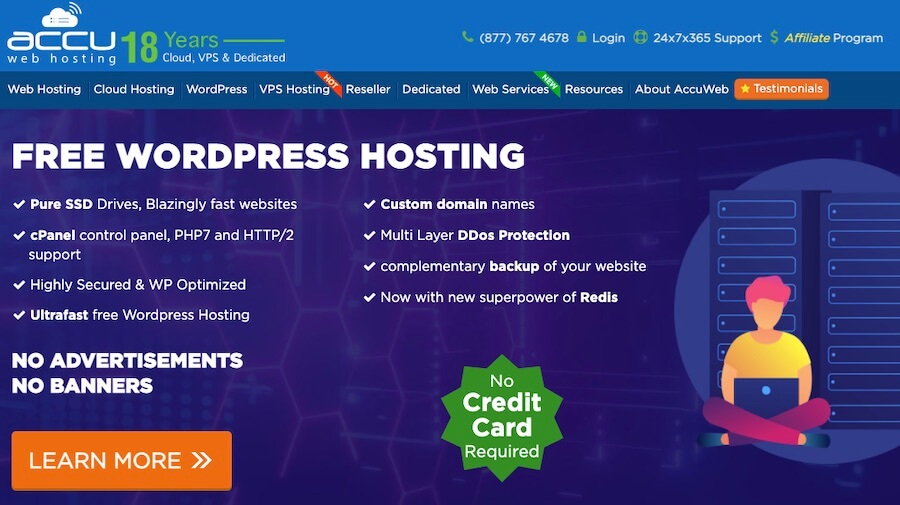 04

. Host Awesome

Host Awesome follows a marketing plan which offers you their service for free and then gives you access to advanced features at paid plans.

It's a great means of gaining a loyal customer base. But we are going to just look at the free offerings and if it is good enough.

So, with the free plan, you will get access to 100MB of storage, a limit of 2000 pageviews a month, cPanel access, WordPress auto installation, a 99.9% uptime guarantee, and also an integrated SSL option. However, the best part would be scalability.

If your website exhausts its limits, and you see that your website is gathering more views and more visitors, then you can easily upgrade to a paid plan with more resources and options.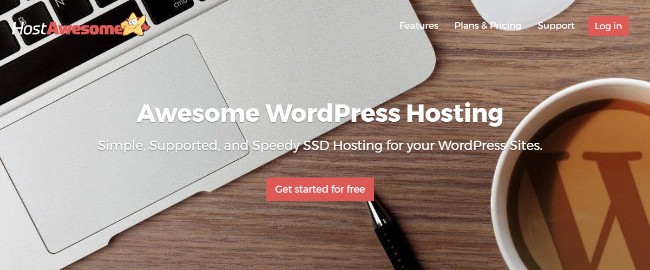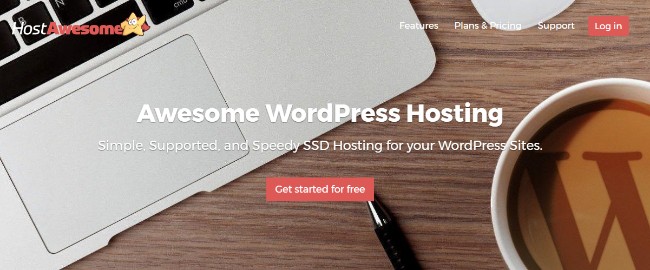 05

. WPnode

WPnode is one of the best free WordPress hosting services that you can choose for your site, but some come with no ads.

So, if you don't want to annoy your users, however limited, with unwanted ads, then this is the hosting service for you.

Besides the ads, free deal, another highlighting feature of this service would be the fact that it offers light, fast load times. With the use of LEMP stacking which boots up WP and W3 Total Cache, your website is going to load up in a matter of milliseconds.

And on top of all these, you are getting 5GB of SSD storage, unlimited data transfers, 1GB of email storage and also, the allowance to host unlimited WordPress sites. You also get phpMyAdmin, SFTP encryption as well as CloudFlare.

They also give quality customer care, with a maximum delay of 10 hours to reply to customer queries.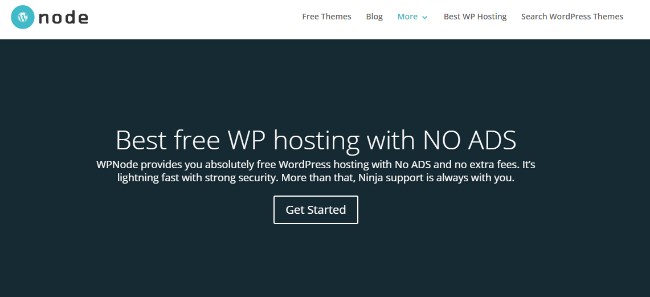 06

. Googiehost

Another amazing free WordPress hosting solution that offers you a lot for free. They will not push in ads on your free site, so it's completely your asset.

You can monetize your site as well. If you are just getting started with your blog, this free hosting option can be a very useful deal for you.

You get 1000 MB SSD disc space, 100 GB bandwidth, get easy to use powerful cPanel to create and manage your site, free email accounts, free website templates, and free website builder.

So, you get everything to get started on your site and make sure that you have full control over your website.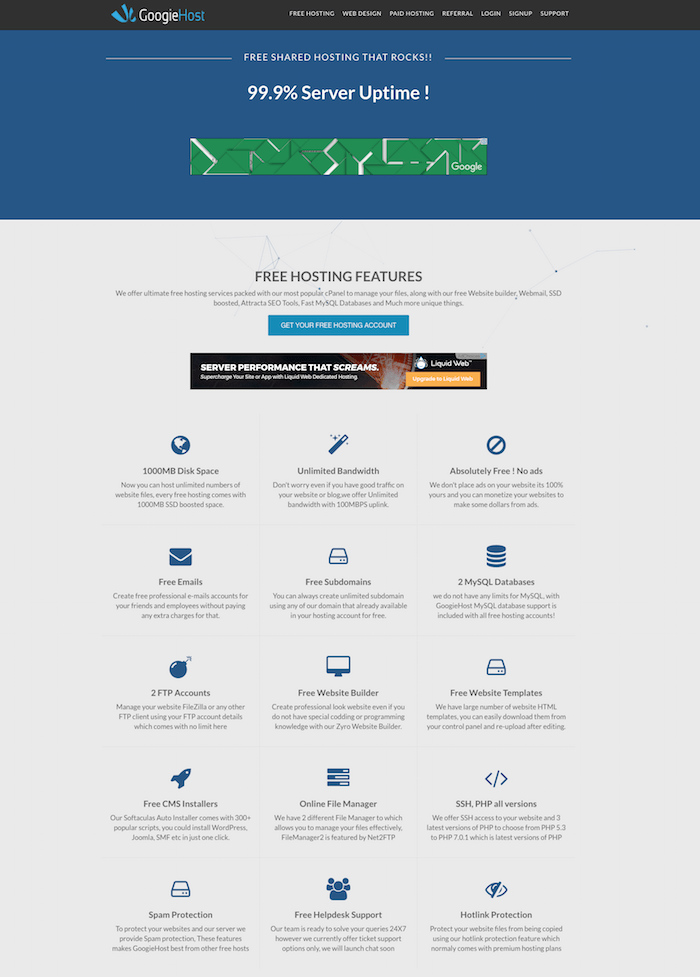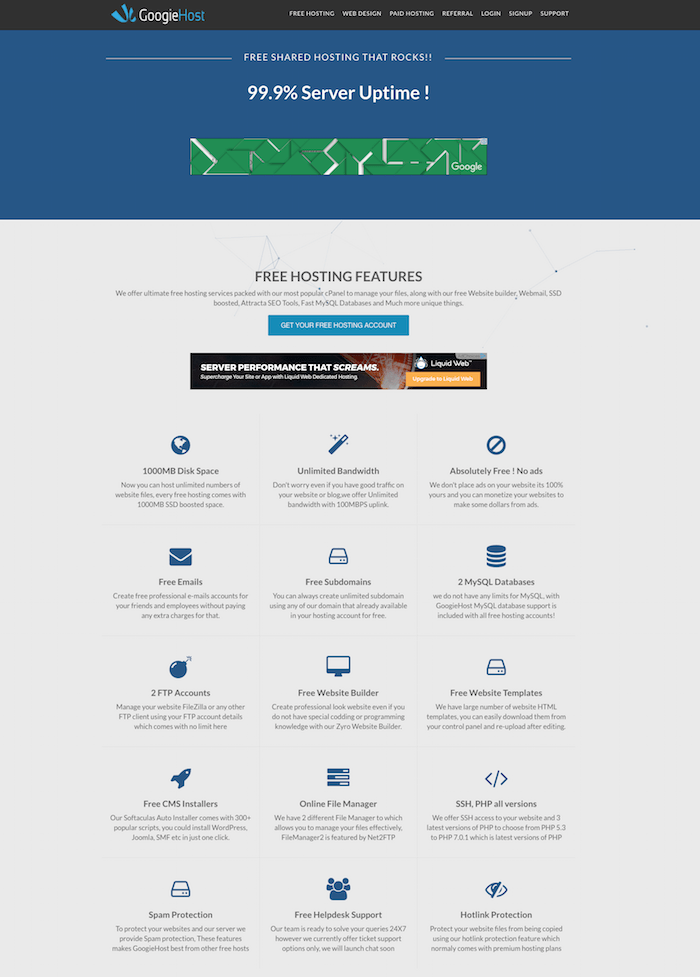 07

. Biz.nf

Biz.nf offers one of the fastest ways to set up your WordPress site, and that too for no cost whatsoever.

Now, you should take note, which like a previous mention on the list, this service provider also has a free plan and a paid plan. So all the similar user discretion applies.

Since we are only worried about the free solutions, so with the same, we are getting about 250MB of disk space, over 500MB of bandwidth, support for PHP 5, MySQL, an FTP account, Complete WordPress protection and a couple of free WordPress themes that just might come in handy.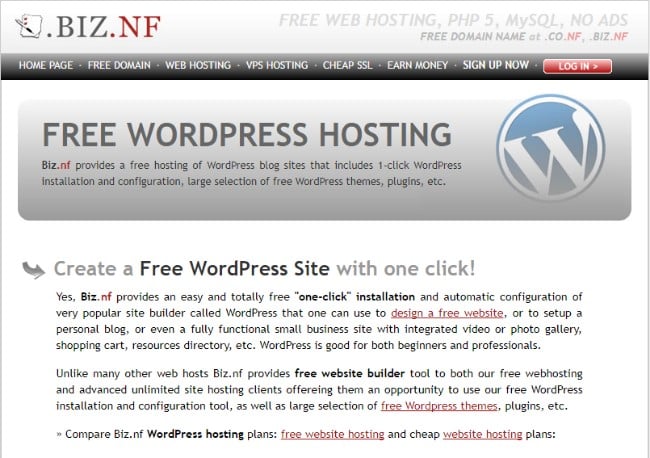 08

. X10Hosting

X10Hosting is one of the older players on the field with over ten years in the business. They offer a free and private cloud-based web hosting solution for WordPress websites that packs many features.

For the first, you will be getting about 100% pure SSD servers, all of which are the best enterprise-level hardware.

Their service is also fully secure, stable, and the performance is top-notch. You will also be getting access to the latest versions of PHP, MySQL, cPanel and a dedicated Website builder.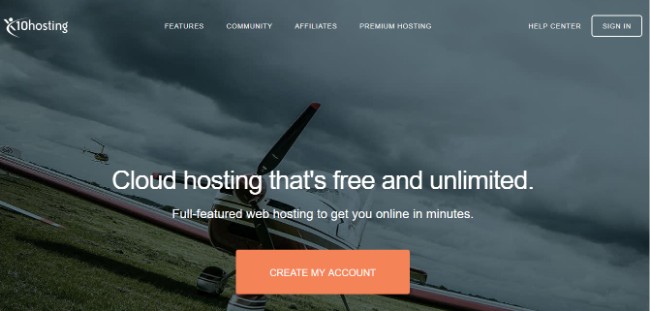 09

. 000WebHost

One of the best free WordPress hosting options that are in the business for a long time. You can host your site with the 000WebHost without spending anything and they will not push ads on your site.

They offer you easy-to-use cPanel like any other paid hosting service to make it easier for you to manage your site.

They are one of the leaders as far as free hosting is concerned. You get MySQL, PHP, a free website builder, a one-click website installer, a 99% uptime guarantee, and more.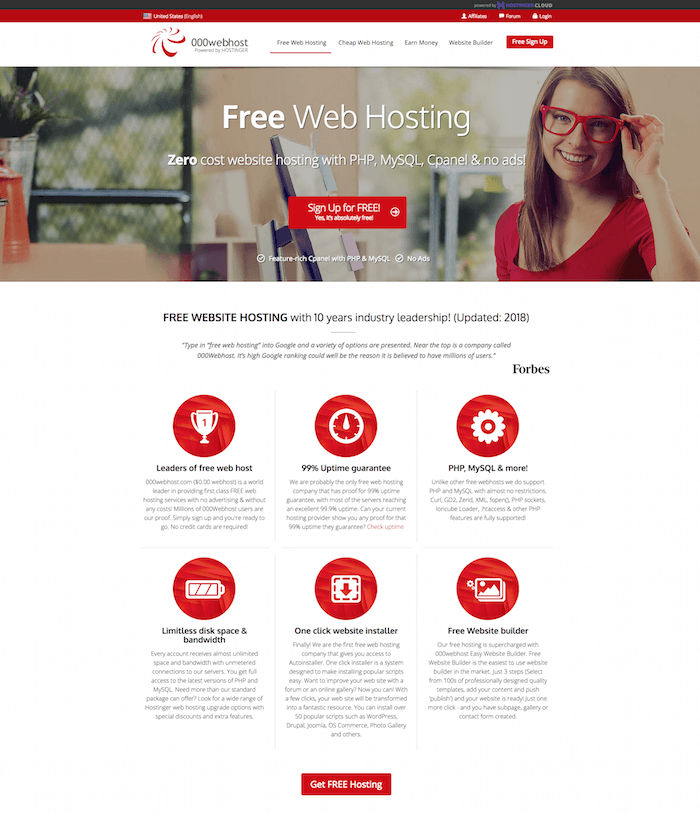 10

. AwardSpace

Another top option on this list, the AwardSpace offers you a complete solution to create a website free of cost. And the hosting provider will not push in an ad on your site, which means you are the complete owner of your site.

This is a great option for anyone who is just getting started. You can create your free website until you are confident about your online business, you can learn and then move to a higher-paid version of hosting.

This can also be a great option for those who need a site to do any kind of online testing.

For example, if you are regularly writing about any design, plugin, or other online product, you can use the free site to carry on your testing as doing it on your main site might not be the best way to go.

In the free hosting package you get the option to host one domain and three subdomains. You get the option to create an email account with your own domain name.

The AwardSpace team offers you a one-click WordPress & Joomla installer to make it easier for the users. You get 1 MYSQL database, 1 GB disk space, and 5 GB traffic.

You get an amazing 99.9% uptime guarantee at no cost which is a great deal.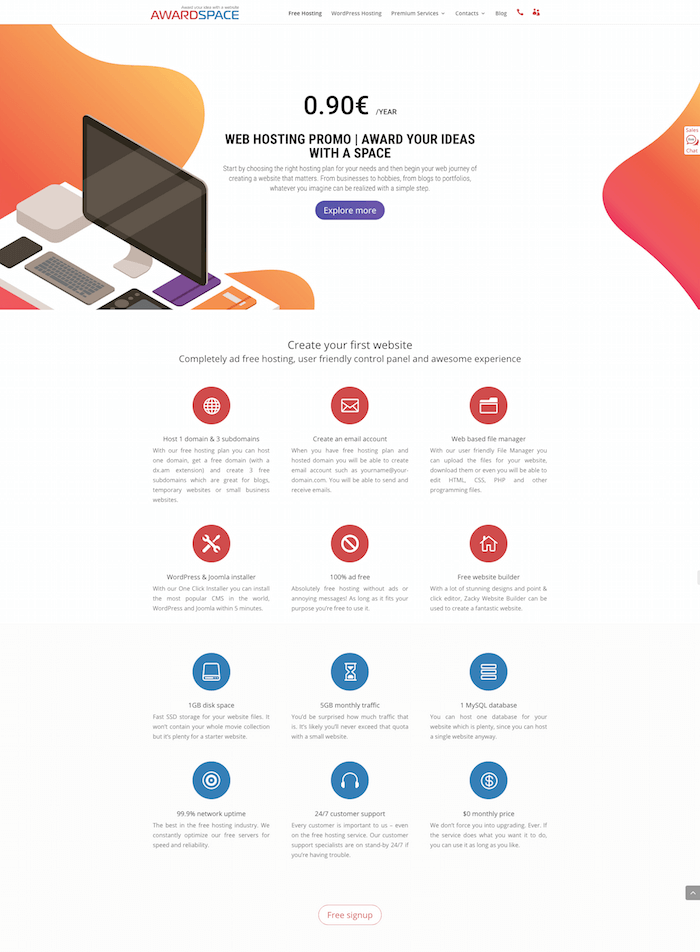 11

. FreeHostingNoAds

The name itself shows that the people behind this company/service mean business. As you can see, they offer a free hosting service, and the plans don't infect your site with unwanted ads.

You also get access to more than a decent list of features, given the fact that it is a free plan.

Notable features offered by the service provider include 20GB disk Space, 200Gb site traffic, 3 PHP versions, POP3 Email Account, and a couple more functionalities to add on top of this.

You will also get things like free tools, support for subdomains, and multiple free HTML templates.

Now if you are thinking about how these guys pull off such a feature-rich service, and that too for free. Well, as pointed out on their website, these guys manage the cost from the other users who are on their paid subscriptions.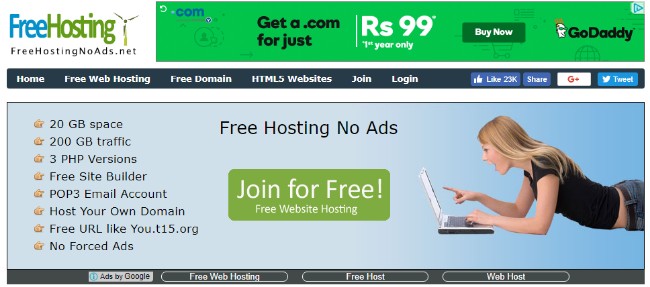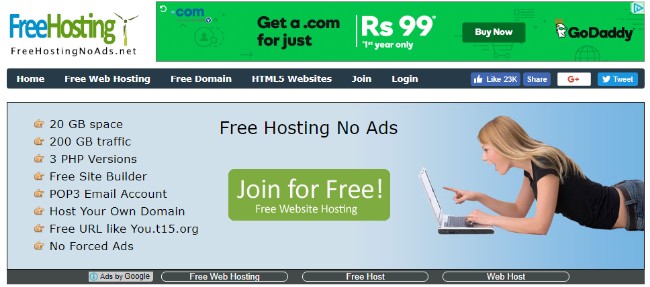 12

. Free Hostia

Free Hostia is another one of those freemium services which come with free web hosting and paid plans for their services.

In fact, these people offer services that fall under three tiers: a virtual private server, a semi-dedicated server, and a dedicated server.

As you can see, here you get a lot of flexibility and choices. In short, the service is ideal for users who are planning to build a website and knows the audience is going to come pouring in but don't like to make the immediate investment in hosting resources.

Now, with the free offering, you will be getting five hosted domains, 250MB of disk space, an allowance of 6 GB monthly traffic, three email accounts, 1 MySQL V5 Database, 10 MB MySQL storage and loads more.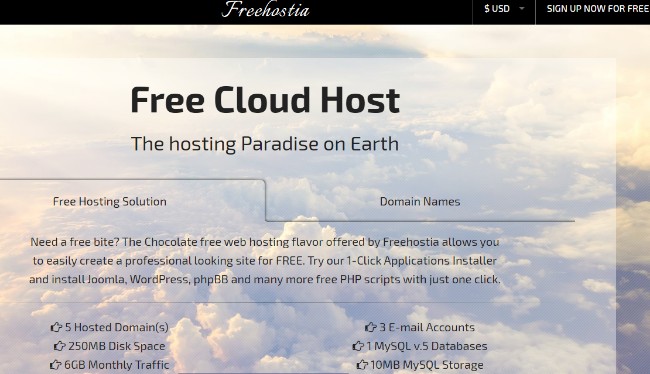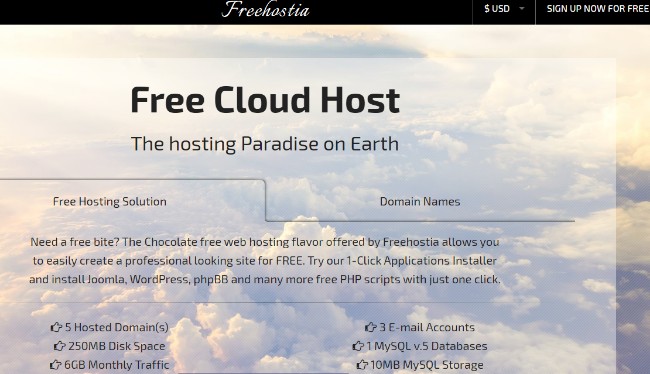 13

. Byethost

Byethost or Byet-Host is one of those rare free WordPress hosting services that also comes with 24/7 customer support.

So if you have been worrying that the free stuff won't be good, and there will be no means for getting support, then these people are offering a very alluring plan.

Now besides this assurance to help you out with problems, the service provider also gives you 1GB of disk space, an FTP account and a file manager, a Control Panel, MySQL database, PHP support and a bunch of more functionalities.

This is the best alternative if you have doubts about your technical know-how.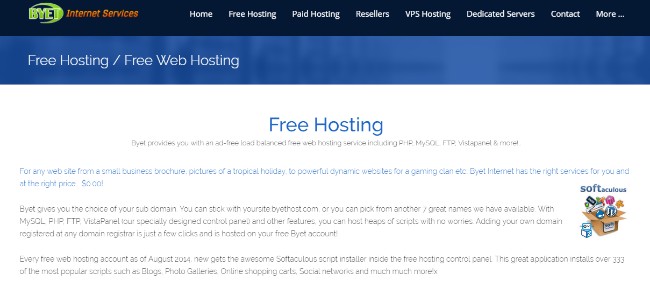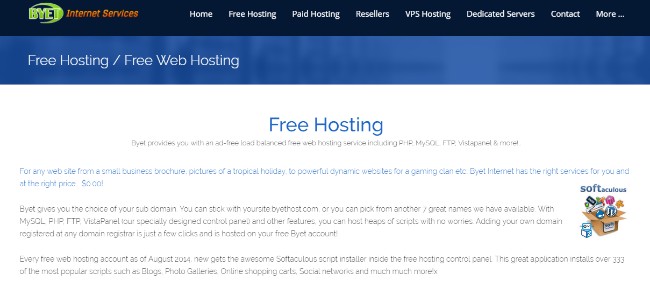 14

. FreeWebHostingArea

A quick site to host your site for free and carry on with your experiments. This site has been around for a long time and offering free hosting since 2005, so you can surely count on them.

You get 1500 MB free web space to explore your online dreams. There is no geographical limitation to this service, the only requirement is that your site should not contain any pornographic content and your site must have at least 1 visitor each month to keep it alive.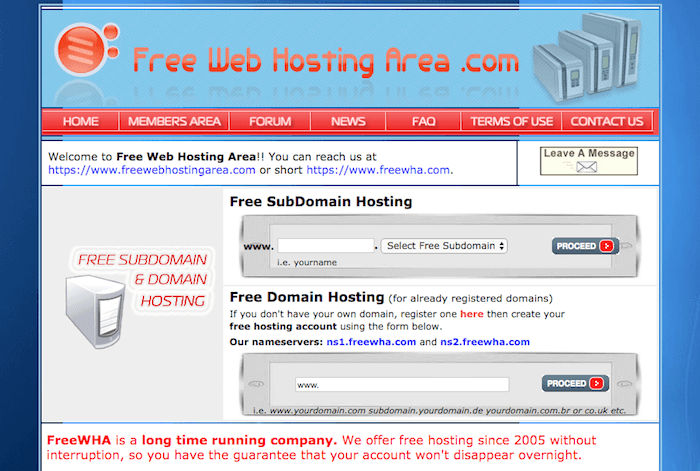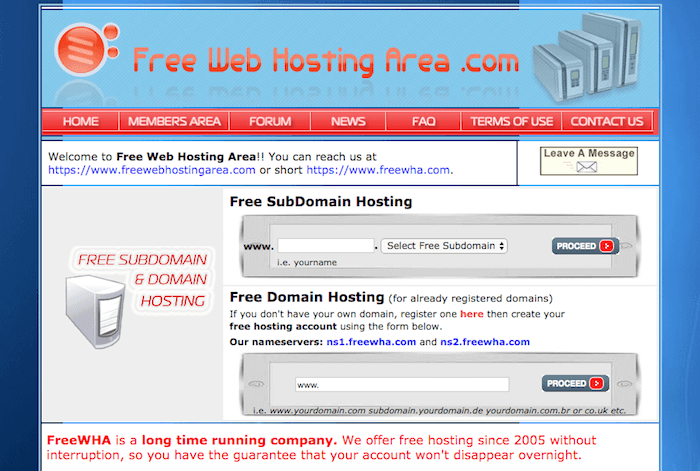 15

. FreeHosting

As the name suggests, this service offers you a free hosting option for your new site. This site offers you 10 GB of disk space, Unlimited bandwidth, 1 hosted website, 1 e-mail account, 1 MySQL database, No subdomains, No domain aliases.

So, you get everything to get started on your site. Even if you are not creating your main site on this free domain, a testing site or other PBN sites can be created without any cost involved in the process.

You get access to the control panel to make it easier for you to create your site without any hassle. And you get all the required tools, features and options that you can need to create your site.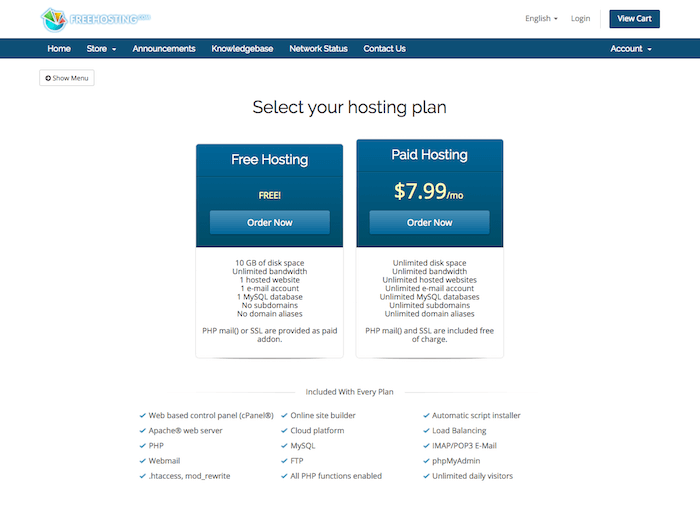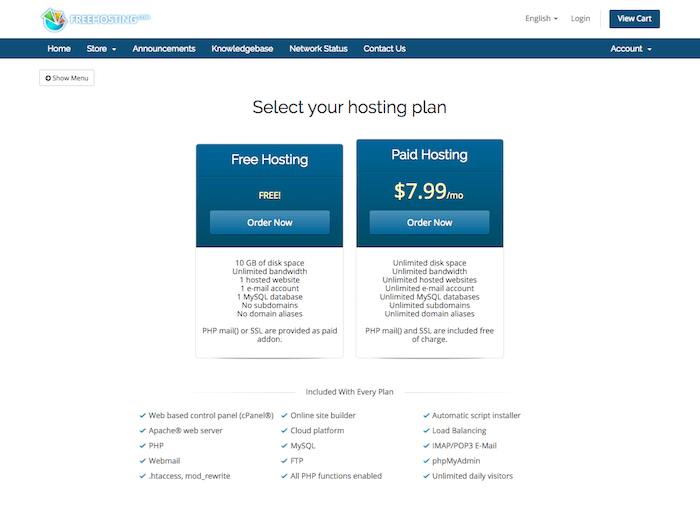 16

. 5 GB Free

The name of the service says it all. You get 5 GB space free to host your site along with 20 GB bandwidth, 1 FTP account and all other options to create your site for free.

Even if your site is created for free on this platform, they will not push ads on your site. So, you can manage your site as per your requirement.

You get access to easy cPanel to create your site and you also get forum-based support for your site.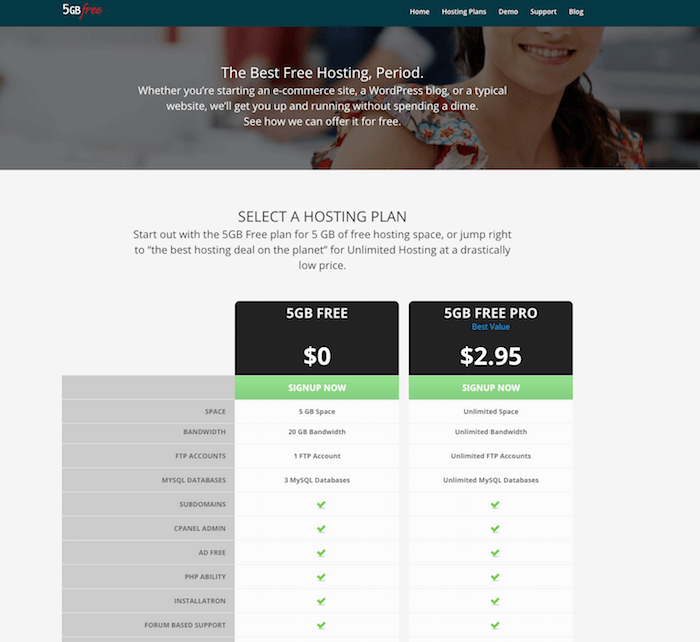 17

. Zymic

Zymic is a free hosting provider that offers you. Well.. free WordPress hosting, along with many other things. You will be getting a range of free services that complement their hosting service.

So in short, you are getting more things for free, if you go for Zymic.

So stating out all the features you get with Zymic, there is the allowance of 500MB of free Disk Space, 5000 MB Data Transfer per month, Unlimited accounts, FTP access, 5 MySQL databases, file managers, a control panel and loads more.

And on top of these, the other free goodies as mentioned include a bunch of WordPress templates and Photoshop tutorials.
18

. Award Space

And Coming on last, but not the least function reach hosting service provider would be Award Space. Their hosting service is not only free, but you also get great customer support and a promise of no ads.

The service is also freemium, which means if you are satisfied by trying it out for free, you can get on their free plans to gain access to better features.

However for free only, you get 1GB disk space 5GB online traffic, 1 Domain hosting, three subdomains, webmail, MySQL V5 database, PHP, Perl/CGI-BIN, FTP, and Joomla & WordPress installer.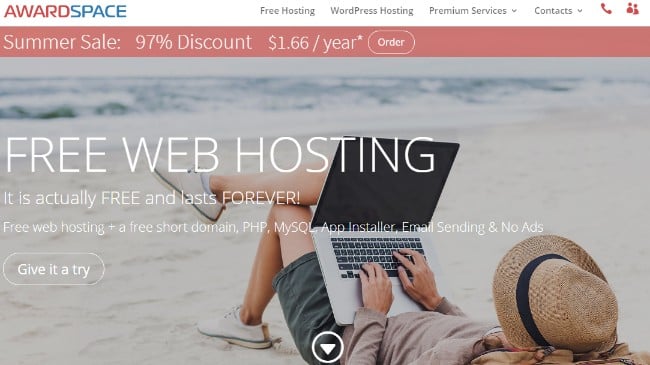 19

. CloudAccess

If you wish to start a free site, CloudAccess is one good option to start with. The free plan is not for those who want to host their own domain name the free plan is restricted to the subdomain.

If you wish to use your own domain name, then you will have to upgrade your plan to the paid version.

In the free hosting package you get the following resources.
Basic Cloud Control panel
500MB Disk Space
1 CPU Core
1 GB RAM
Free Subdomain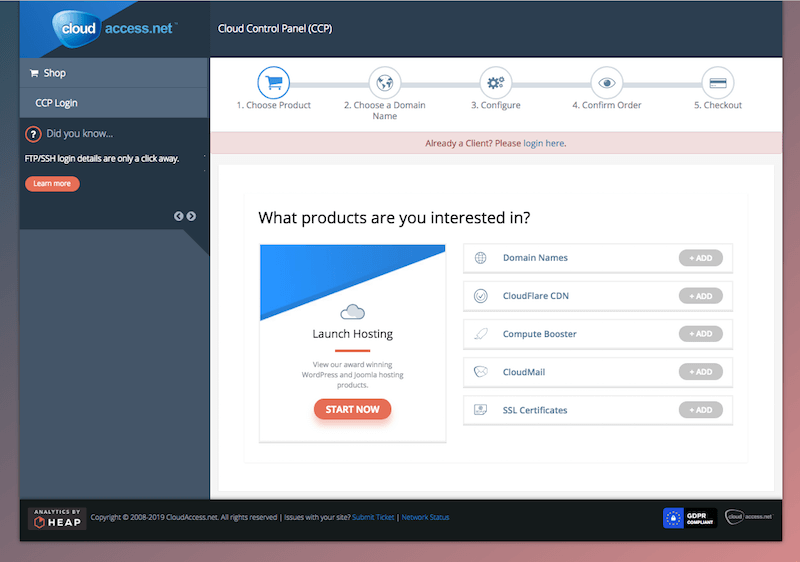 20

. Freehostia

Another good option is to host your WordPress site for free. Freehostia offers you free hosting and a one-click app installer to install WordPress, Joomla, and other apps to create your website.

You can install more than 50 different applications on your site by using the one-click installer to make sure that you have a complete site without spending any money.

Freehostia is offering a website hosting service since 2005. And you can create your own website without any technical knowledge, free of cost by using this platform.

Here's what you get in the free hosting option
More than 50 one-click applications
Host upto 5 domains
250MB Disk Space
6GB Monthly Traffic
3 E-mail Accounts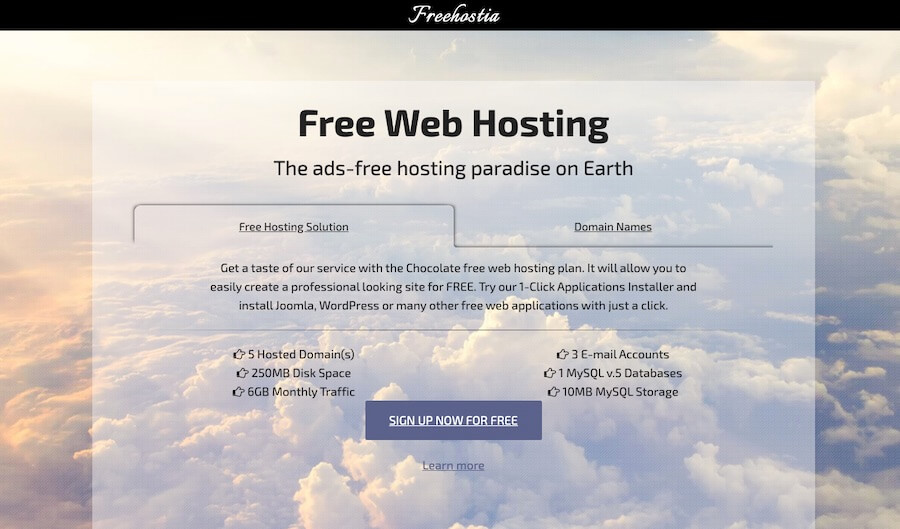 21

. Infinity Free
Get unlimited free web hosting on the Infinity Free platform. They claim to offer unlimited disk space and unlimited bandwidth even in the free plan.
If you are looking for a completely free hosting option with no restrictions, Infinity Free is a great option for you. Along with unlimited hosting, they also guarantee 99.99% uptime.
You have the option to use a subdomain to use your own domain name as per your requirement. Even if this is a completely free hosting option, they will not force any ads on your site, unlike many free hosting options.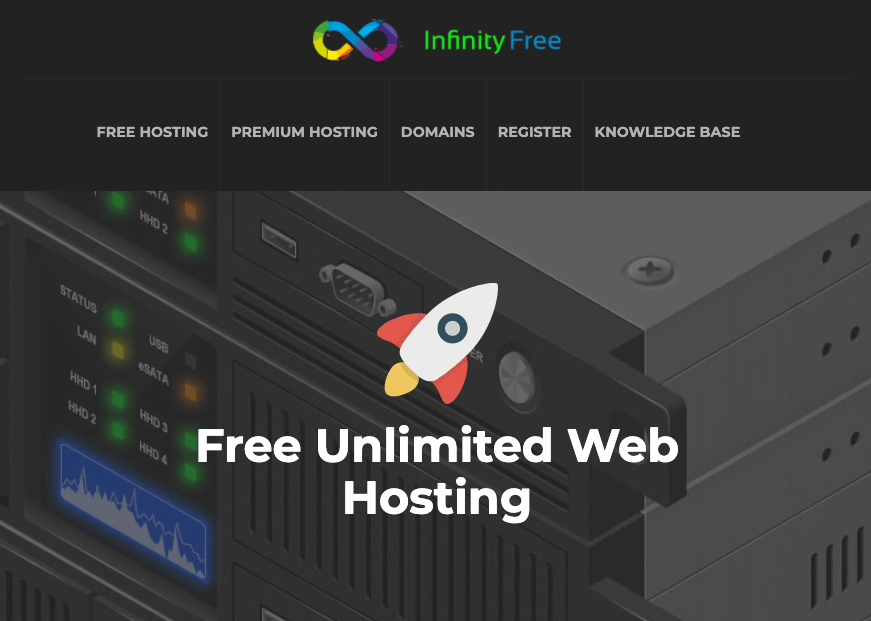 In Conclusion:
So this was our list of the best free WordPress hosting provider services in the market. If you liked our list, or if you are planning to use any of these service providers, then do let us know about your passion project.
Also, if you have used a great free hosting provider that we did not mention on the list, please mention that in the comments sections.
Your contribution will provide your fellow readers with more alternatives and options.