If you are looking for the best Copyscape alternatives, we have the best options listed in this article.
Copyscape is a useful tool for when you need to check on whether or not the content you are working with is original.
As your content business or blog grows it becomes important to maintain a high standard of content so that you can retain and increase your traffic.
When you have a team of writers you need to make sure that all the content written by your team grows through the plagiarism check, because if you publish duplicate content on your blog, Google will scrape your site altogether.
We have already listed the best plagiarism checker tools in this article, some of those tools will be repeated in this article as well.
While Copyscape is one of the leading duplicate content checker tools, you might look for the best alternatives that you can use for free or at lesser prices. So, we have listed the top Copyscape tools in this article.
These are options that have many unique features and focus on different types of controls.
But the good news about what Copyscape offers is that it will not take much for you to get your work checked when you use these tools. Try these out the next time you need help for any purpose.
Note: Many of these Copyscape alternatives are available for free, but you may have to spend extra to get the full versions of these sites to work for you. Check on the terms on each site to see what is available for your use.
What Are The Best Copyscape Alternatives?
Copyscape is one of the best tools that can help you to write correct content. It will make sure that you avoid grammatical and spelling error-free content for your project.
However, there are a number of similar tools like Copyscape that you can use to get help while writing your content. Some of them are paid and some are free.
For example, Grammarly is one of the most popular and widely used tools for writing help.
Here is a complete list of Copyscape alternatives that you can use.
01

. Grammarly
Grammarly is best known for how well it can work to help you write better. It is one of the most popular spellings and grammar checker tools. But one thing about Grammarly that makes it particularly useful is that it can also review anything you might be copying.
With Grammarly, you can check on billions of websites at a time. The tool helps you check on whether your content is incorrect or looks too similar to something else you're working with.
The convenient design of Grammarly is helpful for when you need to ensure your work looks good and that you're not making anything overly similar to something else.
Also, don't forget to check this collection of best Grammarly alternatives.
Provides detailed results on everything you're posting
You can use the downloadable app to check on your content on the go
A plug-in is also included for work within a web browser or form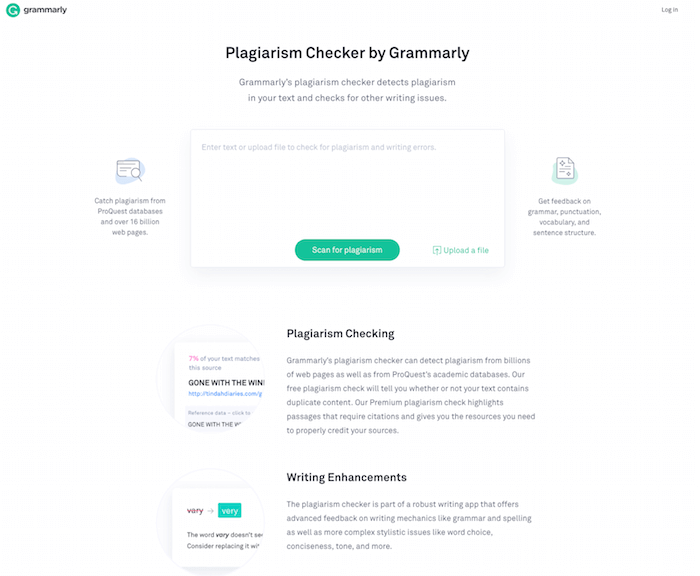 02

. Plagiarisma
Plagiarisma focuses on looking at research papers and other academic documents. You can enter your text on Plagiarisma to find details on your content.
The site uses Google Scholar and Google Books among other databases to identify cases where you're potentially duplicating content. The site also does well with reviewing content based on patterns and how often you're using words.
The content helps you see what troubling issues you might be entering into and especially does well if you are uncertain about what might work on your site at a time.
Supports a variety of file formats
Includes support for more than 190 languages
Includes separate mobile apps for reviewing the content on the go from a phone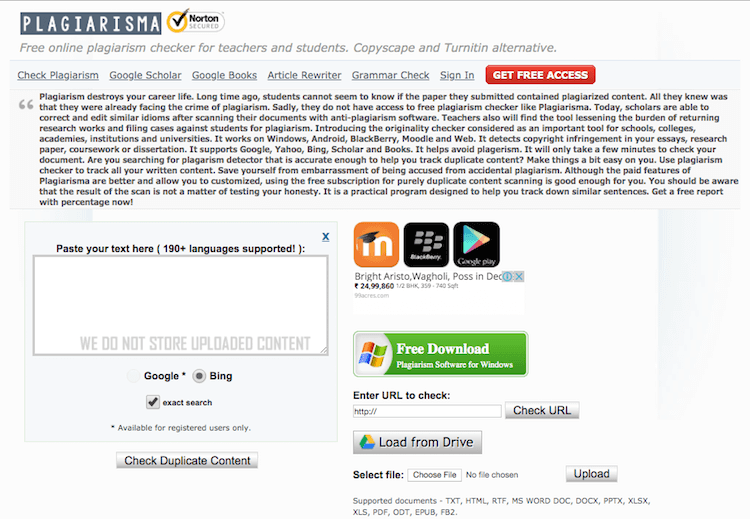 03

. Outwrite
Outwrite is a comprehensive content suggestion and correction software that you can use to write error-free content on your blog or any other project.
It works perfectly on any browser and you can use it for your website content, while you write on Google Doc, Word Doc or any other web app.
It will help you with spelling corrections, grammar corrections, content writing style improvements so that your final content is of high quality.
The software will help you to rephrase long sentences in just one click to improve the overall quality and readability of the sentence.
Outwrite will track the overall quality of your content and give it a score based on your writing so that you can work on improving it further.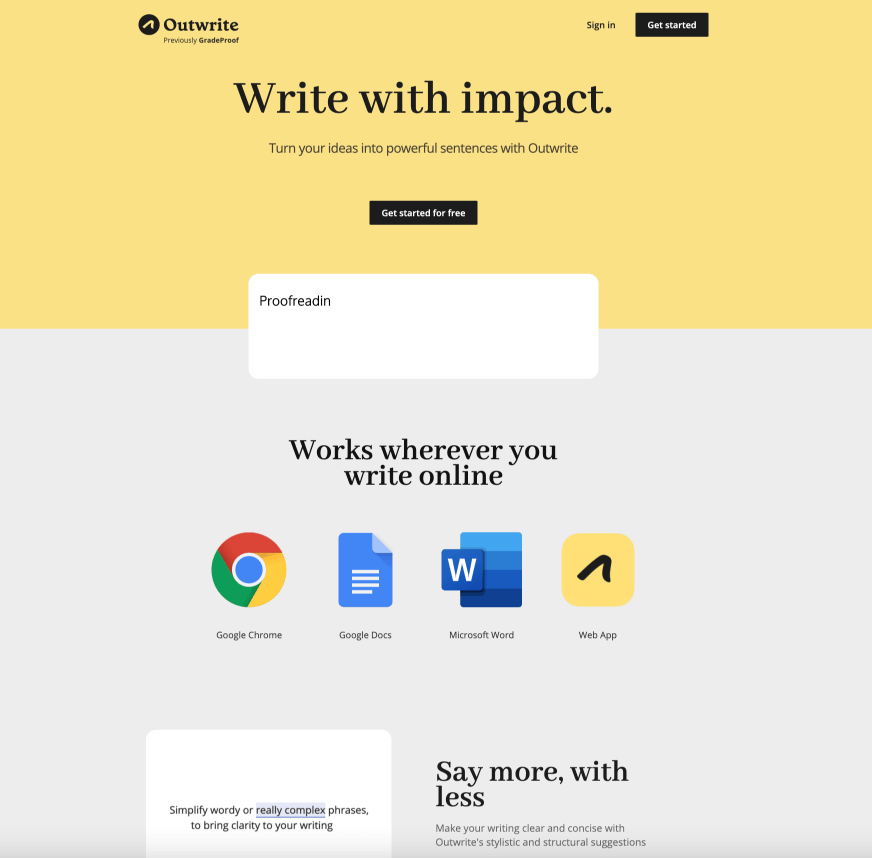 04

. Scribbr
Scribbr is considered one of the most accurate plagiarism checker software that you can use to write error-free content on your website or any other project.
Scribbr along with Turnitin will make sure that your content doesn't have any duplicate content and make it completely unique.
Your content will be checked against 91 billion webpages, 69 million publications, and over 20 languages to make sure that the content is completely unique and error-free.
High accuricy when it comes to plagiarism
Good for academic papers
Large content database to check your content against
You can start using teh software for free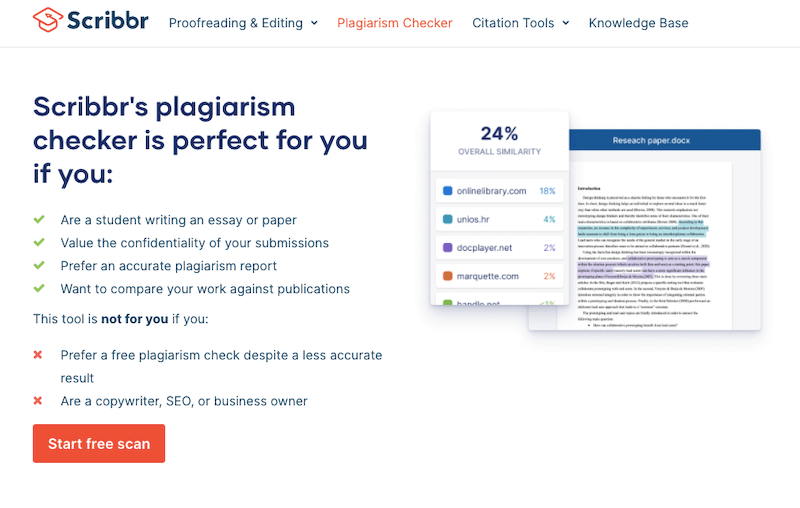 05

. PlagAware
A very handy tool and a quality Copyscape alternative that you can use to create unique content for your project. Even if you are taking all the possible precautions, still you need quality plagiarism to make sure that your content is unique.
If you have a team of writers who are creating content for your site, you must double-check the content before you publish to make sure there is no copied content.
PlagAware checks your content against over 70 billion pieces of content to make sure that nothing goes unnoticed. The tool will quickly check and give you all the details of the sources used to create the content and it will give you the percentage of content that is plagiarised.
This is a very useful tool for students, research students to check their papers, bloggers to check content before publishing.
Easy to use tool
Checks against over 70 billion content
Accurate, award winning tool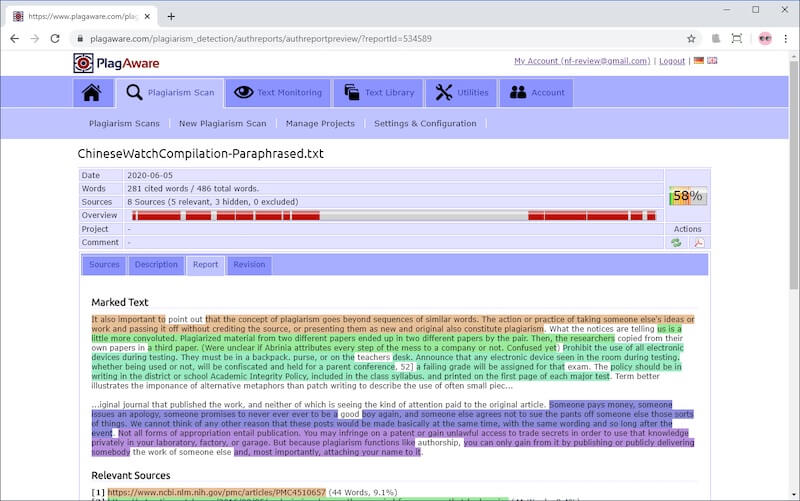 06

. Plagium
Plagium can perform basic searches, but the deep search feature is the best part of what the site offers.
Plagium helps you to find details on what type of words you are posting that may be similar to others on already published bits of content. The convenient design of Plagium provides a thorough review of your work, and yet it is still easy to load things on the site.
You can also get a file search by getting a fully uploaded file on the site. The result display provides a simple interface for helping you identify unique concerns.
Can check large amounts of content up to 1,000 characters at a time
Includes multiple display tools
Covers synonyms and paraphrases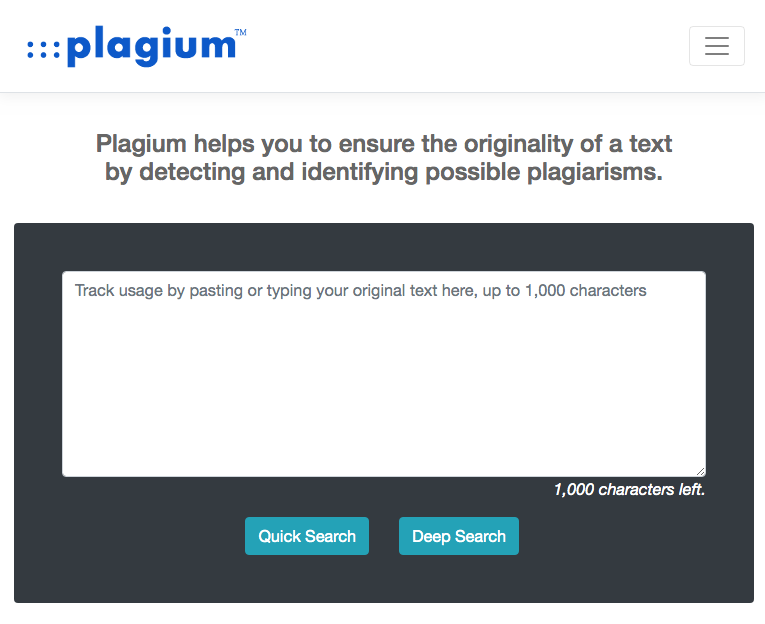 07

. PlagScan
PlagScan is useful if you're planning on writing any specific academic papers. PlagScan can work around tens of thousands of scientific journals among many other resources.
The extensive review works even if you're copying small bits of content. The design also looks at citations and how well you are putting them in.
The citations will especially be critical when you're trying to handle your data without risk.
The three colored results can also be noted on PlagScan for your convenience. This includes details on exact matches, text that you might have altered, and content that you have marked on your work as quotations.
Percentage reviews help you find different concerns surrounding what you might be copying
Source information lets you see what you might be copying
You can compare your own documents with each other to find repeating things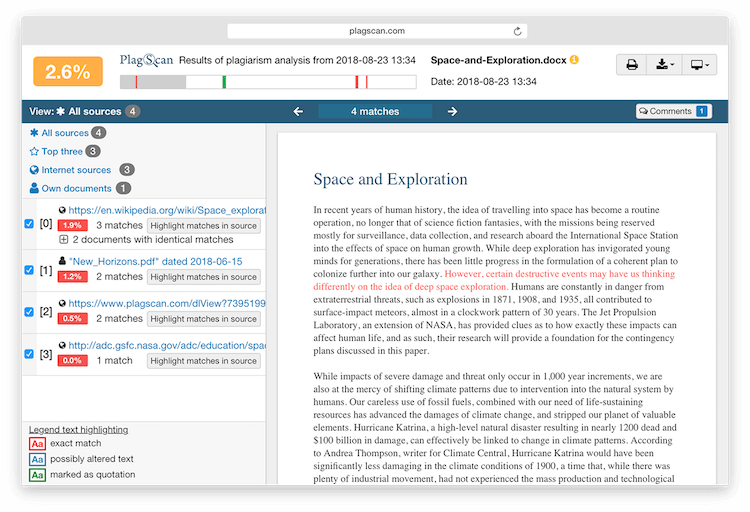 08

. Plagiarism Detector
The Plagiarism Detector site lets you find content in your work that is either unique, checked, or possibly plagiarized.
The deep search feature reviews the thorough content based on what you are posting and how similar it might be to other bits of content you're working with.
You can also get a file uploaded or even use a URL on your site to help you with checking on your content. A quick search feature also helps you identify many opportunities for your use.
Reviews how often you use certain words
Finds both matching phrases and unusual word choice options
Identifies trends in your work based on pace, length, and other writing factors
09

. CopyGator
CopyGator is ideal for when you're looking to work on blogging content. The setup lets you review your content versus what you will find on other sites. This includes working with WordPress sites and many RSS feeds of note.
You have the option to watch specific RSS feeds as well. You can use CopyGator to check on different feeds of sites that may be very similar to yours, thus helping you confirm what you are doing online without losing touch with what you want to post.
The RSS feed review also works for when you're looking to find out when your content has been republished for whatever reason.
You can add CopyGator tags and image notes on your site
A lightweight design makes it easy to load up
Works with millions of feeds at a time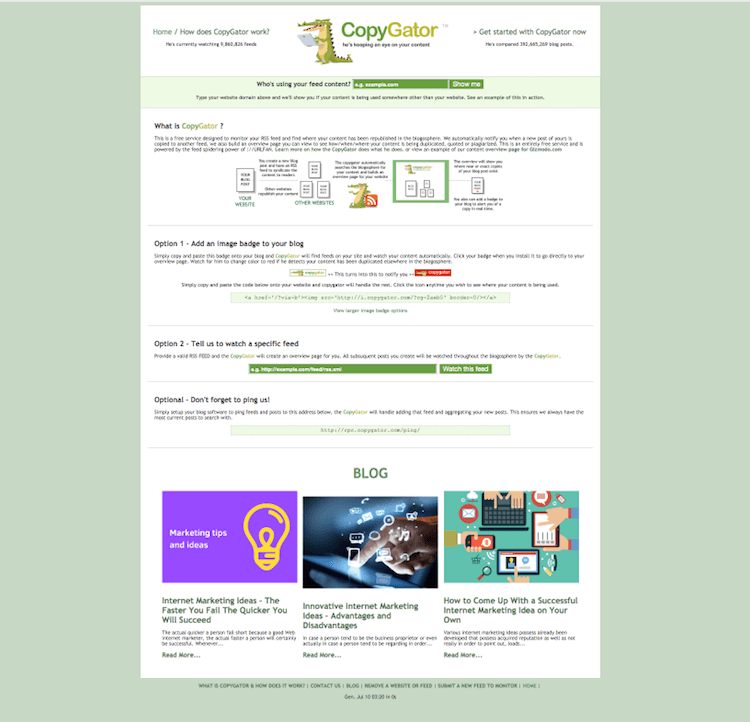 10

. Small SEO Tools
The Small SEO Tools website focuses on producing many solutions for helping you to review your SEO tasks. The plagiarism checker feature that Small SEO Tools has to offer will be noted for your needs.
You should look at how well the setup works, especially as you can check on specific URLs and documents of all sorts.
The content included provides a sensible layout that is easy to follow without being complicated.
Works alongside many other SEO tools, including reverse image searches and grammar checks
Works with a WordPress plugin
The thorough content on the site provides a detailed arrangement for your use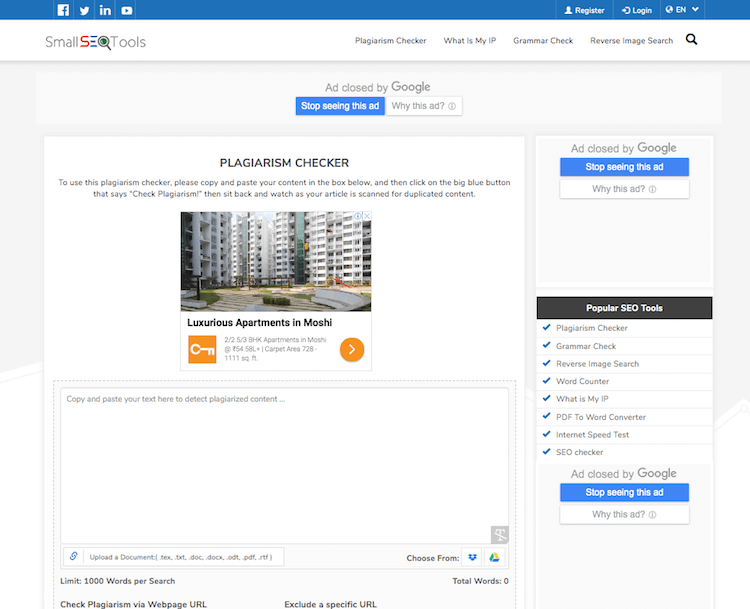 11

. DupliChecker
You can use the paraphrasing tool on DupliChecker to identify tools to help you simplify your content and to reduce your risk of being caught engaging in duplicating content.
You can also use the grammar checker feature to figure out what content is working on your site.
There's even a reverse image search feature on the DupliChecker website. The search feature helps you find points on where you are getting any images you want to use.
You can use the content here to help you identify many ways how you're copying content and using it.
Works to browse docx and text files
Includes a domain authority checker
Review the keyword positions of critical phrases and other features you're posting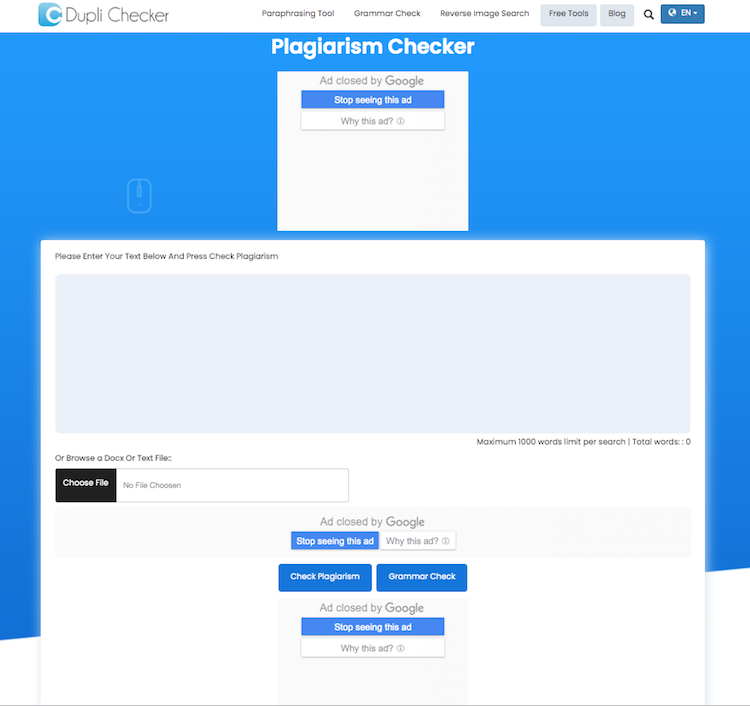 12

. Plagiarism Checker
This tool with the name Plagiarism Checker sounds very basic and simple, but there's nothing overly simple about what the site has to offer.
The site does well with reviewing your files, but one positive is that it will look at your PDFs. The digital recognition software used by Plagiarism Checker can review your PDF even if you have something that isn't necessarily of the best quality. You can also work with the odt and rtf file formats if preferred.
Works on many links for your convenience
Can check large amounts of text on the same browser tab
You can also enter in a URL to find details on what's available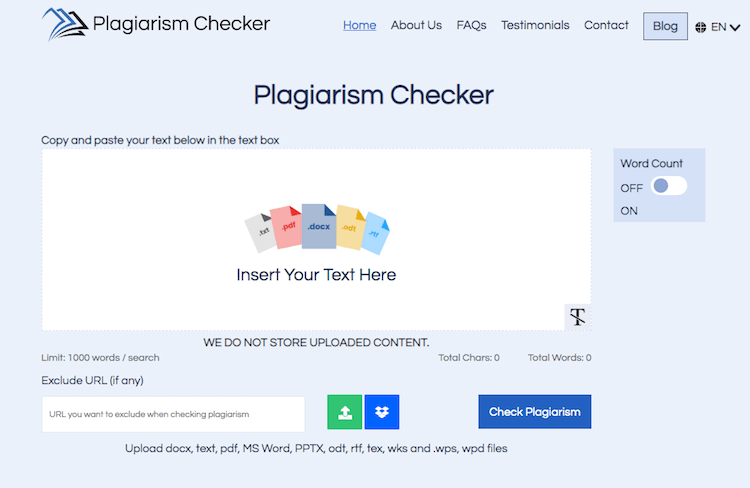 13

. Dustball
Sometimes a bit of simplicity is all you need when getting your content analyzed. Dustball helps you to identify many things on your site surrounding whatever you might be copying at a time.
The simple design that Dustball uses entails you posting content into the simple text box on the site. The site is light in weight and helps you check on your content in a few moments.
But one other point to see from Dustball entails working with a detection algorithm that checks on the content you've got and finds items that may be too similar to other things you might be working with.
You can upload Microsoft Word documents on the site
You can download your plagiarism reports from the site after uploading and checking
Find points on the program about other sources that you might be working with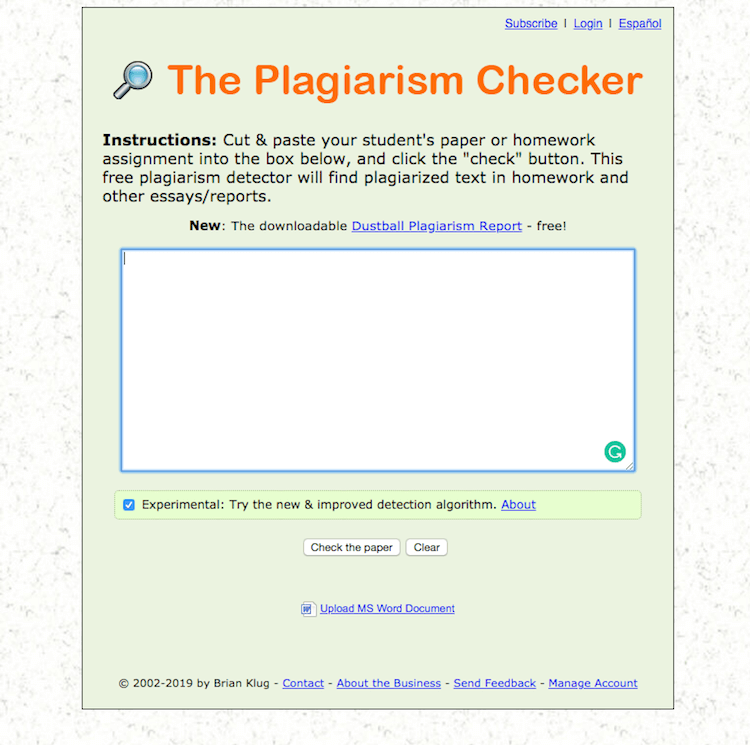 14

. Quetext
Quetext is another very comprehensive solution when it comes to plagiarism checking and writing assistant software. It comes with DeepSearch™ technology which is a smart algorithm to check the context of your content and suggest changes accordingly.
It offers you a free version with limitations, and you can go for the premium version if you wish to go deeper into the analysis of your content.
It is a very handy software for students, teachers, and professionals to create high-quality error-free content.
Propritory DeepSearch™ technology
Easy to use
Offers free version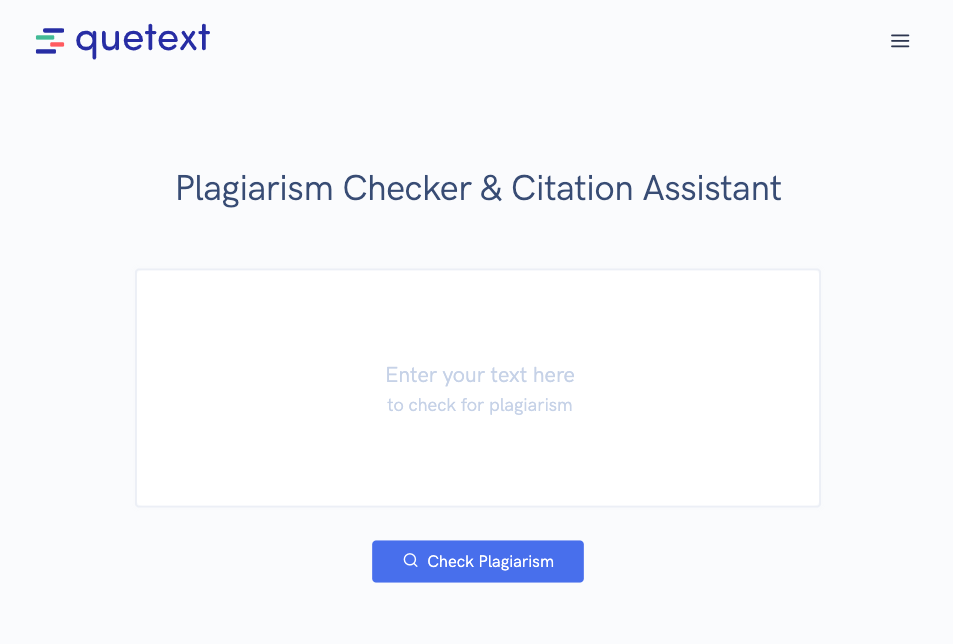 Final Word
The best part of using all of these Copyscape alternatives is that you'll have a better idea of what you are doing with your work with them.
You'll have to identify how these Copyscape alternatives are working for you if you wish to ensure your content is being handled well and that you're not accidentally copying things even when you are not trying to.