If you are looking for the best task management software, you can have a look at this list of some of the top software that you can use for your business to make overall management smooth and easy.
When you are managing a business, there are multiple tasks that you need to manage every single day. From allocating work to your team to keeping eye on the project deadline, there are so many important things to manage.
While it is not possible to keep a track of everything manually, there are some amazing software that makes the process very simple.
The software we have listed can be used to manage all the important processes of your business from managing your team, meetings, allocating work, project milestones, discussions, and more.
So, let's have a look at the options we have.
What Are The Best Task Management Software?
Monday.com is a flexible, scalable, and reasonably priced project management tool. With just one click, Monday.com provides you with all the tools you need to visualize projects the way you like them, including the following views:
Kanban
Gantt
Timeline
Calendar
It is one of the few project management tools available on the market that comes equipped with the capability to track time automatically.
Also, your team will be able to accomplish more in less time by integrating Monday.com with the tools and applications you already use for business.
Whatever number of projects you are overseeing, Monday.com has a template to suit your needs. Basically, instead of adding yet another tool that your team is unfamiliar with, the goal of this project management software is to make your life easier.
Top Features
Visual dashboard
Supports plenty of integrations
Code-free automation
Live collaboration
Easy-to-use editor
Pricing
Monday.com supports the following plans for three seats:
Basic: $8/seat/month
Standard: $10/seat/month
Pro: $16/seat/month
Additionally, it supports a free and enterprise version too.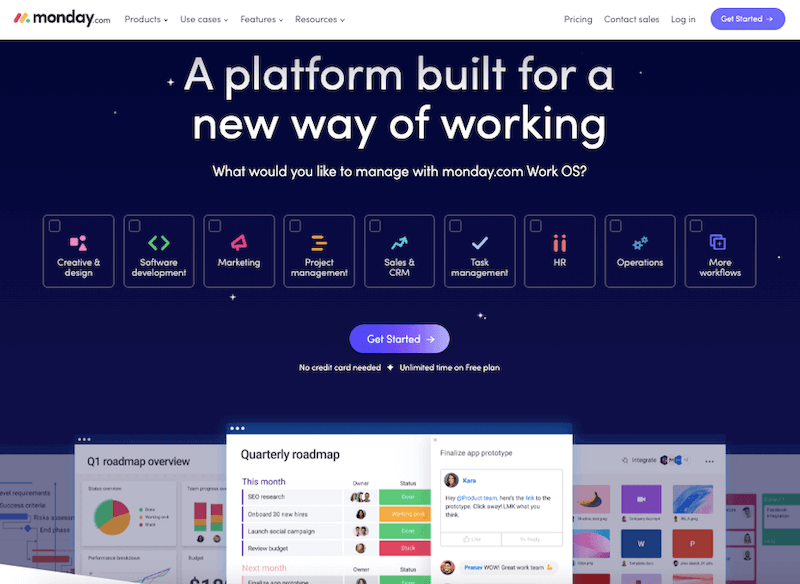 For groups that need to manage projects with visual components, ProofHub is a great project management tool. Like all project management tools, ProofHub enables teams to collaborate while organizing and monitoring the status of projects.
Additionally, it supports integration with popular tools like
QuickBooks
Google Calendar
DropBox
OneDrive
Outlook
Google Drive
With ProofHub, you can plan and work together with an easy-to-use interface that keeps everyone up-to-date and lets you focus on what's essential with little to no learning curve.
Top Features
Supports table, boards, Gantt, and calendar view
Task prioritization
Supports multiple templates
Easy team collaboration
Detailed project reports
Pricing
What makes Proof Hub price-friendly is that it supports flat pricing instead of a per-user fee with the support of unlimited support. It supports the following two plans:
Essential: $45/month billed annually
Ultimate Control: $89/month annually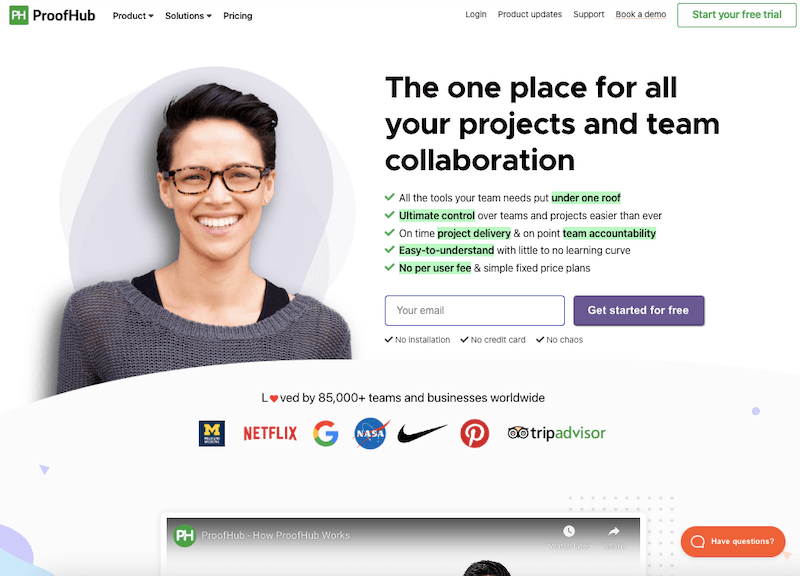 Wrike is an all-in-one solution to manage projects for:
Marketing teams
Agencies
Professional service providers
Wrike's dashboard stands out as being particularly innovative compared to competing project management solutions.
Firstly, it has three panels that show your entire workflow at once, so you can get a bird's-eye view as well as the finer points without switching tabs.
Secondly, Wrike updates charts, some reports, infographics, and analytic dashboards every 15 minutes, so you always see up-to-date data.
Finally, Wrike's workflow builder makes it simple to automate processes involving a wide range of business applications thanks to the platform's compatibility with more than 400 third-party tools.
Top Features
Easy-to-use workflows
Tasklist visualization
Project insights
Enterprise-grade security
Powerful templates
Pricing
Wrike supports the following straight premium plans:
Team: $9.80 user/month
Business: $24.80 user/month
Additionally, it also supports a free plan that provides project and task management features. Also, it supports Enterprise and Pinnacle views. To know the pricing of these, you need to contact them.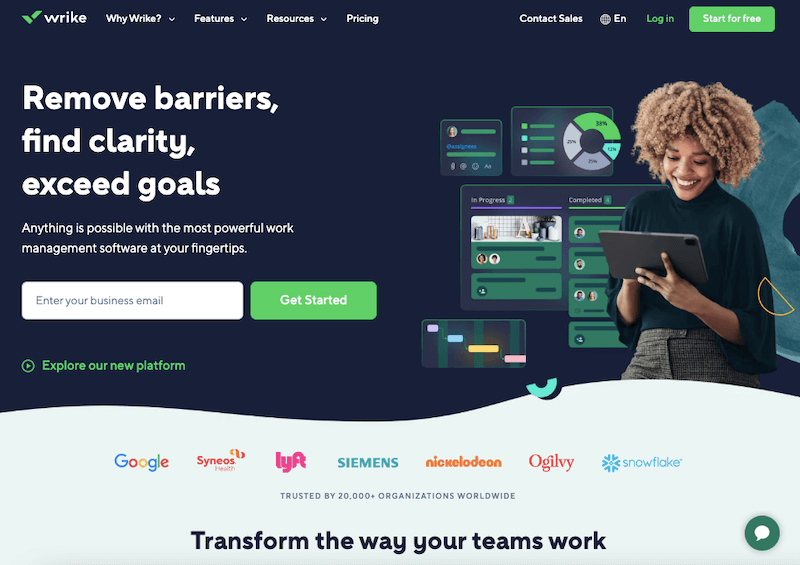 ClickUp is a cloud-based project management tool that balances affordability, usability, and features. Another key point is that one of ClickUp's most compelling selling points is undeniably its ability to be personalized.
Above all, in the form of ClickUp, you will receive an entirely flexible online software solution that allows you to take an individualized approach to the projects you are working on.
Besides ClickUp's many high-end features, teams of any size can communicate more effectively and collaborate on a single platform in real-time.
Additionally, creating reports, pulling them, and customizing them can quickly be done with ClickUp.
Furthermore, it supports more than 15 views, which means you can view your projects, timelines, and team structure in any way that is most convenient for you. This is yet another significant advantage of using this project management tool.
Top Features
35+ ClickApps for task management customization
Sharable screen recordings
Supports core, advanced and page views
Dynamic dashboard
1000+ integrations
Pricing
ClickUp supports a free plan along with the following premium plans:
Unlimited: $5/member/month
Business: $12/member/month
Business Plus: $19/member/month
Enterprise: Contact sales to know the pricing
Chanty is a messaging app that prioritizes tasks over chat to improve communication and collaboration. It does this by utilizing AI bots to facilitate improved communication and collaboration.
Also, with Chanty, you can easily communicate with your coworkers in a variety of settings, including the following settings:
One-on-one
Private
Public
Group
You'll be able to keep track of all of your messages, files, links, and tasks with the help of the Teambook menu.
The collaborative solutions that Chanty provides are, without a shadow of a doubt, the service's main selling point. Additionally, the tool enables you to participate in private as well as group conversations without requiring you to leave its platform.
While you're on the go, you can also keep in touch with others through voice memos and video calls.
Top Features
Quick access to messaging history
Converts messages into tasks
Task prioritization
Total control over team space
Secure communication
Pricing
Chanty supports a Business plan that will cost $3/user/month. It also supports a free plan.
The project management software Smartsheet is comparable to an Excel spreadsheet. Basic features such as
Scheduling tasks, subtasks, and activities
Assigned resources
Sections on tasks
Make it useful for any task manager working on multiple projects.
Additionally, with the Critical Path feature, it's easy to find the tasks that have the most effect on the end date of your project.
Easily exportable summaries to Excel make reporting a breeze in this task management app.
Top Features
Dynamic portfolio management
Enhanced project reporting
SSO-level enterprise security
Versatile dashboard
Supports multiple integrations
Pricing
Smartsheet is priced at $7/user/month for 3-25 users. Before buying the premium plan, you can try their 30-day free trial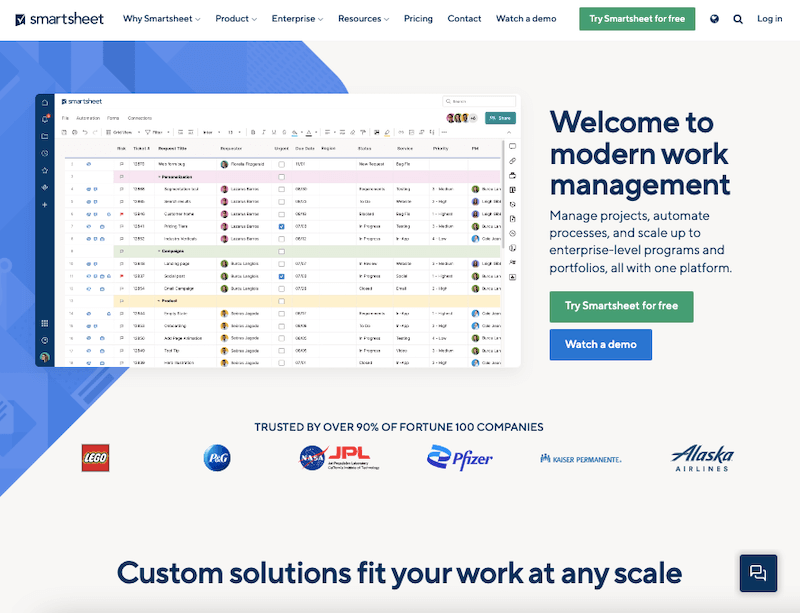 When it comes to predicting resource needs or allocating them to projects, the Workotter performs exceptionally well. As an added bonus, this platform makes establishing task workflows incredibly easy and fast.
Furthermore, many pre-made workflow templates are provided for your use, allowing you to quickly and easily tailor your workflows to reflect the specific task(s) your organization is currently focusing on.
Finally, everything on this platform is thoughtfully crafted to provide the functionality you require precisely where you need it without adding unnecessary complexity.
Top Features
Resource management tools
Configurable reports and dashboards
Integration with existing systems
Estimation of project completion
Note creation
Pricing
Workotter does not support transparent pricing. You need to contact them to know the pricing details of their plans. Workotter supports the following three premium plans:
Limited Access
Team Member
Managers
When it comes to enterprise-level task management software, many businesses favor Asana. In addition, Asana's free plan has so many options that even small teams can benefit from it.
Furthermore, no matter which Asana plan you choose, you'll have access to the platform's extensive library of more than a hundred app integrations.
Using Asana's workflow builder, any manager of a large team with a need for task management can set up and maintain efficient workflows with minimal effort.
Asana is also a project management tool that allows users to keep track of tasks, prioritize what's most important, and centralize their work in one central location for easier Teamwork.
Top Features
Project Overview
50+ project management
200+ integrations
Workflow customization
Supports multiple views
Pricing
Asana supports a basic plan that is free to use. Its premium plans are:
Premium: $10.99/user/month
Business: $24.99/user/month
Enterprise: You need to contact the sales team to know the pricing
It provides tools designed specifically for remote teams. Thanks to its comprehensive feature set and user-friendly design, Teamwork is among the top platforms for managing projects.
Besides, it's perfect for teams whose main focus is on providing services to clients, as it includes billing and invoicing. Additionally, creating an account on Teamwork is simple and you can quickly begin entering data about your project.
Teamwork also allows you to add your company's logo and colors to the interface.
Additionally, an individual login URL is generated for each account, and a custom logo can be uploaded if desired.
The interface of the app is modern and well-thought-out.
Top Features
Workload planner
Real-time insights
Supports multiple templates
Project time budget
Billing, invoicing, and budgeting
Pricing
Teamwork supports the following three premium plans along with a free plan:
Deliver: $9.99/user/month
Grow: $17.99/user/month
Scale: Custom quote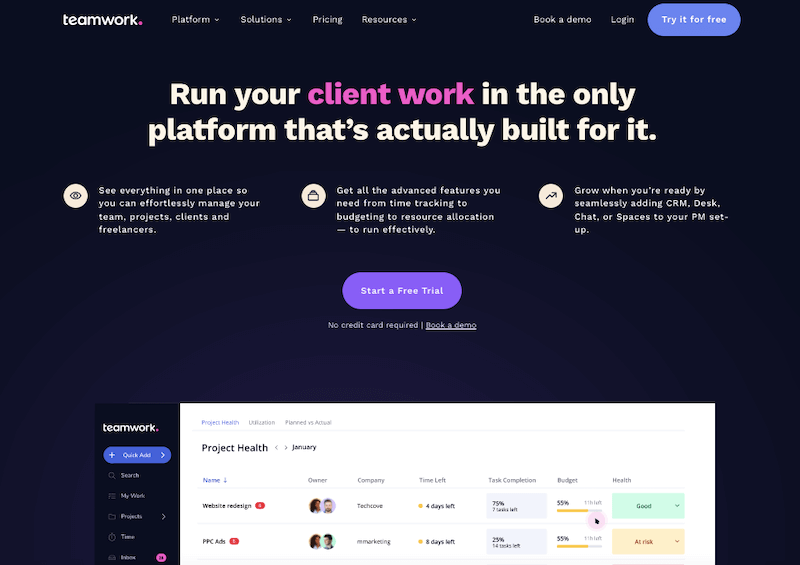 The familiarity you'll feel with using Airtable comes from its resemblance to other spreadsheet programs like Google Sheets and Microsoft Excel.
Airtable is flexible and powerful, with a drag-and-drop interface designer that visualizes tasks and projects.
Also, the tool gives you the ability to build custom project apps for your team that contains:
All of which can be delegated to particular members of the team.
Finally, to improve the efficiency of the team's internal communication, the platform allows the members to comment back and forth.
Top Features
Interface designer
100+ templates
Featured packed free-version
Snapshot history
Supports multiple views
Pricing
Airtable supports the following premium plans:
Plus: $10/seat/month
Pro: $20/seat/month
Enterprise: Custom quote
Additionally, it supports a free plan which is feature rich.
FAQs About Task Management Software
Q1. What is a Task Management Software?
Task management software gives you the tools to plan your daily or monthly activities in a transparent way so that you don't miss anything. At the same time, it can help you to make sure that you never miss any project deadline. Task management software offers you a spreadsheet or board where you can plan and add all the important tasks that you need to get done with the timeline.
Q2. Are The Task Management Software Free?
There are a number of free or freemium task management software that you can use to manage your tasks. Most of the task management software we have listed in this article offers a free plan.
Q3. What Are The Best Task Management Software?
You can use software like Monday.com, or ClickUp to manage tasks for your business.
Q4. Why Is It Important to Use a Best Task Management Software?
The task management software makes it easier to keep a track of all the important tasks along with the timeline so that you don't miss any deadlines. It also makes it simple for your team to understand and keep things transparent.
Final Word
Hope you find this list of top task management software list helpful. These are some of the top options that offer a comprehensive solution when it comes to day-to-day tasks for your business.