Best font libraries to download amazing free fonts for your website and other creative projects.
A number of platforms are known to offer free fonts these days. However, selecting the best out of them, well-suited and customized for your business requirements can be tough.
It's easy to end up falling in the wrong hands and spending hours scrolling through poorly structured websites and low-quality fonts.
Keeping that in mind, here we have bought you the top free font libraries. The websites listed here offer a good user experience and a selection of reliable and awesome fonts.
So, no matter what you're looking for, you should find something to suit your needs.
01.

Google Fonts
Google Fonts is the most commonly used font library and the first name that comes to mind when we talk about free font options.
Most of the designers use Google Fonts as the default font option. There are a number of very popular fonts in the Google Fonts library, you can have a look at this list of some of the top Google Fonts that you can use for your project.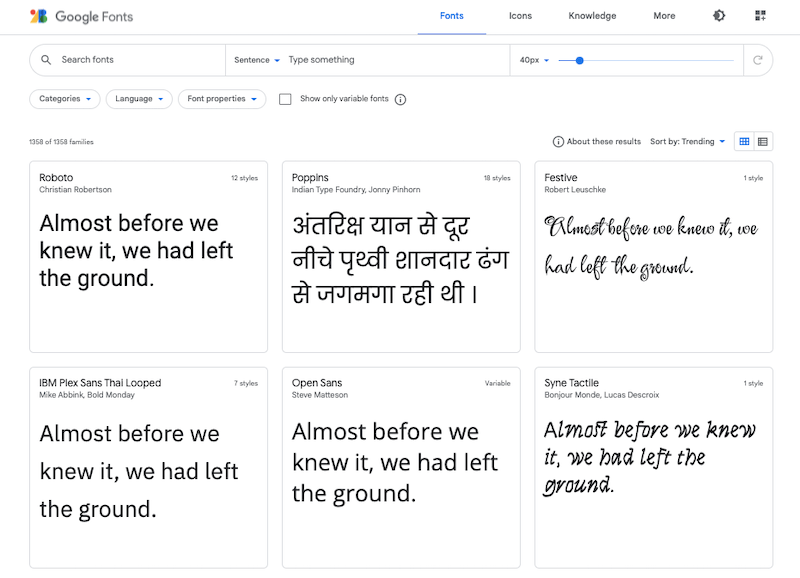 02.

Adobe Typekit
Adobe has launched an integrated typography platform known as Adobe Typekit. The platform is known to bring various font platforms together to make one typeface library for multiple uses.
Users have the facility to search through Adobe Typekit on the web or using other applications, making it real quick for anyone to include typography into their workflow.
Besides, the Typekit also includes popular font foundries such as Dalton Maag and Monotype.
You may explore the library here.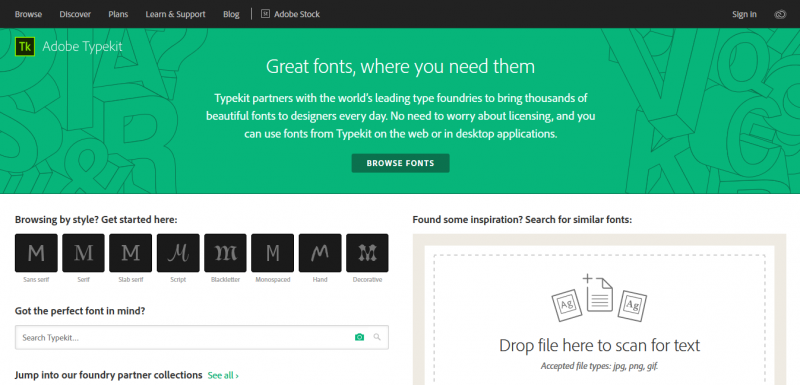 03.

Font Freak
Font Freak has a collection of over 9,000 free fonts. The platform also has a lot of free fonts available for purchase. The platform works with quite a lot of designers to continuously grow their library of fonts.
The users can build and edit their own fonts with the updated software provided by them. A majority of the fonts have been optimized for desktops.
The library is available here.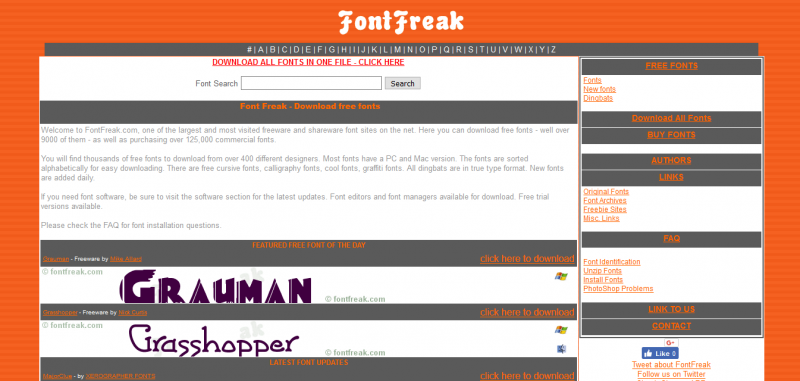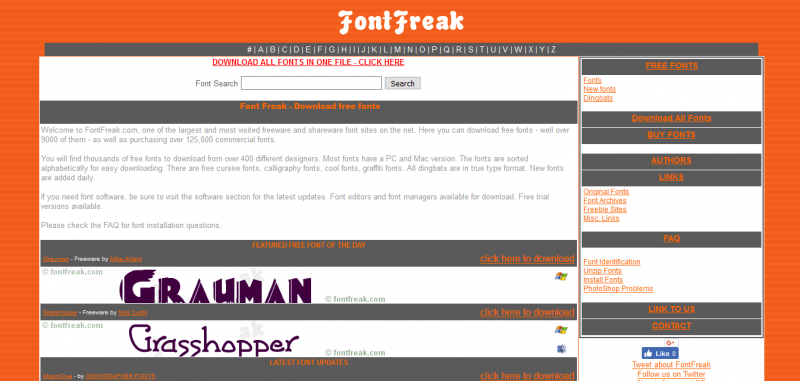 04.

Fontspace
FontSpace is a useful platform for anyone trying to access some cool free fonts. The fonts have been well organized into different categories to quickly help you figure out what you need.
FontSpace has contacts with more than 2,000 designers exclusively designing fonts.
The fonts have been neatly labeled so you can decide whether a font is suitable for commercial purposes or should be used for personal projects only.
Click here to explore the library further.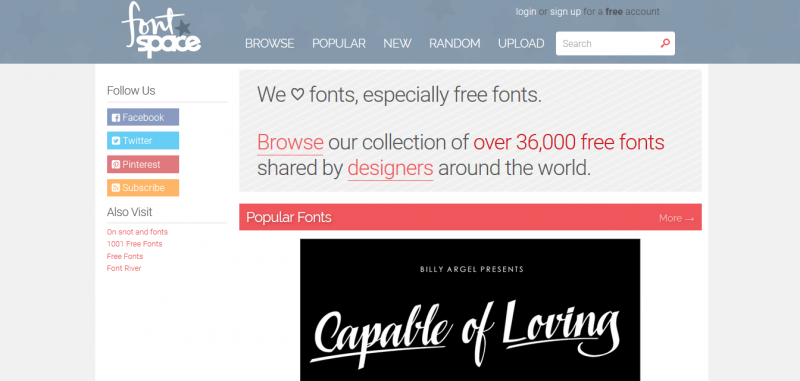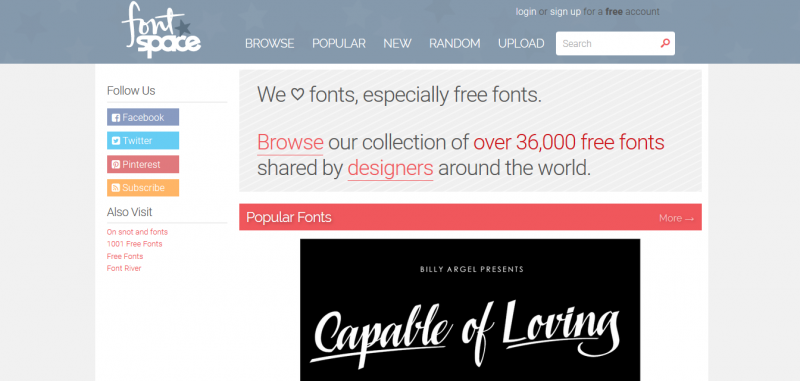 05.

Linotype
Linotype is home to a lot of classic typefaces like Helvetica, Frutiger, and Univers families. Neusa Next is one of their bestselling typefaces.
With a whole range of fonts available, you will be quickly able to find the one suitable for you. Linotype was the biggest independent type foundry before it was taken over.
Its collection is one of the best available with the fonts included being from some of the best designers. You may explore the library here.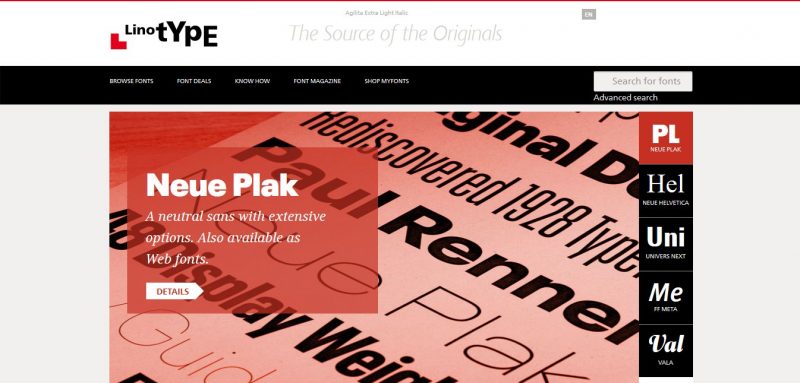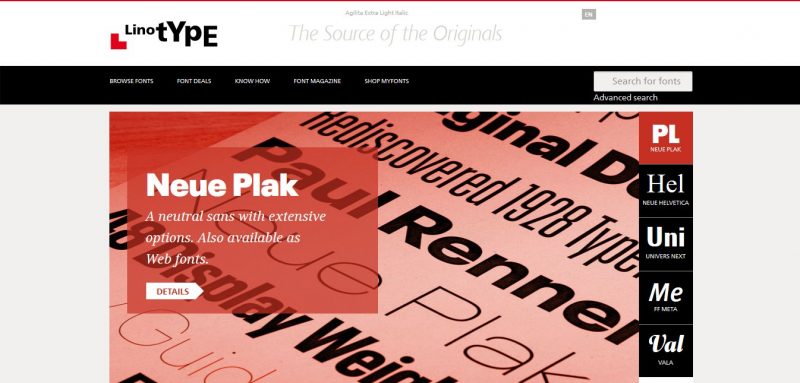 06.

Creative Market
The fonts offered by Creative Market change every week and this is what makes it stand out from the crowd. Nearly 23,000 designers are known to contribute to the platform with their deep design insights.
The users can download featured fonts, themes, and graphics for absolutely no cost at all. The library is available here for use.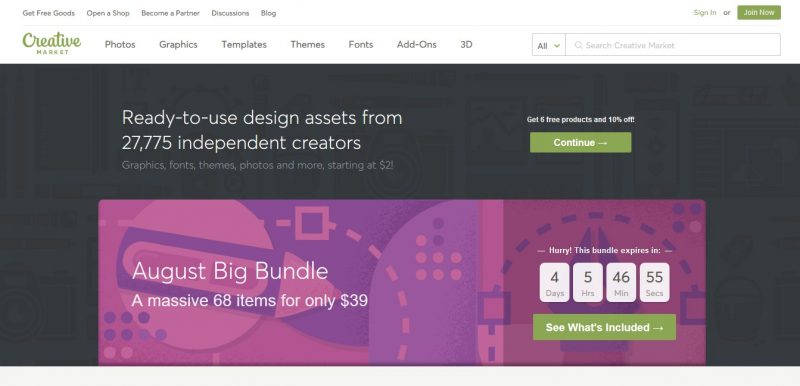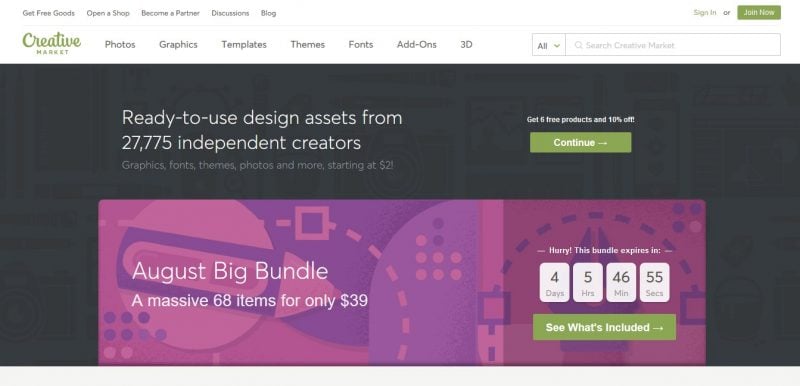 07.

Behance
Behance is the favorite destination for designers to flaunt their work. Behance is an online portfolio platform and an excellent place to find a large variety of free fonts.
All types of fonts are available here, so the users have to use some filters to access the fonts that they want. Click here to explore the library further.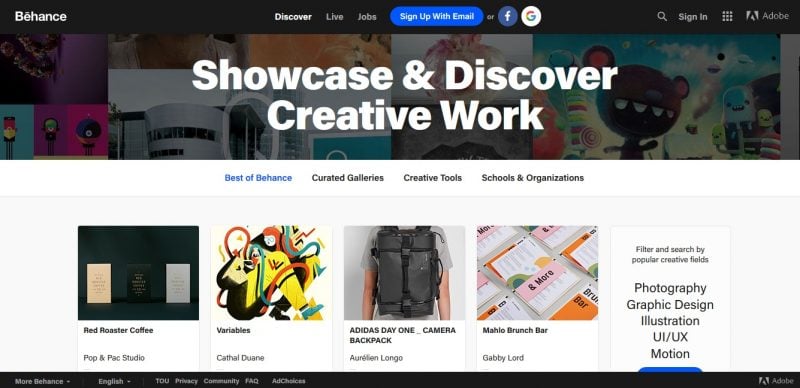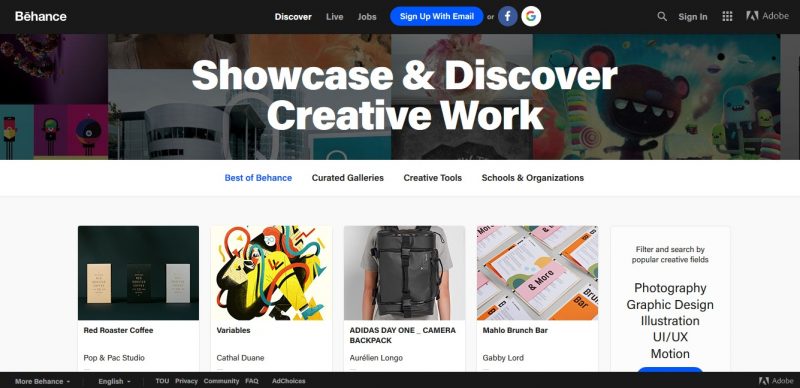 08.

Fontshop
FontShop is the platform to download fonts for a large variety of uses. It was founded by Erik Spiekermann and Joan Spiekermann and Neville Brody in 1989.
Besides, it is said to be the first font reseller in digital type history. FontShop offers freestyles from its large range of foundries for personal as well as professional uses.
You may explore the library here.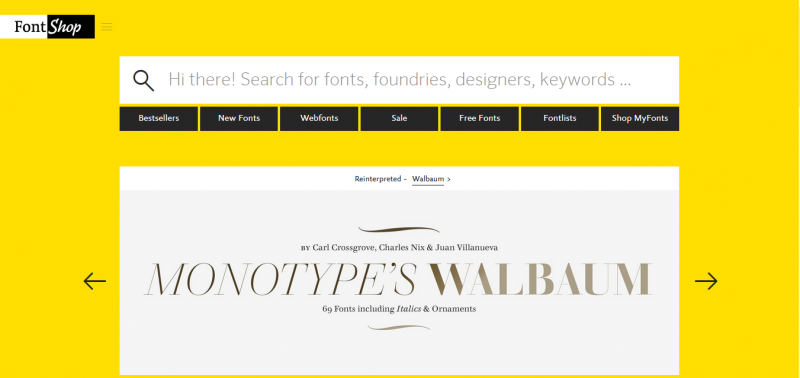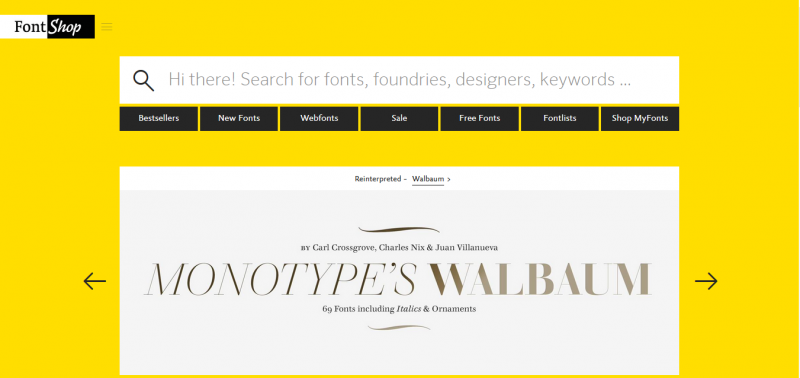 09.

The Northern Block
Another well-known option for downloading free fonts is The Northern Block. It is a popular platform and is known to offer fonts of various styles and formats.
The platform has a well-organized structure and is easy to explore. The fonts available here have mostly been designed by award-winning designers and are sure to win you accolades if used.
The library is available here for free use.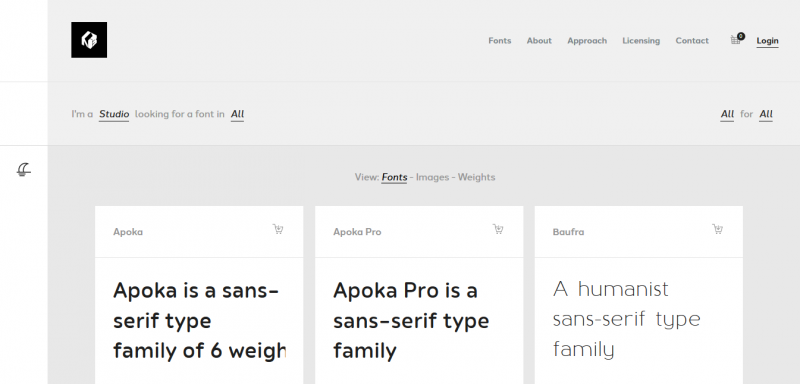 10.

Fontasy
Fontasy is a trusted collection of more than 1000 fonts available for free download. The platform is quite popular for its unique name and easy navigation.
It offers a streamlined experience to the users and a large range of font styles to choose from. It is recommended that you contact the designer in case you want to use the font for professional purposes.
Click here to explore the library further.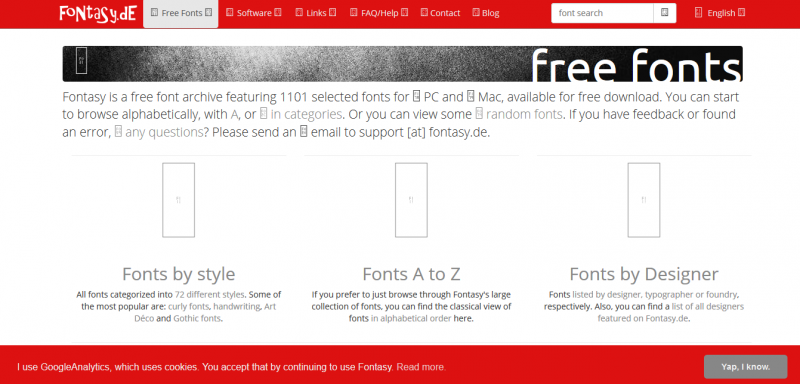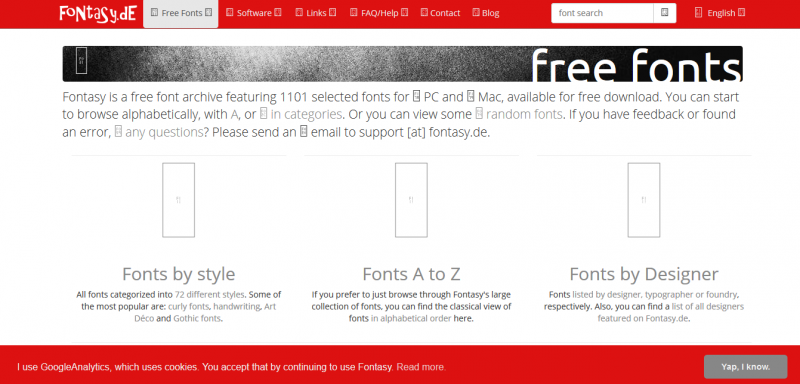 11.

My Fonts
MyFonts offers a great mixture of fonts and one of the best font libraries. It is yet another digital font library acquired by Monotype.
The platform offers a nice user experience and has a rich collection of font designs.
Most of the fonts are unique and not found on any other platform easily.
You may explore the library here.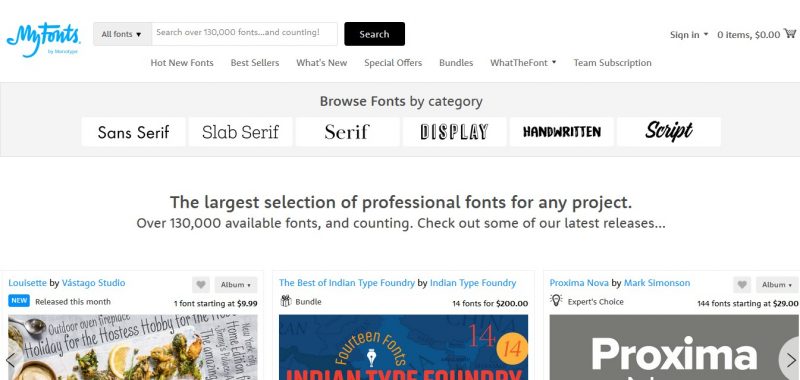 12.

Fontstruct
Fontstruct gives its users free software to customize the fonts as per their requirements. In case you are unable to find the font best suited for your business anywhere on the web, this library in addition to providing you with quality free fonts gives you the chance to build a font of your own.
Thus, it stands out from the crowd and is increasingly becoming popular.
The library is available here for free use.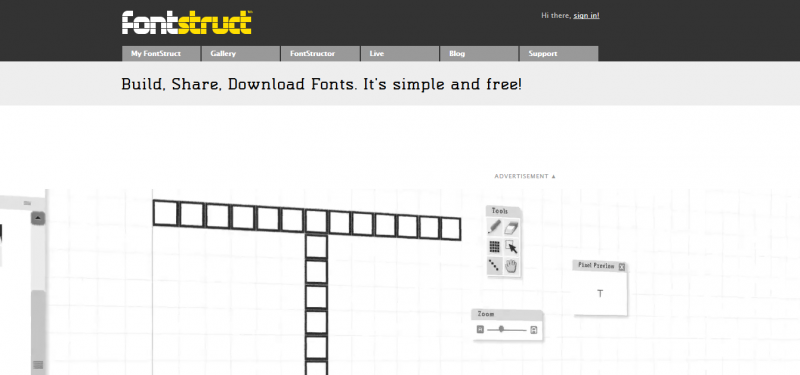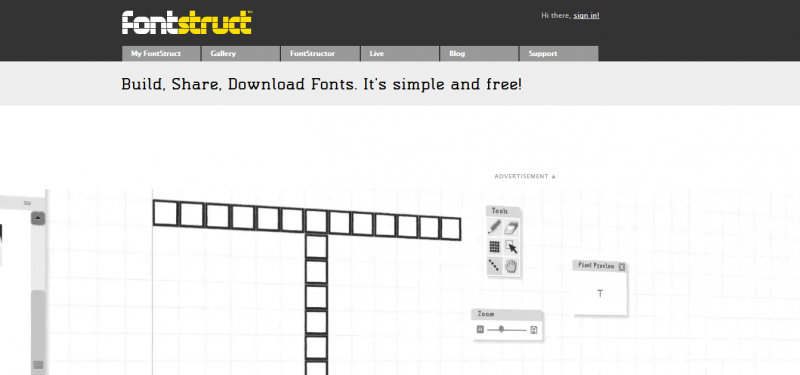 13.

1001 Free Fonts
In case you are thinking that 1001 Free Fonts offers exactly 1001 free fonts, you are mistaken. It actually has a lot more than that and is a go-to place for many creative design houses.
The website is a rich collection of fonts designed by various award-winning designers and volunteers.
The fonts have been neatly organized into 64 categories. It also gives you the option to browse by the name of the designer.
Click here to explore the library further.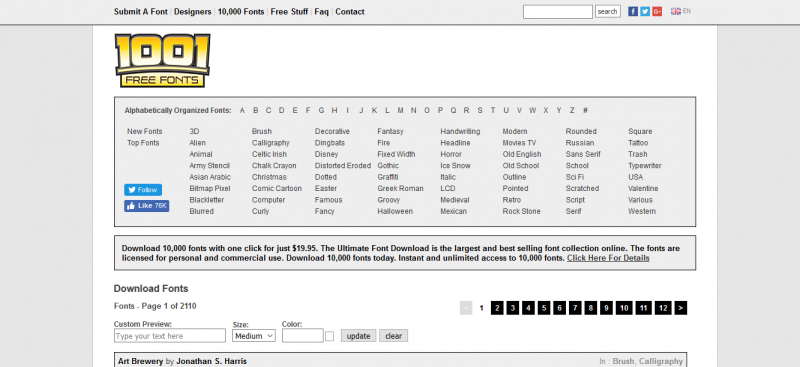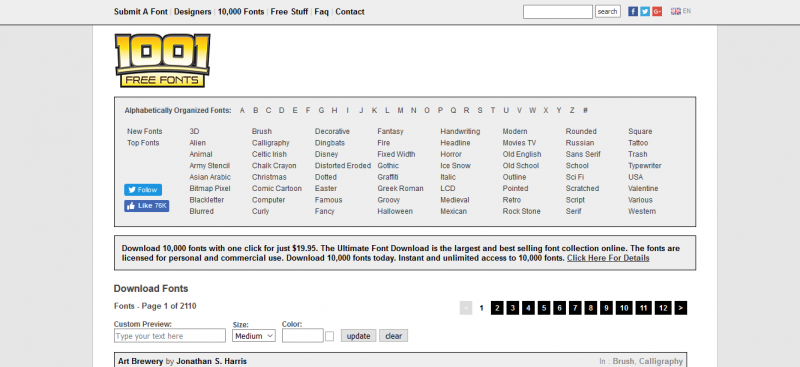 14.

Letrs
Letrs is a modern cloud-based typography manager. It has been tailor-made for designers and creative purposes. This catalog of typefaces works well with MacOS.
It is a great platform to work with fonts and come up with some interesting designs.
You may explore the library here.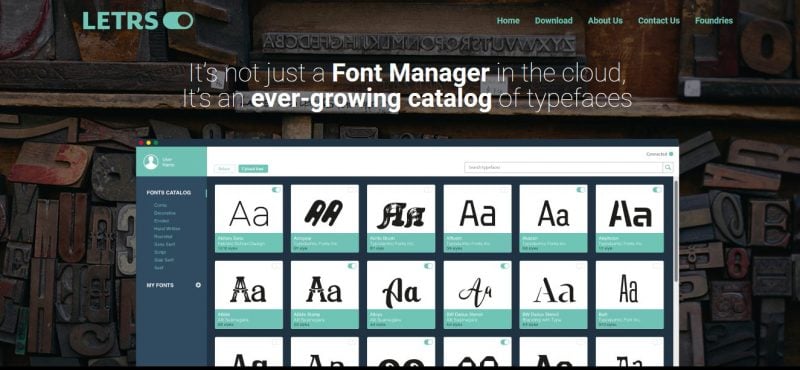 15.

Jeff Schreiber
The designer is from the Netherlands. Although the platform does not have a rich quantity of fonts, the quality is great and worth it.
Some of the fonts have even been optimized for mobile devices – a feature that is rarely found.
The library is available here for free use.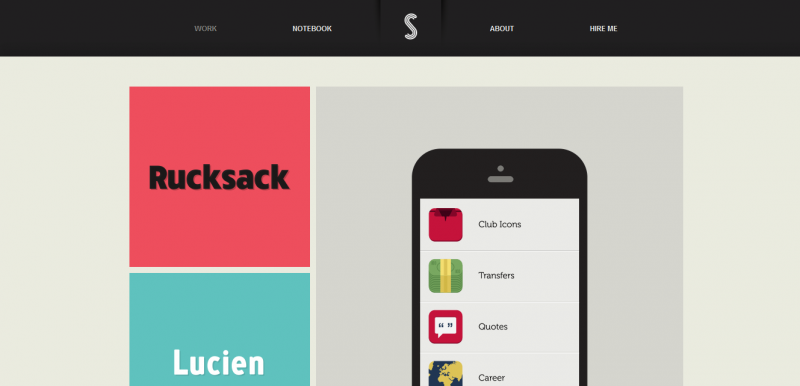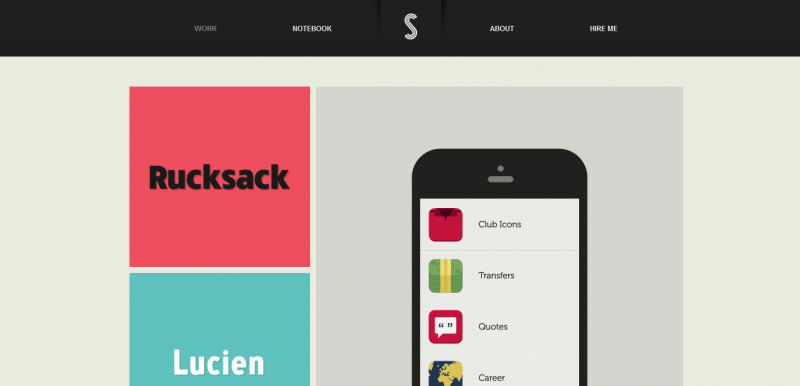 16.

Abstract Fonts
Abstract Fonts is a platform that has one of the cleanest user interfaces in the arena of fonts, and it's really easy to use and navigate the font library. The website gives you a custom font preview option also.
They update the platform regularly, with a current collection of more than, 14,000 fonts for you to choose from and include in your creative designs.
Click here to explore the library further.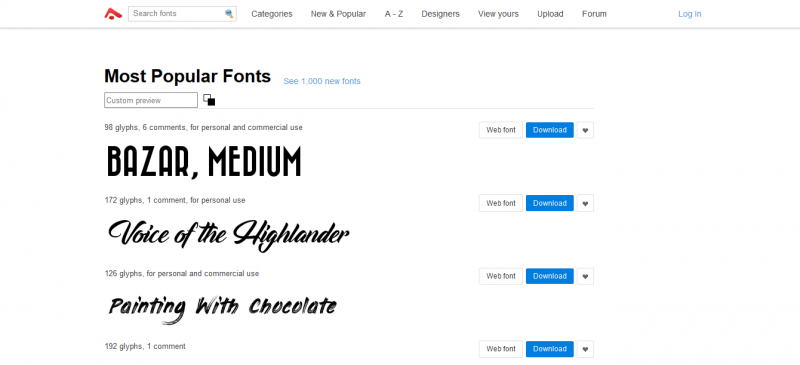 17.

Dalton Maag
Although Dalton Maag's typefaces have been included in Adobe Typekit and other well-known font platforms, the library has its own website where you can exclusively access their designs.
The designs are refreshing and different. Besides, the website has a sleek layout and offers a good user experience.
You may explore the library here.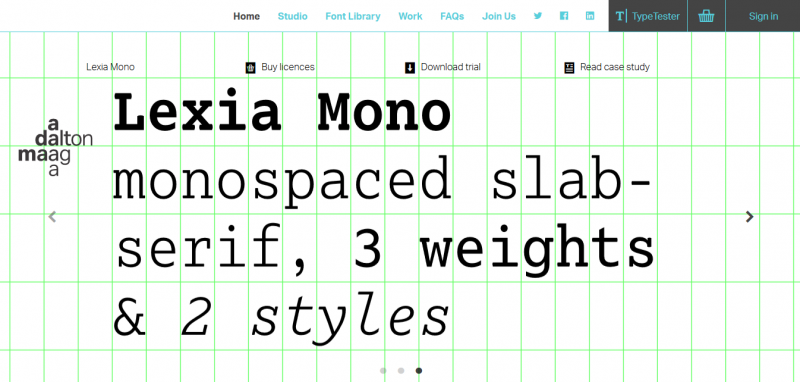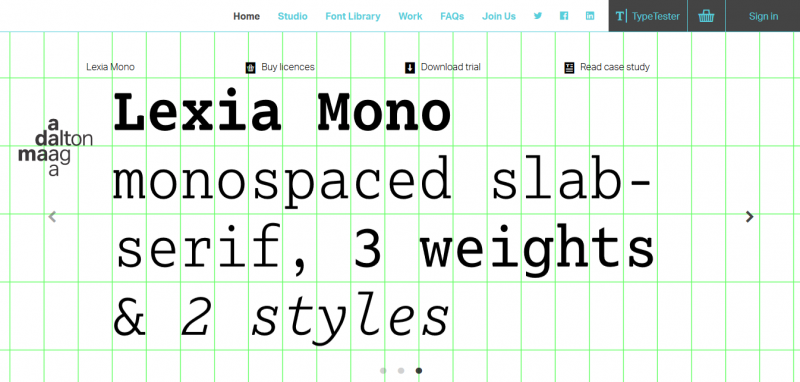 18.

Typedepot
Typedepot is one of the greatest collections of free fonts on the internet. The website has an awesome blog discussing different fonts available today and how the letters underwent evolution over time acquiring their present state.
The platform was founded in 2010 as a side project but later became one of the priorities of the founders. Typedepot is a great platform to work with quality designers and is also a great place to get started with your design career.
The library is available here for free use.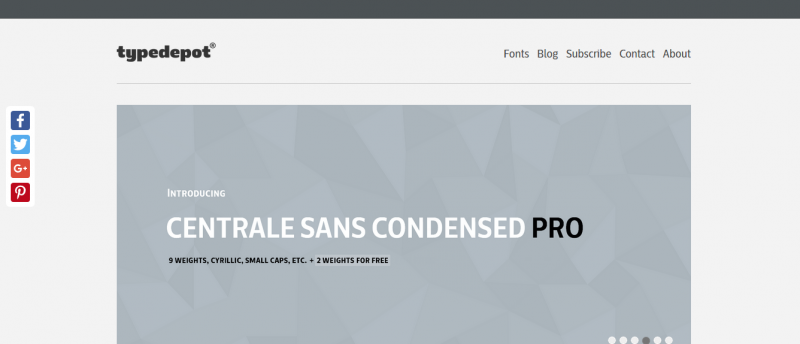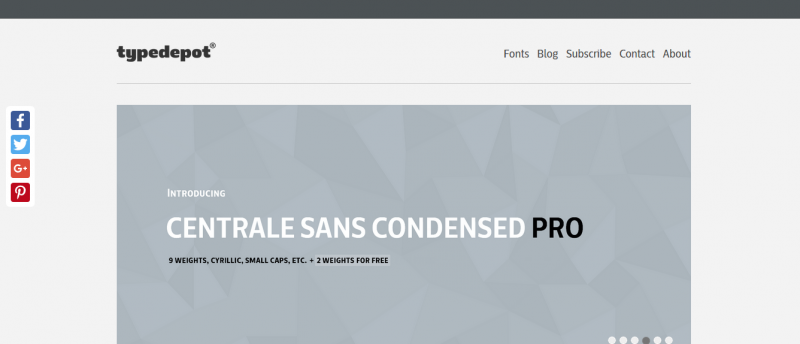 19.

Neogrey
Neogrey is not just another digital font library on the internet but also the portfolio of Ivan Filipov. He has been working as a graphic and web designer for a long and has created some really stunning fonts.
All the designs are available for free download.
Click here to explore the library further.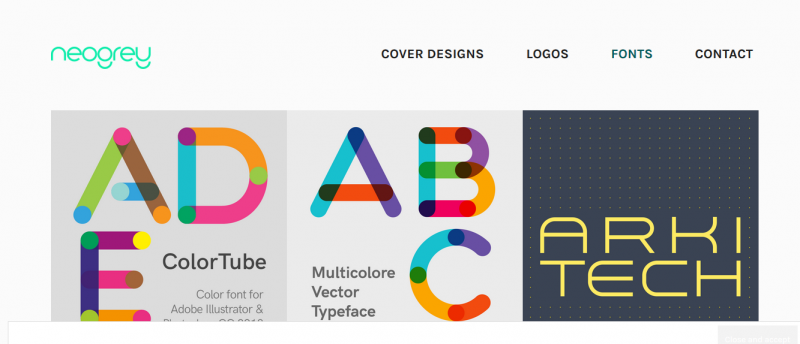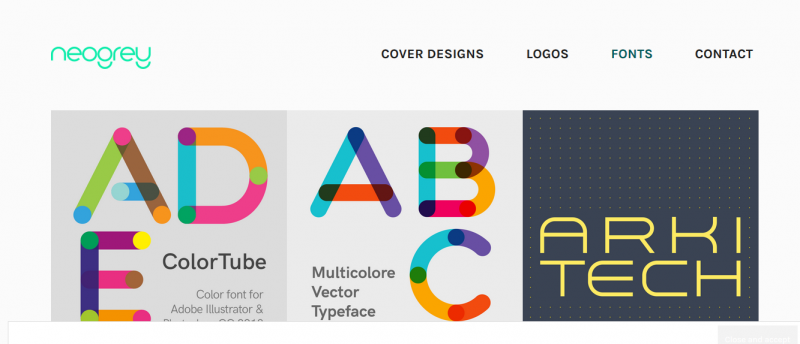 20.

Colophon Foundry
Colophon Foundry is an international type foundry based in Los Angeles and London. The platform provides typefaces for analog and digital media.
It is known for hosting original typefaces drawn by various designers and volunteers along with its own designs.
You may explore the library here.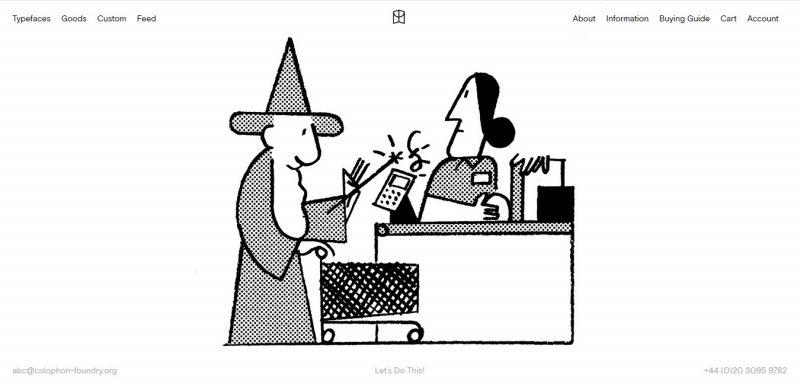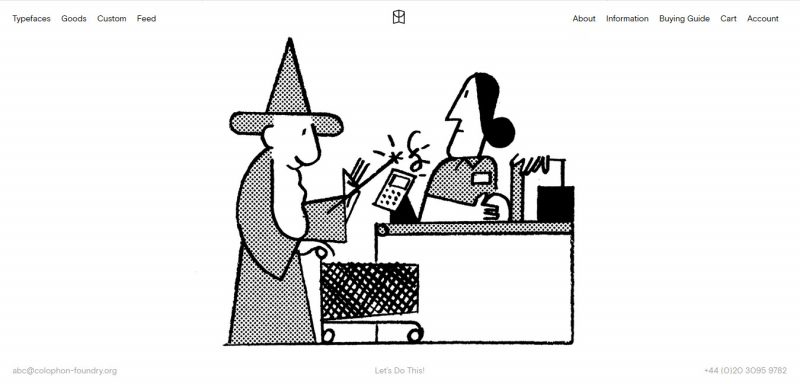 21.

Fontfabric
The platform has clean navigation. The founders have made it extremely easy for users to download fonts.
Although, it doesn't have a large variety of designs all the available designs are quality designs.
A majority of the fonts available are simple to use and great for creative purposes like designing logos. With a few exceptions, almost all the designs are available for commercial use.
The library is available here for free use.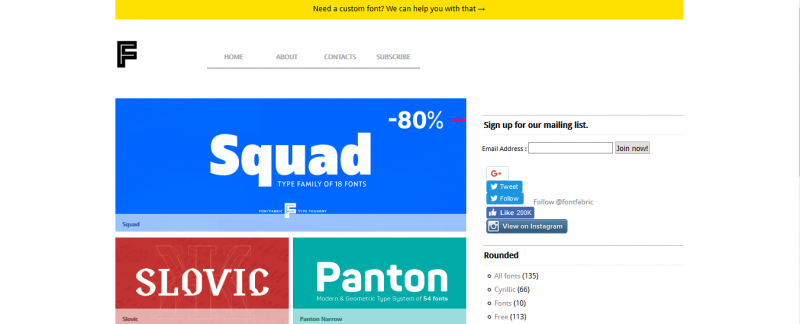 Final Word
Hence, these were some of the best sources for exploring free fonts. Selecting the right font is crucial to the success of any business.
The legibility of the font is also important in addition to the design. It is important that you do your homework well and select the best. Best of luck!