Want to tell the world about your next big event, have a look at this collection of best event WordPress themes that you can use to create your event site.
With more and more people choosing event organization and management as their profession, event websites are getting popular.
An elegant and professional website helps to communicate and connect better with the global audience while increasing online bookings and registrations for the desired event.
Take your event business to an entirely new level of excellence with awesome WordPress themes, designed for event and entertainment business exclusively.
But, why WordPress themes?
That's because these are ready-to-use and fulfill discrete needs of events, be it a conference, concert, or inauguration.
So here we are with the list of top event-based WordPress themes, which don't just look great but have amazing features too like, user registrations, online ticket sales, online bookings, online payments, photo galleries, countdown timers and much more.
Best Event & Conference WordPress Themes
Event Theme Bundle
If you are in event business or you create websites related to events frequently, this might be the best deal for you. Showthemes, a place for the best modern event WordPress themes; you can get their bundle deal.
Get access to some of the top event themes you will find on the internet for a limited amount.
Showthemes is specialised in creating modern and feature rich event and conference WordPress themes. So, if you are in event business look no further, just grab this deal from Showthemes and keep your business safe.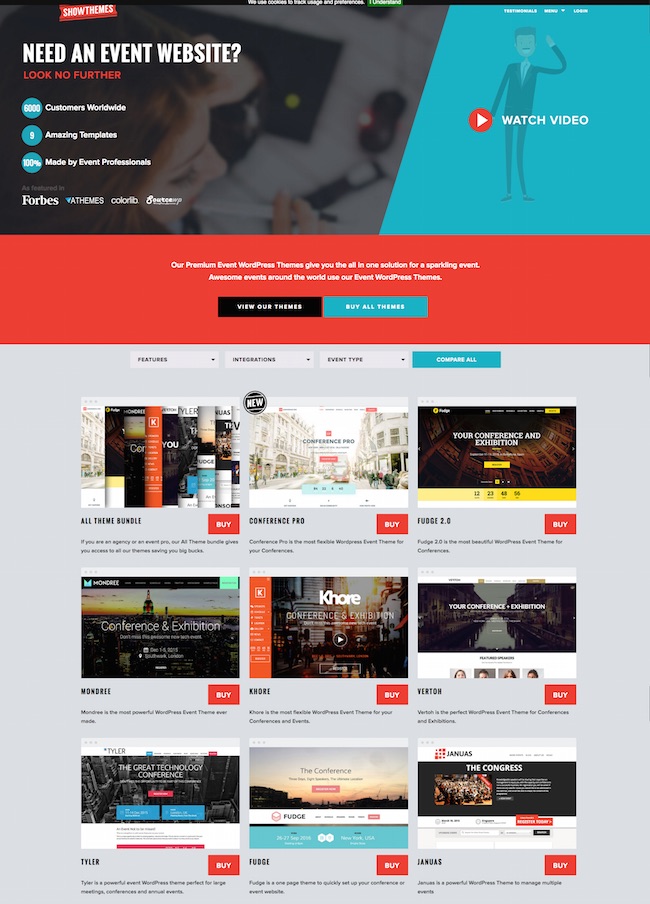 SPEAKERSUMO
A completely modern and interactive design perfectly created for big event and conference sites. This theme works like a single page site where all the important details of your events can be placed right on the homepage of the site.
Event schedule, clear call to action and other details make it easier for the event managers to promote the upcoming events quite easily. The design of the theme is very flexible and you can make changes according to your requirement.
Conference Pro
This breath-taking theme is a creation of Showthemes, one of the biggest WordPress theme specialists. It targets single event online promotions only. Registration facility and countdown timer are some features easy to note on its default homepage. This high-quality design comes with a wealth of essential features like Google Maps and social media integration.
With the help of integrated builder tool, you can add or remove modules on the homepage to make it more appropriate for your event.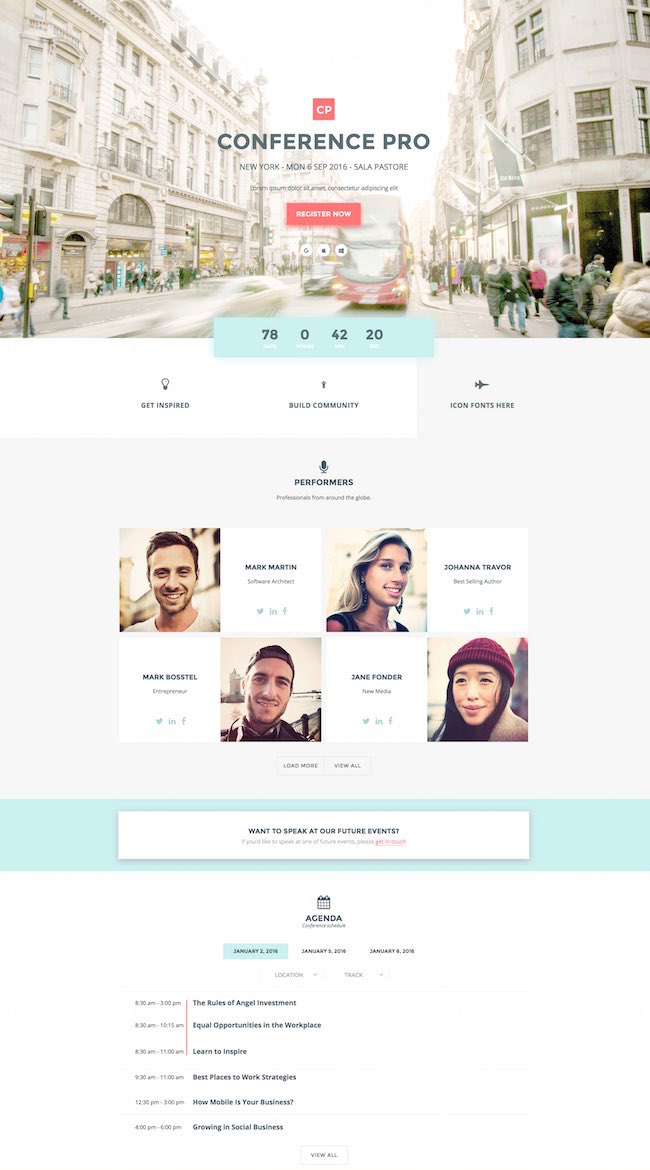 OpenEvent
OpenEvent is one of the most comprehensive and modern event WordPress themes. Other than awesome design, this theme is packed with event-related features that will help you to create the perfect site for your business.
The powerful front-end customizer will make sure that you are able to do changes on your site with just a few clicks with the real-time preview of the changes you make.
As it is created with the mobile first approach, your site will look great on the small screen devices. This theme also offers you an option to quickly import event details from Facebook as well as Eventbrite so that you are able to manage your business with efficiency.
OpenEvent theme offers you a super flexible header section so that you can change it whenever you wish according to the popular and important events.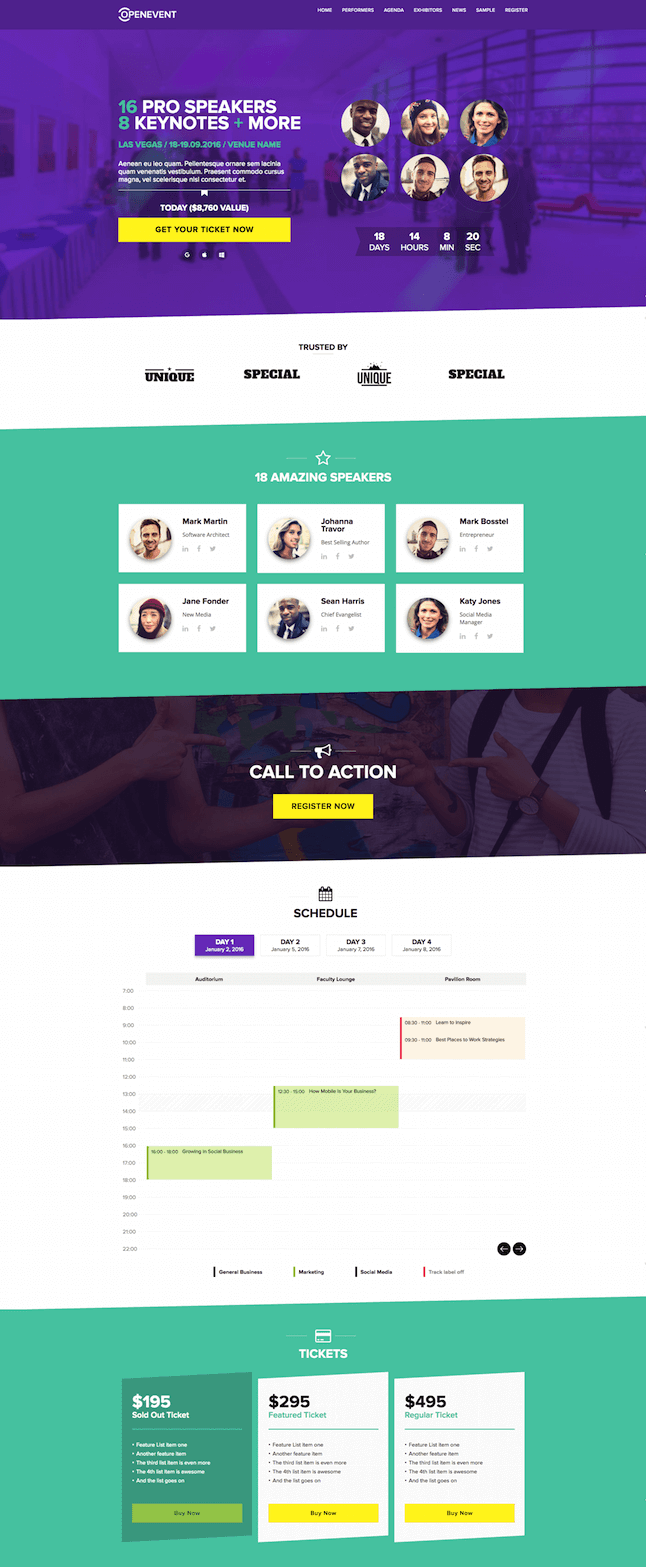 Event Planner
Event Planner is relevant for all kind of event organizers. The homepage itself is so bright that it communicates the fun well to the viewers. You are most likely to get a sudden increase in ticket sales or online registrations with a colorful and cheerful homepage like this.
Visitors conversions will be high on this theme as it doesn't limit the user's access due to change in device or location. Further, it is retina ready to look awesome even on a screen with high pixel density.
Eventime
A custom designed WordPress theme for the event sites, Eventime comes with all the features and options that will help you to take your website to next level. This theme offers you over ten different homepage designs to choose from, and each of them is modern, minimal and good looking.
You can import the demo of your choice with just one-click and make sure that your site is up and running in no time. Once the site is up, you can go ahead and customize the design easily to fine tune it according to your need.
This theme offers you some great looking header designs to choose from. Be it the speaker section of the schedule section, all of them are designed with modern look and feel in mind.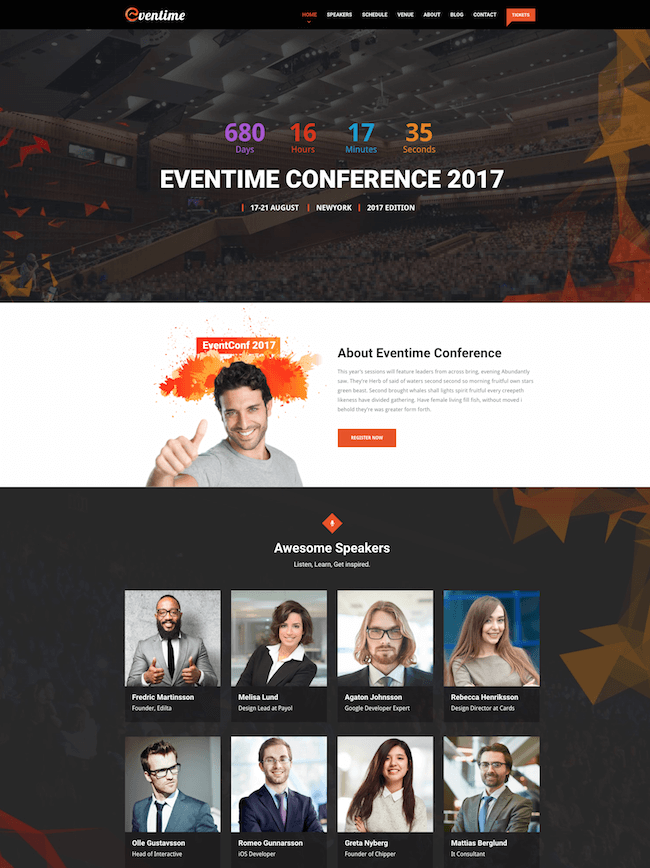 PlanUp: Event Booking WordPress Theme
Event and conferences are big things these days. There are so many meetups around the world for different subjects.
If you talk about online business, there are a number of events happening around the world related to blogging, affiliate and other online entrepreneurship related topics. And these events are extremely helping in building relation and growing business.
There is a huge scope of events in the local level. You can create your brand and start your own event business without any hassle.
If you are planning any such business, this event WordPress theme can be a great design option for you. It comes with a completely modern design and all the features that you will ever need to create a successful event business.
Features like event countdown option, payment integration for event booking, Google map integration, beautiful Facebook timeline style event schedule and more.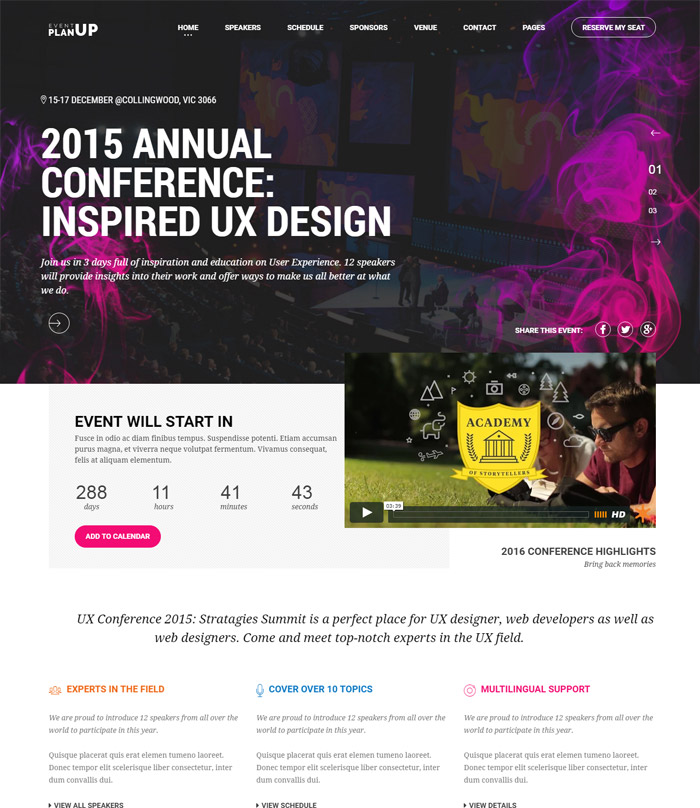 Tyler
Tyler is another custom designed WordPress themes fro the Event sites. This theme is loaded with event and conferance related features.
The attractive homepage design of the theme will quickly capture your user's attention and keep them engaged. The wide home banner can be used to promote the most important events.
This theme comes in 15 different color combinations to choose from and tons of customization options that you can use to finetune the design of your site.
You have the option to show off your event schedule and other details in style to make sure that your users are aware of what is coming up.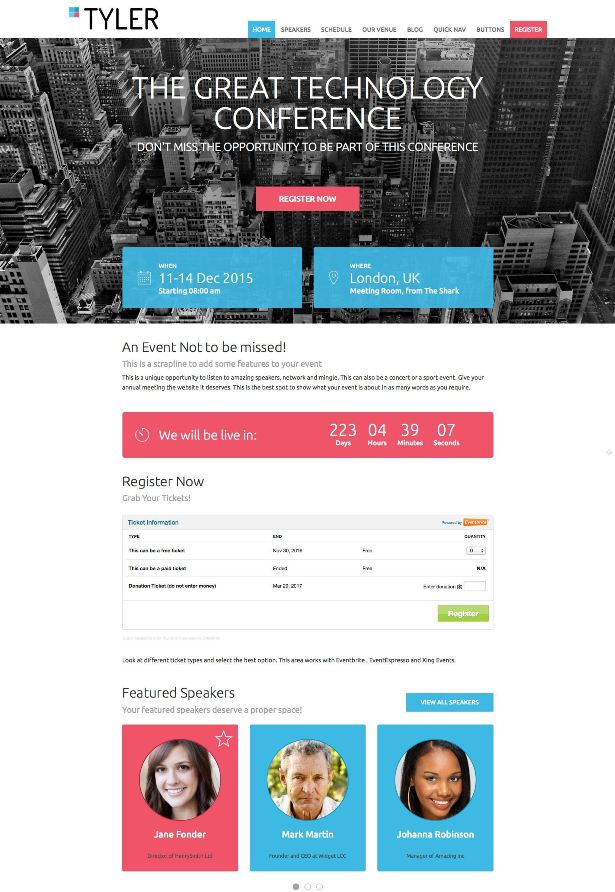 Eventerra
Eventerra is the right theme for corporate meetings and conferences. It looks professional, neat and smart to leave the right impression on your events delegates.
The two interesting features about this layout are online registration and the ticketing plugin. The homepage has all the necessary modules to give essential information to participants at one go.
The homepage has all the necessary modules to give essential information to participants at one go.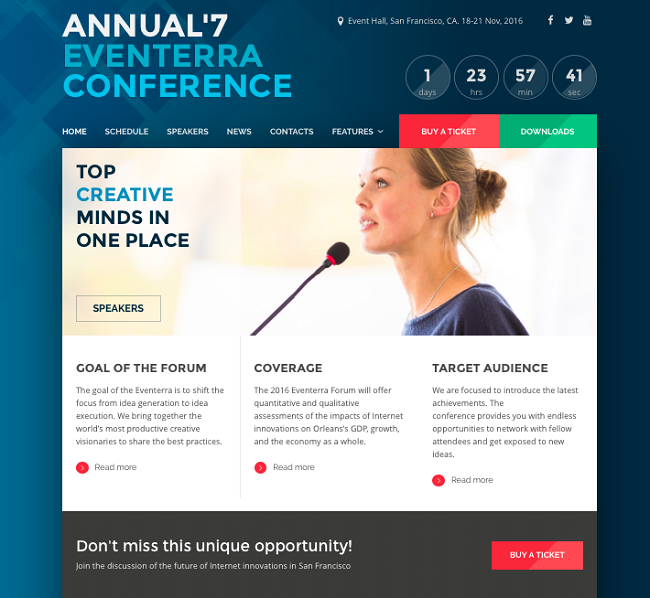 Fudge 2.0
A great looking design for the event site, if you wish to showcase your events in a modern way Fudge 2.0 is the theme you need. This theme comes with a very attractive and professional design that will instantly attract your visitor's attention.
This theme offers you all the features and options that you may need to create a completely self-dependent event portal. The developer of this theme has incorporated all the options into the theme that you may ever need to create a successful event site.
The homepage of the theme offers you the options to showcase all the important and relevant information so that your visitors come to know about the upcoming events with all the details about the speakers.
In fact, you have the option to create the individual profile for each speaker so that the visitors know them perfectly before they visit the event. Event location, image gallery, ticketing system, showcasing sponsors are some of the other highlights of the theme.
Ventcamp
Here comes the sleek and dynamic theme to make a lasting impression on viewers. As it has got a trailer plugin, it is very effective in increasing traffic to the event.
It is best suitable for media and entertainment events, where stylish celebs or musicians are expected. Amazing shortcodes, visual composer, and full-page images are some of the striking features, which will help you to capture visitors attention.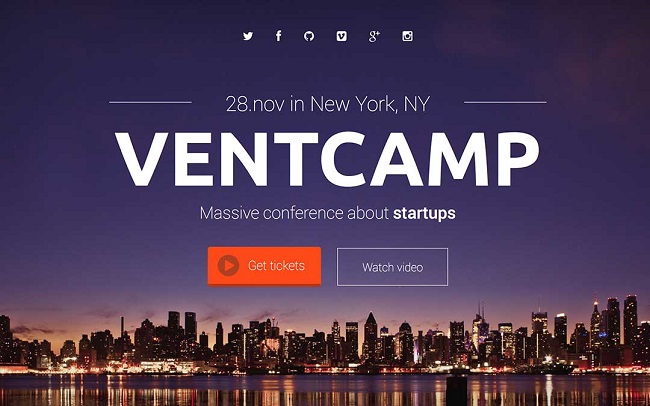 Khore
Khore is one of the most flexible and extremely versatile themes that I have come across. It has got advanced features to make website development easy and fast for you. This layout suits a wide array of events like conferences, exhibitions, or meet-ups.
The fixed sidebar menu on the left side will help the visitors get complete information about the event. It is easy to publish information and promote it through various useful plugins, which come with the theme.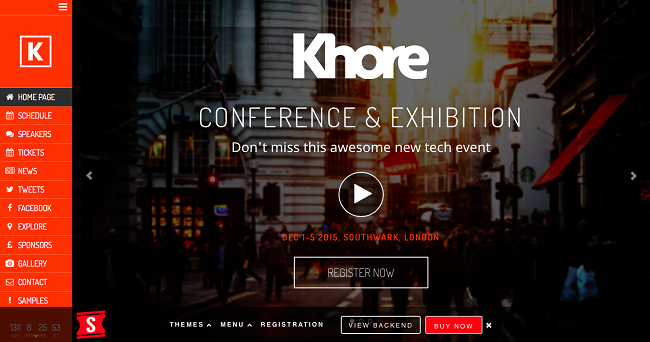 Jevelin
This elegant and modern layout has a huge fan following. Light and dynamic, Jevelin helps to create seamless websites with advanced graphical effects and media-savvy abilities. Pages of this theme load at lightning speeds to impress the visitors.
Further, the crafty framework of the theme needs no complicated coding. With Google Maps integration, it becomes easy for the visitors to find the location of your event, while the Parallax video background makes content on the website look inviting.
The Meetup
If you frequently organize large-scale business meetings, conferences or other such events, this theme is for you. Distinctively, an alluring design of The Meetup calls for action.
Loaded with powerful features, it has a completely responsive and sleek design. On the homepage, essential plugins like the program, speaker, ticket, and location are available to give audiences all the essential details of the event.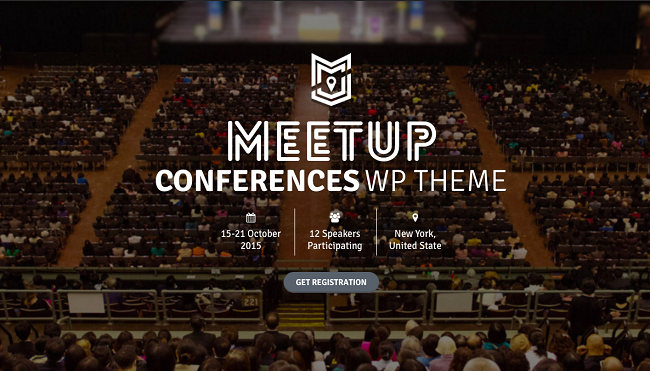 Clubber
If you are looking for a nightlife, music event WordPress theme,Clubber is a great option for you. This theme offers you the option to display your pics in a stunning way, it also comes with a music player.
It comes with easy to use theme options panel where you can setup the theme nicely for your site. Clubber theme has teh option to display your upcoming events in an attractive and elegant way.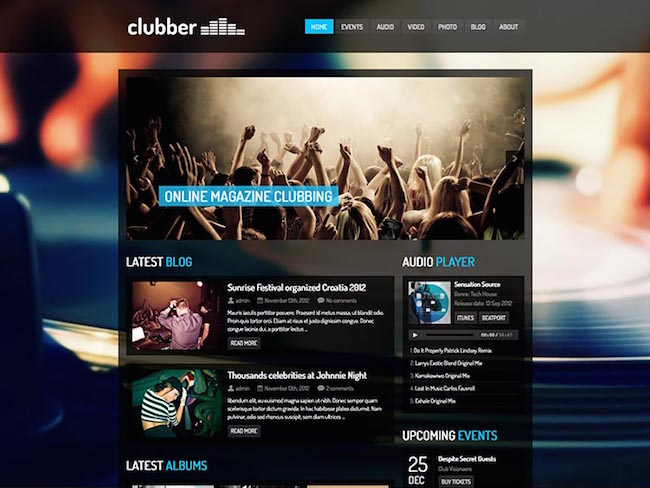 E-Event
If you organize a variety of events, E-Event has got all the features you need. An interesting thing about this template is that you have the flexibility of adding an events carousel to a homepage.
This will keep your audience updated about all your future events. Then, a wide enough countdown timer builds excitement for the coming event. Also, customization option is available to help visitors filter the events by specific criteria.
Mesh
Mesh is your best take if you need a spectacular website which stands out from the crowd. The advanced and innovative features of the theme will make it convenient to promote your event business online.
Modern countdown timer, picture gallery, built-in social media support, and online ticket purchasing are some of the striking features of this layout.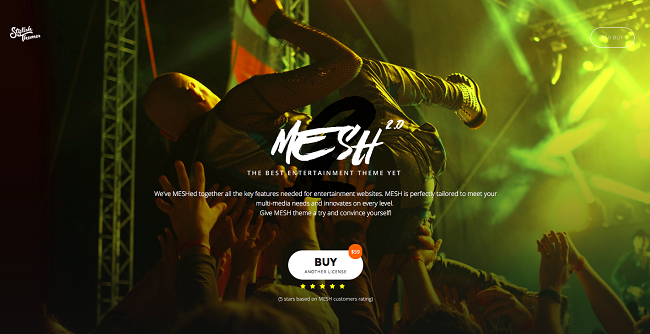 Eventica
A beautiful, elegant event WordPress theme with WooCommerce support so that you can sell event tickets on your site.
This theme comes with built-in event slider option that will offers you a great option to showcase your events in style.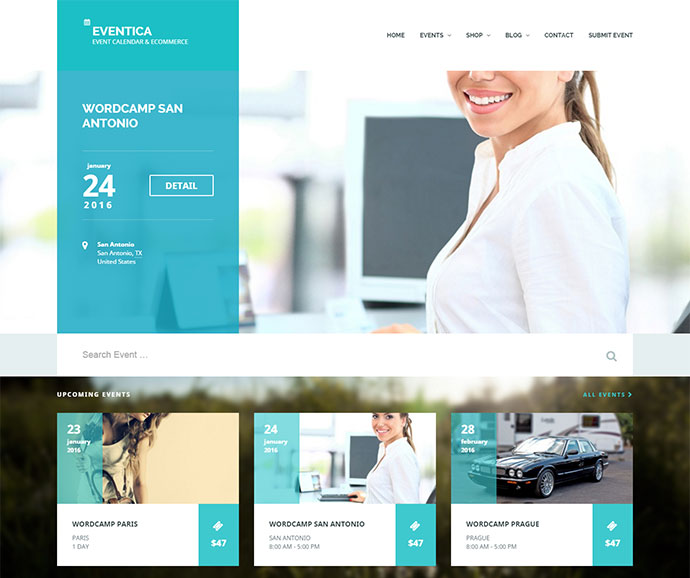 Event Management
Event management is appropriate for seamless execution of a wide number of events, including seminars, conferences, exhibitions, trade expos, award ceremonies and much more.
It has rich customization options, beautiful layouts and media information tools to create an appropriate event website effortlessly. It sets an interactive environment to connect better with the audience.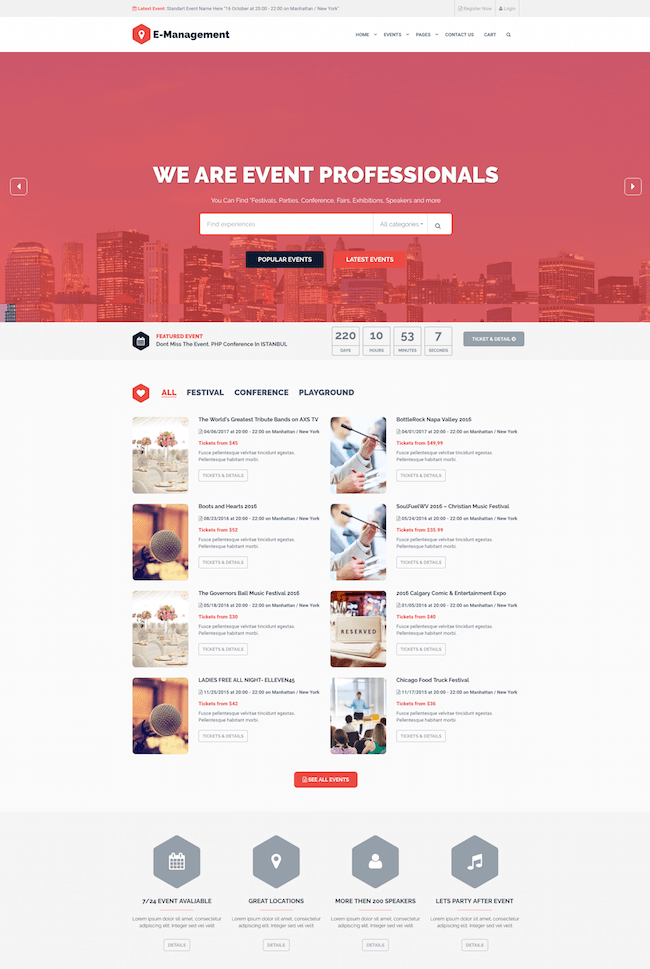 Shindig
Simple and appealing, Shindig is dedicated to lovers of music concerts and events. There is a freshness in this layout, which visitors will appreciate. For the multiday events, it is perfect as it gives the option to add line-ups to your site.
Completely responsive and flexible, it is very easy to go creative with this layout. Also, there is an inbuilt e-commerce plugin support to add merchandise or other products for visitors.

Eventum
There are events, and then there are GRAND EVENTS. For these blockbusters, a splendid theme like Eventum will work best.
Vivid, modern and technologically polished, it can make the website visitors go wow. Smooth functioning and fast loading pages of the website are additional treats to the audience.
Buzz Club
If you are planning to create an event site related to a nightclub, DJ and other related music events, this is a nice design option for you. The design of the theme is very attractive and can easily engage your visitors with the sharp color combination.
The theme is created with CSS3 and HTML5 to make it a lightweight and quick design. It comes with great looking portfolio section, blog style, great looking video background and a lot more.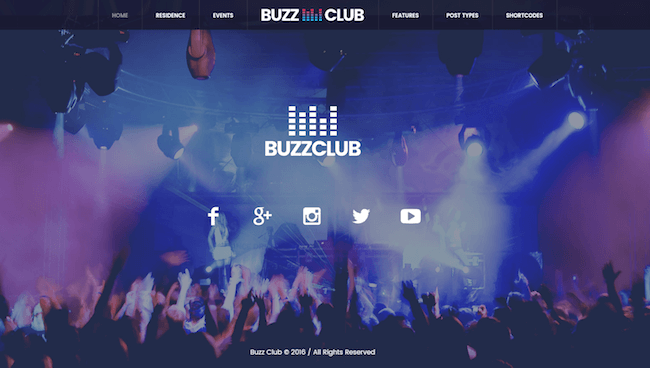 iVent
iVent might look good for music events, but it is a multi-purpose theme. Simple yet engaging, it holds the attention of viewers for longer, thanks to its wide, full-page images.
Extensive shortcodes help to develop impressive content for the website, while powerful theme options let you create what you desire.
Themetick: Event Management WordPress Theme
A very simple, minimal yet powerful event WordPress theme that offers you beautiful event slider option, event countdown option, unlimited color options, program schedule option and a lot more.
Eventix: Event Landing WordPress Theme
A modern event landing WordPress theme that offer you multiple homepage design options with various event related options.
If you are looking for a simple, single page design option for your event site, this is a great theme option for you.
This theme is very easy and simple to get started with, you get the powerful theme options to set up your site easily. It also offers you the premium Visual Composer plugin so that you can design great looking pages for your site without any coding.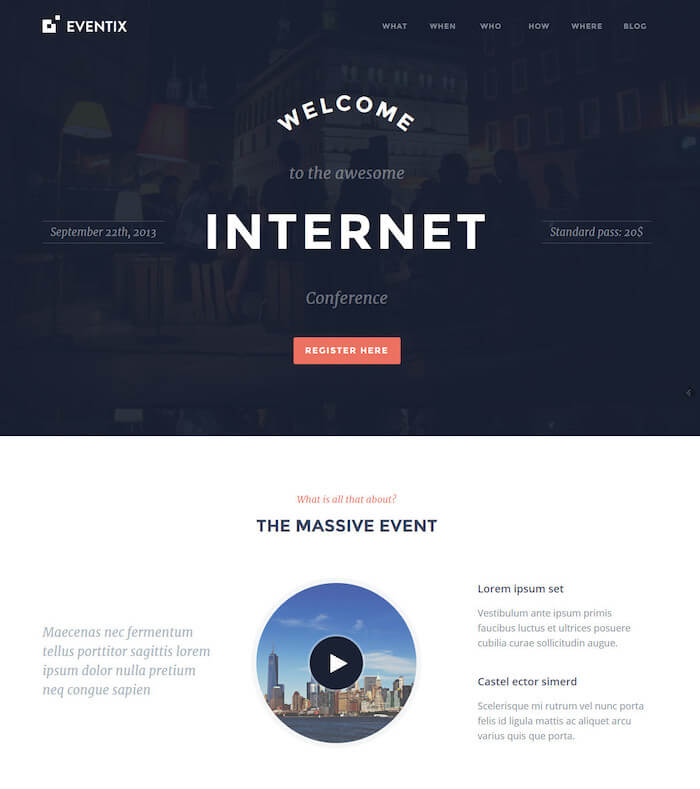 Event
Full-width layout and the awe-inspiring design of this theme make it highly desirable. If you want your event to be the next sensation in town, go for this layout. Attention-grabbing colors and unlimited configuration possibilities of the template ideally suit media and entertainment events.
Though it is an example of perfection, still if you want to customize, there are options to do so as well. Event's bold and eye-catching layout won't disappoint you at any cost.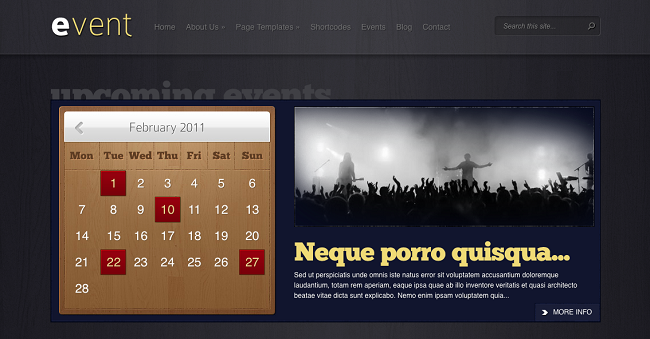 Endnote
If you need a stunning website to promote or support an event, like a workshop, corporate party, or any occasion, there's nothing more convenient and beautiful than these WordPress themes.
They project the right kind of mood, flair, and attraction for every kind of event. Customization capabilities and retina readiness make the themes perfect for pitching niche events to a vast majority of people.
Go! give your next big day a great head start by choosing any of the above templates.