In this post, we have listed some of the best blog content topic-generating tools that will constantly help you to come up with new blog post ideas.
The biggest challenge when I first started my writing career, was the consistent need to create high-quality content every day.
The process of deciding what you need to write can be extremely overwhelming in the beginning. Especially when you do not want your blog to be a victim of seclusion.
In today's competitive market, merely publishing something does not help you combat the already existing and proficient lot. You have to do comprehensive keyword research to come up with the best possible topics for your blog posts.
The content you publish has to be high-quality and that answer user intent, coupled with a brilliant title that will automatically attract more readers.
Your blog might have a good number of visitors, but to convert these visitors to regular readers it is extremely important that you create resourceful and captivating content every day.
It is understood that sometimes you may not be able to commit yourself to such responsibilities owing to several factors.
Lack of time, patience, and sometimes probably procrastination are some of the root causes. It is okay to be lazy once in a blue moon. But making it a regular practice might cost you a fortune.
In order to help you solve such problems, I have compiled a list of resources that have helped me in my blogging career. It has made my life much simpler and now I do not waste my time figuring out what I need to write and what my post title should be.
The resources below can point out exactly the trend of the hour and what your readers want to read about.
So you know what you should be drafting about without wasting your valuable time. Because time is money. So why not use it wisely?
List of Content Idea Generators
---
01. Semrush Keyword Magic Tool
Semrush is one of the top SEO tools available. It is no secret that Semrush gives you backend access to any website, you can literally find everything about a site from keywords to the best traffic-driving pages.
Here is how you can use Semrush to find blogging ideas for your site.
You can start by finding your competitors. When you make a search for your domain, Semrush will show you the organic competitors for your site.
For example, considering your site is Search Engine Journal, when you make a search for the domain you will see your organic competitors below.
Read this detailed Semrush guide that will help you to understand the software and all the tools offered by the platform in detail.
Once you have the list, you can start finding their top traffic-driving keywords.
Now, Semrush offers you a tool custom-designed to find keywords called "Keyword Magic Tool". You can do in-depth research using this tool.
Looking at your competitors' keywords, you can create a list of seed keywords (main broad-level keywords).
At the next stop, you can do research for each of your seed keywords. When you search for keywords using the Keyword Magic Tool, the system will offer you a number of keyword ideas with all the details such as ranking difficulty, total search volume, etc.
For example, if your main keyword is "digital marketing", you will get all the related keyword terms around digital marketing with the data.
Also, don't forget to get an extended free trial for SEMrush using the link below.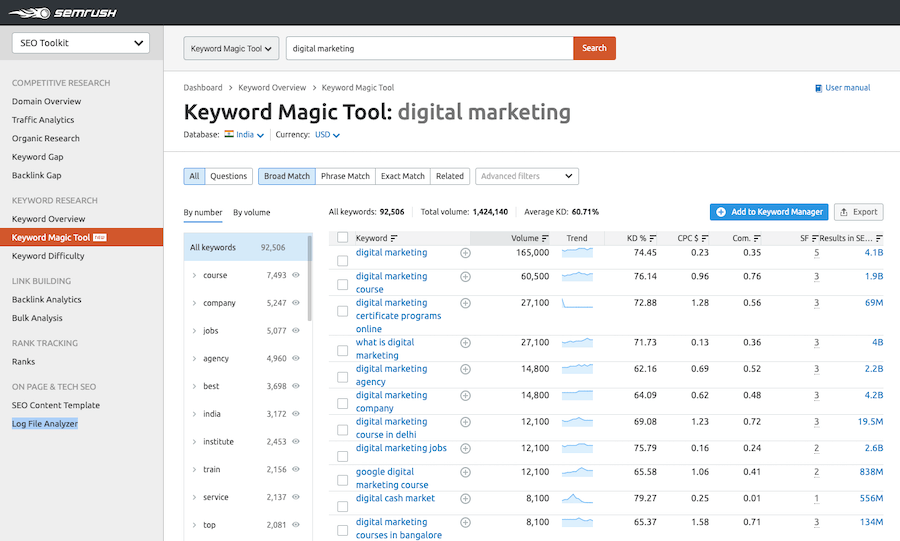 02. Google Questions
The questions in the Google SERP have become one of the top sources to find relevant topics for blog posts in the recent past.
When you make search for any topic on Google, it displays the questions that people are asking and trying to find answers to. You can start creating content around those topics in detail and Google might display your answers in the SERP.
This can also be a great SEO trick to feature on the first page of Google in a relatively lesser time.
To put things into perspective, here is what we are talking about. For example, if you wish to write content around infographics or the primary topic of your site is infographics, you can make a search with your primary keyword and look for related questions.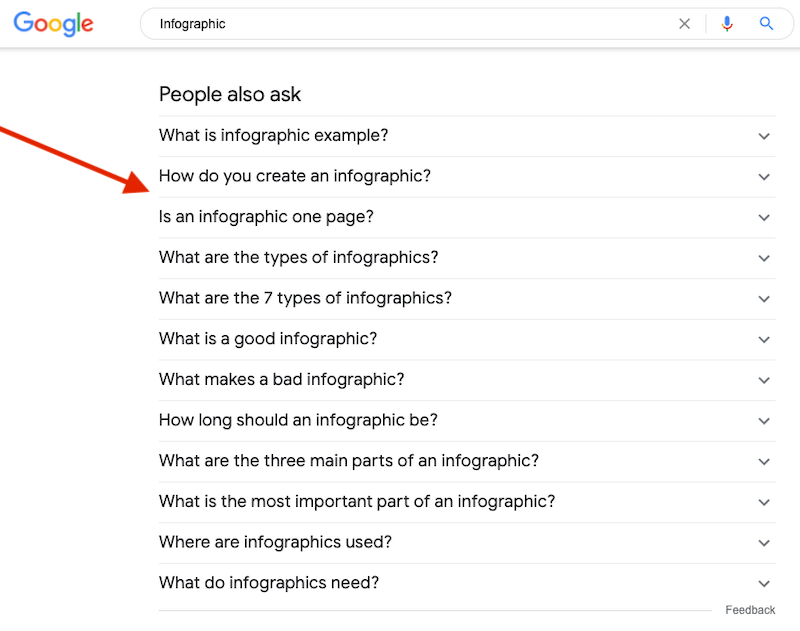 So, these are the questions people are asking around the topic "Infographic". Now, think of creating a piece of content by covering all answers to these questions. You will have a great opportunity to get it ranked sooner than you think.
03. Ahrefs Content Explorer
Ahrefs Content Explorer is one of the best tools to find content suggestions. This tool is easy to use, all you have to do is to put the keyword in the search bar and the tool will suggest to you all the popular topics related to that search keyword.
Ahrefs is one of the best tools for digital markets to find backlink opportunities, analyze competitors and do a lot of other things to grow any online business.
The tool has a huge database with millions of topics to suggest to you. Find any niche keyword, you will get amazing results that will help you to find plenty of potential blog posts.
Ahrefs Content Explorer also shows you the number of social sharing for each result that is displayed for the chosen keyword, it will help you to understand the popularity of the topic on the social media sites.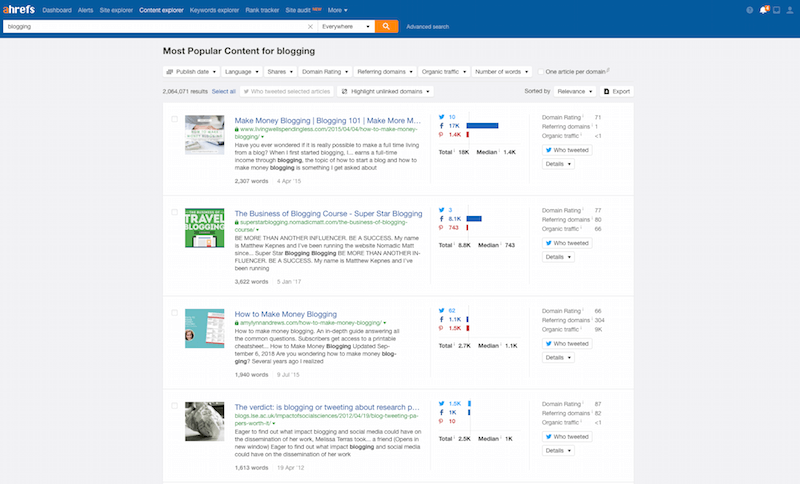 04. KWFinder
KWFinder is a very popular keyword research tool that you can use to find amazing long-tail keywords with potential traffic.
You will find tons of blogging content ideas, just make a search for any of the relevant topics that you wish to cover on your blog, and this tool will suggest to you all the possible keywords with the keyword difficulty, total search, and the potential CPC.
So, you get all the important information in the same place. Proper keyword research is a very important part of blogging, that will help you to grow your blog faster.
Have a look at the image below, we made a search with the phrase "content idea generator" the system offered us all the relevant data about the potential reach.
05. Google Keyword Planner
It is important to know what people and potential readers are searching for so as to know what content to provide them with to be found. We are all aware that Google as a whole always has its way of making things easier, current, updated, and equally user-friendly.
The Google Keyword Planner can be used to search for keywords as well as to get ad group ideas. All you need to do to get started is to enter a phrase or keyword or an AdWords category, and the Keyword Planner will provide you with relevant keywords and suggestions or possible keyword combinations for blog article titles.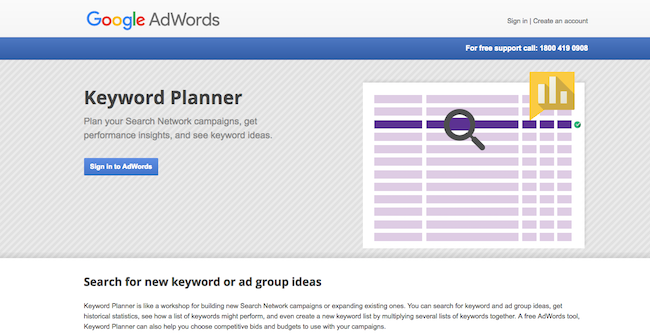 06. Ubersuggest
Ubersuggest is free to use a keyword research tool that was recently acquired by Neil Patel. You can use this tool to find unlimited blog post ideas along with the approximate search volume.
So, this tool can be extremely effective in the process of growing your blog. The tool is very easy to use, just put the keyword in the search box and select the target country and make a search.
For example, here we have entered the search keyword "backlink tools" the result shows the search volume in the United States along with how easy or difficult it is to rank.
The Ubersuggest tool also gives you the related key phrases to help you get the content ideas for your blog posts.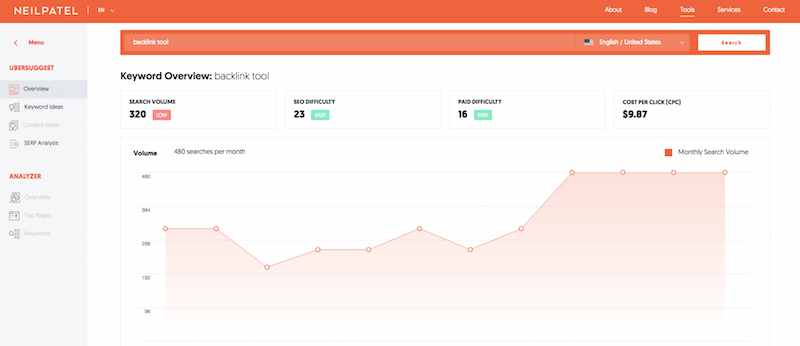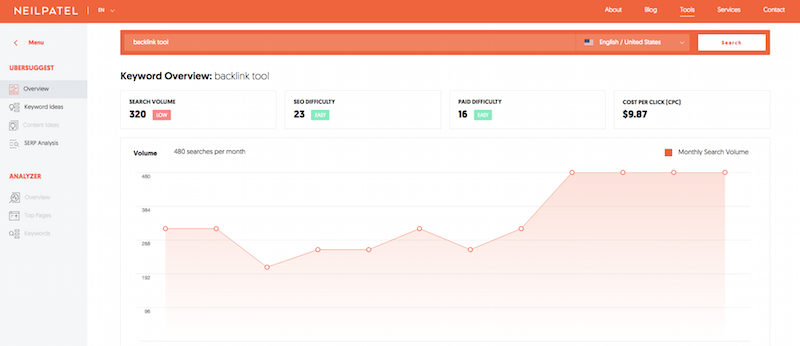 06. Quora
Quora is one of the most popular and widely used question-and-answer forums. This is a goldmine for bloggers and marketers to generate great content ideas.
People are posting questions every day, so you just need to check the questions related to your niche to find out what people are trying to find out and you can create an awesome piece of content that answers all the related questions.
Google is moving towards a straight question-and-answer type of search and it tends to show articles that answer all the questions perfectly related to the search phrase. Hence, the importance of Quora as your content topic idea tool becomes even stronger.
We have a detailed article about how to drive traffic from Quora, don't miss that.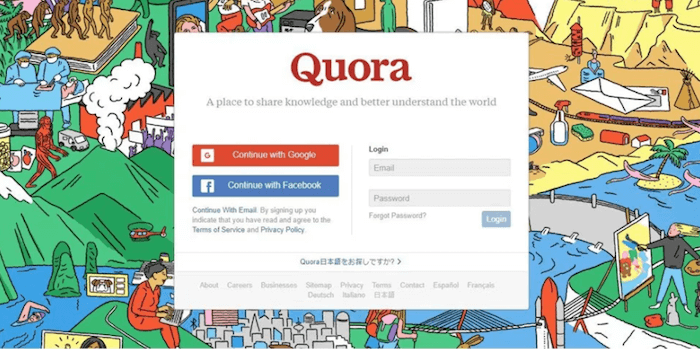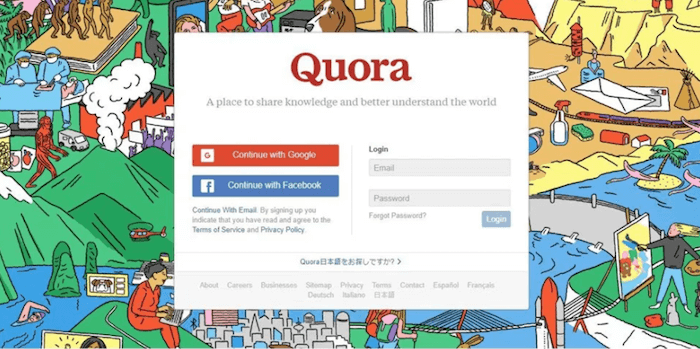 07. Alltop
This is one of the first resources that I discovered as I desperately searched for such a platform and I found it amazingly interesting. It is like one of those, everything-under-one-roof idea generators to know the exact what's trending among your readers.
The site has been divided into several categories. You can choose your own area of interest and see what has been written about the most. There is also a section that tells you the most recently viewed topics.
The site has been divided into several categories. You can choose your own area of interest and see what has been written about the most.
There is also a section that tells you the most recently viewed topics. Its search button option makes it easier for you to type out your topic and check what people are talking about under that specific topic.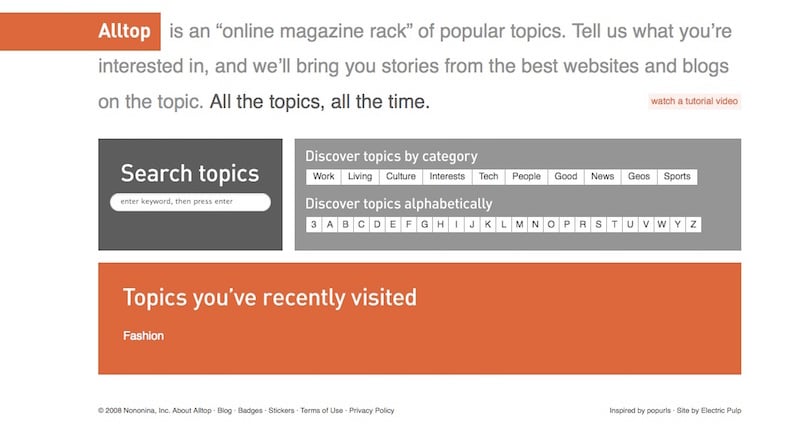 08. BuzzSumo
This is another brilliant site to know which topics related to your business are getting the most attention. The best thing about this site is the ease with which you can use it.
You can quickly identify important content by filtering your search options. It allows you to filter your searches by date, language, country, and even content type.
It also displays the number of shares the content receives on social media. You can also filter your searches and check it's shared on any specified social platforms.
If you want to know more about tools similar to BuzzSumo, here is the best BuzzSumo alternatives list.
Don't miss our detailed review of BuzzSumo.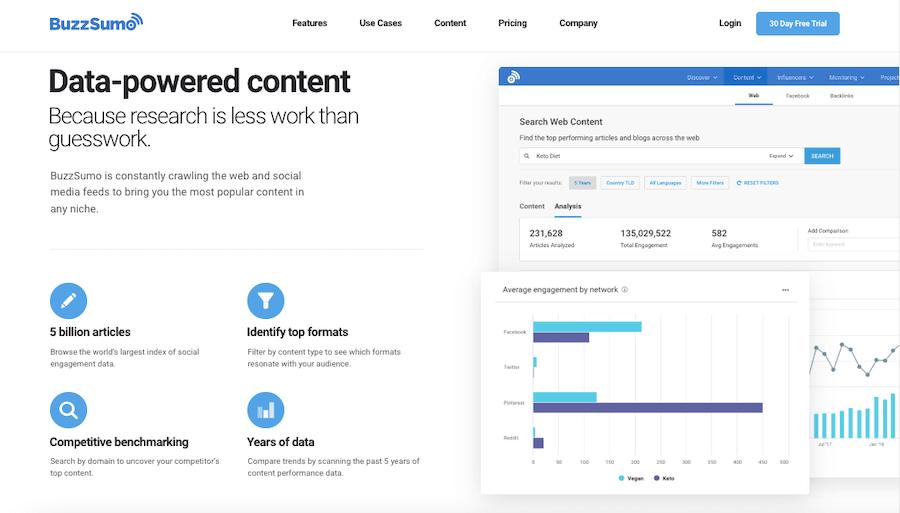 09. HubSpot's Blog Topic Generator
This website can be helpful who have a general idea in mind but do not know exactly what to write. In Hubspot's Blog Topic Generator, you just need to know a few nouns about the topic you want to write.
When you visit this site you will see that it has three blank fields where you are supposed to write down the names of the nouns that you want to write about.
Once you do that, it will automatically come up with the week's best posts that have been published using the same nouns.
This will give you a comprehensive idea about what exactly can be written for your upcoming post.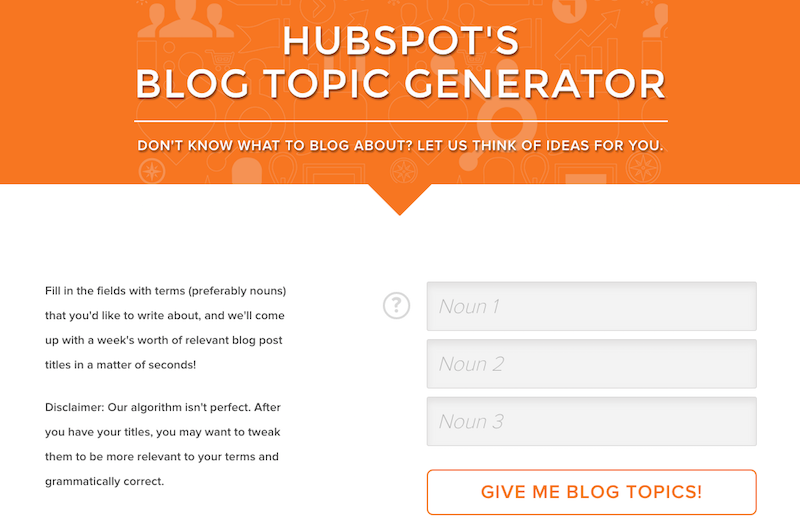 10. Portent's Content Idea Generator
Portent's Content Idea Generator is all you need to create an amazing post that will increase your followers in just a day.
From creating powerful post titles to strategizing your post content, it does everything for you. Not just this, but it will also guide you with brilliant SEO tips.
With this site, you can be a pro at blogging with just a little knowledge about it. Once you start using this, you will not be able to think of another site.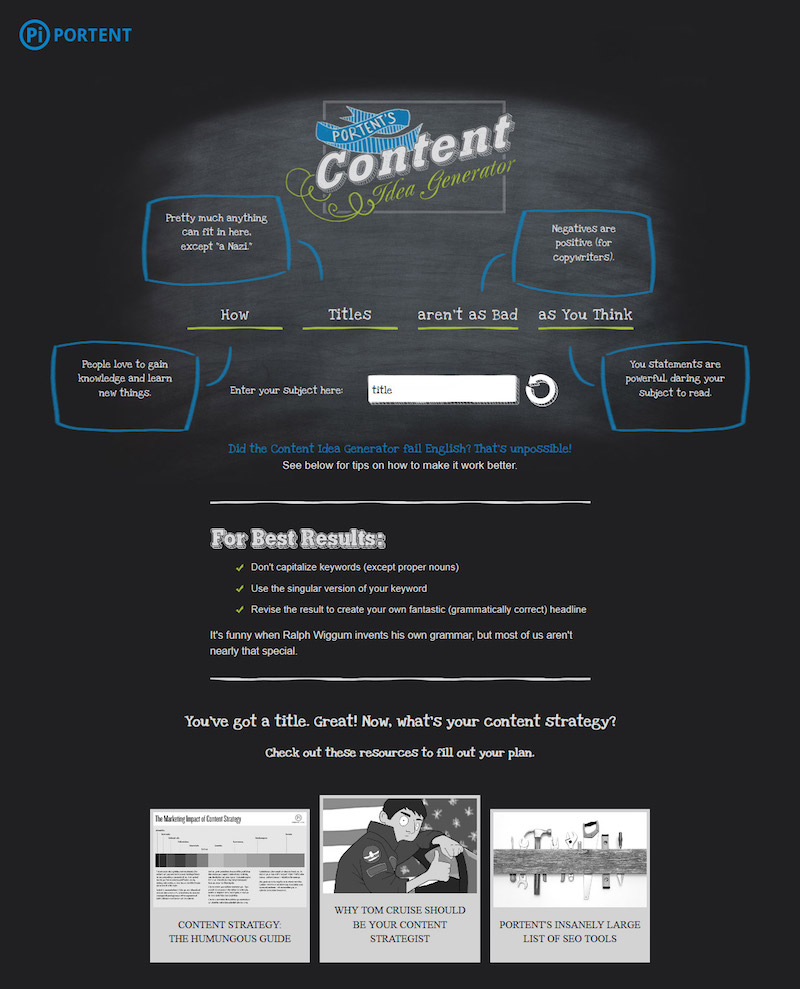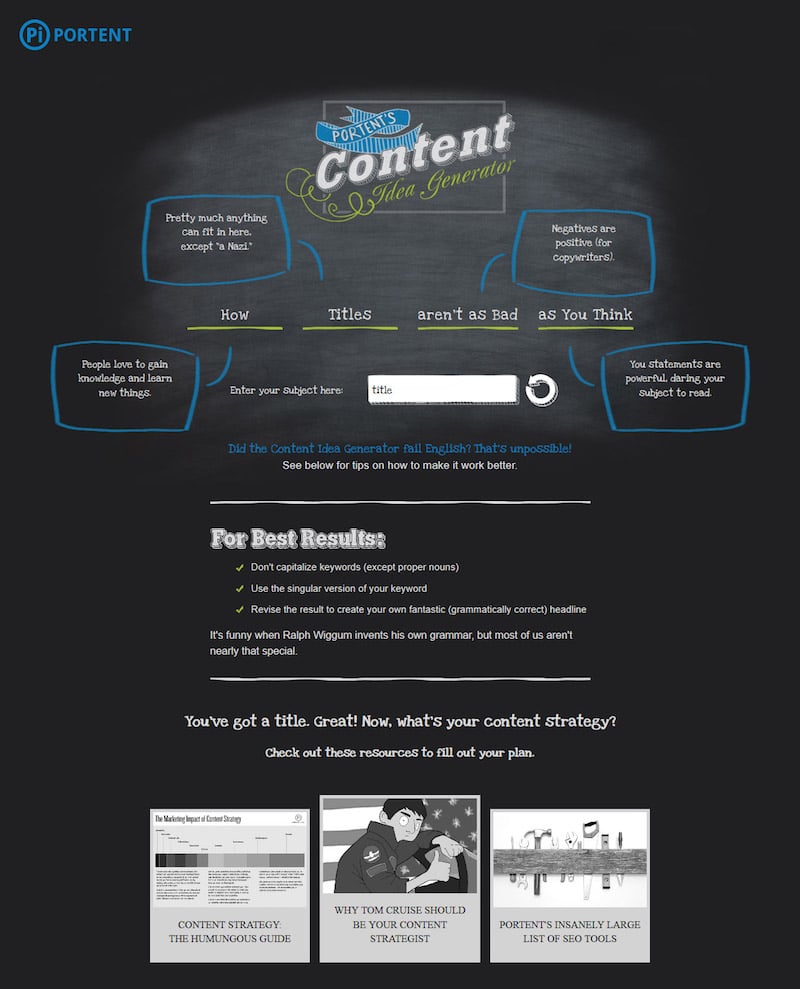 11. Feedly
Feedly is a fantastic source of knowing what is gaining popularity in the readers' market. You can login to Feedly by using any of your social sites and discover what is the current trend among content curators.
You can choose your subject and find an extensive range of articles and posts that will inspire you with new ideas for your next blog.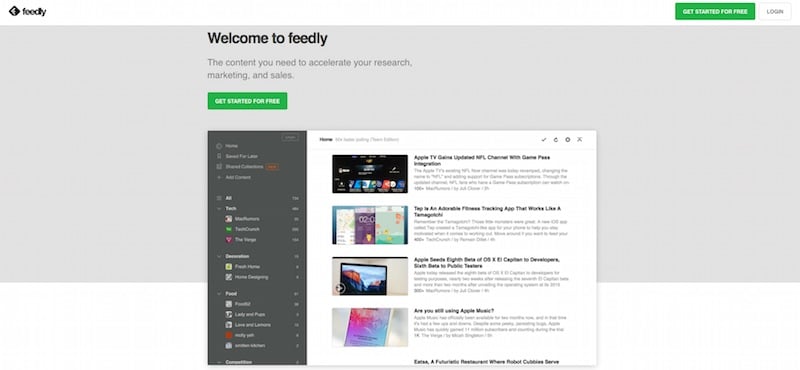 12. ContentIdeator
This is yet another favorite destination for content curators. You can search for popular content with your keywords and filter your search as well.
You can look for content that matches your exact keyword or look for posts that just contain those words. You can also see who your competitors are and get inspired by the way they write.
It also allows you to make your searches related to what's trending across various social sites.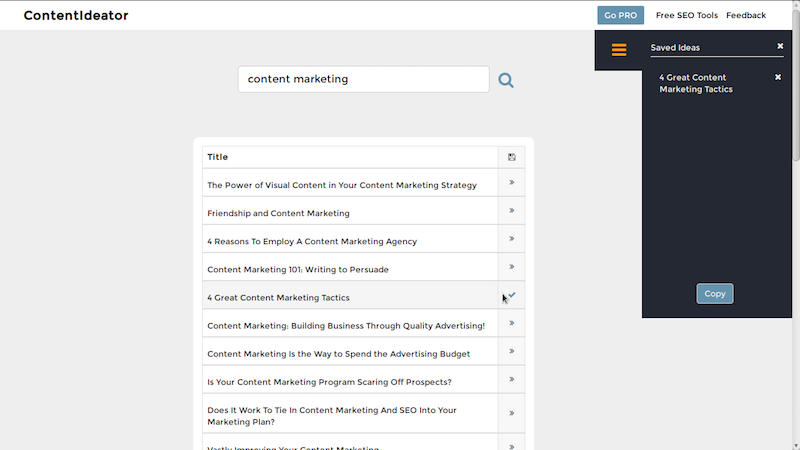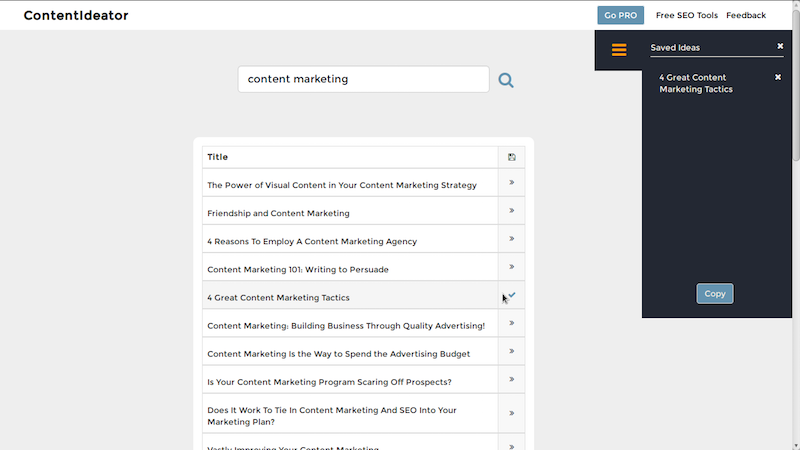 13. Blog Post Idea Generator
Blog Post Idea Generator is an amazing title generator that serves you when your mind is too exhausted to think about anything interesting.
All you have to do is write down what your topic is about in the blank box of the site and click on the generate blog post idea button.
It will automatically come up with a suggestion. You can keep tapping on the same button unless you are satisfied with the results.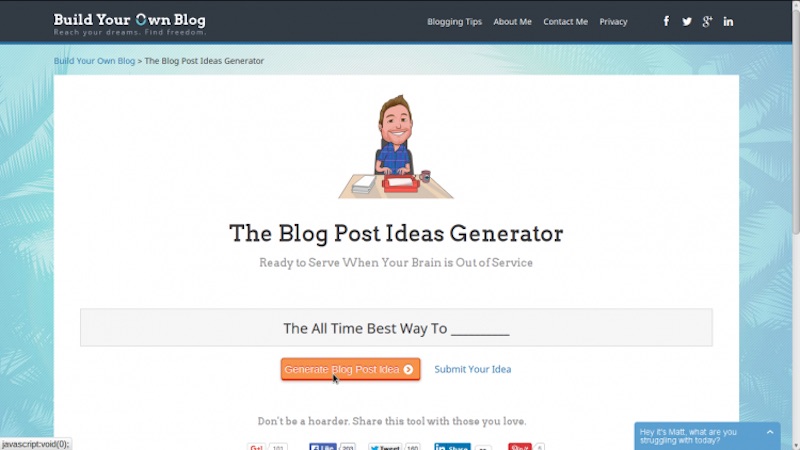 14. Pinterest
Pinterest has become one of the top sources find content on various topics in recent years. It is also a great source to drive free traffic.
There are bloggers that received thousands of unique visitors every single day only from Pinterest. In fact, we have close to 2 million monthly views on Pinterest and many users land on our site through Pinterest.
So, you shouldn't miss this big source while creating your content. You can do some research around the platform to find the kind of content that works well on this platform and plan content on similar topics.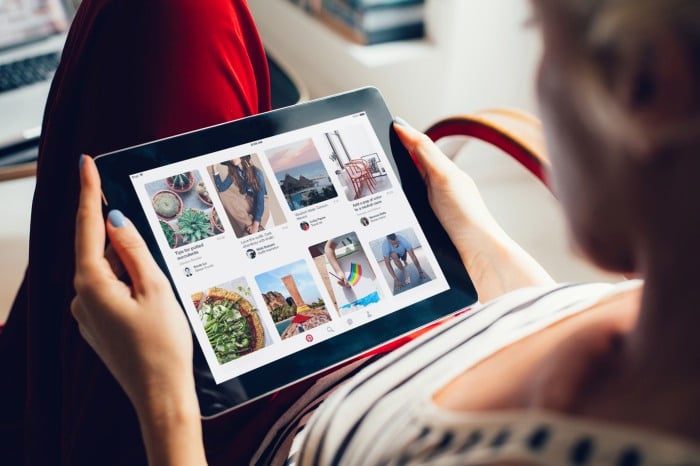 15. Content Row
Content Row is another very handy tool to generate engaging blog post ideas and titles. All you need to do is to add a keyword or title idea in the search box and the tool will quickly generate a number of title ideas that you can work on.
This a great tool for bloggers and YouTubers to generate engaging title ideas. The tool is free to use, just click on the link below and get started.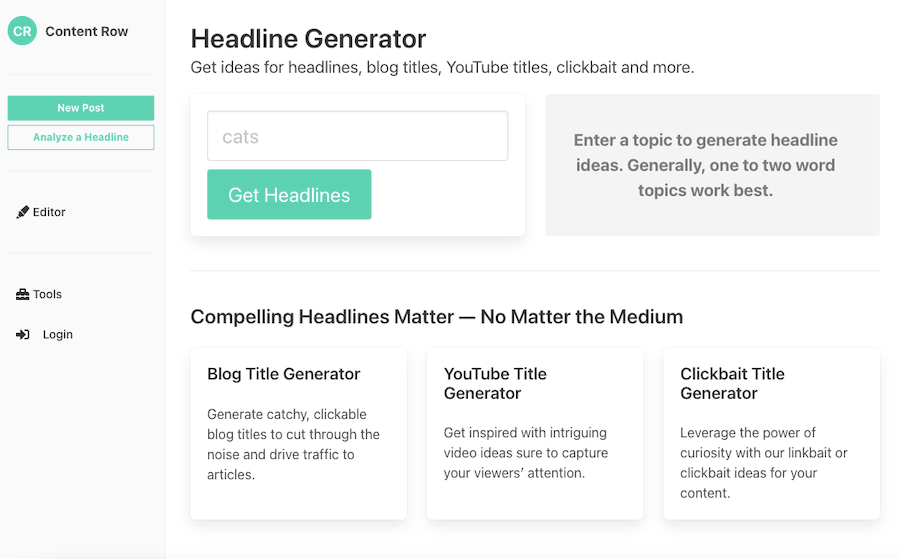 Final Word
These are some of the top blog topic-generating tools that you can use for your content business. We will be adding more tools to this list, don't forget to come back again for more.
Also, don't miss our article about 300 best blogging tools.