If you are looking for the best to-do list creating apps, we have listed the top options in this article.
There was a time when a simple notepad was used to take care of all your schedules but today, given the complexities of the tasks, you have to rely on some of the best to-do list apps.
Notepad won't remind you of your deadlines unless you look for it in the first place but there are thousands of software applications that promise to make your life easier.
These applications motivate you to keep yourself focused on the important tasks as the rest can be dealt with by the software management system effortlessly.
Choosing the right to-do list app for your work can give you a headache but we have managed to create a list of best To-Do list apps that will make you feel like you have less work.
Monday.com is one of the most popular project management software on the market today. Designed to help teams stay organized and on track, this software comes with a range of useful features, including task management, intuitive to-do lists, customizable workflows, and real-time activity tracking.
Monday.com is being used by over 150K businesses including small businesses to big industries. It makes it simple for a team to coordinate a complex operation across multiple departments, Monday can help you get organized and stay focused on your goals.
So if you're looking for an efficient way to manage your projects, be sure to check out this powerful and versatile tool today.
Key Features:
Complete project management tools
Comprehensive CRM solution
Task management and to-do listing maker
Team collaboration
While some To-do List apps are more interesting than others, if we have to choose the best, we will go with Todoist as it is the undisputed king of completing tasks.
Todoist has helped people complete more than 150 million projects in 13 years. It will help you feel that you are in control of every task as the easy organization will help you focus on the right things.
Key Features:
A large variety of templates to choose from
Easy integration of various tools
Sharing controls and automatic back up
Pricing – US $3/month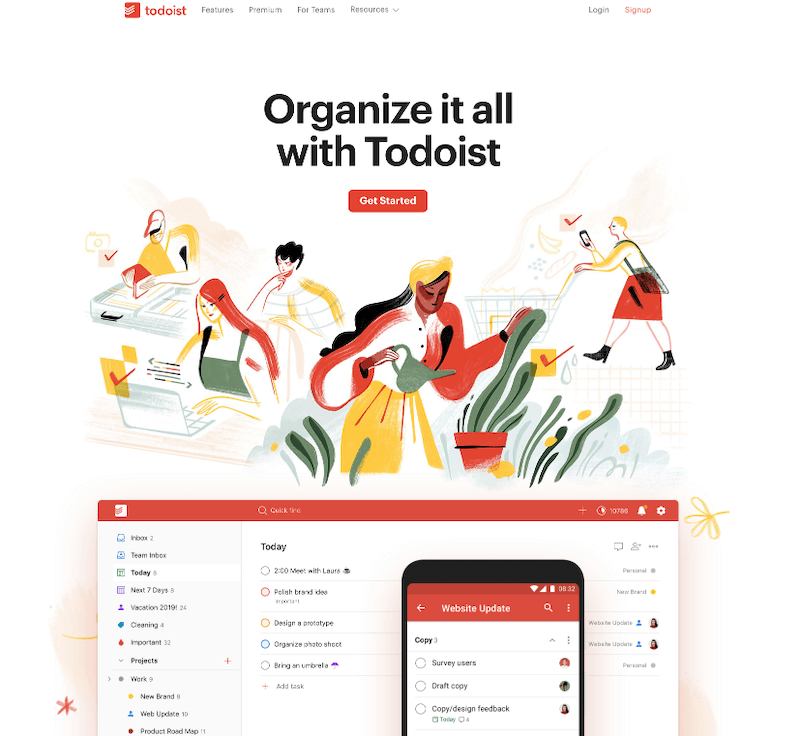 When a product is making its name in more than 150 countries, it is definitely worth exploring. It provides more than 1000 integration solutions that help you prepare your to-do list in the form of a checklist for perfect organization. The file attachment and comment feature let you connect with your team instantly.
Key Features:
Notifications and Reminders so that you don't miss any deadlines.
Categories and Filters to highlight tasks.
Meeting Management schedule to keep everyone in the loop.
Pricing – Premium package costs $2.99/month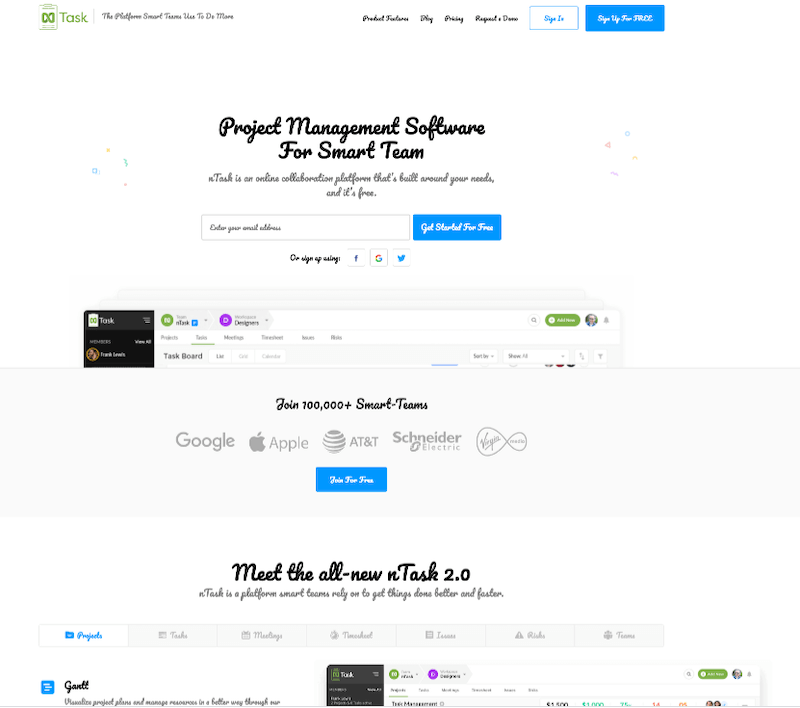 Just like the rest of its competitors, TickTick is filled with features but the thing that sets it apart is that it has a user-friendly interface.
To organize your to-do list effectively, TickTick provides you with a Smart list, Folders, Task, Subtasks, Tags, Search, and much more. Assigning tasks and Collaborating/Sharing documents have been made easier to deal with.
Key Features:
Voice Input to add tasks faster.
Pomodoro technique to help you keep the focus
Easy backup and statistics
Pricing – The annual plan will cost $27.99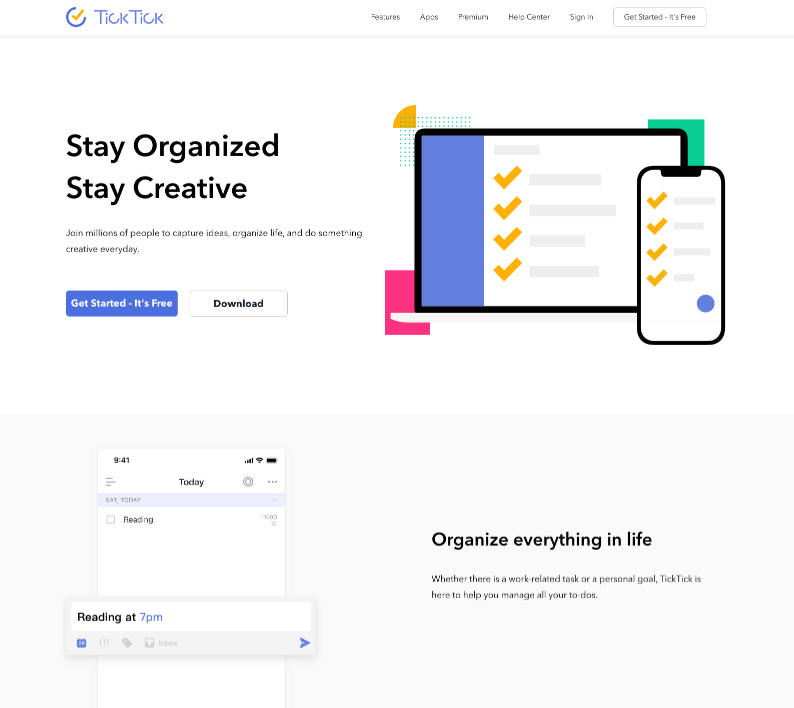 Microsoft To-Do allows you to import your tasks from Wunderlist and Outlook. Wunderlist was taken over by Microsoft and is being shut down in May, this year. This app is available on platforms such as android, iOS, and Windows.
Key Features:
Task reminders that won't let you miss deadlines.
Checklist for better organization of tasks.
Easy data synchronization and collaboration
Pricing – It is Free of cost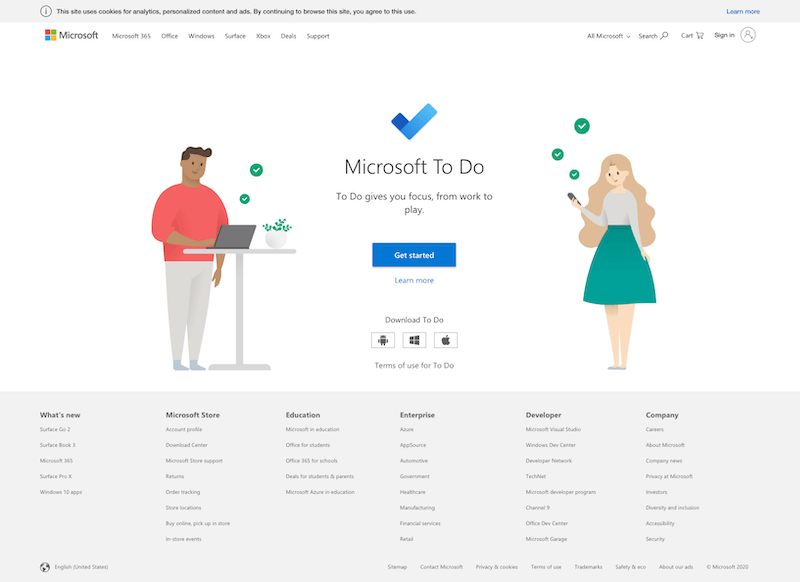 Any.do helps you organize any list of work on a mobile, desktop, laptop, watch, and even tablets. A powerful tool that provides a simple interface for you to handle tasks, subtasks, and checklists. Just like TickTick, Any.do provides easy upload of tasks through voice commands.
Key Features:
Recurring and Location-based reminders.
Customized themes and availability of color to allocate tasks.
Easy Collaboration
Pricing – It is available for $5.99/month
Another free application that has been used by over 5 million users, Google Tasks is integrated with other Google Applications for easy accessibility.
For easy interface, it allows you to divide your tasks into subtasks. It might not be able to provide unique features like its competitors but the free version will make you complain less.
Key Features:
You can create a task directly from Gmail.
It allows you to import Google Reminders.
Easy drag and drop facility and notifications.
Pricing – It is available for free.
Bit.ai helps you organize notes, wikis, documents, projects, etc in one place while providing the facility to integrate with all the major apps.
Whether you are an individual, small team or an organization, the modern and powerful display of Bit.ai will cater to all your needs. The smart widgets and Inline comments are a few of the unique features that can take any competitor in this segment.
Key Features:
A number of templates and themes for beautiful designs.
Live interactive documents for easy collaboration.
Document tracking and password protection for important documents.
Pricing – The pro plan is available for $8/month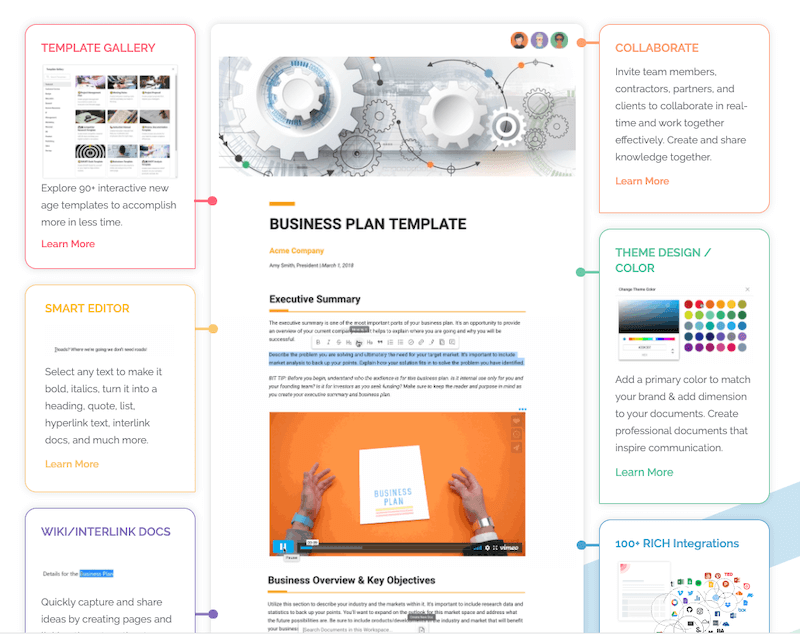 To make a To-do list exciting and fun, Habitica provides a role-playing game while completing your daily tasks. It has been downloaded by over 4 million users, who want to gamify their lives with a little motivation from awards as well.
If you are not motivated enough or fail to achieve your tasks on prescribed deadlines, Habitica will help you achieve your goals by providing a habit of hard-working.
Key Features:
Easy-to-use mobile and web interface
Rewards on completion of your goals.
Easy filtration of tasks and daily reminders
Pricing – It is available for free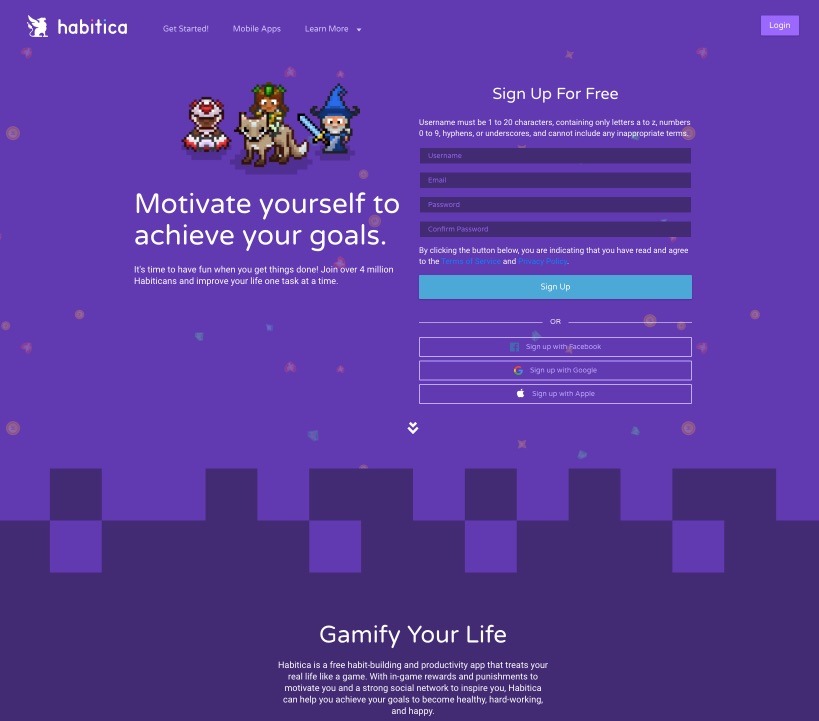 If managing a To-do list is difficult for you, Trello has provided you with robots to make your work easier. These Butlers will remove tedious tasks from your list.
By providing a platform to sync all your devices and integrate all major apps, Trello is definitely one of the best To-do lists on the market.
Key Features:
You can create cards that will include attachments and checklists.
Reminders and notifications on Deadline
Easy user-interface
Pricing – Business Class plan will cost you $9.99/month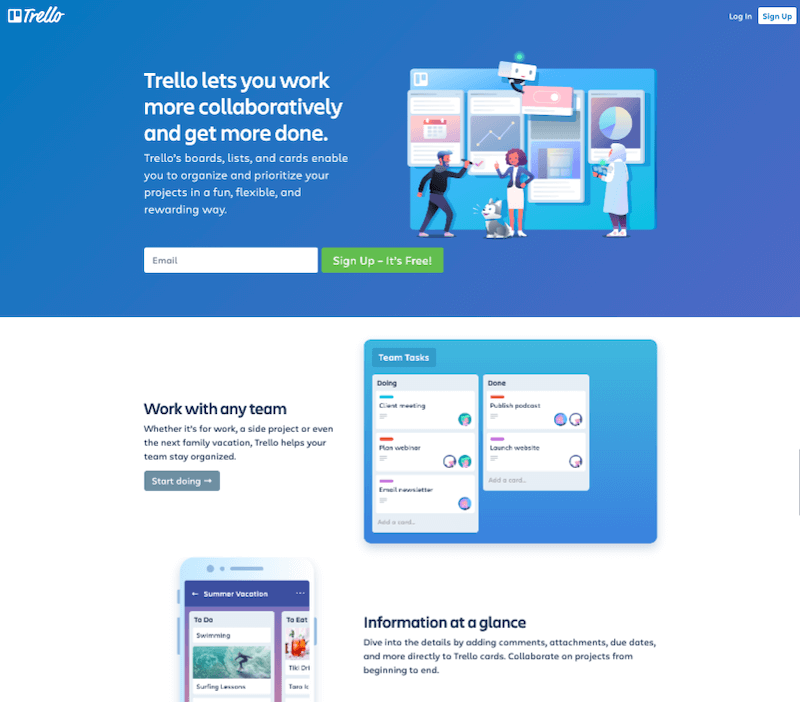 Being one of the olden To-do list apps, Remember the Milk has still a long way to go. With the help of the Smart Add feature, you can enter your task's property in one line.
You don't have to worry about reminders and notifications as Remember the Milk will alert you through emails, text, and even social media. Assigning tasks to your colleagues has become easier as you can divide the tasks into subtasks for easy understanding.
Key Features:
Easy third party application integrations.
Magical search wizard for easy location of tasks.
Customized themes available
Pricing – It will cost you $39.99/year.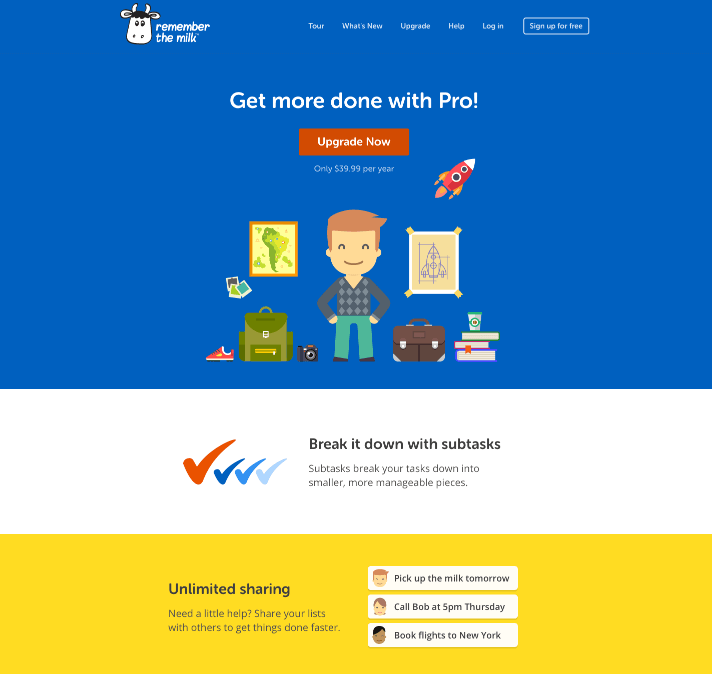 Evernote provides you a single place to set your notes, reminders, documents, lists, etc. The premium version of Evernote will allow you to work on your To-do list, even in offline mode. It is a pretty handy app that lets you get all your things done in relatively easy steps.
Key Features:
In order to find everything easily, it provides PDF and Document search.
It allows you to add tasks directly from the email.
Offline access is like a feather in the hat
Pricing – A Premium plan will cost $7.99/month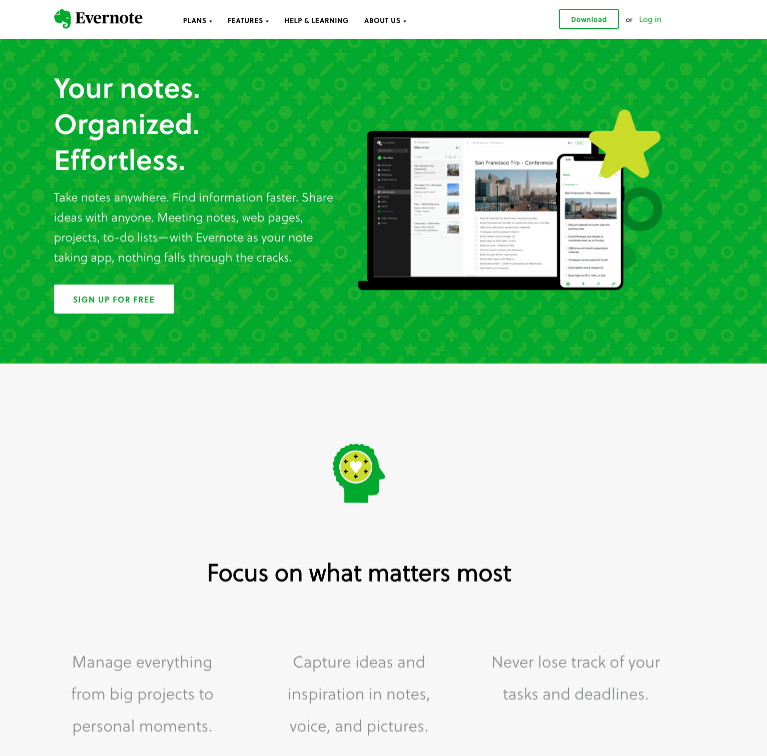 If you are looking for an easy and simple To-do list app, TeuxDeux might be the perfect choice in this segment. TeuxDeux allows you to add tasks that you have to perform regularly. On top of that, it allows you to share your list with 6 family members.
Key Features:
Tasks that you failed to complete on a given day will automatically shift the next day.
Optional service to see your to-do list directly from your email inbox.
You can add clickable links to important words.
Pricing – It will cost you $3/month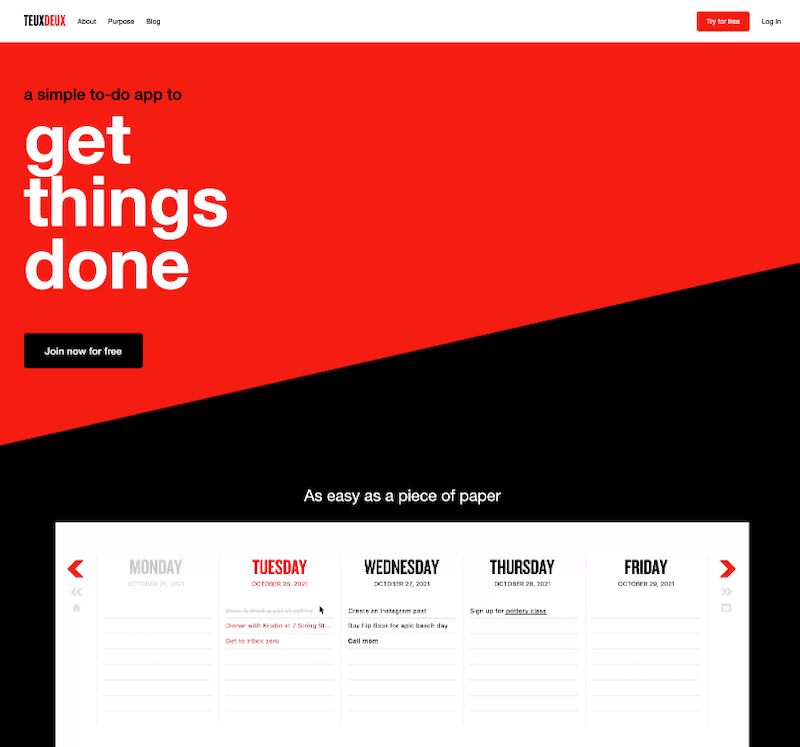 We all know how much Gantt charts can be attractive as it helps you to coordinate specific tasks in a project. GanttPRO is an online project management solution that makes use of these Gantt charts.
The drag and drop simplicity of this app makes it one of the best To-do list apps available on the internet.
Key Features:
It allows you to share Gantt Charts with your colleagues and teams for easy understanding.
The real-time notifications will not let you miss any deadline.
The Auto-scheduling feature will help you reschedule everything automatically.
Pricing – The team plan will cost you $8.90/month per user.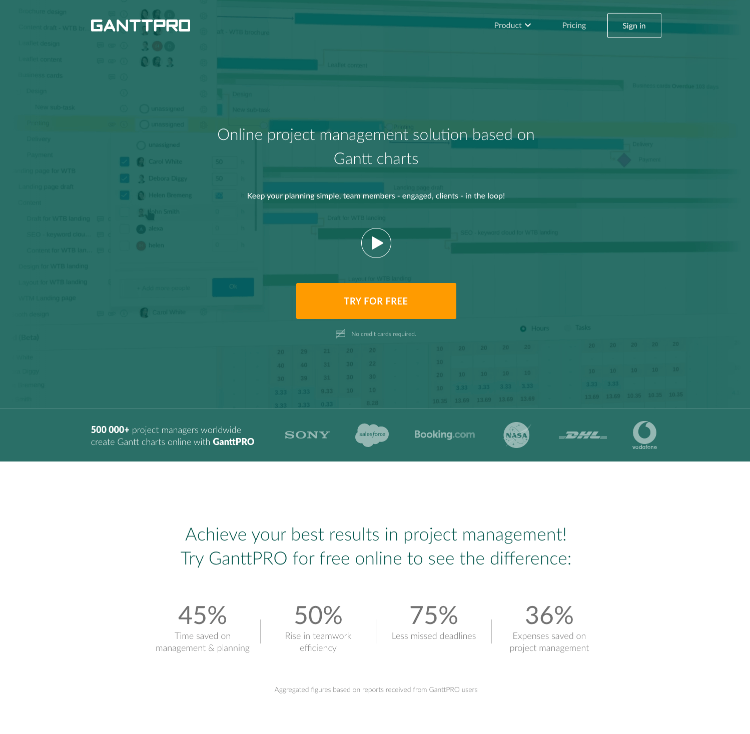 A special To-do list app made specifically for Mac users, OmniFocus has all the essentials for making your task scheduling process easier. Features like Forecasting and tagging will let you see the bigger picture and avoid a stressful day.
Key Features:
Customized tags available
You can run your weekly review with the help of an Autopilot
Easy user-interface and synchronization.
Pricing – OmniFocus Pro is available for $9.99/month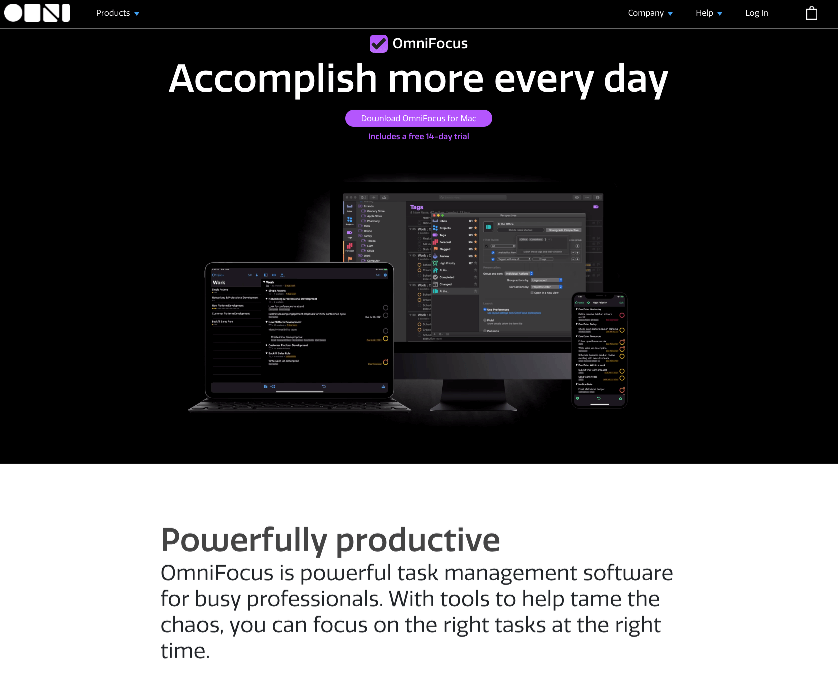 Another amazing To-do list app for all Apple users, Things is powerful enough to take care of every small detail. Just like any other alternative, Things provide a drag and drop service for easy understanding and powerful interactions.
The new design with powerful new features makes it one of the most promising To-do list apps.
Key Features:
Pie Chart to monitor progress
The upcoming list displays your agenda for the coming days.
Calendar view and timely reminders.
Pricing – For Mac, you have to pay $49.99.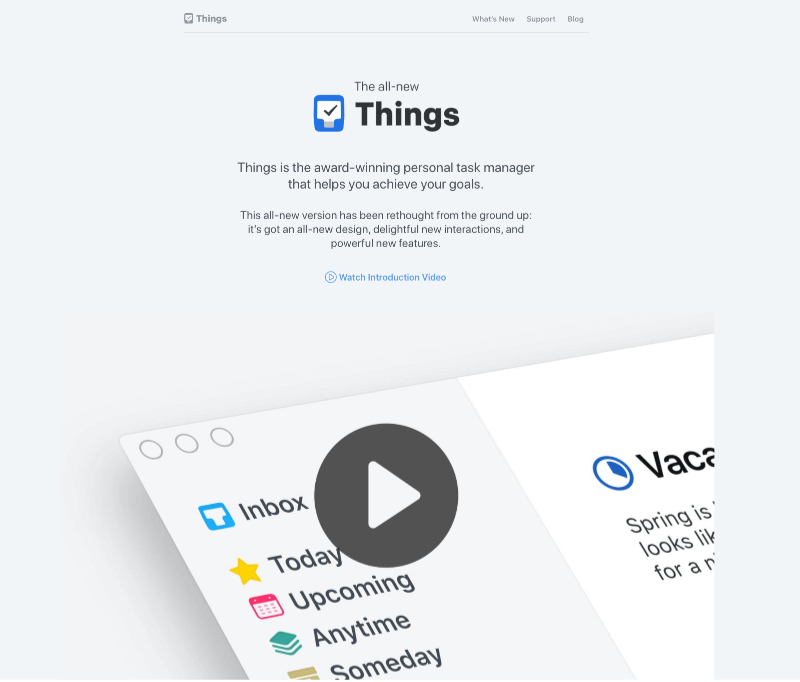 ToodleDo is more than a simple To-do list app as it also caters to provide attachments, scheduler, and collaboration tools. Whether it is a desktop, Andriod, or Apple iOS, ToodleDO allows you to synchronize everything.
Filled with rich features, ToodleDo will make help you in the easy organization of your tasks and increase your productivity.
Key Features:
A time tracker to increase productivity.
Recurring tasks can be easily dealt with.
Easy import and export of data from various applications.
Pricing – The Standard Plan is available for $2.99/month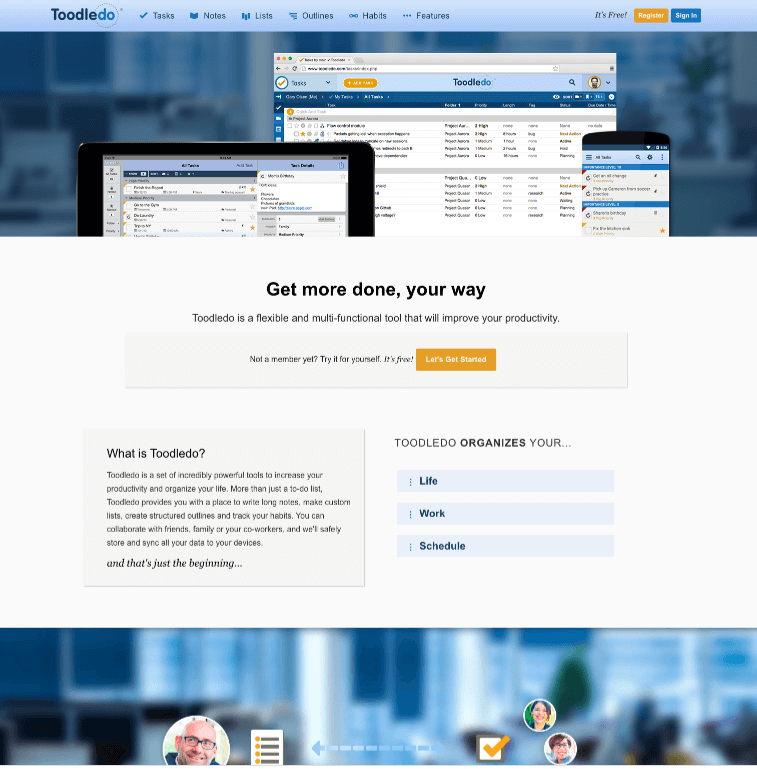 Some of the world's best companies such as Deloitte and Vox Media trust Asana for getting their work organized. Just like Trello, Asana lets automation handle tedious tasks for you.
Millions of people living in more than 190 countries are already satisfied with their work.
Key Features:
Easy app integration helps you stay-in-touch with everyone.
Access to building Gantt charts.
Portfolios will help you to monitor progress.
Pricing – The Premium plan will cost you $10.99/month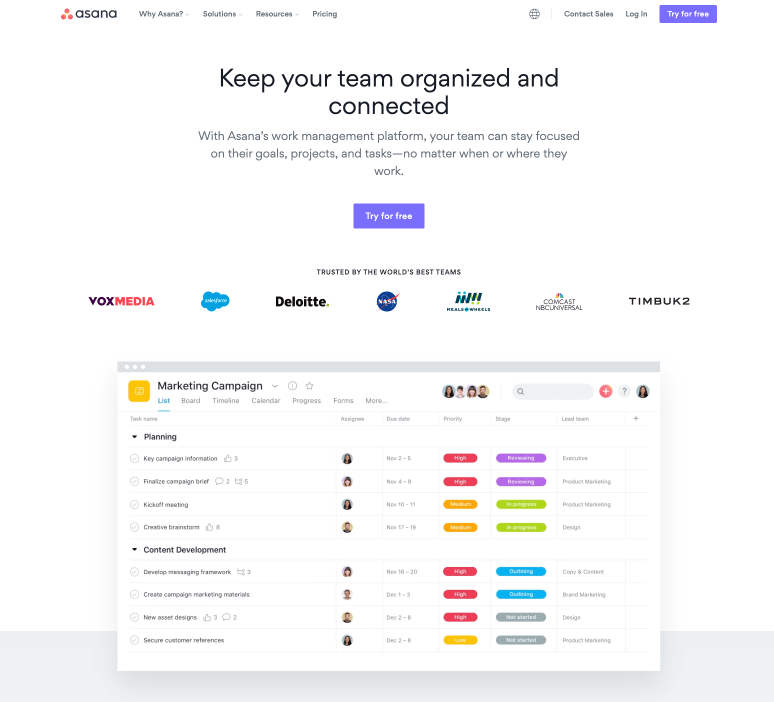 Nozbe is known for its team management and organization. So, if you want to distribute tasks within your team effectively, Nozbe is a great application that you should definitely check out. The bonus point – Nozbe is available on every device that you can think of.
Key Features:
You can add comments and attachments for easy understanding.
Easy user-interface
A well-designed collaboration tool
Pricing – Nozbe Teams Premium will cost you $29/month for 5 users.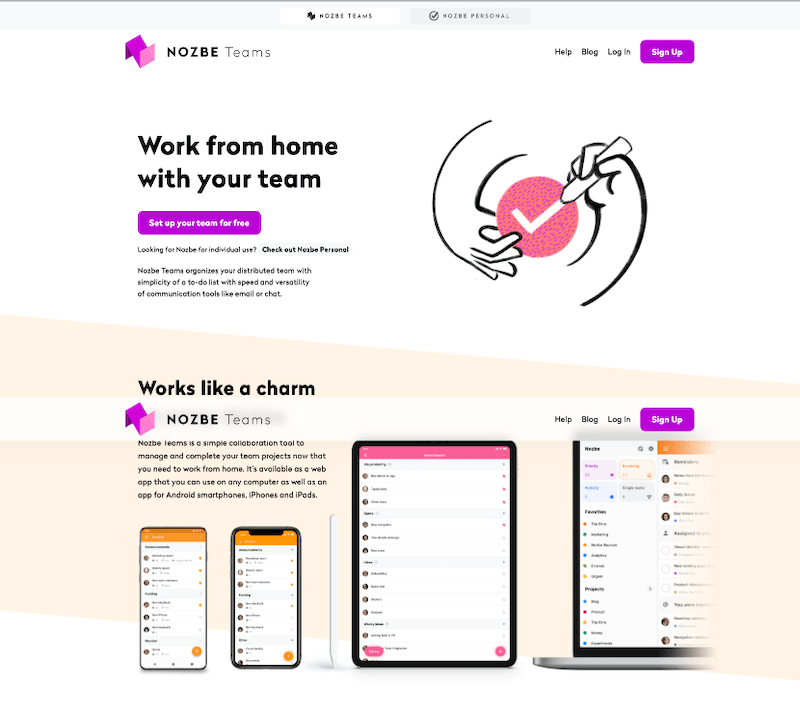 From designing your personal To-do list to collaborating with your team, WorkFlowy provides a simpler way to organize your work.
Workflowy is a rather simple To-do list that is slowly making a name for itself.
Key Features:
Shareable links for easy collaborations.
Customizable tags for effortless searching
Elegant user-interface and allows repeatable tasks.
Pricing – It is available for $5/month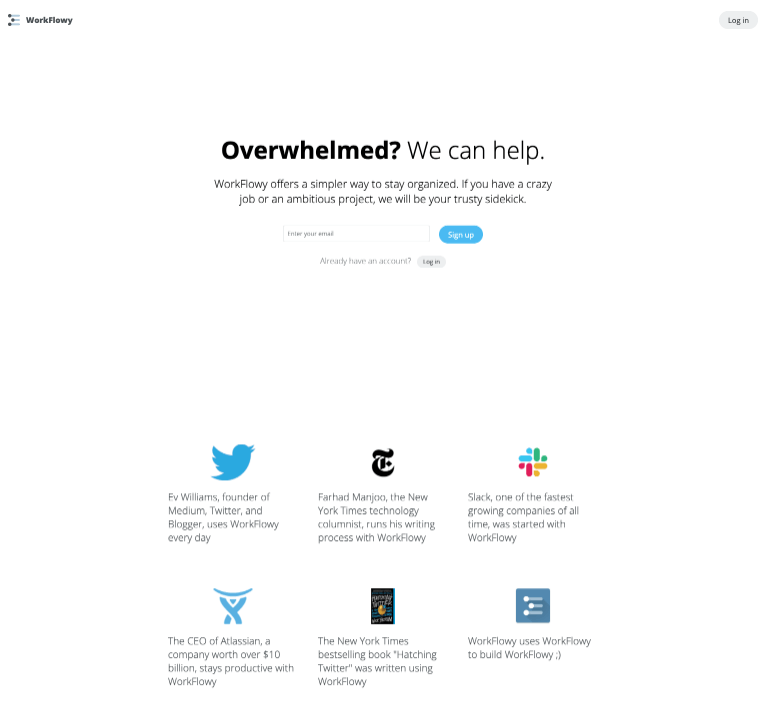 On number 20, we pick the Checklist for our list of Best To-do List. The Checklist enables you to break big tasks in unlimited small tasks for easy understanding.
If you don't want to create your list from scratch, you can make use of thousands of templates available on Checklist.
Key Features:
You can set daily, weekly, monthly, and yearly reminders.
It allows you to convert your emails into tasks.
Bird's eye for keeping a check on the progress.
Pricing – The standard pack is available for € 3/month.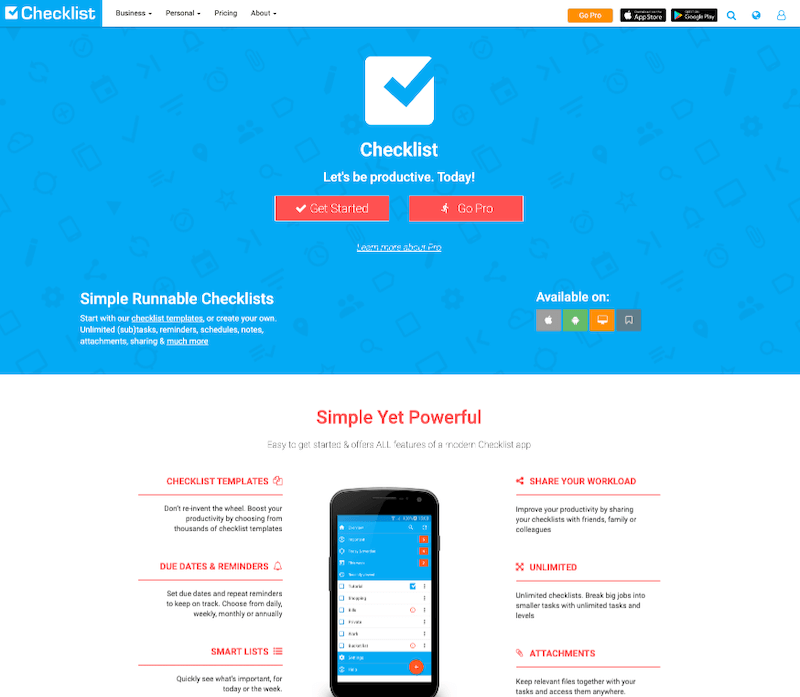 The Kanban board of Quire will assist you in visualizing your workflow. The drag and drop feature along with easy integration make Quire one of the best To-do List apps.
Not only the Kanban board but also you can use Gantt charts to make your schedule look attractive.
Key Features:
An easy breakdown into subtasks.
It allows you to monitor your progress.
Integration with 3rd party apps for trouble-free sharing.
Pricing – It is available for free for the first of 2020.
We end our search for the best To-do list apps with Simplenote. As the name suggests, it provides a simple way to organize your notes.
Although you won't find powerful features in this alternative, it still does a commendable job in keeping things in one place.
Key Features:
Back up facility to see the previous version of a note.
Markdown format for publishing and previewing notes.
You can collaborate with publishing your notes online.
Pricing – For the moment, it is available for free.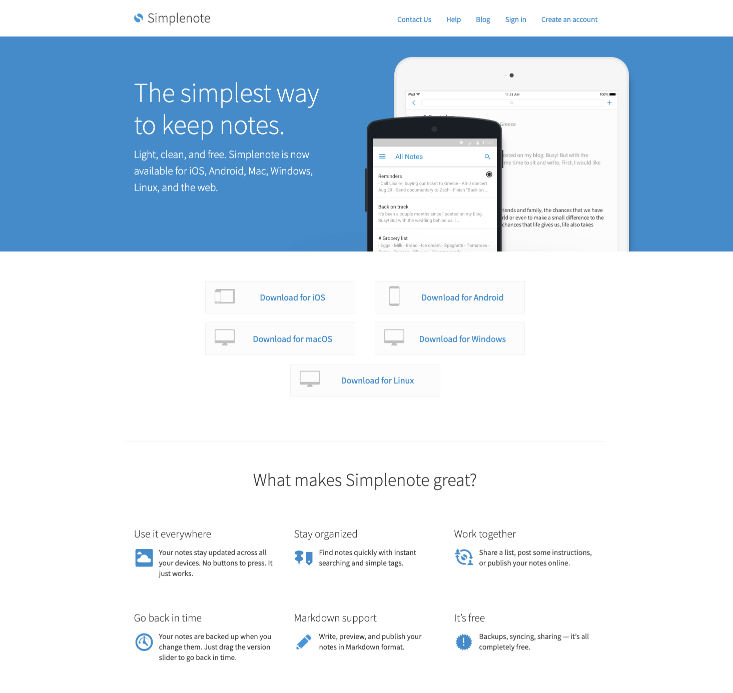 Unlike many of the tools in the list, ProofHub is not merely a to-do list app. It brings together all the features of the project management and team collaboration app that you need to plan your projects and stay on top of everything. The app has an easy-to-use interface and is available for iOS, Android, and the web.
Key features:
Workflows and kanban boards
Group chat and online discussions for easy collaboration
Flie sharing and note-taking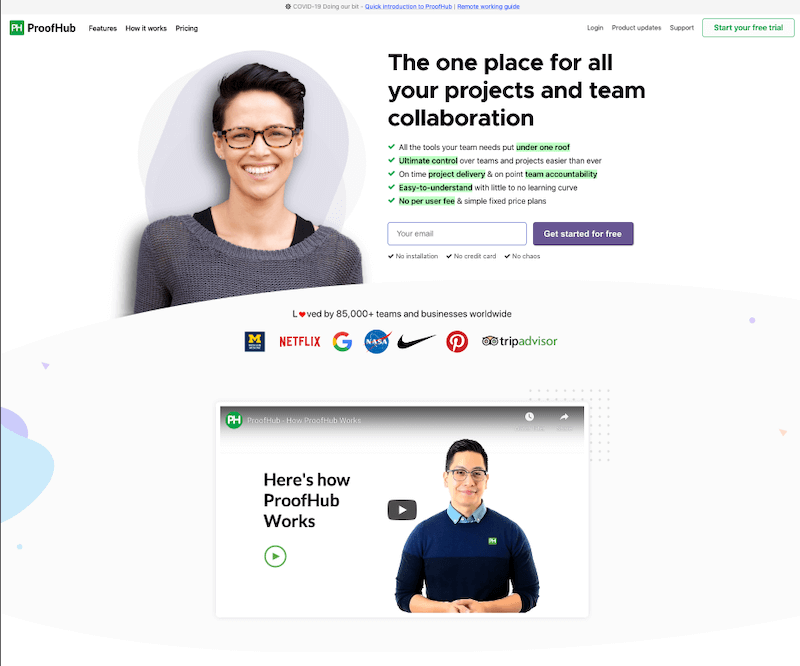 Conclusion:
Whether you have a small task or a big one, these best To-do List apps will help you organize your work and live a stress-free life. The majority of these apps come with a trial or a demo period so that you can make the best feasible choice when selecting their premium versions.