Are you looking for the best digital marketing podcasts to listen to? Well, we have included the best marketing podcasts that will help you to learn marketing from the top content creators and marketers in the industry.
Is your professional life keeping you super busy, and yet you want to learn something new? Podcast has proven to be a great source for professionals who are seeking to learn something new.
If you are a digital marketer who wants to keep pace with the latest happenings in the market, then I would recommend you to listen to digital marketing podcasts when you are doing activities that don't require you to think actively.
The great thing about the podcast is that it can be enjoyed while you are working out, commuting, or doing any other everyday job.
Many platforms support podcasts like:
You can use any of these platforms to enjoy your podcasts.
In this article, I have selected the best digital marketing podcasts that you can listen to for increasing your knowledge of digital marketing. Without further ado, let's begin!
Don't miss this article about the best podcast-hosting websites.
The Top Marketing Podcasts to Listen To
---
01

. Marketing O'Clock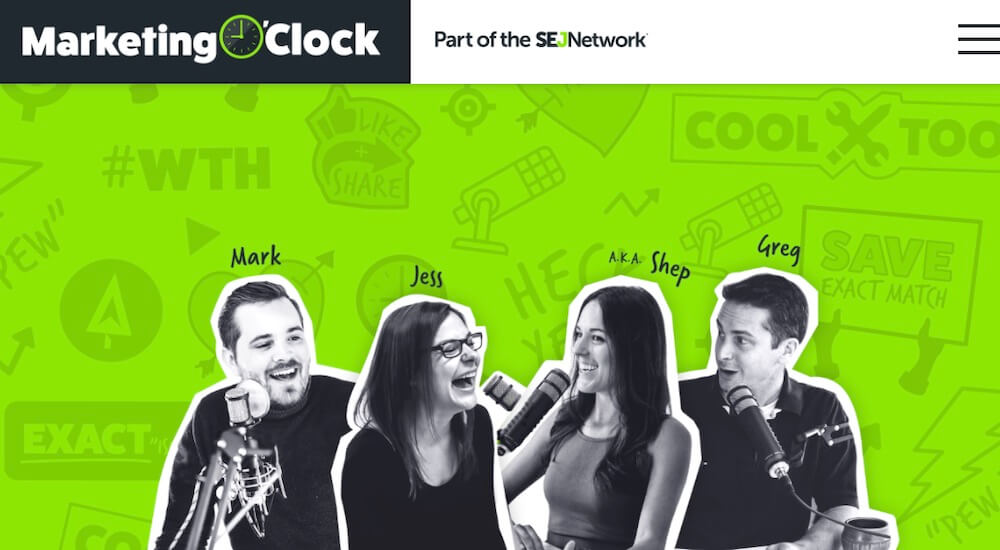 With 100+ episodes, the Marketing O'Clock podcast is a great place to start learning about digital marketing, SEO and other related topics that will help you to take your business forward.
Hosted by Greg Finn, a certified Google Ads partner & Jessica Budde, a Digital Marketing professional, you are sure to learn the important elements of marketing and the new updates from the industry.
Marketing O'Clock podcast is a part of Search Engine Journal which is a popular search engine news site.
02

. Marketing School with Neil Paten & Eric Siu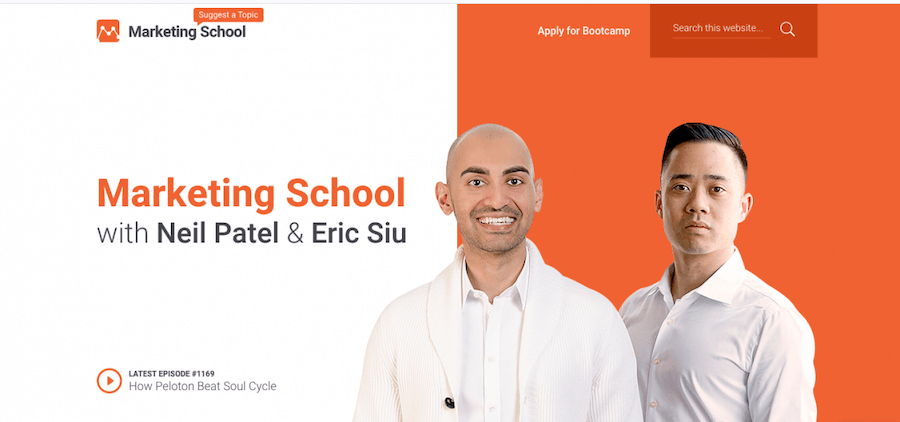 Neil Paten doesn't need any introduction to the marketing world. He has co-founded companies like QuickSprout and CrazyEgg. You can read his blog posts at NeilPatel.com.
Every new blogger refers to the content of Neil Patel to grow. And if you are one of them, you might even enjoy his podcasts too!
Neil Patel runs a podcast with Eric Siu, a marketing expert. You will get actionable marketing advice from Marketing School. 
The podcasts are short yet meaningful and powerful enough to give you some actionable tips to grow your online brand.
03

. The GaryVee Audio Experience

You cannot miss Gary Vaynerchuk (aka Gary Vee) when you are talking about digital marketing. In this podcast, he shares advice and practical tips on:
Entrepreneurship
Social media
Marketing
Gary Vee has conquered the world of Instagram and Snapchat with his active marketing. If you are his fan, you should definitely listen to is podcast to pump yourself up!
04

. Social Media Examiner Podcast

Michael Stelzner runs Social Media Examiner (SME). He runs a blog with the same name. If you are into social media marketing, you simply cannot afford to miss the SME podcasts.
Social Media Examiner is ranked as the top podcast for social media marketing.
Each week, SME offers two podcasts with the information required to boost your social media marketing skills. The podcasts are typically 45 minutes long.
Apart from tips, you can listen to expert interviews and success stories in the wonderful podcast. If you are for in-depth knowledge of social media marketing, then SME is for you!
05

. Smart Passive Income Podcast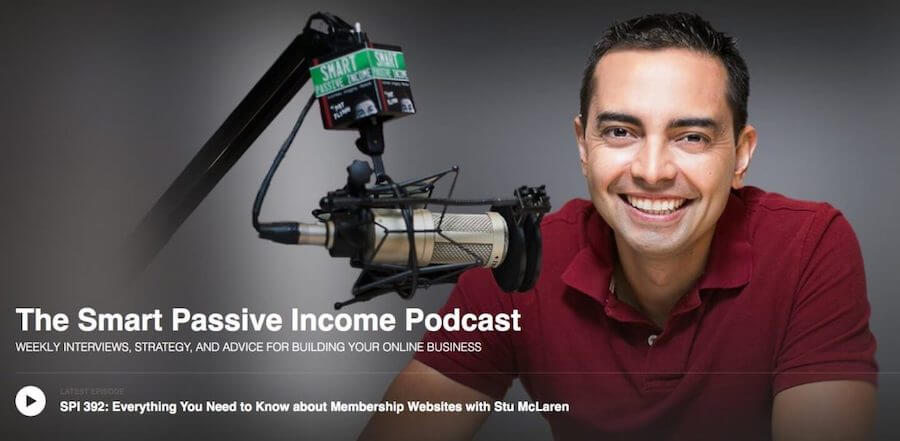 This podcast is run by Pat Flynn, and he deals here with topics related to business, blogging, and lifestyle. Pat Flynn is a popular name in the blogging world.
If you want to trace his success journey, you can do it from the Smart Passive Income podcasts. In this podcast, he reveals his income, blogging strategies, and marketing tips.
He has even interviewed Gary Vaynerchuk in his podcasts, and this speaks about its popularity of it!
06

. Everyone Hates Marketers Podcast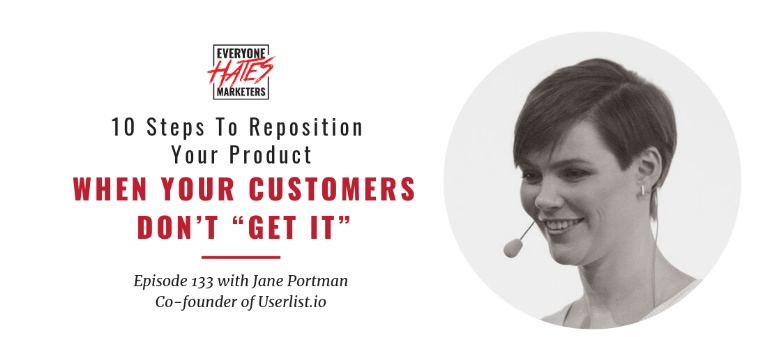 Louis Grenier runs this actionable marketing podcast. If you don't want any beating around the bush and direct marketing tips, then this podcast is for you.
The podcast primarily focuses on getting more leads, website visitors, and customers with the help of good marketing.
Luis Greier, in his popular podcast, has interviewed popular marketing figures like Seth Godin and Sujan Patel.
07

. Marketing Scoop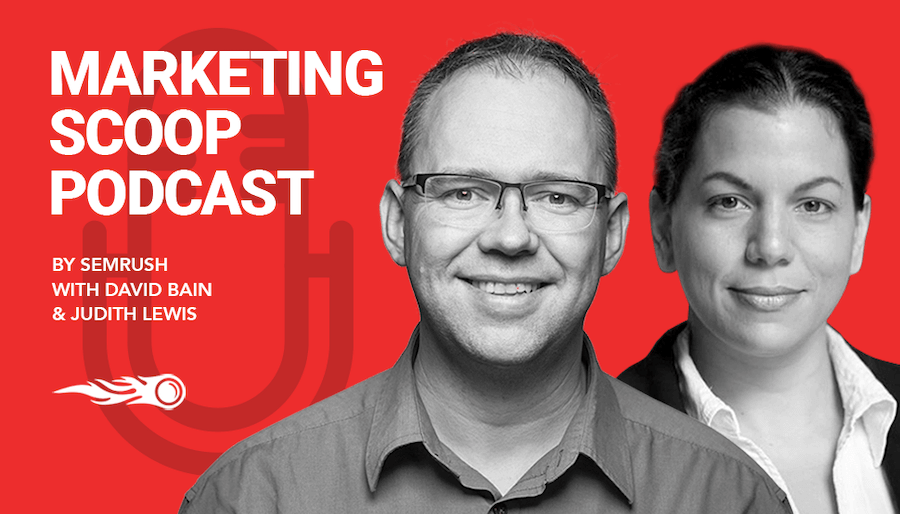 Apart from providing users with an essential SEO tool, Semrush also runs a podcast to provide them with proper information about digital marketing. 
The podcast was started back in August 2017, and since then, it has remained one of the most popular digital marketing podcasts.
Marketing Scoop gives the audience the latest news on digital marketing. Not only this, they break the news for you to provide valuable insights that you can use to grow your brand.
The very first season of the podcast featured industry leaders like Aleyda Solis, Larry Kim, and Barry Schwartz. The next seasons were even more valuable!
08

. Duct Tape Marketing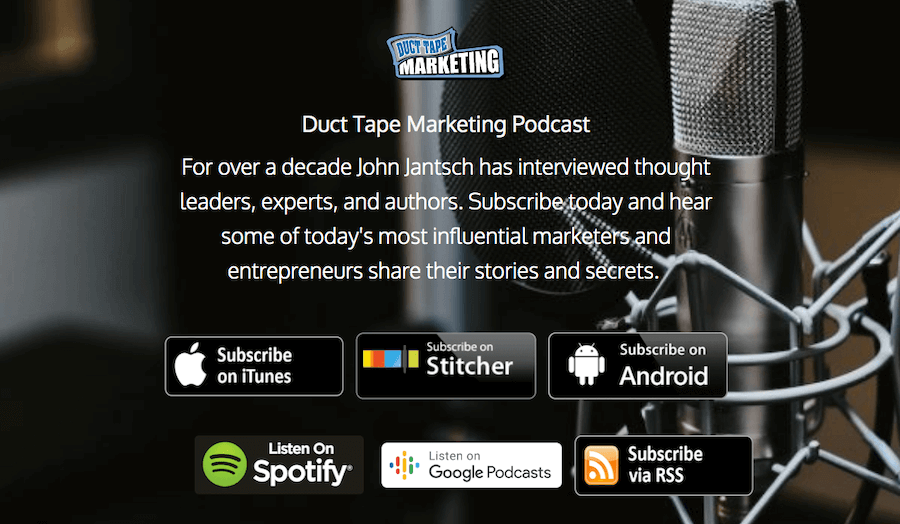 The man behind Duct Tape Marketing is John Jantsch. In his podcast, he acts as a guide for small business marketing.
In a regular interval, in his podcasts, you can listen to industry leaders, experts, and authors. You can have insights into workable business strategies in his podcasts.
Currently, the podcast houses more than 100 episodes on marketing tactics, tips, secrets, stories, and resources.
09

. ProBlogger Podcast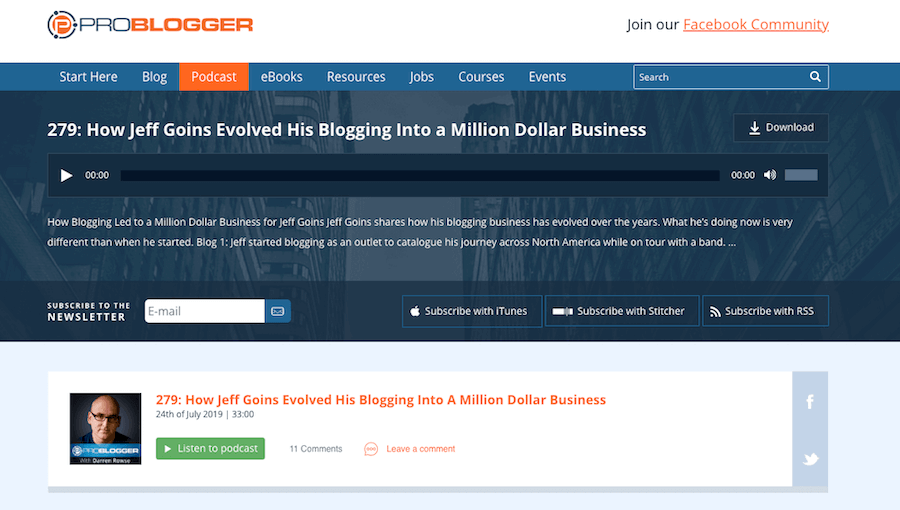 Darren Rowse, a successful full-time blogger, runs the ProBlogger podcast. This site is for the people who have started blogging and for the bloggers who are looking forward to scale-up their business.
He has been blogging since 2004, and in this podcast, you can gain all his knowledge. If you want to improve your blogging skills by listening, then you should lay your hand on the ProBlogger podcast.
The podcast currently features more than 270 episodes. Most of his episodes dealt with creating compelling content, growing readers, increasing engagement, and growing traffic. 
10

. Copyblogger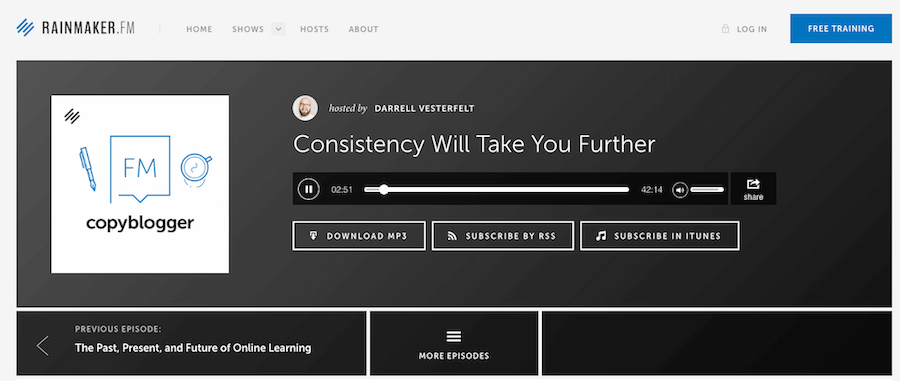 For a long time, bloggers have looked up to Copyblogger for creating killer content. Darrell Vesterfely currently hosts the podcast.
If you are looking forward to gaining some skills in content and copywriting services, you can use the tips covered in Copyblogger.
Each week, Copyblogger talks about email marketing, copywriting, content marketing, mindset, and conversion optimization along with other important topics.
11

. Online Marketing Made Easy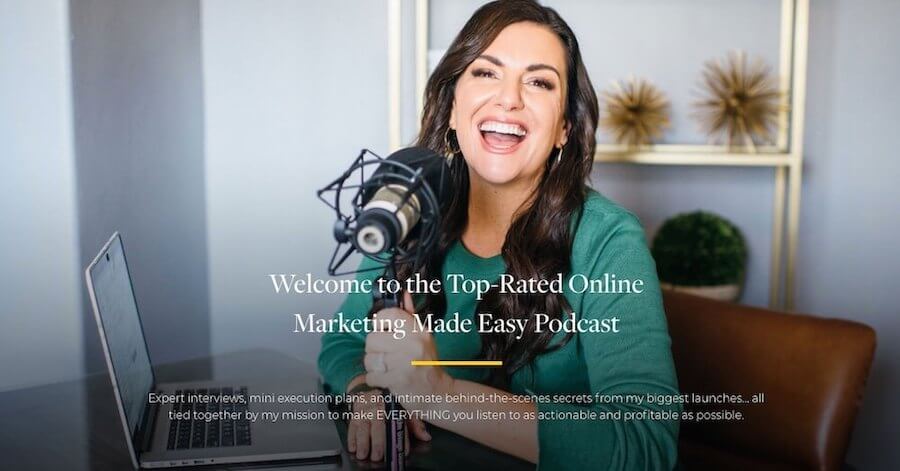 Amy Porterfield has managed to shine in online marketing, and you will find her everywhere. If you have tried your hands on blogging seriously, I am sure you must have come across her cheat sheet that talks about growing your email list.
In her podcast, she provides mini-marketing masterclasses along with a step-by-step guide.
After each episode, the listener is pushed to take immediate action to grow their business. If you need someone to push yourself, you can try this podcast.
12

. Marketing Over Coffee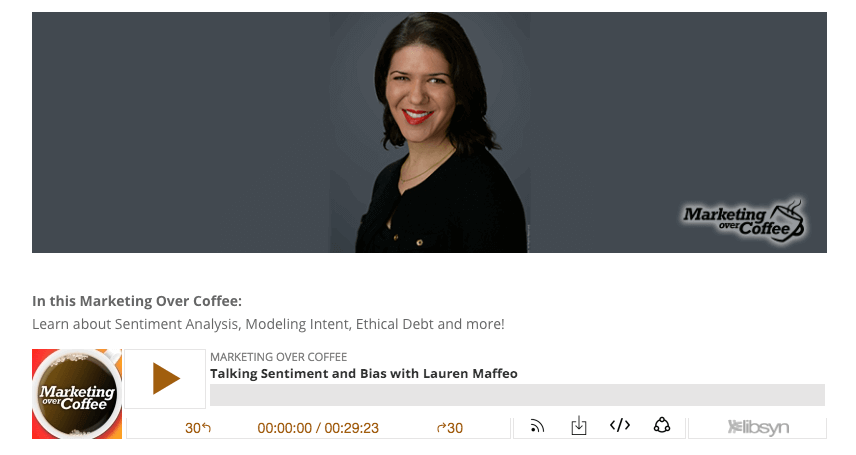 Nothing can beat a conversation over coffee. In Marketing Over Coffee, Christoper S.Penn and John Wall talk about the latest happenings in the digital marketing world over coffee.
It is one of the best podcasts to stay updated about topics like:
The hosts even answer questions from their listeners!
On the demand of the audiences, Marketing Over Coffee features both classic and new marketing tips.
Each episode is 20 minutes long and keeps enjoyed while you are doing your everyday stuff. Many people believe that this podcast is a gem, including me!
13

. The Influencer Podcast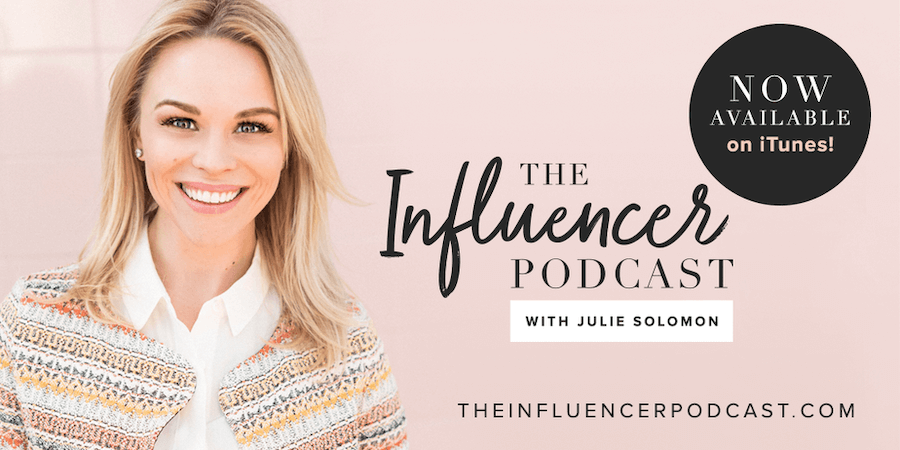 Hosted by Julie Solomon, you can enjoy one latest episode every week on The Influencer Podcast. Now a day, you can see many influencers around you.
If you are planning to become a successful influencer, then you can gather useful tips from here. From the podcast, you can follow tips on building, monetizing, and strengthening your influencer profile. 
The podcast also takes you behind the scenes of successful bloggers, influencers, and industry elites. The primary topic of discussion is how influencers engage, persuade, and grow. 
14

. Marketing Speak Podcast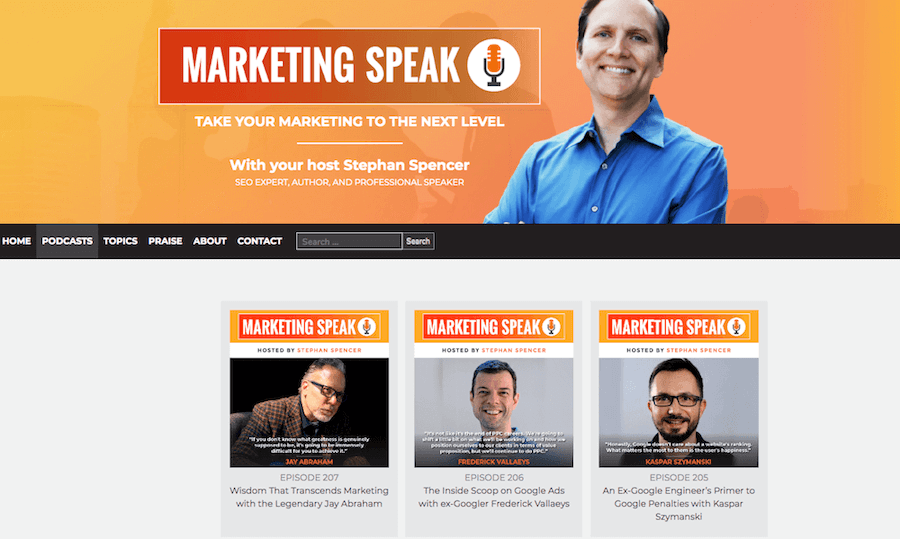 This podcast is run by Stephen Spencer, who is an SEO expert. In this podcast, he talks about marketing issues and how those issues can be solved.
You can find plenty of marketing knowledge in the Marketing Speak podcast. On his podcast, he deals with topics like:
15

. Unstoppable Success Radio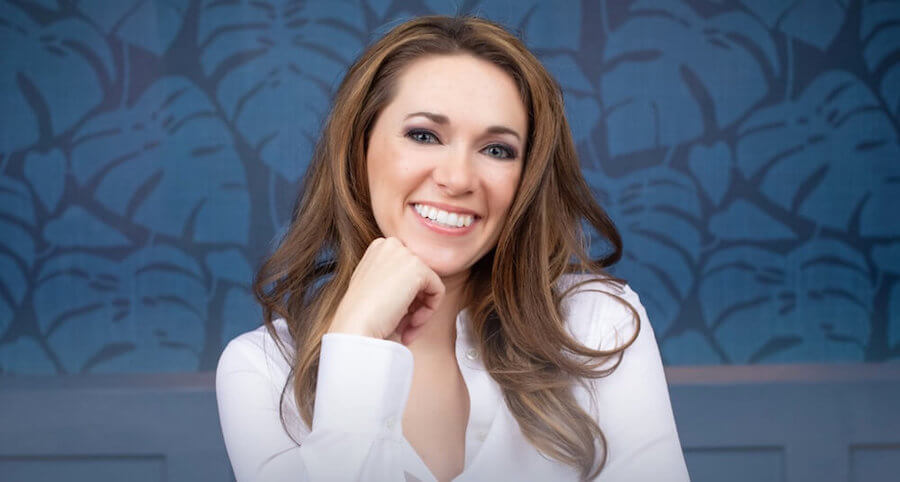 Kelly Roach, Fortune 500 Executive who turned into an entrepreneur mentor, later runs this podcast. It is a weekly podcast where Kelly discusses active mindsets and strategies.
All the episodes of Unstoppable Success Radio are packed with motivation and inspiration. With each podcast of Kelly Roach, you will grow your success quotient.
Unstoppable Success Radio has been featured on the top 100 marketing podcast on iTunes. With the help of this podcast, you can transform your life by spending around 20 minutes or less each week.
16

. Noah Kagan Presents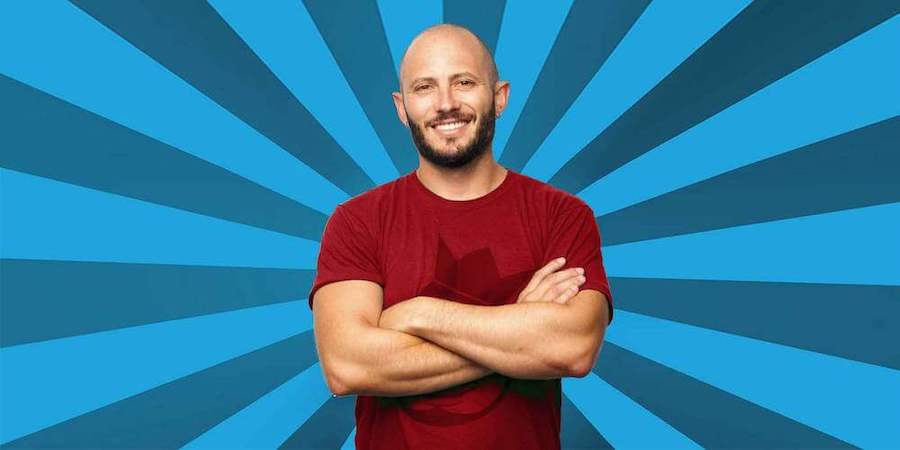 If you use marketing tools for growing your business, then you will enjoy listening to Noah Kagan Presents.
In this podcast, he shares all the strategies that he used to grow his happiness. The bonus point is that apart from providing you with digital marketing tips, you will get tips on growing your business, improving your productivity, living a happier life, and leading a more successful life. 
Guests in the podcasts include CEOs, entrepreneurs, consultants, and other successful people.
17

. Dream Business Radio
Jim Palmer shares marketing advice through his weekly marketing podcast the Dream Business Radio podcast.
He creates content through multiple channels, the podcast I an weekly affair that brings in actionable marketing tips and other information.
18

. Perpetual Traffic Podcast
Perpetual Traffic podcast is produced by DigitalMarketer and hosted by Ralph Burns and Amanda Powell. This podcast is all about the trending marketing topics that you must know about.
They cover all topics around digital marketing and if you wish to learn more about digital marketing, social media, the future of digital marketing, and related topics, you must follow this podcast.
19

. Masters of Scale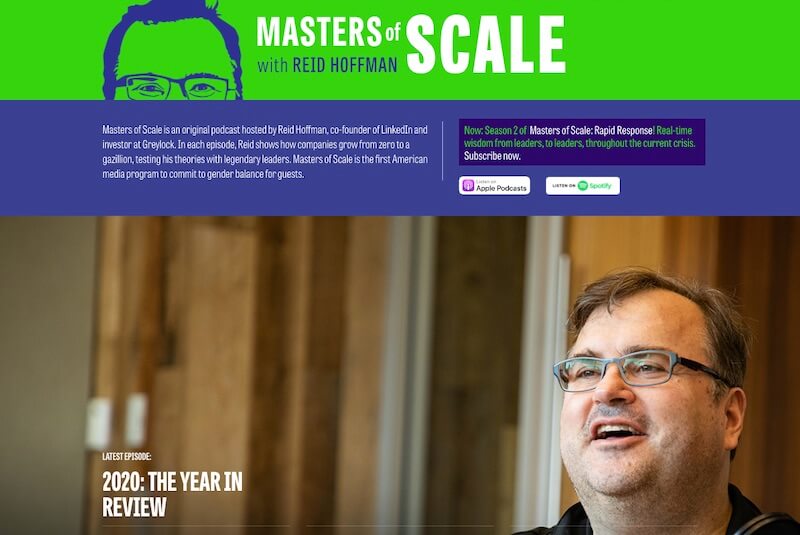 Masters of Scale is a business and marketing podcast to help you scale your business produced by Reid Hoffman, co-founder of LinkedIn.
So, if you are managing a business you can follow this podcast to learn insightful ideas to grow it quickly. You will have the opportunity to learn from some of the best and most successful minds in the business.
20

. Exposure Ninja
Exposure Ninja is a digital marketing agency that can help you to grow your business, drive more traffic to your website. They have a digital marketing podcast managed by the founder Tim Cameron where you can listen to some of the most important topics around digital marketing.
Other than digital marketing, you can learn about managing a remote business, marketing strategy, content marketing, search engine optimization, and all other related topics.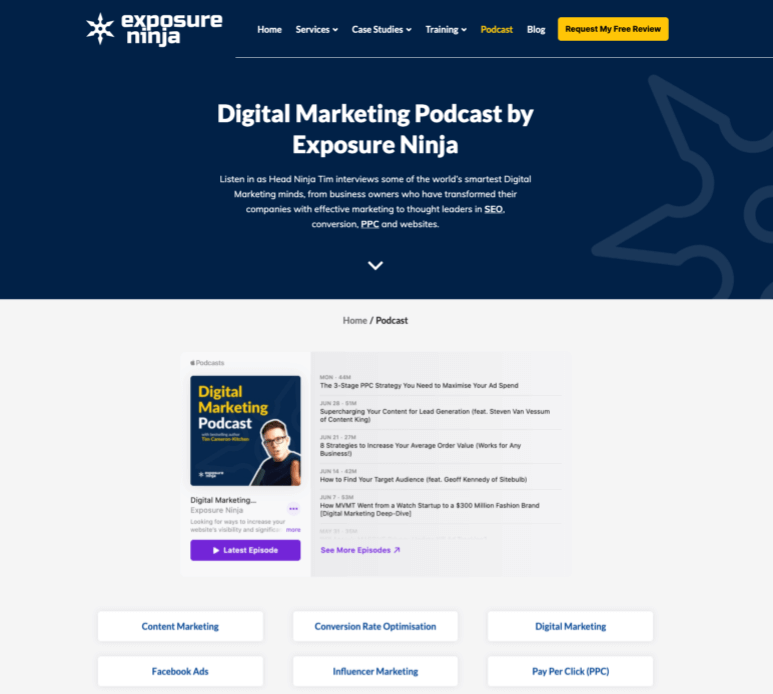 21

. The Content Strategy Podcast

A very useful podcast around content strategies, and it goes deep into digital marketing through content. Hosted by Kristina Halvorson you can learn all about content marketing from industry experts.

If you want to take your content and digital marketing to next level, the Content Strategy Podcast is a must to follow.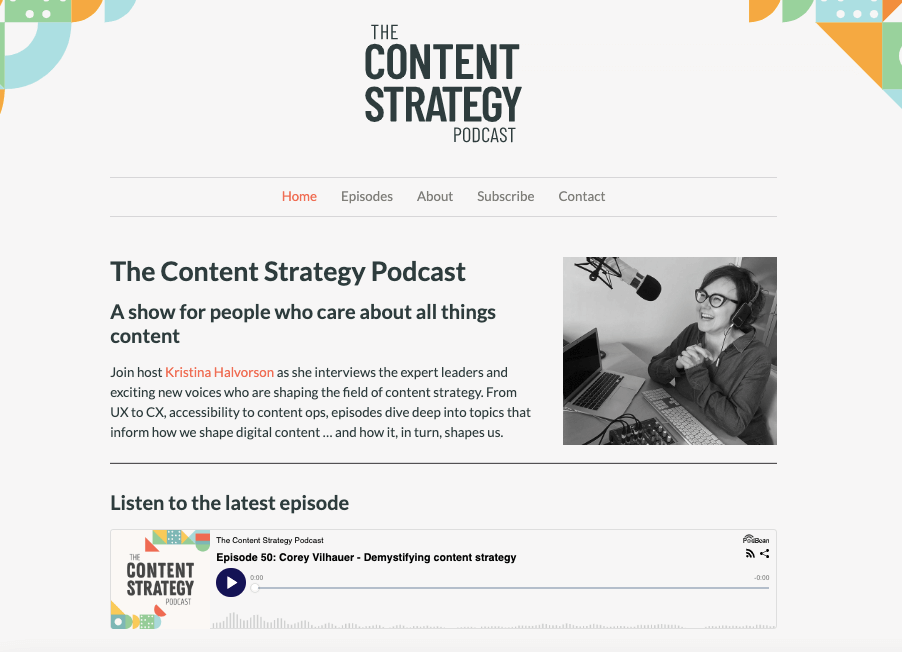 Wrap Up
It's time for you to check these podcasts and subscribe to the ones that you really liked. All the podcasts which are listed above can quench your thirst for digital marketing.
If I have missed any of your favorite digital marketing podcasts, please share them in the comment box below. And don't forget to tell me the one that you liked the most!