Looking for Semrush extended free trial? Here we have the offer for you and a detailed review of Semrush to help you understand the product better.
Semrush is one of the most talked-about and widely used SEO tools that will give you backend access to any website.
If you are looking for a comprehensive SEO management & marketing tool, Semrush is one of the best options that can help you to grow your business through an in-depth analysis of your own and your competitors' website.
When we talk about online business or digital marketing, there are hundreds of digital marketing tools that are created to perform different tasks.
Semrush is different from most of the digital marketing tools because it is not just an SEO tool or a competitor analysis tool, it is a toolset that can perform almost everything that you will need to grow your business.
I have been a Semrush user for years and it has been of immense help so far.
In this article, we will look at every aspect of Semrush toolset and how it can help you to grow your business as well.
When we talk about SEO tools or marketing tools, there are a number of them that you can do a good job, but you will have to pay for all those tools separately every single month.
An SEO analysis tool will cost you $100 or so every month. Similarly, if you go for a marketing tool to help with PPC, you will have to pay another $100 every month.
However, Semrush is a single toolset that offers you an in-depth SEO audit tool, keyword research tool, backlink analysis tool, gap analysis tool, PPC and other marketing tools for one single subscription.
So, without further ado let's dive into this Semrush review.
How to Get Semrush Extended Free Trial
We have an exclusive Semrush offer for BeginDot users to get an extended free trial of the product before you enroll for a paid account.
Click on this offer from Semrush and visit the free trial landing page. Click on the start your free trial option and proceed.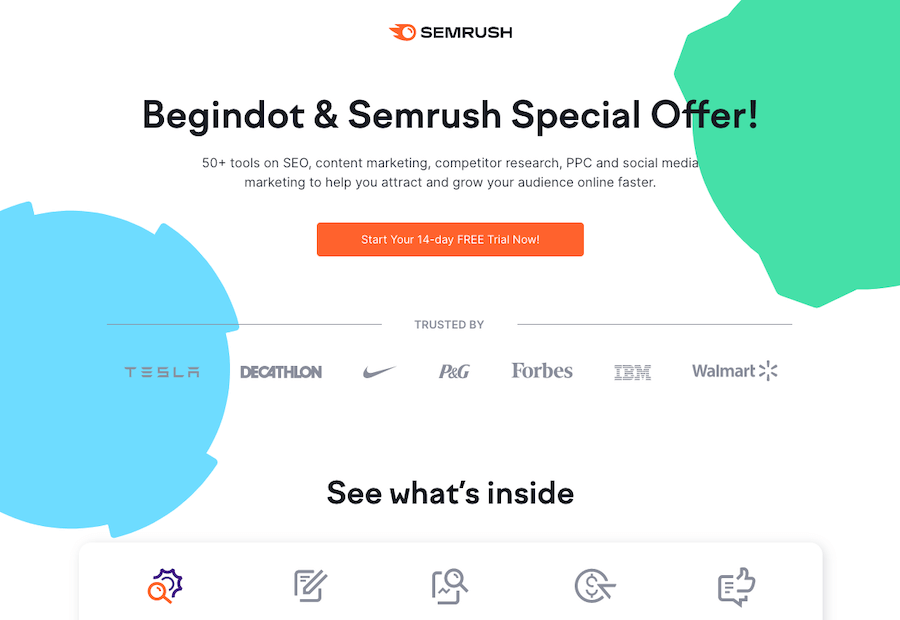 Create Your Account
In the next step, you will be asked to create an account on Semrush. You need to put your email ID and get started.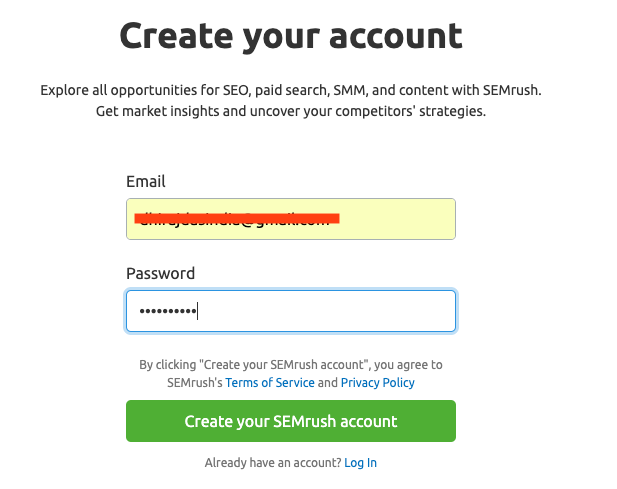 Next Step: In this next step you will have to fill in all your personal details and payment details. Fill in all your details and grab the Semrush pro account that is priced $119.95 FREE of cost.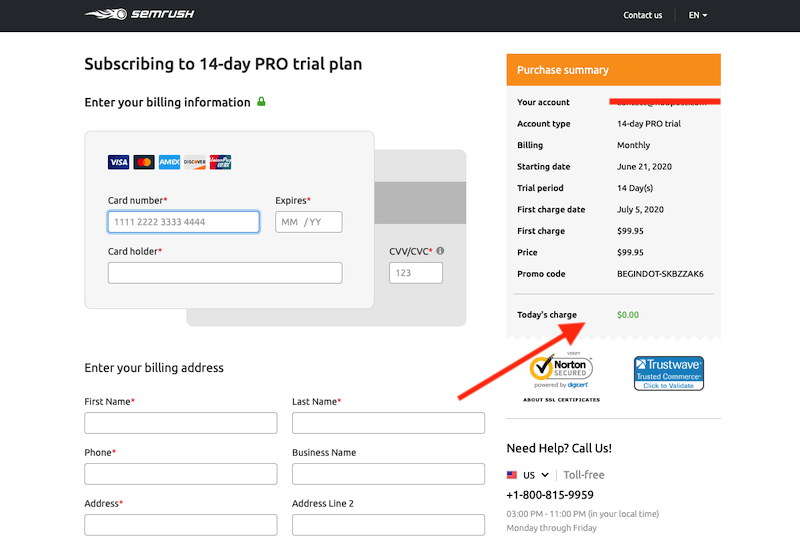 Details Review of Semrush
An SEO toolset that is used by millions. Get access to the data of any website.
Semrush Overview
Semrush is an SEO toolkit that offers you a number of different tools to perform different analysis for your own as well as your competitor site.
You can start with your own domain to understand where you currently stand and take it ahead from there.
You will find a number of different tools and dimensions to analyze under each of the broad toolsets.
The board-level toolsets include
Each of those broad toolkits are further sub toolkits, such as
Domain Overview
You can start with a domain overview of your own or any other domain that you wish to analyze. You can select the SEO Toolkit and make your search.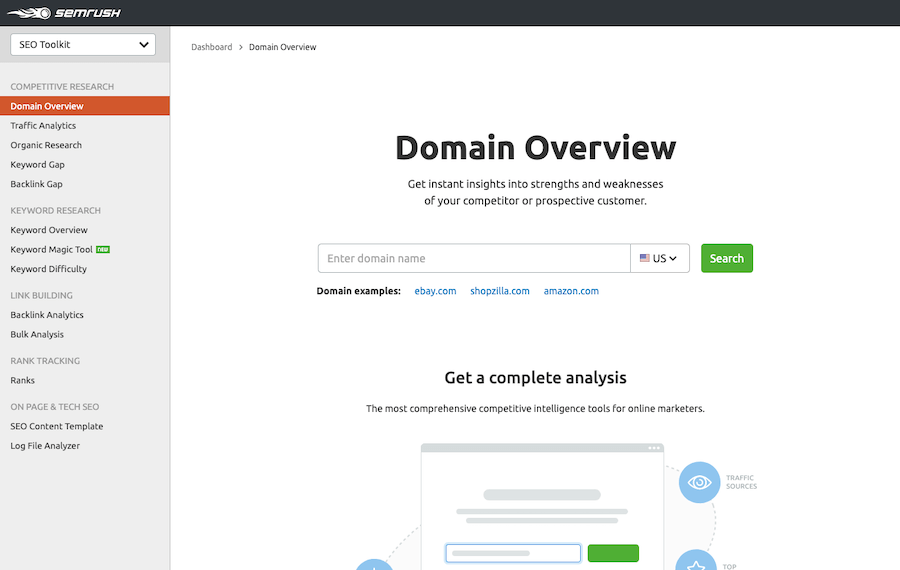 Organic Benchmark
As you start using the Semrush tool, first do a detailed analysis of your own site to understand where you stand at the moment so that you can use this data as a benchmark as you move ahead.
You can make a search for your domain and keep a note of the traffic, backlinks and paid traffic (if any)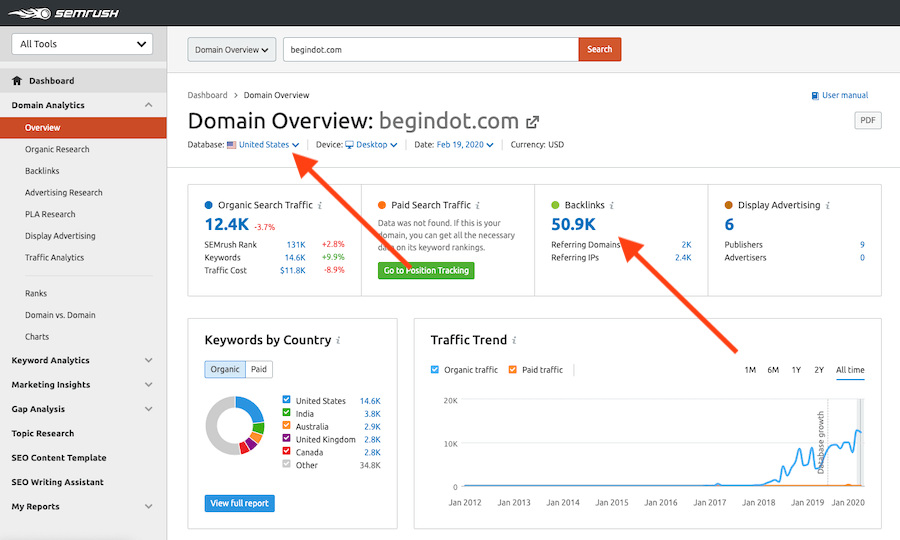 Please note: In this report, Semrush shows traffic volume for different countries separately as well as displays mobile and desktop traffic separately. We will go into the details of desktop vs mobile traffic below in the review.
Continuing the organic overview of a domain.
You will find a number of important detailed right on the overview panel that shows you the main competitors for your site, top organic keywords, organic traffic distribution, etc.
Here is a snapshot of the Search Engine Journal.
Organic Competitors
Knowing your competitors well will empower you to a large extent. When you are managing any online business, you must know who your competitors are so that you can keep track of their best practices.
The organic search competitor report will give amazing details, such as..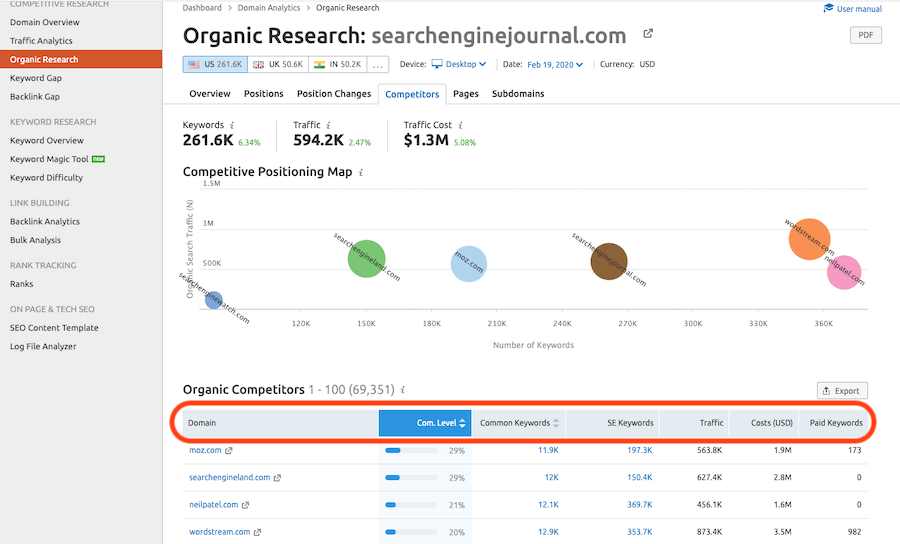 There is nothing more valuable than getting backend access to all your competitors. You will certainly find a number of new competitor sites that you are otherwise not aware of.
You can click on each of these competitor sites to get in-depth details of the top-performing pages on their site. You can also do a detailed analysis of their backlink profile. You get the exact pages where they have received backlinks from along with the anchors used.
SEO Toolkit: Overall Traffic Analytics
In the overall traffic analytics report under the SEO Toolkit, you will get the overall traffic of a site.
You will get other important SEO details as well, such as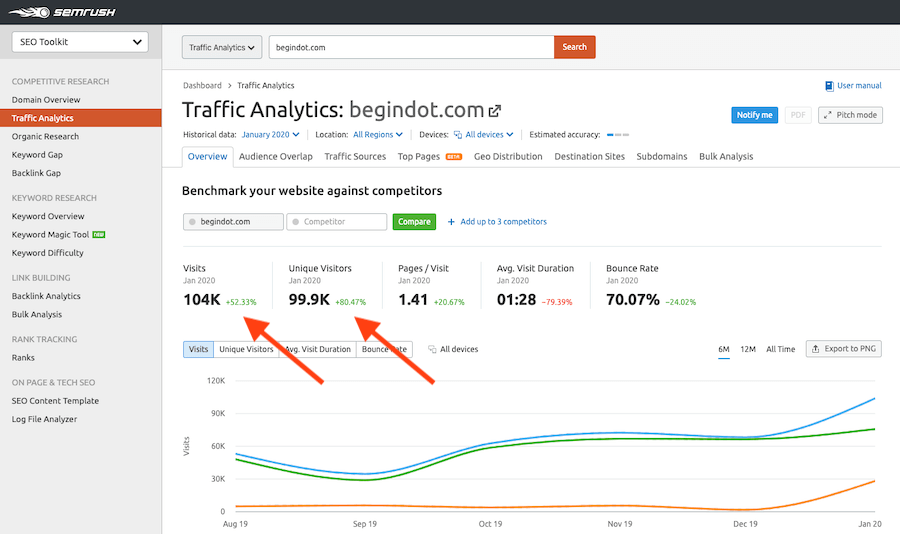 Top Traffic Countries
As you scroll down this page, you will find the top traffic countries of the site. This is important if you are planning to do some advertising for your product and you are analyzing the site you have selected.
If your target traffic is from the United States, there is no point in promoting your product on a site that gets most of the traffic from India.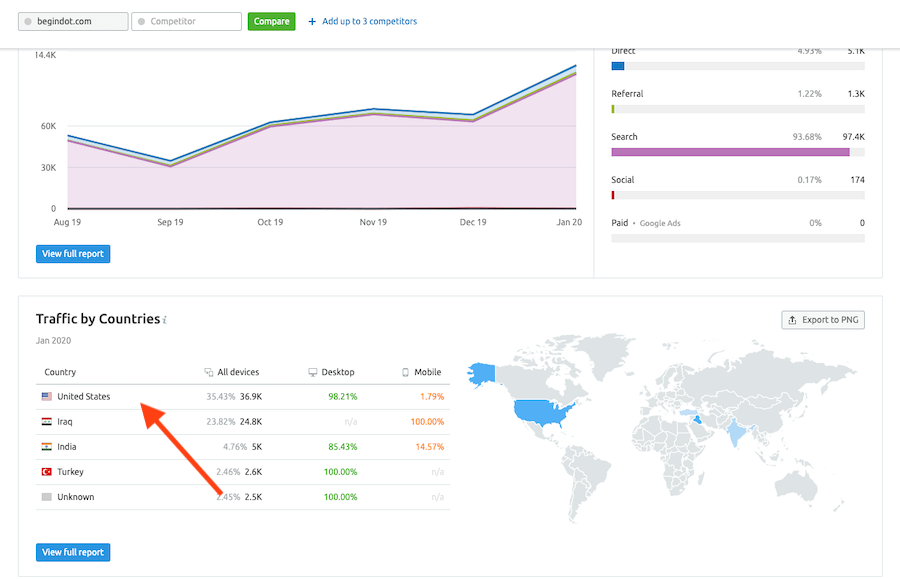 In-depth Spying on Your Competitors
Once you find who your competitors are, you can create the list and start your detailed analysis one by one.
Now, suppose Moz is one of your competitor sites. You can find out their traffic and the top keywords.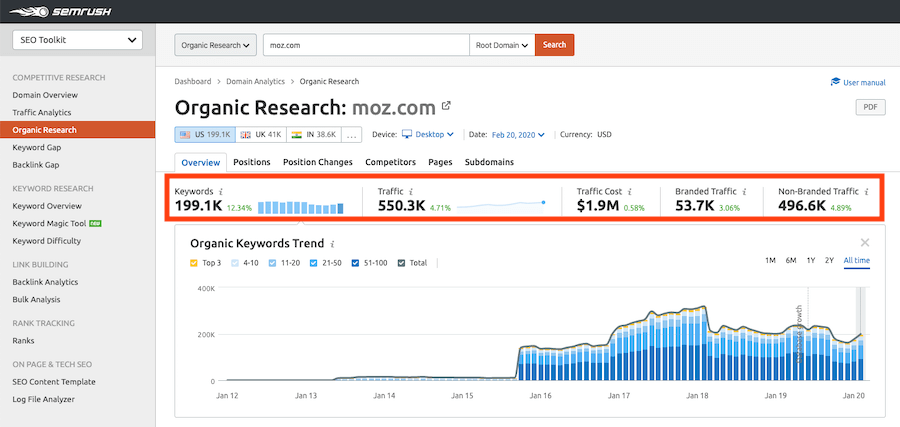 Organic Search Positions
Click on the positions tab and scroll down the page. You will see all the important keywords that your competitor site is ranking for.
Here you will get a number of important details for each keyword that will help you to plan your own content.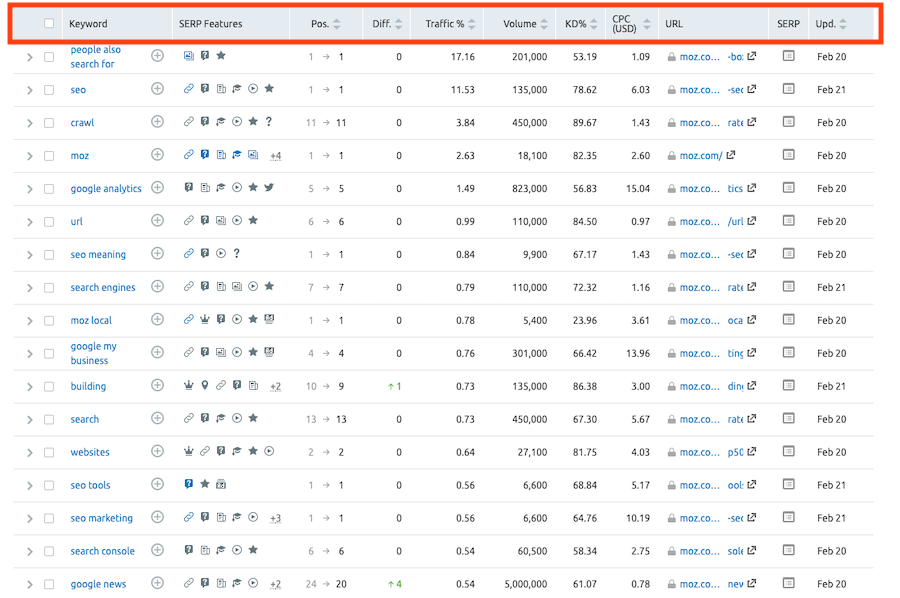 Desktop Vs Mobile Positions
Mobile traffic is big these days. According to Google, over 60% of traffic comes through the small screen devices and the position for keywords in the SERP could be different in desktop vs mobile.
So, you can do your own analysis of keyword positions on desktop as well as mobile phones.
Here you will get the details of the total number of keywords that your website is ranking for the selected device.
If you scroll down, you will see the actual keyword ranking details for the searched keyword with positons and other important details.
Desktop Data
Here you can see the keyword position details for Searchenginejournal. They are ranking for 267.1k keywords with the selected parameters like the country, device, etc.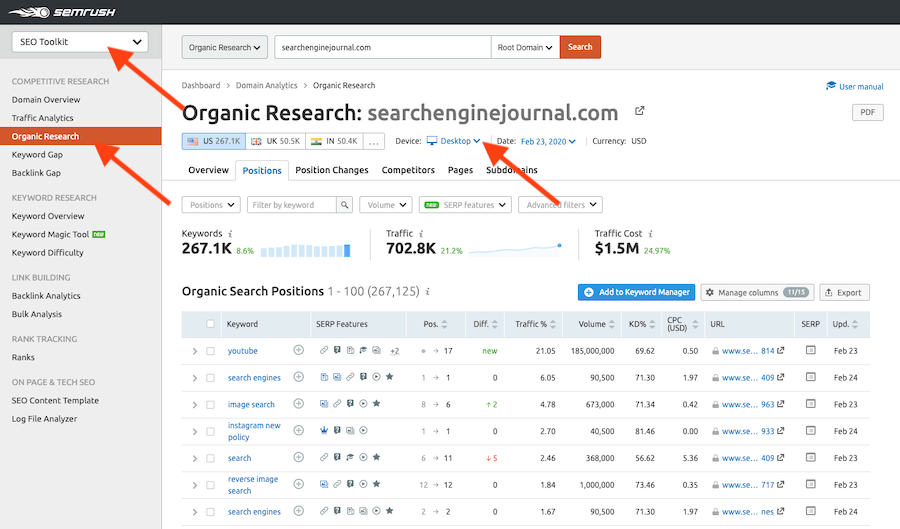 Mobile Data
If you look at the keyword position data for the mobile devices, the number if 15.8k which is significantly low as compared to desktop with all other parameters the same.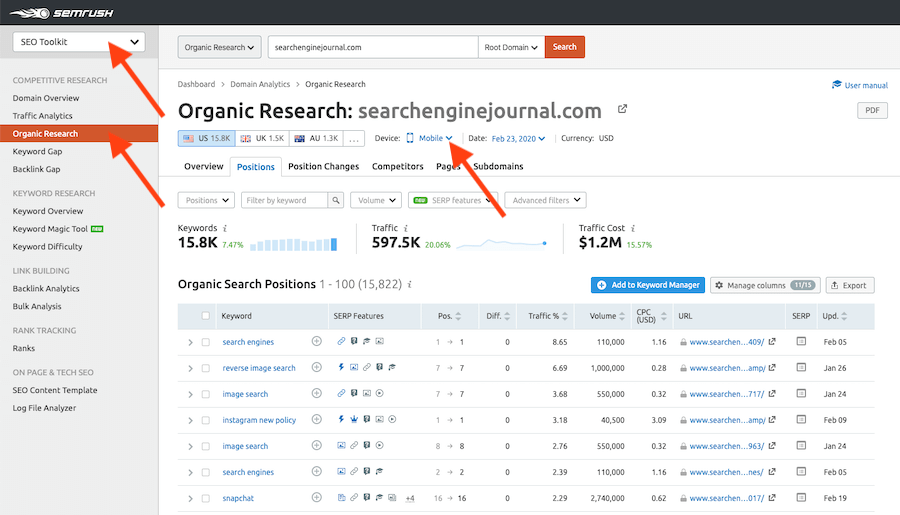 Along with the positions, the keywords that bring in more traffic could be different in desktop vs mobile phones.
Traffic Analytics Report
The traffic analytics report provides us the overall traffic estimation for a month of a website to the root domain. There are a number of different filters that you can use to analyze it further such as location, device, etc.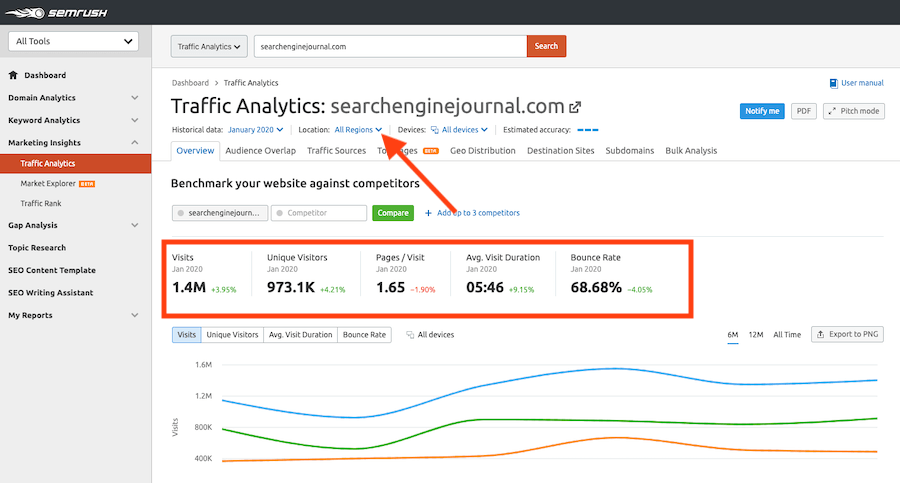 Competitors Traffic
In the traffic analytics report, you have the option to add any of your competitor sites and compare the traffic details.
In fact, you can add multiple domains and check all the details about traffic.
You have multiple other important parameters to check in the competitive report, such as audience overlap, traffic sources etc.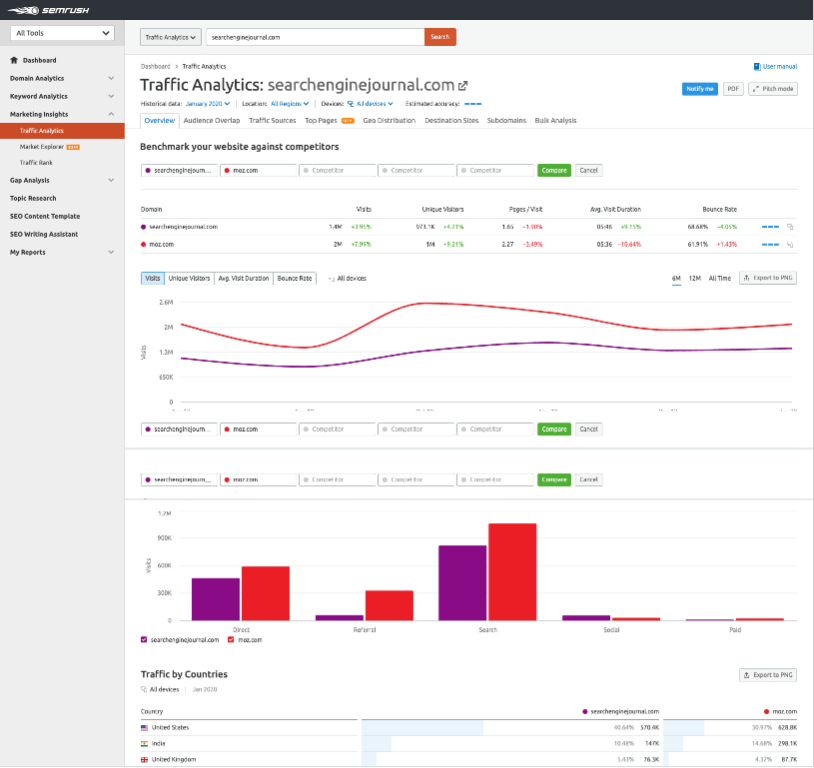 Keyword Magic Tool
A very useful tool from the Semrush SEO toolkit, the Keyword Magic Tool will help you to find thousands of keywords related to your niche that you can work on.
Once you type in the broad-level keywords, you will get hundreds of related long-tail keywords that you can work on.
You will have all the important details like Keyword Difficulty to understand how easy or difficult it is going to be to rank for that keyword.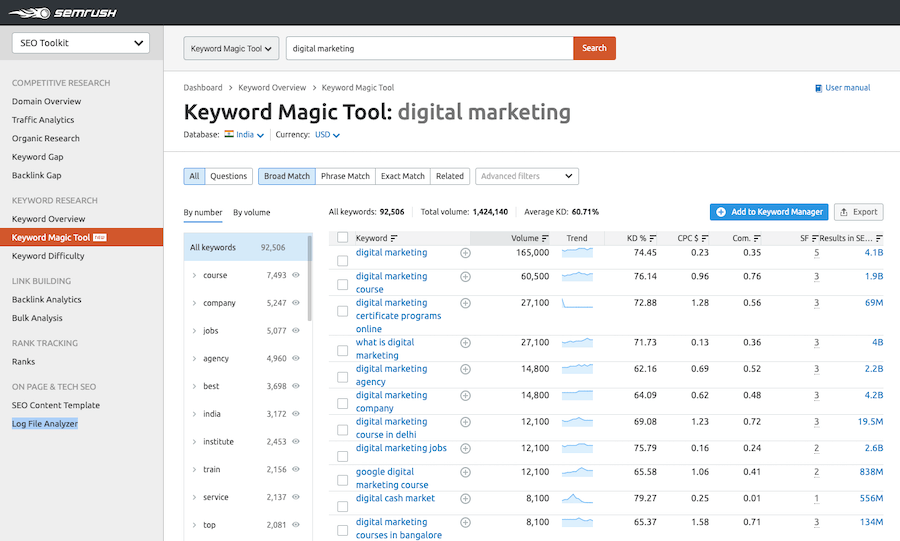 Keyword Gap Analysis
The keyword gap analysis tool is another very effective tool offered by Semrush.
You can do a detailed gap analysis of your website in comparison to your top competitors.
Just go to the Keyword gap analysis tool and add the domains that are your direct competitor to find the potential keywords that you can work on.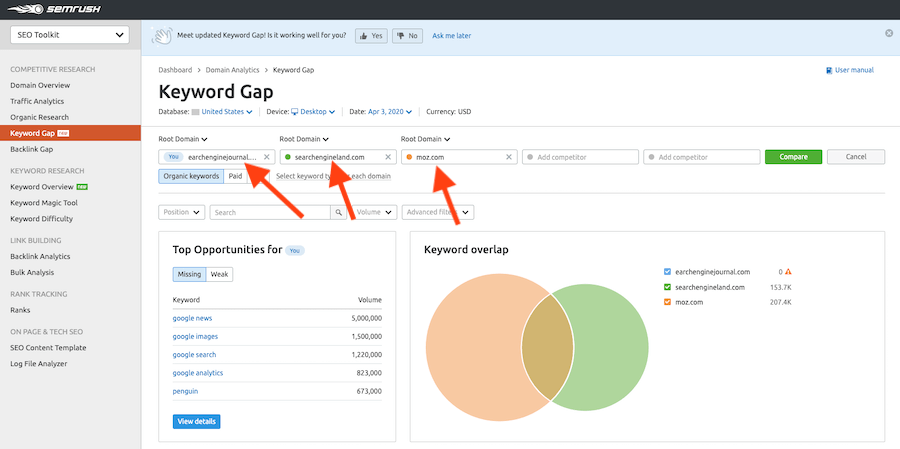 Keyword Overview
Now, once you find a keyword that you wish to target, you can click on the keyword to analyze it further. The Keyword Overview Tool will give you a detailed analysis of the chosen keyword.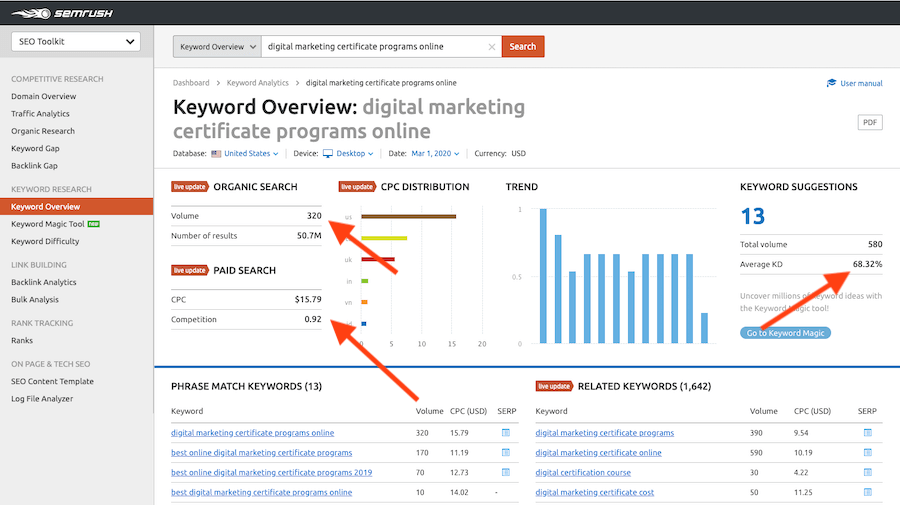 Benchmark Your Keyword Difficulty Level
Keyword research is one of the most important parts of any successful blog. It is difficult to be on the correct path if you don't do your keyword research right.
A tool like Semrush makes it extremely easier for you to do your keyword research right.
Now, what do we mean by benchmarking your keyword difficulty level?
Semrush gives you the difficulty level for each keyword while you find any keyword in the tool. In fact, it has a separate Keyword Difficulty tool that you can use to find the difficulty level of a keyword.
Check Keyword Difficulty
To check the keyword difficulty level for any keyword that you want to target, follow this path.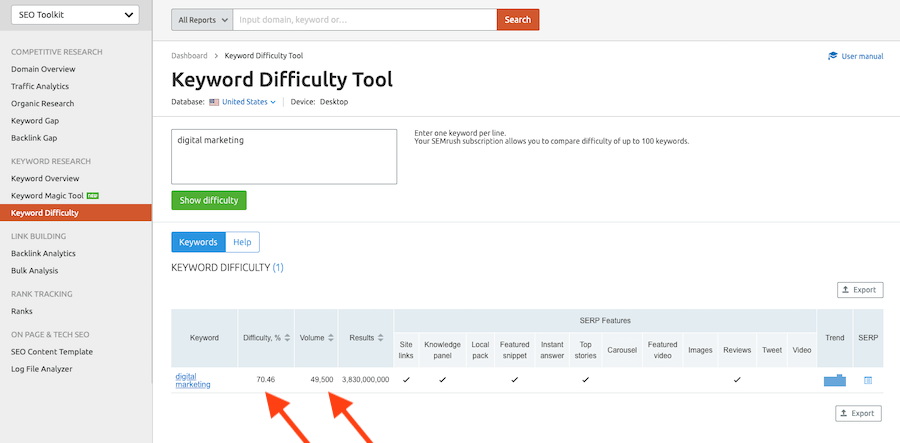 Build Backlinks With The Help of Semrush
Backlinks are one of the most important components of the search engine algorithm. Every backlink is considered as one vote for a page.
However, backlinks can ruin your website if you don't do it in the right way. To start with, building backlinks is against Google webmaster guidelines, rather you should look to gain backlinks.
How are these two aspects different?
Creating backlinks is the process of adding your links anywhere possible while gaining backlinks is the process of creating high-quality content that naturally gains links from other sources.
But the fact is that almost every site builds links some or the other way. So, to be safe you must know how to build links in the most appropriate way.
Now, when it comes to building links, Semrush can be extremely effective. The tools offer a separate section around link building.
You can start your link-building process just by making a search for your competition domain.
For example purpose, we are taking Searchenginejournal.
As you can see in the image below Searchenginejournal have over 22.1 million backlinks from close to 50k domains.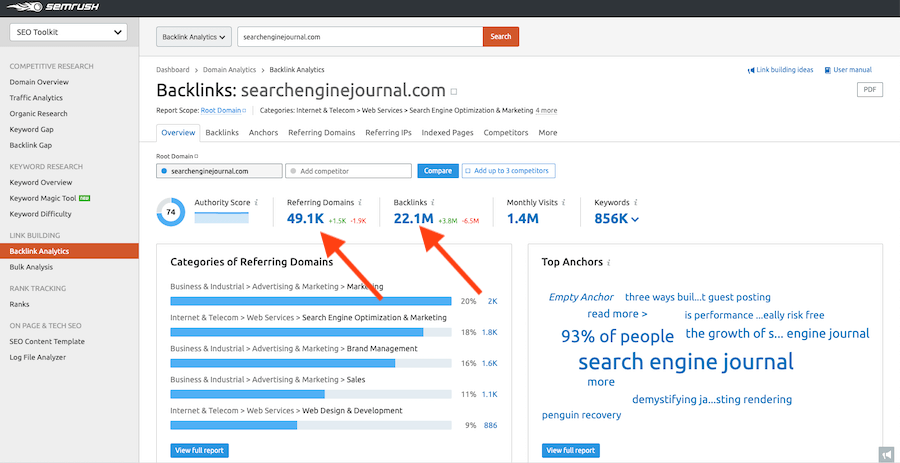 Considering Searchenginejournal as your competitor site. You can do a detailed analysis of their backlink profile. You can check the individual backlink pages, the anchor text and all other details so that you can replicate similar links for your site as well.
In the backlink tab, you get the details of the individual backlinks and a summary of follow vs no follow links.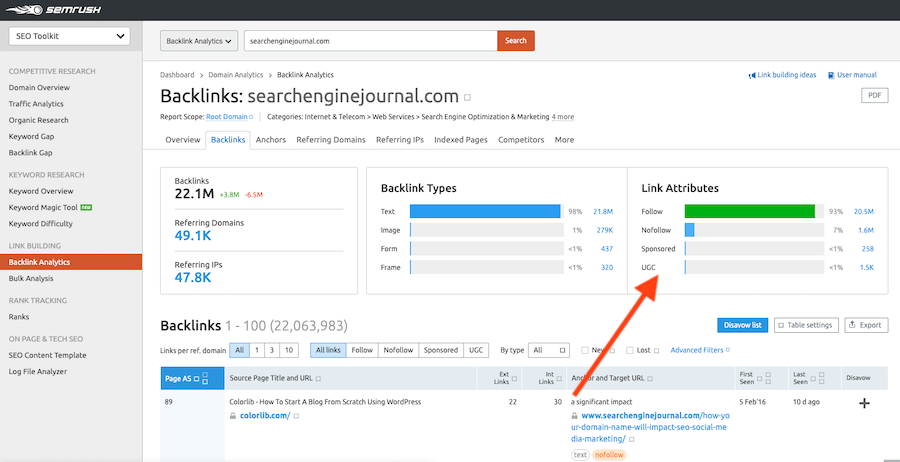 Advertising Toolkit
We have gone through the organic SEO traffic analysis so far. What about the paid traffic. If you are managing an eCommerce website, the paid traffic competition is very critical.
Semrush gives you the toolkit that you can use to do detailed research on the PPC campaigns and how you can drive more paid traffic through Google Ads.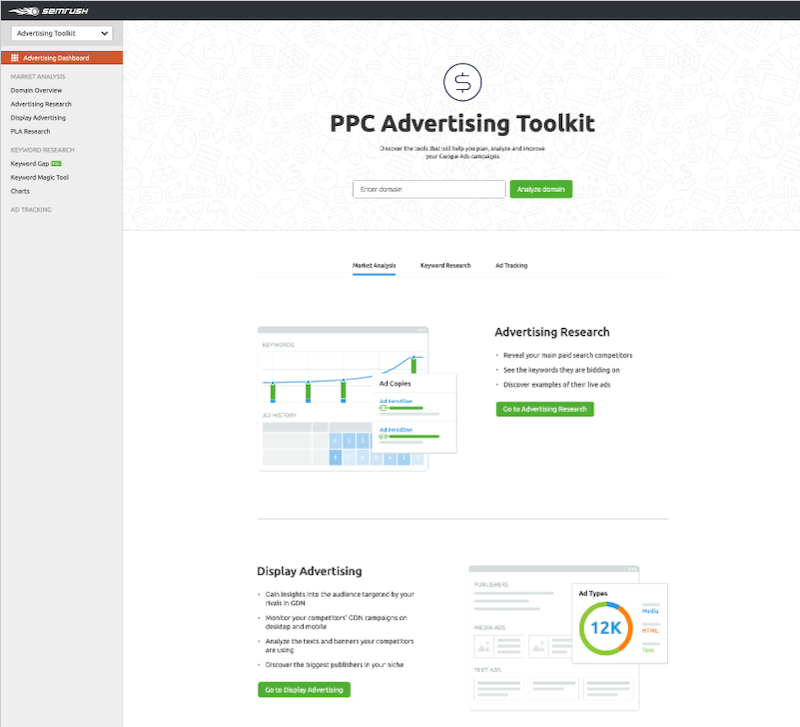 Get Details of Paid Advertisement
Get complete details of paid traffic and advertisement to any domain.
You can get the paid traffic details.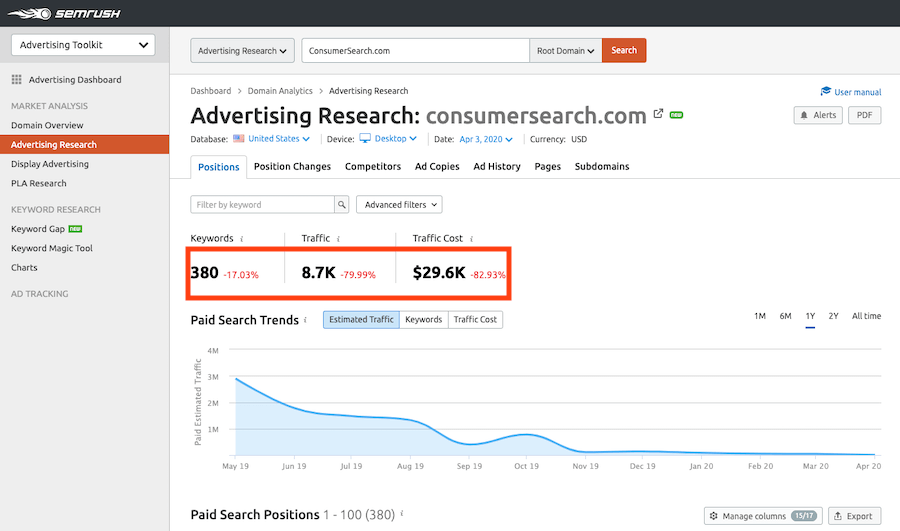 Research Ad Copies
If you have a new product and are confused about the ad copies, you can use Semrush to do detailed research on similar product-related ad copies to get some idea.
Here you will get the exact text and the keyword details of the Ad Copies used by that domain.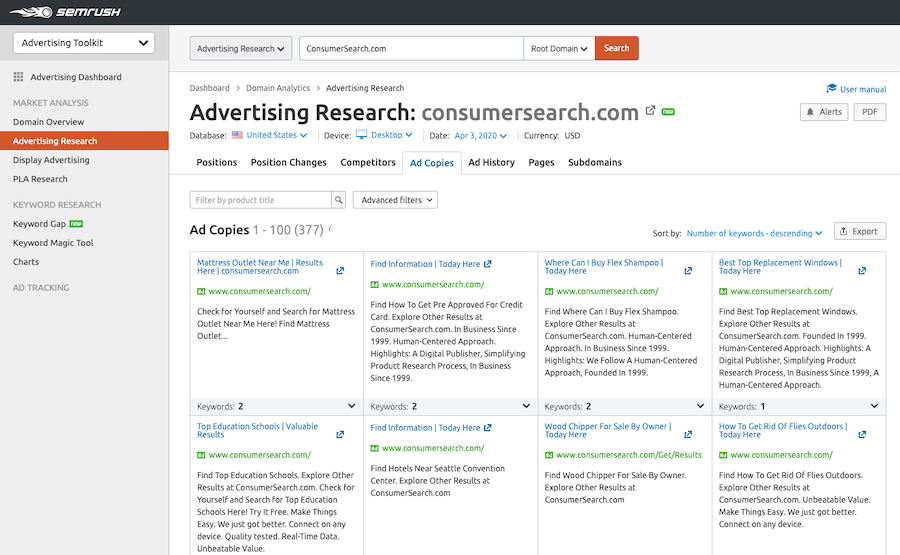 Content Research Toolkit
When it comes to online business & blogging, everything comes down to your content.
Semrush offers you a comprehensive content research toolkit that you can use to improve your content strategy.
If your broad topic is Yoga, you can find unlimited content ideas using the Semrush Topic Research tool.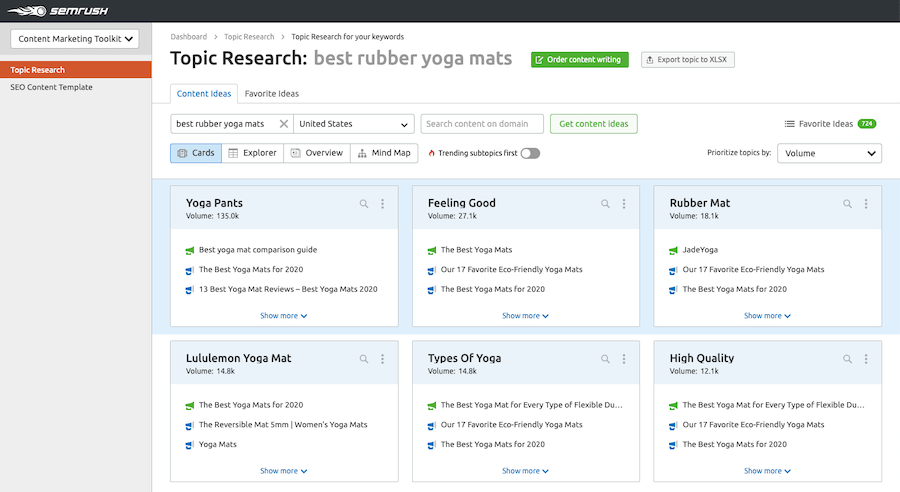 You can also sort content based on ranking difficulty. If your site is relatively new, you can target the keywords that are relatively easier to rank for.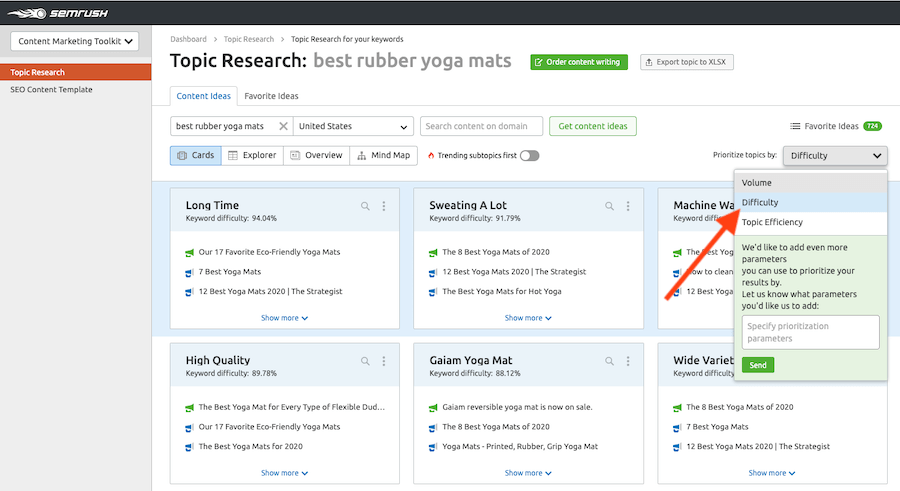 Optimize Your Content for FAQ Schema
FAQ Schema is big these days as it gives your content extra attention on the SERP.
Here is how the FAQ Schema looks in the search results.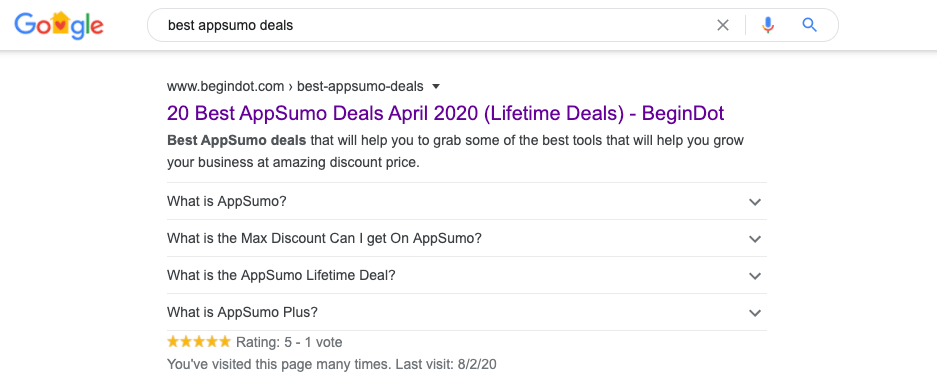 Optimize Your Content for FAQ Schema
You can use the Semrush Content Research Toolkit to find the relevant questions around any topic.
If you are doing keyword research using the Content Research tool, you will get a number of related questions that you can use to optimize your content for the FAQ Schema.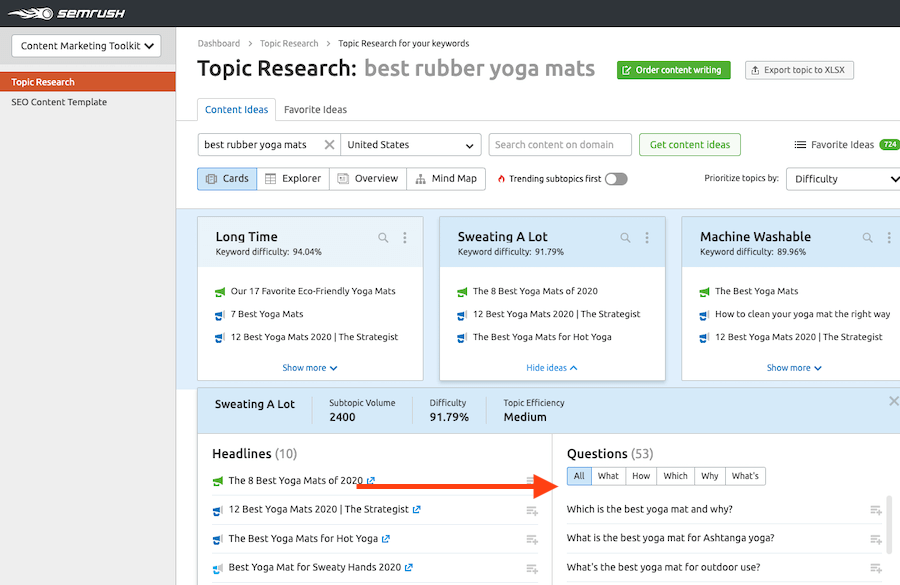 Create SEO Content Template
Semrush offers you the option to create an SEO content template. To create your SEO content template follow this path.
The system will give you a number of suggestions based on the top 10 results.
We have checked the keyword "Yoga Mats" and based on the top results, we have received a number of suggestions.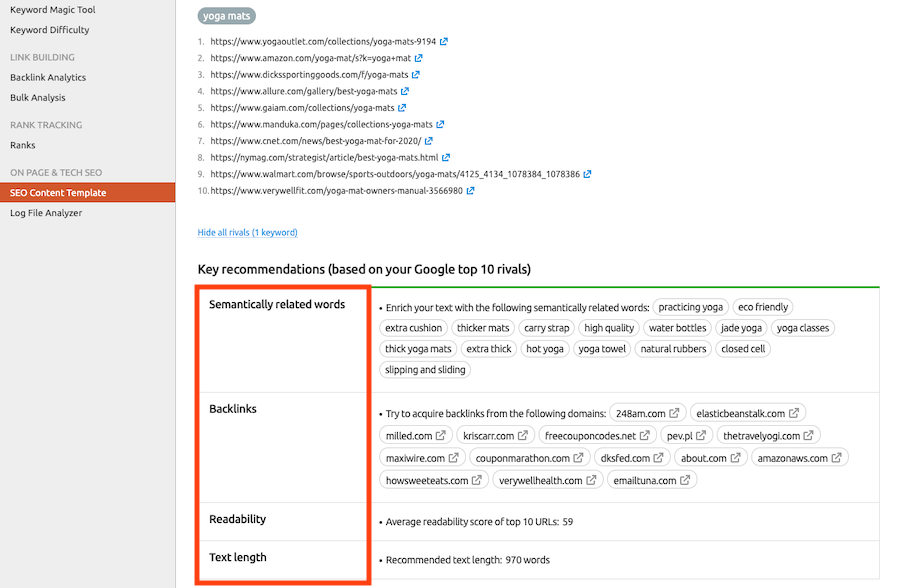 Not just the keywords and backlinks, when you scroll down the page, you will get details of how they have used the keywords in the article for a much better understanding.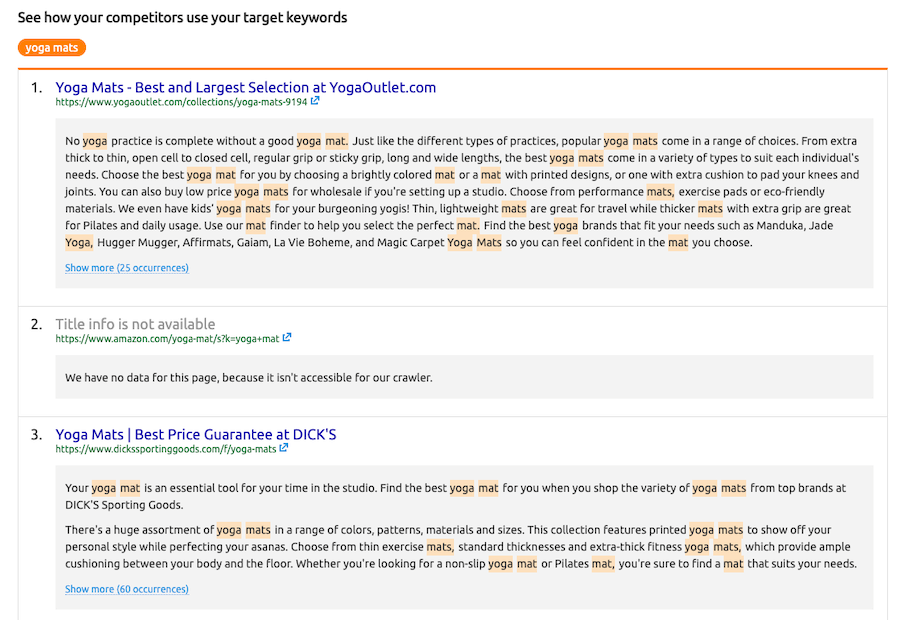 You also have the option to export the recommendations to your blog post and work on that.
What Makes SEMrush Different
There are a number of tools like Semrush that you can use for your online business. However, Semrush stands ahead of the competition in many aspects.
Most of the competition tools offer specific features, such as keyword research, some offer social media analysis, some of them offer backlink analysis.
However, Semrush is a single platform with multiple toolkits that will offer you a 360-degree analysis of all the important aspects of your online business.
So, you don't have to go for different tools for different analysis.
Also, the kind of in-depth data Semrush offers is undoubtedly the best in the industry.
You will have a complete overview of your competitor site at any point in time helping you grow your business.
Here we have a custom offer for BeginDot users. Don't miss it.