This is a collection of some important SEO tools that will help you to grow your online business. Search engines are a great source of free traffic that you should never ignore, these tools will guide you through the process perfectly.
To drive traffic to the website, website owners should optimize their sites for search engines.
Search engine optimization will increase the ranking of the website in the result pages, resulting in generating more clicks and higher ROI.
For a blogger, their content is everything they have for higher rankings. They have to optimize their content to rank higher which they feel is very difficult.
There are specific SEO tools that give reports about your website and improve your site for search engines.
If you are among those bloggers, then here are the top ten SEO tools that will help you in growing your blog.
Don't forget these two articles about the best SEO-friendly WordPress themes and top SEO WordPress Plugins.
Important SEO Tools to Grow Online Business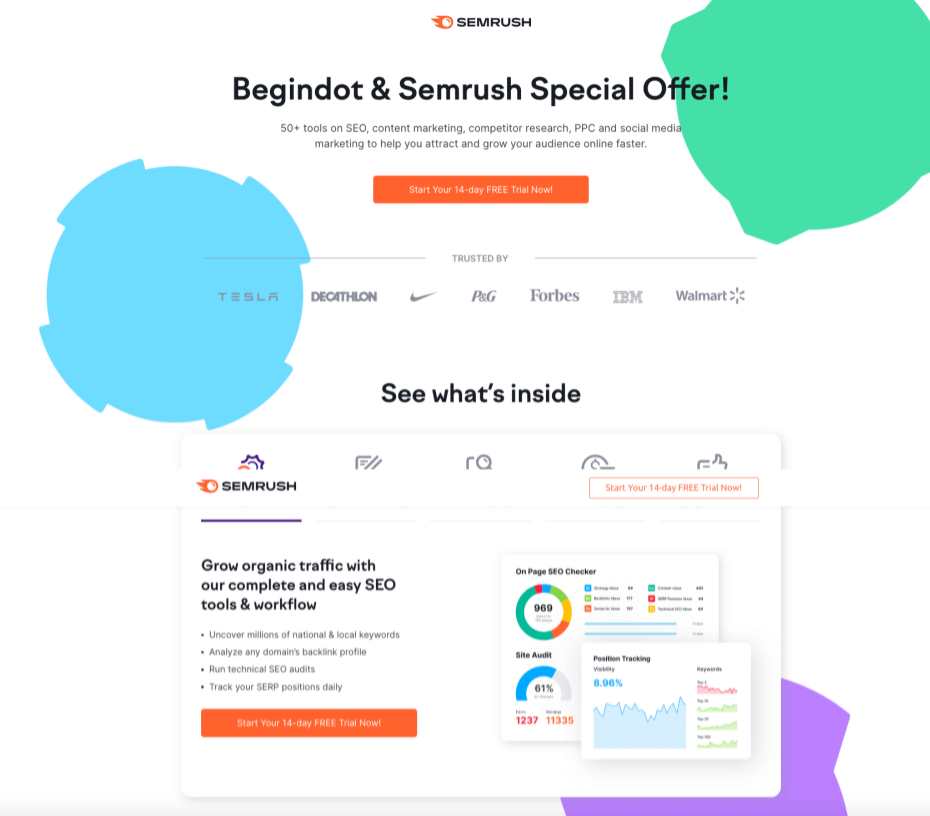 Analyzing the competition is also necessary to create an effective SEO campaign. Semrush is one of the best tools that allow you to research the competitor's website and their keywords in both organic and paid search.
Semrush is an all-in-one SEO tool set that you can use to do a lot of analysis. You can use it to analyze your own site for SEO. You can check the top-performing pages of any site to get an idea of the kind of content you can work on as well.
Keyword research is another important aspect of the tool. You can do deep keyword research using Semrush. You can check any keyword and you will get a list of all the related keywords with total search volume, CPC rate, and the difficulty level to rank for that particular keyword.
We all know that keyword research is extremely important before you even start planning your content. You must target the right keyword otherwise it will be difficult to rank if your site is new.
You can also use Semrush for link building. You can start the process of building links by checking the backlink profile of your competitor's site. You will get all the details of the links, the page linked from, the anchor text and all other details. So, you can easily target similar links for your site.
The backlink tool by Semrush is very useful when you check individual pages. If you are trying to rank a page on Google, you can do a detailed analysis of the pages that are already ranking on the first page of Google.
So, overall Semrush can be a very useful tool when it comes to improving ranking in search engines.
Let's look at how it works, you can also refer to our Semrush review to know more about the platform.
You can start with domain analysis of any site that you want to analyse. It will give you a number of important details such as total traffic to the site, the overall backlink profile and other details.
You can click on those numbers and go to the details of those analysis.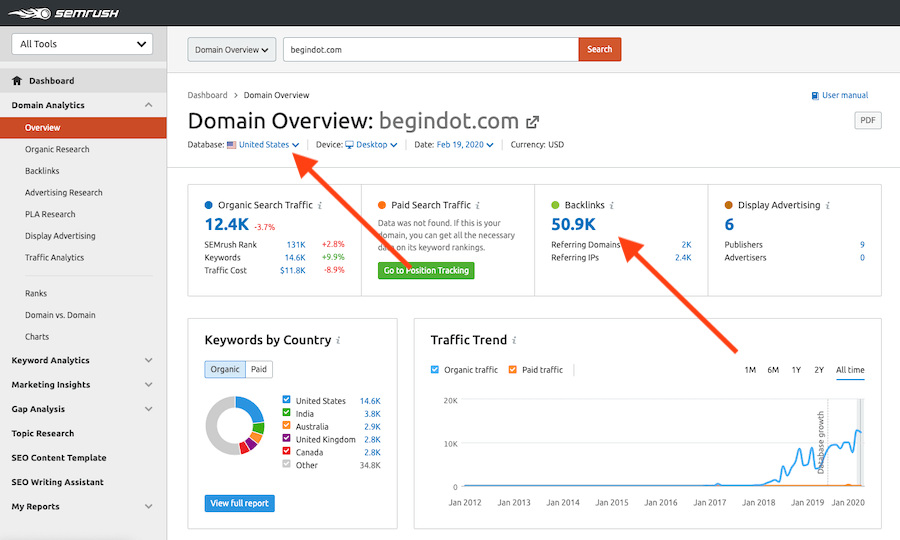 You can find your top organic competatiors and do a detailed analysis of those sites to find their top performing pages, backlink profile, top keywords and more so that you can plan your content accordingly.
When you are starting a new business, Semrush is one of the most important tools that can be of imanse help to take your business off the ground by providing you all the important data of the sites that are already doing good in your niche.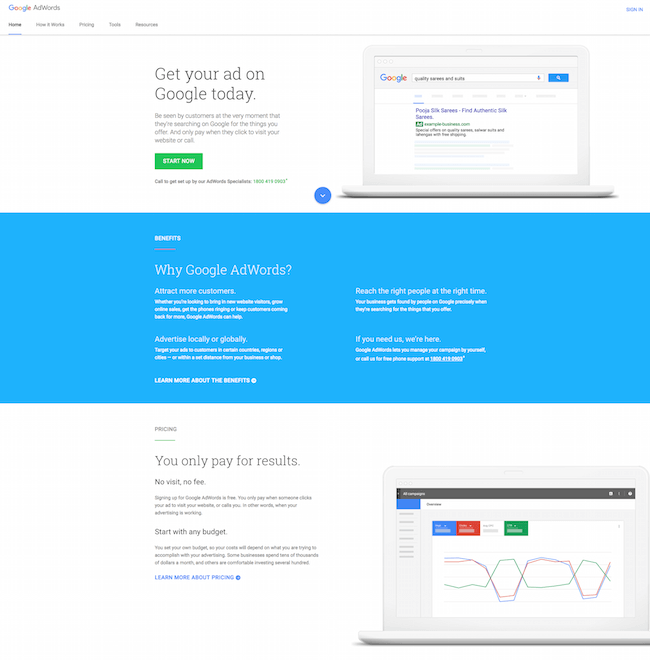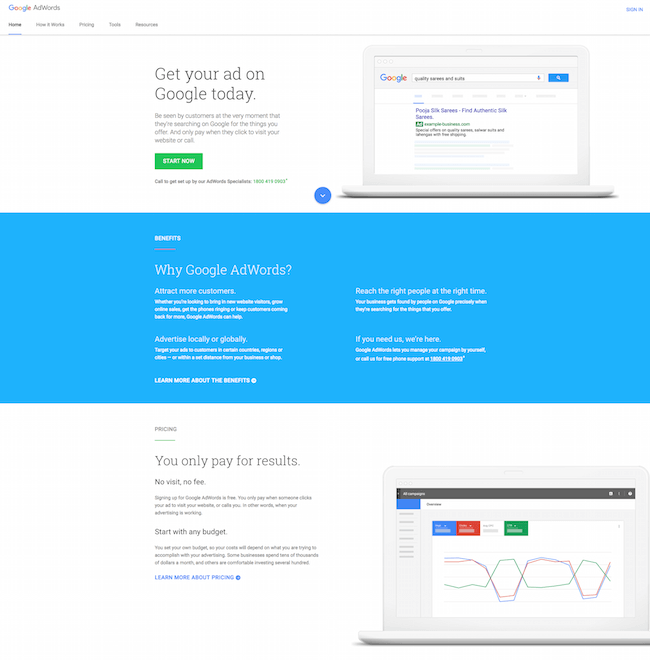 Google is the king of search engines and ALL the websites are optimized keeping in mind Google's search engine algorithms. The first step for SEO is picking out the right keywords and integrating them into the content.
Google AdWords can pick out the keywords that are popular and may help you in ranking higher. You can insert your keyword in the content and check its ranking over the next few weeks and months.
Moreover, the tool shows the keyword's competition, density, and global and monthly searches.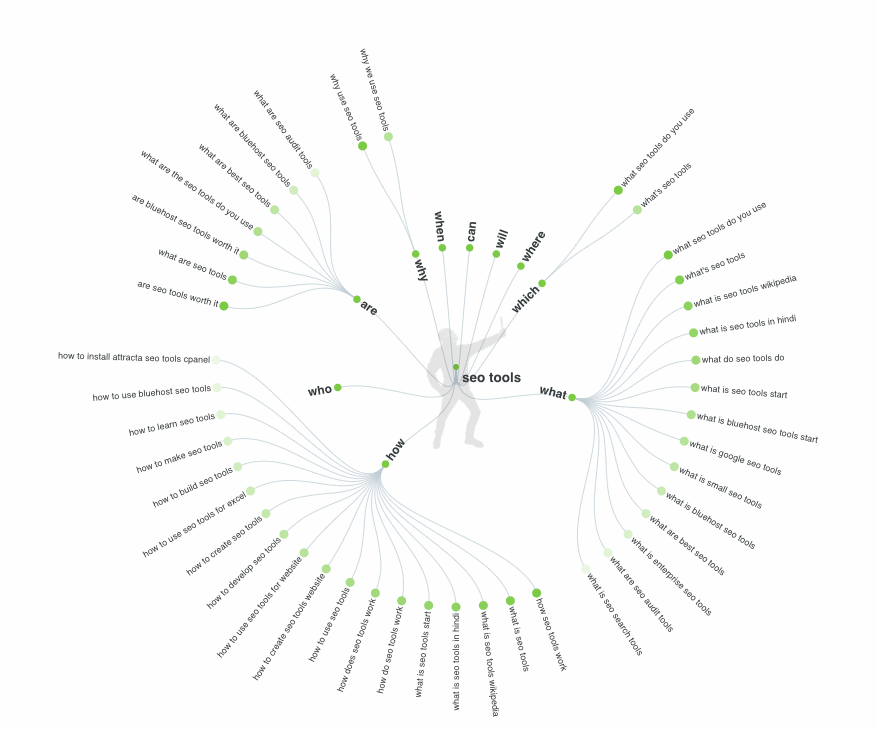 One of the best tools to discover new keywords and content ideas for bloggers and marketers, Answer the Public is one of the important tools on your SEO toolset.
Also, if you are looking for more related keywords that are linked to your main keyword, Answer the Public is the best tool to find it.
There is a lot of discussion around the context of an article these days. Search engines like Google read the context of the article by looking at the content. So, the related words and keyphrases become even more important.
Answer the Public search the web, forums and discussions to understand the kind of questions that users are asking. The keywords that are provided by the Answer the Public tool are highly actionable and important from the users' point of view.
So, here we made a search for the keyphrase SEO tools, and it instantly offered us some of the important keywords and questions that users are asking around the "SEO Tool" related keywords.
PromoNavi suggests a wide range of tools for digital marketers, including Keyword Planner. With its help, you can quickly find effective keywords for your SEO or PPC projects.
The key features of PromoNavi's Keyword Planner:
Three types of keywords: Phrase-match keywords, Related keywords, and Google Auto Completions.
Detailed stats for each keyword: Search Volume, Keyword Difficulty, Estimated CPC.
Seasonality trends with monthly breakdown for each keyword.
Quick filters and keyword grouping options.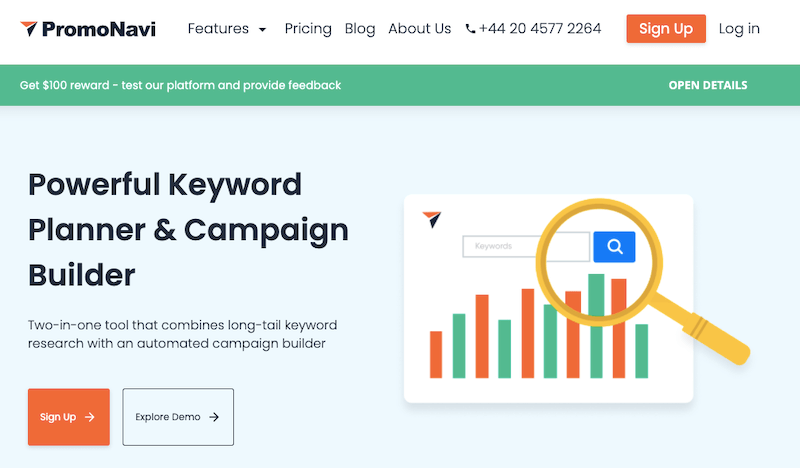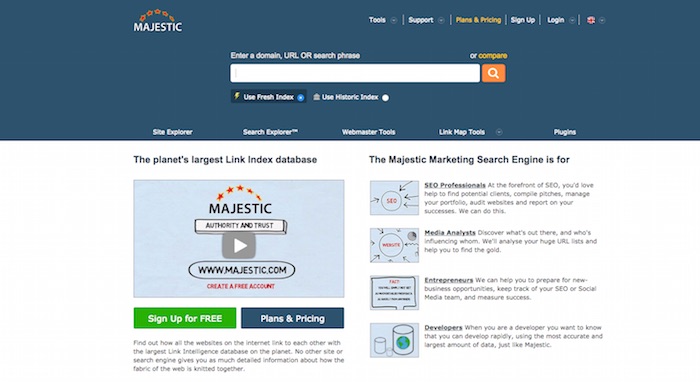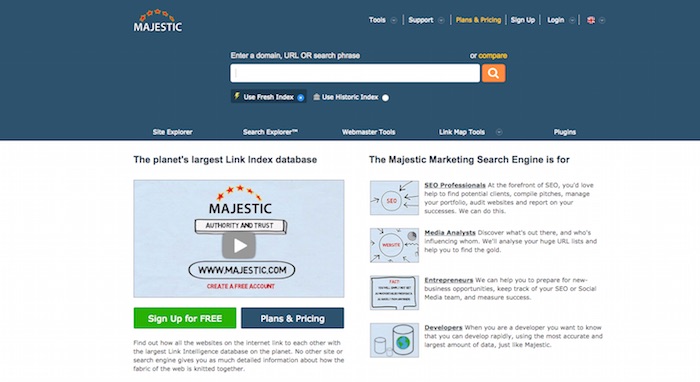 Majestic is an SEO tool that will help you in knowing the entire SEO metrics of your website. It focuses on link building and domain-based metrics.
Moreover, this tool offers Site Explorer, Keyword Checker, Clique Hunter, Backlink History Tool, and Comparator.
The tool can be used free of cost, but it has a premium version that offers all the features without any limitation. One distinctive feature of this tool is that it lets you compare your website with your competitors.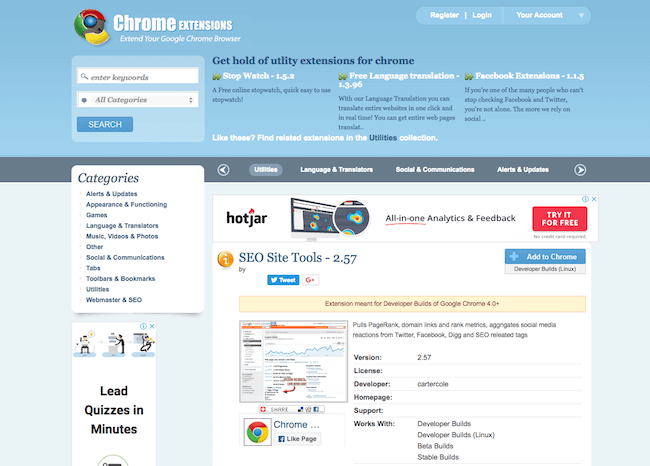 This is not a desktop software or a web-based program; rather it is a Google Chrome extension that allows you to analyze the website's SEO metrics. It provides you with information like title tags, meta keywords, meta description and image ALT tags on your website.
When you know about this information, it is easier to rectify the mistakes or issues about the website and assists your website in ranking higher.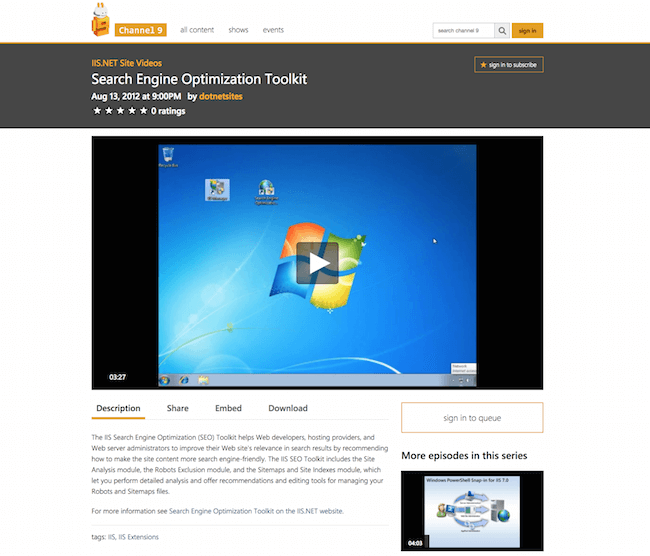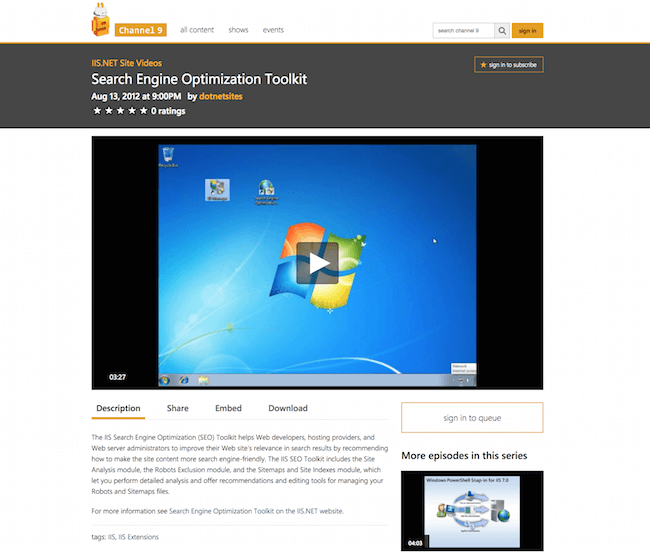 This tool is an all-in-one SEO tool that has Robots Exclusion, Sitemaps, and other similar modules. The tool is equipped with a crawler engine and a query builder interface that will help you in generating custom reports of your website.
You can allow or disallow the robots paths and also lets you view, delete or edit the sitemap and index files. Moreover, you can register a sitemap into the robots extension file.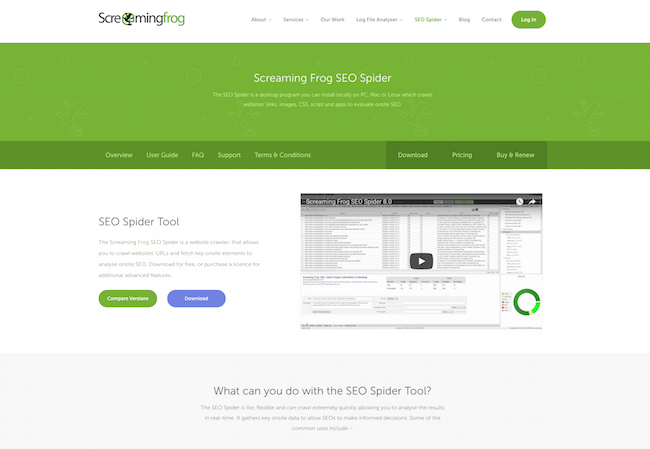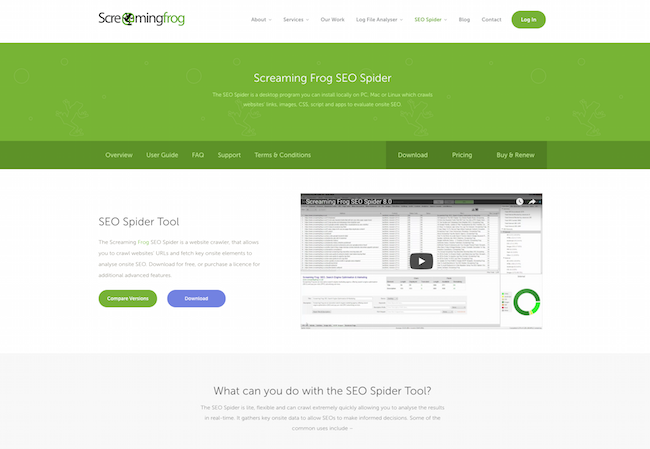 This tool is a desktop program that allows you to crawl website links, CSS, images, and onsite SEO. Moreover, this software can find broken links, find temporary or permanent redirects, analyze page titles and metadata, find duplicate content, generate sitemaps, and review robots.
You can also integrate this software with Google Analytics and fetch all your user data. This tool is supported by Windows, Mac, and Linux. You can use this tool for free, and if you want additional features, then you can opt for the premium version of this software.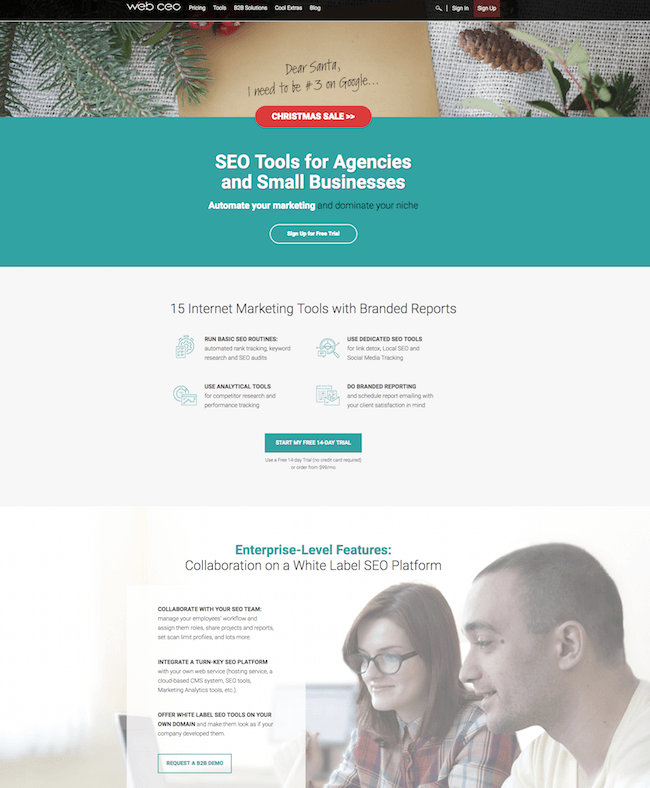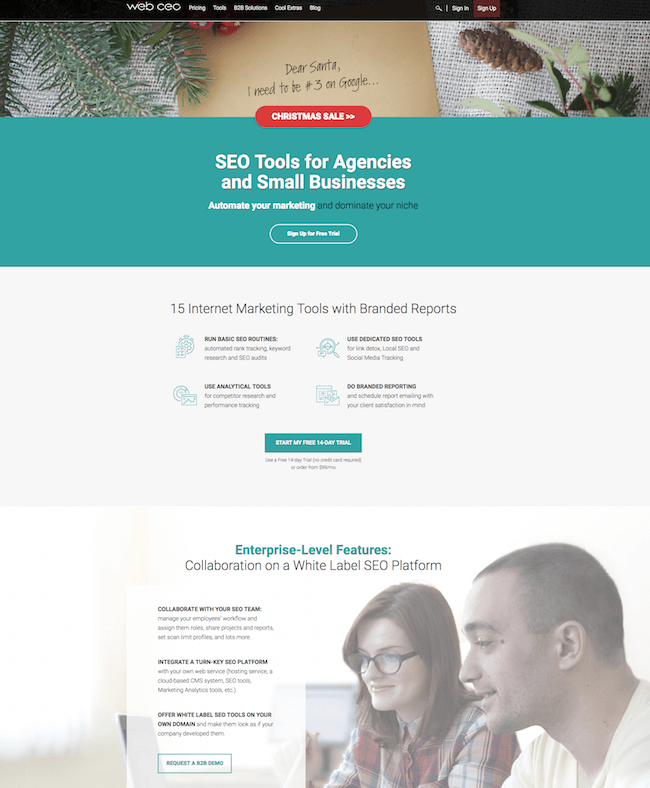 It is a complete SEO tool that allows you to perform keyword research, internal links analysis and more. You can get keyword suggestions, check which page is considered authoritative by search engines, and monitor sitemap.
It also has an SEO analysis tool that notifies you about any warnings and advice about your website.
You can even check the issues that your website may face in mobile devices and lets you rectify them. Apart from that, it can scan your website for broken links, crawl errors or other related issues that can contribute to decreasing the search engine ranking of your website.
You can try this software for free and decide whether you should buy it or not.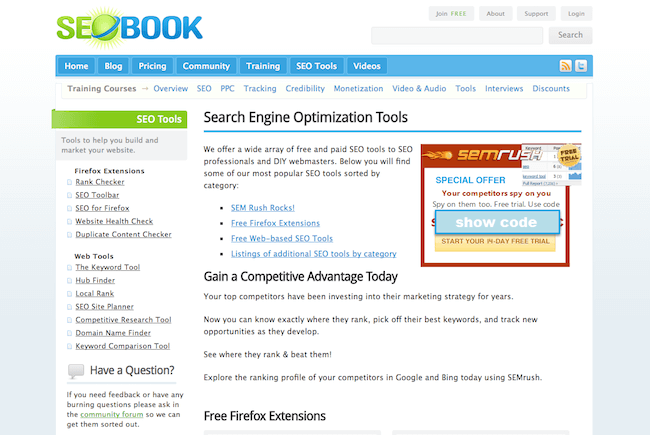 SEO Book Tools is a web-based tool that has multiple options to check the SEO score of your website. Their list of tools includes the keyword suggestion tool, keyword list cleaner, meta tag generator, robots.txt tools, server header checker, link suggestion tool and many others.
It also has a page comparison tool that lets you compare your webpage to your competitors and allow you to find relevant keywords. Apart from that, they have three free Mozilla Firefox Extension; SEO Toolbar, Rank Checker, and SEO for Firefox.
All these tools have only one motive, and that is to increase the ranking of the website.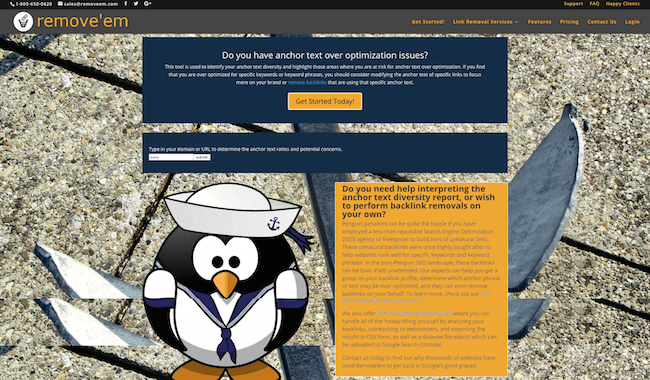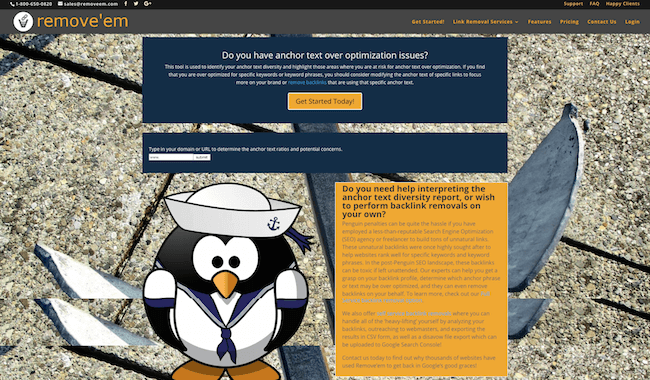 Over-optimization of keywords may cause more damage to your website. Google has strict algorithms for over-optimization of the website and can cause your website's ranking to fall.
This amazing tool checks your website for any over-optimized anchor text and allows you to optimize those accordingly. The program creates a list of keywords on the basis of their optimization.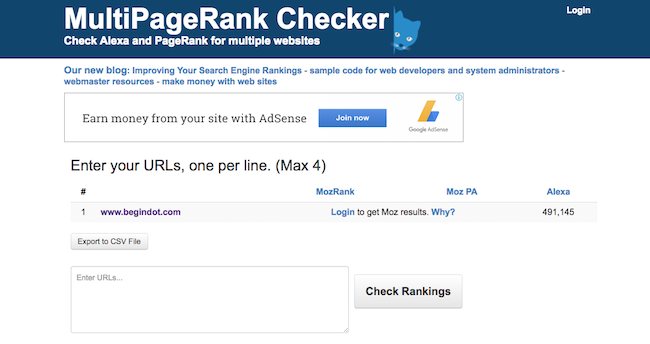 To make improvements to your website, you need to check its rankings on search engines. A MultiRank Checker is a tool that lets you know the exact ranking of your website on the search engines.
Additionally, if you own more than one website, then you can check the rank of those websites simultaneously. But, you can only check the rankings of a maximum of four websites at a time.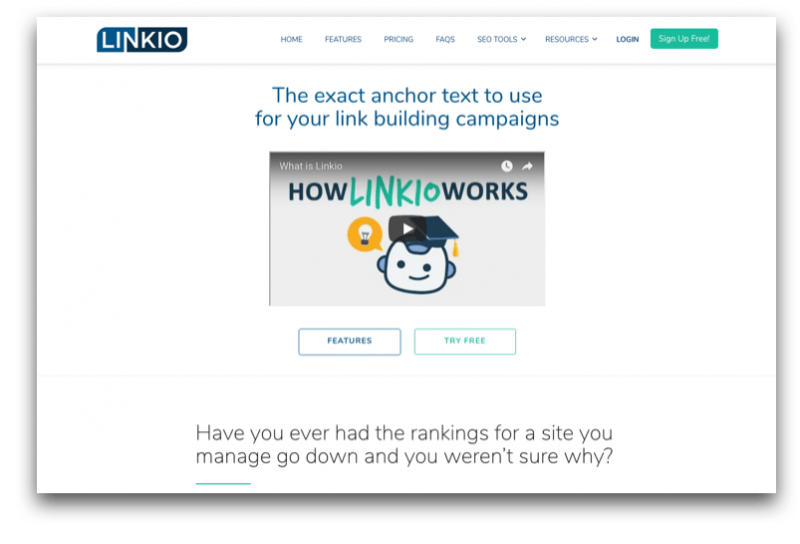 Creating quality backlinks to your site is important, but if you don't do it in the correct way; it will affect your site negatively.
The anchor text you use to create the backlinks makes a difference to the overall optimization of your links and the performance of the linked content. However, over-optimization of the anchor text and repetitive use of the anchor text will affect your site adversely.
So, choosing the right anchor text for your link is extremely important. This tool will help you to create the links with perfect anchor text to get the maximum benefit out of the links.
Linkio analyses all the backlinks with the help of the Ahrefs tool and presents you with the best anchor texts to create your links.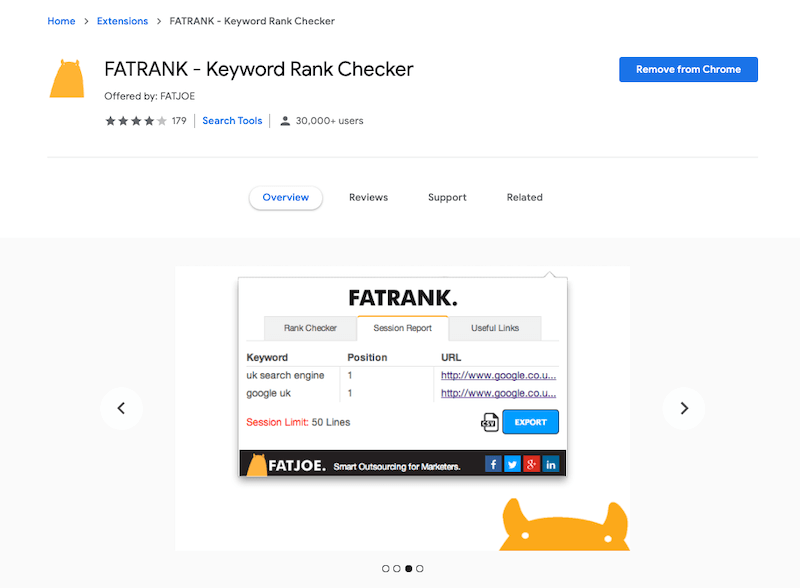 Knowing where your keywords currently ranks will keep you informed about your current status so that you can make your SEO plan accordingly.
So, if you want to know the ranking for your keywords quickly and you don't want to much time and money on that, Fat Rank is what you need.
You can use the Fat Rank Chrome SEO extension to find the rank for any keyword. Once you install the extension, just open your site and then click on the extension and find a ranking for any keyword.
FAQs About Best SEO Tools
01. What is SEO?
SEO stands for Search Engine Optimization, it is the process of optimizing any website for the search engine so that it ranks for the desired keyword.
02. How Does SEO Work?
SEO is a big subject in itself and it can't be described in a few words. However, search engines like Google look for high-quality content that is relevant to the search query. So, when you create content, you have to make sure that your content answers all possible questions around the topic.
Also, to optimize the article to rank well, you have the use of proper keyword in the heading tag, meta description so that Google understands what the content is al about.
03. What are the Best SEO Tools?
You can check the tools we have listed in this article. SEMrush is one of the top and must use tools as it gives you backend access to your competitors' data.
04. How Do I Learn SEO?
At BeginDot, we create various content around SEO. We publish the tutorial as well as the best resource related content. Along with BeginDot, you can read blogs like Moz and other top SEO blogs regularly to learn and SEO.
Endnote
Above were some of the best SEO tools that will help any blogger in increasing their search engine rankings and drive more traffic.
A perfect blend of content and optimization make the website reach the top spot. The responsibility of having great content relies on you, and you can depend on these tool s for the optimization.
Also, don't forget to read our article about the best SEO blogs to follow if you wish to learn more about SEO.