Quora is one of the best platforms to drive high-quality relevant traffic to any website.
The popular question and answer site has been one of the top sources of referral traffic for many bloggers and businesses.
One of the biggest challenges of website owners face is driving targeted traffic to their pages. A lot of bloggers struggle with it and despite there being "unlimited" users on the internet, bringing them to your website is highly challenging.
Most online marketing professionals suggest blogging, social media promotions, sponsorships, guest posting, and other well-known methods.
While these methods work to a large extent, social media traffic is short term and doesn't last for long if you are not constantly active on those platforms.
Quora is different in many aspects. It can help you drive traffic regularly for a very long time if you are able to write epic answers around your niche.
Also, Quora can help you to establish yourself as an expert on your niche helping you to get more clients and business.
Quora has been one of the sources of most engaging referral traffic for bloggers and marketers
---
01

. Quora for Business
Unlike many other social media and user-driven content sites, Quora has a strong SEO presence.
If you make a search for some highly competitive terms, you will get a bunch of Quora discussions in the search result page, the search engines take Quora seriously; you should do it too.
Quora gets over 300 million monthly unique visitors which is a huge number for the marketers to leverage.
If your target audience is in the United States, India, United Kingdom or Canada, you can drive extremely targeted traffic from Quora as these countries contribute heavily to the traffic spectrum of Quora.
Another important aspect to look at is the bounce rate of the traffic you receive. The traffic from Quora is considered as one of the top referral traffic in terms of bounce rate. This is primarily because the traffic you receive from Quora is targeted to learn something the user does not know.
So, if you are able to offer a detailed piece of content that completely takes care of the user intent, they will start consuming more content on your blog.
They send you sticky users which is great for your business.
So, how do you get started using Quora as your primary tool for driving traffic to your website? Let's find out!
02

. Creating a Professional Quora Profile
If you want your answers to be taken seriously the first thing you need to do is set up a professional-looking profile on Quora.
A number of online marketers think that their profile is not very relevant and simply putting in links to your website in answers is enough, but they could not be further from the truth.
You want to prove your credibility on the platform, and the first step is to create an effective profile. You want to add a profile bio that describes all of the topics relevant to your website.
For example, if you are a law firm offering legal help online you want to be involved with topics involving your area of expertise.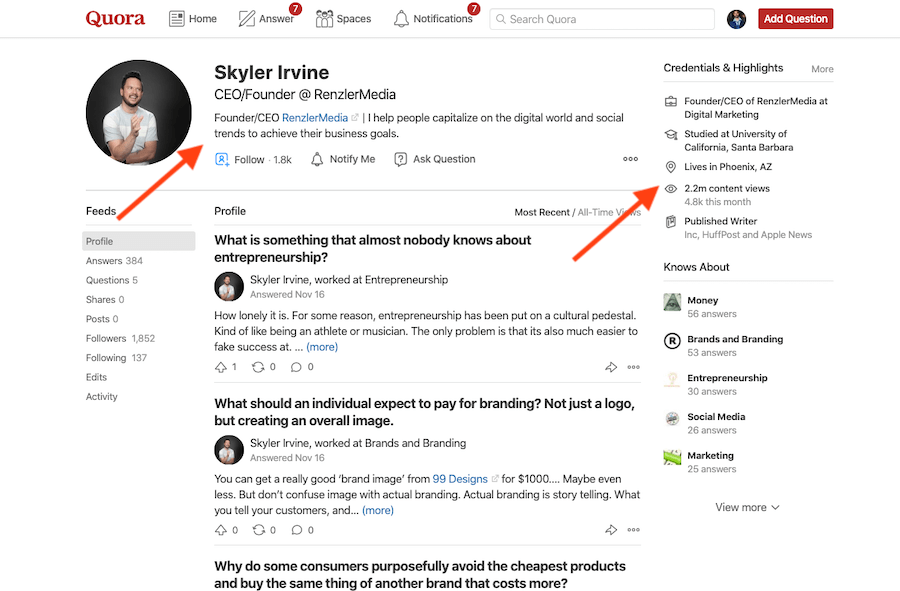 Make sure you include how many years of experience you have and do not link your website in your bio. Do not oversell yourself and try to sound as professional as possible.
Under the profile description section, you want to list your website, blog social media links, and contact details.
Connecting your social media accounts to the website is important if you want to make it easy for others to reach out to you.
Connect your social media accounts on Quora to make it easy for your followers to reach out to you.
Under the "Knows About" section you want to list all of the topics you can answer expertly and add relevant topics to your feed section to have topics you are interested in appear on your homepage.
It allows you to find questions that you can offer your input on and drive traffic to your website through cleverly placed blog links.

03

. Finding High Traffic Topics
Quora is a question and answer platform, so you will have to find the relevant questions around your business to answer.
There are a number of ways you can find questions that you might want to answer on the platform.
One of the simplest ways is to use the search bar at the top of the website. Once you find the results, you will need to filter the latest questions with leser number of answers.
However, the best way to find questions is through the Feed. If you set up your profile correctly you will be able to see a number of questions that are relevant to you.
As you keep answering questions you will slowly gain followers and notifications from the "Questions for You" and "Asked to Answer" categories which lead to even more engagement on your profile.
Make sure to check the potential traffic for the topics you consider to answer so that you get the best return for your time invested.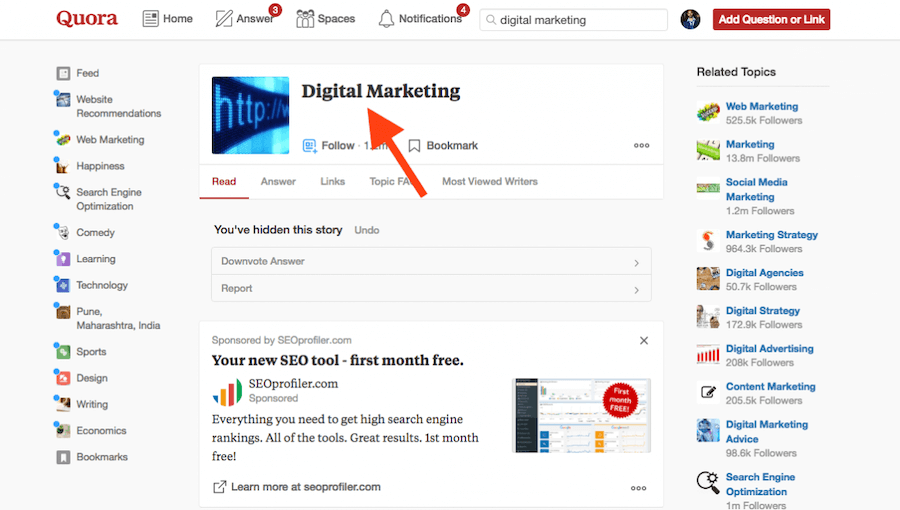 Now that we know how to find questions, you do not want to rush in and answer every question that you find that is relevant to your domain.
You need to focus your energy and time on questions that will generate views for your website or blog.
Here are a few things you should be looking out for that can help you find the right questions.
04

. Follow Relevant Topics & Questions

As mentioned above, you need to make sure that you find and follow all relevant tops related to your business as well as the questions concerning your business. You need to regularly get engaged to those questions and be an active contributor so that you get more followers.

The more you engage with other contributor by liking, commenting and answering questions the more you get exposure.
04

. The Best Way to Answer on Quora
The best part about Quora is that you can do self-marketing. You can leave your website link on the answer that you write on Quora.
But….
You need to make sure that your answers are relevant and of high quality, otherwise, your profile will be marked as spam and you might lose your account.
So, how should we answer questions to get the most traffic possible?
One of the most common trends you will notice when browsing through top answers is that they are quite long and to the point.
If your answers are not formatted well enough and look like a page out of a novel you will not receive enough engagement.
The data-driven answers tend to do better on Quora. So, make sure to add relevant data wherever possible to make your answer stand out.
Also, write your answers with bullet points and add appropriate images wherever possible. Answers without images or content that just beats around the bush get ignored, so you need to be as detailed as possible without wasting your readers' time.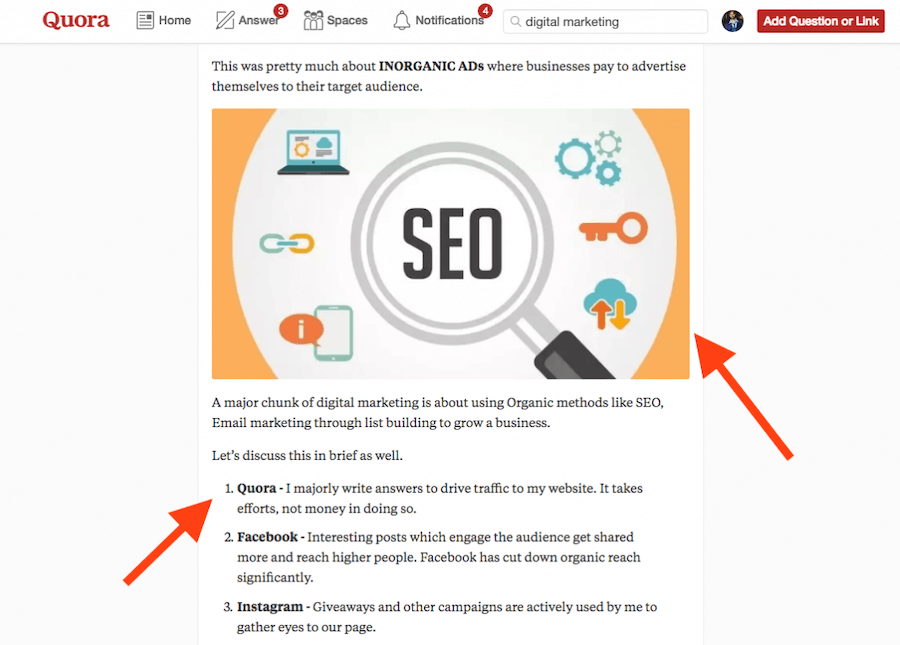 Try to use simple language that anyone can easily understand without possessing the technical know-how on the topic.
Most importantly, you want to be as honest as possible with your readers. Gaining the trust of your readers is the best way to get more followers on Quora.
Another important thing you need to keep in mind when placing links to your website or blog is to avoid being aggressive with your sales pitch.
You need to write helpful answers that seek to help people in the community and include links to your website to offer more insights or offer solutions through your products and services available on your website and only include links that are helpful to your audience.
You should also answer questions without any links to your website as a means of creating a better profile.
Including links in every single answer can attract a red flag from the Quora Moderation team and you want to avoid such a situation.
05

. Understanding Quora Algorithm
If you are answering questions with all the best practices but fail to get enough engagement around your answers, then you need to take a closer look at how the platform works.
Most people on Quora only read the top answers, so you want your content to be top-notch.
Once you understand how the platform's algorithm works, creating great answers is going to be really easy.
While Quora does not explicitly mention how top answers are selected, experienced users can easily tell you how the system works.
06

. Join Quora Spaces
Spaces are the Quora communities around shared interests and topics. If you are a regular user of Quora, you must join the relevant Spaces in your niche.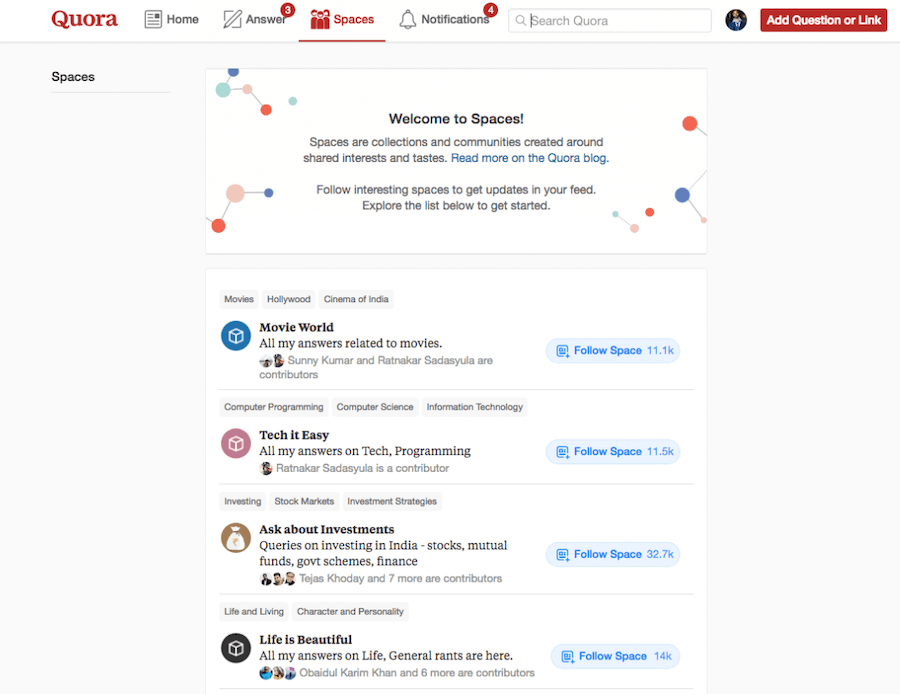 Joining a Quora Space around your topic is one of the most effective ways to establish yourself as an expert in the topic and strengthen your credibility.
You can visit this link to search for relevant Quora Spaces in your niche.
07

. Be An Active Contributor
This is true for any platform that you wish to leverage to get traffic. The more you are active on the platform the more engagement and traffic you receive.
If you become an active contributor to Quora and answer to popular questions regularly, it will help you to receive more traffic at the same time it will establish you as an authority contributor on the platform.
So, try to answer at least a couple of questions every single day while you are trying to grow your business.
Conclusion
We discussed the things that you should be doing on Quora, but what about the things you shouldn't?
You need to avoid writing irrelevant answers and always stick to the point. You should avoid posting irrelevant links too, as it's a sure-shot way of getting a red flag on your account.
You need to be original and not paste the same answer for similar questions. While your points may be the same, you want to express yourself differently for each individual question.
Most importantly, avoid using cheap tactics like downvoting others, so your answers are ranked higher or use affiliate links as they are looked down upon in the community and is a ban-worthy offense.
You need to give yourself time to slowly grow your presence on Quora and get the targeted traffic you need.
While it's not the same as pushing a few buttons and advertising on multiple social media platforms, it does help you get real individuals to your website who are interested in what you have to offer.
FAQs About Quora
01. What is Quora?
Quora is a question and answer forum where you can get an answer to any question you may have. You can create your profile and submit your questions, other users who have knowledge around that topic will answer your question. Quora is the largest Q & A forum in terms of users.
02. Is Quora a waste of time?
Certainly not. Quora is not an entertainment site where you can go and watch videos and kill your time. Quora is a learning platform where you can get knowledge about various questions that you have.
03. Is Quora a social media site?
To a certain extent yes. You can look around for different topics and follow the users who are expected in the topics that you are interested in. However, it is not like Facebook or Twitter, Quora is mostly for getting your questions answered.
04. How Quora can help to grow my business?
You can use quora to create a new audience base for your website, products or services by answering relevant questions around your topic. You can establish yourself by answering more and more questions with detailed and high-quality answers.
05. Can I get traffic from Quora?
Yes, there are many businesses that drive a good amount to highly targeted traffic by answering popular questions that are followed by many users.
06. Can I post my link on Quora?
Yes, but make sure to do that wisely. If you just keep posting your links without offering any value through your answers, your account will be banned. So, make sure to write a detailed answer and then put your link that is highly relevant to the topic.
07. How to write a good Quora answer?
A good quora answer has to be detailed that offers complete clarity about the question asked. Make sure to be descriptive, use bullet points, use relevant images and references.