Looking for the best Shopify alternatives? Here we present you with the best Shopify alternatives to help you build a successful online eCommerce store.
With over 800,000 active Shopify users, Shopify has definitely become a go-to option for many online business houses worldwide. But just because others are doing it, that doesn't mean you've got to do it too.
In fact, here we have curated a list of alternatives to Shopify, which provide equally and even better features than those offered in Shopify.
Shopify is not a bad option at all, but keeping in mind some of the "not-so-good" factors of Shopify in mind, we do need to look at some alternatives.
If you still want to use Shopify for your store, here is a list of some beautiful free Shopify themes that you can use.
Factors like the use of Liquid programming language, custom coding additions and customization becomes difficult.
Also, Shopify's payment process is also criticized due to the transaction fees applied to third-party payment sources.
Check out this list of the best Shopify alternatives and make sure you make a good name for your business online.
01

. Strikingly
One of the quickest and easy solutions to create an online store, Strikingly makes it very simple for the users to create an online shop with ready-to-use design templates.
You can simply add the store, connect PayPal or Stripe to receive payment, and start selling your product online. It offers all the important features such as adding coupons, membership log-ins, and other important features.
You can use your own domain and customize your shop as per your need. You can click on any element on the page and start editing right on the front-end of the page.
Strikingly offers you built-in analytics and 24/7 support to make sure that you don't face any issues with your site.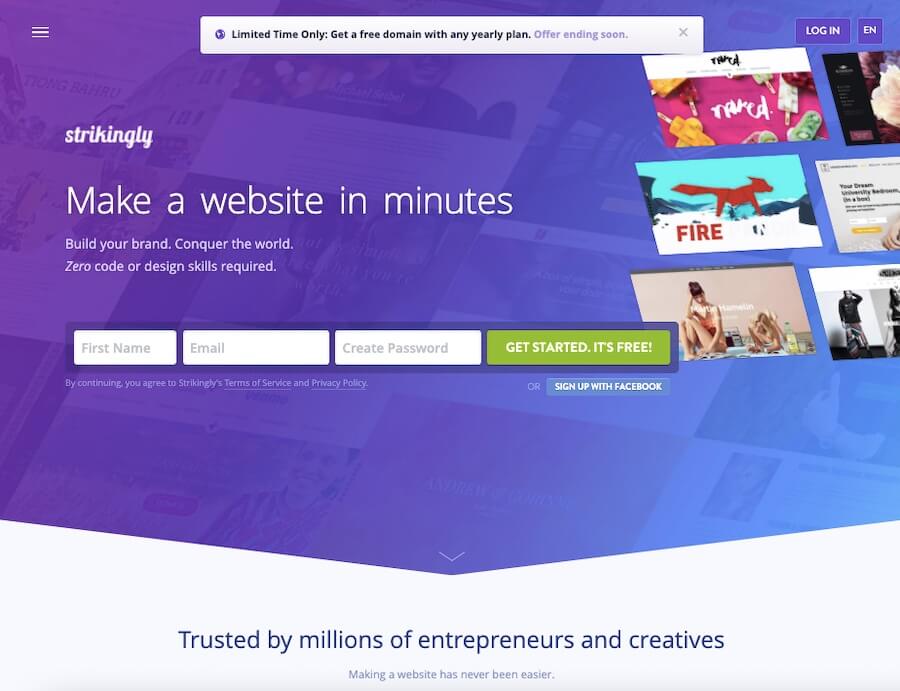 02

. Site123
Site123 is another very handy simple platform that you can use to create your online store. Your store will be ready in three simple steps.
You can select a template from a large collection of ready-to-use templates, upload your content and make your site ready.
It comes with a website builder that offers you an intuitive interface to create a completely custom design for your site without any coding.
It gives you the option to accept payment through Paypal as well as credit cards. And it will be well protected with an SSL certificate and tight security features.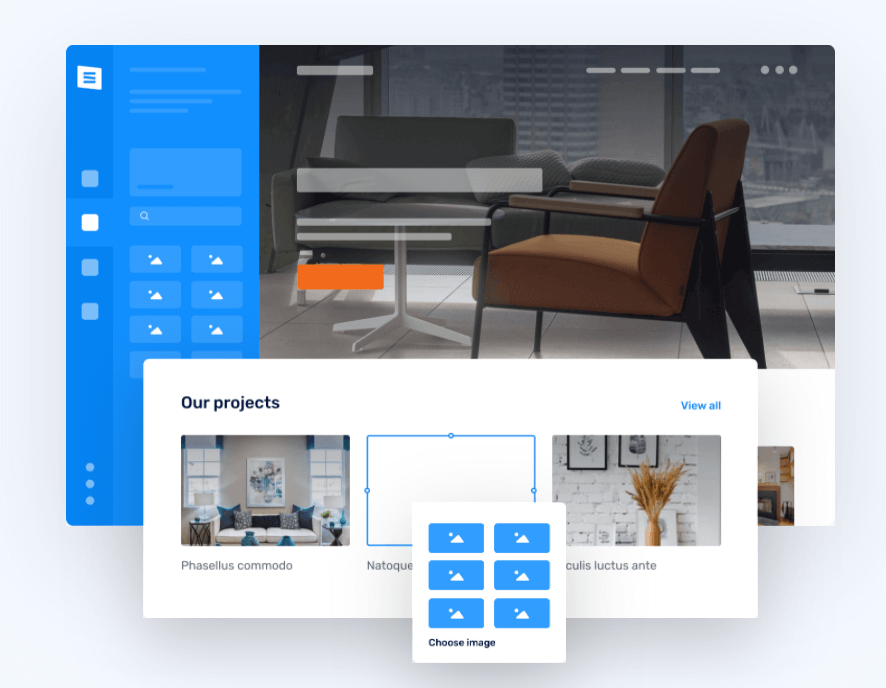 03

. Wix
Wix is one of the most famous and critically acclaimed website building platforms that include a complete eCommerce functionality within its business plan.
The factor making Wix a great choice is the simplified user interface and complete set of customizability features. As compared to Shopify, you will definitely save a few dollars.
You get unlimited bandwidth and large storage space to store thousands of products and media files.
You get a ton of fully customizable templates and a simple to use website builder, as well as you get access to Wix's amazing app market.
Wix's pricing plans for an eCommerce website start from $23 per month and goes up to $500 per month.
One important point here is that there are no extra hidden transaction fees involved in any of the pricing plans.
Overall, Wix gives a tough competition to Shopify and other alternatives. If you are planning to use Wix, here is a list of some of the top sites created with Wix for your inspiration.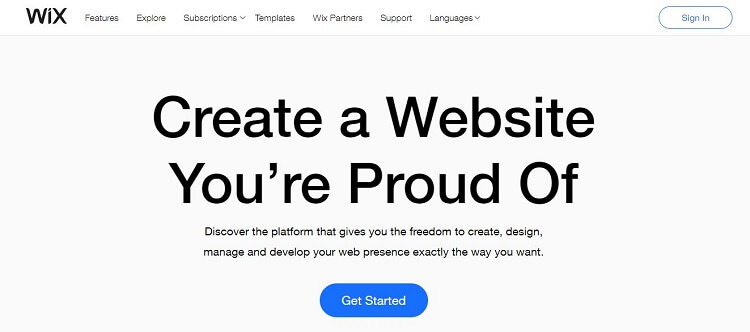 04

. BigCommerce
BigCommerce is another very popular platform you can use to build an eCommerce store. The smoothness and flexibility of its drag and drop editor make BigCommerce a great alternative here.
For the people on a strict budget, you get 7 free themes across all types. For professional looking and premium themes, you'll have to pay a good amount.
But features like advanced content marketing, which allows you to promote your product all over the web, BigCommerce has a ton of amazing in-built features that will help you a lot in building an online store.
The good SEO performance, unlimited products option, multi-channel selling options, and decent speed on mobile, BigCommerce is definitely a great option.
The price range starts from $29.95/month and goes up to $249.95/month.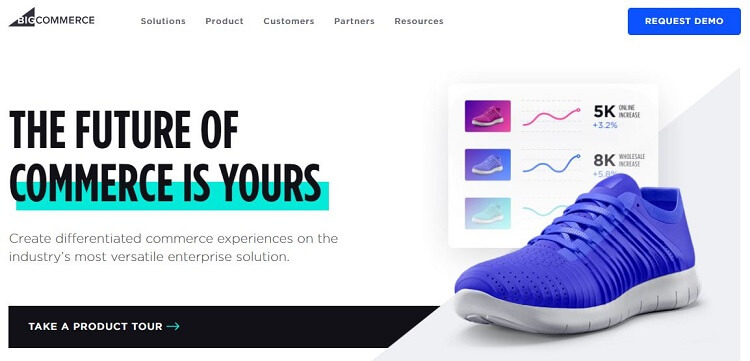 05

. WooCommerce
WooCommerce is basically a WordPress plugin, that lets you build an online store on your WordPress site.
The reason for WooCommerce's popularity and a massive number of downloads is the massive customizability options it offers.
The best part is that the plugin is completely free to download. All you need is a WordPress website and you are good to go. Just download the WooCommerce plugin and install it on your website.
Talking about the pricing plans, WooCommerce is free of cost, but to use it, you'll need a domain name, WordPress site, extra plugins, basically, a complete WordPress website needs to use WooCommerce.
It offers great segmentation options for customer login and for administrator accounts. Also, you can add extra plugins and can add extra functionality to your website using plugins.
You will need custom WordPress themes that are perfectly compatible with the WooCommerce plugin, here is a list of the best WooCommerce themes and a list of free WooCommerce themes.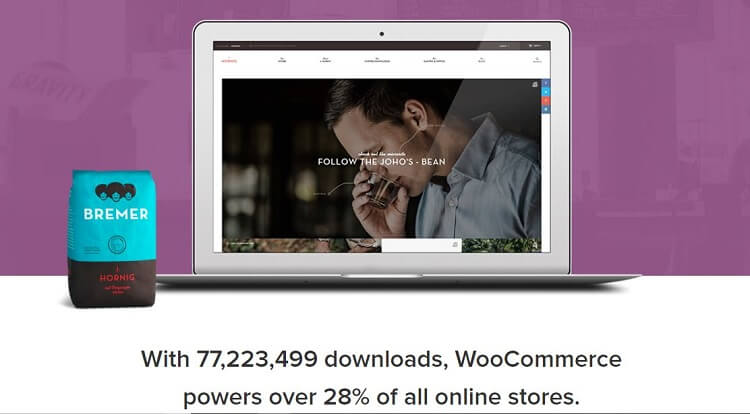 06

. Pinnacle Cart
Pinnacle Cart has been in the business for over 15 years now. The platform is powering over 30,000 online shopping stores.
Pinnacle Cart has around 12 free eCommerce templates ready for use, which you can convert into your eCommerce store.
The templates are completely responsive and look amazingly professional. The backend is very easy to manage and takes almost no time.
You can add products and product descriptions easily to the website.
The app center is not as great as that of Shopify's, but you have options to add external apps such as Avalara, Facebook, and MailChimp.
The amount of payment gateways Pinnacle Cart offer is very impressive. You get PayPal, Stripe, 2Checkout, Skrill, Authorize, and so on.
If your ideal platform needs to have unlimited admin accounts, no transaction fees, and the ability to host websites externally, then PinnacleCart is a great option you can go for.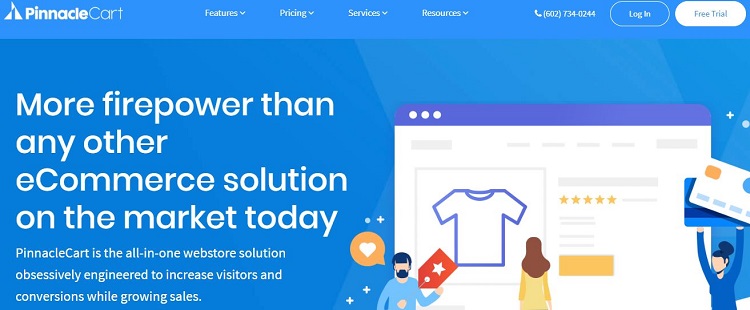 07

. Big Cartel
One for the artists and creators, Big Cartel is somewhat like Etsy, offering a platform for small businesses and individuals, mostly artists to sell their creations and arts.
The website claims that it has helped artists to sell products of total worth $2.5 billion, since 2005. The staff of Big Cartel hails from an artistic background, so helping individuals and artists is the main objective here.
The pricing plans are pretty interesting and simple. There are four price options you can go for.
The plans include a free pack, in which selling up to 5 products is possible, and the pricing plan goes up to $29.99 for up to 300 products.
So now the bigger question arises, can it be a real alternative to Shopify? Yes, but for individuals and artists only.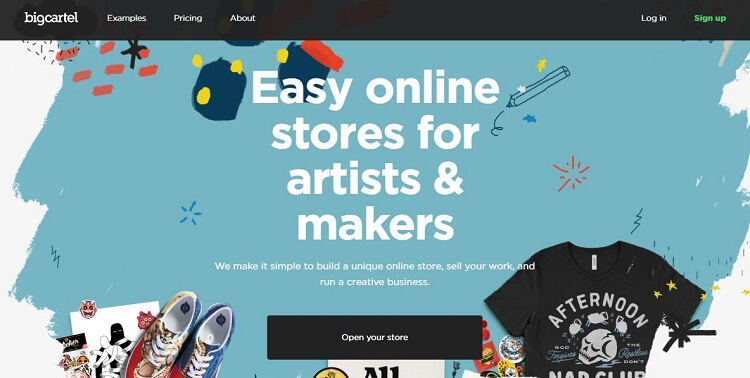 08

. Volusion
This British brand is a tough competition for Shopify and has been serving over 200,000 businesses worldwide. It is a cloud-based platform, popular among small-sized companies and entry-level individuals.
It beats Shopify in the additional transaction fees category, as it charges nothing in transaction money. The list of features included a one-page checkout and embedded eBay integration.
Volusion's price range lies between $15-$135/Month. The pricing plans and the pricing bundles include a lot of cool features, such as "Add to Cart" feature, certification generation, and creation of sub-categories.
Overall, keeping in mind the list of features and value it offers, Volusion beats Shopify quite easily.
09

. Open Cart 
Open Cart is an excellent option for lower and medium-sized businesses. All of its plans include a lot of features and monthly subscriptions.
Open Cart is highly customizable and versatile. You might need the help of coding here and there to add some functionalities, but overall for medium-sized businesses, it is worth the investment.
This platform is somewhat similar to WooCommerce. And the best part? Open Cart is absolutely free. It's fast and lightweight, SEO friendly, and very easy to setup.
Overall with features like robust SEO tools, the ability to accept subscriptions and checkout web addresses, as well as the ability to integrate most payment processors, Open Cart is a great alternative to Shopify.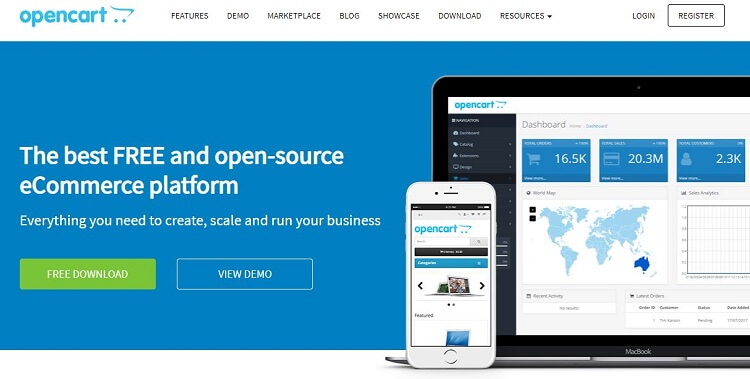 10

.

Squarespace
Another very popular and easy to use alternative for Shopify, Squarespace offers you a robust website builder and a variety of professional templates.
With little coding skills, you can achieve amazing functionalities in SquareSpace.
The payment alternatives offered here are PayPal and Stripe. For the basic plan, you get unlimited web pages, blogs, bandwidth, storage, checkouts, and an SSL certificate as well.
You also get features like express checkout, which you can use to sell stuff fast and easily; blogging features which you can use for better SEO, and so on.
Overall Squarespace is an amazing alternative to Shopify. Here is a big list of Squarespace site examples.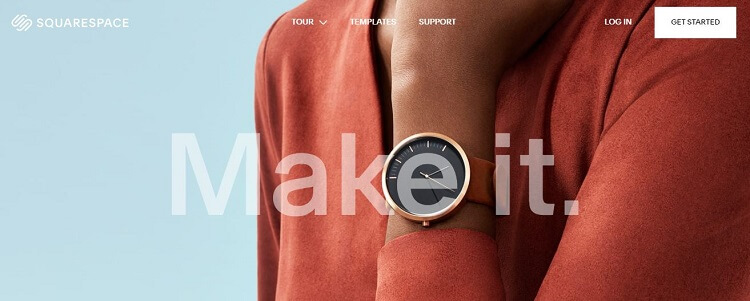 11

. Jimdo
With over 200,000 customers and business owners, Jimdo is another very amazing alternative to Shopify.
Jimdo is basically a website builder, which helps you build websites easily and quickly. Jimdo is also quite popular in the eCommerce website builder range, as its simple-to-use features make the process very easy.
The best part here is the free offers you get in the pricing plan. You can sell up to 5 products at zero cost in the Jimdo Free plan. The pro plan offers a lot of SEO options and allows you to sell up to 15 products.
And in the $20 business plan, you can sell an unlimited number of products.
So if you are looking for a cheap and budget-friendly alternative, this is the one for you.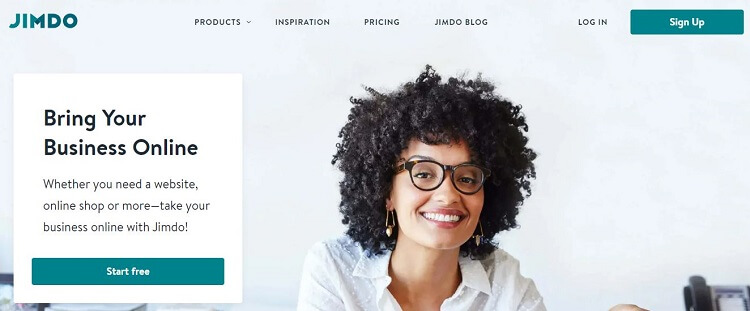 12

. Prestashop
Prestashop is another very popular platform among entrepreneurs. Prestashop itself doesn't offer any hosting platform but has partnerships with 1&1, WebhostingHub, TMD, Microsoft Azure, and so on.
Prestashop offers a good range of themes and templates, not as big and amazing as that of Shopify's, but the best part here is that Prestashop is free.
Also, it supports over 25 languages, multiple international currencies, overseas sales, unlimited sale of products, and charges no additional fees.
If you have some coding skills, then you can create some amazing functionalities using this platform.
Overall for the people looking for a cheap alternative, as well as those entrepreneurs who are targeting an international audience, Prestashop can be a great choice for you.

Conclusion
So, the list of the 10 best Shopify alternatives comes to an end. All of these alternatives are packed with a ton of amazing features and are giving a tough time to Shopify. Which one is your favorite? Do let us know in the comments below.