Building quality backlinks is a major focus area for any SEO professional. Backlinks boost the rank as well make your website attractive and proficient.
Backlinks matter a lot if your focus is the first page results for your keywords on any search engine. Backlink checker tools analyze the outbound and inbound links. In this post, we have listed both paid and free backlink checker for you.
If you are managing an online business or just planning to start; it is very important to keep an eye on your competitors so that you can we can do better in the search results.
According to all the top SEO experts, backlinks are still one of the most important factors that can help you to get first-page ranking in Google search results.
So, you must learn how to create a backlink from the good sources and try to beat your competitors in the search results.
When you start with your backlink creation activities, the first things you need to look at are the backlinks of your competitor's site. If you can replicate their backlinks and create some better quality links, you will be able to beat them in the search results.
There are a number of tools that offer you the option to check the backlink profile of your competitor site making the process a lot easier for you.
We have listed the best tools that will help you to keep an eye on your competitor's backlink profile.
We have created a detailed list of top quality high DA social bookmarking sites that you can use to create backlinks from.
Best Free Backlink Checking Tools
SEMrush
This wonderful tool helps you fetch details of the traffic on your competitor's websites as well as the high ranked keywords. It lets you find their backlinks. It is a paid tool that is proficient in competitor analysis and keyword research.
It has a Pro, Guru and Business Account offering. Pro comes for $99.95 per month, Guru for $199.95 per month, and the Business Account comes for $399.95 per month fee.
As channelizing the traffic from search engines to your website is crucial to increase the organic traffic. You need to research heavily to locate the profitable high-performance keywords.
SEMrush with a database of more than 120 million keywords and more than 46 million domains beats many online checker tools in performance.
Along with providing you the details of the keywords and traffic of your competitors by carrying out a thorough Site Audit, it also let you know various issues that your website might be encountering.
SEMRush is very simple to use and any newbie can make the best out of this tool. If you wish to find details of a site. For example, we will check the details of Forbes.com
You just need to visit SEMRush and login with your email and search forbes.com in the search bar. The system will show you the details of the site and you can then proceed with what you wish to check.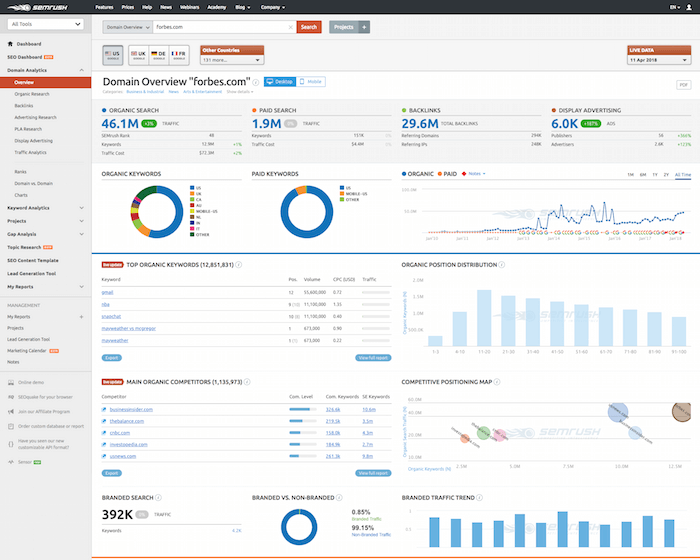 You can see the approximate amount of traffic and the could of backlinks in the image above. Now, if you wish to check the details of each backlink, click on the backlink number and it will show you the details.
Backlink Analysis, Keywords Ranking and Research and Competitor Research are the USP features of this excellent backlink checker tool. This tool has its web crawler called SemrushBot and the API called SEMrush API.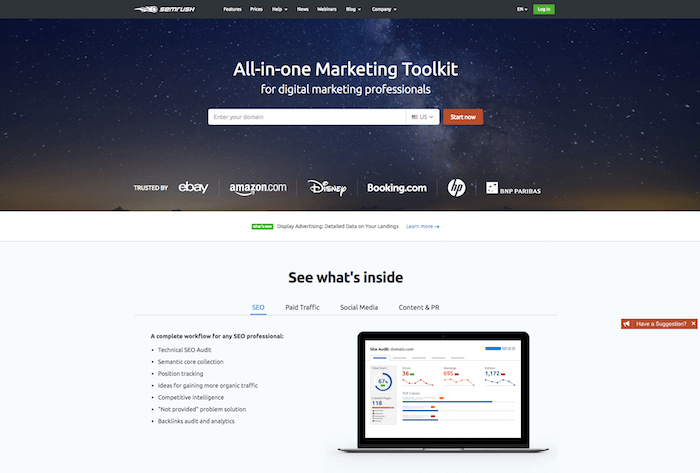 Ahrefs Backlink Checker
This tool offers the largest index of the live backlinks of any site, and it gets updated every fifteen minutes. The most exciting feature of Ahrefs is that it binds secure connection of information and an electrifying web interface.
The index reportedly has over 15 trillion records of live backlinks which make it the first choice as a backlink checker.
Ahref comes in free as well as paid format. The websites often redesign at regular intervals of time, with even more features.
It offers you to monitor your growth as it provides a monthly chart, where you can check your progress and go for improvements making your website more informative.
For the unverified domains, the free version offers three reports per month with up to 500 backlinks in each report.
For verified domains, it provides up to 5000 backlinks per report. The paid version comes in three types of accounts at a price of $79, $179, and $499 per month.
The tool has its web crawler named as AhrefsBot.
The related API is called Ahrefs API, and it offers a related online service with the name of Ahrefs Site Explorer.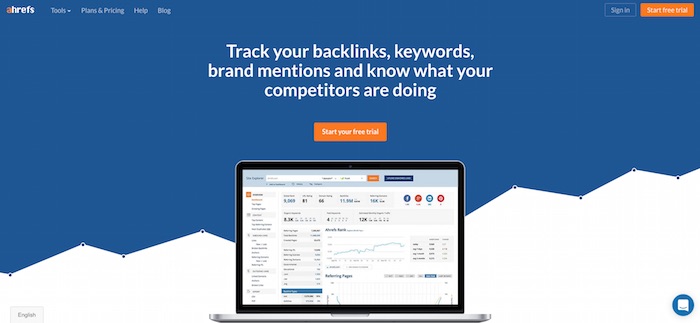 LinkMiner
LinkMiner by theMangools team is another amazing backlink checker tool that will help you to replicate the best links of your competing sites.
Mangools offers you a few other top tools for maximizing your SEO traffic, the KWFinder is one of the most popular and widely used keyword analysis tools.
The LinkMiner tools offer you all the important details like the Citation Flow, Trust Flow, Do follow vs. No follow links and other details of the competitor's backlinks.
So, you have almost all the data of your competitor's link profile, you can replace them for your site one by one to improve the overall ranking of your site.
Buzzsumo
This tool is mostly preferred for content marketing. It has free and pro versions, same as Ahrefs'. The Pro version helps to check backlinks on your website or any other individual website.
It also enables us to convert an existing web link into CSV or Excel version, and the customers mostly prefer this feature.
Buzzsumo allows searching for the most popular/shared content online for any given topic. It helps you to broaden your audience.
It is one of the most used backlink checker tools for customer providing you with both monthly and yearly payment mode.
Open Site Explorer
Open Site Explorer is a simple, however, robust backlink checker that is renowned for providing the most accurate results. It has both free and paid versions.
The free version provides up to 200 backlinks per report. The paid version comes for $99 per month and provides up to 10,000 backlinks per report.
The tool also has its web crawler named as rogerbot. This tool helps to compare 2 or more domains. It gives us all the backlinks with domain authority, Moz rank, do follow/ no follow and page authority.
The USP features of this tool include providing you the Page Authority, Domain Authority, Links to Root Domains and all the backlinks to your site.
It enables us to check backlinks of other competitors. Its free version also helps to get started with building links. However, the free version offers limited functionality and does not offer you complete results. Therefore, this tool is primarily a paid tool.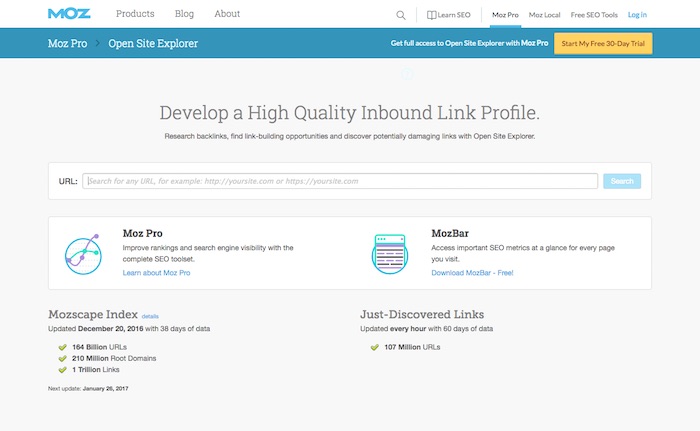 Alexa
This backlink checker tool is another option to check backlink profile of any site. The tool has only paid version that comes at a price of $9.99 per month. It takes almost ten days to refresh the link profile.
It is the best tool for webmasters because it shows some of the deep links which other tools cannot easily find. It updates the backlink profile every day, and one can check it without any restrictions. The tool has its web crawler named as ia_archiver.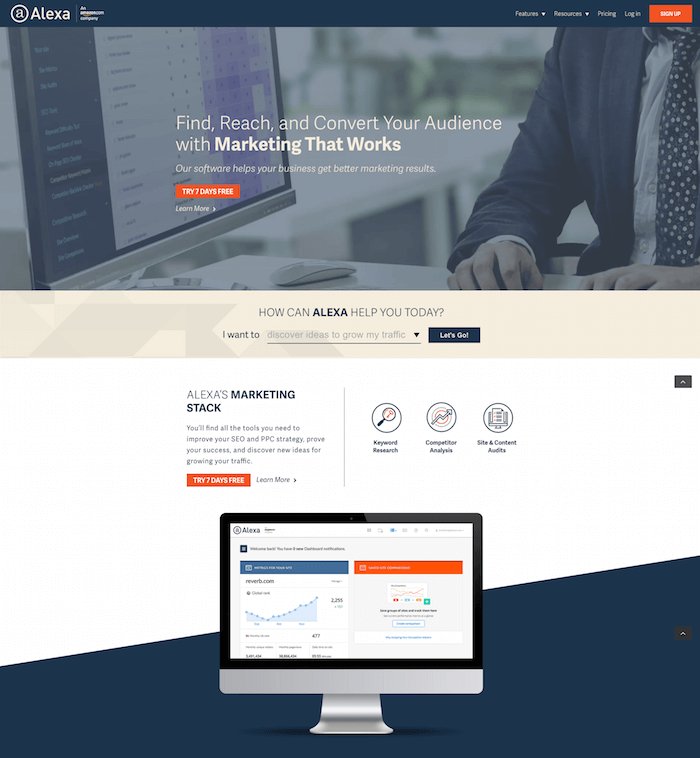 Open Link Profiler
It is the latest backlink checker tool. It only has a free version. It allows checking all the backlinks along with the newer backlinks pointing to the website. It helps to trace the freshest backlinks which can be converted to CSV format.
The tool shows up to 2,00,000 backlinks per the report, and up to 1000 backlinks can be exported to the CSV format. The tool has its web crawler called as spbot. It also offers a related online service called as SEOprofiler.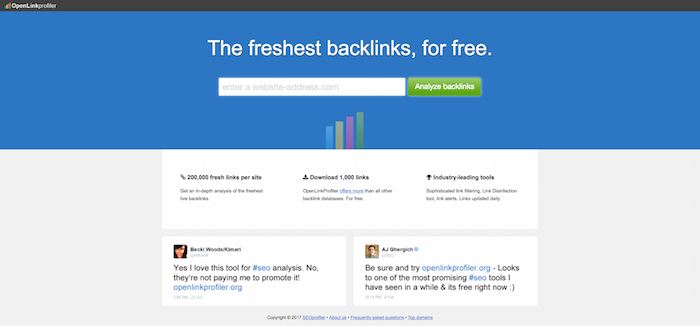 Majestic SEO
This wonderful tool has one of the largest indices of backlinks. It lets you easily find the backlinks. It has a backlink history tool that fetches all backlinks for a given domain, URL or even sub-domains.
It can provide backlink discovery growth rate for rival domains. One can compare up to five domains simultaneously.
The tool offers both paid and free versions. The free version provides up to 5,000 backlinks per report however only for verified domains. It offers 5 types of paid accounts priced at $78.99, $169.99, $399.99, $799.98, and $1599.96 respectively.
The tool has its web crawler called as MJ12bot and the related API named as Majestic API. The most attractive feature of this powerful tool is that it crawls the entire web without any dependence on a third party.
The other powerful features include Search Explorer, Site Explorer, and Backlink History Checker.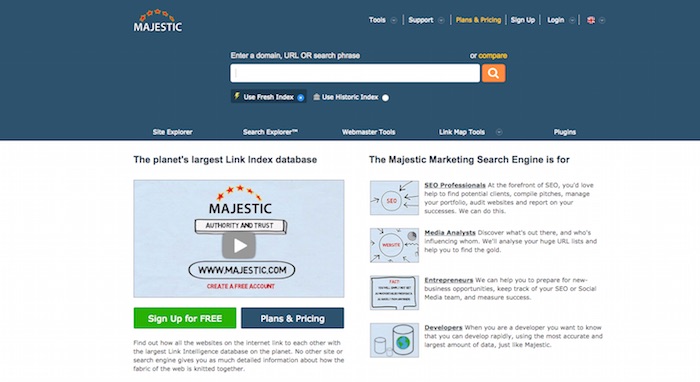 Backlink Watch
This spectacular tool will find quality backlinks to help the site rank better on Google or any other search engine. It offers free analysis, and you simply need to enter the domain name.
It will reflect the page rank (obsolete metric), outbound links, and anchor text for that domain. It takes the time to update its database.
It uses Ahrefs database to show user's link profile. It displays all the backlinks in a list. It helps us to know the nofollow and dofollow links along with anchor tags. This tool lets you fetch a report for up to 1000 backlinks.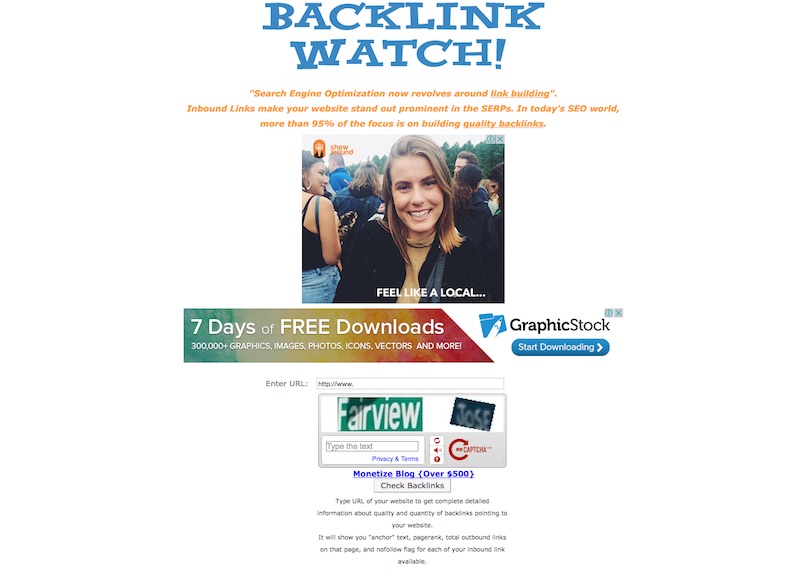 Link Diagnosis
This tool is a free tool that gives options to check backlinks for the blog. It has a Firefox extension. It helps to check backlinks, Moz ranks, Google Page Rank, NoFollow links, DoFollow links, Alexa rank, Anchor Rank and all others.
It offers various outputs and features. For a faster access detailed report or optimized report, different options are also available. You have only to write your site's URL, and this excellent tool will provide you a detailed report.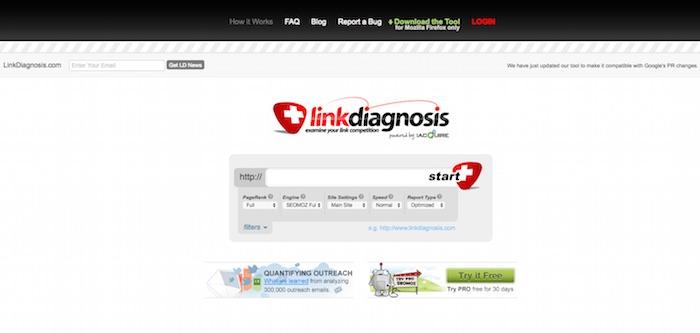 Small Seo Tools
This tool comes free, and the site owners utilize Google AdSense program to generate revenue. This site displays all links from the sites including Facebook, Twitter, Google + and all others.
It enables to view ten results at a time including dofollow, and nofollow tags, Links Count, and Page Rank. It uses Javascript to divulge links.
Hence, it is not that flexible with mobile phone users. The tool can provide up to 1,000 backlinks per report. The tool also has its web crawler.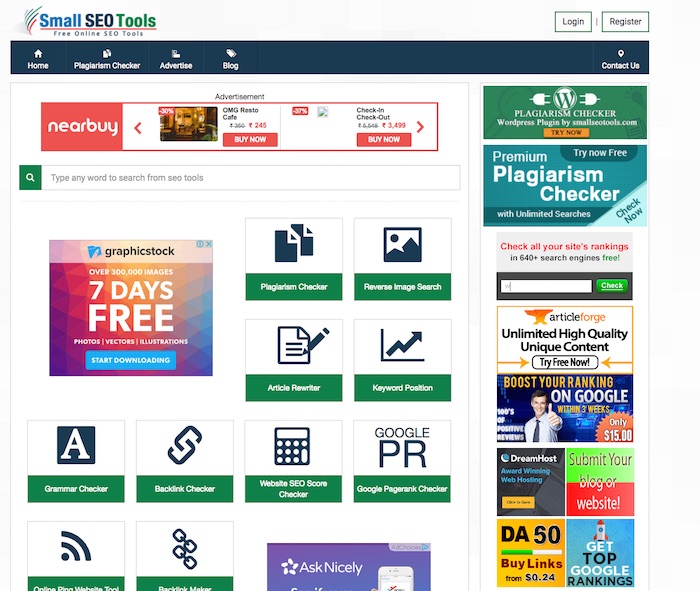 WebMeUp Backlink Tool
A powerful backlink checker tool that offers free as well as paid account. The free account can provide up to 20 backlinks per the report, with up to 3 reports per month. It provides the feature of exporting 10,000 backlinks per month.
The paid version has two types of accounts costing $59 and $149 per month respectively. The tool has its web crawler named as BLEXBot. The tool shows both text and image links along with page rank and Moz rank of the domains.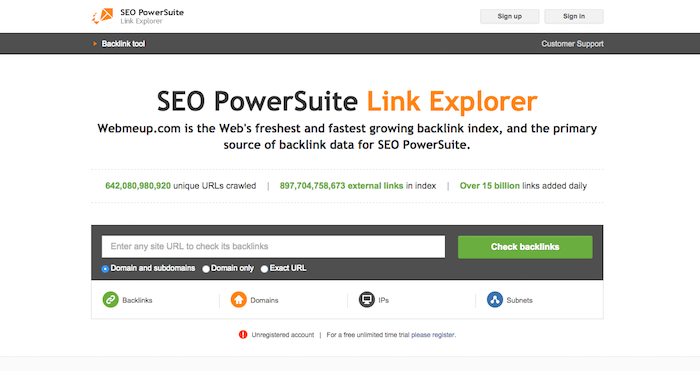 Analyze Backlink
It is very similar to that of Alexa backlink checker tool. It is very simple to use because it has a simple user interface. It pops up one link from one domain. It also gives various filters which can be used to customize the reports.
The tool is helpful in finding the number of domains linking to our domain. It also enables to find anchor clouds and anchor tags for our backlinks. Apart from inbound links, this tool also fetches the outbound links thus giving the users an option to control the external links.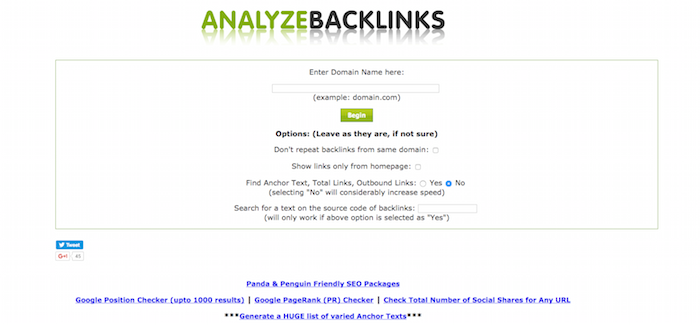 Rank Signals
Rank Signals, another very useful backlink checking tool that is available for free. This tool offers a very useful analysis of all the backlinks to a site, so you can use this tool to understand the backlink profile of your competitor site.
Along with the linking domain & page, you also get to know if a link is dofollow or no followed. Another useful feature is that you can find the lost backlink to your site so that you can go ahead and claim the lost backlink to your site.
The Essence
Link profile of a website is a parameter to judge the quality of a web page. Finding and analyzing all the backlinks is crucial to know the link quality of the website.
Backlinks from the skeleton of the success of a website. These are a few of the most popular backlink checker tools.
One can utilize any of these tools to find and analyze your backlinks, know the traffic at your competitor's websites, and fetch the best information about backlinks and URL's behavior of your blog or site.