If you are looking for the best Wix alternatives, we have listed the top website-building options that you can use to create your website.
Wix is a very popular solution when it comes to building websites. It is a user-friendly solution that comes with a large collection of ready templates to make the process of creating a website easier.
Even a complete newbie user can create a beautiful website by using Wix. It is good for eCommerce as well as all other types of websites.
From built-in SEO features and a mobile-friendly layout, Wix comes with all the important elements that you might need to create a successful website.
Why Should You Look for a Wix Alternative?
When it comes to building a website, it is a matter of preference and comfort. Many users like to use WordPress as it is a very popular solution for all types of websites. There are a number of other website builders these days that come with amazing eCommerce features.
For example, platforms like Squarespace, and Weebly also attract millions of users to create a website. All these platforms offer an easy drag-and-drop website-building experience to make things easier for the users.
So, if you are looking for a quality Wix alternative, you can follow the list below.
01

. WordPress

WordPress is the most popular CMS to create a website. WordPress is used by more than 30% of the overall website owners on the internet.

When it comes to WordPress, you have two options to choose from.

The first one is WordPress.org which is a self-hosted solution that is very popular among users. In this option, you will need to have to buy a hosting server and you will have complete control over everything on the site.

The second one is WordPress.com which is a hosted solution by Automattic. In this option, you can buy subscriptions like any other platform we have mentioned in this list.

WordPress's flexibility makes it a good fit for multiple projects, from individual blogs to large business portals. Additionally, it's also a good choice if you plan to launch a modest site with ambitious growth plans.
Top Features
Flexible and scalable
Supports multiple templates
Endless customization options
Works for all industry
Supports popular plugins
Pricing
WordPress.com premium plans:
Personal: $5.10/month
Premium: $9.60/month
Business: $15.31/month
eCommerce: $27.21/month
Additionally, it supports a free plan.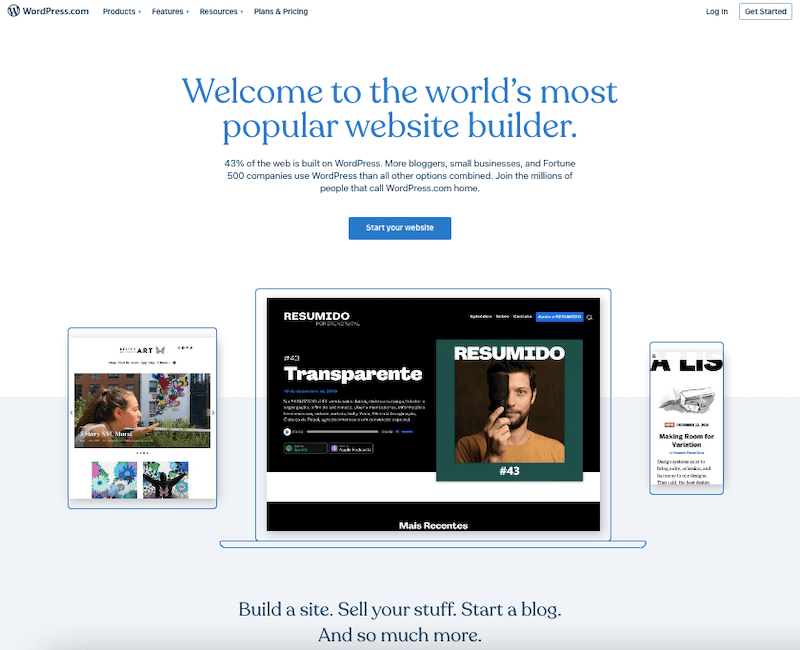 02

. Squarespace

If you want a beautiful, functional, and secure website, Squarespace is your best bet. Also, Squarespace is considered one of the most aesthetically pleasing platforms for creating websites.

Additionally, new enhancements to the editor make it not only feature-rich but also very user-friendly. Squarespace includes many helpful features that make it ideal for bloggers.

Moreover, it works particularly well if your blog contains a lot of visual content. You can have a look at this list of some beautiful sites created with Squarespace.

Not only can you use Squarespace's premade templates to establish a distinct identity for your company, but also you have access to a wide range of convenient tools, such as:
Email campaigns
Built-in analytics
Ecommerce functions
SEO tools
The editor in Squarespace is a "What You See Is What You Get" (WYSIWYG) one. Consequently, with this feature, you can see the effects of your edits instantly, and the editor will reflect them as you make them, just as they would in the live version of your website.
The best part? You don't even have to know how to code.
Top Features:
Pre-built layouts
Support for multiple content types
Dynamic design tools
Custom CSS
Inventory Management
Pricing
Squarespace supports the following four premium plans:
Personal: $23/month
Business: $33/month
Basic Commerce: $36/month
Advanced Commerce: $65/month
You can save up to 30% if you subscribe to its annual plan.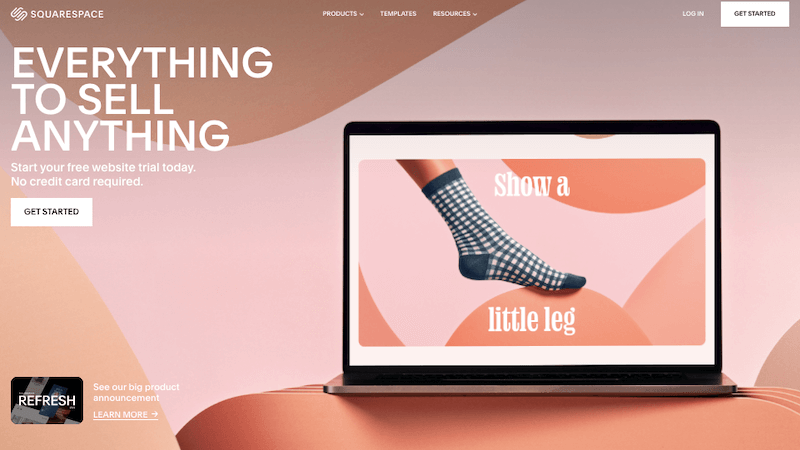 03

. Weebly

Firstly, Weebly is great for beginners because it requires no familiarity with web development or coding languages like HTML or CSS.

Thanks to its intuitive drag-and-drop editor, it's an excellent choice for those who need a professional-looking website or online store up and running quickly and with minimal effort.

All the more, web hosting space and data transfer are both limitless on most of their plans, and they also provide search engine optimization and social media sharing tools as well as a mobile-friendly interface.

In addition to its website-building capabilities, Weebly also provides an app center where users can install additional functionality.
Top Features
Free plan supports an SSL certificate
All plans support e-commerce features
Integrated marketing tools
Powerful design tools
Visitor tracking
Pricing
In addition to a free plan, Weebly supports the following plans:
Pro: $12/month
Business: $25/month
Business Plus: $38/month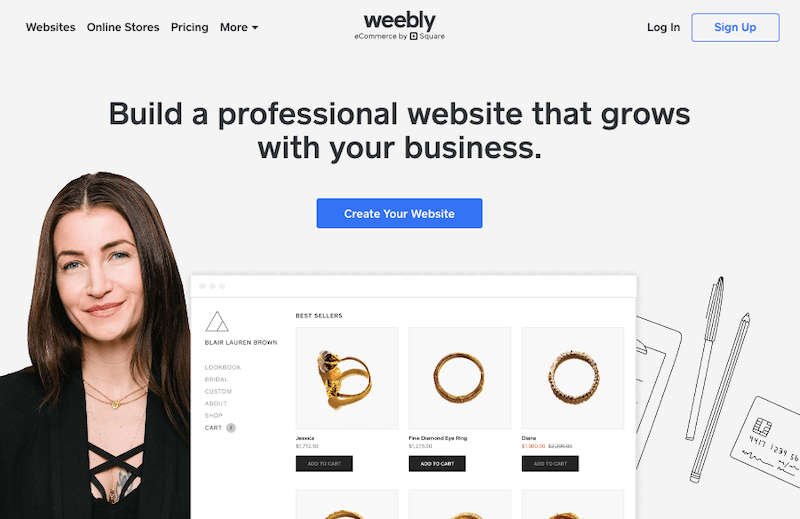 04

. Zyro

It is a newcomer with some impressive features and is a worthy alternative to Wix if you like the latter's eye-catching designs and versatile editor. Zyro is an up-and-coming website builder that excels at several vital features despite its simplicity.

We found it to be like a stripped-down, less expensive version of Wix. We especially like the:
AI writer
Heatmap generator
Logo designer
That it provides. In addition, Zyro integrates with Unsplash, which helps you lay your hands on millions of images.
Zyro's drag-and-drop builder allows you to modify any of its 28 e-commerce-focused templates.
Each and every one of its templates has been thoroughly tested across a wide range of mobile devices to ensure that your store will look fantastic and respond appropriately to any screen size.
Top Features
Drag-and-drop editor
Supports eCommerce functionality
Supports popular payment methods
SSL security
AI business tools
Pricing
Zyro supports the following two premium plans:
Website: $1.64/month
Business: $3.10/month
Both plans come with a 30-day money-back guarantee.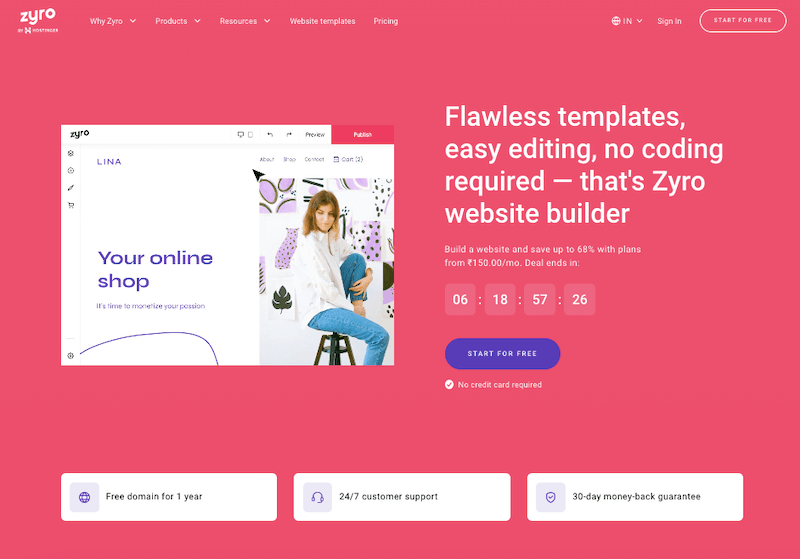 05

. GoDaddy

GoDaddy, a mainstay of the internet industry since the early 2000s, has only recently entered the site-builder sector.

Their drag-and-drop interface is similar to Wix's, making it suitable for inexperienced users. Also, GoDaddy markets itself as an all-in-one solution because of its built-in support for promoting businesses on social media and through email campaigns.

For this reason, it is a good option for site-builders with lofty goals who are also planning multi-channel campaigns.
Top Features:
Built-in marketing tools
Customizable templates
Supports ADI
SEO Wiz tool
Supports multi-channel campaigns
Pricing
GoDaddy offers a free plan along with the following plans billed annually:
Basic: $6.99/month
Premium: $13.99/month
Commerce: 14.99/month
Commerce Plus: 29.99/month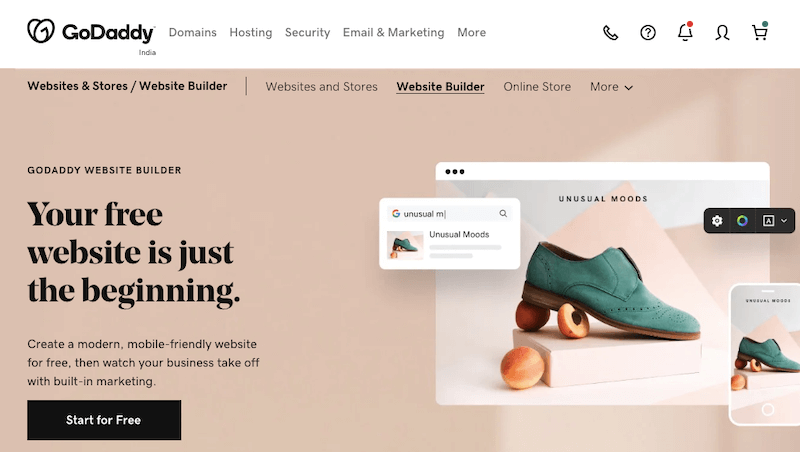 06

. Shopify

For companies looking to set up an eCommerce website, Shopify is an excellent alternative to Wix. It has an: 
Intuitive interface
Gorgeous premade designs
A user-friendly backend
An SSL cert.
Shopify's features include e-commerce sites, blogs, Facebook product sales, employee accounts, an unlimited number of products, and multiple warehouses.
While Shopify's e-commerce tools are superior to Wix's, the latter's website features, such as its blogging tools, could be more powerful.
Furthermore, its inventory management features are particularly impressive and valuable for businesses with extensive product lines.
Top Features
Thousands of themes
Built-in marketing tools
Powerful insights
Integrates with 6,000+ apps
SSL Certificates
Pricing
Shopify supports the following three plans:
Basic: $29/month
Shopify: $79/month
Advanced: $299/month
You can save up to 10% on these plans by signing up for the annual plan.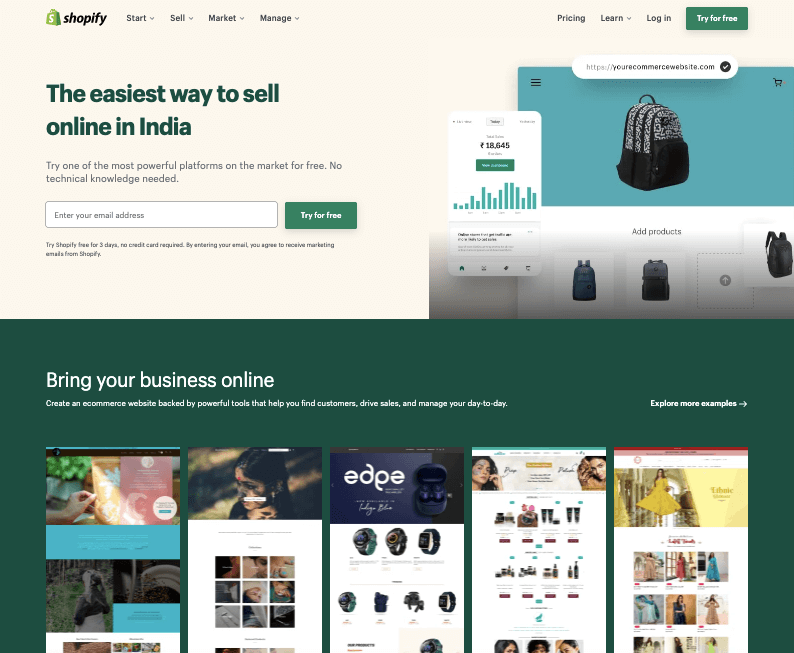 07

. Webnode

Webnode has over 40 million users, making it a major player in the website creation market. Also, their proficiency in more than 20 languages and their ability to make a multilingual website stand out are their primary strengths.

Webnode's e-commerce service has recently been upgraded, and one of the new features is the ability to accept multiple currencies when making purchases. Thus, it's obvious that the platform was designed with a global user base in mind.

Its strengths are apparent in a few key respects: it's an inexpensive website builder that supports multilingual content, and it's easy to use.

Besides, their templates are attractive, and there's also a backup and restore feature that many of their competitors are missing.
Top Features
100+ templates
Fast and simple editing
Free domain for a year
Fast and smooth loading
Intuitive store management
Pricing
Webnode supports four premium plans:
Limited: $3.90/month
Mini: $7.50/month
Standard: $12.90/month
Profi: $22.90/month
All the plans support a 15-day money-back guarantee.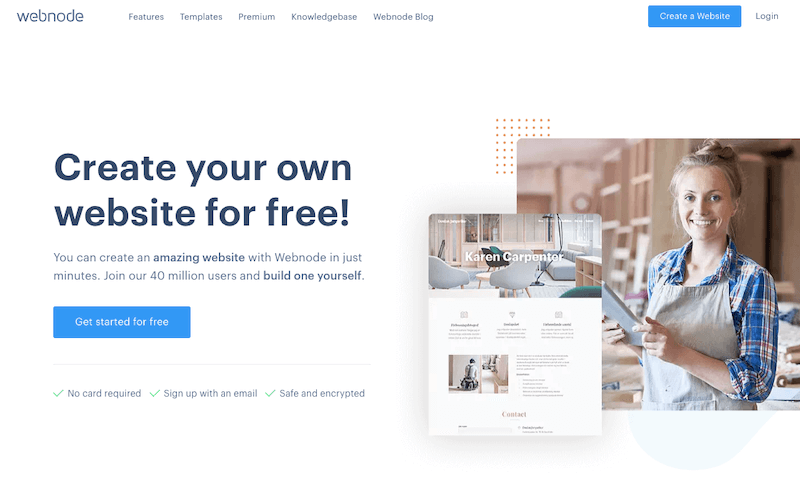 08

. Jimdo

The current trend in website creation is toward using intelligent AI-based website builders, of which Jimdo is a part.

Their intended audience is people who want to make a website quickly but don't want to learn how to code from scratch.

Jimdo's layouts are stylish and fresh. Besides a slick design, they also provide a fantastic side-wide option to change all of your fonts and colors simultaneously.

Above all, its virtual set-up wizard looks through various sources on the web to find the most appropriate pictures to use. However, the online shop function is for modest-sized stores only.
Top Features
Free image library
No transaction fees for online store
Supports logo creator
Easy to use
Fast loading speed
Pricing
The three premium plans that Jimdo supports are:
Start: $9/year
Grow: $15/year
Unlimited: $39/year
All the plans include free domains for the first year.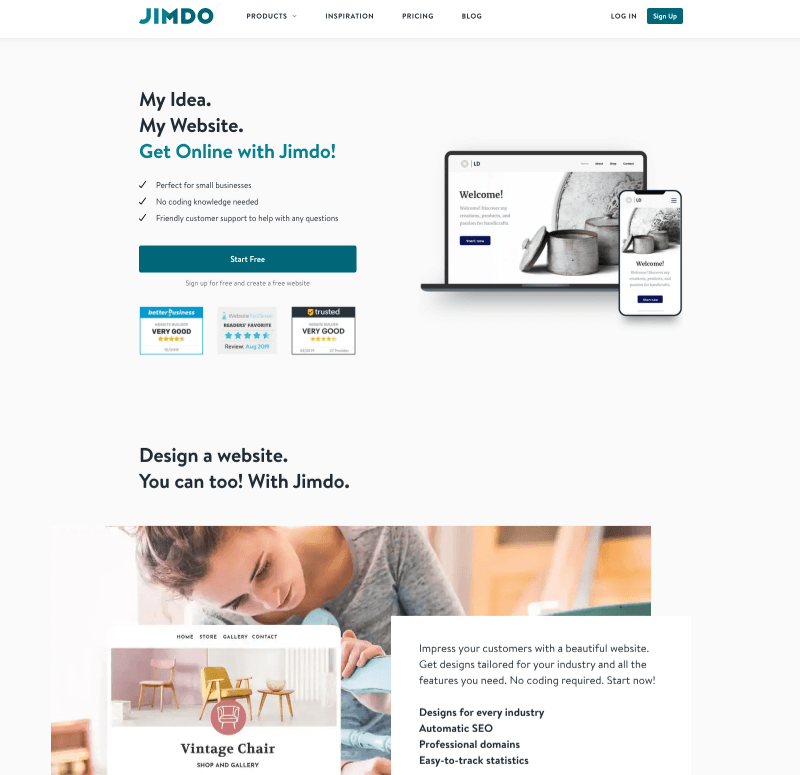 09

. Duda

The year 2008 marked the beginning of this company's focus on developing mobile websites. We think Duda has the best software for making multilingual websites.

Also, you can find a lot of power in the website's customization options. You can personalize the messages delivered to visitors to your website by, for instance, taking into account the time of day or the visitor's location.

Duda, with its drag-and-drop editor, should be on your shortlist if you're looking for a simple means of making a website.

It shines in the realm of low- to mid-scale website development. The design templates are not only lovely to look at, but anyone can customize them.
Top Features
Dynamic page creation
SEO-ready websites
Support for custom widgets
Workflow automation
Built-in CMS
Pricing
Duda is expensive compared to other Wix alternatives. The same is reflected in its pricing for different plans:
Basic: $19/month
Team: $29/month
Agency: $59/month
It also supports a custom plan, and you need to contact the team to get a quote for the same. You can save up to 25% by subscribing to the annual plan.
10

. Webflow

Webflow is unique among platforms because it caters to designers, while most others focus on non-technical users.

If you're a designer or advanced user who wants to build a site on your own but need more freedom in design than what you get with most site builders, this is the best option for you.

The product itself combines elements of website creation software and content management systems. You can design and develop mobile-friendly websites however you like.
Top Features
Supports visual canvas
Advanced design tools
Unlimited storage space
Plenty of customization options
Guaranteed 99.99% uptime
Pricing
Webflow supports a free plan along with the following plans:
Basic: $14/month
CMS: $23/month
Business: $39/month
Additionally, you can contact their sales team to learn about the Enterprise plan.
Best Wix Alternatives – Conclusion
I hope you find this top Wix alternatives list helpful. We have already published a number of related artilces about top resources that can help you find the right tools to grow your business.
Don't miss the following articles.
FAQs About Wix Alternatives
Q1. What is Wix?
Wix is a popular website-building platform that you can use to create any kind of website. It comes with ready-design templates and drag and drop website builder to make the process easier for users.
Q2. What are The Top Wix Alternatives?
You can use platforms like WordPress, Squarespace, and Shopify to design your website instead of Wix.
Q3. Are These Wix Alternatives Free?
Most of the popular website builders offer completely free plans along with premium options.