Best Google Keyword ranking checker tools that will help you to be aware of the current rankings so that you can try to improve them further.
If you want to expand your online presence, you will have to start thinking about increasing your organic traffic. This is the traffic you get thanks to the people coming into your site through search engines, such as Google.
Now, as you already know, to improve your organic traffic you will have to 'rank' better on Google's search pages.
So basically you are competing with other websites for the top spot on Google's search page in reference to a particular keyword. This is called your Google Keyword Ranking.
Hence, the main game is to improve your keyword ranking and start getting more organic traffic. Now, it is a well-established fact that doing proper SEO will lead to a better ranking.
But how much effort do you actually need to put into it? This problem can be easily solved if you already have an idea about your current Keyword Ranking.
For the purpose of this read, we have put together a shortlist of some of the Best Tools for Checking Google Keyword Rankings.
Once you start using these and take action based on their results, you will see a significant improvement in organic traffic.
So without further ado, let's get the show on the road.
Google Keyword Planner
Kicking off our list, we have an entry directly from Google, the Keyword Planner tool. It is not exactly a ranking checker tool but a tool that will help you to create content with high search volume.
We all know proper keyword research is extremely important if you wish to grow the traffic of your site. The Keyword Planner tool will help you to get the keywords with high search volume but low competition so that you are able to rank your post and drive traffic quickly.
The tool can be used to check your site's keyword rankings, the main function of the tool is to find and obtain reports on how well a particular keyword is performing its over-time data, and much more.
It is totally free to use and comes with an AdWords account. Without a doubt, it will give you the most up-to-date and accurate details as it is Google's own product.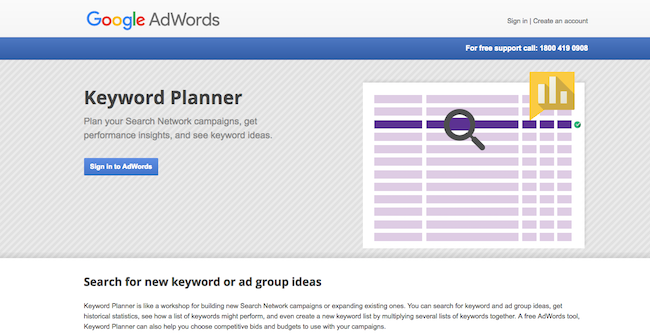 SEMrush: A Detailed SEO and Keyword Analysis tool
SEMrush is a well-known keyword tracking tool and is used by many professionals. One of its key advantages would be its ease of use.
It comes with a dedicated search bar where you can insert the URL of a site or page, and it will let you know which keywords the page or post is ranking on Google.
Furthermore, you can investigate how your competitors are performing in reference to these resulting keywords.
However, it is worth noting that you will have to manually select each keyword for which you want the tool to analyze the rankings.
This might be annoying to use, but useful to many others. If you like to take time with your data bit by bit, then you will enjoy how SEMrush handles the work.
Wordtracker: Keyword Checker Tool
Wordtracker is a tool that will help you to find profitable keywords for your website. If you are a blogger, this tool can be your friend.
You can use the Wordtracker keyword finder to steal keywords that are used by your competitors. You can have detailed insight into SEO and PPC details around every keyword.
So, if you wish to beat your competitors in the search results, this tool can be of great help.
As you start checking a new keyword, the tool will show you a variety of related keyword options with the potential search volume, the competition, and other helpful details.
We have reviewed the Wordtracker tool in detail here, you can read that article to know more about the tool.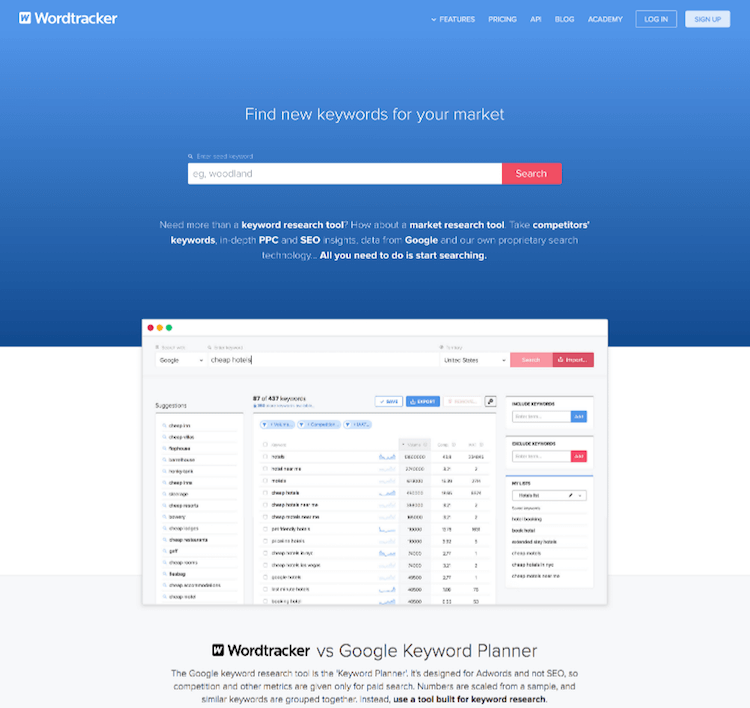 SERPWatcher By Mangools
SERPWatcher is one of the most popular rank-tracking tools on the market. It's easy to use, has a lot of features and an affordable price. But is it the right tool for you?
In this SERPWatcher review, we'll take a close look at its features, pricing, and customer support to help you decide if it's the right rank tracker for your needs.
SERPWatcher Features
SERPWatcher offers a wide range of features, making it a great choice for both small businesses and enterprise companies. Here are some of the most notable features:
Rank Tracking: SERPWatcher lets you track an unlimited number of keywords in Google and other search engines. You can also track your competitor's rankings and get insights into your own ranking progress.
Local Rank Tracking: SERPWatcher provides accurate local rank tracking for Google, Yahoo, and Bing. This is a great feature if you want to track your local SEO progress.
Mobile Rank Tracking: SERPWatcher also lets you track your mobile rankings separately from your desktop rankings. This is important because mobile search results are often different from desktop results.
Keyword Research: SERPWatcher has a built-in keyword research tool that helps you find new keywords to target. You can also use the keyword research tool to get ideas for content topics.
Site Audit: SERPWatcher's site audit tool helps you find and fix on-site SEO issues. This is a great way to improve your website's ranking in Google and other search engines.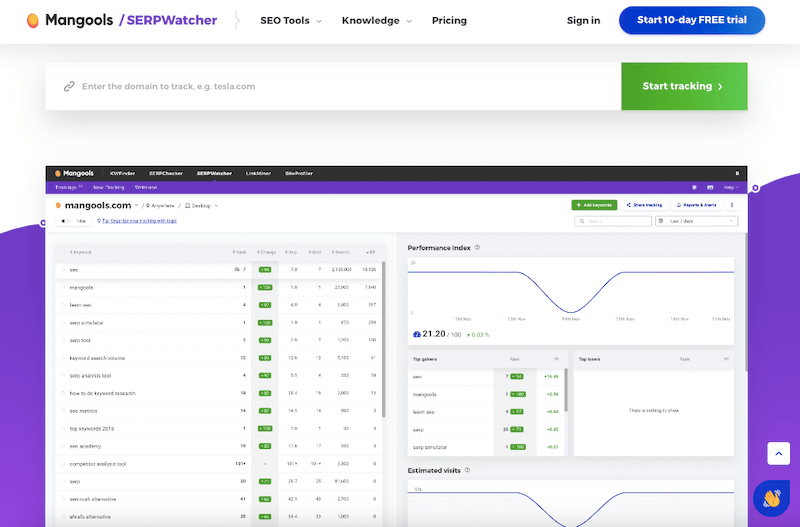 SEOProfiler Keyword Checker Tool
SEOProfiler is one of the most organized and powerful SEO tools for checking your Google keyword ranking. When you first start to use the tool, you will have to provide it with some necessary data such as engine preferences, language & country, keywords, specific search types, i.e., videos, images, and so on.
But once you went through with providing the tool with all the necessary information, the end result you will get is nothing short of fantastic.
The tool will throw at you a range of information which includes the number of searches, the difficulty of keywords, your current ranking against the keyword, in which places your site appears, and your competitor's performance.
The most impressive feature of SEOProfiler would be its Ranking Opportunities tool which will tell you whether you should put in the labor to improve the ranking for the keyword.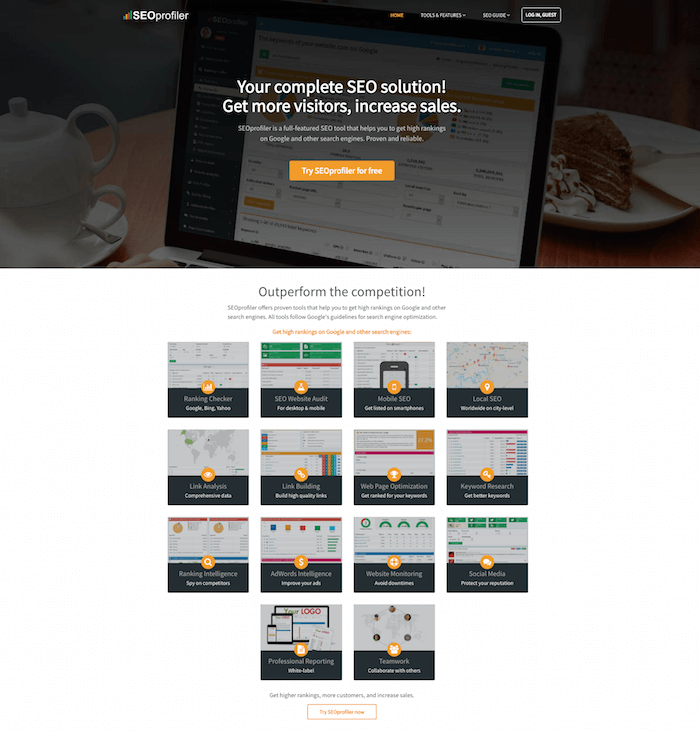 AccuRanker
AccuRanker is the most accurate keyword rank tracker on the market, so you can stay ahead of the pack. It will track your progress and see where you need to make improvements, so you can surge ahead of your competitors.
With AccuRanker, you'll have all the important SERP data to make sure that you are at the top of all the possible changes you need to make in order to improve and sustain your ranking.
You will have all the important data to make sure that you are able to share insight with your team to constantly work towards improving your content and ranking.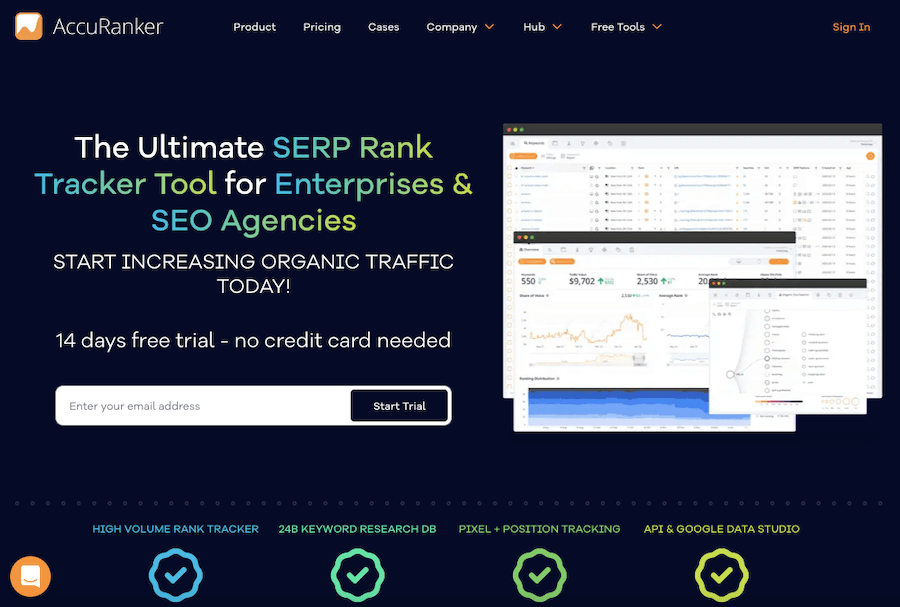 AuthorityLabs
Now if you are a beginner, then we would suggest you take a look at AuthorityLabs. It offers an easy-to-use, intuitive interface that is laced with useful features and flexible options.
For example, you will be able to insert multiple domains and check their keyword rankings. This is something that is not offered by many tools under this category.
However, since it is targeted at beginners, it also doesn't provide users with a detailed overview – which can be confusing to the untrained/unaccustomed eyes.
You will only get access to basic information – what is the ranking of a mentioned site, for the provided keyword, in reference to the selected search engine – Google, Yahoo, and Bing (are only options).
If all you are looking for is getting the statistic on your Google keyword ranking, then this tool will suffice.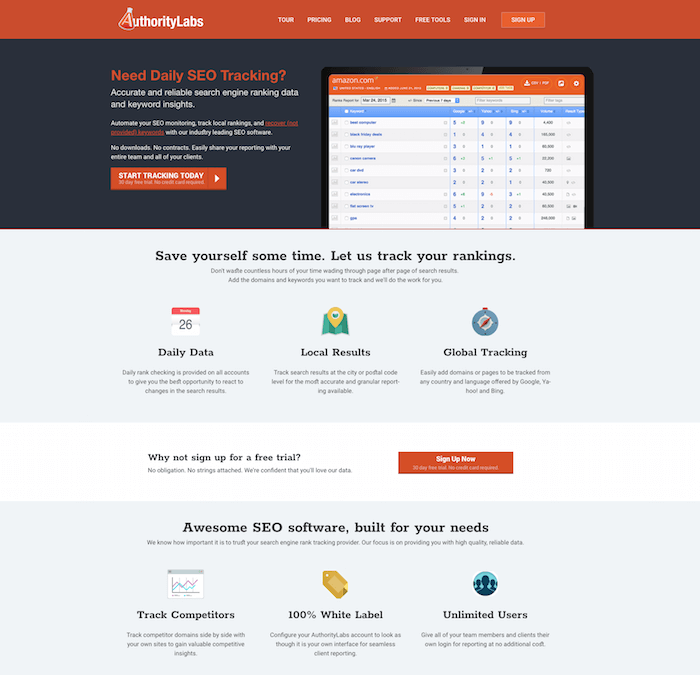 Moz Rank Tracker
Moz is one of the highest authoritative blogs on SEO. Besides providing users with useful information, it also offers SEO tools and products designed to help with search rankings – such as the Moz Rank Tracker.
The tool will fetch statistics on all keywords(the ones in which you are interested) on Google. It automatically keeps itself up-to-date and provides users with the latest information without the need for manual daily checkups.
All relevant information gets sent to your emails. From there you can easily glance at whether your site is increasing or decreasing in Google's search results.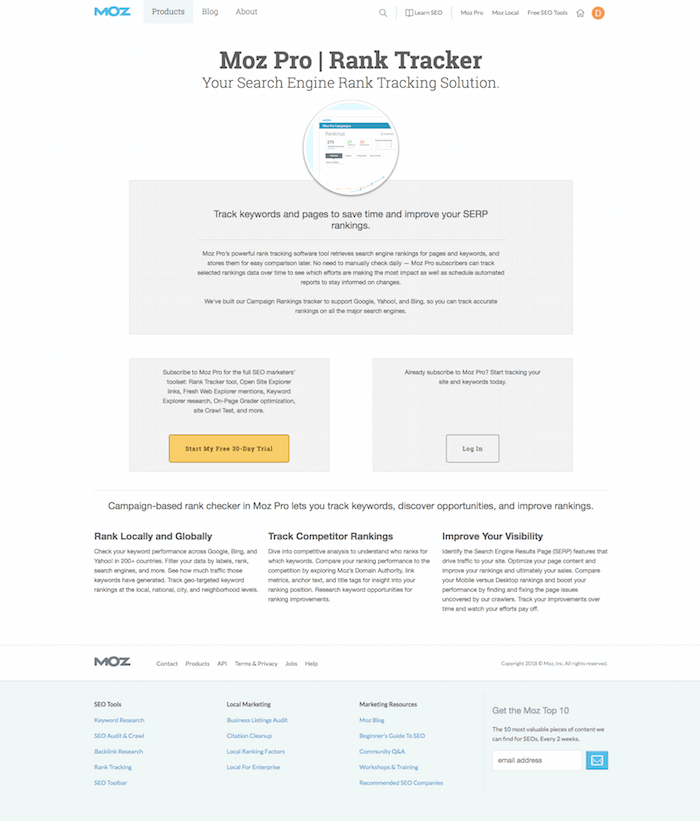 Ahrefs
If you are looking for one of the simpler and easy-to-use alternatives for checking your Google keyword ranking, then Ahrefs is worth taking a look at.
However, it is worth noting that most users like to keep Ahrefs along with a primary keyword ranking tool – most commonly SEMrush.
This is because the main focus with Ahrefs is on backlinks, and this functionality goes well with SEMrush. Ahrefs, as a tool, shines when used for viewing external links being used by your competitors, along with their top pages and IPs.
One of its notable features would include the option to offer localized reports on keyword ranking. This helps to understand how you are fair internationally in comparison to domestically.
Furthermore, unlike SEMrush, Ahrefs can automatically find keywords for which your site is ranking.
SimilarWeb
Now coming to another one of the popular tools for traffic insights – we have SimilarWeb.
This is another tool that isn't strictly targeted as a keyword ranking tool – but much like Ahrefs, can easily supplement the data you get from some of the other tools you get on this list.
The tool is equipped to provide users with details about a site's traffic, globally, and domestically, as well as category ranking.
Also, for people who love their information to be showcased more visually, SimilarWeb offers a handy graph as well.
You will also be able to compare your data with that of your competitors. Another handy feature of the tool is to suggest to competitors that it thinks you should keep an eye.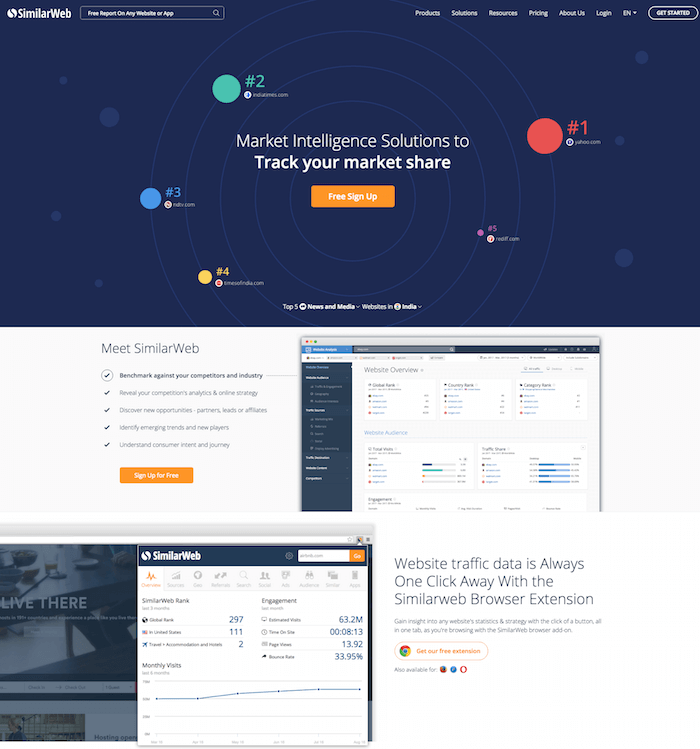 SERP's Keyword Rank Checker Tool
SERP is another well-known name in the SEO community, and its Keyword Rank Checker Tool offers a feature-rich and convenient means of gaining perspective on your performance with respect to a keyword. And best of all, the tool is free!
One of the main praises worth giving to this keyword would be how easily and quickly it delivers all the information you need.
All you will have to do is enter the keyword, your domain name, and the particular search engine on which you want to check your rank.
And just like that, the tool will hit you with over 250 search results in a matter of seconds. You will have access to detailed information such as search volumes, CPC, and so on.
SEOCentro
SEOCentro essentially is a web marketing resource, but it offers plenty of SEO tools including one for checking keyword rankings.
The tool will let you check your ranks on Google's search pages, in relation to any keyword and also provides relevant details of related keywords.
All you need to do is simply insert the keyword for which you are targeting followed by your domain name. There is also an option to enter the name of your competitor which will let you compare performances.
And apart from the keyword ranking tool, there is a host of other useful SEO and marketing tools available with SEOCentro.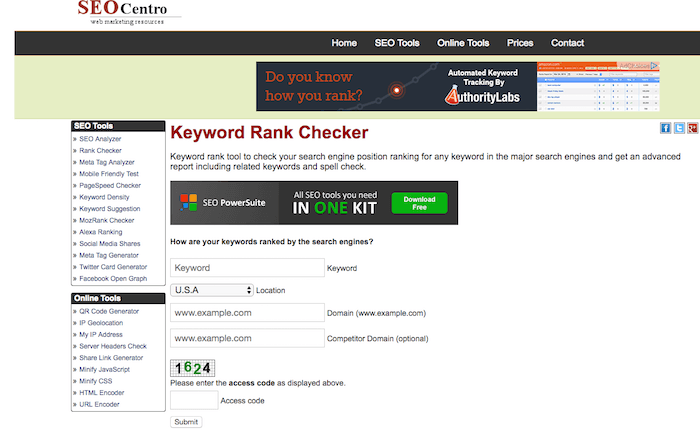 Advanced Web Ranking
Advanced Web Ranking is another comprehensive rank-checking tool that gives you a detailed report of keyword ranking.
This tool can be extremely useful if you are managing any SEO business and offering services to your clients. You can use this tool to generate local ranking so that your report matches what your client sees in their locality.
Another plus point is the white label report that you can send to your clients with your own branding to make it look professional.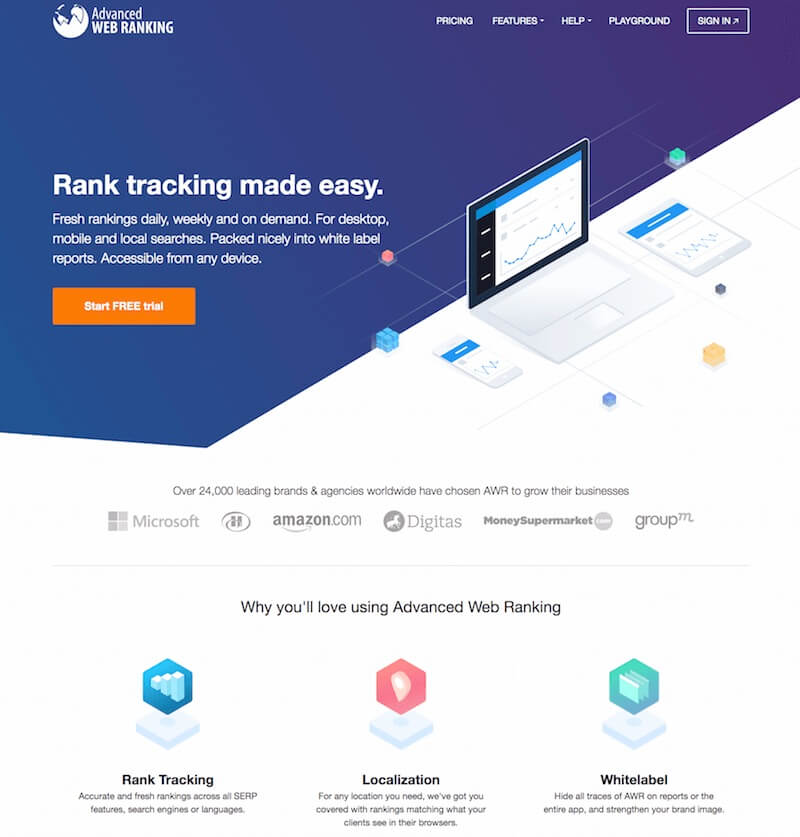 Google Rank Checker
And now, coming to the end of our list we have the Google Rank Checker. Amongst the free alternatives available online that help to find your keyword rankings, this one takes the cake.
Aesthetic-wise, it might not be too pleasing, but it is still one of the easiest to use and allows you to easily check your keyword ranking about a specified domain name.
You will be able to gain insight into your website, as well as how your competitors rank concerning that same keyword.
Basically, you have the entire stage set up for you. You can use the tool and start manually hitting away all the keywords and all your different competitors, to finally come to an overall understanding regarding your current position.
However, it should be rather evident that this entire process is going to be time-consuming.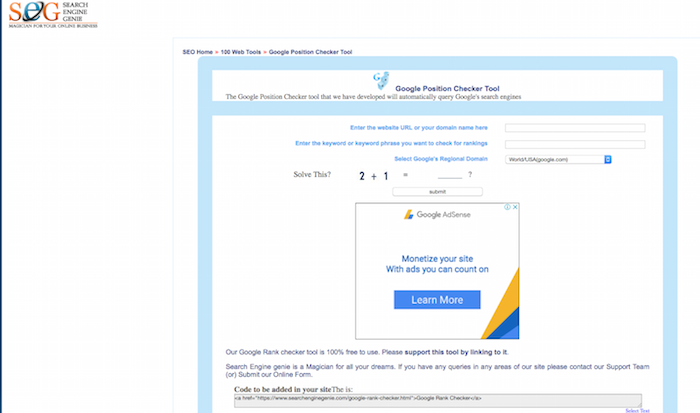 AuthorityLabs
Another useful tool to keep a track of keyword rankings. This is a great option for small businesses as well as mid-size enterprises.
With this tool, you can keep a track of your local SEO rankings as well as mobile-specific rankings to make better-informed decisions for your business.
This tool is specifically good for the SEO agencies that manage SEO for their clients. It will help you keep a better track of all the rankings for your clients and send them white-label reports with your branding.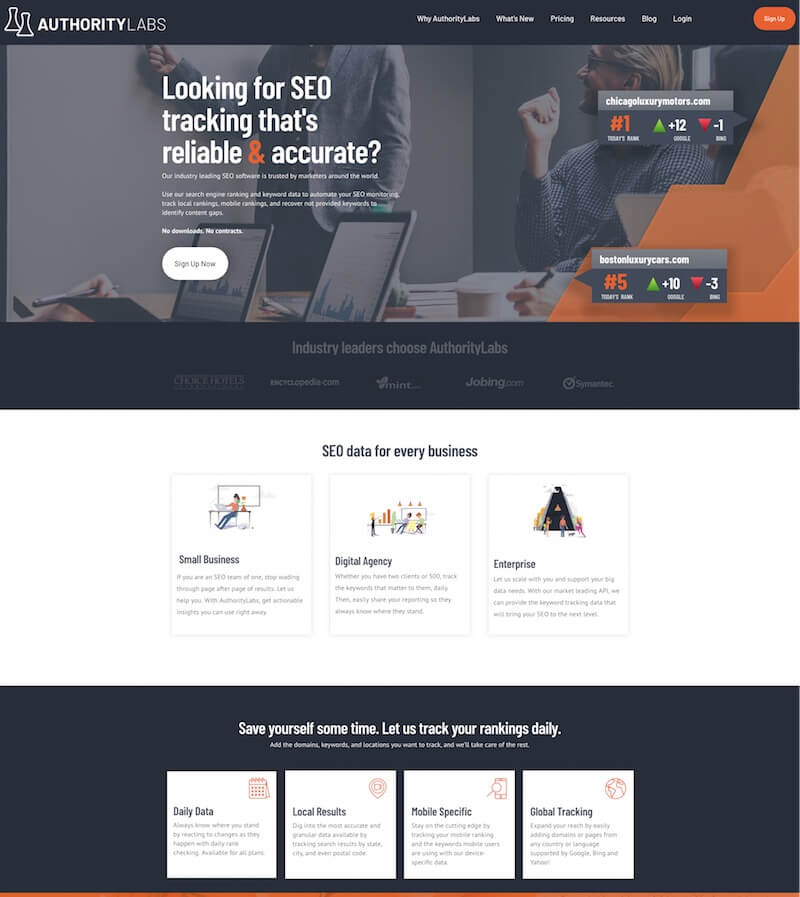 FATRANK Keyword Rank Checker
FATRANK offers a very easy and simple keyword rank checker Chrome extension that you can use to track the ranking of a keyword for a page that you are currently viewing. It can track ranking on Google as well as Bing search engine.
It is a lightweight and handy extension that will make it quick to check the ranking for the important keywords that you wish to track for your site. All you have to do is to click on the icon and add the keyword that you wish to track while your page is open.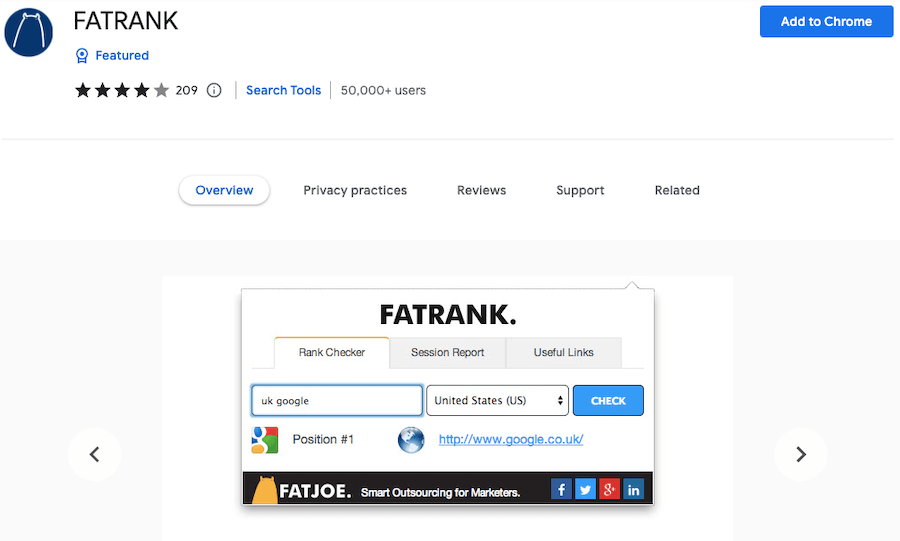 In Conclusion
So these were our picks for the best tools for checking Google Keyword rankings. Do let us know if you found this to be helpful.
Also, If you decide to use any of these tools, then leave a comment down below regarding your experience.
Again, if you think that we know some other Google Keyword Tracking tools that you think should have made it into the list, then also mention them down below as well. All other users will love to see input from a fellow reader.