Adobe Illustrator is an essential tool that helps graphic designers, illustrators, vector artists a great deal to complete their tasks pretty easily.
It allows the users to access unlimited images, graphics, videos, templates, and other creative assets for you to start from scratch.
It also provides many ready-made presets to kick-start one's work from blank pages.
One of the important items out of these presets are patterns. They can be used to fill, strokes and they help to resize, rotate, or reposition anything within the subject.
This guide introduces you to some of the best illustrator patterns that can be used in your work to make it super fit on any platform.
Kaleidoscope Creator Pro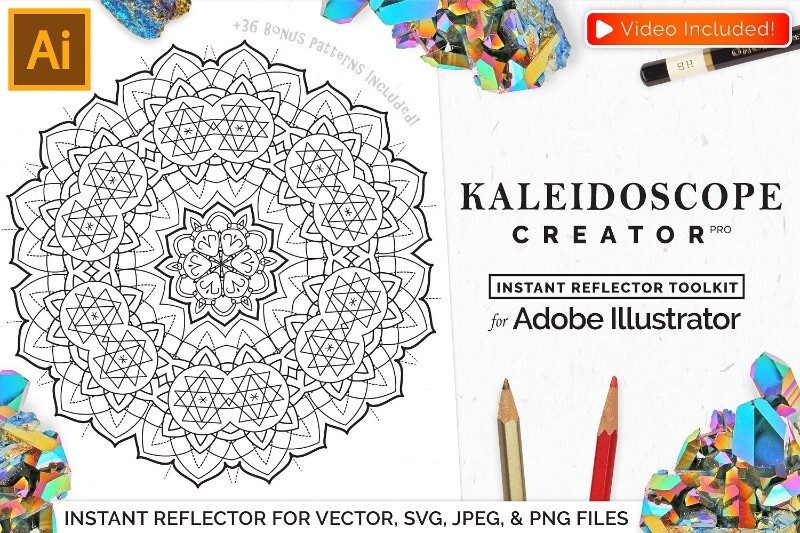 This kaleidoscope is a great tool for creating unique mirrored patterns. It's the best one out there for making coloring books, logos, stock images, posters, patterns, tattoo designs. It's absolutely compatible with Mac as well as windows. This pattern fills can be made accessible from the swatches panel.
The swatch libraries menu which is located at the bottom of the Swatches panel contains the respective folder. You can use it and make your work look incredibly good.
Floral Patterns and Illustrations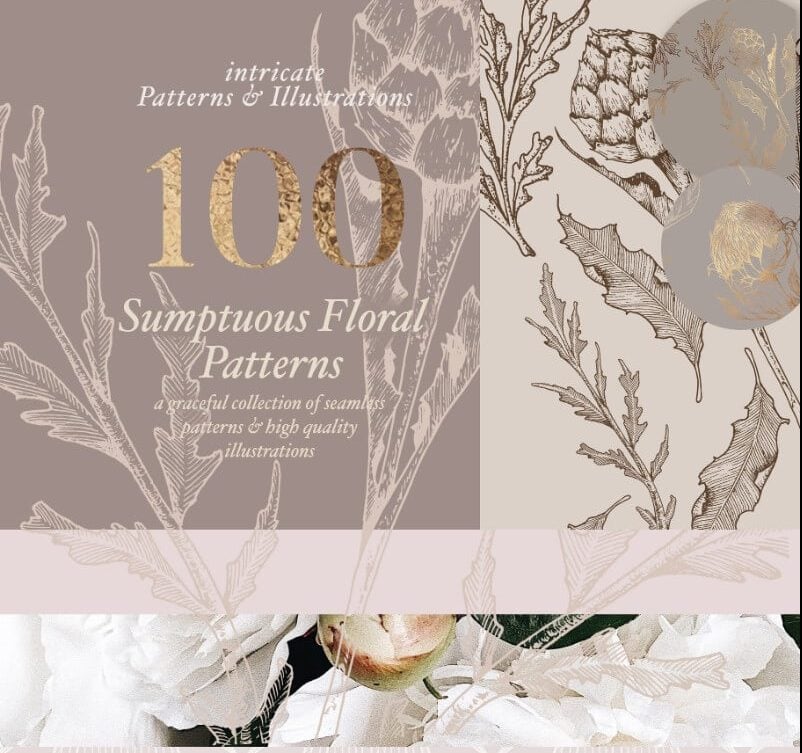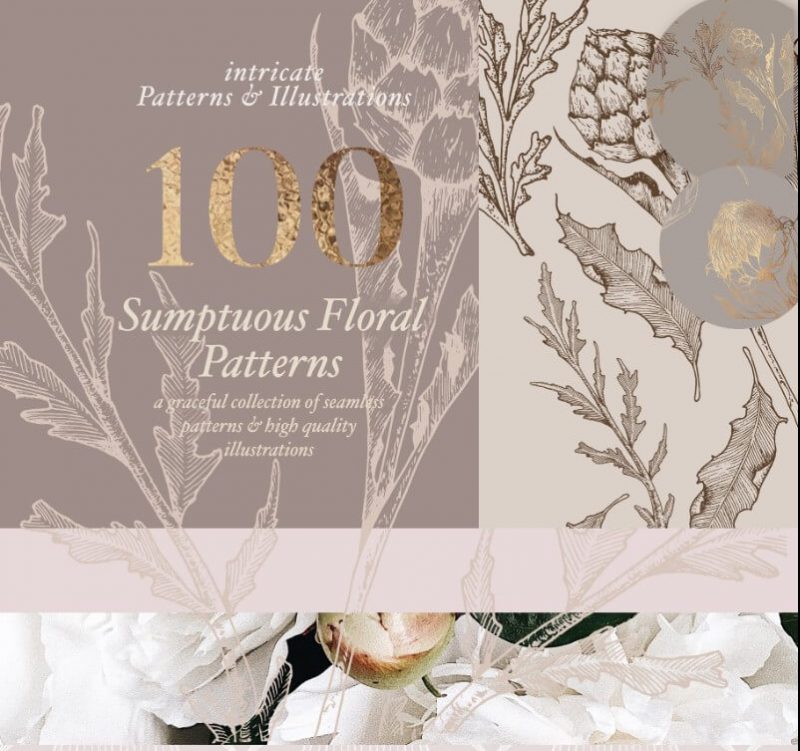 This wonderful set of carefully pre-made patterns instantly provides you with the solution for adding floral elegance to the work. These seamless patterns come in rich colors and make your work stand out from the crowd.
This is simply apt for creating stylish backgrounds and it effortlessly adds a luxurious look and feels for the extravagant designs.
1805 Pattern Bundle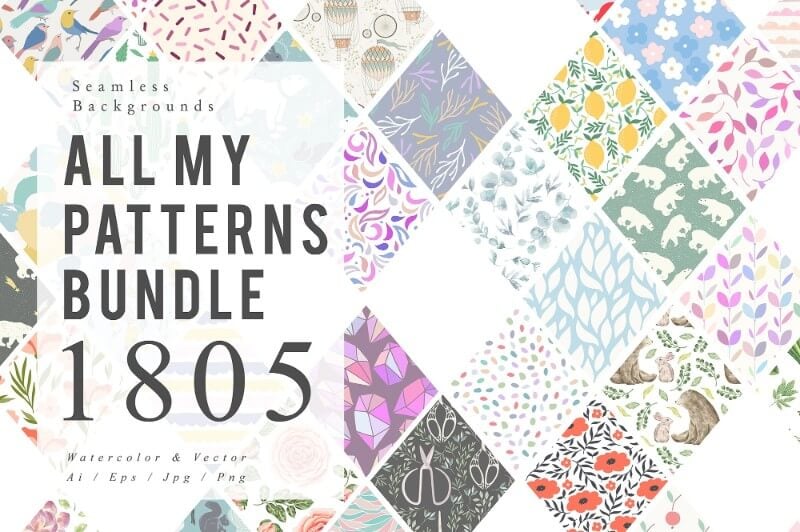 This exquisite collection contains patterns that are just suitable for any project. These are perfect for business, branding, stationery, clothing, accessories, wedding, packaging, magazines, etc.
You can choose the patterns that suit the occasion; floral patterns are great for creating calendars while thematic patterns look good for postcards. This bundle consists of 56 collections on different topics, and all these patterns are saved in 3 formats; Al, EPS, and JPG respectively.
Celestial fonts and vintage pattern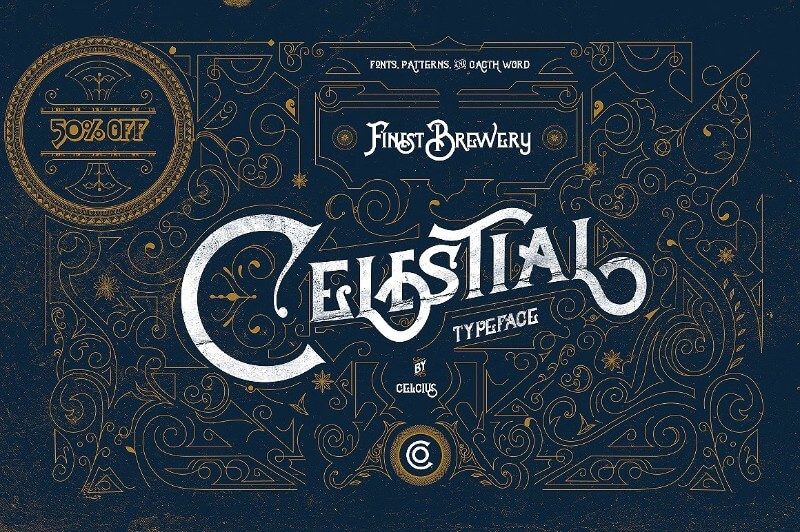 It's handmade by combining modern and classic typography with some amazing features. Add a classic touch to your work using celestial patterns.
Typical celestial features include uppercase, lowercase, numerals and punctuations, old-style tabular, vintage ornament, accents, ligatures, contextual alternates, ss01, ss02, ss03, old-style tabular for numbering.
Celestial patterns (Ai CC), celestial brush (Ai CC), watchword, and outline decorative stroke comes as a bonus with the pack.
Hand Drawn Japanese Patterns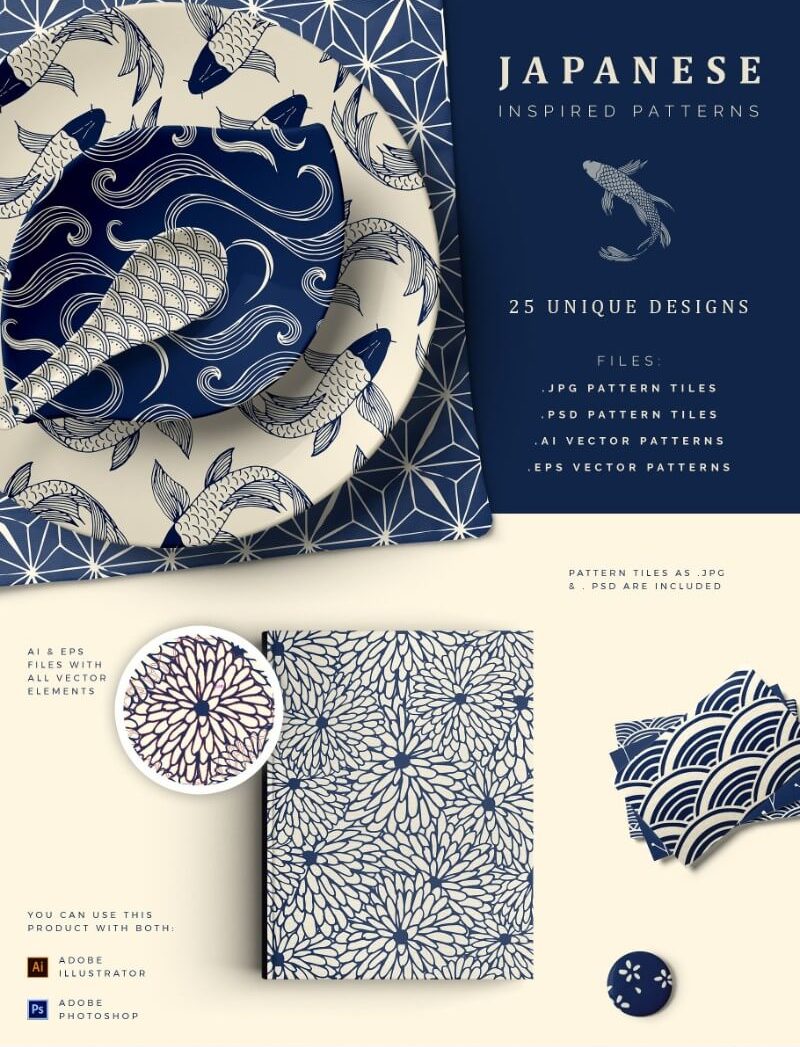 This is a beautiful collection of around 25 Japanese vector patterns that are completely hand-drawn and inspired by Wabi-sabi design. The Japanese patterns are mainly used to express ideas, concepts, and life beliefs.
All these are fully editable and a high-resolution jpg of tile patterns comes with the pack. Do enjoy using these elegant patterns on branding projects, fabrics, packaging, fashion apparel, posters, wrapping paper, printables, and backgrounds.
Mosaic Maker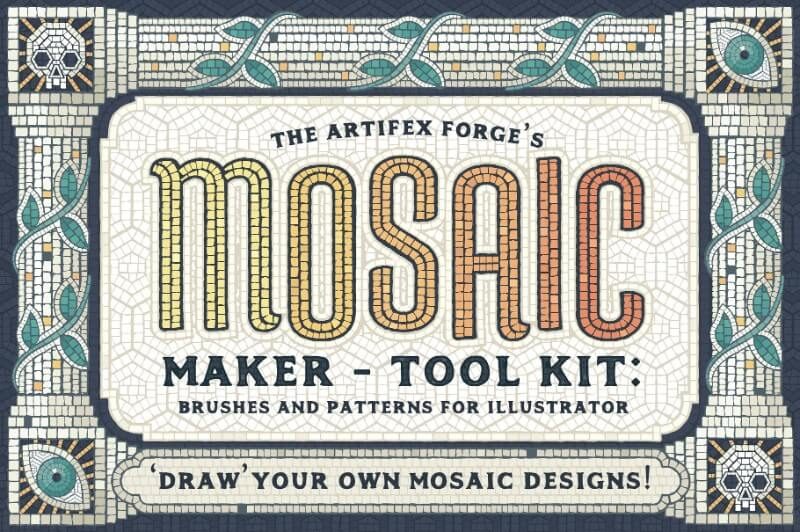 With this amazing collection of patterns, you can create stunning designs by adding a touch of antiquity. Many contemporary patterns with fantastic designs are available as well.
Some of its features are a quick reference guide, example files, instructions, and specific tips for making screen-shot designs. It's compatible with illustrator CS1 to CC only.
Flower Power Botanical Illustrations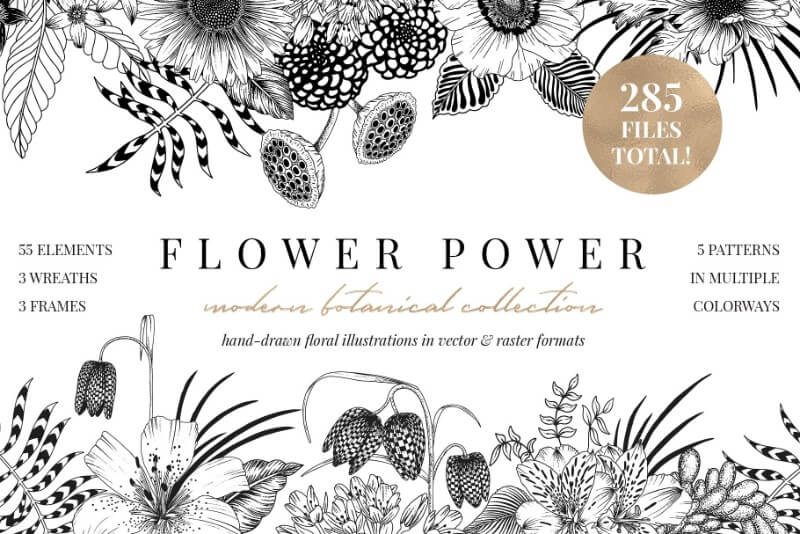 The flower consists of 6 premade arrangements, 55 hand-drawn illustrations, 18 patterns in vector and raster formats. It consists of well-organized layers for recoloring and editing.
The patterns are flexible that it's ideal for projects like wedding stationery, branding, packaging, logos, blogging, social media, fabric, etc.
The hand-drawn elements have been digitized by giving utmost care to preserve their original quality. Moreover, its vectorized versions provide a space for infinite scaling by maintaining the beautiful hand-drawn characteristics of pencil work.
52 Halftone Seamless Patterns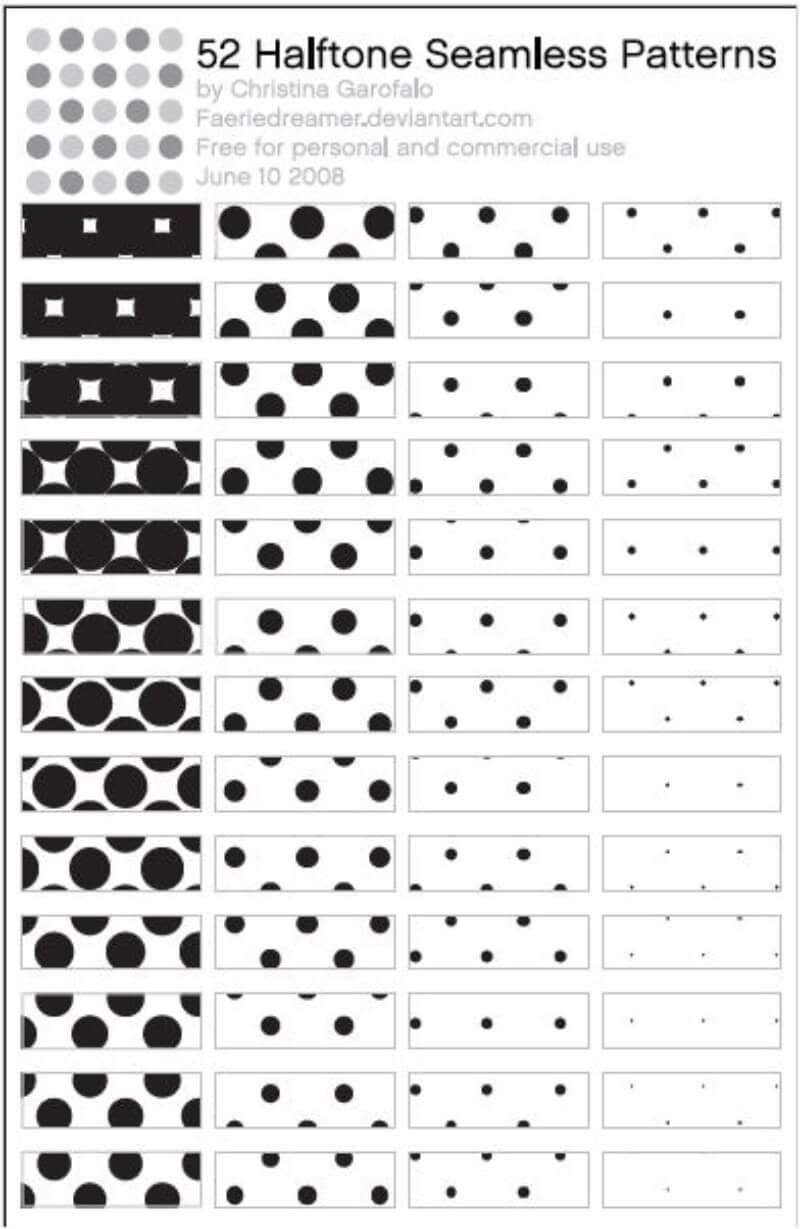 These comic tone patterns are compatible with illustrator CS+. It's pretty easy to use, all you need to do is open the swatches pallet. There all the required patterns are available for you to use.
The easiest way to import the patterns into the file is to select your preferred boxes and then copy/paste them into the document you are working on. You can even scale the patterns by selecting the shape and adjusting the pattern size.
50 Astonishing Argyle Pattern Swatches For Illustrator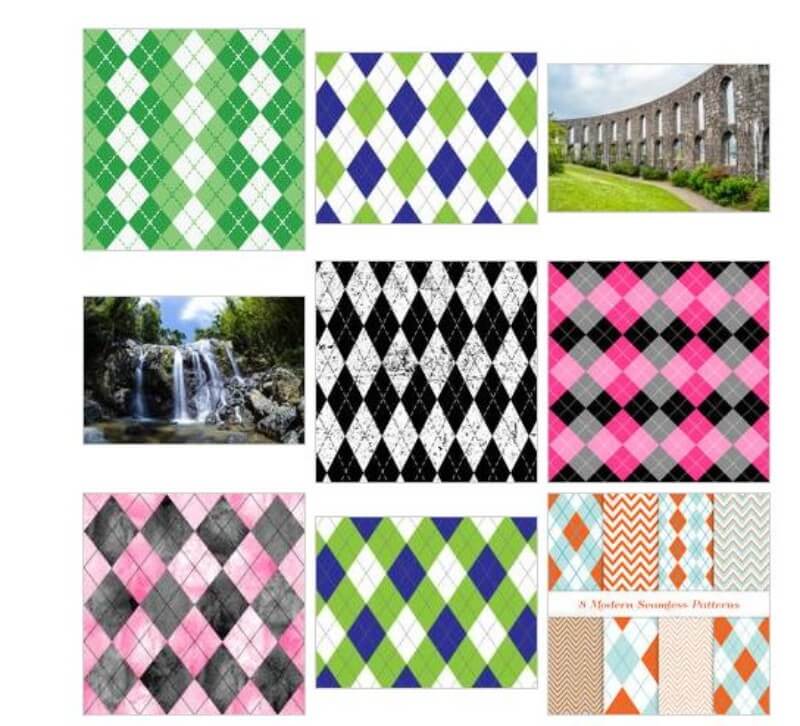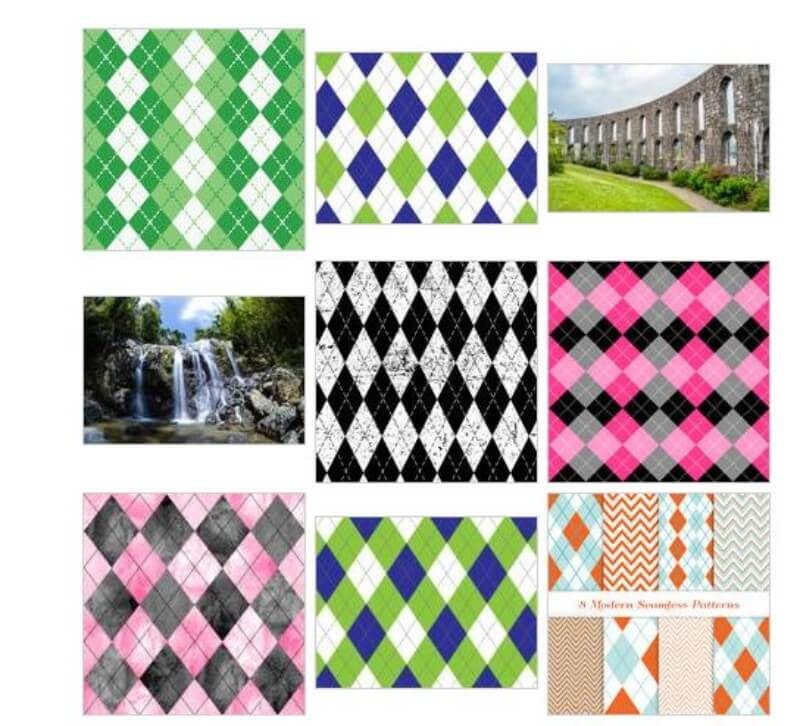 This astonishing set of argyle pattern swatches is very useful and can do wonders on many platforms such as fashion designs, textiles, package designs, graphics, and web design.
These are quite flexible in how they can be displayed. You can scale, rotate as well as nudge them over pixel by pixel without changing the shape of the object.
Illustrator Sashiko Patterns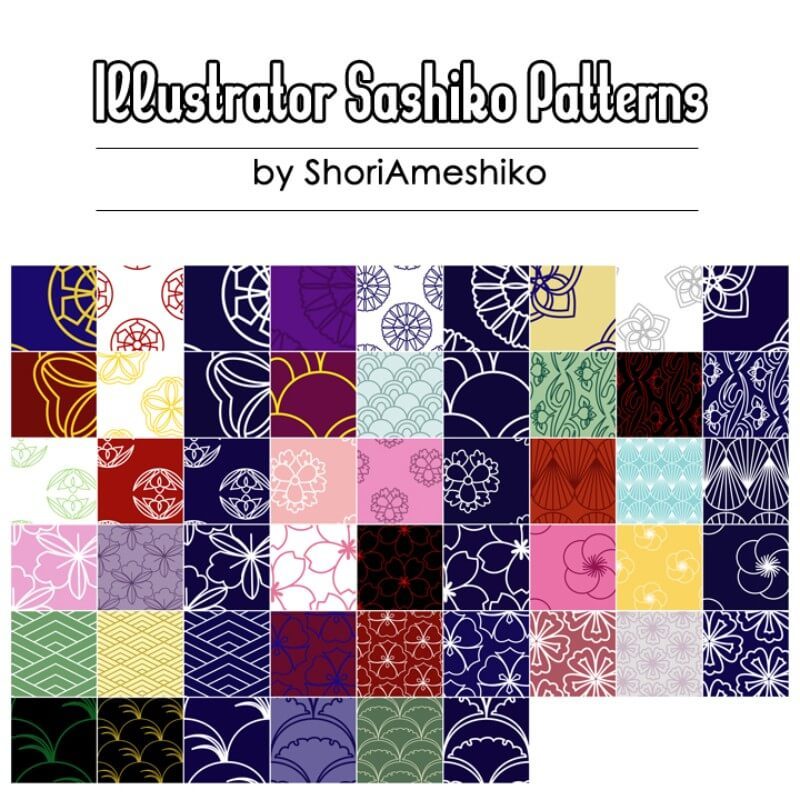 These are a collection of 51 patterns which is well suited for any project. Like its name, the patterns are inspired by the famous Sashiko designs, so basically patterns are rough outlines on top of solid colors.
17 different designs are used with different colors and sizes which resulted in 51 fabulous patterns. Instructions to use these patterns vary across instructors, all you have to do is find the saved file entitled "sashiko patterns" in the window or swatch library. The files open up to a box full of swatches of patterns.
Each pattern has been woven out of different stories, find the one that'll meet all your requirements and add it to your design story.