Managing customer relationships is an important aspect of any business big or small. The requirements of Customer Relationship Management for small businesses are very specific, and therefore not all CRM software will be suitable for this purpose.
It is possible to buy CRM software online, and some of them are also available free of cost. The best part about online CRM is that they save time and money and you do not even have to invest in servers.
All you need to do is sign up and start managing your customer relationships.
It usually applies to small businesses which usually do not have an elaborate IT setup.
Features of a Good Online CRM Solution:
Contact management
The ability to manage sales forecasting and sales funnel
Integration with email and marketing systems
Different businesses need different features in the CRM solutions, and it is also possible to find online solutions with the necessary features.
Most CRM solutions providers offer free trials of their software so that you can make an educated choice regarding the solution that suits your business requirements the most.
Let us look at some online CRM solutions that are best for small businesses:
This software has been created by Norada and is especially suitable for small businesses that conduct a lot of project work.
Creative businesses in the areas of designing, home renovation, software development or consultation can particularly benefit from this online CRM.
One of the special features of this software is the secure workgroup feature that not many solutions provide.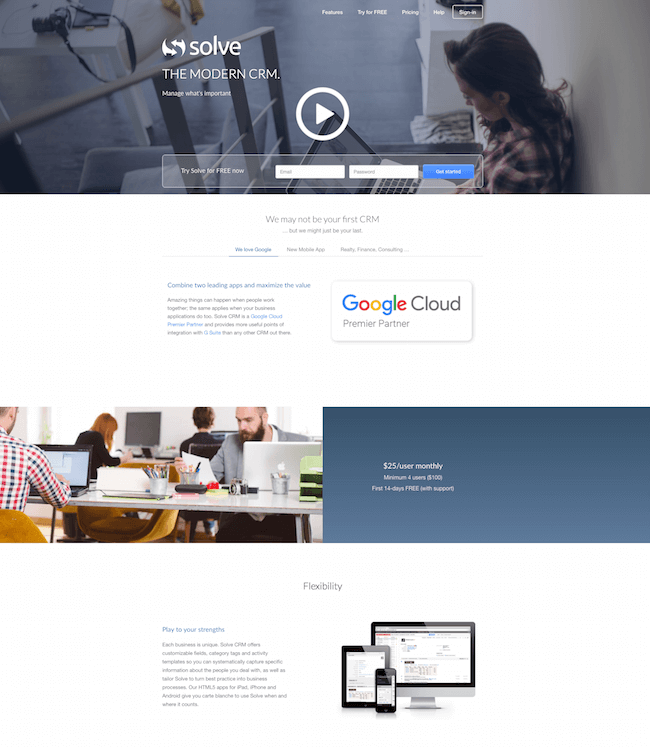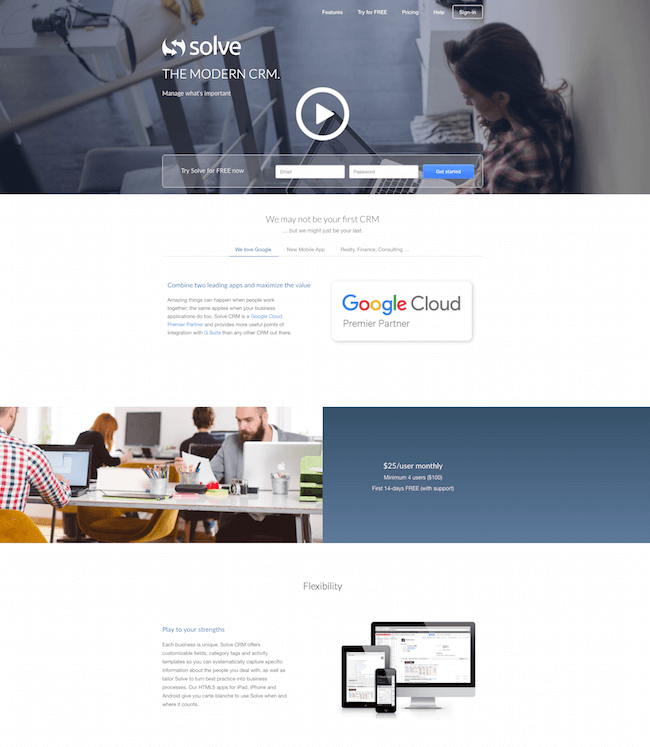 This software solution is for businesses which especially need project management as it gives CRM and project management in one package. The best feature of this software is that it allows you to zero in on leads and contacts.
You can check out their background, email history and details of any project that they have completed earlier. This software also shows all the social profiles connected with the email address of the contact. You can get a free version for up to 2 people.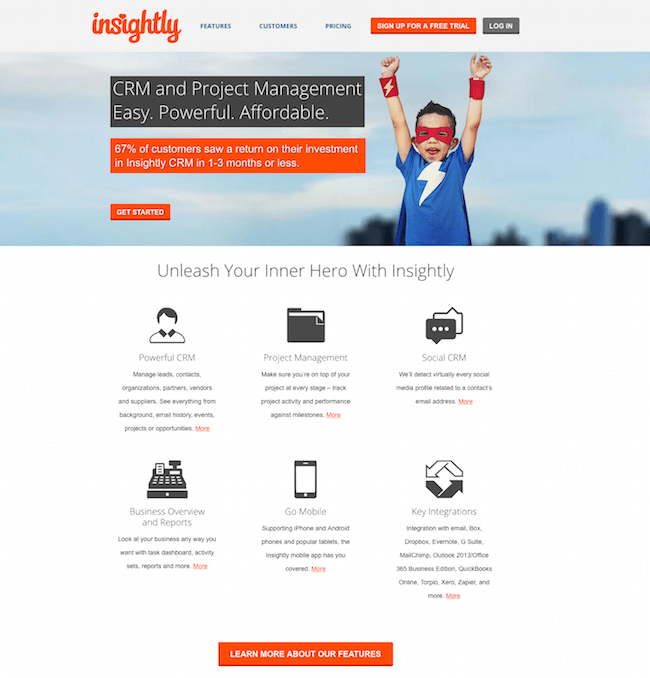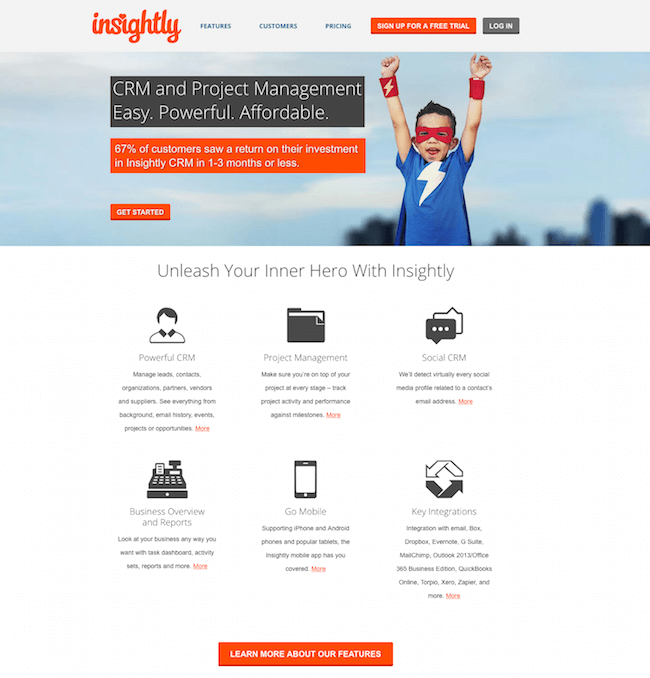 ZOHO CRM offers a basic free plan for up to 10 people, but these free plans may not have all the features that you need. On the other hand, there are some inexpensive plans which have additional features like sales forecasting and marketing campaigns that can be quite useful.
One of the main features of this software solution is that it offers a wide range of analytics which includes custom dashboards and it is also integrated with Facebook, Twitter, and Google Apps.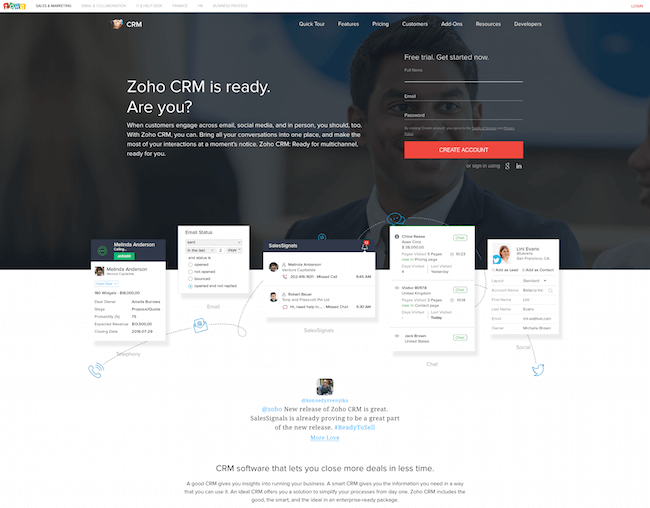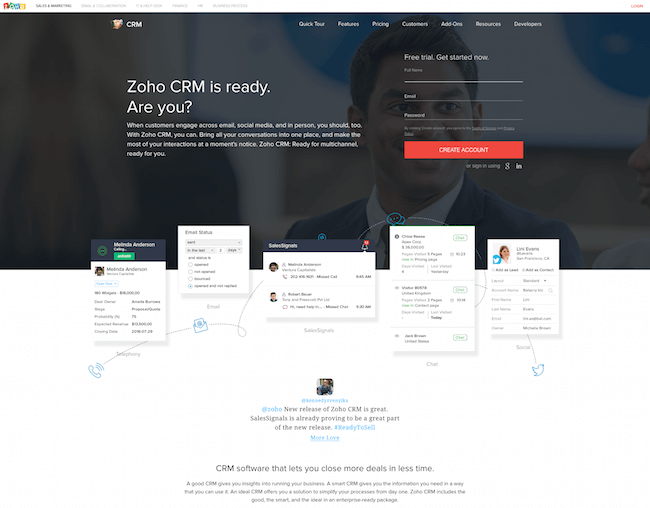 With the help of this solution you can manage your tasks, contacts, your calendar, and your sales pipeline. The interface is user-friendly which makes up a large part of its appeal.
However, the main benefit of this solution is the ability to integrate with a large number of programs. These include six plus accounting programs and about a dozen contract and proposal writers.
This CRM solution makes your work simpler due to its user-friendly nature. At the same time, it is available free of cost for up to 2 users and 250 accounts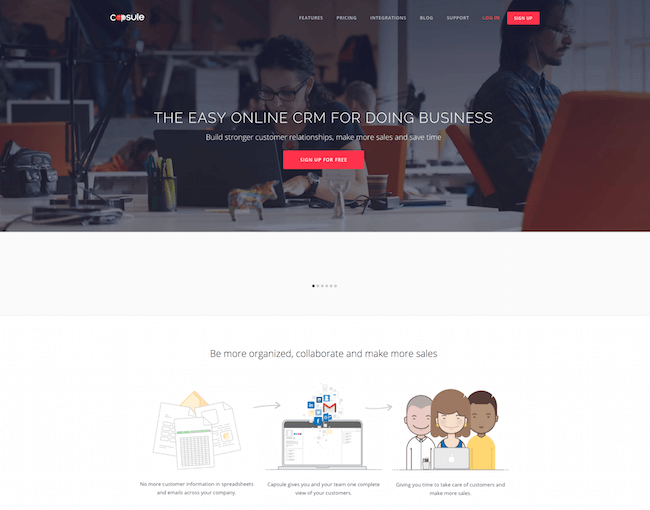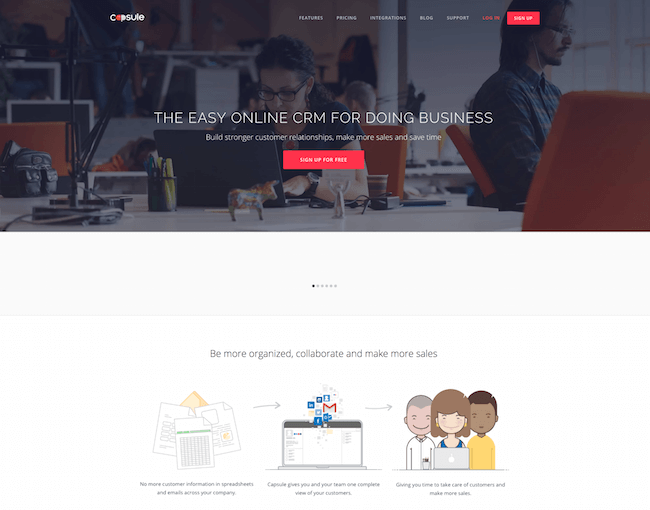 This CRM solution rightly markets itself as a simple one and provides features which help small businesses to manage sales and marketing simultaneously. Another great feature of this solution is the excellent customer service and support provided by the company.
This CRM has email marketing integrated into it and other features required to manage contact and sales. The solution is available free of cost for up to two users and 100 accounts.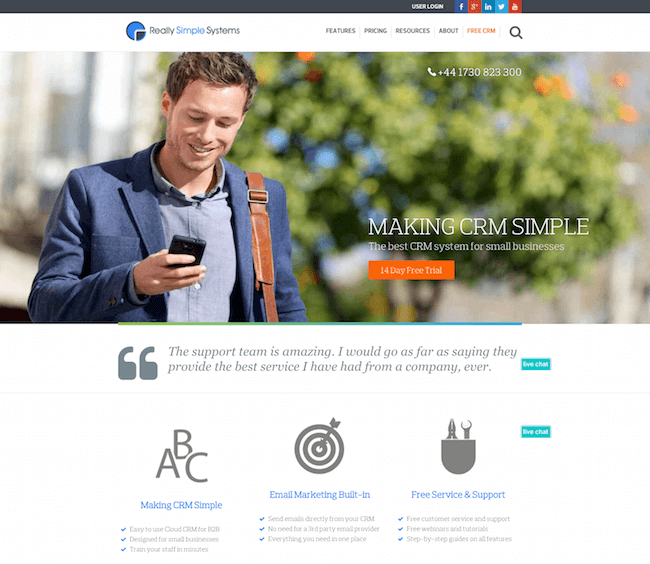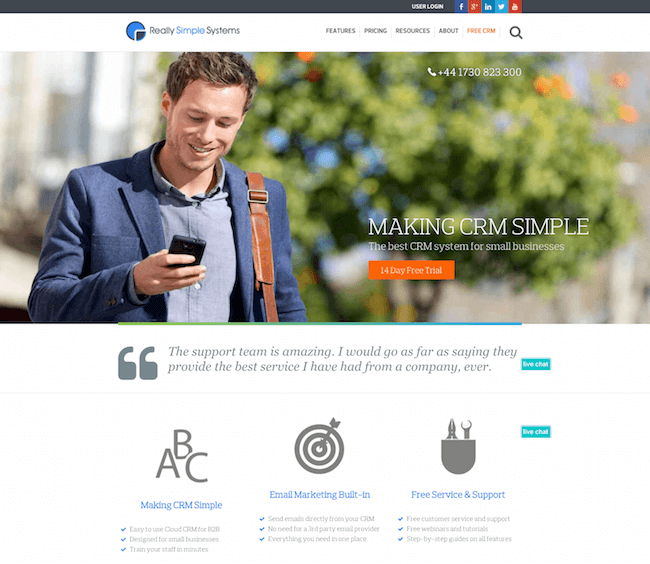 This CRM solution has a large number of features available at a very reasonable price. Its mobile and collaborative features are among the best available in the market.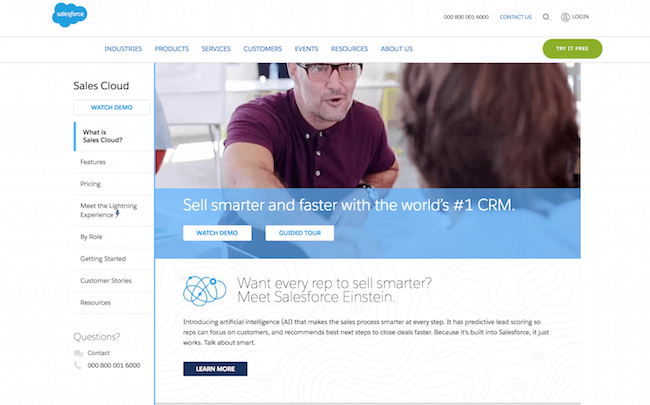 This CRM helps you to learn who your customers are. It is a cloud-based CRM, and all members of your team can use it for the purpose of keeping track of important customers, deals, and partners.
To start using this solution all you need to do is import your contacts from a spreadsheet or get this information from your website.
With this software apart from learning who your customers are, you can also learn how they relate to each other and what you need to do to close a deal.
It is also possible to organize contact lists in different manners as required. It is also possible to connect with your customers' Facebook profile within the Batchbook interface.
The feature of this software especially useful for small businesses is that it provides easy access to the communication history with a customer. It is also possible to record emails automatically, attach notes to the conversation and chat with team members.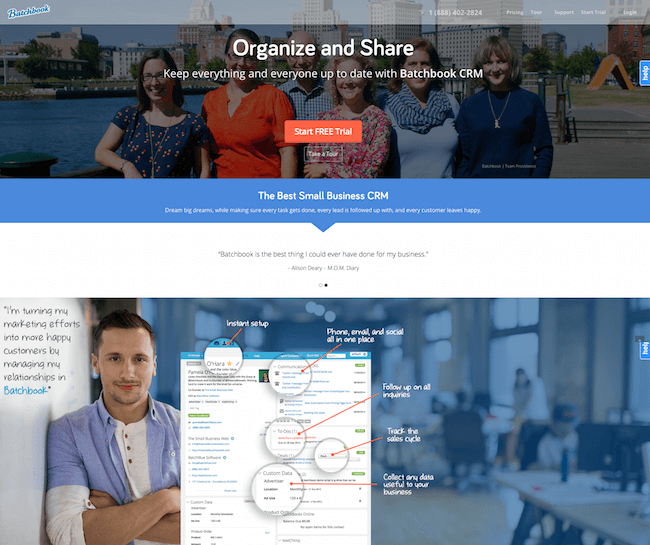 One of the methods to make your work more productive is to incorporate your CRM into your workflow, and that is easily done with Nimble.
In this solution, it is possible to see and do everything through a single window, such as checking your schedule or replying to a tweet.
The pricing of this software is simple enough at $15 per user per month and includes a large number of integrations.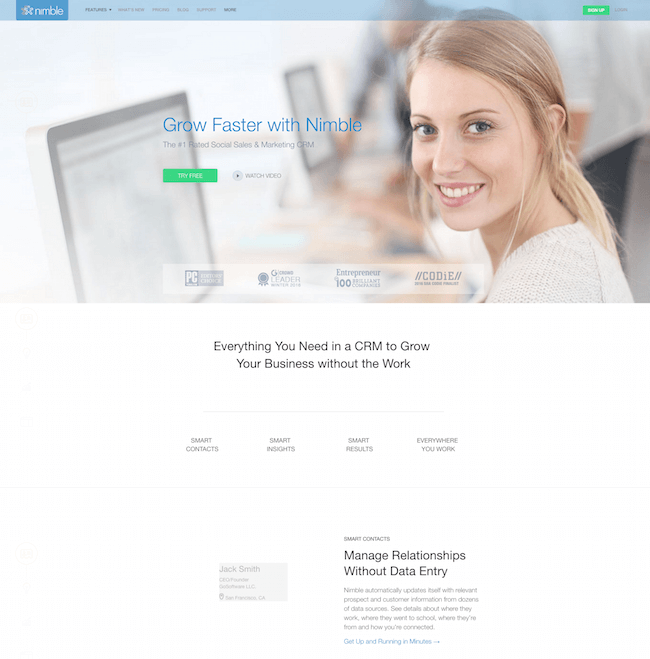 This is a CRM that provides comprehensive solutions along with an easy method to manage contacts, notes, schedules, tasks, communication and more.
The best part is that even the free version is loaded with useful features like project management tools, estimates, invoicing, basic purchase order tracking, a helpdesk and field service management.
The premium account is available for USD 10 and offers a lot more storage and a load of valuable extras. Another benefit is that in spite of such a load of features, the solution is quite simple and easy to use even if you are new to it. You can easily master the basics and set up the system to suit your requirement within no time.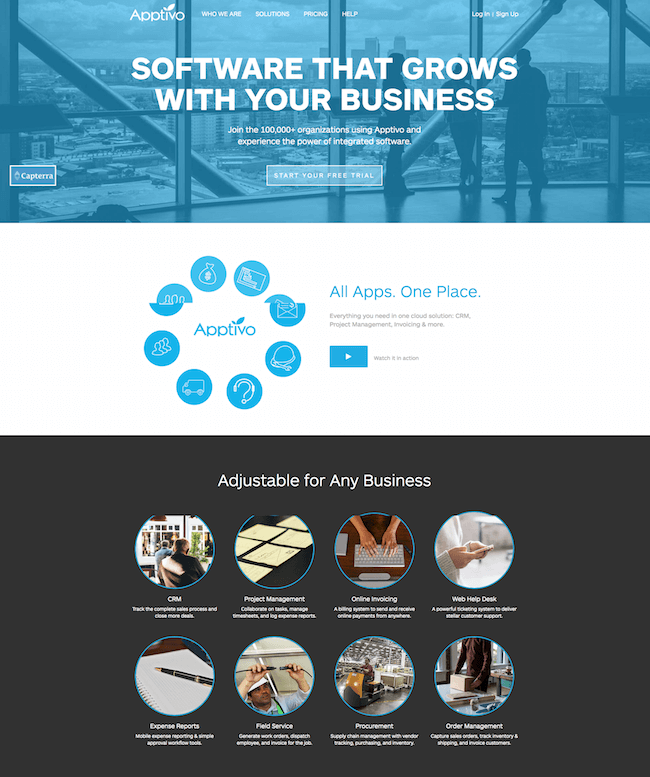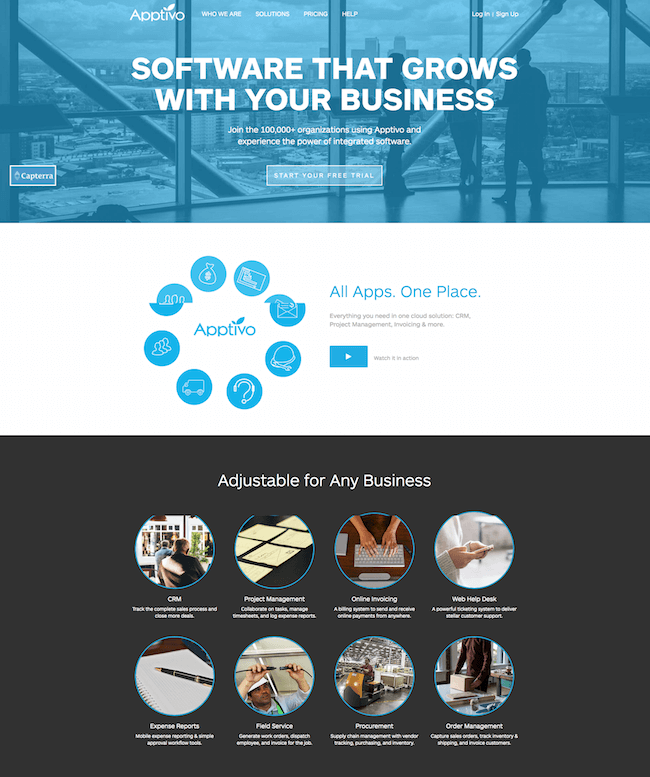 Endnote
There are many different CRM solutions available online, but all of them will not be suitable for your requirements. It is hence advisable to conduct a thorough research before you go ahead and purchase one for your small business.
You should also make it a point to read customer reviews about each software before you make the decision to purchase it. These reviews will give you an idea about the experience of other people who have used it, and you will know what you can expect.