A collection of best free online font generator websites. You will be able to create cool font effects for your projects with these sites.
From creating a basic Word document to designing complex digital artworks, Fonts play a vital role in enhancing the visual appeal of everything you come across online.
Until a few years ago, few or almost no font choices were available owing to a lack of technology.
Developers had to use the default fonts for everything, and even if they used non-standard fonts and the user didn't have it installed, it would automatically be reverted to the default font.
With the introduction of bitmap, SVG fonts, and other font generators, the reliance on system-generated fonts reduced to a large extent, and now there are several great resources for font developers to generate new and attractive font options.
A font generator software is used to convert the outline forms of different formats into SVG or web-friendly fonts.
It is often used by web designers who want to create unique fonts for website designing, logo designing, or any other digital design.
You can also use any of the online available font generators and create something unique and attractive.
Following is a list of best online font developers that can make your content look great without relying heavily on default fonts:
Top Free Online Font Generator
---
Also Read:
Prototypo
This is an amazing tool to create and twist every letter in real-time. The tool comes with a very easy-to-use interface that every user can take advantage.
You will be able to create your font library using this amazing tool. The tool gives you the option to drag and twist the font.
There are font libraries that get millions of traffic every month by showcasing their own as well as third-party fonts. So, why not use this font generator to create some amazing fonts and start your library in a couple of days.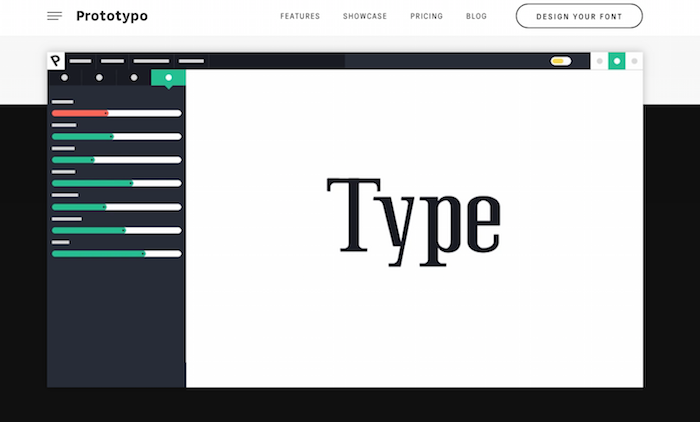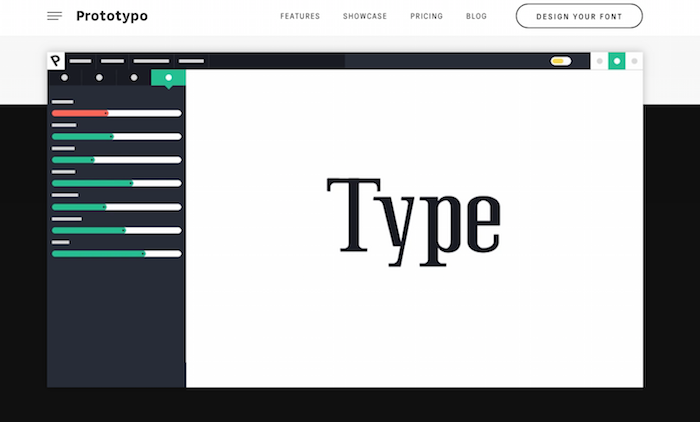 Glowtxt
Glowtxt is a free online text generator that can be used to create animated glowing text in GIF format.
You can choose from a wide variety of options like the 50 stylish fonts, eight textures or colors, six sizes of texts, and three types of animations as well as some glowing effects.
It also helps you in customizing the background of the animated glowing text and also lets you preview your design by clicking on the "make the text" button. With Glowtxt, you can download an image in animated GIF format.
It also generates codes that you can post on your website and blog. What's more, you can also check how the text looks on white, black, colored, and greyscale backgrounds.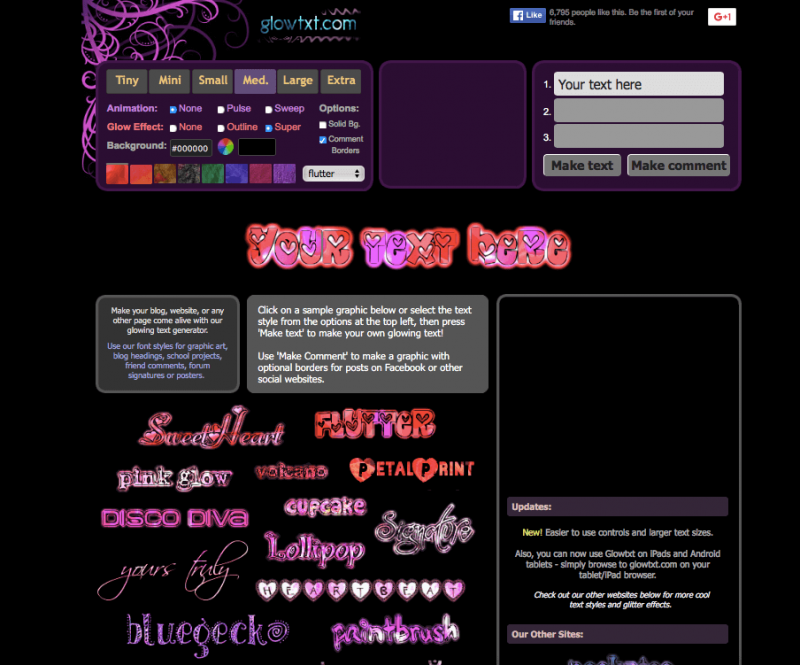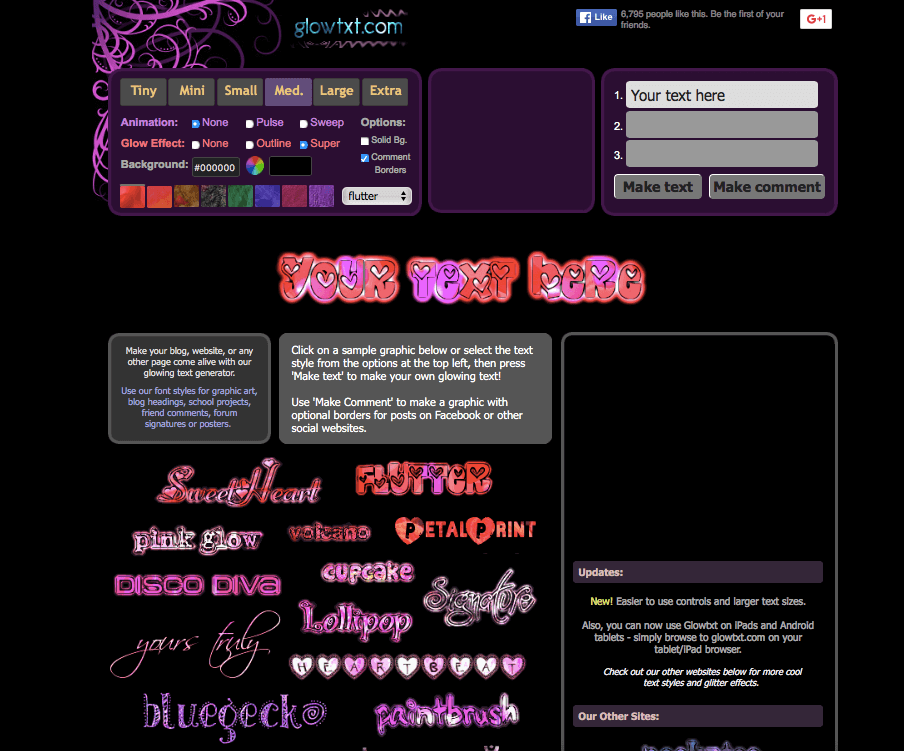 Textreverse.com
Textreverse.com is an online website that lets you add stylish and attractive effects to your text.
There are more than 10 different text generators that you can use on this website, some of which include the Aesthetic Text Generator, Fancy Text Generator, and Cool Text Generator.
To use the text generator, all you need to do is copy and paste your text into the input box. The font and style will get converted instantly.
A lot of tools on Textreverse.com let you instantly copy the changed text by clicking on the clipboard icon in the output field.
Cool Text
Cool Text is a free font generator that you can use to create beautiful logo designs with different colors and styles. It also offers you a number of font download options.
Using this site is simple, you can simply select a font that you like and add the text that you wish to use on your logo. You can also change the color combination of your logo design and add a shadow effect if you wish to.
This can be a great logo design site for newbie users.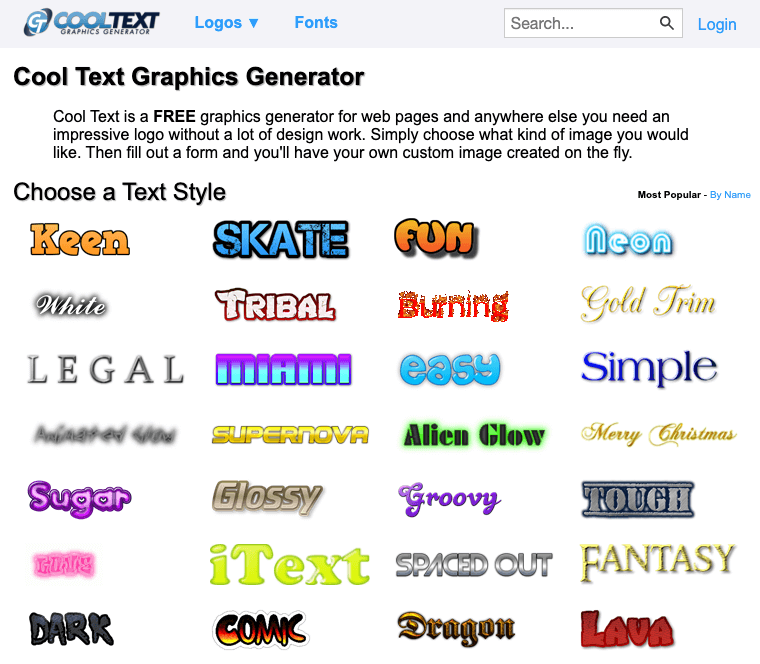 Stylish Text Generator by Webestools
For people who want to add a flavor of funkiness to their text designs, Stylish Text Generator can be one of the best choices.
It lets you add effects to text and helps you to generate beautiful font options with its special language characters and symbols. This online text generator comes with two different kinds of choices to help you add attractiveness to the text as per your requirements.
To use the generator, you have to enter a word or a sentence in the "Text" field, and you can choose a text effect and a decoration from the options. Further, you can also toggle an effect if you want.
The result is automatically generated in the "Result" column. All you have to do is copy it and use it. You can use the generated text with various software and almost all social networking websites.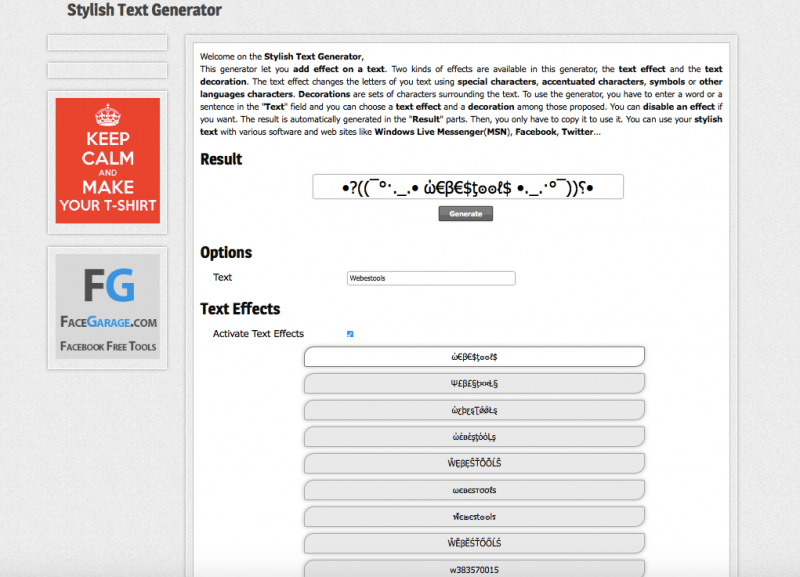 Font Meme
Font Meme allows you to stylize and craft the text to perfection with a gorgeous handwritten feel. After typing the text in the "text" box on the website, you can download the result on your device.
You can also embed the HTML code, and it offers seamless integration of the font generated as a result of your blog or your website.
Font Meme is a great font & typography resource for people who like it simple. The "Fonts in Use" section features posts about fonts used in logos, films, TV shows, video games, books, and more, the fonts here will remind you of the ones used in famous movies and widely read magazines.
The "Text Generator" section comes with simple tools that let you create graphics with fonts of different styles and various text effects. Worth a try!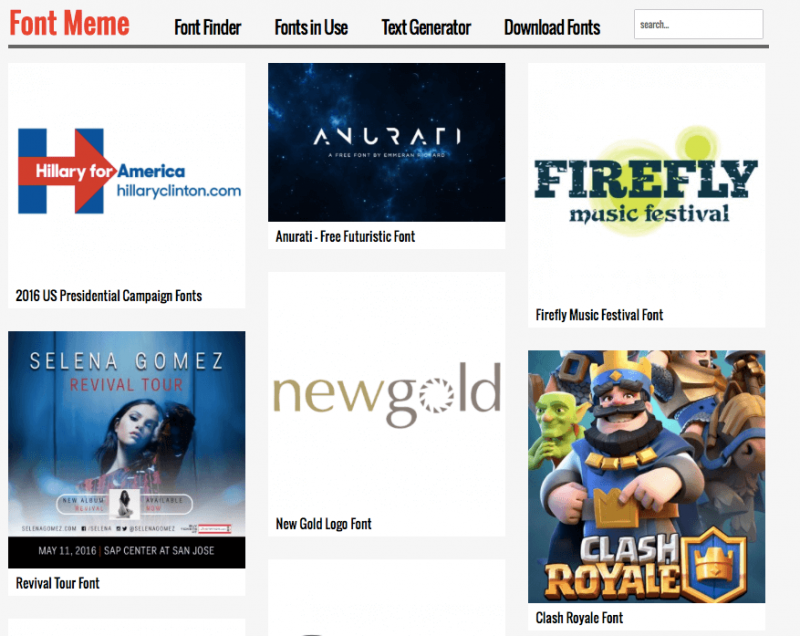 Online Text Generator
Online Text Generator is a great tool for the ones who are a fan of handwritten texts. With this tool, you can create numerous different types of fonts, and the results are beautiful and stunning.
You can customize the font types and background colors, write your letters here and get them printed, for an incredible impression.
To generate your custom text, just enter your text in the box, choose from the given options and get the text designed in your favorite font instantly.
The result is provided in a graphics format so you can print or save your custom-generated text. Simple and interesting!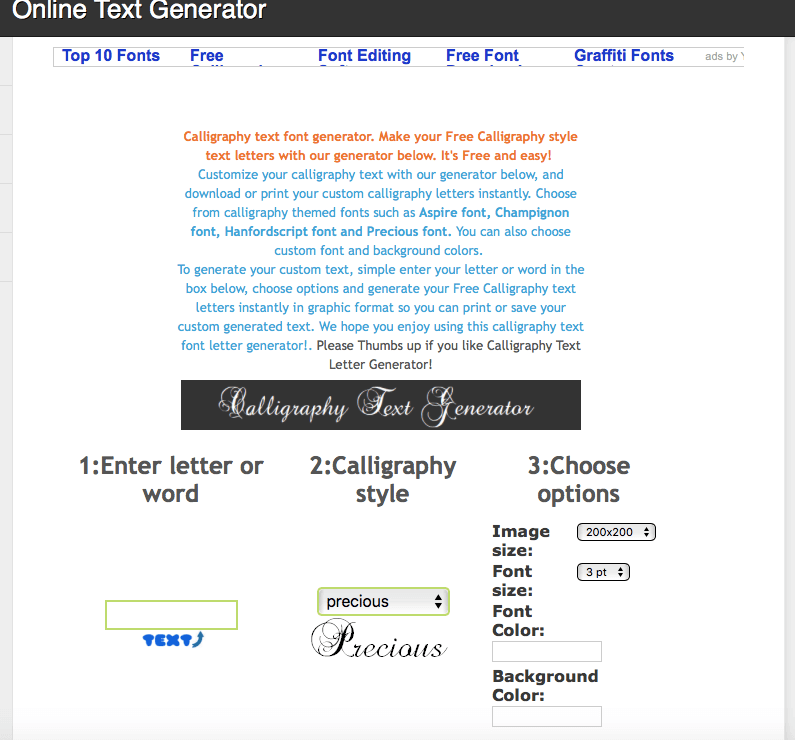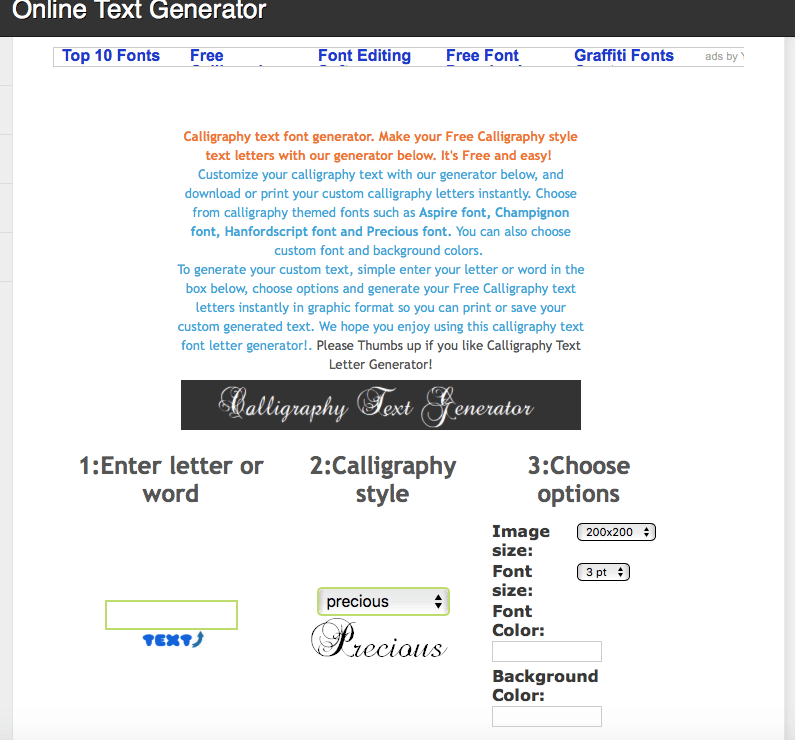 Robofont
This font generator works only on Mac. You can use this generator to scale your font generation process and it offers you all scripting requirements.
The system is created using Python. You can use this tool to manage your complete font business. You can create your own tools and grow them as per your needs.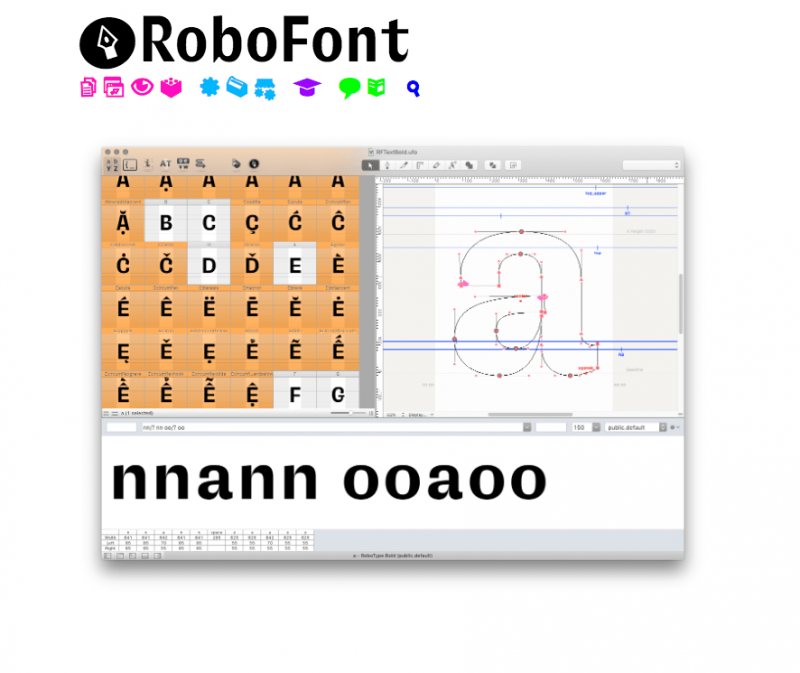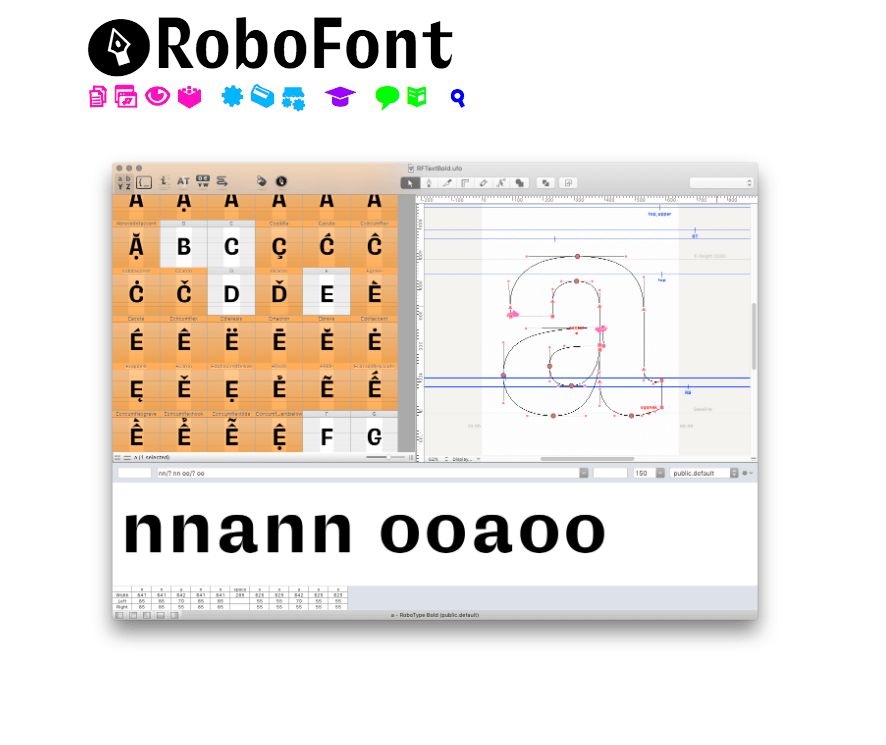 Glyphs
No matter if you are a newbie user or an experienced developer, this tool is perfect to create some trendy fonts.
You can get this tool for 249 Eur and you have the option to download the trial version before you make the purchase decision.
You can take a pencil and design your own font, you have all the tools to make your designs digital. Create an unlimited number of OpenType fonts with this tool.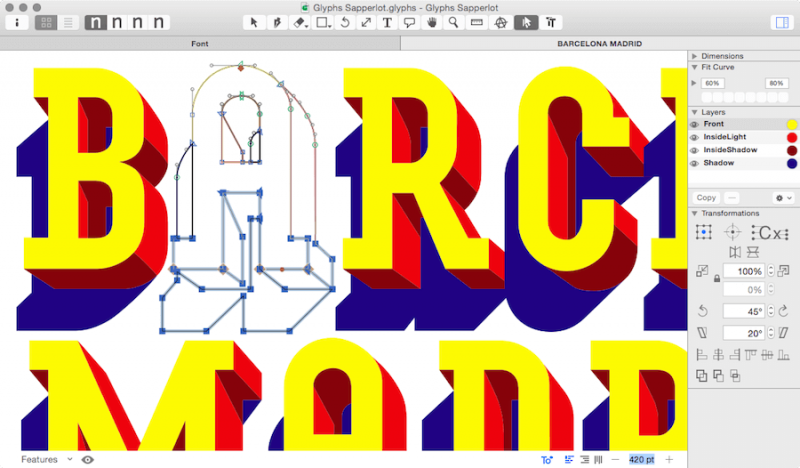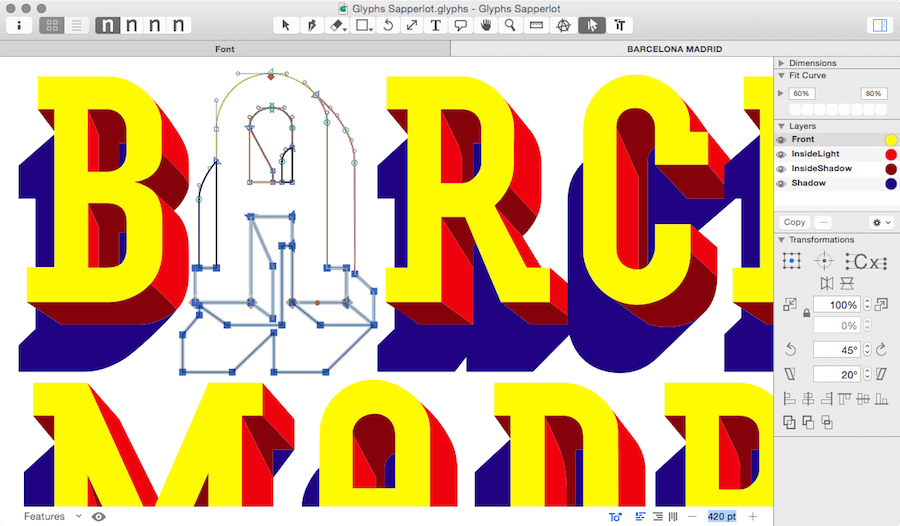 Fontello
Fontello is a handy tool to quickly convert vector images into webfonts. It is just like Twitter Bootstrap, but for images. It builds everything necessary to include graphics in your web pages. Fontello also has a big built-in collection of open-source artworks.
It's a unique provider for icons, and despite being free, the people at Fontello are pretty serious about what they are doing.
Its advantages include no pixelation or blurring on high-resolution screens and easier printing as compared to GIFs. The only drawback of Fontello is that icons will be in a single color.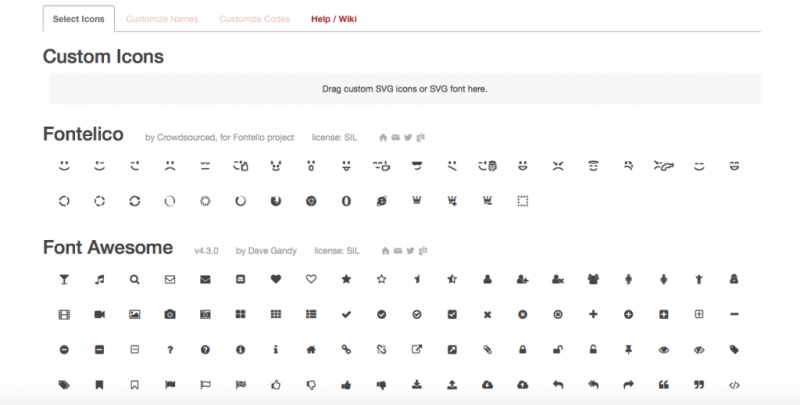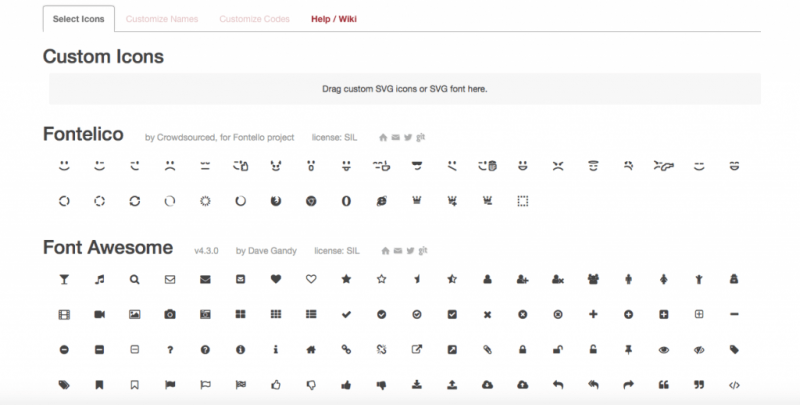 Gigaglitters
Gigaglitters is one of the most awesome online text generator tools that let you create glittering text fonts within minutes. You can easily give a catchy effect and add glitter to your text.
It comes with ease of use, and all you need to do is to type text and choose the font from the option of 50+ fonts.
But what makes this website unique is that you can choose glitters from 200+ options and that gives a different aspect to the text. We can customize the glitter, tilt the angle of the text and choose borders for the text for an amazing result.
After this, just click on create text and it's done! Gigaglitters also provides you with links that can be embedded in your blog or social media.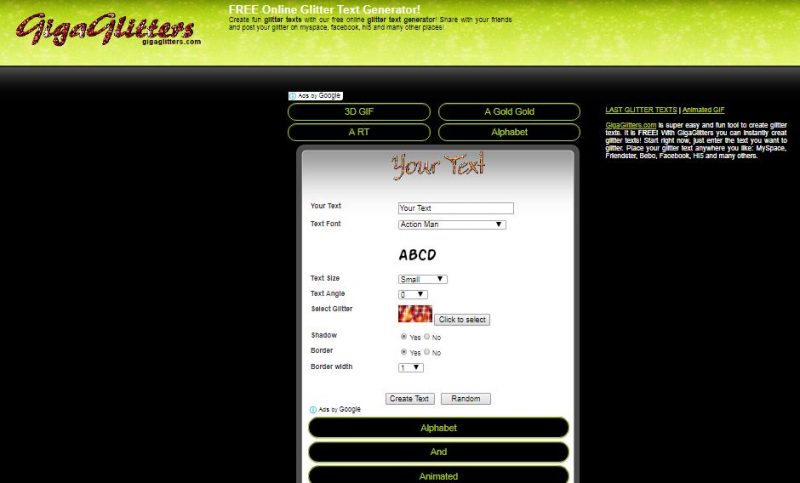 FontGet
Another very handy font generator, FontGet is a great platform to find cool fonts for your logo design or your social media posts.
You can generate fancy fonts for your Facebook or Instagram pics and engage your audience. If you are looking for a brandable font to create your logo, you can visit the FontGet site and write the text that you wish to use for your logo and check with different fonts how it looks.
FontGet offers you a range of different font designs to select from. Another advantage of that you can download your logo design as a PNG file.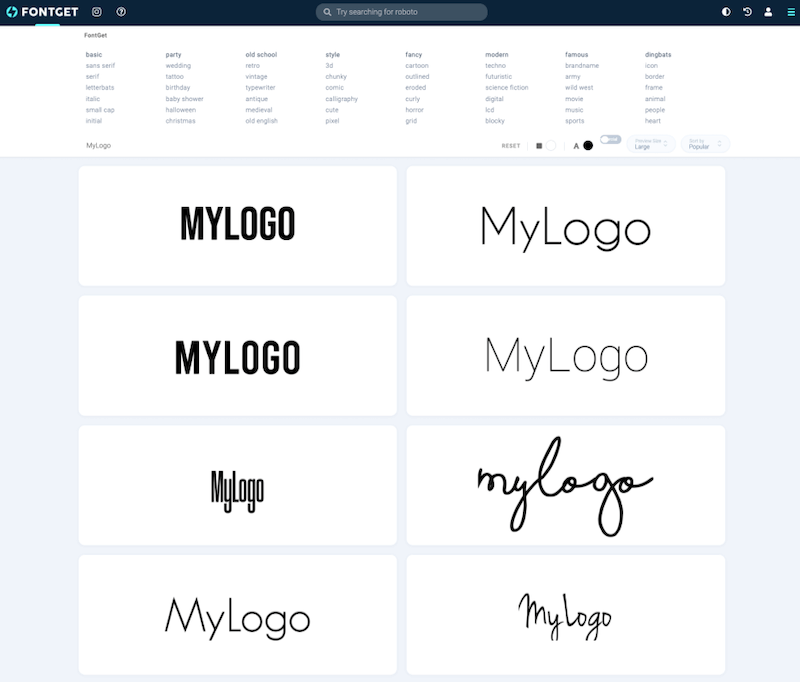 Flaming Text
Do not confuse the website for its name; it does not burn the text! Flaming Text is a slick and utterly professional text generator that provides free graphic design tools, all accessible from within a browser – no downloads or installation required.
Fonts and styles are so easy to create using their very popular text generators. It provides access to the largest selection of high-quality, easily-customizable logos, and fonts on the web.
You can choose between numerous designs, and even after that you can choose between various variations that give you many more options, and if you don't like predefined variations, then there is the edit option, whereby you can customize nearly everything.


Graffwriter
Graffwriter is a graffiti generator that allows you to easily create fresh pieces and tags saying anything you choose.
From your name in graffiti to complex banners and designs in a variety of modern graffiti styles, you can create anything you want. It's a completely different approach to modern-day options, and hence it stands out in the crowd.
You can easily make text fonts in graffiti, and you'll be happy to see the fantastic graffiti effects. Creating graffiti effect is an otherwise complex work, but with GraffWriter you do not have to worry at all. What's more; it is free to use!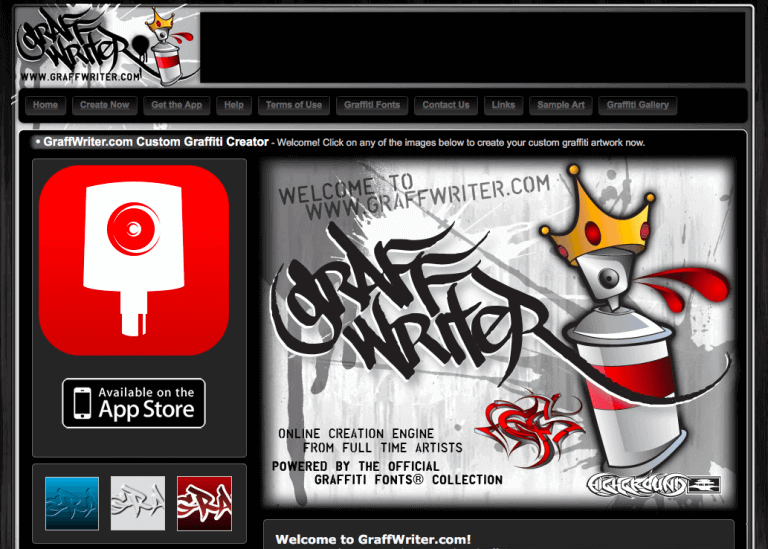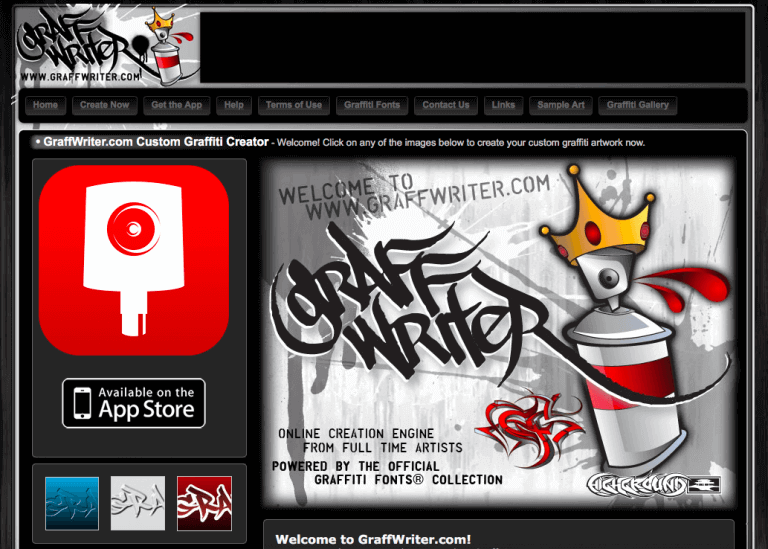 Fontark
Fontark is an online font generator that lets you create stylish and amazing fonts for your textual content. You can easily draw letters to generate different fonts and preview them.
The online tool creates an outline by itself that reduces the overall complexity of the process of font generation.
All that you need to do is write the basic text, and the font generator will do the rest for you. You can even customize the font just the way you like and download the final font image.
The social media buttons present above the page make it easy to share it on social media. Neat and easy!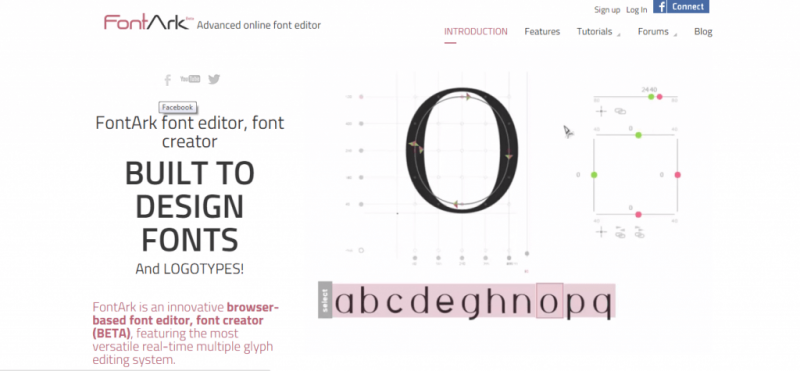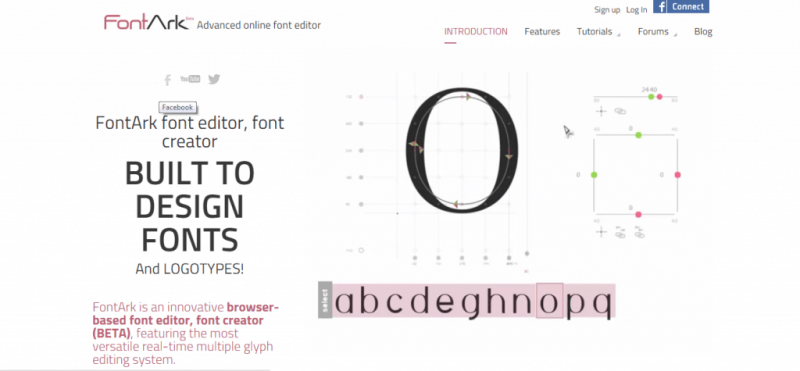 Fontstruct
Fontstruct helps to construct fonts that will leave you awestruck. This tool helps you to create cool fonts for your text in a very simple manner.
AMD that's not all! This font maker does not require you to install any plugin or software. Just type your text in the space provided on the page, create your font, and get started!
There are multiple options available in the tool. Just select the one that appeals the most to you and uses it for your text. It is really simple to use and stylish in appearance.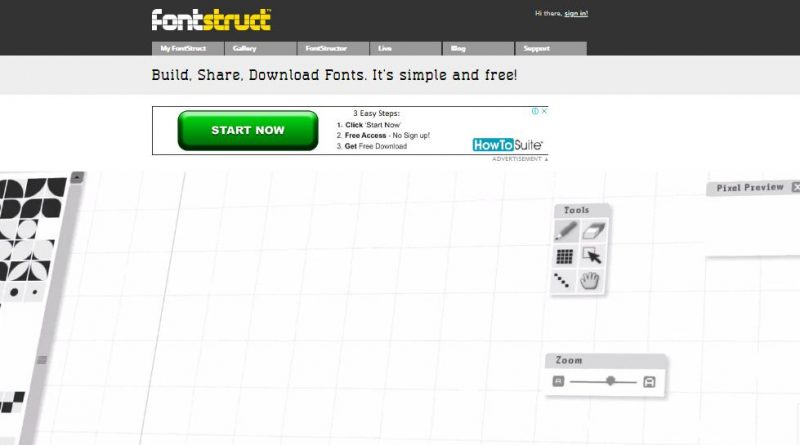 1001 Fonts
This tool has 1001 font styles to choose from. Isn't that massive?
1001 Fonts has multiple font style options like Ashley, JMH Arkham, Failed, etc. to choose from. Using this tool is easy and hassle-free; you just have to enter your text in the space provided on the page and let the tool do the rest.
You can even edit the size of the font or the color to create the font of your choice. Make your text look stylish with ease!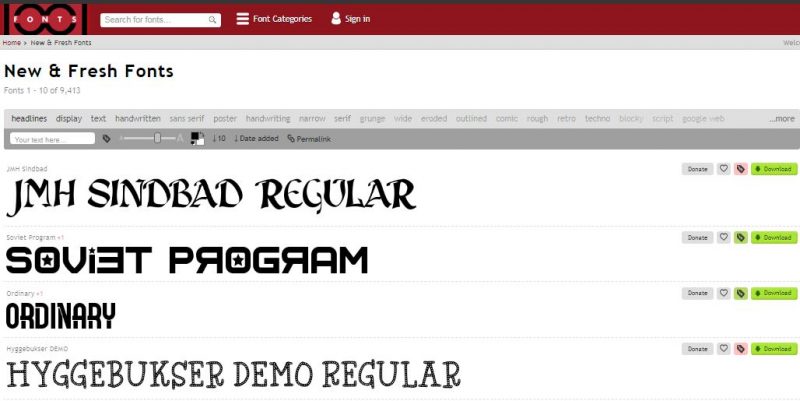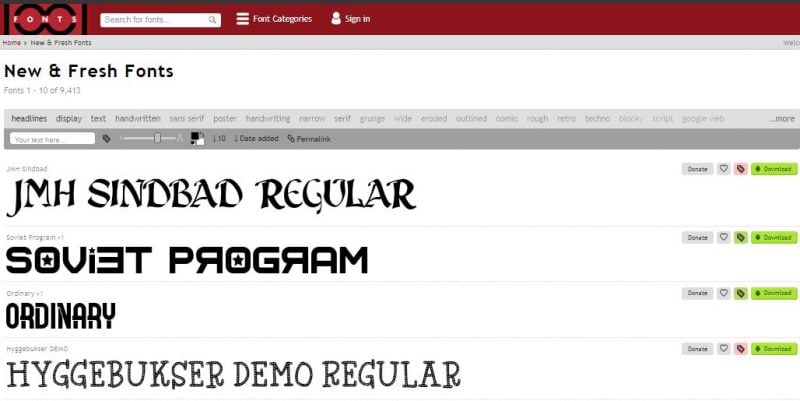 Stencil
This tool is best suited for bloggers or internet marketers, but it can be of great use to normal folks as well. Stencil helps in converting simple-looking text into a stylish font within seconds.
You do not have to possess any special skill to create fonts; simply download the Stencil chrome extension and right-click on the texts you want.
After this, you can begin customizing your text in any way you like. Just a few clicks and there you go! To add a tinge of awesomeness to your text, just go with Stencil!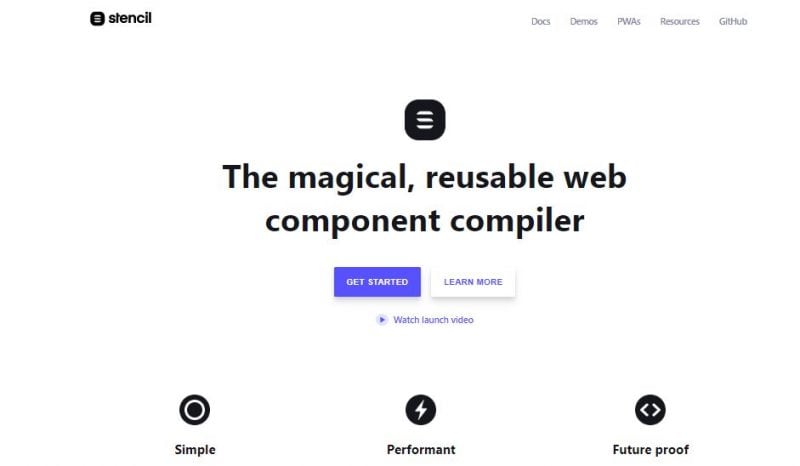 Pookatoo
Pookatoo is an animated glowing text generator website that lets you create animated glowing text. It's for those who like minimalistic design and don't stress over the details.
This website provides lesser options to generate animated glowing text, but all necessary ones are covered. All the text styles are scattered all over the webpage which can be previewed and selected accordingly.
And it lets you customize the animation, effect, text size, and background color.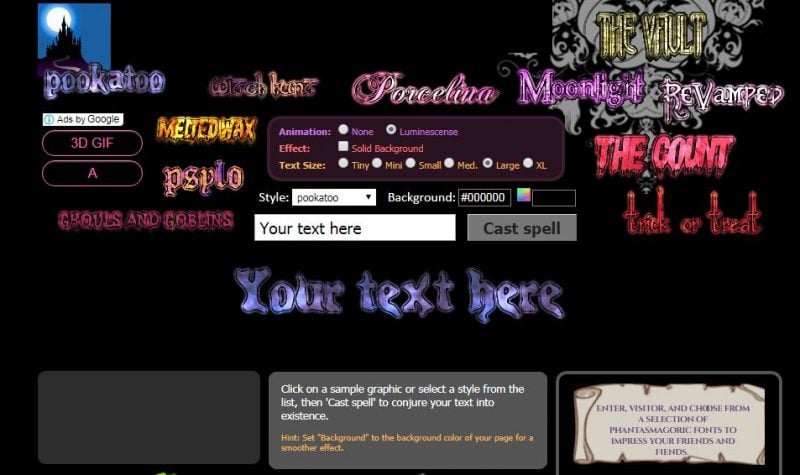 Chalkboard Font by PosterGen
You can use this cool text chalkboard generator to create awesome chalkboard-like poster designs with your texts. The text appears to be written with chalk on a blackboard, and the text is given a shaded appearance to look more appealing.
The most amazing part of the website is that instead of the "submit" button, there's a "Cast spell" button, which provides a mysterious effect to the website experience.
You can get your text generated in the chalkboard style in the form of a digital download, print, and even a wrapped canvas.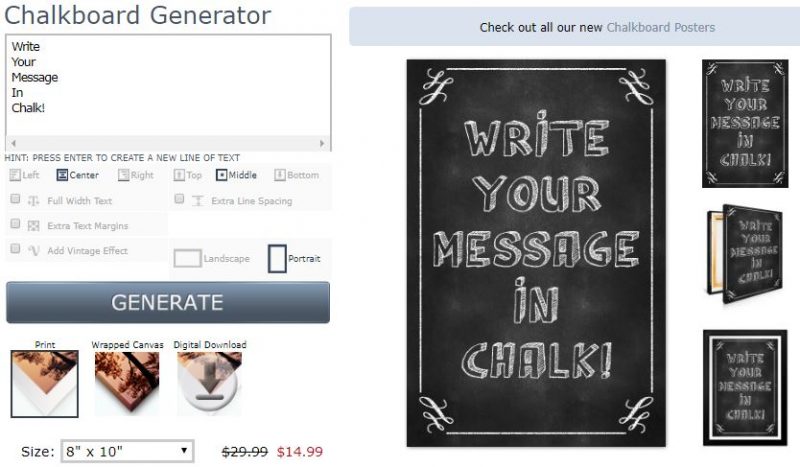 Fenotype
This is a website that creates professional-looking fonts within seconds and without any prior coding knowledge. Fenotype font-editor synchronizes the design of all the fonts to enable easy and intuitive control over the character set in real-time.
The font generator includes pencil shading effects for the font as well. This font generator can be bought from the MyFonts website at affordable prices.
'Fenotype' comes with 127 font families and all of these are equally stunning. Just enter your text and watch it become beautiful within seconds. Worth a try!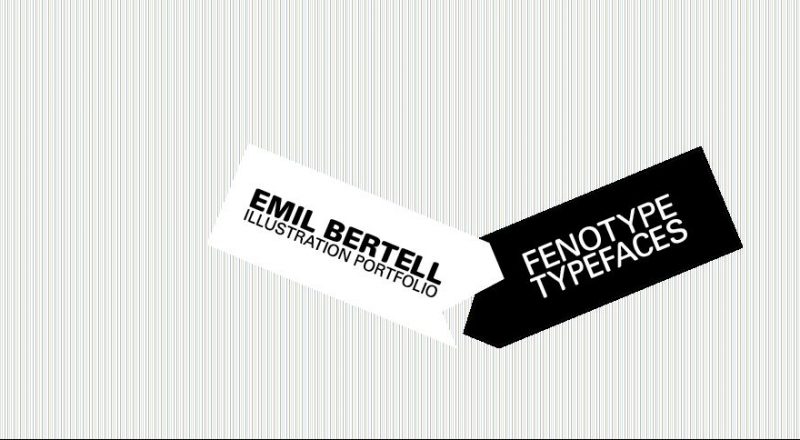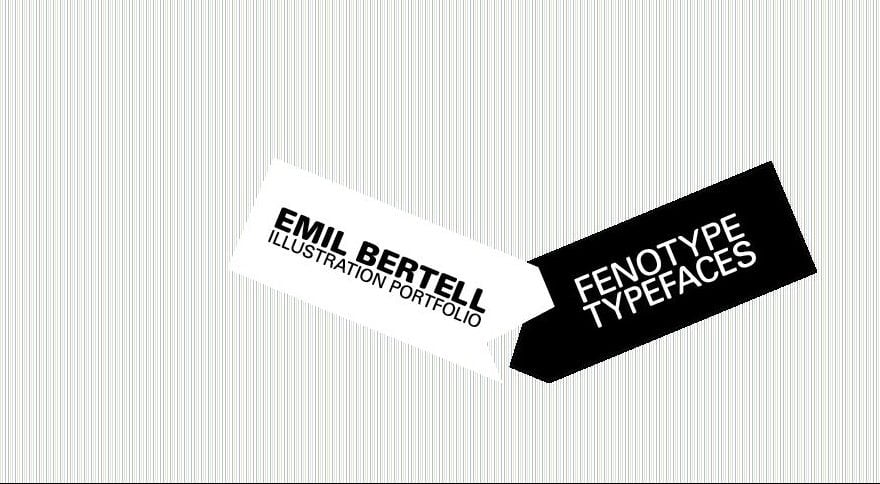 Icon Vault
Icon Vault is a cool font generator tool that gives you the opportunity to create a simple yet gorgeous-looking icon font in the web browser. With this, you can easily create fonts using geometrical shapes.
To generate your icon font, first, download their template package. After this, just follow the instructions included in the template.
Once you're done, upload your icons on this icon font generator. It generates amazing fonts, ready to download and which can be used in any application. For someone looking for modern and futuristic-looking fonts, this website is must try!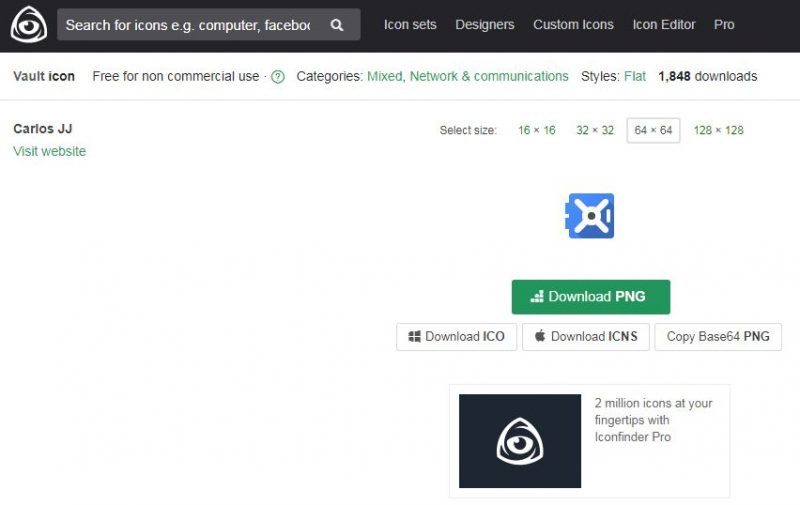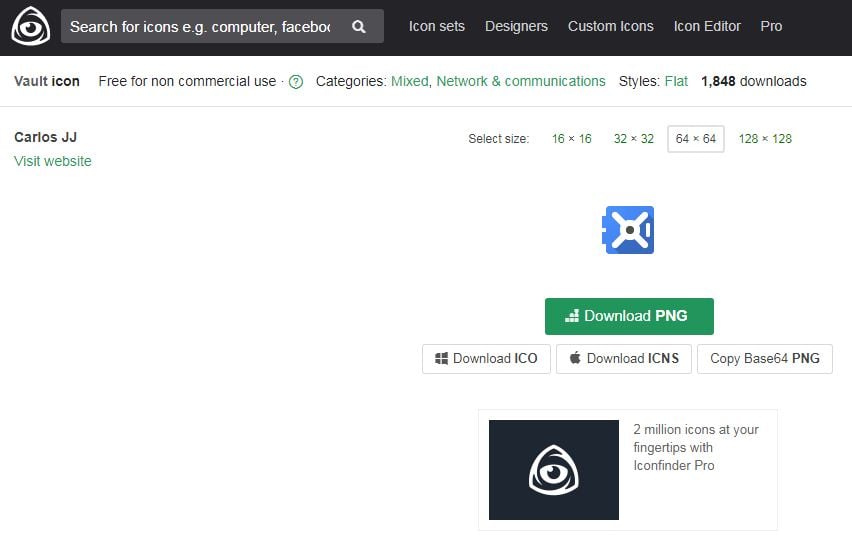 Tattoo Font Generator
Tattoo Font Generator allows you to generate tattoo-like designs by selecting the font that you want to use, the size, and even the color of the font. It is a unique tool and is best for people who want to give a tattoo-like vintage look to their text.
Using Tattoo Font Generator is highly user-friendly. First, select the color that you want to use in your text. Next, select the font that you want to use by selecting one in the Fonts option.
You can also choose whether you want the text to be normal or italic by selecting appropriate styling choices. After that, you can choose what will be the size of the text by selecting a value in the size option.
Then on the textbox provided, type the text for the tattoo and click the generate button and your text will be ready exactly the way you wanted it!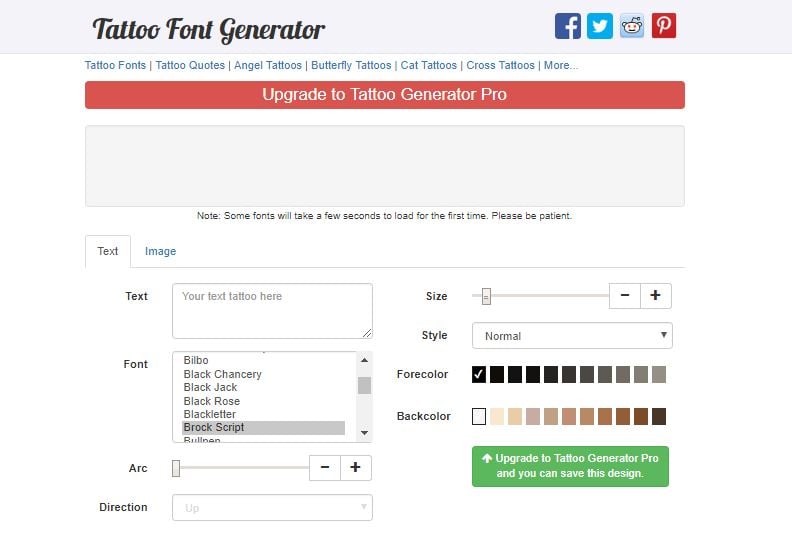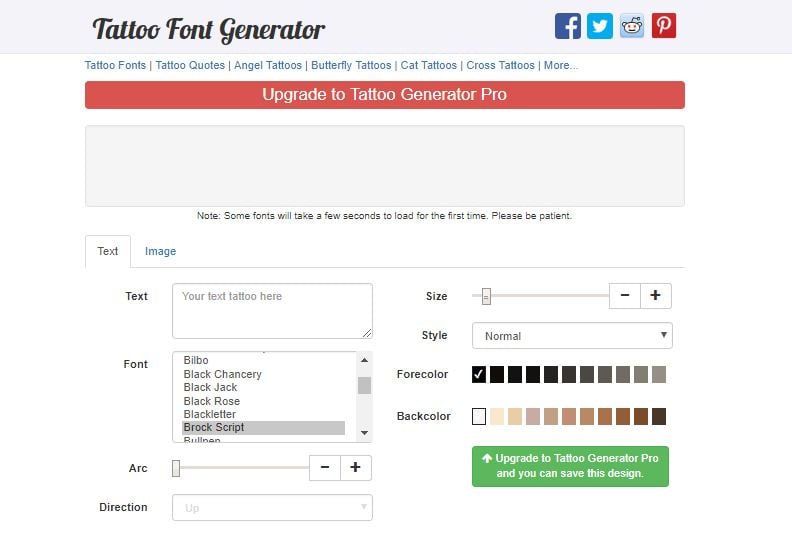 Glyphter
Glyphter is a unique icon font generator that provides up to 88 icons in the icon fonts for free. From creating unique text designs for your logo to creating something elegant for your digital artworks, Glyphter allows you to create unique icon fonts as per your specific needs.
When you visit the website, you'll find a character grid on the left-hand side. There's an icon shelf on the right with a search tab above it. You simply have to drag and drop the icons into the boxes on the grid.
By clicking on the boxes of the grid. The icon shelf provides up to 88 icons for free. To get access to more icons, you have to sign up for a premium account.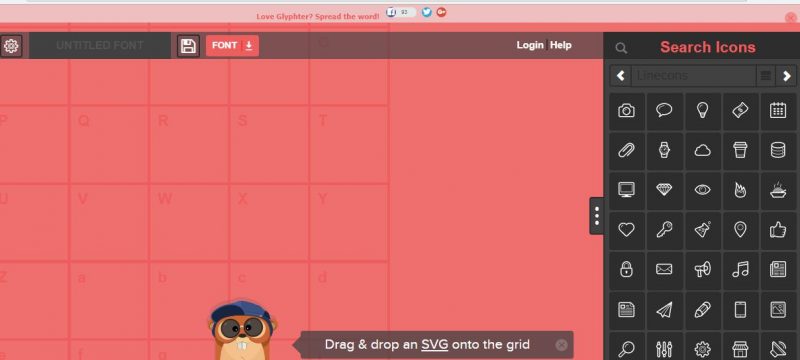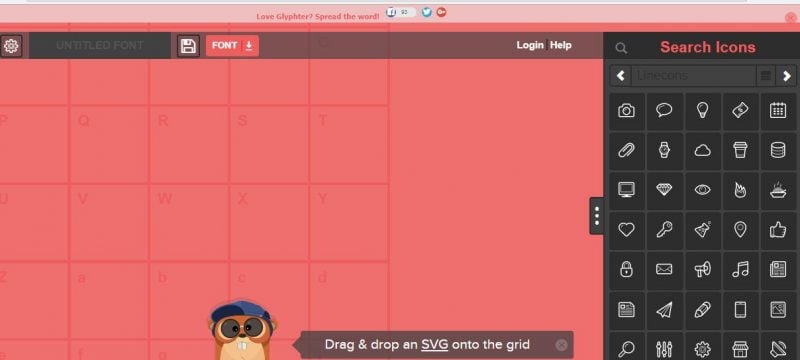 Font Shop
Font Shop is a highly professional font-generating tool that provides access to free as well as paid font styles, with a premium account for the latter.
When you go to the free font arena, you just have to create your account, go to 'product' and switch to 'style.'
After this, you just have to select the one that you like, check out and enjoy! Just enter your text, and you'll be able to preview it in a new font.
For the paid fonts, you have to sign up for a premium account and then select the font of your choice. Once you find a font that appeals to you, just pay for it and enjoy it! Quite straightforward!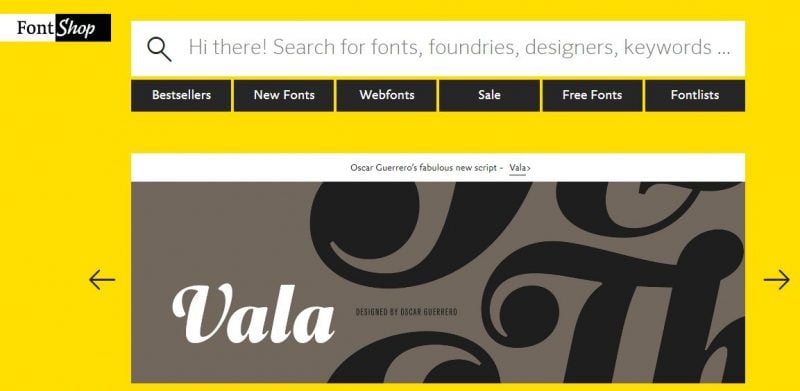 Metatags
You must have come across some fancy fonts on social media profiles and wondered how they have done that while social media like Instagram doesn't allow you to do any tricks with the fonts they use.
Well, here is your answer. You can use this font generator to add fancy fonts to your Insta profile and make it more attractive.
But, how does it work?
You can not directly use any font of your choice on your Insta profile as they have their standard typography. But you can trick it to use some great-looking fancy fonts and attract your audience.
There is a service called Unicode that will replace the fonts with some pseudo-font characters that you can use on your profile to add any fancy font.
You will get more details about it on the Metatags site.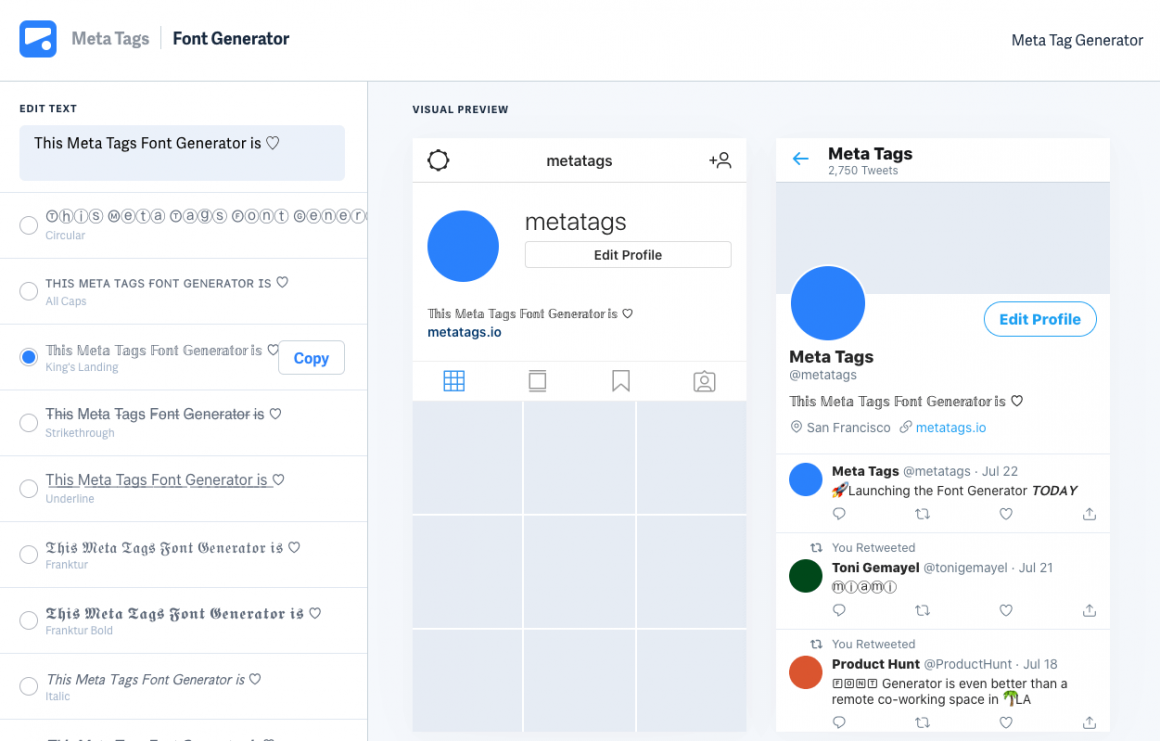 Fontspace Font Generator
If you are looking for trendy fonts for your social media posts, here is a nice font generator that will help you quickly generate attractive fonts for your posts.
The generator is easy to use, all you have to do is to paste or write your text and the tool will do the rest.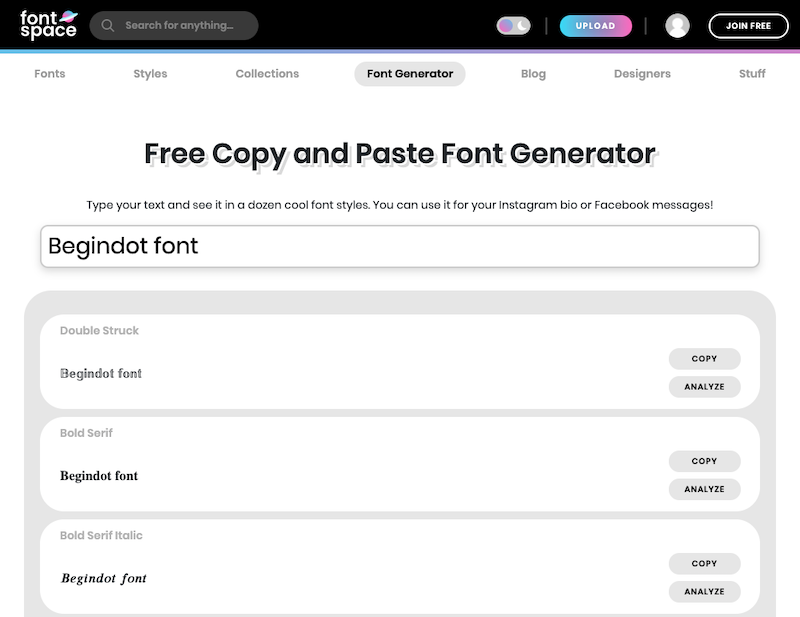 Final Word
The font generators mentioned above are our top picks that will assist you to develop your customized fonts in the simplest possible ways.
All these tools do not require you to have hands-on knowledge of Photoshop or design software. With just a few clicks, you can get the kind of Font you wish.
You can also refer to this article to know more about cool text generators.
Select the one you like, enter your text, download it and enjoy!
Also, don't miss our article about the best Ambigram generators.