There might be times when you need to record the content on your Google Chrome web browser screen.
You may need to take a screenshot of the product you are writing about or it may include occasions where you've got a presentation that you want to share with others and you need extra assistance with getting your content out there.
There are many Google Chrome extensions to record screens that you can utilize if you need help with making your work more visible to others.
These extensions are useful for when you need to record something like a tutorial or a program that you want to highlight.
You can also use these screens to help document anything that you might be doing with your computer through Chrome, including producing unique forms of art or getting some form of code prepared.
Engineers can use these extensions for documenting any bugs they come across. Teachers can also use these extensions to produce recaps of their lessons and to facilitate many student presentations that may be covered.
Let's look at some of the top choices you have for making your on-screen recording experience work as well as you can get it to be.
Each option is intriguing and adds a sensible way for you to record your content and share the details with everyone.
Note: Many of these extensions are free for you to check out, although you should review the terms associated with what you are getting. You might need to pay for a premium version to take advantage of some of the advanced features that are available online.
Screencastify
You can start your search for a quality extension with Screencastify. This is an extension that you can install for free.
This is one of the most popular extensions you can get, especially as you can use this to capture details on your desktop, browser tab, or webcam.
You can also use the microphone you link to your computer to narrate the things you are capturing online. You can even customize the resolution and the frames per section of what you are recording here.
You can also edit your videos by using spotlight features on your mouse or annotations that can work with a pen tool. You can crop or trim recordings to keep them from going on for too long as well.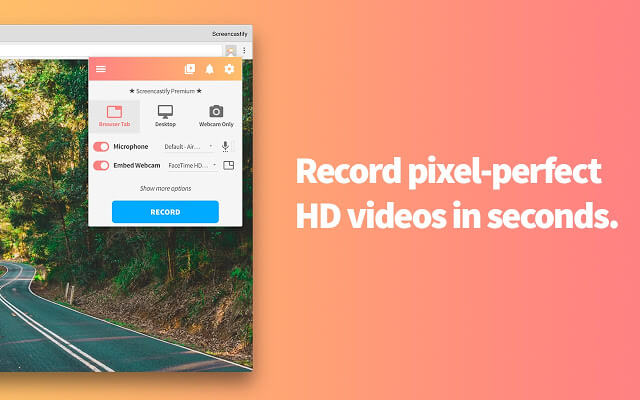 RecordCast Screen Recorder
If you want to record a presentation, a game, show a tutorial or even demonstrate the use of a program, RecordCast Screen Recorder is a great solution. It is entirely free and very intuitive for new users.
Because it is extremely popular, there are actually many videos available on YouTube with tips and tricks for getting the best results from RecordCast.
In addition to being able to record the computer screen, it is possible to add your webcam while recording the computer screen. You are free to add sounds from the system or microphone.
You can also choose to record a specific browser tab, or a selected application or the entire screen. With the built-in video editor in RecordCast, you can easily edit the recorded videos with high quality by adding text captions, element effects, background music, etc.
Based on a browser, it serves very well without downloading any launcher or installation. It can help a lot when saving storage space. And whether you use a Mac or Windows, it doesn't matter.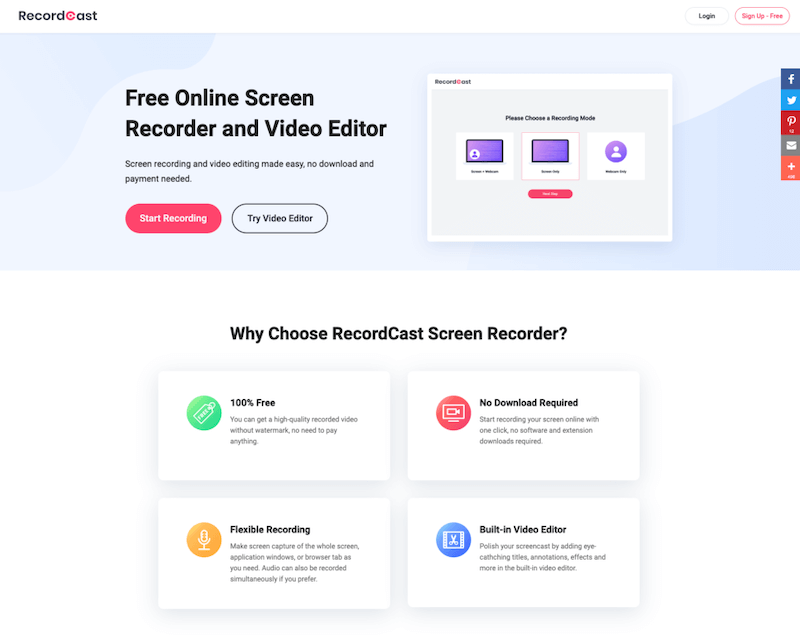 Screen Recorder
Your next choice to see is this basic version of a screen recording program. Screen Recorder is an extension that lets you create content for free without having to worry about any watermarks showing up on your screen.
Screen Recorder lets you content in moments and can work with as many videos as you want to create as desired.
You can also link a camera or other device to your computer and then use the Screen Recorder tool to capture what you have there.
The lightweight design of the Screen Recorder extension ensures you can get the content loaded up in moments.
The extension works with a size of a little over 100 KB, thus keeping you from having to spend lots of time getting your work online and ready for use.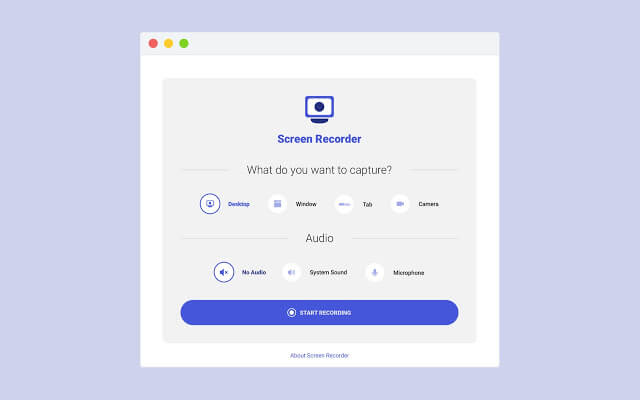 Recordable
You may also use Recordable to help you with getting your screen recorded. The makers of this free extension have produced it with the goal of helping you record web apps so you know what you're doing with them.
You can also use this if you are a developer and you need help with showing people what you are looking to do.
You can access the program through your Chrome browser and get it started up in a few moments as well.
The sensible layout of what Recordable offers ensures you'll have more control over the recording process.
You can also draw sketches with Recordable to showcase what you're doing with your program.
The sketches you create will illustrate all that you are doing at a time and help people be aware of where you are going with your content.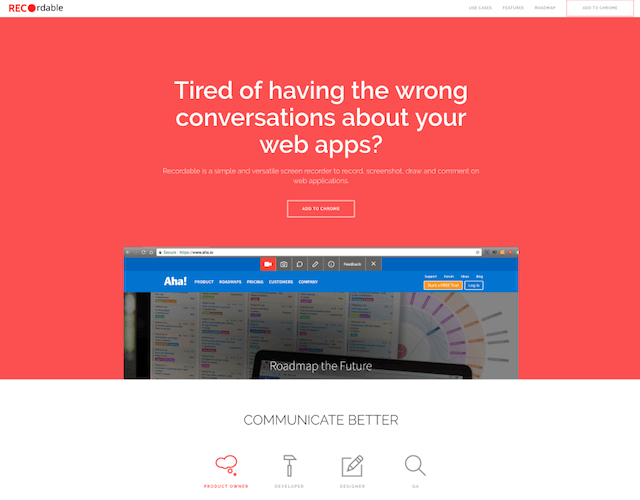 Loom
You can also use Loom as a recording program for your needs. Loom is helpful for offering a helpful body that lets you create content and record it fast. You only need to start recording with one click.
You can also share a URL through Loom that lets people see what you are preparing.
The URL means that people can quickly review what you are offering without being too expensive or otherwise hard to figure out.
You can use a full desktop recording setup with Loom, but a Front Facing Camera option is also included here.
The design lets you handle the content you want to showcase with ease. You can also use the unlimited storage feature here to keep the content you are producing accessible.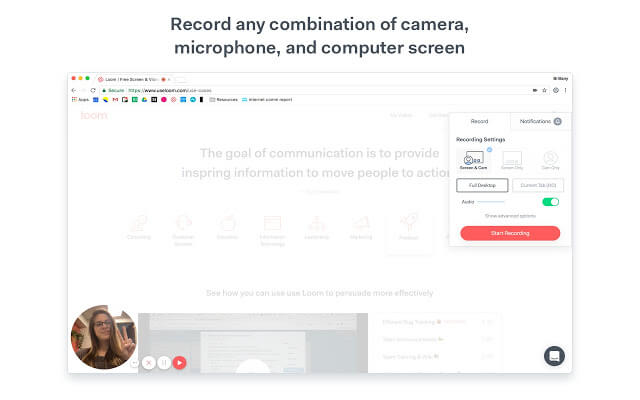 HYFY Recorder
HYFY Recorder is made with a one-click approach for recording content. You can get HYFY Recorder ready in a few moments to review everything of value where you are.
You don't have to upload or convert anything on this extension. You only need to click the record button.
This is a basic program that focuses more on the recording process itself. But you can also use the HYFY Recorder to produce GIFs based on the content you crop out and use.
You can trim the start and end parts of the videos you produce to create a professional all-around approach.
The lack of watermarks on the videos that you produce here ensures you'll have content that is clearly visible and is not going to be disrupted by unsightly things you might not be overly interested in.
Some of the videos you produce can also be downloaded as MP4 files that you can load onto digital media players. You can use these files to playback whatever you have created anywhere you go.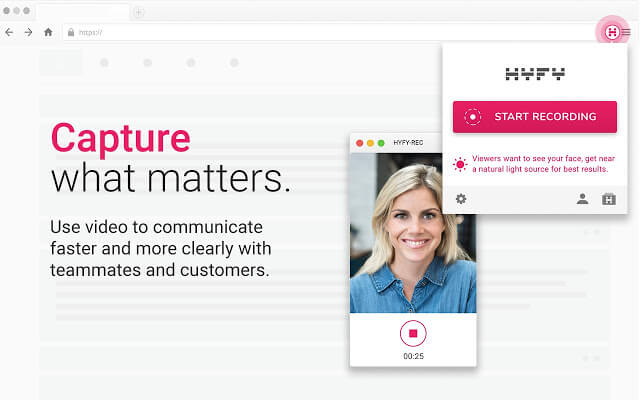 Hippo Video
Another very handy extension to record screens. You can create amazing videos with the Hippo Video tool, you can record your screen and yourself with the webcam simultaneously.
If you need to create short videos for your clients or tutorial videos with your face and screen, this is a nice option for you.
You can also use the extension to create Gifs and create custom image thumbnails for your videos. You can use the Hippo Video platform to edit your videos before you upload them to any platform.
Nimbus Screenshot & Screen Video Recorder
Nimbus comes with a very handy screenshot and screen recorder Chrome extension that you can use to capture the content on your screen.
It is a great extension to quickly create video screen records for use in any kind of tutorial. You can also capture screenshots of your screen so that you can point to any section and make it useful for guide or tutorial articles.
The Extension comes with a number of enhancement options such as an option to change the background color, text change, etc. It also gives you the option to convert your video to gif and mp4 format.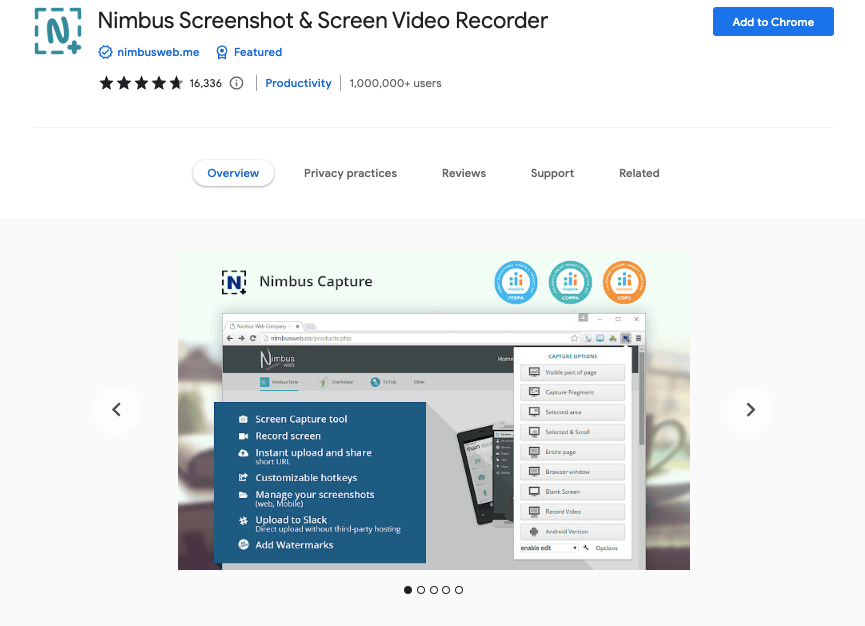 Final Word
So, these were some of the best Chrome Extensions to record screens. You'll need to look well at all of these outstanding extensions for Google Chrome use.
Be sure to see how these options work for your demands and that you've got something that will fit in with the needs you have when getting content ready for all to review online.
Don't miss this list of best Chrome alternatives.