Tattoo fonts have managed to generate quite a big fuss among the tattoo lovers. We as humans have an affinity towards typefaces with a hand-drawn styling.
Tattoo fonts perfectly carry this element all the while adding in some thick and bold strokes. This makes any statement made with tattoo fonts very much eye-catching and appealing.
Now if these types of typography are something of your interest, then you have landed in the right place. Here, we have put together a list of some of the most impressive tattoo fonts.
Much attention was given so that there remains a level of diversity with the different character sets and glyphs so that you have plenty of styling choices.
Also, we have checked to double confirm that most of the fonts come with a free to use license for personal projects. In case you want to use for commercial purposes, we recommend you get a proper license.
We have also listed the best script fonts that you can use to create your tattoo as well.
Top Fonts for Tattoo Lovers
---
Always Beside You
Starting off our list we have the "Always Beside You" font. The typeface features a lot of swaches and curves to create an old English style design. And then the light scratchy script font adds more depth.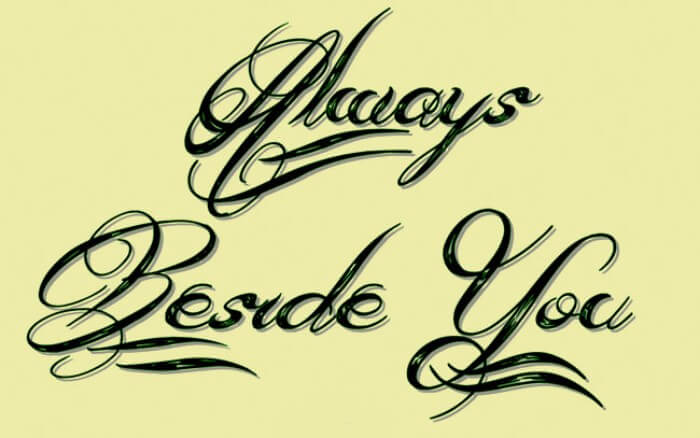 Mom
Mom is an extremely popular Tattoo font which you should have come across. The typefaces use a bold structure to establish a letter and then use thin lines to finish the makeup of the letter.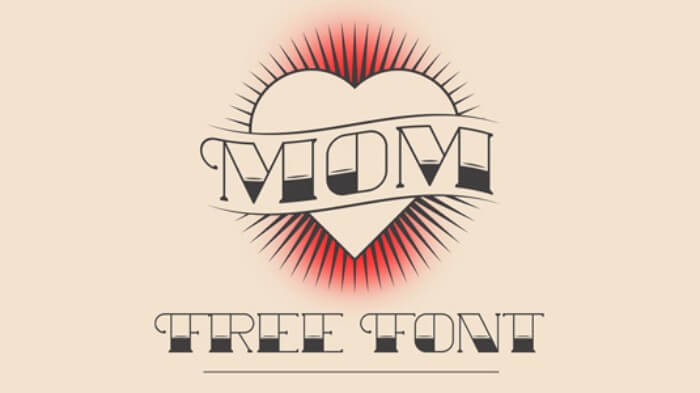 Angel Tears
With "Angel Tears" you have letterforms with alternating thick and thin strokes. There is also an element to these fonts that make it look as if was has been sketched out. Overall a classy and rugged font type.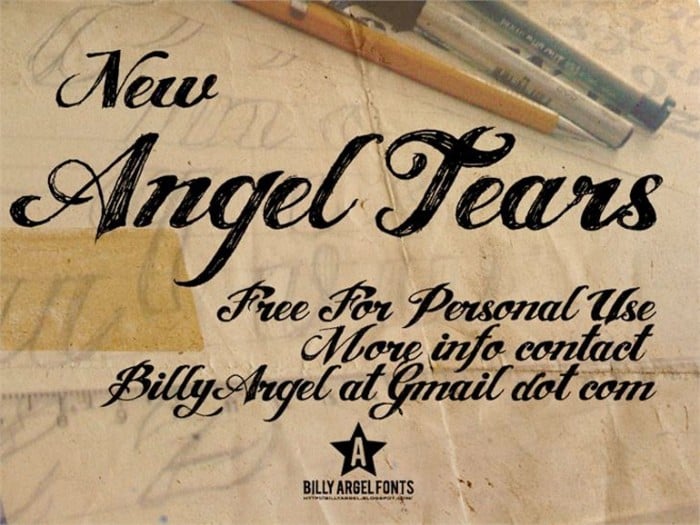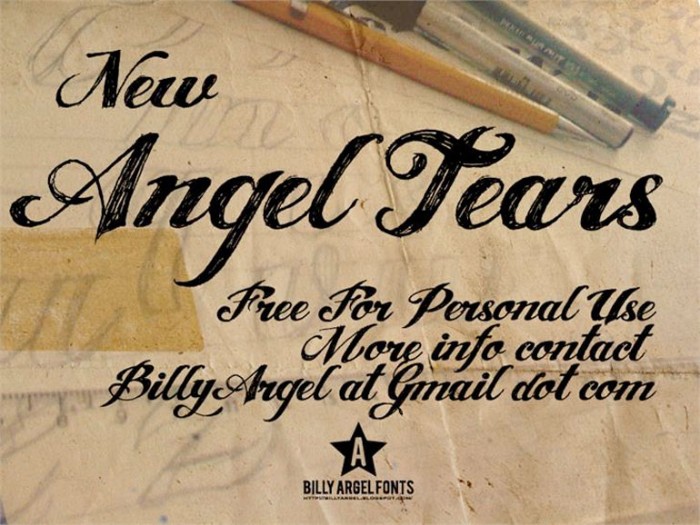 Reditum
Reditum is a calligraphic font. It is sure to enhance the style factor of your project when used. With curvy letters using alternative thick and thin lines, there is also something humane about the typefaces.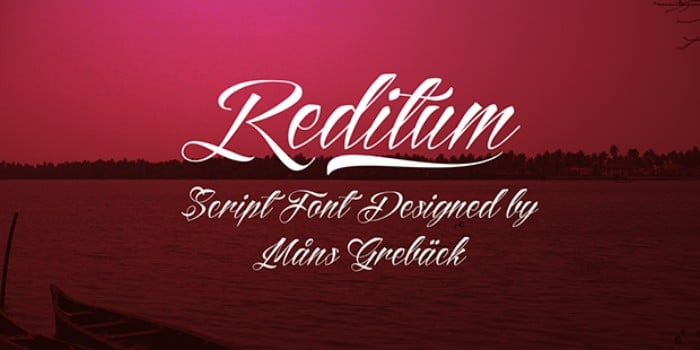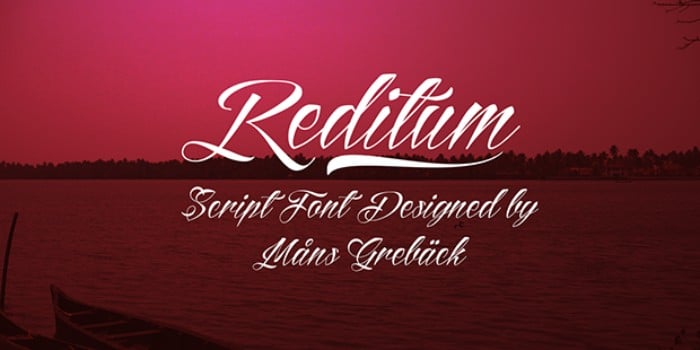 Tribal Dragon
Tribal Dragon has a playful approach towards creating its various typefaces. All letters are essentially thin, and seemingly appear as if they are made by dragons lying in a particular position.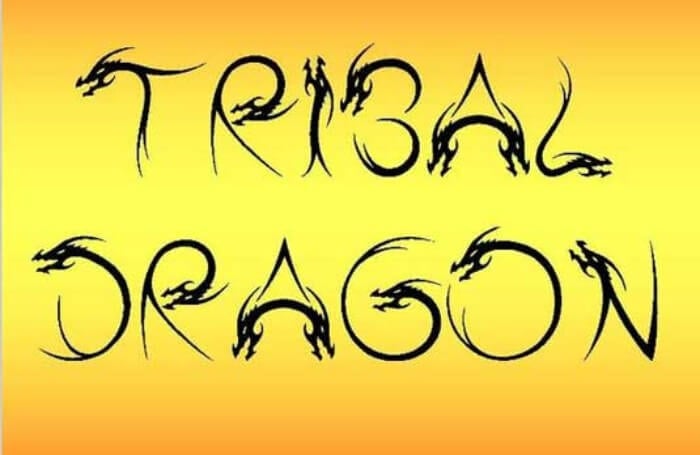 Lina Script
Lina Script has a sleek design element to it coupled with a cheeky touch of graffiti. You can see it being used in projects related to music bands, especially bands belonging to the grudge or metal genres.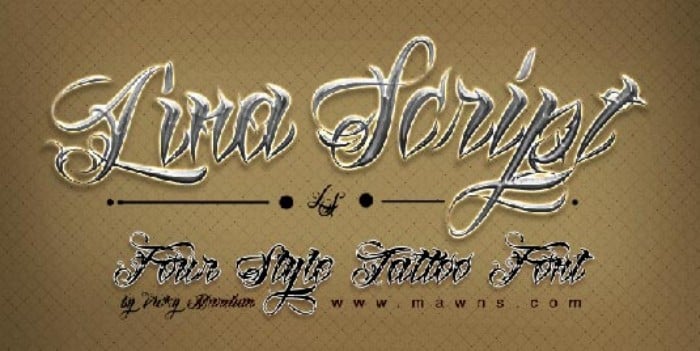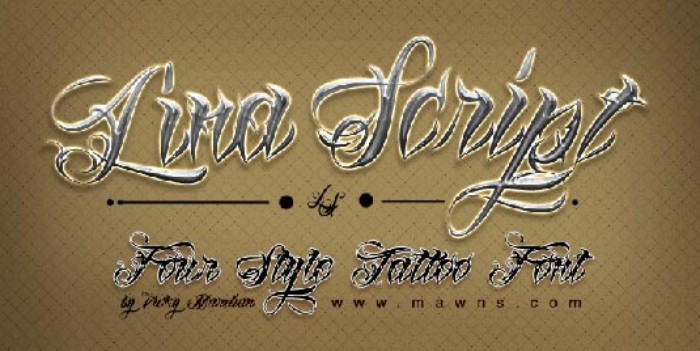 Rustic Love Tattoo
A simple free tattoo font that can you can use to design your tattoo. This font is free for personal use and if you want to use it on any commercial project, you will have to buy the license.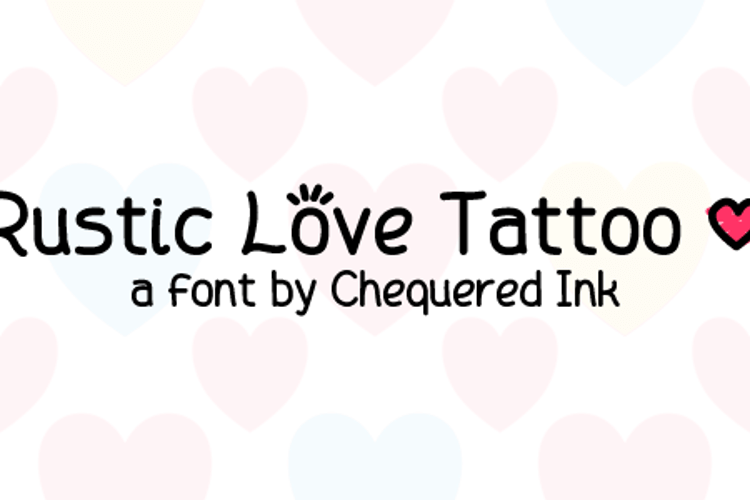 Pentagon
Pentagon font has a design style that seems like it is straight out of a U.S. electoral campaign from back in the 70's or 80's. The typefaces are bold, unique, and riddled with stars.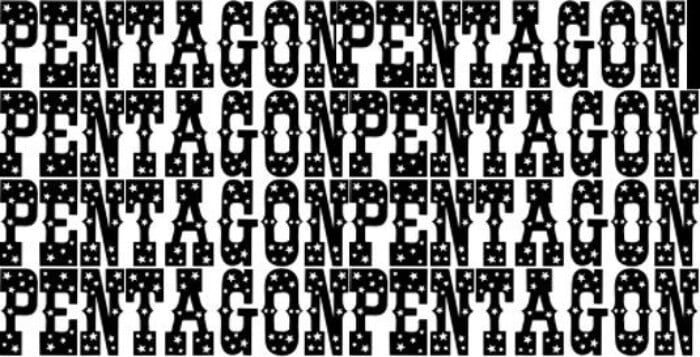 Lemon Jelly
Lemon Jelly offers big and friendly-looking typefaces. Nothing is too much exaggerated or heavily elaborated which makes the fonts legible for all sorts of use cases.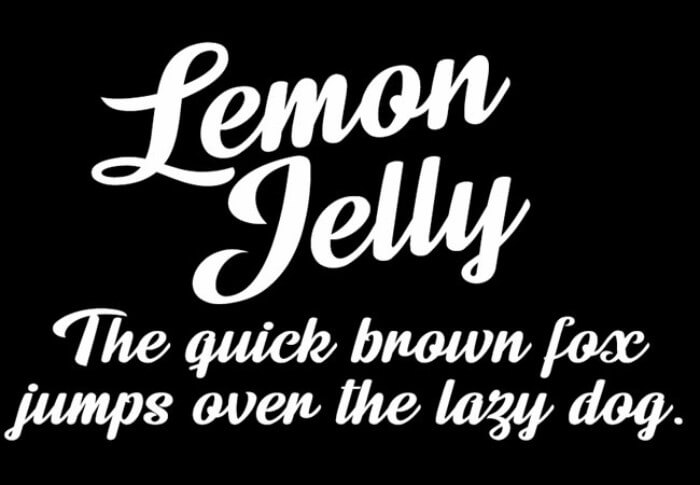 Angilla Tattoo Font
Angilla Tattoo comes with a heavy script accompanied by nice swashes that can add an element of flair to lettering. The best aspect is that it manages to deliver style without compromising readability.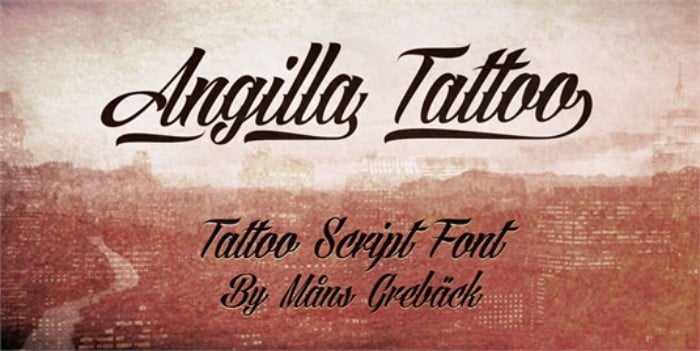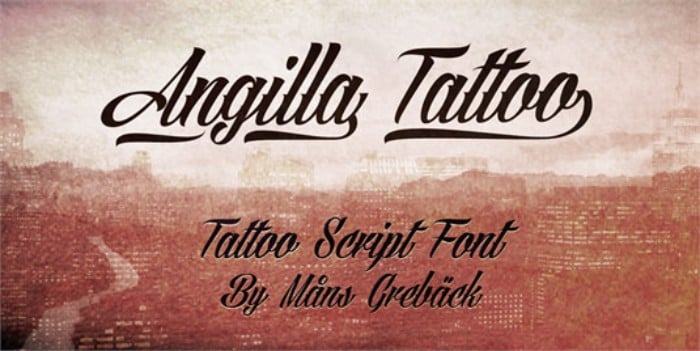 Little Lord
Little Lord font has a nice flow between its uppercase and lowercase characters despite the former having swashy effects and the latter being clean and minimal.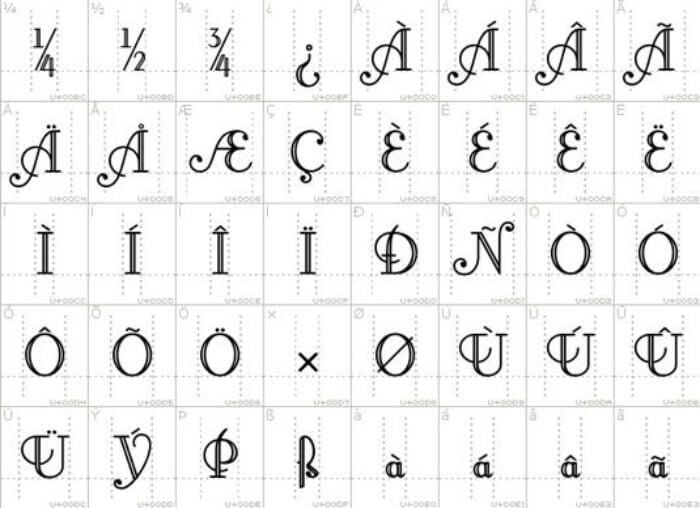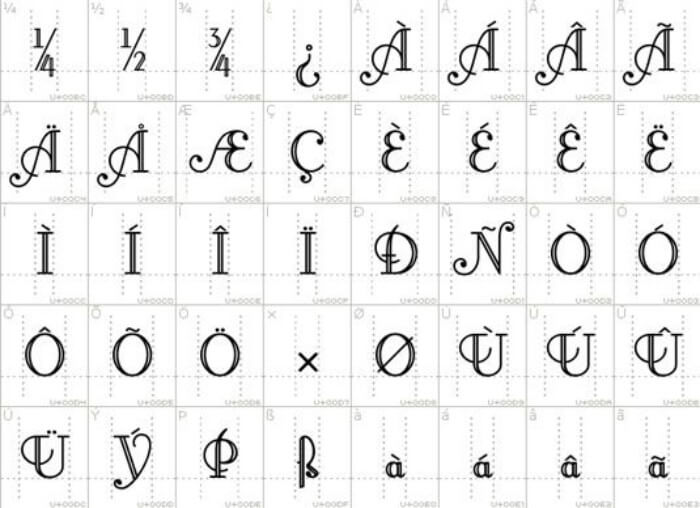 Sailor Scrawl
Sailor Scrawl offers a collection of unique rugged typefaces. Each of the fonts is accompanied by a little diamond located in the middle of the letters.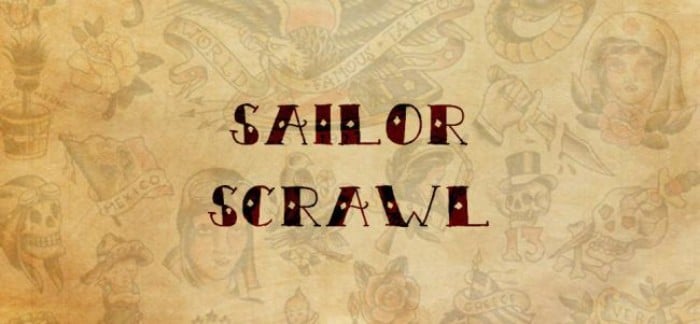 Captain Cook Tattoo Font
This tattoo font is named after Captain James Cook. This is an interesting Tattoo font that comes in outline and semi filled version.
This is a premium Tattoo font that you can get just for $9.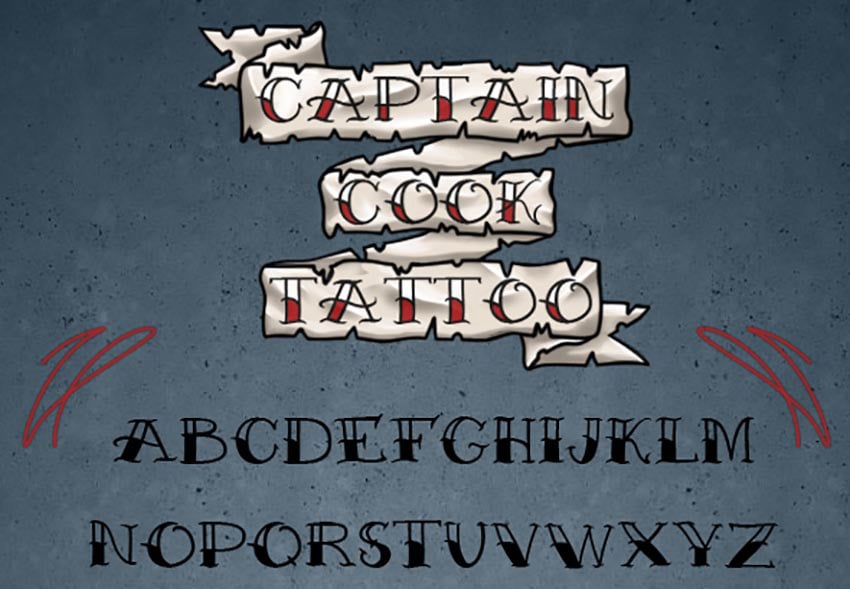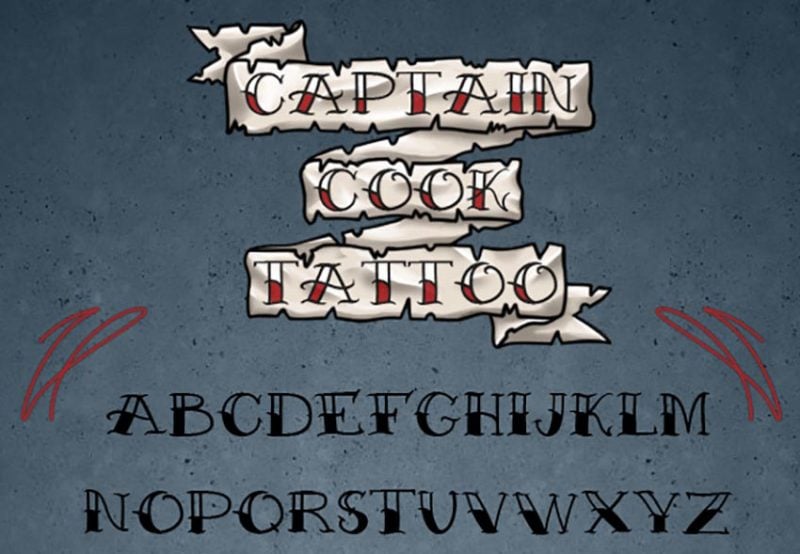 VTKS Tattoo
The typefaces with VTKS are well designed and look very fancy. It does carry a sense of old-school design to it. The letters feel like they have been put on fire.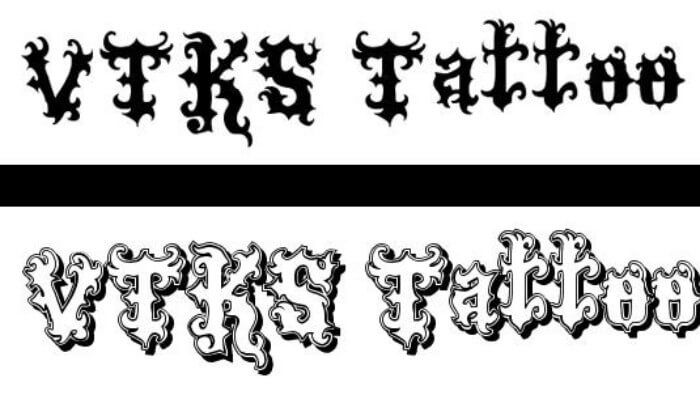 Spring
Spring offers a collection of typefaces that have been heavily worked on to offer some lavish and elaborate designs. There is a sense of mischief and mystery attached to the design.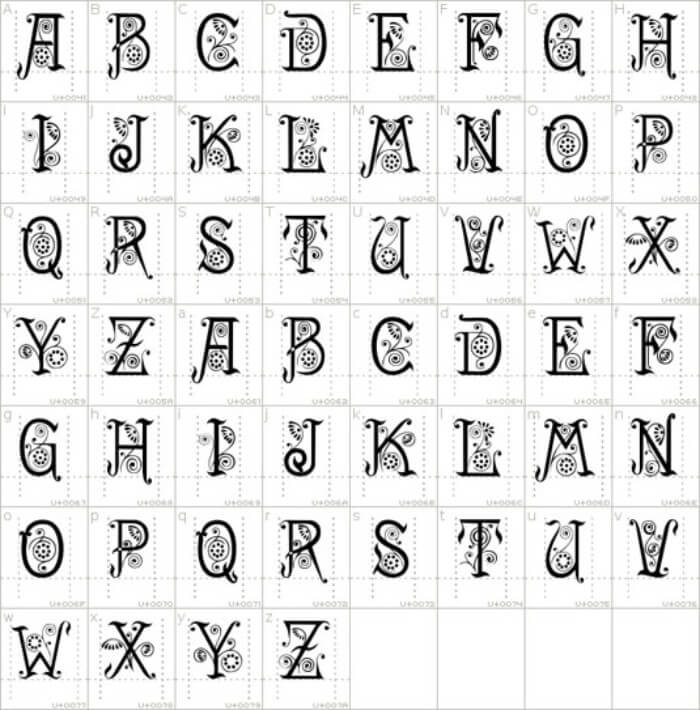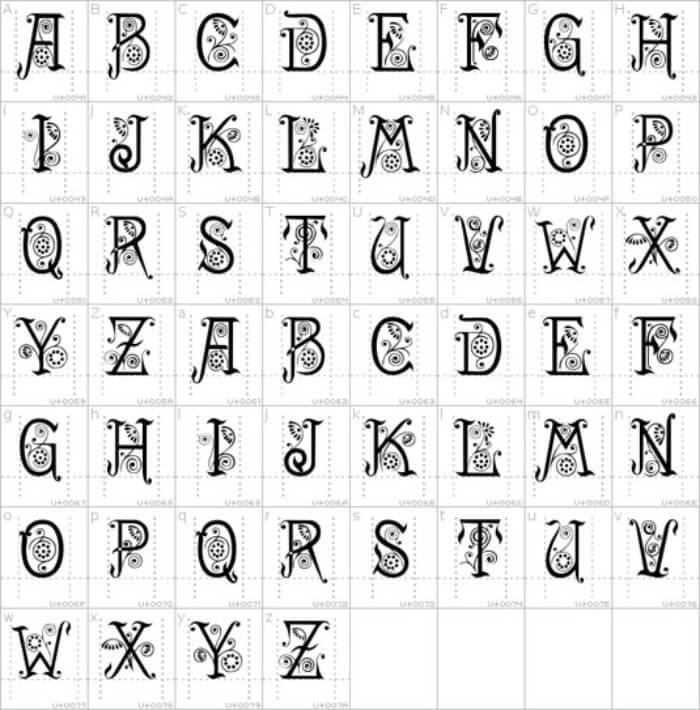 Champignon
The typefaces coming with Champignon offers an elegant design with its cursive style. This font will also be able to emulate a sense of human handwriting.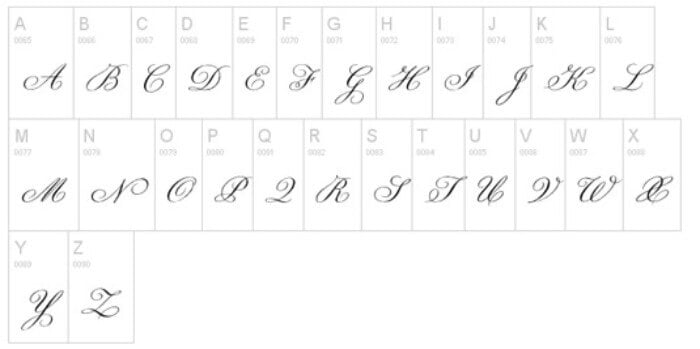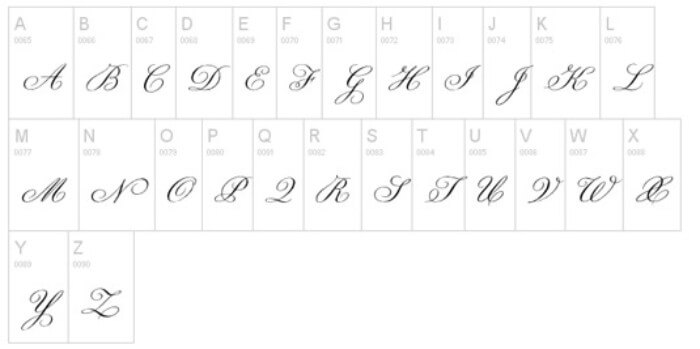 Blessed Day
Blessed Day is a simple yet beautiful font made with typefaces that feel like hand-drawn. With plenty of swashes and curves, it is also not lackluster by any means.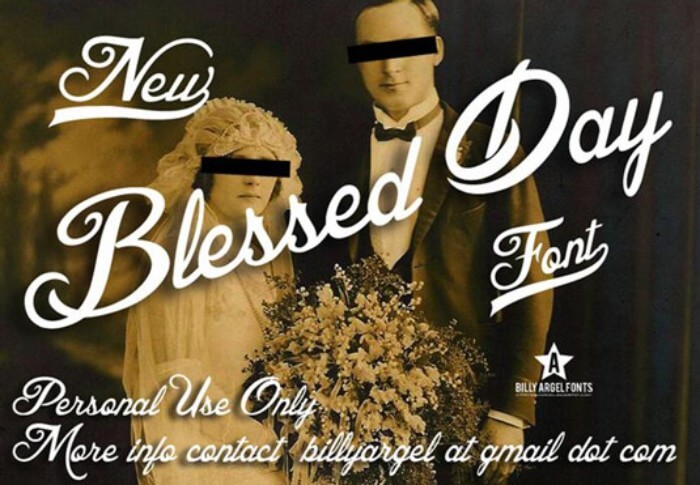 Blackletter
Blackletter offers a type style that offers a sense of old-school traditional element. The fonts have a sharp sheriff accompanied by thick strokes. The overall design feels heavy and demands attention. You can also argue that it has a gothic appeal.

Canterbury
Canterbury offers a collection of typefaces of alphabets, numbers, and special characters, all designed to reflect a design language similar to any old English font, but with much more elaborate detailing.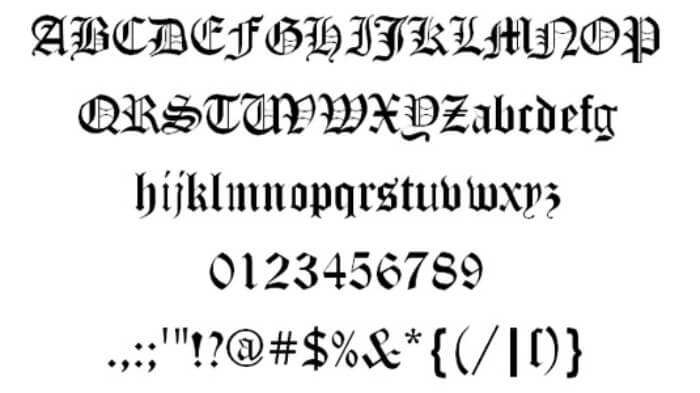 Scriptina
Scriptina offers typefaces with thin lines yet extended and drawn out to give each letter an attention-demanding presence. It is an extremely stylish font, yet simple and sober, and provides high readability.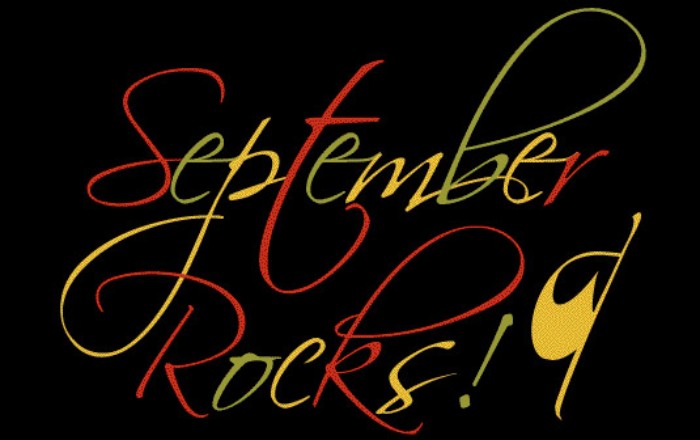 Brother Tattoo
Brother Tattoo is yet another font style with typefaces that features a cursive writing style. However, it is curved and is much more exaggerated than other fonts on the list.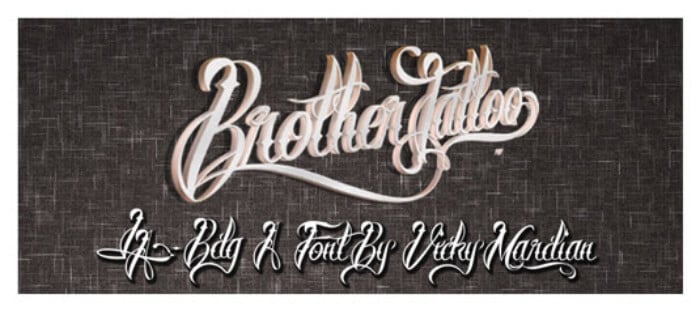 New Rocker Regular
New Rocker Regular is designed with a sense of loudness or rather harshness. The font draws inspiration from blackletter and certain heavy metal logos.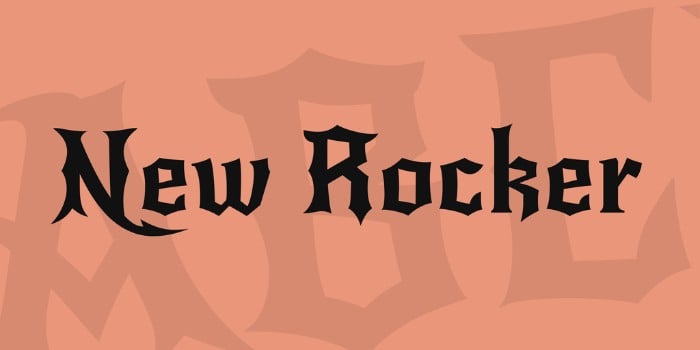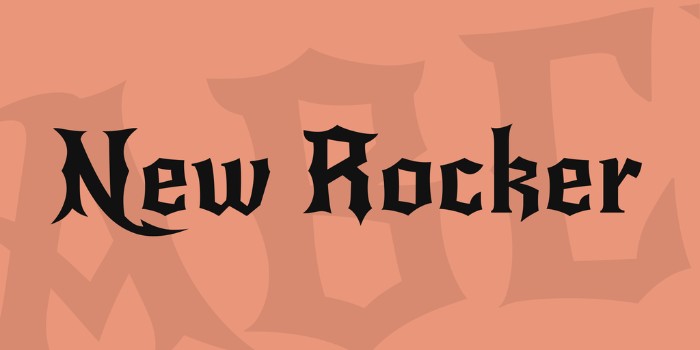 Man Down
All the letters that come with Man Down have a unique design that can make it look like alphabets of a separate language. The typefaces are quite bold and have a sense of togetherness.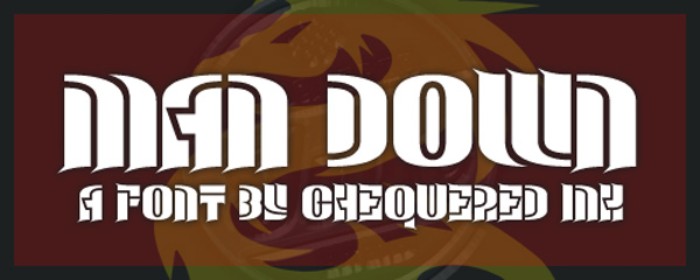 CM Tattoo Dragon
CM Tattoo Dragon offers an interesting block style based letterform with stiff strokes. It does carry a sense of disciple and rigidity. But this doesn't make it lackluster, as there are plenty of subtle creative strokes spread across.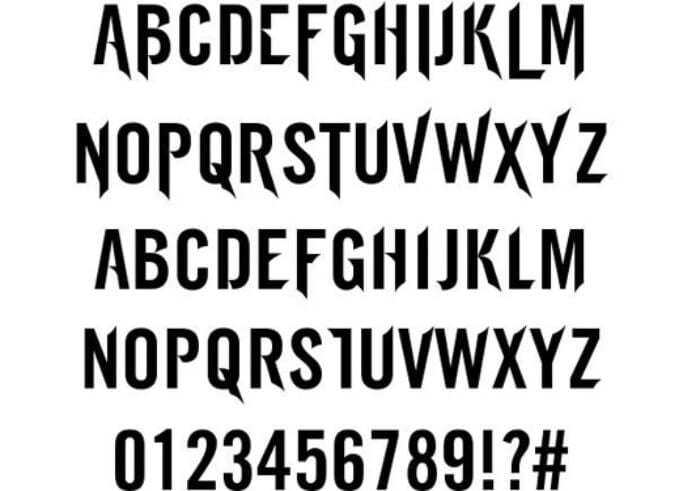 Cute Tattoo
Cute Tattoo, as the name implies, is an attempt to bring cuteness and tattoos into the same context. Now does it succeed? Well, the simple uniform strokes and line lines do carry a sense of modern charm to it.

Death in the Shadow
Death in the Shadow carries a font style that is perfect for any sort of creepy or dark project. The font style has the perfect measure of thick and thin lines which is stretched out just far enough to create a creepy vibe.

Prison Tattoo
Prison tattoo has a collection of bold typefaces with the occasional use of serif. However, the unique aspect of the font is how all the letters are designed in to create a sense as if broken pieces were glued together.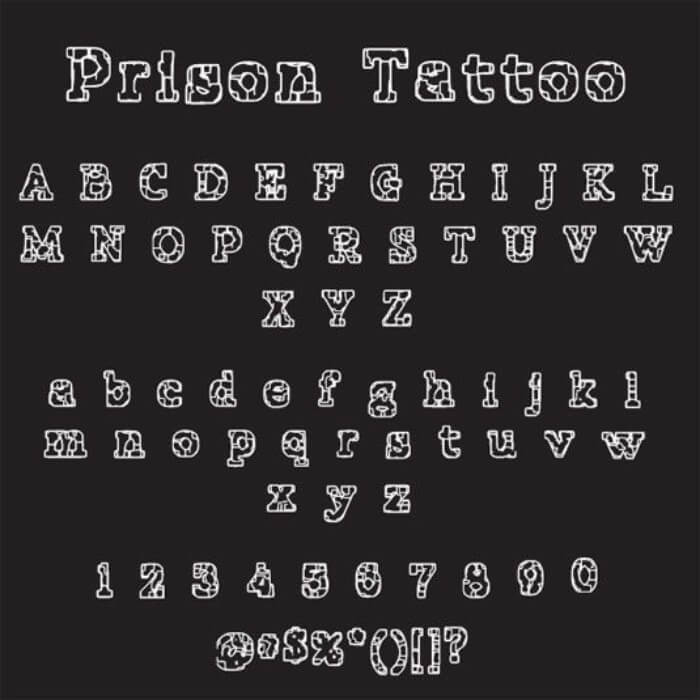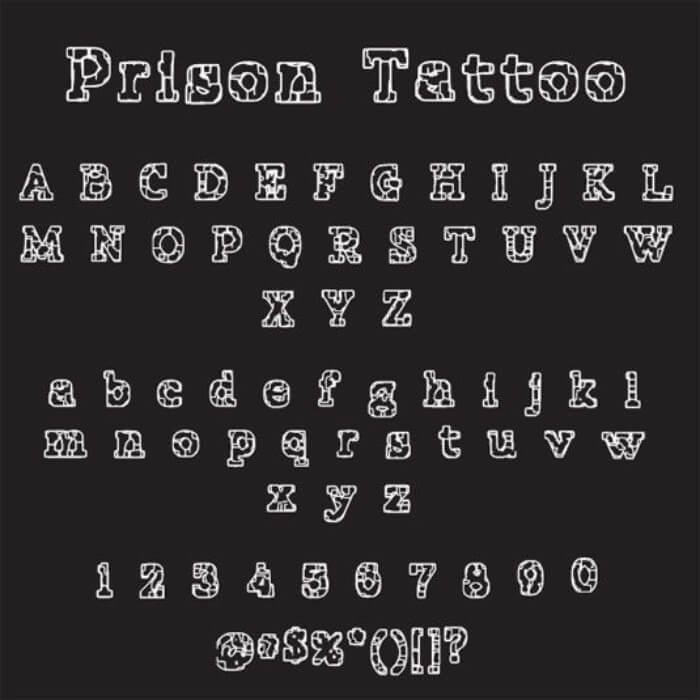 High on Fire
High on Fire is the perfect font style for bikers. There is a sense of danger and rashness to the design. All letters are quite bold and thick with the use of slit protruding edges at the end.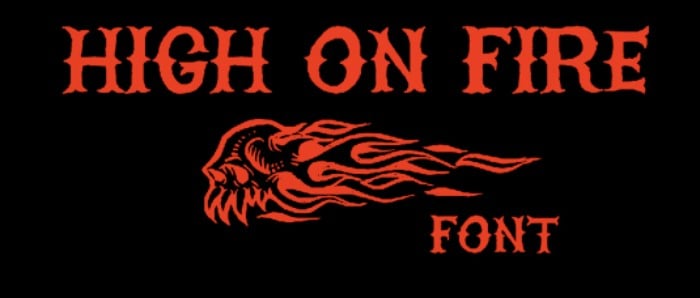 Delinquente
Delinquente is for those who enjoy long swashes and tails with their fonts. The styling is very much westernized with a rugged appeal. The characters have been designed to be elaborate but without compromising readability.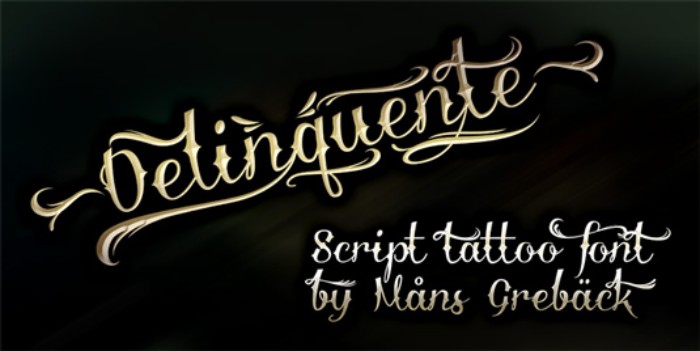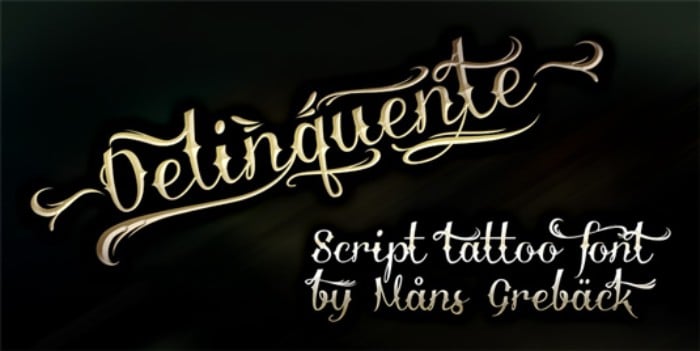 Echinos Park Script
Echinos Park Script is more of a dreamy and elegant font style with fanciful strokes and swashes. There is more of a welcoming or jolly aspect to the font.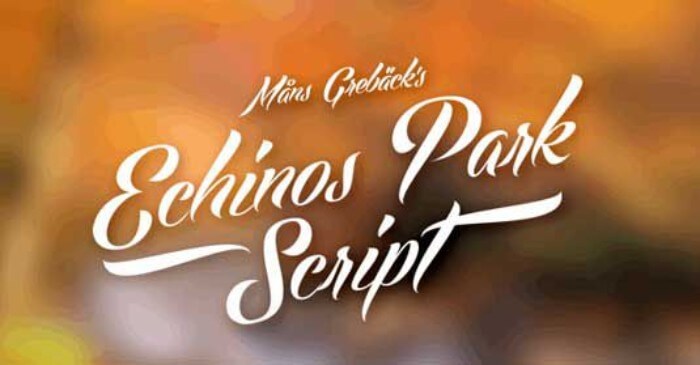 Extra Ornamental No2
Extra Ornamental No2 carries a design language which seems influenced by the medieval times. All the typefaces have a curved design with block letter fonts and plenty of thin lines to accompany each letter.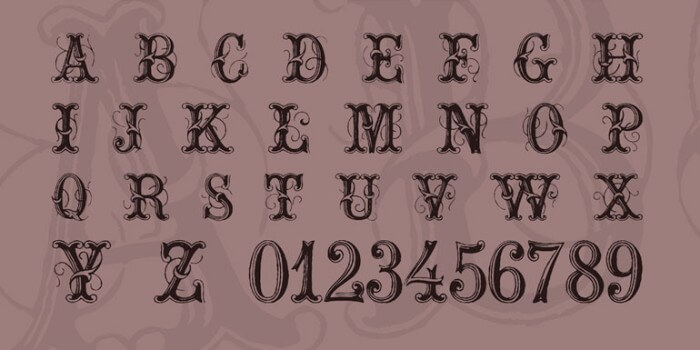 Head Case
If you like font styles with a lot of swashes and strokes then Head Case should catch your attention. It uses these elements with childlike freedom which ultimately creates a font style that feels is straight out of a fairy tale.

Tribal
Tribal offers a font style where the typefaces feel like shadows or strokes made in the wind. The design is extremely fancy and ergo popular. You will also notice a sense of creepiness with the font.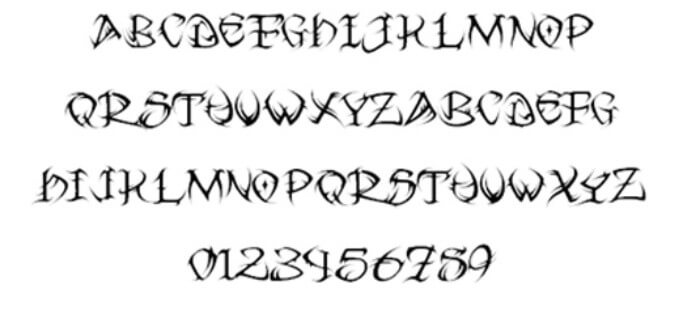 Antlers
Antlers'' typefaces have a sense of sharpness and coupled with elegant swashes which altogether creates a unique look.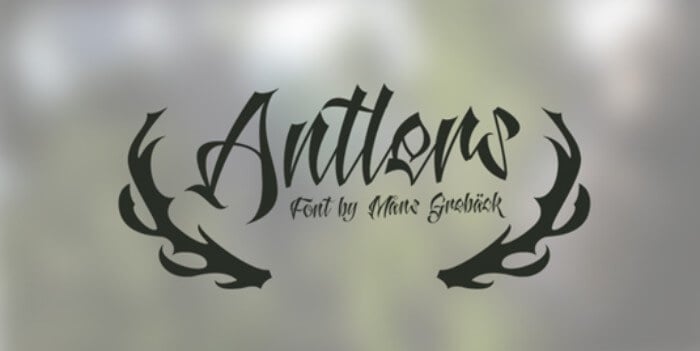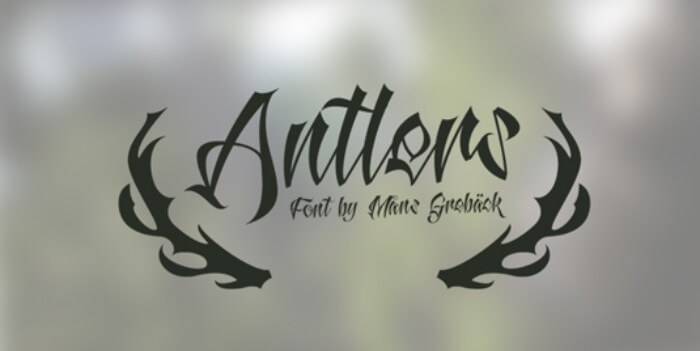 Ginga
Ginga is an ink-blot inspired tattoo font which also comes accompanied with long tails and interesting swashes. It is not overly done yet manages to carry a fanciful appeal. There is a somewhat retro feel with the typefaces.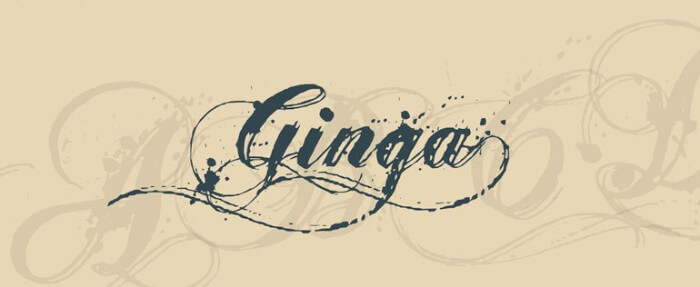 Mardian
Mardian is another font style that resembles cursive handwriting. But you will notice a more pronounced and exaggerate use of swashes and strokes to make it more eye-catching.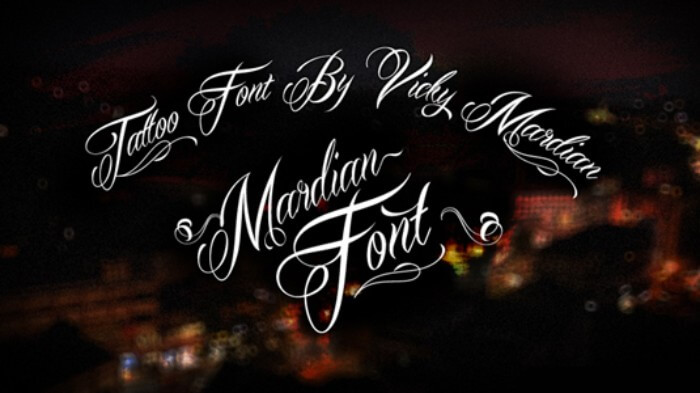 Drunk Tattoo
The texture we get with the typefaces on Drunk Tattoo is simply remarkable. It follows a simple handwritten like the style where the fonts are a bit on the bold side and sketched in.

Ink in the Meat
The styling language with Ink in the Meat is synonymous with that we understand with tattoo fonts. Its elaborate, script based and tough, which basically brings back memories of who tattoos used to be in the olden days.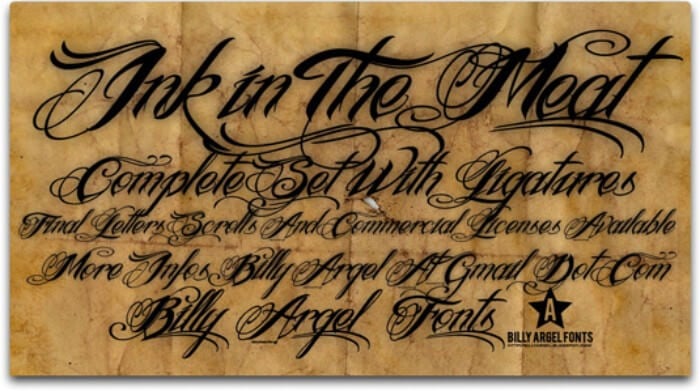 Tattoo Shop
The Tattoo Shop typefaces, from first glance, seem inspired by font styles used by people in the circus. The letters are readable, rigid, and yet carries an element of wonderful design, with curves or exaggerated strokes.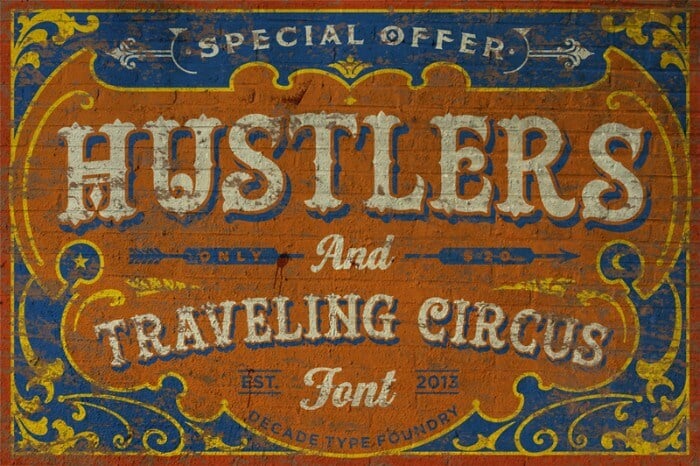 Ladylike BB Font
Ladylike BB Font is perhaps one of the most un-tattoo like tattoo fonts you can use. The typefaces follow girlish handwriting, with all the letters bouncing and light. Readability is extremely high with this font.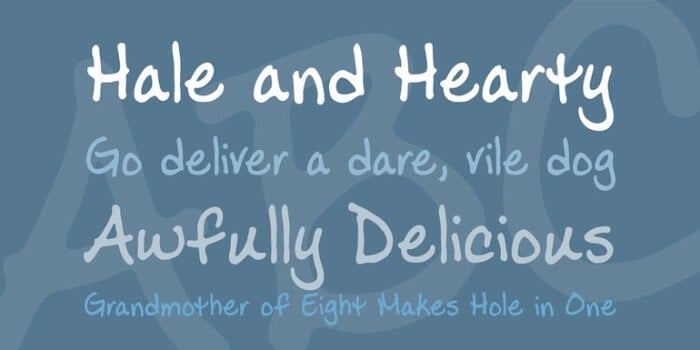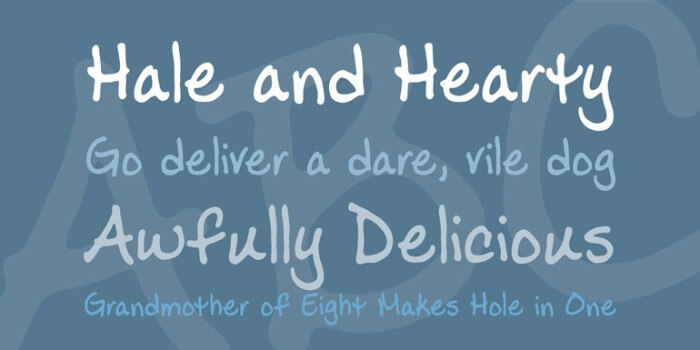 Lupus Blight
Lupus Blight offers a collection of unique typefaces where all letters seem to be weaved in with wires. Besides that, all letters are pretty straightforward, not too thin or thick, and are easily readable.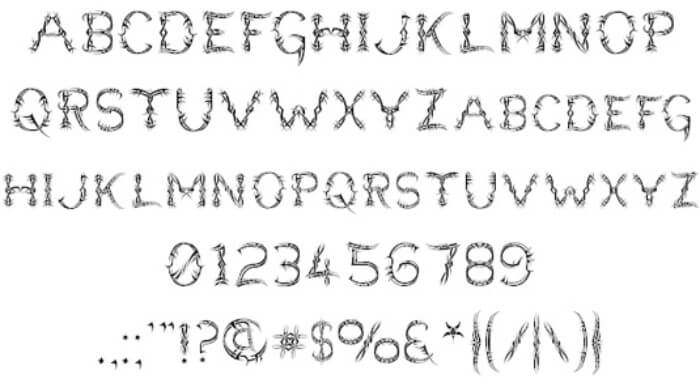 Los Angeles
You are most likely to associate the Los Angeles font style with biker groups and gangs. With some typefaces, there are curves, but with most, the design aspect comes bundled with sharp edges.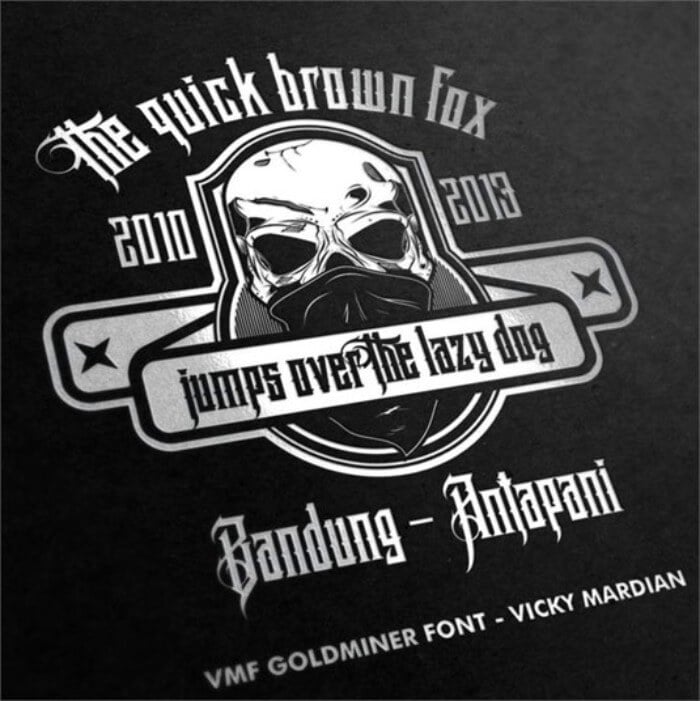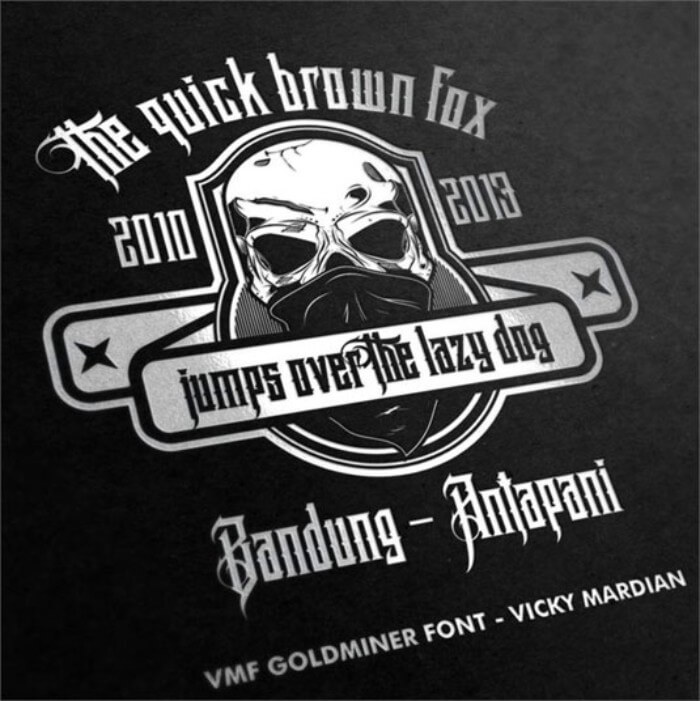 Nue Tattoo Script
Nue Tattoo Script is for those interested in works involving a lot of curvy strokes and swashes but also wishes the typefaces to be bold and thick, and not too thin.

Original Gangsta
Remember the music albums from back in the 90's? Well, Original Gangsta offers a similar swash based style which is both intricate and elaborate. The font also seamlessly blends in tough and soft aspects.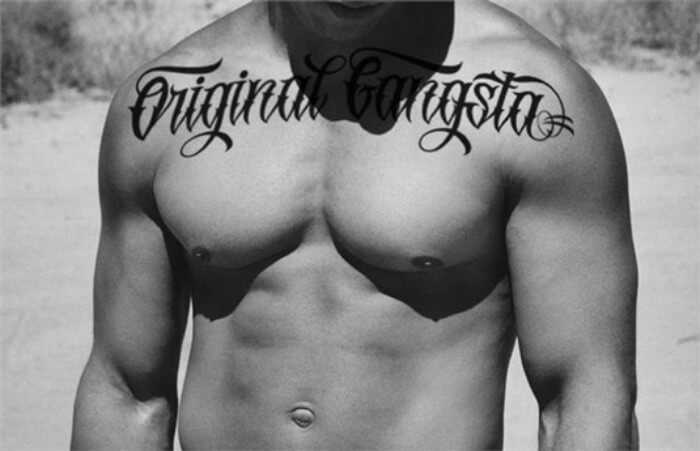 Precious
With Precious, you have access to a set of highly readable curve typeface. However, for the capital letter set, the tattoo script comes offers plenty of swirls and swashes. The unique style can works perfectly for short display type work.

Tattoo Lettering
Tattoo Lettering carries a design style that somewhat resembles that of MOM. However, it is not as rigid as the latter, and there is a sense of playfulness with the typefaces.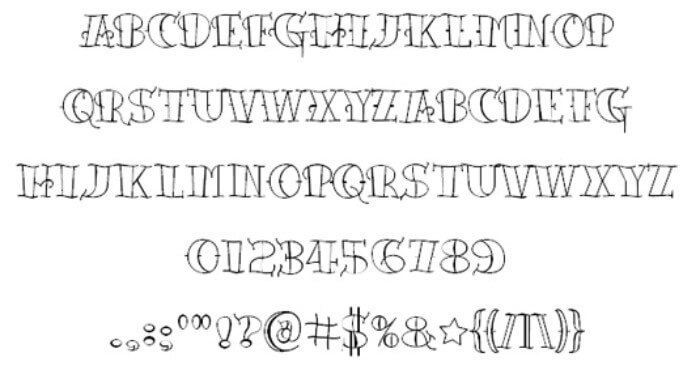 Serval
Serval hopes to establish a cat-like feel into its typefaces. And surprisingly enough, it achieves that with the unique script-style tattoo font with serifs in the strokes, some ragged edges, and elaborately designed swashes.

Shit Happens
Shit Happens offers a fun script with a lot of flairs. All the letters have some aspects of swashes or some extended lines to make them more appealing. This is definitely one of the more interesting font types of ideas for highlighting a sense of style and panache.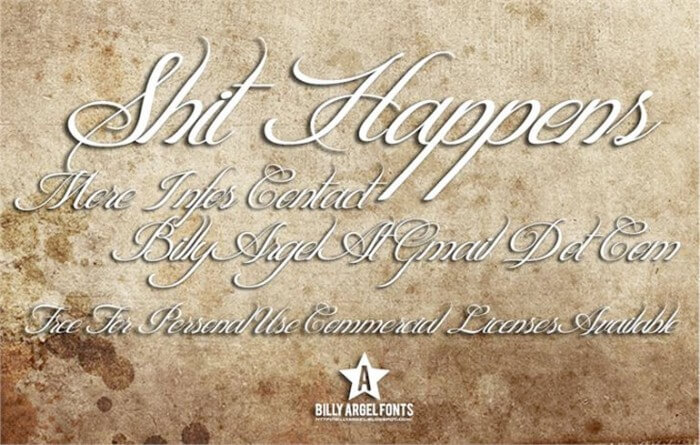 Tattoo Ink
Tattoo Ink has a big bold block letter with a unique design style where the letter is partially filled in the bottom and empty up top. You will also notice that all uppercase fonts have different types of fill in the letterforms.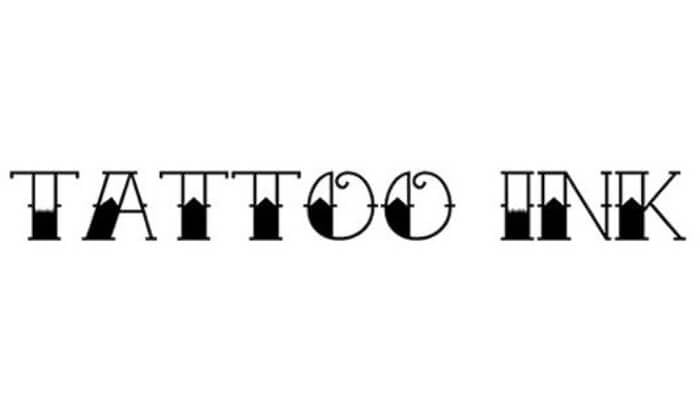 True Love Font
True Love Font and the previously mentioned Tattoo Ink shares a similar design style, but without those half filled capital letters. It looks modern and includes its fair share of thick and thin strokes.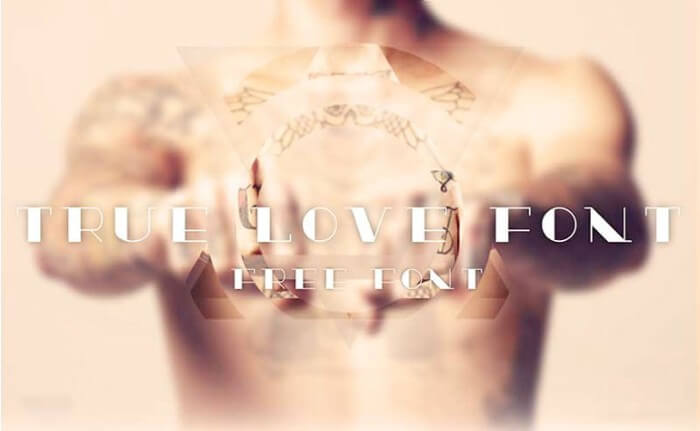 Unzialish
Unzialish offers an old-style typeface that resembles some elements we observe with Egyptian hieroglyphics. With alternative thick and thin strokes, wide stances, long lines, and heavy serifs, it has a Celtic style to its design.

Tuamotu
Next up we have Tuamotu. It is a fun font style with big block letters that incorporate some tribal style designs with all its typefaces The font style also has some childish appeal which makes it perfect for highlighting some lively events.