Marketing through emails is one of the most important techniques that have passed the test of time for businesses over the years.
A targeted email database of your business is an asset that stays with your company forever and bestows the business with returns for years to come!
Along with the instant retention of loyal customers, an opt-in email strategy helps you in staying connected with your customers.
So, it is very important for every blogger and online business owners to build a mailing list from the very first day of the business.
In fact, it is one of the best mediums for cross-selling your products and services to the customers that serve them with the ultimate benefit of quality and your business gains the significant advantage of generating good revenue.
It has, therefore, become essential for advanced bloggers and established online businesses to create an email list that is like a personal contact diary with the contacts of all the people that matter.
When you have a targeted list of subscribers with you, all you have to do is serve them with the right content at the right time and give a boost to your website's traffic and revenue.
If you are just starting off with blogging; creating and implementing a return-oriented email marketing strategy can be a difficult task.
Fortunately, there are plenty of plugins available which you can use on your WordPress website to create your list of subscribers. These plugins are easy to install and will help you in communicating with your audience like never before.
Wondering how? Read on to find out:
| | | |
| --- | --- | --- |
| Product name | Ready Template | Price |
| Bloom | Yes (100+) | $89 (Divi Theme, Bloom and more) |
| Thrive Leads | Yes (Complete Customization) | $69 |
| Optin Monster | Yes | $19 (Per Month) |
| Subscribe Pro | Yes | $29 |
| SumoMe | Yes | Free + $39 |
| LeadPages | Yes | $25 (Per Month) |
| ConvertPlus | Yes | $24 |
| Getsitecontrol | Yes | $9 (Per Month) |
| Ninja Pop-ups | Yes | $26 |
| Hellobar | Yes | Free + $29 (Per Month) |
Best Mailing List Building WordPress Plugins
01

. Bloom Email Opt-in Plugin
Bloom is a modern yet adaptable email plugin for WordPress that offers benefits and features in a versatile manner to increase your subscription list. It also lets you display your opt-in form, a pop-up, and a sidebar widget within your content or below it.
Talking about the design, Bloom offers a unique collection of 100+ different email opt-in templates that can be used by modifying the color and display as required.
An A/B testing can be performed to analyze the effectiveness of various form types to see which is more compatible with your site.
Do read our detailed review of Bloom plugin here.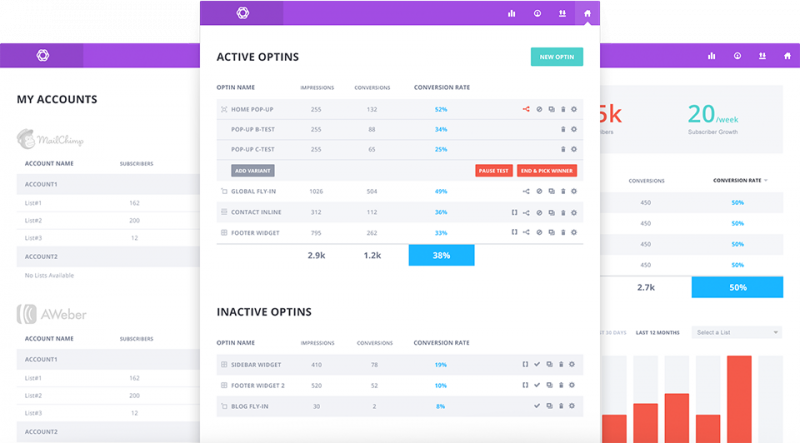 02

. Thrive Leads
Thrive leads plugin assists in developing a wide range of opt-in form designs through a highly user-friendly drag and drop interface. You can customize your opt-in type and design according to the appropriate content and post type.
Thrive Leads also offers a broad choice of placements for your opt-in forms such as content lock, opt-in widgets, slide in, sticky ribbons, and in-line forms amongst many others.
The plugin also helps in checking the growth analytics of your campaigns by an A/B testing feature. Along with helping you create wonderful designs, Thrive Leads also provides elaborate statistics to get you well versed with the usefulness of the plugin.
When it comes to customizability and opt-in types, the Thrive Leads plugin undoubtedly one of the top choices.
It gives you an option to attract only the highly engaged subscribers with the yes and no subscribe option. Now, only you can expect a much better engagement as there is no subscriber who just entered your list by accident.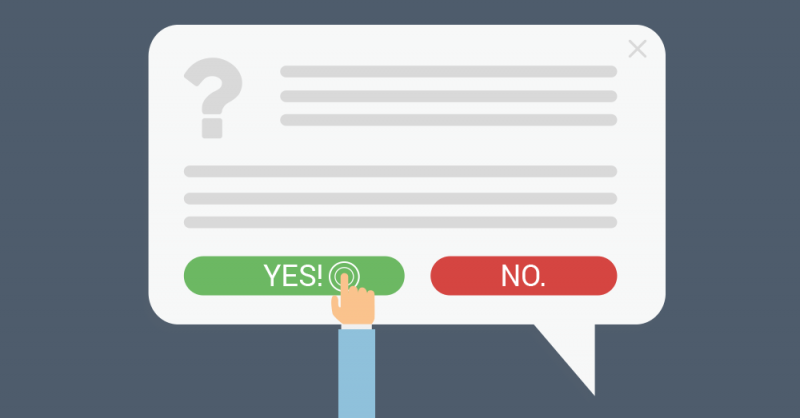 Widget & Other Opt-In Types
Sidebar widgets are the classic but most effective placement for the email opt-in forms. If you look at any most of the leading websites, all of them use the sidebar email subscription widget because it really works.
Other than the widget Thrive Leads offers you inline forms that you can use on your content, beautiful sticky ribbons to show in the header section and more.
Recommended for all online marketers.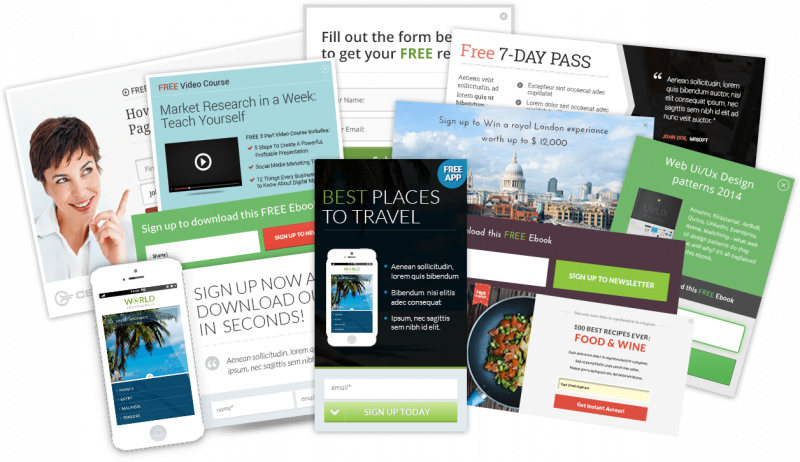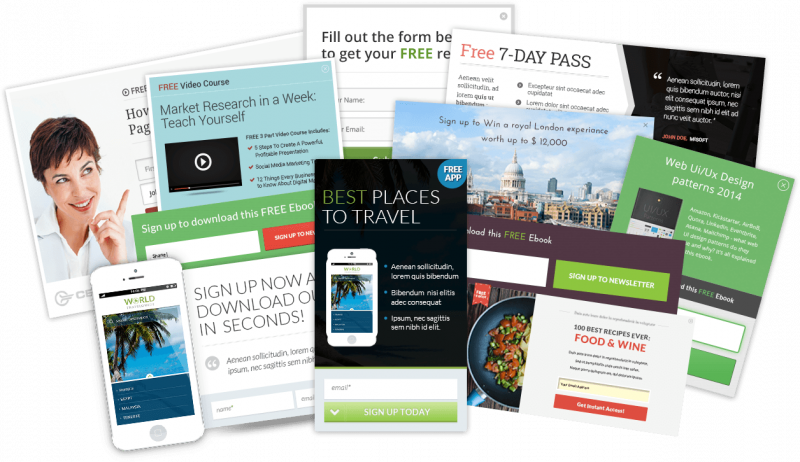 03

. Optin Monster
Optin Monster is one of the most popular email marketing plugins that enables you to turn your website's one time visitors into repeat visitors. The mobile-friendly e-mail opt-in plugin comes with more than 65 different pre-built templates.
It allows you to customize the design and placement of the opt-in form, along with the opportunity to use the A/B testing feature to analyze the impact of forms.
Optin Master offers a unique onsite Follow-Up Campaign™ solution using which you can display different targeted messages to different website visitors depending upon their status on your website, i.e., existing newsletter subscribers, customers, and returning visitors.
The plugin also provides you with a detailed set of knowledge and analytics for email delivery and conversion.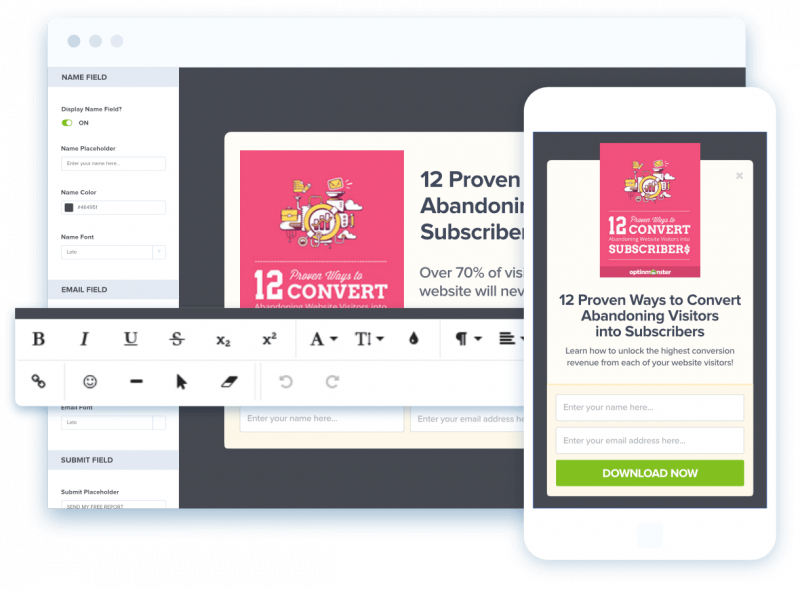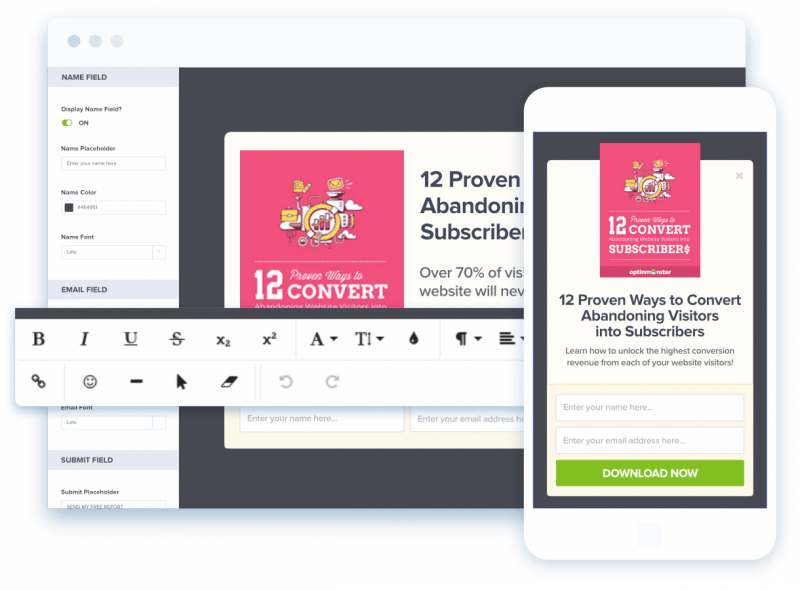 04

. WP Notification Bar Pro
WP Notification Bar Pro is a highly result oriented plugin that provides a solution for all promotional activities of your website along with being an email subscription platform.
Moreover, it gives you the option to develop an endless number of notification bars that you can use for special offers and promotions for dynamic subscriptions over the emails.
With a highly flexible design and placement options, you can place the bars at the top of the site and the rest at the bottom, and you can set the bars for specific pages and posts as well.
It is amazingly easy to use, and once you start with it, you have the option to choose the type of bar you want to use from various options such as text, email subscription, button, pop up video, social media button, search form, and countdown timer.
With WP notification Bar Pro, you can also design and style your own bar as per the requirement and present it with a prominent value in terms of your visual appeal and usability.
05

. Thrive Architect
Thrive Architect acts as the architect of your website's e-mail opt-in strategy. This impressive plugin lets you create course pages, webinar pages, opt-in form pages, sales pages and other conversion-oriented e-mail opt-ins using its drag and drop builder.
Thrive Architect comes from the developers of Thrive Leads and hence, both these plugins can be used simultaneously on your website to easily integrate all the features.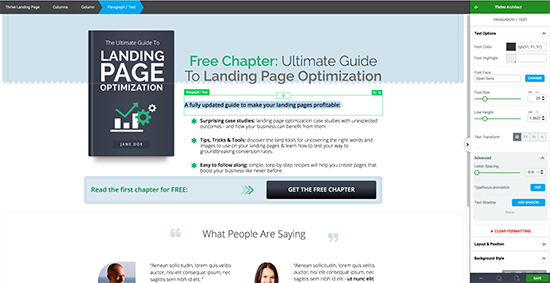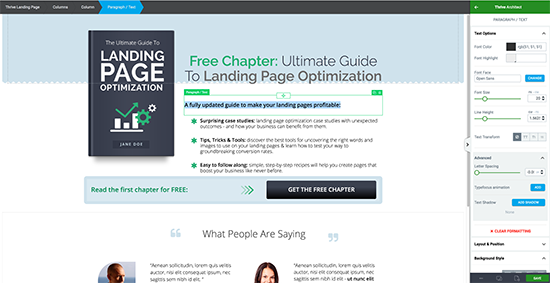 06

. Subscribe Pro
Subscribe Pro is a wonderful plugin that is being used by many prominent websites to build a creative looking email opt-in campaign.
Being a user-friendly plugin with an enticing look, Subscribe Pro helps in engaging your website's visitors and then converting them into repeat visitors.
The plugin offers many unique features such as showing the percentage of the page while scrolling through the content to makes the site navigation convenient for the user.
Moreover, the wide choice of opt-in form placement that it offers helps you to show your email form in various formats such as sidebar widget, popup, etc. making it an ideal plugin for websites operating in any niche.
Subscribe Pro also lets you facilitate your e-commerce platform by integrating features like inventory feeds, discount coupons, and product pricing. Quite the package, we'd say!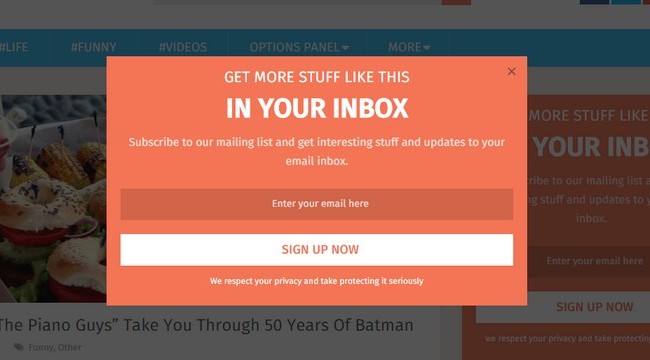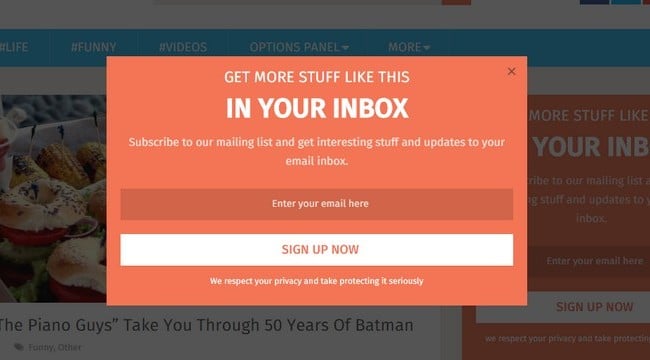 07

. HubSpot
HubSpot's WordPress plugin offers a form and pop-up builder with an intuitive drag-and-drop interface so you can capture your visitors' information, but it does so much more than that.
HubSpot will collect submissions off any form you have on your WordPress website (even if you've built them with another plugin) and automatically add those new leads into your CRM.
You can segment your contact database into lists and personalize your emails using any CRM property. And all of this is free! You can send up to 2,000 emails a month, without having to pay anything.
You can report on your email's overall success and see how each contact interacted with your email campaigns thanks to the built-in analytics.
The plugin also includes a live chat and bot builder so you can begin engaging with visitors and generate leads. You can deploy bots to answer simple questions that your site visitors have so you can continue engaging your visitors even when you are offline.
Once someone submits their information via a form, popup, or the live chat, you can automate a kickback email to get in touch with that lead and share your content with them.
This plugin is a great option if you're just starting out and don't have the budget for a more robust marketing tool.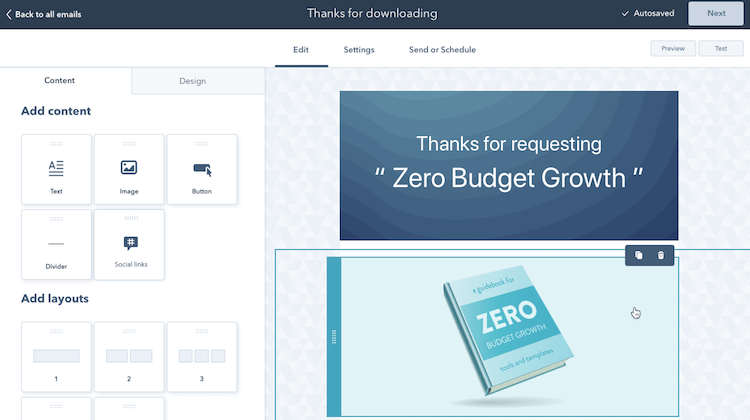 08

. SumoMe
SimoMe is one of the leading email subscription tools available in the market. This tool is used by many leading websites to grow their email lists.
In fact, SumoMe is not just an email subscription tool but a complete solution to grow your website traffic and revenue.
As we are talking about email opt-in plugins in this list we will stick to the email subscription tool offered by SumoMe and not the other tools.
For an email subscription, it offers you an amazing pop-up builder and you can fully customize it to make sure that it blends perfectly with your site.
You have a number of great looking ready to use demo templates to choose from, select any of the demo templates and get started.
You can customize the selected template to fine-tune the design as per your need.
You have the option to show custom offer to increase the conversion and as the tools are perfectly optimized for the mobile devices, you will be able to take advantage of the mobile traffic.
You can connect the SumoMe email subscription form with most of the leading email service providers such as MailChimp, AWeber, Constant Contact etc.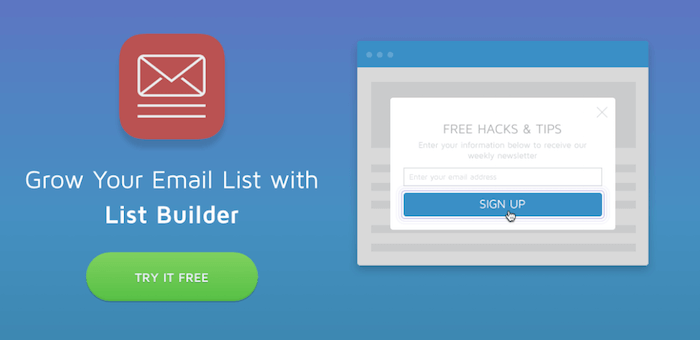 09

. LeadPages
While you're looking for a good e-mail opt-in plugin for your website, let us tell you that Lead Pages lets you create whole landing pages to opt-in e-mail subscribers.
Yes, you heard that right. The plugin comes with more than 70 different landing page templates that further can be customized using a highly user-friendly drag and drop builder.
LeadPages helps you in generating an email subscriber list online as well as offline with its high converting landing pages.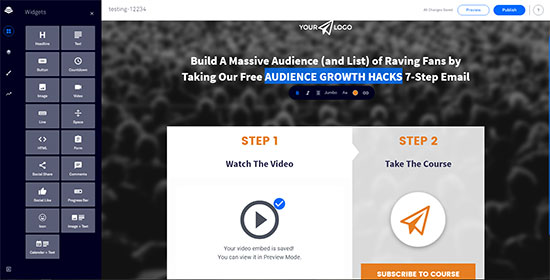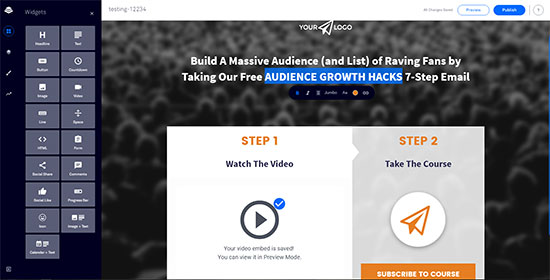 10

. ConvertPlus
ConvertPlus is one of the best popup plugins to increase the number of email subscribers. This plugin brings in everything that you need to grow your email list really fast.
The plugin comes with ten different popup display positions to make sure that you have the flexibility to show the popup depending on the structure of your site.
You also have twelve different trigger options to make sure that you can trigger the popup when it is most likely to convert the visitor into your subscriber.
The ready to be used popup templates is another great advantage of the plugin. You have more than 100 different stunning designs to choose from.
You can choose the template that you like and edit it according to your requirements. If you are managing an eCommerce site, this plugin will help you to reduce the abandoned carts and increase your revenue.
You can do the A/B testing to know which template or placement is working best for your site before you finalize your placement.
You can also create a great looking sidebar widget that will constantly be there in a spot where all your visitors will see the form.
Another great position is putting the subscription form below each article where it is most likely to get a conversion if your content is helpful for your visitors.
If you are offering anything to download for free against the email, this plugin will help you to create a content locker to make sure that your content is locked until the user provides you their email ID, this is one of the top tips to grow your email list faster.
The plugin comes with a simple settings options panel where you can choose the kind of opt-in you wish to place and get started.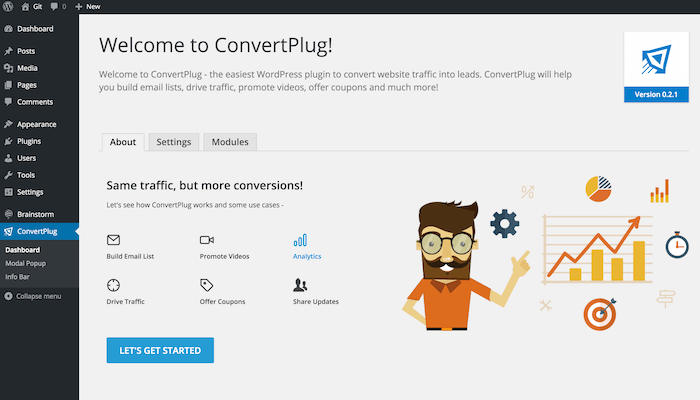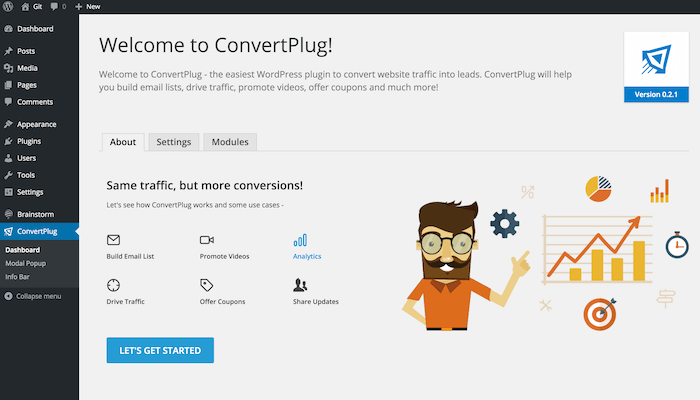 Offering any discount and wish to promote your offer, this is probably the best plugin to help you get that done with an attractive popup.
Easily create your opt-in template and show the kind of offer you have come up to make sure that you are able to attract more visitors.
Overall, it's a great option to increase the email opt-in conversion of your site.
11

. Convert Pro
Created by Brainstorm Force, the same team behind the popular Astra theme the Convert Pro plugin is what you need to grow your email list with great-looking popups.
The powerful drag and drop builder will make the process easier for you to create a great-looking popup design. You will have endless possibilities when it comes to design. You also get access to a big list of templates that you can use to create your opt-in.
Once your design is ready, you can integrate the email opt-in with the best email marketing service provider of your choice.
When it comes to triggering the popup, you get a number of behavioral triggers to increase the conversion for your site.
It ic completely responsive to make sure that the form looks great on all devices. You can do your own A/B testing to make sure that you have the perfect design that works for your business.
Along with the email opt-in form, you can use the Convert Pro plugin to trigger the best offers on your site to help increase the revenue for your business, you have plenty of amazing design templates that you can quickly edit and get started.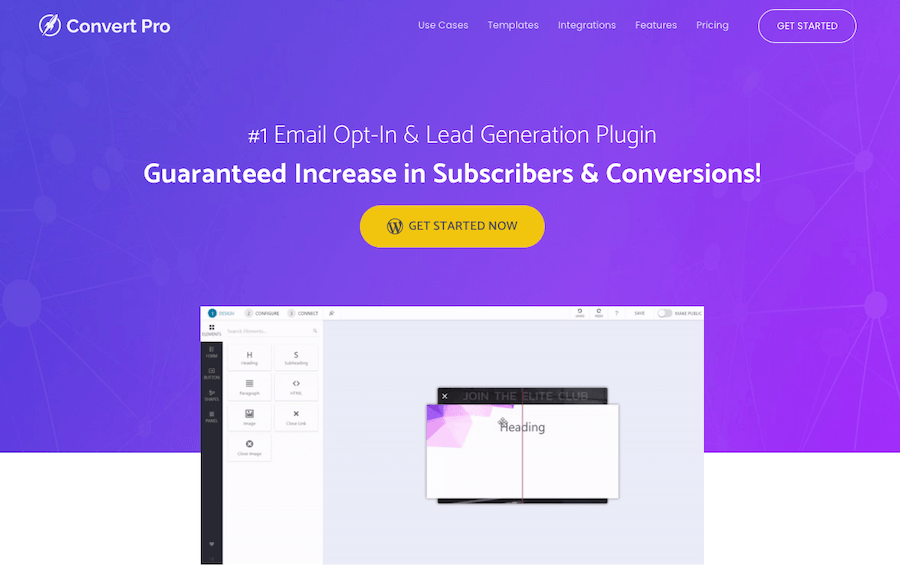 12

. Ninja Pop-ups for WordPress
Ninja Pop-ups is one of the best WordPress opt-in plugins that are highly effective in expanding your email list and offering a wide variety of options to your subscribers, such as discounts and special offers, A/B testing, quick and convenient e-mail delivery, and analytics.
The plugin lets you customize the pop-up design and placement as per your website's specific requirements with its attractive drag and drop builder.
With more than 28,000 sales, Ninja Pop-up is a best seller pop-up plugin on the Envato Market.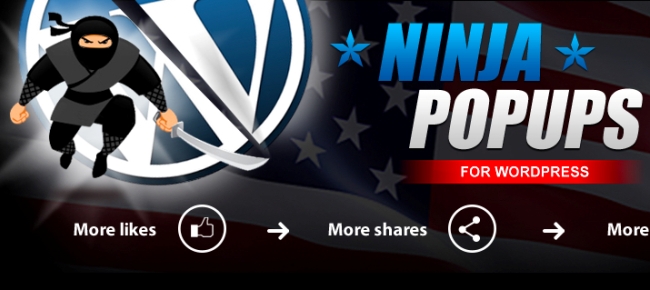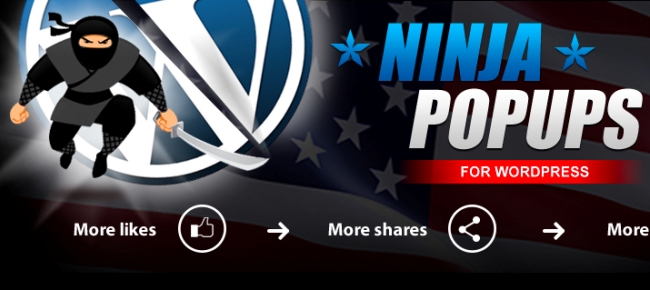 13

. Optin Forms
Optin Forms is free of cost plugin that offers numerous opportunities to customize and design your opt-in e-mail forms.
Though the plugin does not offer as many options as other as other premium mailing list plugins that have been talked about in this post, the features that it offers are completely customizable.
Quite user-friendly, the plugin can easily be integrated with the theme of your website using various email service providers such as AWeber, iContact, MailChimp and Interspire Email Marketer.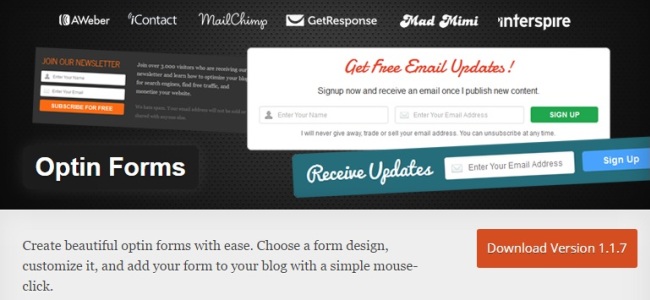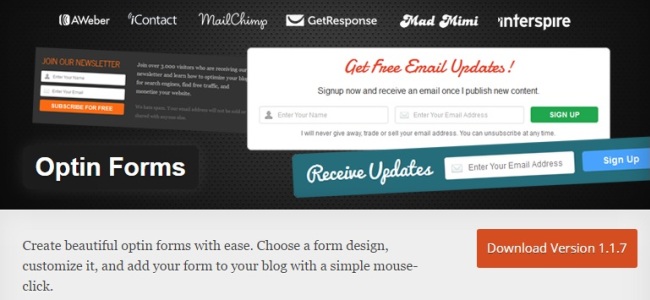 14

. Getsitecontrol
Get Site Control is an all-in-one email opt-in plugin that provides an endless number of email subscription methods with its easy to install and attractive opt-in forms.
The plugin offers several different features such as notification bars, dynamic pop-ups, buttons, and panels that you can select as per your requirement.
Moreover, you can display enticing messages for your users for all promotional activities or any special offers, that are customized to look amazing on all the devices.
You can customize your own image, color combination, fonts and animations along with the effective A/B testing feature to help you analyze the effectiveness of your campaigns.
Loaded and effective!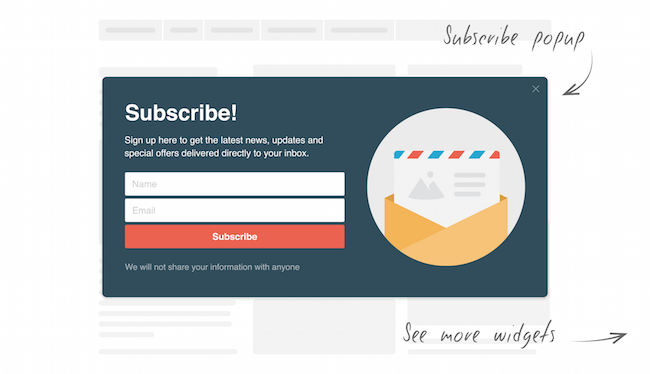 15

. Simple Signup
True to its name, Simple Signup gets you going with an effective and result-oriented email list instantly. The plugin provides an attention-grabbing pop-up window that guarantees that your email subscription bar is visible to all.
This easy to install and activate plugin lets you integrate your overall marketing goals with e-mail marketing goals in a hassle-free manner.
An added advantage is the flexibility and customization options it offers, and you can choose your color combination to make it compatible with your website's theme.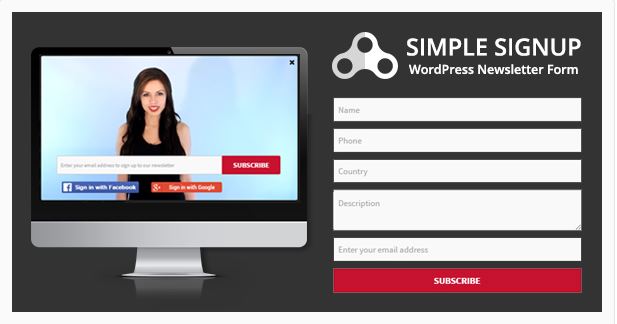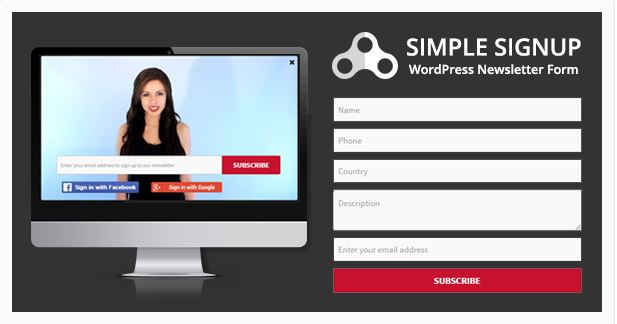 16

. Opt-In Panda
Opt-in Panda is one of the most conversion-oriented opt-in email plugins for WordPress that lets you customize the e-mail subscription methods as per your requirement. The plugin locks your premium content and makes it available to the visitors only after they add their email IDs.
It is the most helpful plugin if you provide premium content or a free download link to your visitors; but if you have a regular blog with commonly found content, then some visitors may leave your site because of the content lock.
Opt-in Panda provides a choice amongst different subscription options such as single opt-in, double opt-in, and quick e-mail confirmation.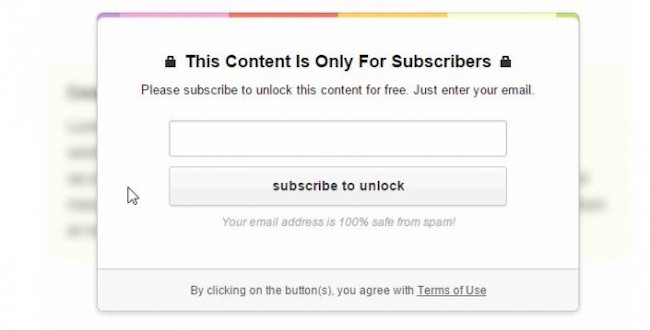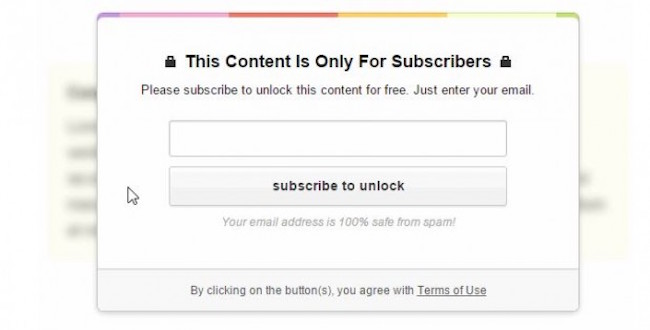 17

. Hellobar
A large number of bloggers make use of Hellobar to attract a huge number of email subscribers for their personal as well as business blogs.
The plugin can be efficiently utilized as an email opt-in tool along with its unique feature of displaying special offers on a dedicated notification bar.
This user-friendly plugin also provides an option of A/B testing your different campaigns. True to its name, the well-designed notification bar that it offers adds up to the visual appeal of your website.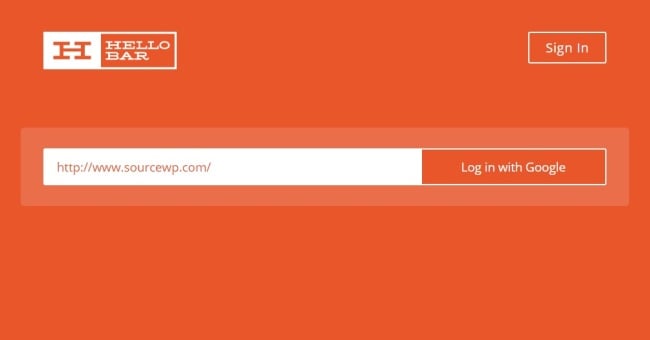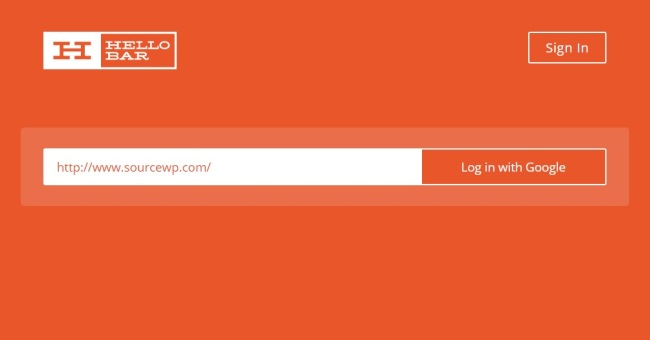 18

. Plugmatter
Plugmatter is a unique email plugin for WordPress that allows you to create an attractive email subscription box out of the many different customizations available.
You can customize specifications from the header section, background image and all other elements of subscription box with ease.
Plugmatter is a highly demanded plugin by professional bloggers and online businesses as it offers wonderful templates that are instantly ready to be used and you can do modifications to the templates as per your liking.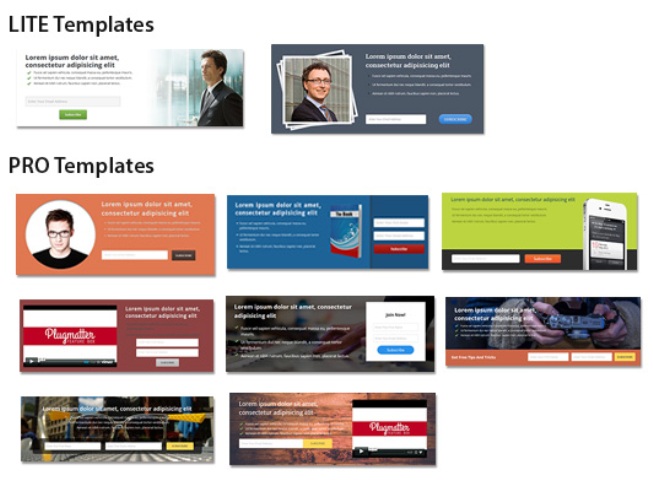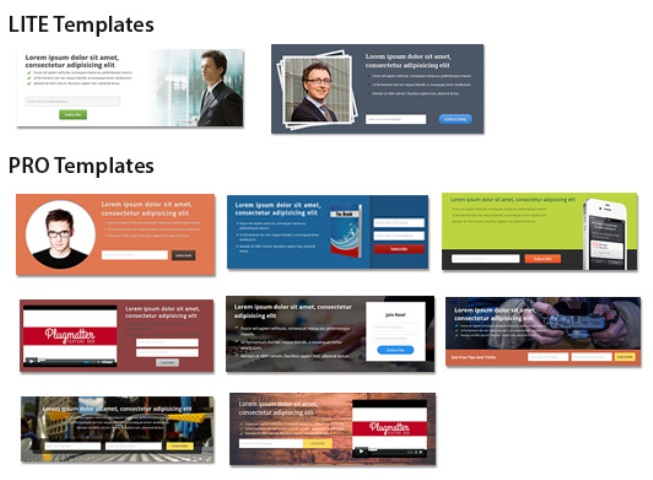 19

. Popup Domination
Another outstanding WordPress plugin is Popup Domination. The plugin focuses primarily on taking the online business to a new dimension of opportunities for increasing your email subscriptions.
Moreover, it is easy to be installed as a standalone tool to develop and manage your mailing list effectively.
You can target specific pages with different specifications to augment your subscribers within a few minutes by the easy installation procedure.
The plugin even provides a powerful money-back guarantee within 60 days in case your subscriber ratio does not expand!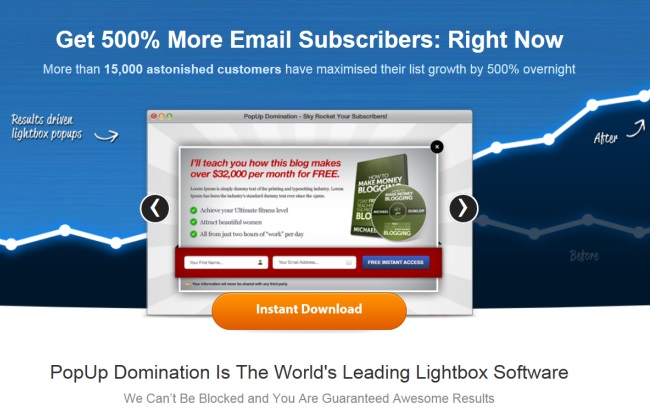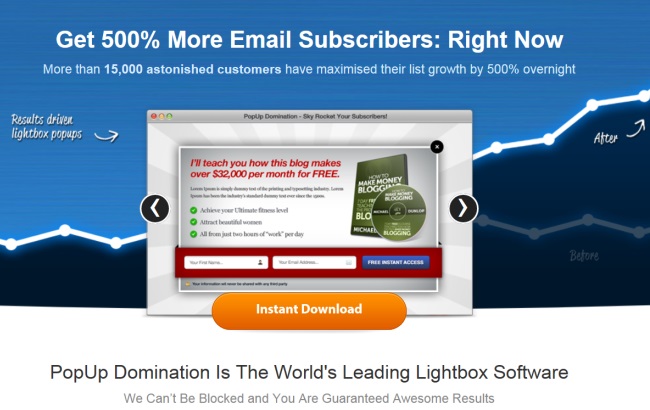 20

. MailChimp for WordPress
MailChimp's service is free up to 2000 subscribers and it's a really good number of small size blogs. This plugin offers you the option to create an email subscription for the MailChimp platform.
You can the option to work around the design to make it look better. And this plugin integrates itself perfectly with the default WordPress contact form, the Gravity form, WooCommerce, Contact Form 7 and most of the leading plugins.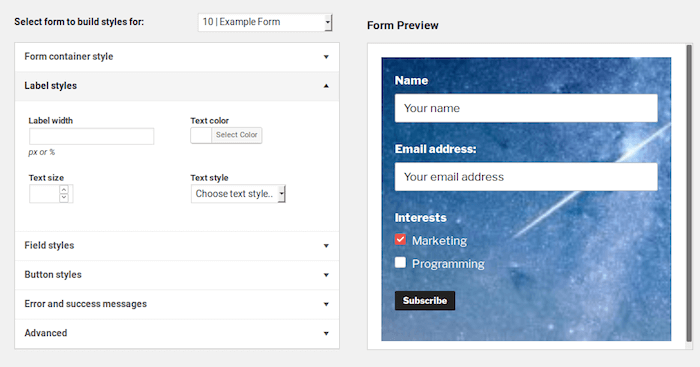 FAQs About Email Opt-In
01. What is an email opt-in?
Email opt-in is the process of adding new subscribers to your email list. Generally, the term refers to the forms used to capture emails.
02. How to use email opt-in?
You can use any of the email opt-in plugins listed in this article to create your email opt-in form and capture email. You will also need to setup an account with any of the email marketing service providers such as MailChimp where your emails will be stored. So, once you have the email opt-in form ready, you have to link it to the email service provider.
03. How to maximize conversion?
Using an email magnet is one of the best practices to capture emails form your visitors. You can offer a web template for free, or a course that you are expert in along with the email opt-in form to maximize conversion.
04. Can a good email opt-in form make a difference?
Yes, depending on the email opt-in plugin/tool it can make a difference to a certain extent. It depends on the kind of features it offers, the design of the form, etc. However, the placement of your form and the email magnet you use make the maximum difference to the conversion rate.
05. Which email Opt-in is the best?
While it is different to mark one as the best, plugins like OptinMonster, Bloom, Thrive are the most widely used plugins for an email subscription.
Conclusion:
With increasing competition amongst bloggers and business websites to attract visitors, email opt-in plugins are the need of the hour.
The above-mentioned plugins can be customized and designed to suit the specific requirements of your website. Choosing the feature that suits your website the best is the key to a successful conversion rate.
For Instance, if your website offers premium content that's exclusive to your website, then a content lock would be the best option to escalate your email subscriptions.
On the other hand, if your website offers content that's easily found online, then a content lock can do more harm than good.
No matter what type of content you offer, you will eventually find the email opt-in plugin that results in maximum conversions for your website with a trial and error approach.
So, what are you waiting for? Get started on your journey towards customer retention with email marketing and let us know your experience in the comments below!