A Content Locker is a marketing tool that you can use to increase your subscriber base. Let's say you know have some really good content on your website or blog that you are sure that your readers will be compelled to read.
So with a Content locker, you can show a little portion of the article, as a teaser, and then prompt the reader to subscribe to your site to get full access. There might also be other actions including Liking or sharing the content to gain access.
So you can also use a Content locker to increase your online presence.
Overall, the main philosophy is to choose high-value content and 'lock' it so that the readers can only gain access if they do certain things you want them to.
However, don't lock all content on your site, especially not the mediocre one, or else your readers will feel cheated and this might leave a bad impression.
So now that you know what a Content Locker is and how it can help you let's see how you can use it on your website. If you are running WordPress, then there are plugins that you can use to integrate content-locking functionalities into your site.
However, there are hundreds of such plugins which can leave you confused. Hence here we have come forward with a list of the Best Content Locker Plugins for WordPress to help you get started:
Content Locker Pro
Content Locker Pro is one of the best WordPress plugins for restricting access to your website content. Now it is a premium plugin, so you need to pay to gain access to these features, but they are worth the money.
For starters, you will be getting 16 unique locker designs, one of which will surely meet your stylistic standards. Then there are options such as Batch locking and Advanced Lock Options to help you gain much more ease and control over the matter.
There is also support for a variety of social media platforms, and many of the popular mailing services are also integrated to help you transfer your leads. Apart from this, there are many more features, making this a powerful plugin.
Bloom Plugin
Bloom WordPress plugin is one of the best email option plugins in the market which you can use as your site's content locker. The plugin is developed by a team of expert developers from elegant themes.
Now it is an email option plugin that is designed to help you increase your subscriber count. But it does come with some handy features which you can use to restrict content until the user subscribes and you gain some leads.
Overall, if you have been planning on getting an email option plugin as well as a content locker, then just go with Bloom instead.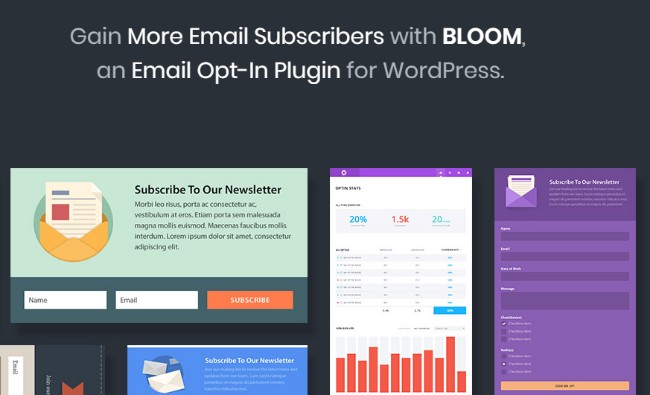 The name of the plugin says it all. With this plugin, you will be able to increase the social sharing of your content dramatically if your content is good.
This is not just another content locker plugin but a comprehensive social sharing as well as a content locker plugin that offers some amazing features.
This plugin comes with ten different themes to choose from so that you can play around with the design of your site. It supports a huge list of different social media sites, but you can choose the ones you wish to display.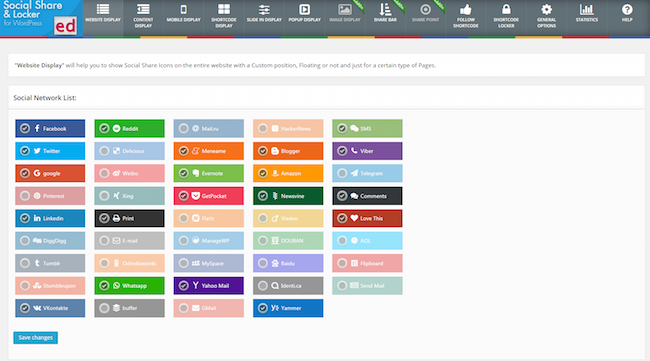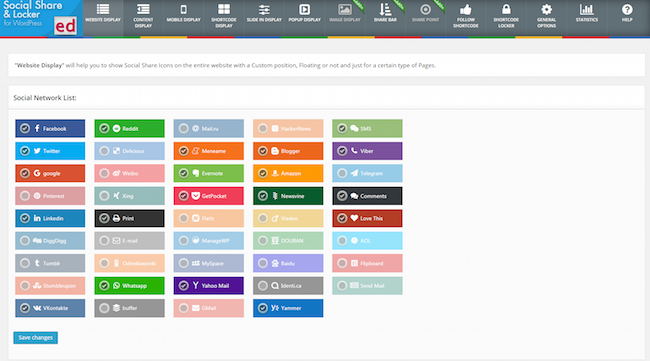 Opt-In Content Locker
One of the popular content locker plugins, Opt-In Content Locker can increase the email subscription rate significantly.
If you can create valuable content regularly such as some really useful tutorials; you can lock that content till the time your users give you their emails.
It works perfectly with the leading email marketing services such as MailChimp, AWeber, GetResponse, iContact, Campaign Monitor, Mad Mimi, Benchmark, Sendy, and MyMail.
Social Locker & Content Locker – Locker Cat
Locker Cat's user interface is designed by professional designers to give you a beautiful and modern feel which doesn't feel cheap. You can integrate features such as Facebook share to unlock, or Tweet to lock content, and so on.
The content which gets hidden by the locker is still visible by the search engines, and so your SEO rankings will not be damaged.
The plugin is also very light and doesn't impact your site's load time negatively. Again, for the convenience of your visitors, the plugin takes advantage of cookies to remember which visitors previously shared content, so they won't have to do so again.
To use the feature, you simply have to put your content inside [lockercat] shortcode, and the plugin will handle the rest.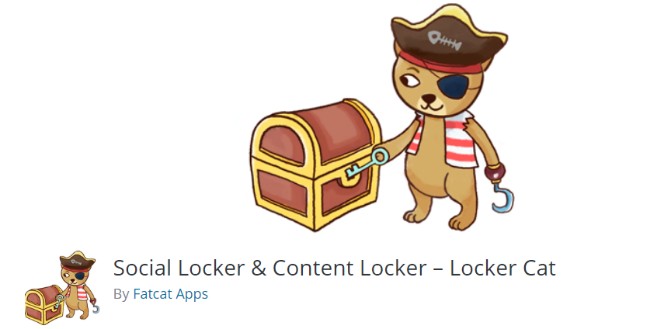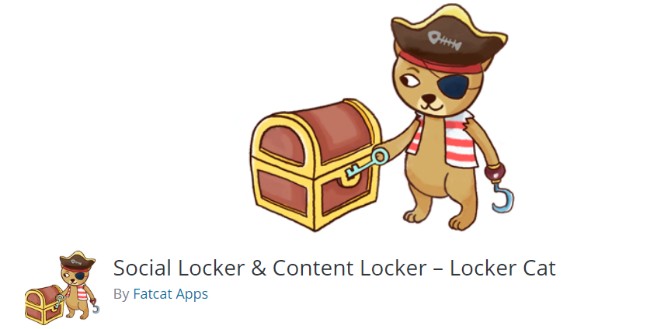 OnePress Social Locker
OnePress Social Locker helps to lock your content until the visitors share it through their social media profiles. Now the plugin is available in free and paid versions.
With the free version, you get support for Facebook shares, Twitter tweets, and Google +1 for your content. Other social platforms are available in the premium version.
Now coming down to all the features that you will get with the free version of the plugin. First, you will get built-in analytics to understand which locker is performing better, and then you get some attention-grabbing styles, effects, 4 type of locks, support for Visual Composer, and responsive design.
Then with the premium version, you will get access to five extra themes, eight social sharing buttons in total, Ajax loading for your locked content, the ability to export leads in CSV, and much more.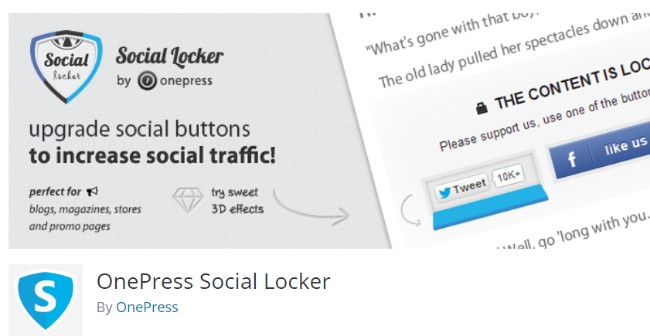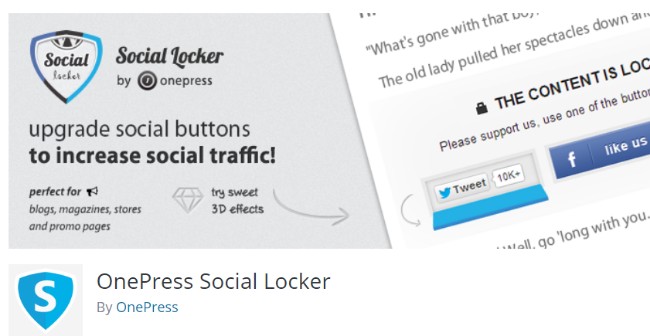 AdWork Media Ez Content Locker
AdWork Media EZ Content Locker WordPress plugin helps you to lock content and link lockers on pages and posts as you choose. However, to go about doing this, you will need to register with AdWork Media.
Now, coming down to some of its notable features. The plugin gives you access to filterable pages and posts for the locker tools to always display or never display.
Then there is support for multiple content lockers and link locker profiles. Support for auto-link locking is also there, so you don't have to go through too much hassle.
Overall, if you are looking for an easy-to-use tool to lock some of your content, then this would be a great tool for the purpose.
You can simply install this plugin and paste the Content Locker JavaScript code and select the pages or posts you wish to "always" or "never" display the Content Locker. That's about it.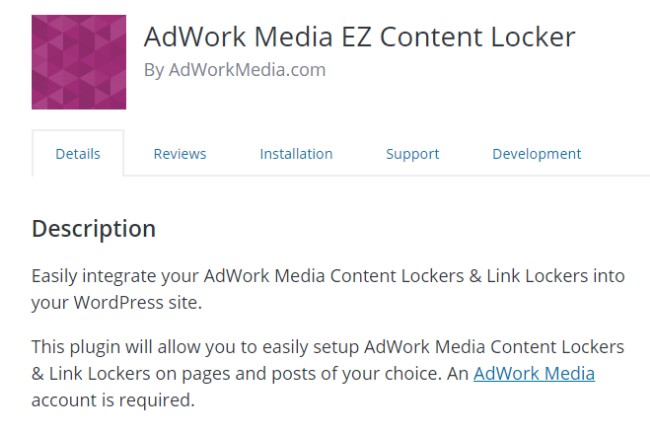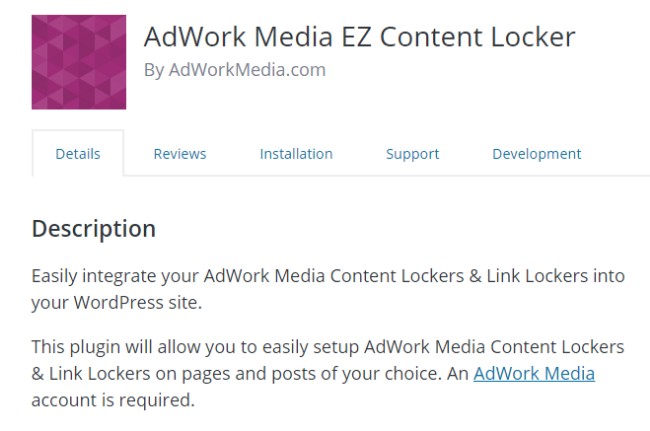 WP Private Content Plus
WP Private Content Plus and its Premium version provide you with content restriction features to help you protect certain content from guests, members, specific users, a group of selected users, and so on. 
However, one special feature of the plugin would be the ability to create a unique private page for every user of your site to house specific content. This page will be under administrator control.
Now coming down to some of the other features of the plugin you get the ability to restrict content under many constraints, sell premium memberships through WooCommerce, create different premium member levels, get an advanced private user page dashboard, a user group management system, and lots more.
Overall, this is a very powerful plugin to help you sell your content, instead of just getting some social shares for them.


OnePress Opt-In Panda
You can use the Opt-in Panda WordPress plugin to hide your content or any other file behind an option form. Your readers will have to subscribe to gain access to your content, and in this manner, the plugin will help you as a content locker.
It is also compatible with all the major mailing services like MailChimp, Aweber, and others. Once someone subscribes, they will send the new lead to your mailing service or store them in its database.
Now the plugin works with Single Optin without email confirmation and Double Optin which includes email confirmation, and you can choose which mode you want to use.
Other impressive features of the plugin include Advanced Analytics to let you know which lockers are performing better, four different types of lockers, SEO optimization, Fast Loading, and loads more.