Create great-looking professional landing pages with these amazing landing page plugins mentioned in this article.
Every website eventually runs into circumstances that call for the creation of landing pages.
However, if you are having a problem with creating the landing page for your WordPress site, then you have come to the right place.
Many people own a website but aren't web developers themselves. WordPress offers an excellent platform for creating sites for these individuals.
The WordPress community is filled with thousands of developers and active users who use the CMS themselves and also contribute to making it better.
Here we are going to take a look at some plugins developed by these developers.
These will help you to easily create a fully functional landing page just the way you wanted it.
So without further ado, here are the best WordPress landing page plugins:
Top Landing Page WordPress Plugins
Divi Builder
Divi Builder was initially created for the popular Divi Theme; now this plugin can be used with any WordPress theme.
The flexibility and the features offered by this plugin are quite interesting; you can easily create any website with this plugin.
This drag-and-drop website builder will help you to create and fine-tune your website within minutes. You can add, delete, or change the layout of any section of the website with just a click.
This plugin comes with over 45 different modules that you can use to create your pages.
You can create stunning rich landing pages for your products, and services easily and make sure that your revenue goes up.
Get a 10% extra discount on ElegantThemes products.
Elementor
Elementor offers a blazing fast easy-to-use UI with a live editor to help you create highly functional landing pages for your website.
The editor allows you to dive the page area into sections and columns. Each column can have modules like buttons, images, headings, sliders, and more.
This is one of the easiest use a plugin if you intend to make a landing page from scratch. However, there is also a healthy collection of templates to help you out.
Each of them is professionally designed and has several modules to offer rich experience and high conversion rates.
Spectra
Spectra is a drag-and-drop page builder that makes it easy to create high-conversion landing pages. Build one from scratch using the 28 blocks, use a series of block patterns or wireframes or use one of the many pro-quality page templates.
Spectra includes all those resources and more, for free.
Spectra integrates into the WordPress block editor and adds valuable resources to help you build engaging landing pages.
All blocks, patterns and wireframes are available from within the block editor. You can drag and drop blocks, customize everything and use the resources as you see fit.
Spectra is built with React to help maintain fast load times. It is also very efficient. If a block isn't used on a page, the code isn't loaded. There should be no noticeable slowdown in load times, no matter how many blocks you use!
Thrive Architect
Thrive Architect offers you all the necessary tools to make a consistent sales funnel for your users.
Many times, you will feel like you are creating a great landing page experience for your users, but the end product might become inconsistent and disjoint.
With Thrive Architect, you get access to a plethora of features and an excellent selection of templates to make a regular experience starting from the squeeze pages, to the sales page, thank you page, confirmation page, webinar page and much more.
The plugin gives you over 150 templates to work with extensive customization abilities.
There is also an abundance of elements mainly focused on conversions. Furthermore, there is support for external shortcodes and much more.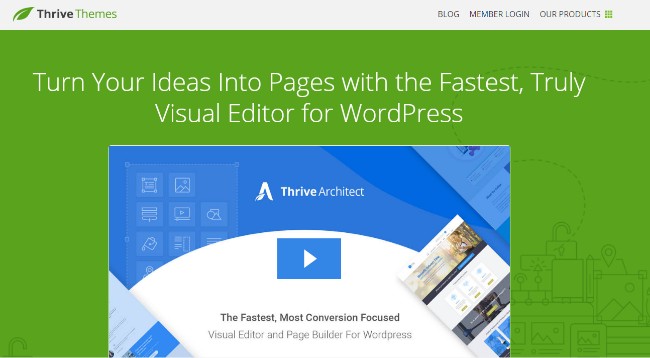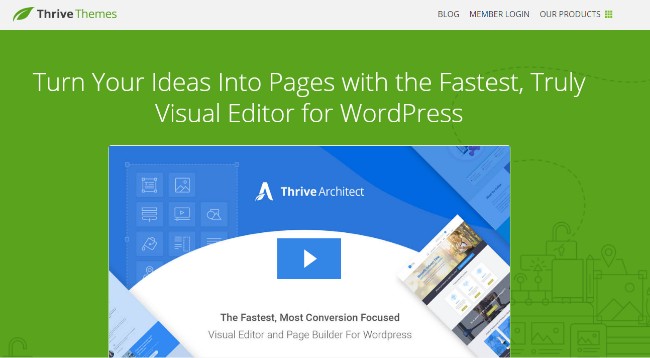 LeadPages
LeadPages is one of the leading landing page builders which is super easy to use and comes with a collection of over 350 templates.
It also comes with a laundry list of features that can help you with increasing your conversion rates. They also have a server, so you don't have to worry about hosting some large landing pages.
Feature highlights of the plugin include functionalities such as LeadBoxes. This allows you to create links that can popup opt-in forms.
However, do note that this is a very expensive plugin and the pricing can give you second thoughts.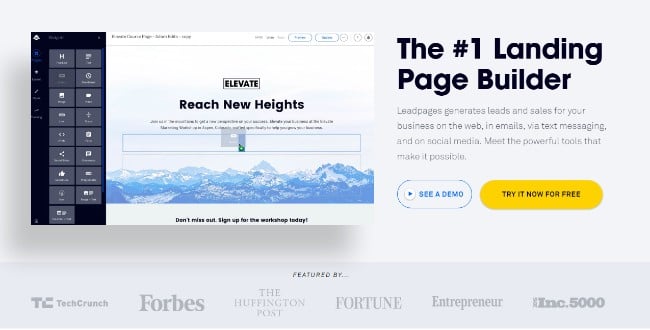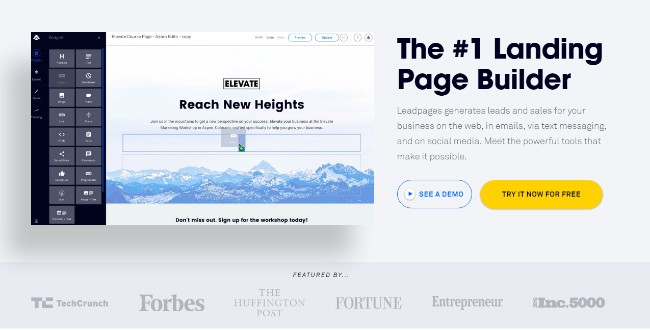 Beaver Builder
Beaver Builder is one of the simplest-to-use landing page builders on this list. If you want a fast and intuitive way to get your landing page up and running, then this is an excellent choice.
The plugin comes with lots of premade templates so you will never have to build anything right out from scratch.
Just pick a template that fits your landing page needs and start tweaking with the smooth and fast drag-and-drop builder.
It comes with a decent collection of elements and modules that you can apply to your landing page to make it richer.
Qards
Qards follows a card-based structure to organize your content and make building your landing page as easy as possible.
The plugin will give you access to a handful of content cards that you will have to put into a canvas-like, process similar to fitting puzzle pieces.
Just pick the content that you want to be displayed, put them in the places you want them to be in, and your landing page is ready.
You will be getting an extensive set of content cards and multiple content boxes, each of which offers extensive customization options.
All of these cards are placed by drag-and-drop motions. The design of each card is also very sharp and modern.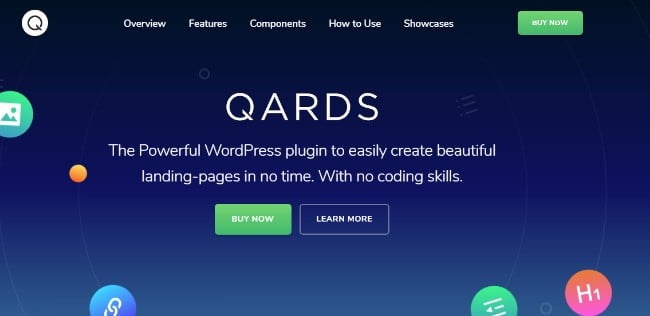 OptimizePress
OptimizePress is another drag-and-drop tool for creating your landing page. It comes in both plugin and theme form, but here we are going to address the plugin and the features it comes with.
It has a visual editor which lets you see what your site looks like as you make changes in real-time. Also, if you don't want to start from scratch, there are 30 beautiful templates for you to choose from.
Also, the plugin can help you build an email list. Most people after coming to your landing page will naturally subscribe to an email newsletter.
The plugin can help you collect their emails. It is also compatible with all leading email marketing platforms, so you will not have a problem exporting your leads.
OptimizePress is a perfect product to create any kind of landing page be it a Lead Generation page, Sales Pages, Webinar Registration Pages, or any other kind of landing page.
If you are creating a lead generation page, you can connect with top email marketing service providers like Constant Contact to capture the emails of your visitors.
OptimizePress gives you access to over 1 million royalty-free images that you can use to create your landing pages.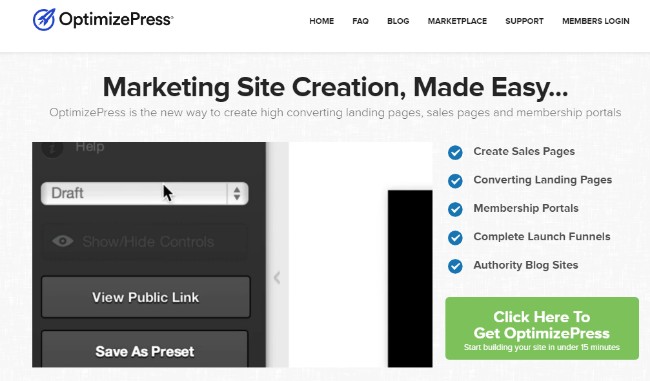 WP Lead Capturing Pages
WP Lead Capturing Pages helps users build landing pages using the built-in drag-and-drop features. WP Lead comes with 10 Autoresponder integrations and 30 plus shortcodes to enable users to build absolutely amazing landing pages.
The 20 inbuilt responsive Templates and countdown timer make it a 'no configuration needed' kind of a plugin. The pages captured through WP Lead are absolutely mobile-friendly.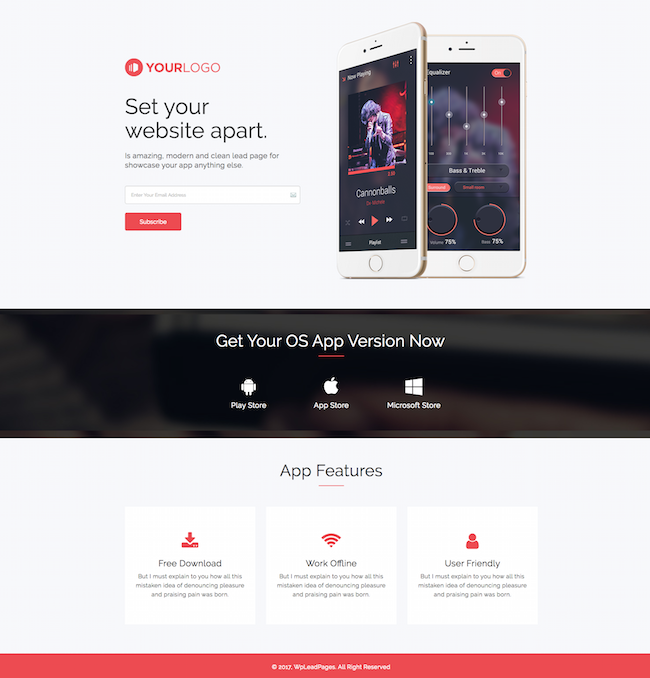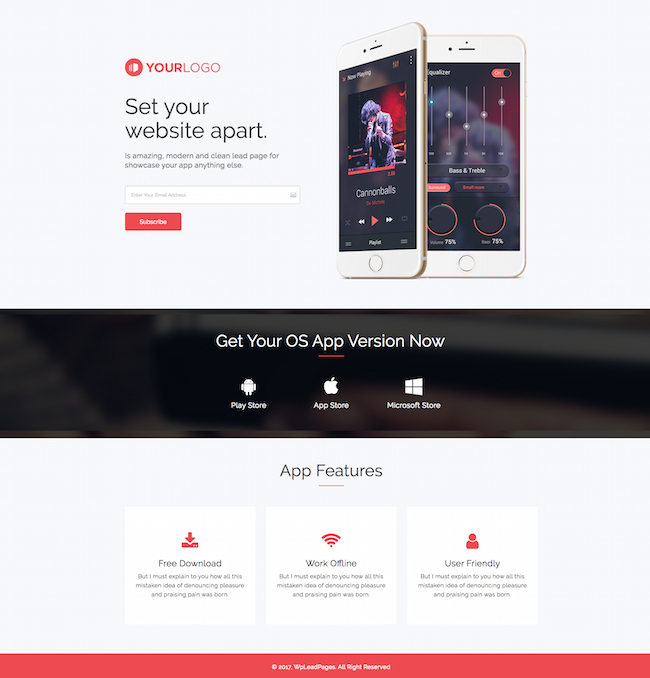 Parallax Gravity
Parallax Gravity Landing page plugin is the way to go if you are looking to build some great-looking landing pages for your WordPress website.
It is also great for SEO as there is support for custom keywords. There is also support for Google Analytics to help you measure the performance of your campaigns.
Other feature highlights of the plugin would be the redirect feature which can help take your audience to a custom URL if they visit your landing page after the offer has expired.
There are also included features that can help you create impressive product showcases.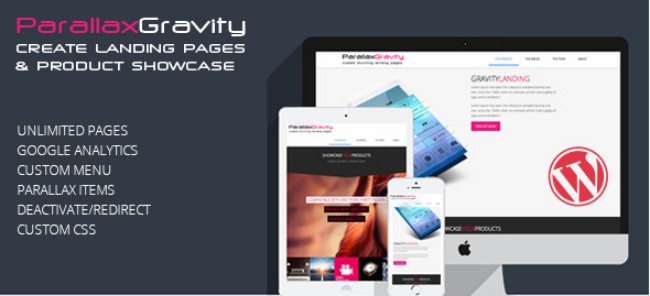 Parallax One Page Builder WordPress Plugin
Parallax One Page builder, as the very name suggests, is a plugin that allows building just a single landing page on websites and blogs. Unlimited One page can be built using Parallax One Page builder.
It comes with unlimited blocks and a gallery that can be fully utilized for building a one-page site. Through the inbuilt custom menu and custom SEO options, users can build and customize astonishing one-page websites in a short duration of time.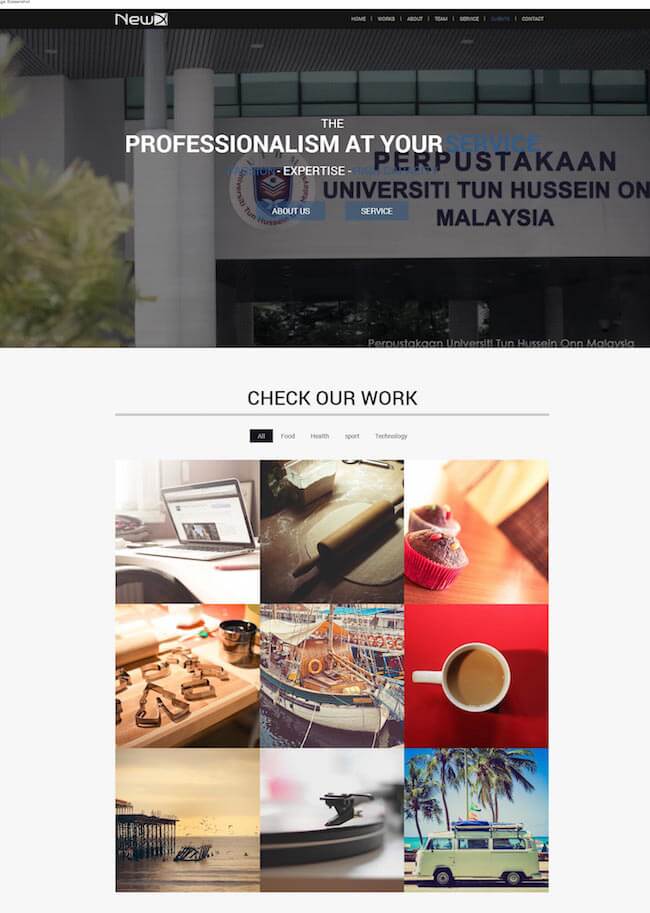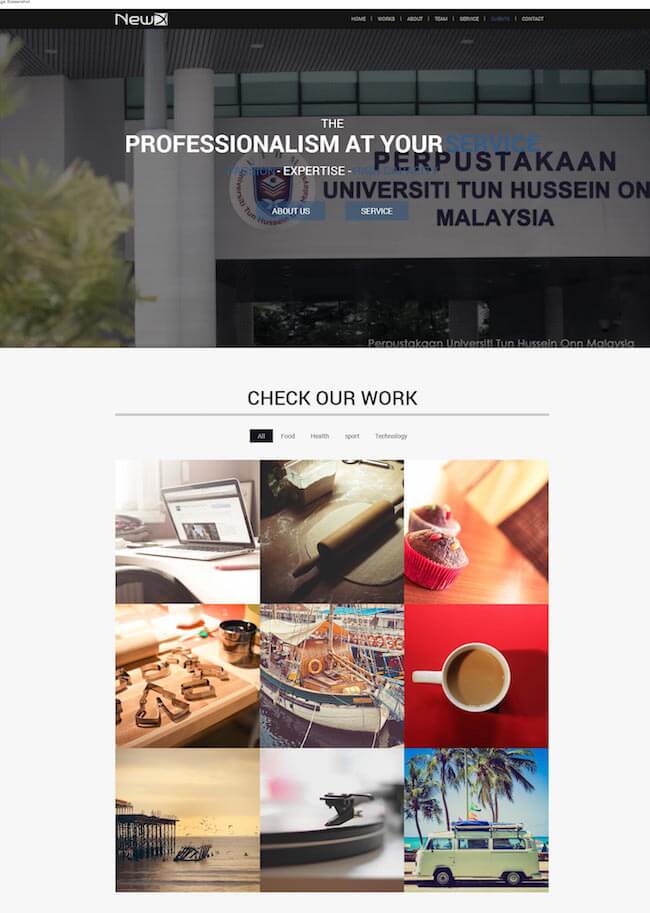 InstaBuilder
InstaBuilder provides us with another drag-and-drop, intuitive landing page builder. It comes with a collection of over 100 pre-made templates that are decent enough to use as it is.
However, if you want to make changes, the customization options are plentiful.
Some notable features of the plugin include things like Opt-in technology, a built-in image editor, a one-click HTML converter, a welcome gate, Split testing to examine which landing page is performing better, advanced analytics and much more.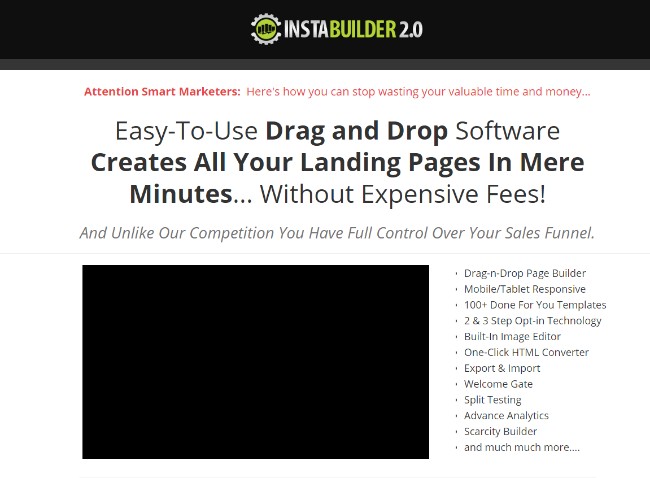 Coming Soon Pro
Coming Soon Pro is a unique landing page plugin in the sense that it doesn't give you any visual editor of any sort. There aren't any templates either.
This narrows down the use case of the plugin very much. However whatever it does, it accomplishes with grace, and so we had to include it on the list.
The plugin is designed to help you create a landing page, for when you are creating a new website, a coming soon page, or want to put your site in maintenance mode.
The landing page will stop access to the rest of your site, so your audience won't be able to access unfinished content. But then there are features to allow for client access via a special link.
Overall, if you want something to keep things in check while you are remodeling or making your website, then this is the best plugin hands down.


Coming Soon Landing Page.
This plugin is not related to the one above despite the similar name. Coming soon is one of the cheapest solutions to have your landing page up and running in no time.
You will be able to set up a huge countdown timer to show how long your product or service can be accessed by people.
Feature-wise it is JavaScript-based and comes with jQuery easing effects. You also get six different effects to make the page more engaging.
There are also a bunch of useful PSD sources that can use for your customization needs. Social media icons are also provided in case your users want to share their enthusiasm for your product's arrival.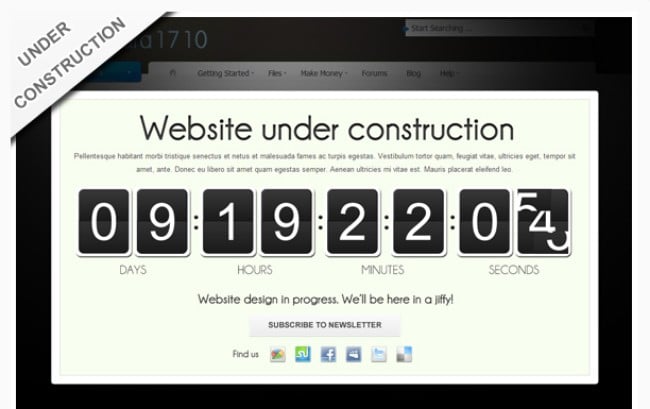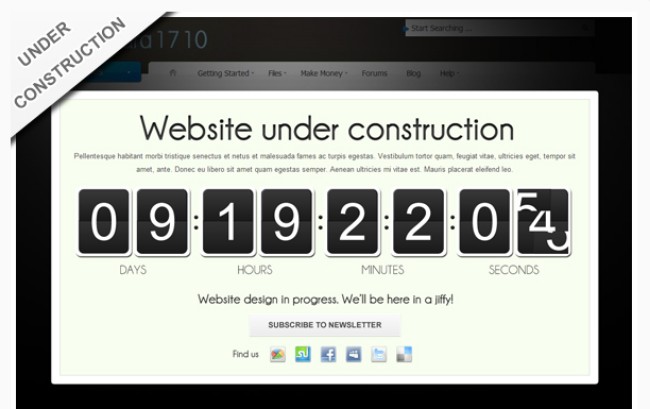 Conclusion
So here is our list of the best landing page plugins that are out on the market. If you are thinking seriously about this, then we recommend you use the premium one.
But if you just want to try out a landing page for your hobby blog, then the free solution is more than sufficient.
Now that you know the best plugins here do let us know how your landing page turned out. The comment section is there for your use.
Also, if you think that we missed out on some impressive plugins then also leave a comment down below mentioning it.