A quality notification bar can be used for many different objectives, such as an advertisement spot, announcement bar, email opt-in bar, and many other ways.
In fact, the conversion rate of a notification bar is way better than any other traditional way because the bar can immediately attract your visitor's attention.
Luckily, here we have narrowed down the list to a select few which are the best in this field. So without further ado, here is our list of the Best Notification Bar Plugins For WordPress:
WP Notification Bar Pro
WP Notification Bar will help you display a custom notification to your viewers. You can use it to alert readers about important information or for marketing purposes, giving away discount codes, growing your email list, etc.
You will also have control over the bar and can move it between a fixed and absolute position. You can also add buttons and forms to the notification bar with shortcodes.
Other notable features would include the fact that you are getting 14 different color schemes, 18 different social media integrations, the ability to show or hide newsletter box, the option to have unlimited notification bars and so on.
There are also options that can help you implement a countdown timer, show Twitter and Facebook feeds, and on top of all these, everything is responsive and mobile-ready.
WP Notification Bar Pro is completely customizable in terms of how it looks, you can change the color combination of the bar to match perfectly with your site theme.
Another advantage of this bar plugin is that you can use it to showcase a number of different types of content.
Email Subscription
Other than showing any announcement or an offer, you can use it to capture email from your visitors by offering some freebies.
You can customize how the email subscription form looks like.

Display Social Media Icons
You can use the notification bar to display social media icons to increase your social media following.

Display Countdown Timer
This is another advantage of the WP Notification Bar plugin, you can show a countdown timer to attract your visitors' attention to any specific offer or product that you are going to launch soon.

There are a number of other use of the plugin making it one of the top choices when it comes to a notification bar plugin.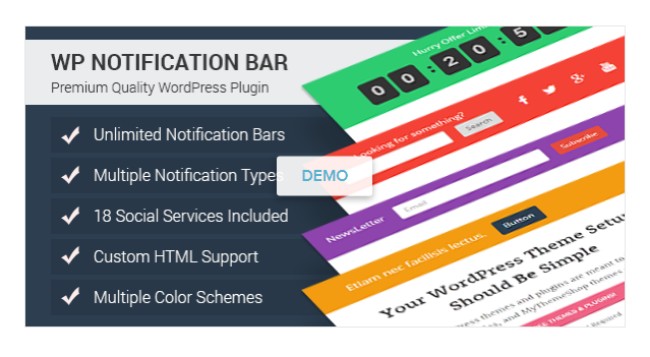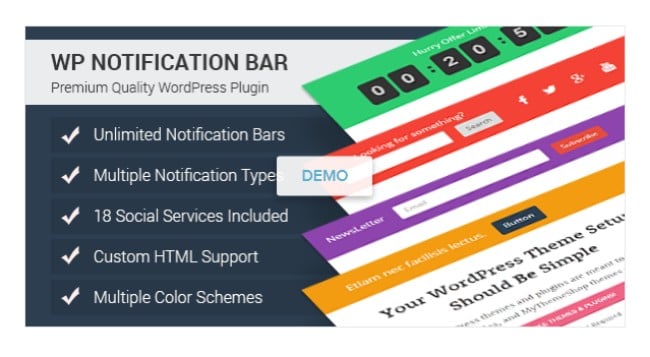 BugMeBar WordPress Plugin
It is a well-known fact that most visitors will find a notification bar to be rather annoying. But since there aren't any better alternatives to highjack your viewer's attention this bugging functionality will have to do.
BugMeBar WordPress plugin helps you to add a message to the top of the screen which you users can dismiss, but can use a cookie to make sure the bar stays away after the visitor has closed it. This simple act will show that you don't want to annoy.
Besides this simple functionality, the plugin offers options to customize color, positioning the bar, toggle on or off for CSS3 transitions, use a Z-index to make sure BugMeBar stays on top, and much more.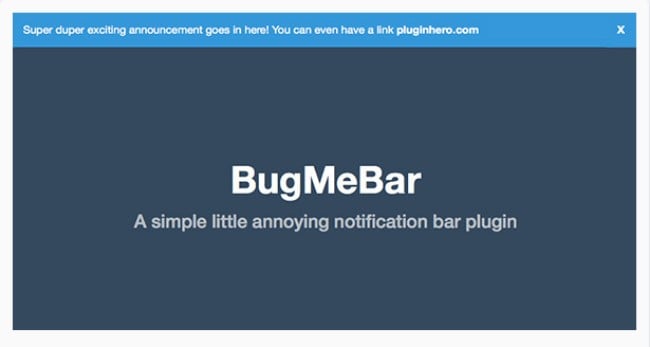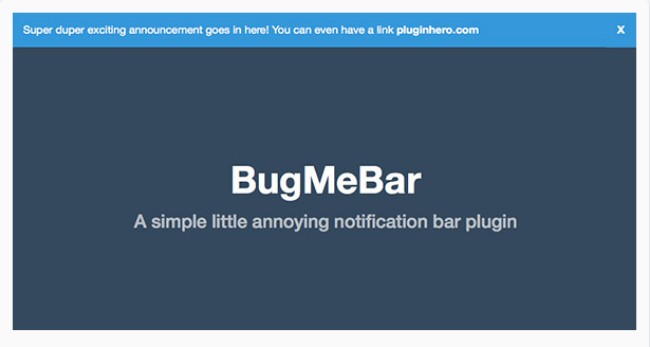 Notibar – Notification Bar for WordPress
Notibar creates a custom notification bar for your WordPress website or online store. This plugin comes to equip your site with a consistent look and feel for your brand exposure.
This notification bar is very easy to customize thanks to a seamless live preview editor. The preset color designs are selected by marketing specialists to deliver the best conversion rate for your CTA (call-to-action).
Notibar is the perfect plugin for your seasonal notice, bulletin, latest updates, releases and all kinds of marketing communication. It is free, adds no weight to your site yet brings the expected results you're looking for in a top bar.
You don't have to sacrifice anything. So why not try Notibar for your incoming coupon campaigns, Covid-19 notice, newscast, and Christmas🎄❤️
Features:
Live preview editor
Light and clean design
High conversion rate
Widely compatible with all popular themes
Completely free – No asking for upgrade
More marketing features (coming soon)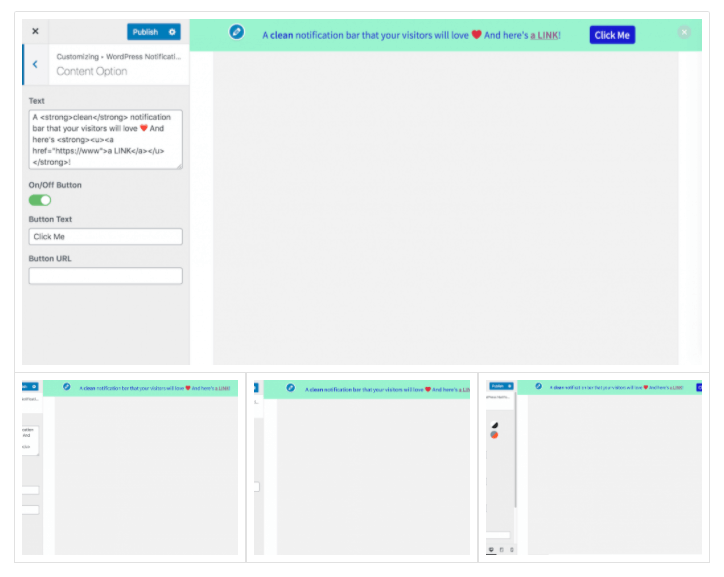 WeePie Diagonal Notification Bar Plugin
If you think that your users are immune to the notification bars and the conversion is going down, this plugin will surely give a fresh boost to it.
This is a comprehensive notification bar plugin that will allow you to create great-looking straight and diagonal notification bars for your site.
It's a very simple plugin to use and you can set up an unlimited number of bars as per your requirement. It comes with a variety of customization possibilities.
You can change the color combination of your notification bar, the text, the height of the bar, the placement options, the angle of the bar and a lot more.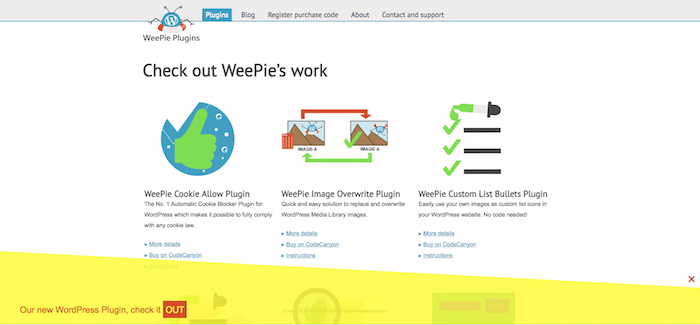 Superbar
Superbar WordPress plugin helps you set up modernly styled notification bars on your WordPress website. As far as customizing your Notification bar is concerned, this one tops the list and can be considered one of the most customizable plugins here.
Also, being a premium plugin, it packs in a lot of features that you can technically use to do much more than simply add notification bars to your site.
For example, you can use the plugin to add a beautiful login bar to allow your users to log in to your site. Then you can use it as a search form use it to showcase users to important videos, events or tutorials.
Apart from these, another impressive feature of the plugin would be the recent post bar, which shows the recent posts on your site to your users.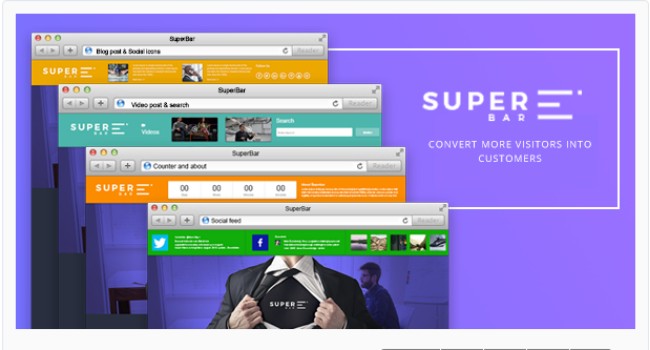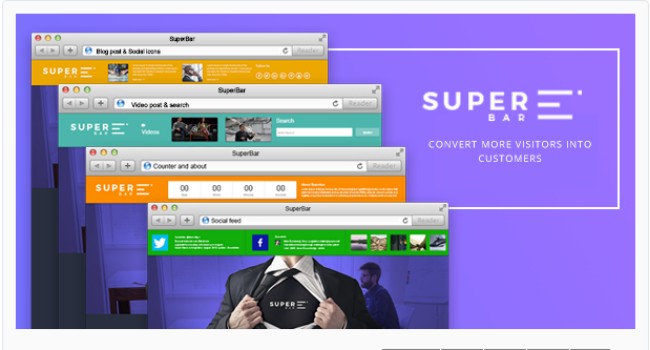 Master Notification Pro
Another great notification bar plugin options, this plugin can do more than just the notification bar.
You can fully customize the look and feel of your notification bar plugin and make it look great on your site. Along with the design customization, you can choose from a variety of different content types that you wish to show on the bar including videos.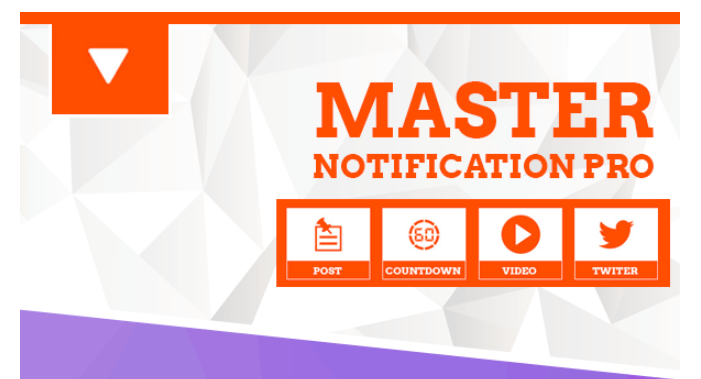 WP Header Bar
WP Header Bar is one of the most expensive and premium notification bar plugin for WordPress which encompasses all features that you may ever need while setting up a notification bar on your WordPress website.
You can use the plugin to have people read your latest blog posts, sign up for newsletters, showcase special discounts and so on.
Notable features of the plugin include the fact that it is 100% responsive and mobile-friendly. You can also use it to add unlimited notification bars, special page-level targeting, schedule your bar display, Shortcode support, custom HTML and much more.
Also to help you check on what strategy is working best, there is support for A/B/C testing with 360-degree Analytics View.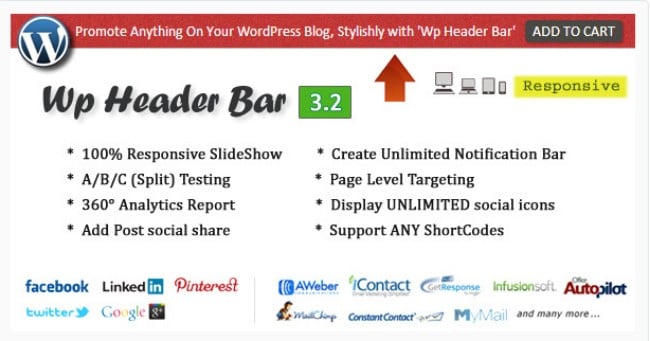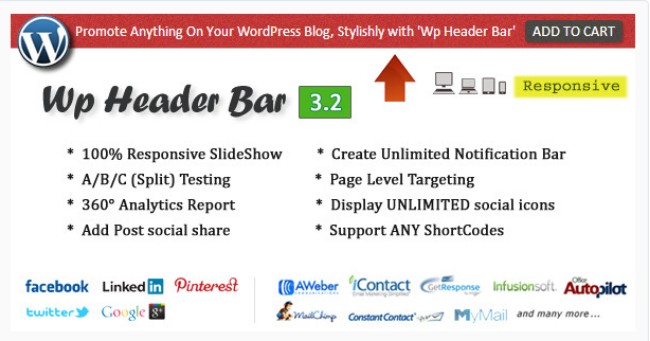 Notification Bar Plugin
The appropriately named Notification Bar Plugin for WordPress helps to create notification bars for your WordPress website with the additional feature of allowing extended messages which can be controlled from the backend.
The plugin contains plenty of options to make your notification bars provide rich content. For example, you get the ability to add Google Maps to your Notification bar, add sidebars and much more.
You will gain access to the rich library of settings that you can use to control many aspects of the plugin.
For example, you get to control as well as create unlimited bars, include different social media icons, enable or disable the notification bar for a particular page or post. You also get full support for HTML as well as fully responsive design.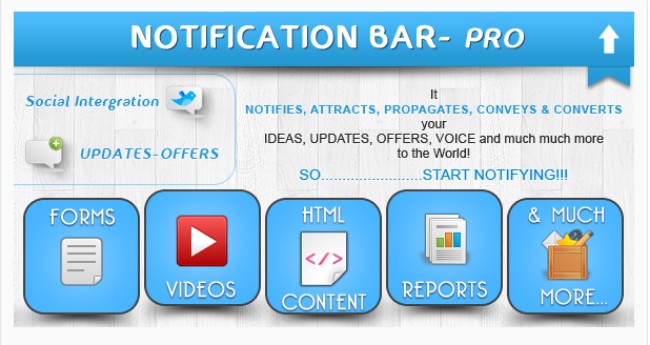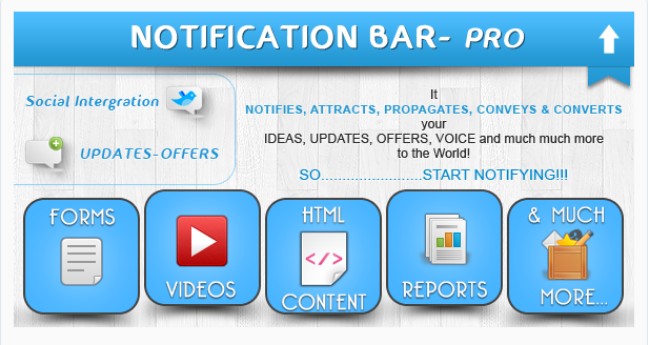 Announcement Bar
Announcement Bar is another Notification bar plugin for WordPress mostly focused on managing Announcements on your website.
You can use the plugin to automate or schedule announcements on your site within a specified time range.
You also have customization control over the look and feel of the notification bar you will be creating the plugin.
You can place the announcement bar almost anywhere on a sticky bar on pages or posts, on sidebar widgets, and any place else via shortcodes.
Some of its notable features include control over the text alignment, positioning, different font styles, color options, scrolling options, a close button and much more.


Apex Notification Bar
Apex Notification Bar WordPress plugin helps you to include engaging notification bars on your WordPress site. You can use this to highlight offers, deals, messages, news, new releases and much more.
The plugin comes with some pre-available designs for the notification bar. You can also add various elements to your notification bar like Twitter feeds, Post title slider, countdown timer, search form, contact popup, email subscribe form, video pop and much more.
Apart from all these, some other features offered by the plugin includes options like page based notification bars, the ability to upload a background image, a custom logo section, RSS feeds, Opt-in subscribe form, static text, meta boxes and much more. This is one of the most feature-heavy plugins on this list.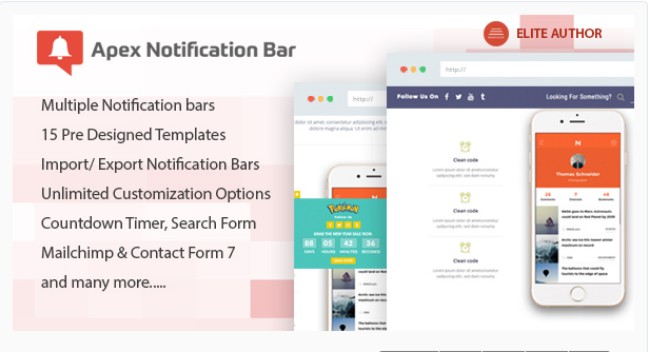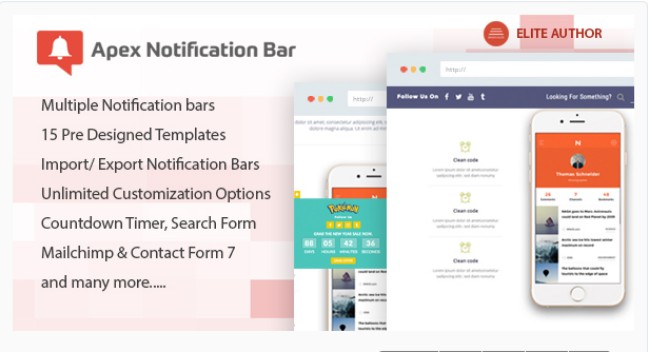 Emoji Top Bar
Having a Notification Bar is all about gaining attention and engaging the viewer. Both of these can be easily managed with the Emoji Top Bar Notification Bar plugin for WordPress.
The plugin has support for over 1445 different types of emojis which you can use to show a stylish notification bar with different types of updates.
The main features of the plugin include things like a customizable call to action button, a smart visibility filter, option to switch between a regular notification bar and a sticky notification bar, formatting element support and much more.
Overall, if you want some fun with your WordPress notification bar, then this is the plugin to go for.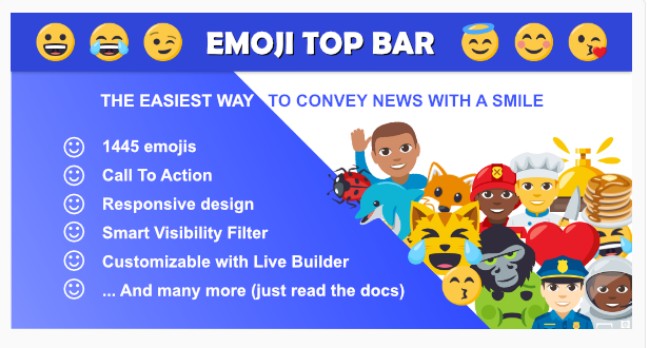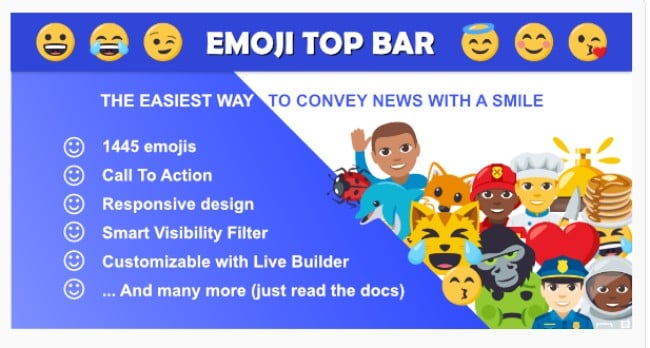 Foobar
Foobar is one of the most popular and affordable premium notification bar plugins for WordPress. You can use the plugin to create different bars and implement them on different pages of your site for promotional or other purposes.
Now, coming to the notable features of the plugin. It gives you the ability to add unlimited notification bars (foobar's) to your WordPress site, add conditional logic, and have your bars positioned to the bottom or to the top.
There is also the option for complete readability, total customizability and the ability to integrate Twitter and RSS feed.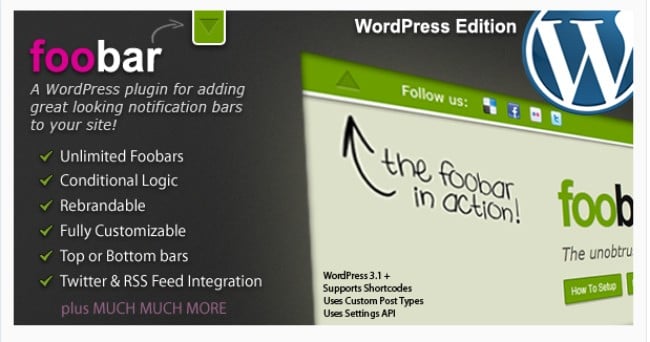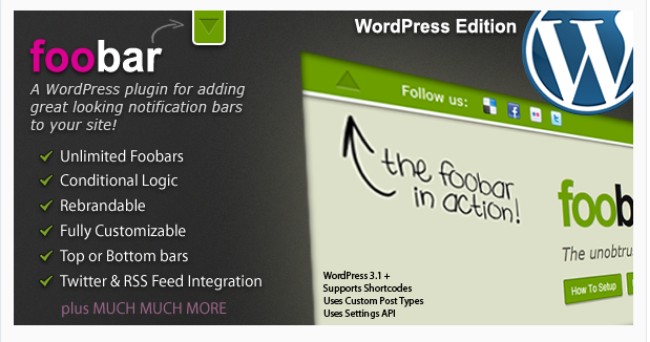 Notification Bar Pro
A very easy to use and highly customizable notification bar plugins, the Notification Bar Pro offers you all the options that you expect in a top-quality plugin.
It's a fully responsive and retina ready plugin that will make your bar look great on all devices. You can customize the look and feel of your bar and make sure that it is perfect before it goes live.
Notification Bar Pro plugin offers you a variety of different display options to choose from. You can use this bar for announcements, as an email opt-in form as well as a countdown timer showcase for your upcoming offers.
It comes with a real-time customizer, which means you can have a look at the changes you are making before you make it live on your site.
It offers you a variety of rules where and how you want this bar to appear. You can create multiple notifications for different pages on your site and style them with Google Fonts and amazing animations.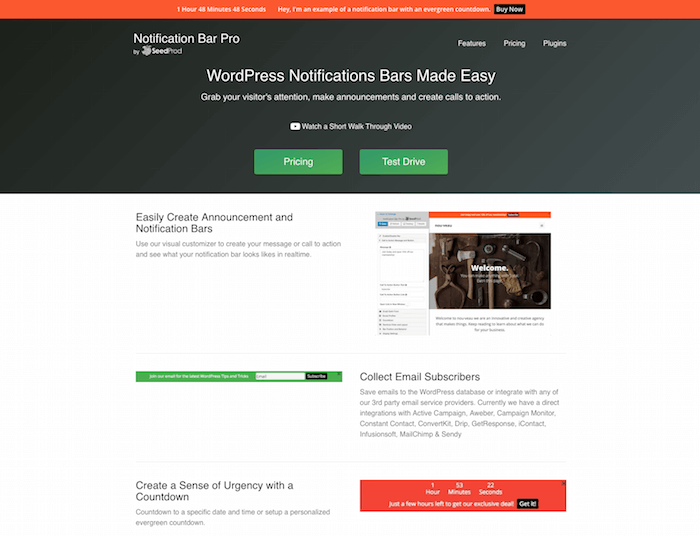 8 Degree Notification Bar Pro
This is another all-in-one type of notification bar plugin that comes with 10 pre-designed templates to choose from. You can also customize the look and feel of the bar as per your requirement to give it the perfect look as per your requirement.
You can have plain text, Twitter feed, post slider in the bar. So, not only it could attract your visitors' attention to special offer but it can increase the click-through rate for your profitable posts.
The customization possibilities are good enough to manage your business properly, you can have multiple notification bar date wise and based on other parameters.
You can customize the visibility of your notification bar based on many parameters like time-lapse, date, post type etc.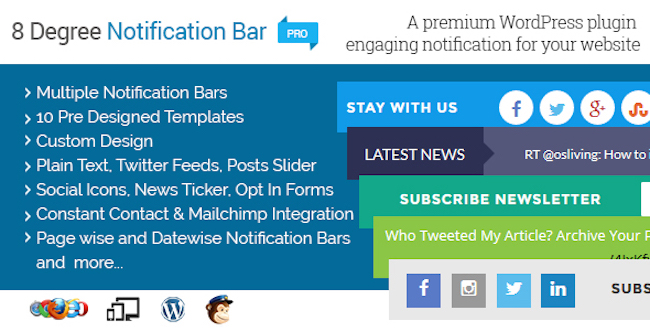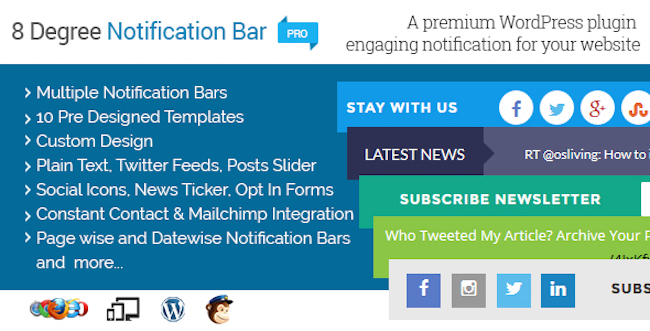 Top Bar
Top Bar is a WordPress plugin that helps to add a topbar to your WordPress website, which you can use as a notification bar.
It offers a simple and clean solution to help you display your notification bar to the top of your website along with a nice message and custom link.
You get all these on the free version of the plugin. There is a pro version, but that doesn't make the free version limited in any sense.
Instead with pro version you get some extra features, like the ability to choose an initial state, add a bottom border, set a time before the top bar appears, Choose between making it available for guests or paid users and much more.


BoomBar
BoomBar is a premium Notification bar WordPress plugin in the sense that you can only get it as a part of the DisplayBuddy collection on ithemes.
It offers tons of customization options coupled with a user-friendly design so that all users can get the best of its abilities.
Key features of the plugin include options for setting a timeframe for the notification bar, a couple of pre-designed styles, a built-in Style Manage, Positioning options and much more.
You also get to choose from custom text, Latest Tweets or Log in to your Notification bar.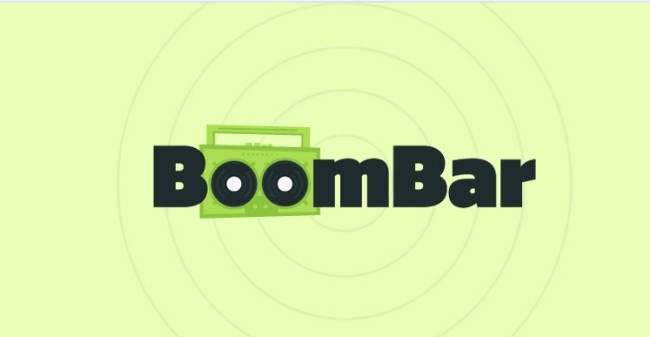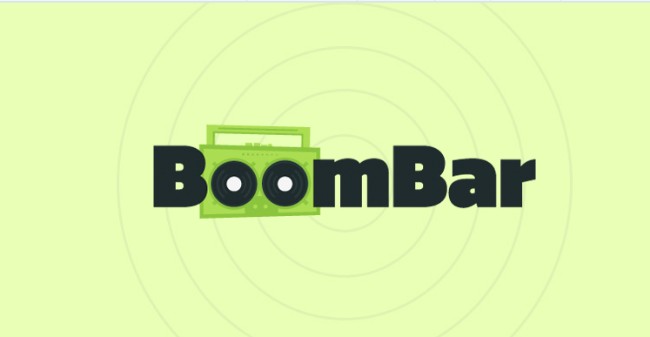 Notification Center
Another feature-rich notification plugin for WordPress sites. This plugin offers you a number of different options to show notifications on your site.
This plugin comes with four different notification types such as modal, bar, growl, none and four different helper types such as success, error, warning, notice.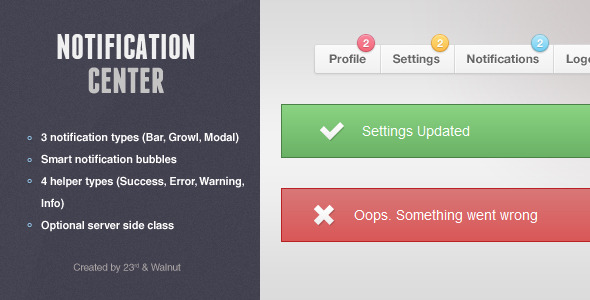 HashBar Pro
HashBar Pro is a comprehensive and powerful notification bar plugin for WordPress sites. This plugin offers you a number of amazing options to show different notification types.
You can place nice text and button call to action for any special offer. You can also use this plugin as your email opt-in plugin to increase the number of email subscriptions.
You can completely style your bar with an amazing background, images, and other styling elements to increase the conversion.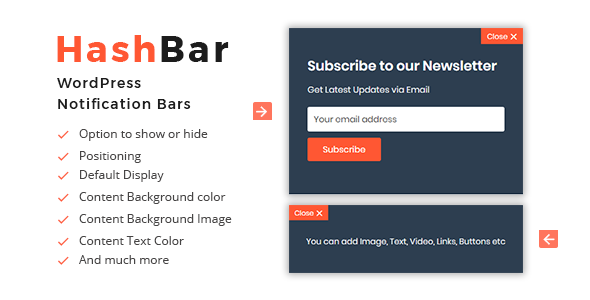 InfoBar
InfoBar is another good option with a comprehensive solution to make the great use of the notification bar.
With this plugin, you can show the important notifications, you can use it to collect emails and a number of other activities.
The InfoBar plugin also gives you the option to show a different bar on different pages to make it extremely targeted to increase conversion.
In terms of looks, you can completely customize it with your own color combination, font choice etc to make sure that it looks like an integral part of your site.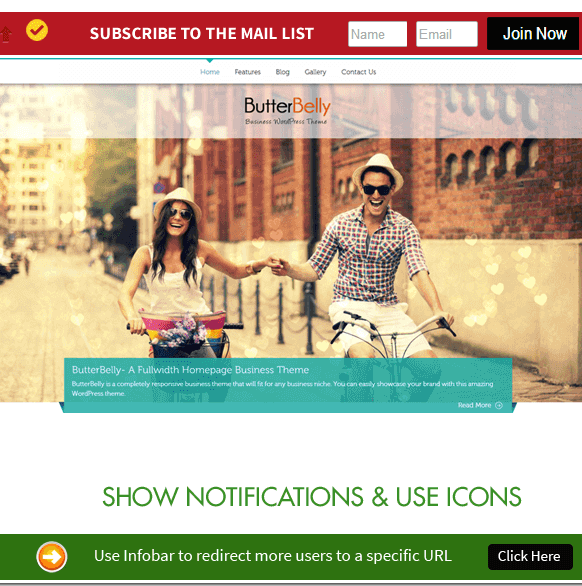 Best Free Notification Bar Plugins
---
Hello Bar
Hello Bar is one of the most popular and widely used notification bar plugins. This bar offers you a simple integration option with your WordPress theme.
You can use this bar to showcase your social profiles in the header of your site attracting your visitor's attention. You can also use the bar as an email opt-in form and it will surely increase the conversion rate.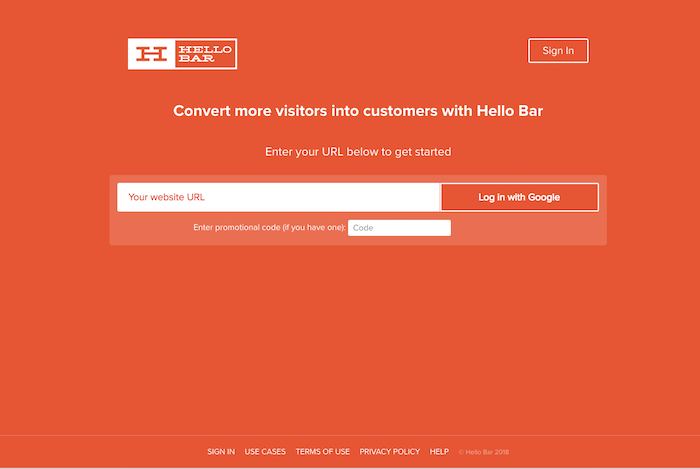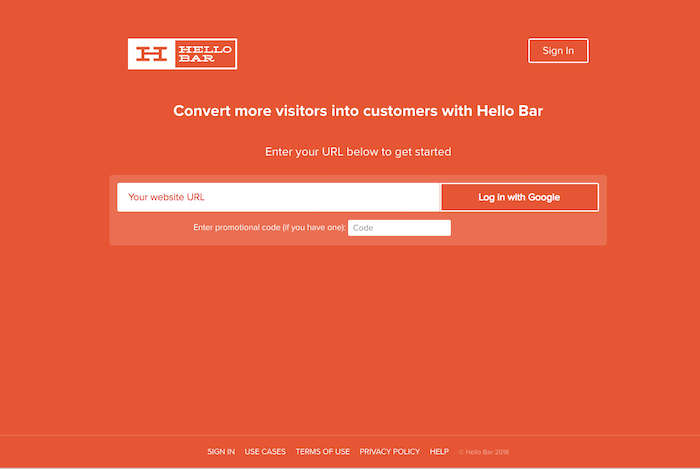 Stackable: Gutenberg Blocks
As you are probably aware that the Gutenberg is the new editor for WordPress and all the new developments will happen around the Gutenberg editor, you will need the plugins that are compatible with the new editor.
Stackable is the custom made Gutenberg block plugin that brings a number of different blocks to your new editor.
Along with many other blocks, this plugin also offers you a custom notification block option to help you create a custom notification on your site.
You can add the notification anywhere in the page as per your requirement. The main advantage of the plugin is that you can fully customize the notification block as per your requirement, you have unlimited color options and you can add any kind of content on the block.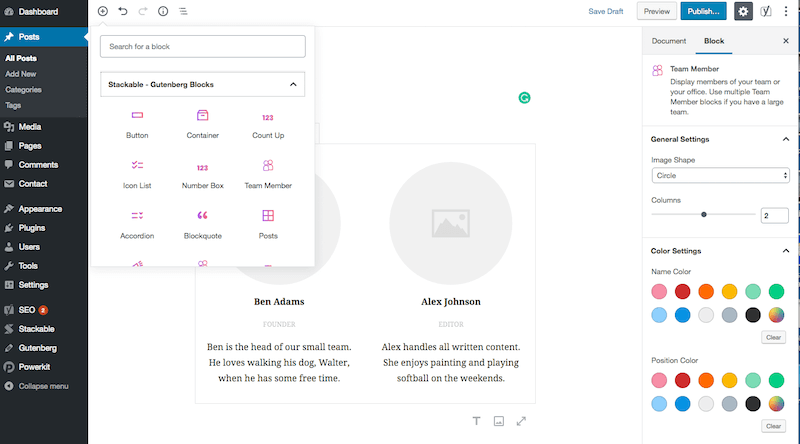 WordPress Easy Sticky Notification Bar
WordPress Easy Sticky Notification Bar is one of the free solutions for your notification bar plugin requirements. Being free, you should be expecting a whole lot of features from the product.
However, it does have all the necessary functions to help you promote your product, highlight your messages, grab the attention of your visitors, and much more.
The plugin is also very easy to setup, comes with a responsive layout and much more. Overall this is a good place to start if you are experimenting with notification bars and don't want to invest right off the bat.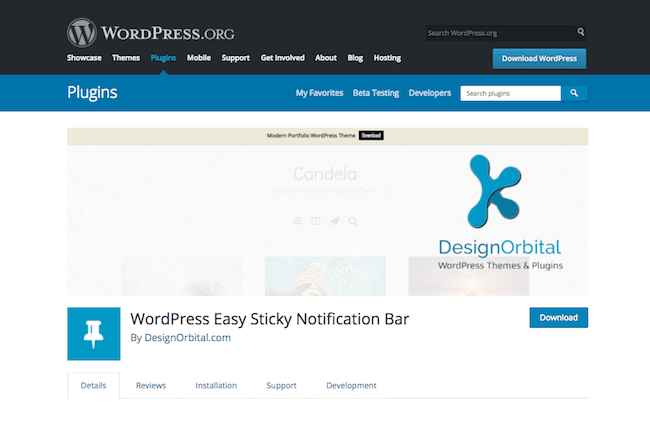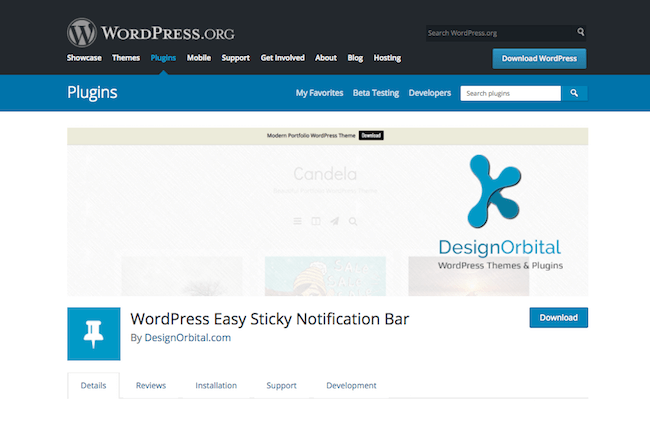 WPFront Notification Bar
Another one of the free and popular WordPress notification bar plugins in the market. WPFront Notification bar is fitted with features to help you with your promotions or alerting your readers to certain news.
The plugins contains features like the ability to display a message with the press of a button, Buttons that open a URL or execute Javascript, position the bar to the top or bottom, insert a close button, automate closing for the notification bar, customizable colors, setting a start and end date, shortcodes support and so on.
Basically, all your necessities are covered with this plugin.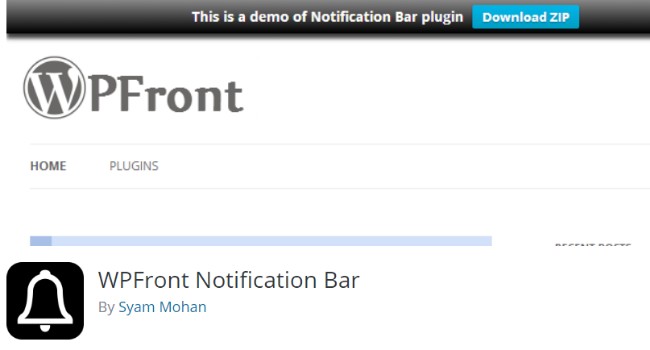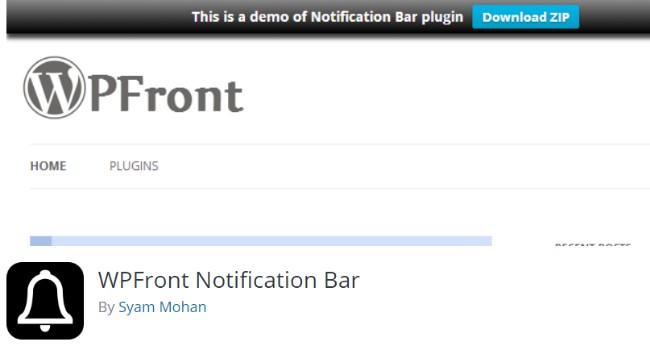 Easy Heads Up Bar
Easy Heads Up Bar is another free and basic notification bar plugin for WordPress. Just like all other free plugins on the list, it covers most of the basic functions to help you get a message up on your WordPress site.
For example, you will get customizable color schemes, the ability to create multiple bars, schedule a time for when the bar shows up along with an end date, option to choose where the bar will be displayed and so on.
Now it does skip out on many of the premium features, but some new options are regularly added with updates.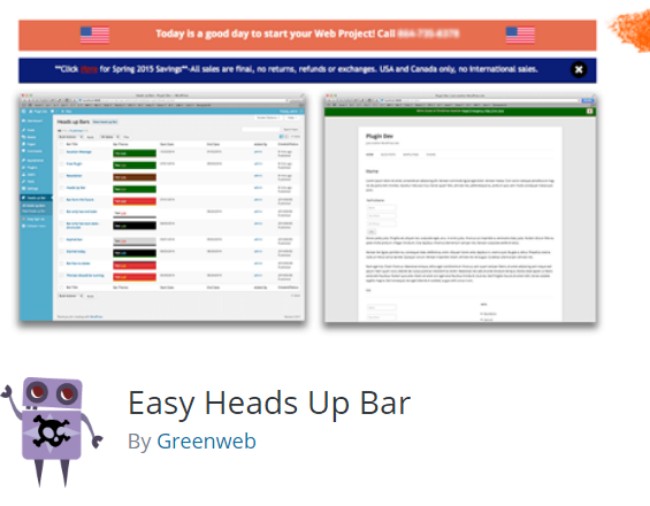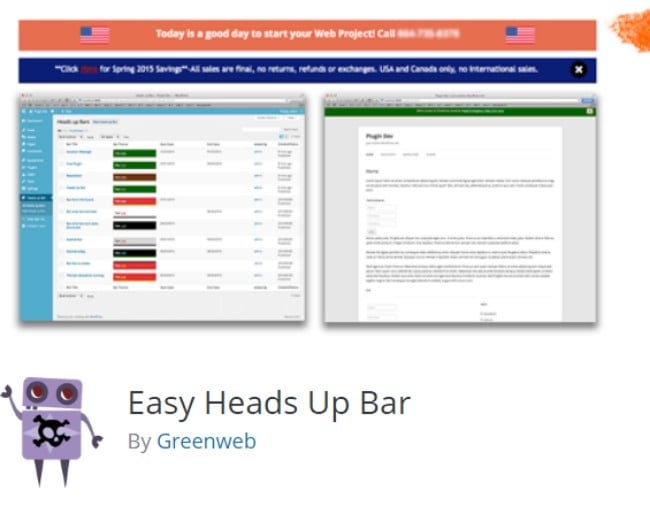 QuickieBar
QuickieBar is a free WordPress plugin for Notification Bars, but it does come with powerful features.
For example, regarding customizability, you will get access to a multitude of colors, different bar styles, button styles, over 500 icons and much more.
You can also get a live preview of the changes as you are making them.
Besides this, there are some other features of the plugin. A few of the notable ones include options for top or bottom placement, conversion reports, option for conditional triggering, fixed header compatibility, one-minute installation, and the likes.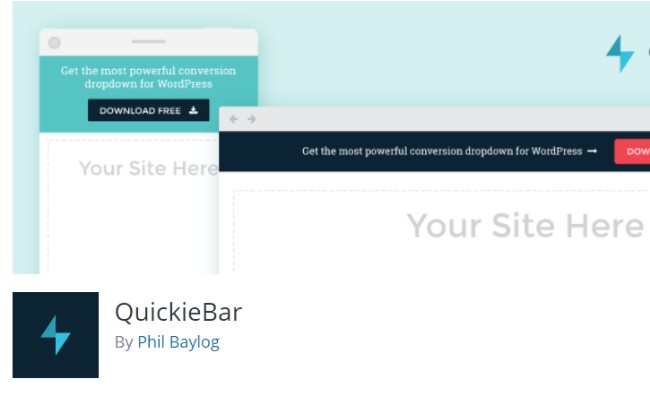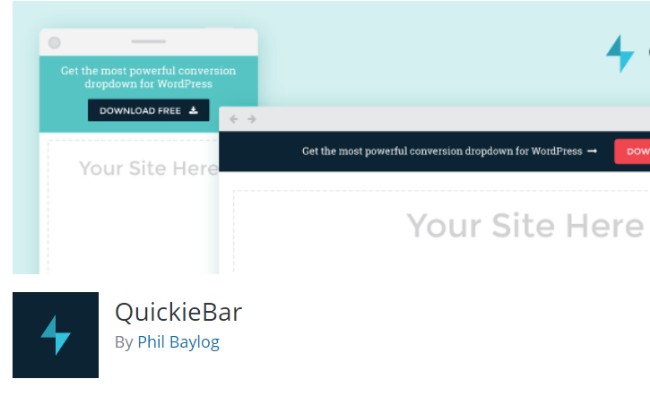 In Conclusion:
Overall, this was our list of the best Notification Bar plugin for WordPress. Do let us know if you decide to use any one of the plugins we mentioned here and tell us about your experience.
Also, if we happened to miss out on one of the plugins which you think should have been on the list, then do mention them in the comment section. Your fellow readers will love to have more options at their disposal.