If you want to evaluate how a website is performing on the SEO front, then Domain Authority checker tools will be of great significance.
Now, for those of you who don't know – Domain Authority is an online metric that has been developed by Moz. It is used to evaluate the possibility of a website to rank on Google or other search engines.
It assigns a score from 0-100 to the respective webpage – the higher the score, the better the chance for ranking.
Having a quantitative measure to evaluate websites is necessarily a game-changer. Now, webmasters can compare one site against the other to evaluate which is more likely to land a better ranking on search engines.
The score is calculated by weighing in different link metrics of your website, such as the total number of links, links to the root domain, MozTrust rating, MozRank, and so on.
In total, around 40 different signals are used for this calculation. Hence you can be pretty sure that you get a comprehensive assessment tool.
Now there are plenty of Domain Authority tools in the market that will let you see the score of each website. This will help you get an idea of how your competitors are performing.
The tools can also be used to search out the best sites to use for link building – which is an essential part of developing your SEO score.
So for this read, we have put together a list of some of the best Domain Authority Checker Tools to help you in your online venture.
So without further delay, let's get started:
Top Domain Authority Checker Tools
01

. Moz Link Explorer

Starting off our list we have the tool coming directly from the developers at Moz. It is currently available as a private beta to Moz Pro subscribers, even if they are in their trial period.

It has been developed to replace one of their previous and popular Open Site Explorer tools.

Naturally, Link Explorer acts as an upgrade over OSE, and offers many useful features and functionalities which weren't present before.

For example, Link Explorer has a link index that is 20 times greater compared to its predecessor. The performance and speed of the tool have been improved upon.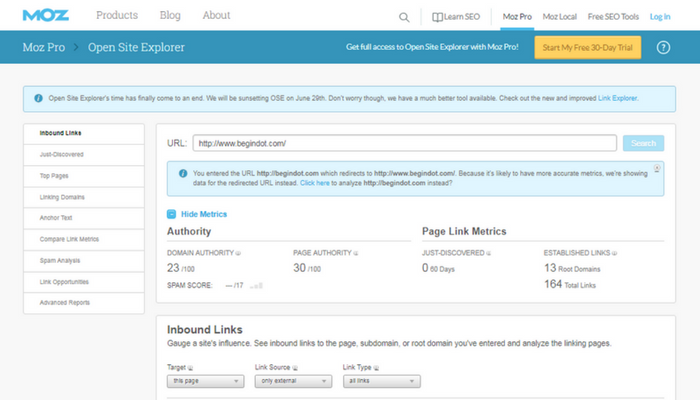 Features:
Scans new links and updates the DA score of your website every 24 hours.

Displays data regarding the number of linking domains, inbound links, rating keywords, and so on.

Offers graphs, charts, and other filters to help you understand the data it presents.

Domain Authority and Page Authority scores have been upgraded to better reflect the Google ranking for a website.

Much more insight into the use of links on your site.
02

. Moz Chrome Extension
If you are a Google Chrome user, using the Moz Chrome extension is the quickest option to check the domain authority of any site.
You just have to enable the extension and logged in to your Moz account, you will be able to see the domain authority of any site you open on your browser without going to any site.
You will have the option to check a number of important metrics of any site right on the SERP page like DA, PA, number of links, etc.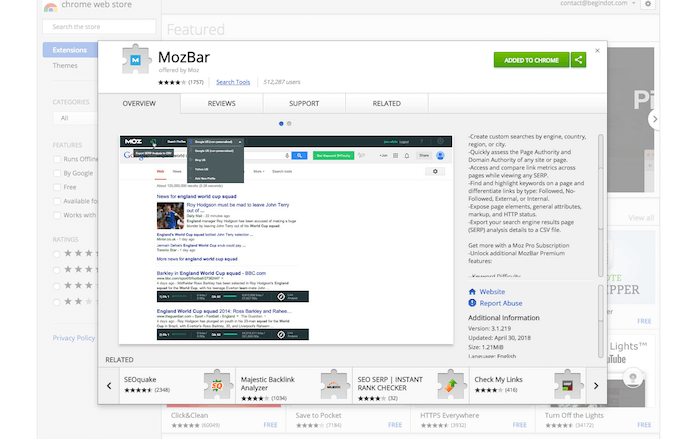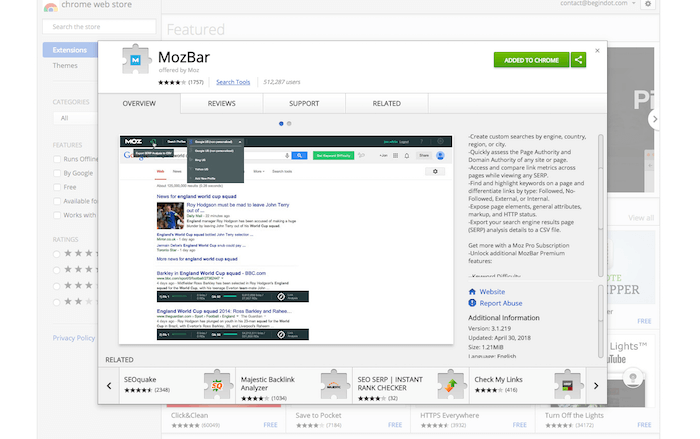 Features
Quick option to view metrics of any site.
Make custom searches depending on many parameters.
The number of backlinks to the pages on SERP.
Do a competitive analysis right on the search result page.
03

. Domain Authority Checker

Next up we have the Domain Authority Checker by Website SEO Checker. This is by far one of the fastest and easy-to-use free tools for checking the domain authority of a website.

All you have to do is just enter the website URL, and it will present to you all relevant information pertaining to the domain authority of a website

You will get access to data on the total number of backlinks of the website, the total number of quality backlinks, the percentage of quality, and even the MozRank for the site. All this information is just at a click of a button for as many websites as you like.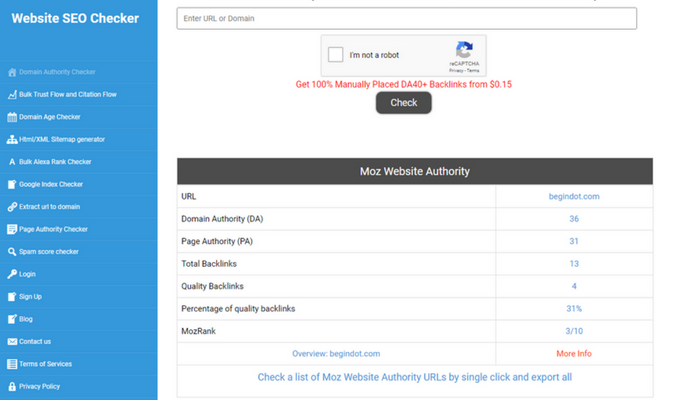 Features:
The tool is free to use and you can use it to get access to unlimited reports about the Domain Authority of different websites.

You will also get to see the Page Authority metrics for the respective website.

It is also super easy to use. Simply insert the Website URL and click OK, and all relevant statistics will be presented in a form-like structure.

The tool also showcases information regarding how well the website handles backlinks.

A measure of the quality and authority of the backlinks will also be displayed.
04

. Website Analyzer

Website Analyzer is a powerful SEO tool from the people over at Check Domain. Now it isn't one of the fastest tools for getting Domain Authority data.

However, it should also be considered that Domain Authority data is just a small part of all the insight you can obtain from this website.

You will be even able to get an idea of what keywords a site targets, a readability score for all its content, a page speed score, and also keyword and content analysis.

And the best aspect is that all these features are available for free. There is only one small limitation which is free users will only search 4 times every hour. But this can be extended to 20 requests/ hour with a paid account.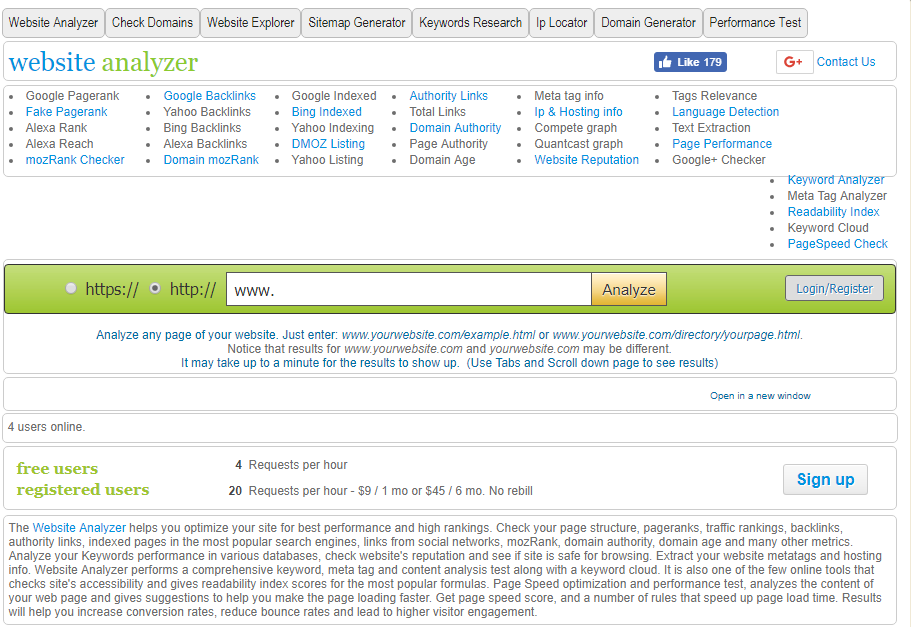 Features:
A section to show all MOZ-related

metrics including MOZrank, Domain Authority, Page Authority, External links, and so on.
Information about IP address and Hosting provider is provided.
The page rank of the website on Google is given.
You can see how much traffic the site gets from different social media channels.
There is also a detailed section to give you a complete overview of

all the backlinks of the website.
05

. Bulk Domain Authority Checker

The Bulk Domain Authority Checker, as the name suggests, allows you to check the domain authority of a number of websites in bulk.

Essentially, you will get to insert up to 50 URLs whose DA metric you want to assess, and the tool will display them in vertical order.

This is one of the best tools to help you compare the strengths of different websites. For free, you will be able to assess how you are comparing against your competitors.

You can also use it simply to put different websites against each other to see which one fares better.

All you have to do is enter the URL of each website – one URL per line – for a maximum of 50 URLs and hit the 'Get Result' button. The Tool will then fetch all the data and present them to you.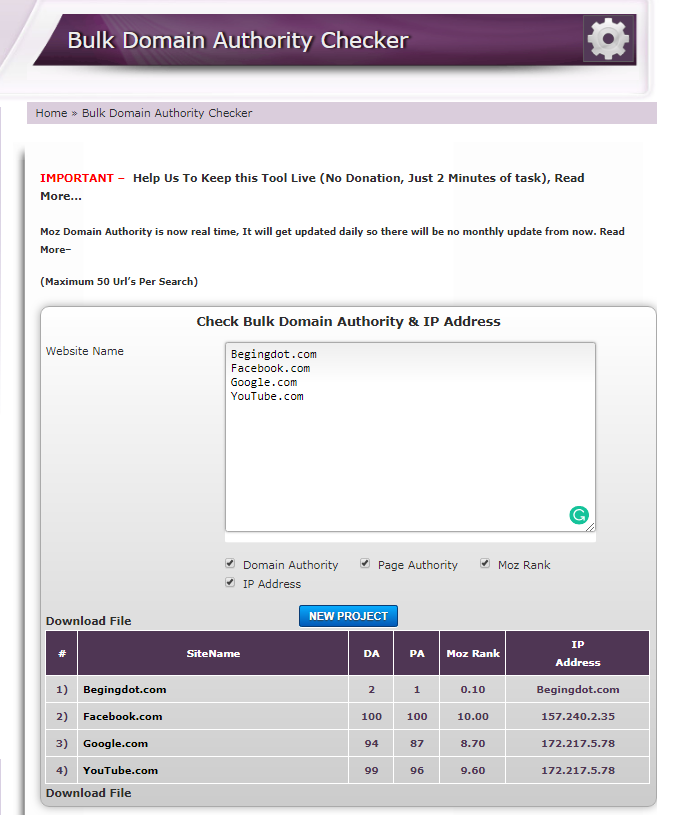 Features:
The performance of the tool is fast; however, if you go on to input 50 URLs, then it will take some time to fetch all the results.

Before performing each search, there is the option to tick on which data you want. The more data you checked, the more time it will take to present them.

You can expect both Domain Authority and Page Authority data to be accurately presented.

The tool can also be used to get a site's Moz Rank as well as IP address.
06

. Small SEO Tools – Domain Authority Checker

And for the last entry on our list, we have a DA checker from Small SEO Tools is a well-known name among webmasters.

If you have used any of their other services, then you will be instantly familiar with the UI.

Here too, for free, the service offers the option to evaluate the Domain Authority Statistics of up to 50 Websites.

You will be given a field where you will have to enter the URLs of all the websites – one line for one website URL. Then simply press the 'Check Authority' button, and you will almost instantly get access to all the data.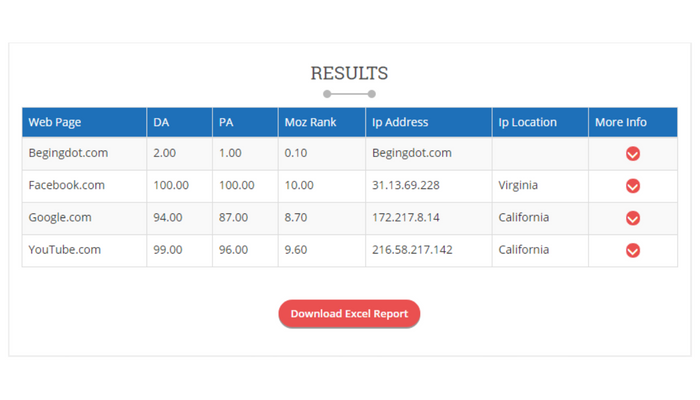 Features:
The tool offers an excellent means for comparing the strength of several websites in a convenient hassle-free manner.

You will get access to DA and PA metrics

as well as the Moz Rank, IP address, and even the IP location.
There is also a more information option that you can use to get information about Google Index and Google Cache. But it will take you to a different page.
You also get the option to download this data as an

Excel report.
07

. Prepostseo.com

The Prepostseo site offers a collection of top very handy SEO tools. You can use any of the tools offered by the platform for free. The best part is the simplicity of the tools, even a newbie user can take advantage of these free tools.

The domain checker tool is one of these. You can add the domain name in the box and make a search to get the domain authority score.

You can check up to 500 different domains at a time.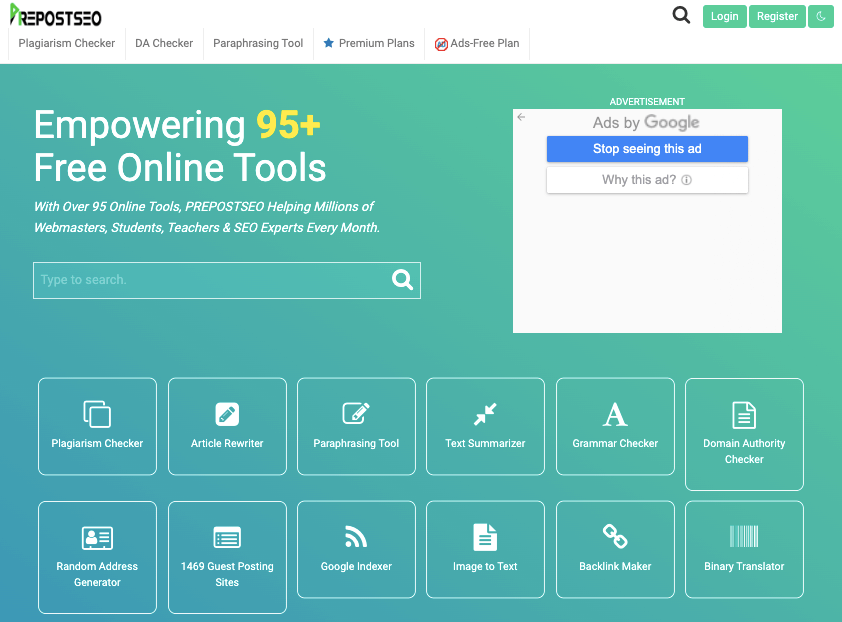 Wrapping up:
So these were our picks for the top domain authority checker tools. In short, if you have no problem opting for a premium tool, then we recommend that you go with the Moz Link Explorer tool which we have listed as number one on our list.
All the information and insights you will get are staggering.
However, if you want to stick with a free option yet with a comprehensive report, then Website Analyzer is another excellent alternative.
And finally, if you're simply looking to gauge the DA metric of a number of websites, then you can simply check out the domain authority checker tool by Small SEO Tools.
In closing, we hope you found this read to be helpful. Also, if you know some other great DA checking tools that we left out from the list, then do mention them in the comments section.
Your fellow readers will love to receive more options, and it will help us improve the scope of this read.
Some other important tools that we have listed on our site are.