Twitter is one of the most popular and engaging social media platforms with over 300 million monthly active users globally.
It is a great tool to reach out to your customers, whether local or global, and acquaint them with your products and services.
According to stats, around 42% of users rely on Twitter to get information about different products and services directly from the brand/company, and an almost similar percentage of users give their opinions and reviews on the platform.
Twitter is also one of the most prominent sources for getting targeted traffic if you have a blog. Using Twitter effectively is one of the most important tasks that you can do to maximize your marketing efforts.
Along with various tactics that you can follow, there are plenty of tools that can help you automate and scale up your Twitter marketing to new heights.
Also Read:
Here is a list of tools that can help you in managing your Twitter handle and scaling up your Twitter marketing:
Circleboom
Circleboom is one of the most comprehensive social media management software that you can use to manage and grow your Twitter account along with other social media platforms.
It comes with a number of Twitter-specific features such as a detailed search option to identify top hashtags and posts in your niche. You can make a search using keywords or hashtags to find what is popular.
It offers you the Twitter post-scheduling option so that you can keep your account active with fresh content even if you are busy doing other important tasks.
You can use Circleboom to analyze your own or your competitors' followers, it comes with a detailed follower audit option to keep your account healthy.
Missinglettr
Missinglettr is one of the most popular social media management software that comes with the option to manage multiple social media accounts from a single dashboard.
You will have complete control over your content and the timing of your posts while using Missinglettr. You can create your content within the platform and schedule the theme to go live at the right time.
The content calendar will help you to keep your posts organized perfectly and make sure that all your posts are slotted to go live when the engagement is at its peak.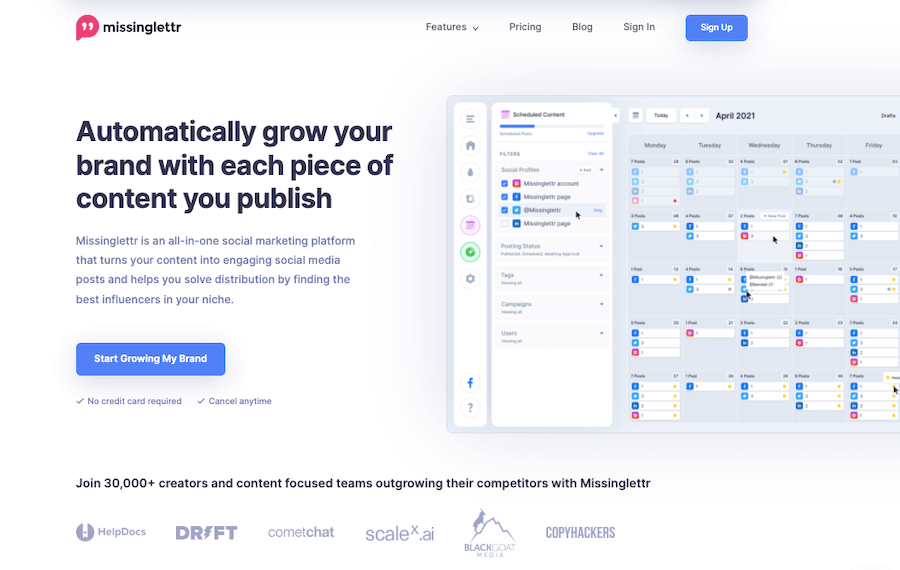 Twitter Analytics
It is the official analytical tool of Twitter that can give you an overview of your audience's interests and demands. Twitter analytics is an easy-to-use tool with mostly accurate results.
It keeps a complete account of your audience's activity and gives a graphical representation of the number of tweets, tweet impressions, and profile views.
It also shows information about the percentage increase in the levels of engagement over the time and top visitors of your profile.
Moreover, the tool can help you find the reasons for your previous success and failures and can help you in boosting up audience engagement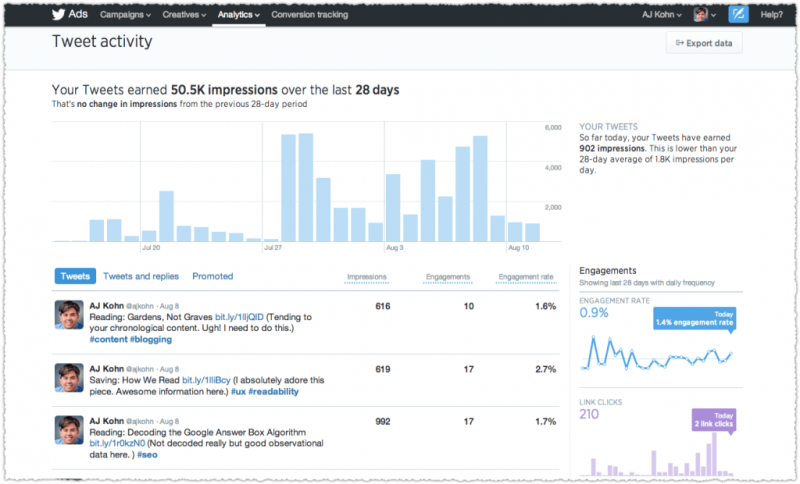 Agorapulse
A tried and tested social media marketing tool, Agorapulse is one of the best Twitter marketing tools and is loved by marketers.
This tool supports other leading social media networks along with Twitter. You can use their friendly interface to schedule posts for your social networks.
With this tool, you will be able to manage all your leading social media activities from a single platform. And the best part is that you can have a trial before you purchase the product.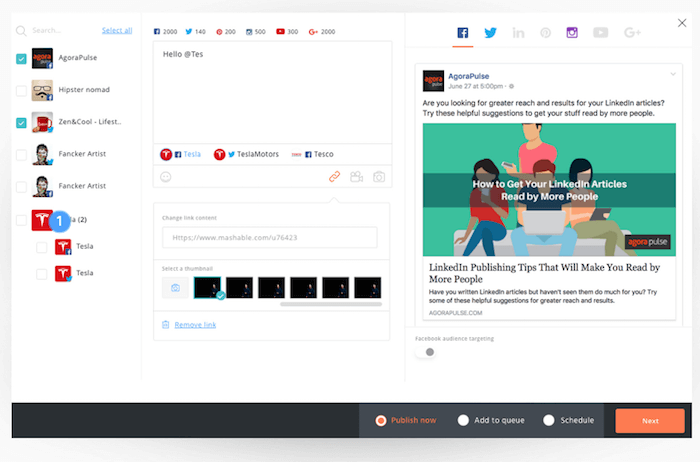 TwitHelper
The human mind has so much to say and especially when it comes to attracting customers; putting your best within 280 characters is an art everyone is not good at.
And that's where TwitHelper comes to the rescue. The tool helps you put your views on Twitter with the help of high-quality, engaging images as well as putting up compressed images that relate to your post.
Factually, Tweets with images have the capability of doubling the engagement rate of the audience more than the ones without it, hence boosting retweets. Just find a background image for your Tweet, preferably one that is related to it.
Enter the text and try to use bold letters wherever possible as they tend to draw readers' attention. Then all you need to do is tweet the image and watch your follower count grow!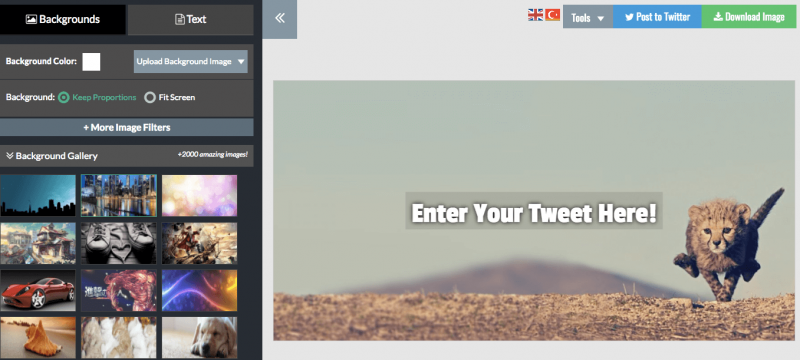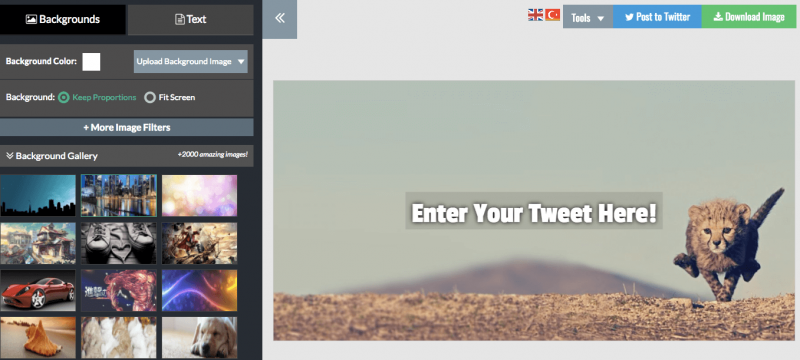 Buffer
Buffer can effectively manage your Twitter account. What you need to do is quickly write and schedule your posts, and Buffer will post them automatically at the right time according to the schedule set up by you.
Apart from giving you a complete overview of how you are trending on social media, Buffer also analyzes what kind of content works the best with your audience and also keeps a graphical account of the number of viewers, tweets, etc.
Top it up with a video and gif uploader that helps your content look richer and more appealing, and you have a winner!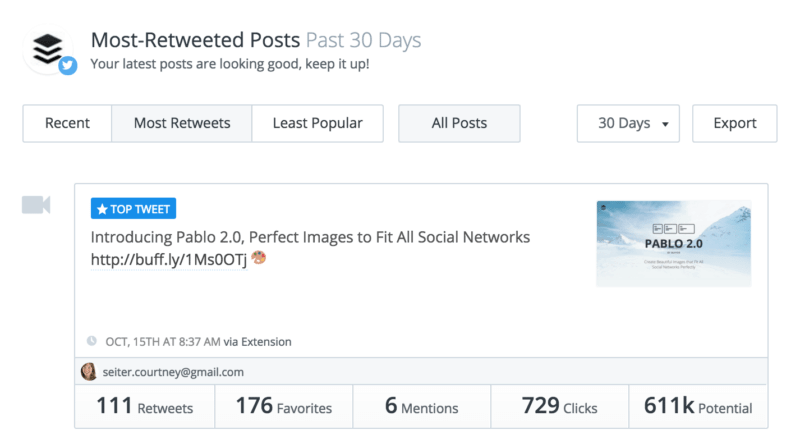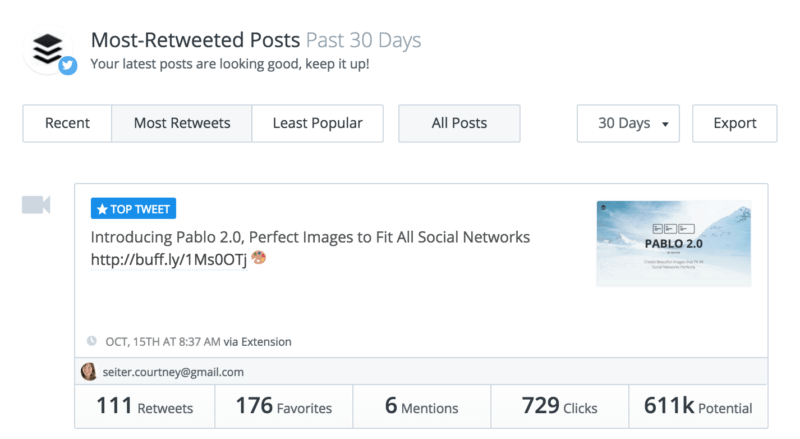 Viragtag
It is undeniably one of the best tools for Twitter marketing and management. With the help of Viraltag, you can manage multiple social networks, work in collaboration with your team, recycle your top-performing posts, and much more from a single dashboard.
You can schedule multiple posts all at once including the video posts, and this tool will post them automatically as per the sequence of the schedule set by you.
Viragtag lets you connect your Google Drive and Dropbox accounts to fetch content to be posted in bulk and you can also use RSS feeds to curate content from reliable sources.
Worth a try!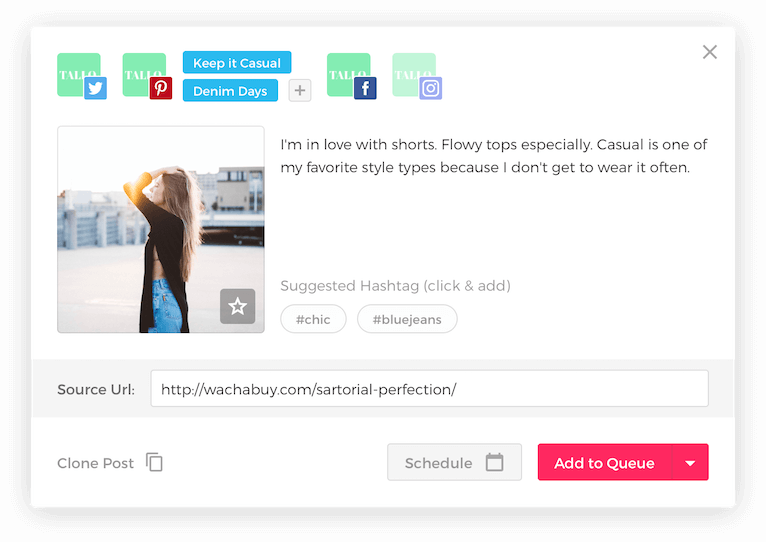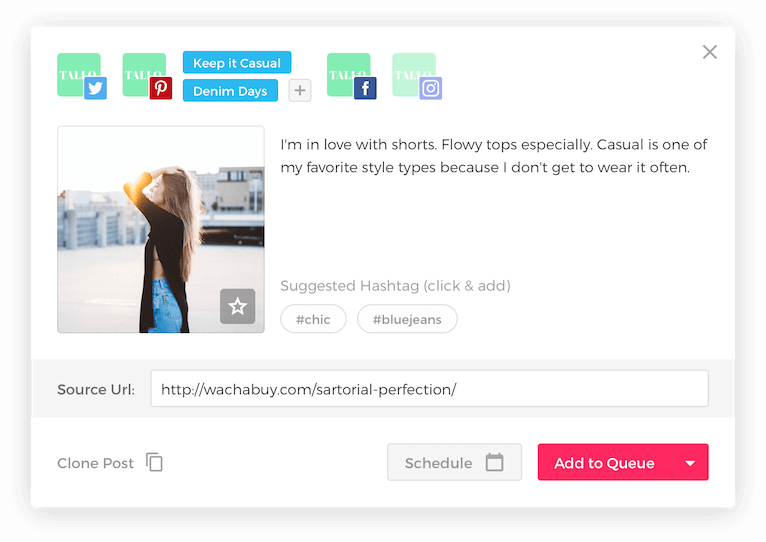 Hootsuite
HootSuite helps you in doing a little more with your social media. It saves your time by scheduling your posts and hence helps you in keeping the level of audience engagement intact and carries out comprehensive reporting that measures the impact of your social media campaigns.
It also helps you to find out and filter conversations with the use of hashtags, keywords, and location, and that too in multiple languages to make you understand what people are saying about your brand, company, or industry on the whole.
The tool's collaboration, security, and integration features make it the perfect tool for handling and marketing your Twitter account.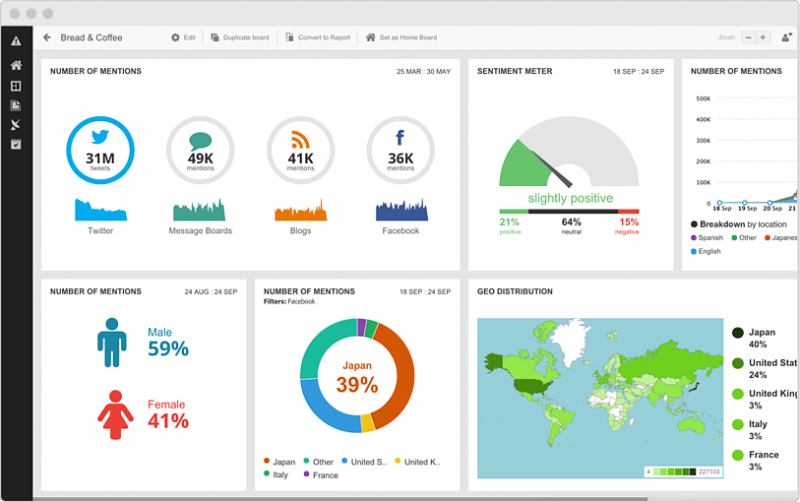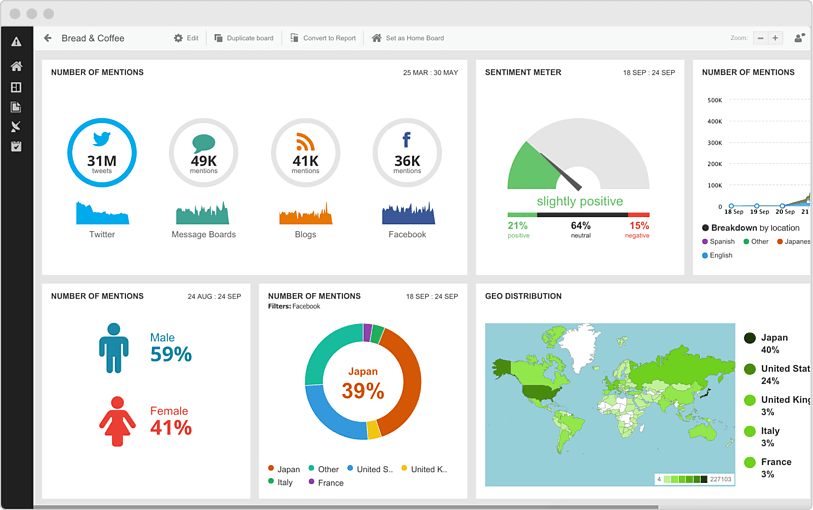 Audiense Connect
Another very useful Twitter marketing tool. The Audiense Connect tool offers you some amazing features that will surely help you to grow your business making the best use of this popular platform.
This tool is equally useful for newbie Twitter users as well as pro users. This tool will make sure that you can use the Twitter platform to the best of its potential.
The Audiense Connect tool gives you the option to create your chatbot with just a few clicks to engage with your customers and potential customers.
You have the option to create multiple topics to engage with your audience. You can also opt-in to the chatbot to maximize your reach.
You will have complete audience insight so that you can make a better-informed decision for your products and services.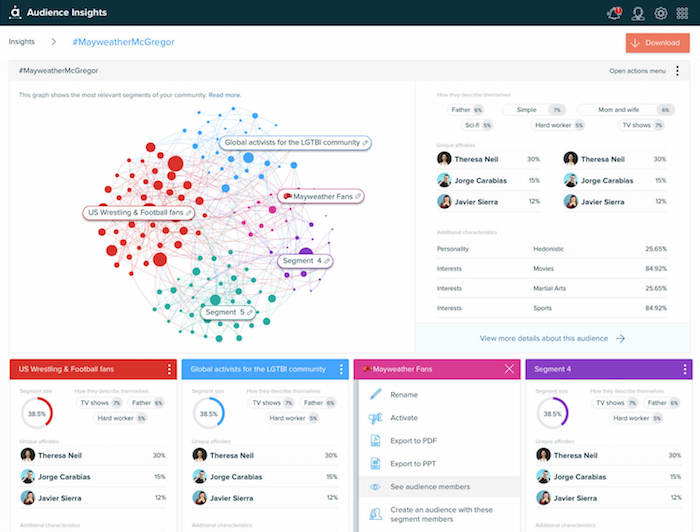 Revive Social
One of the best social media plugins for WordPress sites, the revive social plugin gives you the option to Tweet your old posts automatically making it easier for you to keep your old posts active and drive fresh traffic.
With this plugin, you can share your content on multiple social profiles; you can fully customize your message to make it even more effective.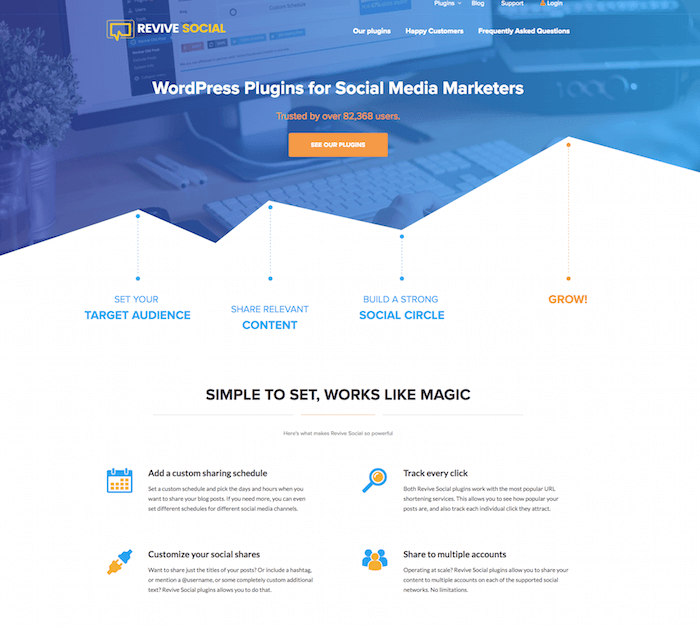 Final Word: Top Twitter Marketing Tools
The above-mentioned tools help you in engaging with your audience, cater to their needs, and help in the social marketing of your account.
These tools help you irrespective of how big your brand is. Just use the one that best fits your requirements, and you'll be good to go!