Are you looking for the best online Grammar checking tools on the internet? If yes, then this is the right place to be.
Making errors in a blog post is an author's worst nightmare. Reading content that is filled with errors is like walking across a minefield.
It is often hard to write content with perfection, even more so if English isn't your first language. Although most web browsers come with an in-built spell-checker, they do not correct your grammatical errors.
To make sure your content is flawless, you can use online grammar checking tools which detect spelling and grammatical errors, and fortunately, there are plenty of such tools available, both free and paid.
No matter how good you are as a writer, additional machine help will always give you that extra help with your content.
Let's get started with the top online grammar-checking tools.
What Are The Best Grammar Checking Tools?
Here are the top online grammar checker tools that you can use to write a correct blog post or any other assignment.
01

. Grammarly
Grammarly is the most popular grammar tool on the internet, and millions of people around the globe use it since its launch in 2009. Its popularity is aided by the fact that they keep on adding features and extending their benefits.
Both the website and the browser extensions (for Google Chrome, Mozilla Firefox, and Microsoft Edge) are available to use.
The extension is quite handy as it can show you your errors as you keep typing, so rectifying errors and mistakes becomes a breeze. It has an in-built plagiarism detector as well if you want to avoid repetition.
Although the extension is free, they also offer a premium service in which they offer additional features such as advanced checks for grammar, context, and sentence structure, vocabulary enhancement suggestions, genre-specific writing style checks and a plagiarism detector that checks more than 16 billion web pages around the internet.
Along with checking the grammar and spelling of your content the Grammarly tool can check plagiarism for your content as well.
Top Features:
Pricing: Grammarly comes with a completely free version that you can start with. The free version is good enough for most of the projects. If you need an even deeper analysis of your content, you can go for their premium package which starts at $12 per month.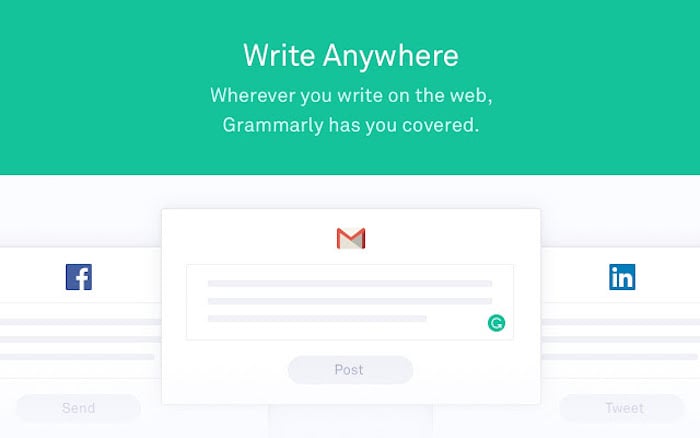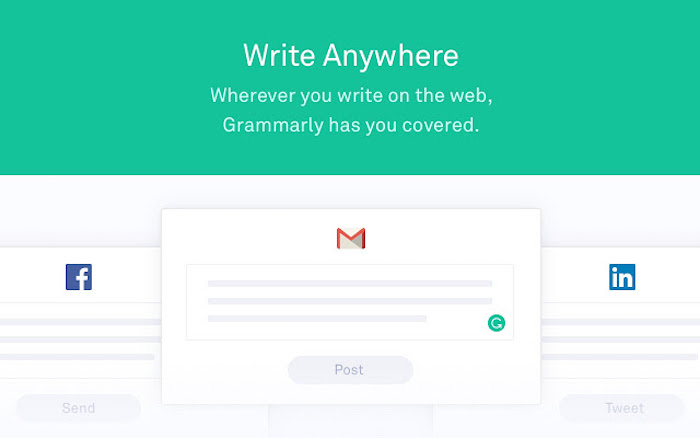 02

. Writer
A custom-created writing assistant tool for companies that will make sure that the content you put out is consistent and of high-quality.
One of the most comprehensive writing tools, Writer will make sure that your business has a unified voice.
The Writer is fine-tuned to suggest the corrections based on your brand, the terminology, and the writing style. It will make sure that your brand is reflected in whatever you write.
You can define the dos and don'ts for your content so that the system can understand it better and suggest you accordingly.
You can also control when you want to tool to suggest the collections. It can suggest you correct as you write the content or once you complete the article.
The Writer works everywhere, from your website to social media to email platforms, the tool will suggest corrections wherever you write making things a lot easier for you.
Top Features:
Pricing: Writer comes with a completely free plan that you can use. The paid plan starts at $11 per month for individuals and for language and content consistency for teams comes at $18 per user per month.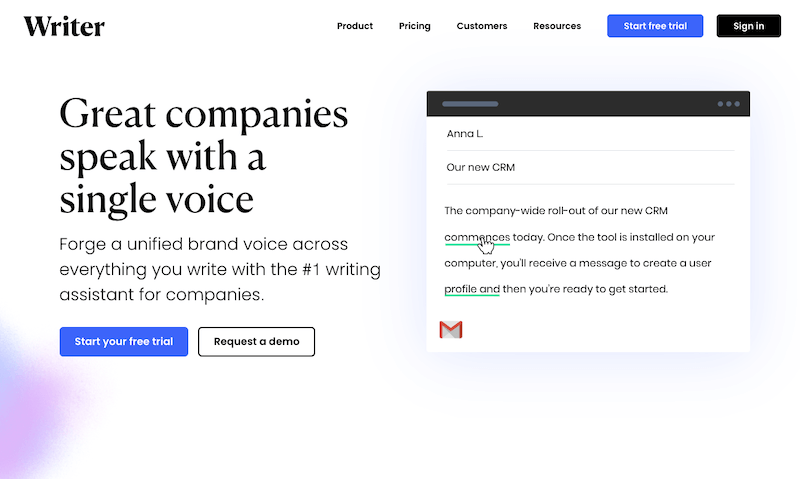 03

. Outwrite
Outwrite is one of the most comprehensive solutions when it comes to grammar checker and writing assistant software. Over a million users are already using the Outwrite software.
You can use this online software through your browser and works perfectly for your website, Google Docs, Microsoft Word, and other web apps.
This is very handy software that will help you to rephrase your sentences with just one click. You can use it for all types of grammar correction, it can help you to enhance your vocabulary with stronger synonyms, writing style suggestions, and more.
Top Features:
Pricing: You get a completely free Spelling & Grammar checker that you can use. for in-depth analysis of your content, the Pro plans start at $9.95 per month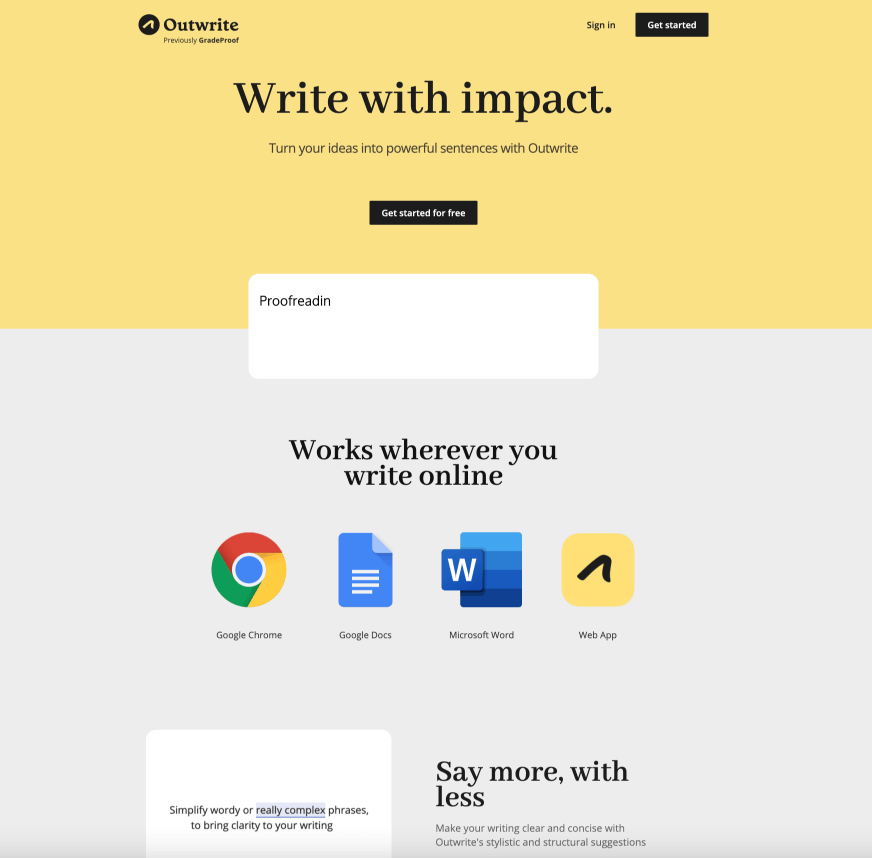 04

. Jasper
Jasper is a popular content writing tool that uses artificial intelligence to help writers create better content faster.
Jasper.ai analyzes a piece of text and provides suggestions on how to improve it, including grammar, style, and tone. Jasper also offers a range of templates and tips to help writers get started with their content.
Top Features: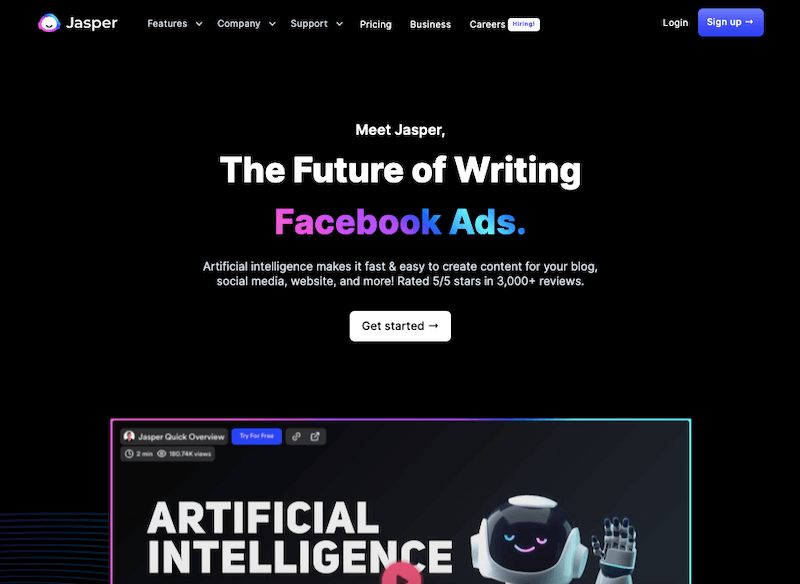 05

. Trinka
Trinka is an AI-powered English grammar checker and language enhancement writing assistant designed for academic and technical writing.
Built by linguists, scientists, and language lovers, Trinka finds and corrects thousands of complex writing errors — so you don't have to. Trinka corrects contextual spelling mistakes, and advanced grammar errors, enhances vocabulary usage, and provides writing suggestions in real-time.
Trinka goes beyond grammar to help professionals and academics ensure professional, concise, and engaging writing. With subject-specific correction, Trinka understands the nuances in the expression of each subject and ensures the writing is fit for the subject.
Trinka's Enterprise solutions come with unlimited access and great customization options to all of Trinka's powerful capabilities.
Best suited for academic institutions, localization businesses, publishers, and enterprises working with content, they can be easily integrated with Trinka JS, Trinka APIs, or Trinka On-Premise.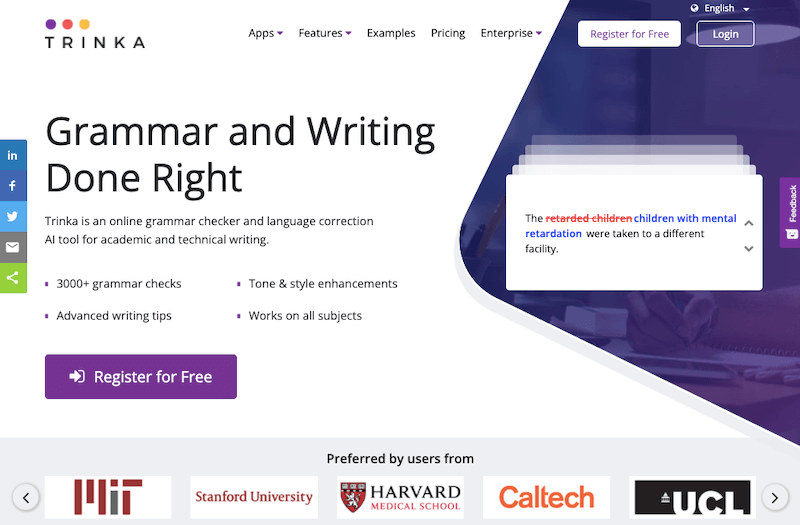 06

. EduBirdie Grammar Checker Tool
EduBride is known for its writing services related to educational assignments and other content. They offer high-quality content services and tools related to error-free writing.
The grammar checker tool offered by EduBride is just the extension of their content services. You can use the tool for free.
It is a quality tool that will help you to create error-free documents with all the suggestions related to punctuation errors, misused words, phrases, poor spellings, and weak sentences. In a way, this is your assistant to proofread your content before it goes live.
If English is not your first language, you might not be confident about your writing. This tool will handhold you while you are writing your assignments and make sure to present you as a quality content writer in front of the world.
The tool is very simple to use, all you have to do is to copy and paste the content on the checking box and the tool will do the rest for you.
EduBride spell checker will help you in many different ways to create top-quality error-free content regularly.
Top Features:
Pricing: While the tool is free to use. The platform offers content editing and rewriting services done by humans. The price starts at $7 per page.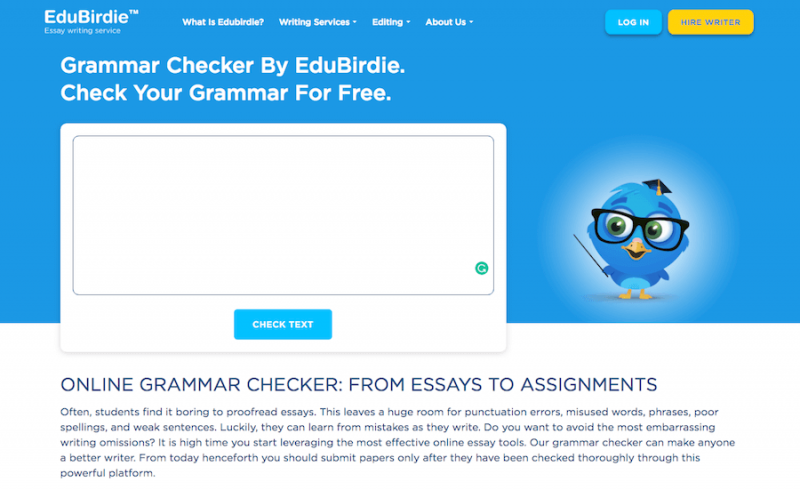 07

. ProWritingAid
ProWritingAid is great editing software. It can also function as a powerful online plagiarism detector. You need an account to start using ProWritingAid.
The sign-up process is easy and shouldn't take long at all. You don't need to download anything to use this tool as you can simply use the website online and avoid the hassle of downloading anything.
ProWritingAid claims to feature everything which can make someone a better writer. Speaking of grammar, the tool can detect passive verb usage and then even suggest you reduce the number of usages in a sentence among other things.
It can detect repeated words as well, alongside guiding you to use punctuation marks perfectly.
ProWritingAid has both free and paid options available. The three versions are free, premium and premium plus.
The free version is online only and is limited to 500-word edits, while the paid options include no word limits and desktop versions alongside added features such as MS-Word and web browser integrations.
Top Features:
Pricing: ProWritingAid offers a completely free plan that you can use to check your content. The premium plan starts at $20 per month. There is a 14-day money-back guarantee as well if you're unsatisfied with the premium offerings.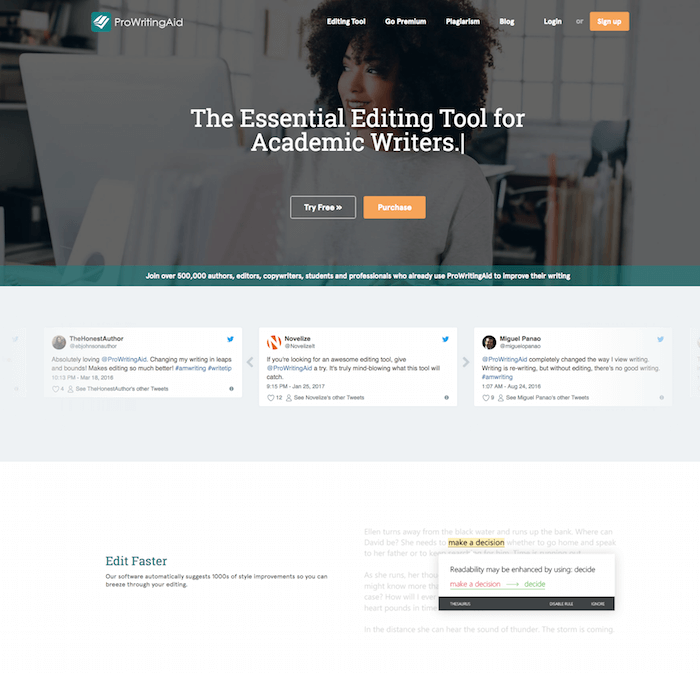 08

. Hemingway
If you have a habit of using long, hard-to-read sentences, then Hemingway may be the perfect tool for you.
Some of its features are how it shows what sentences are hard to read, the excess use of adverbs, and the use of passive and active voice. Unfortunately, there are no browser extensions you can use.
You can see a score for your own writing on the right-hand side of the page. Another great feature is how you can just start writing in the editing part of the website, so you don't have to keep copy/pasting your work to view errors.
The major advantage of Hemingway is that the online tool is completely free to use for personal use, whereas a standalone desktop application can be downloaded for a fee of $20.
Top Features:
Pricing: Free to use
09

. PaperRater
PaperRater is a web-only app, and it can run a complete analysis of your text and give you a report within seconds.
It's one of the most rigorous grammar and punctuation tools available on the internet, and will surely help you to rectify any errors before you have to click on submit.
It has a built-in plagiarism detector as well. If you're a student, then this is the perfect tool for you as it is built around submitting papers.
Although the webpage is free to use (with ads), the free version has some restrictions which can be gotten rid of by using the paid premium variant.
The premium version lets you upload document files directly for fast analysis, and has stricter plagiarism checks as well.
Top Features:
Pricing: Free to use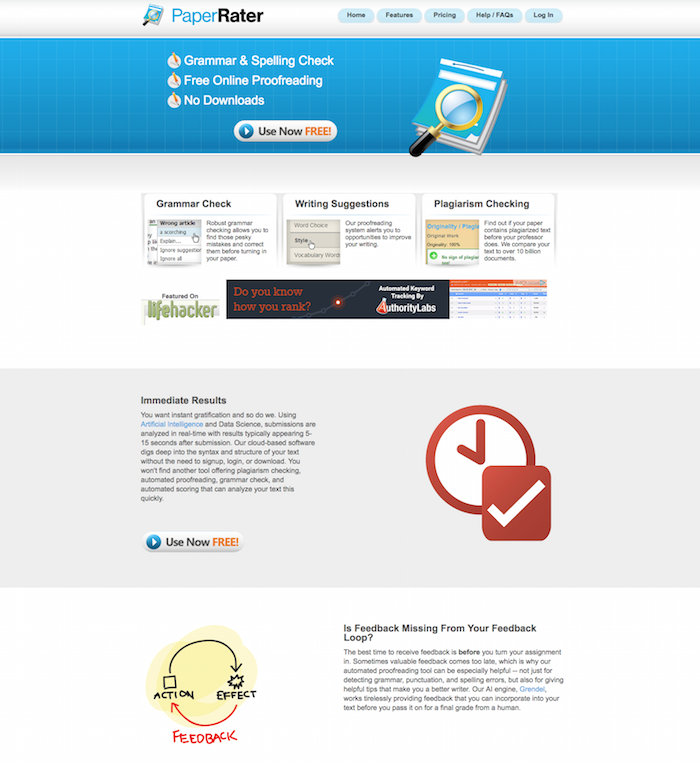 10

. GingerSoftware
Ginger is yet another grammar-checking tool with a plethora of great features. It advertises itself to give you all the things you need for great English writing on mobile and desktop.
This tool has a host of pros, such as sentence paraphrasing giving you multiple different ways to phrase your text.
It also has an inbuilt translator who can help you translate your text from one language to another. Moreover, the dictionary helps you know the meaning of words you may not know, a text reader who can read out your text to you and so on.
If you're looking for a tool you can use everywhere, then Ginger should be your choice. Ginger is available on nearly all popular platforms in use as of now such as Windows, Chrome OS, iOS, and Android.
There are a few differences between the free and the paid versions. The premium version offers unlimited grammar checks, sentence rephrases, a text reader, lets you practice on your mistakes, and gives you analysis of your errors as well.
Top Features:
Pricing: Free & paid solution. Paid subscription starts at $7.49 per month.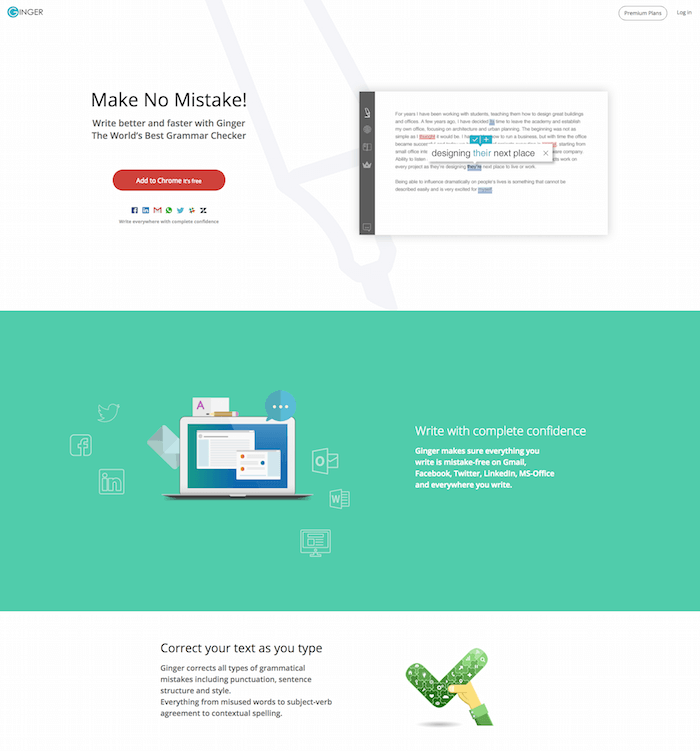 11

. After the Deadline
After the Deadline is also a grammar-checking tool with lots of features to look at made by the same devs who are behind WordPress.
Using after grammar, when your text is checked, you can correct your grammatical and spelling-related mistakes by simply following the instructions given by the tool. The feature is handy as it saves time and increases productivity.
After the Deadline is available on a lot of platforms such as the Google Chrome browser, the Mozilla Firefox browser, OpenOffice and WordPress plugin.
One big advantage of this tool is that it is completely free for personal use. They recommend using their free server software for commercial usage.
Top Features:
Pricing: Free for personal use.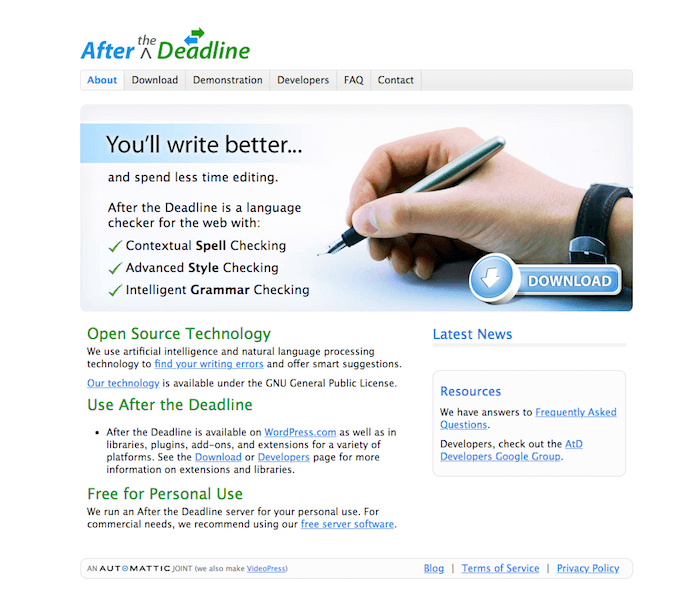 12

. Online Correction
Online Correction is a very simple and free solution to check your content for spelling and grammar corrections. You can paste your content and check it quickly to improve the overall copy of your content.
The tool gives you the option to check English content based on different countries such as American English, British English, Australian English etc. You can paste your content, select the country-specific option in the drop-down and check for corrections.
Top Features:
Pricing: Free to use.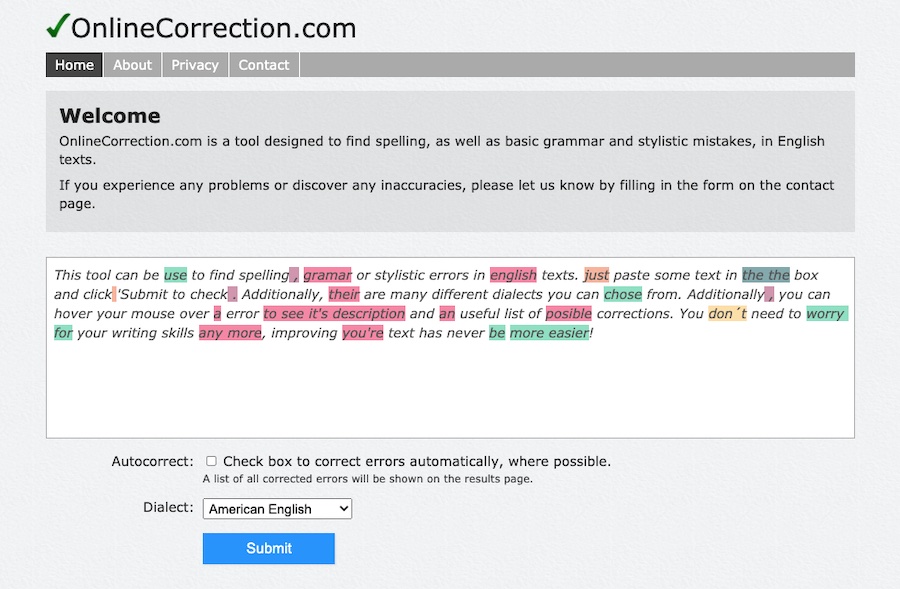 13

. Linguix
Linguix is a grammar checking and writing enhancement tool that helps you improve your writing skills by identifying and correcting errors in your text. It also provides suggestions on how to improve your writing style and makes it easier for you to find the right words when you're writing.
Linguix uses artificial intelligence (AI) to analyze your text and identify errors. It then makes suggestions on how to fix them.
Top Features of Linguix
Pricing: Linguix is free to use for individuals. For businesses, Linguix offers a subscription-based service that starts at $4 per month.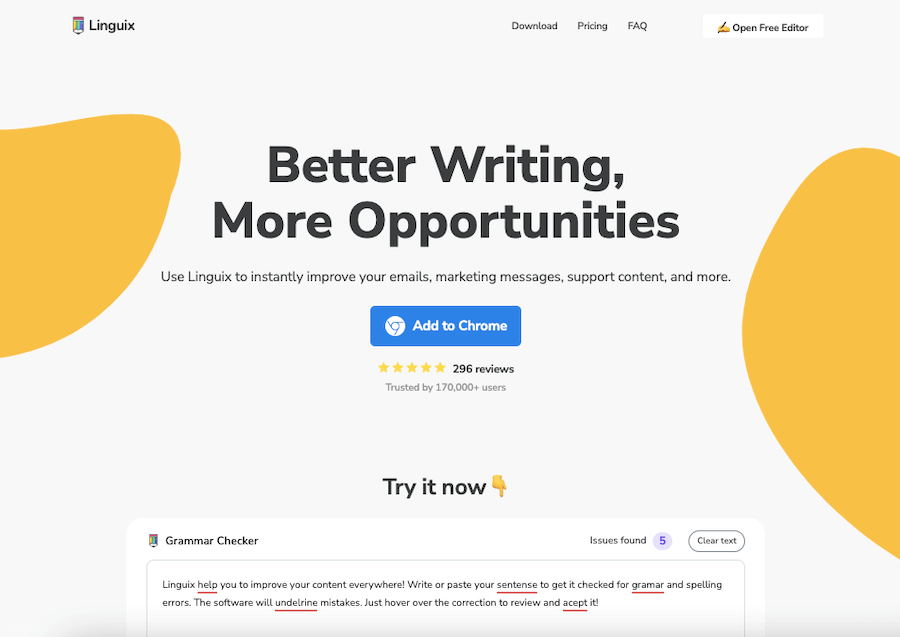 Conclusion
There are tens of hundreds of grammar checker tools on the internet, and unfortunately, not all of them are created equally.
Thankfully nearly all of the tools linked in this article are free, so you can get started with using them instantly, but paid premium variants may give access to more features.
If you want to choose just one tool, then my vote will go to Grammarly, but keep in mind using the premium version gives access to a lot of additional features.
For a completely free option, Hemingway is a solid pick, but unlike Grammarly, it doesn't have a browser extension available.
The best way to combine the two is to use the free version of the Grammarly extension and later copy/paste the text into the Hemingway app to rectify any additional errors. This method gets you the best of both worlds while being completely free as well.
Although these tools can certainly help you with rectifying your errors, it should be kept in mind that none of these tools are 100% accurate, and you will need to have a good grasp of the English language to correct errors even the computer can't detect.
Another thing to keep in mind is that random free grammar checker tools on the internet may steal your content. Therefore it is better to go with the trusted names only.